Have you ever thought of experiencing air fryer Indian recipes? If you have never heard of making Indian food in an air fryer before, various Indian delicacies are compatible with this kind of cooking machine. Discover more in today's article!
An air fryer is now a must-have kitchenware in various households globally. Utilizing these kitchen gadgets in daily cooking is a great way to create healthier foods for your family.
Suppose the excess oil and butter used in foods is why you are hesitant to try such delectable Indian pleasure you may refer to the air fryer-utilized recipes below. You'll know how versatile these Indian dishes are and won't regret making them at home.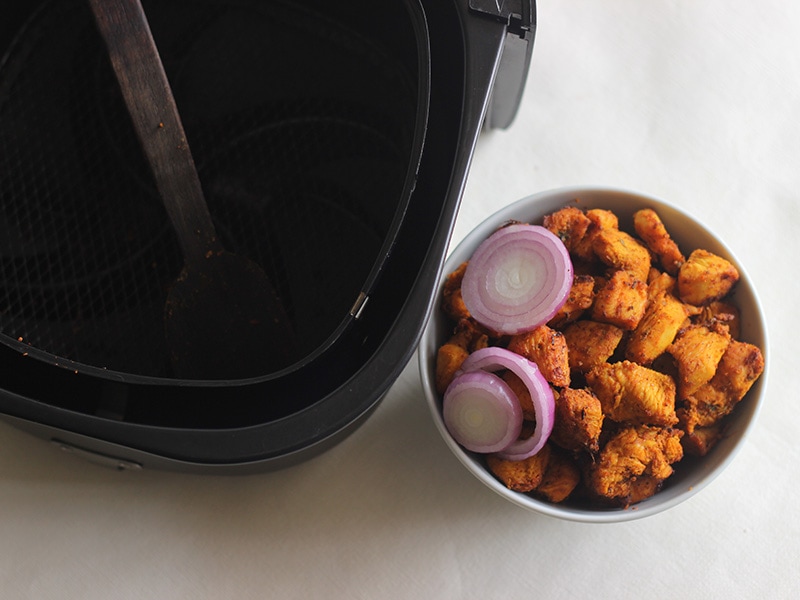 A Healthier Way To Process 22 Beloved Indian Foods, Try Now!
No more worry about oily, greasy, or oil splashing during the frying steps of your beloved Indian recipes. Let's refer to my suggestions here and conveniently "upgrade" your cooking processes from now on!
Ready in: Approximately 40 minutes
Pakoda or Pakoras refer to the same kind of Indian fried treat that calls for deep-fried veggies (which are coated with chickpeas/gram flour-based batter), especially corn. In some variations, they also need rice flour (optional) to create perfect crispiness to your food.
Corn Pakoras are one of the favorite varieties of this famous Indian street delicacy as the corn usually offers a great sweetness to the dish. To make it at home, first you should preheat your air fryer at 395 degrees F (200 degrees C).
You'll love the harmonization between spiced batter (with green chilies, turmeric powder, etc.) and corn's mellowy every time you have a bite. More importantly, you still need to brush a thin layer of oil on the surface of the fritters so that they won't become too dry after all.
Ready in: Up to 30 minutes.
Onion Pakoras are even easier to make than corn Pakoras since the ingredients preparation step is straightforward. While the batter recipe is pretty simple with chickpea flour (mixed with rice flour), you mostly need only one ingredient for the filling.
Some might call for sliced potatoes, but you can omit this part if you wish. Remember to chop the onions finely/uniformly so that you can cook your food thoroughly. Don't forget to add a light layer of oil to prevent drying your fritters while air-frying them.
If you are out of ideas for what Indian-inspired appetizer to go in your upcoming pool/backyard party (or simply a family get-together feast), opt for this Pakoras recipe. It requires almost no effort to make, and your loved ones can still enjoy the best finger food.
Let's start making some air fryer onion Fritters initially before turning to the other delight!
Ready in: Approximately 18 minutes.
If the two corn and onion Pakoras are not your things, then this authentic Indian cabbage delight is another way. Because the flavor of cabbage is pretty mild and the total calories of this recipe are low, this dish can be an ideal air fryer recipe to lose weight.
The best temperature for air frying cabbage Pakoras is 355 degrees F (or about 179.4 degrees C), and you should leave them there until they turn golden brown. Remember to preheat the machine for 5 minutes before "frying" since it'll help your food cook evenly.
You can have some ketchup (store-bought or homemade) or your choice of chutneys to serve on the side of this crispy treat. The mildly leek-y/garlick-y from hing and the freshness from cabbages match these condiments. Yummy!
Ready in: From 50 minutes to 1 hour 10 minutes (make from scratch).
Not only famous as a portion of Indian street food, but you might also know Samosas as an exquisite yet humble Indian snack. Traditionally, Samosas have already been compatible with the baking method, so making them inside an air fryer is not odd.
Samosas have a wide range of fillings, but local people prefer vegan/vegetarian ones. In this recipe, I suggest using potatoes (mixed with sweet potatoes if you wish), peas, and some spices (red chili/cayenne powder, for example) as it is pretty basic for a beginner.
You can make the crust from scratch with all-purpose flour, oil (or ghee), and some salt, or choose the store-bought phyllo pastry. Choose one of these options, and your food can still be tasty.
When having your first bite, you can feel the crust crumble on your tongue and the mild flavor harmonized with a spicy note from the filling spread inside your mouth.
Ready in: From 25 to 45 minutes.
I was a true fan of crispy foods for breakfast when I was a child, but oily treats might be too much for an early morning treat. However, this air fryer bread roll can ideally become one of your soul Indian breakfast dishes since it is pretty nutritious and satisfying.
Indian-style bread roll calls for sourdough or regular Amish white bread for the exterior. Based on that, this dish is also an excellent recipe to utilize leftover bread. Stuffings like spiced mashed potatoes or spices only are the true highlight of the whole dish.
The temperature to process this food is around 350 to 400 degrees F (about 176 to 204 degrees C), and you can apply a higher heat mode if you want to shorten the cooking time.
Ready in: From 25 minutes (with self-rising flour) to 1 hour 30 minutes (with flour and yeast base).
Compared to the other kinds of Indian-originated bread, Naan is one of the most popular. People usually process it inside a tandoor oven (Indian traditional clay oven) in India, but I'll show you how to make some in your own kitchen.
The ingredients to make Naan are incredibly simple since there will be only flour, active dry yeast (which can be replaced by self-rising flour), and some plain Greek yogurt. The yogurt is the key to enhancing the doughy texture of Naan and makes it perfect for any Indian savory dish.
After all the kneading steps and waiting for the dough to prove (omit this step when using self-rising flour), which lasts for around 1 hour, separate your Naan dough and air fry it. You can make a big batch of this Naan dough and store the spare in the freezer for 3 months.
On the other hand, you should divide the "frying" step into two smaller stages since you need to flip the bread so that you can cook it thoroughly on both sides.
Time to make some air fryer Naan! Just try it now!
Ready in: About 20 minutes.
How about making a twist on the traditional Naan? Since the Naan dough applies a similar idea to form pizza dough (an authentic Italian recipe), why not combine the two? A fragrant, spiced Naan Pizza with a lovely cheesy top sounds fascinating.
Making this air fryer Naan Pizza is simple: add some signature pizza toppings (cheeses or tomato sauce/ketchup), and your Naan Pizza is done in a snap. For the cheese, besides mozzarella (must-have), you can consider using Paneer either.
This mild and rich Indian-style cottage cheese (Paneer) combined with a bunch of spices (ginger, chili, Garam Masala, etc.) can lift the quality of this dish to another level. However, following the less fussy way with only some herbs and stringy cheese has its own goodness.
Ready in: Around 30 minutes.
Although okras (or Bhindi/lady finger) are packed with nutrients and have various health benefits, it is not a beloved vegetable of many people.
If you are one of them, I confidently say that these spicy stuffed okras (with Garam Masala, cumin seeds, and other ingredients) will completely alter your opinion.
When prepping the okras for stuffing, make sure they are entirely dry, or they will get gooey/slimy inside the air fryer. I'm sure that's not what you are looking for.
Your Bharwa Bhindi or air-fried stuffed okras are quite versatile. You can either serve it as an Indian side delight with rice, Roti/Parathas (some prevalent Indian flatbread), or a light appetizer. Both ways are great, and the decision is yours.
Ready in: Up to 22 minutes.
Kurkuri Bhindi is another way to employ okras in today's category. You may get slightly spicy and earthy flavors from these snacks/side dishes. Furthermore, because of the mix of a gram and other flour, the Kurkuri Bhindi has a lovely crunchy texture that will attract everyone.
The other flour/powder for coating batter mix can be rice flour (enhance the crispiness) or Amchur (dried mango powder for zesty and tart flavors). You can choose one of them based on your preferences and don't miss some oil to save the freshness for your okras.
One exciting fact is that you can fool your children with these delicious, crispy chips, and they will surely love it (even if they don't like okra). Who can resist something that is just both crunchy, crumbly, healthy, and absolutely flavorsome like this?
An ideal way to treat your crunchy Kurkuri Bhindi and make it healthier is here!
Ready in: Up to 20 minutes.
You might be amazed by how easy it is to make a big batch of this air fryer Pani Puri. You just need to prepare some ready-to-cook Puri pellets, preheat the kitchen gadgets to 350 degrees F, toss them into the air fryer and let the machine do its work.
Each batch should last within 5 minutes; feel free to air fry the Puri ahead of time and store them in airtight bags for later use.
For this dish's companions, you'll have the options of Jaljeera (tangy Indian-style drink for summer/tangy Indian summer drink) and imli/tamarind chutney. This lovely sourness and spicy taste can pair well with your humble, crispy balls for a midday snack.
Ready in: About 15 minutes.
Idli is a steamed rice cake that you can serve on the side of various Indian Curries or dips for any meal of the day. Idli Fry (mostly deep-fried) is actually a way that local people invented to deal with the leftovers, but the air fryer can offer you the same result.
The key to having the satisfying crispy Idli Fry is you should coat your rice cakes with a thin layer of oil by using a sprayer. The final Idli pieces should have a perfect golden brown exterior while the inside is still soft.
The ideal temperature for air frying Idli is 390 degrees F (about 200 degrees C), and I suggest preparing some coconut-y chutneys while waiting for your food to be done.
Ready in: From 24 minutes (excluding marinating steps) to 1 day 25 minutes (including at least 1 hour to 1 day of marinating).
If you are a fan of Indian chicken-based delicacies might no longer be a stranger to this Tandoori chicken recipe. Moreover, this spice-loaded dish can be fresh after 3 days in the fridge, so make some spare beforehand and air-fried for a few meals later.
To accomplish this dish, I often opt for chicken drumsticks. This chicken part has the perfect ratio between fat and lean meat, which preserves the juice inside the meat after air frying. Furthermore, the yogurt used also helps your chicken become more tender.
Have no ideas for weeknight dinners or lunches? My pungent yet harmonized air fryer Tandoori chicken can beat any takeout and be your favorite Indian-inspired dinner delights. It's not an exaggeration that this recipe can please even the pickiest eaters.
Ready in: About 45 minutes.
The fresh and firm cauliflower florets are the keys to having the best Tandoori Gobi. So, you should choose ones with an entire white hue to prevent your dish from turning rancid.
As it is a variation of Tandoori chicken, this Indian vegetarian-friendly treat also calls for a marinating mixture of yogurt. Hot spices (like Kashmiri red chili powder, Garam Masala, and ginger) and besan (chickpeas) flour are crucial.
To serve this treat, you can have it as a snack or a filling for some kinds of veggies-based rolls. However, I love using Tandoori Gobi for appetizers before meals as it is both light and is a great way to wake up my taste buds.
How about taking a look at this ASMR cooking guide for this Tandoori Gobi?
Ready in: Around 2 hours 30 minutes (including marinating time)
I cannot complete a list of air-fryer recipes without recommending a way to make fried chicken, one of my favorite fast food/snacks. This spicy fried chicken dish was an invention from Hotel Buhari in Chennai in 1965 before becoming a prevalent appetizer nationally.
The chicken used for this recipe should be boneless, and the marinating step should be around 20 minutes or more. It is essential because you'll find every flavor layer from plain yogurt (optional), chili powder/paste, ginger, and garlic absorb better inside your meat.
The spicy sauce, which is laced with curry leaves, plays a vital role in the popularity of this dish. The ideal temperature for air frying chicken 65 is between 350 and 390 degrees F (around 178 to 200 degrees C). In virtually no time, your dish of Chicken 65 will be ready.
Ready in: Around 30 minutes.
The term "Tikki" means "patties" in English, so the name "Aloo Tikki" generally refers to a dish consisting of spiced mashed potato patties. You can process these foods traditionally with the oil frying method, but air frying them inside an air fryer can still offer a great crunchiness.
My tip for you to make the best savory potato patties is to use cold, boiled potatoes instead of warm ones. The 2 or 3 hours inside the fridge helps your mashed/grated potatoes bind better with other ingredients like fresh herbs (coriander/cilantro) or spices.
Instant potato is fine if you don't have time for the fresh ones. You can add some other veggies (carrots or peas) for more nutrients and rejuvenating notes. The Aloo Tikki is compatible with a long freezing period; therefore, you can freeze the spare and use it later.
The best ways to make Aloo Tikki? Not one but two! Just see it more here.
Ready in: About 30 minutes to up to 1 hour 15 minutes.
Do these Hara Bhara Kabab look familiar? But it is not the same as the previous Aloo Tikki and is actually another dish, including mainly mashed potatoes with spinach. Its name, Hara Bhara Kabab, also means "full of green patties."
It's reasonable since you can have various other vegetables (optional) inside your patties mix (such as green peas, broccoli, or green bell pepper).
The spices and garnishings can differ between variations of this North Indian delight, yet, the secret to a successful Hara Bhara Kabab is the green chilies and fresh herbs. These ingredients highlight the whole dish with those aromatic and spicy notes.
This air-fried treat might look too simple at first, but you can match it with other heart foods and create a complete meal.
Ready in: Around 34 to 50 minutes.
Tikka Masala spices are relatively famous and now is a twist with Paneer, Indian cottage cheese with a prominent firm texture and mild flavor. This cheese is pretty easy to make (you can consider preparing some as a homemade Indian instant pot dish) and use for later.
Don't misunderstand this recipe of Paneer Tikka with the traditional Tikka Masala since it is more like a grilled dish like kabobs than an Indian Curry.
Even though they all call for a similarly spiced yogurt marinade (with Kashmiri chili, Garam Masala, or garlic), the way to process them is not the same. As your Paneer skewers will be a bit boring with only cheese, I highly suggest adding bell peppers and onions.
The trick to setting the skewers inside the air fryer is to leave enough space between each of them so that the heat can evenly cook your Paneer Tikka thoroughly.
If you are a fan of cheese, you shouldn't miss this Paneer Tikka recipe!
Ready in: Around 25 minutes.
The next idea for a potatoes-based appetizer/side dish for your upcoming dinner/lunch meals is these Bombay potatoes. Tangy with notes of warm, earthy tastes might be too robust, so the lovely starchy texture and mild flavor from good potatoes are a must.
Because of that, red or Yukon potatoes of medium size are the best types of potatoes you can go for here. When pre-boiling the root veggies before air frying, you should ensure that it is not overly cooked; only around 80% is good enough.
Since the total time to cook a batch of these spicy Bombay potatoes is pretty short, making it a promising nominee for side dishes in your Indian-style lunch or weeknight dinners. When you are ready to serve the food, garnish it with fresh herbs. The aroma undoubtedly tempts you.
Ready in: Up to 7 hours 10 minutes (including the marinating time).
Come back to another chicken recipe, and you should try this Tandi Murgh Kabab at least once in a lifetime. The marination for these chicken dishes is quite varied. You can choose from one with only 2 spices (garlic/lemon) and the other with hung curd.
For the hung curd marinade, I love the taste of amchur (dried mango powder) because its distinguished zesty and citrusy is absolutely amazing.
The word "tangdi/tangri" in the name of this food means "legs" (or chicken legs); then, you will see chicken drumsticks are the preferable protein for this dish. You can still use several kinds of boneless chicken if you don't have drumsticks. Remember, watch the cooking time!
My mouth waters just by looking at how to make these Tangdi Murgh Kababs.
Ready in: About 40 minutes.
Having its roots in Gujarat and the reason for its name, "Methi Muthia," is pretty interesting. The term "methi" means "fenugreek leaves" in the Indian language; the "muthia/muthi" basically refers to "fist" (related to how you shape this delight with a fistful).
The fenugreek leaves typically offer a light bitterness in taste, yet, the neutralization effect from soft wheat and besan (chickpeas) flour-based Muthia batter can reduce the intensity.
You can change the flour base into bajra (pearl millet) or jowar (sorghum) flour to create a gluten-free variation of this delicacy. Otherwise, if you want your treat to be softer, put in some bạking soda and mix the whole thing well.
Ready in: Around 30 minutes.
Manchurian is not a term to mention a cooking method; it is about the Indian Manchu cuisine, which is strongly influenced by the signature Chinese delicacies. On a plate of Gobi Manchurian, you can always sense the flavors of soy sauce, ketchup, and garlic.
These tastes fantastically pair with the lightly firm and crispy cauliflower. The gorgeous sweet-tart and refreshing flavors from bell peppers do assist your overall experience with these delicacies.
Your beloved cauliflower will surely be toothsome under 400 degrees F and within 20 minutes of air frying. Don't expect anything less than perfection when it comes to this Indian-Chinese dish!
Ready in: From 30 minutes (if made from instant Gulab Jamun mix) to 2 hours 20 minutes (when made from scratch).
If making desserts in an air fryer is strange to you, then this Indian sweet treat, Gulab Jamun, can blow your mind. Although the store-bought ready-to-make Gulab Jamun mix is good, it's better to make this treat from scratch and enjoy learning to make new food.
It will be a lovely crunchy bite filled with a rich, milky taste and a robust sugary sweetness about this delightful flavor. It lasts in the fridge for up to 5 days, so why not make this sweet treat for the next afternoon snack?
Skipping the lemon juice inside your syrup mix results in a crystalized, lumpy flavored sugar syrup, so you shouldn't ignore this step. Furthermore, strictly follow the cooking time for the sweet syrup base as the liquid can turn out thicker after cooling and affect the dish's quality.
Let's whip some mellowy Gulab Jamun by following this guide today!
How About Air Frying Some Of Those Indian Foods Now?
Like any other cooking machine, air fryers are born to help people with their daily cooking process and offer significant benefits in reducing fat from foods. Therefore, there is no reason to ignore my ideas on using these gadgets in Indian delights.
You can now enjoy your favorite "fried" Indian foods without worrying about the fat content. On the other hand, in case you have tried making other Indian-inspired foods in an air-fryer, and the results are mind-blowing, please share your knowledge with a comment.
Feel free to suggest it to your loved ones if you love my article. Thanks for reading my article, and enjoy!
Nutrition Facts
15 servings per container
---
Amount Per ServingCalories85
% Daily Value *
Total Fat 1.1g

2

%
Sodium 9mg

1

%
Potassium 199mg

6

%
Total Carbohydrate 15.8g

5

%

Dietary Fiber 3.3g

12

%
Sugars 2.6g

Protein 3.5g

6

%
---
* The % Daily Value tells you how much a nutrient in a serving of food contributes to a daily diet. 2,000 calories a day is used for general nutrition advice.