Bánh cuốn vs. bánh ướt; are you struggling to discover the result of this batter? If so, you're not alone. These dishes may look similar, but they have distinct differences in taste, texture, and ingredients.
By the end of this post, you will be able to differentiate between bánh cuốn and bánh ướt confidently. You can also impress your friends and family with your newfound knowledge about their origins, characteristics, etc.
So, why wait? Start your culinary adventure now!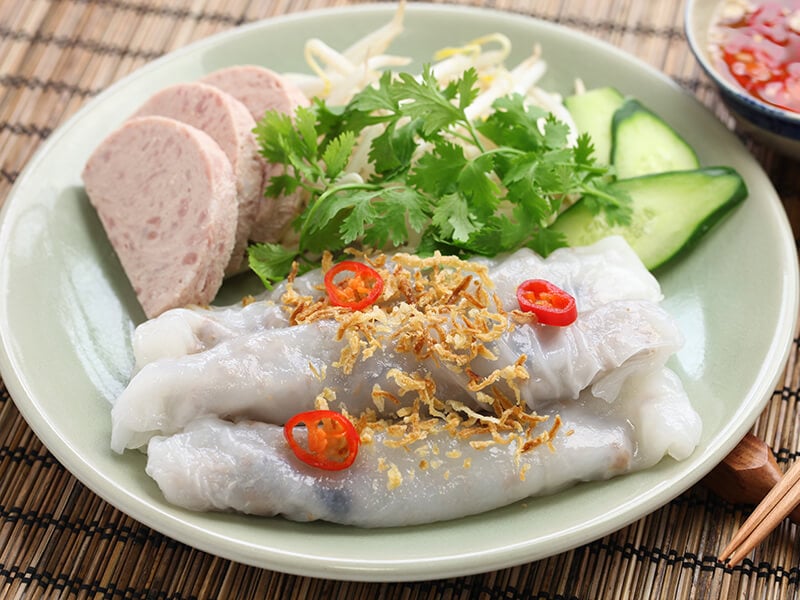 An Introduction To Bánh Cuốn
Do you know that even Gordon Ramsay admitted he was a lousy chef compared to other bánh cuốn/banh cuon cooks in Vietnam? That alone explains how delicate this treat is. The thinner the cake layers, the higher skill the chef has.
There was no exact proof of when banh cuon was born. But its first record was during the Tran dynasty (13th century – 14th century). It also comes with different names, like "bánh xuân" (spring cakes).
Each Northern Vietnamese region has its own banh cuon version. And the most sought-after is in Thanh Trì (a Hanoian ward). (1)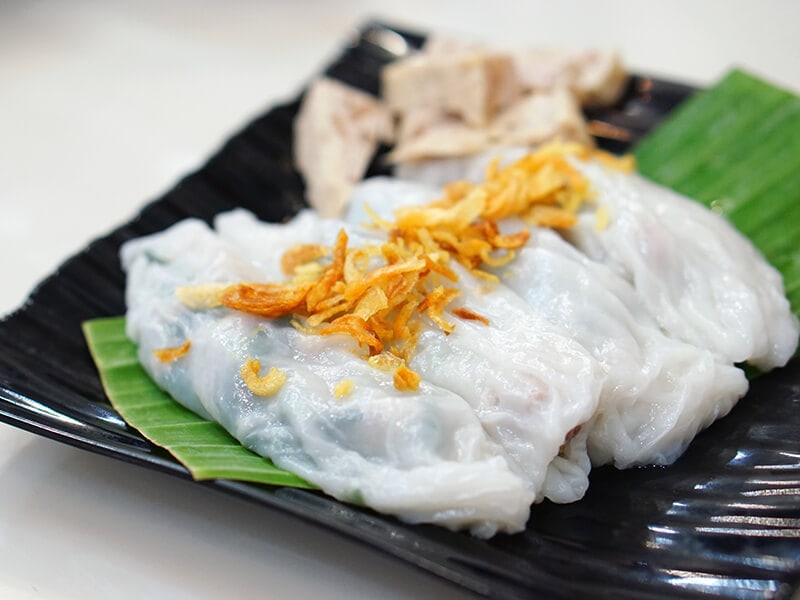 Bánh Ướt: A Nice Vietnamese Breakfast
When I first saw bánh ướt/banh uot, I thought it was banh cuon. Due to their similarities in both appearance and preparations, many have mistaken this treat for banh cuon. But while the latter is a Northern specialty, banh uot is mainly available in the South.
Its Vietnamese name means "wet cakes" in English because it's slightly wet. Banh uot also has several variants with different side dishes and toppings. Southern people love eating it as breakfast or midday snacks. (2)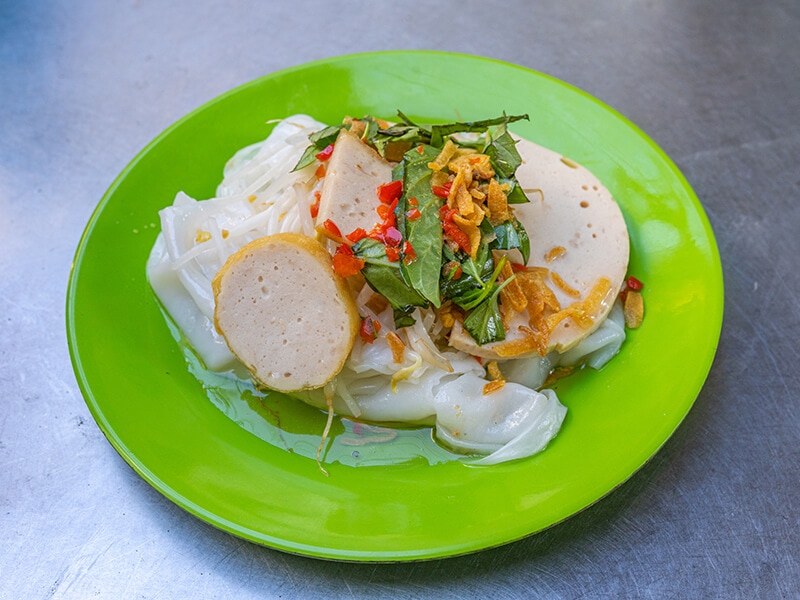 4 Surprising Similarities Between Bánh Cuốn And Bánh Ướt
Banh cuon and banh uot are both Vietnamese staple dishes with a special place in the locals' hearts. So, it's no wonder that they share some resemblances.
Preparations
Since they are all steamed roll cakes, these two delicate treats use steaming as their primary cooking method. The locals will use rice flour as the base for the batter, then pour the batter on a steamer. The batter needs to be spread out into a round shape.
When it's done cooking, the cooks will use a bamboo stick to roll the sheet up. And these cakes are served with Vietnamese dipping sauce (nước chấm) and suitable vegetables and herbs.
Appearance And Flavor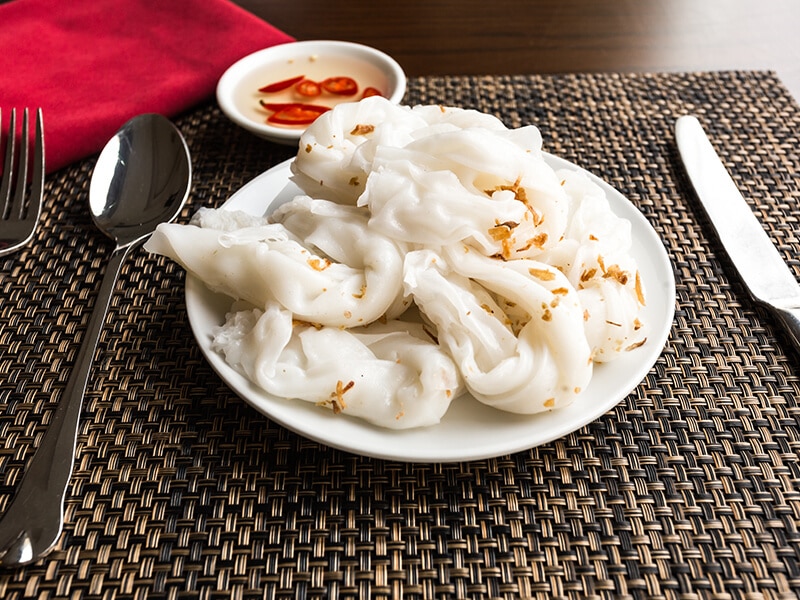 Since they share a similar cooking method, banh cuon and banh uot undoubtedly look and taste almost the same. In fact, if you leave the filling out of banh cuon, these two are identical, with white and nearly transparent sheets.
They have little to no flavor since the batter uses no seasoning. So, Vietnamese people will eat these cakes with dipping sauce and several savory side dishes.
Cultural Status
Despite their challenging making method, banh cuon and banh uot are no fancy foods. In contrast, they are everywhere in Vietnam. The locals can eat them as a breakfast or midday snack.
You can find these treats in many Vietnamese street vendors. Just look for the signature steamer covered with a cloth.
Banh uot even gains the love of foreign visitors.
Storing Methods
Banh cuon and banh uot also have the same storage life. They can last for 2-3 days in the fridge and 3 months in the freezer. After that, their taste and texture will go downhill.
As they're both quite delicate, you should wrap them with cling film when refrigerated to prevent odors from other foods from clinging to them. When ready to use, boil these cakes quickly for 30 seconds before soaking them in cold water to retain their texture.
Uncover 5 Differences Between Bánh Cuốn And Bánh Ướt
Although they are similar in many ways, banh cuon and banh uot still have several critical differences in the ingredients, accompaniments, etc. Understanding these differences is essential for anyone who wants to learn more about them.
Categories
Banh cuon
Banh uot
Distribution Places
Northern Vietnam
Southern Vietnam
Ingredients
Requiring more ingredients for the fillings
Only basic ingredients for the batter
Texture
Thin and delicate
Thick and slightly chewy
Regional Variations
More than banh uot
Less than banh cuon
Traditional Accompaniments

Vietnamese pork sausage (chả lụa) and Vietnamese cinnamon pork pate (chả quế)


Varied based on different versions

Vietnamese pork sausage (chả lụa), steamed bean sprouts, and fish sauce


Varied based on different stores
Dipping Sauce
Eating by dipping banh cuon into the sauce More sauce versions
Eating by pouring the sauce over banh uot Mostly one type
Distribution Places
This is the first and the most apparent difference between banh cuon and banh uot. Banh cuon is phenomenal in the North, especially the areas surrounding Hà Nội (Vietnamese capitals).
Among those, banh cuon from Thanh Trì village is the most well-loved since this place is believed to have created this dish. Now, making banh cuon is the main occupation of the locals there.
From Thanh Tri village, banh cuon has spread to other Northern cities, such as Quảng Nam, Hạ Long, etc. Even in the South, there are several stores selling banh cuon now.
However, you can only find banh uot in Southern Vietnam. They can still be available in other regions but with less popularity.
Ingredients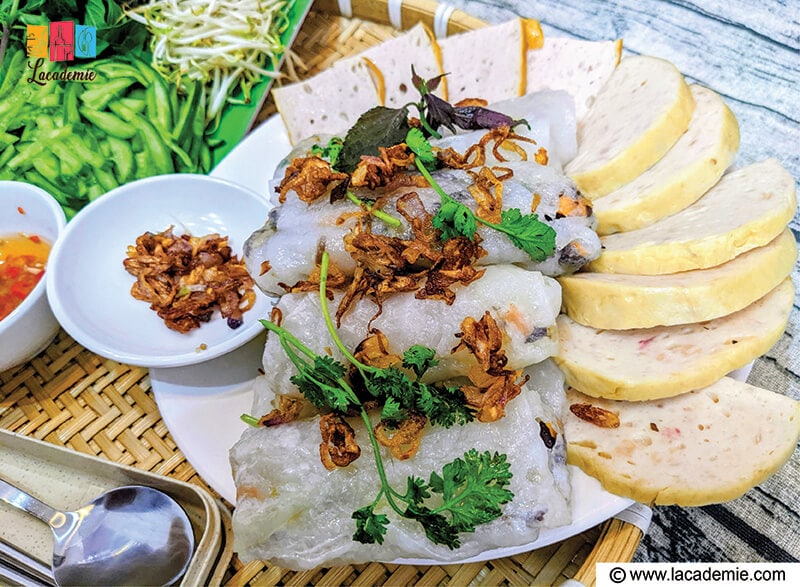 Since banh cuon has fillings, it uses more ingredients than banh uot. Depending on the regional varieties, the fillings can vary a lot. The most common ones are ground pork and minced wood-ear mushrooms. Some stores will also add beaten eggs for more richness.
On the other hand, banh uot doesn't contain any filling. So it requires fewer ingredients. That makes banh uot an easier choice for people who want to try making these two cakes.
Texture
While their flavors are almost the same, banh cuon and banh uot have quite a significant gap in texture. For banh cuon, the locals will spread the batter as thin as possible, resulting in a thin and super delicate texture.
Meanwhile, banh uot is thicker and chewier than banh cuon since the batter is spread normally. That's why, if you want a satisfying meal with more bites, banh uot will be a perfect choice.
Regional Variations
Banh uot doesn't have many regional variations. Most of the time, the locals change the toppings and side dishes and call it a day. So, you can easily enjoy the authentic banh uot everywhere you go.
With a long history, banh cuon has more versions in different areas. I can even say that each Northern region has its own version. For example, the Hải Phòng type uses bone broth to make the dipping sauce, or the famous Thanh Trì one requires local-exclusive rice.
Traditional Accompaniments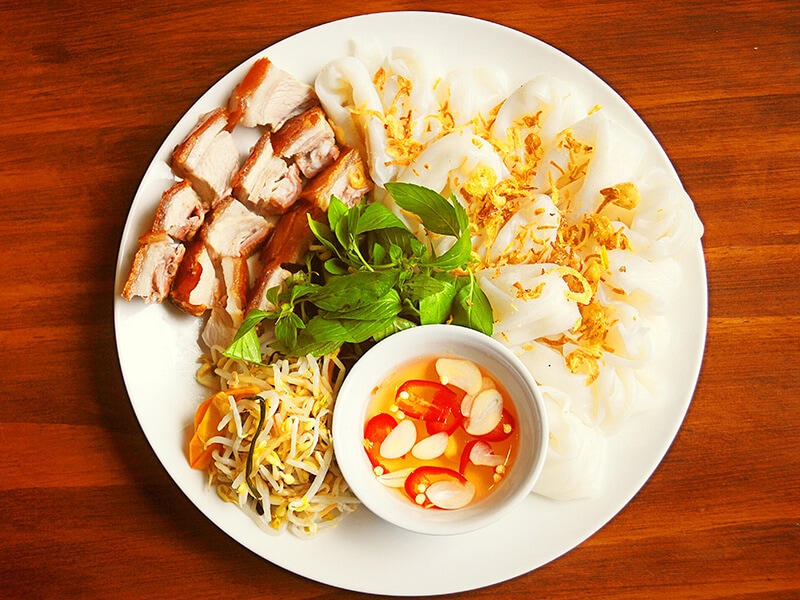 Traditionally, banh uot will go with Vietnamese pork sausage (chả lụa), steamed bean sprouts, and fish sauce. Later, the locals start utilizing more ingredients to pair with banh uot, like chicken, grilled meatballs, etc. Banh uot will also need several aromatic herbs and veggies.
Since banh cuon has various regional variations, its accompaniments also change. But they are mostly Vietnamese pork sausage (chả lụa) and Vietnamese cinnamon pork pate (chả quế). In Quảng Ninh, the locals change them into squid pancakes (chả mực).
Let's discover how Vietnamese people enjoy their banh cuon!
Dipping Sauce
Despite sharing the same sauce, people eat banh uot by pouring the whole sauce over the dish and mixing all ingredients together. That way, the locals think the sauce will soak thoroughly and enhance the flavor.
In contrast, Northern people dip the banh cuon into the sauce before eating it. Depending on the stores, the side dishes can be set aside and dipped later or already soak inside the sauce.
Moreover, the accompanying sauce in Northern Vietnam is more diverse. Each city will have its own unique version. For example, in Hải Phòng, Hà Giang, or Thái Nguyên, the locals use bone broth for more umami flavor.
Master the Art of Making Bánh Cuốn And Bánh Ướt
With a step-by-step guide, making banh cuon and banh uot at home can be a fun experience. This section also includes several tips and tricks for getting the perfect texture and flavor.
Ingredients
Here is the list of necessary for you to make the banh cuon and banh uot:
For the rice batter:
Rice flour
Tapioca flour
Oil
Salt
For the filling ( for banh cuon only):
Minced pork
Wood-ear mushrooms
Carrots
Scallions
Shallots
Onions
Garlic
Seasonings (oyster sauce, salt, black pepper, sugar, etc.)
For the dipping sauce:
Vietnamese fish sauce
Lemon juice
Sugar
Garlic
Red chili
Direction
This detailed guide will help you create delicious and delicate banh cuon/banh uot for your next family gatherings!
Step 1: Prepare The Batter
Mix rice flour and tapioca flour with water. When the flour is dissolved, add oil and salt, then let the mixture rest for half an hour.
Step 2: Prepare The Filling (For Banh Cuon Only)
Finely dice all vegetables for the filling. Set aside some shallots and mix the rest with ground pork and seasonings.
Saute minced garlic and shallot over medium flame. When they become fragrant, stir in the ground pork mixture and increase the heat to high. Stir until well-cooked, seasoning with oyster sauce.
Step 3: Make The Cakes
Fill your steamer with water and bring it to a boil. Stretch a steaming cloth over the steamer's mouth. Lightly coat it with some oil. Then, pour a large spoon of rice batter onto it and spread the batter around to form a round shape.
Close the lid and wait for about half a minute. Next, open the lid to check if the layer has been cooked.
If you're making banh cuon, place some pork filling on the rice cake and roll it. As for banh uot, you just need to roll it. Continue the process until you use up the rice batter.
Step 4: Make The Sauce
Mix fish sauce, lemon juice, and sugar with warm water. Mince the garlic and thinly slice your chili pepper. Add them to the sauce according to your liking.
Step 5: Serve
Fry the remaining shallots in hot oil until golden and crispy. Place the cooked banh cuon/banh uot on a plate with your favorite accompaniments and the dipping sauce. Sprinkle the fried shallots on the cakes and serve
Notes
These tips and tricks from this instruction on how to make banh cuon and banh uot will make your cooking process easier:
You can make these cakes with a nonstick frying pan if you don't have a steamer. Coat the pan surface with some oil. Then, the rest of the process is the same as with the steamer. Remember not to set the heat too high.
The banh cuon's filling is highly customizable. You can use any vegetables or switch out the meat if desired.
Be careful when adding tapioca flour to the batter. Too much can cause the cakes to stick to the steaming cloth.
FAQs
If you still need some help with banh cuon and banh uot, this section will give you a hand. Here, you'll find all the quick answers to the common questions about these cakes.
What Do You Think About The Battle Of Bánh Cuốn Vs. Bánh Ướt?
I hope this article has given you a better knowledge of the differences and similarities between banh cuon and banh uot. Whether you prefer the delicate banh cuon or the chewier banh uot, these dishes will surely tantalize your taste buds.
Let me know your favorite in the comment section! I would love to hear your thoughts. Additionally, if you found this article helpful, please consider liking and sharing to spread the love for these delicious dishes.
References
Bánh cuốn (2022) Wikipedia. Wikimedia Foundation.
P.N. (2008) Bánh ướt, Gastronomy.