Try Vietnamese foods once, and you cannot wait for the next time since every dish in this distinctive culinary culture tastes phenomenal.
Their foods will not be too hot, too cold, or too much of anything; they might not be highly robust, but they are well-balanced and incredibly toothsome. Don't hesitate now; it is time to learn more about this alluring Southeast Asian country's cuisine.
Let's scroll down and see the interesting suggestions I will recommend to you below!
Vietnamese Noodles
Are you wondering what Vietnameses' favorite savory dishes are? You will know more about that right here!
Someone said the allurement in Vietnamese cuisine is that you can easily find good food on the street. It is absolutely true. Do you want me to suggest some of them? Here you go!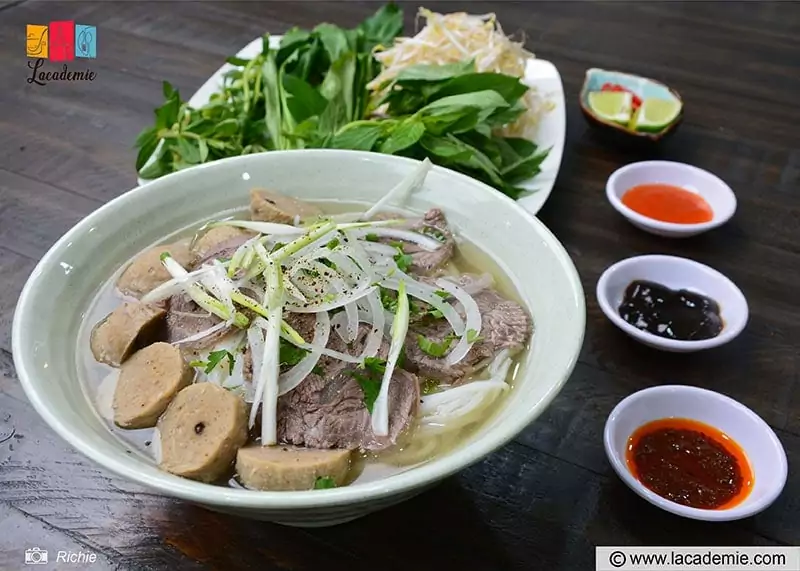 Breakfast is an important meal in Vietnamese culinary culture, so Vietnamese people never miss it. This delicacy appeared in the 1880s in the North of Vietnam, and the way they were created was strongly influenced by French and Chinese cuisines.
Pho is one of the most popular treats in this beautiful country. This dish with a "P" at the beginning is so delicious that it is recognized worldwide. The rich and flavorful broth distinguishes this dish, yet it isn't overwhelming.
There are many different toppings for this famous Vietnamese noodle type, but the most popular is beef. The meat, in particular, is frequently not fully cooked. They will serve it thinly sliced and medium-rare. That method will help retain the full, beefy flavor, and the broth taste may be accentuated.
The beauty of pho bo is that, even if you don't have time for cooking, you can still whip up this delicious Asian dish in instant pots. With this fantastic kitchen appliance, you won't have to supervise the broth as it simmers for hours on end.
2. Pho Ga (Vietnamese Chicken Noodles Soup)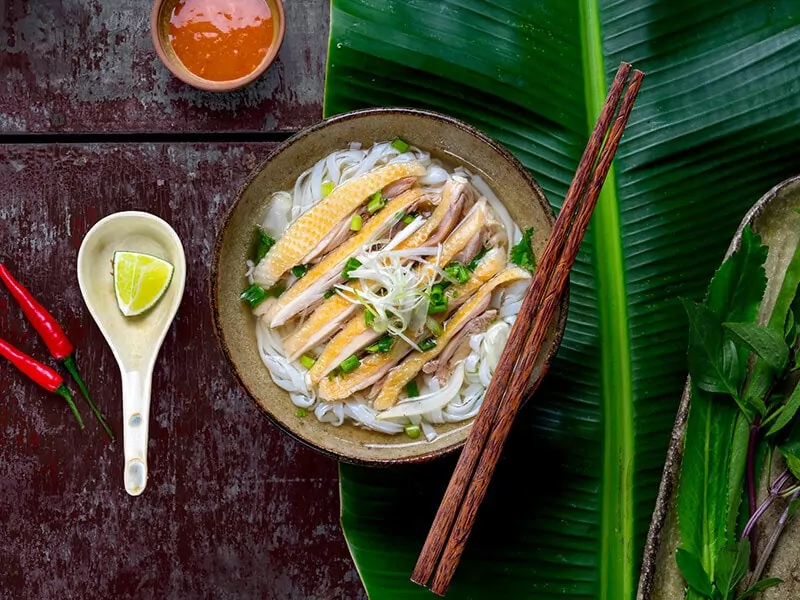 Pho bo (beef noodle soup) is already famous. But if you want to gain deep knowledge about pho, you should learn about this pho ga (chicken noodle soup). Its broth differs significantly from the previous one, emphasizing sweetness and lightness over richness.
You can choose from various chicken parts toppings, including chicken thighs, wings, breasts, chicken intestines, and exceptionally delicious young eggs. In this dish, the pho (noodles) are also quite essential.
Fresh noodles are firm and elastic, thin but not too mushy, making for a more captivating culinary experience. And if you're having this meal for the first time and aren't sure which restaurant to go to, ask the locals; they'll be pleased to show you around.
A morning with a pho ga stall on a humble Vietnam's sidewalk.
3. Pho Bo Sot Vang (Vietnamese Pho With Red Wine Beef Stew)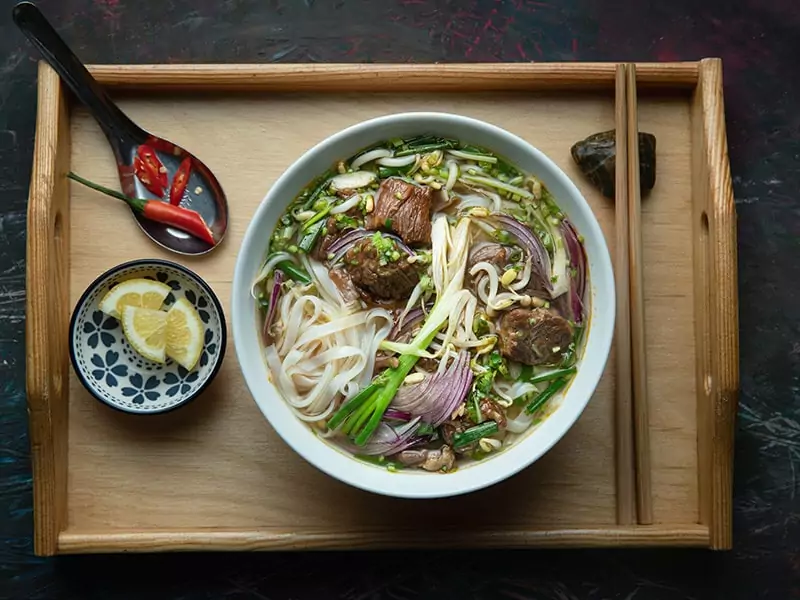 Let's talk first about the broth! The broth of pho bo sot vang is a soupy beef stew with red wine inspired by French cuisine. Normally, bo sot vang will be eaten with bread or rice, but in the North of Vietnam, they invented a new way to create a distinctive fusion.
In pho, the beef used is the beef tendon that is sliced thick (to have it chewier after stewing). The broth is not too fatty with hints of roasted anise and still has a certain clarity.
For more information, in the South part of Vietnam, locals have another variation of beef stew called Bo Kho (Braised Beef Stew), which does not include red wine. But it is more common to enjoy Bo Kho with noodles.
In short, when you are in Vietnam, you will be familiar with the scene of Vietnamese people, even in a hurry, still sitting at a sidewalk pho stall and slurping a steaming hot bowl of pho or noodles.
4. Bun Rieu (Vietnamese Crab Based Soup Rice Vermicelli)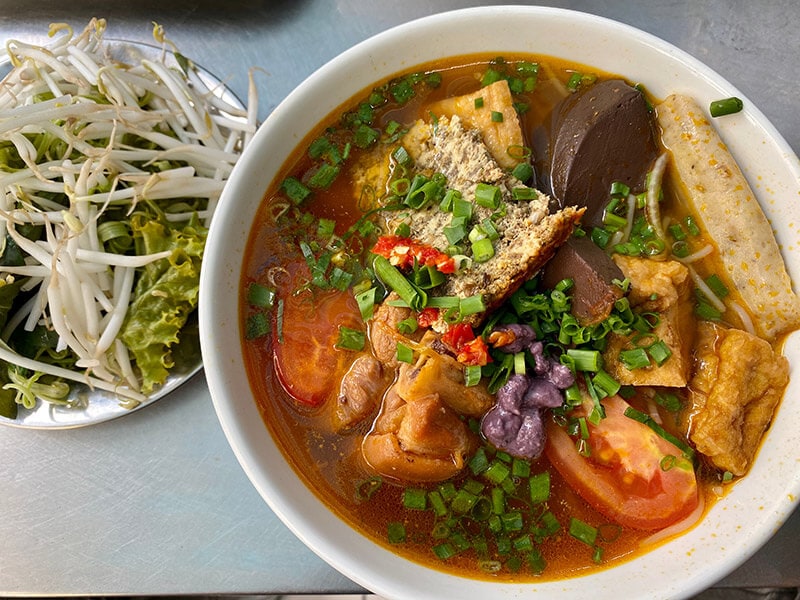 Bun rieu is an extremely easy Vietnamese dish to eat with a rich broth of shrimp and crab flavor. Compared to pho, this dish will have a wider variety of toppings, including fish cakes, crab meat, shrimp, pork, or a few others.
Vietnamese people have this dish for breakfast (or other meals in a day), and they usually eat it with shrimp paste and boiled pig blood.
Those components will be pretty challenging to eat the first time since you are not used to the smell, but I promise you it will be absolutely robust. So, if you have a chance, why not try something out of the ordinary?
Let's see what a famous chef talks about an authentic Vietnamese bun rieu.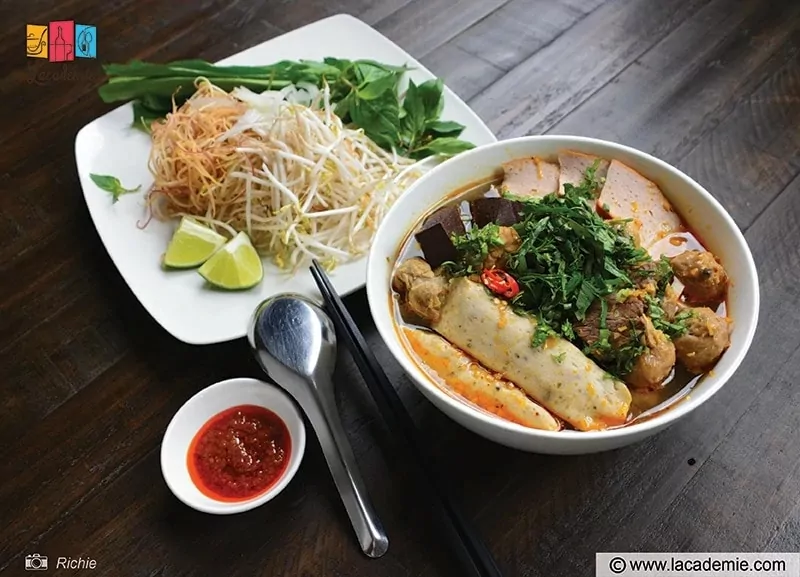 Don't worry if you like spicy and savory tastes over milder foods; this pungent bun bo Hue is for you. This food originated in Van Cu village, Thua Thien Hue (a province in Central Vietnam) from the 16th century.
If you look closely at the broth pot of this soupy dish, you will notice that it contains a lot of lemongrasses, ginger, galangal, and other esoteric spices. Everything is designed to leave intense and tempting flavors burst in your mouth from the first sip.
And, as the name says, this meal will be served with a variety of beef, including hog legs, and vegetables, making it a fantastic dish. Don't worry if you are not an early bird; bun bo hue is served every meal in a day so that you can have it for lunch or dinner.
6. Hu Tieu Nam Vang (Vietnamese Pork And Prawn Clear Noodle Soup)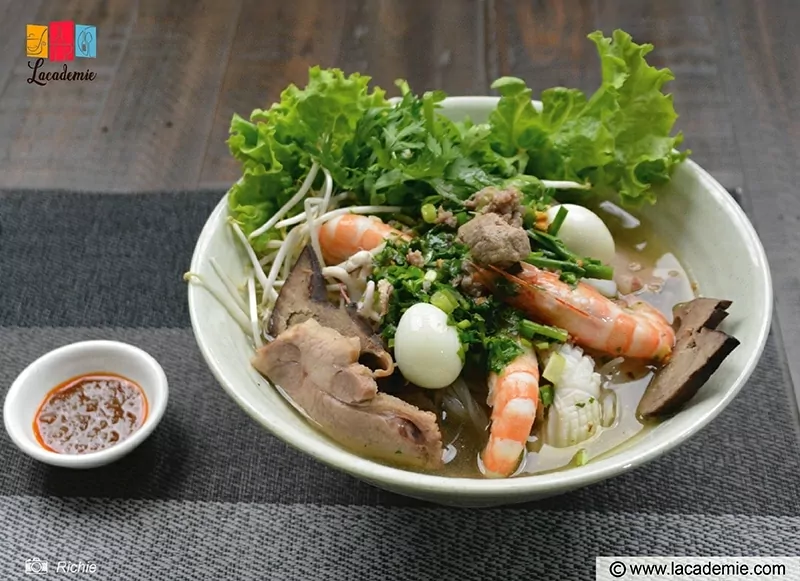 Hu Tieu Nam Vang, in fact, is not a Vietnam-origin dish. Instead, it is a delicacy from Phnom Penh – Cambodia's capital. However, its popularity in Vietnam is undeniable.
Of course, there are some minor differences between the original and Vietnamese version. The main ingredients in Hu Tieu Nam Vang are Hu Tieu noodles, pork meat (ground pork, liver, pork shoulder), prawn (or shrimp), squid, hard-boiled quail eggs, etc.
The broth of Hu Tieu Nam Vang soup is clear and very tasty. They can be a hearty breakfast, lunch, or dinner in Vietnam. You can also find a regional version, which is Hu Tieu My Tho, which includes more seafood than Hu Tieu Nam Vang.
7. Bun Thang Ha Noi (Rice Noodles With Chicken, Eggs, And Pork)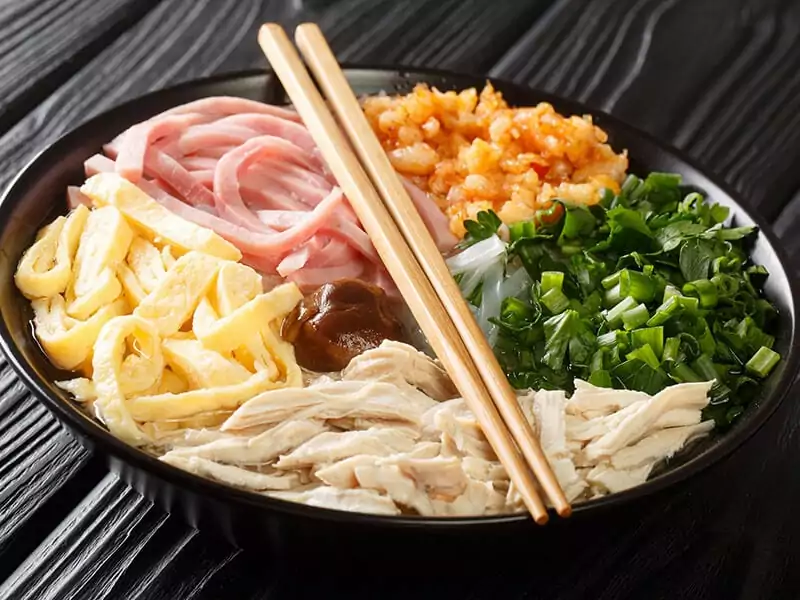 There is a small story behind the origin of this Vietnamese breakfast delicacy. After the Tet holidays of old Hanoi, housewives created this noodle dish from leftover dishes such as Vietnamese sausages, eggs, bean sprouts, and others.
The broth will be reused from the bone broth and added with unique ingredients to bring out the natural sweetness.
After many years, from a dish that can be considered a remake of leftovers, bun thang has become a popular daily breakfast dish for Vietnamese people.
8. Bun Mam (Vietnamese Fermented Fish Noodle Soup)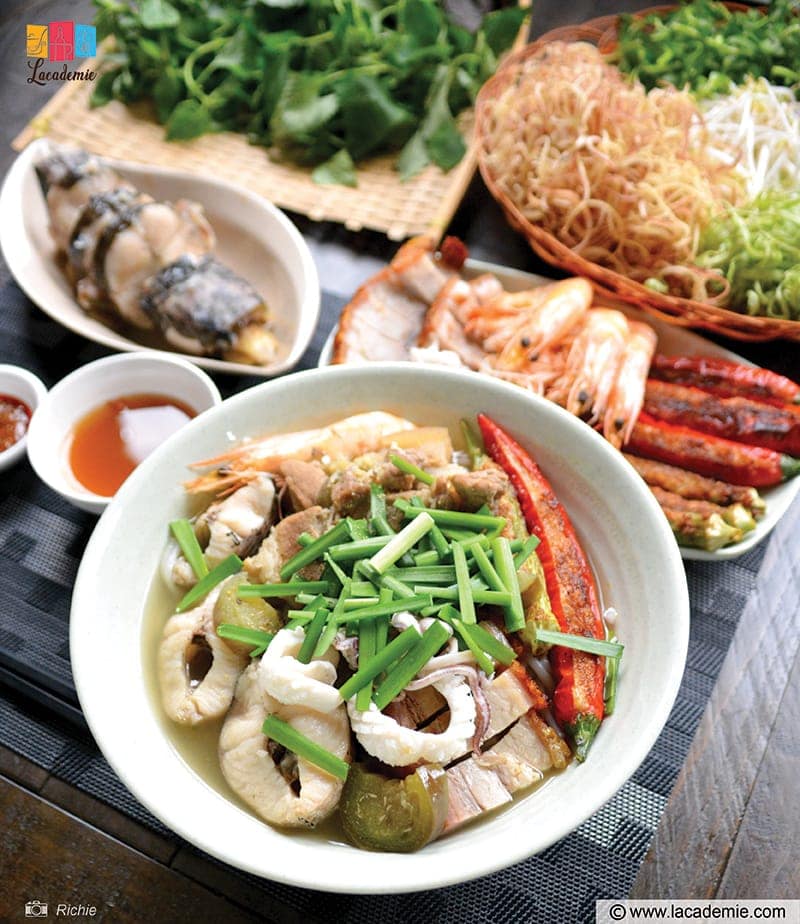 One general beauty in Vietnamese food is that every flavor is balanced, and it is hard to find any Vietnamese food that is "extremely something".
Bun mam, a dish that originated in Cambodia, is a staple of the Vietnamese Southwest region. The original version used a different sort of fish sauce, which Vietnamese people have changed to give the food a unique taste.
The broth will taste fantastic by balancing the ratios of fish sauce, water, sugar with other condiments and spices (without the toppings). Despite the numerous toppings, such as grilled pork and shrimp, the soup base will remain the focal point of this meal.
Knowing more about this Vietnamese bun mam through this guidance.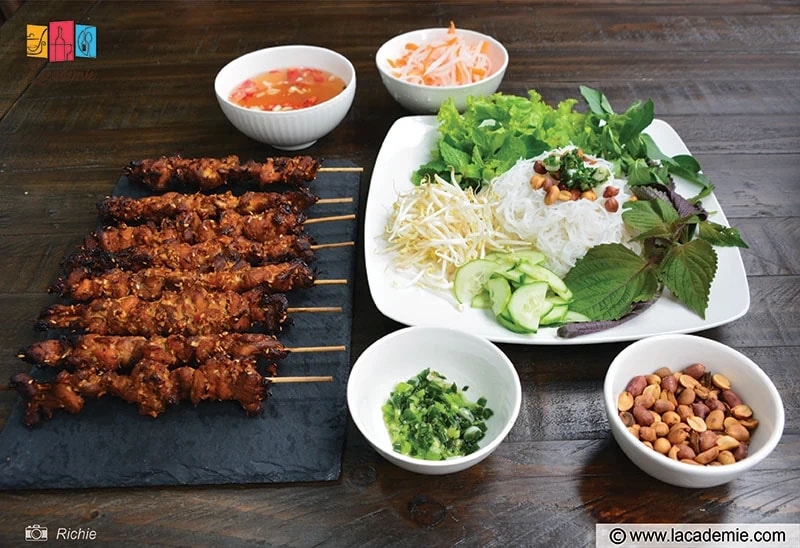 This rice vermicelli with grilled meat is a rustic dish with the rich cultural identity of the Vietnamese people. It is a prevalent dish in all three regions, and although the ingredients are varied, they can still be harmoniously mixed.
From pickles, raw vegetables, roasted peanuts to sour-sweet chili garlic fish sauce, all the small details make you want to eat this dish every day. On a beautiful morning, when walking around the streets of Vietnam, you can easily smell the ecstatic grilled meat.
10. Bun Cha (Noodles with Char-Grilled Meat)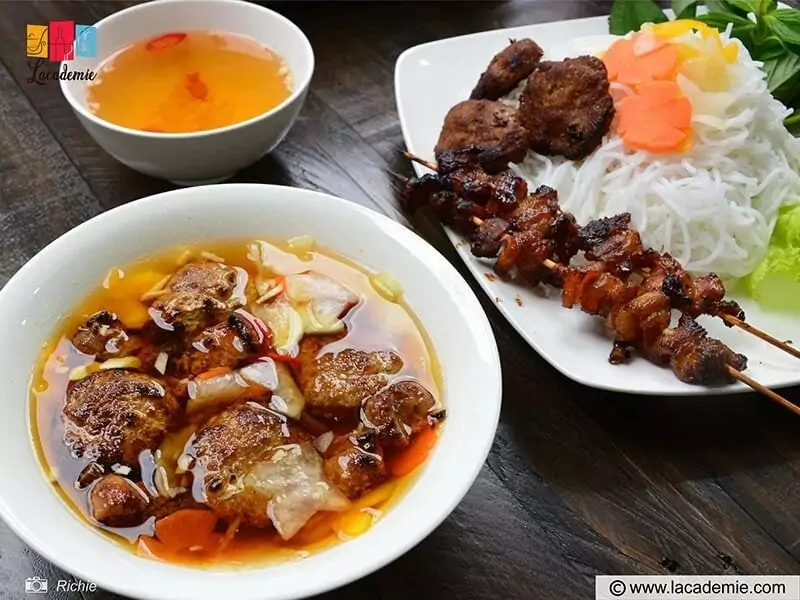 Bun Cha originates from Northern Vietnam and also uses fish sauces with garlic and chili as a dipping. However, the dipping sauce of bun cha will be warm, and the grilled meat (including grilled pork slices and meatballs) will be soaked in that bowl of fish sauce.
Instead of serving by placing everything in the same bowl or plate like bun thit nuong, the components of this dish are served individually. They will separate rice vermicelli, fish sauce, and vegetables into different portions.
When eating, you will need to dip the vermicelli into a bowl of dipping sauce, along with vegetables and meat and enjoy them all at once. Just talking about it makes me hungry again.
11. Bun Dau Mam Tom (Shrimp Sauce, Fried Tofu And Rice Noodles)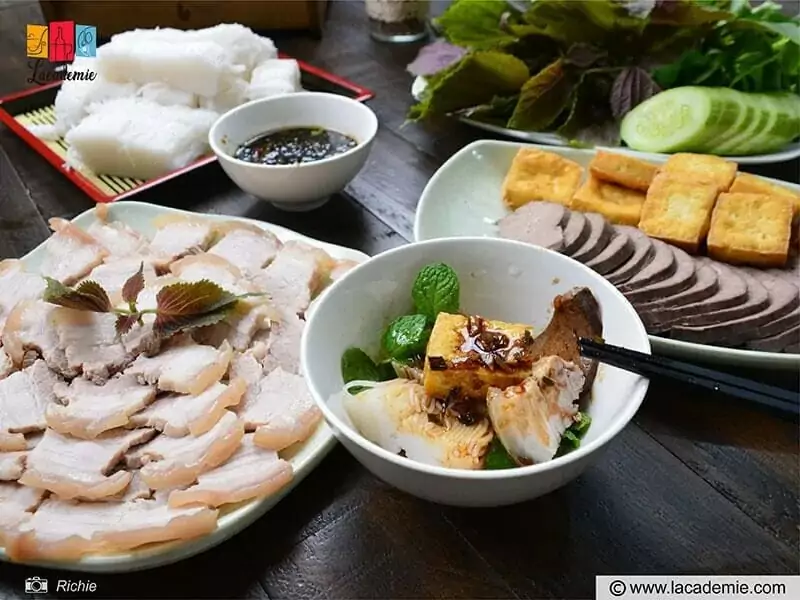 Unlike other vermicelli dishes, this bun dau mam tom dish is more popular as a brunch, lunch, or Vietnamese's hearty dinner rather than breakfast. The reason lies in the shrimp paste.
Shrimp paste is a rather smelly dish, and no one wants to start a day with such a stinky scent abound. Yet, that shrimp paste will become the soul of many dishes if you properly prepare it.
Although bun dau mam tom originated in Northern Vietnam, its popularity has spread to the South and is now a well-loved street food in Saigon. You can eat the food with fish sauce or soy sauce, but trust me, that's not the right way to enjoy this delicacy.
Knowing more Vietnamese authentic bun dau mam tom with this introduction.
12. Cao Lau (Cao Lau Noodles)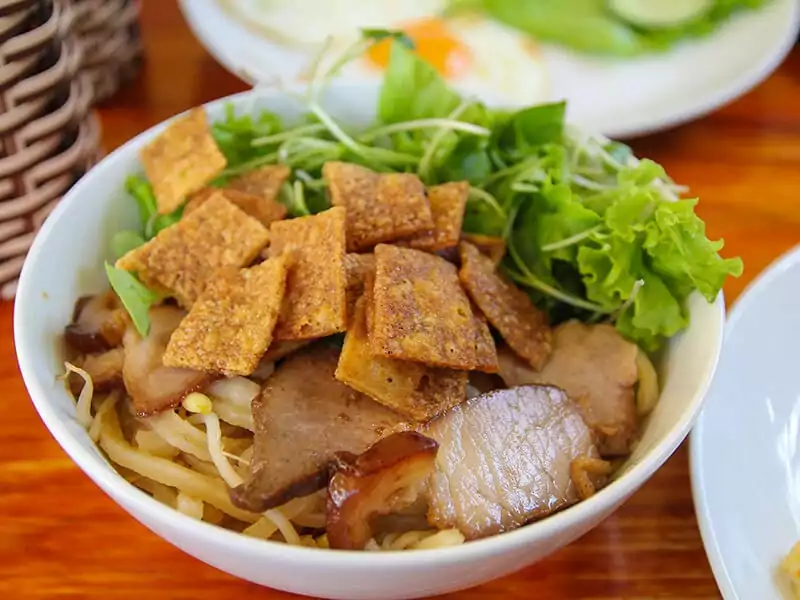 "Cao lau" in Vietnamese means "high floors". The origin of the name of this dish comes from the folktale that if you want to enjoy this dish, you have to sit on a high floor and enjoy the view at the same time.
The noodles used in this dish have thicker stands than most other types. There is also a lot of controversy about the dish's origin, but no one recognizes this as Chinese or Japanese food due to the unique way of processing.
The toppings and broth are processed strongly, and the noodles are the highlight because they are mixed with flour and ash water. Don't worry; you won't get upset because the ash water will only help bring out a characteristic smoky flavor.
13. Mi Quang (Quang Noodles)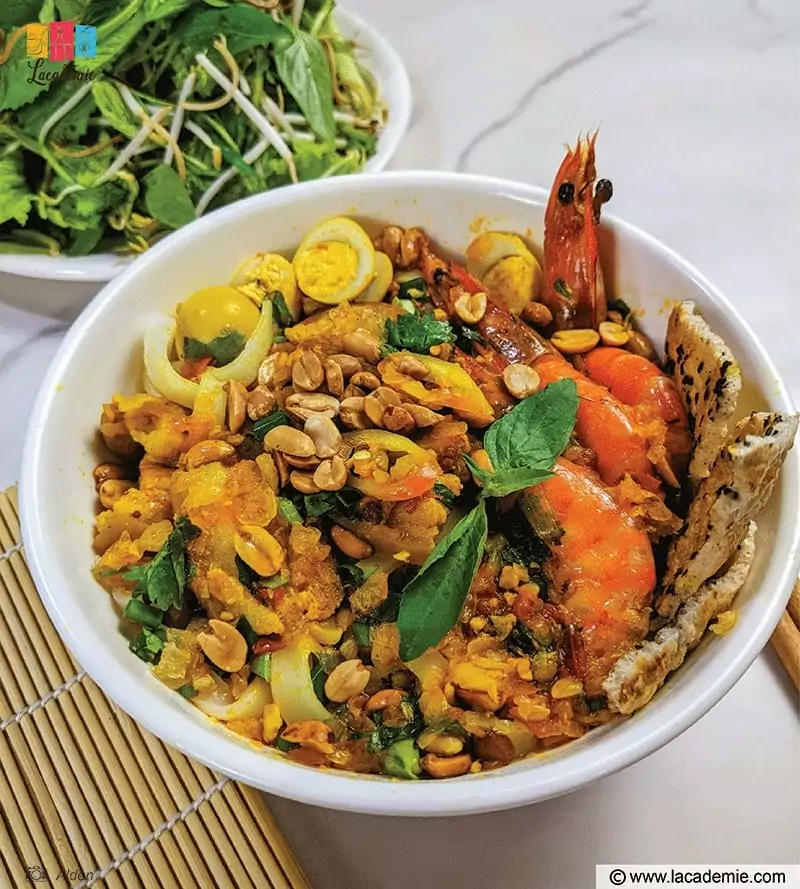 Quang noodles originate from Hoi An town, Quang Nam province in central Vietnam, with the noodles used being yellow noodles with thick fibers. However, when introduced to other lands, you can see that the noodles they use will be a little different and thinner.
In the original Quang Nam noodle dish, the broth will be thick, and the amount used will be less. They will also serve it with crispy rice paper, and you will drench the rice paper with the dense broth to feel its full signature savory flavor.
Vietnamese "Bánh"
Don't be confused; there are many different types of "banh" in Vietnam, and each of them is distinctive. Let's see what I will introduce to you below.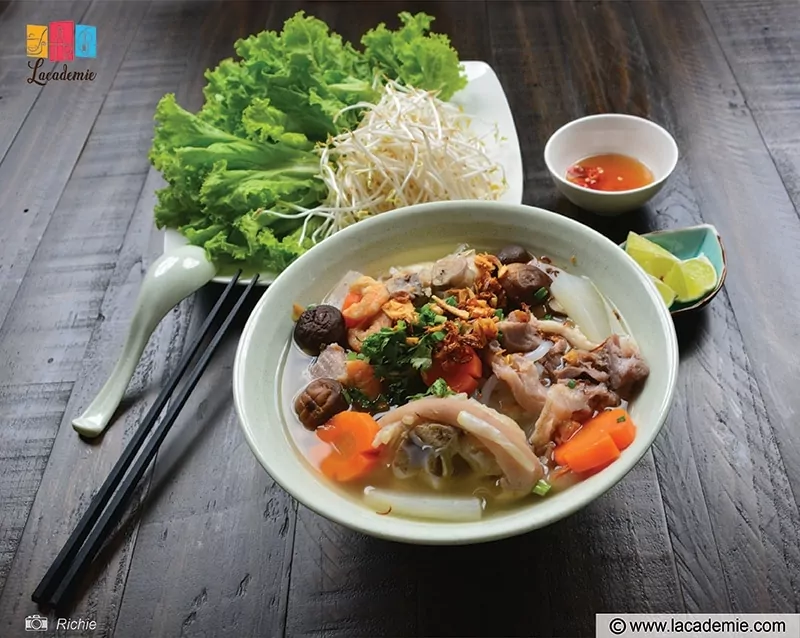 The term "banh" in this delicacy refers to a Vietnamese noodle variety with a thick, round shape and slippery texture. The main ingredient of this noodle is a mixture of tapioca flour and rice flour, or just tapioca flour.
There are different versions of Banh Canh across the country. The most common one is Banh Canh Trang Bang, which is a delicacy in Trang Bang province. You can also find other Banh Canh with fish or crab.
Besides the noodles, the soup made with pork is another key star to create a rich and tasty meal. The common pork cuts to make the broth are pig trotters, pork ham and knuckles. Other vegetables to enhance the flavor are mushrooms, carrots, and onions.
15. Banh Chung (Square Sticky Rice Cake)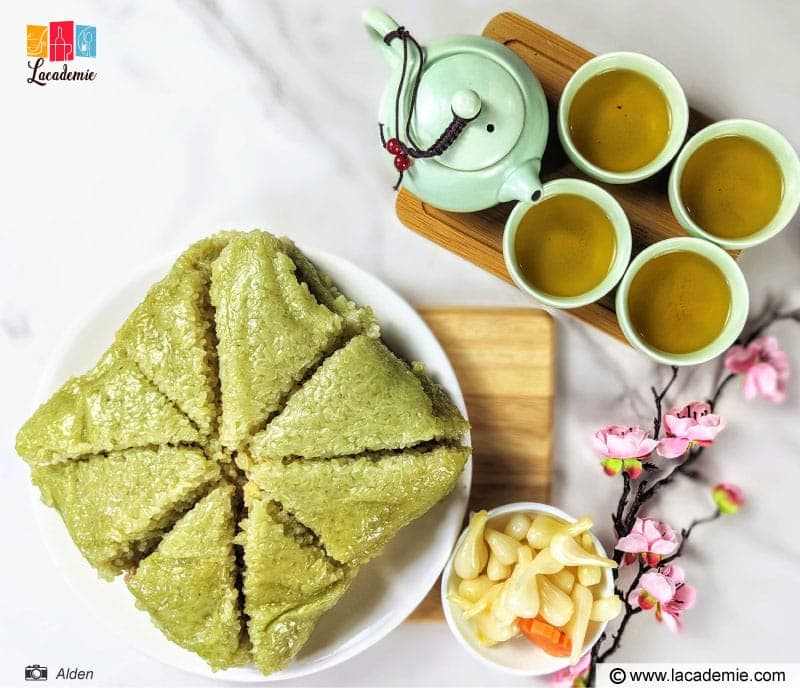 Because it has a very sacred value, this kind of cake is an exceptionally significant food in the traditional Tet celebration of Vietnam.
Banh chung (square sticky rice cake) was created in ancient times in the Hung Vuong dynasty of Vietnam to thank the gods for providing them with beneficial rain and bountiful crops.
The cake will have fillings of mung beans, fatty pork, and glutinous rice. The locals wrap the cake tightly in dong leaves. Vietnamese people continue to value this cultural treasure, and they are always keen to share this one-of-a-kind dish with the world.
The most detailed banh chung introduction and the story around this delicacy.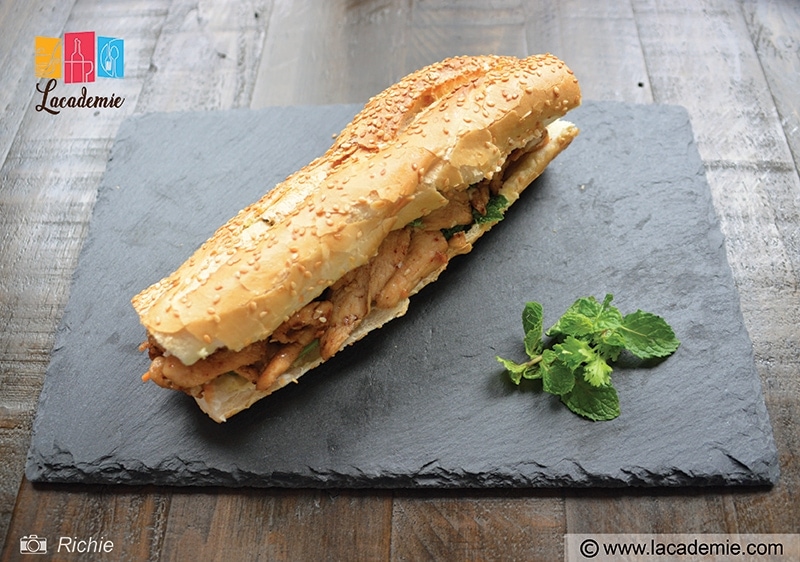 You must be no stranger to this dish anymore because this is a highly famous Vietnamese dish. Although the crusty bread is derived from French baguettes, the serving way and the recipe have been completely changed.
Instead of being served with Western-style ham or cheese, Vietnamese banh mi has a bold Vietnamese cuisine style with various ingredients from grilled meat, eggs, Vietnamese sausages, shumai, fish, and a variety of refreshing herbs. Besides, the locals also love to make chicken banh mi for a quick yet filling meal.
This unique bread is becoming more and more creative today, and there are many strange and exciting variations. So if you want to experience the taste of banh mi, you must visit this country once.
Don't miss this best introduction to learn more about Vietnamese banh mi!
17. Banh Gio (Vietnamese Rice And Pork Dumplings)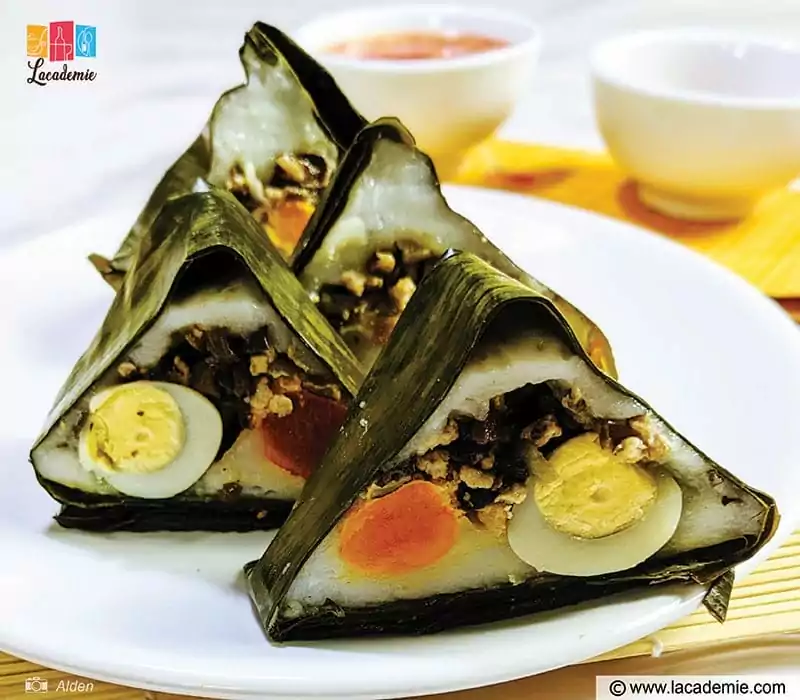 Another "banh" delicacy that you should not miss is banh gio (rice and pork dumplings). Unlike the previous one – banh mi, this treat has a very tender dough cover, which is made from rice and tapioca starch.
Inside the cover is a mixture of several components like ground pork, quail eggs, mushroom, etc. So overall, if you are looking for a full-of-texture dish, banh gio is an ideal choice.
However, if you want to make it yourself, you should prepare banana leaves. Without these leaves, banh gio is incomplete, even though you still have to discard it before consuming your food. Thanks to banana leaves, you can shape your food into pyramid dumplings.
18. Banh Bot Loc (Translucent Vietnamese Dumplings)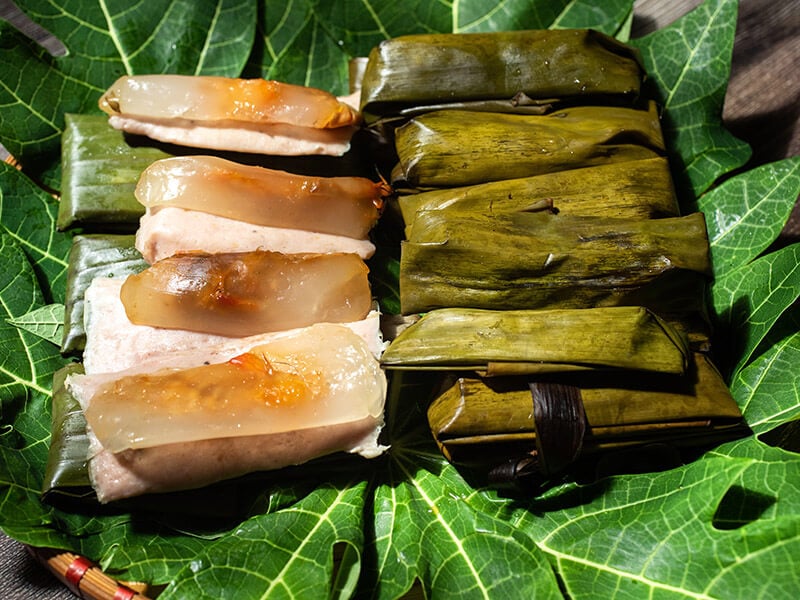 Continuing with a dish served with chili garlic fish sauce but a bit more spicy than usual. This banh bot loc dish is a specialty of Hue, a city in central Vietnam, and has gradually become more popular across the country.
There are various variations of banh bot loc, but the original version with shrimp and stir-fried meat is the one you should try first.
A piece of transparent, soft, and fragrant tapioca steamed cake, mixed with a sweet, sour sauce and spicy chili fish sauce, creates an attractive flavor that makes diners want to eat more and more.
19. Banh Xeo (Vietnamese Crispy Crepe/Pancake)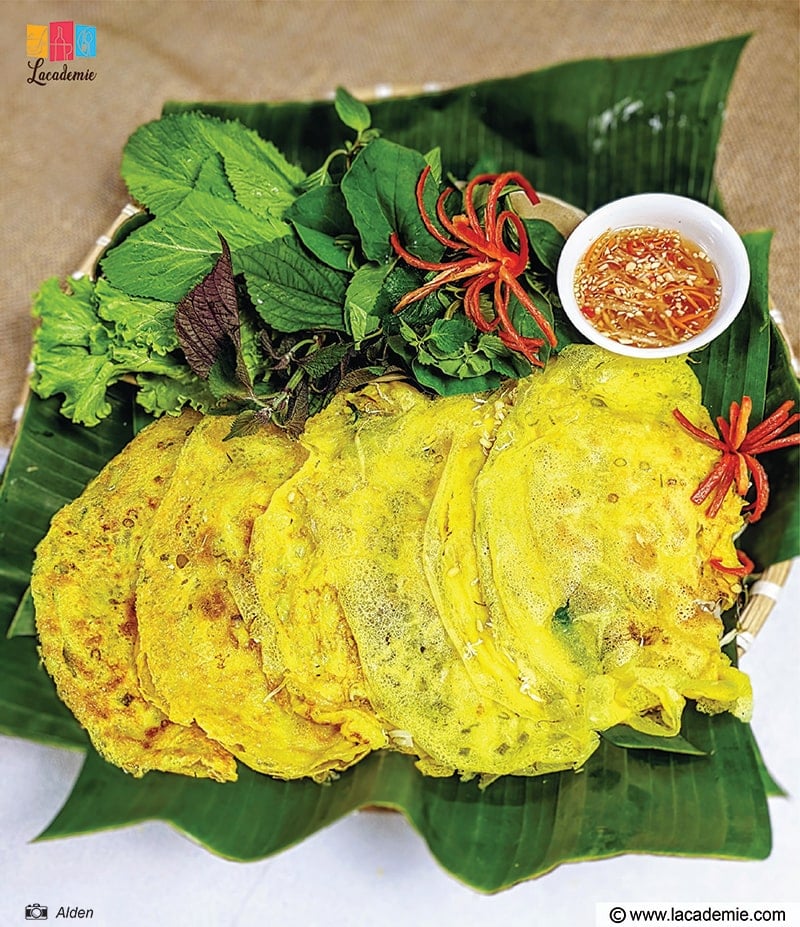 Appear mainly in central, southern, and western Vietnam; these banh xeo variations all have a thin, golden crust and a variety of shrimp and meat fillings. Still, they will vary slightly from region to region.
Different versions of this dish have also spread to other neighboring cuisines. It's known as the famous Cambodian street food Banh Chao or Khanom bueang Yuan in Thailand.
Central banh xeo comes from Binh Dinh province, while western ones come from Khmer ethnic people (some myths tell that western banh xeo also originated from the central).
The Vietnamese western sizzling crepes will have a larger size and softer crust than central ones.
And the word "xeo" in the name of this cake comes from the sizzling sound when frying the crepe. No matter which region's banh xeo is, all are delicious when eaten with various raw veggies and herbs. Fish sauce is also essential, so don't forget it.
It is time to learn more about this sizzling crepe of Vietnam.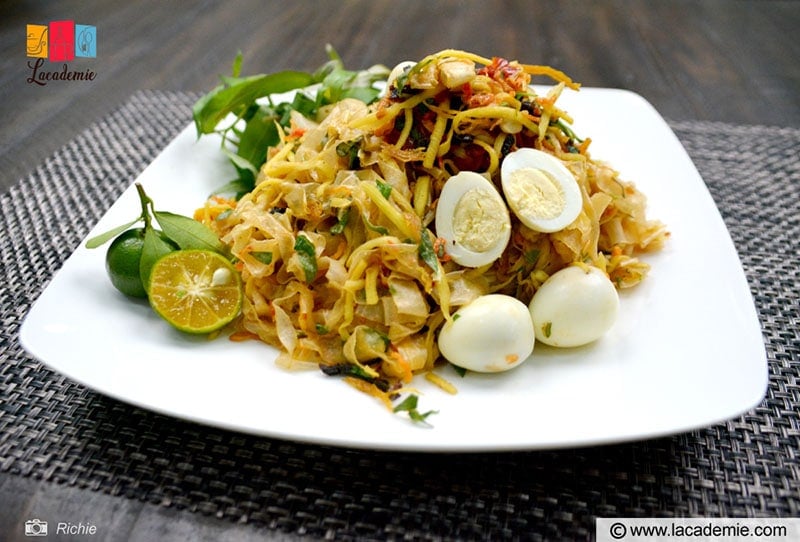 The true origin of banh trang tron is from a small town in Vietnam, Tay Ninh. That province's specialty is dew-dried rice paper, and they will use the leftover products to make banh trang tron.
At first, the food was mixed with spicy salt, oil, and satay, but now people love to have more toppings for more toothsome street foods to enjoy in Vietnam. That's why I'm certain this fun snack will catch your attention immediately.
A standard portion of mixed rice paper will have sliced young mango, dried shrimps, fried onions, beef jerky, and quail eggs. You should try it once to experience its goodness.
21. Banh Cuon (Vietnamese Steamed Rice Rolls)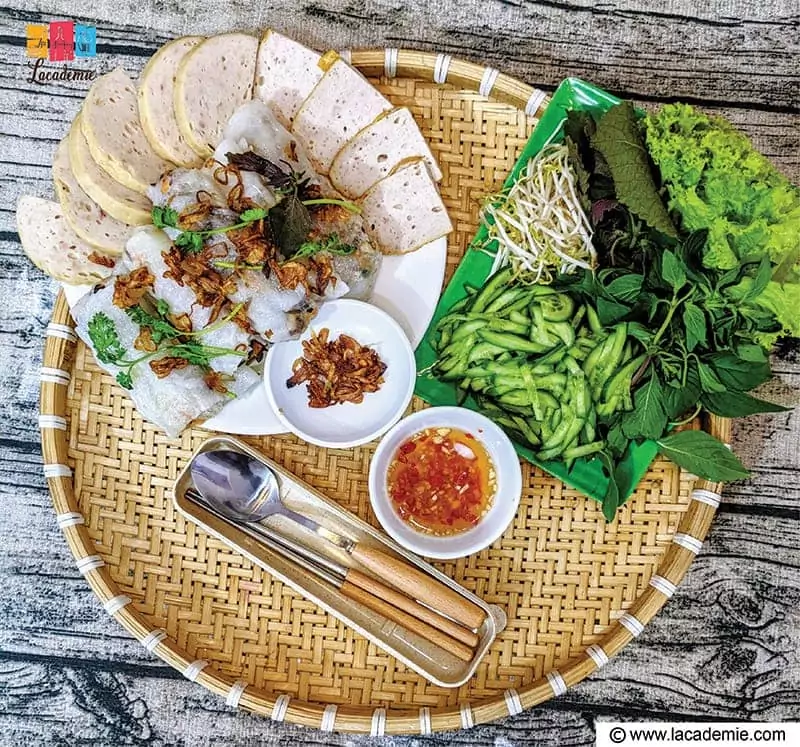 My first impression when eating banh cuon was its soft steamed rice flour shell. The shell completely embraces the fried meat or egg inside so that when you put it in your mouth, it will melt and reveal the delicious flavor of the filling.
This dish is a dish originating from the North of Vietnam and will also be served with a variety of Vietnamese sausages and spicy garlic-chili fish sauce. Vietnamese people will eat this dish for breakfast, but you can still find stalls selling banh cuon all day.
This best food review show will tell you about this Vietnamese banh cuon.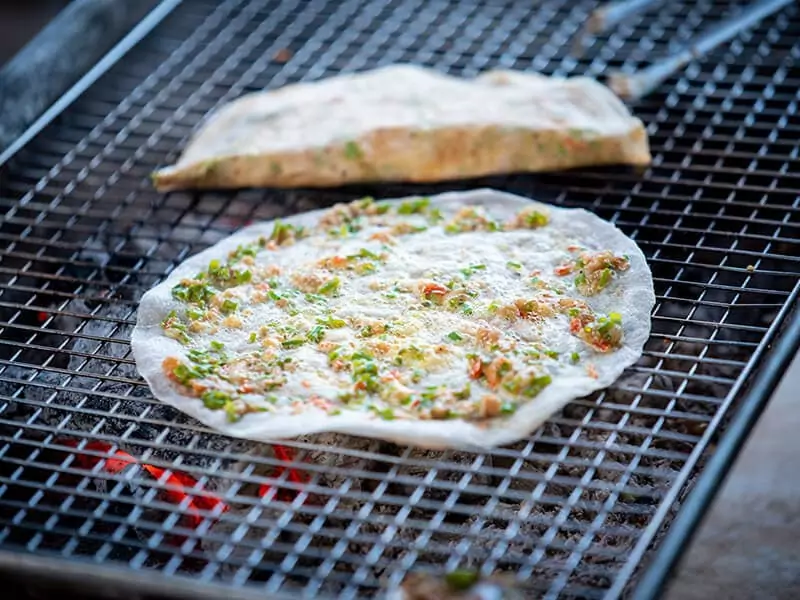 This is such a simple dish that you can even see it being prepared in front of you. The seller will use slightly thicker rice paper than usual for cooking. Then, they will put on some butter, eggs (chicken or quail eggs), chopped green onions, and some toppings as you like.
The rice paper will be grilled on the small charcoal grill until crispy and the toppings are fully cooked. Eating your treat with spicy chili sauce and rich egg-butter sauce will make it even more tasteful. And believe me, you will definitely have to order two for once.
Other Traditional Vietnamese Dishes
Vietnamese cuisine is one of the unique cuisines of Southeast Asia and is increasingly appreciated internationally. Besides the dishes above, let's learn about a few other dishes.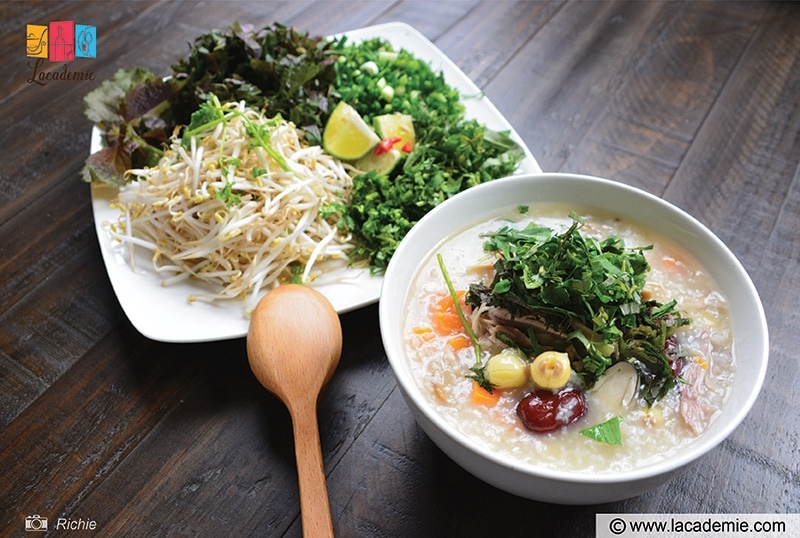 Congee is a heartwarming delicacy of Vietnam and other Asian countries. Since this dish is easy to digest and health-giving, Vietnamese people love to serve it to children, people who are sick, or the elderly.
To give the dish more flavor, the locals often cook the rice using chicken broth. They also utilize an array of classic Vietnamese spices and condiments, resulting in an aromatic and flavorful delicacy.
Besides the chicken, you can also come across different versions of Chao in Vietnam, such as duck congee, blood sausage congee, and even fish congee.
24. Ca Ri Ga (Vietnamese Chicken Curry)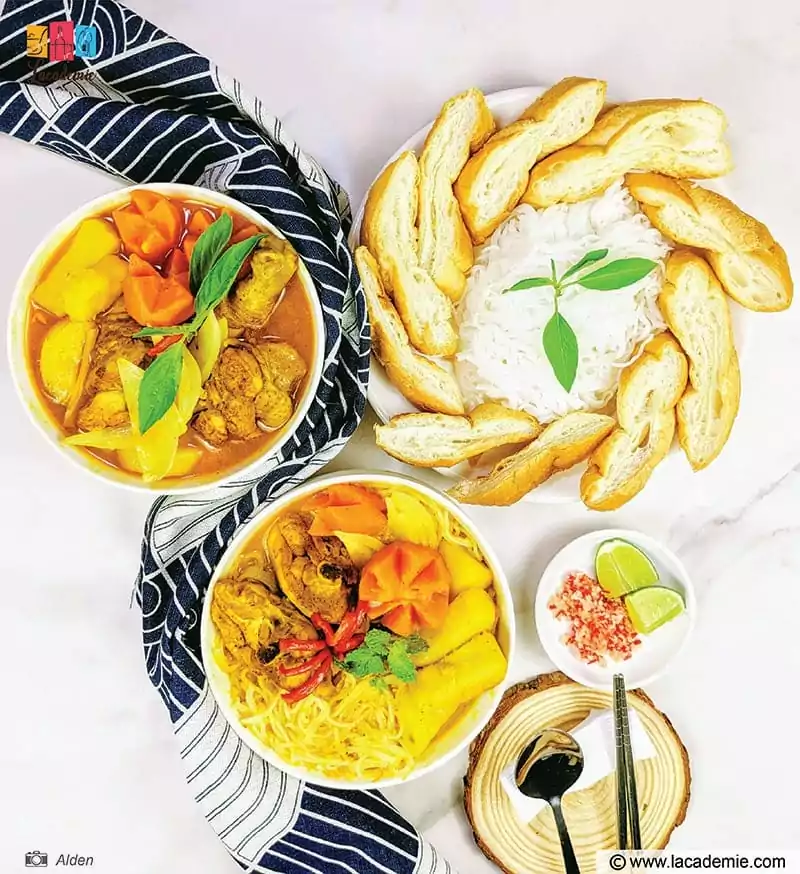 If you're too familiar with the spicy curry from India and Thailand, you might be surprised when you taste the Vietnamese version for the first time. Instead of the usual spiciness, the Vietnamese prefer a mild and rather sweet curry.
The locals use a mixture of coconut milk and soy milk to create that sweetness and also add a little fattiness to the dish. In addition, they include root vegetables, such as potatoes, herbs, and carrots in the curry.
Chicken is the most common meat choice, but some restaurants also use pork to make this delicacy. Don't forget to enjoy the curry with bread or vermicelli noodles for the most authentic experience.
25. Com Tam (Broken Rice With Grilled Ribs)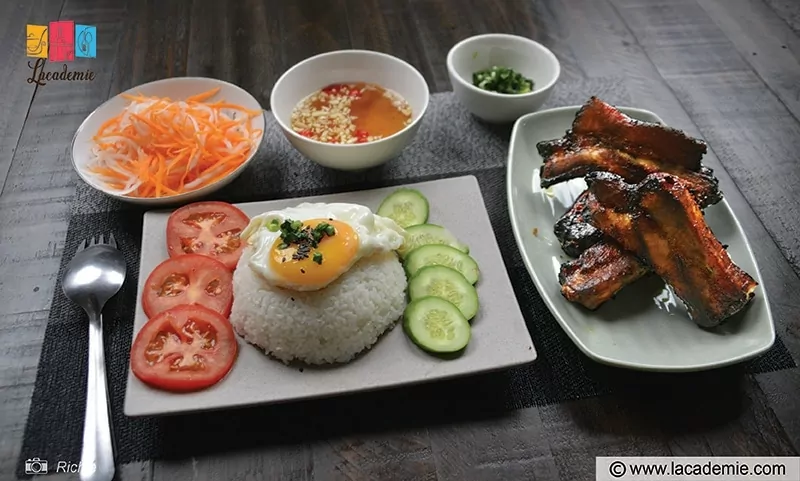 The habit of eating broken rice in the North and the South of Vietnam will be pretty different. If they eat broken rice for a Vietnamese-style lunch in the North, then the Southerners will eat broken rice for all courses, breakfast, lunch, and dinner.
The main ingredients of broken rice are also quite different from region to region. For instance, in Ha Noi, you can find Saigon-style broken rice with basic toppings like grilled ribs, steamed egg-meatloaf, and fried eggs.
But in Saigon, you will have no less than 5 options for what you want to eat with broken rice (caramelized shrimp, chicken, and so on). However, if this is your first time, try the simplest dish first with the flavorful Vietnamese pork chops.
One Vietnamese tip when eating this dish is to drizzle garlic and chili fish sauce over the rice and not use it as a dipping sauce.
Experience the most famous rice dish in Vietnamese cuisine right now.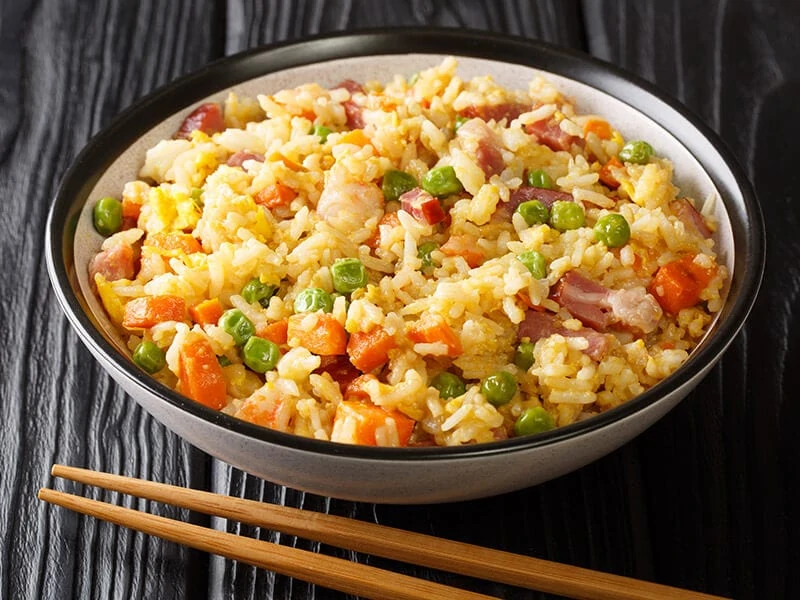 If you are in the mood for rice, you should consider this com chien duong chau (fried rice with veggies). Actually, in some variants, they will have more than just veggies. The additional components vary from deli meats (sausages), meats or seafood.
Therefore, you can have almost all the nutrients you need to start a day, or you can also eat a bit of it as a snack. Overall, this food is quick, convenient, and delicious, so there is no reason not to give it a go.
27. Nem Ran (Fried Spring Roll/Summer Roll)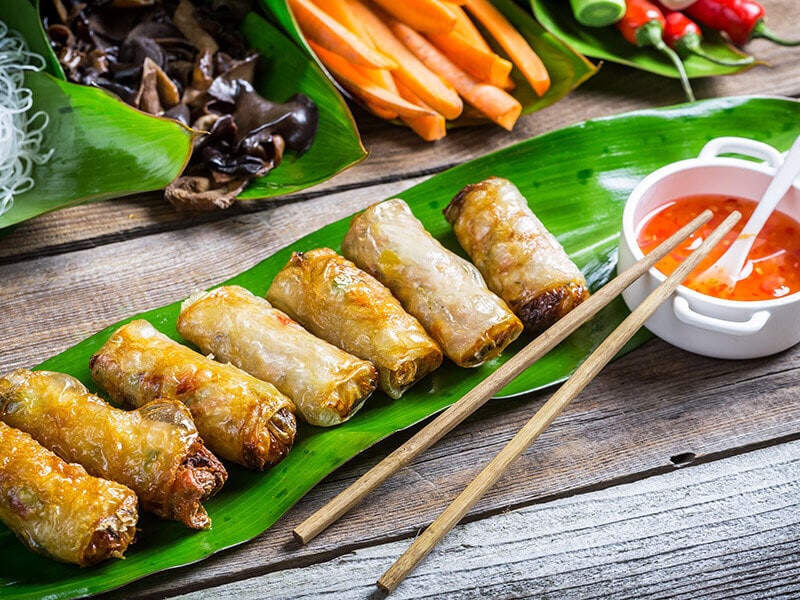 Besides pho and bun, there are many other palatable Vietnamese recipes, and nem ran is one of those.
The food is loved by many people globally for its enticing texture and flavors when eating. The idea to make this dish is to wrap the raw filling (pork, veggies, and rice noodles) inside a layer of rice paper.
After that, they will deep-fry these summer rolls gradually in low heat to ensure that it is not too hot to burn the skin while the fillings are still uncooked. The result will be the crispy golden brown summer rolls with a steaming hot, juicy interior.
Taking a bite and all the fillings' tastes will rush into your mouth, and you can enjoy the crunchy texture and rich, and peppery flavors at the same time.
28. Xoi Thap Cam (Savory Sticky Rice)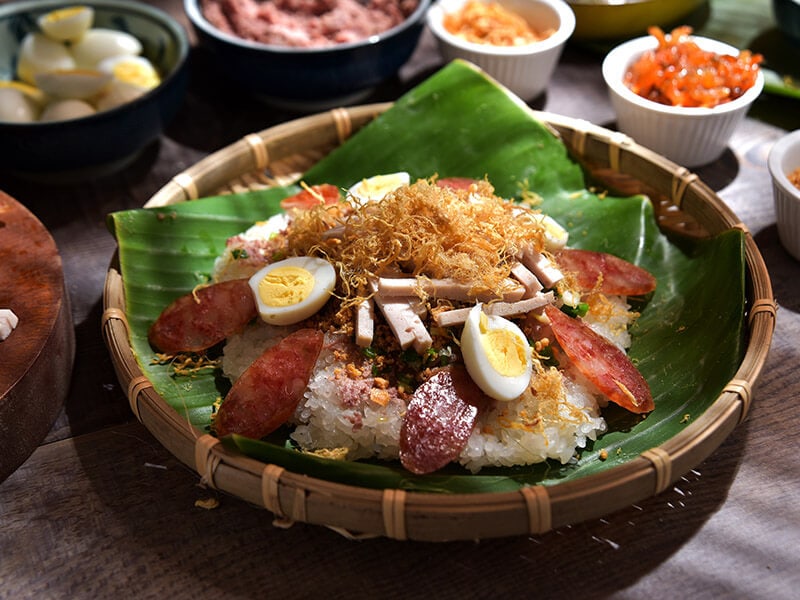 The idea of this Vietnamese recipe is quite simple. To be short, it is just altering the regular rice with cooked sticky or glutinous rice (xoi) with various components or side dishes. The use of toppings for this dish is also basic, and you can also have many options.
In the North of Vietnam, they prefer to eat this food whose name starts with "X" with caramelized pork, Vietnamese sausages, and fried eggs, while in the South, they love to eat with Cantonese-inspired sausages and a few others.
To balance the taste of this food, don't forget to eat it with the green pickles they serve beside! On the other hand, if you prefer a sweet dish made from sticky rice, try Vietnamese-style peanut sticky rice! They are a quick breakfast in Vietnam that you can buy from the street food stalls.
29. Goi Cuon (Vietnamese Fresh Spring Roll)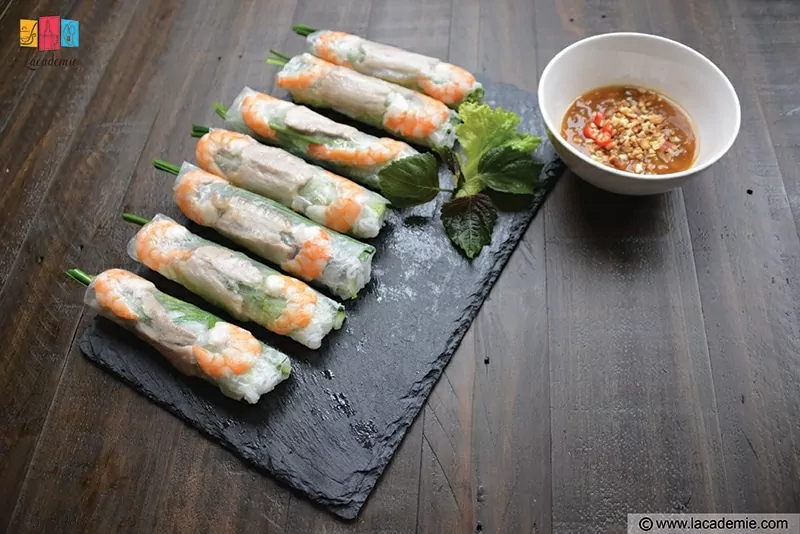 The first difference between goi cuon and nem ran is the processing method. Goi cuon requires salads, cooked rice vermicelli, and cooked proteins like prawns or pork. Because of that, it doesn't need to be fried.
The second difference is that while nem ran is served with rice vermicelli, that part is already rolled inside the rice paper of goi cuon. Their biggest common thing is that both dishes are delicious and you should definitely try them all if you have the chance.
Should you ever need a scrumptious Asian dish to serve as appetizers, spring rolls should be on your list. After all, it is spring roll's irresistible allure that makes them a popular dish throughout Asia.
30. Pho Cuon (Rolled Pho)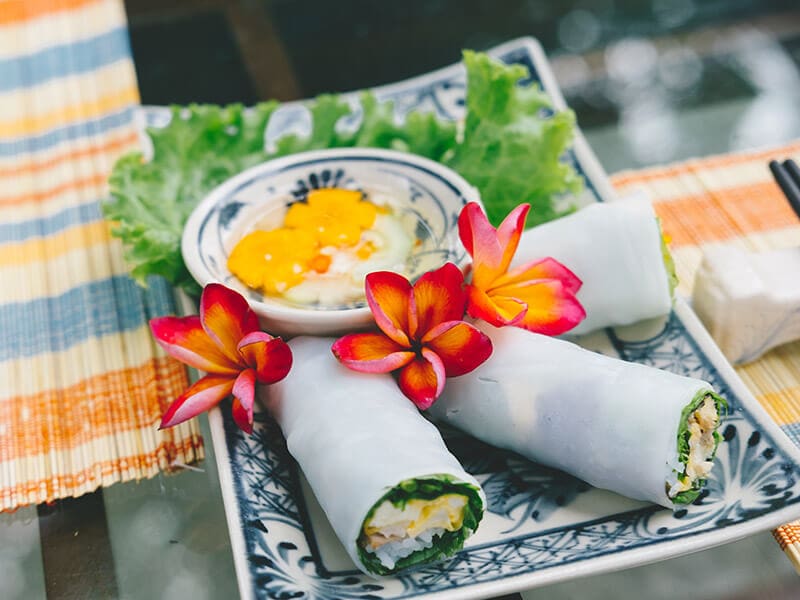 It looks pretty familiar, isn't it? This dish has the same idea as the previous goi cuon: the filling is rolled inside a layer of a rice-made sheet, but this pho cuon is made from steamed sheets of pho.
The filling is also a bit different since the main ingredient of this dish is sauteed beef that is thoroughly marinated with a variety of spices and some salads (just like the other Vietnamese healthy dishes).
Just imagining dipping the roll of pho cuon in a bowl of spicy chili garlic fish sauce makes my mouth water already.
You won't regret taking the time to learn more about pho cuon here!
31. Bo Luc Lac (French-Inspired Shaking Beef With Veggies)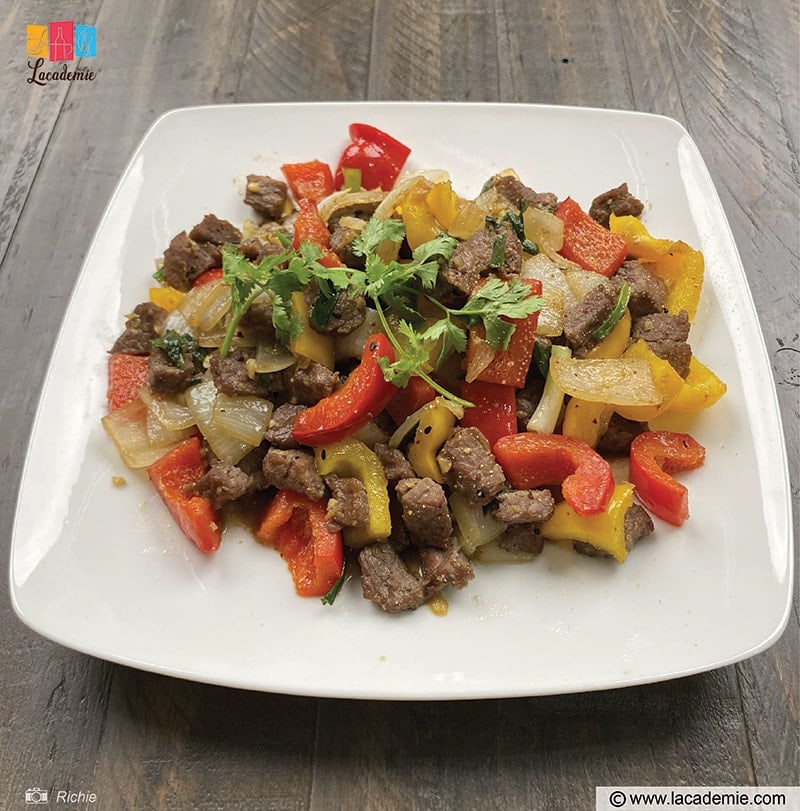 Vietnamese people often eat this dish with any meal that includes white rice, whether it be lunch or dinner.
In Vietnamese culinary culture, you can see many dishes that combine veggies and meat with many spices. This bo luc lac, inspired by French cuisine, is not exceptional.
With the addition of plenty of crunchy and mellow veggies when cooked like bell peppers, onions, and a lot of sauce covering the soft meat, this dish has successfully become an authentic Vietnamese dish.
32. Thit Kho Tau (Caramelized Braised Pork With Eggs)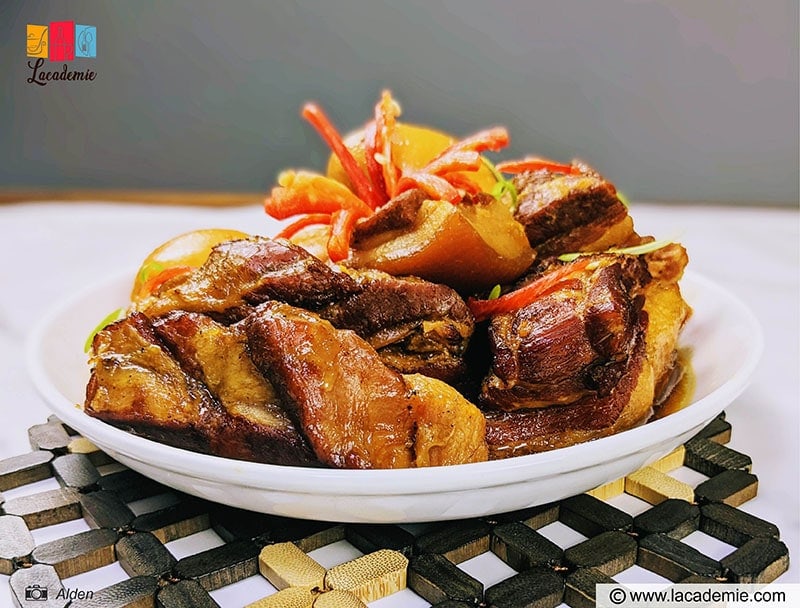 Some people might think this dish is a variant of Chinese braised pork, but it is actually not. This delicacy originates from the Southwest region of Vietnam, where people call it "thit kho lat" (bland braised pork with eggs).
This dish is often cooked on the traditional New Year's day in the west to wish for a smooth and peaceful new year. Some families often cook a big batch of this food and share it with their neighbors as a gift for New Year.
Braised pork is also an iconic dish in Chinese cuisine. Known as Hong Shao Rou in Chinese, the dish features a juicy pork belly. However, unlike Vietnamese Thit Kho Tau, Hong Shao Rou usually doesn't contain eggs.
33. Ca Kho To (Braised Fish In A Clay Pot)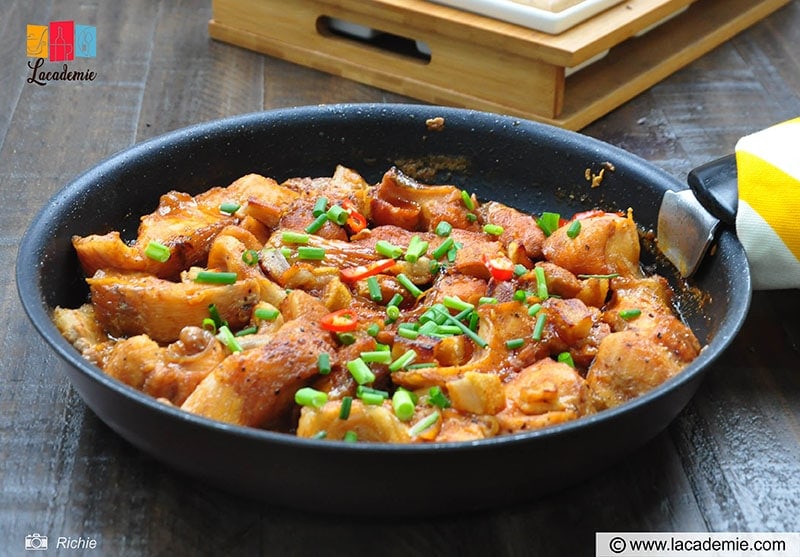 A meal with white rice and braised fish in the clay pot is signature for Southern people. The soft, sweet taste of fish flesh combined with the salty taste of the fish sauce, a touch of spicy chili have created the typical flavor of this dish.
The word "to" means "clay pot" in Vietnamese, but nowadays, they hardly use that equipment anymore. Instead of that, they use modern pots that are made of metal. Believe me, the taste won't be precisely the same, but it will please you anyway.
34. Gia Cay (Braised Pork With Galangal/False Dog Meat)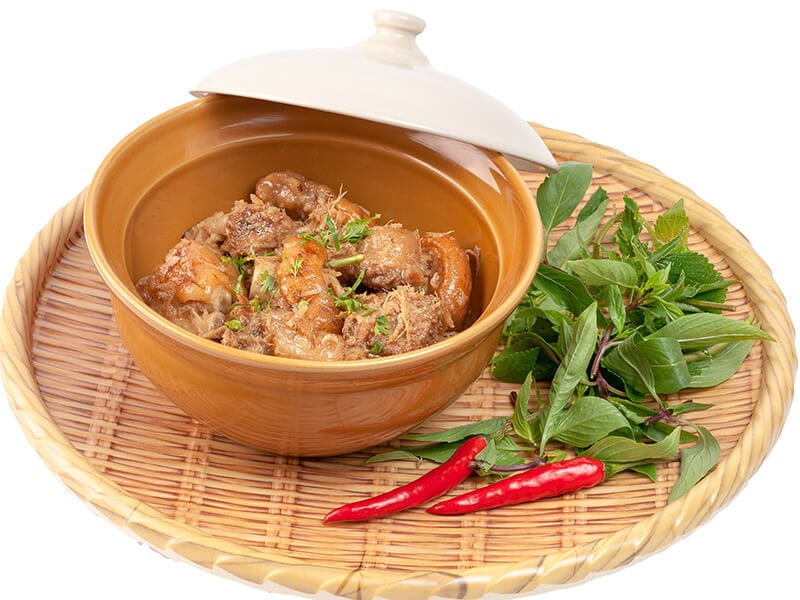 Gia cay (false dog meat) is a typical rustic dish of the Vietnamese people. This dish is usually made from pork feet with various marinated ingredients and spices, which is why this dish is so named.
In some regions, instead of pork, they use other types of meat such as Siamese duck, goose, or duck to create this dish. After cooking for hours, the dish will become a perfect main course with rice vermicelli or steaming hot white rice.
35. Trung Vit Lon (Duck Embryo)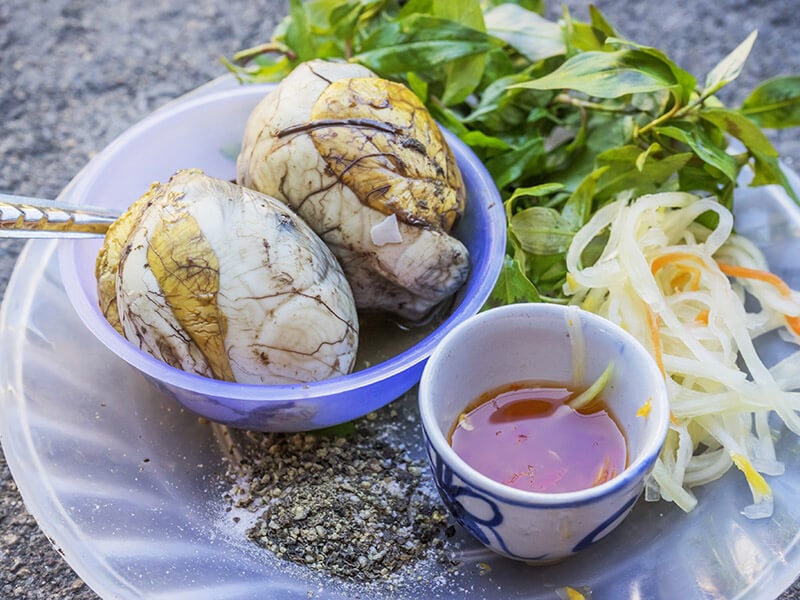 There is a funny rumor in the Vietnamese community that eating this dish can help to ward off bad luck. That is because the word "lon" in "trung vit lon" means wholly changed. And if you want your bad luck to turn into good fortune, a duck egg can help.
If you're curious about the rumor, you can check it out for yourself. But for me, I eat the dish because it is so delicious. My advice to you is to ask the seller for younger eggs as that will be easier to eat.
You will not want to miss this trung vit lon taste review!
36. Canh Chua (Sweet And Sour Fish Soup)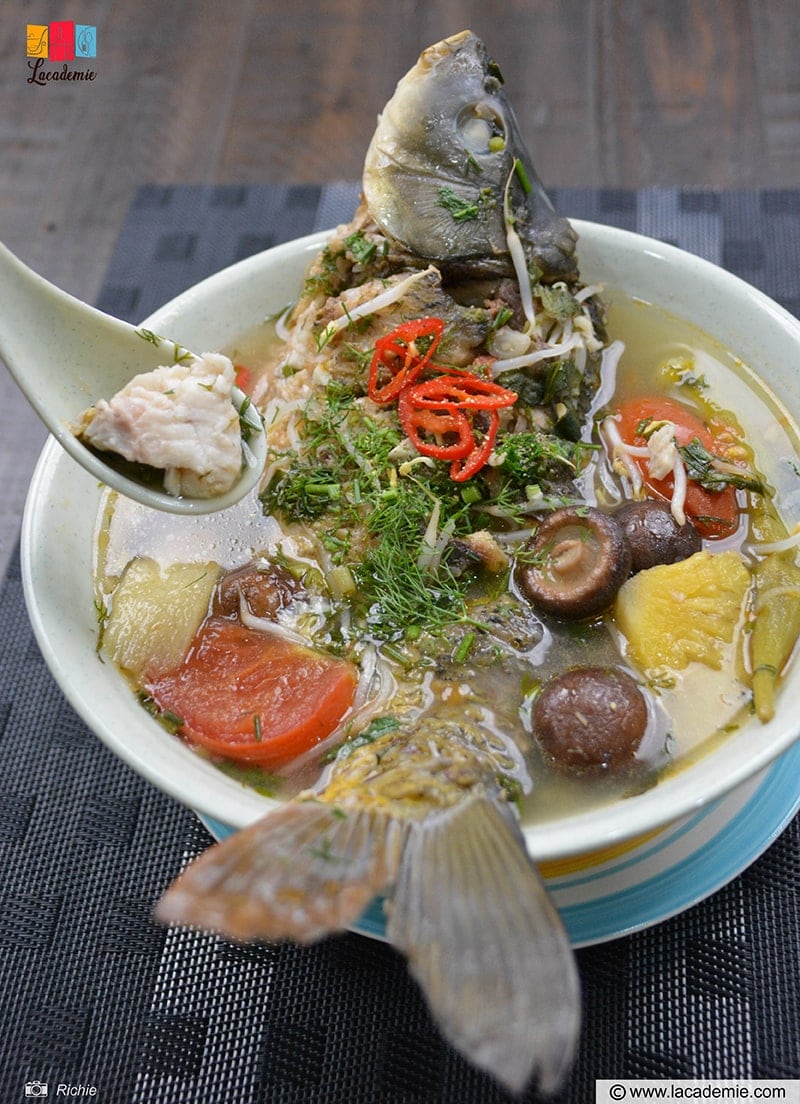 "Chua" in Vietnamese means sour, yet this dish will deliver not only sourness but also irresistible sweetness. This dish appears in all regions of Vietnam, and each region will favor a specific taste.
The soup will be sourer in the North, while in the Central, it will be saltier and spicier or a bit sweeter in the South. Vietnamese people will eat this dish as soup in a family meal and serve with other main dishes and hot white rice.
Besides fish, the main protein parts of this food can vary from shrimp, chicken, or pork. Therefore, if you are allergic or cannot eat one of those, you can opt for the other variants.
Special Vietnamese Condiments
An excellent Vietnamese dish can depend on dipping sauces or supporting condiments. Don't worry if you haven't known anything about that; here is my brief introduction.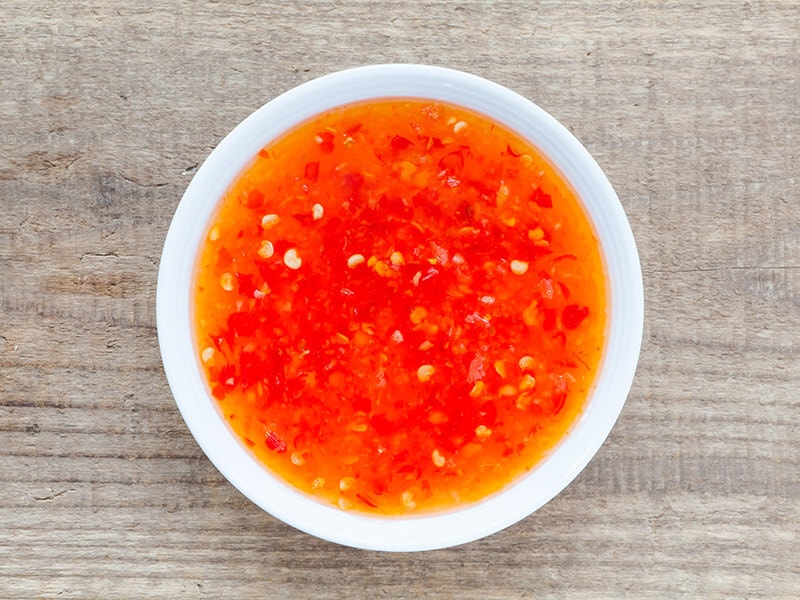 Do not forget fish sauce mixed with garlic and chili in Vietnamese dishes! Except for dishes that come with ready-made broth, you will find most of the Vietnamese dishes come with a small bowl of fish sauce (which is used to dip or spread on food).
The bowl of dipping sauce is mixed with the perfect sweet-salty ratio, minced garlic, and chili peppers that play a role in igniting the flavor of Vietnamese dishes. The pungent garlic-chili smell will also help mask the characteristic fishy smell, so please try it out!
Many people tend to shy off fish sauce due to its strong smell. However, I'd say that the unique flavors that only fish sauce can offer are more than enough to please even the most demanding palates. And with the addition of garlic and chili peppers, Vietnamese fish sauce is worth a try.
38. Mam Tom (Fermented Shrimp Paste)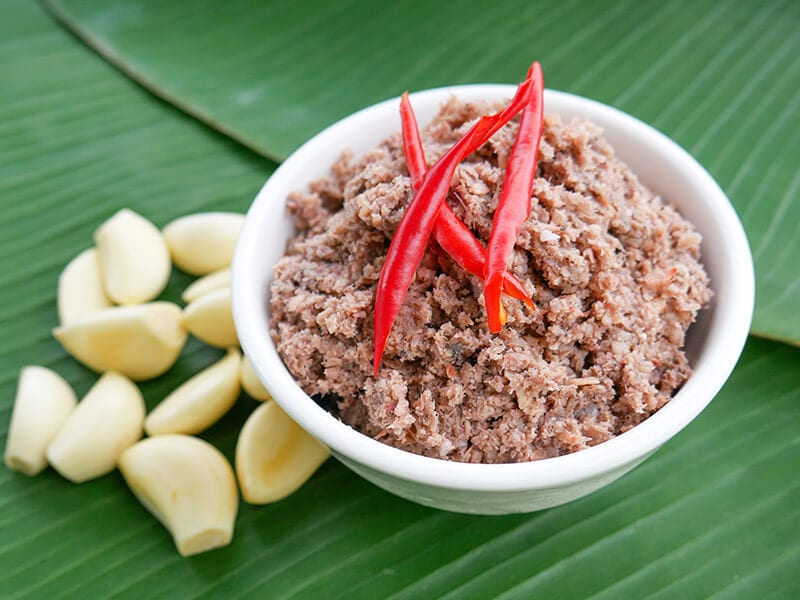 Vietnamese people love using fermented shrimp paste in their daily meals. It can be used as a dipping sauce in dishes such as fried tofu, boiled intestines, and meat.
Besides, local people also eat mam tom with bun thang or bun mam. Its distinctive taste will efficiently accentuate the lovely fragrance of those listed dishes.
A common misconception of foreigners with this paste is that Vietnamese people will eat it and not mix it with anything else. This is not true; to eat this exotic paste, they will mix mam tom with some spices and sugar to neutralize the original smell of shrimp paste first.
Look at the right way to make a no-fail mam tom bowl.
39. Dau Hao (Oyster Sauce)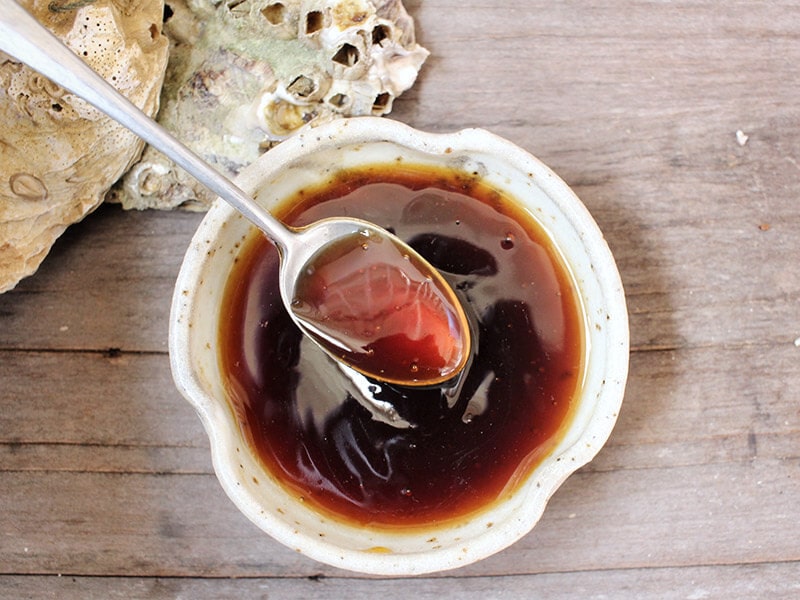 Oyster sauce was first made in 1888 by Lee Kam Sheung, living in Nanshui village, Guangdong province, China, when this person accidentally forgot a pot of oysters cooked in salted water.
Although it is a bit burnt, it has a unique deliciousness, becoming more and more popular as a condiment for various dishes.
Nowadays, the oyster sauce is an indispensable condiment in many countries' culinary cultures in general and Vietnam in particular. Vietnamese uses dau hao as a dipping sauce, marinating, and cooking condiments.
Do you want to try this Vietnamese delicacy, but you can't tell for sure if the oyster sauce is suitable for vegan diets? Fear not; among the various oyster sauce brands with the highest quality, you can find plenty of products made specifically for vegans' enjoyment.
Vietnamese Sweet Treats
A culinary background is made up of many different separate fields. As for Vietnamese cuisine, two prominent fields that help this culinary culture be noted besides savory dishes are their delectable sweet dishes.
40. Che Thai (Fruit Cocktail With Coconut Milk)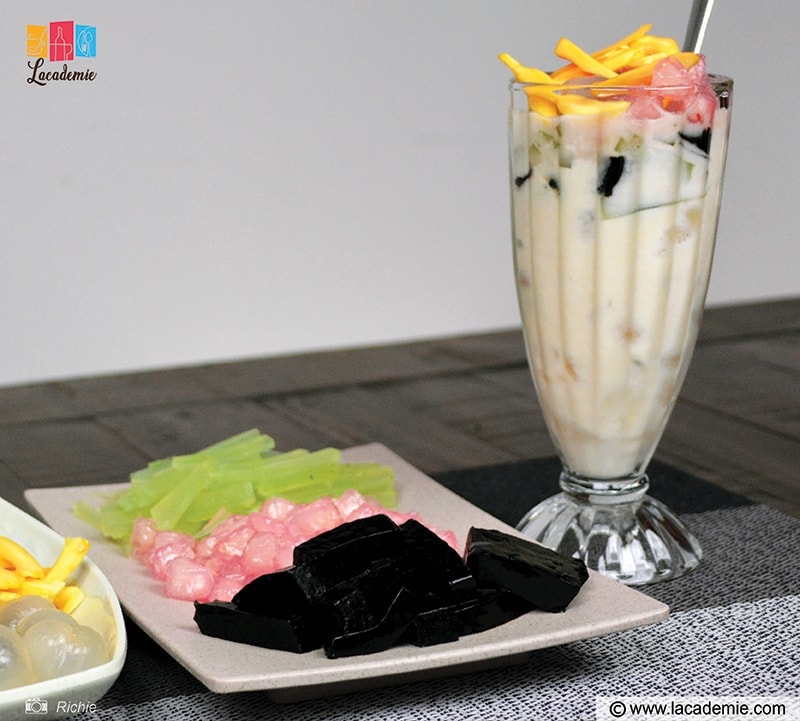 Let's start this section with an immensely popular treat in the Southern part of Vietnam – Che Thai. As you might guess from the name, this dessert is inspired by a classic Thai sweet course called Tub Tim Krob.
If you're a fan of colorful and fruity desserts, Che Thai is the perfect choice for you. With a combination of fruits and jellies, this sweet treat will capture the heart of any foodie right after the first spoonful.
41. Che Buoi (Pomelo Sweet Soup)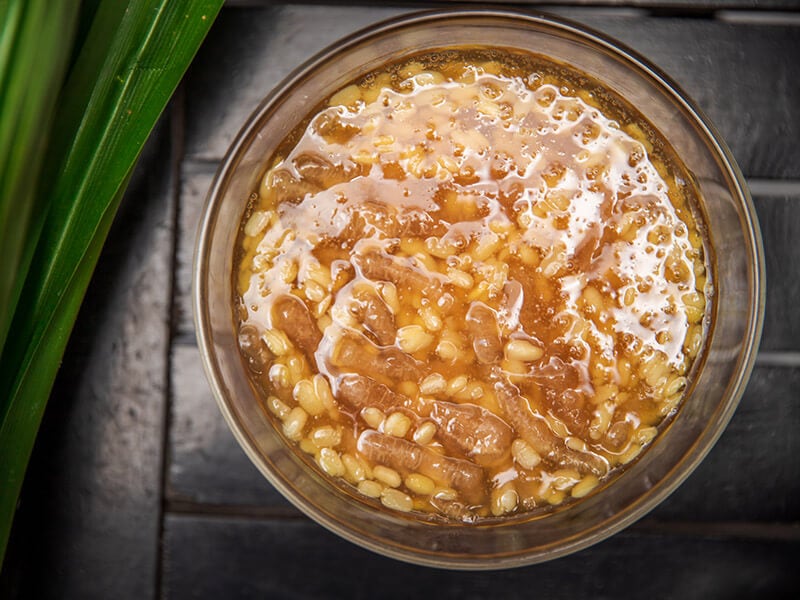 Che buoi is a famous Vietnamese sweet food that is usually eaten as a snack, and you can find it inside any Vietnamese local market.
This dish is actually made from the pomelo's pulp with some mung beans and tapioca. Pomelo pulp is often bitter, so it will be processed meticulously before cooking with rock sugar (or granulated sugar).
When you enjoy the treat, you will find transparent cubes with a chewy texture and a hint of acidity like in pomelo zest. That is the pulp I am talking about.
How Vietnamese make a perfect che buoi, every step is shown here!
42. Sua Chua Nep Cam (Black Glutinous Rice Yogurt)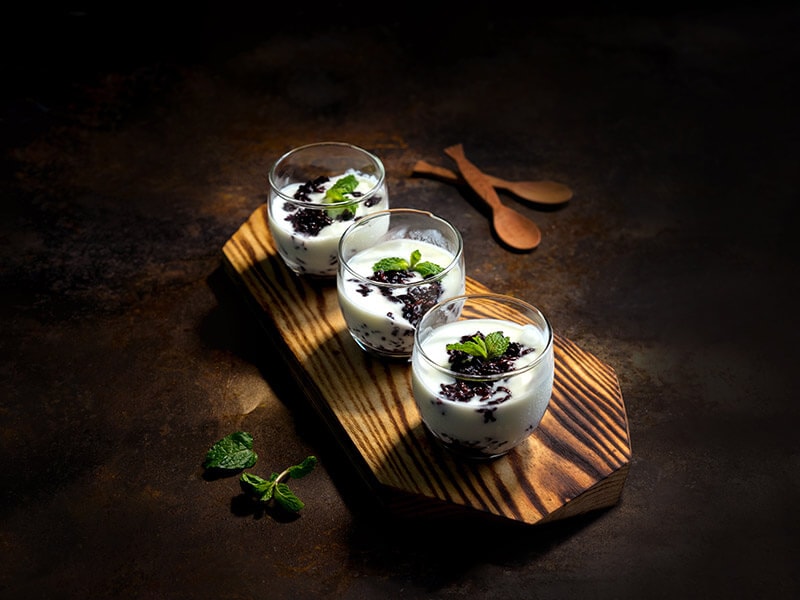 If you have never tried combining glutinous rice with a sweet dish, this combination will surely surprise you.
Black glutinous rice yogurt originates from the North but is more prevalent in the southern provinces of Vietnam. This particular type of sticky rice is not precisely jet black but rather purple-black.
To serve this cooked sticky rice with yogurt, Vietnamese people flavor it with sugar. It helps to connect the mild sourness of the yogurt with the rice and create a lovely harmony in this summer treat.
43. Cốm (Vietnamese Green Flattened Rice)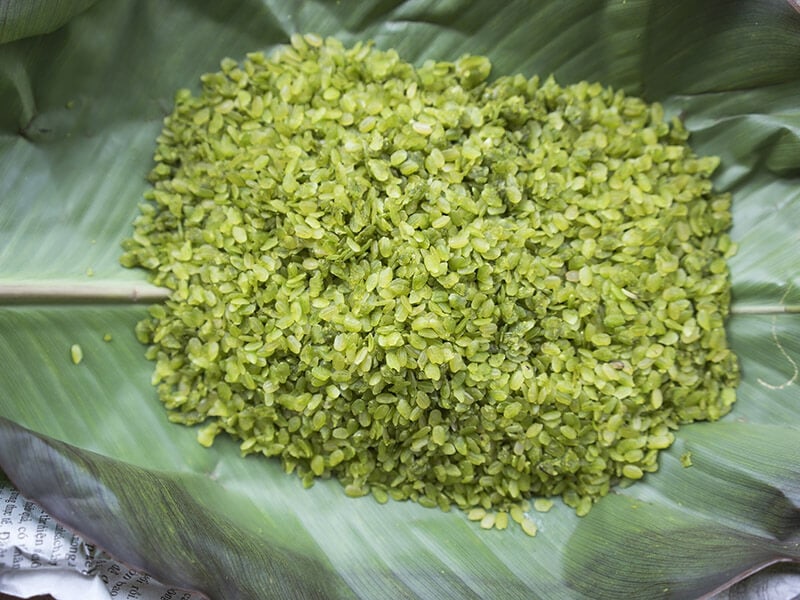 The origin of green rice began in Vong village in the North of Vietnam and started from a very ancient legend.
According to a local legend, this delicacy first appeared thousands of years ago. One autumn, it suddenly rained heavily when the rice was about to ripen. The wind was too strong that broke the dyke and flooded every rice field.
Vong villagers had no choice but to collect those young rice grains and bring them home and roast them to eat later.
Unexpectedly, that unexpected product has its own attractive flavors and pleased them a lot. Nowadays, Vong villagers in particular and Northern Vietnameses generally enjoy the food as a fall specialty.
Vietnamese Drinks
Are you thirsty yet? If you're thirsty, check out my recommendations on what drinks to try in Vietnam right now! From iconic Vietnamese coffee to sweet sugarcane juice, there are plenty of Vietnamese beverages to knock your socks off!
44. Ca Phe Sua Da (Vietnamese Iced Milk Coffee)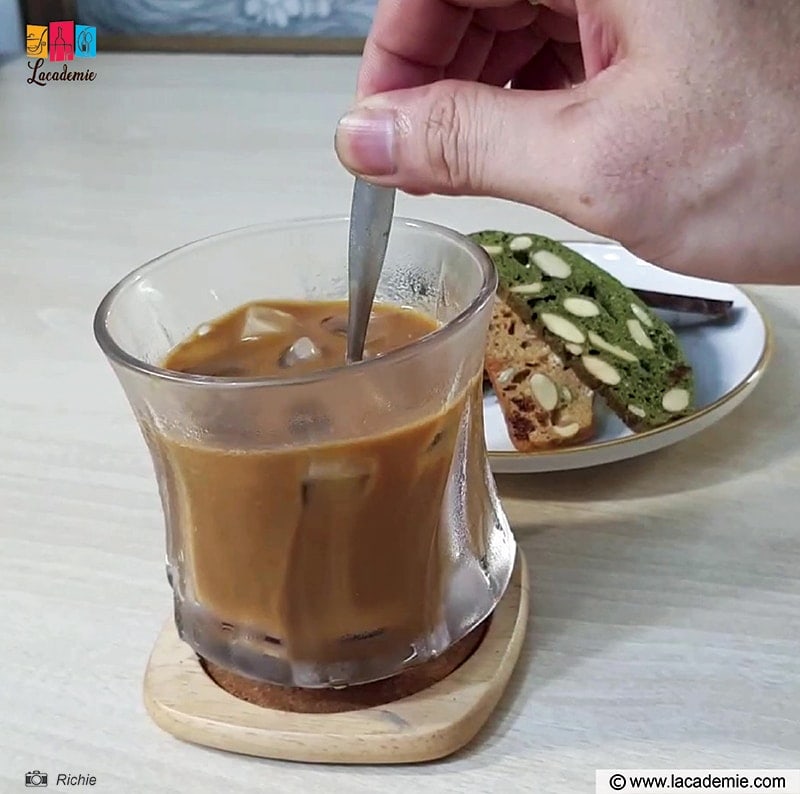 If you are a coffee connoisseur, you should not miss this Vietnamese specialty drink. A coffee filter is needed to make authentic Vietnamese coffee, which miraculously helps preserve the ground seed's robust and profound bitterness.
Pouring hot water into the filter just before drinking an iced milk coffee is the most pleasing way to enjoy it. Then, calmly wait for each drop of coffee to gently fall.
When the powerful fragrance of coffee fills the room, it is a pleasing sensation that instantly energizes you.
This is how to enjoy and create authentic Vietnamese coffee.
45. Dua Tuoi (Fresh Coconut Water)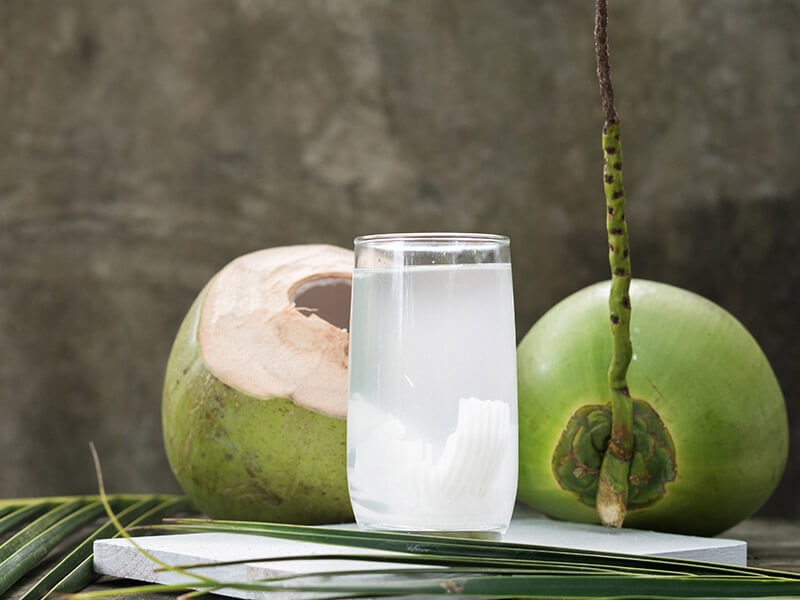 I'm sure that you'll find coconut stalls anywhere when traveling in Vietnam. From the rural to urban areas, you can see the vendors displaying coconut fruits as big as a football. You will know that this is the place you can order a glass of coconut water.
Plug in the straw and suck the liquid up; you will feel the sweet and cool taste deep into your throat. An indescribable rustic feeling will envelop your oral cavity and bring great refreshment. You should opt for the smaller ones; they are usually much sweeter.
46. Nuoc Mia (Sugarcane Juice)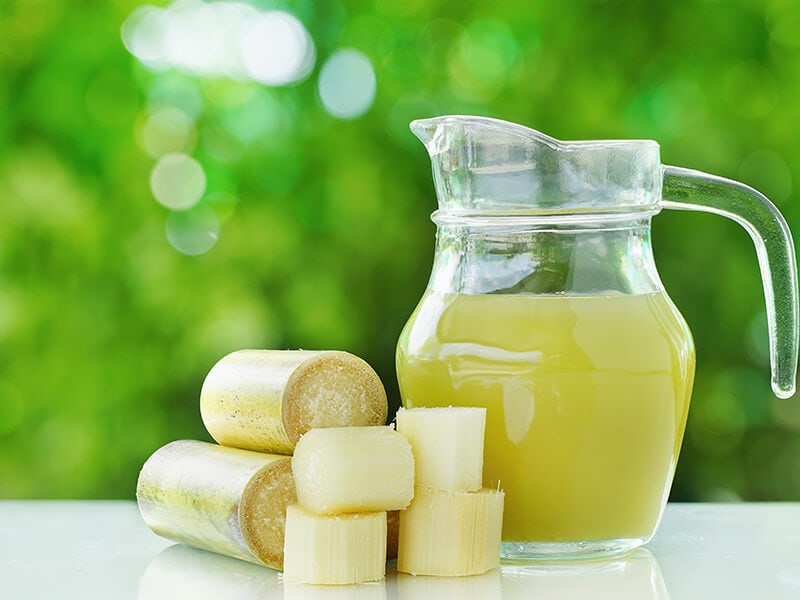 Nuoc mia is highly prevalent in Vietnam because the cost is next to nothing. Apart from Vietnam, this drink is popular in many Southeast Asian nations. For example, it's one of the most popular street delights to enjoy in Lao.
When squeezing sugarcane, people often add kumquat or pineapple to make it fragrant and drown out the harsh sweetness of that pure sugar water. Those kumquats will bring a pleasant citrus aroma to please taste buds. When used with ice, there is nothing like it.
However, you need to note that sugarcane juice after squeezing must be drunk within 15 minutes or put in the refrigerator to keep for up to 12 hours. If leftout for too long, the oxidation process will cause nutrients loss and might spoil your drink.
You will know how the Vietnamese make juice from the tough sugarcane.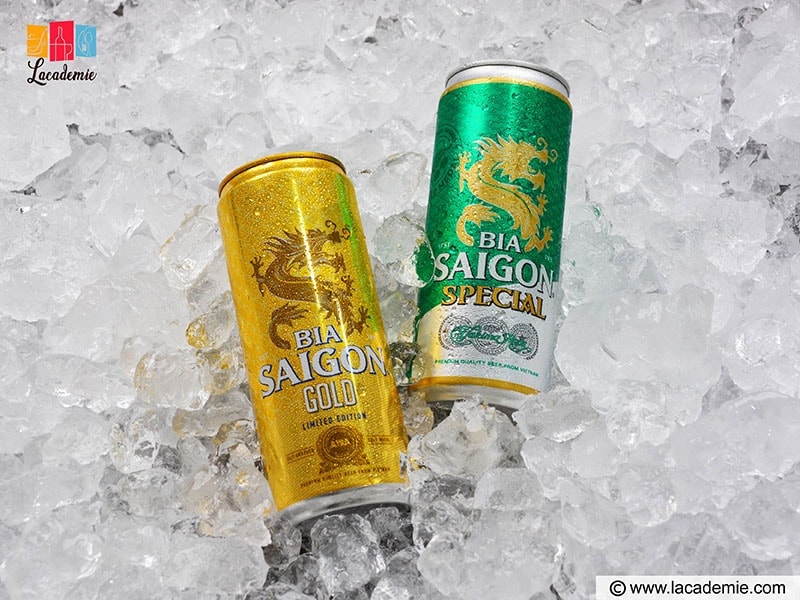 Beers have become an indispensable cultural feature in the lives of Vietnamese people, especially when they enjoy a good time with friends. But how did the history of Vietnamese beer begin?
Although beer is one of the oldest beverages that humanity has created, dating back to at least the 5th millennium BC, beer was only officially introduced to Vietnam in 1875.
The drink began to be produced in a small factory of a Frenchman named Victore Larue, who was in Saigon at that time.
Since then, many new Vietnamese beer brands have been established, and this drink has become more popular than ever. You can easily buy canned or draft beer at roadside stalls when you come to Vietnam.
Are You Ready To Try Viet Foods Now?
Vietnamese cuisine is known as one of the most tempting culinary cultures in Asia and globally. All of the above-recommended dishes are absolutely delightful, and you will not regret trying them all.
If you think my article is practical and helpful, please share it with your foodie friends or your loved ones so that they can also benefit from it. Loving is sharing!