Your journey to discover beer in Vietnam starts now! First, you will be given a short tour of the country's history with this golden liquid. The next part will show you how to consume this popular Vietnamese drink like a local, plus a small list of dos and don'ts.
But the crux of this post is all about the best beer brands to look for in this country. Some are household names popular around the world, but the rest are local delights that you can only experience in Vietnam. I assure you they are more delicious than you can imagine!
Beer In Vietnam: The Past And The Present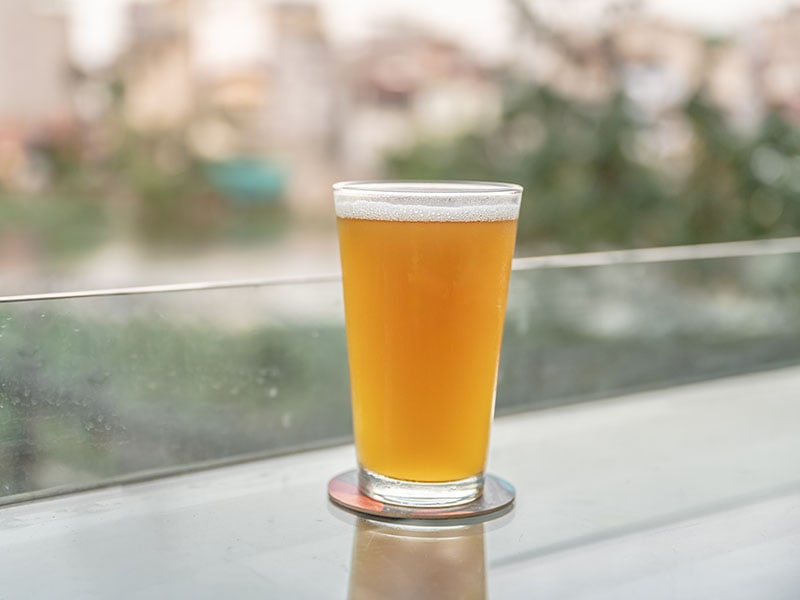 While beer is one of the world's oldest drinks, dating back to 7,000 years ago or so, it isn't a traditional Vietnamese beverage. It came with the French when they conquered Vietnam in the mid-19th century and only became popular afterward.
Vietnam's first brewery was opened in 1875 in Sai Gon (the Southern region). Fifteen years later, the first brewery in the Northern region appeared in Hanoi.
At first, beer was only consumed by French people in Vietnam. Locals were still only used to traditional rice liquor and, consequently, loath to try the foreign drink. Eventually, they embraced beer passionately and turned it into an important part of daily life.
Nowadays, Vietnam is one of the world's largest markets for beer consumption. According to a Kirin Holdings report, this Southeast Asian country accounted for 2.2% of global beer consumption in 2021. In that year, Vietnamese people consumed roughly 4.1 billion liters of beer.
Whether that is a blessing or a curse, if you wish to socialize with Vietnamese people more effectively, it will help greatly to share a beer with them!
You can find many great types of beer in Hanoi!
How Vietnamese People Drink Beer
The Vietnamese word for the activity of consuming alcohol, including beer, is "nhậu". Drinking beer in Vietnam isn't the same as how you swig the booze in, say, America or Europe. Not many people chill beer and drink it straight from the can or bottle, but this approach isn't rare, either.
Beer served over ice is the dominant norm. Vietnamese people often add ice cubes directly to their drinks. Before drinking, you should wait for the ice to melt and cool your beer enough. Pouring beer into someone's glass is a popular Vietnamese way to show hospitality.
Still, chilled beer with ice is also a common choice for people disliking watered-down beer. Locals drink both types in every location, from meetings between friends and family gatherings to business events with important deals.
Celebrations and festivals, especially Tet holiday, are also a great time for it, too. On these occasions, medium-sized drinking glasses are used for enjoying a beer in Vietnam. However, locals occasionally drink craft and draft beer with European-style beer mugs.
Not many Vietnamese people drink beer on its own. They often serve it with crunchy or chewy foods, like roasted peanuts or dried shredded squid. Meaty or seafood-based dishes, especially beef stew, are other popular options.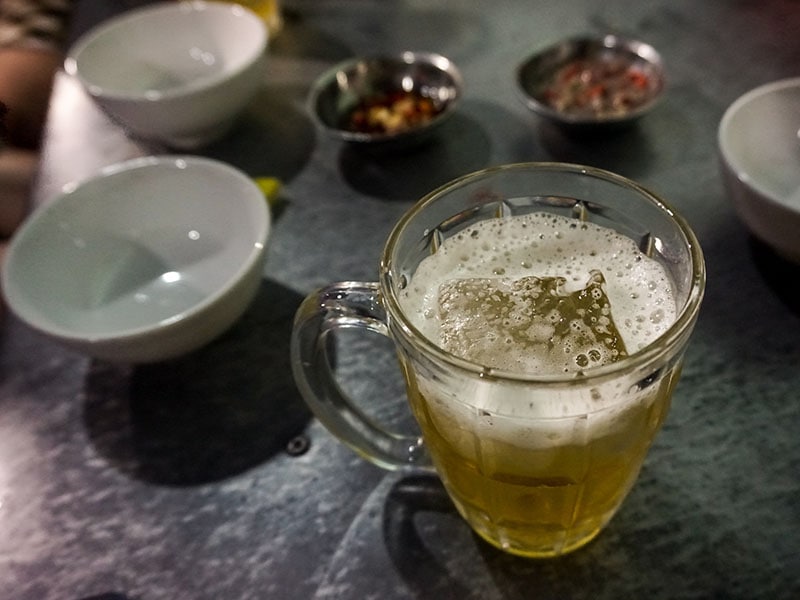 Interesting Things To Learn Before Raising A Glass With Vietnamese People
While most Vietnamese drinkers like a hearty drinking buddy, you should know the following things to avoid cultural shocks.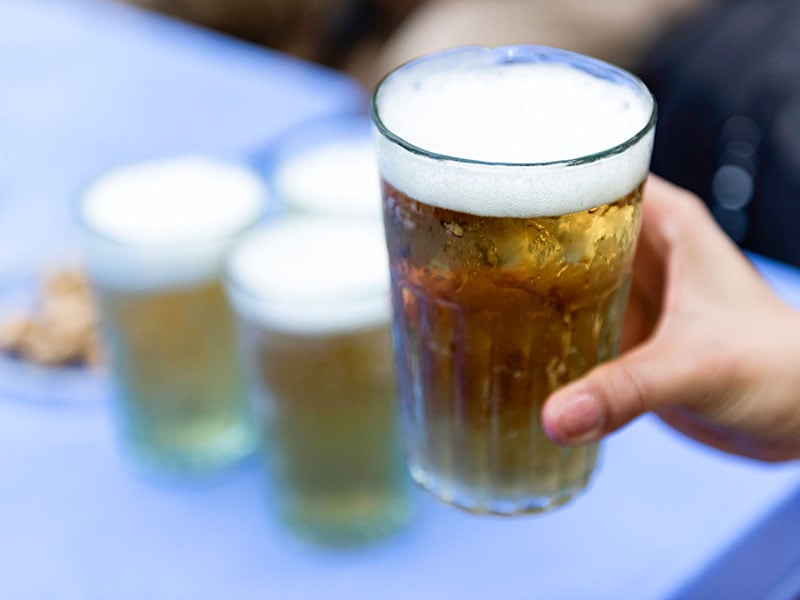 Drinking Tips For Beginners To Vietnamese Beer
You already know the most popular way for Vietnamese people to drink beer. But if you want to join in the fun, read these recommendations first to blend in better.
People often drink beer in groups in Vietnam, whether it's with family members, friends, colleagues, or even strangers.
Young people should show respect to older people at drinking parties like other Vietnamese social gatherings. The oldest person tends to have the first sip, but the youngest one sometimes does the honor.
It is common for party participants to raise their glasses many times while drinking, even for trivial reasons. They usually say these things during the toast: "Một, hai, ba, dô!" ("One, two, three, cheers!") or "Trăm phần trăm!" ("One hundred percent!).
Folks discuss all sorts of things during beer parties in Vietnam: news, gossip, personal stories, business agreements, etc. Even strangers open up easily to each other after drinking a few cups (or kegs). Be sure not to spill your beans (or beer)!
Though Vietnamese people don't usually force others to keep drinking against their will, some may still do it, especially when they are tipsy. Hold your grounds and respectfully decline that offer.
Drunk driving accidents are a thorny issue in Vietnam, so be careful and never drive after drinking too much beer.
A popular phrase spoken during Vietnamese parties is "Không say, không về!" (literally "Not leaving until drunk!"; a better translation is "Drink until you pass out!"). Don't take it literally: this expression is all about joining the fun of the moment.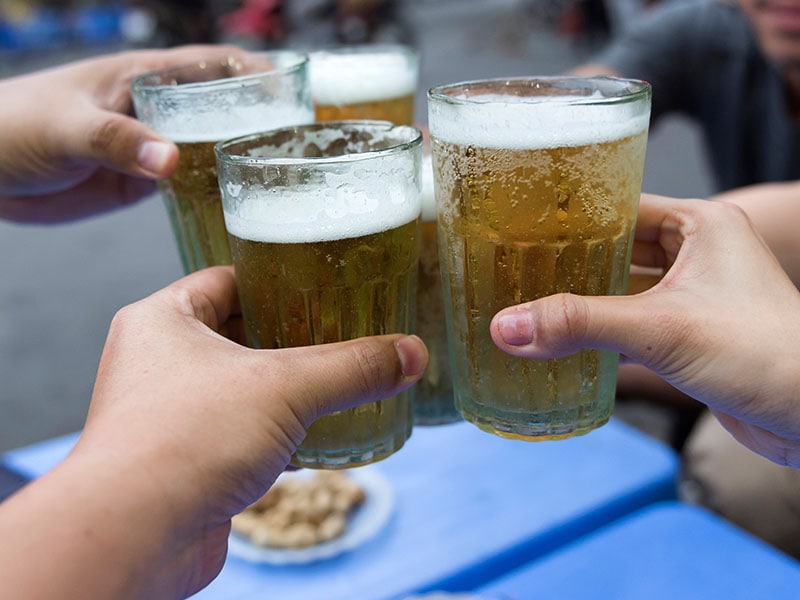 Popular Types Of Beer In Vietnam
Before joining a drinking party with your Vietnamese friends, know your beer first! These are the main categories of beer in this Southeast Asian country.
Draft Beer (Bia Hơi)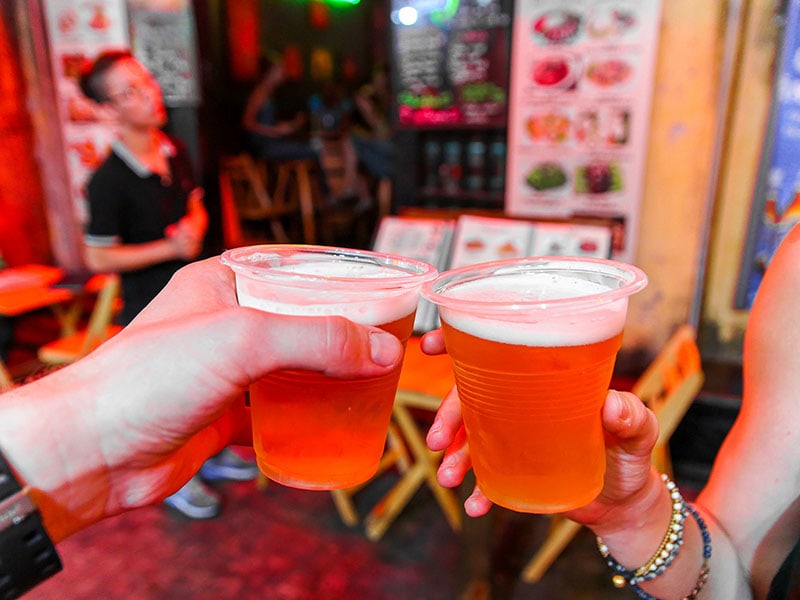 Draft beer appeared in Hanoi in 1960 and soon became a local favorite. Many travel websites praise it as one of the world's cheapest beer types. Enjoying this beverage is one of the most recommended things to do in Vietnam's capital city.
While draft beer is mainly popular in the Northern region, you can find it in big cities in other regions as well. This type of beer is often associated with diners and sidewalk stalls. It has very little alcohol (usually less than 3%) and no preservatives.
Locals brew and enjoy this foamy beer within the day, so you can detect a lot of fresh and crisp goodness in it. If the beer isn't pasteurized before being sold, it will be called Bia tươi (literally "fresh beer").
Don't drink alone: Vietnamese draft beer is meant to be shared!
Craft Beer (Bia Thủ Công)
Craft beer used to be a niche thing that not many Vietnamese people cared for. But since the mid-2010s, the demand for it has skyrocketed, leading to an increase in the sales of imported craft beer. Meanwhile, the number of craft breweries has swelled in Vietnam's big cities.
Although those places still have to get certain ingredients from other countries, especially hops, they produce their beer from locally available ingredients. That approach gives Vietnamese craft beer distinct flavors and aromas unlike what you find at home.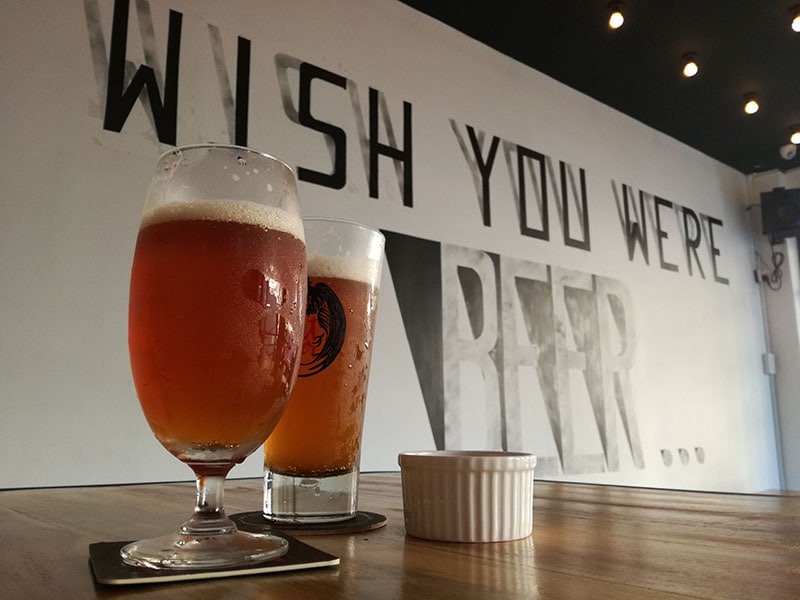 Bottled Beer/ Canned Beer (Bia Chai/ Bia Lon)
Bottled and canned beer accounts for the largest share of Vietnam's beer market. Facilities dedicated to craft and draft beer can only be found in a few places, but you can buy the other two beer types in every corner of the country.
Canned beer tends to be more popular since it is cheaper as well as easier to carry around and consume in small amounts. Empty beer bottles must be kept for recycling, while empty canned beer can be thrown away.
You can see a lot of beer products from both Vietnamese and international brands when shopping at grocery stores and supermarkets. Shopkeepers don't often ask for ID from customers, though they may refuse to sell to teenagers.
Where To Buy Vietnamese Craft Beer
If you want to have a taste of Vietnam-made craft beer, try these destinations. Who knows, maybe you will find it as good as the stuff at home.
When it comes to Vietnam's leading craft breweries, C-Brewmaster is a must-try. You can sign up for a tour of its breweries and watch how the team behind them turns Vietnamese ingredients into wonderful Western-style beer. Pho Essence, Red Prince Beet Ale, or Fruity IPA are to die for.
This award-winning brewery was born out of a desire to create high-quality American-style craft beer in Vietnam. You can find its taprooms in Ho Chi Minh City and Singapore, offering interestingly named beers like Dream Alone Pale Ale or Futile Purpose Cucumber Pilsner.
Having taprooms in both Ho Chi Minh City and Hanoi, Pasteur Street Brewing Company serves craft beer full of Vietnamese goodness. You will detect tasty hints of local fruits, herbs, and spices in it. Some recommended products are Passion Fruit Wheat Ale and Dragon Fruit Gose.
This Hanoi-based craft brewery has some nice beers that both locals and tourists love to try: Indian Pale Lager, Mango IPA, or Hanoi Autumn. Its taprooms have a diverse menu with both Northern and Southern Vietnamese dishes, which go nicely with the beer.
The owner of this brewery was inspired by golf, so you can also find a beer named Hole In One Beer. Its Albatross Dark Beer Ale is also worth trying. While the product range isn't as diverse as other breweries, it is more affordable.
Sip Your Way Through Vietnam's Beer Scene With These Brands
Vietnamese drinkers enjoy affordable local products, which boast a mellow taste suitable for the Vietnamese palate. At the same time, they have a strong liking for beer from different countries, be it Europe or Asia. Make sure to discover them all!
| Brands | Alcohol Content | Varieties | Flavor Profile | Popularity |
| --- | --- | --- | --- | --- |
| Saigon Beer | 4.3% - 4.9% | Saigon Lager (White/Green), Saigon Export (Red), Saigon Special (Green), Saigon Gold | Medium-bodied, slightly sweet, grassy hop bitterness, and crisp finish | Popular in Southern Vietnam |
| 333 Premium Beer | 5.30% | 333 Premium, 333 Export | Bold and hoppy flavor, grassy aromas, and dry finish | All over Vietnam |
| Hanoi Beer (Bia Hà N?i) | 4.2% - 4.6% | Hanoi Red, Hanoi Green | Citrusy goodness, grainy flavors, and clean finish | Popular in Northern Vietnam |
| Huda Beer | 4.7% - 5% | Huda (white and green packaging), Huda Gold | Prominent hop notes, some malty sweetness, and subtly bitter finish | Popular in Central Vietnam |
| Halida Beer | 5% - 5.5% | Halida (Gold), Halida Export, Halida Dark | Smooth flavor, malty sweetness, and a clean taste | Popular in Northern Vietnam and some parts of Central Vietnam |
| Biere Larue | 4.2% - 4.6% | Larue Original, Larue Export | Light and bready, floral aroma, and clean finish | Popular in Southern Vietnam |
| Zorok Beer | 5% | Zorok Beer | Mildly sweet with grainy undertones, crisp mouthfeel | Mainly in Southern Vietnam |
| Heineken | 4% - 5% | Heineken Premium, Heineken Silver | Pure, hoppy bitterness, corn-like sweetness, fruity notes | All over Vietnam |
| Tiger Beer | 4.6% - 5% | Tiger Beer Blue, Tiger Beer Silver | Zesty finish, vegetal flavors, dry finish, not very hoppy or malty | All over Vietnam |
| Sapporo Beer | 4.5% - 5.2% | Sapporo Premium, Sapporo Blue Cap | Delicate honey-like sweetness, crisp finish, bready aroma, solid carbonation | Can be found in Vietnam's big cities |
| Budweiser | 5% | Budweiser | Herbal, bitter, sweet, and citrusy | Can be found in Vietnam's big cities |
| Corona | 4.50% | Extra | Mellow, hoppy, and citrusy | Can be found in Vietnam's big cities |
Let's check out the most popular beer brands in Vietnam.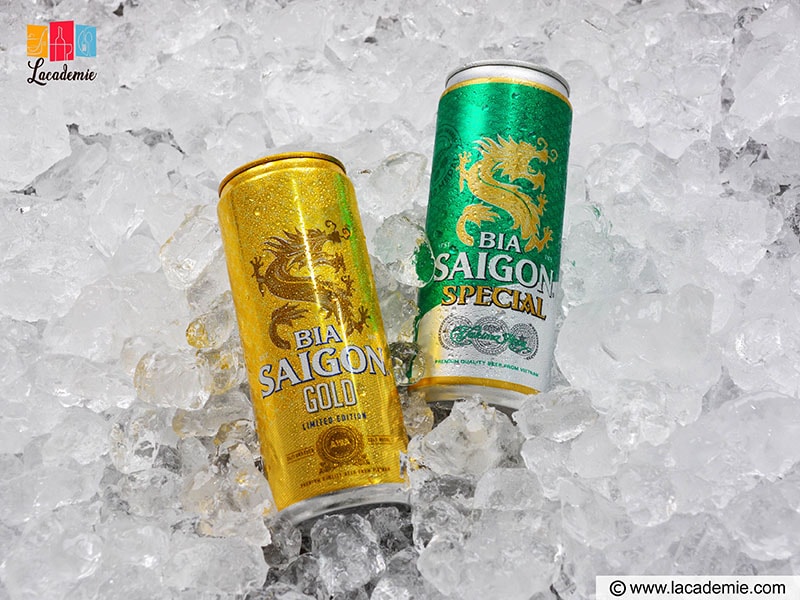 Remember Vietnam's first brewery that was opened in 1875? One century later, it became Sabeco, the largest beer producer in the country. Its flagship product is Saigon Beer, which is famous for its clear amber color, and caramel-like sweetness tinged with grassy hop bitterness.
The alcohol content in Saigon Beer ranges from 4.3% to 4.9%. The long and carefully controlled fermentation process gives it more depth of flavor. This medium-bodied beverage comes with a white, thick head and crisp finish that everybody loves.
Saigon Beer comes in a few varieties. The most common one is Saigon Lager (also known as Saigon White or Saigon Green Lager), while Saigon Export (Saigon Red) is pricier and has larger alcohol content.
Saigon Special (Saigon Green) is another premier tier. But the most expensive and hard-to-find product is Saigon Gold. It is always canned and only distributed in Vietnam's big cities.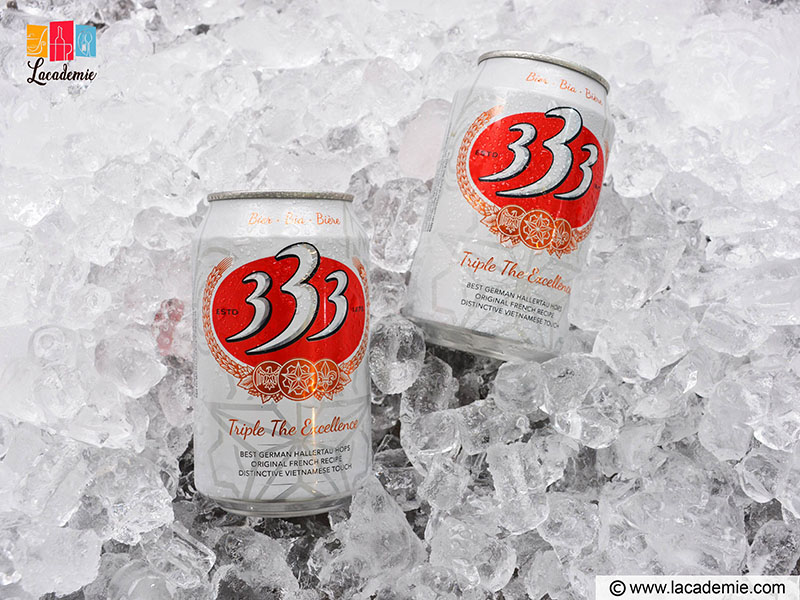 If you were an American GI serving in the Vietnam War, you probably had already tried this beer. However, it was known as 33 Beer at that time. The change of name occurred in the 1970s when the production of this popular beer passed to Sabeco.
Despite the different branding, the iconic blend of hoppy forward taste and dry finish still remains. Feel its bold flavors and grassy aromas, and you will find it an extremely suitable drink to serve with ice on a hot, humid day in Vietnam.
Though based on French recipes, 333 Beer is brewed with hops from Bavaria (Germany) and Vietnamese skills, resulting in a unique beverage. Pairing it with flavorful Vietnamese food is also a fantastic idea.
The alcohol volume of 333 Beer is about 5.3%, which is higher than many comparable Vietnamese counterparts. The beer has two varieties: 333 Premium and 333 Export.
This Vietnamese specialty began as a high-end product, but mid-tier spenders and below are its main consumers these days. While you're unlikely to find 333 Beer served at an upscale restaurant, many Vietnamese people love to serve it for intimate parties.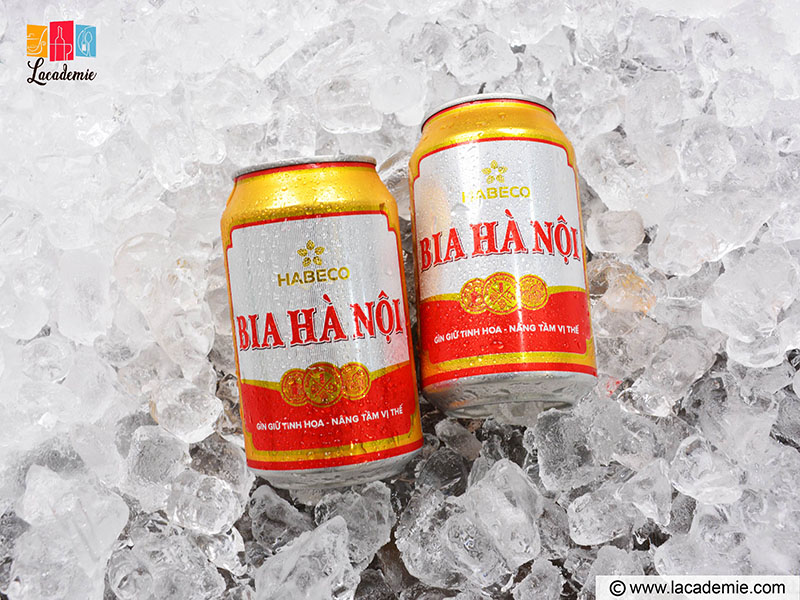 The second largest domestic beer producer in Vietnam is the Hanoi-based company Habeco. While it is an important distributor of the world-renowned Hanoi draft beer, most people know about this company through its famous Hanoi Beer.
This beer brand comes in two main varieties: Hanoi Red (4.4% to 4.6% alcohol) for the Northern Vietnamese market and Hanoi Green (4.2% alcohol) for the Central Vietnamese market. It isn't very popular in the South.
Thanks to being made with premier hops from the Czech Republic, Hanoi Beer boasts touches of citrusy goodness that shine through the rice-like fruity scent and grainy, grassy flavors. The clean finish and bright white head with good retention are its other charms.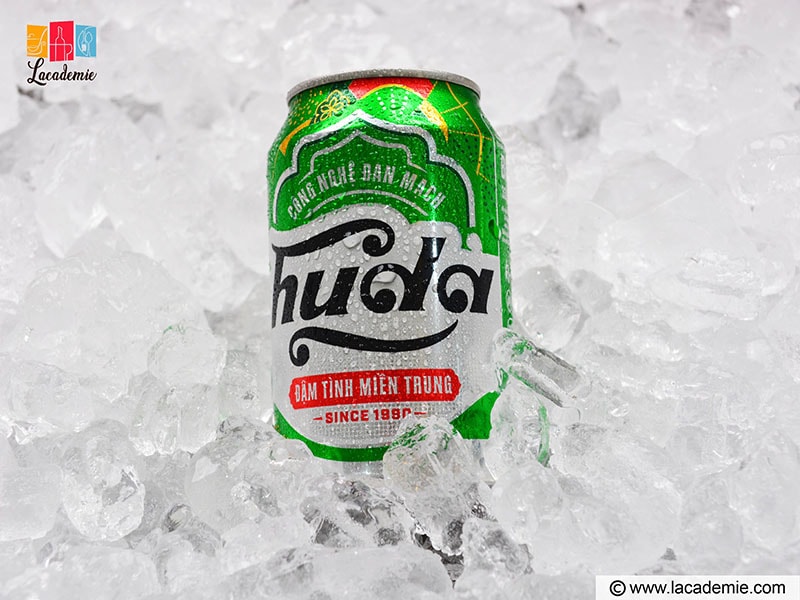 Central Vietnamese food is known for being really hot and spicy, so you will need suitable drinks to balance the heat. How about a beer that boasts prominent hop notes, some malty sweetness, and a subtly bitter finish? That's what Huda Beer can deliver.
This beer brand is produced in Thừa Thiên Huế Province by a company in partnership with Carlsberg Group. The expertise of this Danish brewer titan gives Huda Beer an edge over its competitor. For instance, this beer won a Gold Medal at the 2020 Monde Selection Awards.
Still, while Huda Beer enjoys enormous regional popularity, consumers in other regions of Vietnam aren't very familiar with it yet. The most widely-known Huda variety, white and green packaging, has an alcohol volume of 4.7 %, which is lower than the fancy Huda Gold (5%).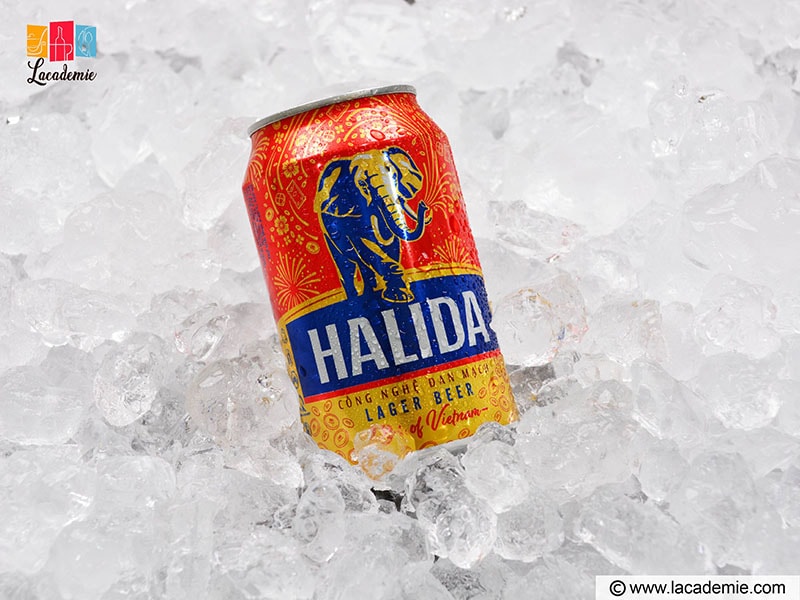 Here is another delightful result of how Carlsberg and Vietnamese breweries can join forces. This one hails from Hanoi and is tailor-made for the preferences of Northern Vietnamese consumers, though many people in Central Vietnam like it, too.
With 5% in alcohol, Halida Beer is a little stronger than some comparable products. It has a very durable head and a crisp, clean taste. Its very faint aroma may be a little disappointing, but the mixture of medium carbonation and yeasty, malty sweetness results in a smooth flavor.
Halida Beer can be a little challenging to find in the Southern region. The most common popular variety is Halida (or Halida Gold), followed by Halida Export and Halida Dark (which has up to 5.5% of alcohol).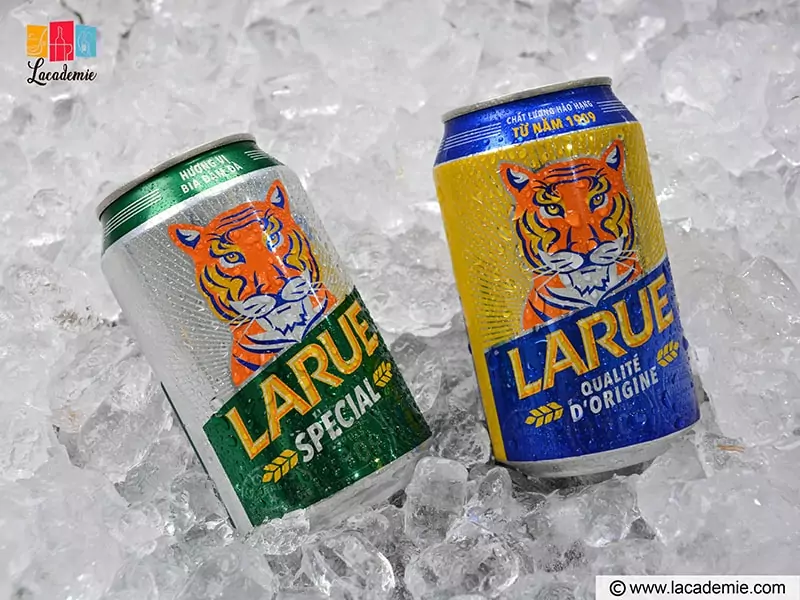 Biere Larue was named after Victor Larue, the French man who opened the first brewery in Vietnam. It once had the same producer as the legendary 33 Beer (now known as 333 Beer). While the latter is a Sabeco product, the former is now part of the Heineken empire.
Biere Larue is mainly popular in the Southern region. Because of its attractive logo, many people informally call it "bia con cọp" ("tiger beer"). Don't mistake it for Tiger Beer from Singapore!
There are two main labels to choose from: Larue Original (4.2%) and Larue Export/ Larue Premium (4.6%). Both varieties offer a highly drinkable beverage with a light flavor, bready taste, and floral, honey-like aroma. Also, this golden beer comes with good carbonation and a clean finish.
7. Zorok Beer/ Zorok Lager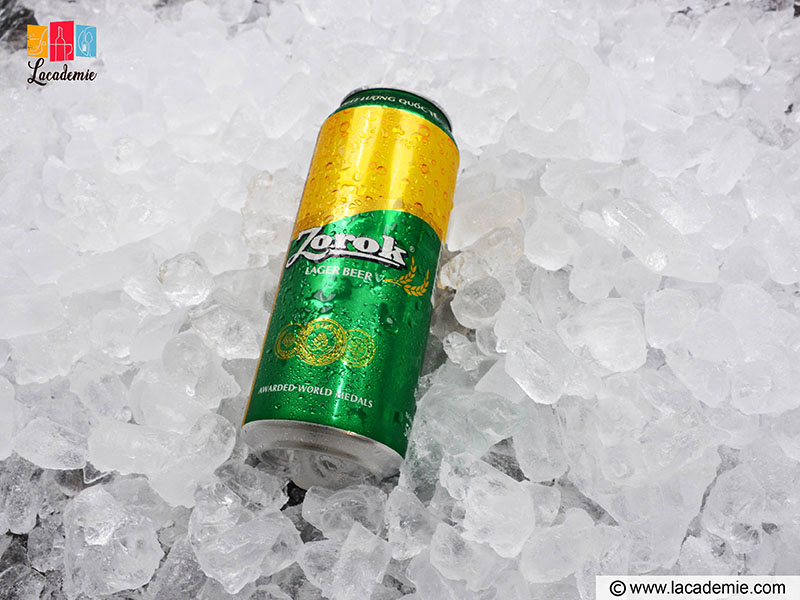 Zorok Beer is produced by a brewery in Bình Dương Province. It doesn't have a long history like other Vietnamese brands, but this usually underrated brand is definitely worth a try. About 5%, it delivers a mildly sweet taste with grainy undertones and a smooth, crisp mouth feel.
Some people say that this light-bodied beer doesn't have enough hoppy fragrance to satisfy their palate. But if you're looking for a refreshing beverage that won't leave you with a splitting headache, this one is worth a try.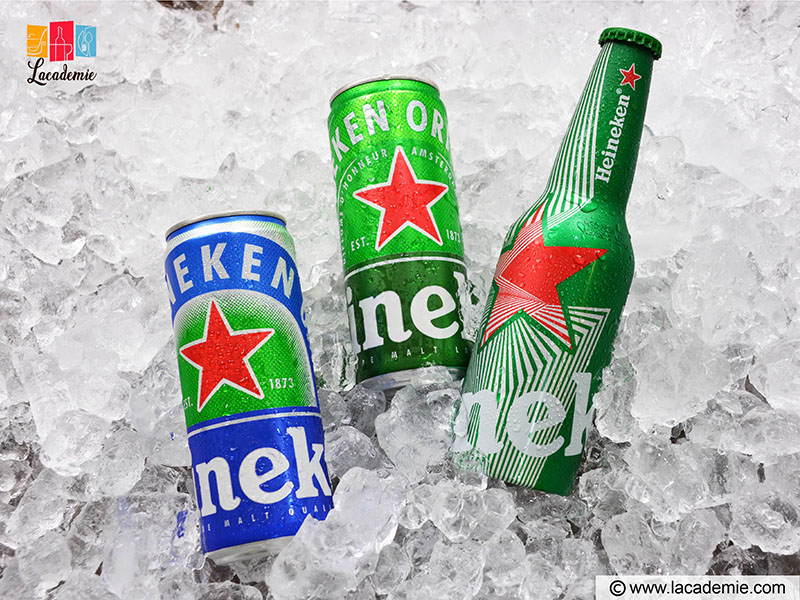 In 1991, Heineken established its first brewery in Vietnam and became the second most popular beer brand in the country a few decades later. While many Vietnamese people find its price a little too much, they consider drinking it as a sign of rising standards of living.
The Vietnamese version of this Dutch beer isn't very different from the rest of the world: a pure beer with a nice balance between hoppy bitterness and corn-like sweetness. It leaves a thick yet refreshing mouthfeel, plus a few fruity notes reminiscent of green apples.
You can find Heineken Premium (Heineken Green – 5%) and Heineken Silver (4%) for sale in many places throughout Vietnam. People who shun booze can try the non-alcoholic Heineken variety.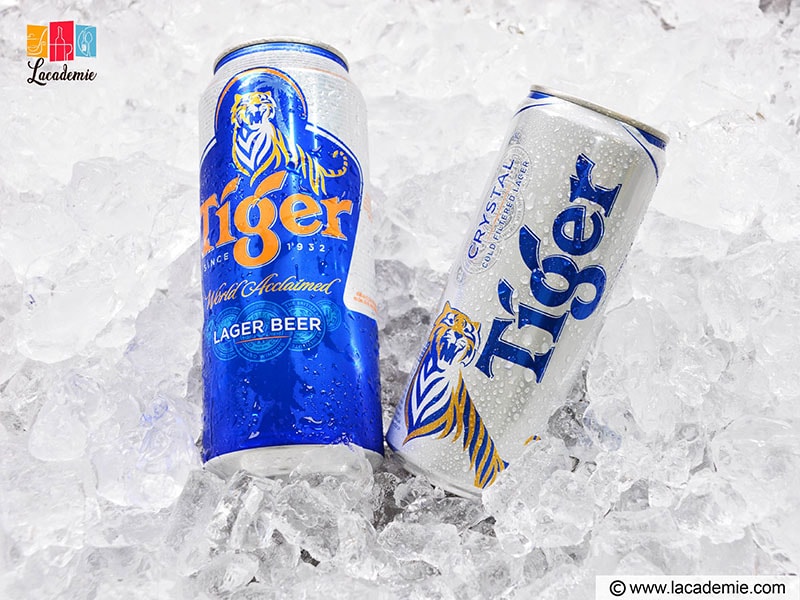 When it comes to the best international beer brands in Vietnam, Tiger Beer is a worthy opponent for Heineken. This type of beer originated in Singapore and became popular in Vietnam after the 1990s. Besides the usual brewing ingredients, it also includes orange zest.
That ingredient gives it a zesty finish and fragrance that Vietnamese people love very much. While a few Westerners object to its sweet and vegetal flavors that don't feel very hoppy or malty, locals can't have enough of it. Though there isn't much bitterness, the dry finish is very rewarding.
You can try two varieties of Tiger Beer in Vietnam: Blue (5%) and Silver (4.6%). Perhaps you will find the beer better-tasting here.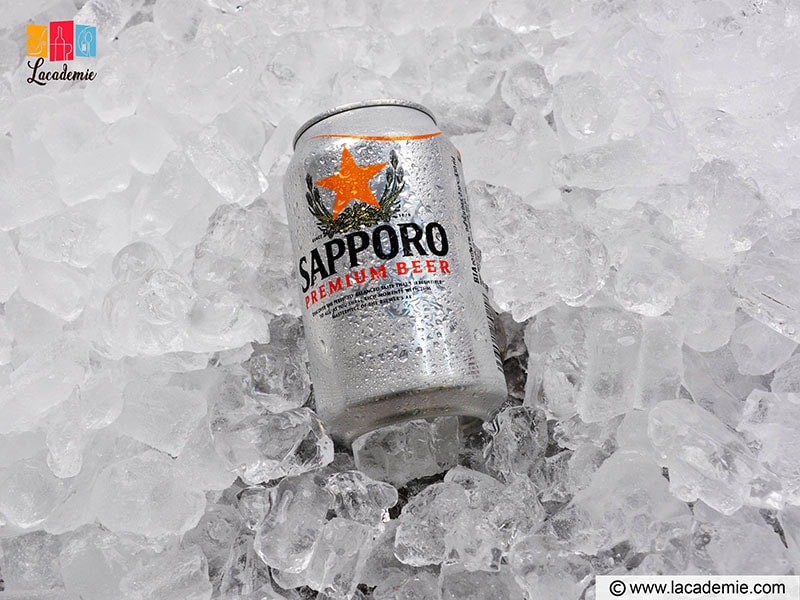 Beverages of Japanese origin tend to fetch a high price in Vietnam, and Sapporo Beer is no exception. Since 2010, it has become the go-to drink for many Vietnamese luxury hotels, lavish parties, or important business meetings.
Vietnamese Sapporo Beer is available in two main varieties: Sapporo Premium (5.2%) and Sapporo Blue Cap (4.5%). This high-end drink is for special occasions, for daily meals; if somebody treats you to it, they hold you in very high regard!
In terms of flavors, its delicate honey-like sweetness and crisp finish totally justify its price tag. You can take a whiff of its nice bready smell before feeling the solid carbonation in the clean, amber-colored liquid.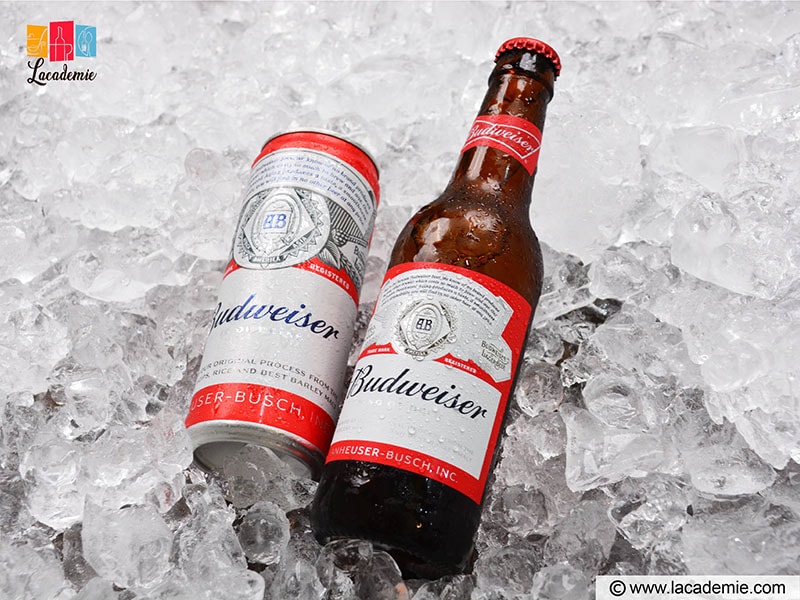 Before 2015, only imported Budweiser Beer was available in Vietnam at a very high price. But the opening of the Budweiser brewery in Bình Dương Province has made this premier American-style beer more accessible to Vietnamese people.
Vietnam-made Budweiser Beer retains the herbal taste flawlessly blended with the subtle bitterness and the lingering sweet aftertaste. While many pale lagers don't have a remarkable smell, the exquisite aromas of noble hops and citrus will leave a long-lasting impression in your mind.
Canned and bottled Budweiser Beer (with an alcohol volume of 5%) can be found in upscale liquor stores, large supermarkets, or online retailers in Vietnam. Don't confuse it with Budweiser Budvar beer from the Czech Republic.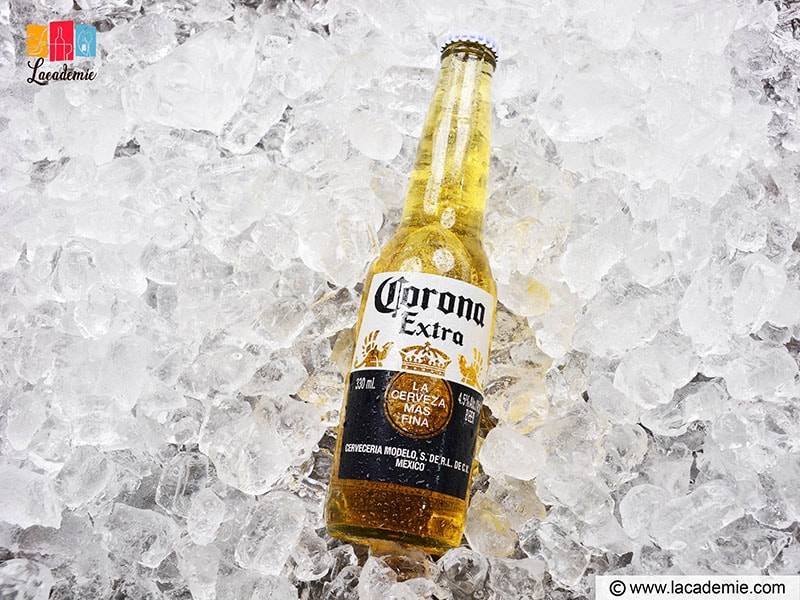 This Mexican beer brand has yet to have a brewery in Vietnam, so local beer lovers can only experience it through expensive imported products. However, many people find its citrusy goodness and dry finish a worthwhile reward for their troubles.
Derived from a mixture of corn, hops, and barley malt, Corona Beer has a wonderfully mellow taste and just the right amount of hoppy flavor. That flavor profile can easily seduce Vietnamese people who have their first sip of Western beer.
Some Vietnamese liquor stores sell Corona Extra Beer. You can visit them to buy a few elegantly packaged Corona Beer cans or bottles for drinking or giving to your friends as a gift.
Vietnam: A Hoppy Land For Beer Lovers!
Hanoi draft beer isn't the only thing to pin down Vietnam on the world beer map. You can find plenty of options, both local and international, for that feel-good factor. Learning to drink beer the Vietnamese way will do wonders to help you make new friends and discover all facets of life here.
Is there any type of popular Vietnamese beer that is missing from this post? If so, feel free to comment and let me know. You can also share your experiences with beer culture in Vietnam: I'm all ears! And please introduce this post to your friends who love the fun of Vietnamese beer!