A delicious Filipino ground beef recipe is never out of reach if you have a few simple ingredients. From the timeless Picadillo to the feel-good Giniling Guisado, it's a breeze to transform ground beef into an impressive dinner for your family.
These classic Filipino recipes aren't only bursting with flavors and the pretty affordable protein source that fits the bill without sacrificing the flavors. And rest assured, it won't be your last time making them.
If you're ready to switch up your dinner routine, let's get into it!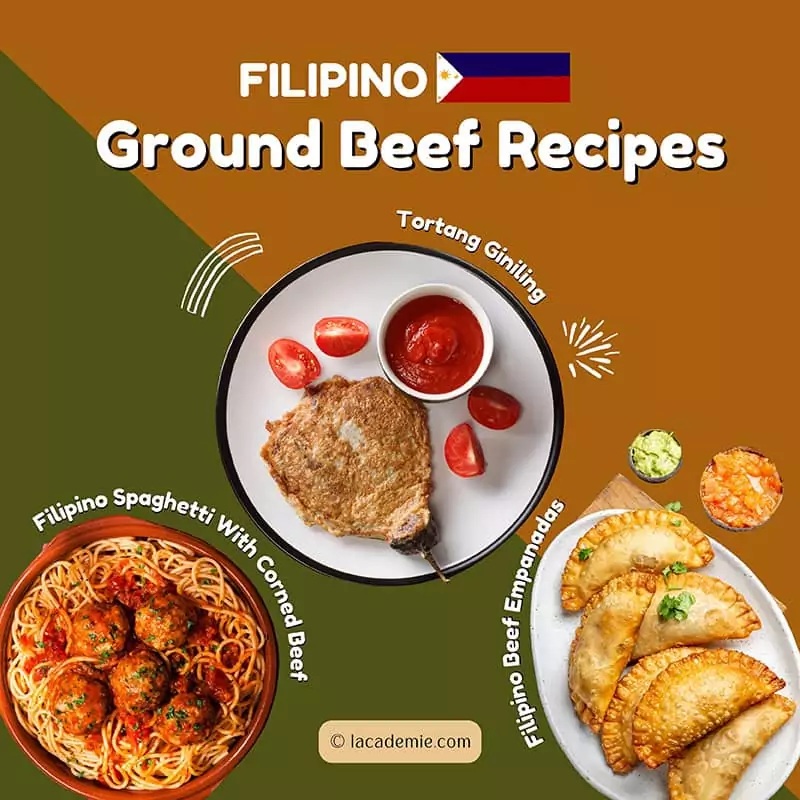 14 Best Filipino Ground Beef Recipes To Munch On With Delight
Are you ready to take your weeknight dinners to the next level? Here are the best Filipino ground beef dishes that anyone can whip up in the comfort of their kitchens!
Total time: 1 hour
At its most drool-worthy, Filipino Picadillo is an ultimate delicacy and is a whole new way to use ground beef. This one-pot meal has all the flavors, including ground beef, diced vegetables, and raisins, all cooked in a rich tomato sauce.
To fully enjoy Picadillo like locals, top it with a fried egg and serve it in a steamed white rice bowl. Also, don't hesitate to toss other add-ins in the pot as you desire.
Picadillo comes together in an hour and little to no faff from start to finish. Plus, it's so simple that you can make it with your eyes closed. This excellent Filipino food is perfect for a no-fuss weeknight dinner, and all the leftovers can be saved for the next day!
Total time: 40 minutes
Even casual fans of Filipino cuisine must be familiar with Tortang Giniling. This dish is essentially a beef omelet; it is created more like a patty and filled with ingredients that give it tons of flavors.
I recommend making several of this beef omelet and stacking them on top of each other. Pair it with some Sinangag (Filipino garlic fried rice) and banana ketchup on the side, and some tasty Filipino dessert to end with. It'll keep you full and satisfied for any meal of the day.
Similar to other omelets, Tortang Giniling is the definition of a simple meal. However, with so many fillings, it may be a puzzle to flip the whole thing upside down. The good old trick is to make it the size of a pancake.
Learn to make Tortang Giniling from a professional chef!
Total time: 40 minutes
As soon as the temperature drops, Giniling Guisado will become your new go-to hearty beef stew. This delicious delicacy owns a special place in the hearts of locals for good reasons. Common types of meat used in this dish include beef, pork, and even chicken.
To prepare the best Giniling Guisado, ground meat, potatoes, carrots, and wallops of seasoning are simmered away in a tomato-based sauce. You might skip complementary dishes for the beef stew because the result is a melting pot of tangy and savory flavors that's irresistible.
Although a Filipino delicacy, this filling stew has all the easy-to-find ingredients available at most grocery stores. Plus, with so many veggies and meat in one pot, it keeps you full and warm in the cold weather.
Total time: 40 minutes
Take things up a notch tonight with this yummy and healthy Filipino dish. Ginisang Baguio Beans is essentially a mainstay vegetable recipe in the local's weekly menu. In Filipino food culture, "Ginisang" is a popular cooking method that translates to sauteed or stir-fried.
Cooking Ginisang Baguio Beans is as simple as letting all the elements cook until the beans are perfect. Be sure to keep an eye on the pot so that you don't overcook the green beans, making them soggy and bland-tasting.
Ready in 40 minutes, this ground beef recipe is a quick and easy viand for whenever you're pressed for a family-friendly dinner. Plus, it's a delicious way to sneak some healthy green vegetables into your meals, even if you have some picky kids around!
Total time: 30 minutes
This corned beef spaghetti isn't like any version you've had. While most spaghetti has a tanginess from a tomato-based sauce, the Filipino take has a sweet twist with a special ingredient: banana ketchup.
A well-loved condiment across the country, banana ketchup lends itself to a natural sweetness. In contrast, there is a lot of grated cheese for extra creamy and cheesy texture. Finally, let's not forget the corned beef, mushrooms, and hotdogs.
At its best, Filipino spaghetti is hearty and bursting with flavors. Taking 30 minutes to whip up, it's an easy and budget-friendly meal without skimping on the taste.
Total time: 1 hour 5 minutes
Without a doubt, Beef Empanadas are the perfect example of how the Spanish colonization has shaped Filipino cuisine. First introduced by Spanish colonists, this tasty hand pie has been adapted according to local's tastes and remained an ever-popular snack.
Filipino Beef Empanadas consist of a flaky pie crust with a savory filling of ground beef, raisins, potatoes, and sweet peas. The stuffing varies among regions, with some versions leaning on the more precious or savory side.
Either way, the taste of these Filipino turnovers is nothing less than perfection. The buttery and flaky casing greatly complements the flavorful and meaty filling. To prevent the pie from falling apart, seal it tightly and never overstuff it!
The easiest Filipino-style Beef Empanadas you'll ever see!
Total time: 50 minutes
Lumpia Shanghai is a quintessential delight that makes the spotlight beyond the country as delicious as it is simple to make. No Filipino celebration is complete without a tray or two of this finger food. In other words, everyone loves it!
Drawing inspiration from Chinese cuisine, this Filipino spring roll features ground meat, chopped veggies, and other seasonings for the stuffing. Wrapping it all together is a unique thin crepe called Lumpia wrapper.
This delightful Filipino street food fills your mouth with a juicy, savory, and toothsome flavor from the first bite. As for the side, any dipping sauce will do. But if you're going for a full-authentic experience, devour it with some banana ketchup or sweet and sour sauce.
This is how to prepare Lumpia Shanghai from scratch!
Total time: 45 minutes
Layers of pasta, bechamel sauce, ground beef meat sauce, and cheese come together in an Asian feel-good ground beef dish perfect for a cozy winter night-in. An epicenter in Italian cuisine, Lasagna is recognizable for its super-cheesy and rich flavor that lives up to its expectation.
The end dish is the pure definition of comfort food. Rich, perfectly seasoned, and savory in every bite, you'll keep coming for this delightful specialty. Don't be shy to add vegetable and egg toppings while cooking to suit your desire!
Total time: 35 minutes
On cold rainy days, you may wonder if you can turn frozen ground beef into a warm dish. And the answer is this piping-hot bowl of Beef Macaroni Sopas. This Filipino specialty can be a hero for young picky eaters around, primarily thanks to a kid-favorite ingredient: macaroni.
The appearance of macaroni provides a creaminess that elevates the clear and flavorful broth. On the other hand, ground beef is added for a full and meaty flavor. Finally, a medley of vegetables like potatoes, carrots, and parsley makes it extra healthy.
No matter how scrumptious this may look, it's the kind of meal you can have ready in around thirty minutes. Beef Sopas mainly targets kid palates, so Filipino moms feed it to their children when they're feeling under the weather.
Total time: About 1 hour 20 minutes
Nothing screams the holiday season in the Philippines like Embutido. This unique meatloaf differs from the rest in its cooking method. Although this Filipino Christmas delicacy uses the oven, the traditional way is to steam or bake the loaf in a water bath.
Typically, the casing of Embutido is a festive mixture of ground pork, beef, beaten eggs, carrots, and pepper. This meaty mixture is then rolled around hotdogs and hard-boiled eggs, creating a cylindrical log wrapped in tin foil.
The best thing about this delight is you can keep it frozen for up to a month, thus making a great ground beef meal prep recipe. Each bite will make your taste buds dance with happiness. It's moist, tender in texture with the perfect balance of sweetness and tanginess.
Make Embutido for dinner using this easy recipe!
Total time: About 25 minutes
The direct translation for "Putong Babi" is bread with pork. But beef is commonly used in practice as well. This crowd-pleasing treat features an open-faced Pandesal (Filipino bread roll) topped with ground meat, sweet potatoes, and raisins.
The whole assembly is baked or pan-seared for a few minutes. At the bottom, the bun is golden and crispy. One bite is enough to reveal the hearty, juicy, and crazy-delicious taste. Petite yet bursting with flavors, you'll keep reaching for another until the plate's empty.
Because it's easy to put together, Putong Babi can be served as a snack, breakfast, or dinner. It's trendy in the province of Pampanga, north of Manila, where it's one of the top bread snack favorites.
Total time: 40 minutes
Despite its name meaning Cuban-style rice in Spanish, the origin of Arroz A La Cubana remains debatable. Some say it came into Filipino cuisine from Spanish colonization times.
Faithful to its legacy, this rice dish still consists of rice, fried eggs, and tomato sauce. However, elements like Saba bananas (Filipino banana cultivator), soy sauce, and pepper are also tossed for elevating the flavor profile and some protein from ground meat.
A hefty serving of Arroz A La Cubana is more than enough for a comforting, budget-friendly, satisfying, and luscious dinner. This festive plate of rice makes a great all-in-one plate meal, saving you some effort and time cleaning dishes.
Here's how you get Arroz A La Cubana right!
Total time: From 2 hours to 2 hours 10 minutes
A healthy delicacy that makes you feel great and virtuous, this beef and bok choy soup has it all! It's what Filipino craves when they're in-depth about the winter and relentless rain.
Infused with garlic, ginger, and fish sauce, the clear broth tastes light yet incredibly flavorful. Using bok choy and other veggies based on your taste makes this soup nutritious and warm, which helps you stick to a healthy eating pattern without sacrificing the flavor.
Like other viands, this beef soup is best devoured with a significant Filipino side dish of steamed rice and a saucer or calamansi (Filipinos most famous citrus fruit) or chili flakes. Besides warming you up on a chilly day, it's also served regularly.
Total time: 30 minutes
This burger steak is the Filipino variant of the Salisbury steak and one of the cheapest items you can order at Jollibee. Despite its affordability, burger steak is a big deal in Filipino cuisine, and for good reasons.
This dish is a ball-shaped ground beef patty drenched in gravy sauce and mushrooms and finished with a drizzle of chopped parsley. Crispy, fatty, and tender, it's so tasty for some protein without causing a fortune.
If you have a thing for savory meals, this one is worth trying. Pair it with either rice, bread, or munch on the patties by themselves to satisfy your taste buds. It definitely won't be the last time that you make it!
Recreate the classic Filipino burger steak with this easy instruction!
Ground Beef Recipes For Every Kind Of Craving!
These tasty ground beef recipes are dear to the hearts of many locals, adults, and kids alike. Whether you're feeling something fancy and exotic or need a comforting meal for the sicks, the options are endless!
Hopefully, this virtual Filipino culinary trip has met your needs. Tell me if I've missed your favorite ground beef recipe from Filipino cuisine. And finally, for the love of ground beef!
Nutrition Facts
4 servings per container
---
Amount Per ServingCalories372
% Daily Value *
Total Fat 15.3g

24

%
Cholesterol 22mg

8

%
Sodium 1426mg

60

%
Potassium 933mg

27

%
Total Carbohydrate 47.5g

16

%

Dietary Fiber 8g

32

%
Sugars 21g

Protein 14.3g

29

%
---
* The % Daily Value tells you how much a nutrient in a serving of food contributes to a daily diet. 2,000 calories a day is used for general nutrition advice.