It's safe to say that healthy Filipino recipes are on the favorite list of every seasoned foodie. Starting a healthy diet is a matter of motivation and knowledge. Although there isn't a set way, choosing recipes that don't leave you with frustration and deprivation is best.
Making good choices on what to eat while sticking to a healthy eating pattern may be a puzzle. But don't worry! I've got you covered with this comprehensive round-up of the best Filipino dishes that perfectly fit a health-conscious diet without skimping on the flavor.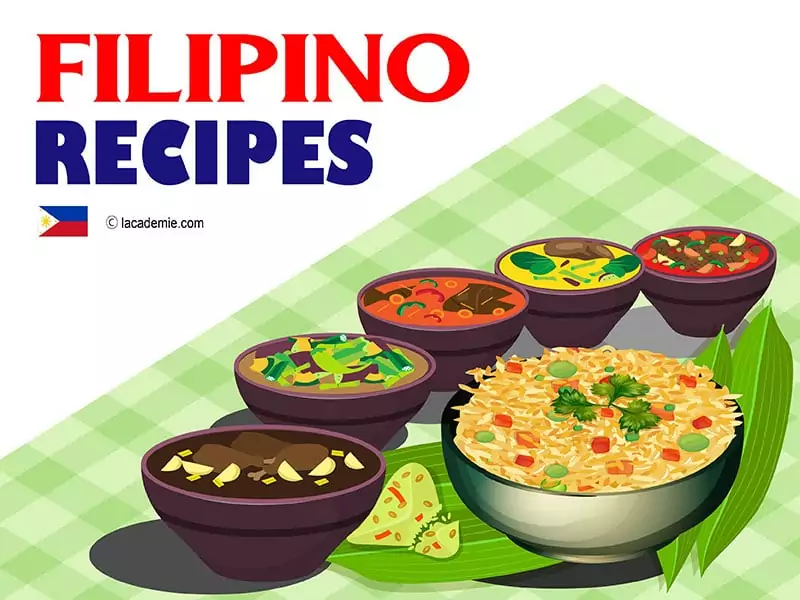 28 Best Health-Conscious Filipino Dishes For Any Meal
From savory soups to vegetable-based dishes, you could always use healthy Filipino. Here are the best-tasting Filipino recipes that'll help you stick to your recipe.
Total time: From 40 minutes to 45 minutes
Let's start my list with one of the most famous Filipino dishes: Pinakbet. In essence, a vegetable stew, this quintessential Filipino recipe is a great nutritious option that can help you shed some weight and get healthier.
Though there's no set recipe; a standard pot of this stew consists of a medley of veggies, deep-fried pork belly, and shrimp paste. If you'd like to cut more calories, go with a meatless version by discarding the pork belly.
Just because Pinakbet is a health-conscious choice doesn't mean it skimps on the flavor. The textures of different veggies contrast each other, resulting in a tender, crunchy, and earthy mouthfeel with a hint of bitterness from the bittermelon.
The traditional way to make Pinakbet – a humble Filipino delight.
Total time: 20 minutes
Nothing beats fresh salads when it comes to a healthy eating pattern. Fiddlehead fern is not widely popular in cooking due to its short season. But as top prized spring greens, it's worth seeking out and makes some delicious dishes you've never known.
Ensaladang Pako features fiddlehead ferns as the main attraction, with naturally sweet, grassy, and crunchy textures. A few salted eggs sliced in halves are placed on top, giving it a nice pop of color and an intense flavor balanced out by a sugar, white vinegar sauce.
Total time: 35 minutes
Sinigang Na Isda is a traditional Filipino soup wherein fish are cooked in a soup broth and a variety of vegetables. This recipe gets its distinctive sourness from Kamias (a tropical cucumber tree), although tamarind and guava are also commonly used.
You can tell the savory and sour taste from the mixture of red plump tomatoes, garlic, and fish sauce that makes Sinigang so charming. Delicate as it may look, Sinigang Na Isla is the kind of viand (Filipino dishes to pair with rice) that can be put together in 30 minutes.
Total time: 35 minutes
When it gets cold outside, Tofu Tinola is one of the mainstay viands in local's weekly routine. This comforting soup is flavored with ginger, lemongrass, fish sauce, and onions. Light, savory, and easy to make, this healthy version of Tinola (Filipino chicken soup) is irresistible.
By alternating chicken with tofu and using vegetarian fish sauce, this Asian vegetarian-friendly recipe makes for a great meat-free night-in without missing any flavor. As a main entree, Tofu Tinola is best served with a bowlful of steamed white rice on the side.
Total time: 1 hour 45 minutes
Nothing beats a piping-hot bowl of Nilagang Baka at its most drool-worthy. With its name meaning "boiled beef," this delicacy tastes good as well as it is packed with beneficial nutrients. Thus, the soup makes a beautiful dinner for the entire family.
A well-kept secret to nailing Beef Nilaga is not to rush with the beef. Allowing it to simmer results in the perfectly soft and tender meat, which elevates the assembly. Besides that, cooking it is just a matter of adding onions, water, potatoes, and fish sauce at the right time.
Whip up this warming recipe when it gets cold outside!
Total time: About 1 hour 40 minutes
Bistek Tagalog is the Filipino take on the world-famous beef steak. When you're sick and tired of the typical steak night after night, this exotic recipe is sure to revive your love for a health-conscious diet.
Traditionally, Bistek Tagalog is made of thinly sliced beef sirloin or the top round braised in lemon juice, vinegar, soy sauce, brown sugar, and ring-shaped yellow onions. The end dish is so tender, hearty, and perfectly balanced that you can't go wrong with it!
Total time: 1 hour 55 minutes
It's safe to say that Adobong Manok has gained a substantial international reputation beyond Filipino cuisine, and it lives up to its expectation. Chicken meat is marinated in a seasoning blend to prepare this delight.
Chicken Adobo is so treasured that each province has its variant and cooking secrets to cook the dish to perfection. Marinating is extremely important in terms of helping the chicken to tenderize and absorb the flavors, so it's best to leave the chicken to marinate overnight.
Flavor-wise, Adobong Manok is incredibly savory and well-balanced between sweetness, tanginess, and a subtle note of soy. The chicken melts in your mouth as soon as you bite into it. The fare works well with both plain rice and Sinangag (Filipino garlic fried rice).
Knowing how to make Chicken Adobo is a must for a healthy diet!
Total time: 1 hour
Traditionally, Munggo Guisado is a meatless dish. With the majority of Filipinos being Catholic, this mung bean stew is a favorite alternative as they refrain from meat all Fridays of the Lenten season. But obviously, you can tweak the recipe to suit your liking.
Typically, Munggo Guisado is packed with mung beans, spinach, tomatoes, shrimp paste, and pork. You can expect a holistic flavor of the stew's crunchy, slightly salted, and satisfyingly tender mouthfeel. Give it a try!
Total time: 1 hour 20 minutes
Having a veggie-based dish is an excellent way to cut down your carbs, but that doesn't mean steering clear from all your guilty pleasures. Authentic Laing is a big culinary icon in the Bicol region, where the dish can trace its roots back to. And it's definitely worth the hype!
While there are many methods for cooking Laing, locals will tell you that the authentic way is to boil all the elements together in one pot. You know it's ready when all the flavors are perfectly melded, and the leaves are tender to the bite.
Taro leaf – the show's star, is genuinely a leaf of wonders. Packed with valuable fiber, vitamins, and minerals, it makes a healthy addition to your diet. You can use dried leaves or buy the new version and wait a few days until it fully dries out before cooking.
Total time: 45 minutes
In the Philippines, Cardillong Isda is a reliable way to ensure that fried fish from previous meals doesn't go to waste. By simmering fried fish further in a combination of tomato, eggs, fish sauce, and black pepper, with a drizzle of chopped parsley to garnish.
Whether made from leftover or freshly deep-fried fish, Cardillong Isda will deliver intense flavors. Thanks to its simple preparation and ingredients, this old recipe is a national favorite. This savory and flavorful stew is easy to come by on any weeknight.
Total time: 16 minutes
"Ensaladang" is the term for salad in Filipino culture. Meanwhile, "Guso" is a native sort of seaweed very commonly sold at local sellers and wet markets. Although it's not the newest superfood, Guso has tons of nutrients, antioxidants, and fiber.
The taste of Guso can be described as crunchy, slightly salty, and refreshing. Toss in other seasonings like vinegar, onions, and tomatoes, and mix well in a bowl. Their beautiful hues perfectly add up to the color of Guso, which can be anywhere from green to brown and red.
Ensaladang Guso – an easy salad that's meant to satisfy anyone.
Total time: About 1 hour 10 minutes
It feels like a beautiful marriage between Adobo (Filipino Braised Meat) and Chinese braised pork belly for peeps who haven't tried Pork Humba. That's right! In this worthy Filipino pork recipe, melting tender pork is simmered away in an Adobo-like braising sauce.
The end dish is a harmony of tangy, sweet, and rich flavor and a melt-in-your-mouth texture that will satisfy your cravings. Besides massive popularity in the Visayas islands where its story began, Pork Humba is easily the top pork delights in the whole country.
Total time: 40 minutes
Not only known in the Philippines, but Escabeche has long been a popular fare in many Latin and Mediterranean cuisines. This Filipino adaptation stars a whole fried fish that is marinated and left to simmer in tomato puree, vinegar, cornstarch, and other seasonings.
Escabeche is the ultimate summer dinner to take your fried fish to the next level. It gives off a harmony of flavors that feels so warm and summery. This big and impressive dish is the centerpiece of many fiestas (a celebration or party) and special occasions in the Philippines.
Total time: From 15 minutes to 30 minutes
Ampalaya's direct translation is bitter melon, the tropical fruit of the gourd family. True to its name, the fruit is as bitter and sharply flavored as you may think. An acquired taste in Filipino cuisine, Ginisang Ampalaya is a mainstay recipe on local's dining tables.
To create this recipe, you'll have to saute the bitter melon together with tomatoes, onions, garlic, and some scrambled eggs tossed in at the last minute. You can stick to the basics or adjust the ingredients to your taste.
Simple as it is, Ginisang Ampalaya is an excellent source of nutrients, making it a staple for any day meal. For folks who tend to shy away from the bitterness, a classic trick to de-bitter the fruit is to rub it with some salt. It's worth a try!
Who knew cooking Ginisang Ampalaya is such a cinch!
Total time: 50 minutes
Pinatisang Manok is the Filipino way of reviving your spirit, a one-meal-in-a-pot dish that's terrific for the cool weather. Though it's said to closely resemble Tinola, another type of chicken soup, the former brings out a more pungent fish sauce taste and less ginger flavor.
Pinatisang Manok is the perfect example of how simple yet toothsome Filipino dishes tend to be. With chicken as the starting role and a broth flavored with fish sauce, pepper, and ginger, this soup has an umami-packed, rich, and creamy taste to which no one can say "No"!
Total time: 1 hours 20 minutes
Whether devoured by itself or with steamed rice, Bulalo is a fusion of goodness. This beef bone marrow soup owns its roots in the province of Batangas, hence the name. Beef shanks, bone marrows, and veggies like head cabbage form this ultra-rich soup.
There's barely any prep work needed. But you'll have to wait for a while for it to be perfectly tender and ready. Undoubtedly, Bulalo is the best thing to have when the temperature drops, as it helps soothe your soul and raise your body temperature.
Total time: 30 minutes
Are you seeking a Filipino vegan-friendly specialty that are neither bland nor boring? If so, your search ends with Adobong Talong! Rather than the typical meaty version, this dish features eggplants as the main attraction.
Adobong Talong takes just 20 minutes to put together from start to finish. A sweet-sour marinade seeps into the vegetable, making it soft, tender, and delicious. This healthy recipe doubles as a main entree and side dish, so you can serve it however you like.
Total time: 40 minutes
In the variety of Filipino foods, any recipe that starts with "Ginataang" can be described as "done with coconut milk." And this vegetable stew is no exception. Ginataang Kalabasa At Sitaw combines squash and string beans in a delightful coconut milk broth.
This stew gives off light and refreshing yet huge flavors at its best. The dish is tailor-made for a hot summer day or for those seeking a exotic family-friendly recipe. Spare 35 minutes of your time, and this Filipino specialty is right at your service!
Total time: 50 minutes
Some say Chicken Binakol shares a bit of similar taste to Tinola, primarily due to the appearance of ginger. But rather than regular water, the cooking process in coconut water makes Binakol stand out from the rest.
The secret to nailing this Filipino classic? It all goes down to choosing the ingredients like young, tender coconut and native chicken. You start off with pounding the dressed chicken and cutting it into bite-sized pieces. Then, the chicken is left to slow-cook away with spices.
Traditionally, the whole assembly is placed in a bamboo tube or a a coconut shell, but the stove gets the job done as well. At its finest, this delicious, heart-warming, and slightly sweet soup is excellent comfort for when you're feeling achy and sniffly.
Total time: 45 minutes
For amateur cooks, Sinabawang Gulay is undoubtedly one of the most easy-breezy recipes. Also known as Utan Bisaya, the history of this vegetable soup goes back to the Visayas region of the Philippines. And it's so craveable as the freezing cold approaches.
To start, this hearty delight comprises string beans, squash, headless Suahe (shrimp), and a bit of ginger. All the flavors meld together in a tasty and comforting dish upon boiling. You can serve a piping-hot bowlful with rice or devour it as a standalone meal.
Sinabawang Gulay is made easy with this tutorial!
Total time: 1 hour 30 minutes
Pinya Flan, also known as Flan De Piña, rose to fame during the Spanish colonization and has remained a famous specialty. Simply put, it's a custard-like Filipino dessert treat starring fresh pineapples, egg yolk, sugar, and milk.
You'll get a satisfyingly smooth and soft texture as you slice your knife into the flan. It gives a light and refreshing tropical feel to round out a heavy main course. Don't hesitate to double or triple this Spanish-inspired recipe because everyone around the table will ask for more!
Total time: 20 minutes
A quintessential staple in every Filipino household, Pancit is the umbrella term referring to various traditional Filipino noodles. It's so easy to make, budget-friendly, and delicious that you'll never have to order Pancit takeout again!
In this simple recipe, rice sticks are paired with chicken and shrimp. However, there're endless options for topping and noodle types that you can try. What I like about Pancit is how everything can be ready in as little as 20 minutes and with little effort.
Total time: 25 minutes
An easy Filipino delight that gets ready in less than 30 minutes, Adobong Sitaw might be your new favorite weeknight dinner. A classic trick when cooking Sitaw (string beans) is to cut it into uniform lengths and keep an eye on the time to avoid overcooking.
While its visual isn't unique, its flavor profile makes up for everything. When you get it right, the pleasure of the crunchy and fresh beans contrasting with the succulent soup is super satisfying. Feel free to drizzle some toasted garlic bits on top to amp up the presentation!
Total time: 1 hour 5 minutes
Let's be honest! Cooking seafood seems intimidating for a lot of peeps. However, with a Kinilaw recipe in your back pocket, it's a breeze to treat yourself to an ocean-feeling specialty and impress the harshest critics in the house.
This Filipino spin on ceviche (raw fish cured in citrus juices) is an indigenous delicacy wherein raw fishes like Tanigue (Spanish mackerel) are marinated in vinegar.
To add different depths, calamansi juice (Filipino citrus fruit), chili, pepper, and ginger are added. You'll feel like you're at the ocean savoring Kinilaw!
Learn how to prepare Kilawin from the expert!
Total time: From 50 minutes to 1 hour
For those not fond of deep-fried recipes, Lumpiang Sariwa is your best bet! A variant of the favorite national Lumpia, this spring roll contains a stir-fried veggie stuffing wrapped up by a thin crepe-like skin. This special skin is often made with flour and cornstarch.
Full of vegetables and with no deep-frying needed, Lumpiang Sariwa might be one of the healthiest delights that Filipino cuisine offers. You can't go wrong with these spring rolls for a light, crowd-pleasing Filipino snack in the afternoon or a mouth-watering appetizer.
Total time: 40 minutes
Truth be told, Gising-Gising doesn't have the most appealing visual. But flavor-wise, you're in for a special treat! From its name alone, which merely means "Wake-up Wake-up," you can tell that this dish will be spicy and super delicious.
Gising-Gising features two main attractions: ground pork and green beans. The presence of a coconut milk-based soup boasts a creamy and thick texture. Meanwhile, Bagoong Alamang (shrimp paste) and red chilies are used to elevate layers of flavor to satisfy your taste buds.
Total time: 35 minutes
The true origin of Bulanglang remains disputed. However, most believe it can be traced back to the Katagalugan region, blessed with an abundance of vegetables. The stew can taste anywhere from mild and delicate to savory and sweet based on the ingredients used.
Better yet, it's a cinch to tweak this recipe, making it a vegetarian version by nixing the shrimps, pork belly, and shrimp paste. Delicate and flavorful, Bulanglang is easy to whip up and consume in as little as 35 minutes in the kitchen.
Total time: 1 hour
If you don't expect your after-meal dessert to be packed with proteins, let me surprise you! Ginataang Mongo is a tasty and healthy sweet treat that'll leave you beyond satisfied. The sweet, nutty, and incredibly creamy flavor makes this porridge a perennial favorite!
For folks who've never heard of this Filipino delicacy, it's a rice pudding wherein sticky rice and toasted mung beans are cooked in a coconut milk-based soup. This hearty rice pudding fits the bill as a tremendous Filipino fare to nourish your body.
Healthy Filipino Fares – Have No Shame In What You Eat
Filipino food culture is so slept-on that it's almost hard to fathom. Especially when it comes to a healthy eating pattern, Filipino cuisine has a lot of specialties to offer that lead to better overall health while letting you enjoy your food to the fullest.
With this list of the best healthy and tasty fares, I hope it's made it easier for you to pick out what you should cook next.
For any questions regarding these non-guilty pleasures, please don't be shy to let me know. Share this list with your loved ones, too, since good food is best shared!
Nutrition Facts
4 servings per container
---
Amount Per ServingCalories528
% Daily Value *
Total Fat 46.6g

71

%
Cholesterol 57mg

19

%
Sodium 384mg

16

%
Potassium 678mg

20

%
Total Carbohydrate 17.2g

6

%

Dietary Fiber 7.1g

29

%
Sugars 7.6g

Protein 11.5g

22

%
---
* The % Daily Value tells you how much a nutrient in a serving of food contributes to a daily diet. 2,000 calories a day is used for general nutrition advice.