Nothing beats a bowlful of Filipino soup recipes on those chilly days. With the essence of Filipino cuisines, these classic delights have the perfect balance of sweetness, tanginess, and saltiness.
Not to mention how easy these wonderful Filipino delights are to make from the comfort of your kitchen! Most ingredients are available at any supermarket, and the cooking process shouldn't be much of a puzzle.
Today's adventure introduces you to some of the most delicate Filipino soups that have stood the test of time to become national favorites. You won't miss anything from their history to ingredients and flavor profile.
Dig out your pots and pans if you're ready to bring these delicious ideas to reality!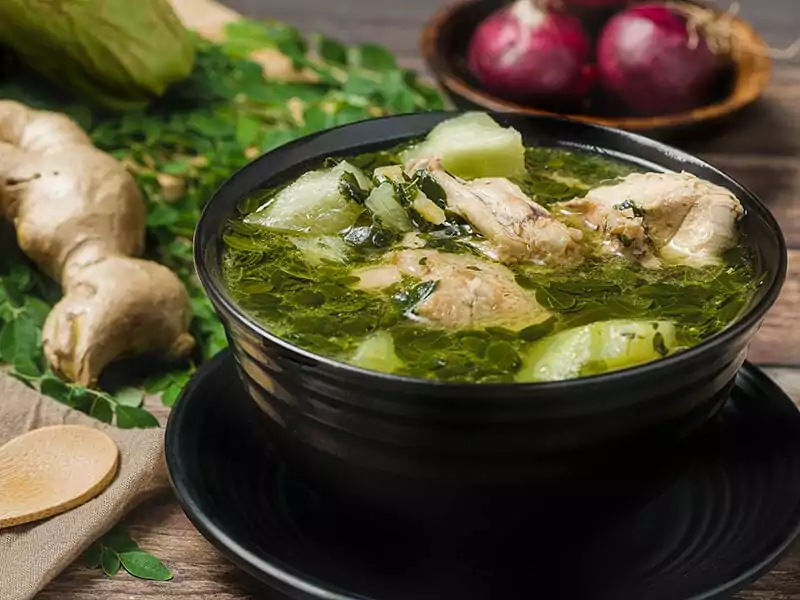 Best Filipino Soup Recipes For A Comforting Meal
Are you ready to bring something new to the table? These excellent Filipino soups don't only taste phenomenal but can also review your spirit and chase away fatigue.
Total time: 1 hour 20 minutes
Bulalo is, without a doubt, one of the most-loved Filipino dishes of all time. In essence, it's a light-colored soup made with bone marrow and beef shank, hence the name. Other common ingredients like pechay leaves, cabbages, and yellow corn are also used to elevate the flavors.
As always, the main attraction of Bulalo is the marrow inside its bone that wonderfully enriches the soup. It's so hearty, full-bodied, and beefy that it can warm you up from head to toe when it's cold outside.
Total time: 1 hour 15 minutes
Sinigang translates to "stew dish," while "Baboy" means pork. Therefore, pork baby back ribs are simmered in a tamarind-based broth, tons of vegetables, and the touch of fish sauce's terrific flavor to create the delightful Sinigang Na Baboy.
It's easy to tell why this soup is a national favorite. Flavor-wise, it gives off the perfect balance of sour and savory taste, which mostly comes from tamarind. Sinigang pairs well with a bowlful of rice on the rice and a light, tasty Filipino dessert to round it out.
What I like about this soup is its versatility. You can use any cut of pork and toss in some other vegetables to create a plethora of variations that suit your palate.
Total time: 3 hours
If you're hoping to make your diet extra nutritious, Filipino Cocido is your ultimate answer. Adapted from Spanish cuisine, this palatable soup has quickly risen to the top soup dishes in the Philippines, thanks to its delightful flavor and easy preparation process.
The one thing that sets Cocido apart from any other is saba bananas (a banana cultivator native to the Philippines), which give the soup a hint of sweetness without any starchiness.
As a standalone meal, Cocido is a nourishing and fulfilling meal that can satisfy anyone that's around the table. Light, warming, and refreshing, this winter comfort soup is good for chilly days.
Total time: 55 minutes
Do you love a thick soup minus the extra calories? If that's a yes, I present the famous Arroz Caldo. Although its name is a Spanish word that means "hot rice," this tasty Filipino chicken delight is much influenced by the Chinese congee.
Essentially, Arroz Caldo consists of chicken meat and stock, rice, and onions. The flavor is far from bland, with an excellent heat of ginger and the creamy, thick texture that makes every bite melts in your mouth.
Create the Filipino version of Arroz Caldo in a flash!
Total time: 1 hour 10 minutes
Another Filipino classic with Chinese influences, Pancit Molo, owns its origin in the town of Molo in the region of Iloilo. Rather than traditional noodles, this recipe calls for meaty moto balls cooked with chicken, ground meat, and an array of condiments.
The result is a beautiful dish with layers of flavors: savory, meaty, super-rich, and additional sweetness. A piping-hot bowlful of Pancit Molo will fill your stomach and soothe your soul on any day!
Pancit Molo doesn't need to be complicated with this guide!
Total time: 25 minutes
Level up your weekday meal with Sinabawang Isda! This Filipino fish specialty are as scrumptious as easy to cook. It takes an assortment of seasonings, calamansi juice, and some fresh Red Snappers. Or else, you can use any available fresh fish.
Simplicity is the key to pulling the perfect Sinabawang Isda. This will allow the fresh and sweet flavor of the fish to shine through. As with other viands, the fish soup is preferably served hot with a classic Filipino accompaniment of warm rice.
Total time: 1 hour 20 minutes
Filipinos love a good breakfast to kick-start their days. And nothing beats chicken Sopas in the cold weather. As its name suggests, the main ingredients in this Filipino soup include chicken, hotdogs, macaroni, and vegetables.
With evaporated milk, the broth tastes so thick and creamy. Since it's simmered for an hour, all the elements bind together, making the whole thing rich and incredibly delicious. From this basic recipe, feel free to incorporate any add-ins that suit your liking.
But that's not the best thing about chicken Sopas yet! It's also the perfect comfort food you can make in one pot, thus saving some clean-up work. With some simple ingredients, the soup is something that always fits the bill.
Total time: 55 minutes
Chicken Tinola is a staple for anyone who loves the cozy taste of home in a hearty meal. This chicken soup is so treasured that each household has its version and keys to nailing it. An hour of prep time anh cooking time is enough to bring this Filipino classic to the table.
At first glance, chicken Tinola is distinguishable for its clear broth and a fusion of elements. Those tend to be chicken, sayote, ginger, garlic, and fish sauce. This well-balanced soup will make you fall in love with it from the first spoonful!
See how this professional chef whips up Chicken Tinola!
Total time: 35 minutes
As soon as you feel a few degrees dropping in the temperature, get yourself ready with a bowlful of chicken Sotanghon soup. The Filipino take on chicken noodle soup is nothing less than perfection.
Mung bean noodles are commonly chewy and soft, whereas shredded chicken lends a meaty taste. After that comes a savory blend of spices and shiitake mushrooms for extra dimensions of flavors. This light and comforting soup are great for a nice cozy meal.
Total time: 1 hour
Pancit Lomi's roots can be traced back to classic Chinese food cuisine. The most significant difference between this and Pancit Molo is that the former consists of fresh, thick egg noodles, which lends to a slimy yet tasty texture.
The broth of this soup is flavored by a combination of chicken stock, fish sauce, cornstarch, and garlic. This noodle soup makes a crowd-pleasing fiesta fare and is a famous delight in many local restaurants and markets. And it lives up to its expectations!
Total time: 45 minutes
One or two bowls of Mongo Guisado and the winter chill don't stand a chance. This mung bean soup is an authentic Filipino classic, and it can be made in the comfort of your kitchen. A flavorful broth featuring tomatoes, onions, and garlic is at its base.
In terms of flavor, Mongo Guisado has a good heat without being overly spicy to warm you up during the winter months. Moreover, since there's no bean soaking required and all the ingredients are sold at any grocery store, dishing up this soup is no puzzle!
Because mung beans are an excellent source of plant-based protein, you can efficiently serve this recipe for a Filipino vegan night; just discard the fish flakes and Bagoong Isda (Filipino fish paste).
Total time: 50 minutes
Are you in need of an affordable and healthy meal? I've got you covered. Utan Bisaya's name merely translates to "Vegetables, Visayan style." It's one of the most humble yet delectable soups that can be finished in under an hour.
This vegetable soup is a staple among Filipino households and a prominent icon in Visayan cuisine. It's created with tons of veggies, and you can toss in anything on hand along with some fried fish and shrimps.
Practice is needed to give this light and fresh soup the perfect balance. Usually, the fool-proof trick to preparing the ideal Utan Bisaya is not to overcook the vegetables. This vegetable soup is a beautiful accompaniment in Filipino meals, where heavy courses are enjoyed daily.
Total time: 1 hour 45 minutes
Beef Nilaga's direct translation is "boiled beef." No doubt, it's the definition of cravable Filipino food: delicious, light, and warming. But you may be quite surprised to find out how effortless it is to make from scratch at home.
Cooking this beefy soup is as simple as letting ingredients like beef, veggies, fish sauce, and other seasonings simmer away until it's soft and tender. A pressure cooker is ideal for recipes like this. But if that's not at your disposal, the stovetop works excellent.
Learn Beef Nilaga the traditional way with this easy tutorial!
Total time: 10 minutes
A mouthwatering and healthy Filipino dish for when your schedule is too packed for anything elaborate, Dinengdeng can be made in a flash! But that doesn't mean it skips any flavor. It might just be one of the most flavorful veggie soups you've ever had.
Though this recipe utilizes water spinach, you can change it to other kinds such as okra, banana squash, and eggplant. A bit of ground black pepper adds a mild heat, whereas garlic lends itself to a zestiness to spice it all up.
Dinengdeng pairs well with a plate of Sinangag (Filipino garlic fried rice) when it comes to the serving. Before you know it, you have yourself a tasty and nutrition-packed soup that hits the spot.
Total time: 55 minutes
Expand your palate with beef Pares Mami, or beef Mami, a famous Filipino dish that takes noodle soup to a whole new level. Mami noodles, the kind used in this dish, is an egg noodle that has its root in Chinese cuisine.
Typically, this beef noodle doesn't take much time to prepare. The egg noodles, beef brisket, and hard-boiled eggs result in a tender and complex texture.
Its flavor resembles pho (Vietnamese noodle soup) and is equally terrific, especially on rainy days. So delicious, you'll want to return for another bowlful!
Beef Mami is made so easy that you'd have no trouble dishing it up!
Total time: 4 hours 25 minutes
Pork Nilga shares many traits in common with Beef Nilaga mentioned above, except for one thing: the presence of pork. Taking one hour of your time, this delight is the right choice for a hearty, homemade Filipino meal to impress your family and possibly guests.
But that's not all why you should make Pork Nilaga from scratch. In the Philippines, it's a staple made for the sick and people who suffer from hyperacidity and diarrhea. So now you have one more home remedy just in case!
Total time: 1 hour 5 minutes
Lugaw, in essence, is a porridge featuring rice cooked in water until a thick consistency is achieved. It's often infused with a little bit of ginger, garlic bits, fish sauce, and sometimes chicken, too, not to be mistaken with Arroz Caldo, another rice porridge.
The truth is, even many Filipinos can't tell these two apart. The most apparent difference that Arroz Caldo has from its counterpart is the more pungent gingery taste at its base. Also, while Lugaw is likely plain in color, Arroz Caldo is usually yellow due to the use of safflower.
In Filipino culture, Lugaw is mainly associated with sick days. Therefore, I recommend saving this nurturing, hearty, and easy-to-digest recipe in your back pocket when you're feeling under the weather.
Total time: 1 hour
When the day is challenging, and the temperature is low, Batchoy Tagalog is what many locals turn to. It's so hearty, complex, and delicious that anyone who tries it for the first time will develop a taste for it.
In terms of flavor, this toothsome Filipino pork dish are pretty similar to Tinola. However, pork blood and miswa noodles are made much more enjoyable, which are two elements that you don't encounter in modern Western noodles.
Total time: 1 hour 10 minutes
If you travel to the Visayas and Mindanao regions of the Philippines, you'll probably see Linat-An sold in every carinderia (Filipino's local restaurant). Preparing this pork soup is only letting pork spare ribs and vegetables simmer until it's all tender.
Linat-An is incredibly satisfying, luscious, and filling Filipino comfort food when it comes down to the flavor. No wonder locals love it on cold, rainy days. Plus, it's so simple that novice cooks have quite an easy time putting the dish together.
Because the soup is high in vitamins that benefit your immune system, you won't feel any guilt coming back for a second or third serving.
Total time: 30 minutes
In short, Sinigang Na Hipon is far from tasting bland. This Filipino shrimp soup is renowned for its sourness and an intensely savory flavor that awakens your palate.
Besides shrimp as the center of attention, this sour soup consists of vegetables like tomato, radish, okra, and tamarind pods. Since all these elements cook quickly, keep an eye on the pot to avoid overcooking.
Sinigang Na Hipon is a good specialty for folks beginning in Filipino cuisine. It's ready in 30 minutes, and there's not a lot that you can go wrong with. Therefore, it's worth a try!
This detailed instruction will help you make the best Sinigang Na Hipon!
Total time: 1 hour 5 minutes
Who doesn't love some corn soup for a cozy dinner to fight off the cold? Suam Na Mais is one of the best recipes to devour seasonal fresh corn. If you need a family-friendly winter soup, this Filipino corn soup is your best option!
The origin of Suam Na Mais started in the province of Pampagan, the Philippines. In this region, corn is an important crop aside from rice. Therefore, it's used to be mostly served during the harvest season.
Suam Na Mais isn't like the rest of the corn soups because it utilizes chili pepper leaves. This unique ingredient gives the soup a peppery taste that contrasts the sweetness and creaminess. When done right, it's incredibly nuanced, pleasant, and satisfying.
Total time: 1 hour 35 minutes
Once called a "peasant food," Pocherong Pata has climbed the ladder to become one of Filipinos favorite soups. Dishing up this soup is as fast and easy as others, but your effort is paid off when that wonderful smell starts filling up your kitchen.
At its best, this Pochero soup is filled with warming and sentimental flavors that quickly bring you to your childhood. The sweetness of saba bananas, the nutty and earthy notes of garbanzos, and the fattiness of pork hock result in an irresistible cozy meal.
So what are you still waiting for and not getting to the kitchen?
Total time: 30 minutes
This pork tomato soup is proof that a toothsome comfort dish doesn't have to take all day long. From start to finish, Kinamatisang Baboy can be ready in 30 minutes, leaving you plenty of time to savor it.
One of the most striking elements presented in this timeless soup is ripe and juicy tomatoes. As the base of the soup, tomatoes are favored for adding a natural sweetness to the soup. The tender pork binds out a tasty broth that perfectly matches warm rice.
What's more, this Filipino pork soup is customizable with your favorite vegetables and seasonings. This will not be the last time you whip it up!
Total time: 1 hour 20 minutes
Combining chicken and fish sauce doesn't get better than this! Chicken thighs and legs are cooked up with a bit of ginger, fish sauce, and spinach leaves in this treasured Filipino delicacy.
Since everything is cooked up in the same pot, Pinatisang Manok is great for when you don't want to have a sinkful of dirty pots and pans. For the full Filipino taste, devour the soup hot with much-steamed rice.
Total time: 4 hours 30 minutes
Soup Number Five will go down in Filipino history as one of the most bizarre yet exciting dishes. This infamous soup includes two main ingredients: bull's testicles and penis.
Preparation is no puzzle. You need to boil, saute, and let the animal innards simmer in a broth. The simmering-on-low-heat process truly takes time, which often ranges from 4 hours to 6 hours.
In contrast to its unusual ingredients, it's undeniable that this soup tastes so warm and hearty that it resembles a home-cooked beef stew.
Another reason this soup is so popular with the public is its aphrodisiac properties. Men in the country have said it can be substituted for the blue pill when it comes to intimacy.
Total time: 2 hours 35 minutes
As usual, beef Lauya is locally developed and thus is made to suit the taste of Filipinos. This traditional soup is considered a close cousin to beef Nilaga in its cooking method. The significant difference lies in the use of ginger and garlic.
Who doesn't love a piping-hot bowlful of beef shank, sweet potatoes, sugar, garlic, and ginger? This well-loved soup is defined by its savory and satisfying flavor. The hint of heat provided by ginger will warm you up from the inside out!
Total time: 1 hour 40 minutes
KBL stands for Kadyos (pigeon peas), Baboy (pork), and Langka (jackfruit), referring to an authentic and native Ilonggo dish. This beef soup has a good reputation in the region of Western Visayas, and it entirely lives up to the expectation.
As different as the three main elements, they complement each other perfectly. The soup is sour, smoky, and incredibly savory that you'll fall in love with it. The trick to the most tender texture is pre-boil or grill the pork before putting it in the broth.
Total time: 1 hour 20 minutes
Historically speaking, the origin of chicken Binakol can be traced back to the hinterlands of Panay Island, Western Visayas. It's gained much attention from foodies in and out of the Philippines for the easy cooking process and its terrific flavors suited for a nippy day.
In the classic method of cooking chicken Binakol, the chicken is diced and cooked together with fish sauce, coconut juice, coconut meat, and veggies. The saltiness, sweetness, and filling taste make it a true comfort, good-for-the-soul food.
A step-by-step direction to pull the perfect Chicken Binakol!
Total time: 30 minutes
Almondigas are defined by two ingredients: meatballs and misua noodles. While there's no set recipe, a basic version of this palatable recipe contains ground pork, patola, fish sauce, and the two show's stars.
The result is terrific. Upon simmering, all the seasonings seep deep into the broth, creating a burst of comforting and satisfying flavors. Like most soups, it tastes better the next day, so feel free to store the leftovers in the fridge for later meals.
Total time: 1 hour
In terms of flavor profile, Pesang Manok is the next best thing to Nilaga. The refreshing, healthy, and delectable soup will excite your fall dinner, not to mention this delicate recipe takes just an hour of your time.
By all means, Pesang Manok is soul food. All the ingredients are so nourishing that you can serve them for lunch, dinner, or any time of the week that requires a boost of energy. Along with warm white rice, this Filipino dish is destined to be your next favorite!
This is how to make Pesang Manok most deliciously!
Total time: 1 hour 50 minutes
If you have a thing for goat tripes, Papaitan is worth trying. It's all in the name. This native Ilocano specialty is composed of goat innards that may be intestines, heart, lungs, and seasonings.
Flavor-wise, Papaitan is distinguished for the bitter and sour taste coming from the goat's bile. This particular soup is constructed in quite a bizarre manner. But those who love an adventurous culinary trip devour it with passion.
Stress-Free Soup For Every Night Of The Week!
Cozying up with a homemade Filipino soup is incomparable when the temperature drops. I've included the best classic recipes so you can easily find out your favorite and tweak them as you desire.
Good food is sweeter shared with your friends, so don't be shy to let your loved ones know of these fantastic dishes by sharing them on social media. If you have any trouble making these Filipino specialties, I'm all ears!
Nutrition Facts
5 servings per container
---
Amount Per ServingCalories484
% Daily Value *
Total Fat 15.2g

24

%
Cholesterol 81mg

27

%
Sodium 353mg

15

%
Potassium 769mg

22

%
Total Carbohydrate 38.2g

13

%

Dietary Fiber 8.5g

32

%
Sugars 9.1g

Protein 50g

100

%
---
* The % Daily Value tells you how much a nutrient in a serving of food contributes to a daily diet. 2,000 calories a day is used for general nutrition advice.