I am about to unveil the hidden gems of Filipino foods that I encountered on my escapade last year. Prepare to be swept off your feet by an enticing symphony of flavors that will leave an unforgettable imprint on your senses.
In this culinary treasure trove, I've carefully selected and organized the most scrumptious Pinoy dishes that are sure to delight your taste buds and make your heart sing with joy.
So, without further ado, dive into this scrumptious feast and let the vibrant world of Filipino cuisine unfold before your very eyes.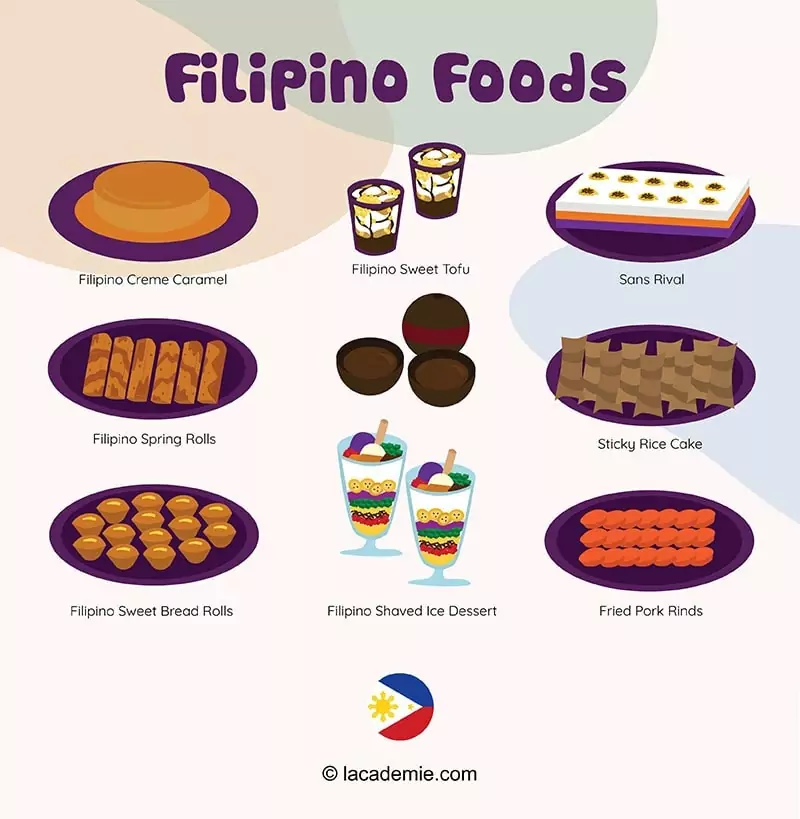 A Brief Overview Of Filipino Cuisine
Discover the enticing world of Filipino cuisine in this section. Here, I explore the fascinating history, diverse influences, and mouthwatering flavors that define the Philippines' culinary landscape.
Brief History Of Filipino Cuisine
Filipino cuisine originated from the Malayo-Polynesians who settled in the Philippines around 3200 BC, introducing rice and various cooking methods. The country's diverse cultural influences have shaped its cuisine into a unique blend of flavors and ingredients. Despite these influences, Filipinos have maintained a strong sense of identity reflected in their hospitable and joyful nature.
The Influence Of Different Cultures On Filipino Food
Filipino cuisine is a product of Spanish, Chinese, American, and local Filipino culinary influences, blending together to produce its unique and distinctive flavors.
Each of these cultural influences has played a significant role in shaping Filipino cuisine, resulting in a harmonious fusion of tastes and ingredients that contribute to the delicious and diverse range of Filipino dishes available.
The Role Of Filipino Food In The Local Culture And Identity
Food plays a central role in the lives of Filipinos. It's a way to bring people together, celebrate life's milestones, and strengthen the bond of family and friendship. No gathering is complete without a bountiful spread of dishes, each carrying the warmth and love of the cook who prepared it.
Foods For Your Main Course
It is time to fill your stomach with famous dishes made from different Filipino main courses. I hope the flavors of the foods on this list will leave an impression on you.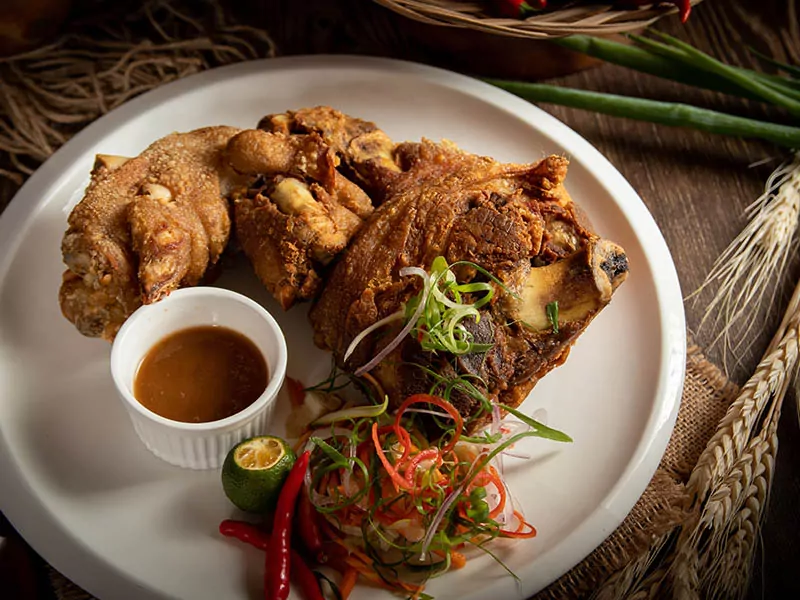 The origins of Crispy Pata, bearing resemblance to the German Schweinshaxe, can be traced back to the Philippines in the 1950s.
Its creation is attributed to Rodolfo Ongpauco, whose mother owned Barrio Fiesta restaurant in Caloocan, north of Manila. The dish emerged from his innovative idea to deep-fry unused pork legs, transforming them into a beloved Filipino delicacy.
Crispy Pata exemplifies the irresistible allure of pork dishes in Filipino cuisine. In this widely adored creation, an entire pork leg is infused with spices, simmered to tenderness, and then deep-fried to achieve a flawlessly crispy exterior.
With a crispy exterior and soft interior, this deep-fried pork is a perfect rice accompaniment. Moreover, its dipping sauce will not let you down.
Listen to people's feelings when trying Pata for the first time.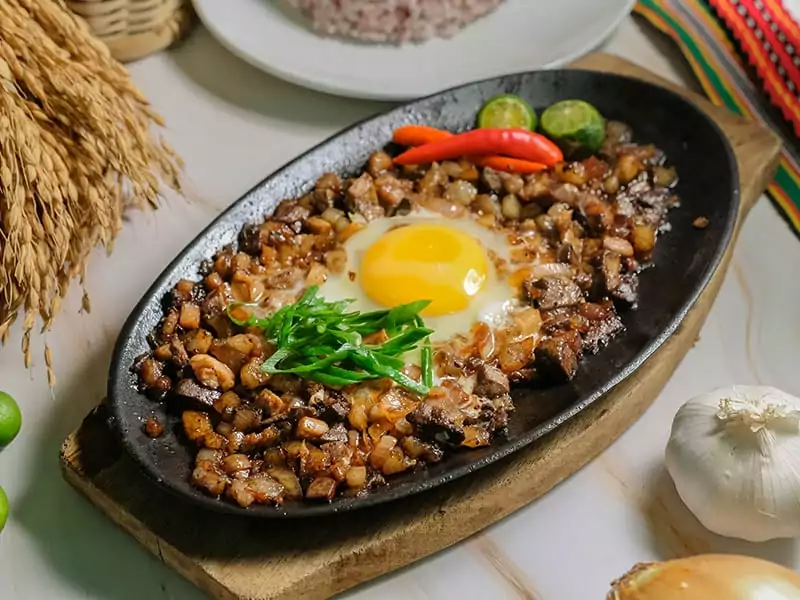 This dish is a famous food in this beautiful island nation. Restaurants will serve this dish on a cast iron plate with chopped pork ears, face, and chicken liver.
Sisig, the delicious Filipino street food consisting of a medley of chopped pig parts and chicken livers dressed in a tangy and spicy sauce, is believed to have its roots in Pampanga.
This province, situated in the heart of Luzon Island in the northern Philippines, offers a unique version of the dish that has evolved significantly from its original form.
The chef first prepared it at Aling Lucing restaurant in the mid-1970s when she used a leftover pig head at a US military base. Other versions replace pork with various kinds of seafood.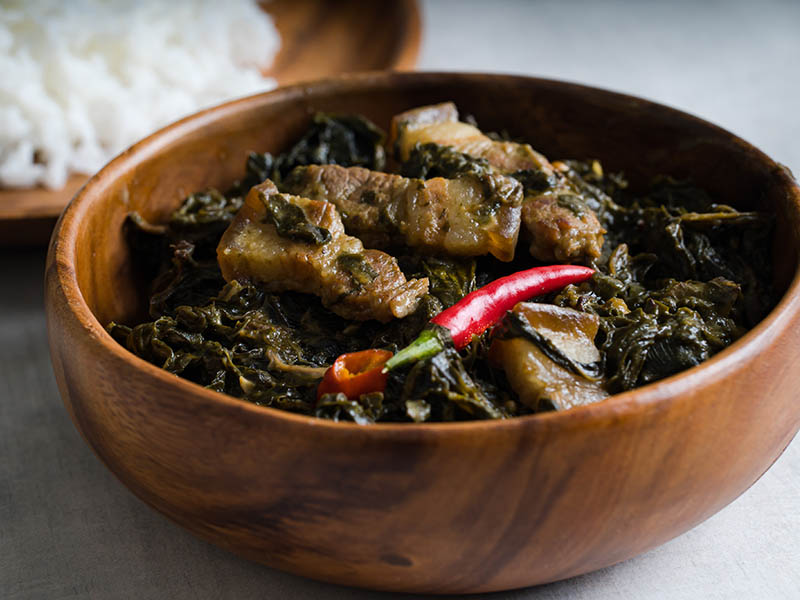 I am sure that this beautiful Laing's rich and creamy flavor will blow you away on the first try. It combines chopped taro leaves with pork, coconut milk, chili, and other spices.
This famous recipe first appeared in the Bicol region of the Philippines as Pinangat Na Gabi. Unlike Laing versions in the other areas of the country, people in Bicol will use whole taro leaves to wrap the meat and steam it with coconut milk.
Laing boasts several unique variants, such as Inulukan, Linapay, and Tinumok. Inulukan, originating from Camalig, Albay, incorporates river crab meat in taro leaves, cooked in spiced coconut milk.
Linapay, hailing from Aklan, blends freshwater shrimp and grated coconut, wrapped in taro leaves and simmered in coconut milk. Tinumok, a Bicol favorite, envelopes a mix of shrimp, fish flakes, coconut, and spices in taro leaves, all cooked in coconut milk.
These distinct variations emphasize the adaptability and local nuances of the laing dish across different regions.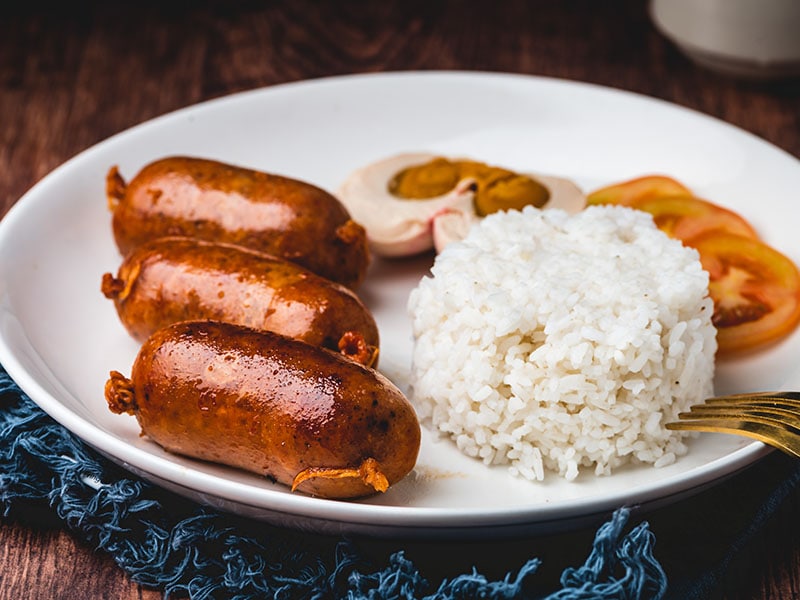 Longaniza, also known as longganisa or Filipino sausage, is a favorite food of tourists when coming to this country. It is native to Spain and appeared in many parts of the world when the Spanish empire reached its peak.
This Filipino sausage is packed with an array of spices and often colored with achuete seeds. These sausages, traditionally prepared with a blend of lean meat, fat, garlic, black pepper, salt, sugar, and vinegar, come in sweet or garlicky versions.
While predominantly made with pork, longganisa can also feature chicken, beef, or even tuna. Commercially produced longganisa is sold as links, while homemade varieties might be simple patties without casings.
Distinct regional variations can be found across the Philippines, such as Vigan longganisa, Alaminos longganisa, and Chorizo de Cebu. Pampanga longganisa is particularly famous, as it is widely mass-produced.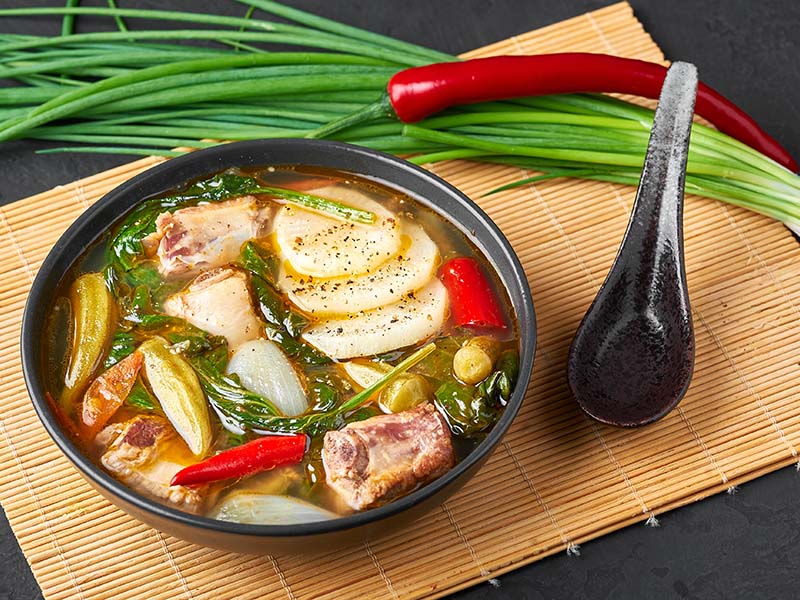 Referring to Filipino cuisine, I will think of Sinigang immediately. It is a stew with a distinctive sour and salty taste. This unique flavor is created from tamarind or acidic ingredients. This traditional soup from the Philippines with veggies and meat or seafood is an ideal option for you.
Its name comes from its preparation method because "sinigang" means "stew". Sinigang boasts numerous variations within this Filipino food guide. The names of these diverse renditions typically derive from their main ingredients.
Among the most beloved sinigang varieties are sinigang na isda sa miso (featuring fish and fermented soybean paste), sinigang na baboy (with pork), and sinigang na hipon (containing shrimp).
It is time to taste a delicious bowl of Sinigang in the Philippines.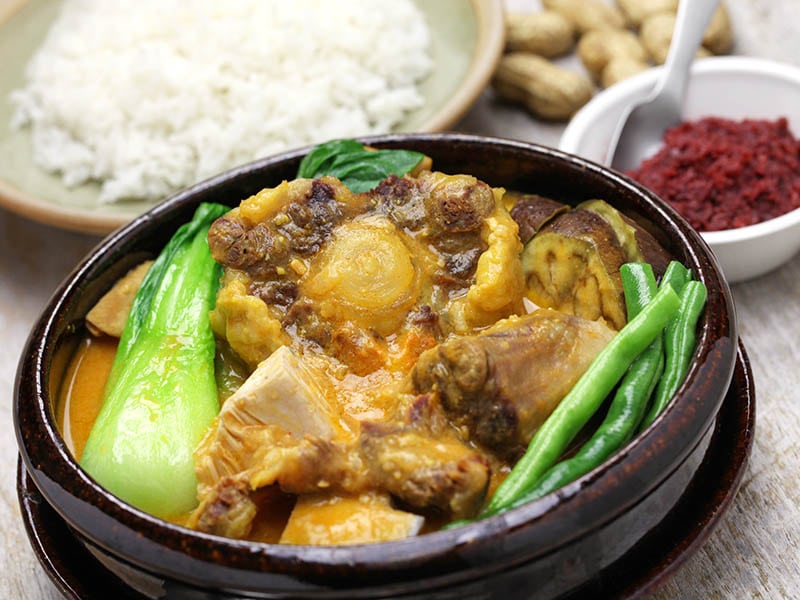 Kare-Kare is a nice way to make lunches in the Philippines more nutritious. This meat stew will make you remember it forever when indulging in the beautiful tenderness of oxtails and veggies in this food.
There is still no clear information about its origin. However, some theories suggest that South Indian soldiers created it while stationed in the Philippines during the British invasion.
This classic Filipino stew is enhanced by a rich, savory peanut sauce. This dish typically features meats such as oxtail, tripe, and pork leg, while occasionally incorporating goat or chicken.
The key to fully appreciating Kare Kare lies in the accompanying shrimp paste, which perfectly complements the flavorful peanut sauce.
Do not ignore eating Kare-Kare when taking a trip to the Philippines.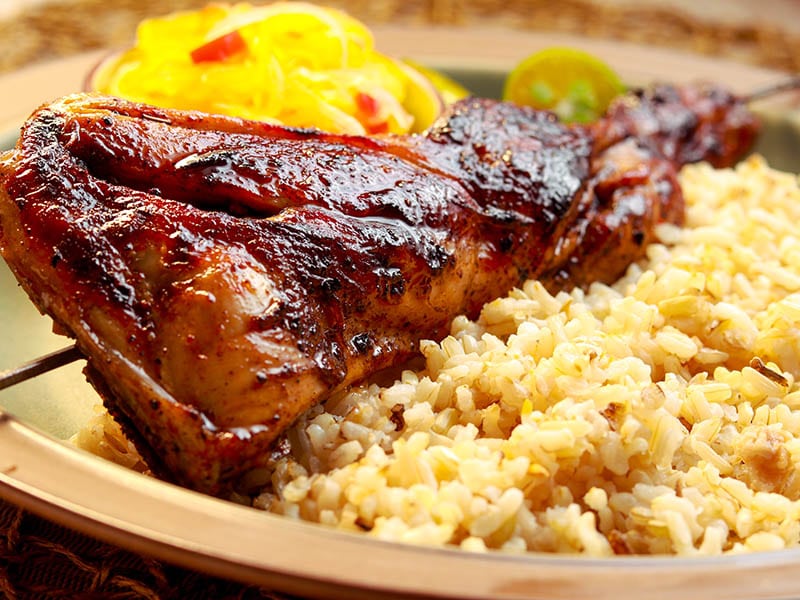 It is a pity if you miss this wonderful chicken recipe of Filipino cuisine. After being carefully seasoned with pepper, vinegar, and calamansi, the chicken is grilled over embers. This food will be more delicious when eaten with rice and special dipping sauce.
It was first made in the city of Bacolod in the Western Visayas region and gradually became famous throughout the country. It is a variation of Lechon Manok, but instead of grilling the whole chicken, the chef cuts it into small pieces to grill.
When you order this food at the restaurant, you can choose by parts like thigh (ie paa), breast (pecho), wings (pak-pak), butts (isol). You should choose a restaurant that serves a bottle of chicken oil to eat with rice.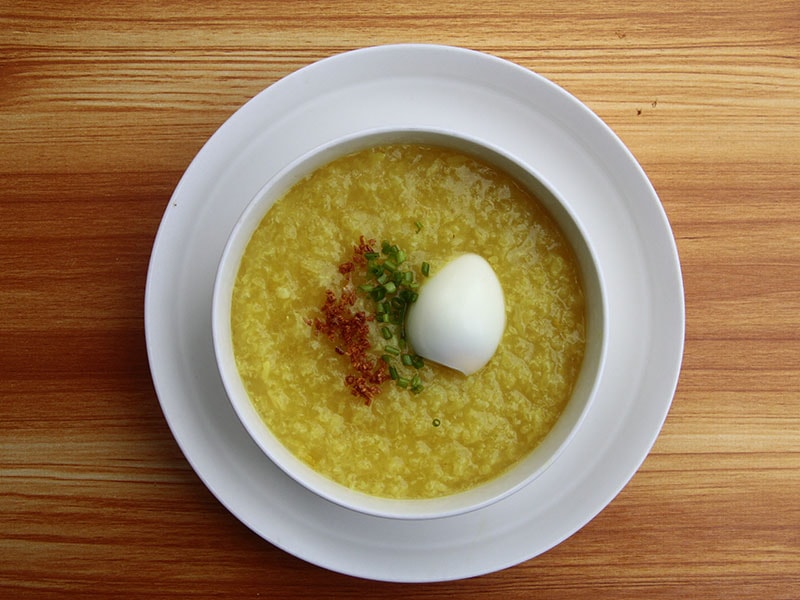 Lugaw is a delicious way to start your day in the Philippines. This dense rice porridge is also a soft and nutritious food for sick people since it contains rice, ginger, salt, and garlic.
Different ingredients are added to the dish to create various variations. Goto is the version that contains pork and beef, or intestines. If it has chicken, it is called Arroz Caldo. Also, the sweet version is known as Champorado.
The porridge is inspired by Chinese-style congee. It was brought to the Philippines by Chinese immigrants and modified with local components to suit regional tastes. Filipino Lugaw is usually thicker than other Asian versions of congees.
As stated by the National Commission for Culture and the Arts, lugaw holds a distinguished place in Filipino culinary history as one of the earliest recorded dishes. The 1613 dictionary, Vocabulario de la lengua tagala, includes an entry for lugaw, defining it as "rice combined with milk, water, or both, forming a porridge."
Check out the flavor of healthy Lugaw in Manila.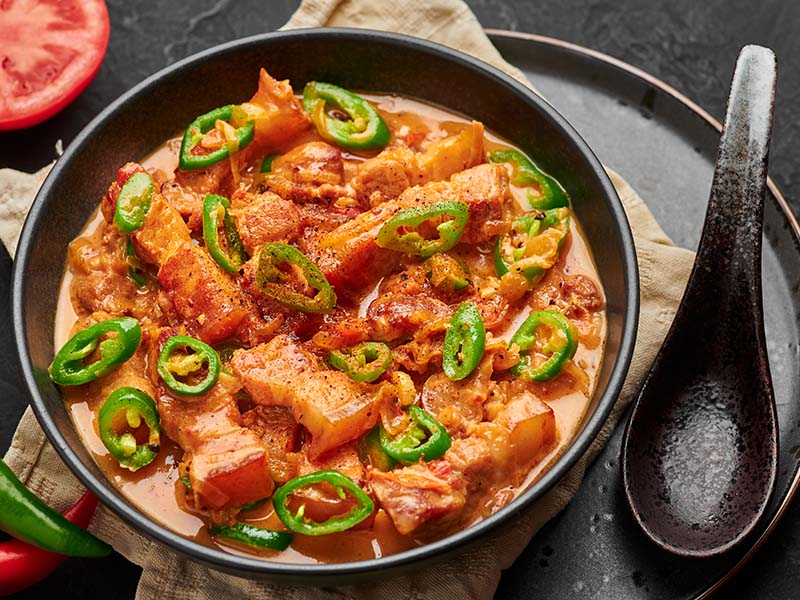 For those seeking a fiery and spicy Filipino culinary experience, Bicol Express is sure to delight. This dish, hailing from the Bicol region, consists of pork, bird's chili, and coconut milk. To temper the spiciness, it's best enjoyed with rice.
The name "Bicol Express" has its roots in a 1970s Manila cooking contest where the creator, associated with Bicol, drew inspiration from a train traveling from Manila to Legazpi City in the Bicol region, eventually giving the dish its iconic name.
In the Bicol Region of the Philippines, the dish originally known as gulay na may lada has evolved into one of the vegetarian versions of Bicol Express. Over time, this dish has spawned numerous adaptations, including seafood, beef, pescatarian, vegan, vegetarian, and more.
The methods of preparing these dishes differ based on the type of meat or protein used in each variation.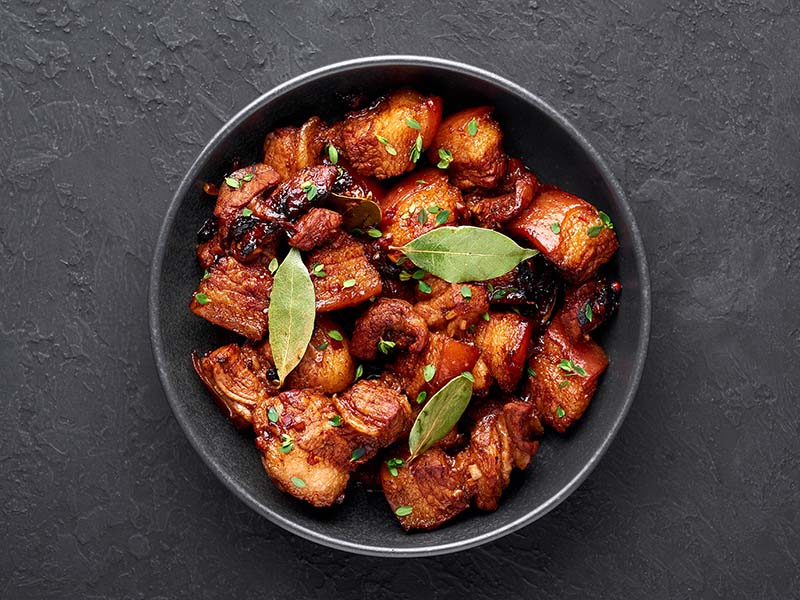 When hungering for a meaty ulam, Adobo is a choice you won't want to overlook. The meat and vegetables absorb a delectable depth of flavor from the marinade, which incorporates a medley of spices. Tender meat morsels are enveloped in a rich, savory sauce.
Filipinos have been preparing this dish since the pre-Hispanic era by simmering meat in vinegar and salt. Upon their arrival in the 16th century, the Spaniards coined the term "adobo" for both the dish and its cooking technique, which translates to "marinated" in Spanish.
Various versions of Filipino adobo can be served as a main dish with rice or as a side dish.
Popular types include Chicken and Pork Adobo, Adobong Pusit (squid), Adobong Kangkong (water spinach), Adobong Puti (white adobo with sea salt), Adobong Dilaw (yellow adobo with turmeric), Adobo sa Gata (with coconut milk and green finger chilis), and Adobong Pula (red adobo with achuete seeds).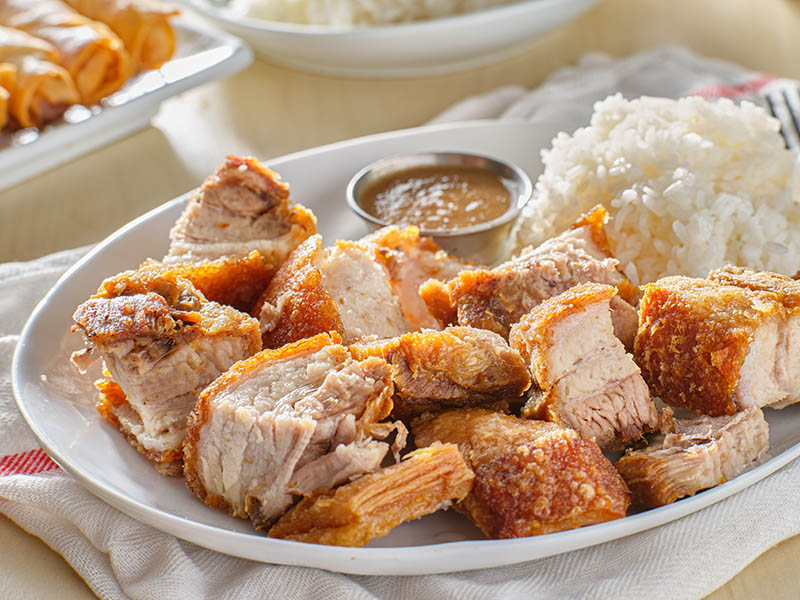 Lechon stands out as a top-notch example of Filipino Inihaw cuisine. It is a national food in the Philippines and has influenced the traditions and culture of the country. This excellent roasted pork is an indispensable component in festivals, holidays, and celebrations.
The name lechon comes from the Spanish word "Leche", which means "roasted piglet". As the food has become more popular, Filipinos roasted larger-sized pigs to make Lechon. There are 2 main types of lechon, Visayas Lechon and Luzon Lechon.
Luzon Lechon is flavored with salt, chili, and a dipping sauce. Mashed liver, breadcrumbs, vinegar, and other spices combine to make Sarsa. Meanwhile, Cebu Lechon has a richer flavor when stuffed with herbs and spices.
Distinguishing itself from other cuisines' roast pig dishes, the Filipino lechon is celebrated for its skin. Ideally, the lechon skin is evenly cooked, maintaining a smooth and glossy appearance, with the finest examples staying crispy for an extended period.
Why don't you try the delicious Lechon right now?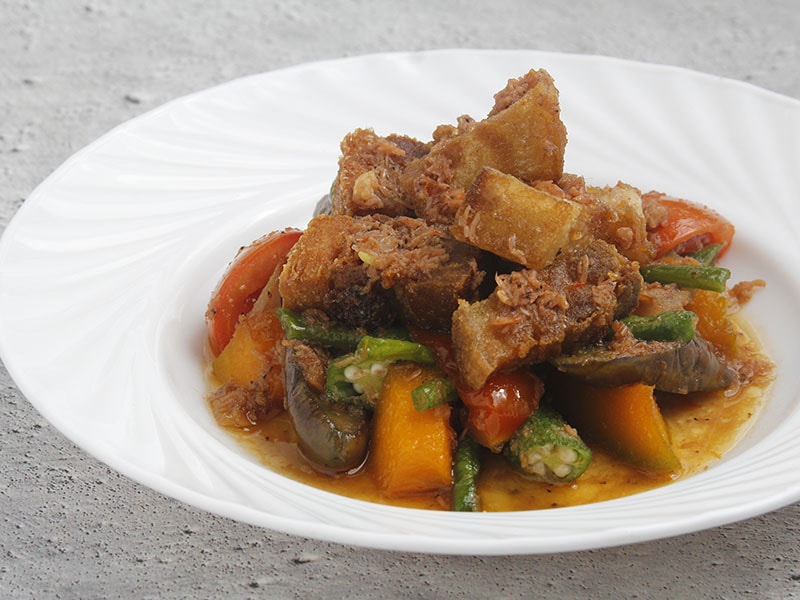 It would be remiss not to mention Binagoongan in this list. The tasty food with the appearance of pork, vegetables, and shrimp paste will bring out the indescribable flavor. In some Filipino restaurants, pork can be substituted with chicken or beef.
When enjoying it, you will be stimulated by its intense pungent taste. Its strong aroma will explode your sense of smell. Therefore, this unique food is often served with rice to neutralize the flavor.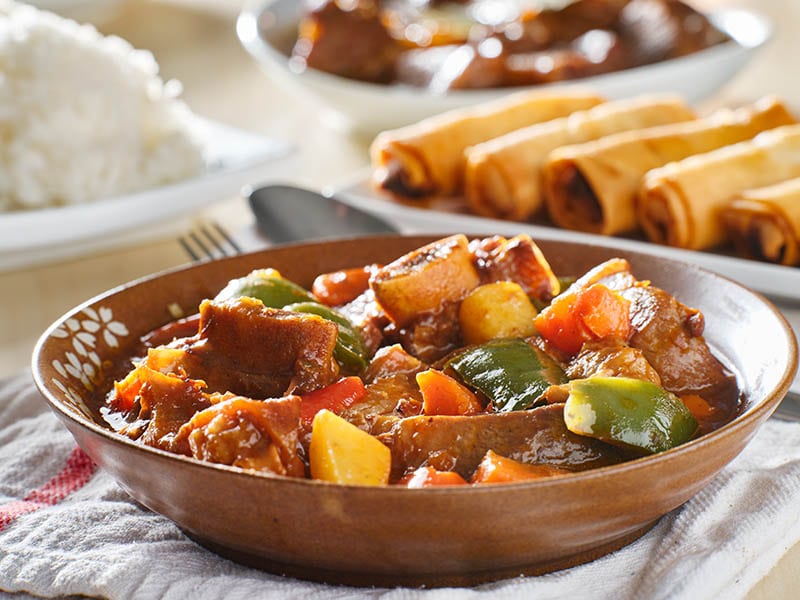 You'll love this meat stew, Kaldereta, after enjoying it. Goat or beef, when stewed, will bring great tenderness. In addition, the tomato sauce in the food makes it rich and has a characteristic mild sour taste.
Its name "Kaldereta" is taken from the Spanish word "caldera", which means "cauldron". It is another version of the meat stew of the Iberian Peninsula. It appeared in the Philippines during the Spanish occupation of the country.
Traditionally, Kaldereta is a dish enjoyed at celebrations such as birthdays, weddings, and local festivities. Its rich medley of ingredients showcases Spanish influences, like tomatoes, while its distinct blend of diverse flavors, including the addition of cheese for creaminess.
Foods For Midday
Your midday meal with your family will be more complete with snacks. Therefore, do not ignore the suggestions below to save before coming to the Philippines in your travel notebook.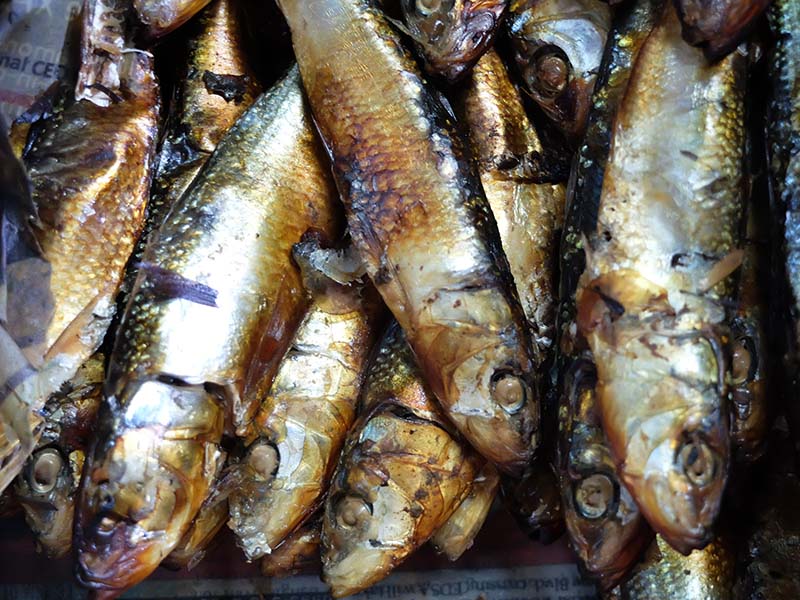 The Filipino smoked fish will bring new sensations to your mouth. Filipinos usually pickle black scad or milkfish with salt and smoke until fully cooked. It is a favorite breakfast dish in the Philippines when served with salted eggs, rice, and tomatoes.
The word "tinapa" means fish or smoked meat in Filipino languages. It is the result of an age-old seafood processing technique of the Philippines. Smoked fish can be preserved for a pretty long time.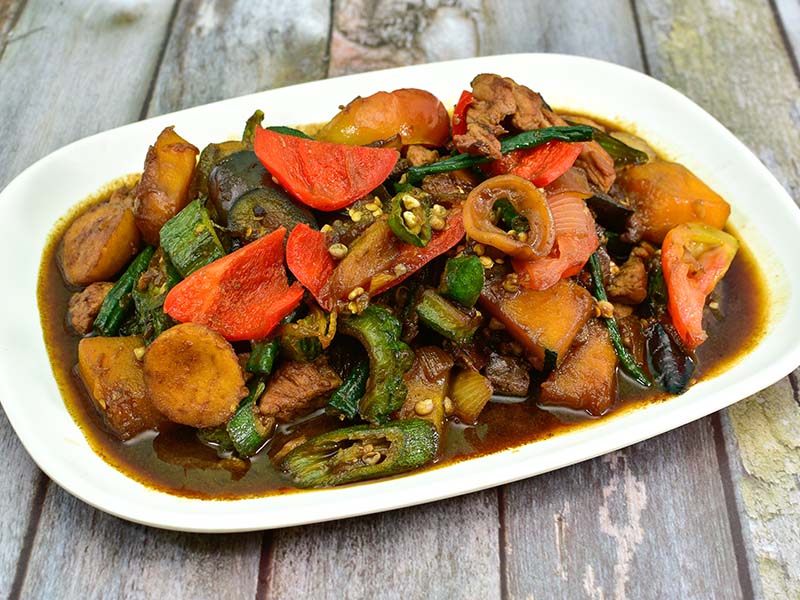 I recommend not to miss the famous Pinakbet of Filipino cuisine. You will never forget the appealing flavor of pork when stir-fried with vegetables. Thanks to the unique taste of fish sauce or shrimp sauce, the dish becomes more appetizing.
This famous recipe is the pride of Ilocos cuisine. Its name takes after the word "pinakebbet", which means "shriveled". That's because the vegetable shrivels when cooked.
The way to spice this food in the Northern and Southern regions of Ilocos is different. People in the North will use fermented fish paste or bagoong balayan to season food, while bagoong alamang and fermented shrimp paste are popular in the South.
Pinakbet Tagalog boasts both deliciousness and nutrition, presenting a vibrant combination of pork belly, native vegetables, and shrimp paste. This quintessential Filipino stew can be enjoyed as a main course or as an accompaniment to grilled meat or fried fish.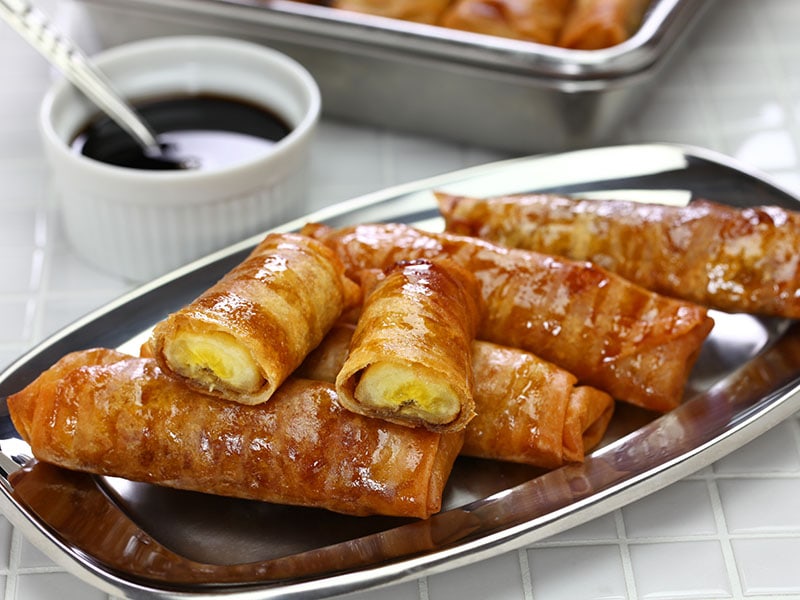 When you walk on the streets of the Philippines, you will easily encounter stalls selling Turons. It is a fabulous recipe with bananas as the main ingredient. People will deep-fry it in a lumpia wrapper and cover it with a layer of brown sugar.
You can enjoy Turon as a midday snack. It first appeared in areas near plantain fields in the Philippines. Its popularity can be attributed to the simplicity, which is due to the availability of cheap and abundant ingredients.
As a result, it has become one of the most widely available snacks in the Philippines. For many Filipinos, turon is an indispensable part of their national identity, similar to how apple pie is considered a quintessential part of American culture.
Turon also holds a special place in the hearts of many Filipinos as a cherished childhood treat. This beloved snack is characterized by its sweet taste, crunchy texture, and skillful wrapping.
Let's give Turon a try to understand more about its taste.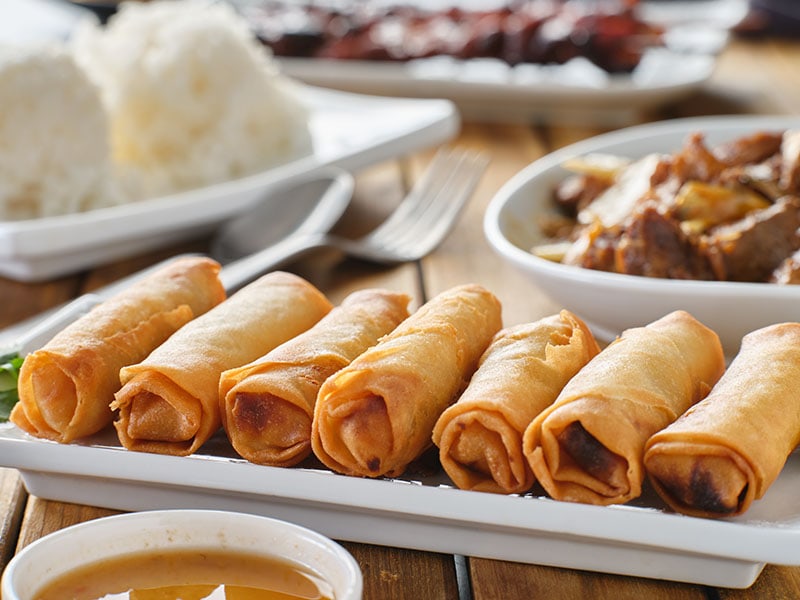 Lumpia is a Filipino version of spring rolls – an old-but-gold Asian appetizer. This dish has been a part of the Filipino cuisine since the pre-colonial period, introduced by Hokkien immigrants and traders from Fujian between 900 and 1565 AD.
Lumpia got its name from the Hokkien language, where "lun" means moist or soft, and "pia" means pastry or cake. What sets Filipino lumpia apart is its ultra-thin wrapper made of flour, water, and salt that's shaped like a cigar.
The filling is a fusion of local ingredients and dishes as well as Spanish, Chinese, and American influences. It's a popular dish in the Philippines, especially during celebrations and gatherings.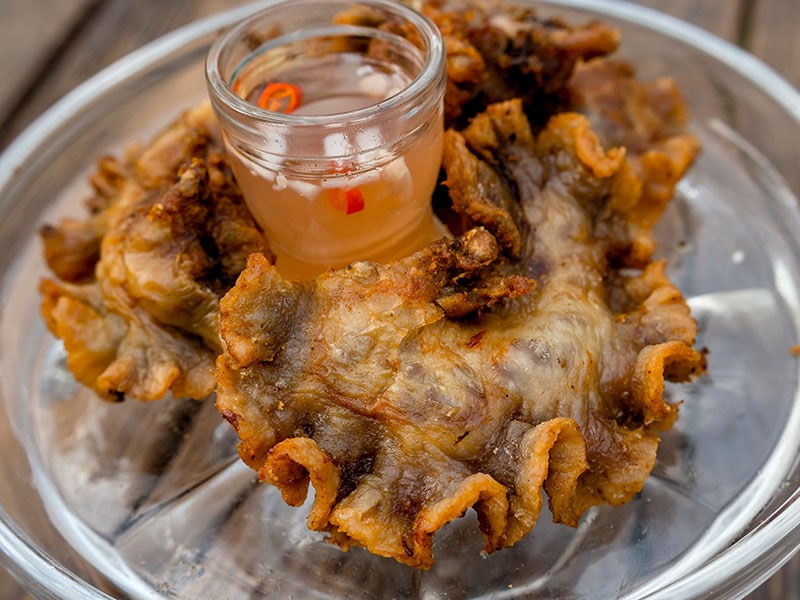 The creation of Chicharon can be credited to the Spaniards who introduced this recipe to the Philippines during their invasion of the country. While Spanish-speaking countries associate Chicharron with deep-fried pork belly, in the Philippines, both pork and chicken can be made into this crunchy snack.
Filipinos take pride in their versions of Chicharron, with Chicharron Bikuta being made from deep-fried pork intestine and Chicharron Manok from deep-fried chicken skin.
The Filipino rendition of this dish stands out due to its unique seasoning of salt. Unlike other versions that may include additional flavors, Filipinos keep it simple yet flavorful.
To enhance the taste, it's commonly paired with a vinegar dipping sauce, which perfectly complements the saltiness of the dish.
If you're a fan of crispy and savory treats, don't miss out on the chance to try Chicharron on your trip to the Philippines!
Travel to the Philippines to taste crispy Chicharron immediately.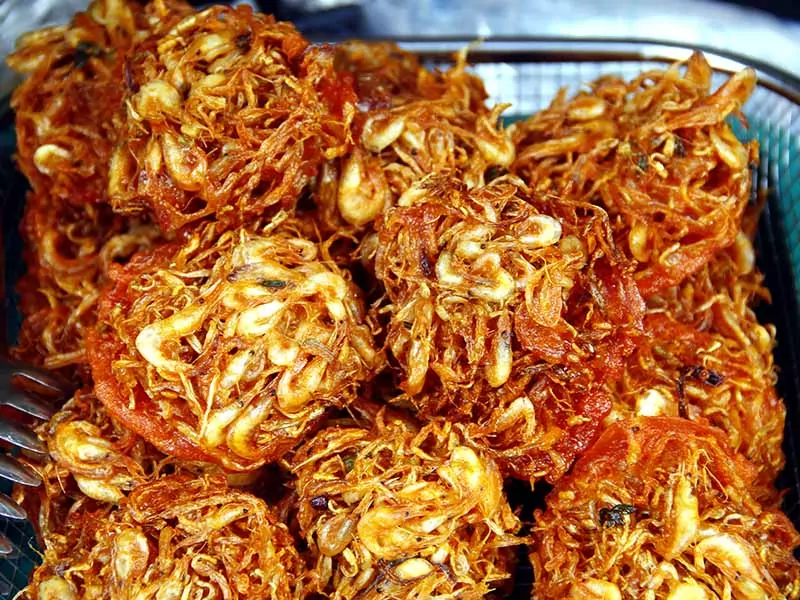 For those who love the satisfying crunch of a dish, look no further than Okoy. This snack features small shrimp and a medley of vegetables that are coated in glutinous rice and fried until crispy perfection.
Originating in Laguna province, Okoy or Ukoy has become a popular snack enjoyed alongside cold beer throughout the Philippines. While it can be found all over the country, the most renowned version hails from Vigan in Ilocos Sur.
A classic okoy recipe involves a galapong-based batter, seasoned with a blend of garlic, onion, salt, and scallions. This mixture is combined with mashed calabaza and small unshelled shrimp before being fried into thin, golden-brown patties.
Alternative ingredients, such as sweet potato, bean sprouts, julienned carrots, onions, cassava, and green papaya, can also be incorporated. Occasionally, the dish is given a vibrant orange hue using achuete seeds.
Okoy is enjoyed as a standalone dish or accompanied by white rice, and it can be served as a snack, appetizer, or breakfast item.
It is traditionally paired with vinegar-based dipping sauces like sinamak or pinakurat, but other options include tomato ketchup, banana ketchup, garlic mayonnaise, or sweet and sour sauce.
Amazing Filipino Desserts
Give your palate a delightful treat with these exceptional desserts from Asia. The allure of these delicacies is simply irresistible, and I'm confident you'll be captivated as well.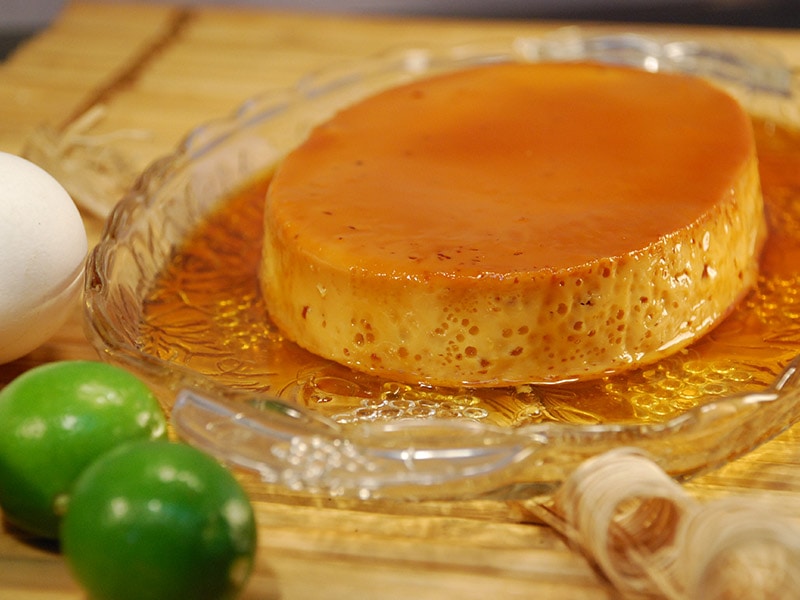 Leche flan is a Filipino dessert staple that is sure to entice your taste buds. This unique twist on the Spanish flan boasts a richer texture, thanks to the addition of condensed milk and extra egg yolks.
Contrasting the usual pudding made from starches like flour or cornstarch, leche flan boasts a rich, creamy texture derived from its key ingredient, condensed milk, which results in a higher fat content.
A cherished component of family gatherings in the Philippines, this indulgent treat has roots in the border region between France and Spain, and was introduced to the Philippines by the Spaniards during their colonization.
Traditionally, Leche flan is steamed in a distinct oval tin mold called a llanera, making it a festive favorite. While steaming is the most common method, baking is also an option for preparing this dessert.
For an even more decadent experience, try the tocino de cielo or tocino del cielo variation, which features a higher concentration of sugar and egg yolks.
Leche flan also lends itself to a variety of scrumptious dessert combinations, such as the Filipino flan cake or leche flan cake, where a chiffon or sponge cake is adorned with a luscious layer of Leche flan.
Furthermore, it can be combined with steamed cupcakes called puto mamón, resulting in the irresistible puto flan blend.
Let's experience the Leche flan in the Philippines for the first time.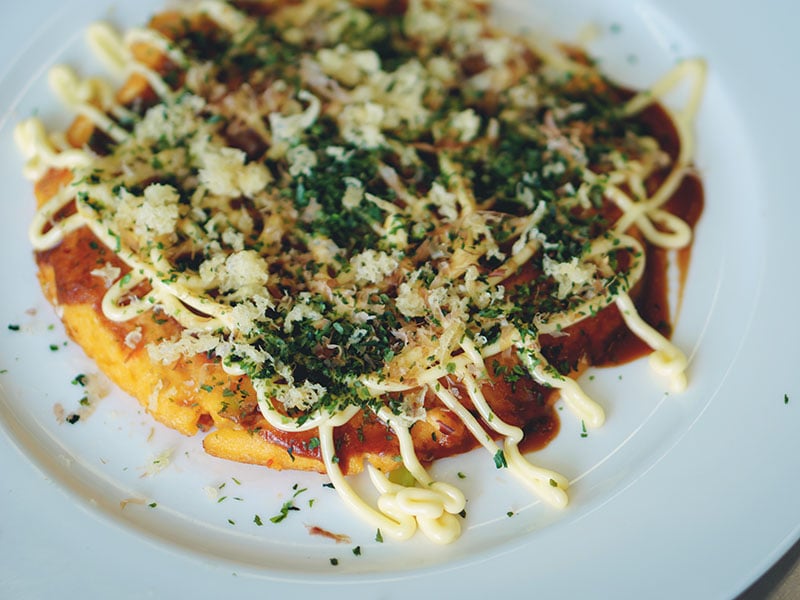 Bibingka is a cherished dessert originating from the Philippines and Eastern Indonesia, regions with closely related cultures and traditions. This rice cake is made with glutinous rice, sugar, and coconut milk, often topped with salted duck eggs for a unique flavor profile.
Typically enjoyed for breakfast or as a mid-afternoon snack, bibingka is especially favored during the Christmas season in the Philippines.
Traditionally prepared in a terracotta oven with banana leaf lining, this baked rice cake is commonly consumed after attending the nine-day Simbang Gabi. Bibingka can be found for sale near churches and is usually accompanied by puto bumbóng and fresh salabat.
In 2007, the town of Dingras in Ilocos Norte, Philippines, pursued a Guinness World Records certification for creating a kilometer-long cassava bibingka.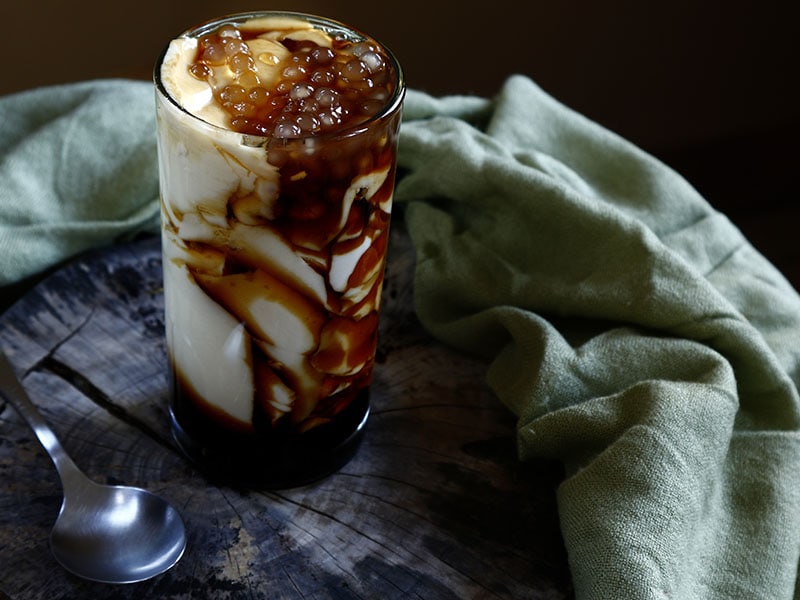 Taho is a beloved drink in the Philippines, often considered more of a snack than a beverage. This silken tofu delicacy, which originated during China's Han Dynasty between 206 and 220 AD, has become a popular treat across Asia.
Known for its unique combination of sago pearls, silken tofu, and brown sugar syrup, Taho captivates taste buds while providing an energy boost during breakfast or throughout the day.
The familiar "Tahooo" call of the Taho vendor is a cherished memory for many Filipino children. Tofu, the primary ingredient in Taho, is available in most stores and comes in various textures, including soft, medium, and firm.
The perfect blend of flavors and textures makes Taho a favorite treat among both children and adults in the Philippines.
23. Kakanin – Sticky Rice Cake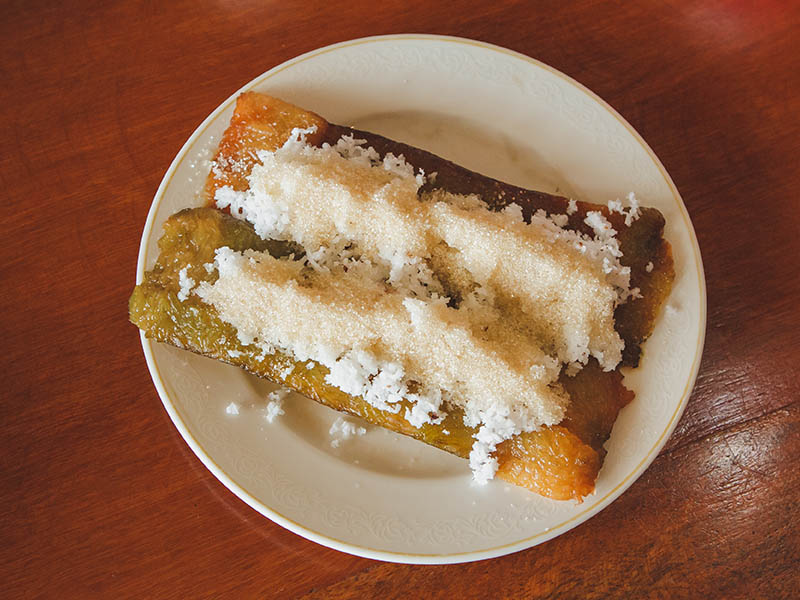 Get ready to invigorate your taste buds with Kakanin. This term encompasses a range of dishes within Filipino culinary culture. These charming mini cakes typically incorporate galapon or sticky rice paste and display an array of colors, dimensions, and forms.
Filipinos frequently connect these sweets with numerous celebrations and momentous events in their country. It is considered an offering to the deities and emblematic of tight-knit relationships among loved ones and friends.
In any case, should you be curious about the popularity of kakanin in the Philippines, it can be attributed to their connection to a more uncomplicated era.
Moreover, these treats provide a soothing experience after an exhausting workday, particularly when accompanied by steaming coffee. Additionally, kakanin is a staple at festive events and significant milestones.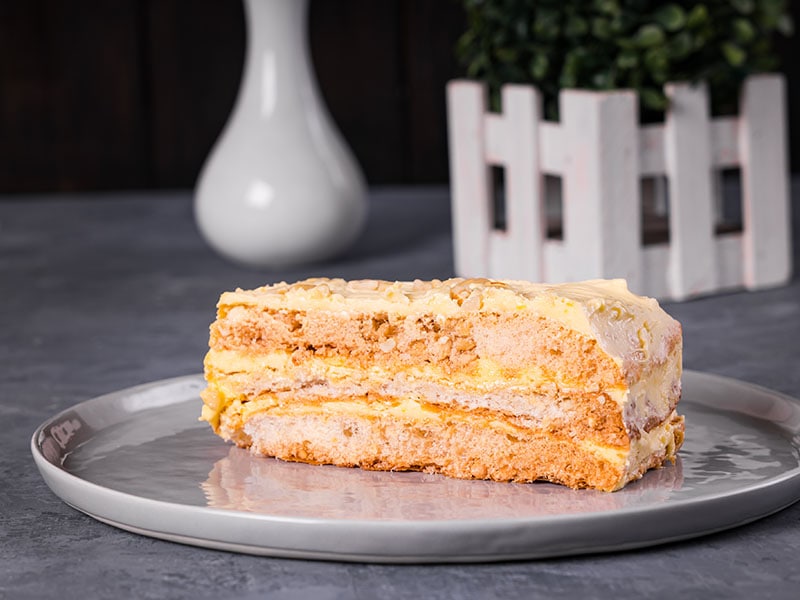 The irresistible Sans Rival is a cherished Filipino cake that captivates hearts and taste buds alike. This heavenly dessert features three sumptuous layers of cashew meringue and buttercream, which, when chilled, delivers a crispy texture.
Hailing from late 19th and early 20th century French influence, Sans Rival is a twist on the French dacquoise, where cashews take the place of almonds and hazelnuts.
The name "Sans Rival" is French for "unrivaled," showcasing its unmatched taste and allure. This enchanting dessert can be served plain, adorned with elegant decorations, or sprinkled with pistachios for an extra touch of sophistication.
While the cake's origins are debated, some attribute its lineage to the tarta imperial rusa, a Spanish adaptation of a Russian cake adored by the Russian Imperial Family.
For those seeking a similar but smaller treat, the silvana has a compact version of this exquisite recipe, perfect for satisfying your sweet tooth on-the-go.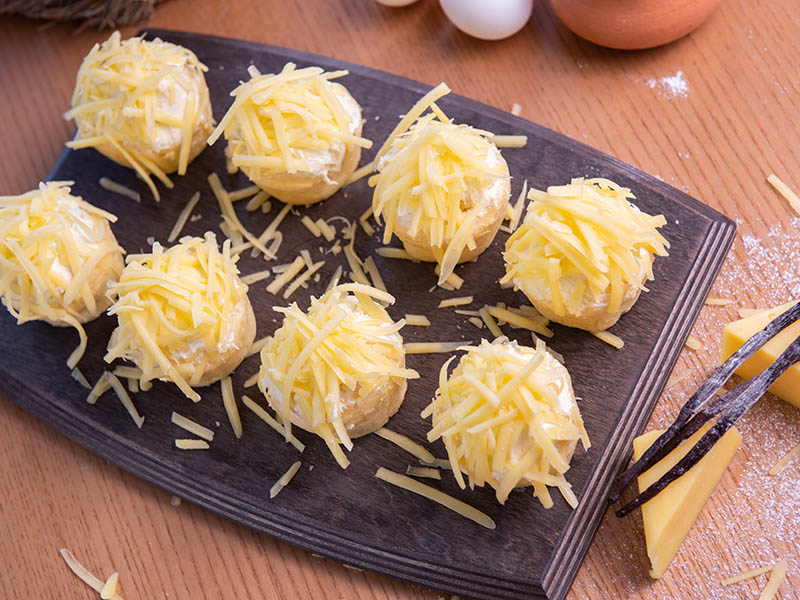 Feast your senses on the tasty Ensaymada, a treasured Filipino dessert that captures the essence of Christmas in the Philippines. Gift boxes filled with this scrumptious treat are a festive staple, making it a seasonal surprise.
With roots tracing back to Mallorca, Spain, Ensaymada showcases the rich cultural tapestry that defines Filipino cuisine.
Taking its name from the Spanish word "saim," meaning "pork lard," the original Spanish Ensaymada was crafted with lard. However, the Filipino adaptation has transformed this classic pastry into a culinary masterpiece by blending butter, cream, and cheese.
The result is an irresistibly soft and sweet dough, smothered in butter and sugar, and crowned with a generous heap of grated cheese.
This beloved dessert has evolved over the years, finding its way into the hearts of Filipinos and becoming a cherished staple. The province of Bulacan, in particular, is renowned for its exquisite Ensaymada.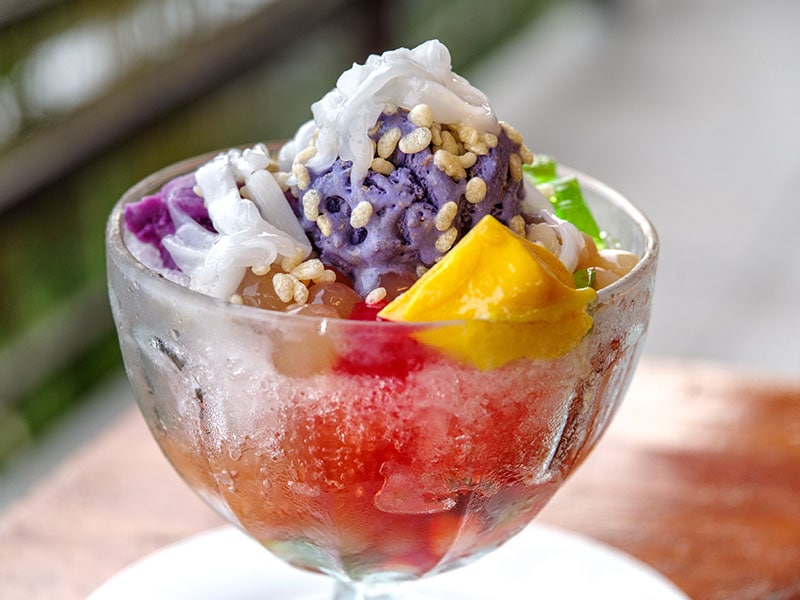 Halo-Halo is a world-famous Filipino dessert that often showcases the addition of ube ice cream, which is made from the vibrant purple yam as its star ingredient.
Inspired by the Japanese Kakigori, this masterpiece is a harmonious blend of shaved ice, sweet beans, and a touch of condensed milk for that extra indulgence.
Served in a tall parfait glass, the vibrant layers of colors invite you to dive into a symphony of flavors. With no fixed ingredient list, each restaurant puts their own creative spin on this classic treat.
Halo-Halo, which translates to "mix-mix" in Tagalog/Filipino, perfectly captures the essence of this dessert. As it arrives at your table, grab the long-handled spoon and mix up the layers, unveiling a treasure trove of textures and tastes in every mouthwatering bite.
Perfect for beating the tropical heat that's characteristic of the Philippines, this cool and refreshing dessert is not only a beloved Filipino favorite, but also a sensational treat that will leave you craving more.
Learn some fantastic things about Halo-Halo.
Alternative Options
There are many other choices that you can refer to add to your list of Filipino recipes for your upcoming trip. They will help satisfy your hunger after a long journey to discover this country.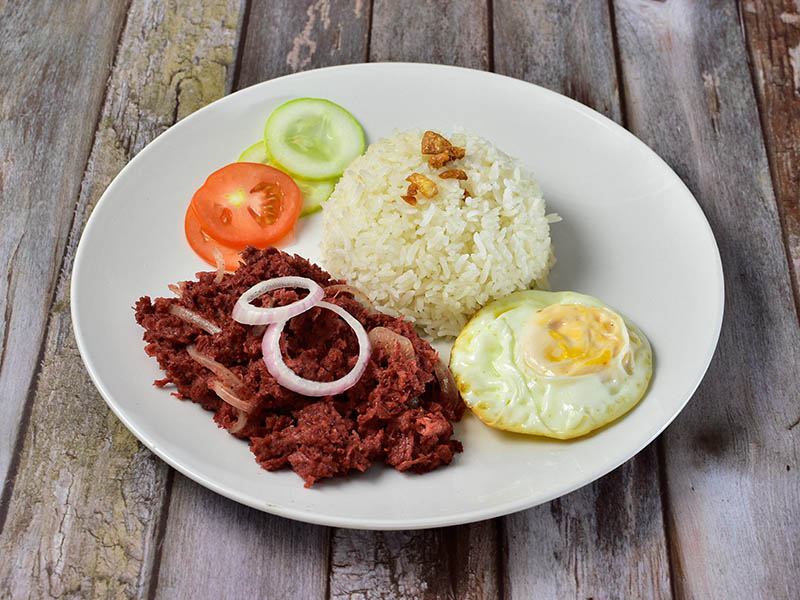 Another scrumptious star of Filipino breakfasts that I want to introduce to you is Silog! This versatile dish features a mouthwatering combination of garlicky fried rice, succulent meat, and a perfectly fried egg, creating a symphony of flavors that can be enjoyed not only in the morning, but also for lunch or dinner.
Silog comes in a variety of tempting versions, each defined by the choice of meat used. Some popular variants include Cornsilog with corned beef, Hotsilog with hot dogs, and the three most celebrated combinations: Longsilog with longganisa, Tocilog with tocino, and the iconic Tapsilog.
Born from the influence of Spanish tapas centuries ago, this Filipino culinary sensation has evolved from the tapa and sinangag combo, known as tapsi.
Originally designed as a quick breakfast or late-night remedy, Silog has since become an essential part of Filipino dining culture. Its humble beginnings can be traced back to the 1980s, when local diners, known as tapahan or tapsihan, began serving this delicious meal.
Whether you're indulging in a hearty breakfast or craving a satisfying late-night snack, Silog's fusion of flavors and textures promises an unforgettable gastronomic experience.
So treat yourself to a plate of Silog and savor the taste of Filipino tradition, one delicious bite at a time.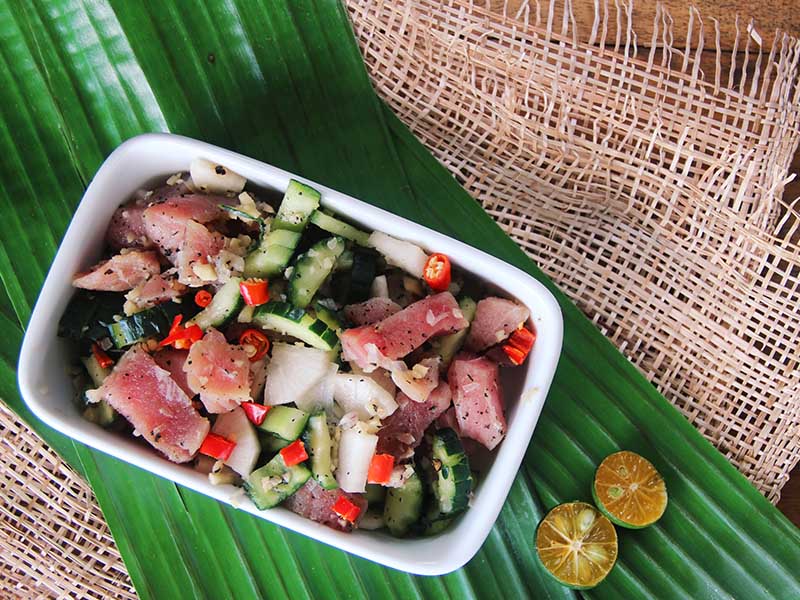 Let's dive into the vibrant flavors of Kinilaw, an exquisite Filipino dish that celebrates the bountiful gifts of the sea. This unique delicacy features raw fish masterfully cured with tangy vinegar or zesty orange juice, allowing you to experience the true essence of seafood.
Complemented by the aromatic notes of cucumber, onions, ginger, chili, and an array of spices, Kinilaw provides an unparalleled gastronomic adventure.
This time-honored dish boasts a rich history in the Philippines, with archaeological findings in Butuan dating back to the 10th century AD, suggesting its long-standing presence in Filipino cuisine.
Often likened to an ancient Filipino ceviche, Kinilaw pays homage to the abundant seas that surround the Philippine islands.
A regional favorite, Kinilaw is best prepared with the freshest of ingredients, often using shrimp that are still alive. In the Visayas and Mindanao islands, the dish takes on a distinctive twist as sinuglaw, a medley of fish kinilaw (usually tuna) and succulent charcoal-grilled pork belly (sinugba).
This guide shows exactly how Filipino people eat Kinilaw.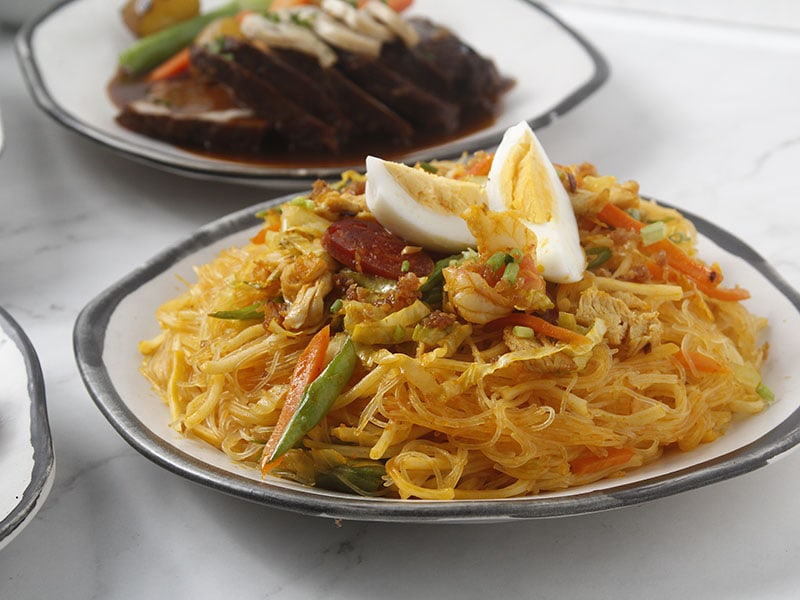 Experience the fusion of history and flavor with Pancit, a cherished noodle dish in Filipino cuisine. Born in the bustling Chinatown of Manila in the 16th century, Pancit's roots can be traced back to Chinese culinary influences.
Brimming with an enticing medley of vegetables, meat, and seafood, this vibrant dish is an essential part of special occasions, especially birthdays. Its significance lies in the Chinese belief that noodles symbolize health and long life.
Across the Philippines, you'll find various interpretations of Pancit, with two primary versions taking center stage: the dry Pancit and its soupy counterpart. Each variant offers its own unique gastronomic adventure, honoring the time-tested tradition of enjoying noodles for a birthday celebration.
One standout version is Pancit Pusit, a classic Cavite dish that showcases the perfect marriage of rice noodles, squid, and squid ink. This exquisite combination imparts a striking black hue to the noodles, setting them apart from other Filipino noodle dishes.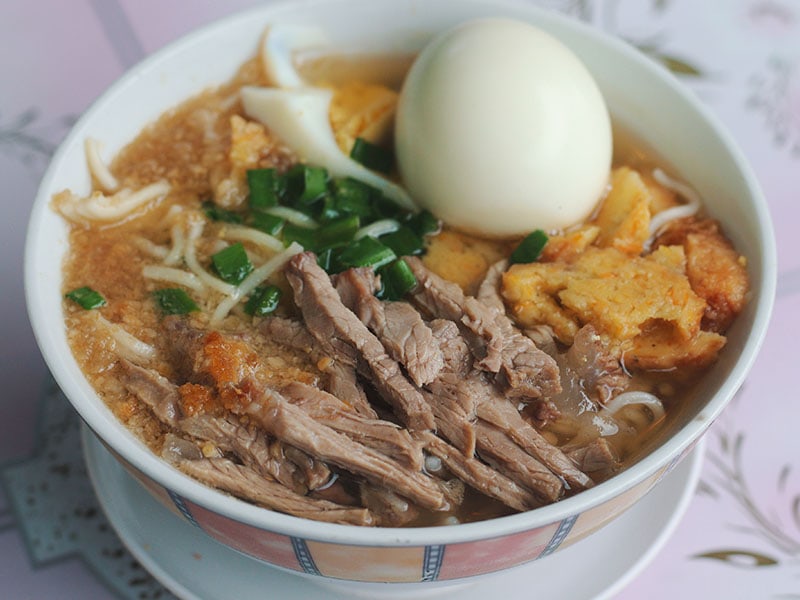 Let's satisfy your hunger with Batchoy, a delicious Filipino noodle dish that's perfect for any meal. Dive into a flavorful broth made from pork, beef, and shrimp paste, topped with tasty ingredients like tender pork slices, innards, liver, and crispy chicharron bits.
Originating from La Paz in Iloilo City, this comforting dish is known as La Paz Batchoy. Another variation is Batchoy Tagalog, which features misua noodles, chili leaves, pork, and a warming ginger broth.
The authentic Batchoy experience comes from the use of fresh miki noodles and a rich pork broth slow-cooked to perfection. Combined with tender pork meat, innards, beef loin, and shrimp stock, the dish is beautifully finished with a garnish of crushed chicharron and toasted garlic.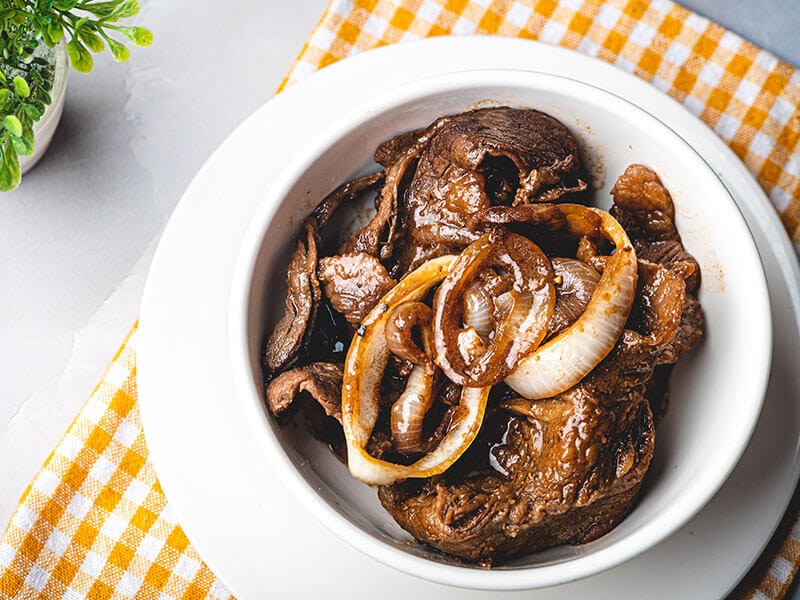 Bistek is a classic Filipino dish that's perfect for your next party menu or catering events. This flavorful creation features tender beef slices marinated in a zesty soy sauce blend and slow-cooked to perfection, ensuring every bite is irresistibly juicy.
This scrumptious dish, popular in both Tagalog and Western Visayan regions of the Philippines, goes by the names Bistek Tagalog and Karne Frita.
This culinary creation is considered to have evolved from the Spanish dish, bistec encebollado. When meticulously crafted, it presents a harmonious fusion of flavors that are savory, salty, and tangy. To ensure the finest taste, it's crucial to use only the freshest beef and select tender cuts like top round and sirloin.
Traditionally served on a bed of white rice, Bistek showcases an irresistible medley of onions, calamansi juice, soy sauce, garlic, and black pepper. With a nod to both classic and contemporary interpretations, Bistek variations can include pork, chicken, or fish, and even tofu-based vegan options.
32. Balut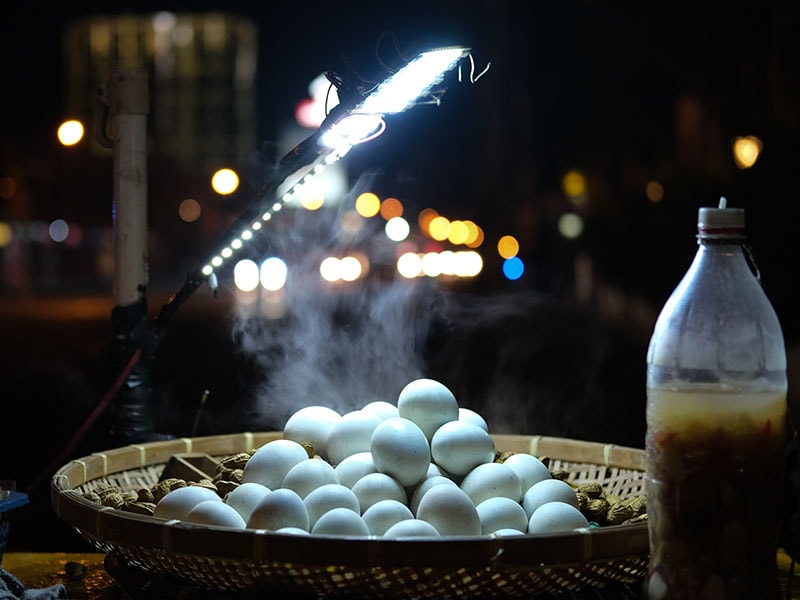 Balut, a daring delight in Filipino cuisine, invites you to savor the harmonious fusion of flavors within a developing egg embryo, boiled or steamed to perfection.
This dish, which has roots in South China and Southeast Asia, has become an iconic street food in the Philippines, Cambodia, and Vietnam. Traditionally incubated for 14 to 21 days, balut offers a taste akin to chicken soup with a distinctive texture.
In the Philippines, this national delicacy has made its way into haute cuisine, featuring as a restaurant appetizer, adobo-style dish, omelette ingredient, and even pastry filling.
Balut can be enjoyed with a sprinkle of salt or a blend of chili, garlic, and vinegar. Despite its strong cultural ties, the popularity of balut has waned in the Philippines due to changing tastes and its association with poverty.
Nonetheless, the creativity of Filipinos shines through in the enduring presence of balut, showcasing an affordable, nutritious, and ready-to-eat snack that remains a favorite among street food lovers, embodying a culinary experience that is both similar to other Asian cultures and uniquely Filipino.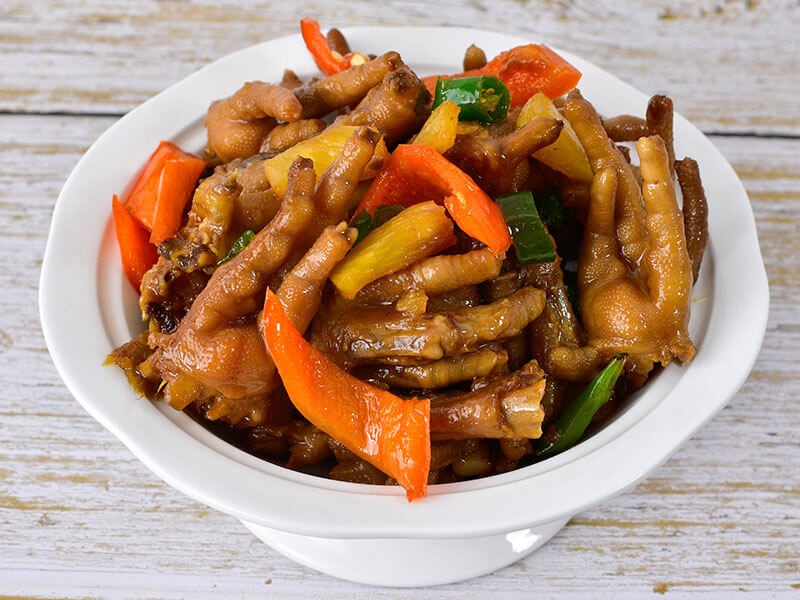 This mouth-watering Filipino delicacy may sound peculiar to those not well-versed in Asian cuisine, but don't let that deter you. Filipinos have been using chicken feet in their dishes for ages, particularly during hard times when creativity in cooking was a necessity.
One of the most popular ways to prepare chicken feet is by using the Filipino Adobo method. This involves marinating the chicken feet in a zesty blend of vinegar, soy sauce, and garlic.
Once the chicken feet are cooked, they transform into a flavorful and fulfilling dish. The Adobo sauce enhances the rich flavor of the chicken feet, making them an excellent option as an appetizer or main course paired with hot steamed rice.
And, if you're curious about the name, Filipinos lovingly call this dish "Adidas" because of the chicken feet's resemblance to the iconic three-stripe logo of the famous German footwear brand.
Chicken feet are also a popular item on dim sum menus in Chinese restaurants throughout the Philippines and other Asian countries. Whether fried to a crisp or simmered in a sweet char siu sauce, chicken feet are a distinct and delectable addition to any meal.
FAQs
Welcome to the Filipino Foods FAQs section, where I'll explore and answer some of the most commonly asked questions about the unique and flavorful world of Filipino cuisine. Dive in to discover the culinary treasures of the Philippines!
Let's Try All Of Them
It is great to enjoy all the foods on this list, isn't it? I firmly believe that you will never forget their taste after eating. The dishes appearing in this article are the quintessence of Filipino cuisine.
You can list other famous Filipino dishes in the comments section for more people to know. If you find the article valuable, do not forget to like and share it right now. Thanks for your time!