Apart from the traditional feast, Filipino drinks are one of the most precious heritages that deserve to be the spotlight of your traveling journey. They're not only delicious, but they also have a significant impact on the country's cuisine and culture.
The drinks from this beautiful country will have a wide range of options, from fruity cold refreshments to heavier alcoholic beverages. If you're ready to be immersed in Filipino drinking culture, I'm sure my ultimate guide below will make your trip more fun and unforgettable.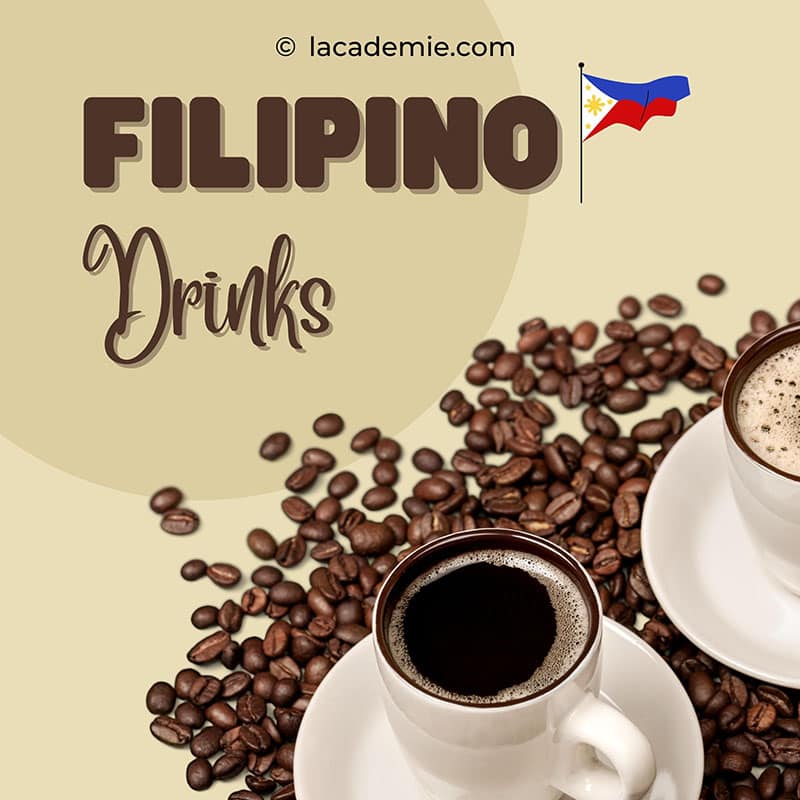 Filipino Non-Alcoholic Drinks
Filipino non-alcoholic drinks offer a delightful respite for those seeking a break from spirited beverages.
As you navigate the archipelago, these classic soft drinks and virgin cocktails stand out as must-tries. Immerse yourself in the refreshing flavors of the Philippines!
1. Kapeng Barako – Filipino Coffee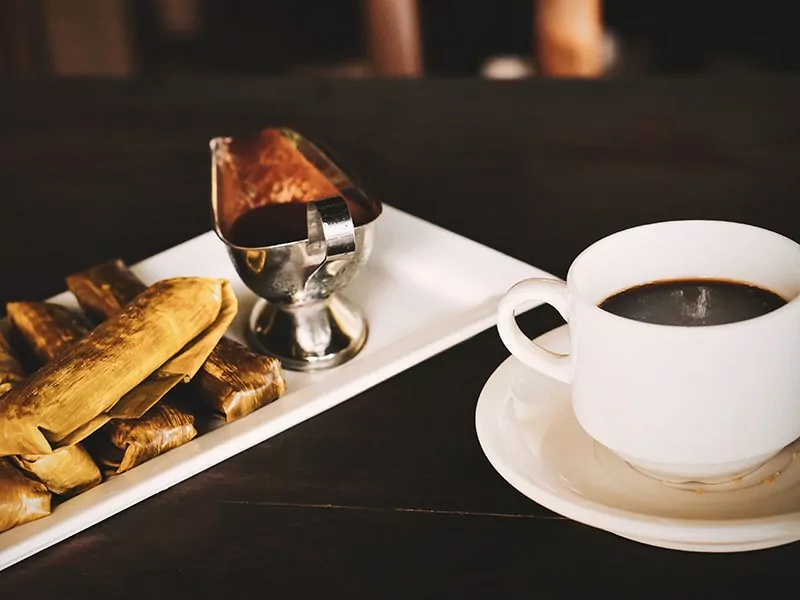 Need something to kickstart your day? What can be better than a cup of Kapeng Barako? Kapeng Barako, commonly known as Barako or Batangas coffee, is a coffee variety grown mainly in Batangas and Cavite provinces in the Philippines.
This national drink is derived from the Tagalog word for a male stud bull, so you can already tell how strong the flavor of this coffee is. It is usually served black or with muscovado sugar as a sweetener.
Spanish friars brought Barako coffee to the Philippines in the 1740s. It was first cultivated in the Lipa lowlands in Batangas. Despite the collapse of the coffee industry in 1889, Filipino youngsters take pride in this drink and take it as a part of their heritage.
Where to buy: In Filipino coffee shops and street vendors. You can also make it yourself using an at-home recipe.
2. Mango Mojito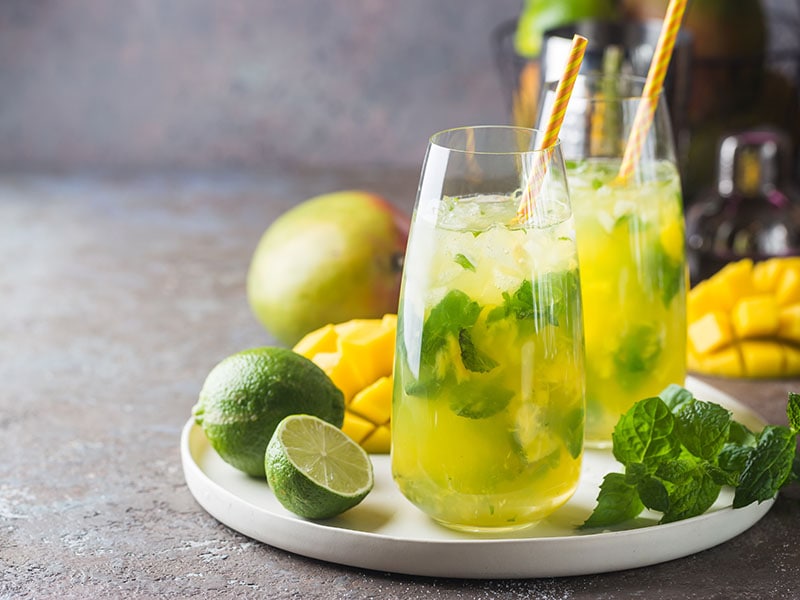 Although its origin and the time it made its way to the Philippines are unknown, I'm sure that you won't have any regrets after trying this drink.
The mangos in the Philippines are outstanding. In fact, according to the Guinness World Record, the sweetest mango is found in the coastal region in this country. So the Philippines' mango Mojito surely won't disappoint.
Alcohol-free beverages, like this one, are great refreshments for both adults and young teens. However, if you want to spice it up, you can add a splash of white rum or vodka to make it boozier and enhance the flavor.
Where to buy: In many bars, pubs, and restaurants in the Philippines.
3. Sago Gulaman – Tapioca Pearls And Brown Sugar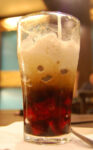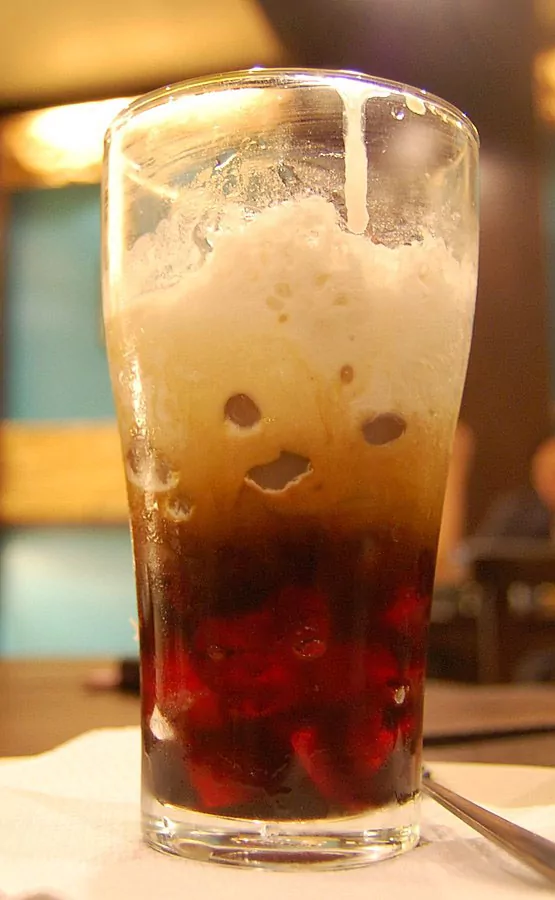 Summers in the Philippines are pretty hot, and it isn't easy to function properly in this type of weather. So allow me to introduce you to Sago Gulaman – a refreshing treat from the Philippines to ward off the unbearable heat.
The ever-present Filipino refreshment Sago Gulaman is created using sugar syrup, sago balls, and Gulaman cubes. Feel free to substitute Gulaman with plain jello if you can't find it.
Despite its misty origins, it can today be found everywhere, from roadside vendors to five-star hotels' beverage and dessert menus. It is frequently served in a glass with a large amount of ice. Without a doubt, this drink will be your best craving in this tropical country.
Where to buy: Available in street stalls, fares, restaurants across the Philippines, typically in Manila.
4. Calamansi Juice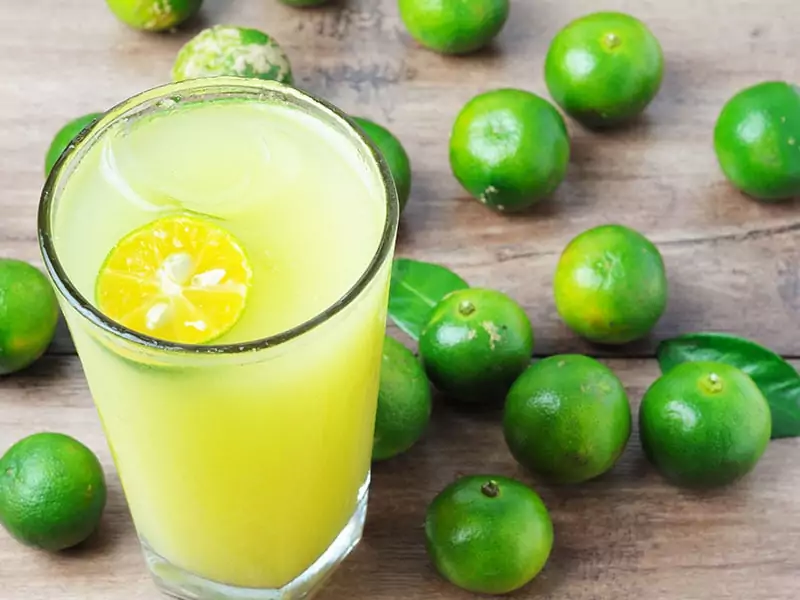 A glass of freshly squeezed calamansi juice and simple syrup will definitely help you stay cool all year. This Filipino-style limeade is refreshing, tart, and fragrant; what more can you ask for in a tropical drink?
Apart from the Philippines, calamansi juice is one of the key ingredients in many delicious Asian recipes, either as a meat marinade, beverages, or desserts. People even use this juice to whiten dark knees and elbows in some regions!
Calamansi juice tastes best when served cold. If you're serving it over ice, make it a little stronger because the melting ice will reduce the flavor. Sometimes, locals will mix this juice with sugar and honey to make it sweeter.
Where to buy: In Filipino markets during spring and summer. You can also purchase calamansi from the markets and make it at home.
5. Salabat – Ginger Tea With Lemon Honey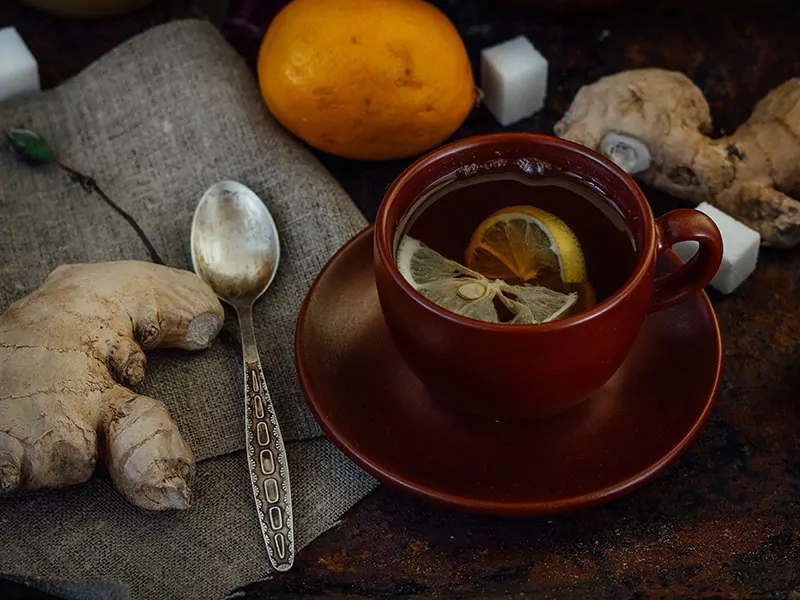 Salabat is a traditional Filipino ginger tea made with freshly chopped ginger. This is a well-known remedy for sore throats, colds, and upset stomachs. The combo of fresh ginger brew, honey, and lemon has tremendous healing properties when eaten daily.
This warming tea type is traditionally served in December, which is a frigid month. The Filipinos often serve it with traditional hot chocolate (Tsokolate) and various local rice cakes (Kakanin).
Although the evolution of modern "ground ginger powder" is convenient, the feeling of buying hot Salabat directly from local street vendors in the early morning is unspeakable. Overall, this drink is like a warm hug during cold and flu seasons.
Where to buy: In Filipino street vendors. Store-bought Salabat is also available in grocery stores or online.
6. Halo-Halo – Filipino Shave Ice Sundae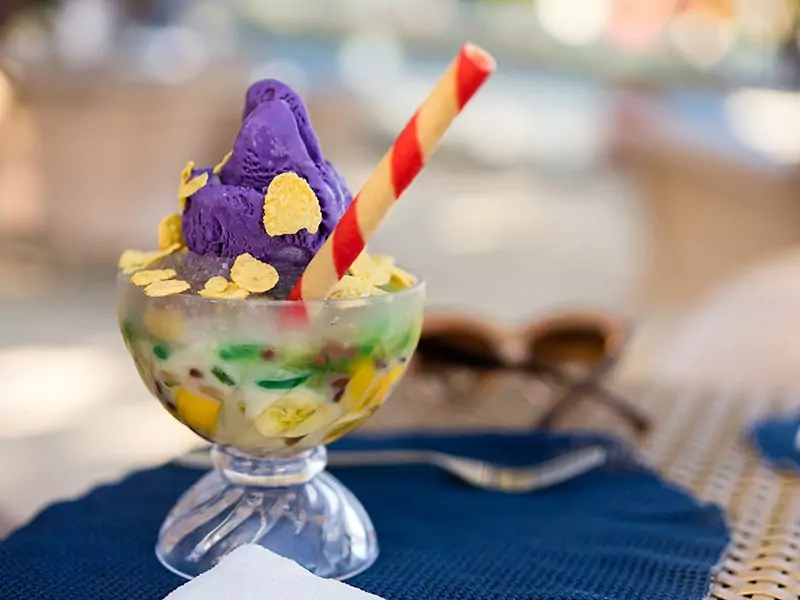 Halo-Halo is one of the Philippines' most favorite desserts to deal with the blistering heat of the summer in this country.
Halo-Halo can be traced back to pre-war Japanese Filipinos and was brought to Manila by Japanese migrants. A delicacy known locally as Monggo Con Hielo or Mongo-ya, which comprised solely of mung beans, was one of the earliest variants of Halo-Halo.
Halo-Halo comes with various ingredients served in a tall glass or wide bowl. The locals use a long-handled spoon to reach everything. And when everything is mostly melted towards the end, you can just drink the whole glass!
Where to buy: Available in many side-street vendors in the Philippines, especially in Quezon City.
7. Taho – Filipino Sweet Tofu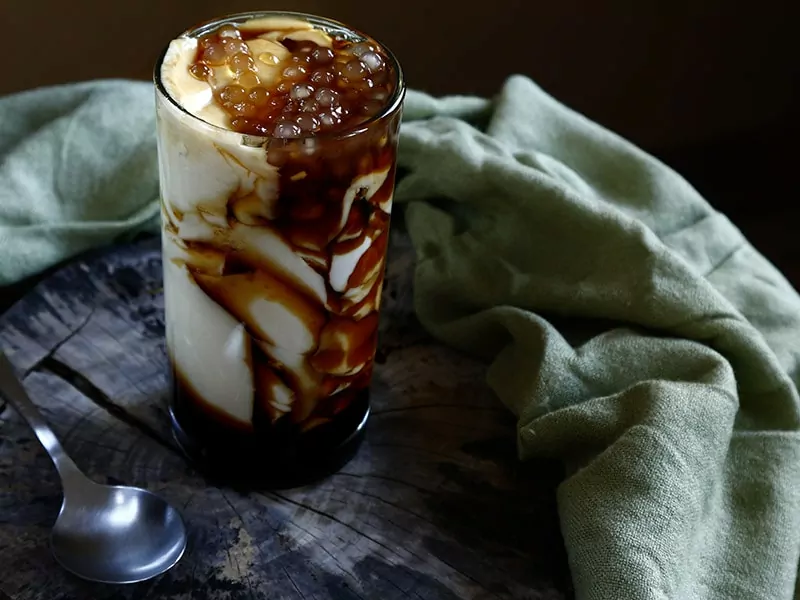 While you're on a tropical getaway in the Philippines, the voice yelling "TAHO! TAHO! TAHO!" will be a sound that you can hear almost every day.
The country's large Chinese-Filipino community was the one that popularized this delicious Asian food. This is why it resembles other silken tofu desserts found in Chinese, Vietnamese, and Singaporean gastronomy.
Silken tofu, sago pearls, and carnival syrup come together in this lip-smacking treat. Taho can be spooned, sipped using a straw, or slurped from the cup. The tofu is usually firmer if it comes with a spoon.
Where to buy: In many Asian markets and street stalls. There are also many local restaurants dedicated to only Taho.
8. Iskrambol – Ice Scramble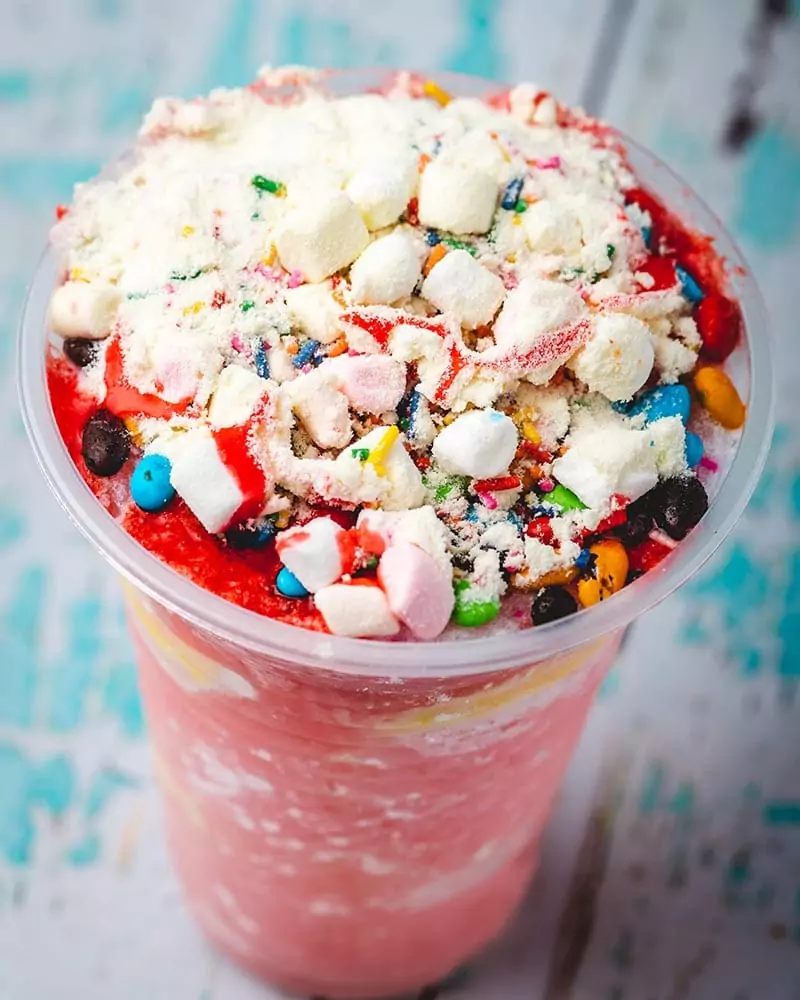 Here is another way to cool off during the hot summer days: Iskrambol! This wonderful Filipino street food is a real "pop star" in every local's childhood.
Iskrambol is the Filipino equivalent of a slushy made from frozen condensed milk. With its attractive pink color, sweetened flavor, and various toppings, no kids (or even adults) can resist this temptation.
Not only is Iskrambol delicious and refreshing, but it is also full of health benefits. Skim milk powder is one of the primary ingredients in this dish, and skim milk includes several nutrients like vitamin D, vitamin A, and protein.
Where to buy: In many Filipino dessert shops and street vendors, typically in Manila, Malabon Cities. The Iskrambol street vendors usually pull up near schools and parks.
9. Kamias Shake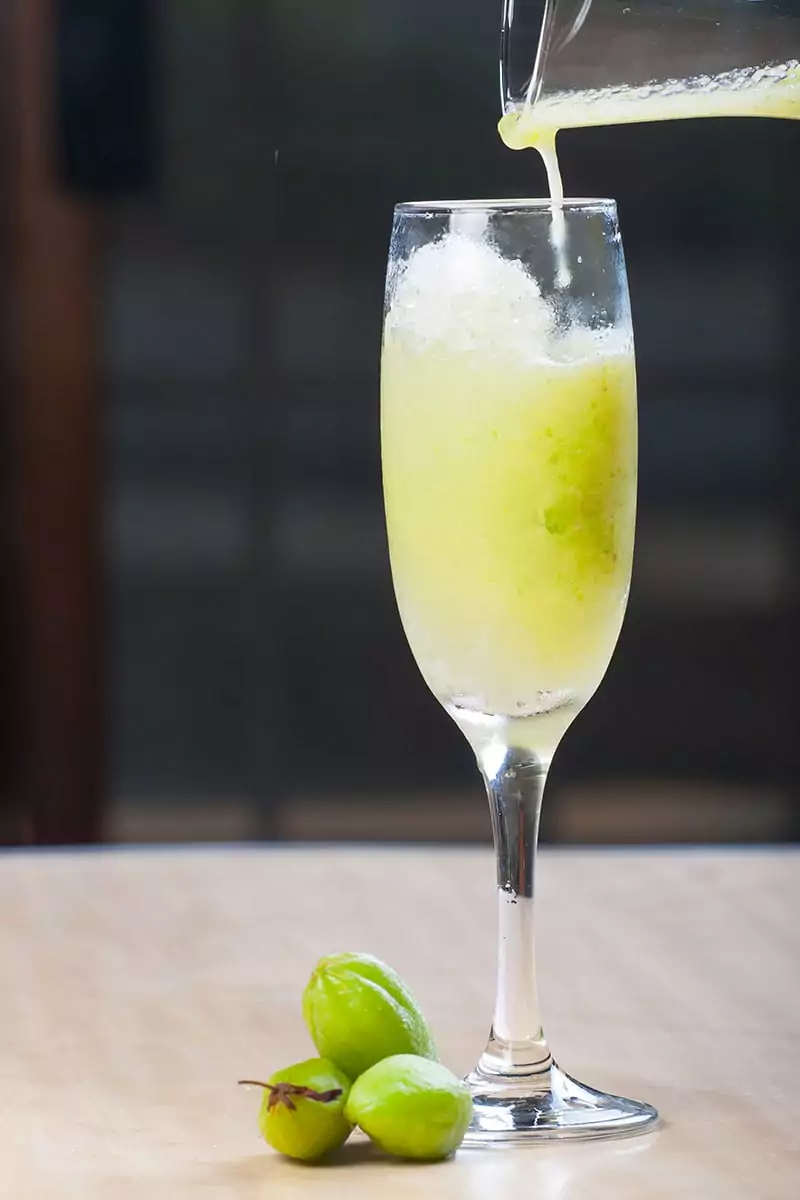 This drink is made from a tropical fruit named kamias. Although this fruit is not as well-known as its tropical cousins, it quickly gains popularity in many nations.
Its undeniable nutritional and medical values can be widely used as a cooking agent. Due to those benefits, Filipinos have created Kamias Shake!
Making this drink at home is very simple. All you have to do is blend this Filipino fruit using a blender. Then, add more ice until the mixture is smooth and serve it in a sugar-crusted glass. Using frozen kamias fruit will make your drink more delicious.
Where to buy: In several street stalls, cafes, and restaurants in the Philippines.
10. Buko Pandan Drink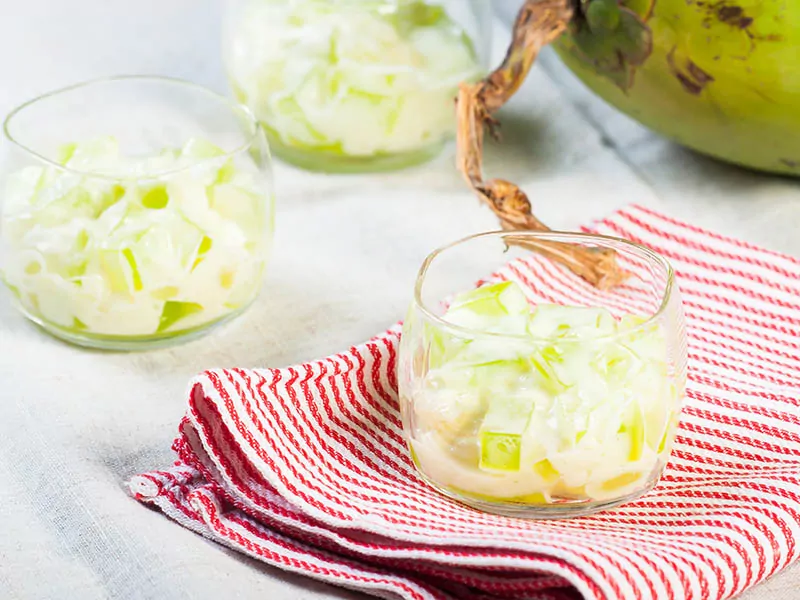 Get ready to quench your thirst with Buko Pandan! Despite its mysterious history, this drink is one of the most popular cold desserts in this lovely country. The Filipinos usually make Buko Pandan at home during family get-togethers. This drink also pairs well with hearty meat dishes.
Buko Pandan is a coconut-flavored dessert drink made with screwpine leaves (pandan). This recipe calls for coconut juice, pandan-flavored jellies, young coconut, and sugar. Combine all these ingredients over ice, and voila! You will have yourself a healthy and thirst-quenching drink.
This drink is like the beverage version of Buko Pandan Salad, a classic Filipino dessert. So if you're a fan of this yummy sweet treat, you will definitely enjoy Buko Pandan Drink.
Where to buy: In Filipino street vendors, cafes or street markets. You can also make it yourself.
11. Mais Con Yelo – Corn With Ice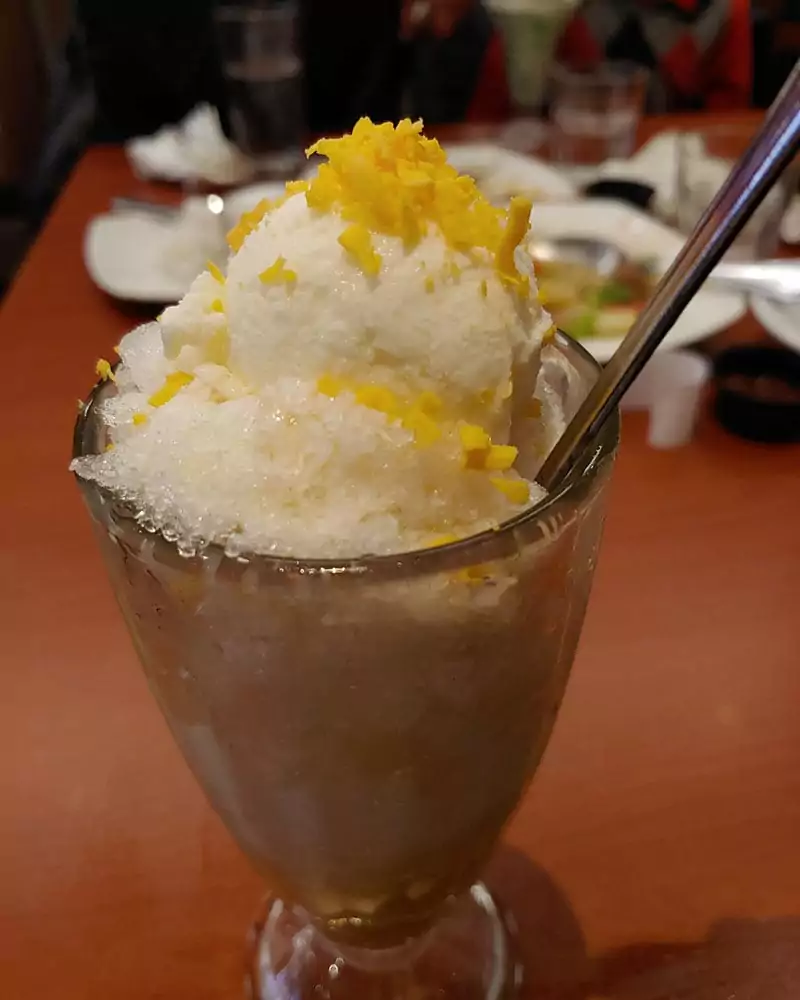 Mais Con Yelo is a cross between a drink and a dessert. Made of crushed ice, entire corn kernels, and evaporated milk, many consider Mais Con Yelo a subdued form of the famous Halo-Halo. Sometimes, vendors will use bananas to replace corn.
The street vendors usually top this dessert with a scoop of vanilla ice cream. Similar to Halo-Halo, you can use a spoon to stir the ingredients together and enjoy. Mais Con Yelo is perfect as a dessert itself, but it can also be a refreshing drink for a humid afternoon.
Where to buy: In several Filipino street markets or you can make it at home.
Filipino Alcoholic Drinks
Filipino Alcoholic Drinks are here to elevate your spirits! When you're seeking that perfect concoction to warm your body and soul, the Philippines offers a rich array of alcoholic delights. Dive into this selection and experience the true essence of Filipino cheer!
---
Wines in the Philippines are distinct, utilizing the nation's abundant resources like coconut, rice, palms, sugarcane, and strawberry. These unique ingredients have been innovatively transformed by Filipinos into must-try beverages, setting them apart on the global stage.
12. Lambanog – Coconut Wine
Alcoholic
Want to get drunk like a local? Lambanog is the way to go! The locals use the fermented and distilled sap of an unopened coconut bloom to make this potent coconut wine, often known as coconut vodka.
This strong drink has at least 40% alcohol by volume (ABV). However, this can be closer to 80-90 percent if you make it at home.
The Quezon province of the Philippines is most known for creating the greatest Lambanog. So if you want to buy this iconic drink as a souvenir, this is where you can get it.
Where to buy: Available in many Filipino markets, typically in Quezon province.
13. Tuba – Palm Wine
Alcoholic
Tuba is a Filipino alcoholic drink made from the sap of various palm tree species, mostly coconut. This unique palm wine was brought to the Philippines by the Manila Galleons during the Spanish colonial period.
To collect the coconut sap for Tuba, the locals have to climb a coconut tree and cut through the inflorescence with a gallon tied to it.
The sap is very sweet and has a low alcohol level when eaten just after harvest. But after a few days of fermentation, the sap will turn into acid. The sap may also be distilled to make Lambanog, the coconut wine I mentioned earlier.
When this coconut sap is mixed with mangrove tree bark, it gives the drink its distinctive scarlet hue. In some regions, white coconut wines are also available, but they must be drunk within two days or become coconut vinegar.
Because the Philippines has had an affinity for heavy drink consumption for centuries, Tuba plays an integral part in this country's cuisine. The drinking custom started by sharing the same container. This may sound uncomfortable to you, but this is a must-have bonding tradition.
Where to buy: Available in many regions in the Philippines, such as Bahal, Kinutil, and Tuhak.
14. Strawberry Wine
Alcoholic
Strawberry farms flourish in the Philippines' soil, especially in Baguio City. Taking advantage of this blessing, the locals have discovered a helpful way to make use of the bumper harvest – turning it into wine.
Many people like to add a splash of strawberry wine to their traditional Filipino dishes to give them a hint of fruit. These beautiful reddish-pink berries are delicious and appealing because they contain Vitamin C, an antioxidant with various health benefits.
Where to buy: Famous in Filipino highlands, specifically in LA Trinidad Valley.
15. Tapuy – Rice Wine
Alcoholic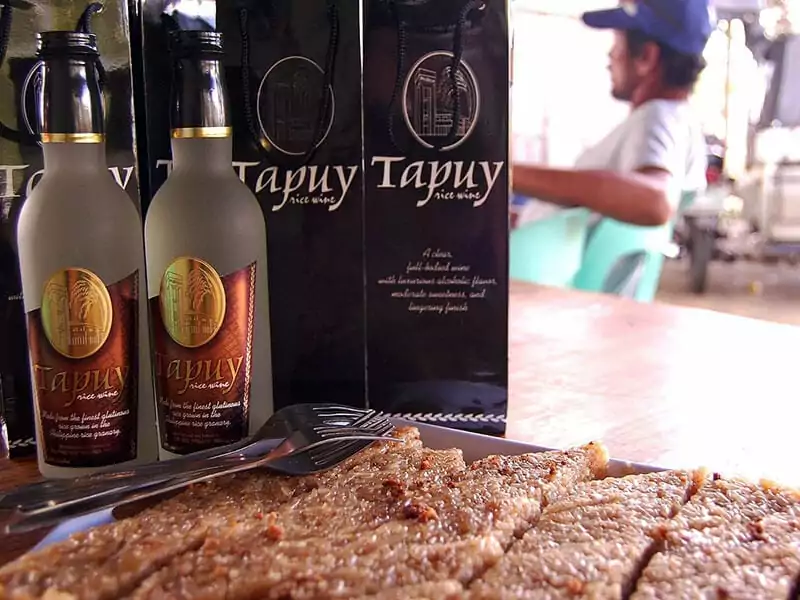 Tapuy is a fermented rice wine famous in the Cordillera region; foreigners sometimes call it Filipino sake. This drink is often served at significant events, such as weddings, cultural fairs, and rice harvesting ceremonies.
The recipe for Tapuy calls for rice, ginger extract, onuad roots, and a powdered starter (locally known as bubod). Locals usually drink it on the rocks or turn it into a cocktail.
This wine has an alcohol volume of at least 14%, which is much stronger than the regular grape wine. However, it is so mild and sweet that drinkers might not notice it until they get drunk.
The Filipinos even have a tradition involving this alcoholic drink during the Ipitik festival. Here, rice wine brewers across the Mountain Province assemble once a year to present their best rice wine recipes.
Where to buy: In local markets around Cordillera Province.
16. Basi – Sugarcane Wine
Alcoholic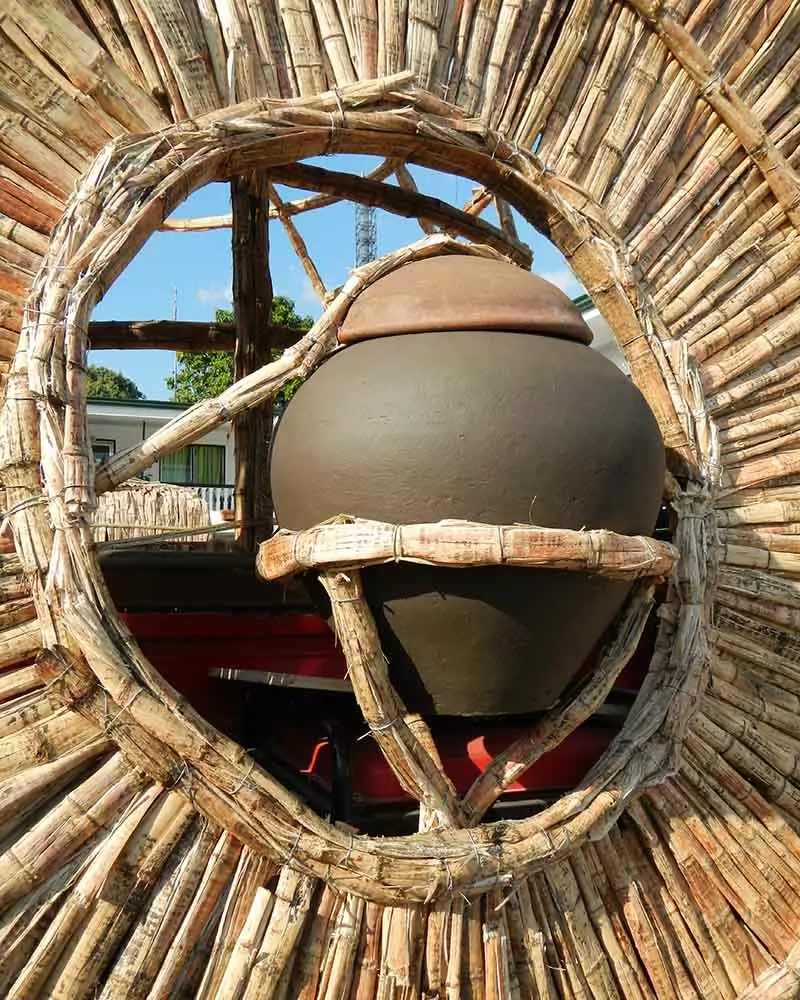 Basi is a variety of wines produced in the province of Ilocos Norte. It's prepared by fermenting sugar cane juice and then preserving it in an earthen jar. This wine ferments for three months and ages for a year, yielding a light brown beverage with a sweet and tart flavor.
Since before the invasion of the Spaniards, the product has been made and consumed. However, during the Spanish era, the Spanish government declared a Wine Monopoly, which physically disrupted the native producers.
Basi comes in two varieties: a stronger variant and another sweeter form. This native liquor is frequently offered in public markets, so it won't be hard to find.
Where to buy: Available in many public markets and roadside stands in the Philippines.
17. Bignay Wine
Alcoholic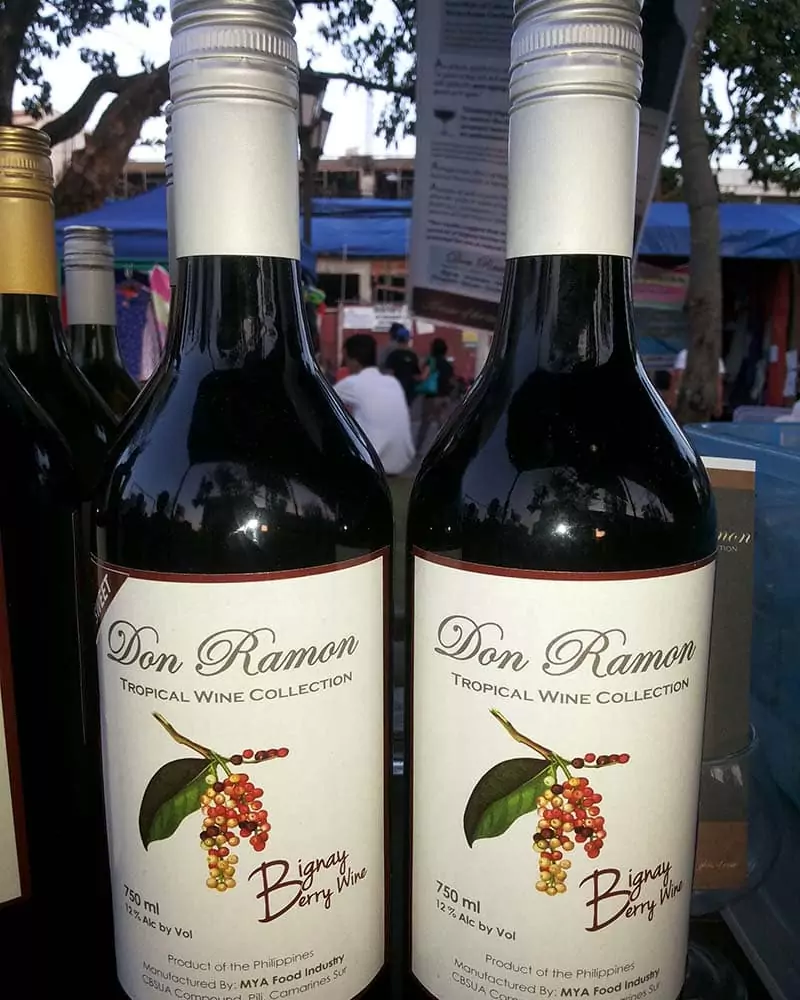 Bignay is a tiny, locally cultivated berry that few people are familiar with. With a tart and sweet flavor reminiscent of blackberries, it's no surprise that the indigenous Filipino berry can be fermented into a refreshing, fruity wine.
This wine looks just like regular grape red wine with the deep red hue from Bignay berries. However, the flavor is somewhat sweeter and fruitier. Bignay wine is also quite strong and aromatic.
Nowadays, many small enterprises in the Philippines produce this delicious, medium-bodied Bignay wine.
Where to buy: Any supermarket or liquor store in the Philippines.
---
Drinking beer is not only a form of celebration in the Philippines, but it is also an essential aspect of the culture in this country. This section will guide you through some of the most popular beer brands available in their market. Take a look!
18. Red Horses Beer
Alcoholic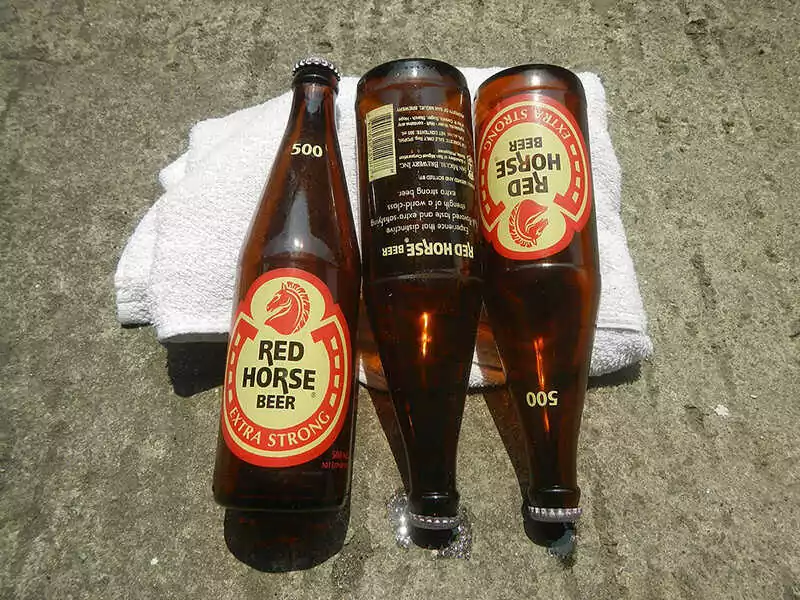 Red Horse is the Philippines' first extra-strong beer brand with an alcohol content of 6.9% ABV. Its dark hue, sweetish flavor, and pleasant bitterness are some exciting features of this drink.
This high-alcohol lager from the San Miguel Brewery was invented in 1982 and is famous among the working class, especially for those who want to ward off the stress after a long hectic day.
This drink comes in various sizes, from regular to cans. With a few Red Horses, every meal will be more fun in the Philippines.
Where to buy: In Filipino liquid stores and worldwide online shops.
19. Pale Pilsen San Miguel
Alcoholic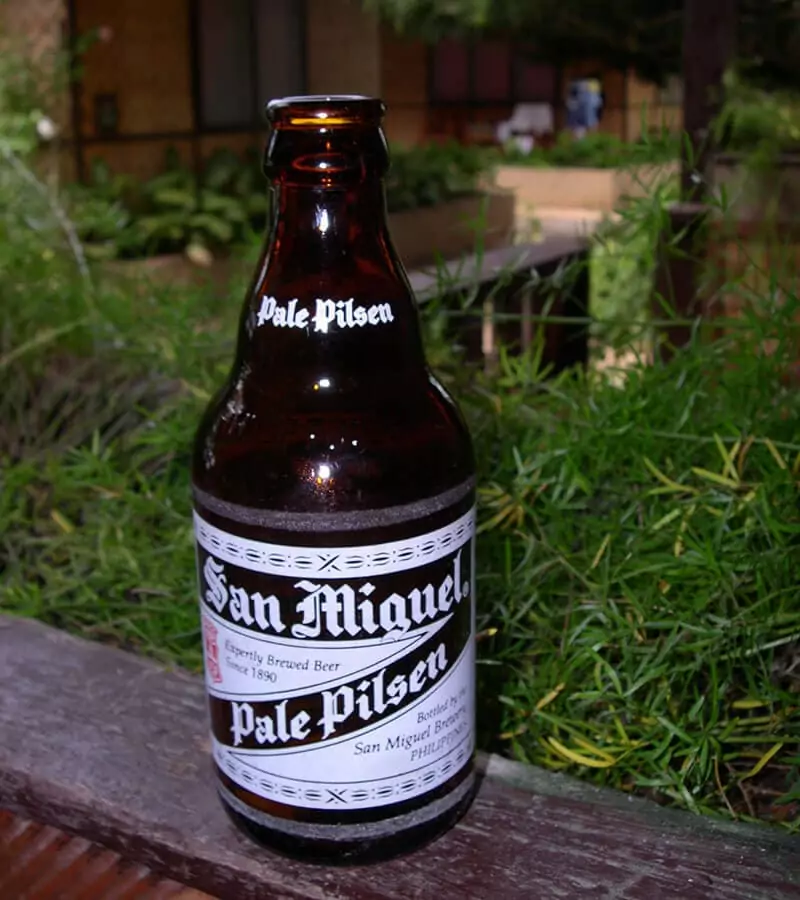 If you're a fan of softer drinks, I recommend trying Pale Pilsen San Miguel. Established in 1890 by the San Miguel Corporation, this beer is indeed the largest selling beer in the Philippines. This Filipino pale lager is also one of the most well-loved beverages in Spain.
Pale Pilsen San Miguel has a smooth, full-flavored flavor that goes well with its attractive scent, making it a well-balanced beer. It has had a unique history of bringing people together and nurturing meaningful connections for over a century.
20. Gold Eagle Beer
Alcoholic
Gold Eagle Beer is another light beverage option that you shouldn't skip! This beer's signature golden color and foamy richness will be an exhilarated touch for your senses. Gold Eagle Beer is also more affordable, which is always a plus.
Although the target market of this beer is working men, it's still an excellent option for family gatherings or friend get-together parties. Many Filipinos also love to enjoy it during the weekends and holidays.
Where to buy: In the Filipino markets and liquid stores, especially in the Visayas or Mindanao regions.
F
---
21. Don Papa Rum
Alcoholic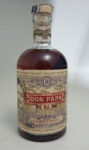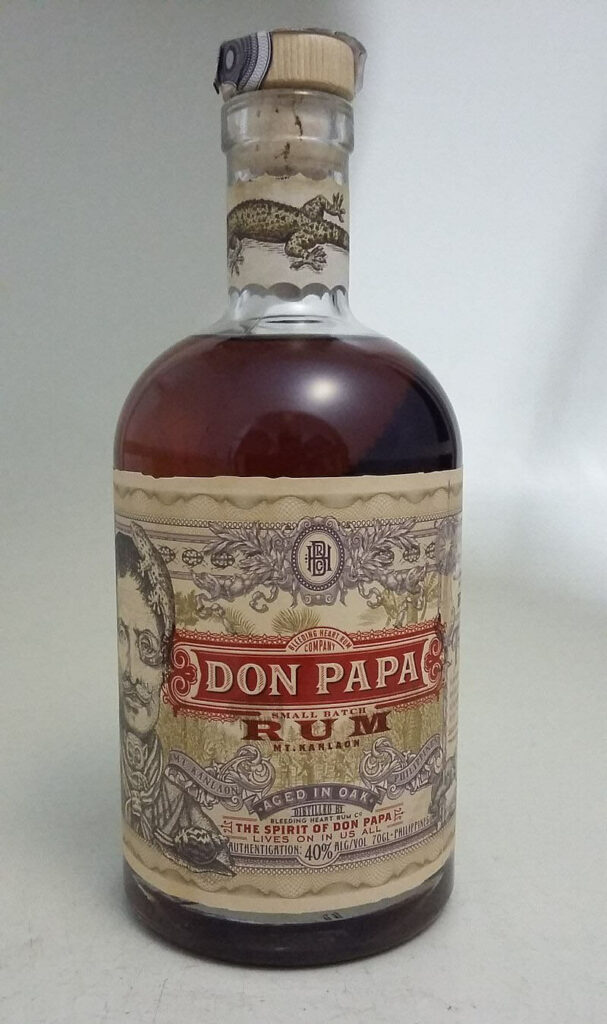 Sugarcane is grown in only a few countries across the world. Most places will use it to make juice, but the Philippines prefer making rum out of it. Building on this historic rum tradition, Don Papa Rum is a superb rum with depth in flavors.
On the island of Negros Occidental in the country's Western Visayas area, Don Papa Rum is made on the slopes of the active volcano Mt Kanlaon.
The brand originated in 2012 when owner Stephen Carroll visited Hacienda Rosalia, one of the last remaining sugar plantation mansions on the whole island.
This Filipino is adored for its slightly sweet and fruity taste with a rich finish. If you're planning on making this at home, I recommend you pair it with ice and garnish it with some lime on top to get a whole Filipino breeze.
22. Tanduay Rum
Alcoholic
If you want to try something old school, go for some Tanduay Rum. This is a Filipino brand that has been around for over 160 years.
Tanduay Rum is such a precious heritage in Filipino culture. It even earned the title of Rum Brand Champion from Drinks International in three consecutive years.
With its silky smoothness and elegant flavors, this local rum is genuinely a fantastic and unique drink. However, those who aren't accustomed to Filipino alcohol will find a complex array of flavors intimidating.
Where to buy: In the liquor stores across the Philippines. You can purchase it online as well.
23. Gin Pom
Alcoholic
If a cocktail is more your style, allow me to introduce you to Gin Pom. This unique Filipino drink contains pomelo-infused gin, water, and crushed ice. Filipino bartenders can use a variety of local gin for this cocktail.
With Gin Pom, you can also elevate it by adding extra ingredients like calamansi juice, cucumber juice, and honey. This drink is now known as Gin Pom Pi, a cocktail concoction offered at Museum Cafe/Kabila.
Gin Pom Pi is often served with fresh pomelo shreds and cucumber sticks as garnish. One order of this cocktail might satisfy your fruit and vegetable needs for the day.
Where to buy: Any Filipino bar, pub, or restaurant.
24. Weng Weng – Cocktail
Alcoholic
In and of itself, the Weng Weng's origin is an urban legend. Some claim it was named after Ernesto de la Cruz, the dwarf actor who played Filipino James Bond in the 1970s movies. This diminutive action star was better known as Weng Weng.
Despite the ambiguous origin story, this spirit drink is extremely popular in this country. Each bartender will have their recipes for Weng Weng. As a result, it's impossible to know what kind of booze is used in this cocktail combination.
Fun fact: Weng Weng is also a local slang for an intoxicated person. This is because this drink usually contains 5 to 6 different kinds of alcohol. So remember to drink this cocktail slowly if you don't want to wobble your way home.
Where to buy: In every Filipino bar, pub, or restaurant. Or you can follow the recipe to make your own version.
---
You Will Never Get Thirsty Again With These Filipino Drinks
There you go, 24 fantastic beverages that you must explore during your trip to the Philippines. I hope that this article has somehow inspired you to book a ticket to the Philippines and learn more about this country's cuisine, culture, and people.
What do you think about my list of the most well-known Filipino drinks? Did I miss any of the signatures that you know? If yes, let me know in the comment section below.
Also, don't hesitate to pass on this article to your friends and family to persuade them to become your travel and drinking buddies. Goodbye for now!