Hong Kong desserts are a great representative of the yin and yang symbol. Hong Kong has a part of being a British colony; its cuisine has a sophisticated appearance of Western culture. A little rustic and a tasty touch of Asian cuisine will match with the Western one.
From rich milk tea to buttery egg tart, Hong Kong cuisine will satisfy those cravings. I guess it's time to hop on this savory airplane and taste all the foods in this country.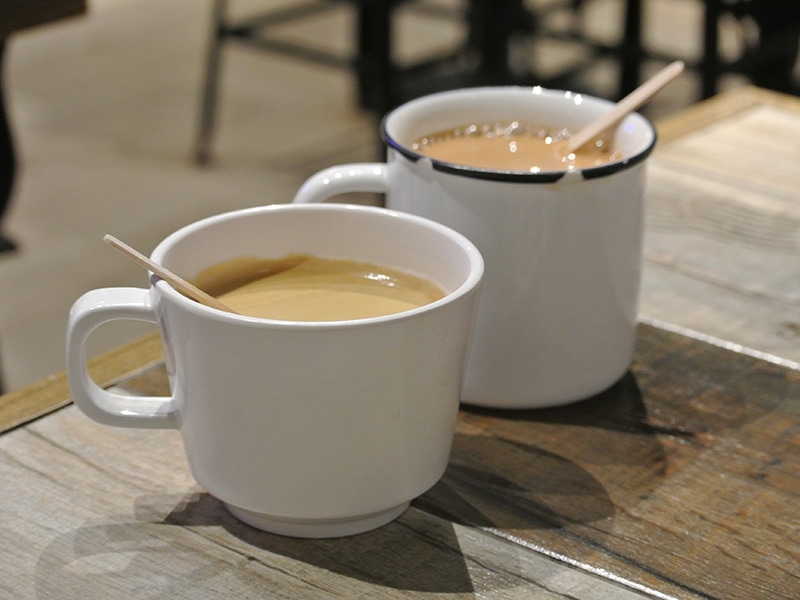 18 Hong Kong Desserts That Will Spice Up Your Meal
I can't wait any longer to introduce these tasty Hong Kong specialties. Trust me; you will not regret trying them!
Let's begin this list with a special dish! Dan Tat is a milky and rich treat in Hong Kong that makes this country's cuisine so famous. The tart has a crispy crust forming an exciting texture in every bite.
Dan Tat is a traditional sweet treat to make in Chinese New Year because eggs represent fertility. Hong Kong people hope these cakes will bring them a wealthy life in the whole new year.
These Dan Tat will melt in your mouth with the most delightful flavor.
Want to try an incredible Hong Kong specialty for breakfast? Hong Kong-style sweet French toast will charm you with its crispy edges and creamy sweetener of your choice.
The dish is perfect for serving hot with a touch of butter (or peanut butter). But if you love a fruity taste, some jam of any kind will fit with the French toast's flavor.
Hey! How about turning the Hong Kong milk tea into tasty popsicles? Yeah, you will fall in love with these special treats. The sweet and rich flavor is boosted after being stored in the freezer. You can make these popsicles to blow away the scorching temperature of summer.
It is a brilliant idea to make these treats ahead to welcome your guests. Just store them in the freezer and serve them when your friends arrive. I'm sure they will love it.
Hong Kong people sure adore the sweet and slightly tangy mangos. With a luscious, soft, and full of fruity flavor, this mango pudding will never let you down. Its jiggly texture will be a hit for your kids.
This mango pudding is a perfect Hong Kong dish for dinner. You can make this dessert to finish your family dinner table with a gentle sweetness. Don't forget to toss some fresh mangos to form a refreshing texture.
This Hong Kong mango pudding is a must-try dessert in this country.
This Hong Kong-style mango pancake is a must-try dish when visiting China. Imagine the sweet and creamy cream wrapped in a Western-style crepe, amazing, right? Adding mango to the cream will add a fascinating fruity flavor to the dessert.
You can shape the pancakes like pillows or roll them; either way, the taste is still mesmerizing. When making the pancake, you can add a little butter to form the shape easier.
Welcome to the hometown of many milky drinks. Hong Kong milk tea is a national drink that will enchant your sweet lover's soul. Unlike other milk tea recipes, the Hong Kong variant stands out for its fragrant tea scent.
This Hong Kong recipe only uses just an adequate amount of condensed milk to complement the tea flavor. People also call this 'pantyhose tea' or 'silk stocking tea' as it is made in a massive tea sock that has the look of a pantyhose.
Hold on! These coconut buns are an excellent Hong Kong food for lunch. These buns are also called 'cocktail buns' or 'chicken-tail buns'.
The buns have a melt-in-the-mouth texture with a rich filling. You can make another option with the inside-out filling to create an exciting twist for its appearance. The best part is that you can store it in an airtight container for around three days.
These eggy treats will make your day with their airy texture. The cupcakes are shaped with special paper, forming a breathtaking visual for the treats. The paper holds the moisture of the cupcake, creating a moist texture that will dissolve right in your mouth.
The treat is so popular in Hong Kong that you can find it in almost any bakeries. You can serve the cake with a hot pot of tea and exciting stories.
This Hong Kong egg waffle has many names, including eggettes or bubble waffles. The name literally describes the look of the cake, which looks like many tiny bubbles attached to the soft pasty. These waffles are airy and rich in eggy flavor.
Egg waffles are the most common street food that you can find in Hong Kong. People usually decorate the treat with colorful sprinkles or sweetened syrup.
Want some tasty Hong Kong egg waffles? Make them now!
I want to introduce you to this special milk pudding in Hong Kong. The milk naturally solidifies without using gelatine or any other additives. The secret is the ginger juice used in making the pudding.
The rich and milky taste of the pudding is highlighted with a spicy touch of ginger. Every spoonful of this dessert will give you both peaceful and turbulent feelings at the same time.
Speaking about Chinese dishes that gives peaceful feelings, you should not forget this sweet red bean soup. The well-cooked red beans create a red and smooth sweet soup with exciting textures. If you love nutty flavors, this sweet soup is made just for you.
With only three simple ingredients, you can make this dessert at any time of the year. One note while making the recipe is that you have to submerge the red beans in water for a few hours before cooking them.
Can I see your hands, tart's fans? These coconut tarts in Hong Kong will satisfy you! They have a light buttery filling with a crunchy crust at the bottom. Unlike other creamy tarts, this one has a crumbly filling thanks to the use of desiccated coconut.
These sweet treats are an ideal option to make for any party. Just grab a tiny tart and enjoy the sweet and rich taste in every bite.
These bolo bao are just like little morsels of heaven. The buns are soft and light with a hit of sweet and tangy flavor from pineapple. The edges are crispy and crunchy with a golden color after being baked to perfection.
For a busy weekday morning, you can prepare the dough ahead of the night before and bake it the following day.
These Bolo Bao will be a great treat for your friends. Give it a try!
What do you think about the idea of combining milk tea and coffee? This Yuanyang tea from Hong Kong will please your taste. The fragrant scent of tea and coffee harmonize and form a delightful feeling for you.
You can serve the drink hot or cold depending on your preference. The ratio of milk tea and coffee should be equal, but you can adjust the quantity to suit different members of your family.
Do you want to try a jelly recipe that is rich in herbal flavor? Leung Fun is a popular dessert across China and different Asian countries. Its taste is mild with a gentle sweetness that will give you a refreshing feeling.
The mild taste of this grass jelly makes it perfect to become a companion of many ingredients. You can add chilled milk or milk tea for extra creaminess. If you are a fruit lover, some fresh fruit like mangoes or strawberries will form a perfect dessert.
Don't let the black color fool you; this black sesame soup is a marvelous masterpiece of Asian cuisine. The soup will charm you with its thick and smooth texture with a lovely aroma. Then, the rich nutty flavor with a delightful touch of sweetness is a treat for you.
Black sesame is a healthy ingredient that is good for your hair and kidney. The soup has its best flavor when served hot. Such a heartwarming option to treat your family on a cold winter day.
Gosh! This lovely sesame soup will warm your heart on freezing days.
Another red bean recipe comes to light up your day! The nutty red bean flavor ties with the sweet and rich coconut taste. This dish gives you something to drink along with a lovely texture of cooked beans.
I'm sure this drink will cool you down after a stressful working day with its dazzling flavor. Make this dessert for your family to give them a pleasant dinner too.
Turn your all-time-favorite milk tea into an ice cream now! This dessert is a modern Hong Kong cuisine that has a brilliant combination of different flavors. Add the cream to a crunchy cone or serve in a fancy glass.
There are plenty of options for the ice cream to pair with the milk tea; you can make a special one or use gelato for a beautiful kick from Italy.
What A Tasty Cuisine!
If you love your food to be a perfect balance of both Western and Asian cuisine, the suggested Hong Kong sweet recipes will match your requirement. Feel free to choose your favorite recipe and make them now! I'm sure you will love them.
Hey! Don't forget to like and share this post. I really appreciate your contribution. Thanks for reading! I will see you in the next post.
Nutrition Facts
12 servings per container
---
Amount Per ServingCalories144
% Daily Value *
Total Fat 6.5g

10

%
Cholesterol 61mg

21

%
Sodium 55mg

3

%
Potassium 74mg

3

%
Total Carbohydrate 18.1g

6

%

Dietary Fiber 0.6g

0

%
Sugars 12.5g

Protein 2.7g

4

%
---
* The % Daily Value tells you how much a nutrient in a serving of food contributes to a daily diet. 2,000 calories a day is used for general nutrition advice.