Have you ever tried Vietnamese snacks? Believe me; this country has all the most wonderful snacks that go beyond your imagination. Each region has distinctive specialties, so you can learn about its culture when enjoying these treats.
Moreover, some options can be a part of your dinner, whether appetizer or main dish. So, how about diversifying your regular meal with my incredible list? Let's start reading immediately!
17 Tasty Snacks You Can Find Anywhere In Vietnam
Everybody knows about the amazing Vietnamese street cuisine, so it's understandable why this country owns various snack dishes. And this category is dedicated to those that are well-loved in all regions.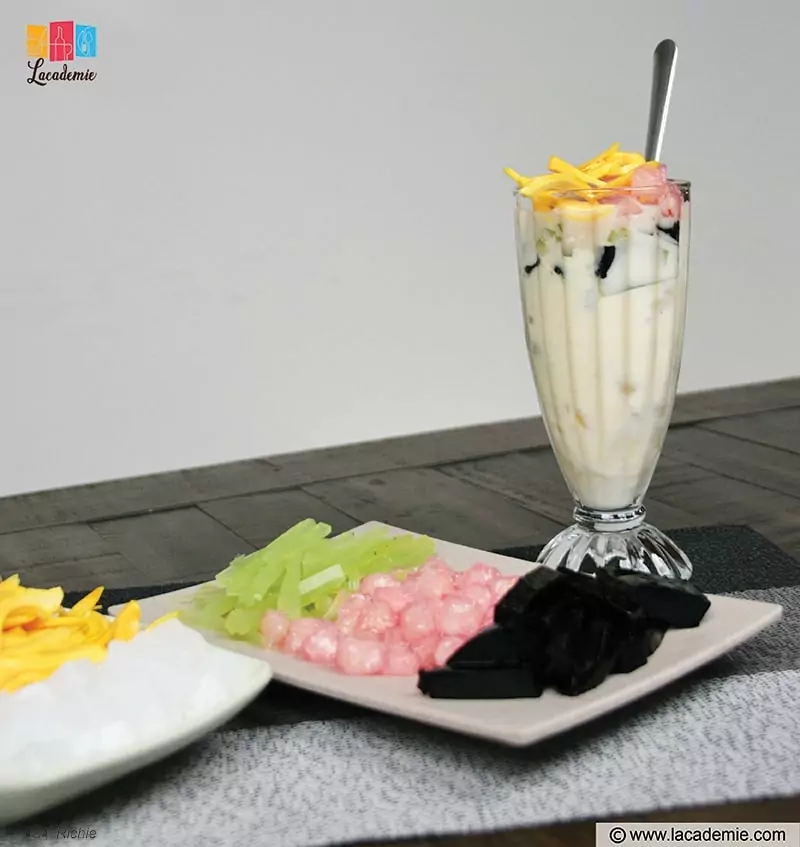 First, I have a popular Vietnamese sweet treat among all youngsters: a fruit cocktail with coconut milk. You may have already guessed; the coconut milk is the "wine" for this cocktail, so it's totally kid-friendly.
Besides coconut milk, prepare fruits for chè Thái. I use tropical fruits like durian, longan, jackfruit, etc., for an authentic Vietnamese flavor, but you can choose your favorite fruits. You also need some jellies for more textures and flavors.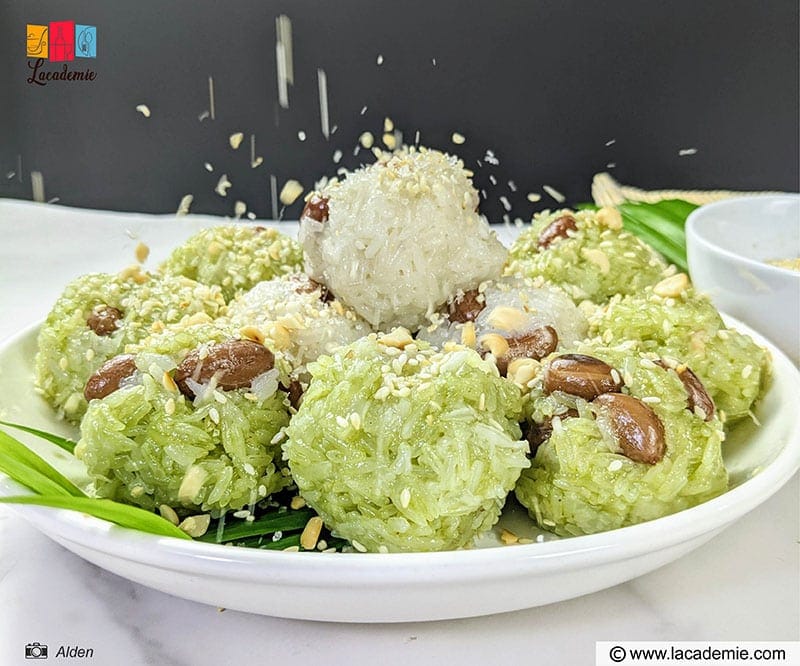 Any fan of the beautiful Vietnamese cuisine must have heard about sticky rice (xôi). But I regularly see them discussing the savory version. While it's undoubtedly delicious, skipping the sweet type is such a waste. That's why I include xôi đậu phộng in this list.
This dish is full of peanuts' nuttiness and coconut milk's sweetness, making it a perfect snack for those with a sweet tooth. Not to mention, I've added a bit of salt for a faint salty note, making it much more irresistible.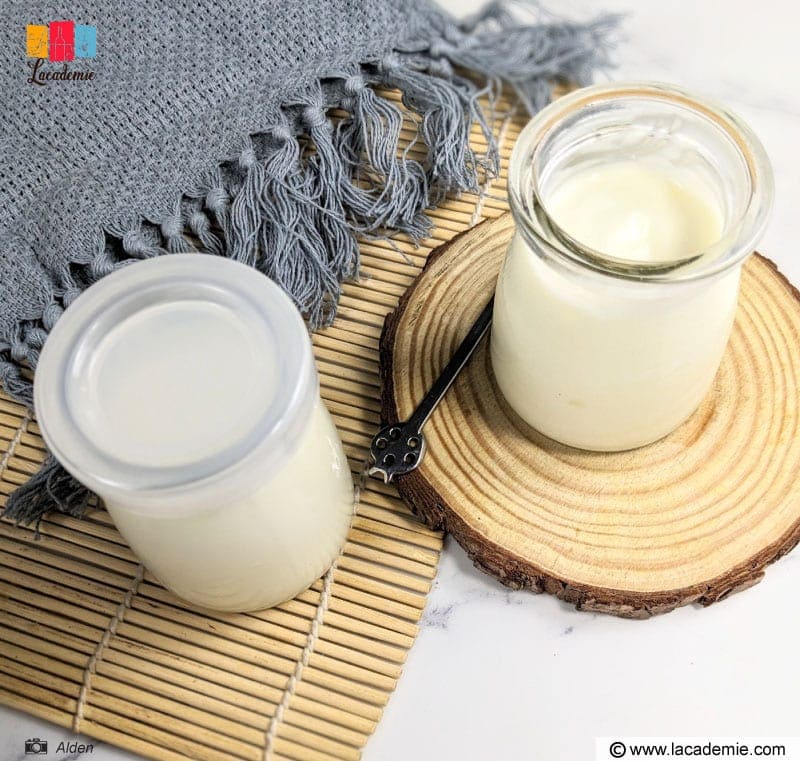 If xôi đậu phộng is too filling, opt for this Vietnamese yogurt for a light midday snack. Yogurt in Vietnam doesn't contain any thickening agent like agar-agar, so it's smoother and easier than other regular Western products.
Since it doesn't contain many sweeteners (only sweetened condensed milk), sữa chua isn't overwhelmingly sweet and still holds a signature tanginess. Serve it with different fruits to gain more nutrients!
Make this sữa chua beforehand and store it in your fridge for a refreshing snack!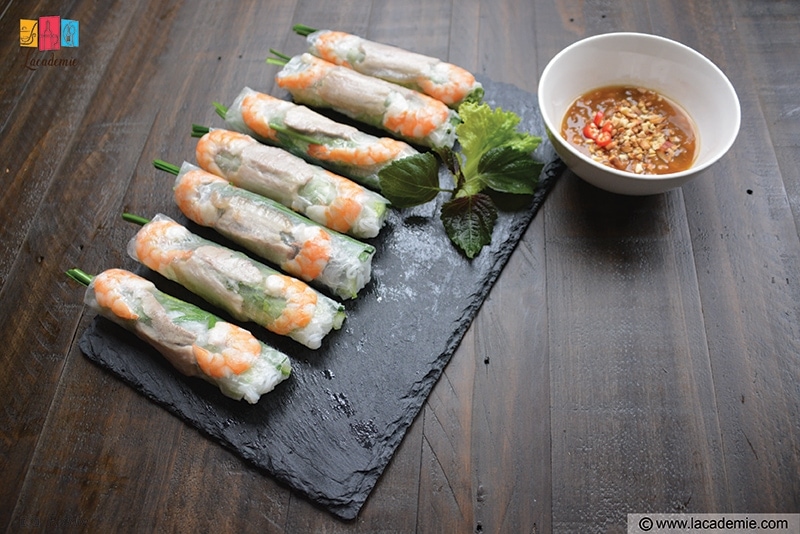 To people waiting for savory snacks, this option is for you! With different fresh herbs, gỏi cuốn will bring a summer breeze to your family. These spring rolls also contain boiled pork and shrimp, so they can quickly fill your hungry stomach.
For the pork, I recommend using the pork side. This meat cut has a nice back fat that complements well with the herbs, resulting in a harmony of flavor. The greens are optional; I suggest beefsteak plants, lettuce, chives, and basil.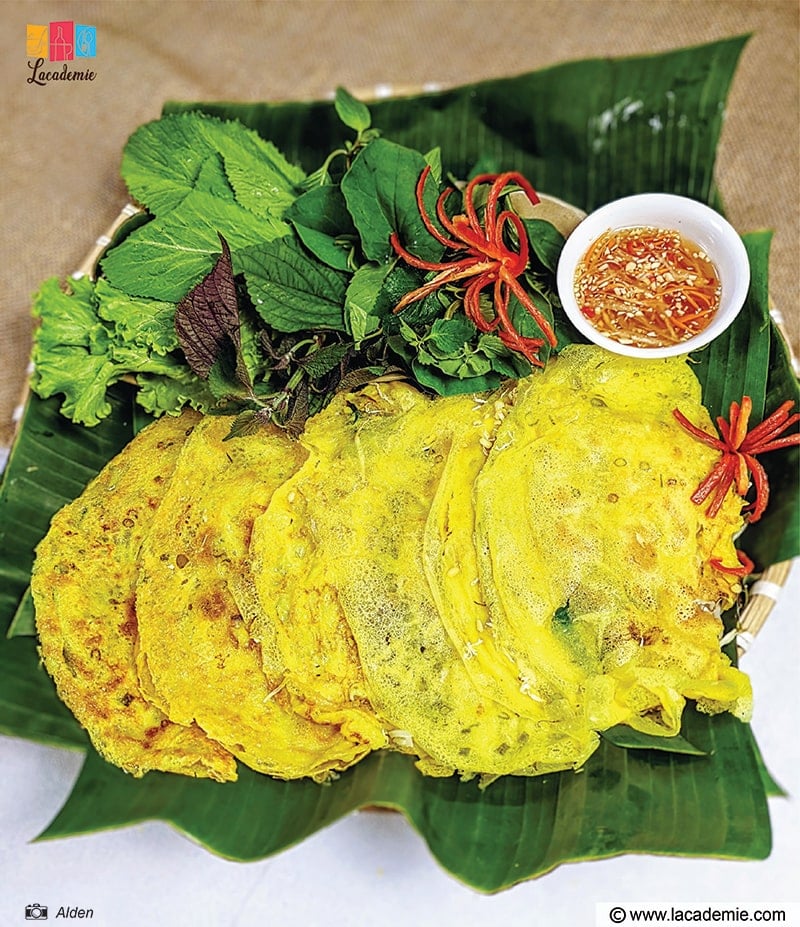 People who see bánh xèo for the first time always get surprised at its huge size. One bánh xèo can feed 2 light eaters. So if you are holding a friend or family gathering, these crepes are a perfect choice.
Moreover, you are free to customize their fillings to your liking. This traditional version uses pork, prawns, and bean sprouts. And other places can use beef, squid, octopus, etc. for the fillings. And don't forget to prepare some green veggies to reduce the greasiness.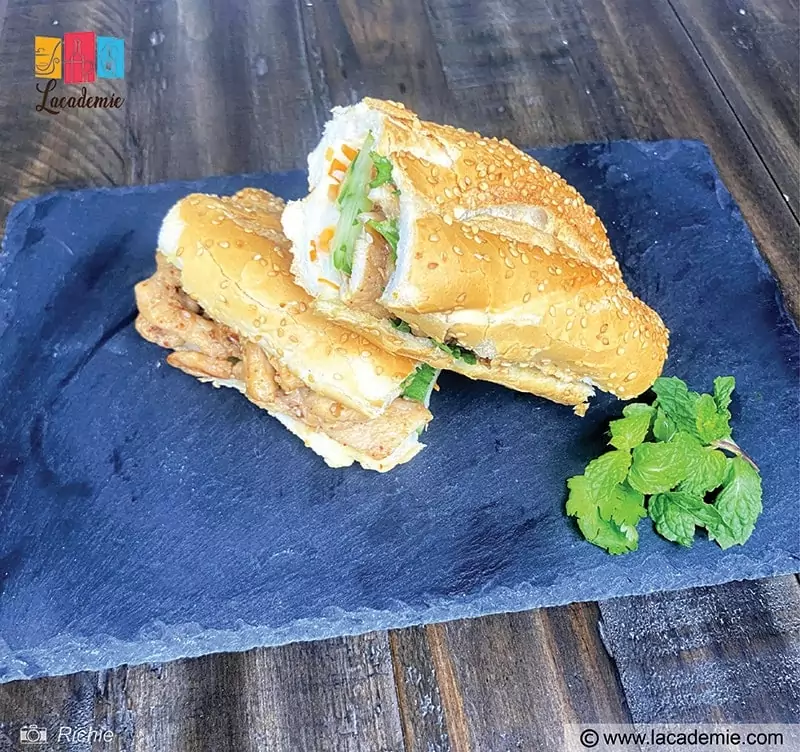 No one feels strange about Vietnamese bánh mì anymore. This dish is famous worldwide for its crunchy texture and flavorful taste. There are hundreds of bánh mì versions in Vietnam for you to discover.
And the best thing is this sandwich tastes delicious, even hot or cold. So you can make it in advance and bring it with you to munch anytime you're hungry. The savory chicken strips pair perfectly with tangy pickles, making you unable to stop eating them.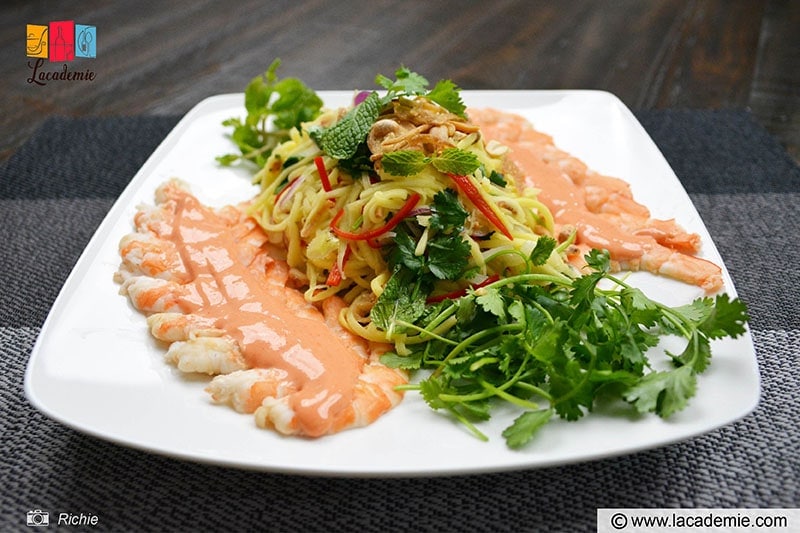 As a country with numerous fruits, many dishes use local Vietnamese fruits to add more flavors and also enhance their appearance. Gỏi tôm xoài is an excellent example with a light, refreshing, and tangy flavor.
That's why you must choose green mangoes, which have the necessary sourness and crunchiness. Moreover, besides mayonnaise, using fish sauce and vinegar for the dressing will reduce the overrich feeling.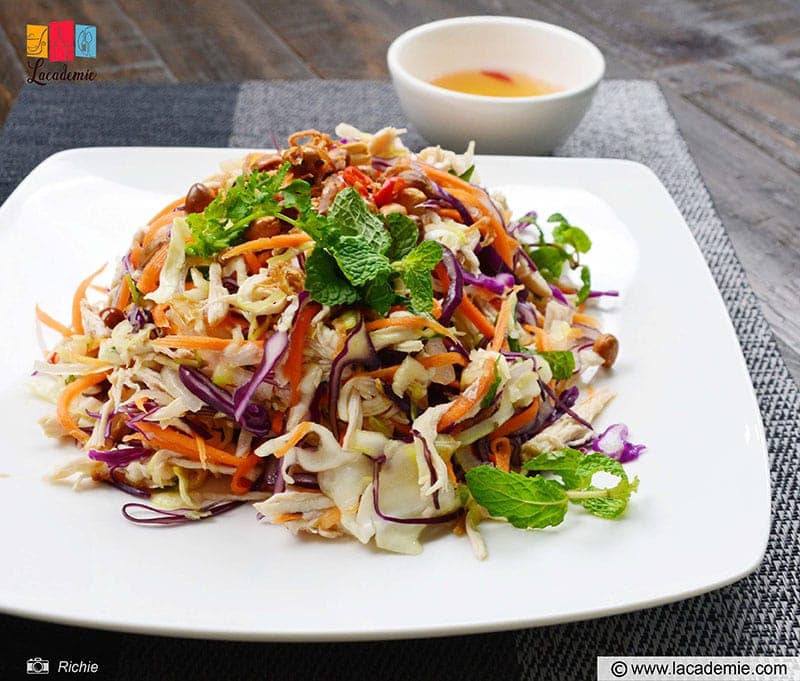 Here comes another "gỏi" dish. Aside from being a snack, it can be a decent Vietnamese appetizer for all celebrations, as its tangy flavor is an effective way to wake up your guests' palate and leave them eager for the following courses.
There is no fixed recipe for gỏi gà since each family has their own choices of vegetables and herbs. But some familiar options are Vietnamese cilantro, onion, toasted peanuts, etc.
9. Vietnamese Steamed Pork Buns (Bánh Bao)
Bánh bao has always been a common snack choice in Asian countries like China, Japan, etc. And Vietnam is no exception. This version is slightly larger than the regular Chinese meat buns (baozi).
Since its filling is full of ground pork, hard-boiled egg, wood-ear mushrooms, and Chinese sausage, you'll feel satisfied after eating just one bun. There are even vegetarian buns or buns without filling for those wanting a healthier snack.
Total time: 30 minutes (excluding marinating time)
Whether you are a fan of BBQ dishes or want a midday treat with smoky flavors, this mouth-watering Vietnamese meat treat will be a pleasant addition to your snack menu.
Vietnamese thịt nướng is quite simple, with the pork marinated in simple spices (fish sauce, sugar, garlic, and shallots) before being grilled over charcoal. I often use pork butt since its fat helps retain the meat's juiciness.
You can eat these skewers as they are or follow some Vietnamese ways: eating them with rice vermicelli, bread, or rice.
Total time: 50 minutes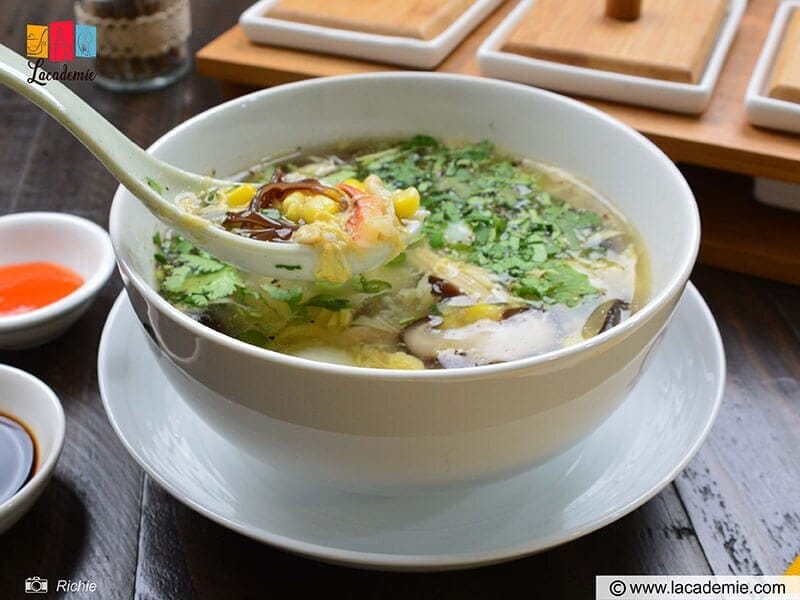 Eating soup as a snack sounds pretty strange. But in Vietnam, you can easily find people quickly slurping this tasty Vietnamese soup at street vendors after school or work. It has a moderate thickness, so you can digest it quickly without upsetting your stomach.
Súp cua in Vietnam has many variations with different toppings. Some stores can sell it with asparagus, and others make it with corn. And the eggs in this soup can also vary, from beaten egg to boiled quail egg or century egg.
Total time: 1 hour 30 minutes (excluding flour raising time)
These rice balls may remind you of a Chinese dish called "tangyuan". They are both glutinous rice balls soaked in broth. However, chè trôi nước is a dessert, while tangyuan can be both sweet and savory.
It's a classic dish appearing in many Vietnamese celebrations and festivals. And since the broth often uses ginger syrup, you can make it for cold days to warm yourself. The usual filling is mung beans, but sesame seeds are also an excellent choice.
Total time: 1 hour 50 minutes
Every time I introduce this dish's Vietnamese name to my foreign friends, I get to see their surprised faces because they think this treat is made with pork skin. But it isn't true. The name is because this cake's chewy texture resembles pork skin.
Its main ingredients usually are pandan leaves (for the green layers) and mung beans or durian (for the yellow layers). You need to steam one layer at a time to create a beautiful appearance, thus requiring lots of time and patience.
Total time: 1 hour 30 minutes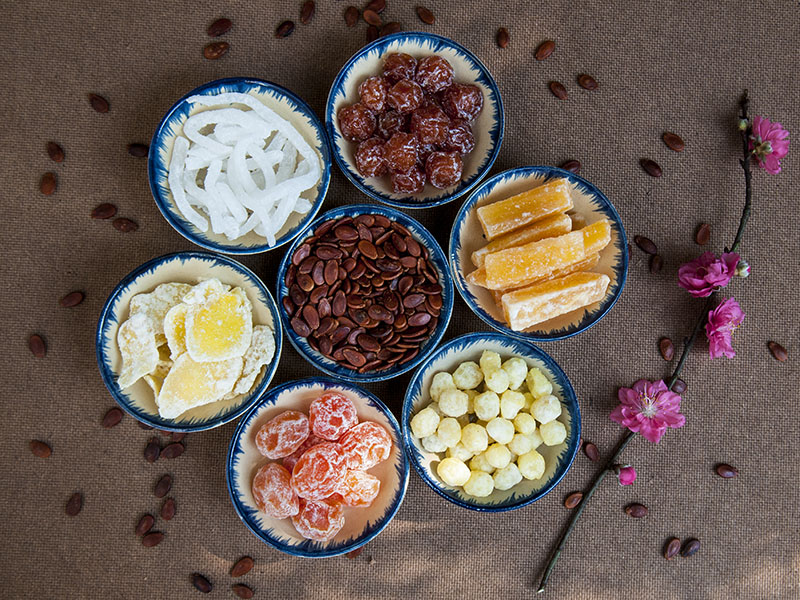 In Vietnam, fruit jams, especially coconut, ginger, and kumquat jams, are a staple during the Lunar New Year (Tết) holiday. Although available all year round, they are most commonly purchased and consumed during the Tết season.
The locals often make these jams from fresh fruits to produce natural colors, flavors, and textures. From the classic white coconut jam and the light yellow, spicy ginger jam to the golden kumquat jam, they will satisfy all your demands.
People will buy several types of fruit jams to serve their guests during Lunar New Year. It has been a tradition since forever. Even nowadays, when more people favor packaged sweets, mứt Tết will always have its slot in every Vietnamese family.
15. Vietnamese Dried Seeds (And Nuts)
Total time: Days to dry these seeds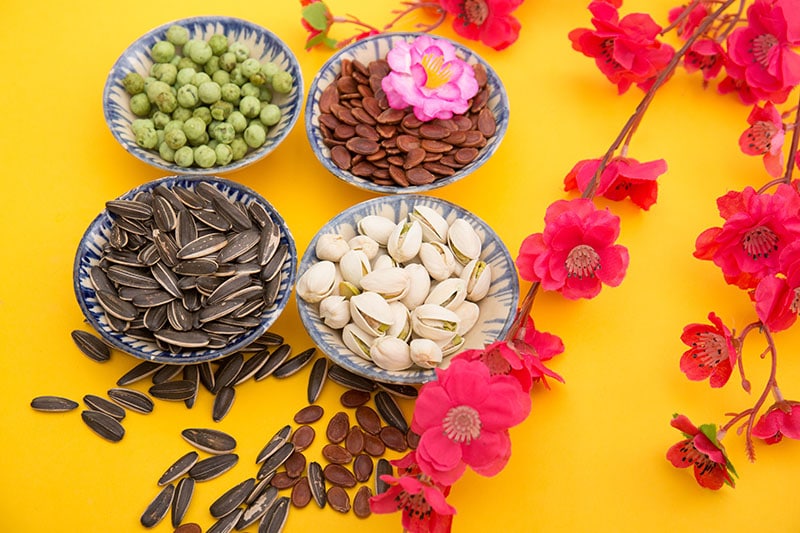 Along with fruit jam, dried seeds and nuts are also a must-have element on the locals' Tết table. However, unlike the previous choice, dried seeds are also available in Vietnamese daily life. They often go with different types of Vietnamese tea or beverages.
Vietnamese dried seeds come in various varieties, with unique origins, flavors, and health benefits. The most famous ones are watermelon seeds (hạt dưa), pumpkin seeds (hạt bí), sunflower seeds (hạt hướng dương), cashew nuts (hạt điều), and pistachios (hạt dẻ cười).
When you visit any ordinary Vietnamese cafe shop, you can easily find groups chatting while biting these seeds. While cleaning afterward is somewhat depressing, I admit eating them is a fascinating hobby.
Total time: 35 minutes (excluding cooling time)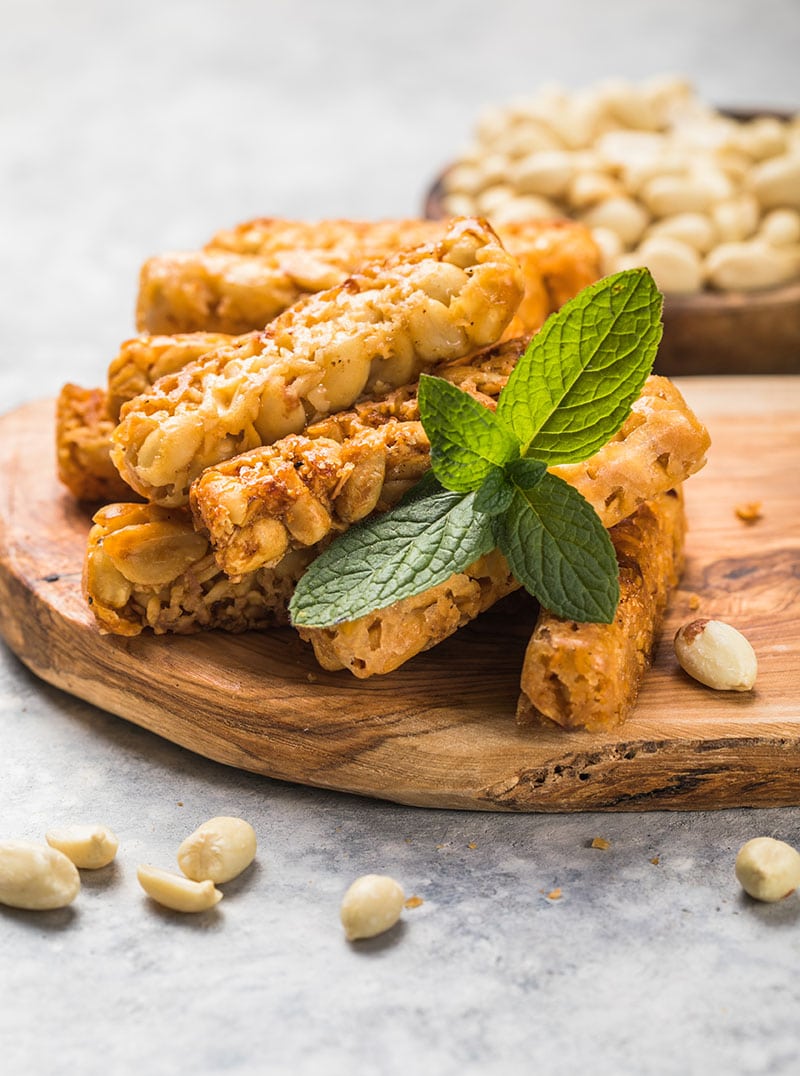 Peanuts have always been a part of Vietnamese cuisine. The locals use them in both sweet and savory dishes as an enhancer or garnish. But these candy bars are where they become the main star.
Kẹo lạc appears in different types. For example, mè xửng, a Central specialty, also uses peanuts but is chewy instead of hard and brittle. Or kẹo cu đơ, a Northern version, looks like a cake with two extra toasted sesame crackers (bánh đa mè).
Total time: 30 minutes
While bánh da lợn only has a scary name, trứng vịt lộn has always been a terrifying Vietnamese street dish for foreigners. That's because it uses fertilized eggs, so the embryo already takes shape, which can scare anyone unfamiliar with this treat.
But once you're used to it, trứng vịt lộn can quickly become your favorite dish due to its richness. Eat it with sliced ginger and laksa leaves to prevent your stomach from getting cold and diversify the flavor.
Total time: 1 hour 10 minutes
Bánh gối reminds me of the familiar empanadas because of their similar appearance. Vietnamese people may have learned about empanadas from European traders and turned them into a distinctive snack full of Vietnamese flavors.
Like other Vietnamese snacks, bánh gối has two versions: savory and sweet. The first one will have the same filling as Vietnamese fried spring rolls (nem rán), with ground meat, vermicelli, mushroom, etc. And the latter often uses mung beans, coconut, and sugar.
19. Vietnamese Commercial Snack (Bim Bim)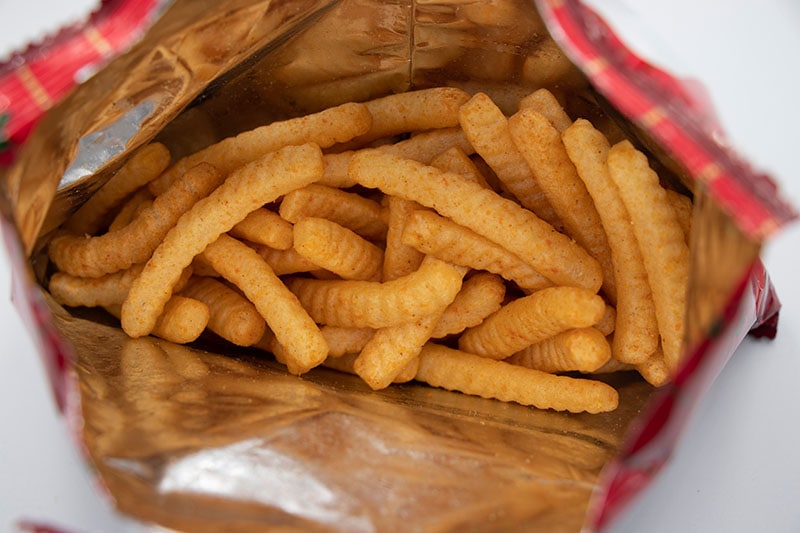 Of course, Vietnam doesn't lack commercial snacks. There are numerous brands, so it can take a whole day to list all their names. But the most popular are Oishi, Poca, Toonies, O'Star, etc. Almost any grocery store will have some products from these brands.
While the South region uses the same word "snack", Northern people call it "bim bim". It's because before, the children there loved a shrimp-flavored snack called "bim bim" so much that they also called other products by that name.
12 Tasty Snack Choices From Southern Vietnam
Regarding sheer numbers, Southern Vietnam comes out as the winner with numerous snacks. And don't think this region only has the amount; the quality of these treats is also top-notch!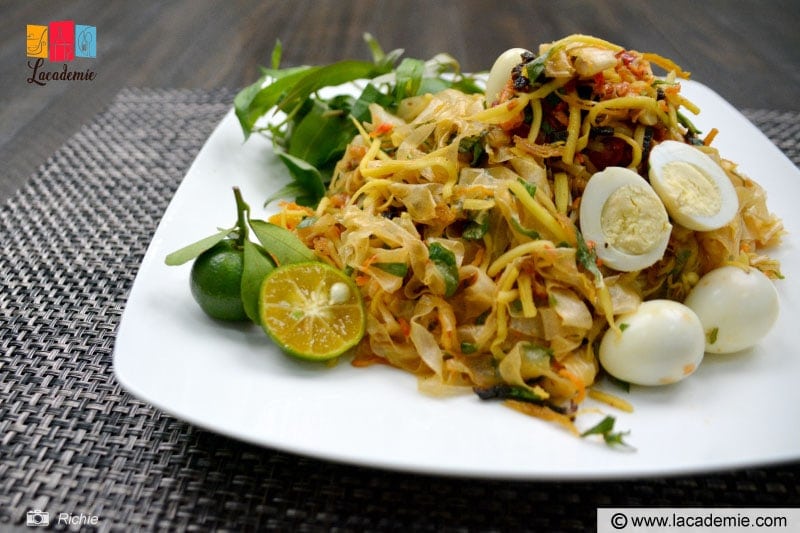 It'd be a waste not to mention bánh tráng trộn on this list. This simple snack has been the epitome of Southern Vietnamese street cuisine since forever. Since it comes at a low price, it has been a favorite of all student generations.
There's nothing fancy about this street food; it only contains cheap ingredients, such as shredded rice paper, green mango, beef jerky, dried shrimp, and so on. But when combined, they bring a tremendous wave of flavors.
No one can refuse this appetizing bánh tráng trộn.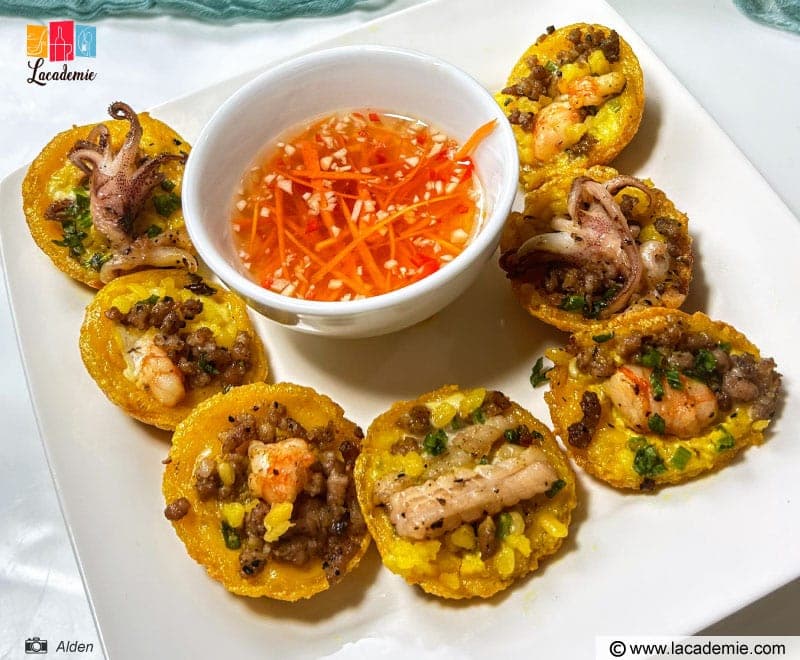 Bánh khọt usually connects with Central Vietnam, but it's a Southern delicacy. This common mistake happens because bánh khọt looks quite similar to bánh căn, a different savory pancake in Central Vietnam.
However, their making methods are different, with bánh căn being grilled while people will fry bánh khọt in hot oil until crispy. This dish is suitable with any fillings, from ground meat to seafood (shrimp, octopus, etc.) or mushrooms.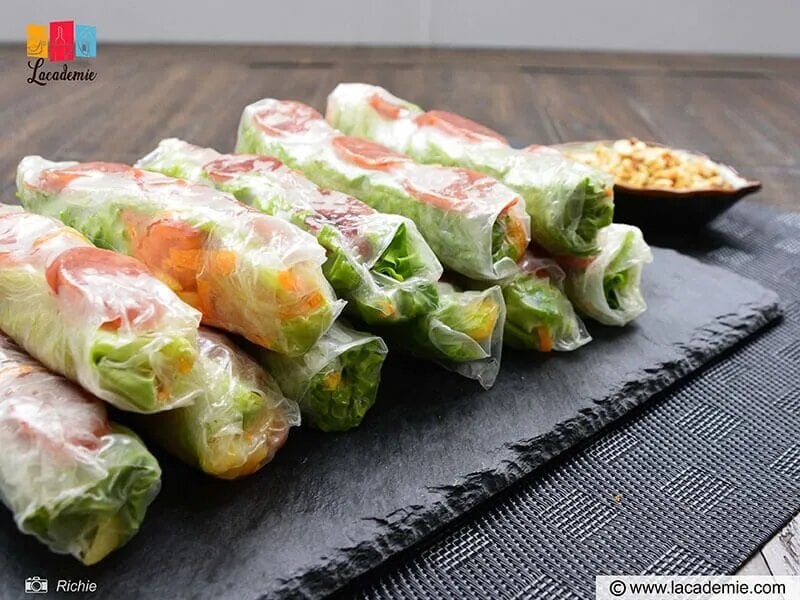 Besides bánh tráng trộn, bò bía is also a well-loved dish among Southern Vietnamese youngsters since it's inexpensive and available anywhere. You can easily grab some rolls from street vendors and eat them on the go.
While it's inspired by a similar Chinese snack called popiah, Vietnamese people have developed it into their own specialty. Apart from the usual savory variant with jicama and Chinese sausage, you can try the sweet one using sugar and shredded coconut meat.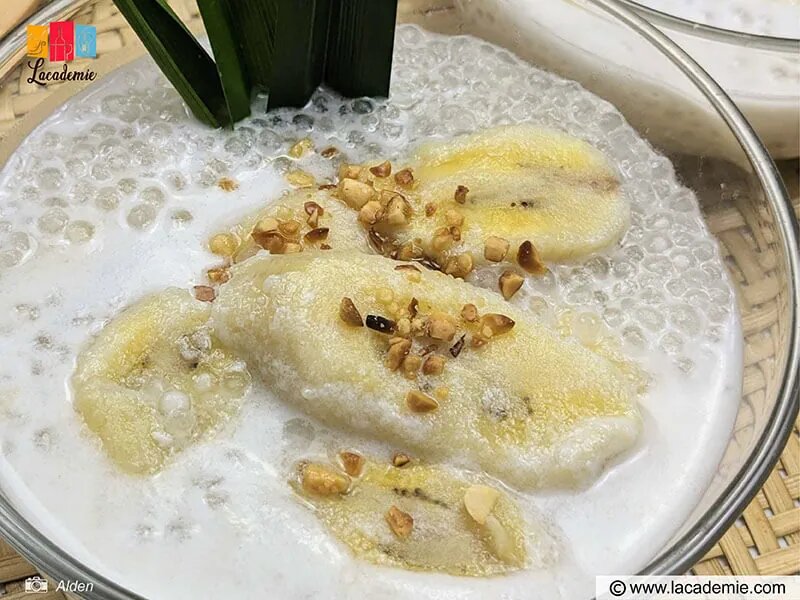 While the other chè recipes above have a pretty thin broth, this dessert is so thick that you may think it's soup or stew. Like most Vietnamese chè, chè chuối is quite sweet with ripe bananas, coconut cream/milk, and sugar.
And you may be wondering about the tapioca in this treat. It means the tapioca pearls you usually see in bubble milk tea but in white color. They provide a nice chewy texture contrasting with the soft ripe bananas.
Total time: 15 minutes
As I've said, bánh tráng trộn has been available for a long time. And to one point, people want to make something new with it. That leads to the birth of bánh tráng nướng. Although its English name is Vietnamese pizza, it's nothing like Italian.
It gets that name because the rice paper is spread out, not shredded like the bánh tráng trộn. Then, people will place all ingredients on the rice paper, making it resemble a pizza. However, it's grilled over charcoal instead of baked in the oven.
Total time: 1 hour
Forget all these unhealthy commercial potato chips; what I have here is a thousand times better! As their name indicates, these crackers are made with ground shrimp and other spices (fish sauce, black pepper, salt, etc.), making them full of oceanic flavors.
Prawn crackers are also mass-produced in Vietnam, as the locals cut and dry the dough beforehand. You only need to fry these crackers when eating. They also form a decent "scooper" for your gỏi.
Total time: 2 hours (excluding soaking time)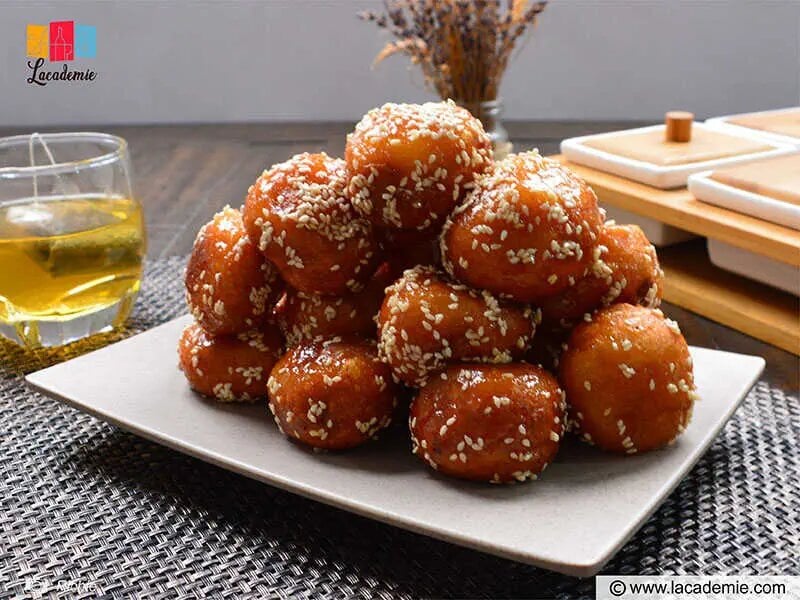 Nothing fits the definition of "snack" more than this bánh cam. Its adorable size makes it easier for people to eat it. And since these balls taste good even when hot or cold, you can make them beforehand and bring them to work or school.
Both Northern and Southern types of bánh cam are quite identical. But the latter commonly comes with simple syrup and without the sesame seed coating. You can make these balls either way, according to your liking.
These sesame balls are adorable to look at!
Total time: 20 minutes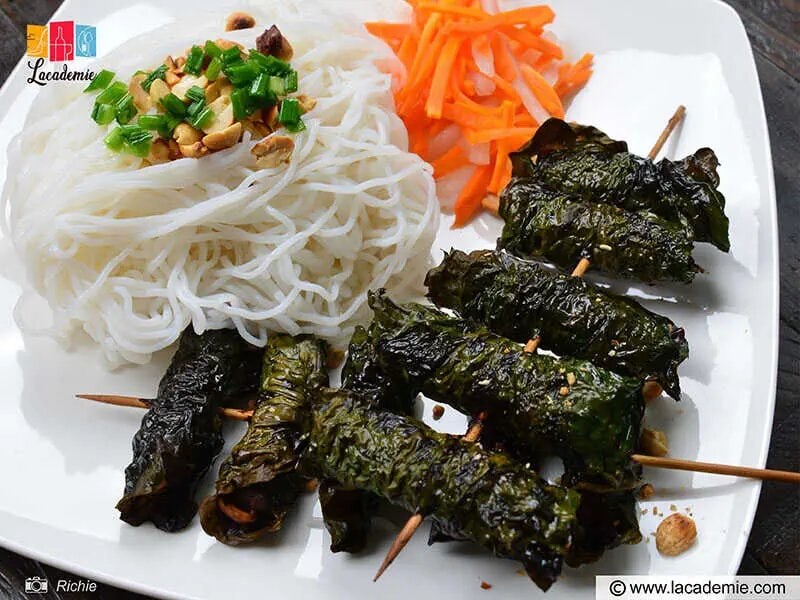 You'll be surprised at how Vietnamese people use betel leaves. In the Northern region, they usually appear in chả lá lốt (betel leaves wrapping ground pork). And in South Vietnam, you'll have them with grilled beef.
While these two dishes are quite similar, chả lá lốt is a regular main dish served with rice. In contrast, bò nướng lá lốt is a midday snack. It mainly appeals to adults because it's a perfect dish to wash down with a cold glass of beer.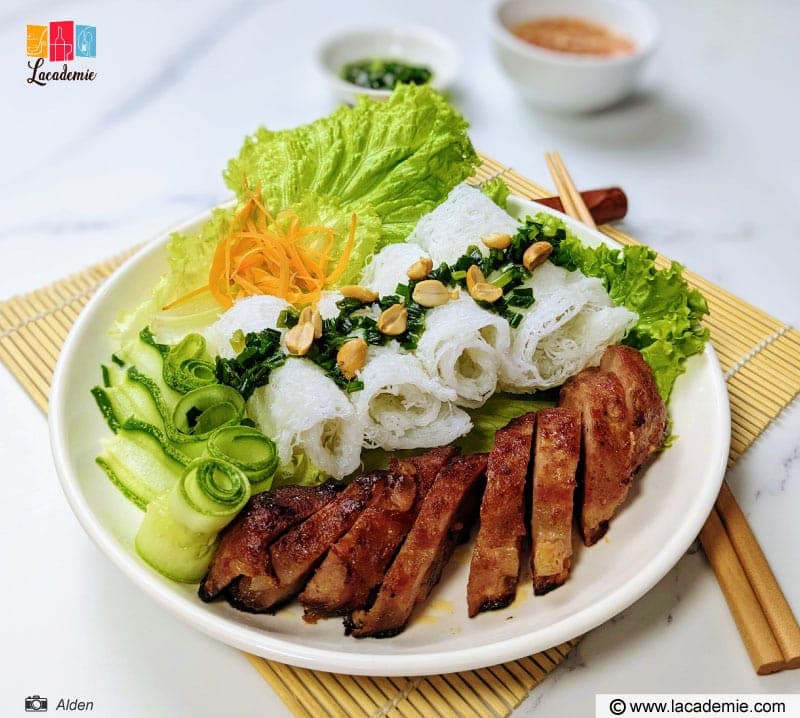 Sometimes, you want some snacks that go well with beer, right? At those times, just make this nem nướng. While I call them pork sausages, they don't look like regular sausages but more like a meatloaf using ground pork, pork paste, and pork fat.
This excessive use of pork creates a satisfying feeling that can charm even the pickiest eaters. Besides beer, you can make it into a main dish alongside rice or vermicelli. This way, your children can also enjoy it.
Total time: 2 hours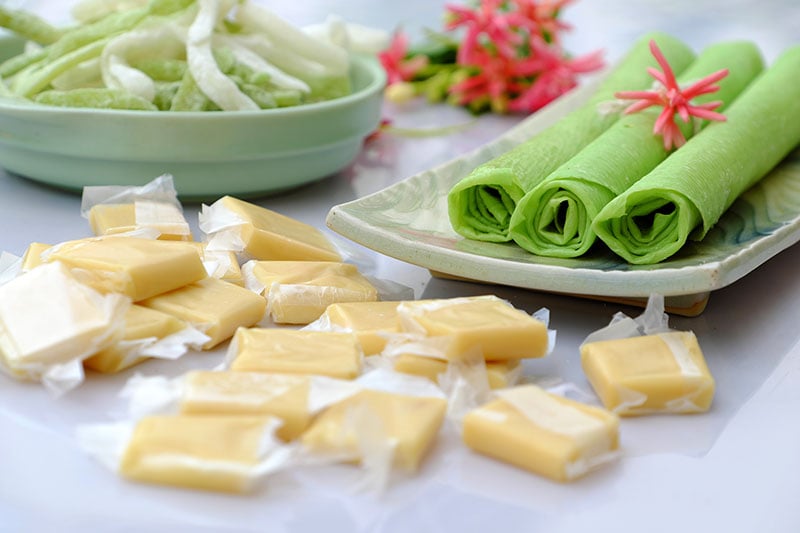 You can't bring a whole coconut to your home, but how about these coconut candies? These tiny blocks hide a tremendous coconut flavor with caramel notes. They can be slightly oversweet with some people, so I recommend preparing some bitter tea to balance the taste.
One interesting about kẹo dừa is it has two wrapping layers. One is the usual candy wrap. And the other is rice paper, so it's edible. The locals make it, so the candy won't stick to the package when exposed to high temperatures.
Total time: 15 minutes (excluding soaking time)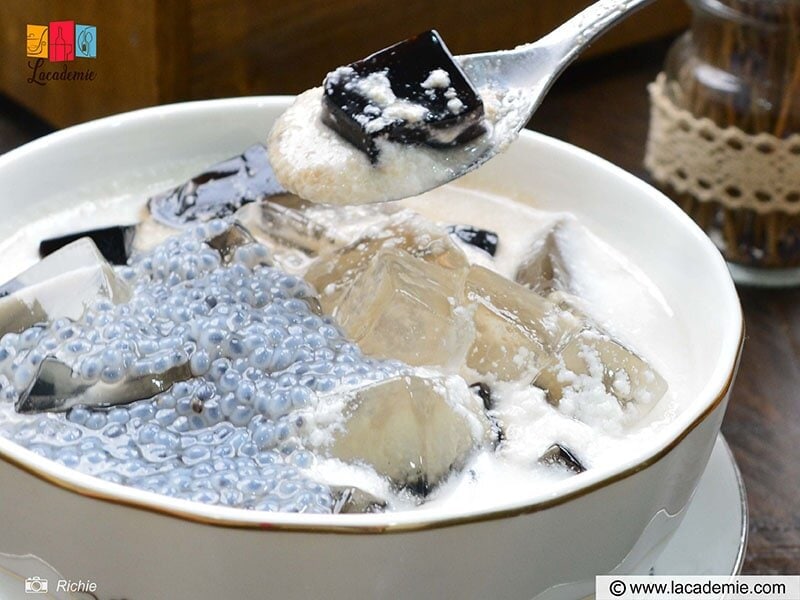 Vietnam has various jellies made from plants. And among them, sương sa stands out thanks to its refreshing flavor and gelatinous consistency. You'll find it in many Vietnamese chè since it adds different textures to the dish.
You can also enjoy this jelly all by itself by combining it with basil seeds. If you want another layer of flavor, add some jasmine flowers during the cooking process to infuse their sweet fragrance. This way, your treat will also look more beautiful when served.
Total time: 40 minutes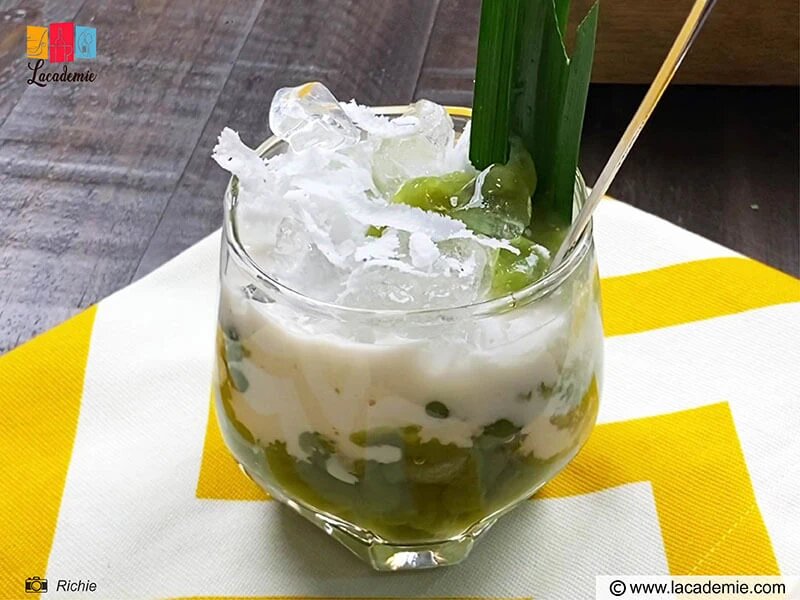 Don't be scared of this rice flour jelly! It may look like worms, but it tastes completely different. Made with rice flour and mung bean extract/paste, bánh lọt has a faint sweetness and a slippery, slightly chewy texture.
Like sương sa, this jelly mostly shows up in chè with other toppings. But sometimes, the locals want to keep it simple. And this chè bánh lọt is born with only jelly and sugar syrup. Serve it with shaved ice, and you have an ideal dessert for summer days.
Total time: 55 minutes
If you are seeking a filling snack to regain your energy in the middle of the day, bột chiên should be on top of your list. With rice flour cake, eggs, daikon, and other veggies, this snack will immediately satisfy your hungry stomach.
And don't forget to make some accompanying sauce to add more flavors. Unlike other sauces used for dipping, this one will be drizzled over your treat. The crunchy rice flour cake, rich fried eggs, and tangy pickles will make it impossible to get bored of this dish.
You can make this plate of bột chiên as a filling breakfast for your family.
Total time: 1 hour (excluding chilling time)
You may have known about other Vietnamese fermented foods like fish sauce (nước mắm), shrimp paste (mắm tôm), etc. And here is another fermented dish, but it's a snack, not a sauce.
Since it's fermented, it has a signature tangy flavor. However, you can also find some types leaning more on the sweet side. No matter which type you choose, prepare an alcoholic drink for the best experience.
Total time: 45 minutes (excluding soaking time)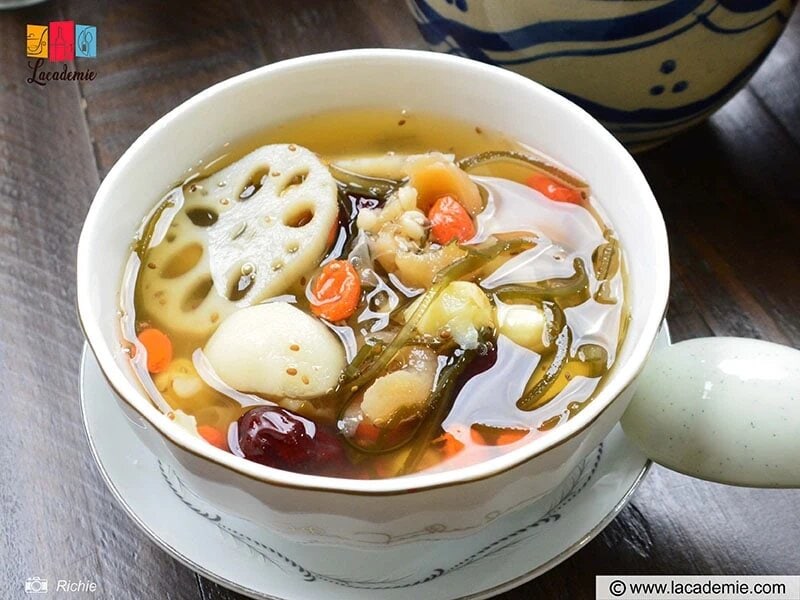 When looking at sâm bổ lượng, one may wonder whether it's a sweet soup (chè) or a drink. The answer is both. It takes after a cold sweet soup in China (ching bo leung). And since it contains numerous toppings, you'll need a spoon to digest them all.
However, its broth is relatively thin. Combined with lots of shaved ice, you can drink sâm bổ lượng like a regular beverage. Besides its delicious flavor, many love this drink thanks to its numerous health benefits from herbal toppings.
5 Northern Vietnamese Choices For Your Snack Time
Northern Vietnamese is the only area with 4 different seasons. So, their snacks are also diverse to fit the cold and hot weather. What I have here can blow your mind!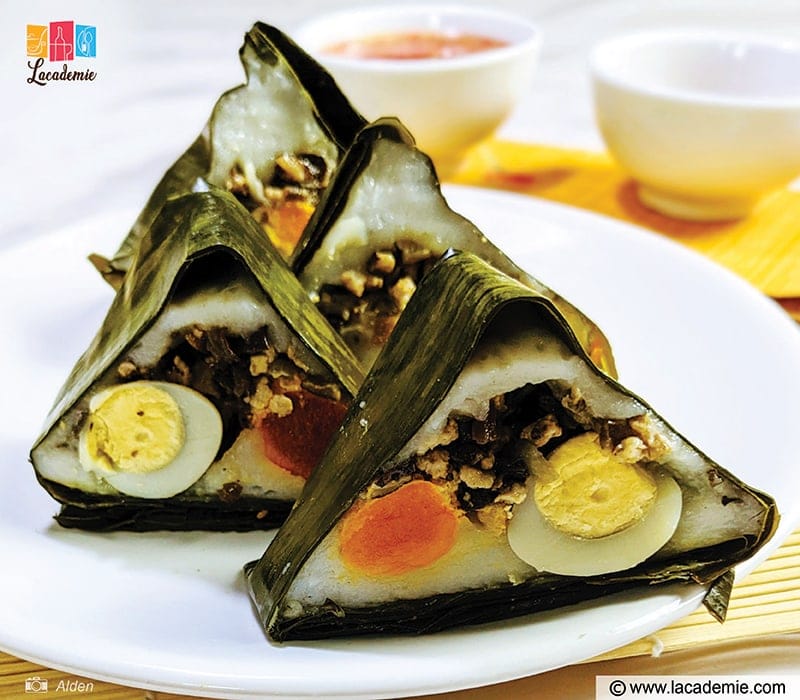 When the temperature drops, you may want a plate of steaming bánh giò. Despite its modest size, it can fill you up instantly with a filling full of ground pork, boiled egg, salted egg yolk, and mushrooms.
Not to mention, local people generally serve it with several filling side dishes like pork bologna or sausages, making it even more satisfying. Or you can eat bánh giò with cucumber and pickles to balance the flavor.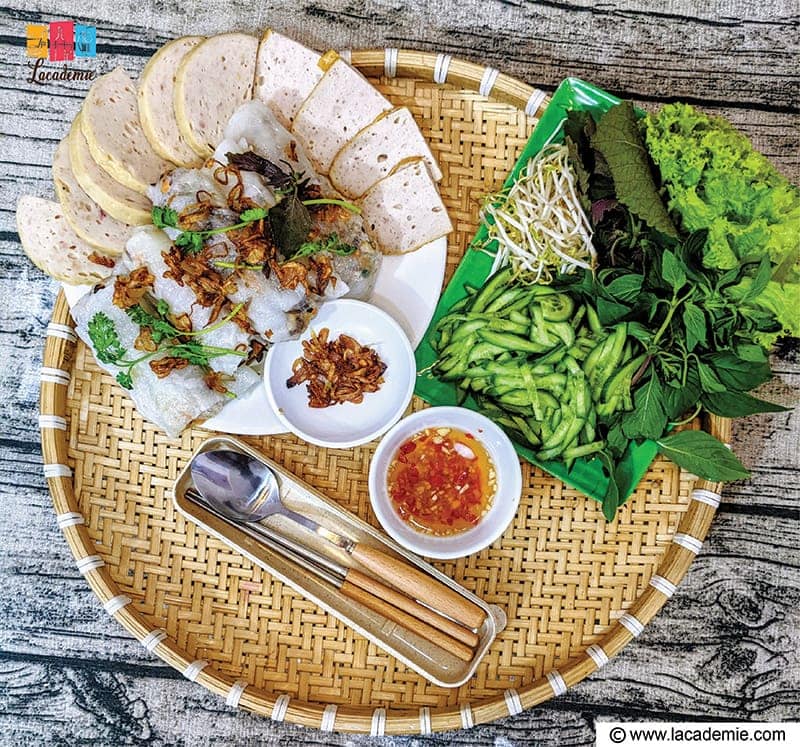 Bánh cuốn is a familiar breakfast or midday meal for Northern Vietnamese citizens. While the steamed rolled cakes themselves have little, people wrap them around minced pork, diced mushrooms, or beaten eggs to enhance their taste.
Also, no plates of bánh cuốn are complete without Vietnamese pork sausage (chả lụa), Vietnamese cinnamon pork pate (chả quế), and a bowl of dipping sauce. It's regularly eaten at room temperature, but in winter, the stores can heat the sauce before serving.
Total time: 1 hour
You can't visit Northern Vietnam, especially Hà Nội (the capital), without trying bánh tôm. This dish has been there for a long time, and every time people go to the West lake (hồ Tây), they'll try eating these fritters while enjoying the scenery.
Making them is easy, as you only need to deep-fry the batter containing shrimp and sweet potatoes. The vital part is making sure you get the perfect dipping sauce. The sweet, sour, and slightly spicy sauce will balance with the crunchy and rich bánh tôm.
Total time: 1 hour 30 minutes (excluding the marinating + drying time)
Dried apricots are only one branch of ô mai because nowadays, ô mai is made with numerous fruits: tamarind, dracontomelum, persimmon, etc. But dried apricots are still the most well-known type.
Also, based on each type, ô mai will have a unique flavor. Some can be sour, while some are sweet, and others are spicy. Because of its diversity, ô mai is the top pick of local people whenever guests come.
Total time: 2 hours
Cơm cháy used to be a way to utilize the leftover rice crust when cooking with an iron pot. People will fry it in hot oil until crispy and golden. From this simple snack, cơm cháy has become a must-try specialty.
Nowadays, the making process has become slightly more complicated. Cơm cháy, after being fried, will have another topping layer, usually pork floss (chà bông/ruốc), dried shrimp (tôm khô), scallion oil (mỡ hành), for more flavors.
4 Lovely Central Vietnamese Snacks You Can't Skip
Compared to the South and North, Central Vietnamese cuisine receives less recognition from foreign visitors. But that doesn't mean you can't find high-quality treats there. Let me prove it for you with these recipes.
Total time: 2 hours 55 minutes
Do you want to know why these dumplings have a transparent cover? The answer is the tapioca starch used for the dough. This way, eaters can see clearly what is inside the filling. Most of the time, it can be shrimp and pork.
In Vietnam, there are 2 types of bánh bột lọc, but they only differ in appearance. One has a leaf covering, thus named "bánh bột lọc lá" (dumplings with leaves). The other doesn't have any cover, so people call it "bánh bột lọc trần" (naked dumplings).
Total time: 1 hour 15 minutes
Don't mistake chạo tôm with nem nướng above. Although these two are both snack options going well with alcoholic drinks, this Vietnamese food is full of seafood flavor with shrimp paste/surimi and fish sauce.
And its appearance is pretty unique, as the locals skewer the paste with a sugarcane stick instead of regular ones. This way, when eating, you can bite into the sugarcane and enjoy its juicy and sweet flavor.
Total time: 55 minutes (excluding resting time)
If you aren't careful when eating these rice cakes, you'll end up devouring more than you intended. Each bowl of bánh bèo looks so tiny that you can easily scoop it all in one spoonful. And since it comes in individual bowls, it's a decent choice to share with your friend.
Also, bánh bèo can go with various toppings. The usual options are dried shrimp and fried shallots. I also recommend trying it with ground meat, diced mushroom, pork floss, etc., to diversify your snack party.
While bánh bèo looks delicate, it doesn't require many advanced skills to complete.
Total time: 2 hours
Even in Vietnam, a few people know that bánh ít is a relative of the famous Vietnamese square cake (bánh chưng) and Vietnamese mochi (bánh dày). It has the wrapping method of bánh chưng, and the ingredients are similar to bánh dày.
And don't look down on its humble size! Bánh ít is packed with tons of energy because it's made with glutinous rice and lots of oil. The dipping sauce for these dumplings is based on Central Vietnamese people's palates, so it's super spicy.
Vietnamese Snacks Will Open A Whole New World For You
It's hard to keep working, studying, or even hanging out when you're hungry. At that time, you can quickly grab a bite of these options above, and they will surely fill you up. And since they come in multiple versions, feel free to make them all and share them with your friends.
If you encounter any hardship when making these treats, just ask me in the comment section below, so I can answer you right away! And you can spread this article to any Vietnamese food lovers so more people learn about these treasures.
Nutrition Facts
4 servings per container
---
Amount Per ServingCalories555
% Daily Value *
Total Fat 13.5g

20

%
Cholesterol 15mg

5

%
Sodium 124mg

6

%
Potassium 868mg

25

%
Total Carbohydrate 106.7g

36

%

Dietary Fiber 4.7g

16

%
Sugars 37.7g

Protein 8.4g

16

%
---
* The % Daily Value tells you how much a nutrient in a serving of food contributes to a daily diet. 2,000 calories a day is used for general nutrition advice.