Vietnamese cendol dessert, also known as Chè Bánh Lọt, is a sweet soup that's been a staple in Vietnamese cuisine for years. This yummy treat comprises chewy, pandan-flavored jelly strips swimming in a sea of sweet coconut milk and topped with rich sugar syrup.
Summer is right around the corner, and everyone needs a cooling dessert to beat the heat, which is exactly what Che Banh Lot is all about! Stick with me to the end of today's post and learn a super simple recipe to whip up Vietnamese cendol dessert at home!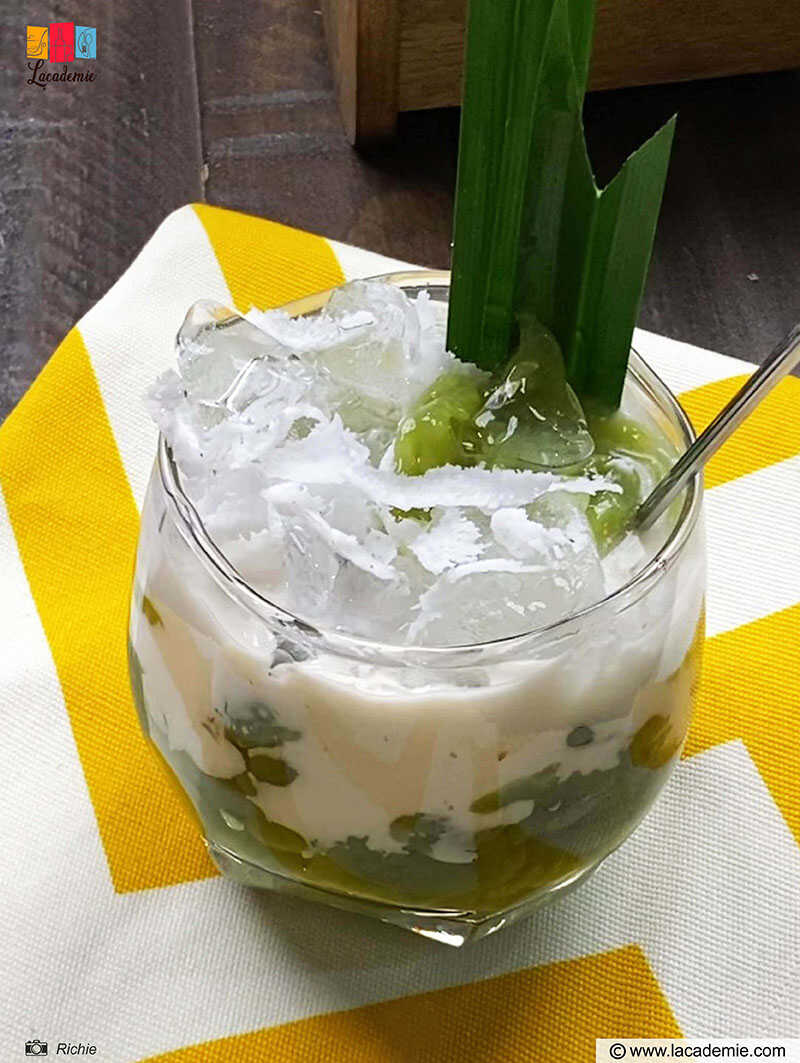 More About Che Banh Lot
Cendol is a widespread dessert across many countries in Southeast Asia, Vietnam included. The origin of this dish is relatively unknown, but many people believe that it initially came from Indonesia.
In Vietnam, this light and digestible dish is a favorite of people living in the southern areas, especially in the Mekong Delta. At its core, cendol is worm-shaped jelly made from a mix of rice flour and tapioca starch.
People also flavor this signature Vietnamese sweet treat with pandan juice to give it an appealing green color and a delightful aroma.
Besides the cendol, Che Banh Lot requires coconut milk and sugar syrup to make it a whole package. These two ingredients work together to create a luscious and sweet soup that serves as the perfect base for the cool and refreshing jelly.
The result is a flawless dessert that can easily beat the heat, even on the hottest summer days.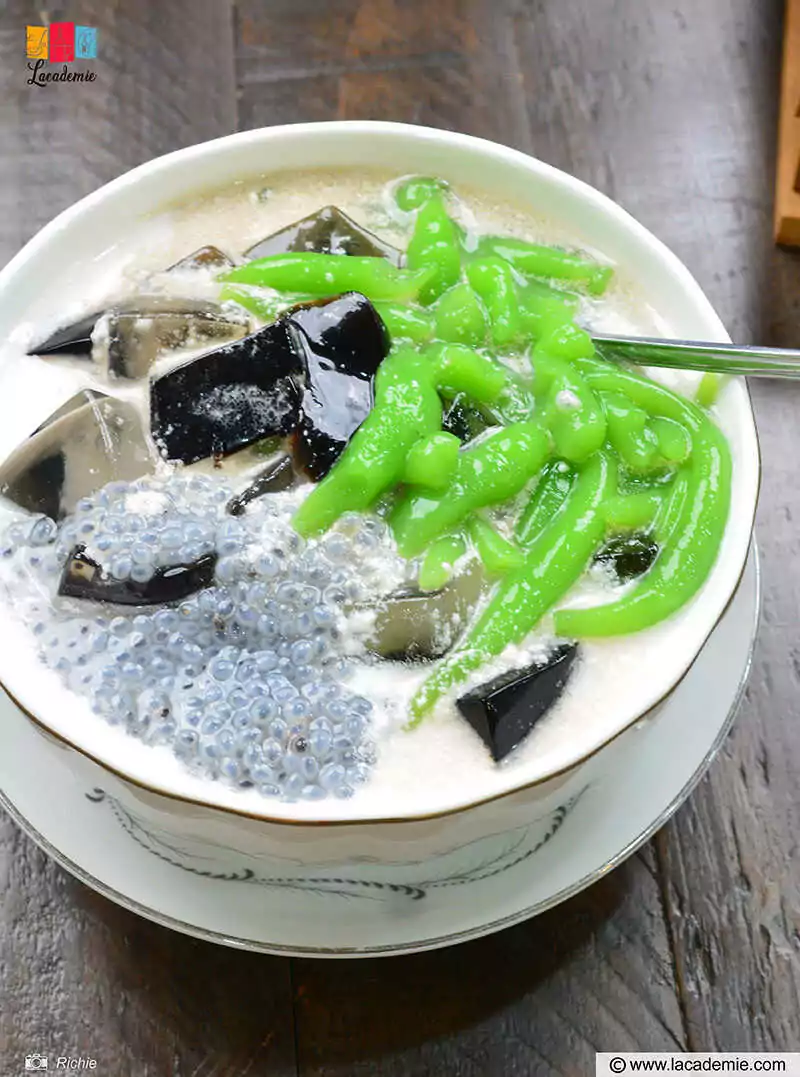 Tools
Having the right tools is the first and essential step in making Vietnamese cendol. Take a look at the list below!
Blender or hand blender: You'll need a blender to make a pandan leaves puree, which can then be extracted for the juice.
Nut milk bag: For filtering the pandan leaves puree.
Wooden spoon: For stirring the ingredients.
Pot and saucepan: Prepare a saucepan for making the cendol mixture and a larger pot for cooking it.
Coarse grater or slotted spoon: These tools allow you to create the worm-like shape of the jelly.
Other handy tools: Scissors, a slotted skimmer, and another pot.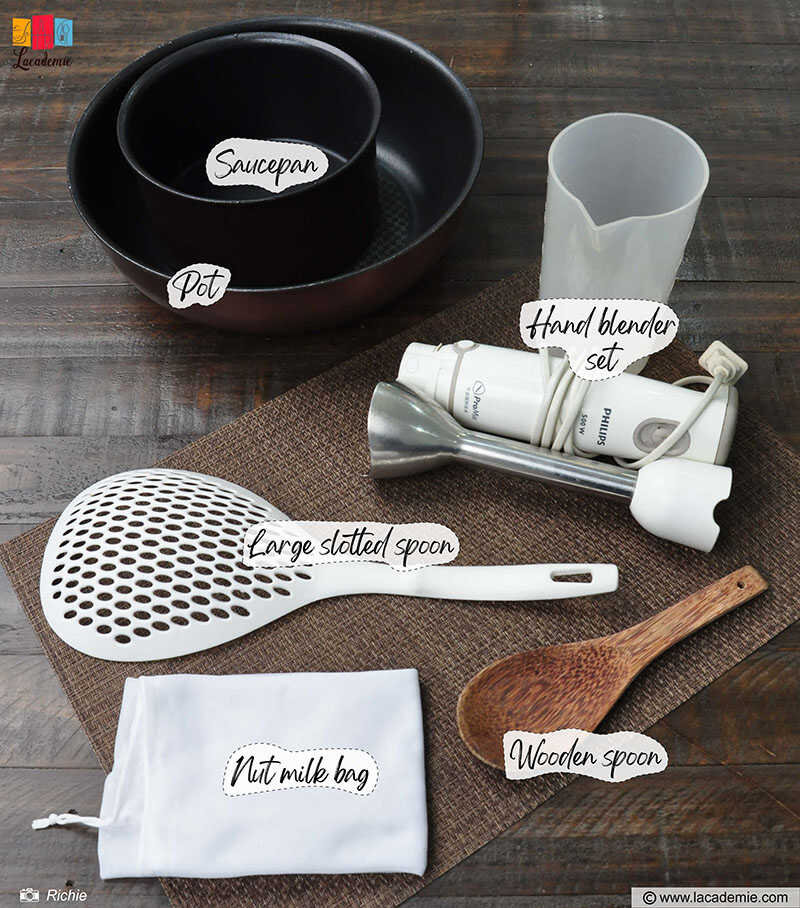 Ingredients
Here, you'll find all the needed ingredients for the cendol, the sugar syrup, and the coconut milk sauce.
Tapioca flour and rice flour: The two main ingredients for making the jelly. These two kinds of flour give your cendol a chewy texture.
Pandan leaves: For flavoring the cendol, adding more aroma, and creating a beautiful green color.
Grated coconut: For garnishing.
Other ingredients: Water, cooking, and a little bit of salt.
For the sugar syrup:
Ginger: Plain sugar syrup can be a bit boring, so I add a little ginger to level up the taste.
Palm sugar: Granulated or brown sugar are also acceptable alternatives. But palm sugar is undoubtedly the best choice.
Water: Prevent the sugar from burning.
For the coconut milk sauce:
Coconut milk: The main ingredients for the sauce. Coconut milk has a rich and slightly thick consistency with a coconut-y and slightly sweet taste.
Fresh milk: Add more richness to the coconut milk sauce. Use whole, unsweetened milk for the best result.
Cornstarch: Improves the texture of the sauce.
Sweetened condensed milk: The main sweetener. Don't use too much, though, as this milk can be very sweet.
Pandan leaves: Infuse the sweet coconut sauce with an incredible aroma.
Other ingredients: Water and salt.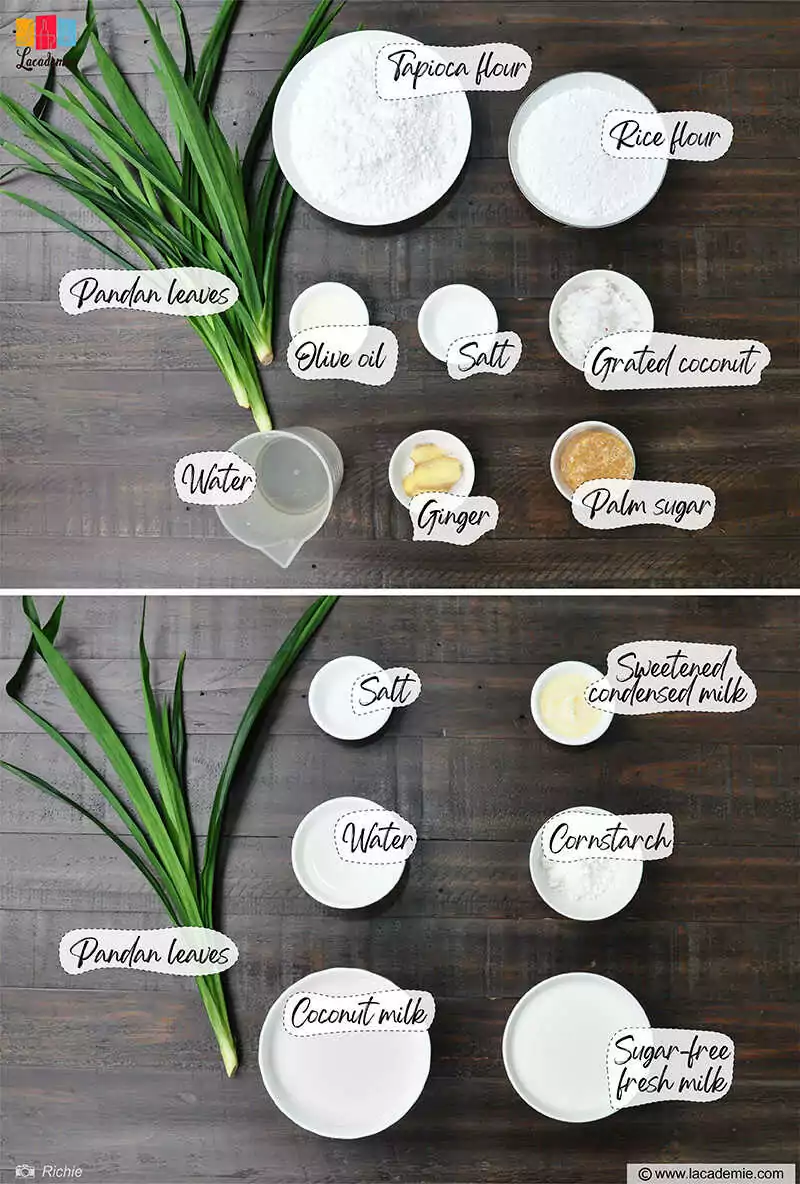 Directions
With the necessary tools and ingredients on hand, it's time to bring your tasty Che Banh Lot to life!
Step 1: Make The Cendol Batter
Wash the pandan leaves thoroughly, then cut them into small pieces. Blend the leaves with 2 cups of water until smooth. Then, add the pandan leaf puree into a nut milk bag and strain it for the juice.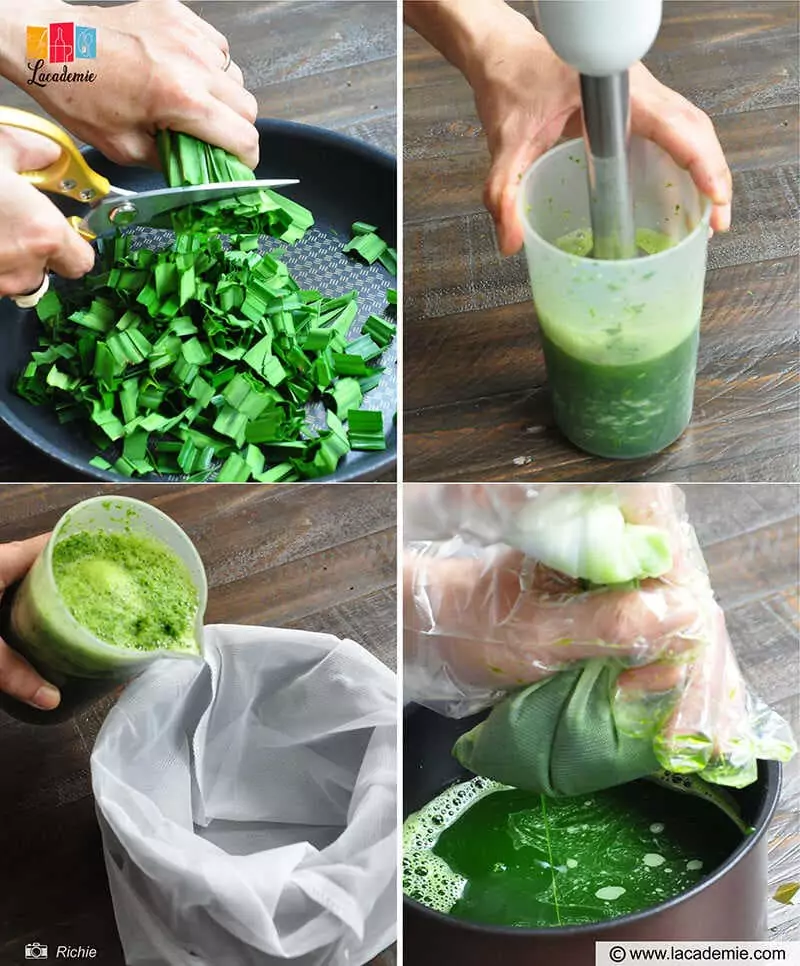 Next, add the rice flour to the pandan leaf juice and stir well to combine.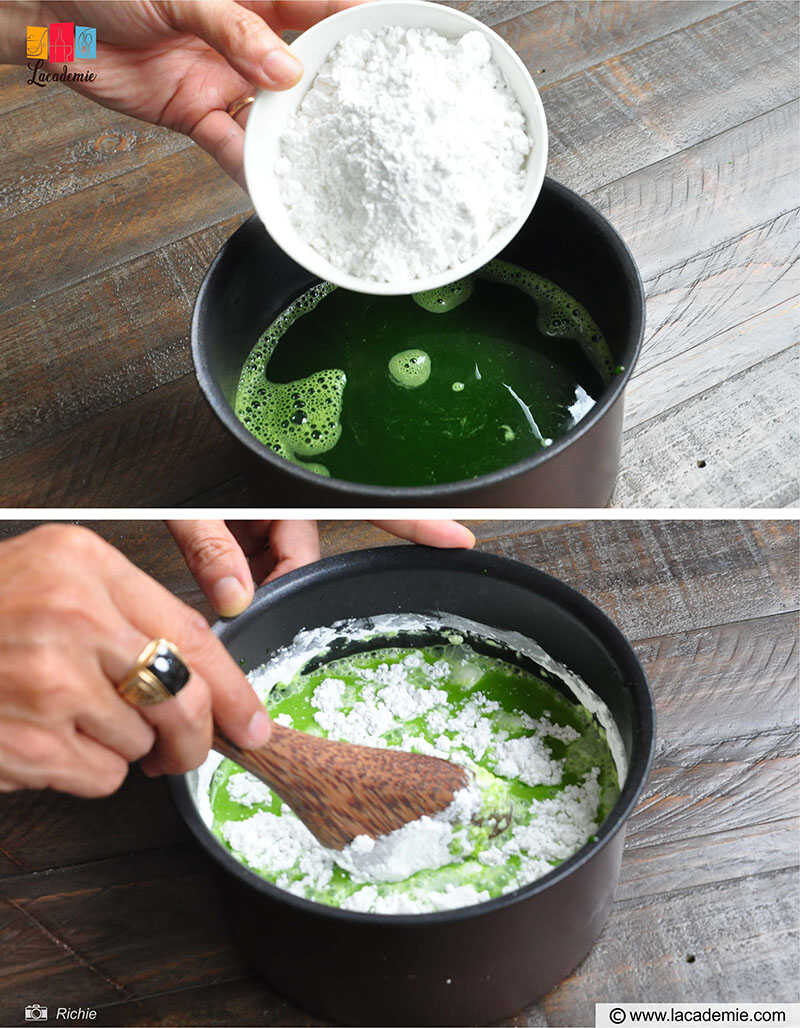 Cook this mixture over medium-low heat. Stir it continuously during cooking until the mixture thickens. Turn off the heat.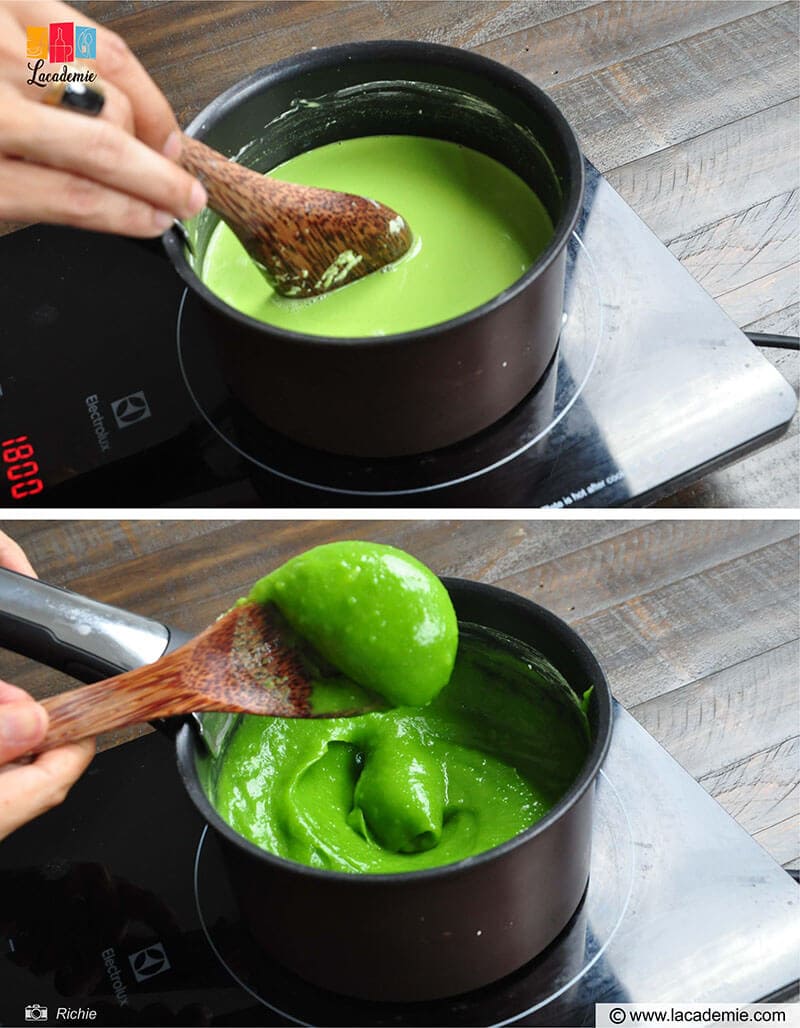 Next, add the tapioca flour, 2 teaspoons of oil, and 1 teaspoon of salt to the pandan and flour mixture. Mix well.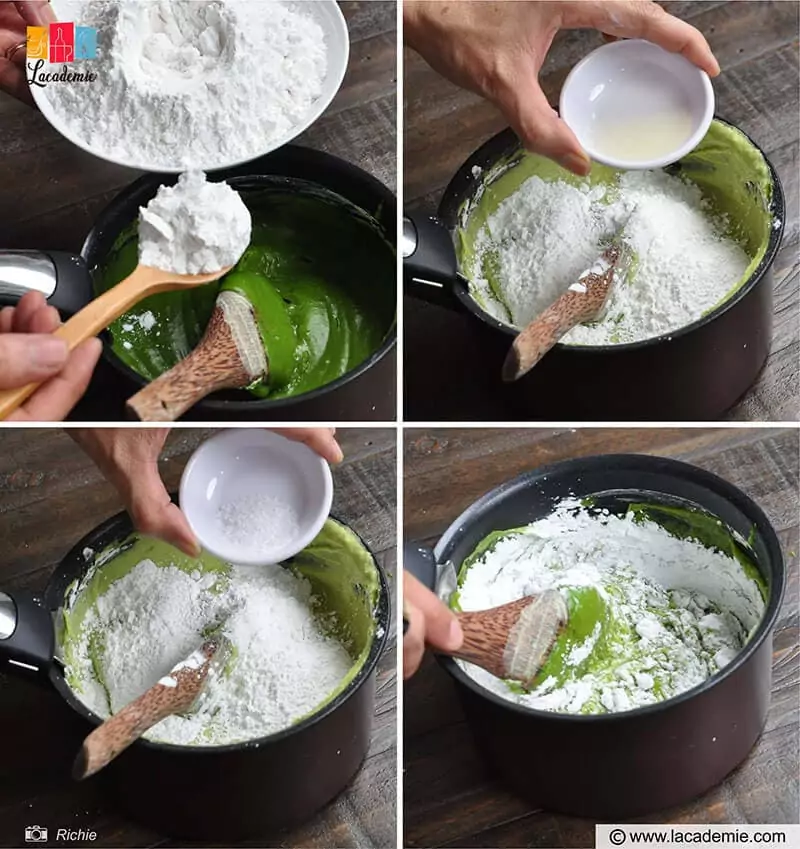 Step 2: Cook The Cendol
Prepare an ice bath and bring a pot of water to a boil.
When the water is boiled, scoop the batter on a coarse grater or slotted spoon, then press it through the slots using a wooden spoon.
Once cooked, the cendol will float above the water and has a beautiful transparent green color. Transfer the cooked cendol to the ice bath to prevent sticking and give it more chewiness.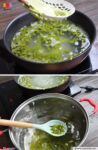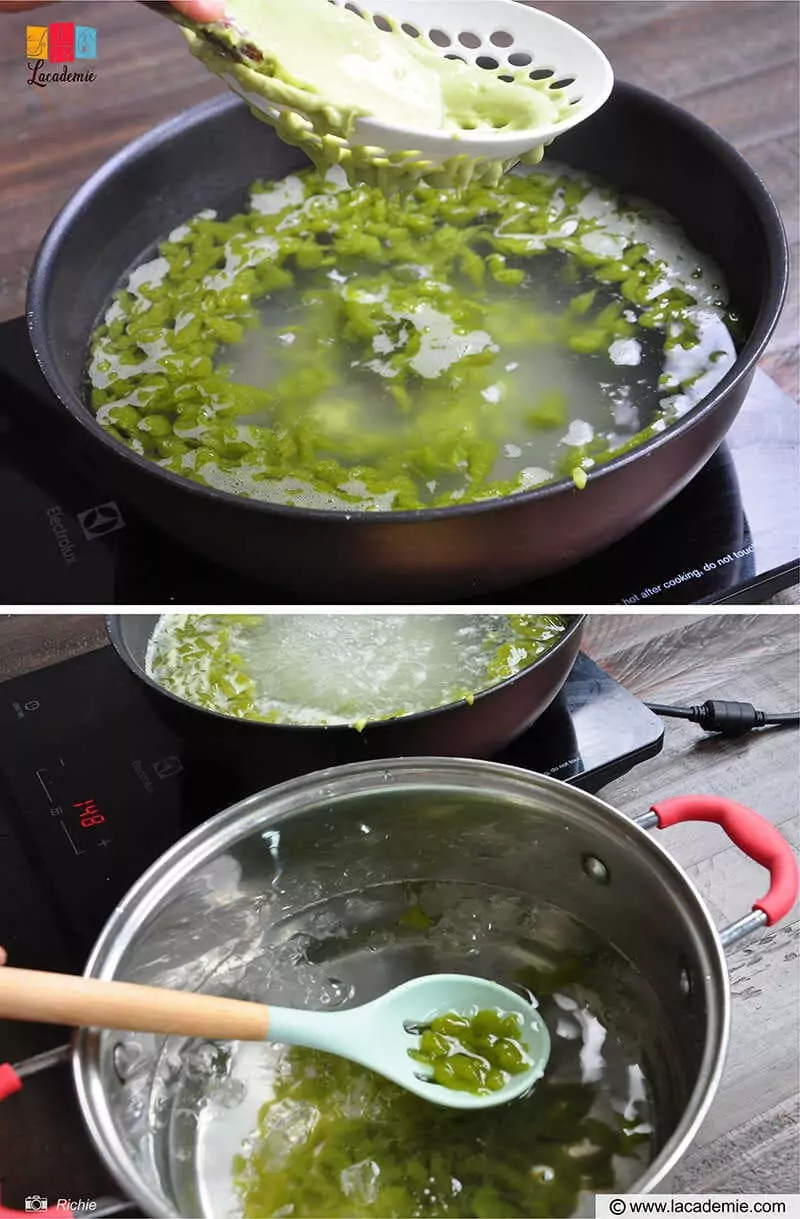 Since you will be cooking the cendol in multiple batches, remember to refill the ice to keep the water cold.
Step 3: Cook The Sugar Syrup
Boil about 1.25 cups of water with a few ginger slices for 2 to 3 minutes. Then, add the palm sugar and stir until the sugar is completely dissolved.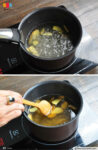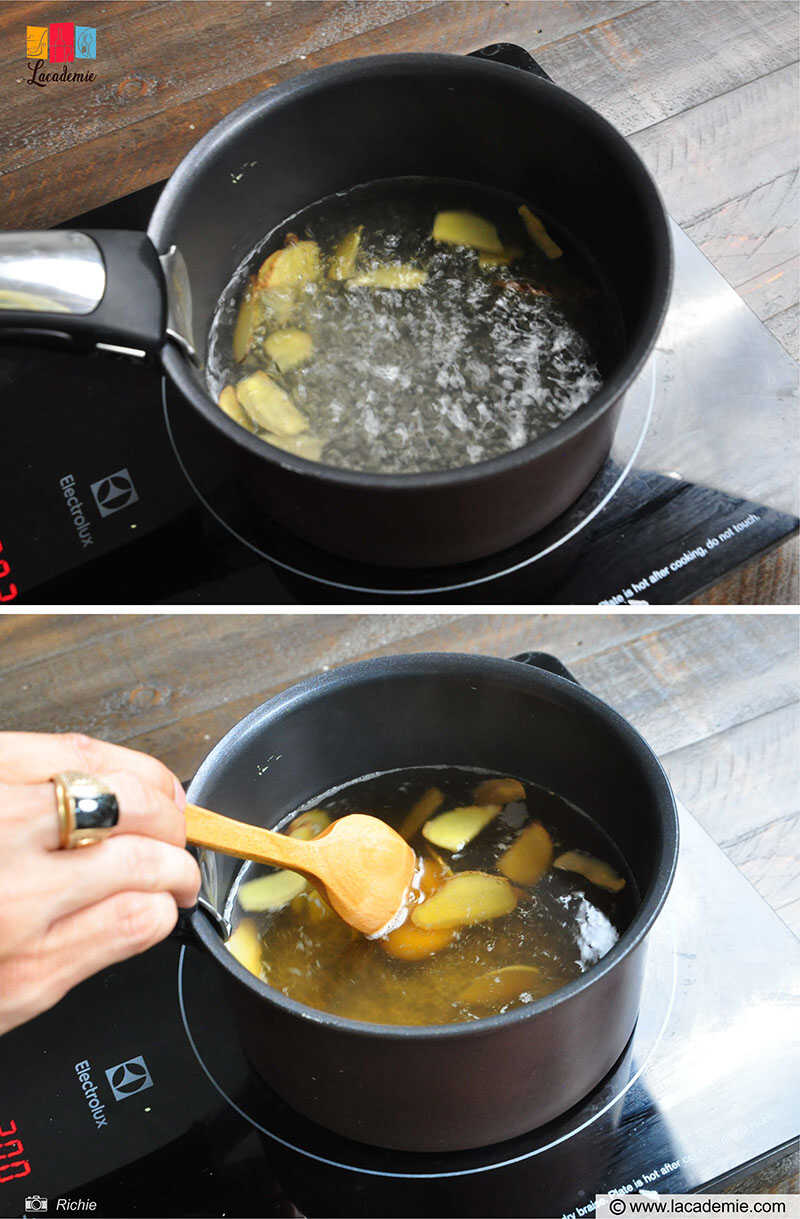 Step 4: Cook The Coconut Milk
Combine the cornstarch with about 3.5 tablespoons of water.
Boil the coconut milk along with the fresh milk, pandan leaves, sweetened condensed milk, and 1 teaspoon of salt. Once the mixture is boiled, reduce the heat to low and pour in the cornstarch slurry. Give it a stir, then cut the heat.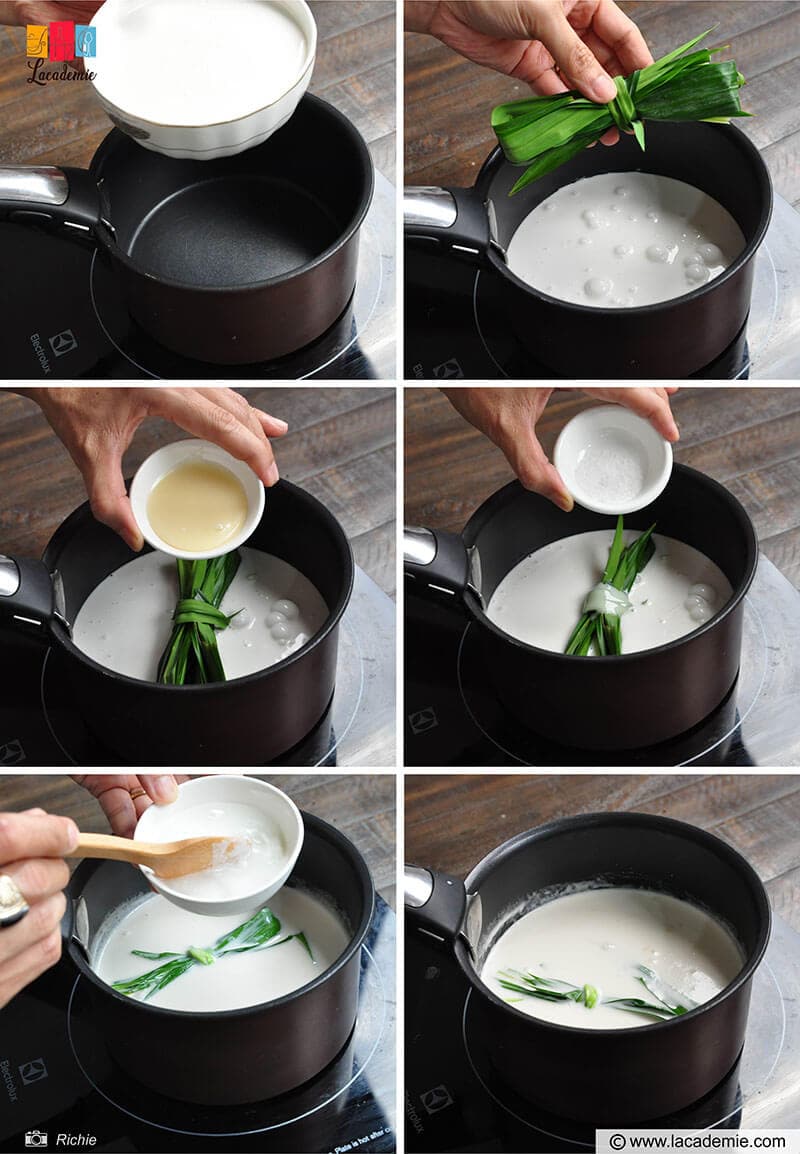 Step 5: Serve The Dish
Ladle the cendol into a glass and pour in the sugar syrup and coconut milk. Add some ice cubes and a little grated coconut on top. Enjoy!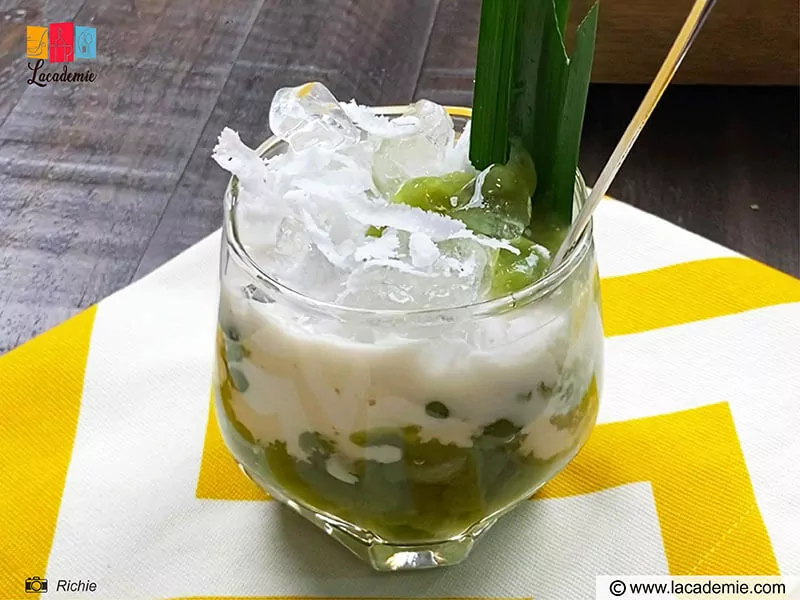 Notes
Don't miss these notes to ensure that your cendol dessert is a ten out of ten every time!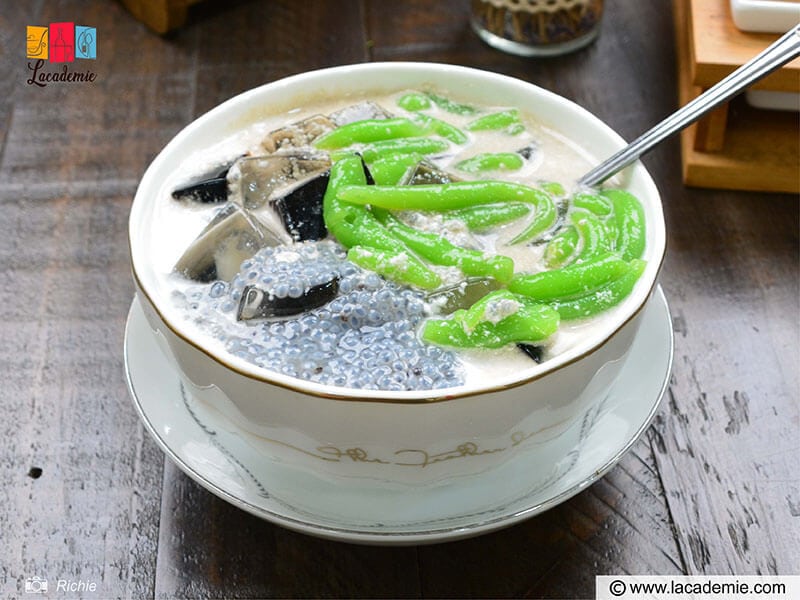 You can also shape the cendol using a potato ricer or a dedicated cendol maker if you can get your hands on one.
Once the cendol starts floating above the water, you should transfer them to an ice bath/cold water immediately.
It's important to keep the water cold to prevent your cendol from sticking together and losing its color.
Excellent Additions For This Dessert
Besides the ingredients in today's recipe, there are also other additions that you can put in the mix to level up your cendol dessert. Let's take a look at some notable choices.
Agar Agar: Transform the texture using this vegetarian-friendly, plant-based gelatin substitute, creating artistic, fruit-filled layers or fun shapes for added visual appeal.
Red Azuki Beans: Elevate your Che Banh Lot with colorful, protein-rich azuki beans, providing a delightful nutty flavor and a striking contrast to the cool dessert.
Grass Jelly: Experience a fun twist with this cooling, gelatinous ingredient, offering a delicate herbal taste and unique consistency alongside cendol noodles.
Pomegranate Seeds: Add vibrant, tangy-sweet flavor explosions with antioxidant-packed pomegranate seeds, enhancing both taste and health benefits.
Yellow Mung Beans: Integrate these staple Vietnamese ingredients for a velvety texture, gentle earthy flavor, and added nutritional benefits.
How To Store Properly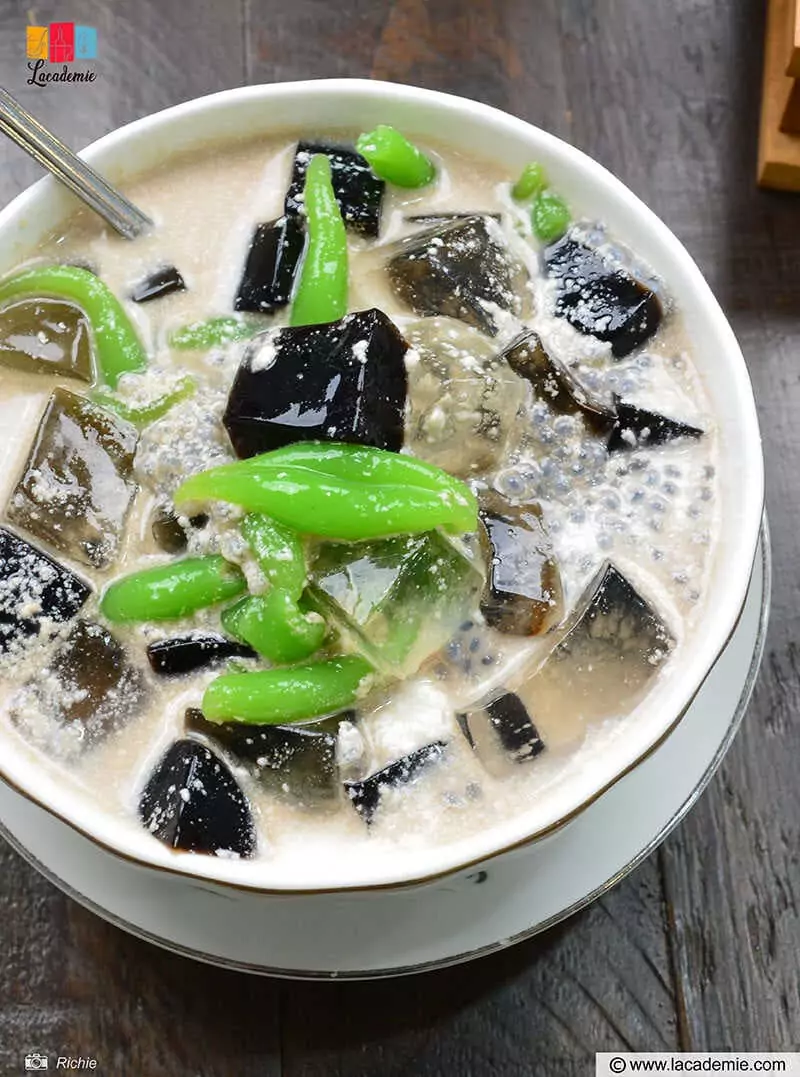 The first step to storing Che Banh Lot is to separate the three main components: the cendol, the sweet coconut milk, and the palm sugar syrup. Keeping them separate will help maintain their original texture and taste.
I recommend storing this dessert in a fridge for no longer than 3 days. Keep in mind that the cendol will gradually become less chewy.
Other Must-Try Vietnamese-Style Sweet Soup
If you find Che Banh Lot delicious, I'm sure you'll love the following Vietnamese sweet soups as well! Don't hesitate to give them a try!
FAQs
Before wrapping up today's recipe, don't forget to check out the most commonly asked question about this dessert/snack.
Discover The Magic Of Che Banh Lot
This scrumptious dessert artfully combines fragrant pandan-infused cendol with a creamy coconut milk sauce, showcasing the enchanting essence of Vietnamese cuisine. Che Banh Lot is not only a breeze to make at home but also offers endless possibilities for customization with various toppings and flavors.
If you find yourself enamored by today's dessert, be sure to like and share this post with your loved ones, so they can join in on the tasty adventure. Additionally, feel free to comment below, sharing your thoughts, experiences, or feedback on this delectable Vietnamese dish.
Nutrition Facts
5 servings per container
---
Amount Per ServingCalories487
% Daily Value *
Total Fat 14.5g

22

%
Cholesterol 3mg

1

%
Sodium 547mg

23

%
Potassium 219mg

7

%
Total Carbohydrate 87.4g

29

%

Dietary Fiber 2.6g

8

%
Sugars 23.8g

Protein 3.4g

6

%
---
Calcium

43

%
Iron

2

%
Vitamin D

8

%
* The % Daily Value tells you how much a nutrient in a serving of food contributes to a daily diet. 2,000 calories a day is used for general nutrition advice.