It is an exciting experience when exploring Kazakh foods. Therefore, it is time to gain all valuable information about the foods of this Central Asian country. I hope you will be satisfied with the dishes and knowledge I will introduce.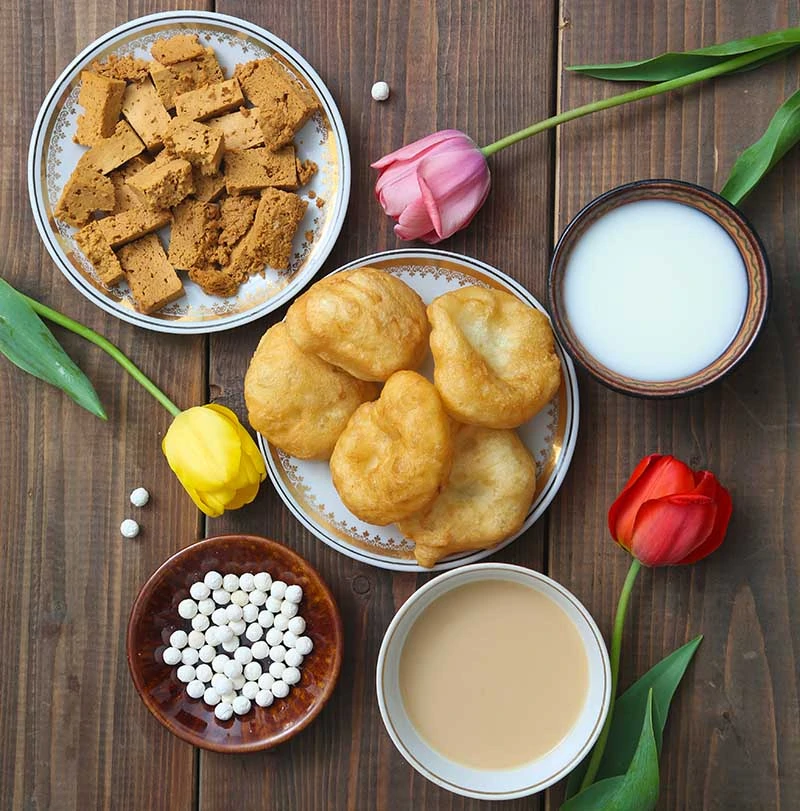 To not miss any crucial information, you should focus your mind on reading it. You will expand your knowledge about the most excellent Kazakh dishes. So keep reading till the end of the post.
1. Palau – Kazakh Pilaf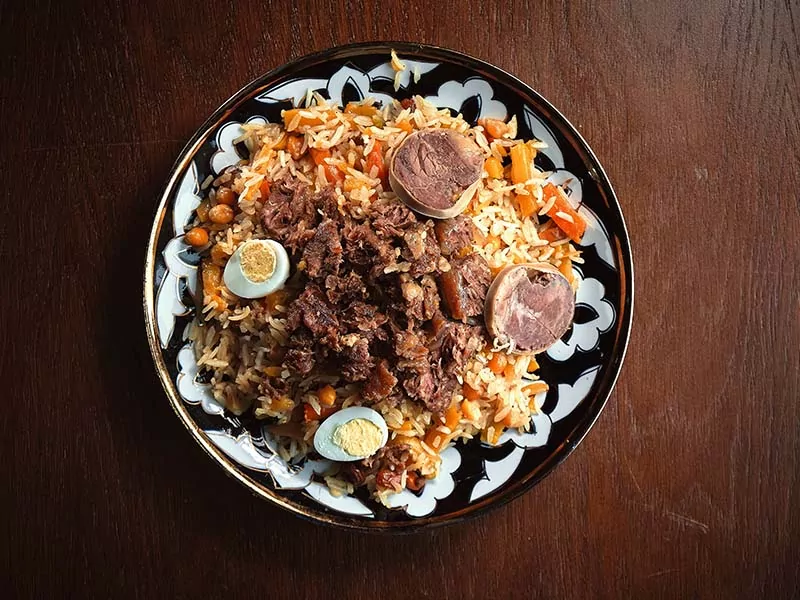 It is time to fill your hungry stomach with this wonderful Palau. It is also known as "Pilaf" and is a famous based-rice dish in many regions worldwide. The dish is a recipe from the Middle East and Central Asia.
Soft rice will become rich when cooked with broth, meat, spice, and veggies. This rice processing method was born from the time of the Abbasid Caliphate, and the first records appeared in the 10th century.
When you arrive in Kazakhstan, do not be surprised when the restaurant does not carry chopsticks and spoons when serving because you will eat Palau by hand.
2. Lagman – Traditional Beef Soup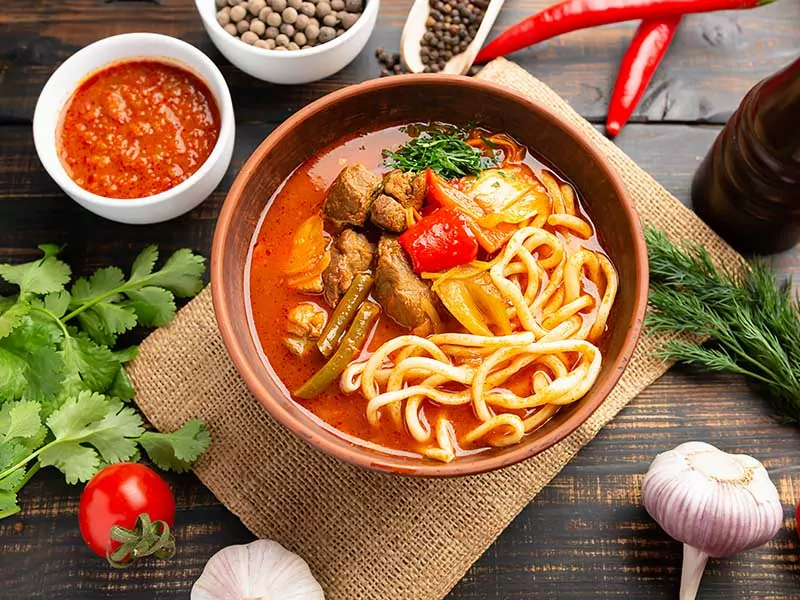 Lagman is a great Kazakh dish for lunch you have to try. These famous hand-pulled Uyghur noodles include goat, beef, lamb, and various vegetables.
You will easily find it in Central Asia and northwest China. This food has many different versions, such as soup, stir-fry, or stew. The stir-fried variant is especially well-loved in Uzbek food culture.
However, stir-fried Lagman is the most famous version in Kazakhstan. This amazing noodle comes from the Xinjiang region in northwest China. This is an essential area of the Silk Road, so this food has become popular in various parts of the world.
3. Kuurdak – Braised Meat and Potatoes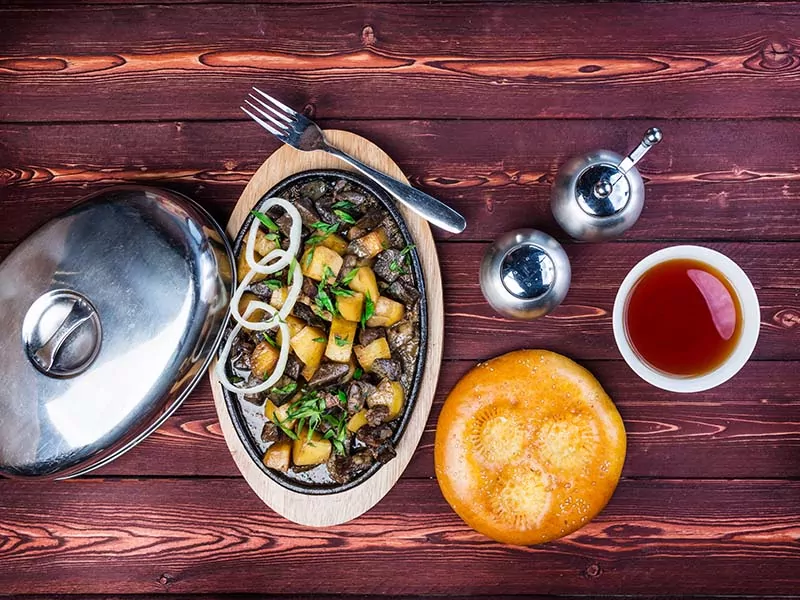 Referring to Kuurdak, you will think of the food with roasted meat as a significant element. Moreover, you will find the flavor of offal, garlic, and potatoes in this fantastic dish. Although it comes from Kyrgyzstan, it is warmly loved in Kazakhstan.
It will have many other names in different regions, such as Gowurdak, Qordak, and Qovurdoq. Its name means "roast" or "fried", which is how the food is created. Kazakhstan's Kuurdak version will use sheep's kidneys, heart, liver, and lungs.
4. Sorpa – Kazakh Soup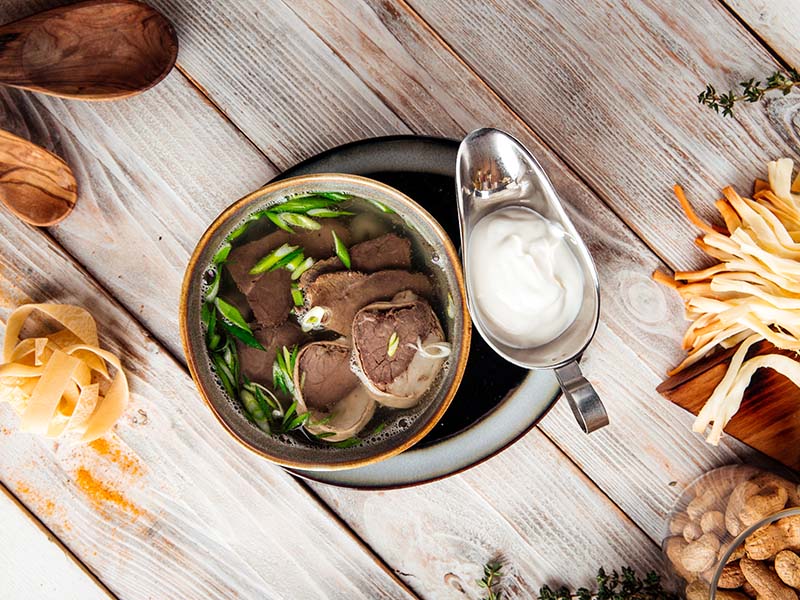 Sorpa is a great option for your breakfast in Kazakhstan. This rich soup is a typical dish in Central Asian countries, the Middle East, the Balkans, and the Indian subcontinent. You can eat it alone or combine it with bread.
This awesome recipe consists of meat and vegetables stewed for an extended period. Its name "Sorpa" comes from the Arabic word "Shurbah", which means "gravy". There are various types and variations of it in different regions.
5. Beshbarmak – Boiled Meat with Noodles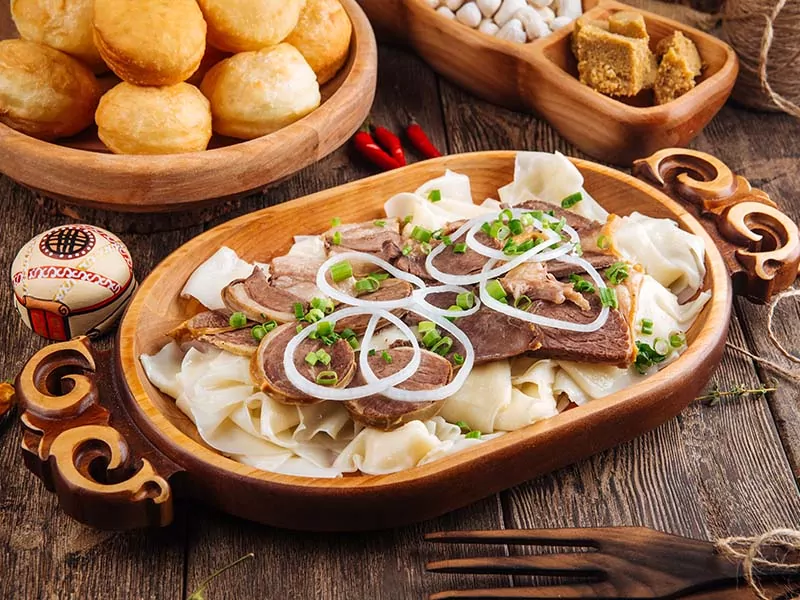 The list of amazing dinner dishes in Kazakhstan won't be complete without Beshbarmak. It is a national recipe of Kazakh cuisine. Boiled meat is the most critical element, and it becomes richer when combined with chyks (sauce made up of onions, salt, and meat broth).
In Kazakhstan, the chef often uses horse meat, mutton, or beef to make this food. It is associated with the nomadic tradition of Kazakh people when they will raise cattle rather than cultivation.
Its name means "five fingers", which shows the use of hands to eat this dish of nomadic people.
6. Koktal – Smoked Freshwater Fish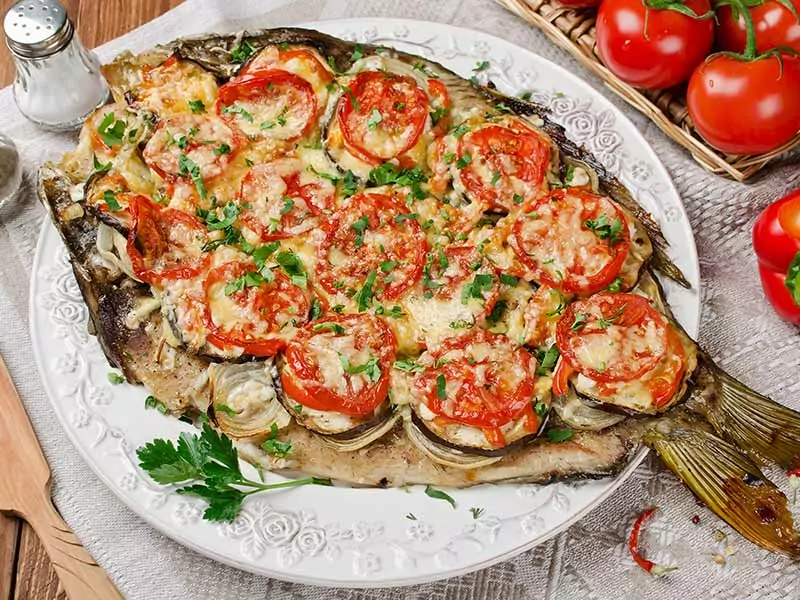 If you want to enjoy the fish in Kazakhstan, Koktal is a hint you should not ignore. The characteristic smoke flavor of this food will leave an unforgettable aftertaste in your mind. The name "Koktal" means "green willow", which also makes it unique.
The use of willow branches will leave a delicate and charming aroma for fish after grilling. Fish for this food are usually freshwater fish weighing about 4 to 5 kg. In particular, its bone must be large to handle manually when processing efficiently.
7. Nauryz Kozhe – Kazakh Soup Dink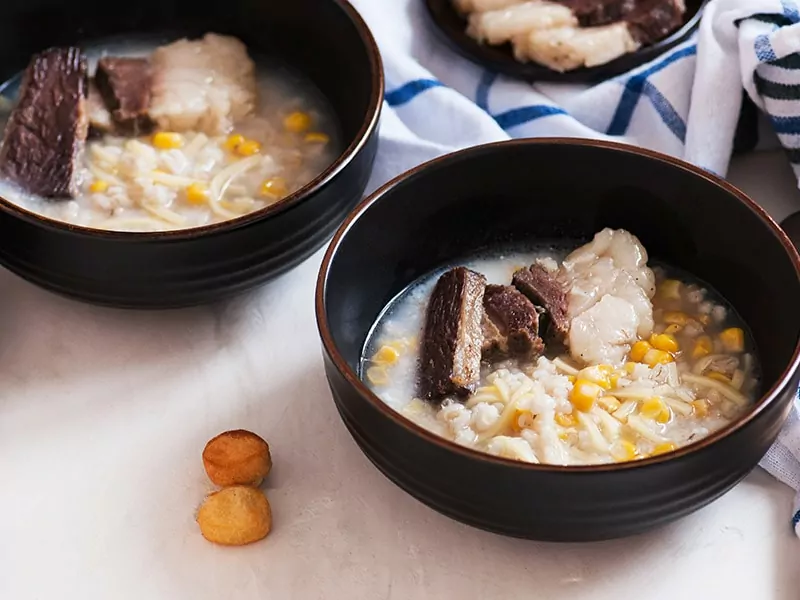 Nauryz Kozhe is one of the oldest dishes in Kazakh cuisine. This national food is an indispensable option for the Nauryz holiday on March 22. This mouthwatering recipe includes 7 compulsory foods: milk, oil, millet, rice, raisins, corn, and meat.
Kazakh people enjoy this food during the New Year because it symbolizes prosperity and wealth in Kazakh culture. Furthermore, you can find many different food variants depending on the region and the person processing it.
Listen to some exciting information about the awesome Nauryz Kozhe.
8. Manti – Steamed Dumplings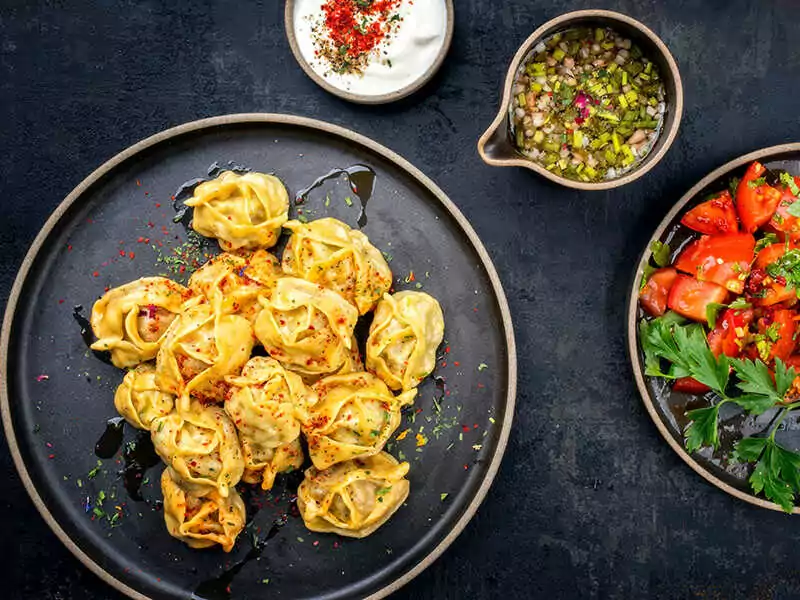 It is a pity not to mention Manti in famous Kazakh foods. This fantastic recipe appears widely in other Central Asian countries, South Caucasus, and the Balkans. You will immerse yourself in the softness of the thin dough and the rich taste of meat fillings.
In Kazakhstan, the chef often uses minced lamb to make the filling, and a bit of black pepper and chopped pumpkin will enhance its flavor. Manti has many different shapes and sizes depending on the region.
There is no exact information about the origin of this food. Many views said that it originated from the territories in the Mongol Empire. However, some other opinions said it was the result of the Uyghur in northwest China, and it is also said to be born in the Middle East.
9. Kurt – Fermented Milk Chalk Balls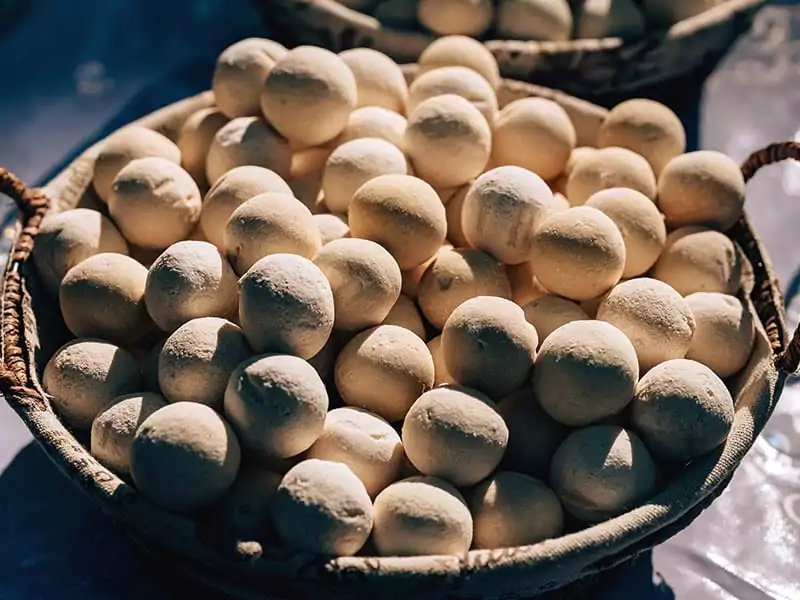 Kurt is one of Kazakhstan's typical dishes. This exceptional cheese recipe is made from the milk of goats, cows, sheep, or camels. It appeared in Kazakhstan in the Middle Ages and became an essential snack in the daily meals of Kazakhstan people.
You will easily find Kurt as small balls. When you enjoy it, you will feel its intense salty taste due to its high salt content. Moreover, it is an abundant calcium supplement for your body after enjoying it. And you can catch it in stews, soups, or salads.
10. Shelpek – Fried Flatbread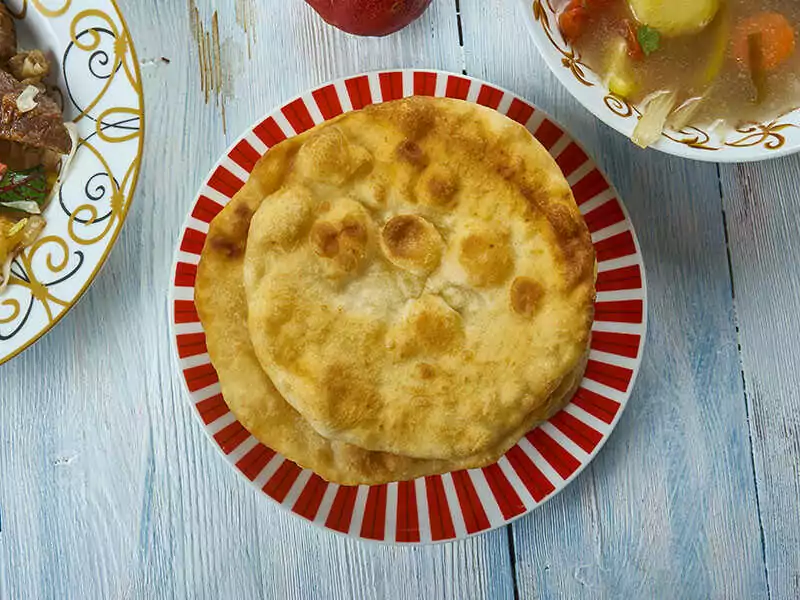 Shelpek is a typical and well-known flatbread across Central Asian countries. To make this tasty dish, the chef will use flour, sour cream, milk, salt, and sugar. You will love the disc-shaped bread with eye-catching golden brown after being fried in hot oil.
In addition, a few bakers will use yeast in this recipe to help the dough keep its softness for a long time. Kazakhstan people will give seven Shelpeks to friends and neighbors on Fridays as this is the most sacred day of the week in Islamic culture.
11. Shalgam – Radish Salad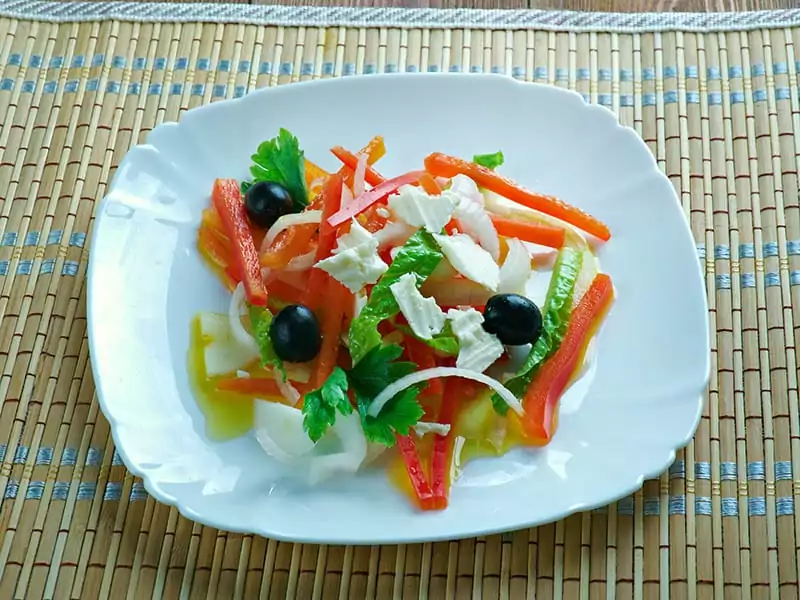 If you are looking for a delicious vegetarian dish from Asia, Shalgam is an excellent suggestion for you. It is a national salad originating from Kazakhstan. You can combine this fantastic dish with many other recipes like Beshbarmak and meat dishes.
The main ingredients to create this delicious salad are vegetables like radish, bell pepper, carrots, onions, and garlic. Especially, it becomes more flavorful with a dressing made from sugar, white wine vinegar, salt, and pepper.
You can enjoy cold Shalgam or at room temperature.
12. Chechil – Braided String Cheese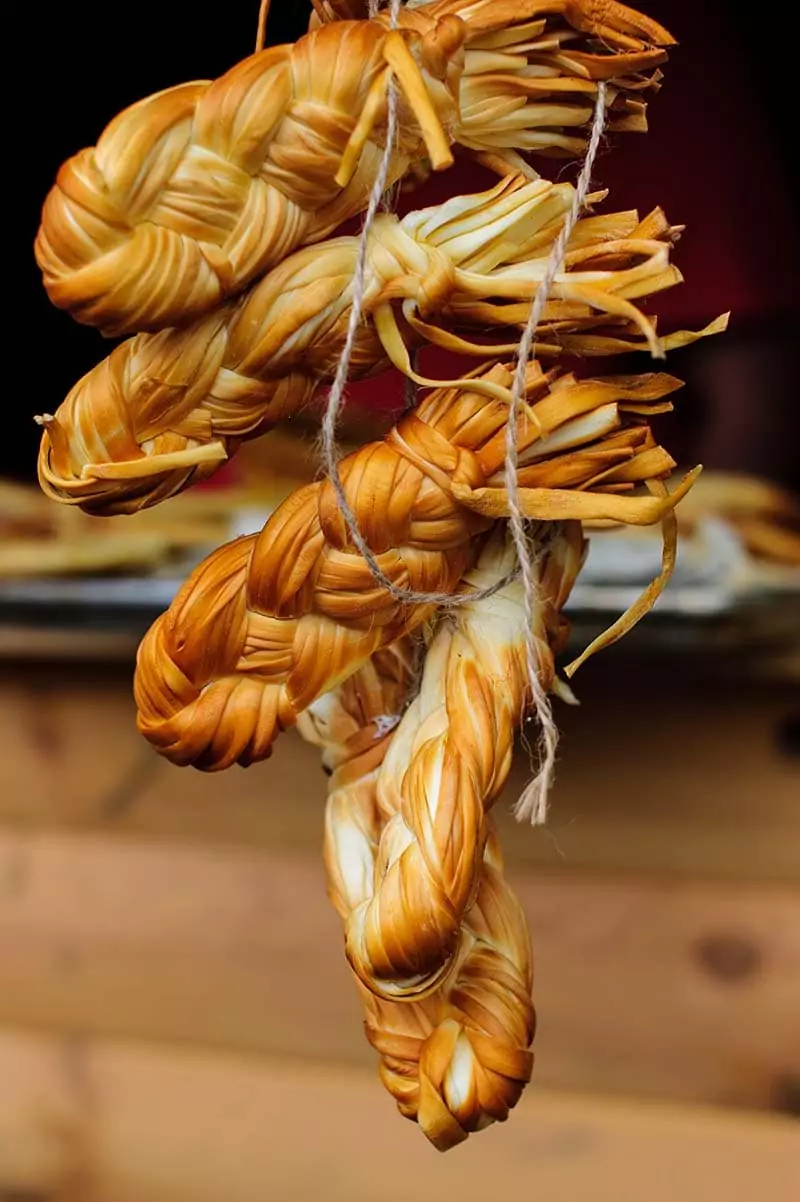 When you go to the bars and pubs in Kazakhstan, you will encounter a kind of white cheese that looks like spaghetti noodles, Chechil. It is a stringed cheese originating from Armenian cuisine and popular in Central Asia, Russia, and European countries.
Its texture is pretty similar to Mozzarella. You can find it in an eight-figure shape. Before serving, the chef will soak the cheese in brine or smoke in some cases to bring the characteristic flavor to this snack.
13. Tandyr Nan – Disc-Shaped Flatbread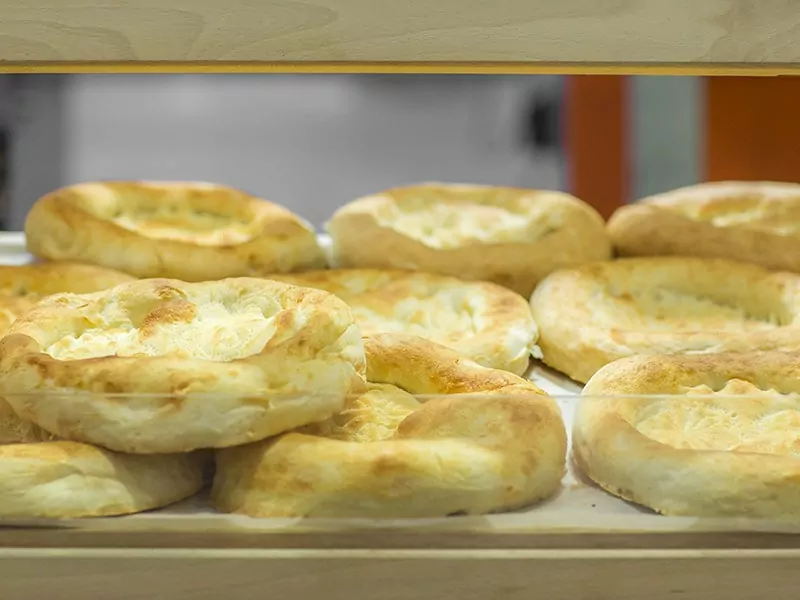 Tandyr Nan is a fantastic snack option that you should consider. You will be impressed with its disc shape. This delicious bread is a Central Asian version of famous Naan bread, and it is processed in a tandyr (tandoor).
In various regions, it has many other names, such as Tandir Non, Tonur Non, and Patyr Nan. Its flavor becomes more attractive with the appearance of eggs, sesame, or nigella seeds.
You can choose plain versions for breakfast and combine heavier versions with salad and meat foods for lunch and dinner.
Damdy Nan is a smaller version with eye-catching decoration and is often prioritized by Kazakh restaurants for serving. In particular, the chef used two metal pans to process the first Tandyr Nans.
14. Kazy – Horse Meat Sausage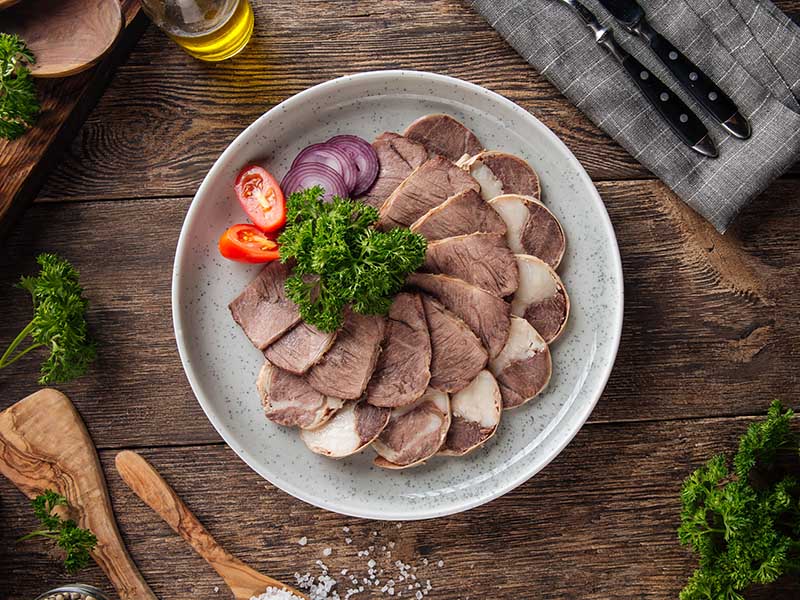 Kazy is a traditional sausage variety of Kazakhstan and many other Central Asian countries like Kyrgyzstan and Uzbekistan. Horse meat is the primary ingredient that creates this appealing sausage. Kazakh people will mix meat and the fat of horse's rib to get an excellent Kazy.
After being marinated with spice-infusing components, such as salt, garlic, and pepper, the meat will have an intense and charismatic flavor. The chef will stuff the meat into brined intestines, smoke it for a few hours, or dry it in the sun for a week.
You can eat Kazy cold and combine it with Beshbarmak.
15. Zhaya – Dried Horse Meat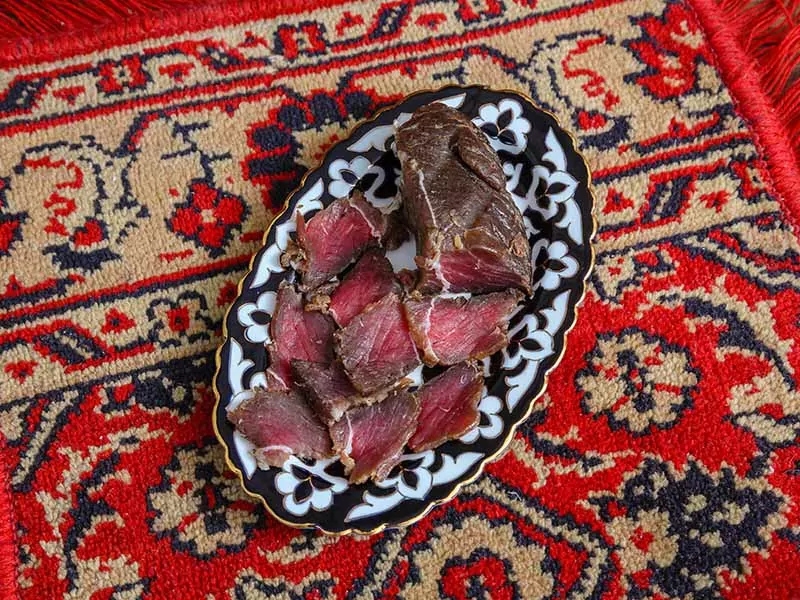 Horse meat is a popular food in Kazakhstan with many amazing dishes created from it, and Zhaya is one of them. Horse rump will be stored in spiced cold water for 2 days to bring out the meat's salty taste and rich flavor.
Before serving, the chef will boil meat at a low temperature for about 2 to 3 hours. After that, It is time for you to experience the tenderness of these slices of horse meat. This recipe usually appears on the snacks or appetizers menu.
16. Baursak – Fried Dough/Bread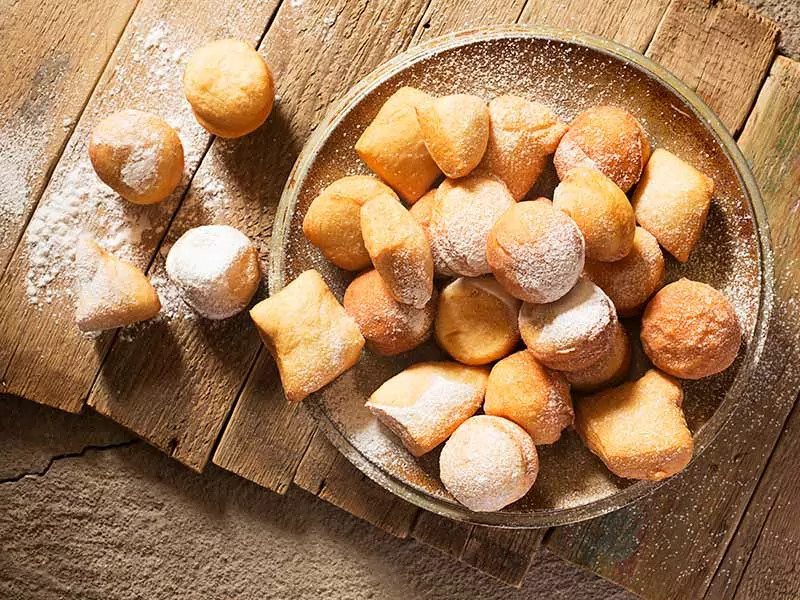 Baursak is an indispensable option in the menu of incredible Kazakh desserts. Flour, yeast, margarine, eggs, and sugar are the primary components of this amazing dessert. It is excellent to enjoy Baursak with a cup of tea, honey, or butter.
This delicacy is associated with Kazakhstan people in special events, such as memorials and weddings. A Baursak competition in Almaty created 856 kg of Baursak and was recognized as the World Guinness Record for the most made Baursak in one day.
17. Shubat – Fermented Camel's Milk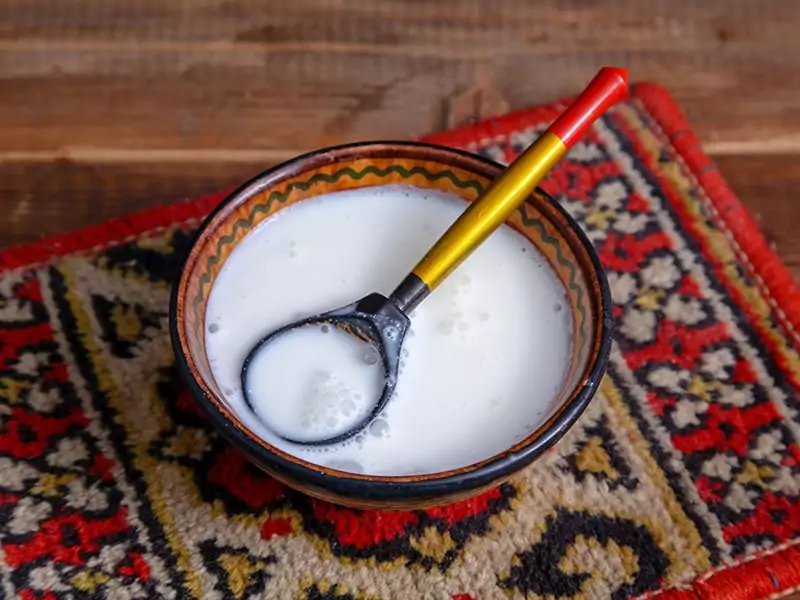 When it comes to Kazakhstan, it is impossible not to mention Shubat. It is a famous Turkic beverage in many Central Asian countries. Chal is another name for it in other nations such as Turkmenistan. In particular, it is a common choice for hot summer days in Kazakhstan.
Camel's milk is the primary component that creates this attractive dessert drink. You will be addicted to the gentle sour taste of fermented milk and its dense and smooth texture.
Shubat is a practical option for your digestive system and skin health with vitamins, proteins, and minerals.
18. Shalap – Fermented Milk Drink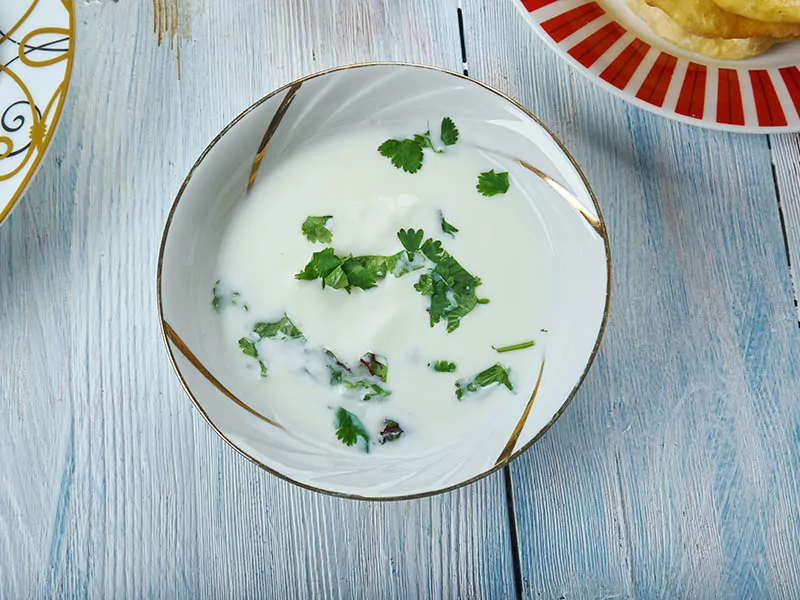 Shalap is a fantastic invention of Kazakh cuisine. It combines salt, water, yogurt (qatiq), or Kurt. When traditional versions were first born, regular water was the material used. However, Kazakhstan has replaced it with carbonated water for modern versions.
Besides Kazakhstan, Shalap is also famous in other Central Asian countries like Uzbekistan and Kyrgyzstan. You can enjoy the Shalap version made from herbs that look similar to cold soup.
In terms of its flavor, you will love this summer drink's gentle sour, salty, and smoky taste while trying it.
19. Chak-Chak – Fried Honey Cake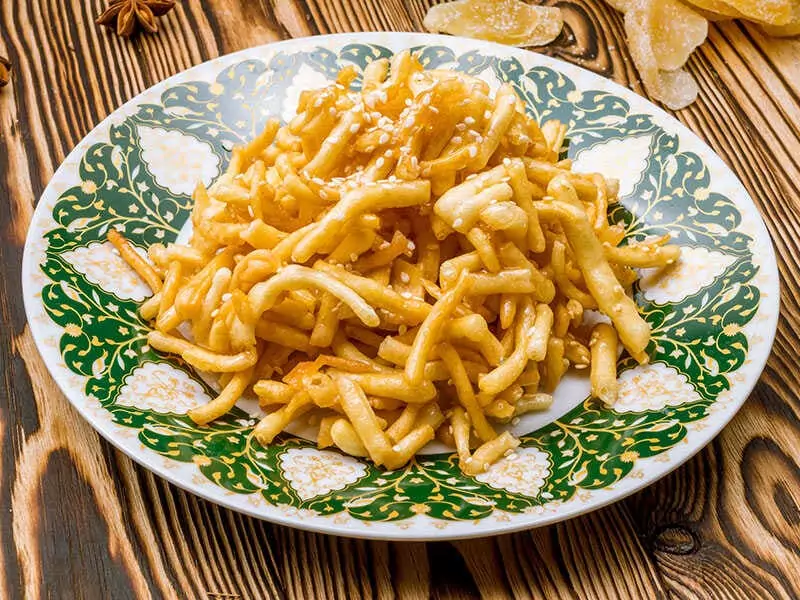 Most Turkic peoples in Kazakhstan and other Central Asian countries prefer Chak-Chak. It is a long-standing dessert originating from Tatarstan (a republic in Russia). This sweet dessert recipe comprises flour, eggs, butter, milk, and honey.
Besides the sweetness, the typical aroma of honey will leave an indelible impression. Originally, Chak-Chak was made up of soft dough in short sticks or balls and fried in oil to get perfect crispiness. Bathing in honey will bring a natural sweetness to the food.
It is time to learn how to make incredible Kazakh Chak-Chak pie.
20. Irimshik – Sweet Cottage Cheese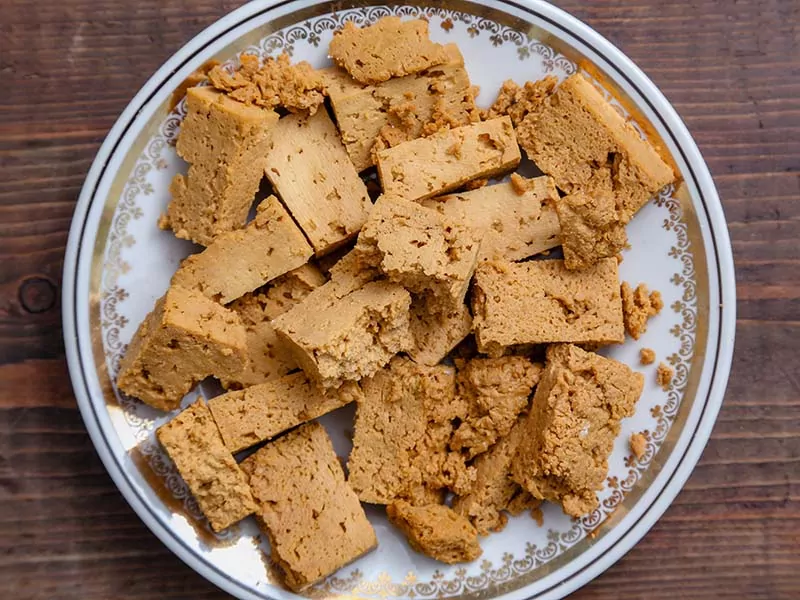 If you are looking for a sweet and delicious dessert from cheese, Irimshik is an ideal choice that you should experience. It is a national dessert of Kazakh cuisine. The name "Kyzyl Irimshik" is derived from its distinctive reddish-golden shade.
Cottage cheese is the crucial component of this dessert. In particular, although there is no appearance of sugar in this recipe, you will feel its enchanting sweetness. Its soft texture will fascinate you immediately.
21. Zhent – Millet Dessert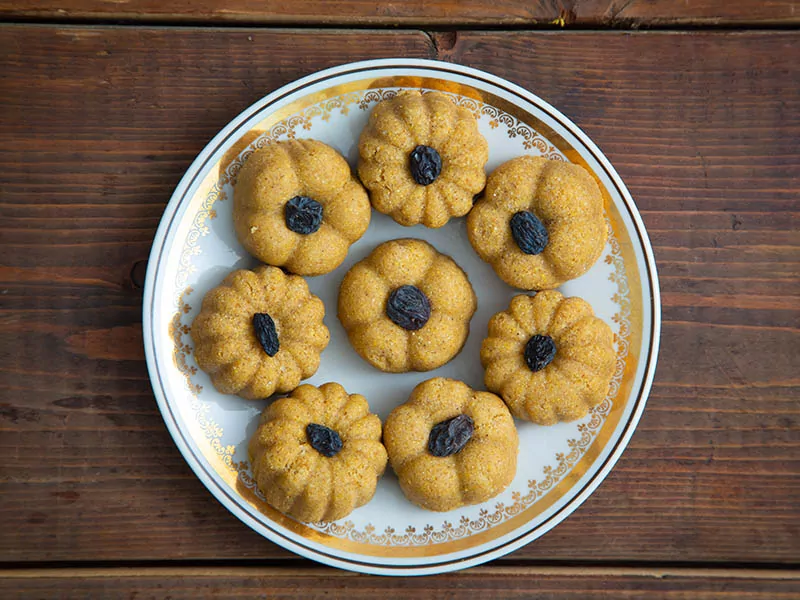 Zhent is one of the typical and classic desserts of Kazakh cuisine. This fantastic food is a perfect combination of ground millet, sugar, melted butter, and condensed milk. Moreover, the appearance of raisins, nuts, or honey will enhance its taste.
You will fall in love with the enchanting sweetness while enjoying this dessert. It is good to eat it with a hot drink like coffee or tea. Especially if you want to cool your body down, you can eat cold Zhent.
This recipe is associated with children when it is cooked after the birth of a child, shilde toi (celebration of the child's birth), besik toi (first laying of a child), and qyrkynan shygaru (forty days after the child's birth).
---
Do you like the foods I have shown? Besides the fantastic dishes I have introduced, there are still many other tasty recipes waiting for you to discover if you have a chance. Please refer to this post if you plan to travel to Kazakhstan in the future.
Do not forget to share other great recipes and your inquiries in the comment section. In particular, let's help others know this helpful information by sharing it. Thanks for your time!