Without these delicious types of sausage, your summer BBQ party is not complete. They are juicy, cook up quickly, and are suitable for both children and adults. There's nothing as perfect as a link of sausage with grill marks all over it.
Of course, the world has more than just chorizo or bratwurst. With over a hundred variants, it is time for something new, such as the smoky kielbasa, a dish that comes from Poland, or sobrasada made from blood. Scroll down and explore now!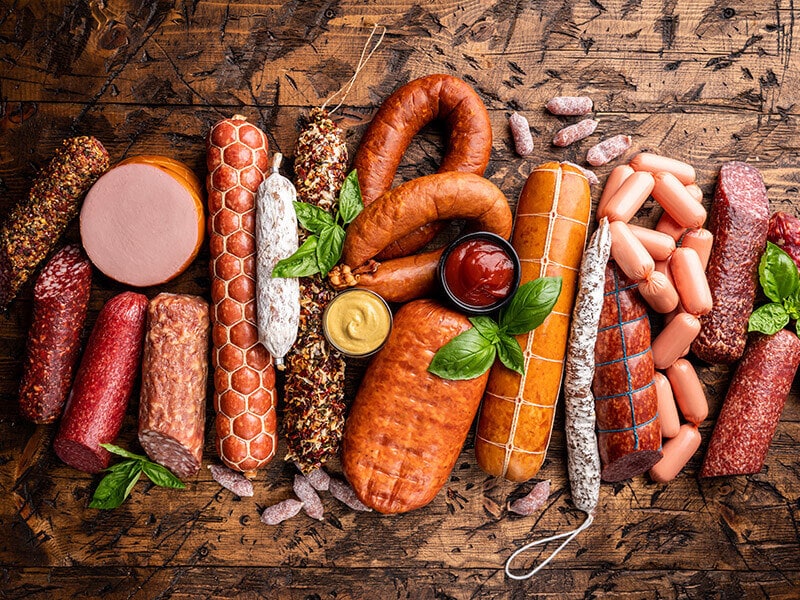 Don't Miss Out On These Delectable Hot Links
Who doesn't like sausages? They make even the busiest mornings more enjoyable and jazz up all sorts of gatherings. In addition, making sausages from scratch is super effortless; they also cook up beautifully – whether boiled, grilled, or pan-fried.
Sausages come in different sizes and shapes and are characterized by the use of meat and seasonings. That said, the sausage family has hundreds to thousands of members, and below are some of the faces, and I would like to introduce you.
Note: When it comes to the world of sausage, you cannot describe the taste of sausage with pinpoint accuracy because it depends on the use of herbs and spices, the type of wood, and so on. Hence, the description below is only an overview.
These Fresh Sausages Are Just Unskippable
Fresh sausages are made from uncooked meat. Examples include bratwurst, chorizo, and a few other options that I bet you cannot wait to try. Remember to prick them before putting on the pan or grill, or you will be attacked by the exploding sausages!
1. Bratwurst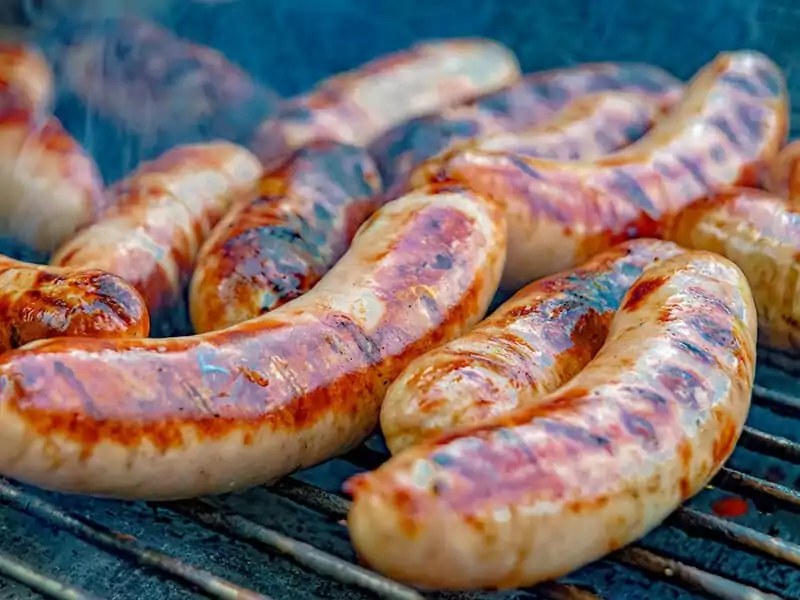 A food for tailgate or any informal gathering, bratwurst couldn't be a better choice. It is made from pork, sometimes with a blend of beef and veal, and comes from Germany, with several variations emerging in different parts in and out of Europe. It is a classic street treat in Germany.
Bratwurst comes with many pairing options, but perhaps it's best to serve it like Germans do: with sauerkraut, potato salad, horseradish, and a splash of German mustard. They finish the meal with a bottle of Schwarzbier or Dunkel, which helps round out the taste impeccably.
Origin
Germany
Varieties

Thuringian bratwurst
Fränkische Bratwurst
Coburger Bratwurst
Kulmbacher Bratwurst
Nürnberger Rostbratwurst and more

Meat Source
Pork, sometimes beef, and veal are included
Fresh/Cooked
Both versions are available
Texture
Coarse
Flavor
Garlicky and smoky
Learn more about bratwurst and its winding history with this video.
2. Chorizo (Best For Grilling)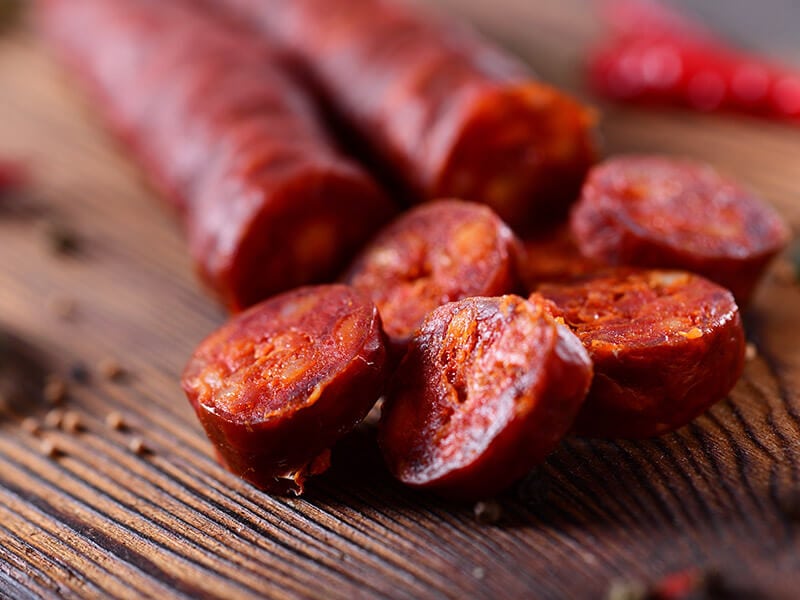 Chorizo is a must-try food from Spanish cuisine. Originating from the Iberian Peninsula, which is now Spain and Portugal, the sausage has witnessed a massive reputation over the years, so it's no surprise to see hundreds of chorizo variations cropping up.
It has a firm, somewhat coarse texture and is made from pork. To amp up the flavors, people will season it with paprika, which lends the product its signature red hue, and ferment or cure it prior to distribution. Cooked chorizos are also available for you to enjoy.
Origin
Spain and Portugal
Varieties
Depends on how it is made



Mexican chorizo (fresh)
Spanish chorizo (dry)

Depends on the country



Puerto Rican chorizo
Salvadorean chorizo
Chaurice (Creole)
Chouriço (East Timor)

Meat Source
Pork
Fresh/Cooked
Both versions are available
Texture
Hard, firm, and slightly coarse
Flavor
Sweet to spicy
Discover how Spanish chorizo comes to life in this video.
3. Sobrasada Raw Sausage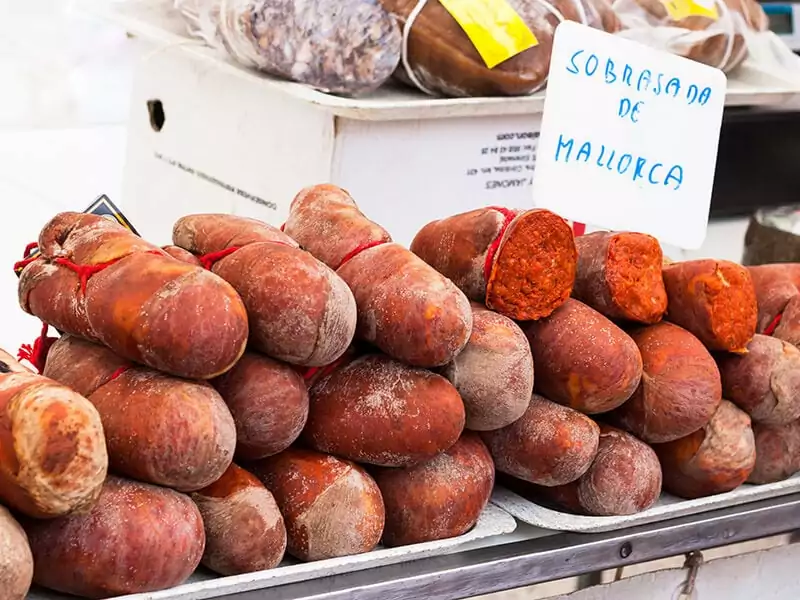 While often marketed as a raw sausage, Sobrasada still needs to be cured before eating. It's a product of the Balearic Islands, Spain, made from locally grown black pigs. While most sausages are spiked with paprika, you should find countless variations that use other spices.
To illustrate, salt and black pepper are sometimes added to keep insects away, while cayenne pepper brings extra heat to the sausage (coent version). Since Sobrasada is not cooked, the sausage has a spreadable texture that goes impeccably with bread or toast.
Origin
Spain
Varieties

Coent sobrasada (spicy)
Dolce sobrasada (sweet)

Meat Source
Pork
Fresh/Cooked
Fresh
Texture
Soft, spreadable
Flavor
Smooth, sweet to spicy
4. Morcilla (Spanish Blood Sausage)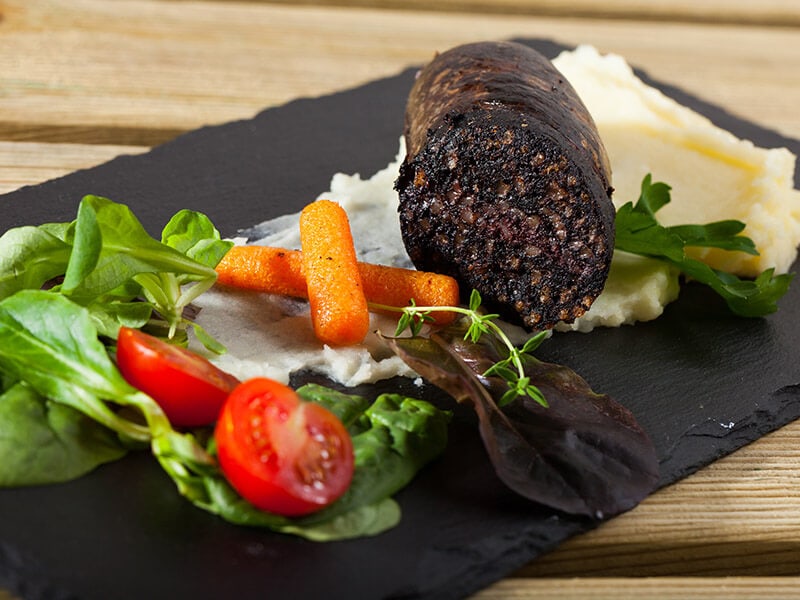 The idea of making sausages from blood does sound intimidating at first, but rest easy that it will grow on you after the first bite. The dark purple-colored sausage has a rich taste, with its secondary flavors different between variants.
To make this sausage, people will mix pig's blood with ground pork, followed by other spices and seasonings of choice. Fillers like rice and onions are also added for extra weight; strictly speaking, you want to find morcilla without fillers because they are of the highest quality.
Origin
Spain
Varieties

Morcilla de burgos
Morcilla de granada
Morcilla patatera and more

Meat Source
Pork (with pig's blood)
Fresh/Cooked
Fresh
Texture
Pudding-like
Flavor
Rich, intense, and tangy
Treat your family and friends with Morcilla sausage, a bloody surprise!
5. Weisswurst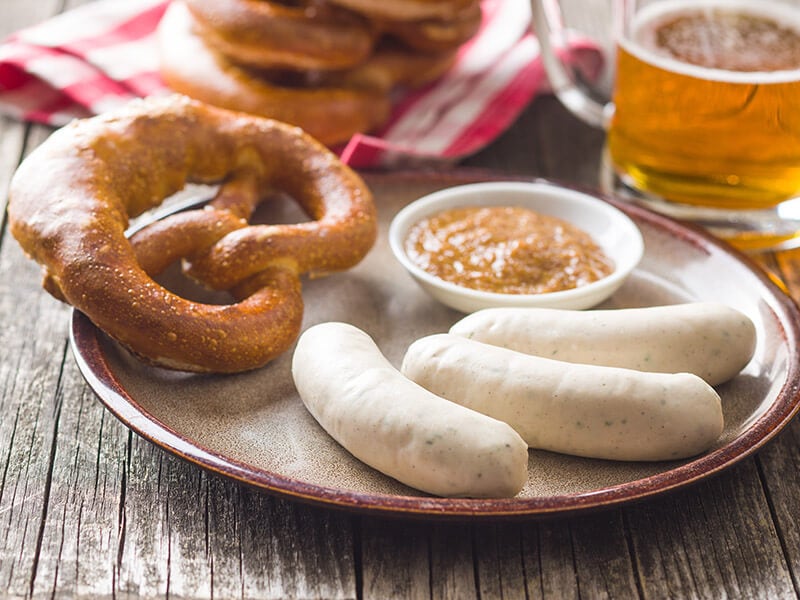 Made from minced veal and back pork bacon, weisswurst finds its origin in Germany, with its strong presence linking to Oktoberfest that takes place in Bavaria. The sausage is produced in the early morning and is meant to be consumed before lunchtime (or at least 1:30 PM).
Thanks to an intricate blend of herbs and spices like parsley, lemon, and mace, weisswurst is incredibly juicy and delectable. Since the skin is inedible, people will peel it away, then serve the sausage as it is or with German mustard.
| | |
| --- | --- |
| Origin | German |
| Varieties | None |
| Meat Source | Veal and bacon |
| Fresh/Cooked | Cooked |
| Texture | Moist and flaky |
| Flavor | Mild with hints of herbs and spices |
6. Fresh Country Sausage (Best For Breakfast)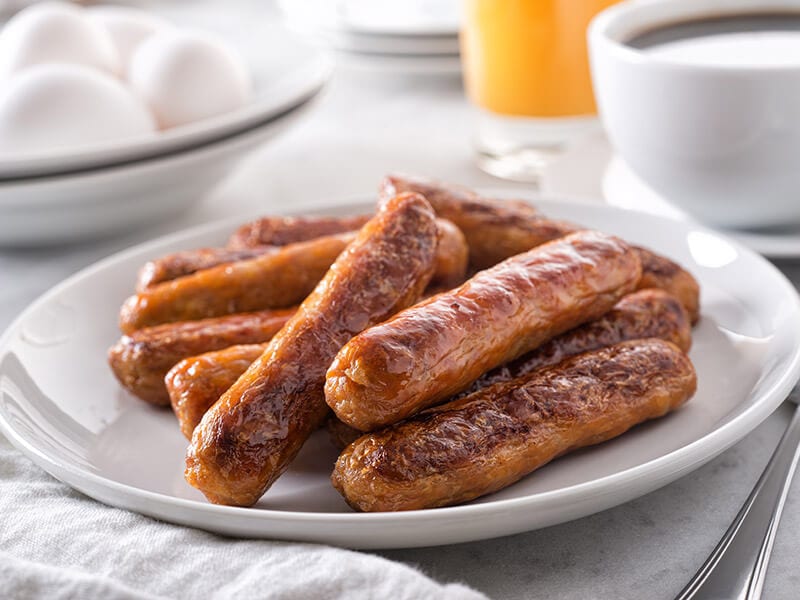 How to get into gear and kickstart the day? Put on your apron and knock up some sausages, particularly country sausages, with a sunny side up and a serving of baked beans. Does that sound like what can get you out of bed?
The origin of country sausage lies in America, especially in the rural areas where the farmers make the most out of a butchered hog. To elevate its taste, people will stir in mild seasonings like sage and black pepper, sometimes bolder choices like maple syrup or cayenne pepper.
| | |
| --- | --- |
| Origin | America |
| Varieties | Many as it depends on the brands and use of seasonings |
| Meat Source | Pork, sometimes beef, turkey, and chicken or a mixture of these meats |
| Fresh/Cooked | Cooked |
| Texture | Tender |
| Flavor | Depends on the use of seasonings |
It's Always A Pleasure When You Have These Cured Sausages
Technically, cured sausages are fresh sausages but salted and air-dried for some time, often weeks. The use of salt here does not just provide the finished product with a distinctive flavor but also extends its shelf life so that it sticks around with you for longer.
7. Salami
It can be quite confusing when you first get to know salami. To illustrate, people often mix up hard salami with genoa salami, sometimes with other types of sausages because they share similar traits regarding appearance.
Salami has a very distinctive taste, and to some, it's even indescribable. A delicious balance between sweet and spicy flavors underpinned with a hint of smokiness, salami doesn't need too many friends. A simple coleslaw or some slices of bread can be just the thing.
Origin
Southern, Eastern, and Central Europe
Varieties

Genoa salami
Hard salami
Sopressata
Pepperoni
Chorizo

Meat Source
Pork
Fresh/Cooked
Both versions are available
Texture
Coarse and firm
Flavor
Spicy, sweet, hot, and savory
Unveil the secrets of making salami in this informative video.
8. Pepperoni (Best For Pizza)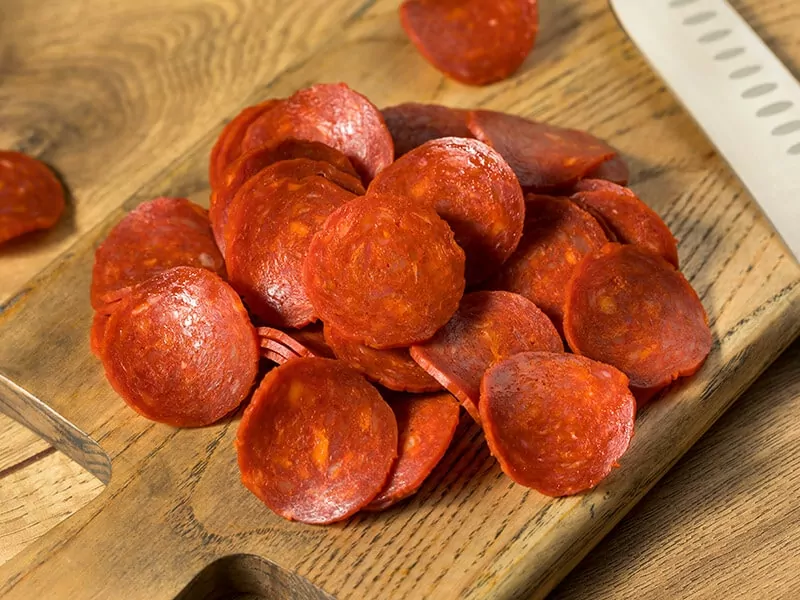 Many people have a hard time telling pepperoni and salami apart, but the truth is, pepperoni is a type of spicy salami. It is made from a blend of raw beef and cured pork and punctuated with paprika and other peppers. Turkey sometimes acts as a substitute.
Originating from America, the sausage is commonly found on pizzas in thin slices. However, you can also top them on your baked potatoes or stuff them into portobellos. To complement the fatty flavors, pair pepperoni with acidic, medium-bodied reds like Merlot or Chianti.
Origin
America
Varieties
Depends on the meat source



Beef pepperoni
Pork pepperoni
Turkey pepperoni
Venison pepperoni

Some even categorize pepperoni based on how it is cut or specialty ingredients; yet the differences are not huge
Meat Source
Traditionally beef and pork, sometimes turkey, venison, or a mixture of these meats

Fresh/Cooked

Fresh
Texture
Soft and chewy
Flavor
Salty, spicy, and tangy
Dive in here for a brief overview of how mini pepperoni comes to life.
9. Longaniza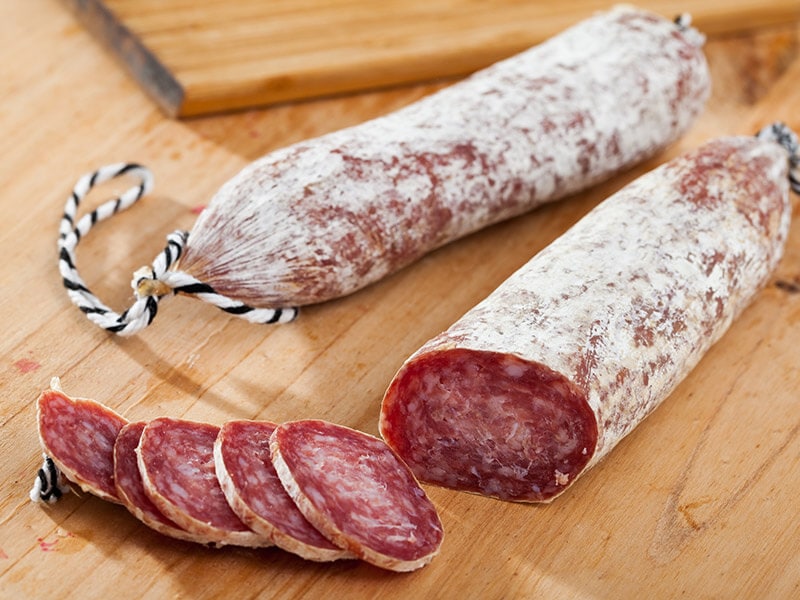 Longaniza is one of the best sausages of its kind, no exaggeration. Visual-wise, it will remind you of chorizo, but the taste is far more complex than its counterpart. Choices of seasonings include anise seeds, cinnamon, paprika, and so on.
Spanish and Mexican longaniza can be prepared in different methods. People will usually grill it over the flames to provide the sausage with a smoky hint. If you prefer something simpler, toss it into a pan and let it simmer until it reaches golden-brown perfection.
Origin
Spain
Varieties
Depends on the country



Spanish longaniza
Mexican longaniza
Filipino longaniza (there are more than 10 variants available)
Puerto Rican longaniza and more

Meat Source
Traditionally pork, sometimes chicken or turkey
Fresh/Cooked
Both versions are available
Texture
Coarse and thinner than chorizo
Flavor
Bold and savory
10. Butifarra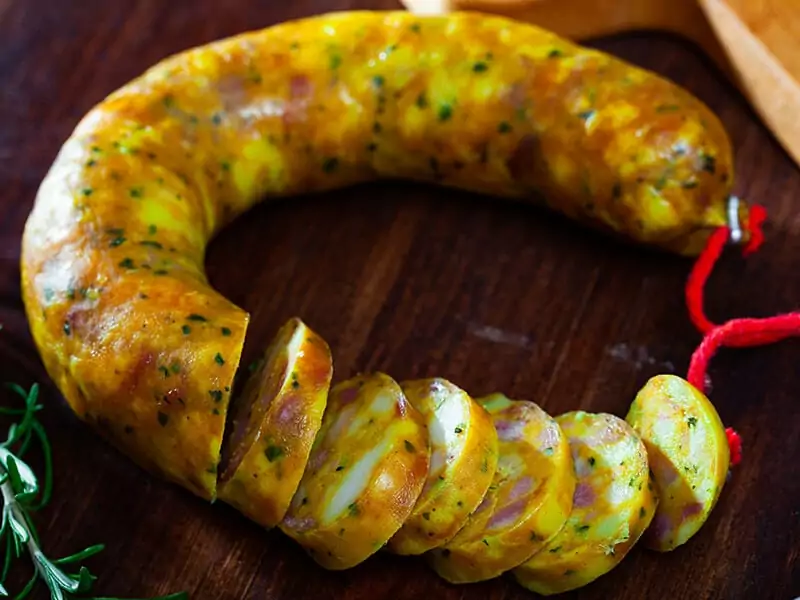 Another pork meat to keep on the watch, butifarra (sometimes spelled as botifarra) is derived from ancient Roman recipes like botulu or lucanica. Additional ingredients are diverse, with a few popular choices including cinnamon and pepper, to less conventional ones like rice.
That said, there are endless varieties of butifarra on the market, and these all play a big part in Paraguayan cuisine. Butifarra needs no prep, but boiling is a requirement in some traditional dishes like escudella i carn d'olla. The sausage is also served with beans, caramelized onions, or red wines.
Origin
Spain
Varieties

Raw butifarra
Black butifarra
Butifarra catalana
Butifarra d'ou/butifarra de huevo
White butifarra and more

Meat Source
Pork and/or beef
Fresh/Cooked
Both versions are available
Texture
Grainy
Flavor
Slightly spicy and salty
11. Fuet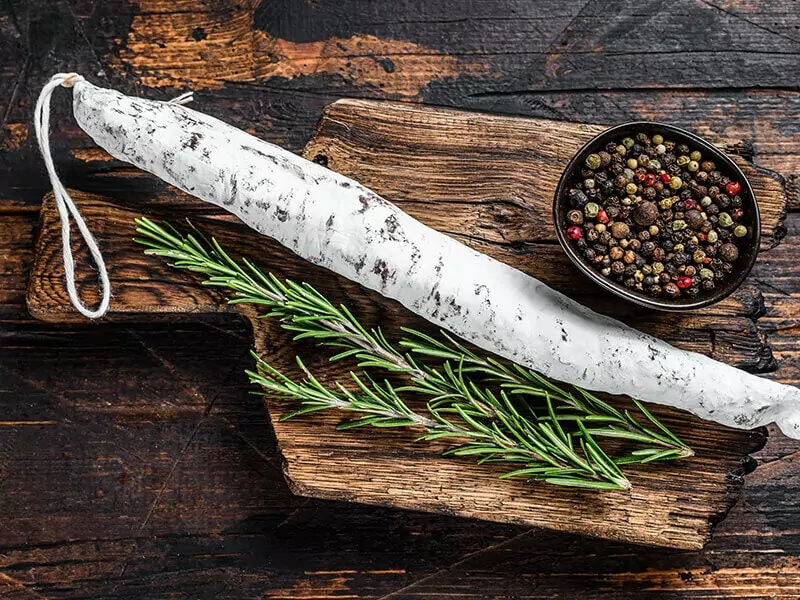 Most sausages are made from pork, but nothing can deliver such wows like fuet. Originating from Catalonia, Spain, the sausage is thinly shaped, dry-cured, and flavored with salt, sugar, and spices, with additives sometimes added depending on the recipes, regions, etc.
Another distinctive feature of fuet is its powdery appearance, which results from the addition of a type of mold that can shield other harmful ones. Fuet makes an excellent starter for any party, but the sausage can play a bigger role in sandwiches and other scrumptious recipes.
| Origin | Spain |
| --- | --- |
| Varieties | |
| Meat Source | Pork |
| Fresh/Cooked | Both versions are available |
| Texture | Firm |
| Flavor | Mildly to very spicy |
These Smoked Sausages Are Loaded With Exquisite Flavors
Finally, and simply put, the following sausages are given a smoking treatment produced by a slow fire. Similar to salting, the smoke acts as cooking and preserving medium, in addition to offering a smoky depth to the flavors.
12. Kielbasa (Best For Gumbo)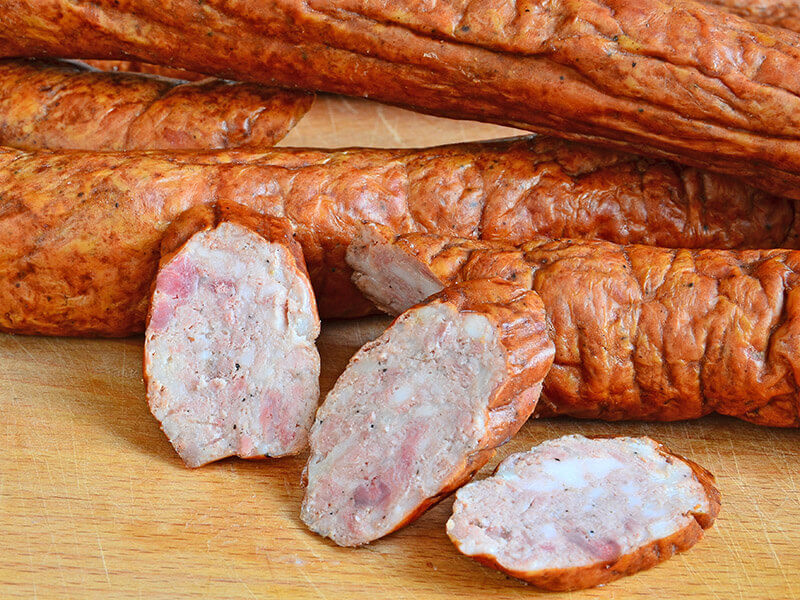 If you have been cooking with kielbasa, you have to admit one thing: this sausage goes with almost anything and always delivers such a toothsome surprise. It is of Polish origin and has endless varieties, with German and Russian kielbasa being the most popular.
Since Kielbasa takes kindly to many foods, it's a well-loved street delight in Poland. For a quick yet satisfying midweek dinner, stir it in your favorite skillet recipe with some cabbage. Serve it with a side of baked beans or caramelized onions, and hit it off with a cold glass of beer.
Origin
Poland
Varieties
Depends on the meat source



Pork kielbasa
Beef kielbasa
Turkey kielbasa
Lamb kielbasa
Chicken kielbasa

Depends on the country



Germany kielbasa
Russia kielbasa
Ukraine kielbasa
Hungary kielbasa
American kielbasa

Meat Source

Pork
Beef
Turkey
Lamb
Chicken
Veal

Fresh/Cooked
Both versions are available
Texture
Coarse and tender
Flavor
Smoky and slightly salty
13. Andouille (Best For Jambalaya And Seafood Boil)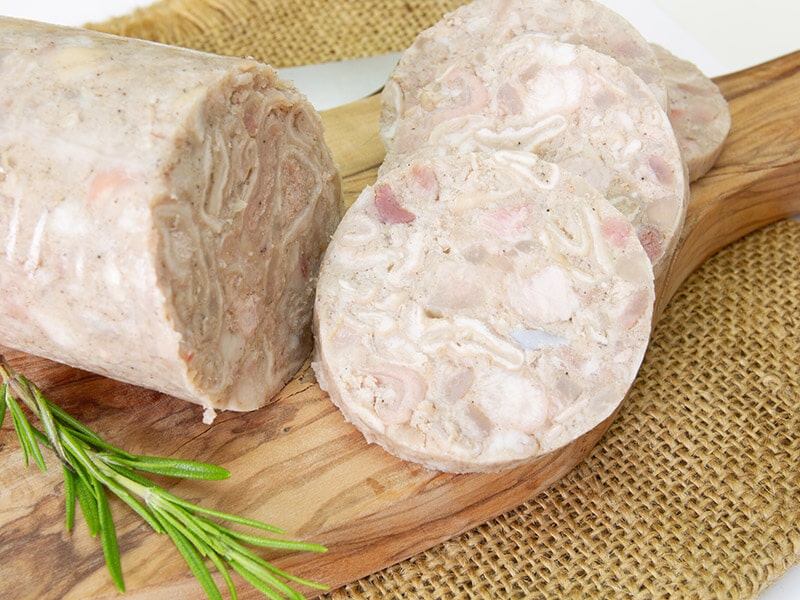 When looking for perfect accompaniments for sausages like andouille, which is rather smoky with a sharp aftertaste, don't skimp on those hearty bean and legume side dishes. They can mellow out their taste impeccably, preventing you from feeling overindulgent.
Andouille originated from France in the 13th century, and much like other delicious French sausages, variants of it arrive in waves. Overall, they all stick to the use of pork meat, but the seasoning choices vary significantly.
Origin
France
Varieties
Depends on the regions of France



L'andouille de Guémené

L'andouille de Vire

L'andouille de Cambrai

L'andouille d'Aire-sur-la-Lys

L'andouille de Revin

Depends on the country



Nduja (Italy)
Cajun-style andouille (American)

Meat Source
Pork
Fresh/Cooked
Often cooked
Texture
Coarse and firm
Flavor
Spicy, sharp, and smoky
14. Knackwurst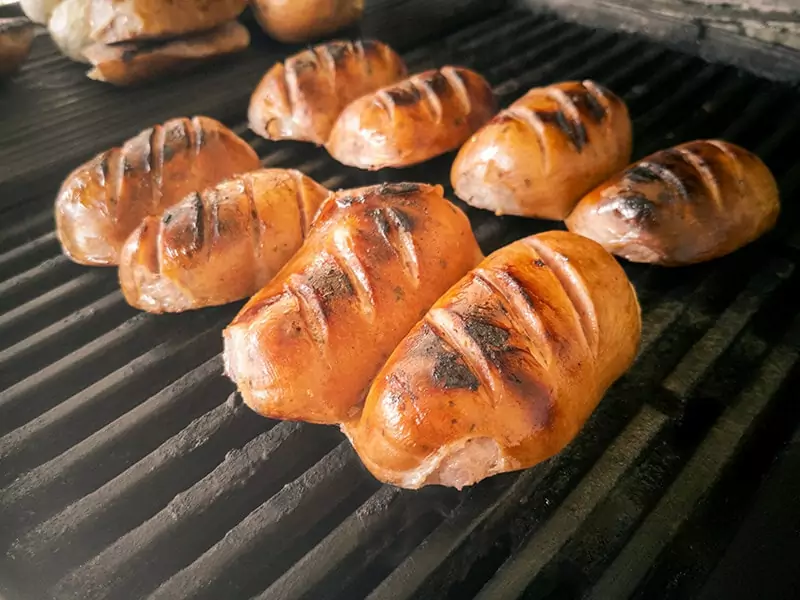 A delicious, budget-friendly recipe made from ground pork? I got you. Knackwurst is perhaps what you are looking for, be it grilled or boiled and served with a side of mashed potato. Your guests are drooling already!
Traditionally, people use ground pork and veal to make knackwurst, but American or variants from other countries contain beef as well. Once the garlic and other ingredients are stirred in, the mixture is put into casing, aged for a few days, and infused with smoke for extra flavor depth.
Origin
German
Varieties

American knackwurst
Swedish knackwurst

Meat Source
Traditionally pork and/or veal, sometimes beef
Fresh/Cooked
Often cooked
Texture
Coarse
Flavor
Garlicky and smoky
Some Other Delectable Sausages You Should Definitely Check Out
Did you know that there are sausages made from chicken and legumes? Have you heard of Vienna or Bologna sausage before? Keep reading and explore further options below!
15. Vienna Sausage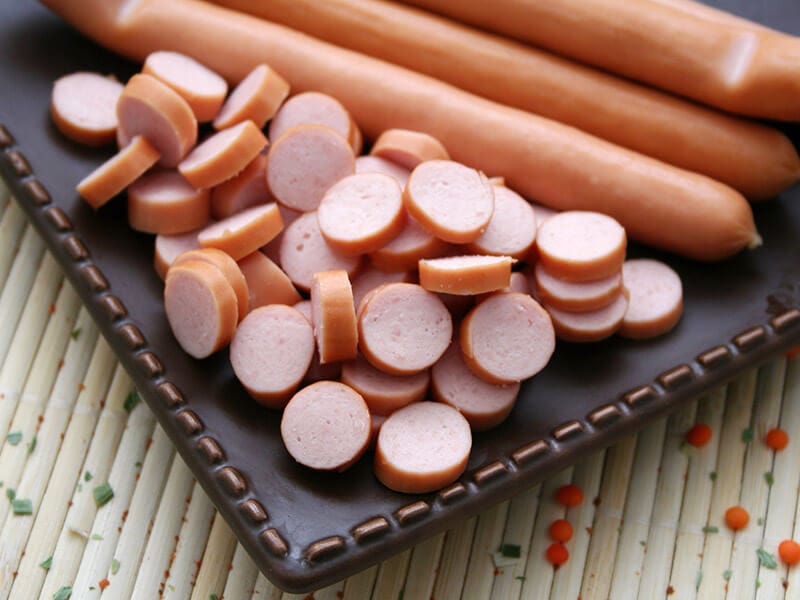 Sometimes referred to as frankfurter or Wiener Würstchen in Austria, Vienna sausage knows how to spice up any party with its flavor depths. It is made from beef and pork, then encased in sheep's intestines and smoked lightly.
Make sure to purchase Vienna sausage from your local deli for the best quality. Store-bought sausages don't taste just as good and can become waterlogged easily when boiled. You can serve them cold or hot (often in pairs) with buns and cheese for a quick and delicious meal.
Origin
Germany and Austria
Varieties

Frankfurter
Hot dog
Sacher sausage

Käsekrainer

Bosna
Leberkäs-Semmel

Meat Source
Traditionally beef and pork, sometimes chicken is included
Fresh/Cooked
Often cooked
Texture
Soft
Flavor
Salty
Here's an unmissable, down-to-earth review of Vienna sausage.
16. Bologna Sausage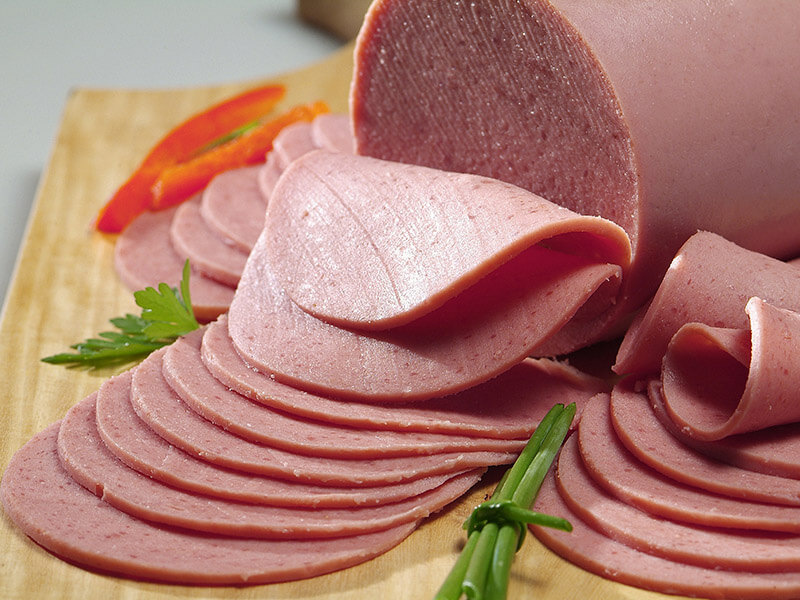 To perfect the art of smoking hot dogs, preparation is as important as skills. While people like Vienna sausage, bologna is also a solid choice. This sausage is made from beef or pork and is given the smoking treatment, which adds to its deliciousness.
Nowadays, you can even find versions made from chicken, turkey, venison, or even a mixture of these meats. There's also a version of this sausage in Zambian cuisine called chikanda or "African polony".
Whatever your choice is, it cooks up beautifully on the grill. Here's a fun trick to kick it up a notch: rub the sausage with brown sugar for extra sweetness!
Origin
Italy
Varieties

Mortadella
Polony
Ring bologna
Rag bologna
Sweet bologna and more

Meat Source
Chicken, turkey, beef, or pork
Fresh/Cooked
Cooked
Texture
Smooth
Flavor
Tangy and smoky
These facts about bologna will take your breath away!
17. Sai Ua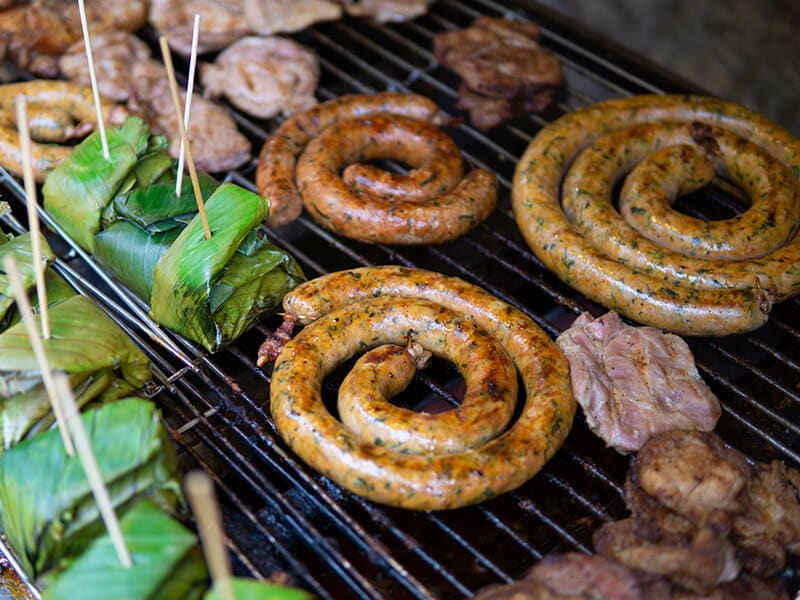 Sai ua goes by different names depending on where you live. To illustrate, people from Shan State call it sai long phik, whereas the name northern Thai sausage or Chiang Mai sausage is more common to foreigners.
Aside from pork meat, herbs, and spices, sai ua contains a red curry paste known as kaeng khua, which gives them bold and vibrant flavors. The sausage is traditionally served with rice or as a starter.
| | |
| --- | --- |
| Origin | Mainland Southeast Asia |
| Varieties | Laotian sai ua |
| Meat Source | Pork |
| Fresh/Cooked | Cooked |
| Texture | Coarse and rustic |
| Flavor | Vibrant |
18. Chicken Sausage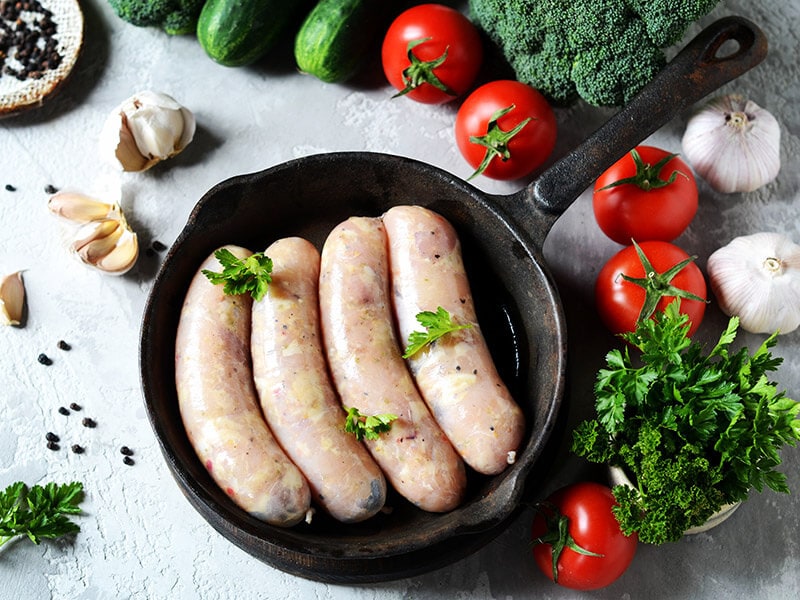 If you want to cut back on your calorie intake, chicken sausage is the way to go. Evidently, it is made from chicken, specifically dark meat, but fresh versions also contain chicken breast.
The origin of chicken sausage still remains a big question, with some sources claiming that it has been around since the 80s. Because of the limited use of seasonings, the sausage has a smooth texture with mild flavors.
Origin
Not specific
Texture
Smooth
Flavor
Mild
Varieties

Chicken sausage made from dark meat
Chicken sausage made from chicken breast

Meat Source
Chicken
Fresh/Cooked
Often cooked
19. Liver Sausage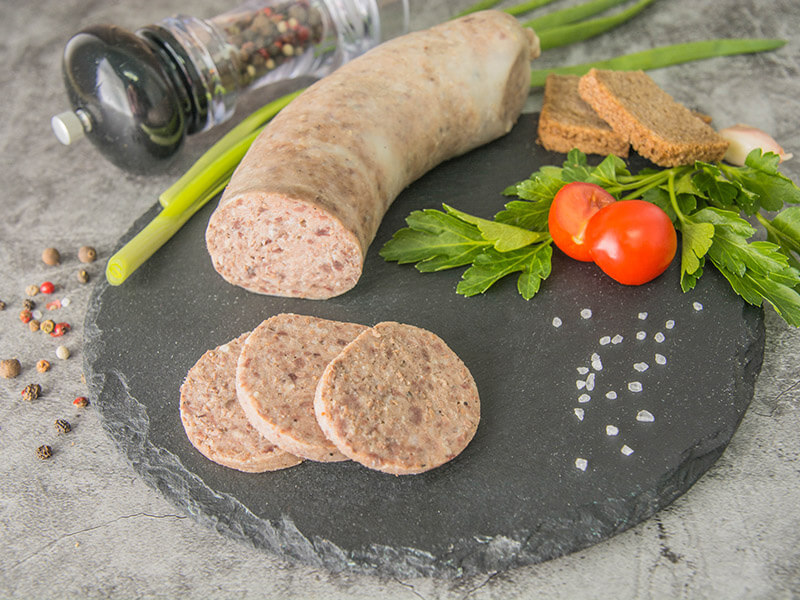 As scary as it sounds, liver sausage has an exceptional taste. Sweet and fragrant, its taste is spruced up with a bevy of herbs and spices: cardamom, black pepper, thyme, etc. Its texture is soft and spreadable, which makes a great pairing for morning toasts.
In European countries, liver sausage is also known as liverwurst. The sausage is often sliced before putting on sandwiches, stuffed in pancakes, or topped on crackers.
| | |
| --- | --- |
| Origin | German |
| Varieties | Many as it depends on the country |
| Meat Source | Pork and veal |
| Fresh/Cooked | Both versions are available |
| Texture | Soft and spreadable |
| Flavor | Sweet |
20. Vegetarian Sausage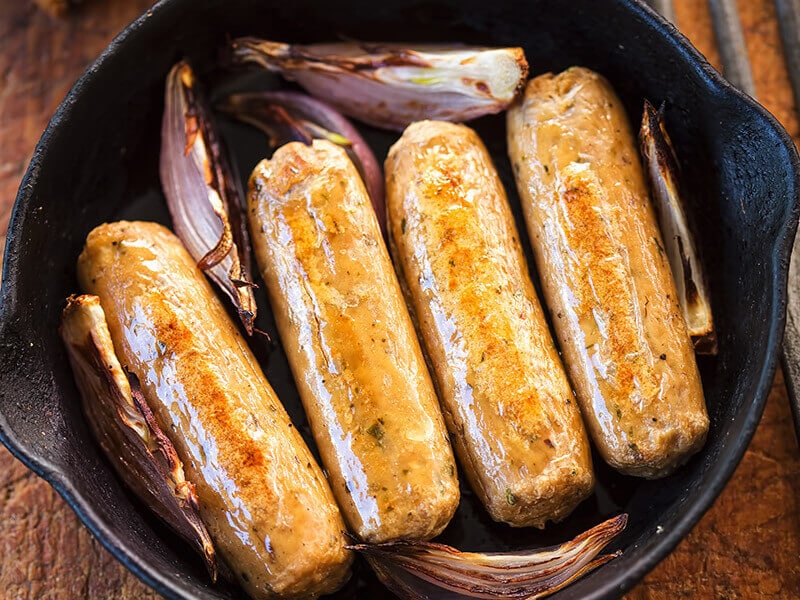 Are your vegetarian friends coming over to your BBQ party? Don't let them down. Treat them with some drool-worthy links of vegetarian sausage, which are usually made from grains and legumes. Protein is sometimes added, with examples including tofu and wheat gluten.
Vegetarian sausage appeared during World War I because of food shortages. Gladly, a keen inventor and also the mayor of Cologne, Konrad Adenauer, devoted his effort to get over the issue and succeeded.
| | |
| --- | --- |
| Origin | Not specific |
| Varieties | None |
| Meat Source | None |
| Fresh/Cooked | Both versions are available |
| Texture | Similar to tofu |
| Flavor | Slightly bland |
Time To Celebrate With These Sausages!
Well, I'm sure that you had a ball with these delectable types of sausage. They are downright for any occasion and rest assured they will please even the pickiest eaters. If you believe that you are a cooking expert, why not knock some up and impress everyone?
Before leaving my post, don't forget to leave some comments below. It can be some kinds of sausage I have not yet mentioned, serving tips, or a tasting experience that has not escaped your mind. I'm waiting for them all!