Zambian foods, why not? In the South of Africa, there is a country with magnificent cuisine that you should visit, Zambia. This country has plenty of dishes with extraordinary flavor that I'm sure you have never experienced before.
With various vegetables and unique cooking methods, Zambia will give you the best savory journey. Hop on to this exciting expedition with me and enjoy all the cultures and tastes from the best foods in Zambia.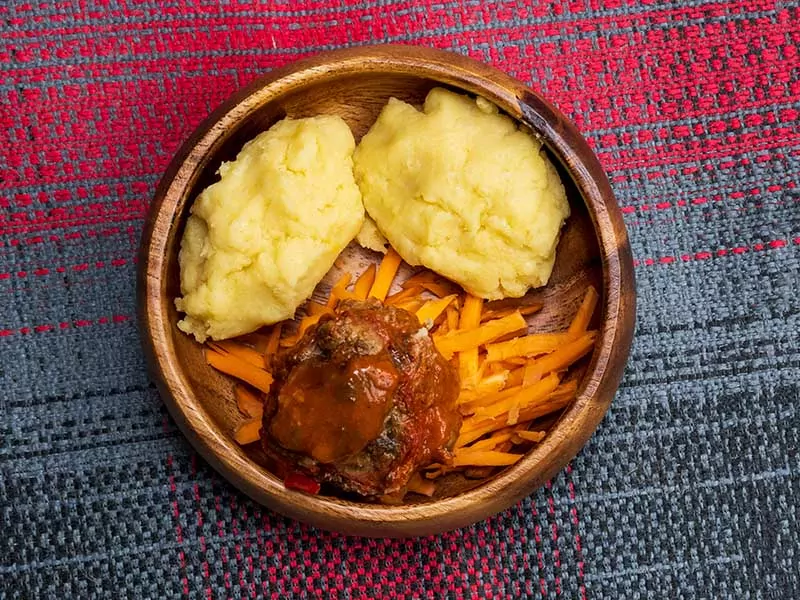 Let's Start With Zambian Foods That Are Full Of Vegetables
Zambians embrace the taste of 'green' food in their surrounding areas. These veggies form a unique cuisine in Africa that I'm sure you will love.
1. ​​Chibwabwa (Pumpkin Leaves In Groundnuts Sauce)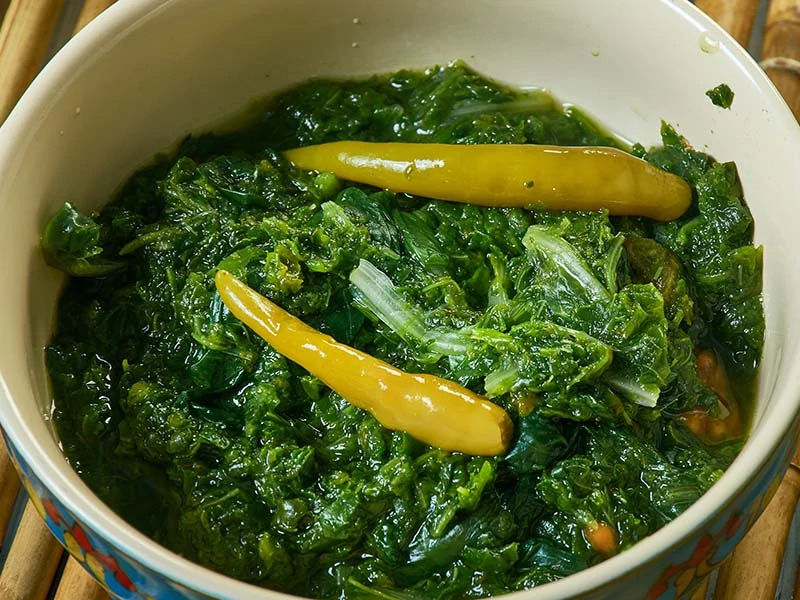 Chibwabwa or pumpkin leaves is a common dish in Zambia. As pumpkin is one of the most common fruits grown in this country, its leaves are adored by most Zambian citizens. The leaves are often stewed with other vegetables like Impwa or paired with dry fish.
Chibwabwa is an excellent Zambian midday meal you should try. Zambians also dry Chibwabwa and mix it with oil, groundnuts, or dried veggie dishes like Mundyoli. People also boil Chiwabwa in water to form a thick texture stew.
This is a common side dish to create a creamy taste for the entire meal. The dish is a typical companion for Nshima – a thick cornmeal porridge in Zambia. Local people usually make this dish in traditional ceremonies.
Let's learn how to cook Chibwabwa right now!
2. Katapa (Cassava Leaves)
Cassava is another common plant in Zambia that you can enjoy almost every part of this plant. You will be wowed with the amazing flavor from this ingredient, from leaves to roots. Katapa is a unique dish made from cooking the leaves of Cassava.
This vegetable requires a bit of effort and time to prepare, but the flavor will satisfy your taste when you taste it. People usually mix this leaf with Impwa and serve it with Nshima to create a wonderful meal.
Cassava leaves have a mild flavor complementing other spices and condiments you add to the recipe. The leaf is mostly grown by the Bemba, cassava growers of the country.
3. Impwa (White Garden Egg)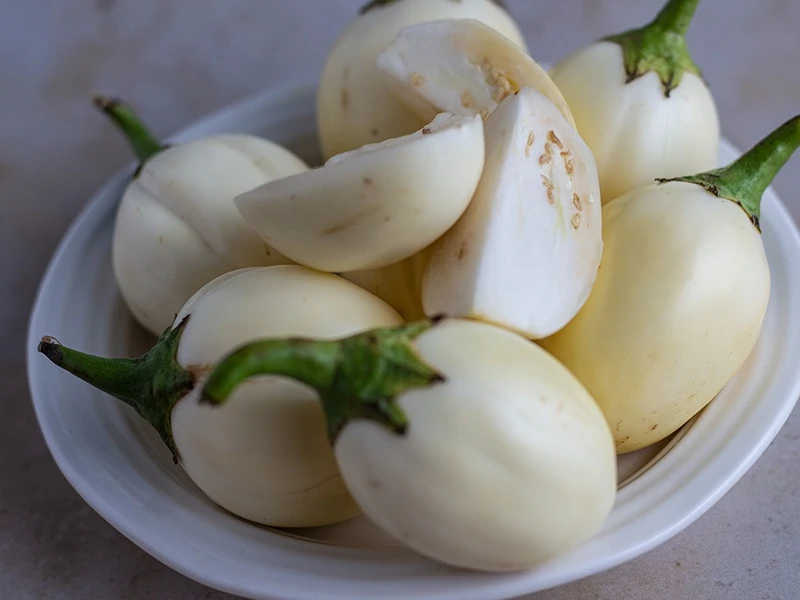 Impwa (or White Garden egg) is a special plant in the Aubergine family. This plant has an egg-like shape with a gently bitter taste. Zambians usually serve Impwa with other vegetables like pumpkin or cassava leaves and some meat products.
This lovely plant is an ideal pairing choice for Nshima, and you can enjoy Impwa every time of the year. The plant can be found across the Zambian territory. Sellers will boil Impwa and discard the first water to reduce the bitterness.
However, people will saute the plant in some recipes to keep all the vitamins contained inside this plant.
4. Bondwe (Amaranth Leaves)
Let's try another delectable Zambian specialty! Bondwe is a spinach-like vegetable in Zambia that is grown almost everywhere. You can also see tons of wild Bondwe growing across this nation.
For a long time, it has been seen as a food for the poor, but its nutrition package (iron, other minerals, and vitamins) will not disappoint you. Bondwe is an affordable ingredient and is usually used as the main ingredient in some relish recipes.
People often soak Bondwe into hot water to discard the bitter flavor. Then, the veggie is mixed with onion and tomato for more flavor. You can have Bondwe standalone or pair it with Nshima. Another fascinating way to enjoy the dish is to cook it with pounded groundnuts.
5. Delele (Okra Stew)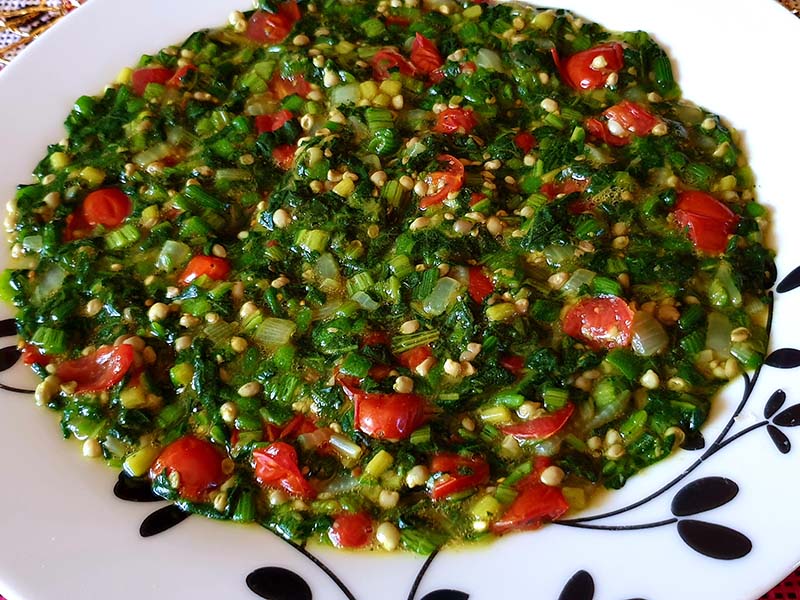 Allow me to introduce an enchanting dish from Zambia, Delele. This is a special dish named after the plant used for making this dish. For more information, derere is also refered to as okra.
People often have Delele with Nshima for a unique flavor. Zambians will cook fresh Okra in water with some sliced tomatoes. Traditionally, baking soda will be added to form a thick and glutinous paste.
6. Kalembula (Sweet Potato Leaves)
Sweet potatoes are a typical plant grown in Zambia. The root of this plant is surely tasty, but do you know about the flavor of its leaf? Kalembula is a special dish made from the sweet potato leaves.
Sweet potato leaves are a little bitter, but they have a plain and slightly sweet taste when you cook them. Just imagine you are having a spinach or water spinach. Zambians usually cook Kalembula in water for a thick consistency but frying them is also an ideal option.
People usually cook Kalembula in peanut sauce or just simply pair it with other veggies. Serve the dish with Nshima will give you an outstanding Zambian meal.
Don't you want to try this lovely Kalembula?
7. Kandolo (Sweet Potatoes)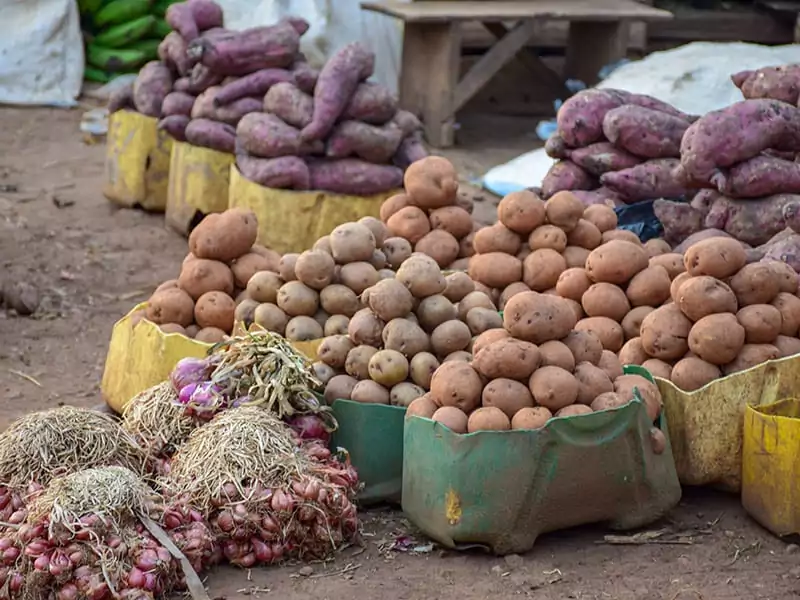 Speaking of sweet potato leaves, how can you miss mentioning the root, right? Kandolo is a Nyanja word for sweet potatoes, and this plant is consumed widely in the country and some areas of Africa.
You can make many kinds of sweet potato into balls and fry them for a crispy cover. Fragrant ingredients like sesame seeds, cinnamon, nutmeg, and red sweet pepper bring a warm flavor to the dish.
If you want to make the dish faster, you can prepare the mixture of spices first and store it in an airtight jar. Remember to keep it in a dry place and keep it away from direct sunlight. A ready-to-cook spice is available on the market too.
8. Samp (Dried Corn Kernels)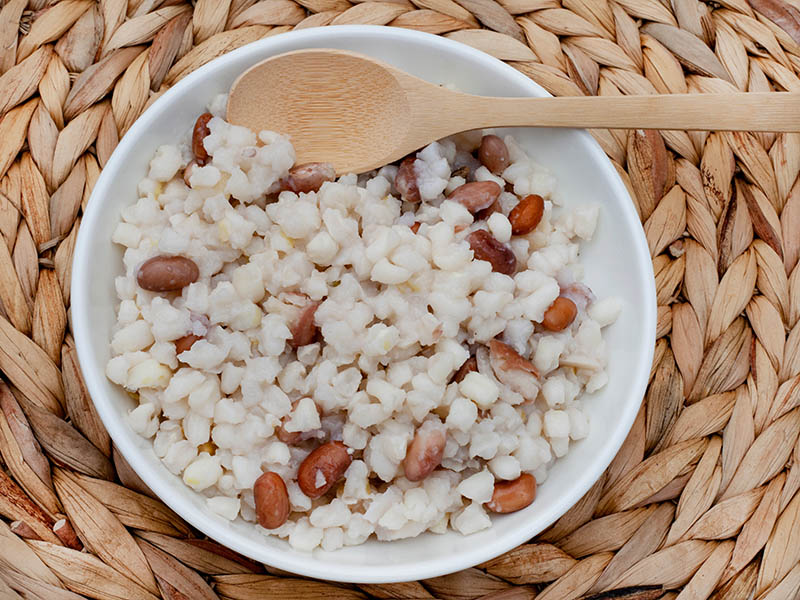 People in Africa have a unique way of enjoying corn kernels. Samp is a fantastic dish where corn kernels are dried, chopped, and pounded. The result is beautifully broken corn kernels (not finely grounded).
Lozi and Tonga people in this country love enjoying Samp. They usually have it with sugar and sour milk. People also serve it with meat like lamb, beef, and poultry or use it as a stuffing ingredient.
Samp is an affordable choice to treat a crowded group; therefore, many students in boarding school love having this dish.
This ingredient is also paired with beans to make Umngqusho (Xhosa version). Zambians often match Samp with Chakalaka (a famous vegetable relish in South Africa).
9. Ifisashi (Vegetable Stew With Peanuts)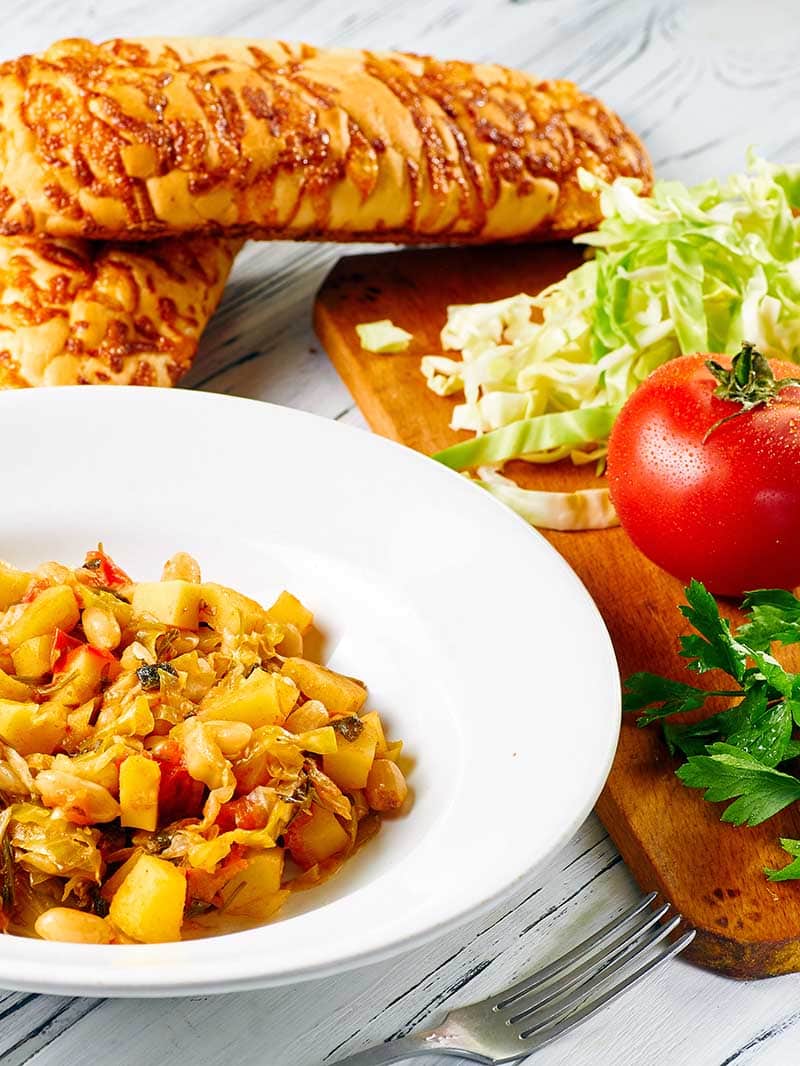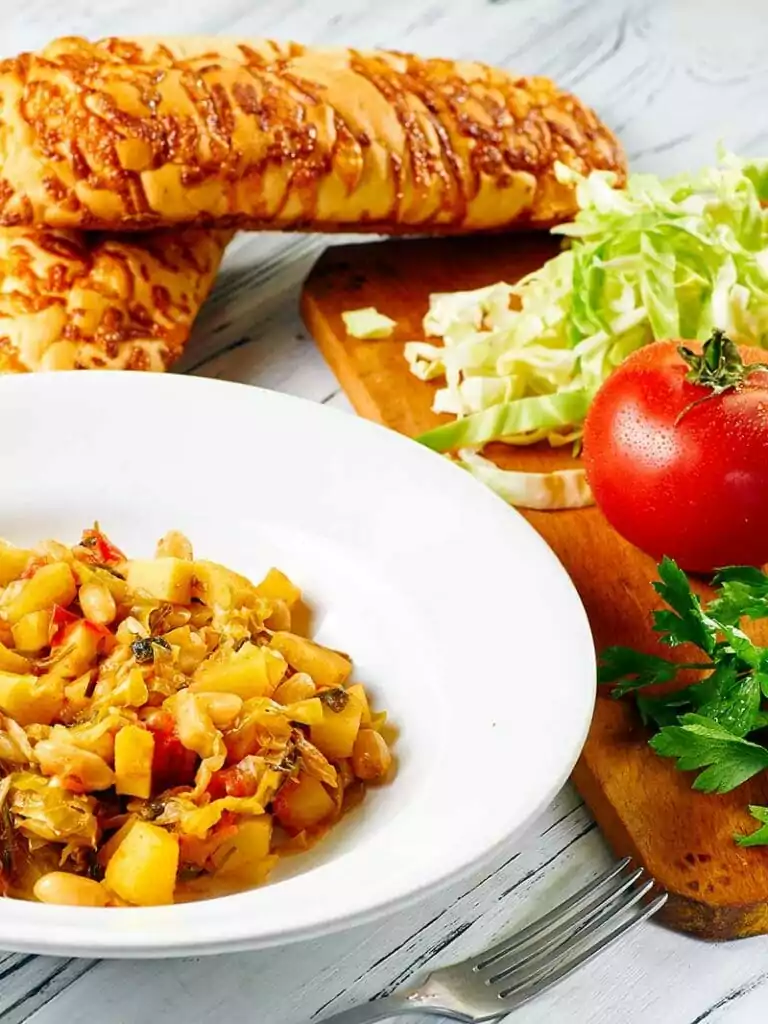 If you love the taste of peanuts, Ifisashi should be the dish you seek when traveling to Zambia. Vegetables play an essential role in Zambian cuisine, and Ifisashi is the perfect way to utilize all these ingredients.
Pumpkin or sweet potato leaves are bathed in peanut sauce for a rich and nutty taste. Other veggies like tomatoes, spinach, and Okra are typical choices to mix in this thick texture dish.
Traditionally, Ifisashi is a perfect dish for vegetarians; however, you can add chicken, beef, or fish to twist the flavor.
Who loves veggies with a sour taste? Lumanda will surprise you with its delightful sourness. This plant is known as 'Hibiscus Sadbiriffa' or 'Roselle' in English and is famous for its lovely red flower.
Lumanda is usually paired with powdered groundnuts to form a wonderful taste. This is a traditional way of enjoying this veggie in Zambia for a rich and deep flavor. It is a super healthy food packed with nutrients added to your diet.
4 Street Foods In Zambia Will Wow You For Sure
Little did you know that Zambia has a rich street food culture waiting to welcome you. Hurry up and explore them now!
11. Roasted Maize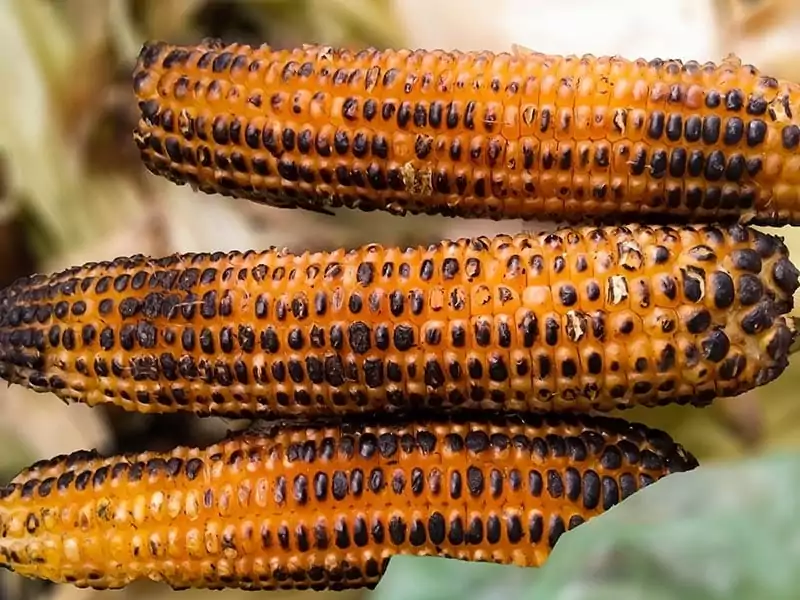 Maize (or corn) is one of the top staple foods in Zambia, and they utilize this ingredient in many of their foods. Roasted maize is a simple street food that you can easily find on almost any street in Zambia.
The corn used for this dish must be the ripe ones, but the appearance is still green. This corn is different from common baby yellow corn that is consumed worldwide. When grilled, the corn will start to pop and hiss, then slowly turn to yellow or black.
Street food vendors in Africa usually pick up and arrange the roasted corn (or sometimes the hot coals) with their bare hands.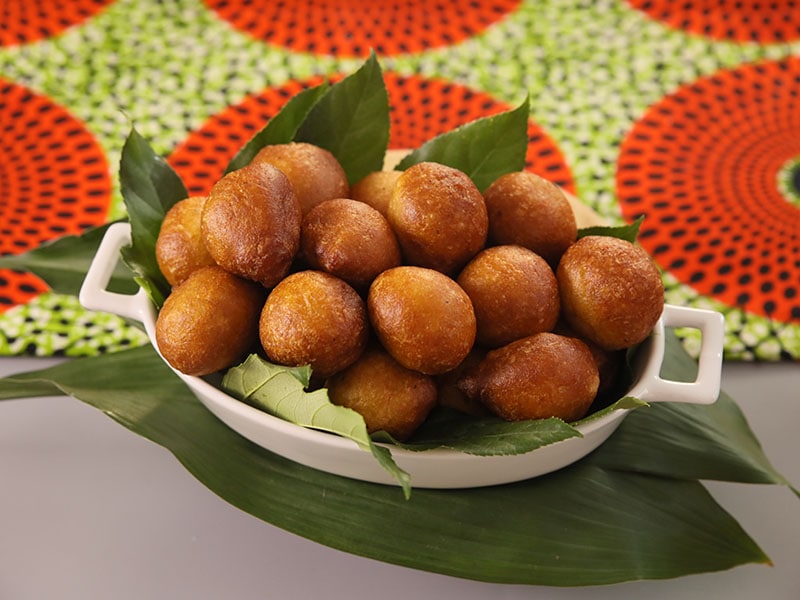 On the roadside or in the market of Zambia, you will likely run into a street food vendor selling Vitumbuwa, a crispy and tasty type of donut in Africa. These balls are a cheap snack that you can enjoy along the trip visiting the country.
These tasty balls are an ideal Zambian breakfast meal. You can match Vitumbuwa with either a hot or a cold drink. These donuts are traditionally made from wheat flour, but you can use baking powder or yeast as a substitution.
You might also find Vitumbuwa in some bakeries in Zambia. Sellers will serve Vitumbuwa hot in crowded places like schools, bus stops, or offices.
This is how to make a nice and crispy Vitumbuwa at home.
13. Tute Ne Mbalala As (Cassava And Groundnuts)
Zambian street food. Tute ne mbalala.

##LoveYourZambia #wekeepmoving pic.twitter.com/54d3gvKJkk

— The Original Lulu (@LuluHaangala) June 25, 2018
Are you a fan of Cassava? This street food will enhance Cassava flavor to another level. Tute Ne Mbalala As (also known as Cassava and Groundnuts) is a crunchy snack from Zambia with a splendid smoky aroma and nutty taste.
People will roast water-soaked Cassava on a brazier until the cover turns brownish-yellow. Cassava needs soaking into the water to soften its texture. Just like Vitumbuwa, this specialty is typically sold in areas with high traffic.
People often compare the combination of Cassava and Groundnuts to chicken and chips due to some similarities in flavor and textures.
14. Michopo (Grilled Meat)
#michopo #lusaka pic.twitter.com/4bneNxMqqc

— Rob Wilson (@wilsonrobj) May 5, 2018
Can you resist the fragrant aroma of burning meat? Michopo is goat or beef meat grilled over a charcoal fire. The dish is often made in public areas such as a street corner or a famous drinking spot in town.
Do you know why this incredible African dish is a heat in drinking places? That is because its flavor and texture match the strong taste of alcohol. So, if you want a nice companion for your drink, try Michopo.
This dish is often sold by a male vendor. The vendor will wrap Michopo in newspaper or Styrofoam packs with onion rings. Plenty of seasonings will be displayed for you to choose from.
15. Chikanda (African Polony)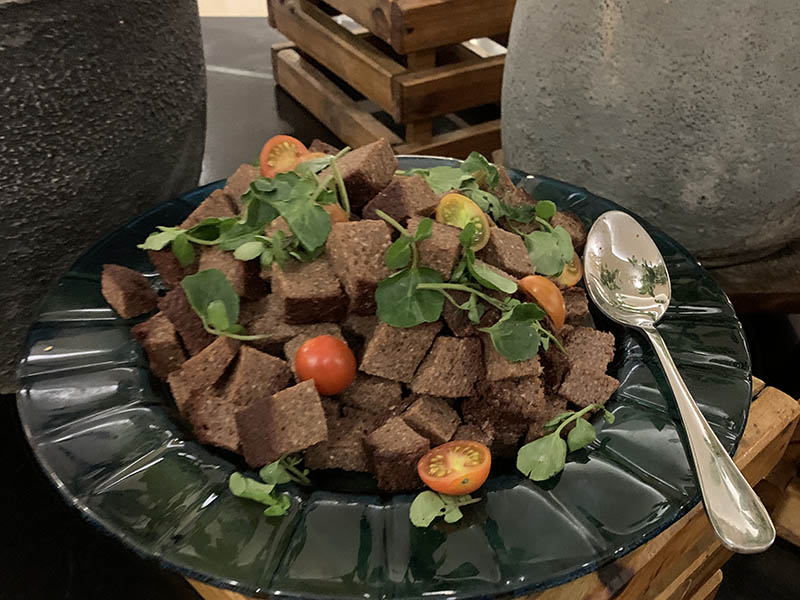 This last dish will please you with its fascinating flavor. Chikanda is a popular snack in Zambia made uniquely. The dish has its signature shape due to the use of a tuber from Chikanda orchids.
Habenaria, Disa, and Satyrium genera are some main orchid species used for making Chikanda. After stuffing all the ingredients in the tube, the chef will boil the tub until receiving a cake-like dough.
Chikanda resembles a Polony (or Bologna), a special sausage type in Bologna (Italy). That is why many people call this food an 'African polony'. The dish is believed to be a cuisine of Bemba people in northeast Zambia.
In Bemba cuisine, the dish is crucial for special occasions like weddings. Zambians usually serve the dish as a snack or a dessert. They also pair Chikanda with Nshima for a lovely flavor.
The process of making Chikanda is so complex, yet the outcome is amazing.
Other Delicious Zambian Signature Specialties
Hang on! The following Zambian specialties are the best to treat your family. So, don't wait any longer; let's dive in!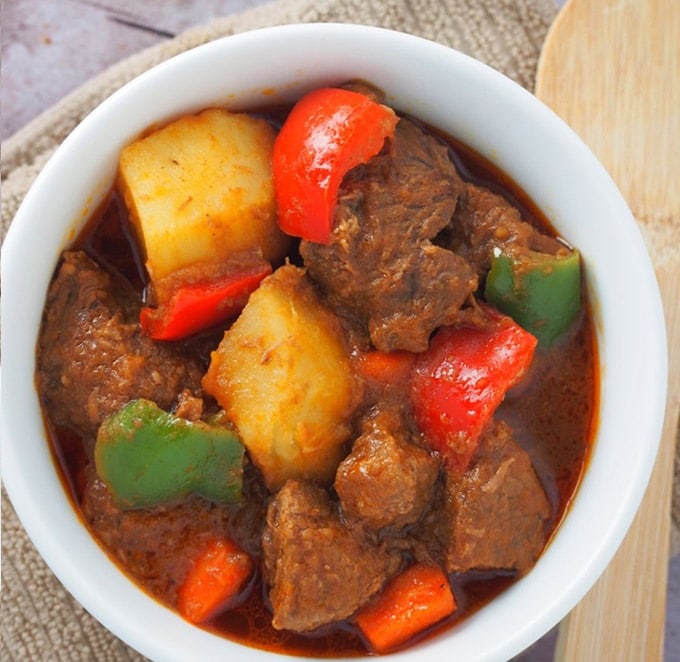 It is not unusual to run into a wild animal in Zambia. The country is full of different spices that you have never seen with your naked eyes before. Gazelle is one of the wild spices that give high-quality meat.
Curried gazelle is a lovely Zambian dish for the dinner table. The dish is slow-cooked until perfection and is usually served hot with white rice.
Customarily, the dish is made out of gazelle rump steak, coconut milk, and tomato paste. Other fragrant spices like cardamom, curry powder, garlic, and chilis are added to evoke an irresistible aroma for the dish.
17. Nshima (Thick Cornmeal Porridge)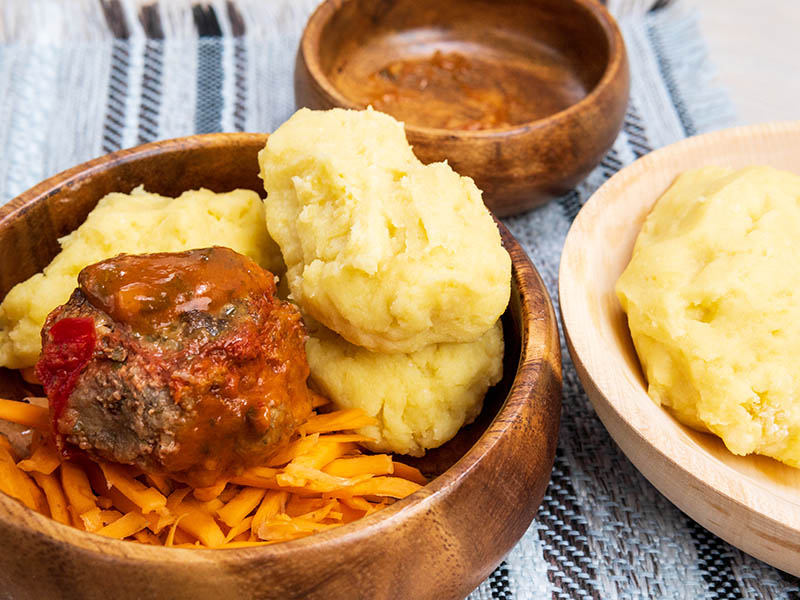 If you ask me what the national dish of Zambia is, the first dish that pops into my mind is Nshima. This is a staple food in this country that creates a whole sophisticated cuisine. Nshima is an extremely thick porridge made from finely ground cornmeal.
Nshima has been added to the Representative List of the Intangible Cultural Heritage of Humanity from UNESCO since 2017.
This dish has a mild taste that highlights other dishes paired with it. Zambians often eat Nshima by one hand, and the dish is usually served in lumps. People will break the Nshima lumps, make a ball shape with their fingers, and enjoy the dish.
You can also create an indentation from the Nshima ball to scoop the relish (can be sauce, vegetables, or meat) and eat it.
To successfully cook Nshima, you have to boil water and cornmeal. Then, stir the pot vigorously until you have a perfect thick texture. Zambians often make a large pot of Nshima to treat a large group of people.
There are two variants of Nshima: The first one does not use water until the boiling process. The second one requires a little room temperature water for the cornmeal flour before boiling.
This is how Zambians make their tasty Nshima.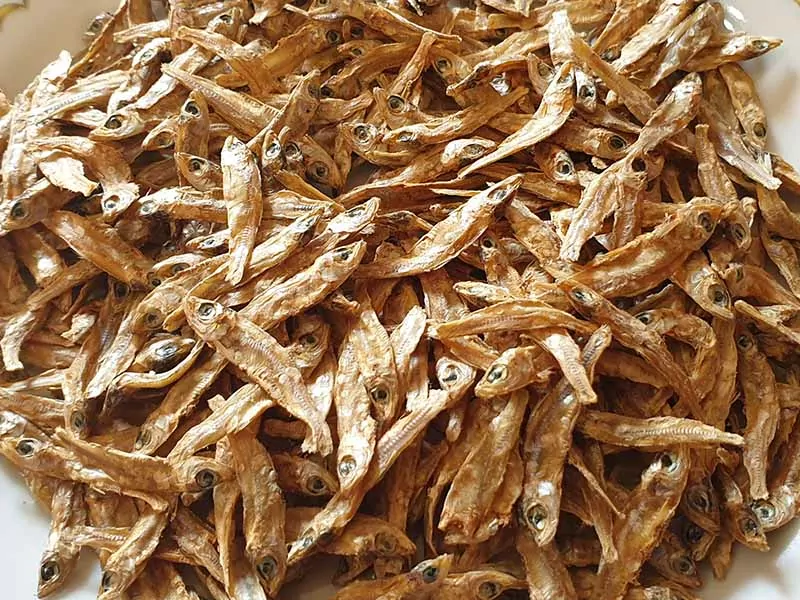 Kapenta is the name of a dried Tanganyika sardine dish in Zambia. There are two species of this fish: Lake Tanganyika sardine and Lake Tanganyika sprat. Both of them are from the Tanganyika Lake in Zambia.
Zambians often dry this tiny fish on rocks, concrete slabs, netting, or any clean surface directly under the sun. It is suggested that you should dry Kapenta on racks to gain the best flavor. Drying duration usually takes around one day up to the weather.
You can have Kapenta with Nshima or veggie dishes like Chibwabwa and Delele. Kepenta is popular in the rural area where you will find it mostly sold on the streets or in the markets.
19. Ifinkubala (Mopane Worms/ Caterpillars)
Hey! If you are a try adventurer, Ifinkubala is a must-try dish. This dish is made from Mopane worms and is considered a country delicacy. Mopane worms are edible and rich in proteins (twice the protein content in meat). These worms are also popular in Botswana cuisine.
Zambians catch these worms from different types of trees. Then, they will remove the internal wastes of the worms and dry them under sunlight to preserve nutrients. You can find these worms sold in many markets in Zambia.
People will collect Mopane worms twice a year. The primary harvesting time is from November to January (the early rainy season). The other harvest will happen from April to May (rainy season).
You can boil or fry the worms, then season them with your different spices like salt and onion and serve as a relish. Pair these worms with Nshima, or you can enjoy it as a tasty snack.
Allow me to introduce a delicate Zambian sweet course, Golabjamoun. These cookies are more like donuts or fritters that people often bake in an open fire.
This dish was first brought to Zambia by Indian railway workers in the early 20th century. These lovely balls are made out of sweet potatoes, milk, and sugar. People will deep-fry the dough to create an excellent crispy cover with an enchanting soft interior.
Zambians often enjoy the dish plain, but you can dust some powdered sugar or drop some sweet condensed milk for extra sweetness.
21. Bushmeat (Wild Animal Meat)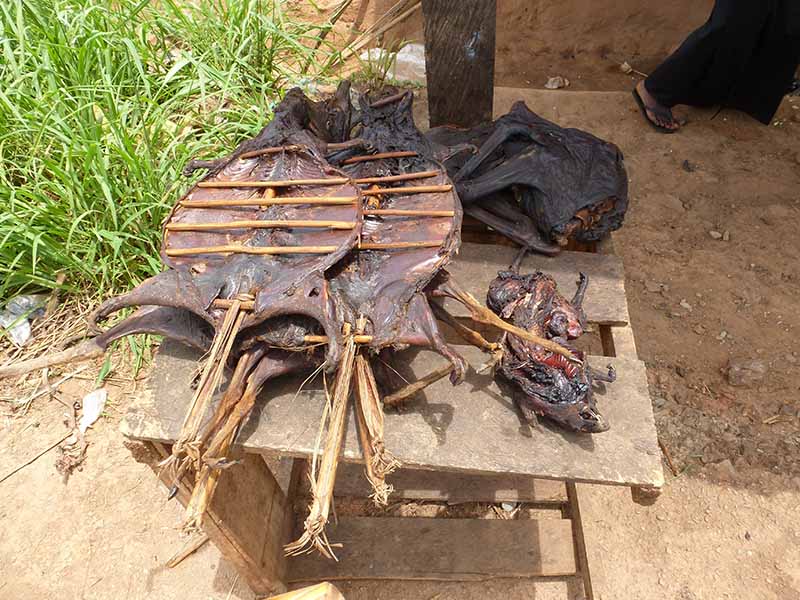 Because Zambia has a large number of wildlife animals, Zambian hunters usually hunt and sell wild animal meat. In modern days, this hunting activity is no longer commonly available, thanks to the wildlife protection rules.
However, some licensed suppliers are allowed to sell this type of meat, and bushmeat is still a delicacy of Zambian cuisine. Animals like Kudu, Buffalo, and Porcupine are common in these markets.
Traditionally, the meat will be smoked and dried for better preservation before displaying on the market shelves.
Zambian Etiquette – A Special Culture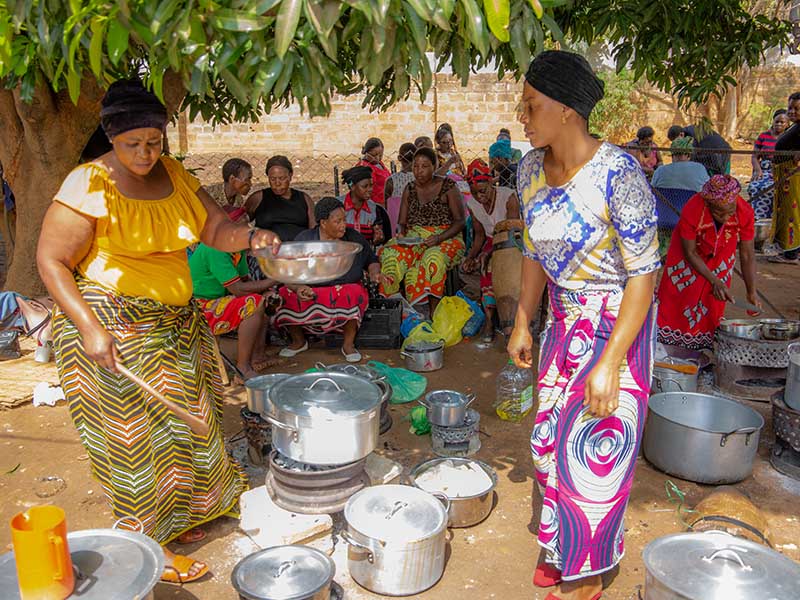 In Zambia, people enjoy their food in many ways but often follow a rule of manners when they are at the same table. Want to discover this special culture? Keep rolling!
In the traditional Zambian family, all the food on the table is the wife's responsibility. And the boys (from seven years old or older) will have their meal with the man of the family. Girls and younger boys will enjoy their meal with their mother as they need their mom's guidance.
This traditional culture is different in cities or towns, where all members in the family will enjoy their meal together. Before the meal, Zambians often wash their hands in order. The first one is the father, then the mother and last is children with higher ages from to lower.
When the family has guests, they will be the ones who wash their hands first. The water is often passed around by the young child of the family. Remember not to speak too loud while eating, as this action is considered rude behavior.
You can belch after eating because, in Zambian culture, it is a compliment to the meal. However, in the modern-day, it is not a compliment anymore.
After the meal is finished, the mother and young children will clean the table, and all the family will wash their hands in the same order.
Welcome To Africa With These Lovely Zambian Specialties
What do you think about Zambian cuisine? Isn't it fascinating? Although Zambia is just a small country, its foods will satisfy your hunger with the most complex flavor. Exploring the suggested food is also a fantastic way to know more about this country's culture.
So, this is a wrap for today! What is your favorite Zambian food? Let me know your opinion in the comment section. Goodbye and have a nice day!