Wow! Different types of sweet potatoes will give you various choices to change your meal with a fantastic flavor. Sweet potato has hundreds of variants globally; each region will offer a one-of-a-kind potato that you will not forget.
Sweet potatoes will provide enough energy for you during the day. There are many ways to process and turn sweet potatoes into a delicious meal. So, let's stop the delay and dive into this post.
36 Types Of Sweet Potatoes To Fill Up Your Stomach
Yummy! I can't wait to explore the following sweet potatoes with you. Sit tight because you will be amazed by all the interesting information.
1. Murasaki (Japanese Sweet Potatoes)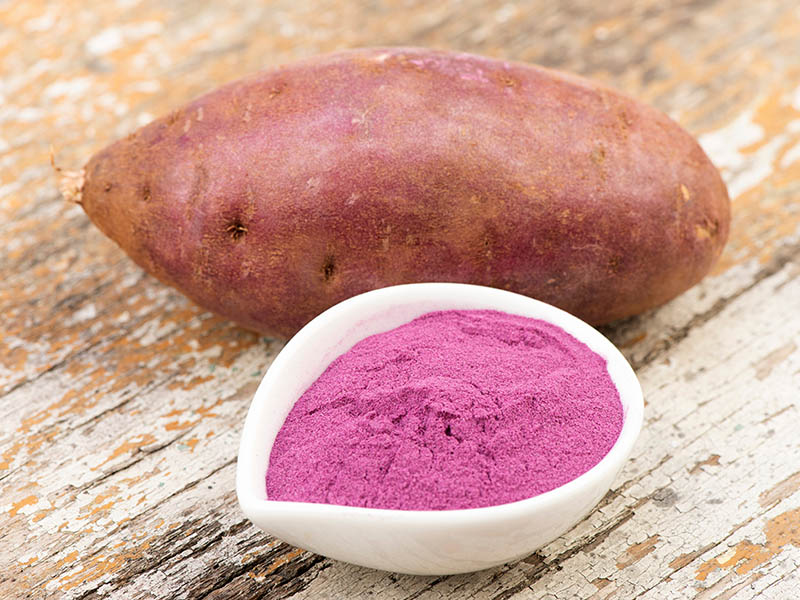 Murasaki is one of the most famous Japanese sweet potatoes classified as Ipomoea batatas. The name Murasaki means 'purple' in Japanese, indicating this amazing potato's dark purple outer skin.
Murasaki sweet potatoes were developed by the Louisiana State University (LSU) and released to the farmer in 2008. The potato is primarily grown in California.
The flesh can be white, yellow, or purple, depending on the variants of the potato. The interior is drier than other potatoes. After cooking, Murasaki has a strong nutty taste with a gentle, sweet flavor.
If you want a delicious substitute for rice, try Murasaki now. You can sautée, roast, boil, or bake Murasaki potatoes for the best taste. People often add it to stew, soup, or curry recipes for a delicate flavor.
This potato is a perfect source of vitamin A and vitamin C with tons of other essential minerals and beneficial amino acids.
Let's fry these Murasaki sweet potatoes to become a delicious meal!.
2. Hernandez Sweet Potatoes
Here is another tasty potato developed by LSU, Hernandez. This sweet potato has light red skin with moist orange flesh. Each bunch will result in plenty of big roots with a dazzling sweetness.
The skin is moderately smooth, and Hernandez takes around 125 days to develop to reach a perfect harvesting point. This species of sweet potato resists diseases like fusarium wilt.
Hernandez sweet potatoes are perfect for baking, roasting, or adding soup and stew recipes (you will need to dice the potatoes). Some people also slice it for fried dishes.
3. Stokes Purple Sweet Potatoes
In North Carolina, there is a tasty sweet potato with a light purple interior called 'Stokes purple'. Its skin has a deep purple hue which matches with the interior shade. Mike Sizemore was the first person who discovered this potato.
Multiple anthocyanins are the pigments forming the red and purple color for strawberries, cherries, and purple carrots. These potatoes have a fibrous texture with an earthy flavor. You need to cook these potatoes at low-heat with a longer duration than other potatoes.
Stokes purple sweet potatoes have less sugar content than common potatoes with a moist interior. This sweet potato has a floral note with a dry and firm texture in every bite. You can bake, steam, or boil it for an enchanting flavor.
4. Hayman Sweet Potatoes
You will fall in love with this potato when you take the first bite. Hayman sweet potato originated in Barbados over 160 years ago; then, it became popular in the East coast region.
You can turn this potato into a beautiful Fall breakfast dish. Hayman sweet potatoes have a moist texture when you bake them.
This potato has white skin with light-green or yellow flesh. It has an unattractive gnarly shape and gives low yields, so farmers often avoid growing Hayman sweet potatoes.
However, this potato has an enchanting sweetness, just like honey when you bake it. As a result, Eastern Shore epicures sought this unique potato at an attractive price.
5. Yamaimo Sweet Potatoes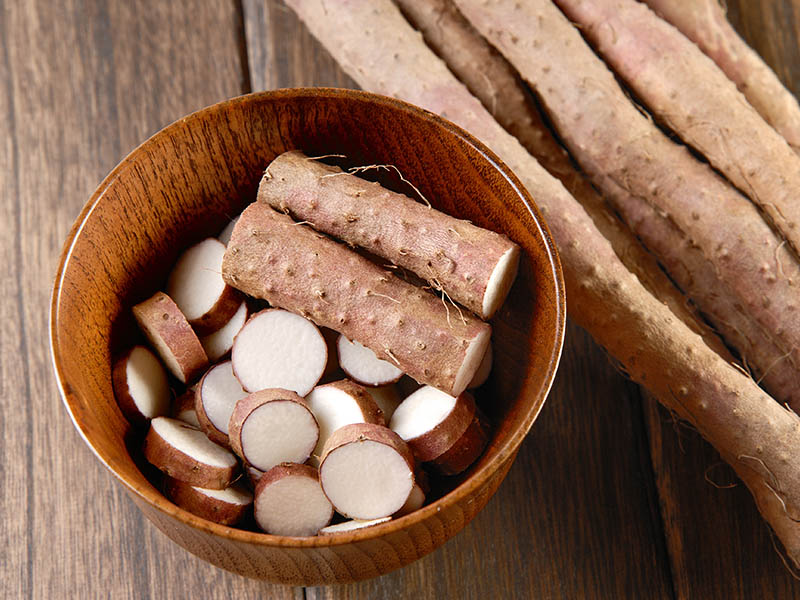 Yamaimo sweet potatoes (also known as Yamaimo mountain yam) have a sticky texture and gently sweet flavor. The potato has a long, slender body with dark-brown skin and creamy white flesh.
Yamaimo has a sticky and slimy texture that people often use as a binding agent. You might find this potato in dishes like crudité-style salads, soba noodles, stir-fries, soups, or use it as a side dish.
If you've ever looked at a sweet potato and thought, "Is raw sweet potato edible?" Here's a variety that allows you to do that. In Japan, local people often enjoy Yamaimo raw as a snack. Pan-fry, sautée, or grate the potato for a tasty meal. This root can be served as a delicious appetizer for your meal.
6. White Sweet Potatoes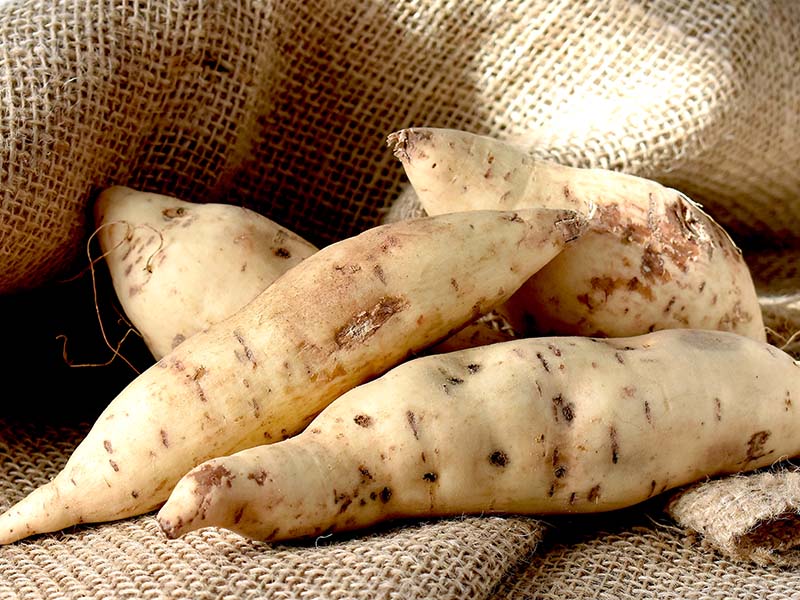 White sweet potatoes have a gentler sweet taste than most other sweet potato types. Its texture is crumbly and dry compared to the orange type. White sweet potatoes are a healthy option with more nutrient content than starchy potatoes.
If you cook it correctly, this sweet potato is a flawless sandwich side dish. As the flesh is a little dry, you can mix white sweet potatoes with butter to add moisture and creaminess.
People often use white sweet potatoes to substitute the classic potatoes when they need to recreate the same appearance. There are many ways to cook white sweet potatoes; you can bake, roast, grill, or mash them for a fantastic meal.
7. Jewel Sweet Potatoes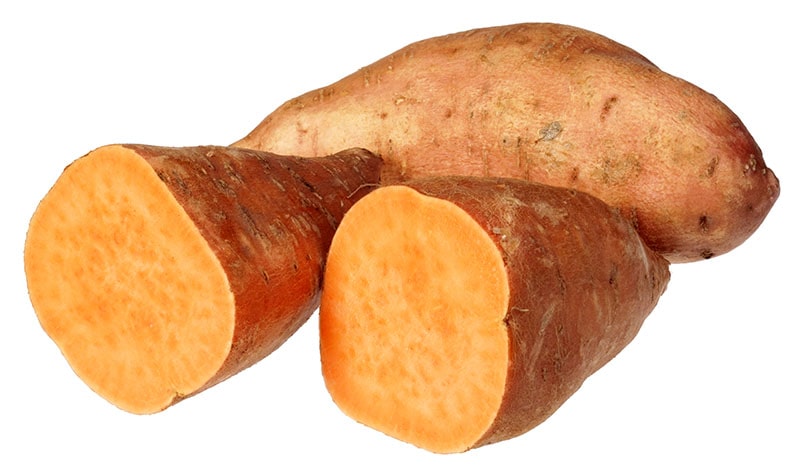 These sweet and orange sweet potatoes are one of the new sweet potato species introduced in the 20th century in the US. These potatoes are large with a cylindrical shape and copper-colored skin.
Jewel sweet potatoes have moist and firm flesh with a beautiful bright orange shade. You should not store this potato in the refrigerator. Just place all the potatoes in a basket of a well-ventilated area. The potatoes are best for around one to two weeks.
Like other sweet potatoes, you can roast, bake or mash Jewel sweet potatoes to enjoy. If you don't know what to pair with tasty burgers, mashed sweet potatoes are a great side dish choice.
People often use these roots for making soups, desserts, or casseroles. After cooking, it still has a lovely orange shade with a slightly earthy and sweet taste. However, if you don't cook it properly, the texture will be pretty watery.
Is growing Jewel sweet potatoes easy? Let's find out!
8. Nancy Hall Sweet Potatoes
Nancy Hall sweet potatoes are light-skinned with yellow flesh. Sometimes, you will find this sweet potato with pinkish skin. Nancy Hall has an oblong shape around 10 to 20 cm long. The potato is suitable for growing with organic methods.
This potato originates in the US and Paris. People often cure Nancy Hall in curing sheds (warm and humid environment) for several weeks before using. The potatoes will develop a sweet, moist, and firm flesh.
Local farmers often pay to store the potatoes in hothouses warmed by wood stoves or kerosene. In modern days, small specialty growers and home gardeners.
You can bake the potatoes for a sweet and juicy flavor, although their appearance might not be as attractive as other potatoes.
9. Evangeline Sweet Potatoes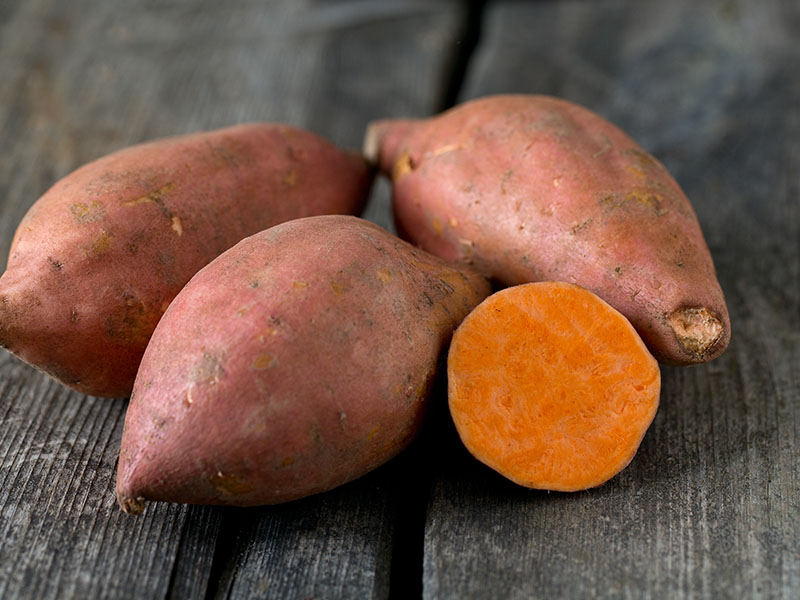 If you want to try a unique sweet potato with premium quality, Evangeline will match your desire. This sweet potato has deep orange flesh with slightly red skin. The skin will gradually fade to a rose color in the storage. This is a variant from Louisiana.
Evangeline has a sweeter flavor (thanks to Sucrose content) compared to other sweet potatoes (mostly containing Maltose). This potato has resistance to most common plant diseases like Fusarium root rot, Soil rot, and Root-knot.
10. Apache Sweet Potatoes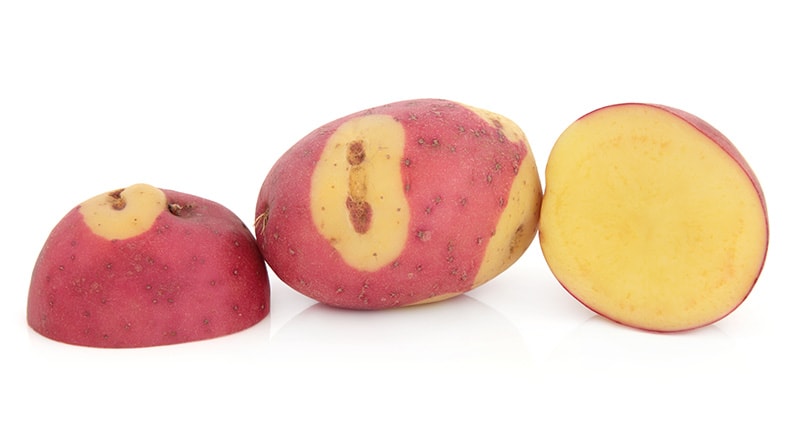 Apache is a special sweet potato with a striking red color with dotted patterns. The potatoes also have different cream-colored patches. This potato has a beautiful sweetness with a creamy chestnut flavor.
When you touch it, you will feel a waxy texture on your hand. Apache is quite small and is often scrubbed before cooking. Its color will remain bright if you blanch it before roasting the whole root with its skin on.
Apache has a great nutritional package with vitamin B, vitamin C, fiber, protein, and iron. The quantity of these nutrients is even richer than most veggies.
11. Kūmara Sweet Potatoes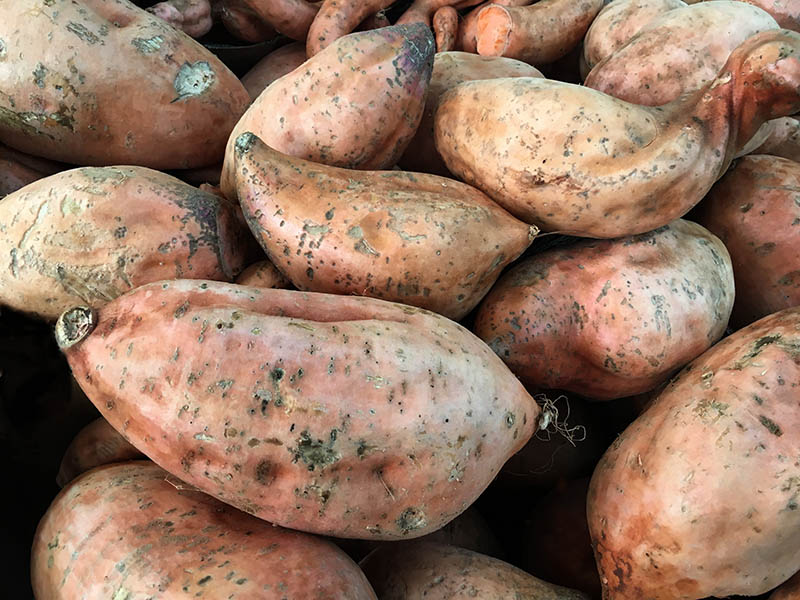 Hundreds of years ago, Kumara sweet potatoes were brought to the Pacific islands by the Maori. The name Kumara is the Maori word to indicate sweet potatoes. This plant loves the semi-tropical climate from the North Island regions.
The modern Kumara evolved from a big American variant in the early 1850s. There are many variants of Kumara: Owairaka Red (red-skinned), Gold Kūmara (golden skin with a sweeter taste than the red one), and Orange Kūmara (the sweetest one).
The Northern Wairoa region has the best soil type and climate to cultivate Kūmara. You can mash, barbecue, or add it to some soup, stew, or braise recipes. Some recipes cook the Kūmara until soft and leave it to cool for salad dishes.
The potatoes are also a good companion for fruits like pineapple, apricot, and bananas. You can bake Kūmara whole or slice it for a crispy texture.
12. Vardaman Sweet Potatoes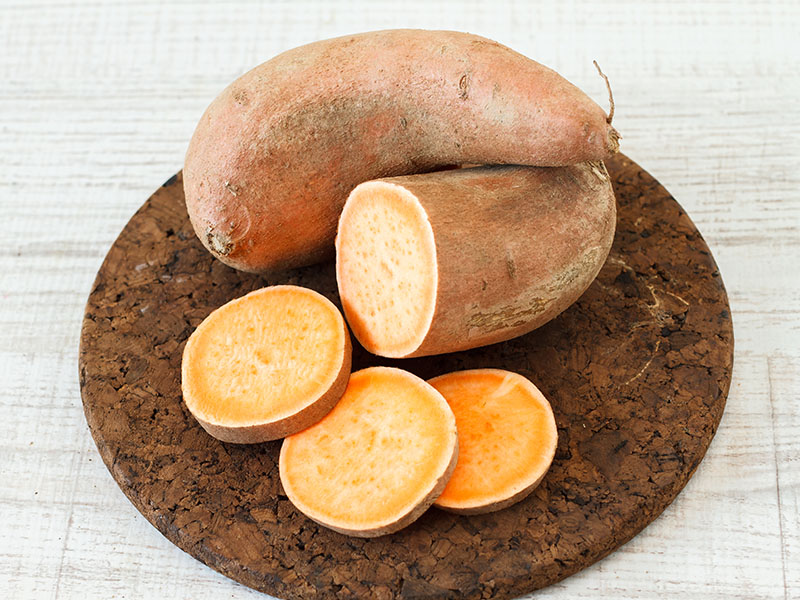 Vardaman sweet potato has its name from Vardaman (Mississippi) that first appeared in 1981. This plant is a bush that gives 'jumbo' roots with golden-yellow skin and deep reddish-orange color.
Vardaman has a sweet and moist flesh that is perfect for roasting. You should roast it in the oven for 45 minutes (425°F) to have a crispy texture and golden-brown outer layer.
The potato is a great choice to grow right in your garden as it does not take much space. You will beautify your garden with bright red and green foliage when you grow it.
Discover the process of producing these Vardaman sweet potatoes.
13. Cilembu Sweet Potatoes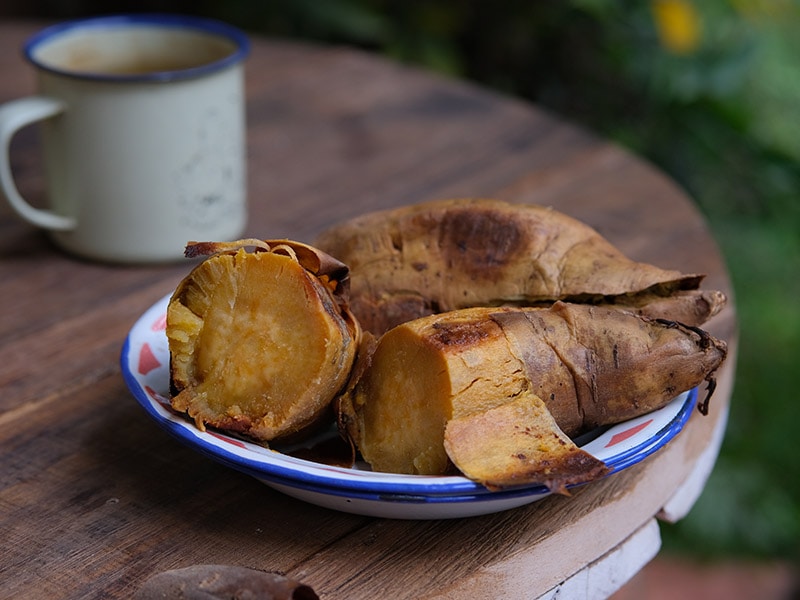 In the Cilembu village of Indonesia, there is a tasty type of sweet potato named 'Cilembu'. This potato can only be grown at the height of around 1000 m above sea level. The area also needs moderate rainfall for the potato to develop.
The Indonesian Ministry of Agriculture in 2001 recognized Cilembu as a native plant of Indonesia. This potato has a round and long shape with around 0.5 to 2 kilograms. The potato produces a naturally sweet glaze when baked, so baking is a brilliant way to cook it.
When you bake it with the skin on, you can remove the inner flesh and utilize the cooked flesh for both savory and sweet cake and pastry recipes.
Don't boil or steam Cilembu as the natural sweetness will be lost during this process. People also use Cilembu to make cakes, jams, or chips. Cilembu is exported to many neighboring countries in South-Eastern Asia.
14. Camote Sweet Potatoes
Camote sweet potatoes are a native plant in the tropical regions of Mexico (especially in Puebla) and some parts of America. The potato was a crucial part of the Mayan diet contributing to the diversity of Mexican culinary culture.
Camote is a Spanish word for sweet potatoes, and this ingredient is a popular snack in Mexico sold by many street vendors. The sellers will use a big metal cart using wood to create heat to cook Camote.
One way to indicate warning signs of bad potatoes is by observing the appearance of your potatoes. If it is soft and mushy, the potatoes are no longer edible.
You can top the sweet potato with sugar, cinnamon, or honey to enrich the meal. You can bake this sweet orange-flesh potato for the best flavor.
15. Beauregard Sweet Potatoes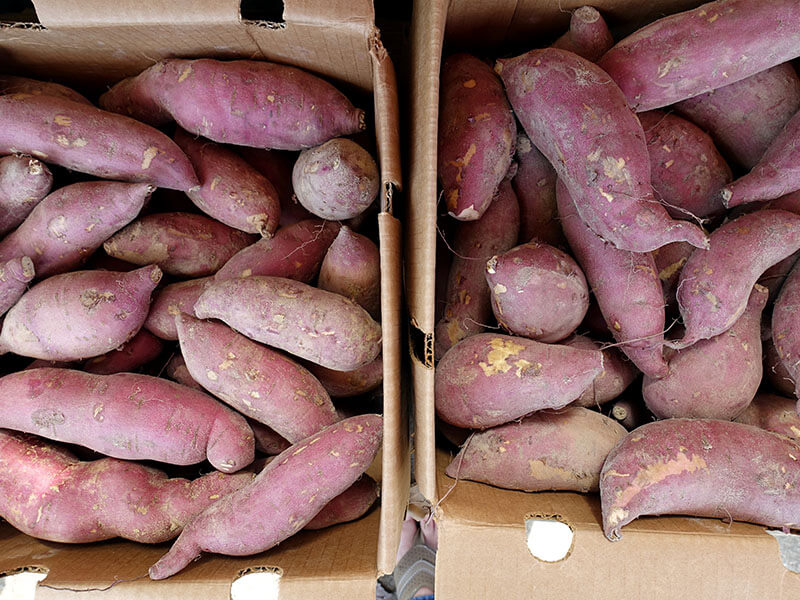 This is one of the top orange-flesh sweet potatoes giving a high yield and mature early (90 days). Beauregard Sweet Potatoes is an elongated, large, red-skinned veggie with an amazing sweetness.
You will find farmers accept and grow this Beauregard sweet potato almost everywhere, as growing it is not a challenging task. These potatoes have a juicier and stringier flavor when cooked.
People often mash and bake this potato and serve it with butter and honey. Or, you can cut it into cubes and roast it. Then, add the potato to your favorite summer salad with goat cheese, spinach, and other refreshing ingredients.
The potato will slightly break down and has less chewy texture compared to other sweet potatoes after cooking.
This potato will stay fresh for around four weeks (whole and uncooked) in a cool, dry place and avoid direct sunlight. When cooked, you can keep it in a refrigerator for up to five days in an airtight container.
16. Kotobuki Sweet Potatoes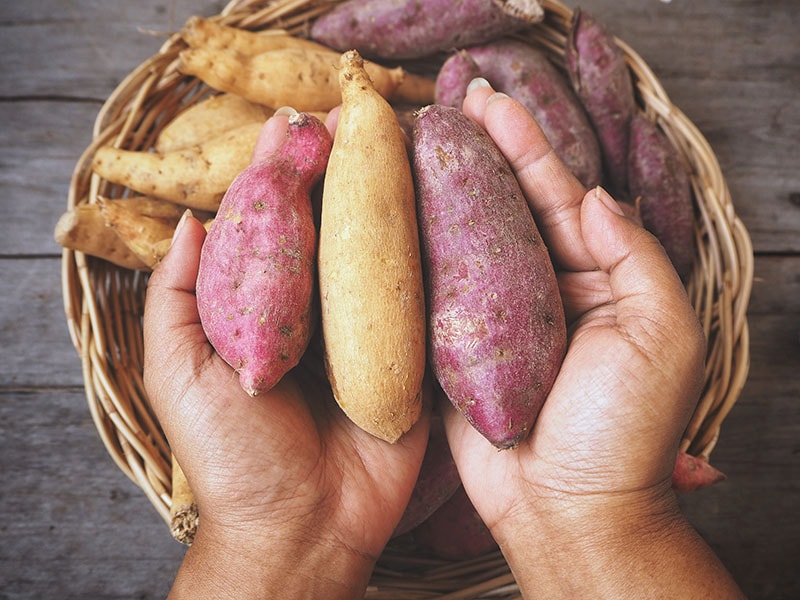 Let me greet you with an enchanting sweet potato from Japan, Kotobuki. This is a unique potato with a dark purple or white flesh and a nutty taste (similar to chestnut). The skin color varies from rose-colored to dark reddish-brown with small eyelets.
This potato is often available on the market shelves in the early summer months. These potatoes are great for making Tempura, salads, or baked goods. Stews, soups, and stir-fries are typical dishes that you can use Kotobuki.
The potato is widely used in Japan but not really common in other nations. Its taste is a bit dry and takes around 100 days to mature.
17. Georgia Jet Sweet Potatoes
Georgia Jet sweet potatoes are one of the early maturing varieties (100 days) that provide high yields for farmers. The potato has red skin (sometimes rose petals) with sweet and tender orange flesh.
Georgia Jet is a sweet specialty from the Northern US that can grow well in cold weather. You might find some farmers growing Georgia Jet in the Southern regions too. These potatoes are moist and slightly fibrous, which is perfect for baking.
Growing a perfect Georgia Jet sweet potato is not an easy job.
18. Purple Sweet Potatoes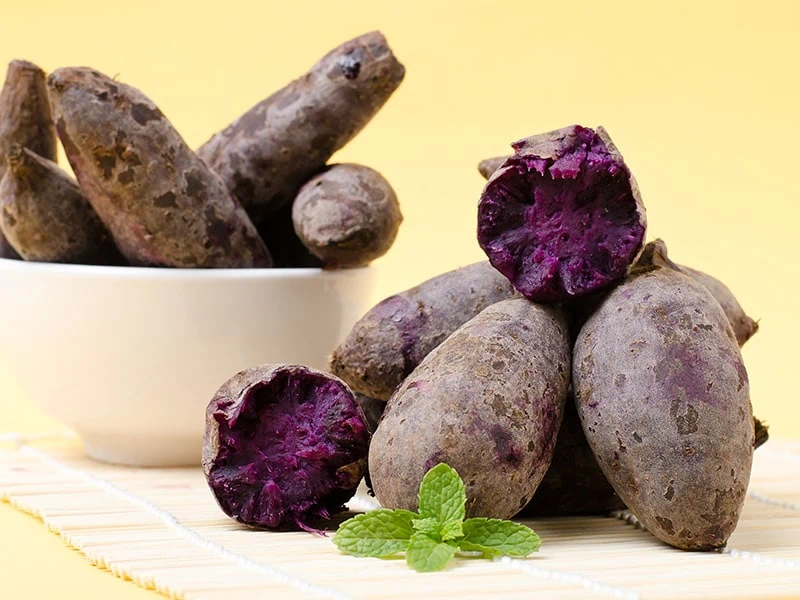 Purple sweet potato is insanely popular in many Asian and Latin cuisines. Its skin color ranges from white to dark purple hue. The interior is a real pop of color with a fascinating deep violet shade. This plant is a member of the Ipomoea family.
Okinawa (white skin) and Stokes (Purple skin) are two major varieties of the purple sweet potato. Anthocyanin is a lovely pigment giving this potato its purple hue. Purple sweet potatoes often have a higher price compared to ordinary ones.
The potato originated in southern Central America and Colombia. Then, it was brought to Asia and America. The skin of this purple root is edible, but some recipes require peeling it. Purple sweet potato has a winey taste with an amazing creamy flavor.
Similar to other orange or white potatoes, you can boil, bake, or steam them for an amazing meal. Fries, mashed potatoes, and soups are some great choices to cook. As the texture is quite dry, you should choose a recipe with high water content.
19. O'Henry Sweet Potatoes
This sweet potato is a natural gift from the Convolvulaceae family. O'Henry sweet potato has an elongated, cylindrical shape with creamy white skin. The surface is rough with many shallow eyes. The flesh is white (pale yellow) and less dense than other potatoes.
Its flesh is stringless and has a low moisture level that evokes a subtle aroma with a wonderful nutty flavor. O'Henry sweet potatoes are available with the highest yield in the fall.
The potato is best for baking, roasting, and boiling with a dry fresh after cooking. People often use it for both sweet and savory recipes like casseroles, bread baking, or breakfast hash. Soups, sauces, and stews are great with O'Henry too.
This root pairs well with fragrant herbs like parsley, thyme, sage, and so on. Beans like chickpeas black beans are also great companions. The potato is a traditional choice for festivals in Vardaman.
20. Okinawa Sweet Potatoes (Hawaiian Sweet Potatoes)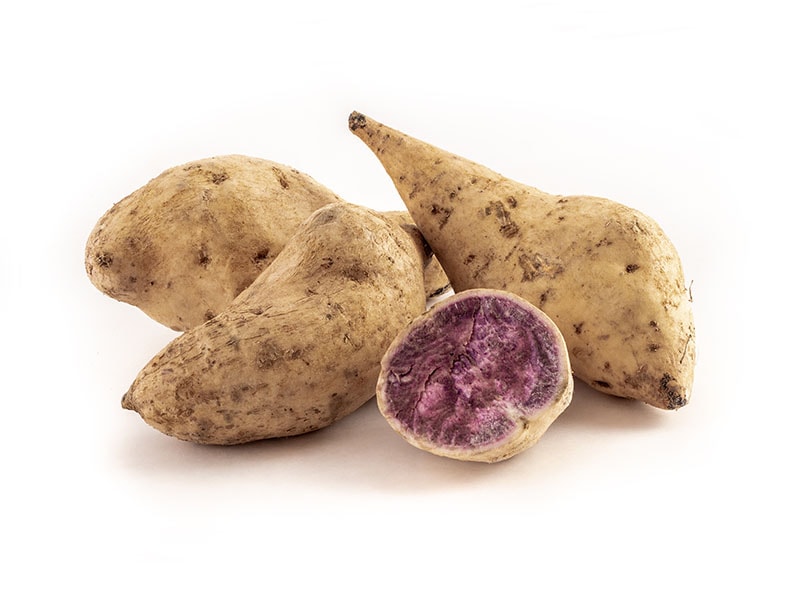 Despite its name, Okinawa sweet potato has its origins in Hawaii (US). The potato was brought to Japan between 1492 and 1605. As the plant grows well in Japan, it becomes one of the most famous potatoes.
The potato has an alluring deep purple flesh with a note of sweet honey taste. It is a thin and creamy beige with a smooth texture. Okinawa belongs to the Convolvulaceae or morning glory family.
This potato is one of the most healthy sweet potatoes, with 150% more antioxidants than certain berries like blueberries. Iron, dietary fiber, and vitamin A are packed in this sweet potato. Okinawa is perfect for both sweet and savory recipes.
Its sweetness is perfect for desserts like cheesecake, Japanese ice cream, pie, and mochi. You can slice and deep-fry the potato in batter, just like making Tempura.
21. Crown Jewel Sweet Potatoes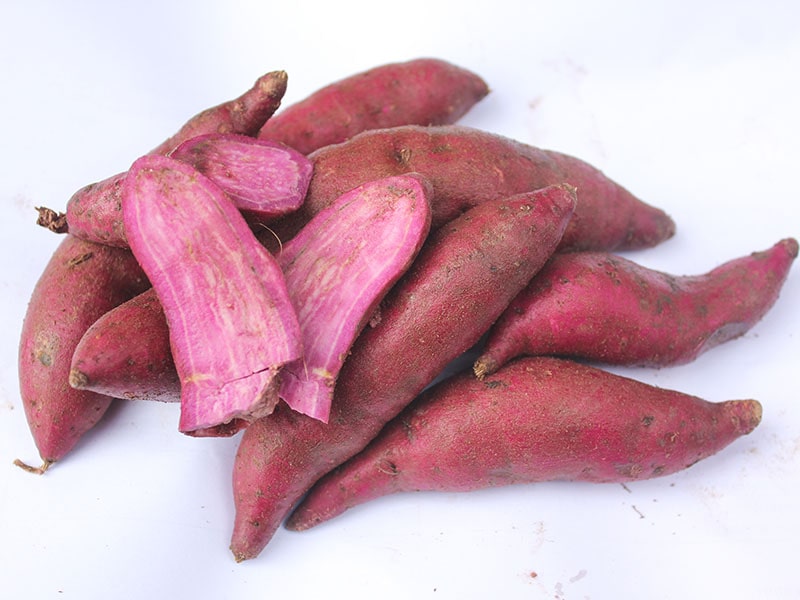 This Crown Jewel sweet potato has a purple color with a waxy and dense interior. The outer layer is quite smooth and can be used in tons of different dishes. This potato is packed with valuable nutrients too.
These sweet potatoes can be used for creating savory meals or sweet dishes. Crown Jewel sweet potatoes have their best flavor when you fry them. The outcome is a sweet and crunchy dish that you can forget.
22. Satsuma-Imo Sweet Potatoes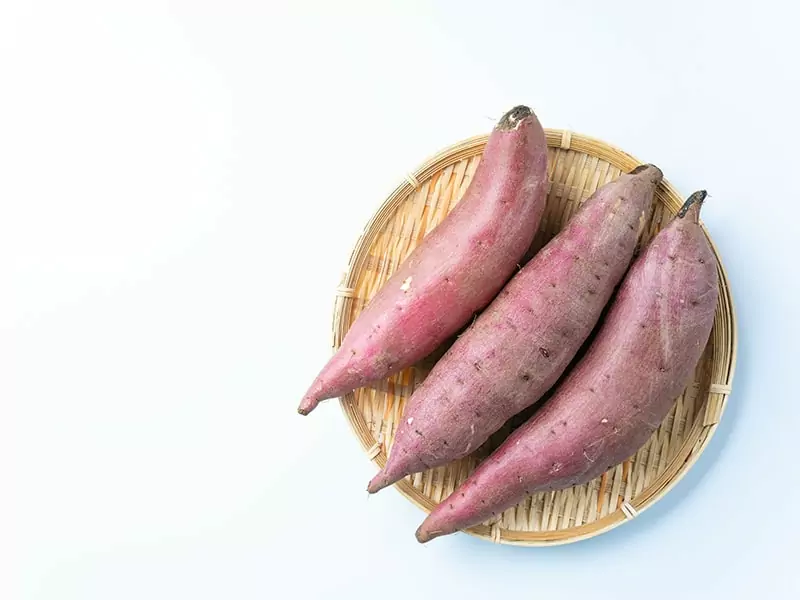 In Japan's late summer to winter, Satsuma-imo will greet you with the most mesmerizing flavor. Its skin is semi-rough with a reddish-brown hue. The shallow eyes add character to the lovely thin skin.
Satsuma-Imo has a long, slender shape with a small or medium size. Its flesh is firm and has a white to pale yellow or golden color. When you cook it, the texture will become starchier and drier with a nutty, floral flavor reminiscent of caramel and chestnut taste.
This potato is classified as Ipomoea batatas and belongs to the morning glory family. The potato has its name from Satsuma ( a region on Kyushu island, Japan). Common Satsuma-Imo variants are: Naruto Kintok, Silk Sweet, Anno-imo, And Beni Asuma.
Local people often enjoy this potato as a snack or use it to make sweets, noodles, confectionaries, and alcoholic beverages (like Shochu).
In Japan, people use Satsuma-imo to make Imo Gohan (sliced or cube tubers). The potato is the main ingredient for making a traditional New Year's dish (mashed sweet potato and boiled chestnuts) in Kuri Kinton.
Satsuma-Imo is perfect for serving with miso or even Greek yogurt.
23. Centennial Sweet Potatoes
Centennial sweet potato has carrot-like tubers with bright orange flesh and a meaty structure. You will only find this type of potato in short-season regions in America. It is mature early with only around 100 days (usually harvest before frost).
Its orange color embraces both the skin and the interior. After you bake it, the texture is moist and deliciously sweet. If you want to make a sweet potato fry dish, Centennial will be an outstanding choice.
Centennial sweet potato only loves growing in a long, warm season. In the Northern areas, people often warm the soil with black plastic.
24. Covington Sweet Potatoes
These sweet potatoes will charm you with their dazzling taste. Covington sweet potato has a small to medium size with a diameter of around 8 cm. Its body is long and thin with a reddish-brown color. You might find some dark-brown spots on the skin.
Covington has a firm and moist flesh with vibrant orange color. When you cook it, the flavor is sweet with a malty taste. This potato is available throughout the year and is a source of valuable nutrients for you.
The potato is best suited raw for salads and cooked dishes like roasting, baking, and mashing. Bake it for a tasty casserole dish or enjoy it standalone. You can pair it with aromatic herbs or make some sweet dishes with honey-lime glaze.
Is it easy to grow Covington sweet potatoes on a raised bed? Let's find out!
25. Red Garnet Sweet Potatoes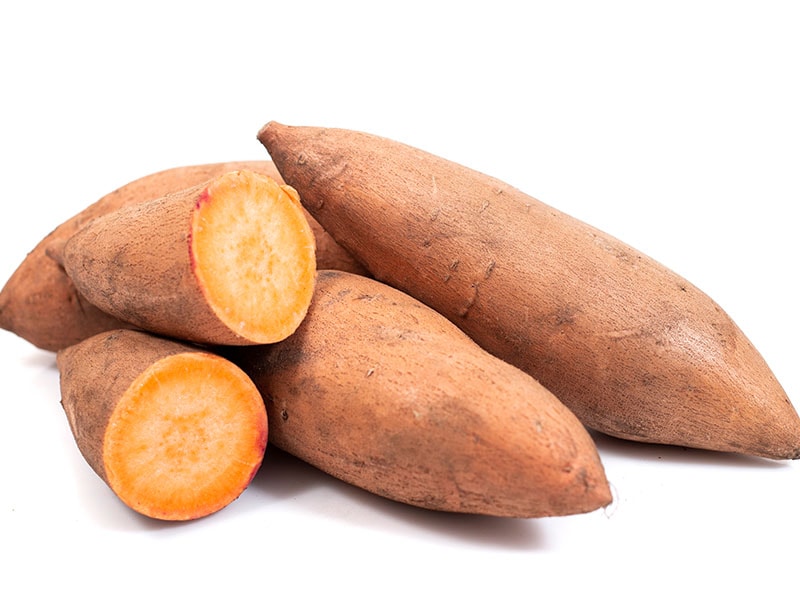 If you love a sweet potato with an incredibly moist interior, Red Garnet sweet potato will suit your hunger. The moist level is so amazing that people often describe the interior as 'succulent'.
Red Garnet has a cylindrical shape and deep-brown skin. When you cook it, the taste becomes sweet and earthy that has a starchy texture. You can also eat the leaves of Red Garnet. The leaves taste similar to spinach.
This potato is classified as Ipomoea batatas that have orange-gold flesh. You can use this sweet potato (mashed or pureed) for making soups, curries, and sauces. Some chefs use Red Garnet to make French fries or add them to both savory and sweet recipes.
Baking and steaming will also result in a fascinating outcome for you. Pair it with cilantro, cinnamon, cumin, or feta cheese for a dazzling meal.
26. Amish Bush Porto Rico
This potato has ivy-shaped leaves and orange flesh. Amish Bush Porto Rico color varies from pink (or red) to copper-colored skin. It has a sweet and buttery taste when baked, which gives your mouth a smooth and delightful feeling.
The potato is a nice choice for a yummy dinner in fall as it has a peak season from September to October. Another peak season is around March to May, but you can enjoy this sweet potato the whole year. This plant matures in roughly 100 days.
Amish Bush Porto Rico is an excellent idea for a chicken side dish. You can pair it with other meat like ham with a glass of red wine. It is a great choice to replace Centennial or Beauregard sweet potatoes.
People peel and boil (or reverse) to cook the potato. Chefs often bake or roast it and add it to other recipes.
27. Bam-Goguma (Korean Purple Sweet Potato)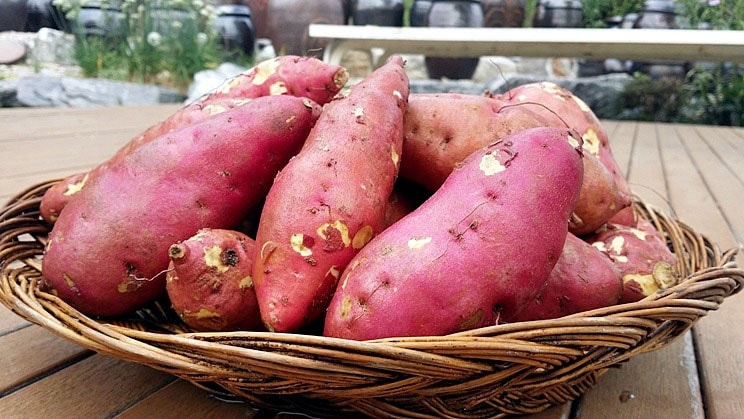 Bam-Goguma is a sweet potato in Korea similar to the Japanese sweet potato. Bam-Goguma has a vibrant purple hue with an impressive sweet flavor when cooked.
In Korea, there are four major variants: Honey Sweet Potatoes (Kkul- Goguma), Pumpkin Sweet Potatoes (Hobak-Goguma), Chestnut Sweet Potatoes (Bam-Goguma), and Purple Sweet Potatoes (Jeok-Goguma).
All of them are so tasty that you should try them all when visiting Korea. The chestnut variant is the most famous type consumed globally. In winter, local people often roast Bam-Goguma and enjoy it as a tasty street snack.
Some people also add it to their diet menu as it is sweet and full of nutrients. In Korea, people pair the sweet potato with kimchi or add some salt and pepper. Enjoying it plain is an excellent way to feel all the natural flavor.
28. Sumor Sweet Potatoes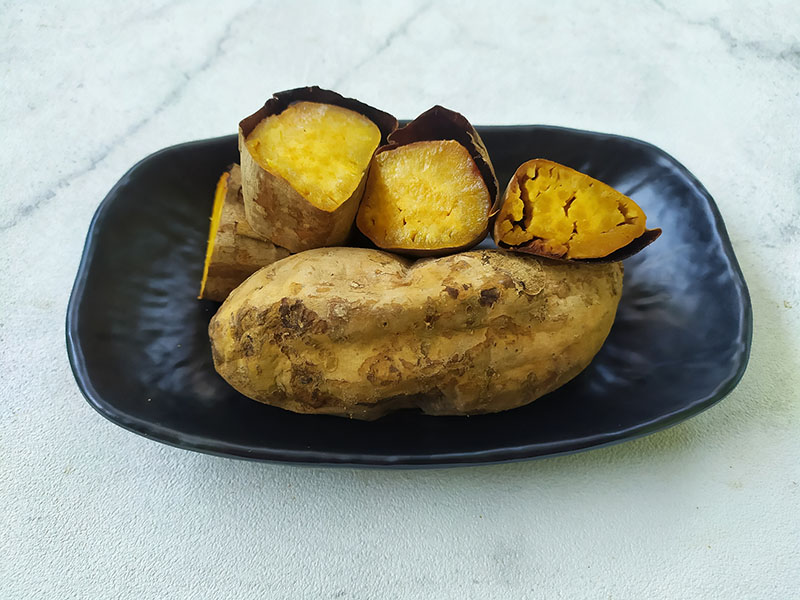 Here comes one of the latest variants of sweet potatoes, Sumor. Its name is an old English word for 'summer'. This potato skin color ranges from tan to yellow. Its flesh has a white or yellow color and is full of vitamin C.
The plant thrives in warm climates and can resist certain diseases. If you are planning to make some baked or fried dishes, Sumor sweet potatoes are just perfect. It has less sweetness compared to other ordinary sweet potatoes.
29. Heirloom (Envy) Sweet Potatoes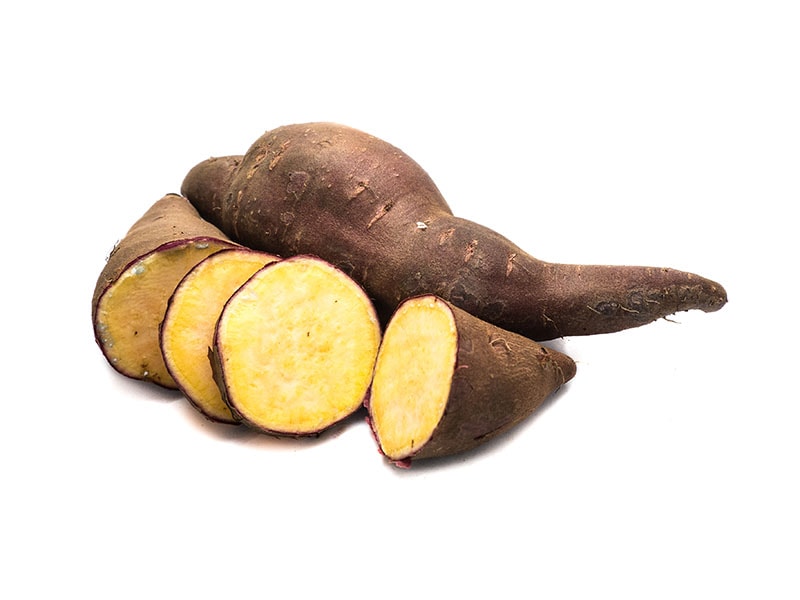 Heirloom is a term to indicate an ancient type of root vegetable that appeared a long time ago. It doesn't have a sweet flavor as the Beauregard and Jewel variants, and its appearance is not as attractive as the mentioned types.
Heirloom has a slight orange skin and flesh that gives a mild sweetness when cooked. Its moist texture is an ideal choice to add to stew recipes. You can also roast or bake this potato in the oven for an excellent meal.
30. North Carolina Sweet Potatoes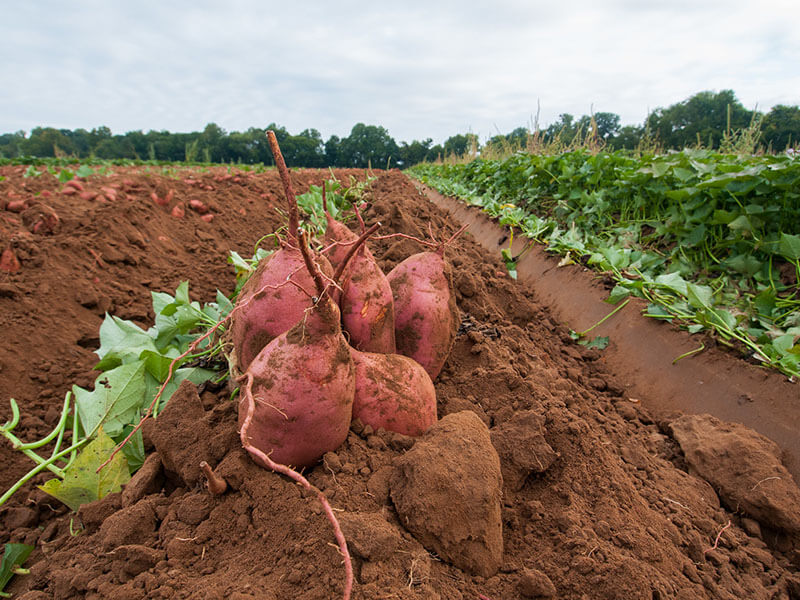 On the Southeastern coast of the US, there is a sweet potato variant that will charm your heart. North Carolina has been the top 1 state producing the best quality in the US since 1971.
This plant grows well in a hot and moist climate (mature roughly 120 days). The potato has a uniform shape with smooth skin.
The rich soil in this state is perfect for cultivating sweet and tasty sweet potatoes. North Carolina sweet potatoes have a glorious bright orange flesh that you can make tons of dishes out of.
Baked casseroles, fried snacks, or desserts like sweet potato-flavored ice cream are some delectable ideas for you to make a spectacular meal.
Let's discover every interesting fact about North Carolina sweet potatoes.
31. Jersey (Yellow Jersey) Sweet Potatoes
Yummy! You will be bewitched by the light golden (or white) flesh and a creamy-yellow color from this Jersey sweet potato. The potato has a dry texture that remains firm even after cooking it. The skin will fade to tan shade after storage.
This potato has its best flavor when you steam it in a pot of rice. Jersey sweet potato is an easy-to-cultivate plant that gives excellent yields and stores well. It is a common heirloom variety of sweet potatoes that is more fibrous and less sweet compared to other types.
Match this potato with herbs like cumin, oregano, paprika, and marjoram for an exquisite meal. Jersey sweet potatoes complement the taste of some alcoholic drinks like beer, white, and red wines.
32. Charleston Sweet Potatoes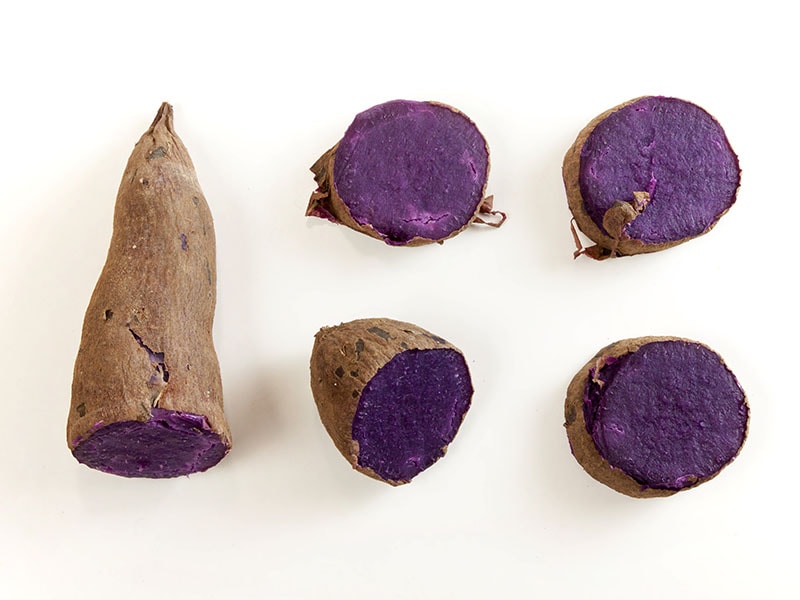 Charleton sweet potatoes are not as famous as other purple variants, but their taste is surely breathtaking. The potatoes have light brown skin hiding a beautiful vibrant purple shade of flesh. Charleton is quite dry and chalky in texture with a note of sweetness.
You will find a bitter aftertaste from these potatoes too. Charleton is perfect to season some Asian savory dishes. The color will turn to even darker purple when cooked. People describe this potato as having a more balanced flavor than the orange variants.
You can use Charleton sweet potatoes to bring a pop of color for any dish. The potatoes also have tons of antioxidants that benefit your health.
33. Tahitian Sweet Potatoes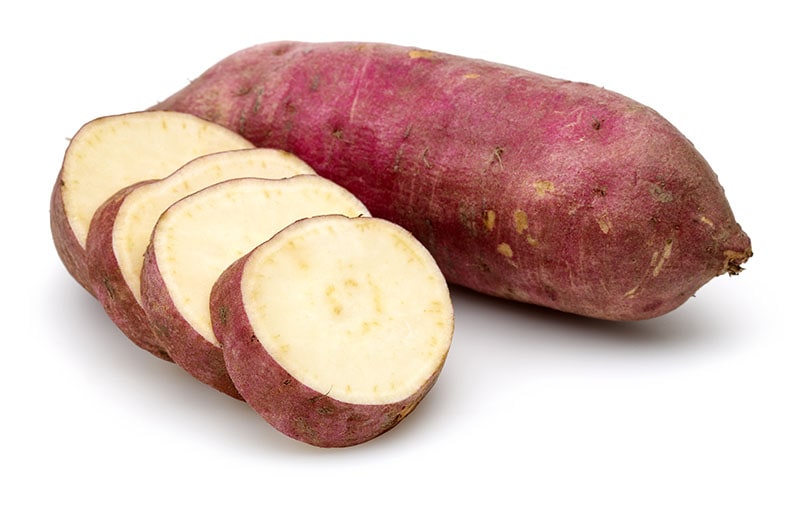 This potato varies from small to large with diverse shapes and colors, depending on how the farmers grow it. Tahitian sweet potato is slightly bulbous in shape and has thin purple skin. The potato flesh is dense with a white or cream color.
The flesh will be softer and moist and has a lovely creamy consistency. Its flavor is rich and nutty with a touch of subtle sweetness. Tahitian belongs to the Convolvulaceae family. This is an antique staple plant of Tahiti with different applications.
Mix the cooked potato with curry paste, coconut milk, and spices to form a lovely spicy potato salad. You can slice and roast the potato to create a caramelized exterior. Some recipes will mash and steam the potato for a creamy side dish.
34. Hannah Sweet Potatoes
This sweet potato is also known as Sweet Hannah or Yellow Hannah. Hannah sweet potato has light tan skin covering creamy white flesh with a subtle sweet flavor. The flesh will turn light yellow and have a drier texture when cooked.
Although it has a dry texture, this potato still has a creamy consistency after cooking it. It's one of the representative members of the morning-glory family. The plant grows well in warm temperate climates.
You can slice, grill, and serve this root with fragrant herbs and a squeeze of lime. Cook and mash it, then you have a wonderful side dish. People also bake, roast, or fry Hannah sweet potato to enjoy its best flavor.
Wow! This farmer has collected such huge Hannah sweet potatoes.
35. West African Sweet Potatoes
Sweet potatoes are one of the most common staple foods in Africa. West African sweet potato has medium to large size with cream-colored and rough skin. The flesh also has a cream color that is slightly sticky and starchy.
When cooked, the potato has a fluffy texture and a slightly sweet, nutty flavor. Sweet potato is well-known in the food culture of Tanzania, Nigeria, and Uganda since these countries are the main producers of this vegetable in Africa.
Local people use it for making flour, creating chips, and a typical ingredient for everyday cooking.
Local sellers display their sweet potatoes on roadside stands or fresh markets. Local citizens often boil it and enjoy it as a snack or add the ingredient into soups and stews recipes. You can enjoy it plain at any time during the day or pair it with tomato sauce.
The leaves of this sweet potato are often used to weaken asthma symptoms and gastrointestinal issues.
36. Ginseng Red Sweet Potato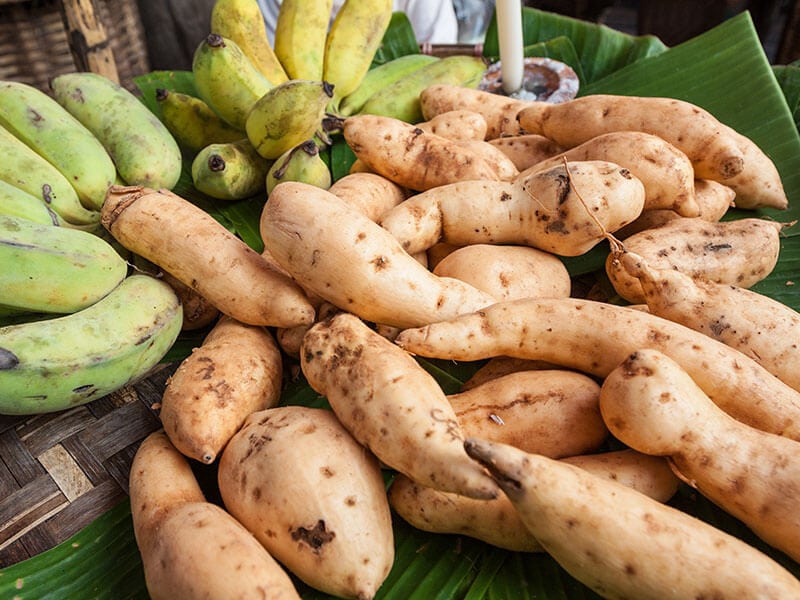 Wow! You will be amazed by the amazing flavor of this 'Ginseng Red' sweet potato. The potato has its name from the famous wild root that boosts your energy. Ginseng red has a reddish-orange cover with dark orange (or golden) flesh.
This plant adores the warm or hot climate, so people often harvest it in late spring or summer. The potato has a high content of Beta Carotene, vitamin A and other nutrients that benefit users' health. The flesh is moderately sweet and dry when cooked.
Ginseng Red is perfect for making savory meals or mixing and mashing with other ingredients.
5 Dazzling Sweet Potatoes Recipes For A Warming Family Table
Here come some charming sweet potato dishes that you can simply make for your beloved ones. Honestly, these recipes are very simple so that you will fully enjoy the cooking time!
Check out this delightful dish to utilize your leftover sweet potatoes. The dish is effortless to make; therefore, you can cook it for your family and friends on any occasion.
These mashed sweet potatoes have such a delicate orange shade.
Want a scrumptious side dish for a BBQ meal? You can try to make these super creamy mashed potatoes. It is also a nice choice to pair with a Thanksgiving Turkey. The slightly sweet, mild flavor will gently cover the main dish's taste.
Want a tasty vegetarian dish following the Paleo diet? Stuffed sweet potatoes have a beautifully sweet and buttery taste that you can use as a comfort meal.
I would like to introduce you to a perfect brunch recipe for this weekend! The dish looks so delightful with a sweet potato base like bread and is stuffed with black beans and veggies. Honestly, I highly recommend this one for your diet because it is gluten-free.
How about making some yummy bread from sweet potatoes? I promise that you may fall in love with it right away! From the outside, you can easily tell how crispy the crust is, and then it leads you to a super fluffy and light bread inside.
This airy and fluffy sweet potato bread will charm your palate.
Sweet Potatoes Has A Great Nutritional Value
Little did you know that sweet potato is a great ingredient that is packed with nutrients with many health benefits.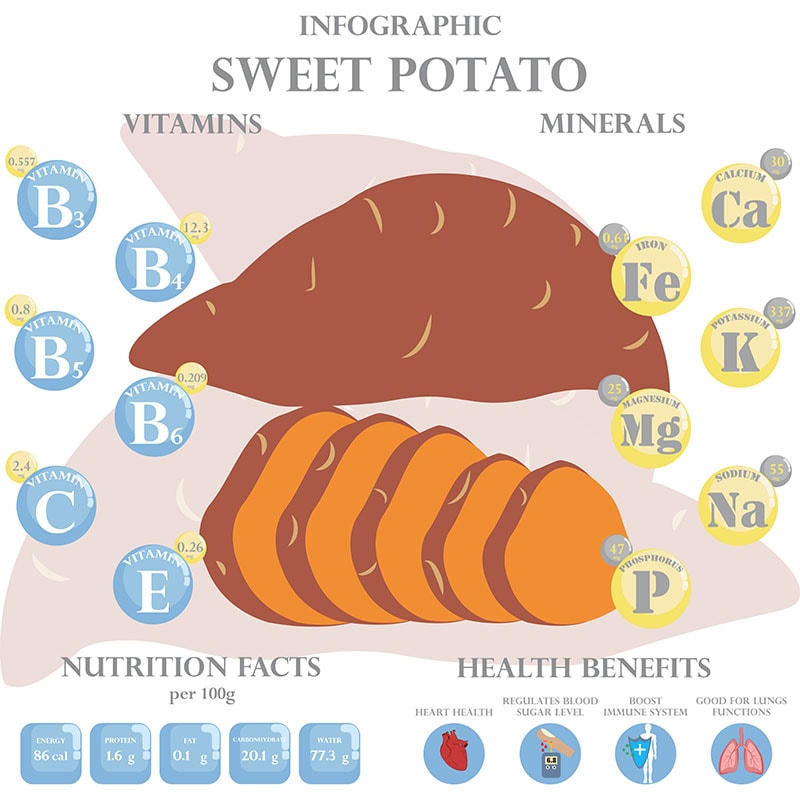 Nutrition facts of 100 gram of common raw sweet potatoes: Calories: 86, Water: 77%, Protein: 1.6 grams, Carbs: 20.1 grams, Sugar: 4.2 grams, Fiber: 3 grams, Fat: 0.1 grams
Sweet potatoes will help improve blood sugar regulation and is a great source of Pro-vitamin A for your daily life. This helps strengthen your eyes' health as your body can convert Pro-vitamin A to vitamin A.
Consuming sweet potatoes is a nice choice for diabetes management. They are a low GI food and can help balance the higher GI foods intake in your diet.
Such A Sweet Ingredient!
Sweet potato is a delightful ingredient that will give you an excellent sweet taste at just a budget-friendly price. In some countries, it used to be a staple food for the poor, giving them enough energy for the whole day.
There are hundreds of sweet potato pieces worldwide with different tastes, colors, and textures. What is your favorite sweet potato? I would love to see your ideas in the comment section below. Goodbye, I will see you next time.