How to know if sweet potatoes are bad? There are many signs showing your potatoes have gone bad. It is not difficult to recognize a bad sweet potato but to tell all signs of rotten potatoes, you might not know.
These days, sweet potatoes have become popular all over the world and are the favorite food of many people. Not only do they bring a large number of health benefits to the human body, but they also taste very well.
Therefore, many people usually buy lots of sweet potatoes to store in their home. Let's check this post to know the useful tips to recognize bad sweet potatoes to make sure that you throw inedible bad potatoes away and not waste your good sweet potatoes.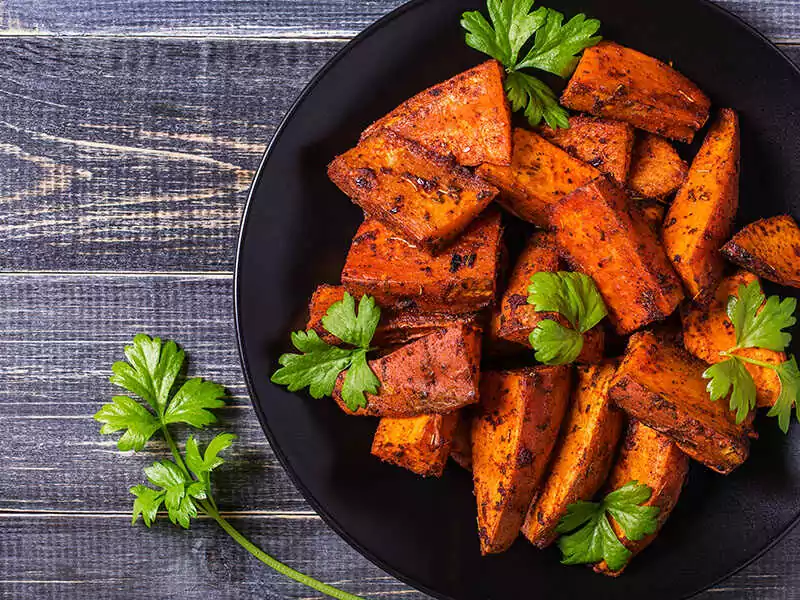 The Simple Signs To Distinguish A Bad Sweet Potato
There are many ways to tell when your sweet potatoes have gone bad. You will be surprised as perhaps you do not know all of these signs. To be able to save your sweet potatoes, reading this post is a good decision.
"Are sweet potatoes' skins consumable?" is a typical question that many people have. This proves that the skins are an essential part of a sweet potato. You might know to pick your good sweet potatoes by selecting those with smooth and firm skin, but there are still other essential signs to decide bad ones:
The skin turns dark brown or black, develops black or brown spots, shows signs of mold, black rot, or odd growths
The alteration of flesh colors.
Giving off a strong smell.
Having soft and mushy texture.
The sprouts have developed.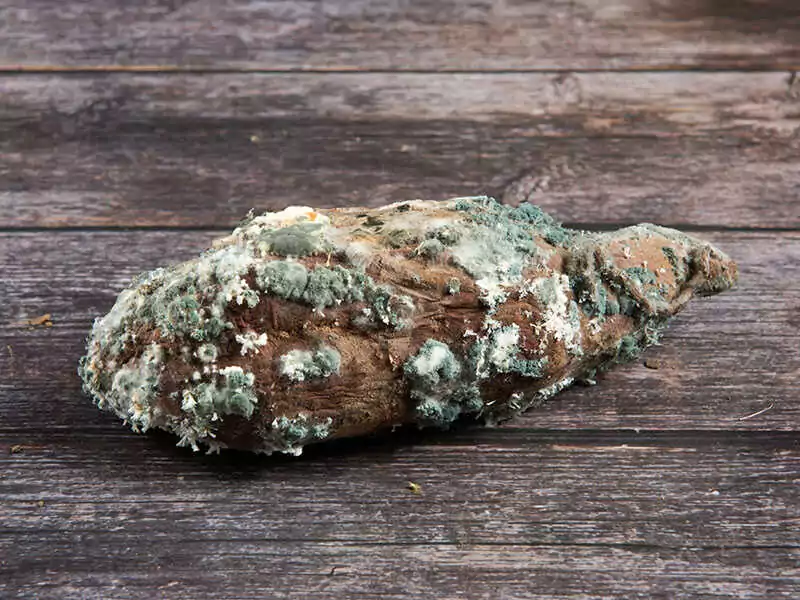 What Is Sweet Potato and Its Nutritional Values?
Sweet potato is a well-known starchy root vegetable that is grown in many countries all over the world. Keep in mind that sweet potatoes and yams are not the same. Many people are interested in this root vegetable because of its sweet, unique flavor and creamy texture. It is ideal to add sweet potatoes to your diet meals.
Even for people who aren't on a diet, sweet potatoes are still an ideal addition to the daily meals. You can turn them into various different dishes for a gobsmacking fall breakfast as sweet potatoes are a very versatile ingredient.
On a side note, if you're wondering whether raw potato is good to eat, then the short answer is yes, you can. However, remember to clean the potato thoroughly.
Do you know sweet potatoes have a variety of species with colors varying from orange, white, and purple? The other sweet potatoes will differ in their flavors as well as their nutrients.
There is no doubt that sweet potatoes consist of many essential vitamins and minerals for the human body. They are an excellent source of protein, dietary fiber, vitamin C, vitamin B6, vitamin A, potassium, powerful antioxidants, and minerals such as iron, calcium, selenium.(1)
Therefore, you can guess from the above nutrients that sweet potatoes have significant health benefits for your body. The surprising benefits are reducing your risk of cancer, aiding diabetes management and eyes health, supporting your digestion, and improving your immune system.(2)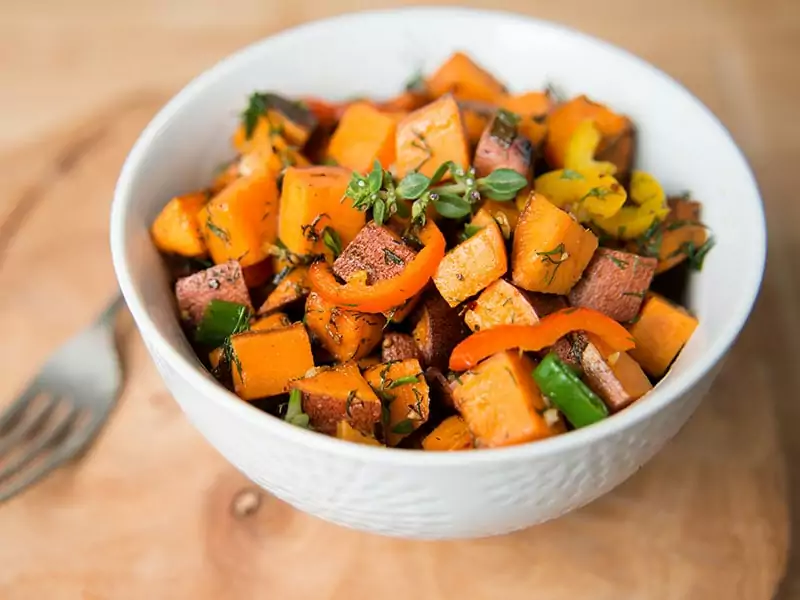 Can Sweet Potatoes Go Bad?
Unfortunately, like other fresh vegetables, I have to tell you that as sweet potatoes contain a high percentage of water, they can spoil, especially if you don't store them in the right way.
However, sweet potatoes can last for a long time if they are stored properly, and raw sweet potatoes can be stored longer than cooked sweet potatoes.
If your tubers are stored in the pantry without air circulation for a long time, they can sprout. Do not worry because you can still eat your sweet potatoes until the sprouts develop too lengthy.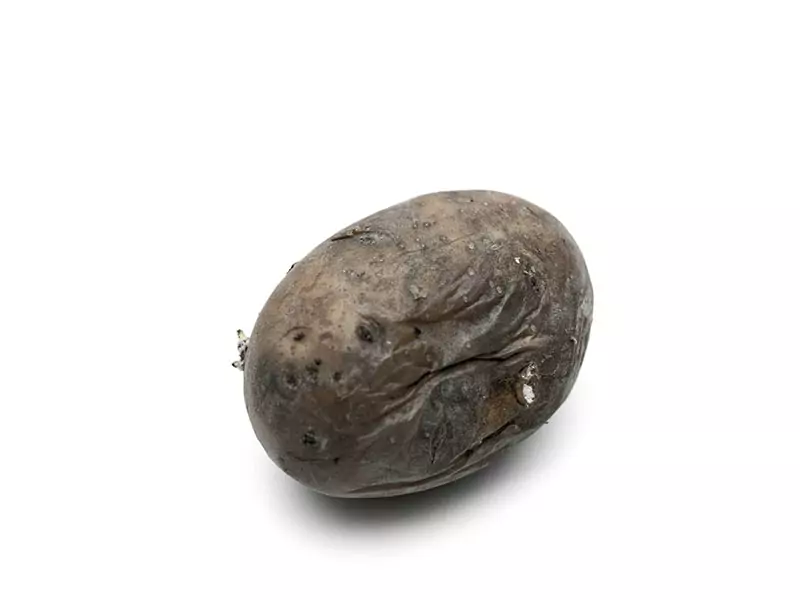 How Long Do Sweet Potatoes Last?
Sweet potatoes have a long shelf life. In particular, raw sweet potatoes kept in the pantry can stay fresh for up to 2 months, although they may lose their freshness. The season and the way you store them may affect the shelf life of sweet potatoes.
If you can, you should always store your raw sweet potatoes in cool, dark, and dry areas, as this will be more effective. It is recommended to eat your sweet potatoes within 3-5 weeks when you leave them in the pantry.
Although storing uncooked sweet potatoes in the refrigerator can prolong their shelf life, you should not do this since the low temperature can produce a hard center with white spots and make them tasteless, have poor texture, and difficult to eat.
Thus, you should consider eating all sweet potatoes as soon as possible, instead of refrigerating them. Refrigerating your sweet potatoes can change their cell structure, so the best method is to store them in a dry place with good ventilation if you intend to eat them within a month.
So, what can you do if you have leftover sweet potatoes when refrigerating them is out of the question? You can turn the leftover sweet potatoes into delicious dishes such as croquettes, fritters, or even pancakes.
Take a look at the table below to compare the shelf life of sweet potatoes depending on the environment and various storage methods.
| Type of sweet potatoes | In the pantry | In the fridge | In the freezer |
| --- | --- | --- | --- |
| Raw | 1 - 2 months | Not recommended | Not recommended |
| Cooked | A few hours | 3 - 5 days | 6 months |
| Unopened can | One year | Not recommended | Not recommended |
| Opened can | Not recommended | One week | Not recommended |
How To Choose Good Sweet Potatoes
Sweet potatoes are commonly used by many people. Due to their popularity, you can easily find this fantastic vegetable at supermarkets. The problem that you are concerned about is how to choose good sweet potatoes. Let's discover the secrets right now.
Small to medium sweet potatoes are the best choice for you. Try to pick sweet potatoes in small sizes since they are sweeter and creamier than the larger ones. These are also ideal for preparing dishes for winter dinner meals as their creamy flavors make them suitable for cooking.
As you know, there are many varieties of sweet potatoes. Your mission is to find the low-fat and free-salt frozen type of sweet potatoes.
Pick up sweet potatoes with smooth, firm skin and deep color. The deeper the color is, the higher it is in antioxidants.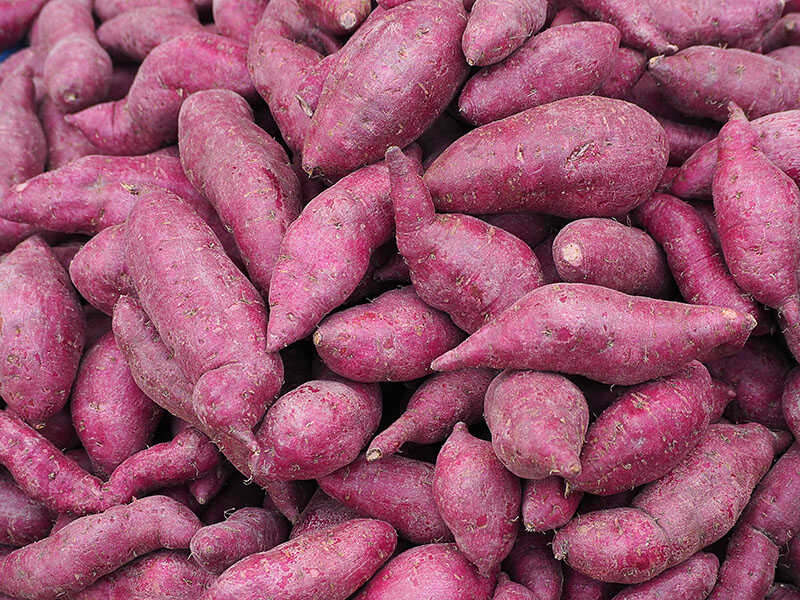 How To Know When Sweet Potatoes Are Bad: 5 Top Signs You Should Know
You're about to whip up some baked sweet potatoes as an accompanying dish for chicken wings but realize that they've been in your pantry for too long. So, how can you tell that the sweet potatoes are still edible? Check out the signs below.
I am sure that you do not want to waste any of these nutritious tubers. Sweet potato is a starchy vegetable and it has become an indispensable ingredient in many dishes these days. Thus, I suppose that this headache issue receives plenty of concerns from many people.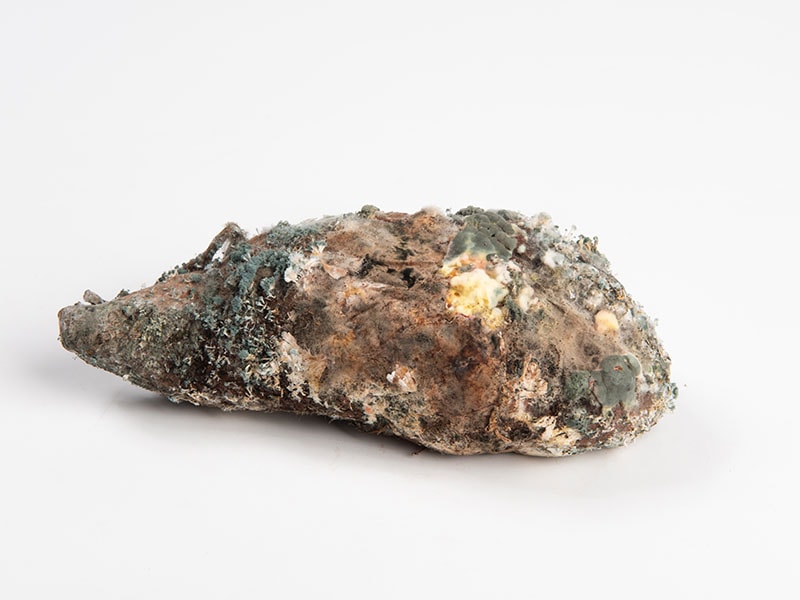 Keep reading to find out the answer to this question.
Looking At The Skin
The first sign to recognize a bad sweet potato is through its skin. It is easy for you to look at the skin of sweet potatoes to determine whether it is bad or not. Below are some tips for you to know about bad sweet potatoes, avoiding eating them and affecting your health.
Check the Standard Color:
More importantly, check the outside color of your sweet potatoes. Usually, they have a white, purple, or red color. If you see their skin turn dark brown or black, they might start to spoil.
Black Spots and Brown Spots:
The appearance of sweet potatoes is the most tell-tale sign to recognize a rotten sweet potato. A typical indication is black and brown spots. If these spots appear in a sweet potato, it means that this vegetable is rotting and should be thrown away.
Weird Growths:
In addition, odd or weird growths on the surface of sweet potatoes are also considered. This is a sign showing that your sweet potatoes may go bad, but it does not necessarily mean that you can not eat them.
Mold and Black Rot:
Moreover, mold and black rot are vital signs to determine if sweet potatoes have gone bad. For sweet potatoes with small molds on the surface, you can peel off and cook the rest.
You should discard all sweet potatoes with black rot because they will make your sweet potatoes bitter and tasteless. This problem is usually caused by the fungi in the soil.
The Sign of Shriveling:
Last but not least, shriveling of the skin is also an important sign to prove a bad sweet potato. When they begin to spoil, they will lose moisture. That makes your sweet potatoes shrivel. Please get rid of them to be safe.
The Color Of Flesh
Besides changing skin colors, the alteration of flesh color should be considered a bad sweet potato. If you see the color of flesh is different from the original color, your sweet potatoes might start to spoil.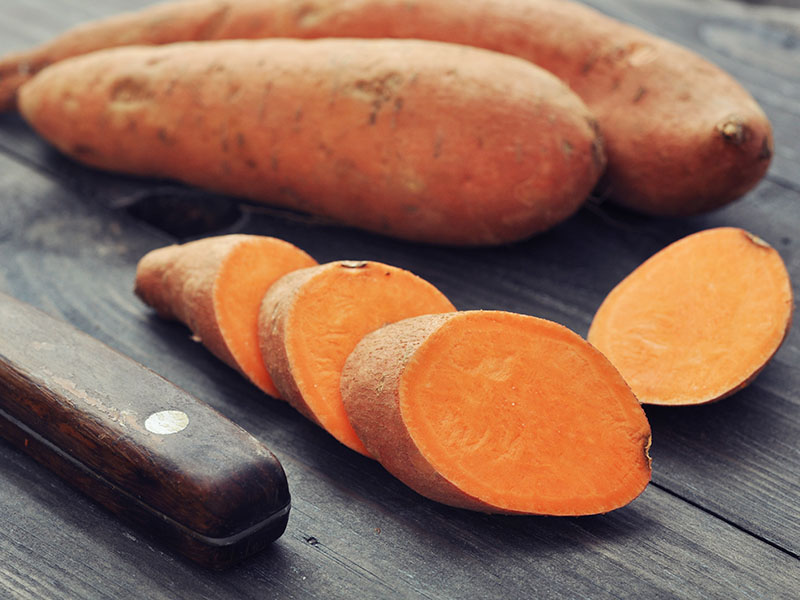 Through The Smell
Bad sweet potatoes will have an unpleasant odor. This bad odor might be caused by mold growth and bacteria. Thus, when you smell a strong odor from your sweet potatoes, do not eat them unless you want to get poisoned.
Feel The Texture
Using your hands to check the texture of your sweet potatoes. This is an important step you can not skip. Fresh sweet potatoes should have a firm texture. Thus, when you feel your sweet potatoes soft or mushy, it may be the sign proving that your sweet potatoes start to rot.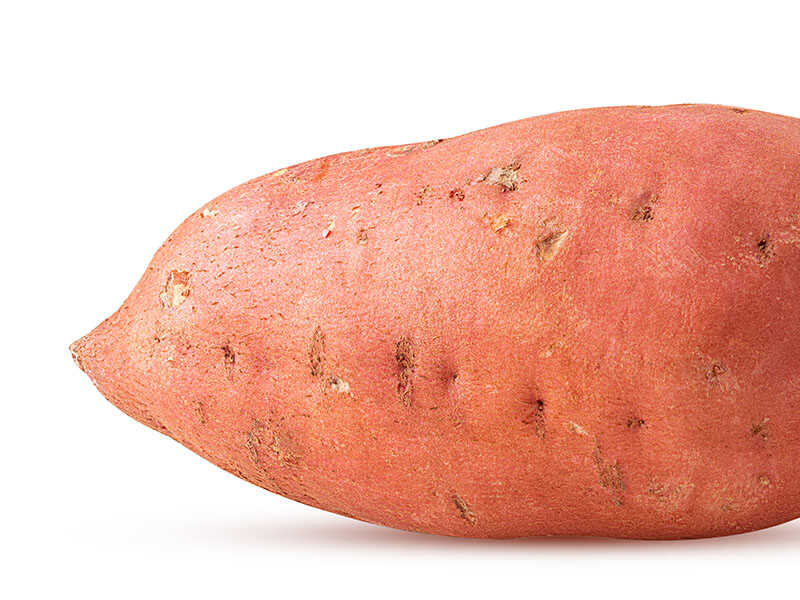 The Sprouts
If you see your sweet potatoes have sprouted, do not throw them away. Check whether the growths are short or long.
In this situation, they are still edible if the growths are small, although sprouts on sweet potatoes are an indication that they are starting to deteriorate. When you see the sprouts, just cut them off and cook immediately.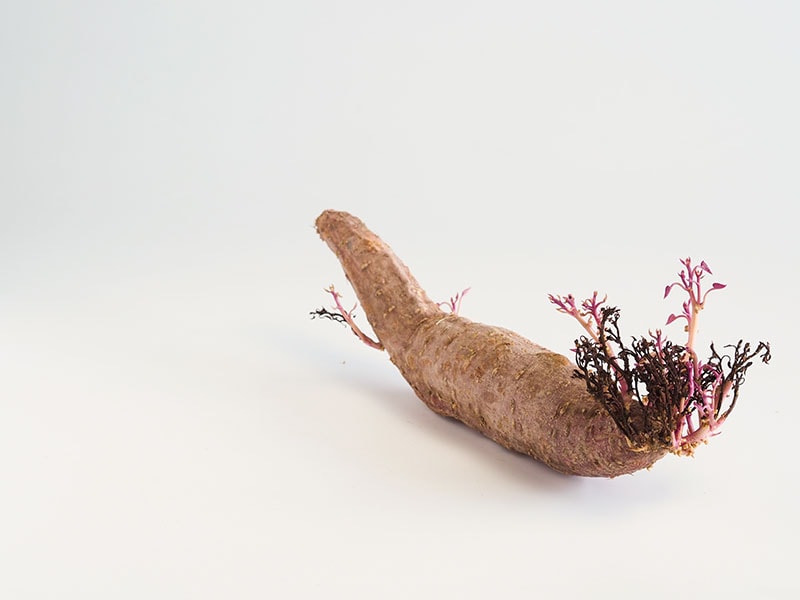 How To Store Sweet Potatoes?
Because of their high perishable properties, sweet potatoes require suitable storage methods to increase their shelf life. Do you know how to store your sweet potatoes in the right ways? I will share with you all the information that you need right now.
At The Pantry
As I said in the above section, you can store your sweet potatoes in the pantry for up to 2 months, but you need to know proper storage methods.
For Fresh Sweet Potatoes
For raw sweet potatoes, you should not wash them because you may create a good habitat of moisture for microbes or bacteria causing them to rot, but they should be washed before cooking.
Do not worry about a little dirt on your sweet potatoes during storage. You can use a dry cloth or a clean vegetable brush to scrub their skin to remove the dirt. Then, store them in a cool, dark, and dry place in the pantry with good ventilation.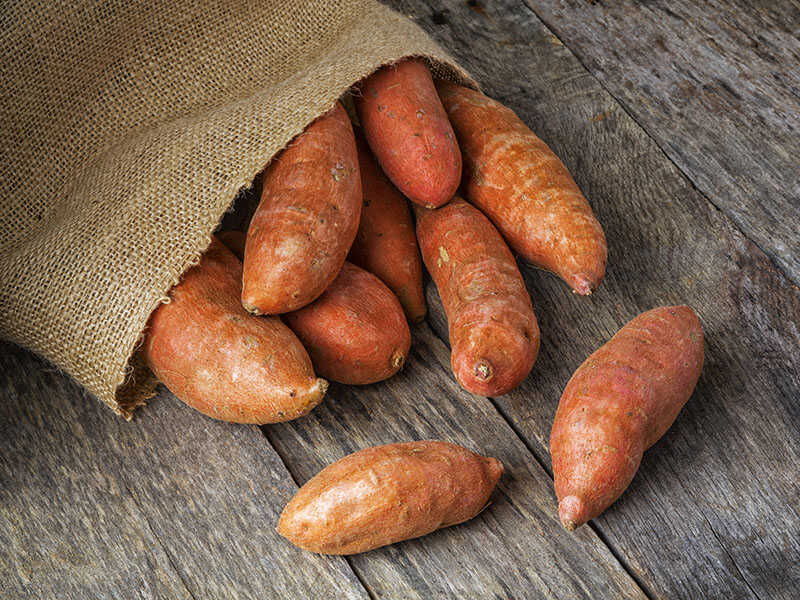 For Canned Sweet Potatoes
You can also store unopened cans of sweet potatoes in the pantry for about three to five years for the best quality. The shelf life of unopened canned sweet potatoes depends on the storage conditions. Store them in a cool, dry area to maximize their shelf life.
In The Refrigerator
Remember not to store raw sweet potatoes in the fridge. So how to prepare your sweet potatoes to store in the refrigerator properly?
Cooked Sweet Potatoes
The answer is cooked and baked sweet potatoes, which are more suitable for storing in the refrigerator. After cooking or baking, you should wait for 20 – 30 minutes so that they have time to cool before refrigerating. Store them in airtight containers in the refrigerator.
Cut Sweet Potatoes
As I mentioned before, you should not store uncooked sweet potatoes in the refrigerator. However, if you only need to keep your cut sweet potatoes for one or two days to cook as soon as possible, you can put them in cold water to keep them fresh.
In The Freezer
Step 1: Wash and scrub your sweet potatoes carefully to make sure you remove soil and bacteria which can harm them. Then, slice or dice them to the preferred size. You don't need to peel off the skin because you can remove the skin of sweet potatoes easily after cooking.
Step 2: In order to store them for a long time, cook, bake or steam them before freezing to make sure that they do not change the texture or the flavors. You can also boil your sweet potatoes for about 10 – 15 minutes.
Step 4: Then, wait for all heats away for about 30 – 40 minutes until it is cool.
Step 5: Use a plastic wrap to wrap each individual sweet potato in a double layer so that the air can't get in. Prepare a foil or a good freezable container to put wrapped sweet potatoes in. Then, seal the freezer bag or container. Label and date on the package.
Put them in the coldest part of the freezer. By this method, your sweet potatoes should be kept for up to one year.
Watch this video to know more:
Some Tips For Reheating Frozen Sweet Potatoes
What you need is a microwave or non-stick pan. It is easy to use a microwave or non-stick pan to defrost and reheat your frozen sweet potatoes. Besides, you can also bring them in the fridge to defrost overnight and then reheat them to save time.
What Happens If You Eat Bad Sweet Potatoes?
When sweet potatoes have the signs of rotting, they might develop aflatoxins. This harmful substance is caused by certain types of fungus developing in wet environments, seriously harming your health.
In addition, rotten sweet potatoes with mold can consist of dangerous bacteria, resulting in food poisoning. Therefore, be careful with your bad sweet potatoes and throw them away to protect your health.
Simultaneously, applying efficient storage methods so that you can expand the shelf life of your sweet potatoes. That may be one of your primary purposes when you come to this post.
Can You Save Bad Sweet Potatoes?
Perhaps you do not want to waste the entire sweet potatoes even if signs show that they have gone bad. In this part, I will reveal to you the necessary information to save your sweet potatoes.
If your sweet potatoes have sprouted, and the sprouts have just developed a little bit, then cut the growths and cook as soon as possible. You should get rid of sweet potatoes with long sprouts to ensure your health.
Additionally, when your sweet potatoes appear brown spots, remove bad parts to make sure you do not waste the entire sweet potato. Moreover, if you see small pithy holes inside the sweet potatoes, you can also save them when they do not still develop a lot of small holes.
You should not be too economical to save shriveled or brown sweet potatoes. In other words, it is recommended to throw them away since they can cause the symptoms of food poisoning.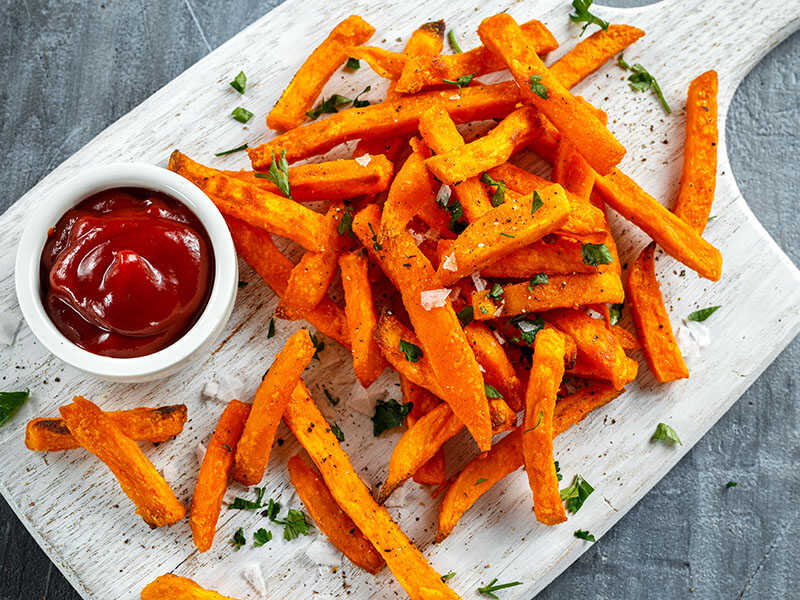 The Healthiest Way To Eat Sweet Potatoes Before They Go Bad
The best way to eat sweet potatoes to maintain all nutrients is to bake them in an oven at about 350 degrees F for an hour. You can also adjust the cooking time and bake sweet potatoes at 400. Remember to add some coconut oil or cinnamon to enhance their flavor.
Moreover, sweet potatoes can be added to your soups or salads. It is an ideal ingredient for your quick meal.(3)
This may be the best sweet potato recipes you are finding
FAQs
When it comes to the problems related to sweet potatoes, there are many frequently asked questions. These questions below might be your troubles you are encountering. Keep scrolling down and find out some useful information.
Bonus Facts And Some Advice For You
Sweet potatoes are highly perishable vegetables. They can quickly spoil because of their high water content, so applying proper storage methods is very important to expand their shelf life.
Sweet potatoes can be cooked into many favorite dishes, and they are suitable for various ways of eating regardless of your diet. It is a pity that you do not eat this nutritious vegetable.
I hope this post is helpful for you. When you can figure out the signs indicating a sweet potato has gone bad, you can avoid eating bad sweet potatoes and protect your health from food poisoning and other adverse effects.
Moreover, through this post, you can prepare the necessary knowledge to store your sweet potatoes effectively. Share your story about sweet potatoes via the comment section, and do not forget to like and share this post.
References
Healthline. 2021. Sweet Potatoes 101: Nutrition Facts and Health Benefits. [online] Available at: <https://www.healthline.com/nutrition/foods/sweet-potatoes#downsides>.
Medicalnewstoday.com. 2021. Sweet potatoes: Health benefits and nutritional information. [online] Available at: <https://www.medicalnewstoday.com/articles/281438#nutrition>.
The Nutrition Source. 2021. Sweet Potatoes. [online] Available at: <https://www.hsph.harvard.edu/nutritionsource/food-features/sweet-potatoes/>.