Can you eat raw sweet potato? You have tried all the dishes made from sweet potato. However, you have not eaten a raw sweet potato before, and you want to know if it is edible for everyone. Stay tuned. I will show you the answers you are waiting for.
By reading this in-depth post, I strongly believe you will gain specialized knowledge about this root vegetable. In addition, you can fully understand how to prepare them and many mouth-watering dishes with raw sweet potato.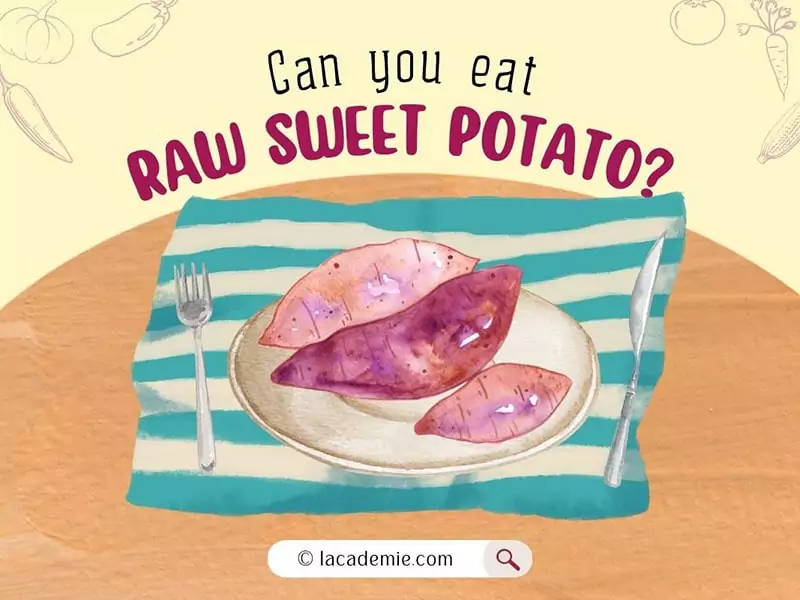 What Do You Know About Sweet Potatoes?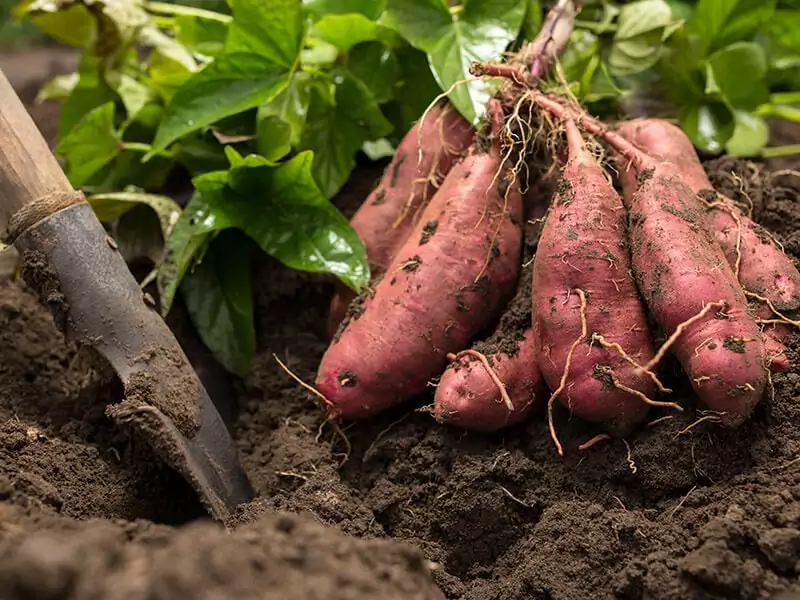 Before eating something, you need to have general information about them first. For that reason, I will provide some characteristics of this starch potato.
Sweet potato is one of the most significant crops in not only the Southern United States, tropical America, and the Caribbean but also in the Pacific, Japan, and some areas in Russia.
Moreover, it is a food plant of the morning glory family, and sweet potatoes natively grow in tropical America. You can easily buy sweet potatoes in the market. However, be careful, or you can buy the yams instead since they share some similar appearances.
Sweet potato flesh has various colors, such as vibrant orange, deep purple, and creamy white. You can use the starch flesh in numerous dishes since it is healthy and attractive to everyone. (1)
Learn more about the history and nutrition of sweet potatoes here.
Eating Raw Sweet Potatoes Is Good For You!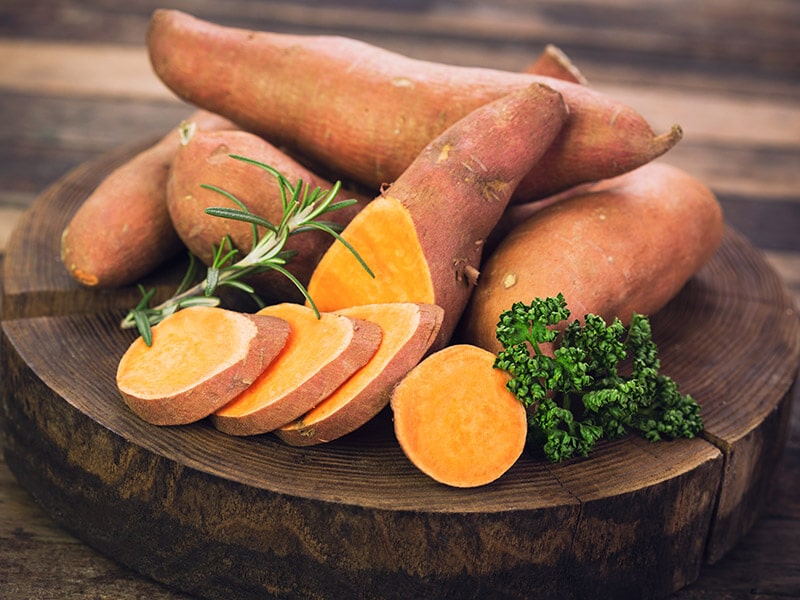 I know, I know, this is the most informative section that you are looking for. Do not waste too much time. You should follow me, and I will show you all the information you need.
If you're an experienced home cook, you might have already known the proper baking time for sweet potatoes at 400°F. The result is, of course, piping hot and delicious cooked sweet potatoes.
However, besides baking, you can also enjoy a raw sweet potato. It contains just as many vitamins and nutrients as the cooked ones. However, there are some points you need to know before eating this root vegetable raw.
Can You Eat Raw Sweet Potato Skins?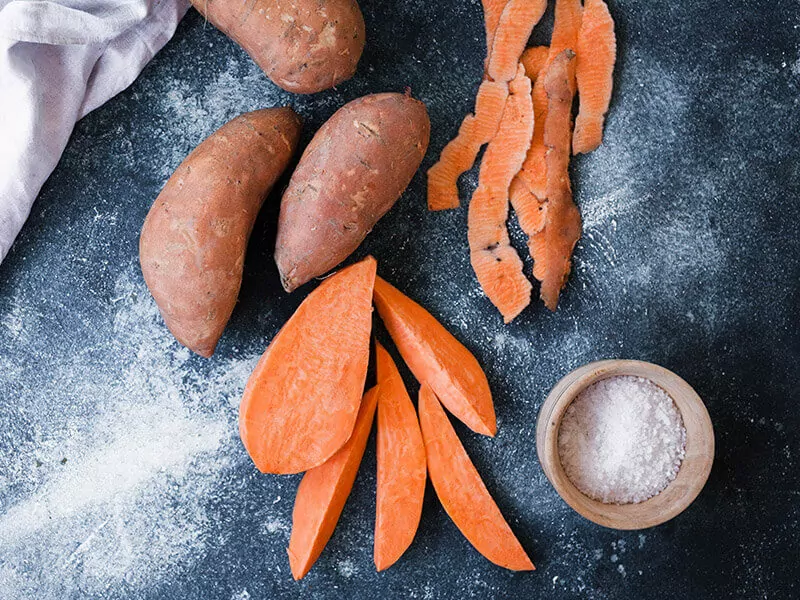 "Is sweet potato skin edible?" is a much more common question than you might think. There's even a myth that the skin is toxic and will harm you when eaten. If you've been a believer of that myth, the information in this section will surprise you!
Your sweet potato skins are edible (cooked and raw) since they also feature more nutrients and vitamins. However, these raw sweet potatoes grow underground, so you must rinse and scrub them carefully.
To remove the dirt, pesticides, and bad bacteria on their skins, you should wash them under running water. You can use a vegetable brush to make the job easier.
As long as you wash your sweet potatoes properly, you'll protect yourself from many potential problems resulting from the unclean raw sweet potatoes. In addition, you should choose new, fresh sweet potatoes.
Which is Healthier, Sweet Potato Raw, Or Cooked?
You are eating a raw sweet potato, and you accidentally wonder if eating raw sweet potatoes is healthier than eating cooked ones. Keep reading. I will show you a detailed comparison of these 2 versions.
With a 100 grams portion, you can witness many differences between them.
| Nutrition | Raw Sweet Potato | Baked Sweet Potato |
| --- | --- | --- |
| Protein | 1.57g | 2.01 g |
| Fiber | 3g | 3.3 g |
| Starch | 12.6 g | 7.05 g |
| Calcium | 30 mg | 38 mg |
| Iron | 0.61 mg | 0.69 mg |
| Magnesium | 25 mg | 27 mg |
| Potassium | 337 g | 475 mg |
| Vitamin A | 709 µg (2) | 961 µg (3) |
The table above illustrates the nutrition comparison between the raw sweet potato and the baked sweet potato.
Overall, the baked sweet potato contains more nutrients and minerals, while the raw sweet potato dominates in the amount of starch.
You can observe in the table that baked sweet potato contains various nutrient sources, such as 2.01 grams calories, 3.3 grams of fiber, 38 mg calcium, 0.69 mg iron, 27 mg magnesium, and 475 grams of potassium.
With these nutrient contents, baked sweet potato can give more potential benefits. When you use baked sweet potatoes, you can improve your bone strength, immunity system, blood sugar regulation, and also increase your sleep quality.
Conversely, only the amount of starch in raw sweet potatoes is more than in baked sweet potatoes. However, the domination of starch in raw sweet potato can improve your gut health, improve insulin sensitivity, etc.
When you cook your sweet potato, the starch is converted into sugar. You can easily eat your sweet potato since the heat from the cooking process breaks down its starch. Though it tastes delicious, your blood sugar will spike. The raw ones contain less sugar.
In conclusion, both raw and cooked sweet potatoes are incredibly healthy. However, the cooked ones will be easier to digest and have a more mass-appealing flavor.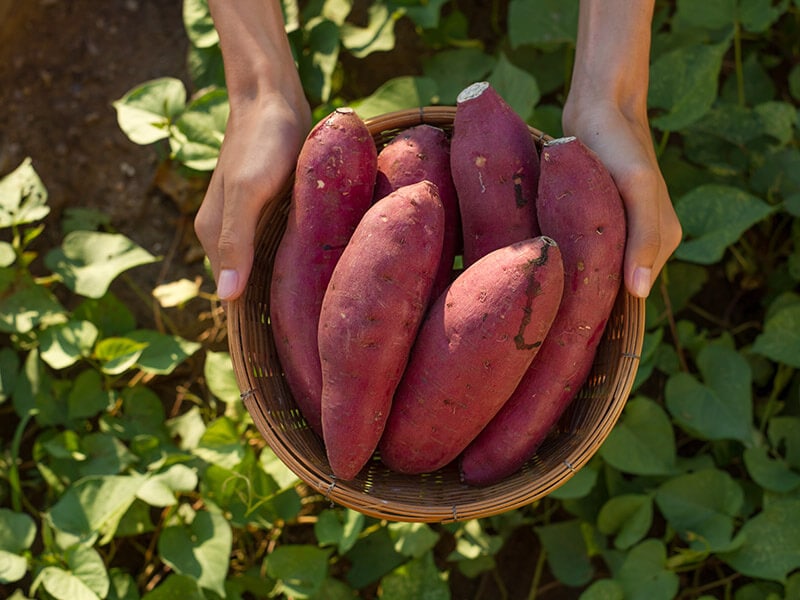 Sweet Potato Vs. Yam
In the United States, people often confuse sweet potatoes with yams. The truth is, on Thanksgiving day, almost all the yams you use in your recipe may actually be sweet potatoes.
You need to remember one vital difference: you can eat raw sweet potato while you can not consume raw yam. Therefore, you should carefully choose them.
To be specific, yam consists of some proteins that are toxic and unhealthy when consumed raw. You should carefully rinse them, peel their skin, then cook them to remove these undesirable substances.
Check out some essential differences between sweet potatoes and yams.
Health Benefits Of Eating Raw Sweet Potato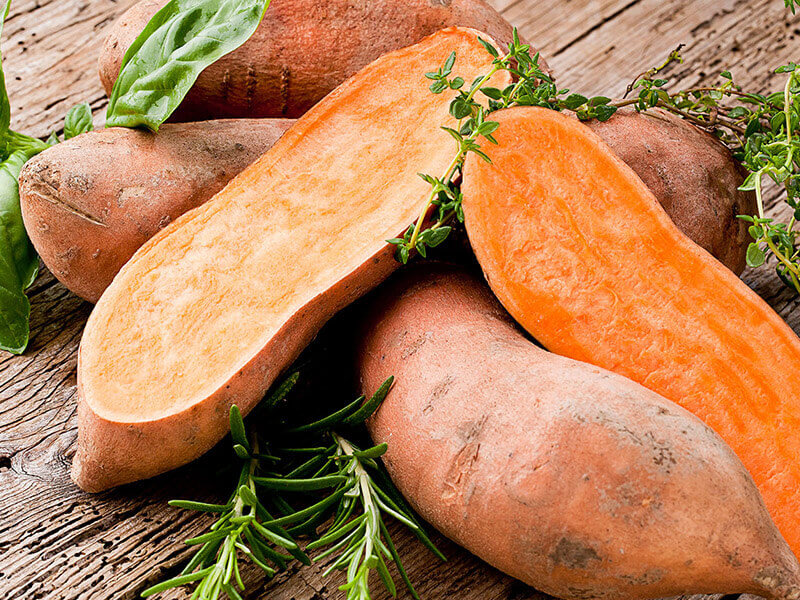 The flavor of raw sweet potato and the health benefits of this root vegetable draw the attention of various sweet potato lovers. Eating raw sweet potatoes has more benefits than you expected.
1. Promote Gastrointestinal Health
A sweet potato contains about 3 grams of fiber. You can use raw sweet potatoes to receive more fiber than the baked ones. Raw sweet potatoes have 2 types of fiber: soluble fiber and insoluble fiber, and each of them has a different function.
While the soluble fiber can decrease the amount of cholesterol and balance glucose, the insoluble fiber strengthens your system and regulates it. In addition, the content of prebiotics in raw sweet potato also supports your digestive system.
2. Improve Immune System
Although your raw sweet potato's amount of vitamin A is not higher than the baked sweet potatoes. It still features a significant number of 709 µg that can help to strengthen your immune system.
The antioxidants (vitamin C, vitamin E, and beta-carotene) found in this root vegetable also positively influence your immune system. They can improve the cells related to tumor immunity in the elderly.
Moreover, vitamin A can also increase your natural protection against many bad diseases. Remember to use raw sweet potato properly so that you will make your immune system healthy.
3. Balance Blood Sugar Levels
Since the raw sweet potato contains an enormous amount of fiber, this can help you to balance your blood sugar. When consuming raw sweet potato, you also receive more resistant starch, which helps with reducing blood sugar levels.
With balanced blood sugar, you can improve your energy on a daily basis, increase your memory and strengthen your skin. Healthy blood sugar levels also help control your weight, prevent prediabetes and diabetes, reduce degenerative health diseases, etc.
4. Provide High Nutritional Values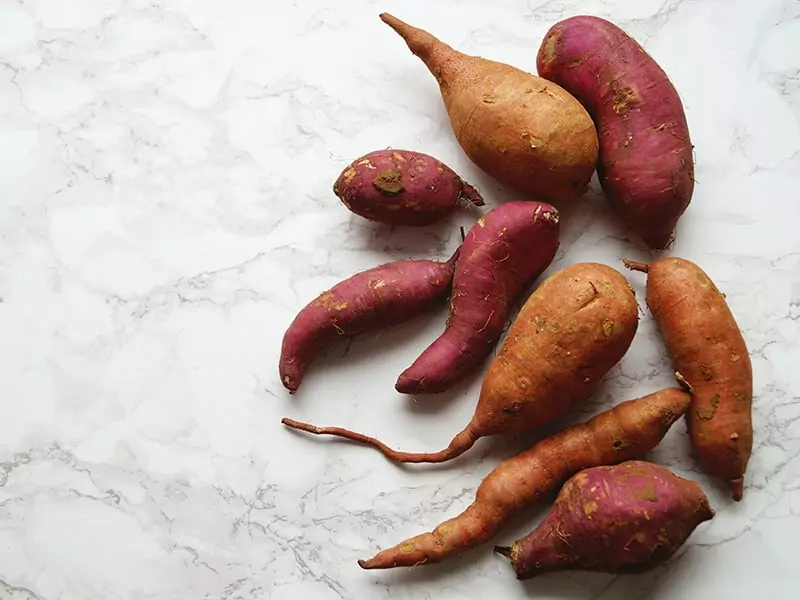 You can strongly benefit from eating raw sweet potatoes since they feature a high amount of protein, micronutrients, and fiber but not too many calories. If you also eat the skins of your raw sweet potato, you can get about 400% vitamin A daily as recommended.
Therefore, you will improve your vision and immune system health due to this amount of vitamin A. Remember to consume raw sweet potatoes reasonably.
Adverse Effects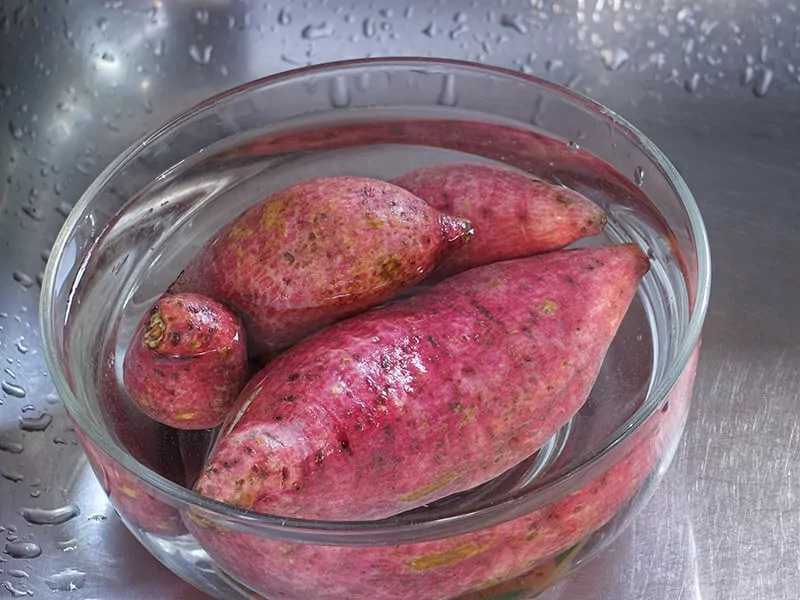 Despite the benefits, eating raw sweet potatoes still leads to some problems, such as feeling bloated, cramping, and some gas. Additionally, your raw sweet potato may be hard to digest. The raffinose content might also cause farting.
Here is some useful advice for you: You should choose many fresh raw sweet potatoes, rinse and scrub them carefully before eating, and use only one raw sweet potato at a time. Also, increase your intake slowly for several days or weeks.
Figure out why you might find sweet potatoes hard to digest.
How Can You Eat Raw Sweet Potato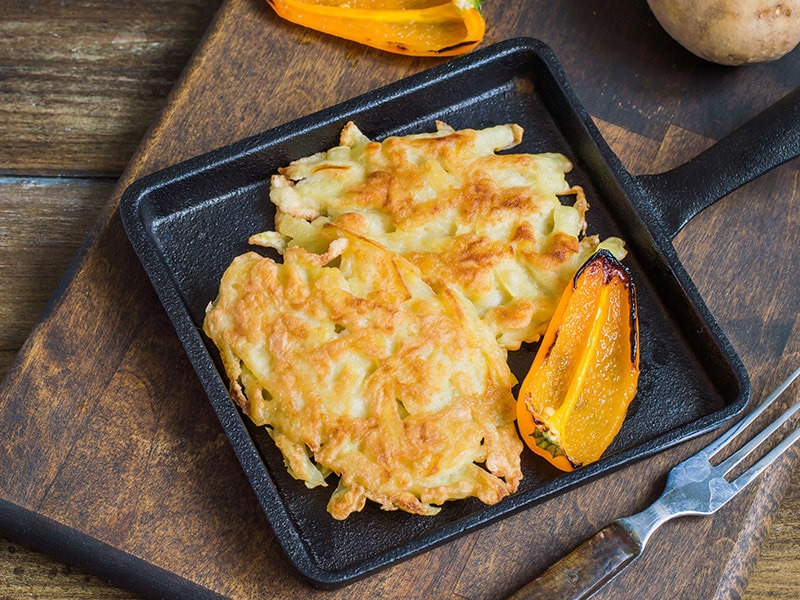 There are numerous ways to use your raw sweet potato in delicious dishes. Without cooking, you still expand your choices of recipes. It is a good idea for you to put them in smoothies, and you may mix them with some fruits to increase the smoothies' flavors.
In addition to the smoothies, you can add them to many healthy dishes. However, the first step you should follow is to rinse and scrub them carefully.
Step 1: Rinse And Scrub
To avoid dust and bacteria on your sweet potato skins, you should clean your raw sweet potato under running water.
Step 2: Cut Into Sticks
Put your sweet potatoes on a vegetable relish tray and then peel their skins. After that, you should cut them into sticks.
Step 3: Add More Other Vegetable Sticks And Enjoy
You should use other vegetable sticks to add more flavors to your healthy dishes, including jicama, red bell pepper, celery, etc.
You may make a delicious sauce to dip these raw vegetables. Trust me; your family members will love this beautiful and healthy recipe.
It is super easy to make this raw sweet potato recipe.
Must-Try Recipes With Raw Sweet Potatoes
Here are some recommended recipes. Most of them are very easy to make and healthy for all your family members. Let's explore what they are.
Nothing is better than a great source of nutrients in your dishes. You can also benefit from its sweet flavor with various ingredients, such as raw sweet potato, courgette, carrot, chicory, etc. You should try this dish, and the salad will be your favorite.
From crunchy and flavorful raw sweet potato, you can make healthy dishes with the combination of numerous appealing ingredients, such as lemon juice, ginger, ground pepper, radish, sesame seeds, etc. Now you are more likely to try this recipe.
You will enjoy many vitamins and minerals during the consumption process. Surprisingly, you need about 20 minutes in total to prepare a super healthy dish. Remember to share it with your children. They will love it!
Be ready and be immersed in this delicious recipe. You can feel the combination of all the flavors all over the world. Following this easy recipe, you can make a beautiful dish yourself without much effort.
FAQs
You have read all the information in my posts but there are still some unanswered questions. Well, this FAQs section is exactly what you need!
Final Bite!
Now you have had your own answers as to whether you can eat raw sweet potato. Though it may cause some digestive problems, it features many advantages that you can obtain when using them raw.
Is this post informative? Have this post solved all your concerns about a raw sweet potato? Do not hesitate to make a comment in the below part and support me by sharing this useful article with everyone.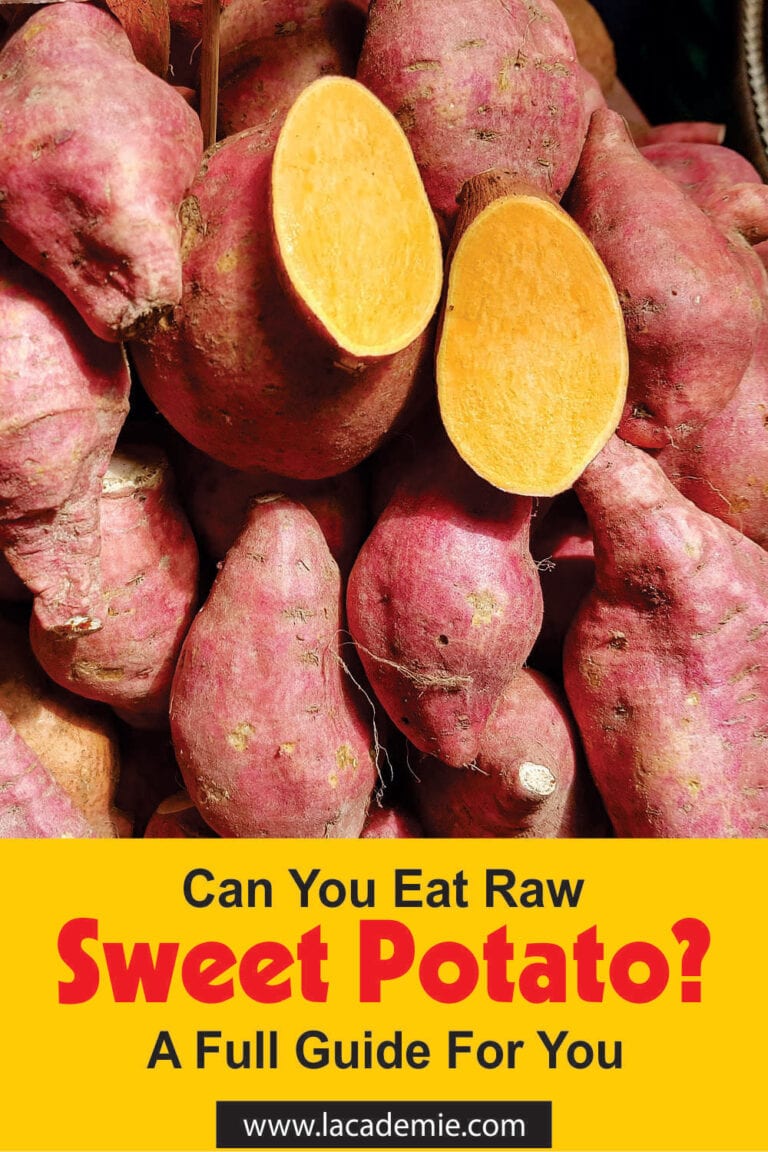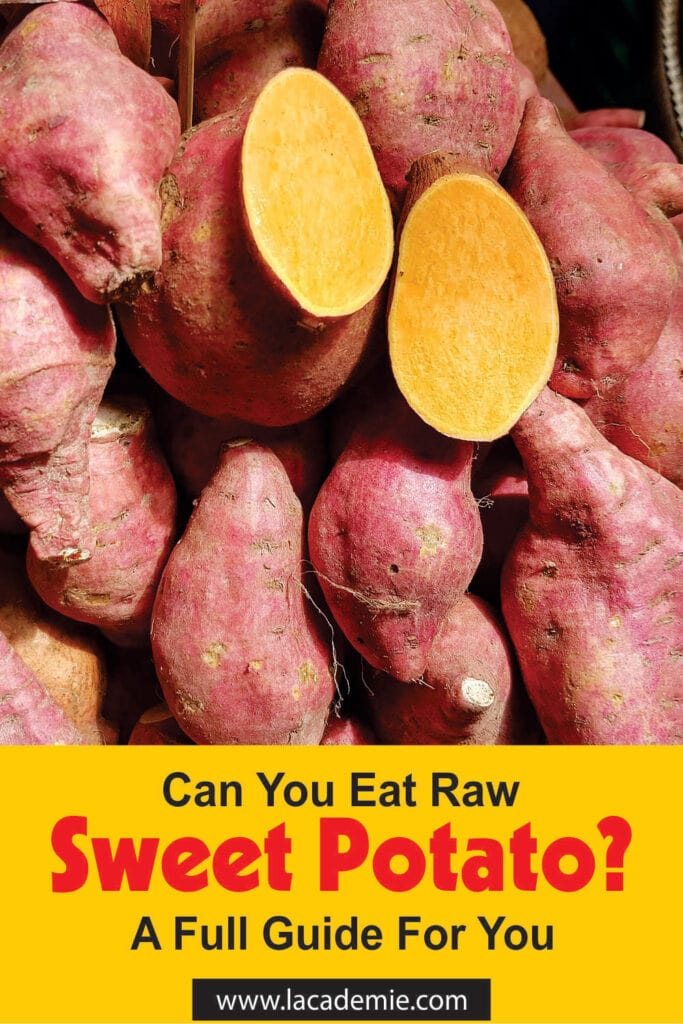 References
Encyclopedia Britannica. 2022. sweet potato | Plant, Root, Description, Uses, & Facts.
2022. [online] Available at: <https://fdc.nal.usda.gov/fdc-app.html#/food-details/168482/nutrients>
2022. [online] Available at: <https://fdc.nal.usda.gov/fdc-app.html#/food-details/168483/nutrients>