I believe the topic yam vs. sweet potato will be necessary for you if you are a newcomer to the cooking world. When you fully understand these root vegetables, you will make more delicious and healthy dishes for your family.
Let's keep scrolling and learn more about these root vegetables. The more you read, the more culinary knowledge you get. So, do not beat about the bush anymore, I will solve your big problems right now.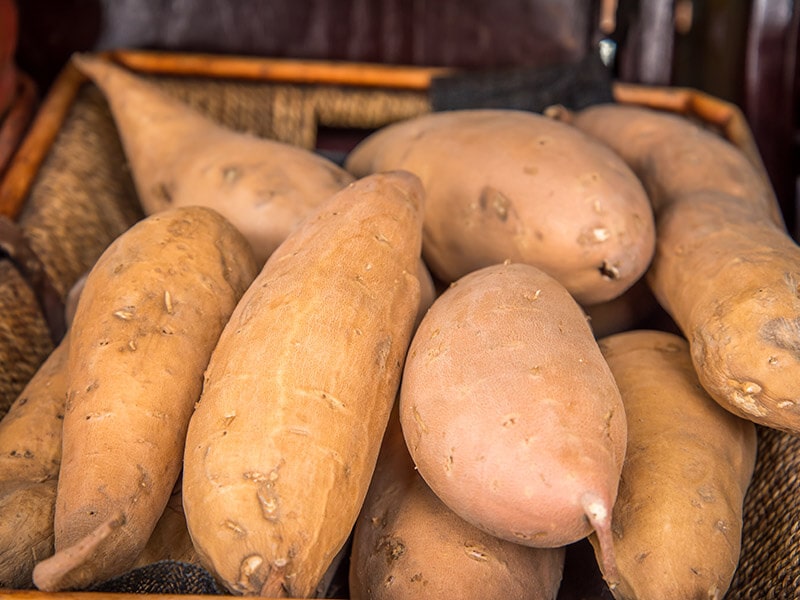 General Information About Yam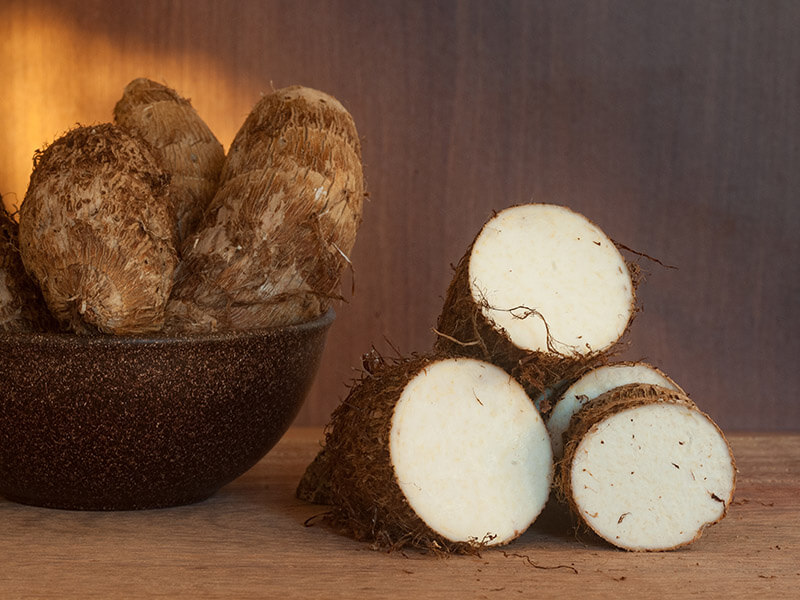 Yam is a member of the Dioscoreaceae family, a home to many other root vegetables, such as Chinese yam, air potato, yampee, etc. Yam grows naturally in warmer regions all over the world, and people also cultivate this root vegetable in the tropics.
Yam's tubers are edible, and they are all starchy vegetables. In West and New Guinea, people use yam as their primary agricultural product since it contains numerous vital vitamins and minerals. (1)
Growing yams in your own gardens is not difficult.
What You Should Know About Sweet Potatoes
Basically, the Convolvulaceae family is home to sweet potatoes, and they are dicot that has a relationship to flowering morning glory plants.
In addition, these root vegetables are also native to tropical America. On American and Canadian Thanksgiving, people usually cook these vegetables as side dishes, such as sweet potato pie with cornmeal crust, sweet potatoes with toasted marshmallow swirls, etc.
Though the edible part of yam is called tubers, people use the potatoes' roots for cooking purposes. In addition, they are also starchy vegetables, and the locals may use sweet potatoes to manufacture alcohol and starch. (2)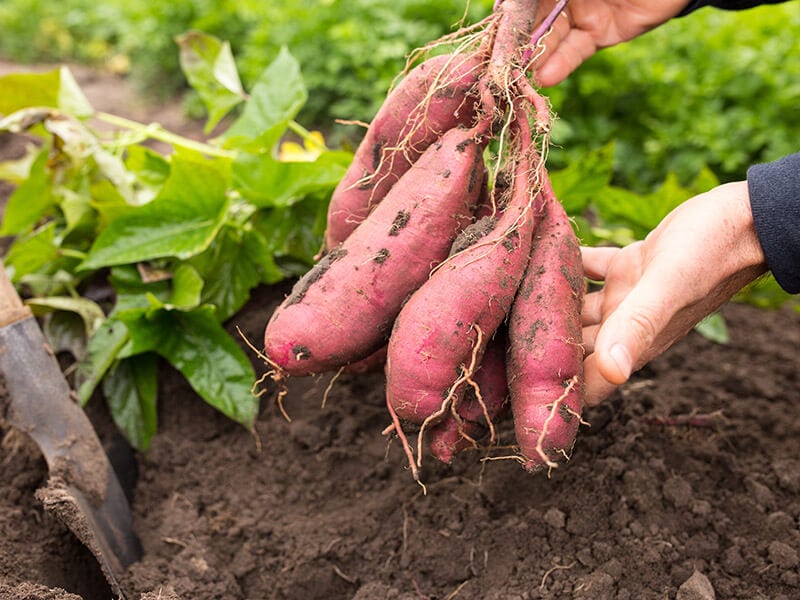 A Detailed Comparison: Yam Vs. Sweet Potatoes
In this useful post, I will make a detailed comparison between two of these root vegetables: yam and sweet potato. Therefore, I believe you will never mistake them again.
Main Characteristics
Yam
Sweet Potato
Plant Family
Dioscoreaceae family
Convolvulaceae family
Origin
Originally native to Asia, Africa, and the Caribbean.
Africa, South America, and Central America.
Taste
Dry, starchy.
Creamy texture.
Earthy, neutral, and slightly sweet when cooked.
Sweet, moist, and versatile.
Soft and mushy texture.
Appearance
Various skin colors: Dark brown, light pink, bark-like.
White, purple, or red flesh.
Various sizes.
2 main types:
Pale-skinned ones with light yellow flesh, crumble and dry texture, not so sweet.
Dark-skinned ones with vivid orange flesh, moist texture, and sweet.
Shelf Life
1-2 weeks in the pantry
About 3-4 weeks in the fridge
Freeze to last longer

3-5 weeks in the pantry
2-3 months in the fridge
Freeze to last longer.

Best Uses
Bake, fry, roast, or make into dessert.
Boil and smash it into a sticky paste or dough.
Recommended combinations: Ginger, orange, sweet-and-sour sauces, honey.
Bake, fry, and roast; Both savory and sweet dishes (soups, baked dishes, desserts).
Recommended combinations: vegetables (carrots, mushrooms, cauliflower, green beans, bell peppers, etc.).
Nutrition Value
Contain more vitamin B6, vitamin C, vitamin E, fat, fiber, and potassium than sweet potatoes.
Contain more vitamin A, beta-carotene, protein, sugar, iron, and sodium than yam.
Origin
In addition to the appearance and taste, let's look at the origin and compare whether they have the same beginning.
Yam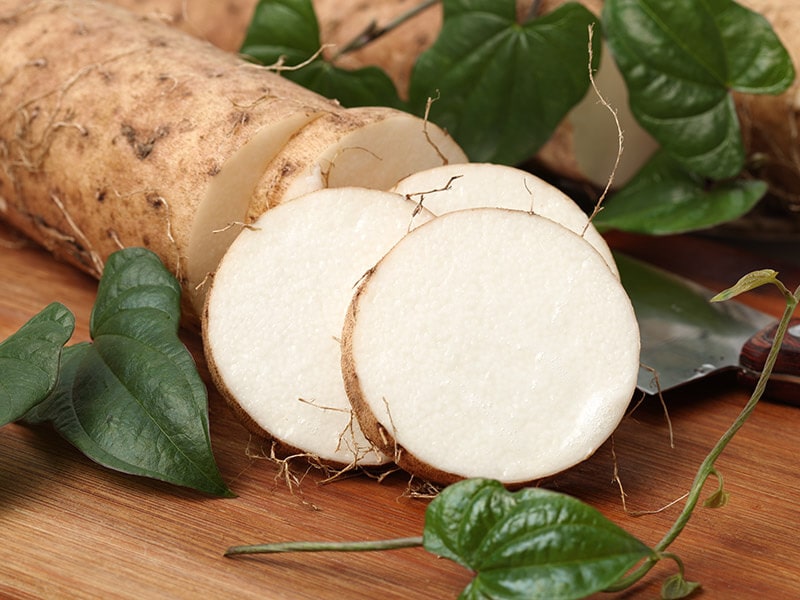 Not sharing the same plant family as sweet potato, the Dioscoreaceae family is home to yam. This tuber comes from a tropical vine (the Dioscorea batatas).
Originally, yam grows in Africa, Asia, and the Caribbean, and yams are now becoming popular in the Latin American and Caribbean markets. Moreover, yams have more than 150 varieties available worldwide.
Sweet Potato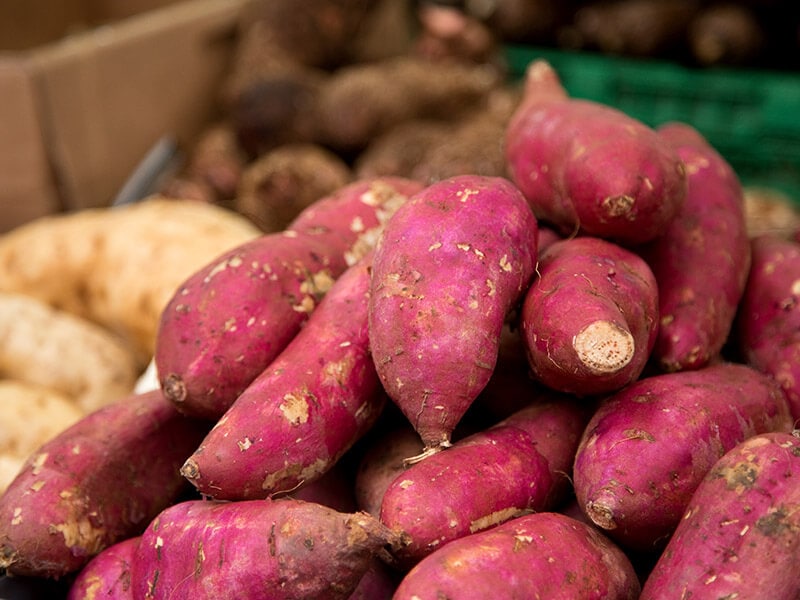 Sweet potato comes from the genus Ipomoea and is a member of the Convolvulaceae family. In addition, it originally grows in South America and Central America, and sweet potatoes are also available all around the world.
You should learn more about the sweet potatoes' history.
Taste
The flavor is the most important factor of a delicious ingredient, will yams or sweet potatoes be better?
Yam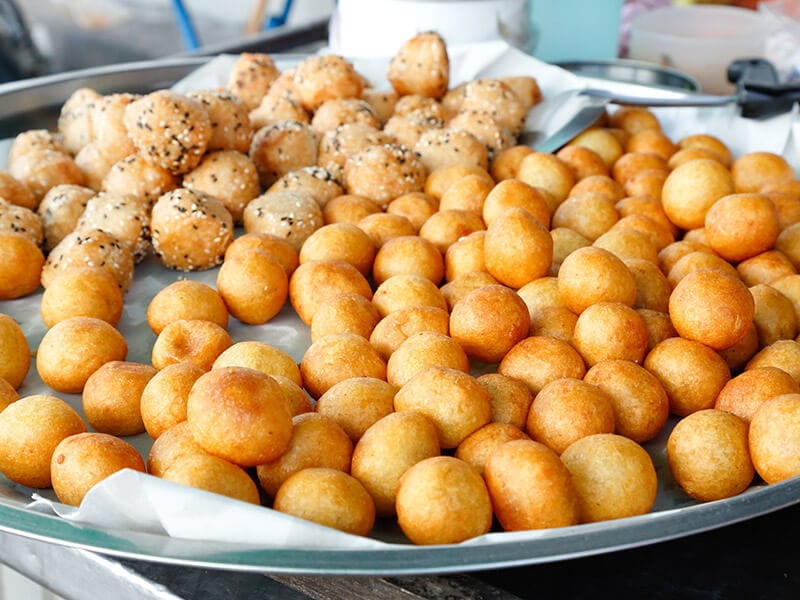 The yam is drier and starchier than the standard sweet potato. It has a rich flavor with a creamy texture, and you may alter your yam flavor during the cooking process.
In addition, during the cooking process, your yam will not feature the sweetness like the sweet potato. Its taste is earthy, neutral, and slightly sweet. However, its taste still highly depends on the dishes' seasonings.
You should try this yam fry today.
Sweet Potato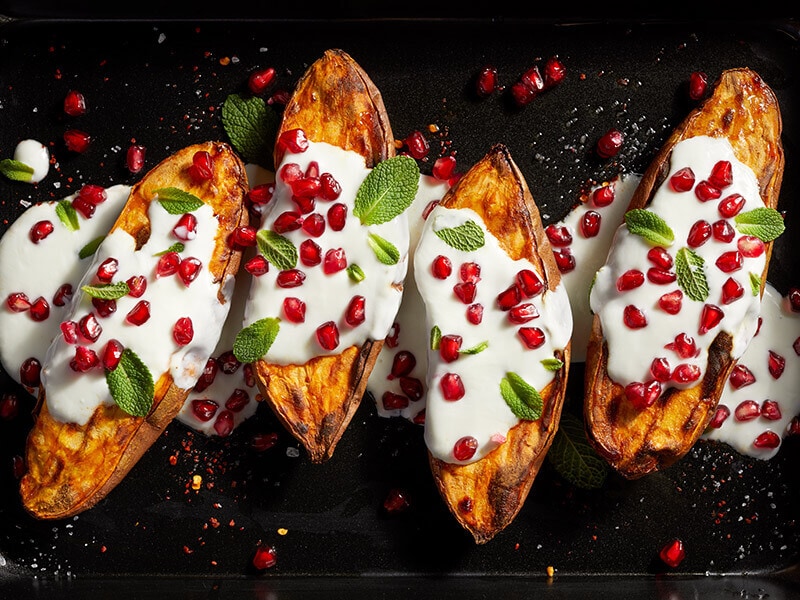 Though the traditional potato's starchiness is quite similar to the yam, the flesh of your sweet potato is softer and mushy. In addition, sweet potato taste is also sweeter than yams.
Traditionally, many soft, orange-flesh sweet potatoes are often sweeter than the firm, white-flesh ones. For each recipe, you should use the appropriate type of sweet potatoes to alter their flavor in the dishes.
Appearance
Maybe, most people may not differentiate between a yam and a sweet potato due to their appearances. Let's have a careful look and never make a mistake again.
Yam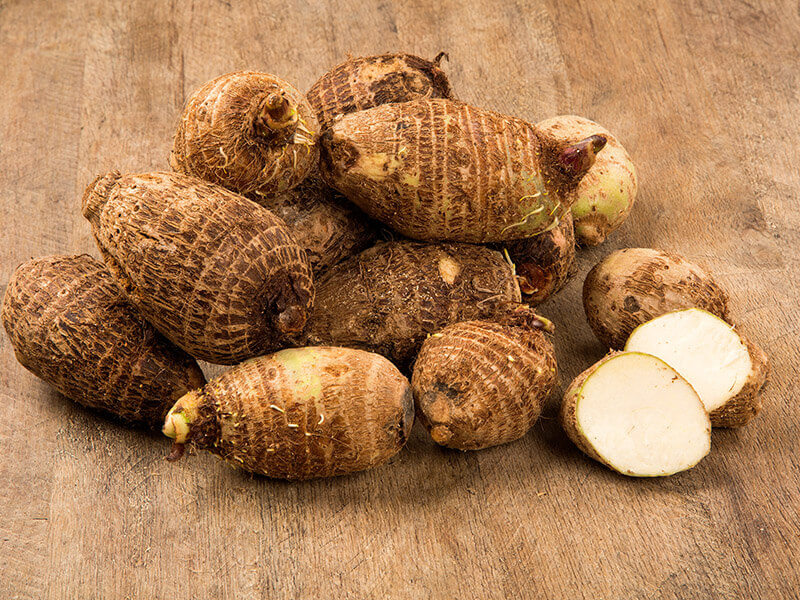 Yam has about 1-5 small tubers per plant, and yam skin is dark, dark brown, light pink, and bark-like. Inside it, the flesh is white; some have other colors, such as purple or red.
Do you know the truth about this tuber? Some yams only have the size of a small potato. However, others can reach up to 5 feet in length with about 100 pounds in weight.
In addition to the yam's tubers, the stems of these root vegetables are also long and slender with the lobed or entire leaves. You easily observe that the yam's unisexual flowers, small and showy colors, are borne in clusters.
Sweet Potato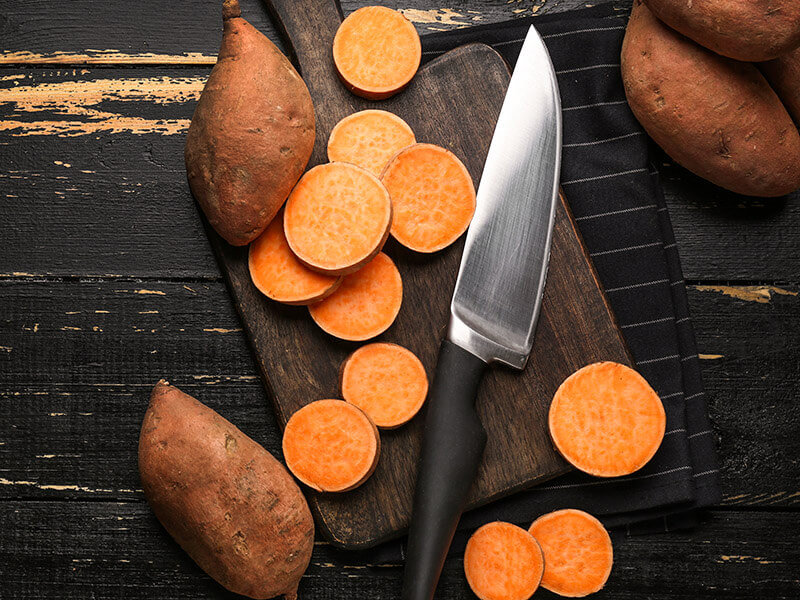 Sweet potato is more prolific since it has 4-10 edible roots per plant. Traditionally, your sweet potatoes have copper-color, brown, or purplish-red skin, and the flesh is a vibrant orange. However, white, cream, yellow, and deep purple are also other colors of sweet potatoes.
While sweet potatoes have many different varieties, there are 2 main types: pale-skinned sweet potatoes and darker-skinned ones. The initial has pale yellow skin with light yellow flesh, and its texture is crumbly and dry. However, this type of sweet potato is not sweet.
Conversely, the latter features dark orange or reddish color skins, a moist texture, and a sweet, vivid orange flesh. Though it is a popular sweet potato, people often incorrectly call it a yam.
Here are some useful guides for different types of sweet potatoes.
Best Uses
With the great benefits of both yams and sweet potatoes, people use them in many recipes. However, are there some differences between these root vegetables?
Yam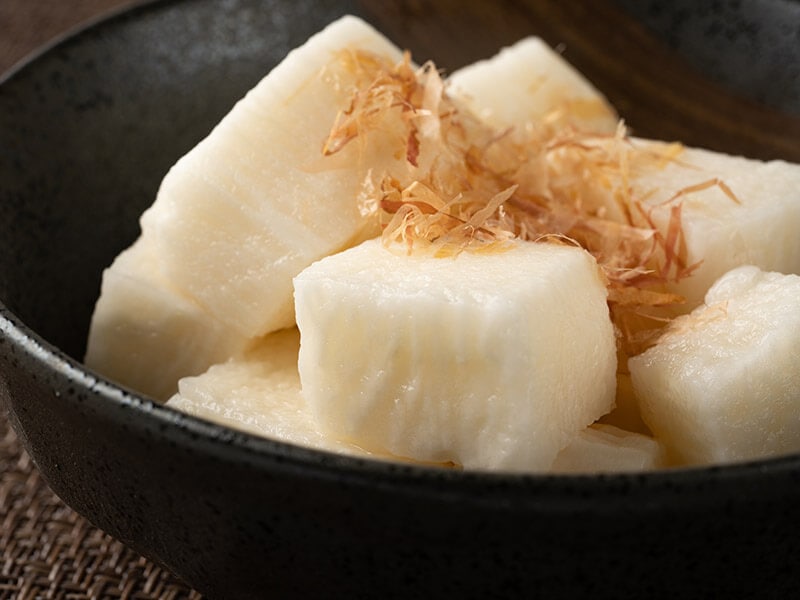 When mentioning unique African dishes, you must also list the yam at the top. Since it has a long shelf life that lasts for up to 6 months, yam is an abundant food source for the locals during the poor conditions.
You should use purple yams as a dessert in many countries in Southeast Asia. You may try to bake, fry, or roast your yam like the sweet potato though they feature a different flavor. In addition, boiling and smashing them into sticky paste or dough are good ideas.
With the natural sweetness, you should combine yams with ginger, orange, and sweet-and-sour sauces. Using honey to season the yam before baking will improve the flavor of your dishes.
You should combine mashed yams with butter, meat stew, or other vegetable dishes. The most appealing recipe for cooking yams is boiling and braising. Do not worry, yam is a healthy veggie for your daily family meal.
Why don't you fry some yam chips for your family members?
Sweet Potato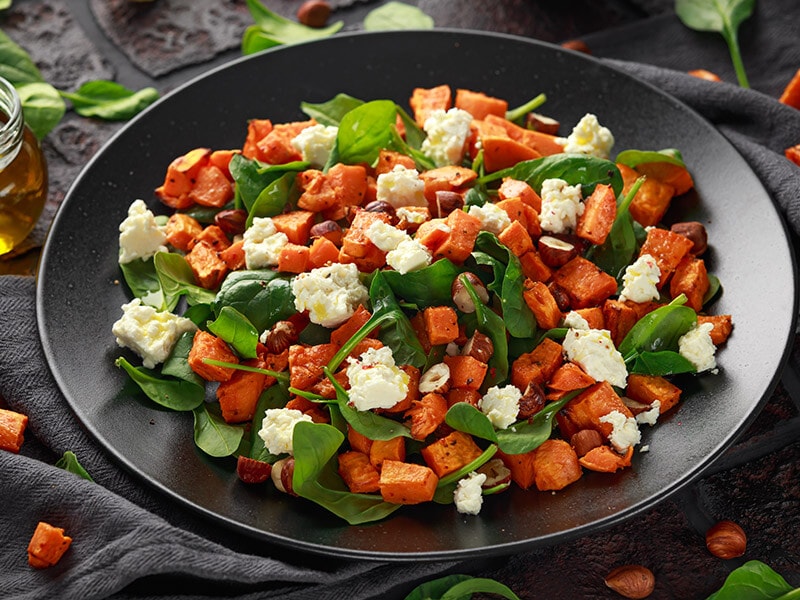 It is noticeable that people use sweet potatoes in numerous recipes, from fry and bake to roast dishes. Even leftover sweet potatoes can make delicious dishes. And people have numerous methods to benefit from this useful veggie.
You should use your sweet potato puree and add it to many soups, baked dishes, and desserts. They are also the signature on the Thanksgiving table. The sweet potato casserole with marshmallows is one of the most popular casseroles on Thanksgiving.
Besides, there are a lot of vegetables that pair well with sweet potatoes, such as carrots, mushrooms, cauliflowers, green beans, bell pepper, etc. You may enhance your fresh salad dishes with sweet potatoes.
Nutrition Facts And Health Benefits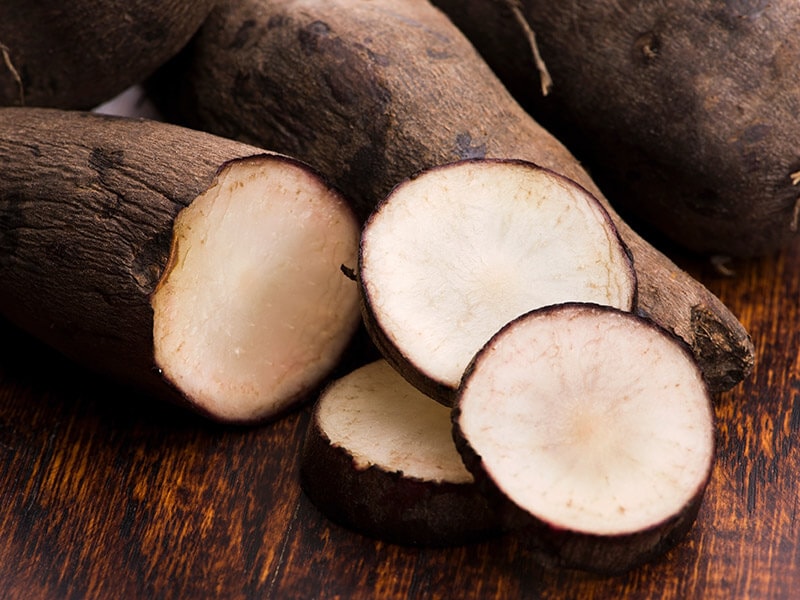 In addition to the delicious flavor, yam and sweet potato contain many nutrients. In this table, I will compare the portion of 100g between these two root vegetables.
| Nutrients | Yam | Sweet Potato |
| --- | --- | --- |
| Fiber | 4.1g | 3g |
| Sugar | 0.5g | 4.18g |
| Fat | 0.17g | 0.05g |
| Protein | 1.53g | 1.57g |
| Vitamin K | 2.3µg | 1.8µg |
| Vitamin C | 17.1mg | 2.4mg |
| Magnesium | 21mg | 25mg |
| Potassium | 816mg | 337mg |
| Calcium | 17mg | 30mg |
| Iron | 0.54mg (3) | 0.61mg (4) |
The table has illustrated a nutrient comparison between a yam and a sweet potato. All in all, you observe that the amount of fiber, fat, vitamin K, vitamin C, and potassium in yam is higher than that of sweet potatoes.
Conversely, the sweet potato has higher sugar, protein, magnesium, calcium, and iron. Therefore, many nutrients in sweet potatoes will help you improve your mood, immunity system, blood sugar regulation, sleep quality, etc.
As for yam, the higher in vitamins and minerals also protect your cells from damage and also help to repair muscle cells. In addition, they will increase your energy, lower blood pressure, and help promote your weight loss.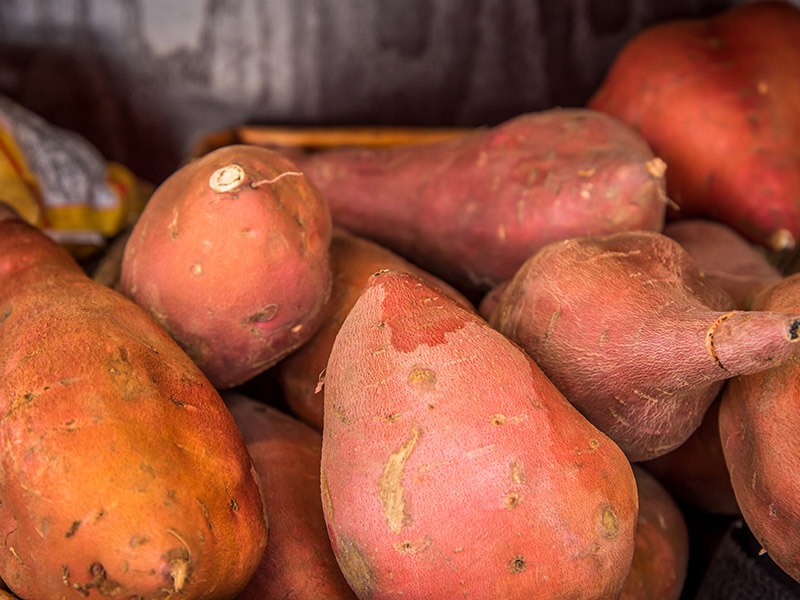 Why Sweet Potatoes Are Often Confused With Yam
If you are in the U.S, the 'yam' you enjoy at Thanksgiving may be sweet potatoes. Wait… What?! Keep reading. In this informative part, I will give you some reasons people often confuse yams with sweet potatoes.
In the United States and Canada, sweet potato is often confused with yam though sweet potato does not even have a relationship with yam.
In the 1930s, a group of farmers in Louisiana created a new variety of sweet potatoes, and they called it yam to differentiate from the sweet potato available on the market. Therefore, this may be the cause of the confusion.
Moreover, there is also a story that the misunderstanding of these problems may date back to colonial times. The enslaved people from Africa observed many similarities in both yam and sweet potato, so they decided to call sweet potatoes yam, leading to today's mistake.
What are the differences between a yam and a sweet potato? This is a difficult question for most people.
Savory Dishes Made With Yam
You may not know which dishes are best cooked with this starch root vegetable. Therefore, you should dive into this section and try these 3 mouthwatering cooking recipes.
Yamarita, known as Egg Coated Fried Yam, is one of the most delicious dishes for any yam lover. Yamarita is a yam dish with some other ingredients, such as eggs, whole milk, seasoning powder, chili, etc.
This Yamarita makes my mouth water.
Tuna Yam Balls are an easy-to-make and friendly budget dish since they contain several simple ingredients in the recipe. However, Tuna Yam Balls will be super appealing to serve at your parties and gatherings.
Stay calm, the Baked Yam Fries with truffle lemon aioli will rock your world right now! The crispy skin of baked yam fries and the creamy inside will be the main features. However, nothing will be better than combining them with truffle lemon aioli.
3 Amazing Dishes You Should Make With Your Sweet Potatoes
Here are some dishes made with sweet potatoes you should try to cook at home. In my opinion, your family members will love them very much.
Being sweet, spicy, and savory, Vegan Spiced Cottage Pies with sweet potatoes harissa mash will be the favorite dishes of vegans. Your sweet potato mash with Dopsu's rich meat-free 'beef' flavoring makes everyone hungry.
You are so hungry and do not have much time to prepare a full meal. The recipe for Sweet Potato Cakes with poached eggs will help you. It is not only a gluten-free cake but also a quick dinner for the busy.
Those who love Red Thai Peanut Curry will immediately save the recipe below on their devices. With the ingredient diversity in Red Thai Peanut Curry with sweet potato and chickpeas, I believe you will not stop eating these appealing dishes.
Will you make this delicious Red Thai Peanut Curry with sweet potato and chickpeas for your family?
FAQs
I know you love these root vegetables since they feature numerous benefits. Therefore, I will give you some other short information about yams and sweet potatoes that you may need.
Now You Exactly Know What Yam And Potatoes Are!
If someone asks you how to differentiate yam from sweet potato, I believe you are confident enough to explain to them carefully. With the informative guidelines and useful tips from this post, you will be confident enough to answer every question about the related topics.
How do you feel about my writing? Let me know via the comments below, I am pleased if you love reading this article. Do not forget to like and share this amazing writing with your friends and family to broaden their knowledge about these root vegetables.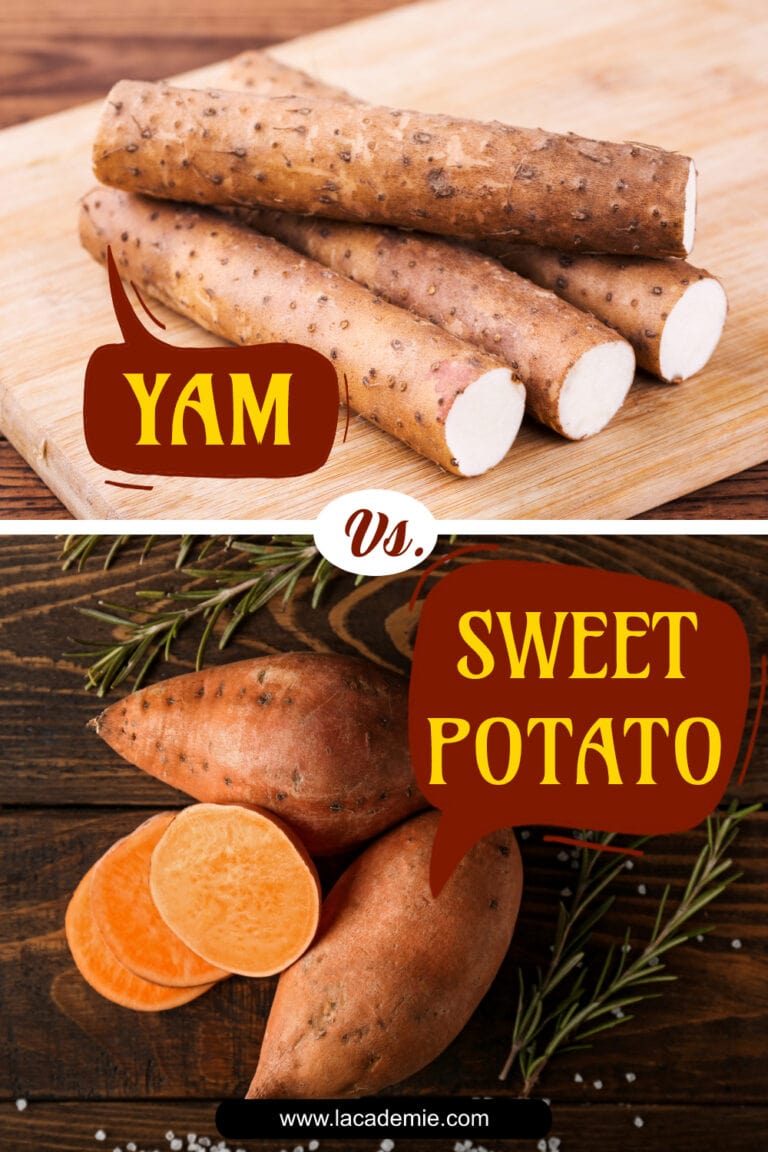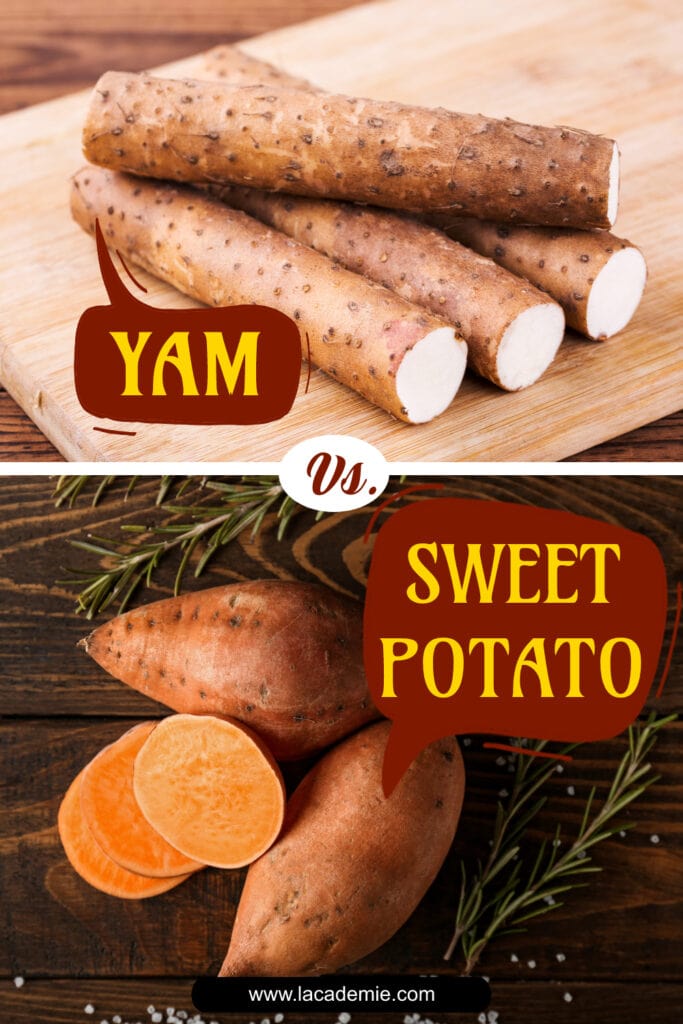 References
Encyclopedia Britannica. 2022. yam | Description, Uses, Species, & Facts.
Encyclopedia Britannica. 2022. sweet potato | Plant, Root, Description, Uses, & Facts.
Available at: https://fdc.nal.usda.gov/fdc-app.html#/food-details/170071/nutrients
Available at: https://fdc.nal.usda.gov/fdc-app.html#/food-details/168482/nutrients