I'm sure that many of you know the answer to the question "How to tell if potatoes are bad?", but believe me, every kind of potato will have different longevity. On the other hand, almost all of them will show common signs of being spoiled.
A spoiled potato will have green sprouts and shoots, a mushy, wrinkled skin, with a moldy look and a bad smell. But no need to panic! In this post, I will let you know in detail the indicated signs of expired and spoiled potatoes and tell you how to treat and store them probably!
Now, let's go to the first important question: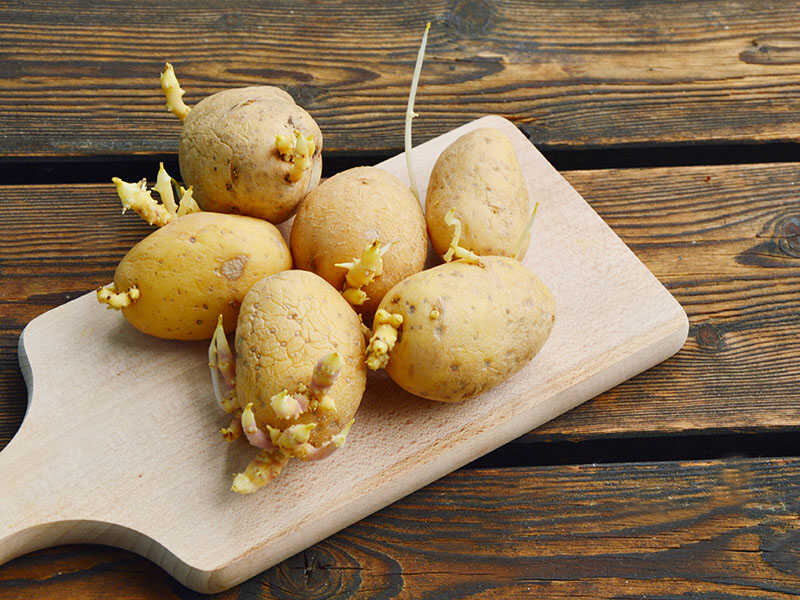 Do Potatoes Go Bad?
On a beautiful morning, you go to the supermarket and find out your favorite potatoes are on sale! Great! Today is absolutely your happiest day!
After returning from the supermarket; while holding a huge potato bag, you realize that you can't eat all of them now. But do these potatoes go bad? If yes, do the signs of spoilage on sweet potatoes apply to their cousins, too?
Yes, they do.
And these are common signs that you can know when your potatoes have gone bad:
Green sprouts and shoots
Mushy, wilted, and wrinkled potatoes
Moldy potatoes
Potatoes with bad smell
These basic answers can not tell all of the information. Below here, there are more useful things you have to know!
How Long Do Potatoes Last?
Potatoes are one of the vegetables that can be left in the pantry for some days, but obviously, many of you will not clearly know the estimated time to keep them fresh and available for use.
There are many factors for you to determine how long potatoes will stay fresh. However, the two main factors that you need to notice are the status of your potatoes (cooked or uncooked) and the place you keep them.
Fresh/Uncooked Potatoes:
Uncooked potatoes can have a long shelf life at room temperature if they are stored adequately. On average, uncooked potatoes can last for more than a week. If you live in a cool and low humidity region, your potatoes can even maintain their freshness for up to several months.
In particular, if stored in areas with a cold temperature between 43–50°F (about 6–10°C), uncooked potatoes can be left for many months without any sign of spoiling (1).
Note: Uncooked potatoes should not be stored in the fridge and freezer.
Cooked Potatoes:
For the cooked potatoes, you must eat them within a day. If you put them in the fridge, you can use them within 3-4 days. And cooked potatoes can be kept in the freezer for up to a year. However, their quality will be affected (2).
Now, look at this table below. It will give you an overview of how long potatoes can last!
| Potatoes' Status | Storing Place | Can Stay Fresh For |
| --- | --- | --- |
| Fresh Potatoes (Room temperature) | Pantry | 1 - 2 weeks |
| Fresh Potatoes (50°F/10°C) | Pantry | 2 - 3 months |
| Fresh Potatoes | Fridge (not recommended) | / |
| Uncooked Potatoes | Cut and store in water | 24 hours |
| Cooked Potatoes (Mashed, Boiled, Baked, etc.) | Fridge | 4 - 5 days |
| Cooked Potatoes | Freezer | 10 - 12 months |
| Uncooked Potatoes | Freezer (not recommended) | / |
Indicated Signs To Know If Potatoes Go Bad
Spoiled potatoes will show some signs that you can easily figure out. Now, let's read this part below to know when your potatoes go bad!
1. How To Know If Your Uncooked Potatoes Gone Bad?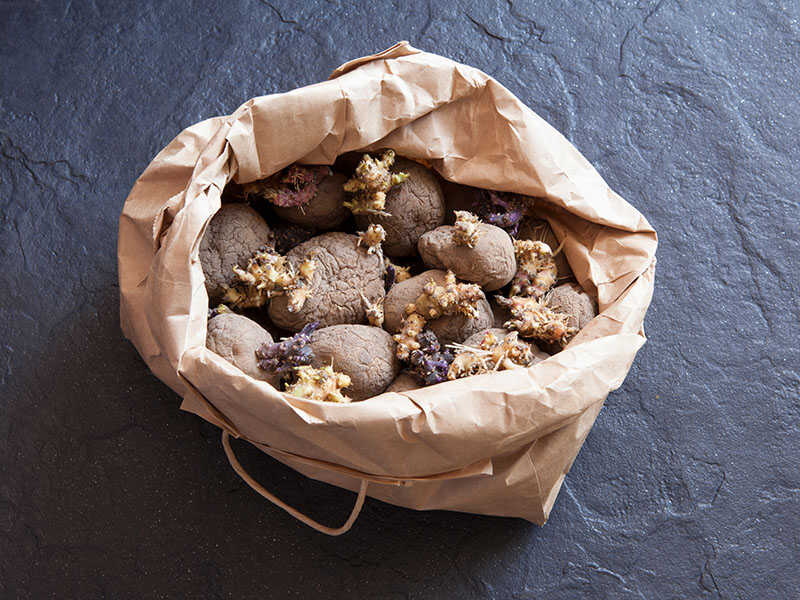 First, I will guide you on how to find these spoiled raw potatoes.
Green Sprouts And Shoots
Green sprouts and shoots are the first and easiest signs that indicate your potatoes are starting to be spoiled.
These green sprouts and shoots contain solanine, chaconine, and other toxic glycoalkaloids. They will adversely affect your health if you eat them by mistake. However, when you see green sprouts and shoots appearing on your potatoes, don't hurry to throw them out.
Let's observe how long these green shoots have grown. If they are still small sprouts, use a knife to remove them. If these shoots have grown long, it's time to throw them away.
Mushy, Wilted And Wrinkled Potatoes
If you notice your potatoes are starting to wilt, soften, and develop wrinkles (like those on human skin), you should cook them but remember to remove these over wilted or softened ones.
Though wilted and wrinkled potatoes will not affect the taste, they will spoil fresh potatoes and other fresh vegetables. Therefore, separate your wilted and wrinkled potatoes with the fresh ones. However, remember not to let them become mushy. Mushy is a sign of spoiling.
Moldy Potatoes
You see those little spongy white spots on your potato skin? I'm really sorry. It's time to say goodbye to your favorite bag of potatoes.
Potatoes with grayish-white molds mean they have begun to rot. This happens due to high storage temperature or humidity. Wet storage places are easy to cause your potatoes to develop mold.
Potatoes With Bad Smell
Some potatoes, when they start to spoil, you won't see any indicated signs on their skin. They may look as fresh as normal potatoes, but pay attention to their smell!
Fresh potatoes will usually have a typical earthy smell. But don't be complacent. The smell of spoiled potatoes and earthy-smell potatoes are completely different. It is a strong and unpleasant smell, even smelling them makes you nauseous.
The strong, off-putting odor could be telling you that your potatoes may be rotting from the inside.
2. How About Cooked Potatoes?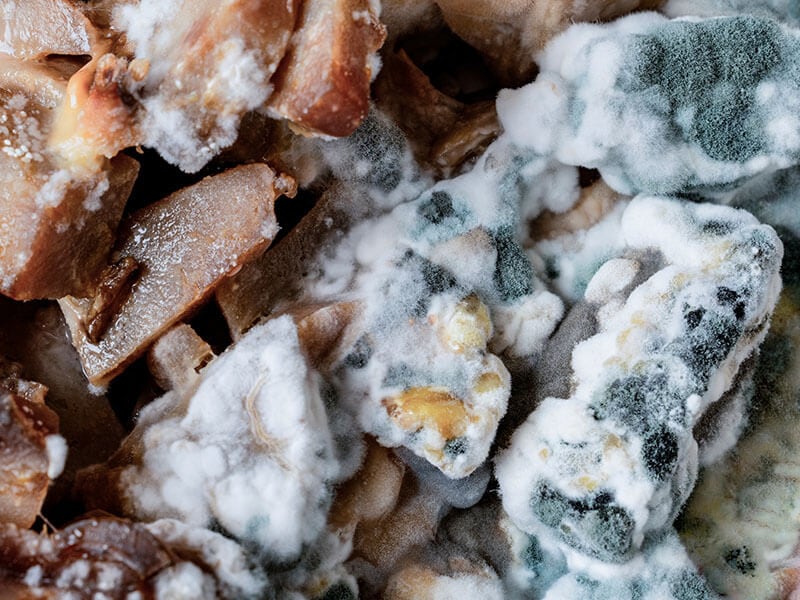 Once you've learned the best timespan to bake potatoes at 350 degrees F, they become incredibly tasty treats that you can't help but make a little bit too many. That said, cooked potatoes typically don't last as long as raw ones.
It is often hard to tell when the cooked potatoes have gone bad. In some cases, it is possible that cooked potatoes will develop white, gray mold and begin to have a strong odor. Therefore, you can easily tell if they are still edible or not.
However, in fewer cases, these signs may not be too clear. As a result, when you store cooked potatoes in the fridge, you better eat your potatoes as soon as they are cooked or within 4 days. And remember to reheat them to 165 °F to kill all bacteria that may have formed.
Health Concerns: Can You Consume Expired Potatoes?
Spoiled potatoes are one of the most toxic vegetables. In particular, when potatoes start to have sprouts or green and black spots, the starch in the potatoes is converted to solanine, chaconine-alpha, and toxic glycoalkaloids.
Actually, in small amounts, glycoalkaloids can provide health benefits, which include antibiotic properties, hypoglycemic and cholesterol-lowering effects. However, in high concentrations, along with solanine, they can cause poisoning in humans. (4)
Depending on the amount you consume, your body will have different symptoms. These symptoms include:
Nausea and vomiting
Stomach ache and stomach cramps
Diarrhea
Dehydration and hypothermia
Fever
Shortness of breath
In some cases of severe poisoning, the victim will even die.
Storing Solutions: How To Properly Store Your Potatoes?
Well, I'm sure that you really want to know how to store your potatoes so you can prolong their longevity. I will not let you wait any longer. Let's get started now!
1. Before Storing: What You Should Do?
No matter what sort of food you plan to store, proper preparation is always a must. Hence, I think you should know these little notes below for better storage!
Buy The Freshest Potatoes
Before storing, be sure to choose fresh potatoes. So how to know which potatoes are fresh? Here, I will show you how to select potatoes that can be stored for a long time:
Pay attention to the sprouts and shoots: When choosing potatoes, don't hesitate to step away if you see green-white sprouts and buds on their skin.
Choose glossy and firm potatoes: When you touch potatoes in the supermarket, they should be smooth and firm. This is one of the signs to tell if they are fresh potatoes.
Scratched potatoes that have black spots: Black spots are an early sign of rotting. So avoid such potatoes.
Don't Let Them Get Wet While Storing
Many people often have the habit of washing vegetables immediately after bringing them back from the market or supermarket. However, for potatoes, if you want to keep them last long, DON'T WASH them.
Moisture will promote mold and bacteria growth on your potatoes, resulting in your potatoes going bad more quickly. Let them dry with a thin layer of soil around them, you will be surprised at their longevity.
Note: If your potatoes get wet at the time you buy them, leave them in the basket for better drying and then store them.
Never Store Your Potatoes Near Other Vegetables
I recommend that you should not store potatoes next to other vegetables, especially apples, bananas, and onions. These kinds of vegetables often produce ethylene gas, which ripens vegetables (3). Your potatoes will very easily be spoiled if they are exposed to ethylene gas.
2. Tips To Prolong Your Potatoes Shelf Life
If you have noted all of these must-remember things in your mind, be ready and I will tell you effective ways to help your favorite potatoes last long!
Uncooked/Fresh Potatoes
So, what should you do with your uncooked potatoes?
Opened Basket And Paper Bag Are Better Than Plastic Ones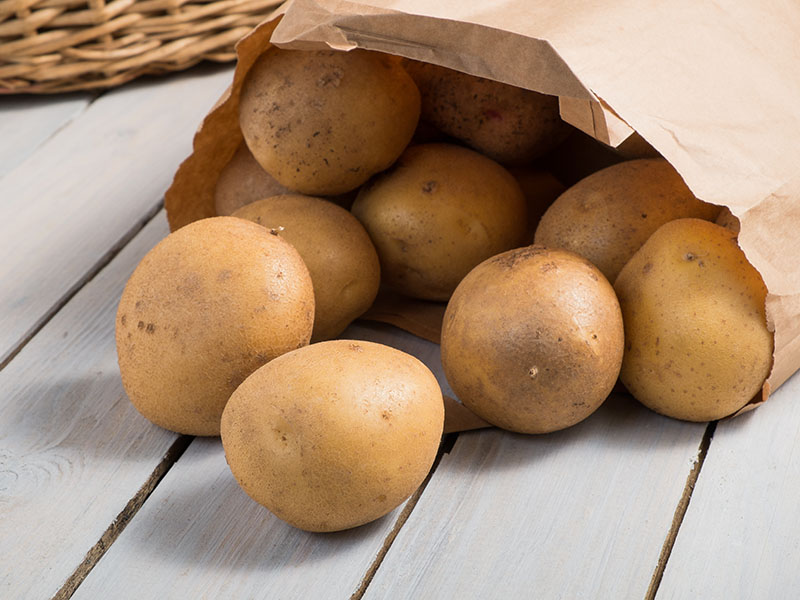 Paper bags and baskets, which are made from bamboo materials, are the best options for potato storage. On the contrary, plastic bags will contribute to shortening the life of your potatoes. It creates a humid and airless environment.
In addition, plastic bags will release harmful chemicals in a long time of storing, adversely affecting your potatoes' quality.
Note: Cover your potato bag with a thin towel to avoid direct sunlight for better storing.
How to store your potatoes in a bag? It's more complex than you've ever thought!
Storing Your Potatoes In The Water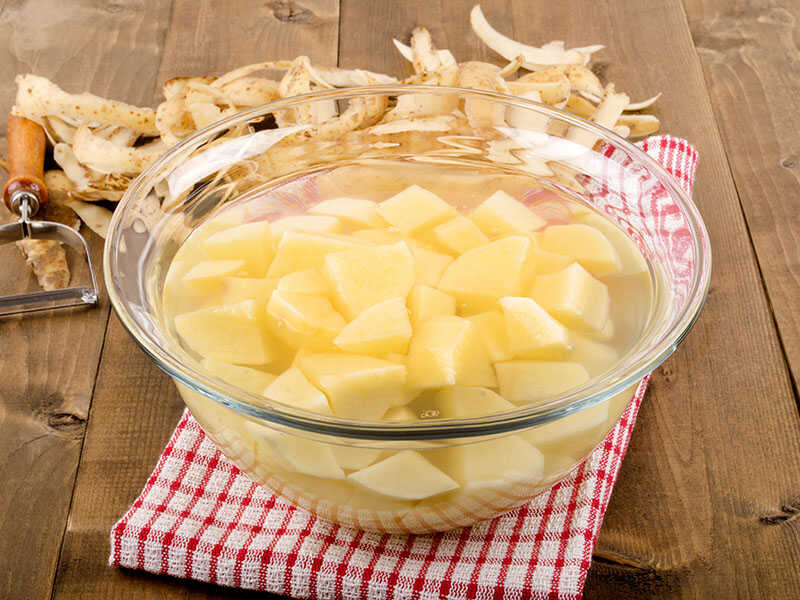 You are peeling potatoes' skin to prepare your favorite potato salad, and suddenly you receive a phone call from your boss? Don't worry. This simple method will solve your problem.
If you have peeled off all your potatoes' skin, the flesh will quickly change its color. This is because potatoes contain an enzyme called polyphenol oxidase. When this enzyme comes in contact with oxygen, the potatoes will turn brown.
To avoid this, after slicing the potatoes (about 1-2 cm thick), soak them in water. If possible, add some salt inside.
However, this method is only effective for 24 hours. If you leave potatoes in water for too long, they will soak up the water and lose all of their nutrients.
Cooked Potatoes
Read this section! It's time to reveal to you tips for storing cooked potatoes!
Keep Your Potatoes In The Fridge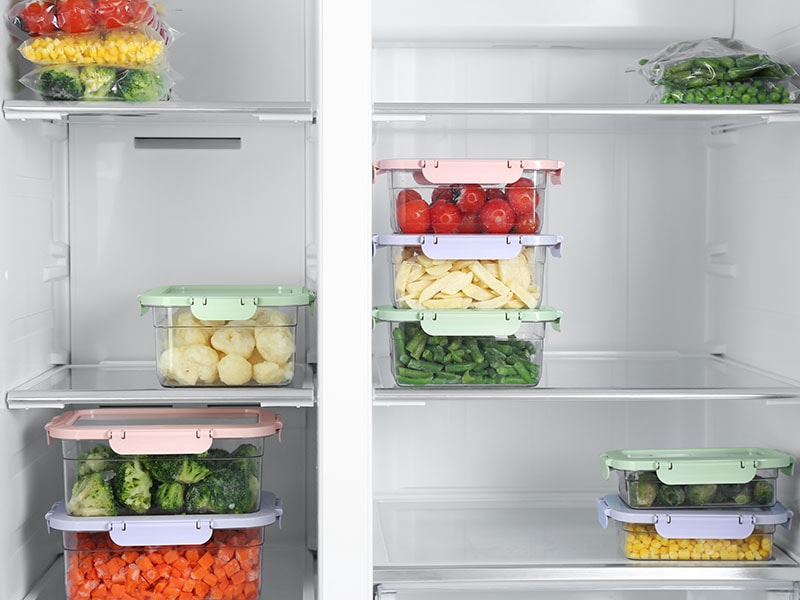 Cooked potatoes only can be stored at room temperature for about 2 hours. Therefore, if you can't eat all of your potatoes after cooking them, you can put them in the fridge for storage.
In detail, you can put them in the airtight container of the fridge or contain them in a resealable plastic bag and put into the fridge. Remember to consume your leftover cooked potatoes within 3-4 days after it's cooked.
Freezing Is A Perfect Way To Boost Your Potatoes Longevity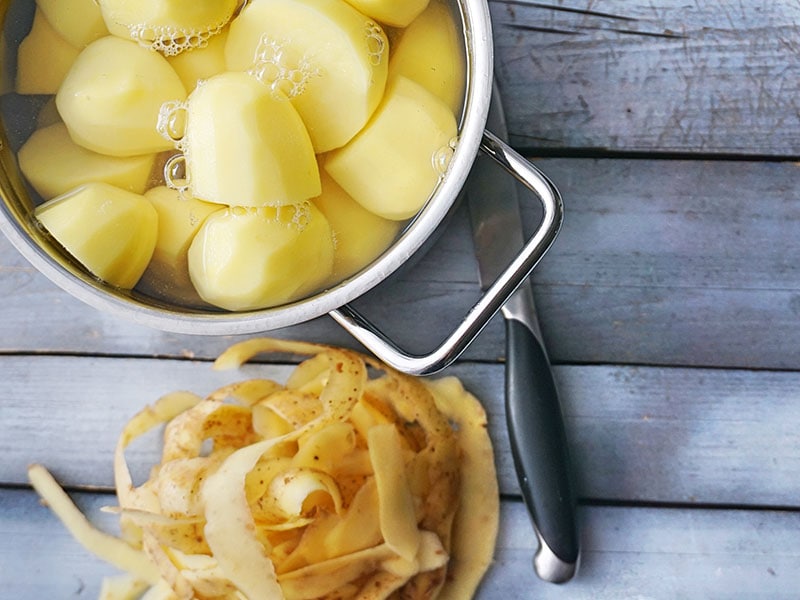 What if you want to store your cooked potatoes for longer? Well, the freezer is an ideal choice to do so. With proper technique, you can even freeze and store potato salad. Let's learn how!
If you want to store potatoes for a long time, first cut them into sticks or 1cm thick slices. Next, blanch them for about 3-4 minutes in boiling water. Then take them out and pour them into ice water. Then take them out and pour them into ice water.
Finally, put them in a plastic box or zip bag and leave them in the freezer. This freezing method can help you store your potatoes for up to a year!
Wanna know the detailed step? This instruction can help!
Can You Store Uncooked Potatoes In The Freezer?
I do not recommend freezing potatoes without blanching.
Freezing raw potatoes will cause many bad effects on the quality of potatoes as well as your health.
To be more specific, when raw potatoes are frozen, their starches are gradually converted into reducing sugars. Reducing sugars will form carcinogenic substances when you fry or cook potatoes at high temperatures after defrosting. (5)
Moreover, since blanching potatoes in boiling water inactivates the enzyme polyphenol oxidase, potatoes that are frozen without blanching will easily turn brown even in the freezer environment.
FAQs
If you still have any other questions, take a look at these frequently asked questions below. I believe it can be beneficial for you!
It's Time To Throw Away Your Spoiled Potatoes!
Unlike onions and garlic, potatoes are a poisonous vegetable when they go bad. Not only can they cause symptoms such as vomiting, stomach ache, diarrhea, dehydration, illusion, etc.,, spoiled potatoes can also take your life if you accidentally eat them too much.
So, there's no need to feel any regret for tossing away bad potatoes and let them harm your health. I hope this article has provided you with useful information. Please share it with those you think might need it.
And now, if you have any questions, don't hesitate to leave a comment below. I will try to answer all your questions as quickly as possible!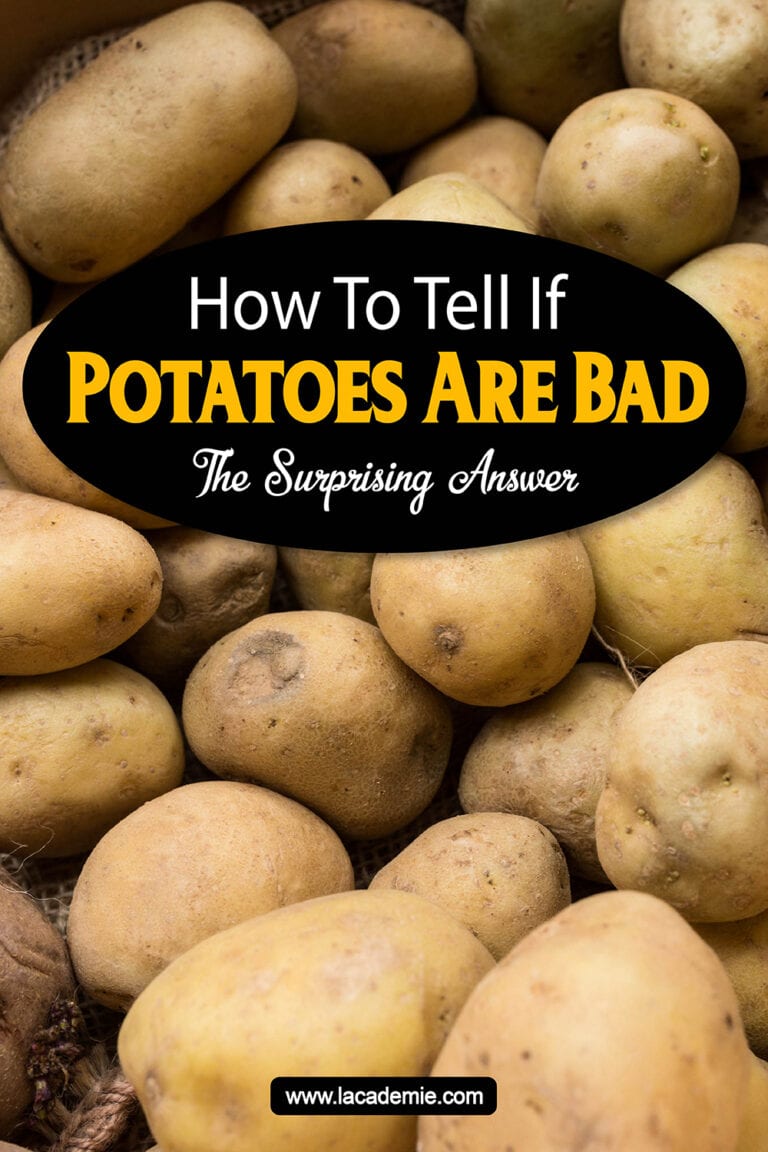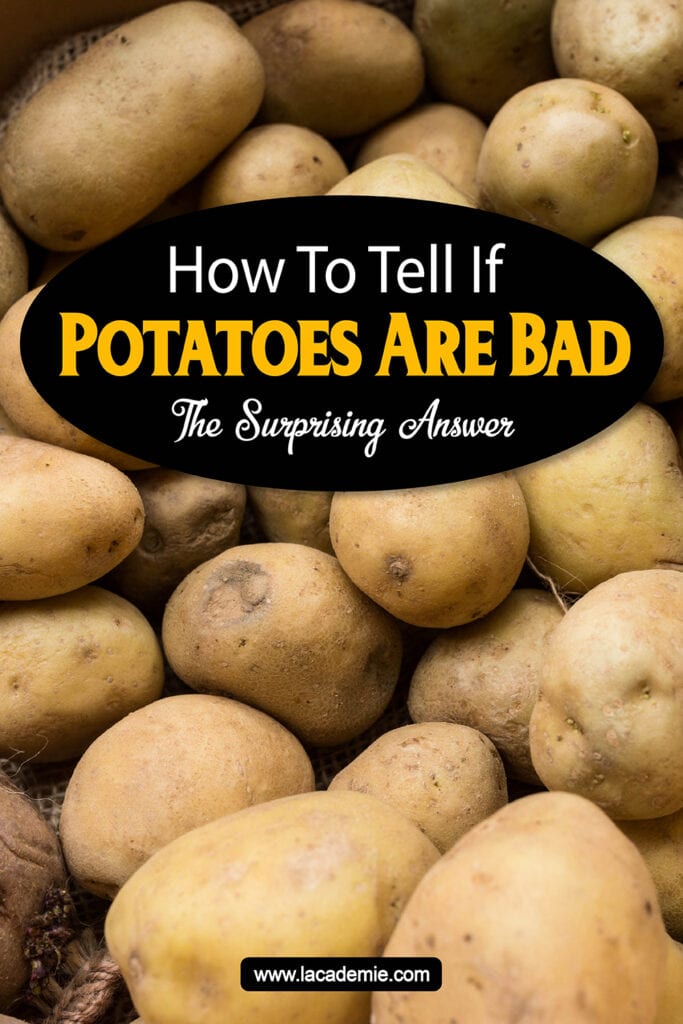 References
Nourian, F., Ramaswamy, H. S., & Kushalappa, A. C. (2003). Kinetics of quality change associated with potatoes stored at different temperatures. LWT-Food Science and Technology, 36(1), 49-65.
Álvarez, M. D., Fernández, C., & Canet, W. (2005). Effect of freezing/thawing conditions and long‐term frozen storage on the quality of mashed potatoes. Journal of the Science of Food and Agriculture, 85(14), 2327-2340.
Janssen, S., Schmitt, K., Blanke, M., Bauersfeld, M. L., Wöllenstein, J., & Lang, W. (2014). Ethylene detection in fruit supply chains. Philosophical Transactions of the Royal Society A: Mathematical, Physical and Engineering Sciences, 372(2017), 20130311.
Sophia Phillips. Can You Eat Potatoes with Eyes? Is It Safe? – 2021.
Erica Julson. What's the Best Way to Store Potatoes. 2018.