If you want to learn how to make potato flour, this article is for you.
Potato flour is easy to make and serves as a great substitute for wheat flour (all-purpose flour), cornstarch, or tapioca starch. I love potato flour because it's gluten-free and versatile.
Many people, including myself, use potato flour in different recipes as a substitute for wheat flour in the baking of bread and cakes. It's also used as a thickener for sauces, soups, or other dishes. For instance, if you need a good trick to thicken your baked bean, count on potato flour.
Without any further ado, let's learn how to make potato flour at home.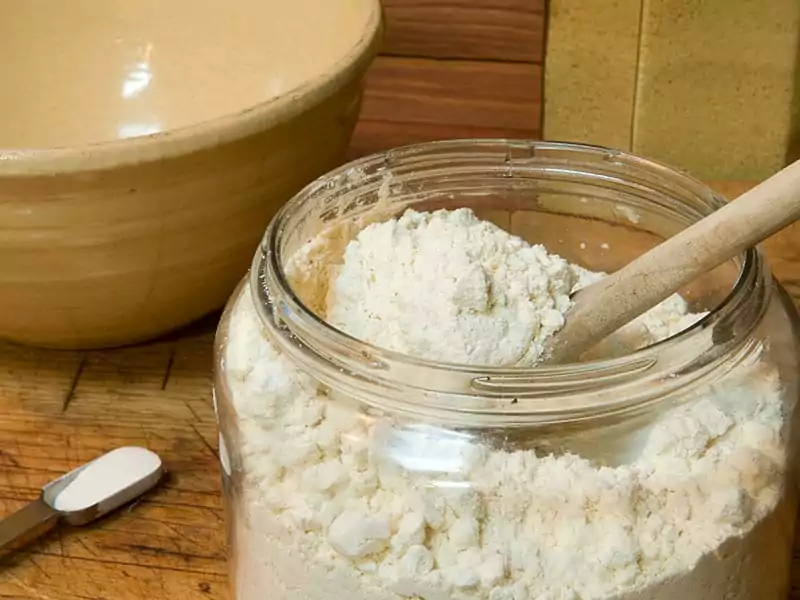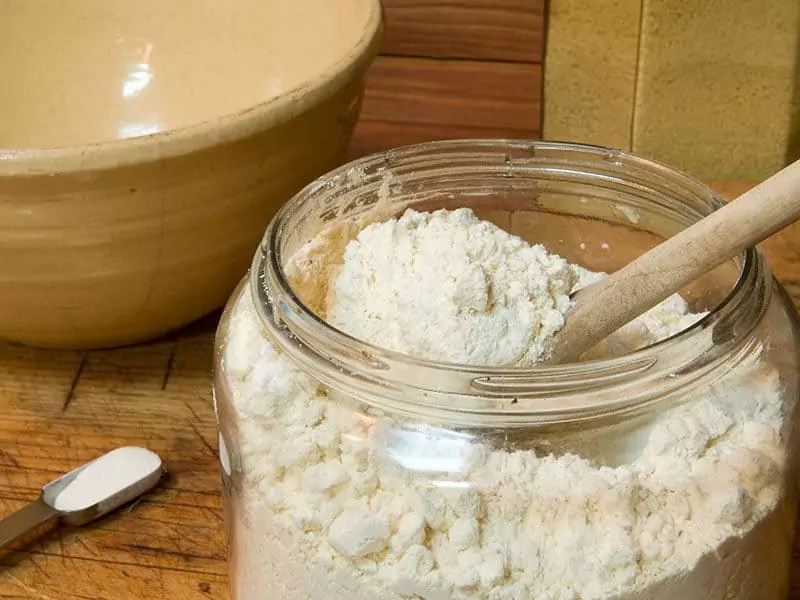 What Is Potato Flour Made Of?
When I started dipping my toes into cooking, soon, in my journey, I crossed paths with potato flour. It's the same concept as traditional wheat flour, except made of potatoes.
This flour is utilized in a bunch of recipes that call for potatoes due to its special potato flavor. It's better than standard flour because it keeps more moisture, making the dough easier to work with.
Another great thing about this ingredient is that you can make it at home. You'll be surprised by how easy it is to make your own potato flour!
How To Make Potato Flour?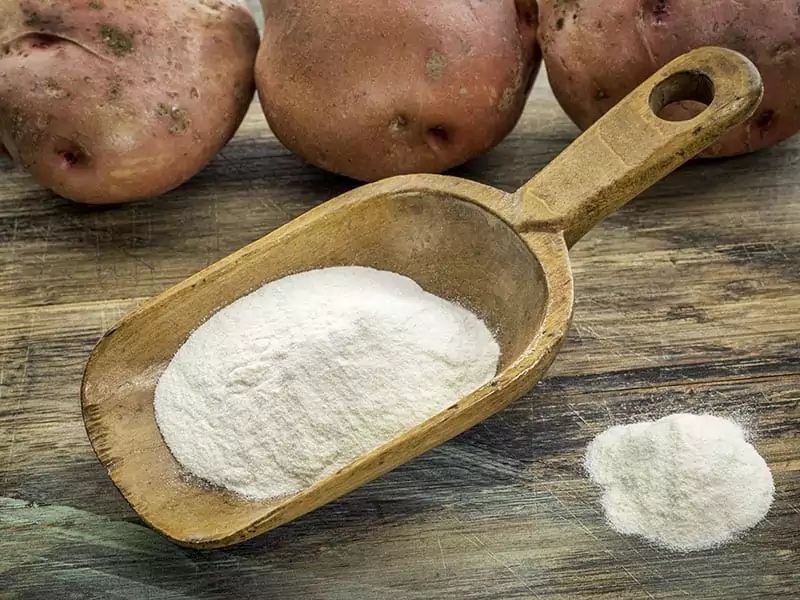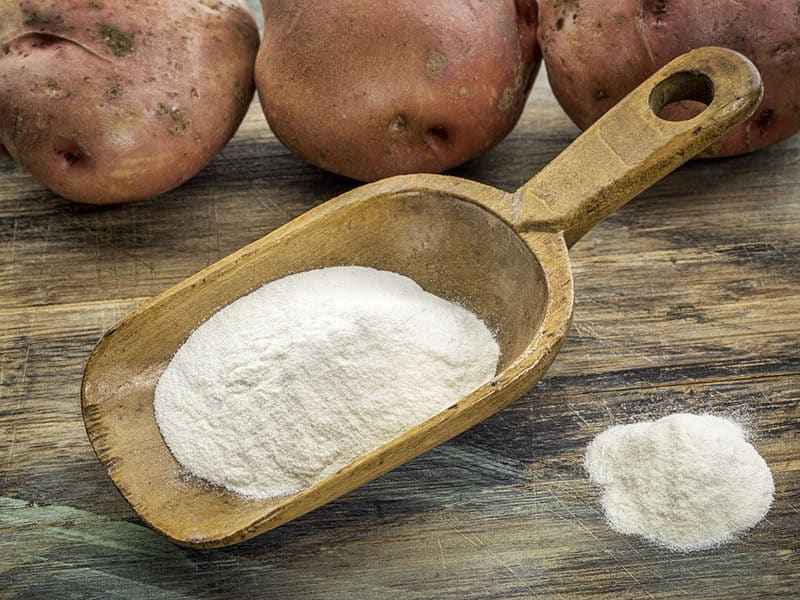 You can make potato flour at home in 5 easy steps. Your first task is to obtain enough potatoes to make the flour. About 1 pound of potatoes provides roughly 2.8 cups of powder.
However, this is a rough estimate as potatoes vary in size. Also, don't waste too much time and energy picking the best-looking potatoes. They will all end up in the food processor, won't they?
Appearance is irrelevant when buying potatoes for this purpose. Just make sure to get ones that haven't rotted. Other than that, you're good to go! Proceed with the following steps.
Step 1: Rinse, Chop, And Rinse Again
First and foremost, check for signs that your potatoes have gone bad. If there's none, proceed to rinse the potatoes of dirt and debris. Then, slice them into cubes. This is a little trick I do so that they cook faster and more evenly.
You can either do it manually or use a top-quality veggie chopper for faster results. Rinse them one more time to wash away some of the starch. Finally, put them in a large pot of boiling water.
Step 2: Cook The Potatoes
Boil your potatoes until tender. Small cubes cook for 12-15 minutes until tender. This is where I doubt if I should stop here and eat the potatoes with a bit of salt, oil, pepper, and parsley. However, for the sake of this guide, let's pretend that I wouldn't eat them and proceed with the next step.
Step 3: Mash The Potatoes
Mash the potato cubes into a paste. You can either utilize a food processor to save some time. Or a good old potato masher or chopper as both there is no big difference between food processors and choppers in doing this task.
This step might not be mandatory, but it's beneficial. If you dehydrate your potato while they're still in a cube shape, you will have a difficult time when making the powder.
Step 4: Use A Dehydrator
The next step is the key part of making the potato flour. You will need a dehydrator for this step. If you don't have one, don't worry. There's a guide below on how to make it without a dehydrator. If you think it's something you will need in the future, however, it's smart to purchase one.
Dehydrators have different uses, and they pay for themselves over time. When loading it, spread out the mashed potatoes so they can dry completely and evenly. Then, turn the dehydrator to 120 degrees Fahrenheit.
Let the potatoes dehydrate for about 12-20 hours. Yes, that's a lot of time. It's easy to make potato flour, but the process takes time. When you get a solid disc of hardened mashed potatoes, you're good to go.
Step 5: Use A Food Processor
Once your mash is fully dehydrated, smash pieces off and place them in a compact blender. If you don't have a blender, you can utilize a food processor. However, the flour won't be as fine. Depending on your recipe, the texture of the potato powder may not be that important.
Watch this video to know more:
How To Make Potato Flour Without A Dehydrator?
If you rarely need a dehydrator in your kitchen, perhaps it's not smart to invest in something you won't use regularly. Dehydrators are large and chunky. And expensive, which is why I don't own one.
Instead, you can dehydrate food by utilizing other alternatives. You can prepare potato flour without this unit. Choose one of the next alternative methods, and you will have dehydrated potatoes in no time.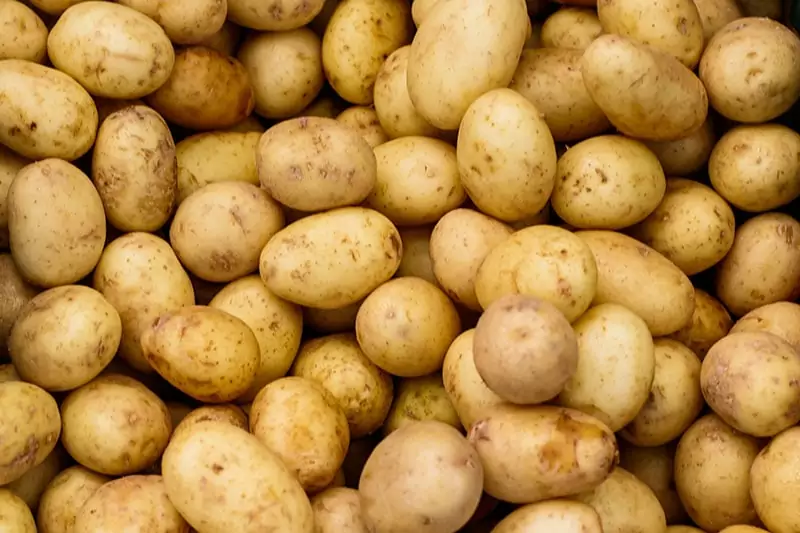 Sun Drying
This method can provide different results for different foods, but sun drying is a great way of dehydrating potatoes.
Just slice the potatoes thinly, put them on a baking sheet, and allow them dry until they're fully dried up. Keep in mind that this process takes time.
Sun-drying potatoes can take up to multiple days. You can also put a mesh over them to prevent insects from getting to them.
Oven
Follow through with the normal preparation of the potatoes. Then, put them into the baking tray with a lined sheet. Set your oven to the lowest setting and bake the potatoes for 6-8 hours.
If this is too long for you, you can increase the heat to 225° Fahrenheit for about 2-4 hours. For the air to circulate, leave the oven door slightly open. It's a very effective dehydration process.
Microwave
Dehydrating your potatoes in the microwave can take some time. However, it's a very effective method. It's also a trial and error process since every microwave has a different heat and strength.
Oven Toaster
Prepare your potatoes the same way you would when utilizing a dehydrator. Then, put them in the toaster oven at the lowest setting. Leave the door slightly open for the air to circulate.
Despite the distinctions between microwave and toaster oven, they both perform excellently in dehydrating your potatoes. But the processing time differs. So make sure to check your potatoes occasionally to check if they're dehydrated or not.
Keep your dehydrated potatoes in canning jars for longer shelf life. If you don't have jars, any airtight container will do the trick. Keeping the air outside of the container or jar will also prevent your dehydrated potatoes from turning uncontaminated and soggy.
It will also make it simpler for you to carry during family trips like camping. Aside from using dehydrated potatoes to make potato flour, dehydration is one of the best ways to store them.
How To Store Potato Flour?
Keep your potato flour in a dry, cool place away from direct sunlight or any sunlight at all. Refined flour will survive up to 1 year in the pantry under the ideal conditions I just mentioned.
If you'd like to store your flour longer, but your home isn't always cool, store it in the freezer. Nutritional almond flour, bread, and all-purpose flour can last up to 2 years at 40 F in the fridge.
3 Excellent Substitutes For Potato Flour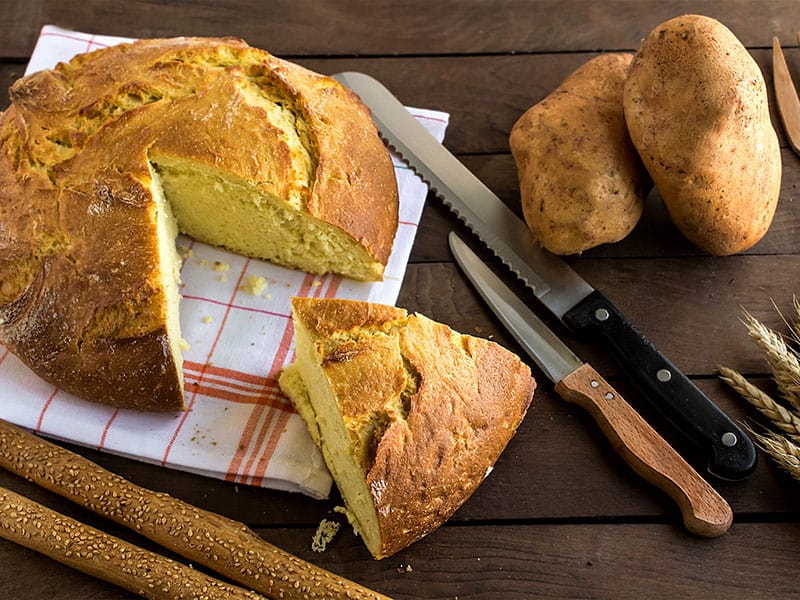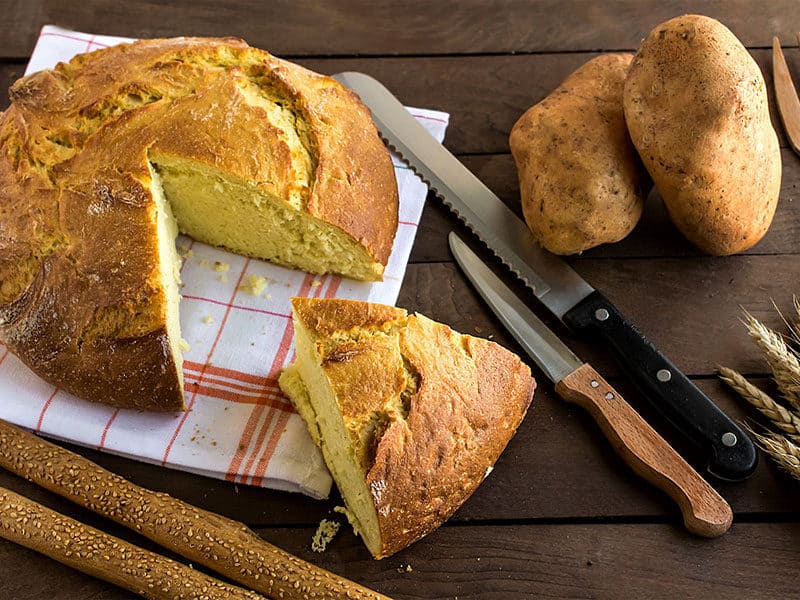 If you're in a hurry and don't have the time to make potato flour at home, you can use some of the next substitutes. They're just as good and provide similar results in different recipes.
Cornstarch
There are many cornstarch replacements, and potato flour is one of them. Likewise, If you're in a pinch, cornstarch is a good substitute for potato flour. However, it's not the perfect choice.
Yes, it keeps rolls and bread moist. But that's just about it. It doesn't provide the subtle flavor and color of potato flour. Therefore, bread made with cornstarch is pale and has a flat taste.
Mashed Potatoes
Mashed potatoes add a lovely flavor and moistness to yeast rolls and bread. The right balance of flour and liquid is the key to a bread's structure. And this ingredient is a wild card.
If you bake your potatoes, how dry did they end up? If you boil them, how much water did they take in? You can replace potato flour with mashed potatoes but with care. Your bread can collapse.
Just replace ¾ plain mashed potatoes for every ¼ cup of potato flour asked in your recipe. Decrease added liquids by 50%, subsequently applying more liquid or flour if necessary to create a soft dough.
Bake it thoroughly to a temperature of 200° Fahrenheit. Even after following these steps, bread made of mashed potatoes can still collapse. It works better for smaller things like rolls.
All-Purpose Flour
Last but not least, you can substitute potato flour with all-purpose flour and enjoy all the benefits of this staple. However, you will need to make some adjustments.
In case you didn't know, potato flour takes in more liquid than regular flour. Thus, if your recipe asks for water, start small. If your dough is too sticky and hard to handle, add more all-purpose flour.
All-purpose flour is a decent substitute but not a perfect one. Your bread will likely lack moistness, color, and flour. The dough can be stickier and harder to mold but still something you can work with.
My last piece of advice is if you don't have potato flour at hand, buy some or make it. These substitutes work. However, they just can't beat the benefits of potato flour.
Potato Starch Vs. Potato Flour: What's The Difference?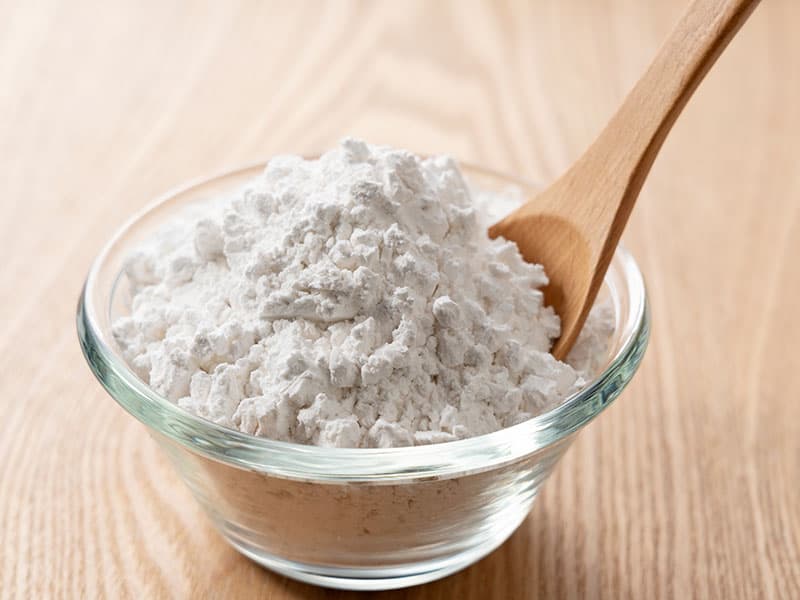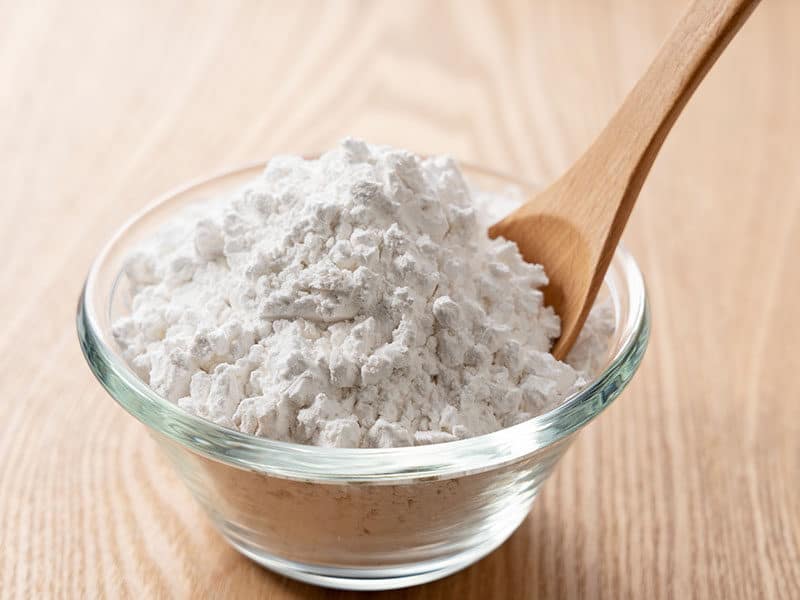 People tend to mistake potato starch for potato flour and utilize the terms interchangeably. I've even seen some products named "potato starch flour".
And since I care about you and your future recipes, I want to help you learn the differences between the two before you start cooking. First and foremost, potato starch is tougher than potato flour.
Therefore, if you make the mistake of using potato starch thinking it's potato flour, your fluffy dish turns into a hard one that won't be edible. Although both are made of potatoes, they're quite different.
At first sight, it can seem that they aren't that different. However, that's not true. The only resemblance is their main ingredient which is potato. Potato flour comes from the whole potato, skin, and all.
Potato starch, on the other hand, comes from starch that derives from the potato. Have you ever grated a potato and let it sit in a pot for a while? If so, you likely saw the white residue at the bottom.
That's potato starch. Both ingredients have different uses. Potato flour is often utilized for baked goods such as muffins, while potato starch is ideal for utilizing gravy thickeners. Also, if you're making a gluten-free meal, your recipe probably asks for potato flour instead of potato starch.
Watch this video to know more:
Can you Make Potato Flour From Instant Potatoes?
Potato flour is made of entire peeled potatoes crushed into fine powder. Instant potato flakes work similarly to potato flour and can be utilized interchangeably.
They're a great substitute for potato flour. They're also made of dehydrated potatoes, so you can make potato flour from instant potatoes. You can either grind them to a fine powder in a food processor or a compact blender and then take out any larger compartments.
What Does Potato Flour Do in Baking?
Potato flour is a staple because it's easy to make and represents a simple way for people to prepare moist yeast baked goods with great shelf life. The potato starch attracts and retains water, and helps to boost the moisture amount in baked goods like cakes, bread, etc.
Try Making Your Potato Flour Today!
Potato flour is taking over the baking world. If you're active online, you probably noticed the increased number of recipes that ask for this flour.
If you're making gluten-free bread or traits, potato flour is a must. The best part? It's easy to make. Just follow this guide on how to make potato flour.
What's your opinion on potato flour? Do you have any cooking tips and tricks on how to make this flour at home? Share your thoughts in the comments.
I would love to hear your experiences and recommendations. Also, don't forget to share this informative article with your friends on social media.
Nutrition Facts
6 servings per container
---
Amount Per ServingCalories267
% Daily Value *
Total Fat 0.3g

0

%
Sodium 41mg

2

%
Potassium 747mg

22

%
Total Carbohydrate 62.1g

21

%

Dietary Fiber 4.4g

16

%
Sugars 2.6g

Protein 5.2g

10

%
---
* The % Daily Value tells you how much a nutrient in a serving of food contributes to a daily diet. 2,000 calories a day is used for general nutrition advice.