Air fryer potatoes are your ticket to a healthy and easy side dish that will win over even the pickiest of eaters. By utilizing an air fryer, you can achieve perfectly crispy potatoes that are tender on the inside and delightfully golden on the outside.
This foolproof recipe is not only simple to follow but also delivers mouthwatering results in no time. Say goodbye to the guilt that comes with deep-frying, and embrace this lighter alternative!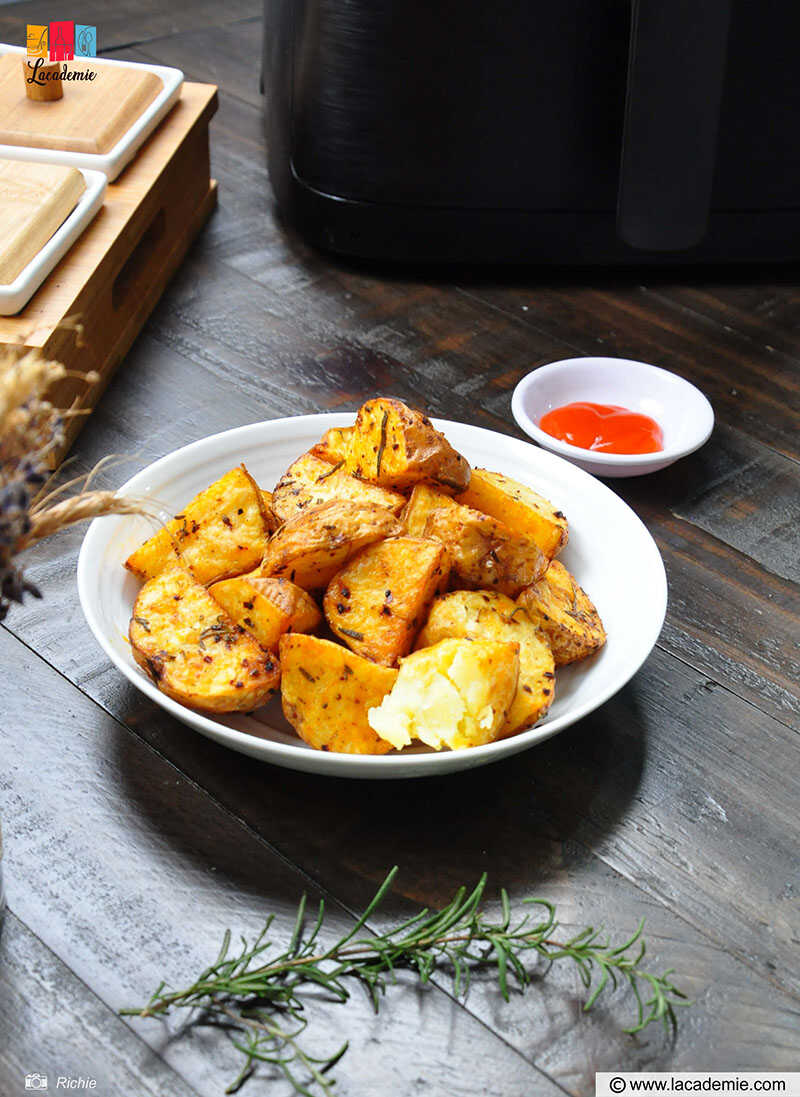 Why This Recipe Will Be A Hit!
Air fryer potatoes offer a fantastic way to satisfy your crispy potato cravings while keeping things healthier! Here's why these scrumptious spuds will become your go-to side dish:
Air fryers use hot air circulation to cook food, mimicking the crispy texture of deep frying without the need for excessive oil. This means you can enjoy delicious, crispy potatoes without loading up on unhealthy fats.
The crispy skin and tender insides create an irresistible texture that's simply mouthwatering.
Air fryer potatoes are time and energy efficient, cooking faster than baking in the oven and reducing overall energy consumption.
This versatile recipe complements various dishes, making it perfect for pairing with chicken, meat, steak, or vegetables. The possibilities are endless!
Tools
To create the perfect potatoes using an air fryer, you'll need a few key tools. Discover the must-have kitchen appliances that'll help you whip up this tasty treat.
Air fryer: There are plenty of great air fryers on the market. If you haven't owned one yet, consider getting the COSORI Pro, which is what I'm using.
Cooking oil sprayer: A little cooking oil will prevent the potatoes from drying out during cooking.
Mixing bowl: Provides a container for the spices and potatoes when you toss them together.
Food prep gloves: Remember to put food prep gloves on when tossing the potatoes to keep your hands clean.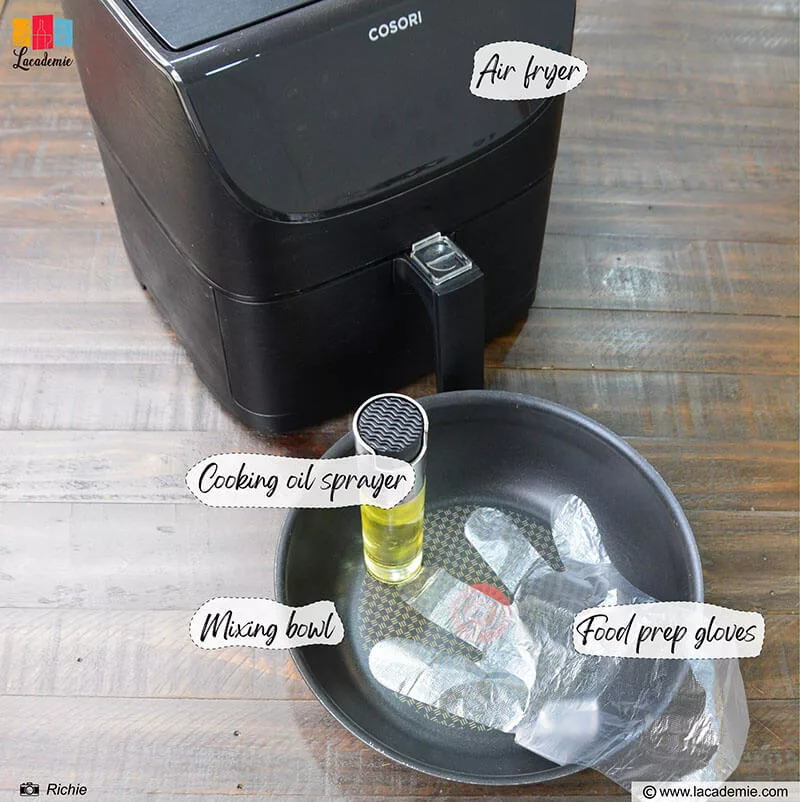 Ingredients
A handful of carefully chosen ingredients can transform into yummy fried potatoes. Here's a brief overview of the essential components that make this snack a standout.
Potatoes: Use your favorite kind of potatoes. If you need more tips on what cultivars to go for, check out the section dedicated to this topic below.
Olive oil: Besides adding moisture, olive oil also ensures that the potatoes cook evenly in the air fryer and helps to create a crispy exterior.
Red pepper powder: Adds a spicy kick to the potatoes.
Dried oregano: Adds a savory flavor to the potatoes, and its slightly bitter notes help to balance out the dish.
Kosher salt: A coarse-grained salt that is commonly used in cooking. It has a pure salt flavor and is less salty than table salt
Rosemary: Adds a bold and earthy flavor to your treat. Its piney notes also help to cut through the richness of the potatoes. Dried rosemary or thyme are great alternatives.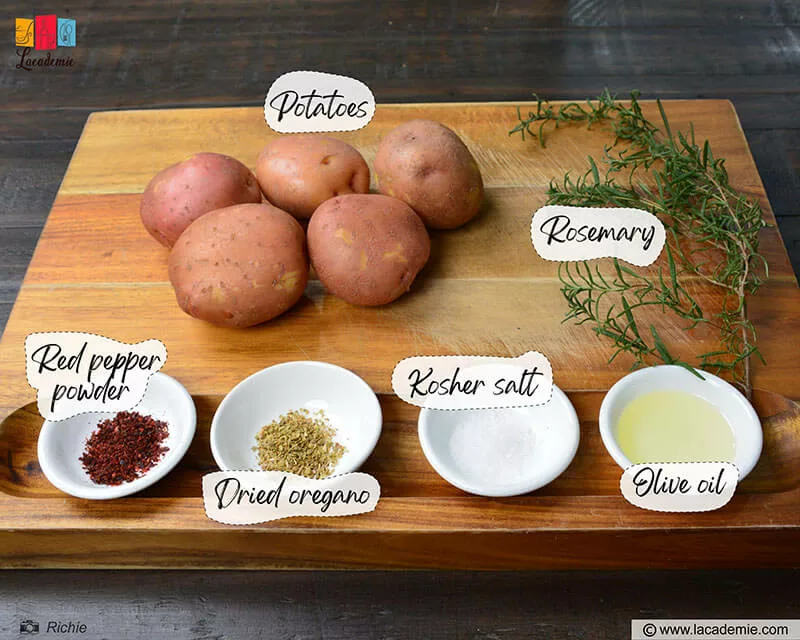 Directions
Crafting the perfect air fryer potatoes is a breeze with these easy-to-follow directions. Let's get started on this delectable side dish that everyone will love.
Step 1: Prepare The Ingredients
Rinse the potatoes and cut them into quarters.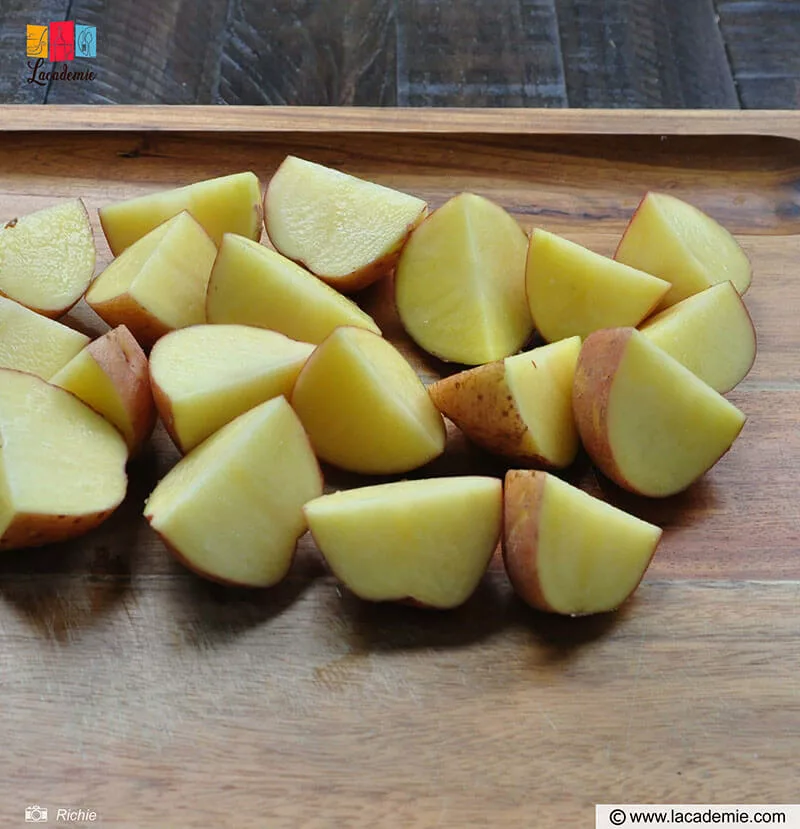 Put the potatoes into a mixing bowl, then add the olive oil, red pepper powder, dried oregano, salt, and rosemary. Toss well to infuse the potatoes with the spices.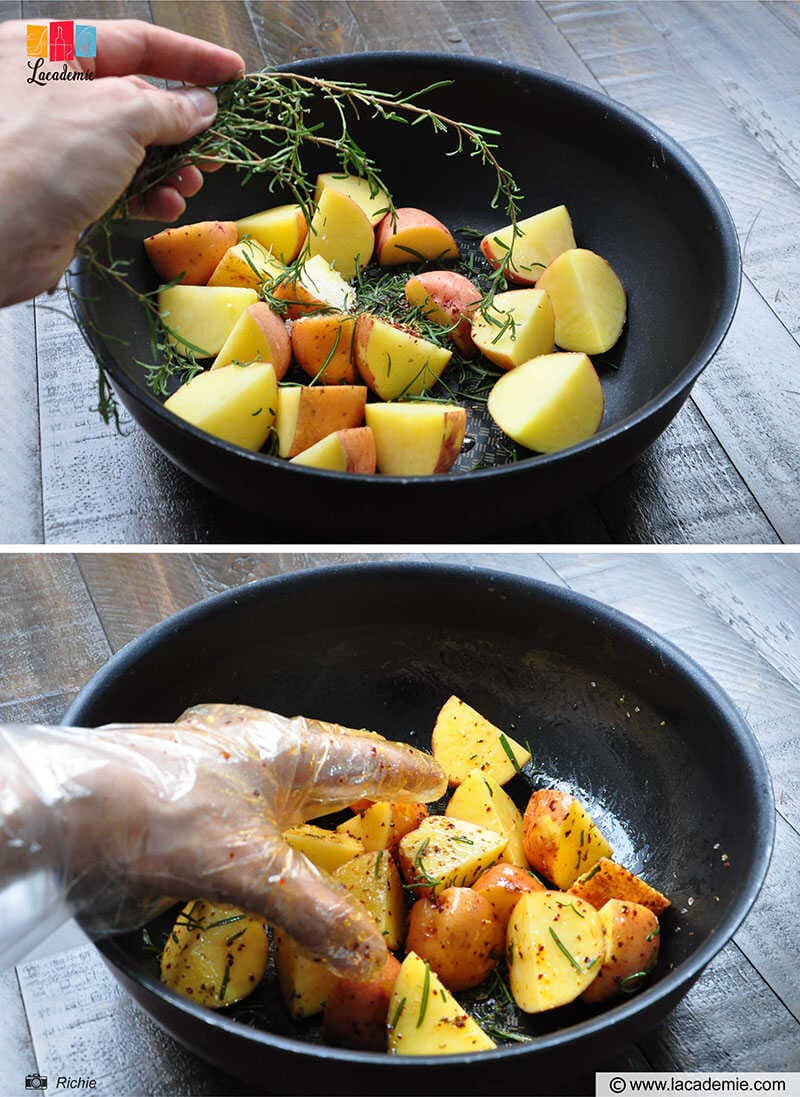 Preheat the air fryer to 400 degrees F.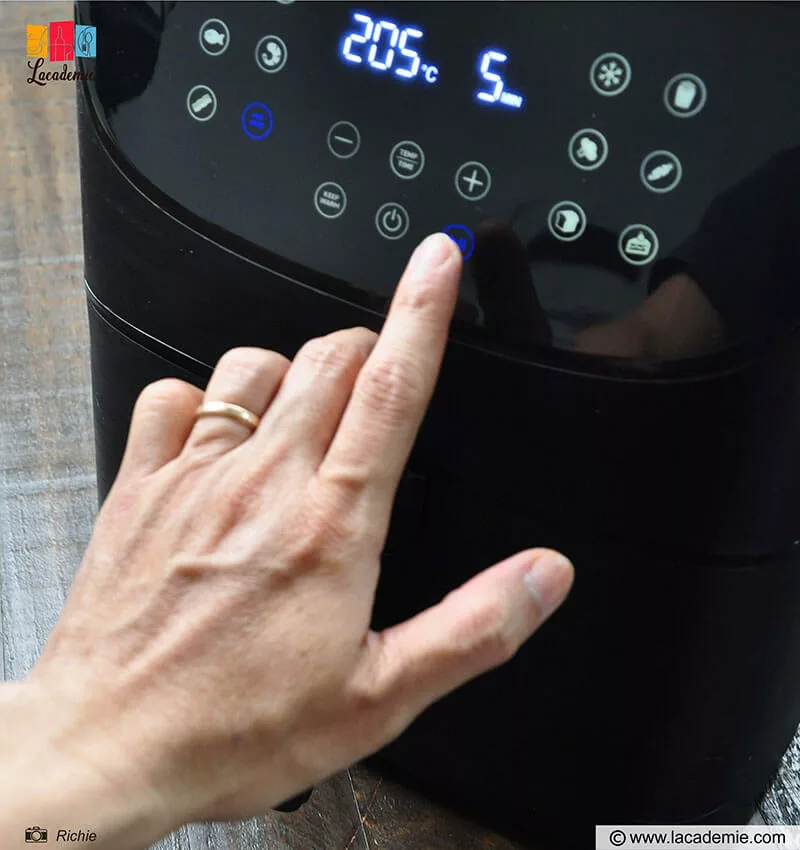 Step 2: Air Fry The Potatoes
Place the potatoes into the air fryer basket.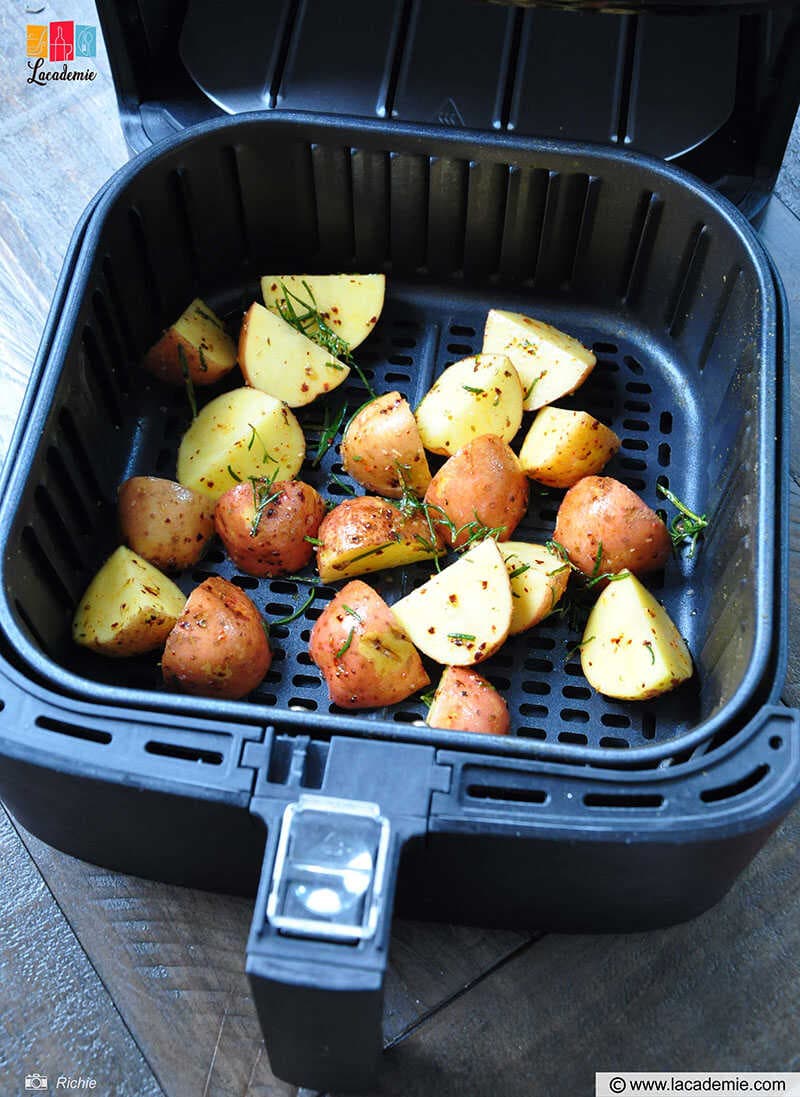 Air fry them the first time at 400 degrees F (about 200 degrees C) for 20 minutes. Once done, take the basket out and gently shake it.
Spray some olive oil on the potatoes. Then, air fry them the second time at 356 degrees F (about 180 degrees C) for 15 minutes.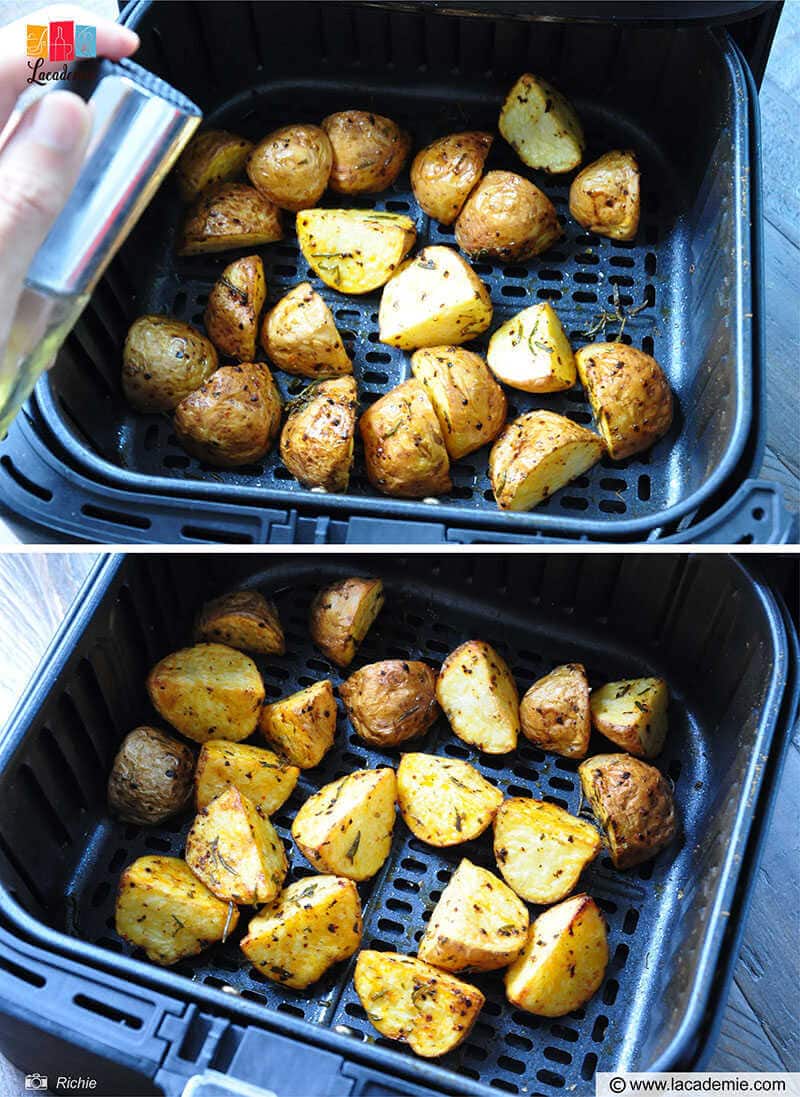 Step 3: Serve The Potatoes
Your air fryer potatoes are now ready for serving. Pair them with chili sauce, ketchup, mayonnaise, or any dipping sauce that you like!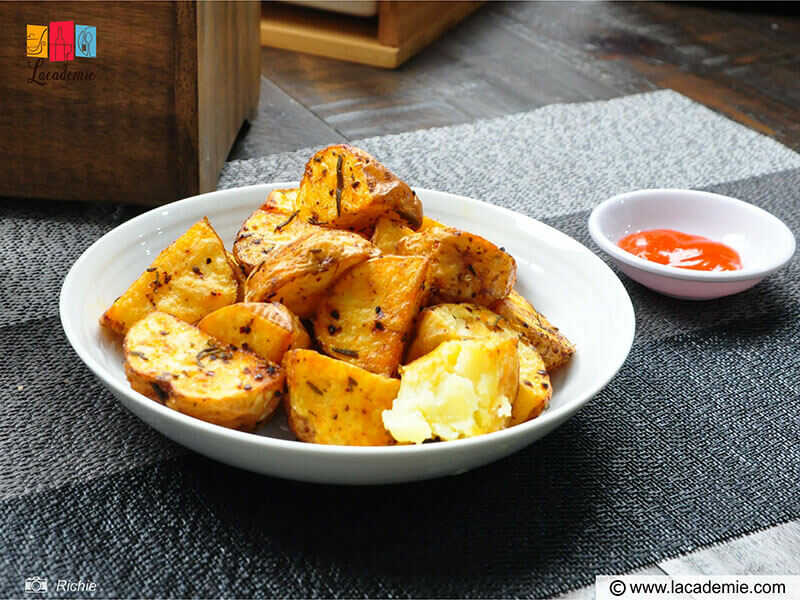 Notes
Don't forget to check out these handy notes for perfecting your air fryer potatoes! With these additional tips, you'll be well on your way to mastering this dish.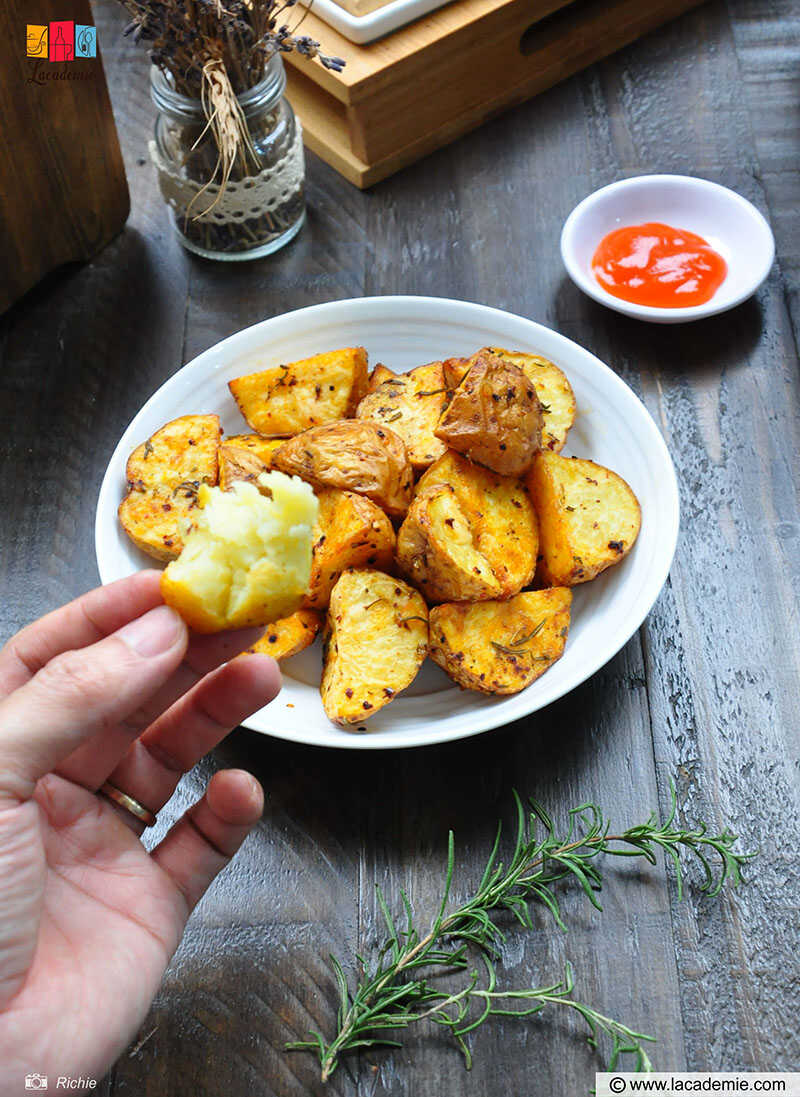 By shaking the air fryer basket mid-cooking, you will prevent the potatoes from drying and ensure that they're cooked evenly.
Potatoes' skins are completely edible and will create a crispy shell that also absorbs the spices well. So always leave them on.
Besides enjoying them as snacks, you can also add air-fried potatoes to your favorite salad recipes.
Don't overcrowd the air fryer basket. You should cook in batches if needed.
Your potatoes should be creamy and soft in the center and crunchy in the edges. You can test for doneness using a fork.
How To Store Your Air-Fried Potatoes
If you want to prepare air fryer potatoes ahead of time and store leftovers, I've got you covered! Follow these simple tips to ensure your potatoes stay fresh and tasty for later enjoyment.
To make ahead: Clean, cut, and season your potatoes as desired, then store them in an airtight container in the fridge for up to 24 hours before air frying.
Storing leftovers: Allow your cooked air fryer potatoes to cool completely before transferring them to an airtight container. Store in the refrigerator for up to 3-4 days or in the freezer for up to 6 months.
Reheating: To reheat leftover air fryer potatoes, simply place them back in the air fryer at 350°F (180°C) for 3-5 minutes or until heated through and crispy.
Alternatively, you can use a conventional oven set to 350 degrees F (180 degrees C) for a similar result. This will help maintain their crispness and delicious flavor.
The Best Potato Types For This Recipe
When it comes to choosing the right potatoes for your air fryer, certain types stand out for their texture and flavor. Let me share with you a couple of my favorites:
Yukon Gold: These golden beauties are a versatile choice for air frying. They have a naturally buttery taste, and their medium starch content makes them perfect for achieving a crispy exterior while maintaining a creamy interior.
Red Potatoes: Known for their red skin and waxy texture, red potatoes hold their shape well when cooked. They make for excellent air-fried potatoes, offering a nice balance of firmness and creaminess.
Russet Potatoes: The classic choice for making French fries, russets have a high starch content that lends itself well to air frying. They'll give you that satisfying crunch on the outside while staying fluffy inside.
Fingerling Potatoes: These small, elongated potatoes have a unique shape and a thin skin that crisps up nicely in the air fryer. Their earthy and nutty flavors make for a delightful change from the usual potato options.
Dishes To Enjoy With These Potatoes
Here are some fantastic suggestions that'll make your mealtime a hit! These dishes complement the delectable potatoes beautifully.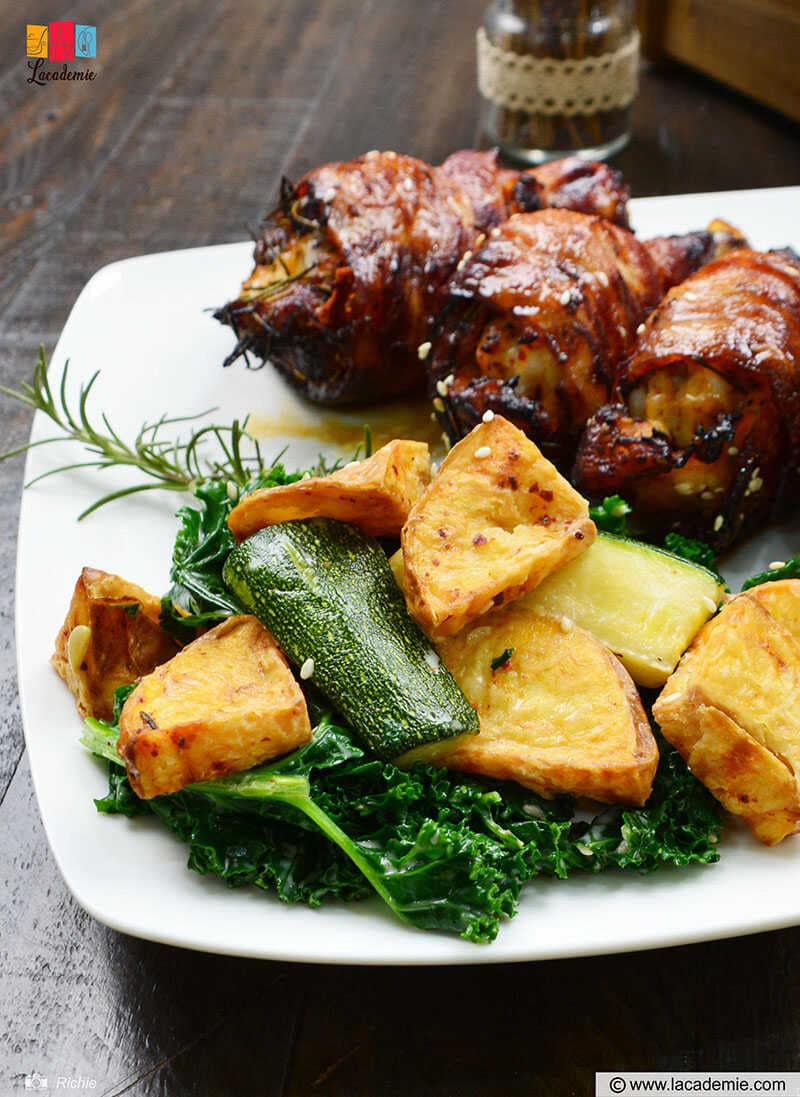 Grilled chicken: Seasoned and grilled to perfection, this protein-packed dish pairs wonderfully with the potatoes for a well-rounded meal.
Veggie burgers: Combine your air-fried potatoes with a delicious veggie burger for a satisfying plant-based feast.
Green salad: Balance the flavors and textures of your meal with a light and refreshing green salad filled with your favorite veggies.
Steamed vegetables: Opt for a healthy side of steamed veggies like broccoli, asparagus, or green beans to enjoy alongside your potatoes.
Fish filets: Whether you prefer grilled, baked, or pan-seared, a tender fish filet makes a wonderful pairing.
Variations To Check Out
Looking for some fun and tasty variations to level up your air fryer potatoes game? Check out a few ideas that'll keep things interesting.
Garlic Parmesan: Toss your potatoes with minced garlic, grated Parmesan cheese, along with a sprinkle of parsley. The garlicky, cheesy goodness will elevate your air-fried potatoes to new heights!
Spicy Cajun: If you're craving a kick of spice, toss your potatoes in a blend of Cajun seasoning before air frying. The bold flavors will add a bit of heat and excitement to your plate.
Lemon Herb: For a refreshing twist, season your potatoes with lemon zest, fresh thyme, and a touch of olive oil. This light and zesty variation is perfect for a summer side dish.
Don't hesitate to mix and match these ideas to find your favorite combination, or get creative and come up with your own unique seasoning blends.
Other Tasty Air Fryer Recipes For Your Meals
In addition to today's recipe, I've also got a fantastic lineup of air fryer dishes that showcase the versatility and convenience of your trusty air fryer. Try them out, and you'll be surprised!
Time to Enjoy Your Air Fryer Potatoes!
So there you have it, folks! Air fryer potatoes are an absolute game changer for anyone looking for a delicious, crispy, and healthier alternative to traditional deep-fried or oven-baked potatoes.
I hope you're as excited as I am to give this easy, healthy recipe a go. If you try it out, I'd love to hear your thoughts in the comment. Let's spread the air fryer potato love and inspire others to try this amazing dish by liking and sharing today's post. Happy cooking, everyone!
Nutrition Facts
3 servings per container
---
Amount Per ServingCalories147
% Daily Value *
Total Fat 3.5g

6

%
Sodium 407mg

17

%
Potassium 707mg

21

%
Total Carbohydrate 27.2g

10

%

Dietary Fiber 4.7g

19

%
Sugars 2g

Protein 3g

6

%
---
* The % Daily Value tells you how much a nutrient in a serving of food contributes to a daily diet. 2,000 calories a day is used for general nutrition advice.