What's your favorite comfort food to make when you're busy? It's definitely air fryer hamburgers! While you can buy this popular treat at many fast food places, homemade burgers hit different and are always my preferred option.
Follow today's recipe to whip up juicy and tender burger patties in just a little more than 30 minutes. Pair them with your favorite veggies, buns, and sauce, and you'll have a mouth-watering hamburger that is just as good, if not better, than what you find in a restaurant.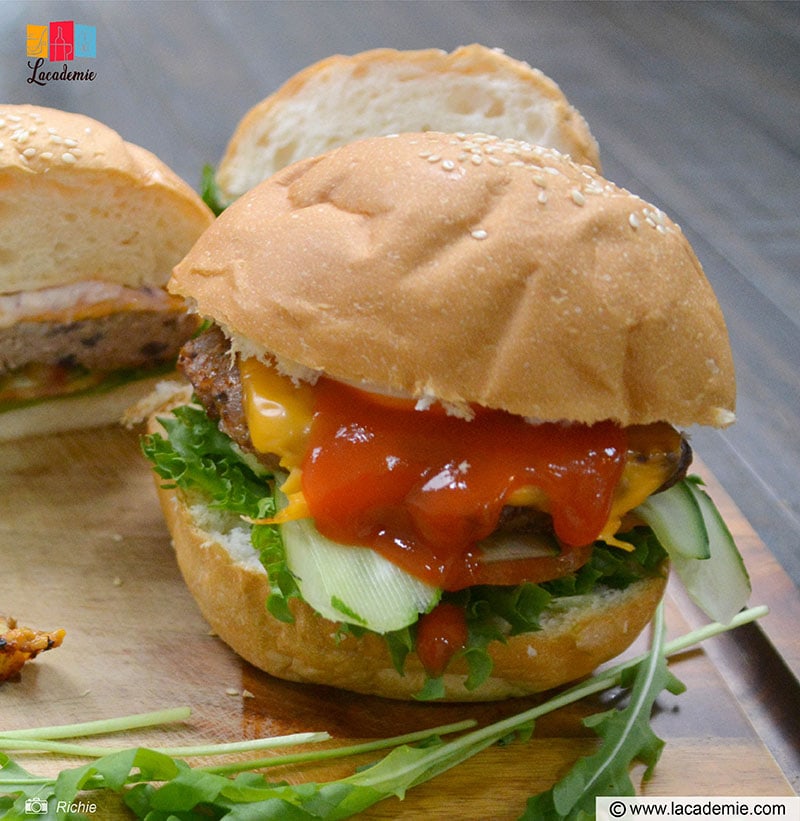 Reasons You Will Love Air Fryer Hamburgers
While the term "hamburger" originated in Hamburg, a city in Germany, the invention of hamburger is credited to various people living in different parts of the world and is still an ongoing debate among food enthusiasts.
Nevertheless, no one can deny that having a hamburger is one of the best experiences in the world. Meaty, flavorful patties sandwiched between layers of veggies and soft buns create the ultimate comfort food people can't get enough of.
My hamburger recipe is made totally using an air fryer, which limits the use of cooking oil to a minimum. In addition to being a healthier version of the classic burger, the recipe is also incredibly quick and easy to make!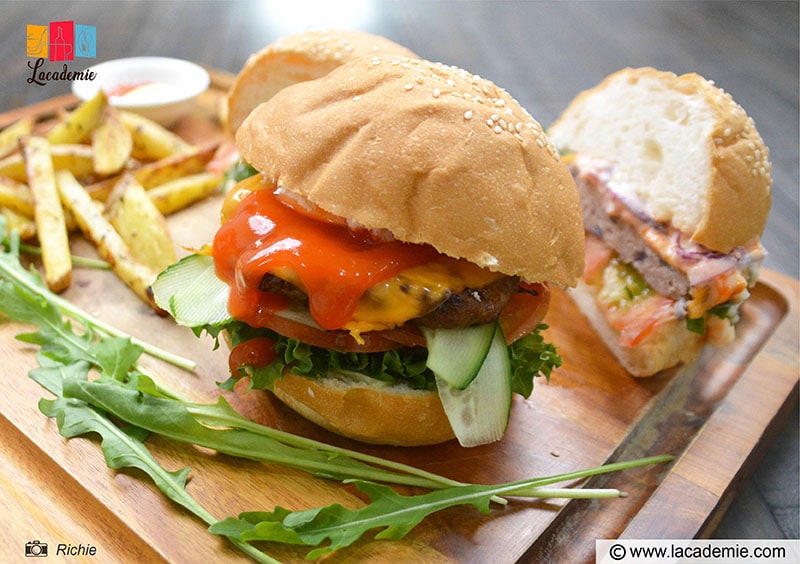 Tools
First, prepare the tools listed below. Among them, an air fryer is the most important one.
Air fryer: A good air fryer reduces the amount of oil used and allows you to make many tasty recipes with ease. I own a COSORI Pro first generation. If you can't find the same model, opt for the COSORI Pro II instead.
Basting brush: For brushing olive oil on the patties.
Mixing bowl: For mixing the ground meat mixture. 
Spatula: For flipping the patties.
Food prep gloves: Wear these when mixing the ground meat to keep your hands clean and ensure food safety.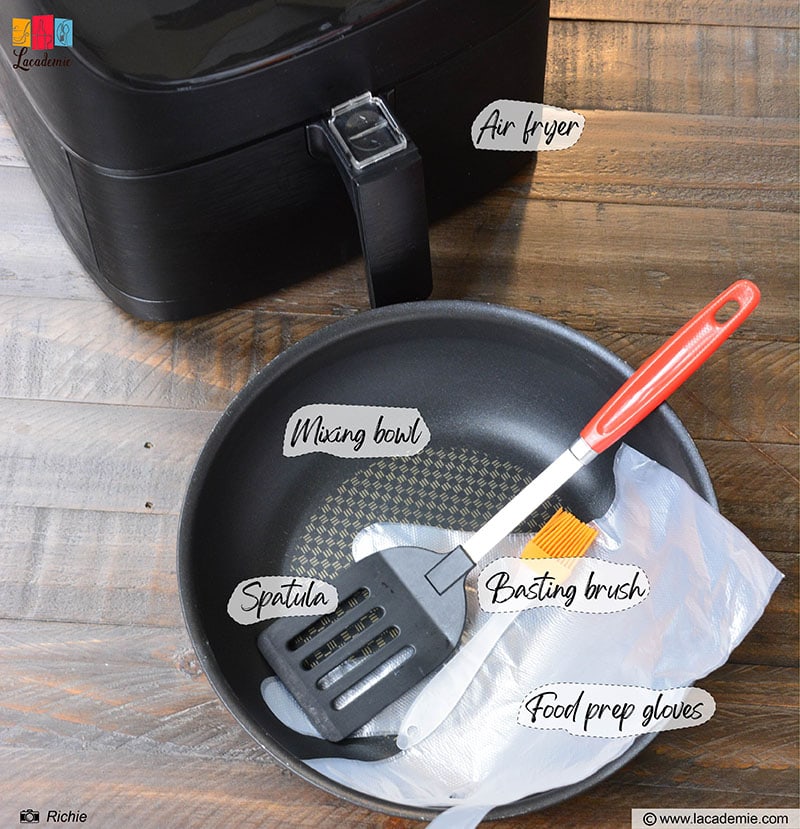 Ingredients
Ground meat: I usually go for 80/20 ground beef, but you can also use ground pork.
Cheddar cheese: The classic choice for American burgers. It has an umami flavor that goes really well with beef. That said, any kind of cheese that you like will do.
Egg: Works as a binder to improve the patties' texture.
Red onion: Since red onion is sweeter than white onion, it makes a great addition to a hamburger. Yellow onion is also a solid choice.
Vinegar: Use a mixture of vinegar and sugar to reduce the onion's pungent taste and aroma.
Sauces: Soy sauce, oyster sauce, chili sauce, ketchup. You'll use them for marinating the meat.
Other vegetables: Lettuce, tomato, and cucumber.
Spices: Ground pepper, sugar, salt, chili powder.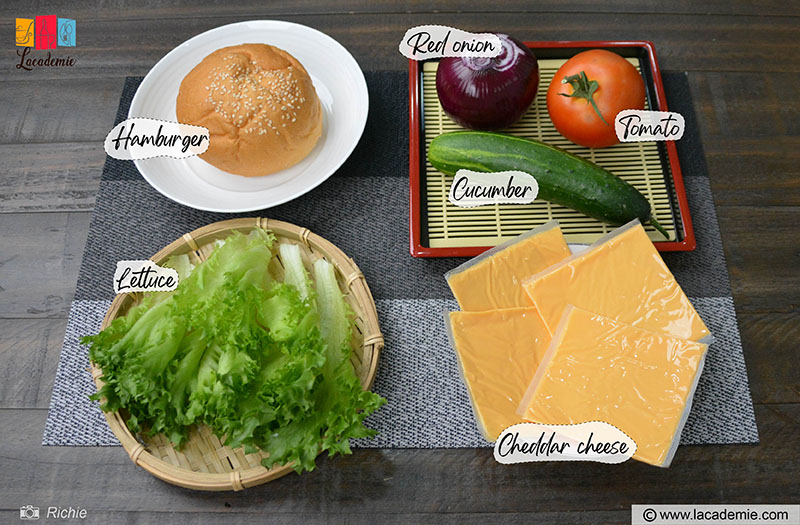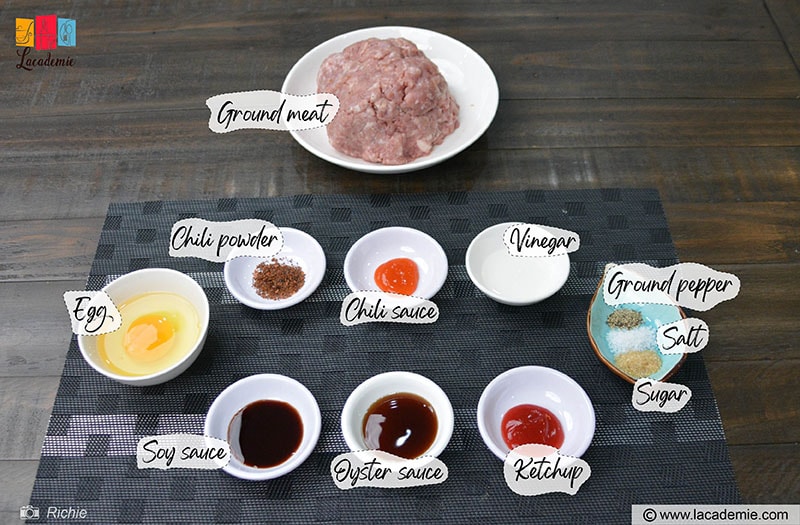 Directions
Here's my recipe for flavorful air fryer hamburgers. Let's start cooking!
Step 1: Prepare The Ingredients
Wash the vegetables (lettuce, tomato, cucumber) carefully.
Slice the cucumber, tomato, and half of the red onion thinly. Dice the remaining red onion to mix with the ground meat.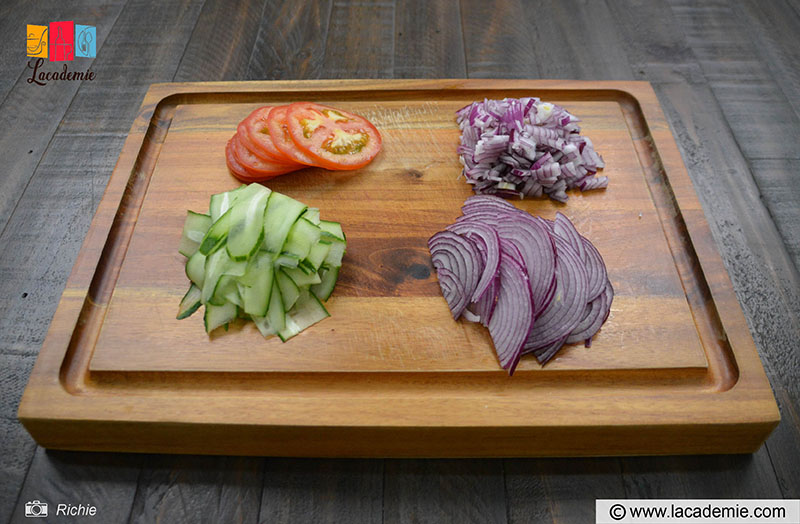 Marinate the red onion slices with 2 teaspoons of sugar and 2 teaspoons of vinegar for 15 minutes. The sugar will boost the onions' crispness and reduce the pungent taste.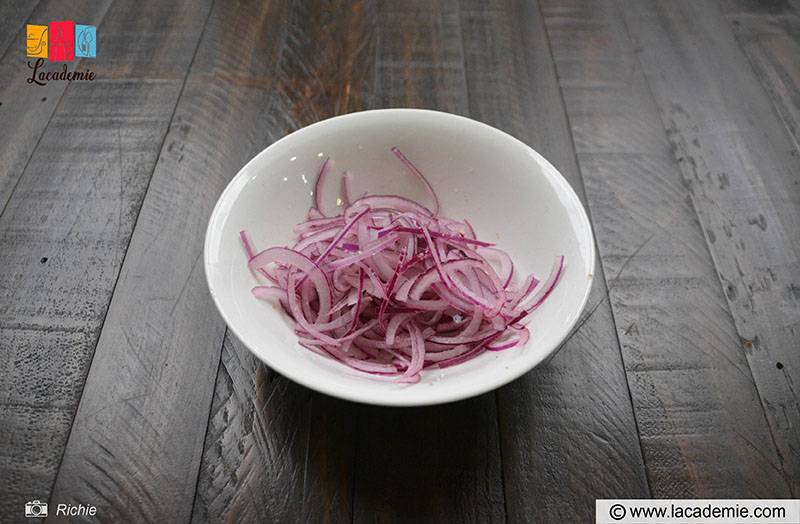 Step 2: Marinate The Meat
Season the ground meat with the diced red onion, ground pepper, salt, soy sauce, chili powder, egg, chili sauce, ketchup, and oyster sauce. Mix well and marinate for 5 minutes.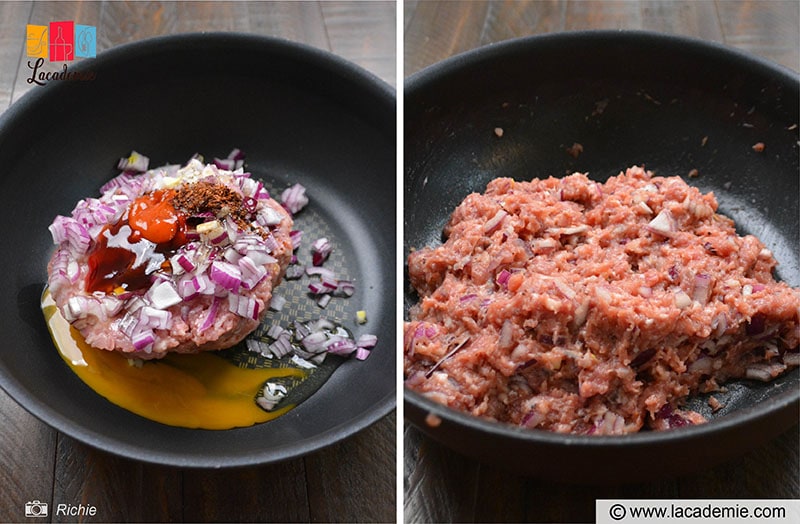 Step 3: Preheat The Air Fryer
Preheat your air fryer for a few minutes. This step will ensure a stable temperature, which helps the patties cook more evenly.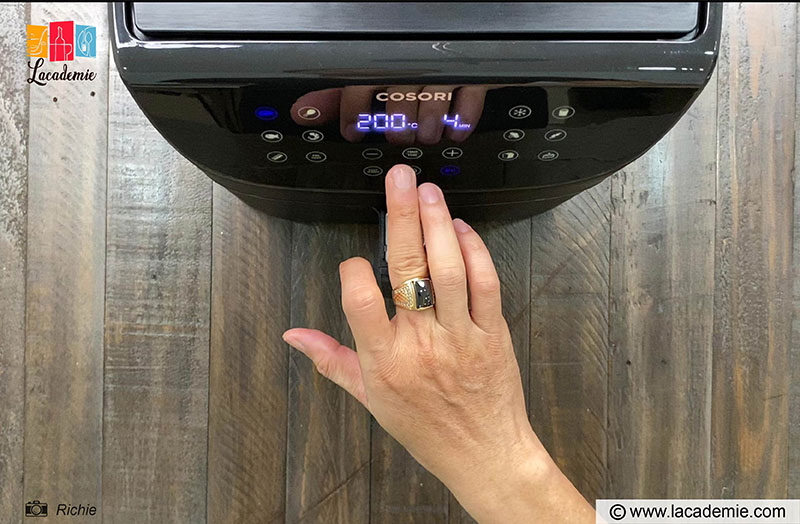 Once done, brush cooking oil on the basket to prevent the meat from sticking.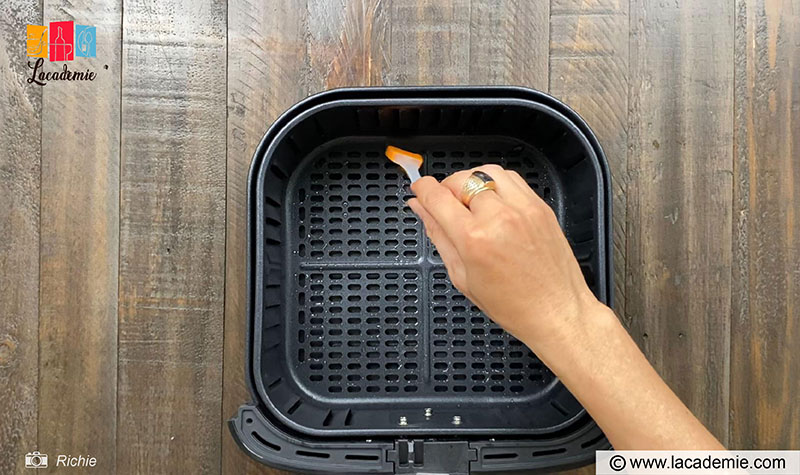 Step 4: Shape The Patties
Put on your food prep gloves. Divide the ground meat mixture into 4 equal parts. Roll the meat into balls and press them between your palms into patties. Since the patties will shrink after air frying, they should be bigger than the buns.
Step 5: Air Fry The Patties
Place the patties into the air fryer basket and brush them with olive oil to prevent them from drying. Air fry the patties in "beefsteak mode" or at 400 degrees F for 6 minutes.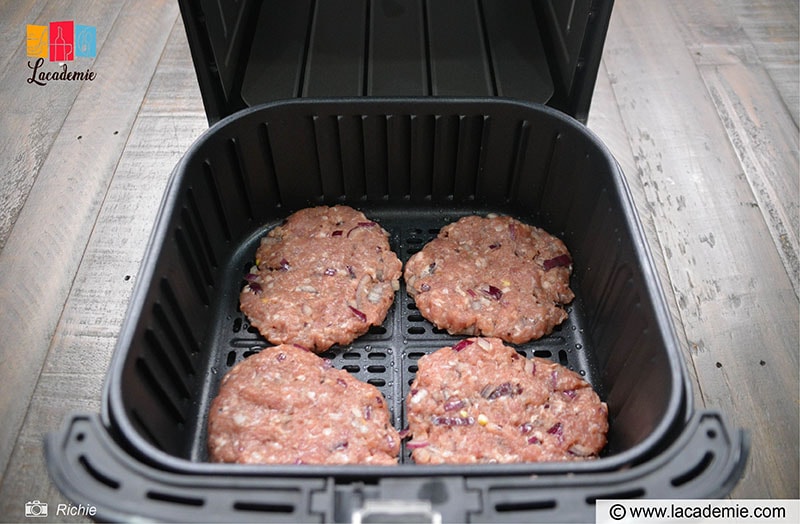 Then, flip the patties, brush them with olive oil, and air fry them for another 6 minutes at 400 degrees F.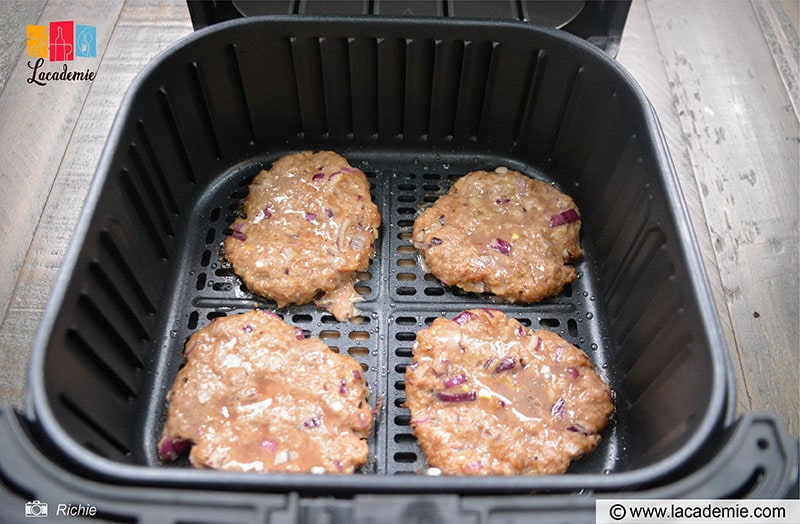 Top each patty with one (or a few) cheddar cheese slices and air fry them for 1 minute at the same temperature to melt the cheese.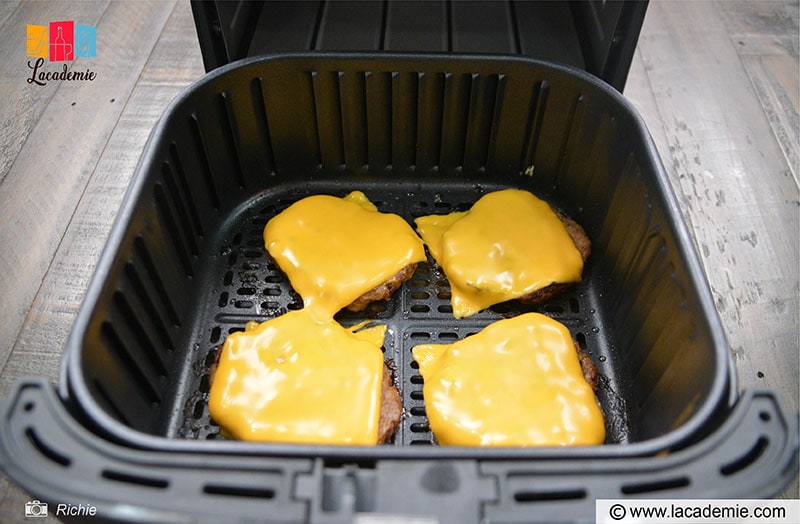 Step 3: Present The Dish
Cut the burger buns in half horizontally. Add the lettuce, tomato, cucumber, and patty to the bottom half. Next, add chili sauce and mayonnaise, and finish with a few slices of red onion. Place the top half over the onions, and enjoy!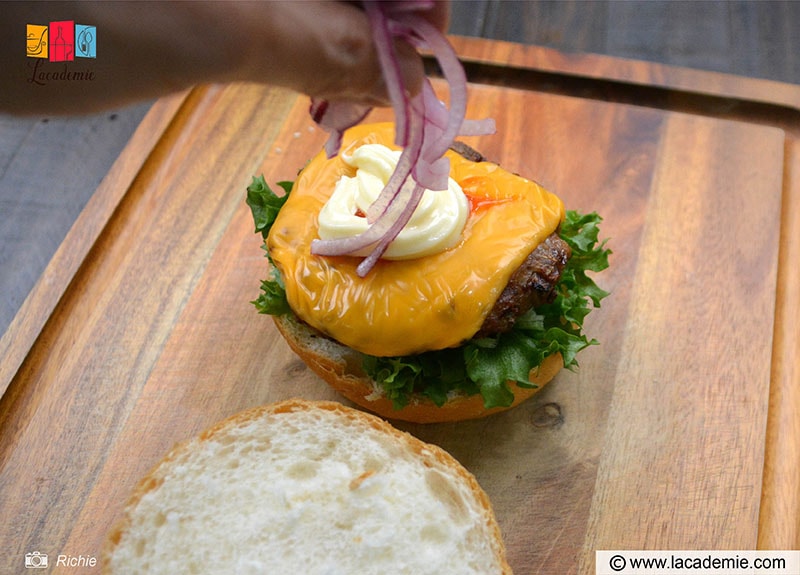 Tips You Wouldn't Want To Miss
The following tips will help you level up your air fryer hamburgers, so don't miss out!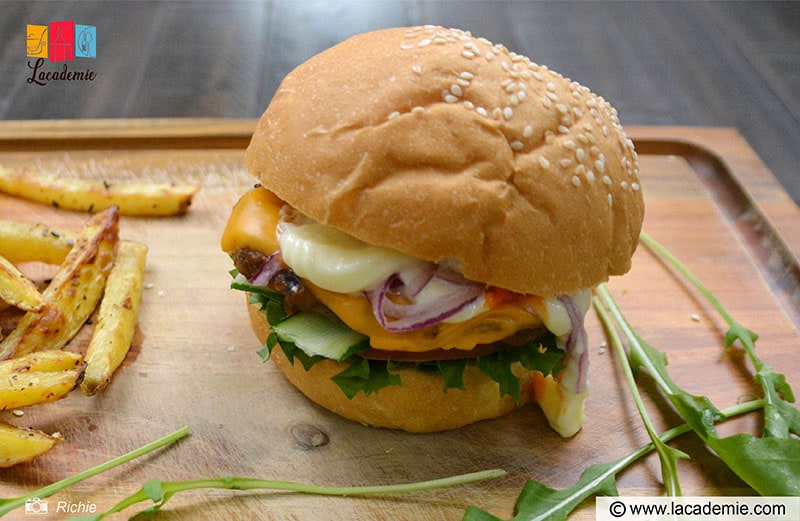 Enjoy the hamburgers while they're still hot and pair them with French fries for the ultimate comfort food combo. Also, feel free to add your favorite sauces.
Depending on the model of your air fryer, the cooking time might vary. Always check your burgers to prevent them from overcooking, and add a little more cooking time for thick patties.
If you own a thermometer, you can use it to check the patty's doneness. Insert the thermometer into the thickest part of the patty and ensure that it reaches at least 160 degrees F.
You can store uncooked patties in the fridge for about 3 days and in the freezer for about 3 months. As for the cooked ones, I recommend storing them in the fridge for a maximum of 3 days.
Say Goodbye To Store-Bought Burgers
After today's recipe, I believe that you'll have no reasons to order hamburgers from a fast food restaurant again. I mean, why bother doing so when the homemade version tastes this good, right? In the long run, you'll save a bunch of money and eat healthier as well!
What are your favorite dishes to pair with air fryer hamburgers? Share the answer with other readers and me in the comment section. If my recipe is to your liking, please give it a five-star rating and share it with more people.
Nutrition Facts
4 servings per container
---
Amount Per ServingCalories349
% Daily Value *
Total Fat 16.9g

25

%
Cholesterol 160mg

54

%
Sodium 1060mg

45

%
Potassium 663mg

19

%
Total Carbohydrate 8.3g

3

%

Dietary Fiber 1.6g

4

%
Sugars 4.2g

Protein 39.9g

78

%
---
Calcium

234

%
Iron

20

%
Vitamin D

7

%
* The % Daily Value tells you how much a nutrient in a serving of food contributes to a daily diet. 2,000 calories a day is used for general nutrition advice.