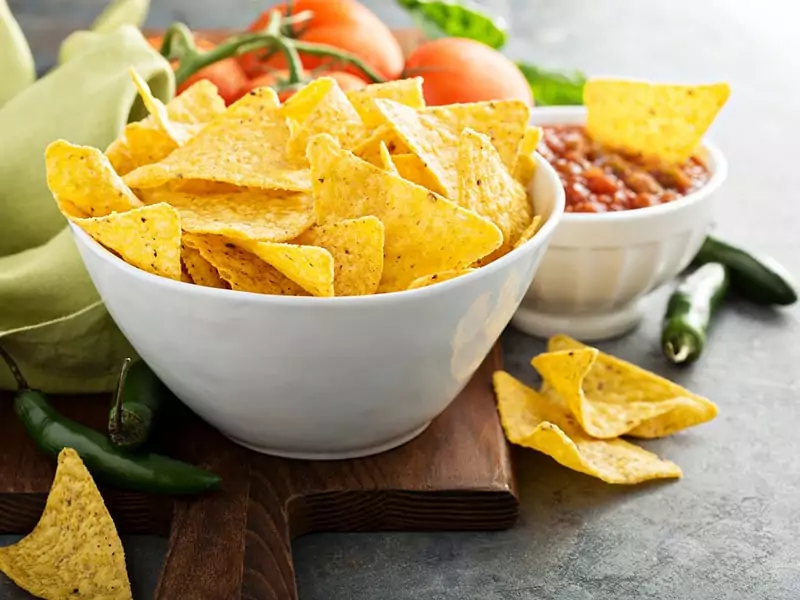 Surprisingly, there are various air fryer Mexican recipes out there. When it comes to an air fryer, you must be thinking of simple dishes that have no depth in flavors. I'm here to put a rest to that assumption, as iconic Mexican recipes can still taste amazing.
These recipes are so simple to make that you don't need to possess much cooking experience. Plus, there's a rising trend of using an air fryer to reduce the consumption of unwanted grease. Needless to say, this article will allow you to have different cooking methods for Mexican dishes.
Flavorful Mexican Air Fryer Recipes For Your Wonderful Meals
Next time you're in a rush, try out one of these recipes for your quick but delighted meal. As a piece of helpful advice, you should switch up your meal constantly to taste something new every day.
Total time: 20 – 35 minutes.
In Mexico, Taquito is a small tortilla roll with fillings of cheese, chicken, or beef. The locals refer to the dish by many names like rolled Tacos, Tacos Dorados, or Flauta. Generally, the locals favor corn tortillas to make Taquitos for the overall flavor profile.
For a homemade Taquito, you should use corn tortilla to stick with the original taste. Most often, people fry Taquito until the outer shell becomes crispy. The most common dipping sauce for Taquito is sour cream and Guacamole.
Learn to make delicious Taquito rolls right at home.
Total time: 27 – 30 minutes.
In traditional Tex – Mex cuisine, Fajita refers to the slices of meat and ingredients on Tacos or tortillas. Originally, Fajita is more related to the skirt steak meat area of the beef. Locals often pair condiments like Salsa, Guacamole, and cheese with Fajita.
To get flavorful slices of meat, instead of rubbing seasoning over the meat, you should marinate it. Your marinating mixture should consist of lime juice, chili powder, and oil. Remember, you need to stir the steak every 10 minutes to avoid dehydrating the meat.
Your steak Fajita should be exploding with flavor and melt right in your mouth right on the first bite. You can also use tortillas as a side dish for steak Fajita.
Total time: 13 – 30 minutes.
Taco needs no introduction; it's a popular Mexican dish with fillings over a fried flour tortilla. Typically, the filling for tacos is varied; Shrimp Taco is one way that locals often enjoy this traditional dish.
First thing first, you can use basic seasonings like chile powder, lime juice, and oil for your tasty Mexican shrimp recipe. The air fryer will help your shrimp to come out tender and juicy. However, you shouldn't cook your shrimp for too long because the texture can become rubbery.
As for the topping, you should use simple ingredients like cubed avocado, onion, and cabbage to add depth to the texture. I often have Shrimp Tacos with a bit of Salsa or sour cream drizzled over the toppings.
Total time: 18 – 20 minutes.
To my surprise, Mexican cuisine boasts amazing pizza made from local ingredients. The locals often use Chorizo (Mexican sausage), avocado, and sliced Jalapeno for the toppings.
However, in Tex – Mex cuisine, a variation of Mexican Pizza is created by using 2 pieces of flour tortilla as the base for the pizza. Although it's not very famous, some Tex – Mex restaurants still serve it.
Making Mexican pizza is simple because you only need to combine the ingredients. First, you will need to air fry the tortilla to create the base for the pizza. Then place your sauce and toppings over the tortilla. Finally, fry the Mexican pizza again for 2 – 3 minutes before serving.
Mexican pizza is crunchy, thanks to the tortilla base. The flavor is unique because of various local ingredients.
Total time: 10 minutes.
Quesadilla is a traditional Mexican dish with fillings between the fried tortilla. Unlike the Taquito (a rolled tortilla), Quesadilla is only folded in half when served. Quesadilla's origin dates back to the Colonial era of Mexico.
In the Central and South of Mexico, the indigenous use flour to create the signature flat circle Quesadilla. People usually have cheese, meat, and spices for the filling. Mexican locals often will cook the Quesadilla on a stove or griddle.
Quesadilla is easy to make, but it packs wonderful flavors.
Total time: 15 – 35 minutes.
Burrito takes root from Tex – Mex and Mexican cuisine. People use a tortilla to wrap various ingredients into a cylindrical shape for a nutritional Mexican breakfast recipe. Sometimes, the tortilla is slightly steamed or grilled for a softer texture.
Traditionally, a Burrito's fillings consist of beans, rice, and meat. However, you can always make your tweaks here and there. A flavor-packed Burrito is one way to start your amazing day. Remember, you can use an air fryer to help speed up the grilling process.
Total time: 25 minutes
Did you know that the Salsa Verde dates back to the Aztec time? The locals use a mixture of green chile with Tomatillo to create the signature green color for Salsa Verde. Tomatillo is a staple Mexican husk tomato with a spherical shape and is used in many Mexican dishes.
There's also a red Salsa version called Salsa Roja. Instead of using Tomatillo, Salsa Roja gets its red from the tomato and chili peppers.
Interestingly, you can enhance the Salsa Verde flavors by roasting the Tomatillo and Jalapeno with an air fryer. Then, you will transfer all the broiled ingredients into a blender to turn the mixture into a pureé. Salsa Verde is great as a dipping sauce for tortilla chips.
Total time: 15 – 31 minutes.
Originating in Mexico and Central America, Elote is a popular street food where an ear of corn is grilled over a coal fire. People add a variety of condiments like cheese, mayonnaise, and chili powder for an ear of flavorful corn. Traditionally, Elote is eaten as both a sweet and savory dish.
I'm sure Elote makes for a tasty vegetarian Mexican recipe at any meal of the day. You will never have corn the same way when you already know how to make Elote.
To prepare this tasty vegetarian dish using an air fryer, you need to cover the corn with melted butter before covering it with seasonings. Your Elote should come with a crunchy corn texture and creaminess from the cheese. Elote is often served as an appetizer or as a main dish.
Discover the steps to make easy Elote right in your kitchen.
Total time: 18 minutes.
It's challenging to describe Taco Crescent. These Tacos are simple, adaptable, and require little time to prepare. The dish is a great snack to instantly get you back on track with a wonderful cheesy flavor.
Taco Crescent can accommodate whatever filling you could come up with. My choice is a traditional Mexican air fryer ground beef delight with cheese sticks. You can brush a light oil layer over the dough so that your final Taco will have a lovely golden brown color.
Total time: 24 – 35 minutes.
In Mexico, people refer to Tostada as a flat or bowl-shaped tortilla. Although locals use flour tortillas for Tostada, the corn tortilla is more favorable for an original taste. Typically, Tostada toppings are similar to traditional Mexican Tacos, consisting of cheese, beans, and Salsa.
The main highlight of your Tostada should be the crunchy texture of the tortilla. A great thing about Tostada is the various customizations of the toppings. So you can grab any ingredients and put them together on a crunchy tortilla to make a quick meal.
Total time: 22 – 34 minutes.
Chimichanga is a popular dish of Tex – Mex cuisine. No one knows the true origin of the dish, but some suggestions point to Arizona state of the US as the first place to invent Chimichanga. It also has gained popularity in Northwestern Mexico.
Traditionally, people create Chimichanga by using a flour tortilla to wrap around various ingredients for fillings. The locals often use rice, meat, cheese, and beans for the filling. Then, the Burrito is deep-fried until both sides become crispy.
You can use many Mexican-style sauces to pair with Chimichangas like Salsa, sour cream, or Guacamole. If you're using the air fryer to make Chimichanga, the result you get is a less greasy version of Chimichanga with the flavors remaining intact.
Discover the secret of making simple Chimichangas.
Total time: 8 – 15 minutes.
These beautiful tortilla bowls are a great way to serve Salad or Tacos on your next meal. They are easy to make and crispy in texture. Another way you can use the tortilla bowl is to hold the dipping sauce.
The most important step in making a tortilla bowl is finding a mold for the flour tortilla. I recommend using a large metal bowl to form the outside layer. To keep the tortilla from rolling into itself, you should have a smaller bowl placed inside the tortilla.
Total time: 25 – 27 minutes.
Enchilada is a traditional Mexican food with flour tortilla typically used to roll with ingredients. The history of the dish can be traced back to the Aztec era. Nowadays, Mexicans often accompany Enchilada with chili-based sauces or Salsa.
If you already know how to make a regular Mexican Taco, then making Enchilada should be a breeze. All you need is top the tortilla with ingredients like meat, tomato, and cheese. Then, you can start rolling up the tortilla and put some Enchilada sauce over it.
Total time: 23 – 45 minutes.
Empanada is a traditional dish in Spanish cuisine and Latin American countries. The dish is similar to a Turnover with a layer of pastry and filling. Although the true origin of the Empanada remains a mystery, many people believe the dish originates from Galicia (in Northwest Spain).
Originally, people created the Empanada by folding the pastry over a meat filling. Depending on the region in Mexico, the locals can bake or fry Empanada, but people usually have it as both a savory and sweet dish.
This delicious Mexican ground beef treat will instantly impress you with the crunchy layer of pastry. Typically, I suggest having Empanada along with Salsa sauce for a traditional approach.
Air fryer Empanada is not only delicious but also a great source of energy.
Total time: 27 minutes – 1 hour 42 minutes.
Jalapeño popper has to be one of the most iconic dishes around the world. However, many people often mistake the dish's origin for Mexican cuisine. The fact is that Jalapeño popper belongs to Tex – Mex cuisine; many sources point to Texas as the first place to serve the dish.
Mexican cuisine adopted Jalapeño Popper as a favorite Mexican appetizer because of the use of Jalapeño pepper. In addition, Jalapeño Popper is a derivation of Mexican Chile Relleno.
To make Jalapeño Popper, people will hollow out the Jalapeño pepper. Then, a filling consisting of spices, bacon bits, and cheese is transferred into the hollowed Jalapeño. If bacon is wrapped around the Jalapeño, then the dish is called Armadillo egg instead.
Total time: 20 – 42 minutes.
The list wouldn't be complete without featuring an iconic Mexican dessert, Churro. In Spanish-speaking countries, Churro is a stick of fried dough covered with cinnamon sugar. The true origin of the dish remains a mystery until this day.
Using an air fryer to make Churros is a brilliant idea as it's less greasy than the traditional method. Your Churro will remain crunchy on the outside and fluffy on the inside. Commonly, people serve Churros as a dessert with chocolate dip or have it plain with cinnamon sugar.
Churro is a simple yet delicious treat for your next dessert.
Total time: 17 – 20 minutes.
Are you looking for something simple to make with your air fryer? Then try these delicious Mexican roasted sweet potato cubes. You only need to add some simple seasonings like lime juice, chili powder, and cumin to your bite-size sweet, sweet potatoes.
The result you get is soft sweet potato with a layer of salty and caramelized flavor. You can serve the dish with a salad or turn it into fillings for Tacos and tortillas. It's a healthier option than greasy deep-fried sweet potatoes.
Total time: 17 – 20 minutes.
Cauliflower might be the ultimate vegetable filling for your vegan Taco or tortilla. If you don't like having cauliflower as filling, the recipe is still a delicious appetizer or side dish to your meal. In addition, cauliflower will surely please any gluten-free or Keto diet out there.
Different from other forms of cooking cauliflower, air frying creates an interesting crunchy texture. To get a beautiful yellow color on the cauliflower, I recommend using turmeric powder for the best result.
Total time: 10 – 19 minutes.
Don't forget Mexican most iconic food to dip with sauces, the tortilla chip. These chips are simply cut-up triangular corn tortilla pieces fried to a crisp. Tortilla chips have a simple corn taste and salty flavor, making the dish a perfect option for flavorful dipping sauces.
As for the sauce, I recommend using Guacamole for an original taste of Mexican cuisine. However, Salsa is also a solid choice to dip in tortilla chips. Most often, tortilla chips make for an amazing starter before any meal.
Mexican Dishes Taste Amazing Even For A Quick Meal
What do you think about the list of dishes? These recipes are so easy to make that anyone can whip up a quick and delicious meal. You may have also noticed; that your air fryer can do more cooking phases than you think.
Well, that's all I have for this article. Remember, it's always an honor for me to help discover new helpful recipes. Please express your idea about this post in the comment section. A share would be an amazing motivation for me to keep working on new articles. Thank you!
Nutrition Facts
4 servings per container
---
Amount Per ServingCalories42
% Daily Value *
Total Fat 1.2g

2

%
Sodium 769mg

33

%
Potassium 337mg

10

%
Total Carbohydrate 8.2g

3

%

Dietary Fiber 2.4g

8

%
Sugars 0.5g

Protein 1.3g

2

%
---
* The % Daily Value tells you how much a nutrient in a serving of food contributes to a daily diet. 2,000 calories a day is used for general nutrition advice.