This article will walk you through lip-smacking air fryer ground beef dishes. The best part? These can save you so much sweat and time while cooking, thanks to your air fryer. Doesn't that sound like a dream to you? If so, keep on reading!
It is no surprise that so many people love beef. With beef, especially ground beef, the possibilities of tasty dishes are endless. They can range from baked menus to pasta, soup, stir-fry, etc. Its eccentric taste plays a great job in elevating the dish's taste.
Now, if an air fryer doesn't sound familiar to you, I suggest doing some brief research about its magic before buying one. And if you're living alone, one of these best air fryers ranging only under $100 would be a perfect fit for you.
With all the perks mentioned above of these ground beef dishes, I suggest you take out your air fryer right now to have an elevated cooking and dining experience. So, let's hop right in!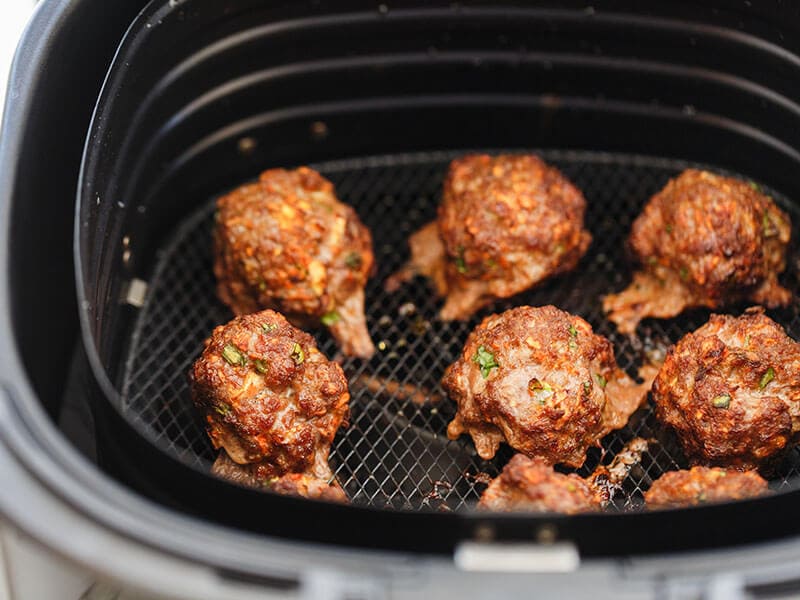 With An Air Fryer, You Can Cook Up These Beef Dishes In No Time
As mentioned above, ground beef is a common ingredient in numerous cuisines from East to West. Below are just the ground beef recipes from an air-fryer you would need to fix a quick meal colorful in taste and culture.
Total time: 40 minutes
Now you may be wondering how two polar opposite dishes like cheeseburgers and egg rolls can ever be combined into one and taste good? this dish surely will be a fresh breeze for American Chinese takeout fans.
If this sounds appealing, I bet you would also love these other quick and effortless air fryer-friendly side dishes, which are tasty and extremely easy to make.
While cheeseburgers, as everyone already knows, are a US' signature fast-food consisting of ground beef and vegetables in a pair of buns, egg rolls are a classic Chinese appetizer. By picking out the best parts of both menus, this dish becomes a dream come true.
Having a crispy exterior of the egg wrapping, a bite into a cheeseburger egg roll welcomes you with the feeling of smooth and creamy cheese, followed by the powerful sensation of the ground beef. Truly heaven!
Total time: 22 minutes
I bet almost everyone reading this article is a meatball lover, given how easy to make yet tasty they are. All it takes is mixing ground beef with other ingredients like breadcrumbs, eggs, and seasonings to create a masterpiece.
Since meatballs usually go through shallow frying, they are rather dry in texture and even unhealthy if consumed regularly. However, in this article, the recipes are friendly to an air fryer, so it does a much better job at preserving the moisture and the juice inside the ground beef.
What seems to amaze me is how universal this recipe is. These meatballs alone are usually an appetizer. But because they're diverse in taste, you can try cooking them with sauces like gravy or tomato sauce with a side of bread or pasta if you're looking for more of a complete meal.
This is the best way to make juicy meatballs with just an air fryer.
Total time: 35 minutes
Traditional and original tacos come with different kinds of meat in their fillings, like pork, fish, and beef. Cooking the beef also varies, ranging from slow cooking to deep frying. But it's a different story to try making these tasty Mexican recipes with an air fryer. Try, and you'll see!
This recipe, in particular, is more of an adapted recipe for classic ground beef tacos. In these tacos, you would often see ground beef, avocado cubes, and cheese, just like in this recipe.
When it comes to seasoning the ground beef, you may worry that it's baffling to nail the exact taste the authentic tacos would offer. However, I am happy to assure you that these days it's not at all a challenge to find taco seasonings in stores that can replicate the taste of original tacos.
Total time: 30 minutes
Another Mexican dish that saves a lot more time for you, especially with an air fryer, is beef Taquitos. There are many names for this dish. One could either call it flauta, tacos dorados, or rolled tacos.
This recipe for Taquitos is simple yet powerful in flavors as there are seasonings like cumin, garlic, oregano, etc. When you use these seasoning powders for the ground beef, your taquitos will carry an extraordinary flavor, and it's even better if you dip them in some salsa.
This recipe doesn't require much effort as you don't have to deep fry them in oil and wait for them to crisp up. Plus, since the seasonings for your taquitos will be a little bit lighter than the authentic ones, you can enjoy many more taquitos without feeling too heavy later on.
One thing you should keep in mind while making air-fried Beef Taquitos is trying to fill ground beef all along the two edges of your tortillas. You'll find that after cooking, the beef will shrink in size, so don't worry if you think you're overstuffing your taquitos with meat.
Total time: 50 minutes
Beef Wellington is a dish believed to have originated in the UK. It wouldn't be an understatement to say that making this special menu isn't for the faint of heart. It is a complex fusing of layers of fine ingredients like puff pastry, truffle, parma ham, and steak.
For this air fryer-friendly recipe I'm showing you, instead of wrapping a piece of tenderloin with some pate and "duxelles" – a minced mushroom paste, you would only mix these ingredients and place them on the pastry.
At this moment, I'm guessing you may fear that ground beef will not be able to preserve the essential flavors and tastes as well as a piece of tenderloin. Well, I am here to assure you that the air fryer will work its magic so that your beef Wellington will turn out just as tasty!
Total time: 17 minutes
Now, onto a classic food you can find in famous air fryer cookbooks! On a sunny summer day, who could ever say no to a juicy burger. I bet some of you would even come back for a second burger after your first since this recipe takes as little time as 17 minutes yet assures you with patties of juicy beef for your burgers.
There's no secret to nailing this recipe. It all depends on how well you're able to control the timing and temperature while cooking the patties in the air fryer and the sauce you're choosing to put on your buns.
Are you learning how to make air-fried burgers? Then this clip is for you.
Total time: 40 minutes
It is amazing how an air fryer can cater to so many different cooking needs, in this case, Italian food. Who would have known that without needing an oven, an air fryer can already help you bake a luscious casserole of lasagna?
Although it seems like a complex dish with layers of cheese, ground beef, tomato sauce pasta, putting the ingredients together takes less time than you would imagine. Placing a tray of lasagna on your dinner table now requires less effort than ever.
What's great about this recipe is that with an air fryer, your lasagna is for sure going to cook itself out beautifully. But this can only happen if your air fryer is heated properly, so knowing how to properly preheat an air fryer will be very helpful.
So for those who aren't using the oven regularly, there's no need to sweat about burning your lasagna. Your air fryer has your back!
Total time: 30 minutes
It can be a deficient diet if you're not eating an abundance of vegetables and fruits. Stuffed Peppers is just the fix for that problem. Not only will it provide you with vitamins and fiber, but it will also fix your craving for that beefy goodness.
Besides its great taste, this recipe offers you many nutrients. As I have mentioned initially, while beef brings you iron, vitamin B, and magnesium, bell peppers (or capsicums) are a great source of vitamin C and A, benefiting you in cardio health.
A regular serving of stuffed peppers would already taste extraordinary, but switching it up a notch is always possible. You can elevate the dish by topping it with grated cheese and serving it with a side of salad, and your co-workers are going to be jealous of your lip-smacking lunch.
Total time: 30 minutes
Let's travel to Japan, where hundreds of mouth-watering dishes are awaiting. These dishes are renowned for being colorful and rich in taste yet balanced in nutrition values.
Menchi Katsu is a lunch dish from Japan with the popular cooking method of deep-frying. The first word, "Menchi", is a variation of the word "minced" in English. And "Katsu" in Japanese means fried meat coated with panko or breadcrumbs.
This recipe, Menchi Katsu, goes well with various side dishes like mashed potatoes and vegetables in a bento box. So you can make some extra Menchi Katsu and prepare a lunchbox and even dinner for the next day.
Total time: 30 minutes
This time, I will show you yet another ground beef delight from Asian gastronomy that I'm such a sucker for. It's a kind of finger food that all Asians love to eat as a kid: wontons.
Now wontons with pork. But since you are craving beef, it doesn't hurt to try and put a twist on our wontons, right? Who knows, it might turn out to be just as delicious as pork wontons.
You will need to pay attention to the temperature of the air fryer while frying your wontons since beef tends to produce a lot more juice than pork. Therefore, reaching the right oil temperature would ensure the crispy texture until the end.
Total time: 36 minutes
If you happen to be both a burger and sandwich lover, I have a treat for you. Patty Melts is a sweet combination between burger patties and rye bread, toasted together until the cheese inside is melted.
This sandwich is great for those days when you're in the mood for a richer lunch. What do I mean by "rich", you might ask. Let me elaborate on that real quick.
Patty Melts is a bountiful sandwich filled with a juicy patty of ground beef, smothered with a slice of cheese, two if you're feeling cheese. In addition to that, the seasoning you have in the ground beef is also powerful as it includes onion, garlic, and Worcestershire sauce.
This is the best Patty Melts instruction that you should save.
Total time: 45 minutes
Tater Tots have always been a delectable snack for both kids and adults, no matter the age. Now with an air fryer, it is possible to turn Tater Tots into a hearty dish suitable for lunch and dinner.
I always prefer making food from scratch, but not everyone has time to do the same. Sometimes it's just not their preference. Having said that, to optimize the time spent on making this, it is advised to buy some frozen Tater Tots so that your casserole will be ready in under an hour.
Total time: 27 minutes
I bet you would love a finger-licking serving of tacos or two, but you have to agree with me that it's nice to go a different track sometimes, right? I'm saying that tacos are nice, but enchiladas, in my opinion, deserve some undivided attention from us.
In Mexican cuisine, it is very common to see the appearance of corn tortillas. Enchiladas are one dish that also uses the corn tortilla wrapped around various fillings like beans, beef, rice, etc.
The recipe I'm showing you is excellent as it contains food groups providing you with proteins, fiber, etc. What's also worth trying about this recipe is that the ingredients are interchangeable, for instance, tofu for beef, if you want to make a vegan version of it.
Total time: 40 minutes
Shepherd's Pie is another dish that originated in England. This is perfect, especially when you're looking for a hassle-free yet nutritious dish that is not time-consuming.
By using an air fryer, layering your ingredients and baking your Shepherd's Pie will take much less time. That's one more reason for you to love making dinner with an air fryer, don't you agree?
This dish somewhat resembles Steak and Mashed Potatoes as it is a layer of ground beef topped with another layer of mashed potatoes, then one of the vegetables. A typical serving of Shepherd's Pie usually comes with some gravy and biscuit.
This recipe works especially great when you have some leftover mashed potato in your fridge. It's even better if you could prepare the ground beef in advance to save some time making this dish. One side note is that you can always use instant mash potato for this dish.
Total time: 45 minutes
It would be a crime for me not to list meatloaf in this article. This classic ground beef menu has been around for such a long time, which happens for a reason.
Meatloaf is a famous comfort food for numerous households for its steamy meaty goodness. It originated long ago in Ancient Rome. However, the German-Americans brought up an American version in colonial times, and people have loved it ever since.
One secret to a super moist and juicy batch of meatloaf is to never look down on the importance of your wet ingredients and vegetables. Adding the right kind of milk and choosing the right vegetables can play a key role in making juicy meatloaf.
How to make the best and juiciest meatloaf with an air fryer.
Total time: 24 minutes
What I am most thrilled about all these recipes in this article is that most of these take just under one hour. However, Salisbury steak even takes less than half an hour. Imagine all the time you could save on making dinner for your family!
When you first encounter the name, you would think that this dish is some steak served with potato and gravy, like what you're probably familiar with. However, Salisbury steak is meatballs that take shape, form, and (on a level) taste in a different kind.
This specific recipe is perfect when you happen to be a health-conscious foodie as it uses lean ground beef, which keeps the same flavor with less fat. In addition to that, your Salisbury steaks will go great with a side of rice, thanks to the aromatic coating of BBQ sauce.
Total time: 20 minutes
After cooking rather hearty beef dishes, let us move on to a perfect Mediterranean menu for the summertime when you're in the mood for a BBQ party.
Kofta Kebabs is a Turkish cuisine delight, originally often made with lamb, veal, or mutton. To make it more accessible, I have listed this recipe right here, with beef as our main protein.
Now this recipe is a rather colorful dish in terms of the taste since you can see there are spices used for it. In this particular recipe, you would only need cumin, but don't be afraid to include other spices of your liking. Those spices could include cinnamon, black pepper, ground ginger, etc.
Total time: 57 minutes
At first sight, Empanadas can fool you into thinking they're Gyoza or some Asian dumplings. In actuality, Empanadas are a far cry from that. They are a pastry present in Spain, the Philippines, and other Latino countries.
Empanadas are perfect for when you want a quick and light bite that's still filling. The filling has everything you need for your daily dose of nutrients from vitamins like eggs, ground beef, pepper, onions, etc.
The secret to making Empanadas in an air fryer is right under this click.
Total time: 30 minutes
How would you like your taco in a ring? Done in just 30 minutes? If I were you, hearing those sweet words, I would take a Taco ring for myself any given day.
Fuss-free is how I would describe this recipe, as you don't have to ensemble an actual taco but can pull a piece each time from the ring and have fun as you go. Not that the traditional taco isn't fun, but it's nice to switch things up every once in a while, right?
Total time: 30 minutes
I have to admit, every "supreme" is a big yes to me, and this Crunchwrap Supreme is no exception either. Now you can recreate this classic Taco Bell recipe right in your kitchen.
Imagine devouring a freshly toasted wrap filled with stringy cheese you can stretch to the moon, ground beef, tomatoes, and a crunchy surprise waiting for you at every single bite you take. Remember to share!
Total time: 22 minutes
You have known mostly beef-focused recipes, so it's only natural I'm giving you a vegetable one this time. I know that not everyone enjoys eating vegetables. However, I have a way around this that will make them more enjoyable.
This dish is a cheat dish since you can still find your vegetable-eating experience pleasant. This is because both the mushroom and the ground beef will release a noticeable amount of juice throughout the cooking process in the air fryer, meaning an extra umami taste. Yum!
Total time: 37 minutes
This final recipe is one of my guilty pleasures, and I am more than happy to share it with you. After all, sharing is caring.
I don't think anyone can go wrong with a serving of cheesy baked fries, especially when what goes on top is a succulent layer of ground beef. But remember not to recreate this recipe too often as it can be slightly heavy on calories.
If you still want to enjoy this recipe while watching your weight, you can substitute regular cheese with non-dairy cheese and go lighter on the seasoning. Otherwise, go all in and enjoy your fries!
A Delicious Meal Doesn't Necessarily Equal Extra Time And Effort
These days, to cook a well-presented and luscious meal, you don't always have to invest all of your time. Most households are now looking for time-efficient methods to cook their food, hence the appearance of air fryers.
However, just because they help cut time in making, it doesn't mean the taste will be any less significant. With the right ingredients and enough attention paid to the details, good food in under an hour is completely possible. With the diversity that these recipes offer, it's not a challenge to spice up your daily menus.
I hope this article has somehow assisted you in stirring up a hot and toothsome beef banquet. Please share with your friends and family should you find these recipes interesting and helpful And please leave a comment sharing about your experience recreating these recipes too!
Nutrition Facts
4 servings per container
---
Amount Per ServingCalories330
% Daily Value *
Total Fat 12.2g

19

%
Cholesterol 148mg

50

%
Sodium 566mg

24

%
Potassium 620mg

18

%
Total Carbohydrate 13.7g

5

%

Dietary Fiber 1g

4

%
Sugars 2.9g

Protein 39.3g

78

%
---
Calcium

134

%
Iron

5

%
Vitamin D

4

%
* The % Daily Value tells you how much a nutrient in a serving of food contributes to a daily diet. 2,000 calories a day is used for general nutrition advice.