Air fryer chicken tenders are a healthier approach to a classic comfort dish. The breading, which consists of panko and breadcrumbs, provides immaculate crispiness to the chicken. At the same time, the air fryer minimizes the amount of oil used, so you don't have to worry about gaining weight.
If you're tired of frozen chicken tenders, I wholeheartedly suggest giving this recipe a try. The flavor and texture of air-fried tenders will beat any pre-packaged products and even those found in a fast food restaurant!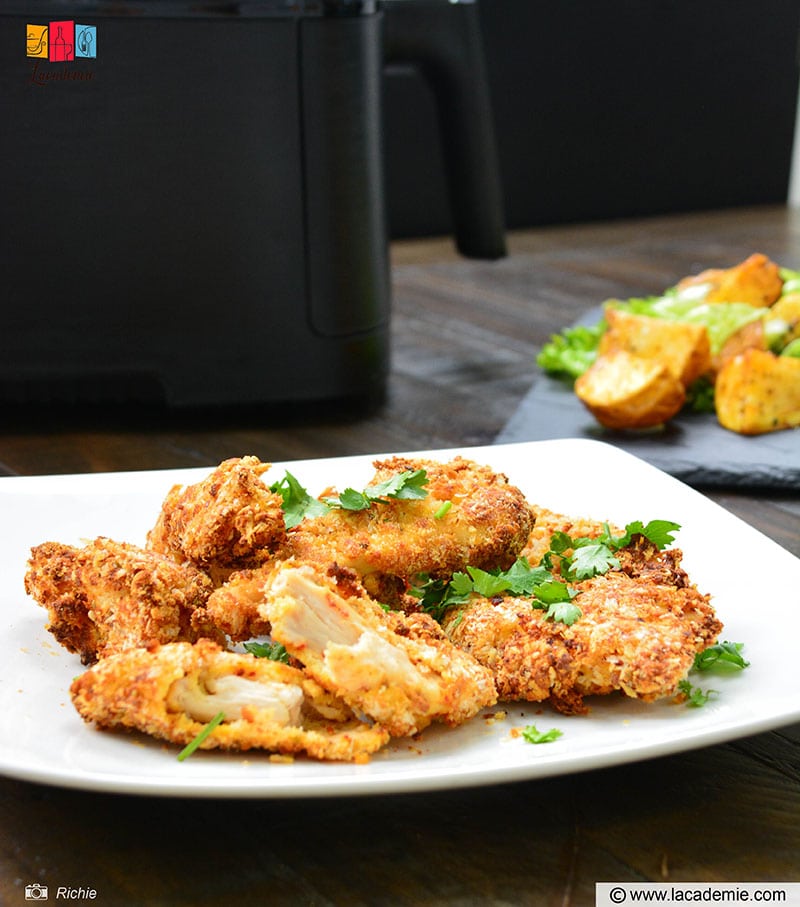 Why This Recipe Works Every Time
If you're still hesitant to try this recipe, the following reasons will convince you otherwise!
They are healthier than deep-fried chicken tenders. As mentioned above, you just need a little oil, mainly for spraying on the basket and the chicken.
The chicken will come out extremely crunchy and full of flavor, thanks to the delicious breading, while being perfectly moist on the inside.
They are super quick and effortless to make. Basically, you only have to mix the breading, which takes just a few minutes, dip the chicken in it, and let the air fryer handle all the heavy work. Seriously, cooking doesn't get any easier than this!
Cleaning up is a breeze. Since the recipe only calls for 3 tools, you can finish cleaning your kitchen in under 10 minutes!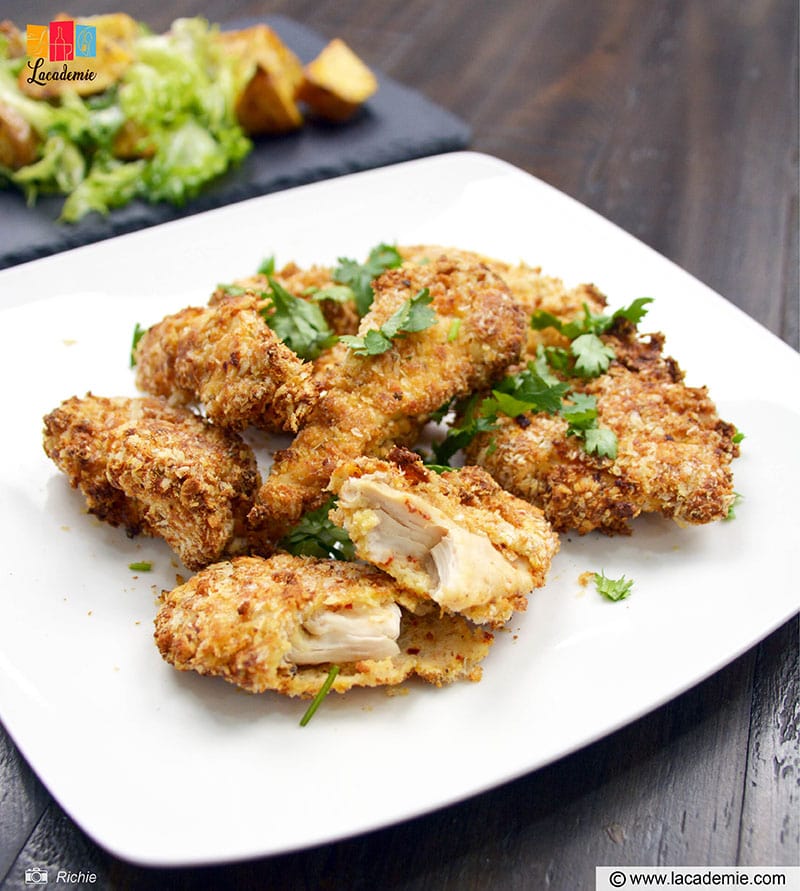 Tools
Obviously, an air fryer is a must-have tool for this recipe. Plus, prepare some bowls or containers for the breadcrumbs mixture and eggs.
Air fryer: If you're looking to buy your first air fryer, I recommend the Pro I air fryer oven combo from COSORI, which I'm currently using. If you can't find the exact model, opt for the COSORI Pro II instead.
Bowls or containers: For keeping the breading and eggs. I use plastic food containers, but shallow bowls will work as well.
Cooking oil sprayer: For greasing the air fryer basket and spraying oil on the chicken.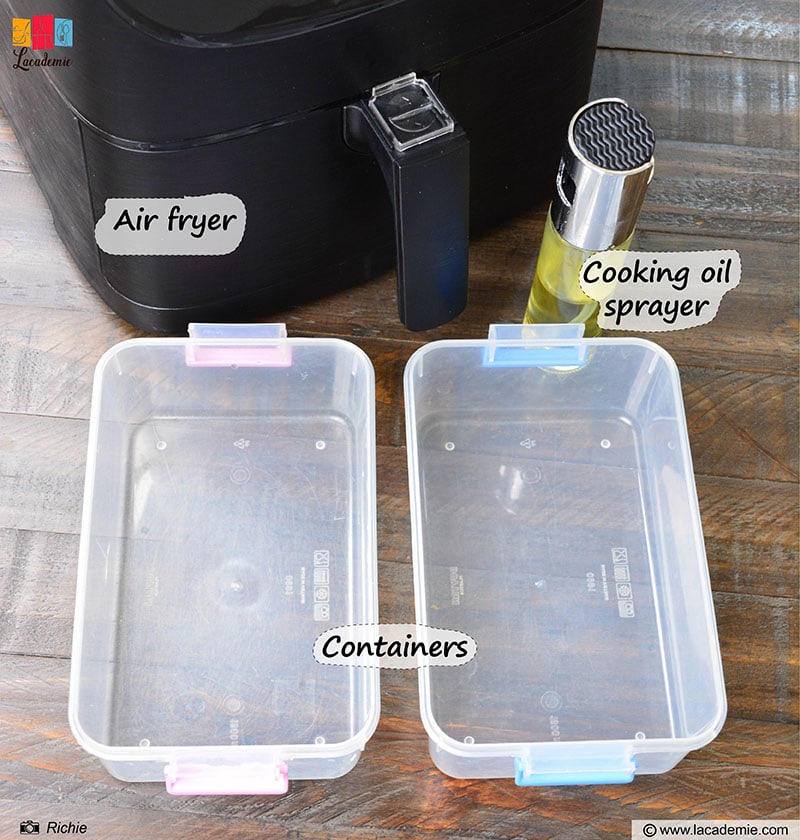 Ingredients
Head to the nearest grocery store and grab yourself the following ingredients.
Chicken tenders: I use 6 medium-sized chicken tenders, which are about 0.88 pounds in total.
Breadcrumbs: For mixing the breading. You can easily learn how to make breadcrumbs at home.
Panko: Thanks to their flaky and dry consistency, these Japanese-style breadcrumbs allow the chicken to be extra crispy.
Eggs: Help the breading stick to the chicken better.
Spices: Ground pepper, kosher salt, sesame seeds, chili powder, and dried oregano.
Salad: For serving on the side. Go for your favorite kind. Personally, I like pairing my chicken tenders with potato salad.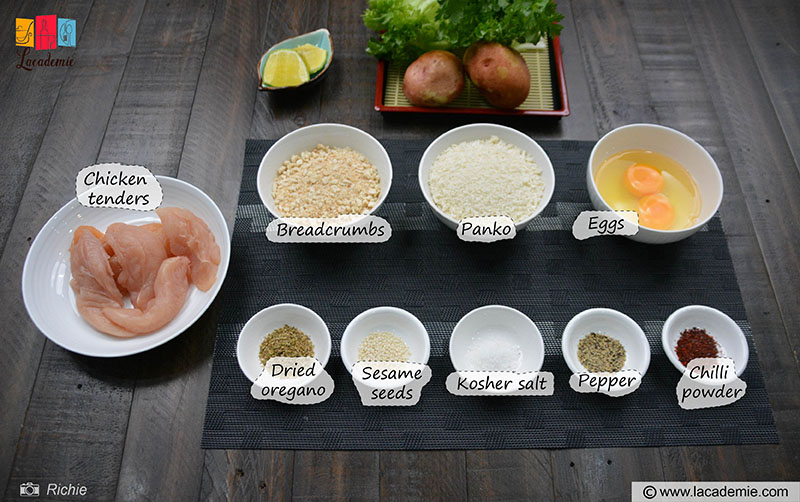 Directions
Here's that part you've been waiting for. Follow these simple steps to whip up delectable chicken tenders with your air fryer.
Step 1: Prepare The Ingredients
Season the chicken tenders with kosher salt, chili powder, ground pepper, and sesame seeds. Toss lightly to coat and let the chicken marinate for 10 minutes.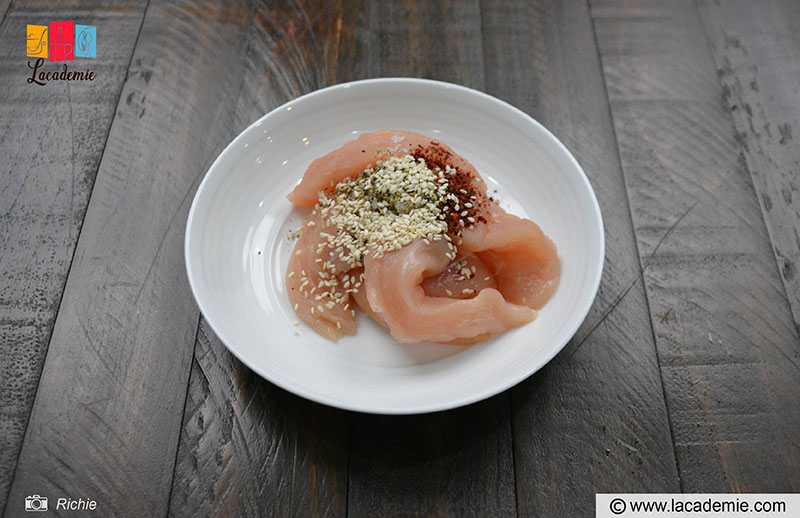 Combine the breadcrumbs, panko, and dried oregano in a bowl or container.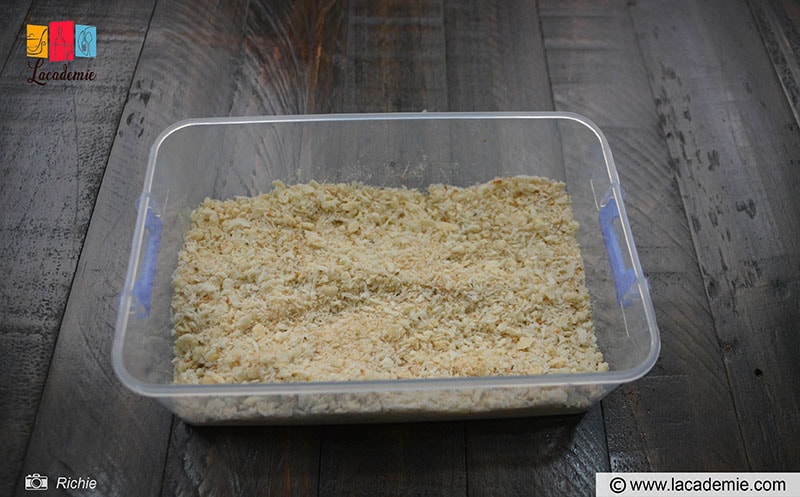 In a different container, beat 2 eggs.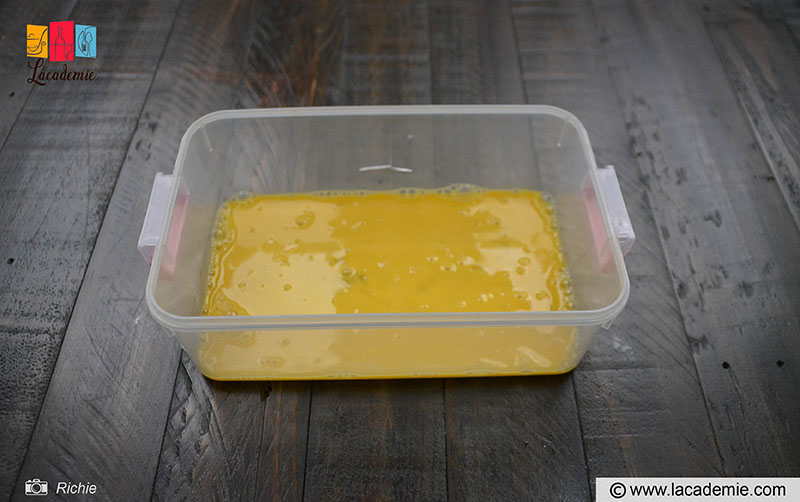 Step 2: Coat The Chicken Tenders
Dip the chicken into the egg, then the breadcrumbs mixture. Repeat this step once more. Use your fingers to coat all sides of the tenders with the batter.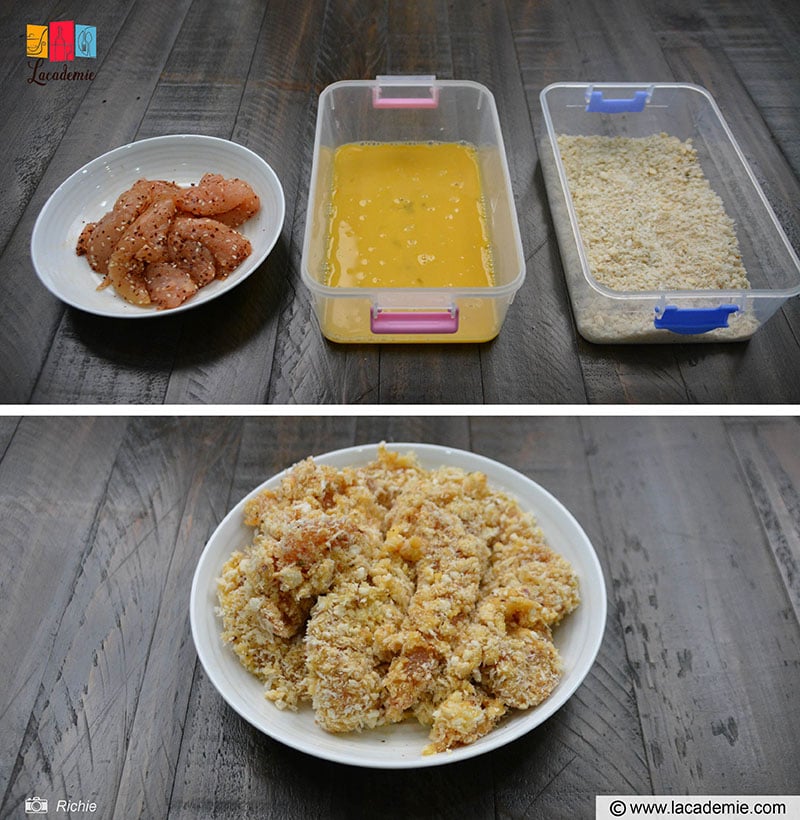 Step 3: Air-Fry The Chicken
First, preheat the air fryer for a couple of minutes to ensure a stable cooking temperature.
Lightly grease the basket with cooking oil, then place the tenders inside.
Spray a little oil on the chicken tenders to prevent them from drying out.
Air fry the chicken for 6 minutes at 400 degrees F.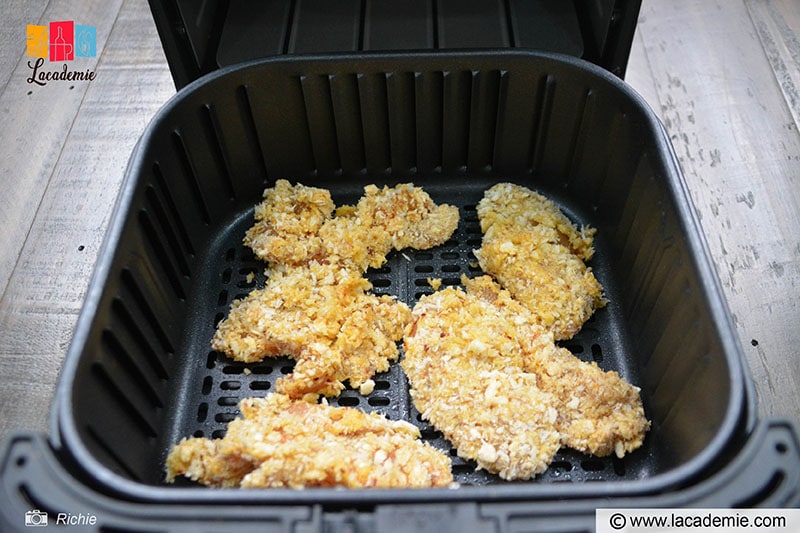 Flip the chicken and spray the other side with cooking oil. Fry the chicken tenders for another 5 minutes at 400 degrees F.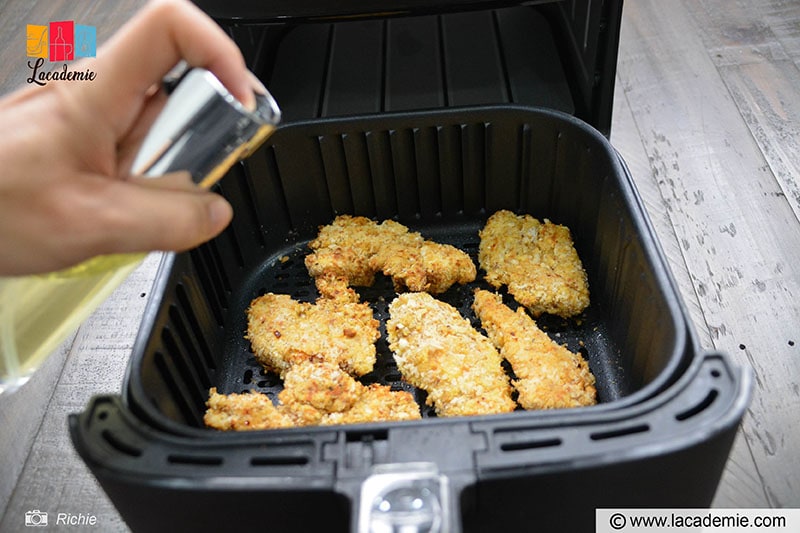 Your chicken tenders are now ready for serving!
Step 4: Present The Dish
Arrange the crispy chicken tenders on a plate and sprinkle some cilantro on top. Serve with potato salad or your preferred type of salad.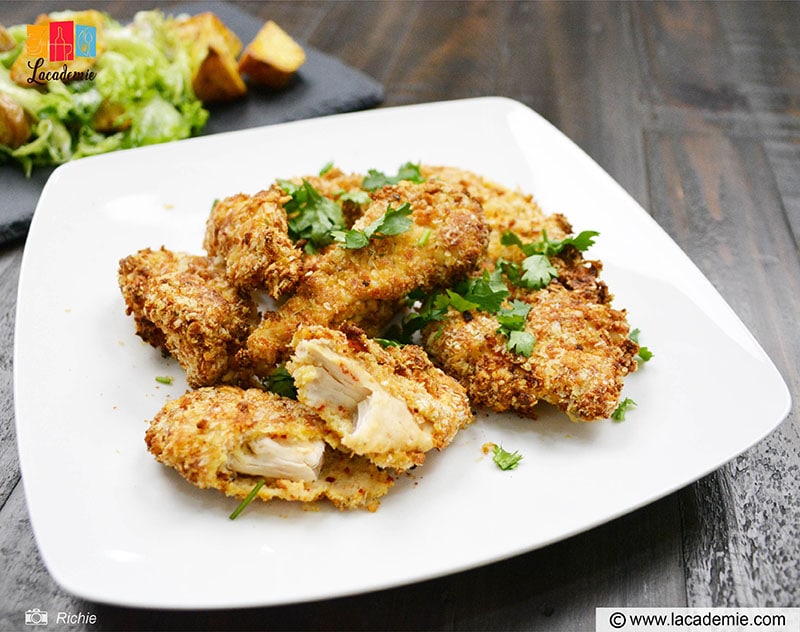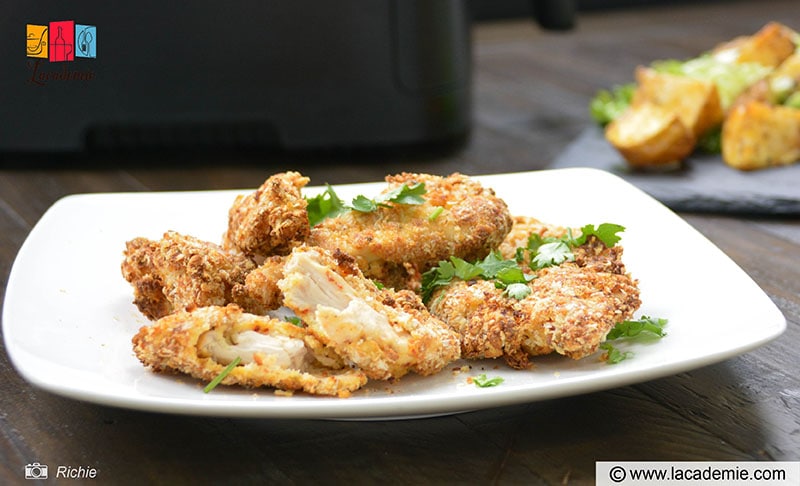 Extra Tips To Know
If you need some tips to elevate the flavor of these yummy chicken tenders or want to know the best way to store leftovers, this section will give you the answer.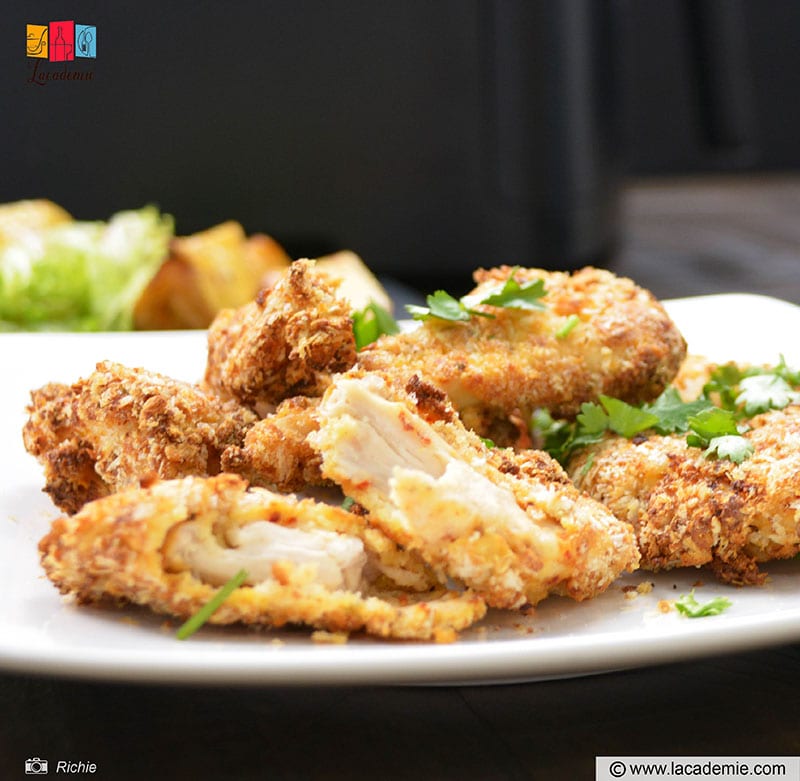 To enhance the flavor, pair the chicken tenders with chili sauce, mayonnaise, or your favorite dipping sauce.
Put the leftovers in an airtight container and refrigerate for up to 3 days or freeze them for about 3 months.
To reheat, air fry the tenders at 400 degrees F for 4 to 5 minutes, flipping halfway.
If you don't want to bread the chicken for some reason, you can coat them in olive oil and air fry them "naked".
Satisfying Comfort Food Made Healthy
Air fryer chicken tenders are a guilt-free recipe that even people with no prior cooking experience can whip up with ease. Try them out the next time you or your loved ones crave a crispy and decadent fried treat.
What's your favorite side dish to serve with these chicken tenders? Do you like to pair them with salad or prefer to have them with fries? Let me know the answer and what you think about today's dish in the comment. Remember to like and share this recipe as well!
Nutrition Facts
3 servings per container
---
Amount Per ServingCalories545
% Daily Value *
Total Fat 16.2g

25

%
Cholesterol 228mg

76

%
Sodium 1231mg

52

%
Potassium 475mg

14

%
Total Carbohydrate 47g

16

%

Dietary Fiber 5.2g

20

%
Sugars 4.1g

Protein 49.8g

98

%
---
Calcium

145

%
Iron

5

%
Vitamin D

10

%
* The % Daily Value tells you how much a nutrient in a serving of food contributes to a daily diet. 2,000 calories a day is used for general nutrition advice.