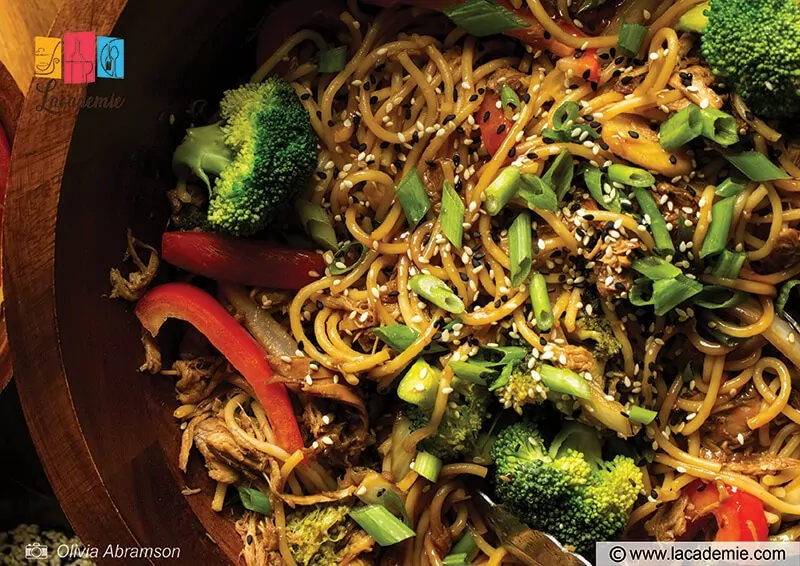 This perfectly seasoned and savory crockpot chicken lo mein recipe is the perfect way to break out of your routine. With only a handful of simple ingredients required, plus your trusted crockpot, this dish is easy and the results are mouthwatering good.
The best part? This dish can be started in the morning and finished minutes before you're ready to eat! It's the perfect no-mess-no-fuss dinner for a weekday night.
What is Crockpot Chicken Lo Mein?
Chicken lo mein is a familiar Chinese noodle dish, plus tender chicken and colorful veggies, so you will have a packed-with-flavor dish. Traditional lo mein is served with a dark sauce composed primarily of soy sauce and oyster sauce.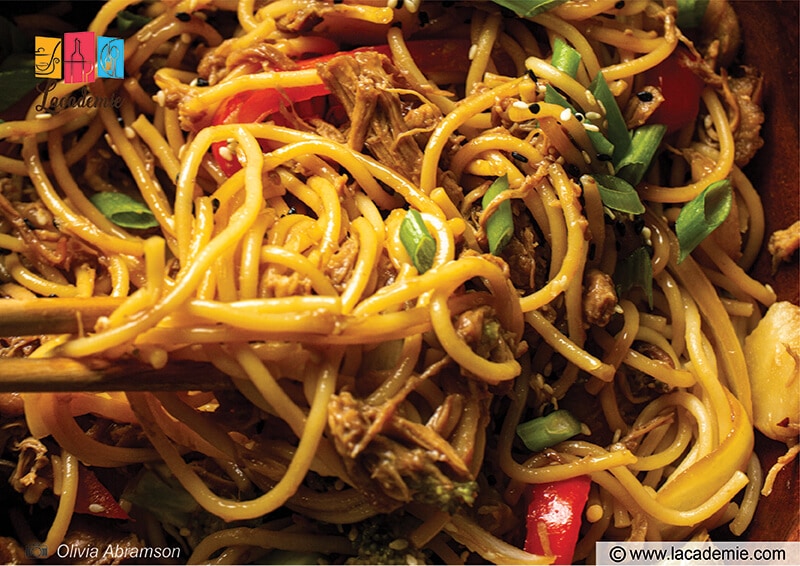 The best part about utilizing your crockpot to make chicken lo mein is that you can easily start it in the morning by preparing the sauce and chicken. By the time you return home from work, your chicken will be perfectly cooked with a mouthwatering and delicious dinner.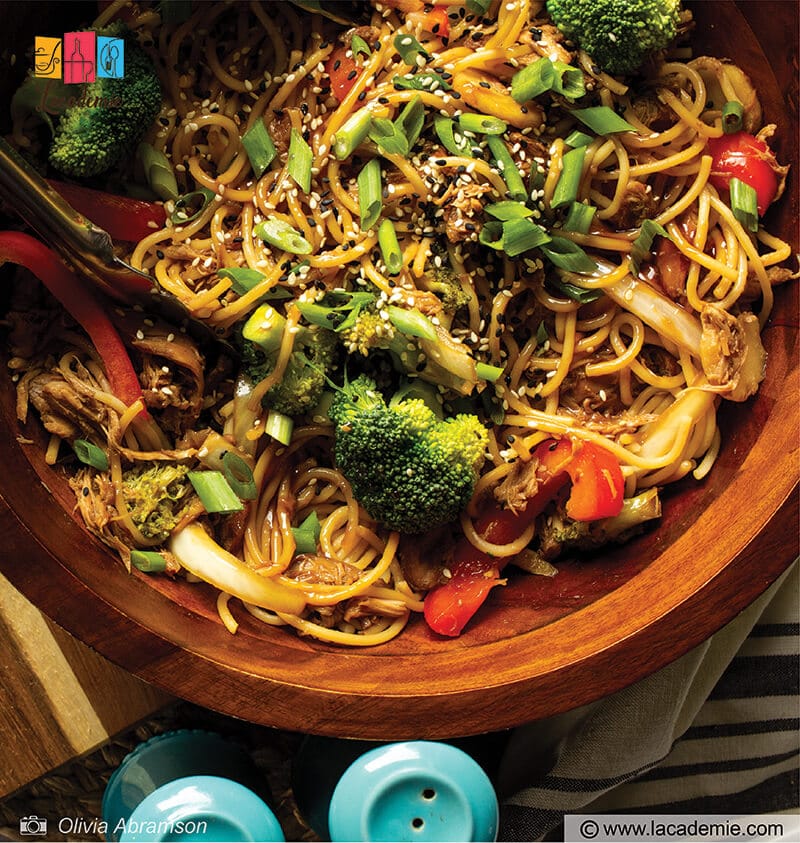 Ingredients
This recipe is easy. You can find all of the ingredients required at your nearest grocery store or Asian market.
Feel free to use the veggies depending on your preferences, but I think this cooking idea is excellent as it is.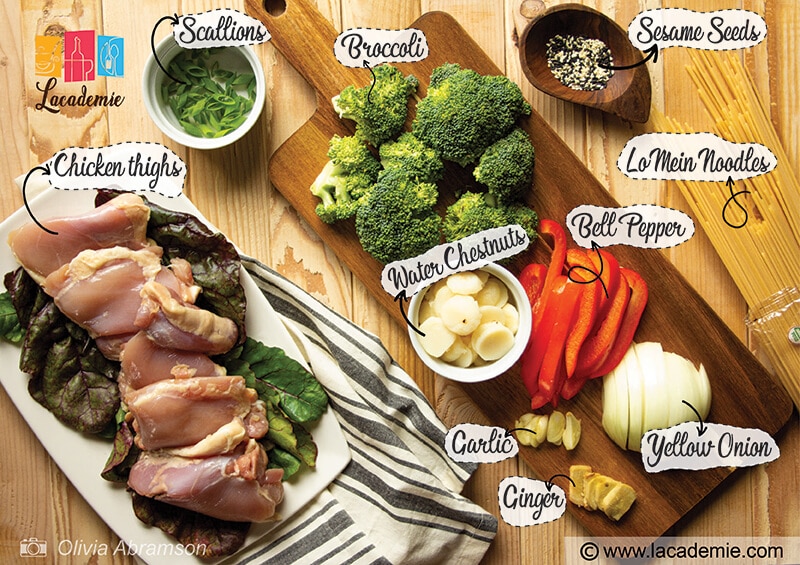 And now, here is something you will need to make this easy crockpot chicken lo mein:
Chicken thighs: the main part of this dish. After comparing chicken's white and dark meat, I chose the latter because it is easier to cook without drying it out.
Sauce Ingredients: For the sauce, I kept it traditional. The combination of soy sauce, oyster sauce, sesame oil, rice vinegar, brown sugar, and Sriracha hot sauce is ideal.
Lo Mein Noodles: Thin Chinese noodles that are traditionally served in a stir fry style with crisp veggies and protein. Spaghetti noodles will work as well.
Bell Pepper: The addition of bell pepper adds a nice crunch, as well as a touch of sweetness.
Broccoli: Not only is this veggie super nutritious, but it also adds wonderful texture and takes to seasoning well.
Yellow Onion: Enhances more flavors.
Water Chestnuts: Improves texture with a signature crunch.
Ginger & Garlic: Important ingredients in Asian cooking; these add tremendous depth to this dish.
Garnishments: Scallions and sesame seeds give the dish a nice color and subtle fresh flavor.
Tools
The list of kitchen utensils required is also simple that you might already have at home. Here is everything you need to make this recipe: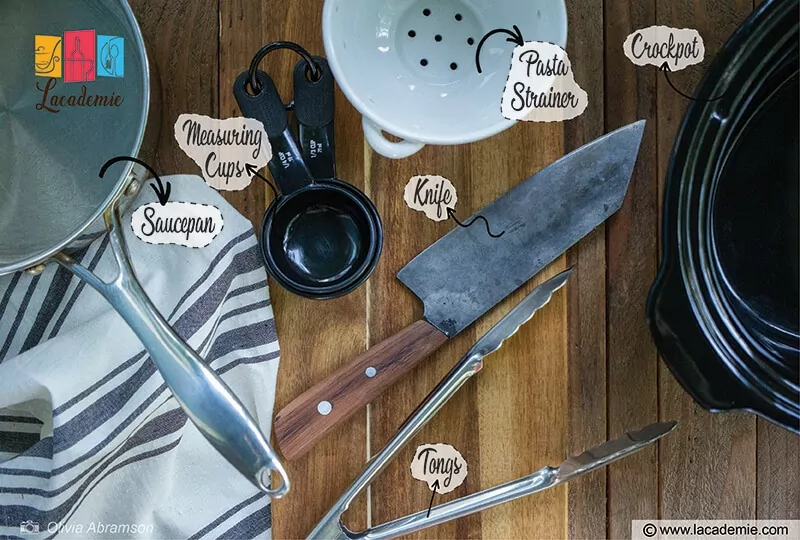 Crockpot: The star cookware here! The crockpot is how you will prepare your entire dish. An instant pot will work as well, just remember to follow the manufacturer's instructions when using it.
Knife & Cutting Board: For chopping veggies and shredding chicken.
Saucepan & Stovetop: To prepare lo mein noodles.
Pasta Strainer: For straining your lo mein noodles.
Tongs: To stir the veggies and noodles in with the chicken.
Measuring Cups: For measuring the sauce ingredients.
Small bowl with whisk or fork: For mixing sauce ingredients.
How to Make Crockpot Chicken Lo Mein
The steps required to make this dish could not be simpler. By the time you've made this dish once – you'll be dying to make it again!
Now, here are the steps to making this easy chicken lo mein by a crockpot/slow cooker:
Step One: Cook Chicken
Place the chicken in the bottom of your crockpot. Combine all sauce ingredients into a bowl and whisk to combine. Pour the sauce over your chicken. Cover the crockpot and cook on LOW setting for 7 to 8 hours or HIGH setting for 3 to 4 hours.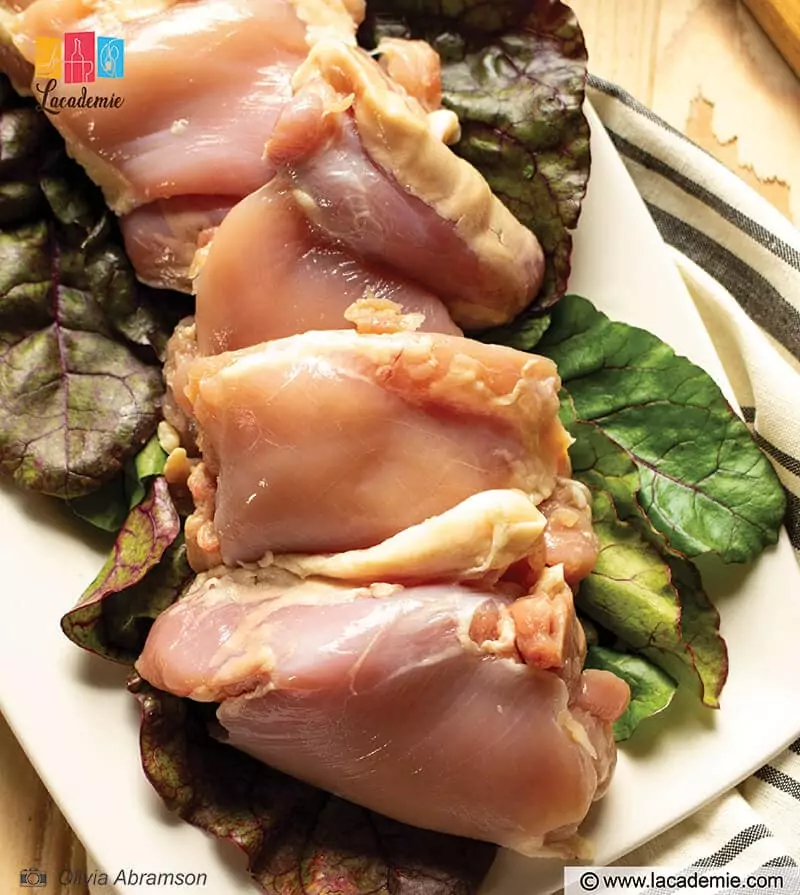 Step Two: Shred Cooked Chicken
Once your chicken has fully cooked, take it out of the crockpot. Once the chicken has cooled slightly, shred it and return it to the crockpot.
Step Three: Add Veggies to Crockpot
Prepare your veggies and add them all to the crockpot with the cooked chicken and sauce. Mix it up so the veggies and chicken are combined. Cook on HIGH for 20-25 minutes, or until the veggies are soft but still chewy.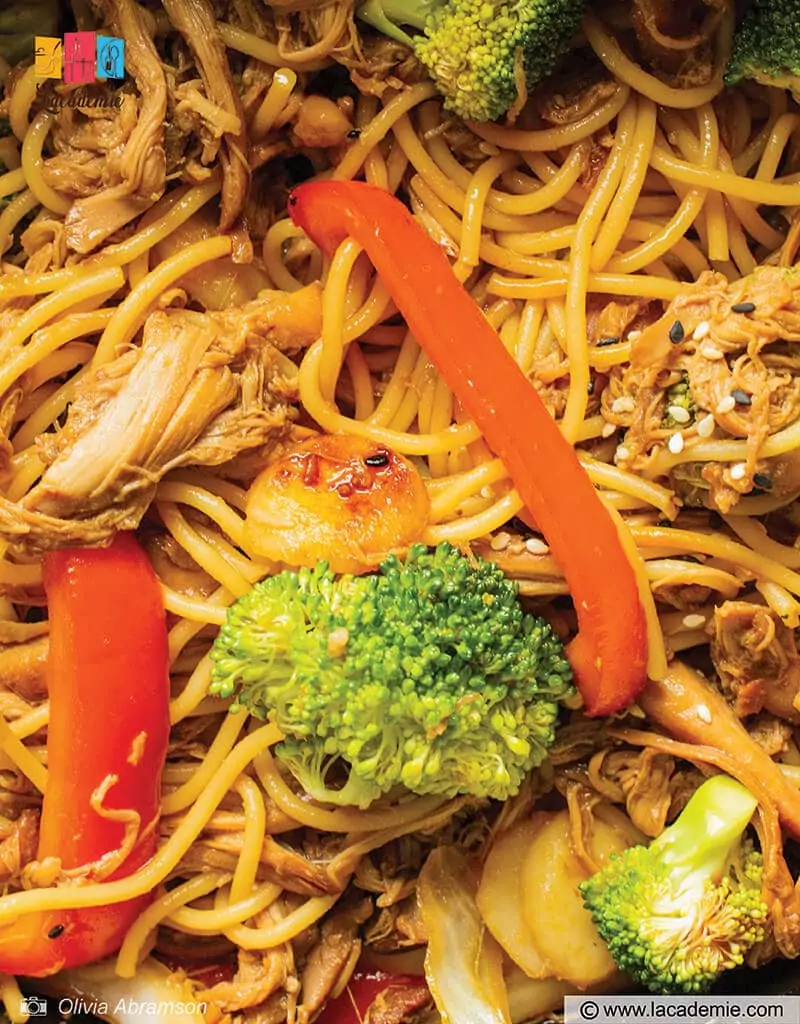 Step Four: Cook Lo Mein Noodles
While the veggies are cooking, prepare your noodles. To do this, cook according to the packing instructions, then drain the noodles and set them aside.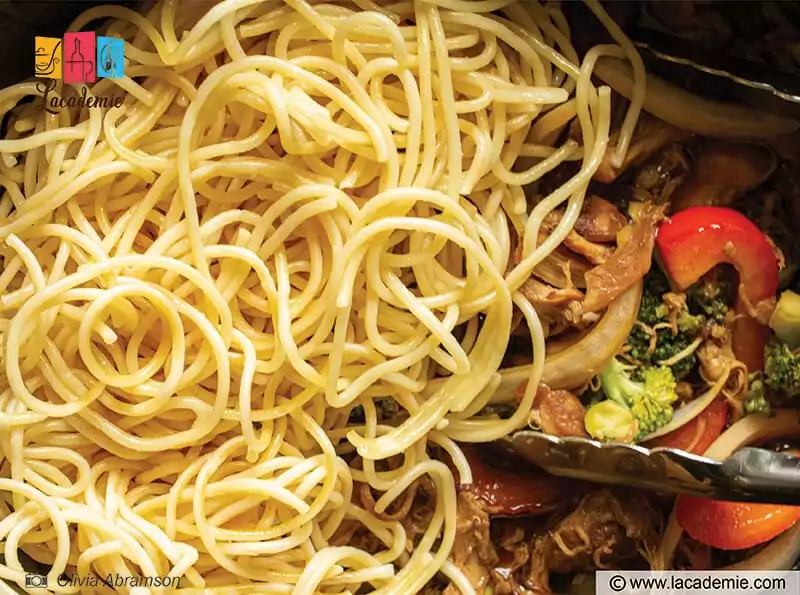 Step Five: Assemble Chicken Lo Mein
Once your veggies are fully cooked, stir them into the noodles. Plate your dish and garnish – then enjoy!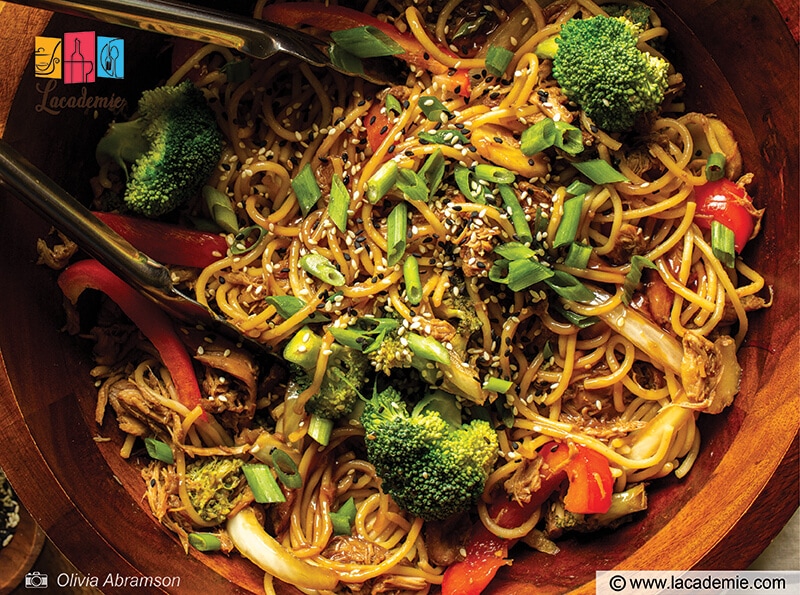 Tips And Tricks For Making Perfect Chicken Lo Mein
Let's see how easy it is to make chicken lo mein in a crockpot. A crockpot is obviously a convenient tool, and they're totally underutilized when it comes to making flavorful Asian dishes.
Here are a couple of tips and tricks for making your lo mein even better:
Cut your vegetables into roughly the same size so they cook evenly.
Frozen veggies will work if you can not get fresh ones.
Taste your sauce before adding it to the chicken. Once you've added it to the crockpot, it will be harder to make changes.
If you wonder whether your lo mein can be vegan, feel free to make any change to suit your diet, like swap chicken for deep-fried or firm tofu.
Storing and Reheating your Chicken Lo Mein
This dish makes for excellent leftovers. I recommend storing your leftover chicken lo mein in an airtight container and keeping it in the fridge for up to 3-4 days.
You can store your food in the freezer for up to 3 months. However, the texture and flavor might be altered and not as good as freshly-made ones.
To reheat your lo mein, place it in the microwave and heat it for 1.5 minutes until thoroughly heated.
Alternatively, you can reheat your lo mein by placing it on the stovetop, and setting it to medium heat until the dish is thoroughly heated. Do not forget to stir your noodles gently during the reheating process.
Nutrition Facts
6 servings per container
---
Amount Per ServingCalories480
% Daily Value *
Total Fat 18g

28

%
Cholesterol 109mg

37

%
Sodium 2317mg

97

%
Potassium 680mg

20

%
Total Carbohydrate 40g

14

%

Dietary Fiber 4.5g

16

%
Sugars 14.7g

Protein 36g

72

%
---
* The % Daily Value tells you how much a nutrient in a serving of food contributes to a daily diet. 2,000 calories a day is used for general nutrition advice.
Chicken Lo Mein In A Crockpot Is Amazing!
I hope I have convinced you that preparing a rich, flavorful Asian dish in a crockpot can be so effortless. This recipe is easy, with plenty of room for modifications. The best part about this recipe is how easy it is to set it and forget it.
As always, please remember to rate and share this recipe with others. If you tried making this dish at home, leave a comment below and let me know how it went!