Comparing chicken korma vs. butter chicken is challenging for fans of Indian cuisine. Despite their popularity worldwide, many culinary lovers struggle to differentiate between these two delicious dishes.
If you don't know which dish to order, chicken korma and butter chicken, when visiting an Indian restaurant, this post is for you. I will discuss each dish's characteristics, ingredients, and flavors to give you a detailed answer. Keep reading to find out!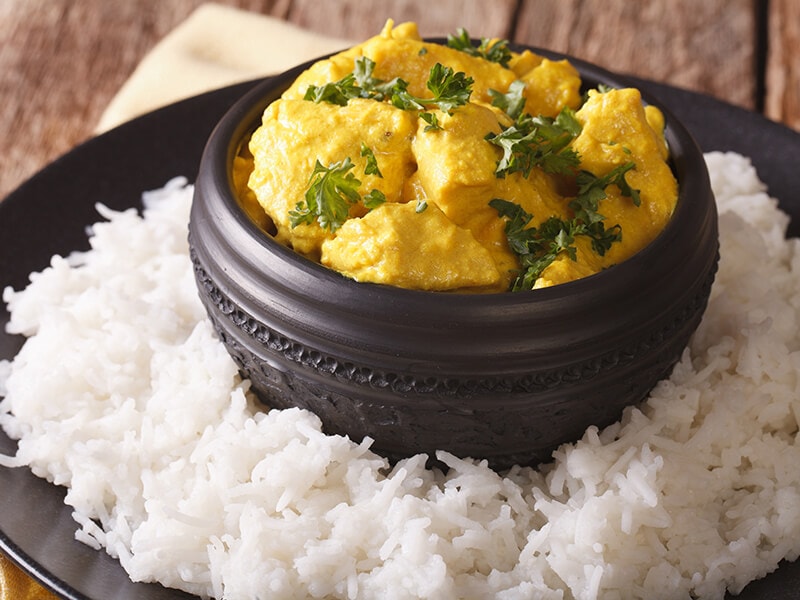 What Is Chicken Korma?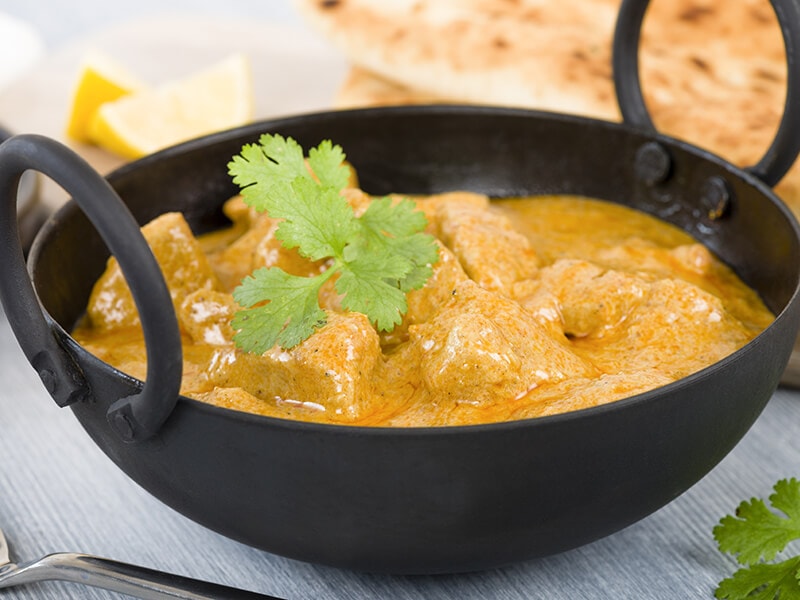 Chicken korma is a traditional and popular curry dish from India's Mughlai cuisine. The name "korma" originates from a Turkish word called "qawirma" which translates to "cooked meat" or "a fried thing".(1)
Korma generally refers to dishes containing vegetables and meat braised in stock or yogurt. Chicken korma consists of chicken stewed in a mile, spicy, creamy sauce made from coconut milk and yogurt.
The dish combines aromatic spices like cardamom, saffron, and rosewater with nuts and veggies. Numerous variations of this famous dish exist, but meat braised in a sauce of yogurt or cream is an indispensable ingredient for an authentic chicken korma recipe.
This famous dish features a rich and flavorful taste, plus the aromatic scents of spices. Nowadays, chicken korma has become one of the most popular curry dishes in Indian and European cuisines.
It is served with rice (typically basmati or pilaf) and sometimes papadums (Indian deep-fried dough) for extra flavor.
A Brief Overview Of Butter Chicken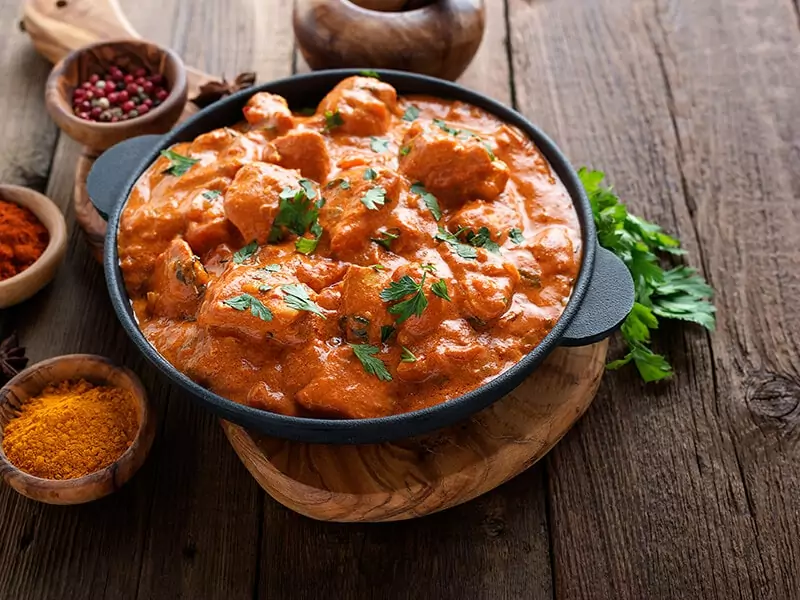 Like chicken korma, butter chicken is an iconic Indian dish that has made its debut in many restaurants worldwide. This dish is also called murgh makhani (chicken with butter).
Kundan Lal Gujral and Kundan Lal Jaggi from the Northern Indian region in the 1950s invented butter chicken. It consists of boneless chicken pieces cooked in a flavorful tomato-based sauce, plus seasoning materials and spices like cumin, coriander, and masala.
With the addition of cream and butter gravy, butter chicken features a rich, creamy, and thick curry-like texture. This dish is popular for its slightly sweet and flavorful taste, herby smell, and spiciness from the added spices.
Butter chicken is typically served with Naan bread or rice (Pulao or Basmati) mixed with cooked vegetables like cauliflower or broccoli. This dish is a perfect addition to any dinner party for diners.
What Do Chicken Korma And Butter Chicken Have In Common?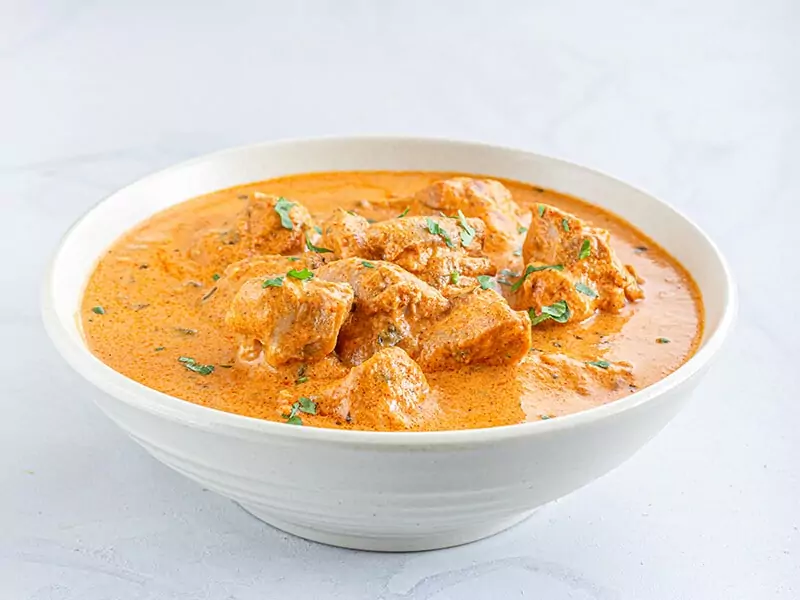 Chicken korma and butter chicken are popular curry dishes originating from Indian cuisine. Though the ingredients and seasoning materials can vary, these two dishes feature chicken as the main protein.
In addition, the tastes of chicken korma and butter chicken are rich and flavorful, making full use of the aromatic scents to infuse into a creamy texture. As a curry dish, it combines excellently with side dishes like bread and rice.
A Detailed Comparison Between Butter Chicken And Chicken Korma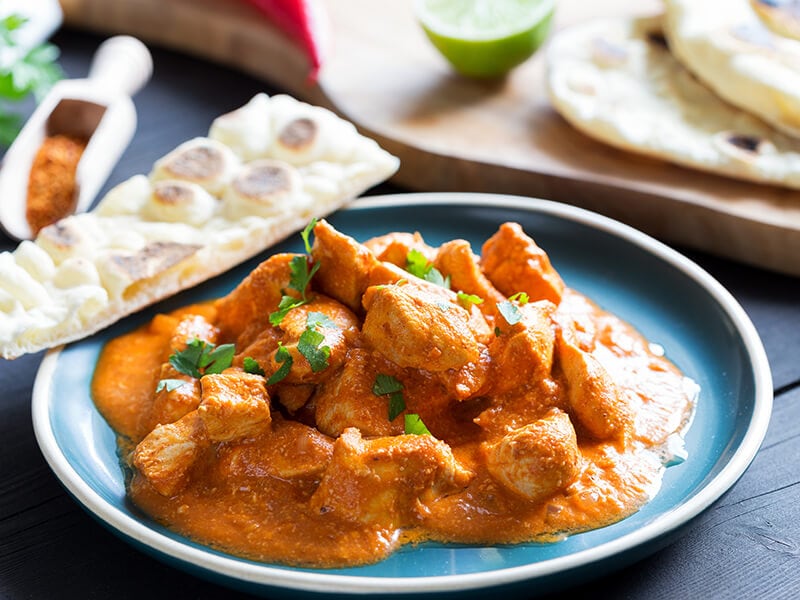 It's apparent that chicken korma and butter chicken are not the same since they feature different seasonings and cooking methods. In the following sections, I will discuss these core differences in detail to help you pick the better option.
Features
Chicken Korma
Butter Chicken
Type Of Curry
Dairy-based gravy with yogurts and nuts
Tomato-based gravy with butter
Cooking Method 

Cooked on a stovetop or oven

Cooked at medium heat, usually under 60 minutes

Typically simmered in a clay pot or tandoor

Simmer at low heat for many hours

Texture
A creamy and thicker texture (from milk and yogurt)
A smoother and velvety consistency (from tomato gravy)
Flavor
Spicy, mildly sweet, and creamy
Mildly spicy with a buttery undertone
Nutrient Content
Typically contain fewer calories but with more healthy nutrients
May contain more calories but with less healthy nutrients
Type Of Curry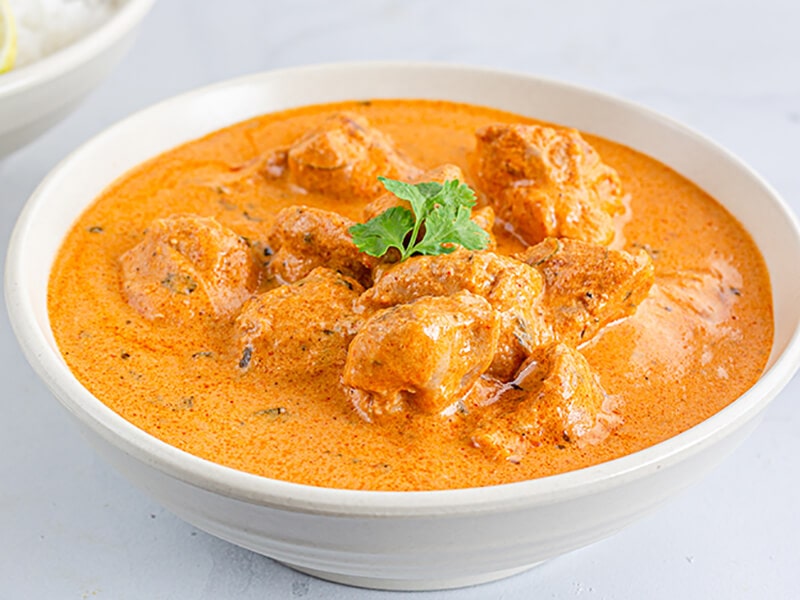 Chicken korma and butter chicken are basically different types of curry since they feature distinct core ingredients. Chicken korma contains vegetables and meat braised with yogurt and nuts, creating a dairy-based and creamy gravy.
Meanwhile, butter chicken is a tomato-based curry with its gravy made of tomato gravy plus a generous addition of butter.
Cooking Method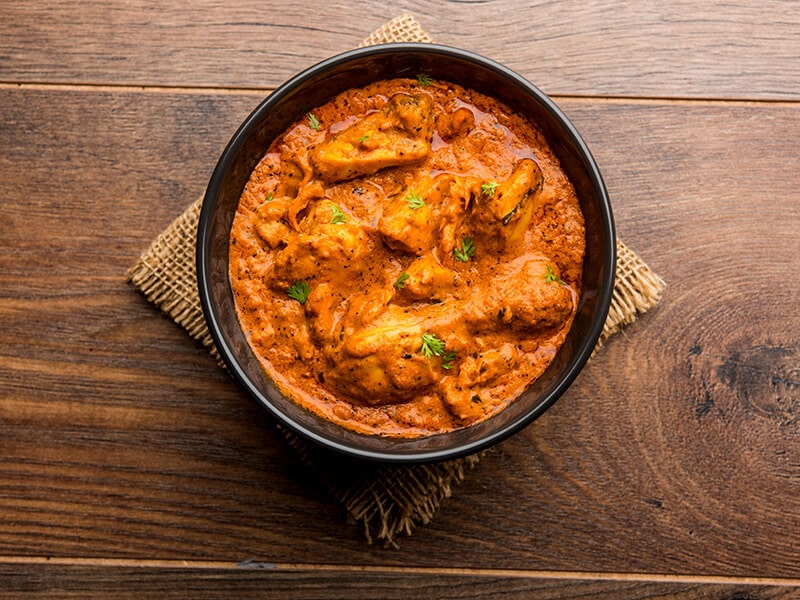 The cooking time will vary based on your chosen recipes and methods. However, cooking butter chicken typically takes much longer than a chicken korma. Most korma recipes involve less than one hour of cooking, but butter chicken can take many hours.
In addition, chicken korma is typically heated up on a stovetop or oven at medium heat (around 350°F). Meanwhile, most butter chicken recipes call for simmering in a clay pot or tandoor at low heat so the meat can turn tender and the butter with spices get fully blended.
Texture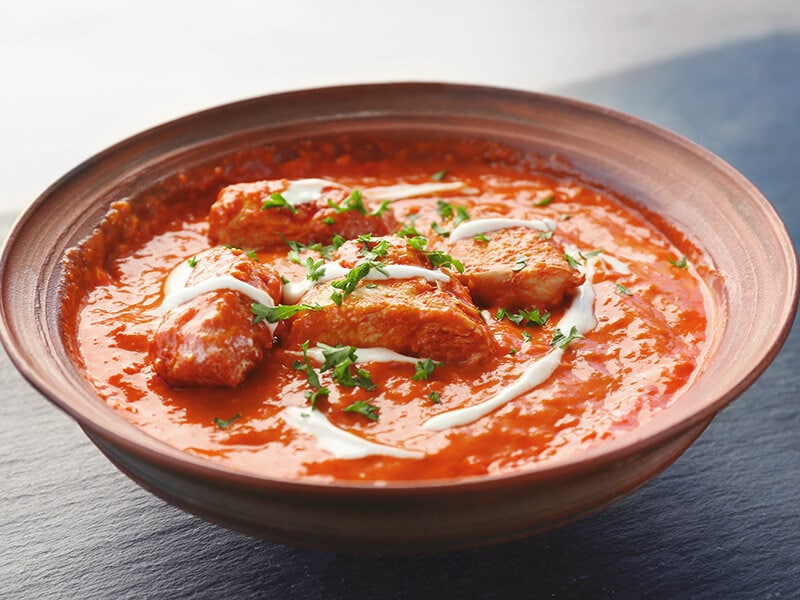 Both butter chicken and chicken korma have a curry-like texture with a tender consistency, plus the moist and soft chicken pieces. Though the consistency may vary in different recipes, the two dishes have some significant differences.
Chicken korma typically comes in a creamier and thicker texture since it is made with creamy ingredients like milk and yogurt. Meanwhile, butter chicken is a tomato-based sauce with a velvety and smoother consistency.
Flavor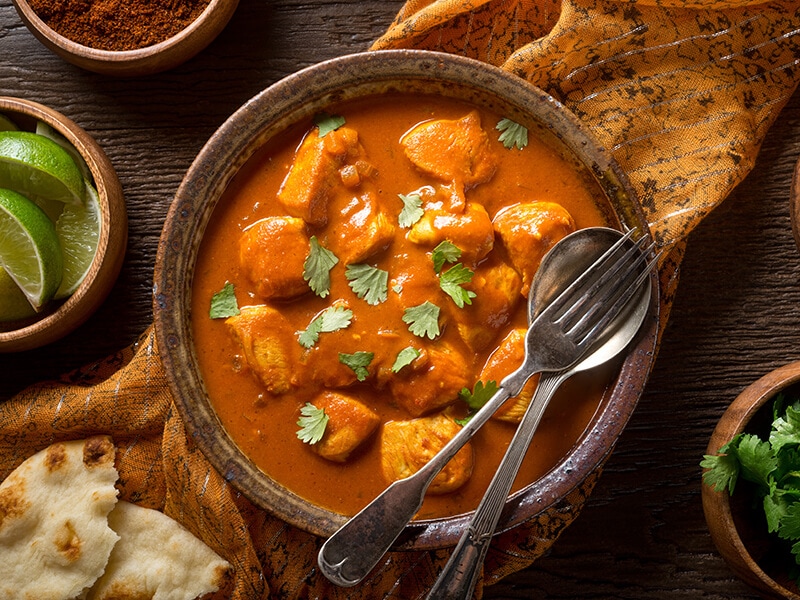 The flavors of both chicken korma and butter chicken are delicious, and deciding which is the tastier dish would be subjective. However, chicken korma recipes are typically spicier than butter chicken dishes.
In addition, the taste of chicken korma is milder with a creamier undertone than butter chicken. The creamy flavors and mild sweetness come from coconut milk, ghee, or yogurt used in chicken korma recipes.
Meanwhile, butter chicken features a richer tomato taste since it's a tomatoes-based sauce. In addition, the buttery scent of butter chicken is exclusive to the dish, as chicken korma doesn't contain butter.
Which Dish Is More Nutritious?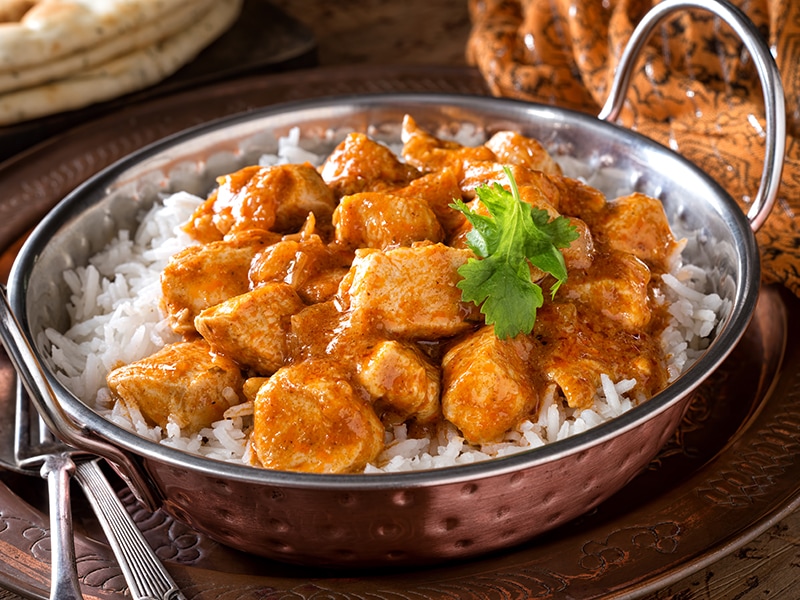 It's hard to decide on the exact nutrient content of chicken korma and butter chicken since it depends on the ingredients used. However, chicken korma is typically healthier than butter chicken.
The main ingredients for chicken korma sauce are nuts and yogurt, rich in healthy fat, protein, and micronutrients. Meanwhile, butter chicken sauce contains mainly tomato gravy and butter, which have a lot of unhealthy fat and higher calories.
With the generous addition of butter, butter chicken may contain higher calorie content than a chicken korma. However, it is slightly healthier than butter chicken, with a larger proportion of saturated fat.
How To Make The Most Delicious Chicken Korma At Home
The chicken korma is the most comforting and delicious food for family meals. Besides its heart-warming texture and flavorful taste, the dish is super nutritious and can make you full for the whole day. Here is how you can make chicken korma at home.
Ingredients
Here are the marinating ingredients you need.
1 pound of bone-in chicken (around 0,5 kilogram).
¼ teaspoon of ground turmeric.
3 tablespoons of coconut milk or plain yogurt.
¾ to 1 teaspoon of korma or garam masala.
1 tablespoon of red chili powder.
½ teaspoon of salt.
For sauteing and blending:
1,5 teaspoons of ghee or oil.
2 green cardamoms.
1 cup of sliced onions.
6 cashews.
4 almonds (you can replace it with cashew).
One-fourth cup of plain yogurt.
For the chicken korma:
1 or 2 tablespoons of ghee or oil.
One small bay leaf.
4 cloves (remove them if desired).
A stick of 2-inch cinnamon.
1 cardamom.
1 or 2 green chilies.
½ cup of hot water.
¼ teaspoon of salt.
½ teaspoon of garam masala.
1,5 teaspoon of coriander powder.
¼ teaspoon of red chili powder.
3 tablespoons of chopped coriander leaves.
Steps To Prepare Chicken Korma
To make the chicken more tender, consider marinating the meat before cooking. Now follow the steps below to make the tastiest chicken korma.
Step 1: Combine chicken with yogurt, garlic paste, salt, turmeric, red chili powder, and masala in a mixing bowl. Blend the mixture and cover the bowl to marinate.
Step 2: Drizzle oil on the frying pan and add cardamom when heating it.
Step 3: When the oil is hot, put in onions and fry until they turn golden brown. Then, add in almonds and cashews. Wait for the mixture to cool down and blend with yogurt until you get a smooth paste.
Step 4: On the same pan, drizzle on oil and wait for the heat to build up. For a richer taste, sault bay leaves, cloves, and cinnamon stick in the oil for one minute.
Step 5: Stir in the marinated chicken and green chili, then saute for 5 minutes to reduce the garlicky smell of ginger garlic puree.
Step 6: Add the korma paste (onion puree) and blend the mixture with ½ cup of hot water.
Step 7: Add coriander powder, salt, garam masala, and chili powder if you prefer a darker color and more spiciness.
Step 8: When everything is well blended, cover the pan and simmer the mixture at low heat to tenderize the chicken.
Step 9: Keep simmering until the gravy develops your preferred texture. Consider adding more hot water if the mixture gets too thick.
Step 10: Add coriander leaves garnishing, and serve the chicken korma with roti, butter naan, plain basmati rice, or your favorite food.
Notes And Cooking Tips
The older the chicken meat, the more water you need. If you don't like the aroma of spices, consider removing whole spices from the recipe.
I recommend you use bone-in chicken because the juices from the chicken bone will make the gravy more delicious. Consider removing nuts and using more yogurt if you have any allergic symptoms to nuts.
Learn to prepare the tastiest chicken korma at home like a professional chef!
An Easy Instruction For Preparing The Tastiest Homemade Butter Chicken
Imagine the aromatic scents of garlic and spices blending with the tender and filling chicken pieces. This butter chicken recipe is super easy to prepare, yet its bold and tasty flavors won't disappoint you! Here are the ingredients you need for this recipe.
Ingredients
Here are the ingredients you need for the chicken marinade.
28 oz or 800 grams of skinless and boneless chicken thighs or breasts sliced into bite-sized pieces.
½ cup of plain yogurt.
1,5 tablespoons of minced garlic.
1 tablespoon of minced ginger (or finely grated).
2 teaspoons of garam masala.
1 teaspoon of turmeric.
1 teaspoon of ground cumin.
1 teaspoon of red chili powder.
1 teaspoon of salt.
The ingredients used for making the sauce include:
2 tablespoons of olive oil.
2 tablespoons of ghee (or 1 tablespoon of oil mixed with 1 tablespoon of butter).
1 large onion, chopped or sliced.
1,5 tablespoons of minced garlic.
1 tablespoon of ginger, finely grated or minced.
1,5 teaspoons of ground cumin.
1,5 teaspoons of garam masala.
1 teaspoon of ground coriander.
14 oz or 400 grams of crushed tomatoes.
1 teaspoon of red chili powder (adjust to suit your preference).
1 and 1/4 teaspoons of salt.
1 cup of thickened or heavy cream (you can use evaporated milk to reduce calories).
1 tablespoon of sugar.
1/2 teaspoon of kasoori methi (or fenugreek leaves).
Steps To Prepare Butter Chicken
Follow the steps below, and your butter chicken won't taste less delicious than the dishes of authentic Indian restaurants.
Step 1: Mix chicken with all marinating materials in a bowl and let it rest for 30 minutes. You can marinate the mixture overnight to increase its tenderness if desired.
Step 2: Put a large pot skillet to medium heat and drizzle oil on its surface. Then, put on the chicken pieces (in two or three batches) and cook for three minutes per side until they turn brown.
Step 3: Remove the chicken pieces and set them aside. Then, melt ghee or butter in the same pan and fry onions for six minutes. Remember to remove the burnt parts stuck on the pan surface.
Step 4: Put in ginger and garlic to saute for one minute before adding cumin, ground coriander, and garam masala. Cook for another 20 seconds until the mixture turns fragrant.
Step 5: Put in crushed potatoes, salt, and chili powder and simmer for 10-15 minutes. Remember to stir until the mixture is fully combined so the sauce can thicken.
Step 6: Remove the mixture from the pan and blend it in a blender to reach a smooth consistency. If the mixture is too thick, add a little water to help it blend easier.
Step 7: Bring back the mixture to the pan and mix it with cream, crushed kasoori methi, and sugar. Then, add the juice and chicken and cook for 10 minutes.
Step 8: Serve the dish fresh with Naan bread or garlic butter rice!
Notes And Cooking Tips
If the sauce is too thick after cooking, add a little water, butter, or ghee and simmer it. This butter chicken dish can last up to 2 days in the fridge in an air-tight container or glass jar.
Don't make butter chicken if you haven't watched this instruction!
FAQs
The more you learn about chicken korma and butter chicken, the more these Indian culinary staples will fascinate you. Check out the sections below to discover interesting information about these curry dishes.
It's Up To Your Taste And Preferences To Decide
The difference between these two dishes lies in the ingredients and cooking method. While chicken korma is a dairy-based curry with nuts, yogurt, or ghee; butter chicken is typically made of butter and tomato gravy.
Nevertheless, chicken korma and butter chicken are one of the most delicious curry types in the world. They can please any fan of Indian cuisine with a creamy flavor and tasty sauce mixed with filling chicken pieces.
I hope the comparison provided can help you choose the most suitable dish for your taste and preference. Before you go, please like, share the post, and leave your comment if you like its content. Thank you for reading!
Paragraph
En.wikipedia.org. 2022. Korma.
Nutritionix.com. 2022. Chicken Korma.