Finding side dishes to serve with chicken cordon bleu is not difficult, but what matters to you is side dishes that can raise the dish's taste to the new level of tastiness. Or at least, the accompanying dish won't destroy the main savory's taste.
Side dishes play an important role in stimulating your taste when eating, attracting you to enjoy the meal, and sometimes lighting up your meal by their colors.
For those reasons, I am here to help you find out the best treats to serve with this delicious food from Switzerland. Let's go with me!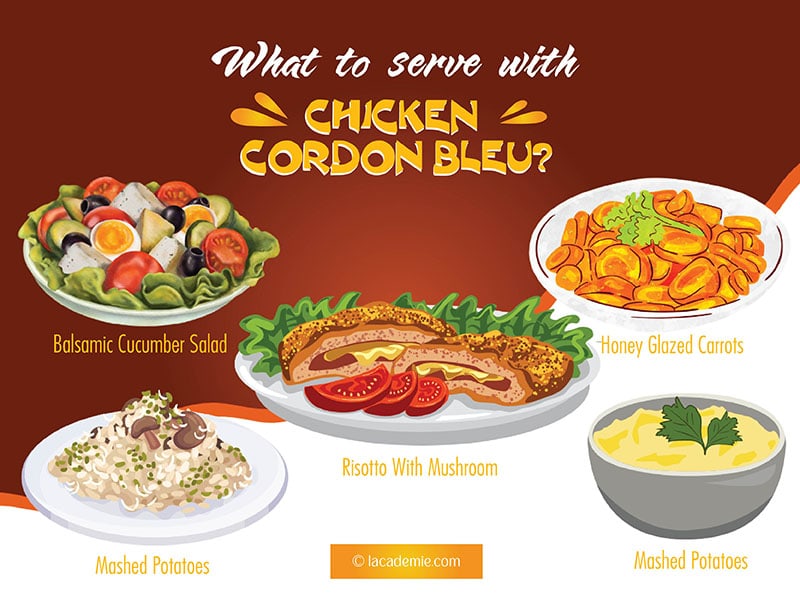 What Do You Know About Chicken Cordon Bleu?
For those who have never known about chicken cordon bleu, Chicken cordon bleu is named after the French term for blue-ribbon, while the recipe originated from Switzerland.
It contains breast pounded until thin, layered with cheese and ham, rolled into a log, dredged in flour, then breadcrumbs, and fried.
The crunchiness from the exterior and the cheesiness and juiciness from the interiors will make you feel excited when eating. However, your chicken cordon bleu will not be perfect without some dishes by its side because side dishes will raise the deliciousness level.
What Pairs Best With Chicken Cordon Bleu?
Chicken Cordon Bleu is easy to go with salad, veggies, pasta, and more, and here is the list of highly recommended sides together with chicken cordon bleu to make your meal better.
Pasta And Starchy Side Dishes
Creamy Garlic Pasta With Veggies
Parmesan Garlic Butter Pasta
Creamy Garlic Parmesan Risotto
Garlic Butter Rice
Risotto With Mushroom
Mashed Potatoes
Best Vegetable Sides
Steamed Broccoli
Roasted Green Beans
Roasted Parmesan Zucchini
Honey Glazed Carrots
Asparagus In Lemon Butter Sauce
Roasted Brussels Sprouts
Salad Side Dishes
Apple Salad
Tomato Salad
Balsamic Cucumber Salad
Chickpea Pasta Salad
Desserts
Oreo Cheesecake Bites
Vanilla Yogurt And Fresh Fruits
Wines
Chardonnay
Cabernet Franc Dry Wine
Top 20 Inviting Foods To Serve With Chicken Cordon Bleu
Continue reading to get a better understanding of recipes going with your chicken-based food.
Pasta And Starchy Side Dishes
Pasta or starchy side dishes are popular side dishes to just about any meat recipe, and chicken cordon bleu is no exception.
Creamy garlic pasta with veggies is one of the best treatments for chicken cordon bleu as the dish is light and full-flavored.
This dish is made with pasta, cherry tomatoes, asparagus, peas, garlic and dressed in cream and Parmigiano Reggiano.
Pasta with veggies together with your delicious chicken cordon bleu is the perfect combination to feed your empty stomach and suitable for family dinner, lunches, or parties.
If you don't like pasta, opt for noodles instead for your chicken cordon bleu. Noodles with parmesan cheese will satisfy your stomach, your taste, and your soul. Moreover, this side dish is so easy-making, quick, and convenient.
Buttered noodles like pasta are often seen as side dishes for other meat-based food as they are full of starch, making a humble but harmonious combination.
You can choose many noodles of choice from fettuccine, spaghetti, linguine, egg noodles, penne, and ziti noodles.
This mixture of parmesan cheese and risotto can help you multitask cooking your protein and making a great side dish for chicken cordon bleu.
Risotto with cheese and hints of garlic isn't too hard for you to make at home. The ingredients, such as butter, olive oil, onion, garlic, wine, arborio rice, cheese, and stock, joining together with a suitable ratio, make an incredible side dish for chicken meals.
The video will suggest some easy steps to make creamy garlic-parmesan risotto:
On the meal table of the Southeast Asian people, you always see a bowl of rice. Why? Are you curious about this?
Rice is a rich source of starch that can fill up your stomach and be cooked in many styles, making a common side dish for almost all main savories, even your chicken cordon bleu.
You need to steam your rice and top it with some golden crispy fried and buttered garlic. The garlic butter rice is on your hands.
Whether you've heard the name or enjoyed the risotto with mushroom or not, let's try to pair it with your chicken cordon bleu to know how special it is. Gourmet mushroom risotto is always on the top priority of side dishes to complement grilled meats and chicken.
The most essential ingredient for making risotto is the rice, which should have a chewy texture and creamy flavor. Usually, arborio rice is the go-to choice. But there are many stand-ins for arborio rice such as carnaroli rice or vialone nano rice, which can mimic the flavor and texture just fine.
The natural sweetness from mushrooms with the creamy texture of risotto creates a flavorful and fascinating taste to stimulate the chicken's deliciousness.
Mashed potatoes are one of the most typical sides for chicken cordon bleu, and you just need around 15 minutes to make the side ready to enjoy both the creaminess and the crisp crust.
Your mashed potatoes will be easier with a microwave.
What makes mashed potatoes better is some milk, butter, pepper, and salt added to the potato texture, and you can use it as a source of starch instead of rice, noodles, or something like that.
Best Vegetable Sides For Chicken Cordon Bleu
Salads are famous for going with grilled or fried chicken to raise its flavor to a new level of tastiness and prevent you from getting bored with too much meat in a meal. Below are the most suitable but easiest salads to go with chicken cordon bleu.
Broccoli and chicken seem to be a great match. Just like how broccoli is the perfect companion for butter chicken, it's also a must-try side dish for chicken cordon bleu. And steaming broccoli can't get any easier — anyone can get this dish done without messing it up.
And in case you don't have much time to make something more complicated, steamed broccoli is a great choice as it is easy-making and easy-eating, nutritious, and tangy with alfredo sauce or some kind of hard cheeses. Simple, but it works!
Roasted green beans might not be strange to you because they are very popular for almost all recipes made with meat, fish, or chicken.
What makes them in this high favor is that they are easy to cook but tangy and delightful to taste. By the roasting method, the green beans are tender and crispy with some golden caramelized spots.
It will be best if you serve them warm together with your chicken cordon bleu.
One more recommendation for making your favorite vegetable to a side to go with chicken cordon bleu is roast cheese-coated zucchini. Together with steamed broccoli, roasted parmesan zucchini also contributes to the list of easy side dishes for everything.
Certainly, tender parmesan zucchini sticks roasted bring you a sense of perfection if they are served as accompaniment for chicken-based dishes. This incorporation is good for your health, nutritious, full-flavored, and addictive.
What should you do to make a side dish for a chicken dish with 20 minutes left before your dinner time? Don't worry; honey-glazed carrots will be the perfect idea to rescue you from this tough situation.
Just peel carrots and chunk them into smaller pieces, toss them with glazed ingredients like honey, garlic, cinnamon, ginger, some butter, salt, and pepper, and then roast them in 5 minutes.
The honey-roasted carrots provide a contrast to your chicken cordon bleu in terms of nutrition, texture, and flavor. Anyone preferring a healthy side dish packed full of vegetables will certainly appreciate honey-roasted carrots. It's simple, it's delicious, and it's perfect.
If you love asparagus, take them to make a side dish for your already-cooked chicken cordon bleu. The side dish is simple at its best. Simply flavored with butter lemon sauce, this fresh vegetable will shine.
To maximize the flavors of asparagus, season them with salt, pepper, and lemon zest, and serve immediately.
Since the first time I have known about roasted brussels sprouts, I got addicted to them due to their natural sweetness and tenderness when young Brussels are roasted.
They are full of delightful caramelized flavor that is nutty, sweet, crispy, and golden on the exterior but tender and juicy in the interior.
Sometimes, topping them with red peppers, lemon zest, or grated parmesan cheese will make your side dish brighter and more appealing.
Salad Side Dishes
You all know that chicken cordon bleu contains high amounts of protein and fat, so you need to make a nutrient counterbalance by adding your meals with other types of nutrients like vitamins, fiber, or iron. Nothing is more suitable than vegetable or fruit salads.
Apple salad is the best choice if you want your children to get an exciting meal together with chicken cordon bleu.
The crunchiness, freshness, and juiciness from apple salad combined with chicken cordon bleu's crispiness and tanginess bring you a sense of fulfillment.
The apple salad with the addition of celery, raisins, walnuts, and a simple but tasty dressing gives you a new idea for a healthy, delicious, and easy-making side dish or snack.
The color of both chicken cordon bleu and apple salad will light up your meal and make it more appetizing and fascinating to eat.
The video will guide you to make apple salad step-by-step!
If you love tomatoes, using them to make a side dish for chicken cordon bleu is not a bad idea because tomato salad is so quick to prepare ingredients and practice.
Sliced and marinated tomatoes will be a fresh and juicy side dish, making it suitable to go with full-flavored and crispy chicken cordon bleu.
To maximize the flavor of tomato salad, adding some fresh basil, parsley, red onion, and garlic is essential.
Just thinking about tomato salad also makes me mouth-watering; maybe I will make it for my next meal!
An easygoing, healthy, delicious, fresh, cheesy, and juicy salad with cucumber must be what you find to go with your chicken cordon bleu as companions.
As the name suggests, what you need to make the salad is mini fresh cucumbers, mayo, high-quality balsamic vinegar, fresh-squeezed lemon juice, garlic puree, salt, and back peppers to make a perfect salad.
If you like, add the salad with some grilled chicken to raise the salad's deliciousness level.
If you love salads to go with chicken cordon bleu, one more choice is chickpea pasta salad. The salad is more special than others as they combine a starch source – pasta and veggies, making it the best option.
Chickpea pasta salad can help you feed your stomach and bring you a sense of perfect flavor, thanks to the tenderness of marinated pasta and the crunchiness of full-flavored veggies.
Desserts To Go With Chicken Cordon Bleu
Besides pasta, noodles, or salad, you also need some dessert suggestions matching well with your chicken cordon and bringing a perfect final touch for your meals.
After eating chicken cordon bleu, finishing your meal with decadent desserts made from Oreos is a perfect idea. Creamy and smooth cheesecakes with mini Oreo crust at the bottom will greatly contribute to the meal's deliciousness.
Making Oreo cheesecake bites doesn't matter to you so much with just six simple ingredients like Oreo cookies, cream cheese, eggs, sour cream, sugar, or vanilla extract.
The video will show you how to make Oreo cheesecake bites!
For a healthier meal, there's no better suggestion than fresh fruits and vanilla yogurt. And if you have chosen a side dish made with veggies to go together, your meals are super healthy, nutritious, and charming.
You can choose and combine any favorite fruits to accompany the yogurt as you want, from blueberries, blackberries, raspberries, or strawberries to pineapple, oranges, etc.
Remember to add the mixture with chopped fresh mint leaves and nuts to maximize your dessert's tastiness.
Wines That Make Chicken Cordon Bleu Perfect
A perfect meal can't miss a suitable beverage to go with simply because the appropriate wine plays an essential role in raising the tastiness level of your whole meal. Thus, what types of wine are good to go with chicken cordon bleu?
Your chicken cordon bleu is full of cheese and chicken, so a type of wine that can match well with these two ingredients is nothing except chardonnay. Chardonnay wine with the acidic and light taste contributes to making your chicken cordon bleu a versatile dish.
Sipping a little bit of chardonnay can stimulate your taste and enjoy the meal with excitement.
Another wine suggestion to go with chicken cordon bleu is Cabernet Franc dry red wine produced from a dry oak-aged wine. With its distinctive taste like pepper and cinnamon, the wine is suitable to be by the side of chicken cordon bleu.
The red color of the wine, combined with the light brown color of chicken cordon bleu, makes your meal elegant and appealing.
Light Your Taste Up With Chicken Cordon Bleu
There are some more side dishes that can go well with your delightful chicken cordon bleu. However, in my article, I listed the top 18 best but easy side dishes to pair well with the chicken dish. Hence, don't be confused when your favorite sides are not here.
Some of you might not like the smell of added ingredients like garlic, onion, or pepper, don't worry about getting them out of your dishes; however, the dishes' taste might change.
If you think my article is useful for you and your relatives, please save and share it with them. If you realize that I have missed any excellent dishes going well with chicken cordon bleu, please share them with me in the comment section below, and I'll add them later.
Nutrition Facts
4 servings per container
---
Amount Per ServingCalories415
% Daily Value *
Total Fat 13.7g

20

%
Cholesterol 32mg

11

%
Sodium 1070mg

45

%
Potassium 397mg

12

%
Total Carbohydrate 59.3g

20

%

Dietary Fiber 1.3g

4

%
Sugars 1.1g

Protein 12.5g

24

%
---
Calcium

47

%
Iron

4

%
Vitamin D

8

%
* The % Daily Value tells you how much a nutrient in a serving of food contributes to a daily diet. 2,000 calories a day is used for general nutrition advice.