Vietnamese Rice Vermicelli Noodles With Chicken And Eggs (Bún Thang) is a recipe that brings the vibrancy of Vietnam right to your plate. The union of succulent chicken, delicately soft eggs, and silky rice vermicelli all come together in one mouth-watering dish.
Each bite offers an explosion of flavor that marries tradition with an unforgettable gastronomic experience. Trust me; this recipe will captivate you just as much as it did me! Are you ready to taste an iconic dish of Hanoi? Scroll down right away!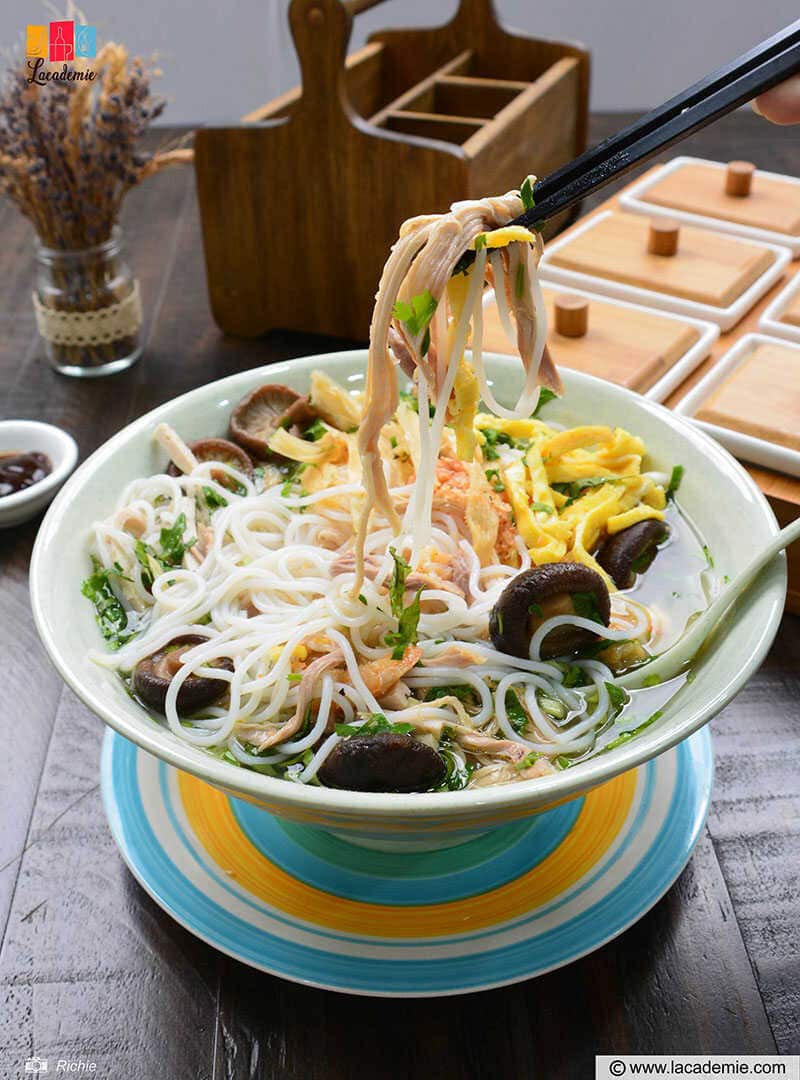 What Is Vietnamese Bun Thang
Bun Thang is a classic Vietnamese dish hailing from the heart of Hanoi, Vietnam. This dish's complex preparation process, which traditionally demands careful selection and incorporation of nearly 20 different ingredients, signifies its intricate beauty.
The name Bun Thang is significant as well. 'Bun' stands for rice noodles, and 'Thang,' in ancient Chinese, translates to 'soup'. So, 'Bun Thang' can be thought of as rice noodles served with soup.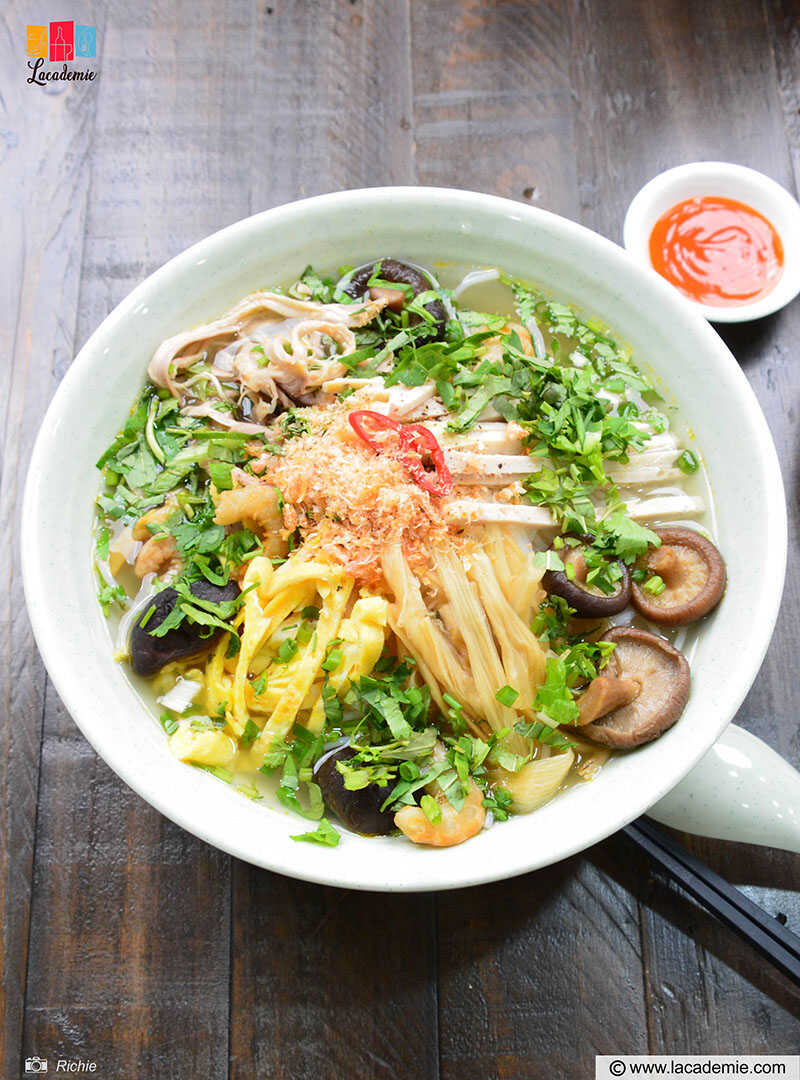 The dish features delicate strands of rice noodles forming a bed, scattered with toppings such as shredded chicken, thinly sliced Vietnamese pork sausage (giò lụa), and fried eggs. All these elements are finely sliced and evenly spread out, creating a colorfully rich texture.
Over the years, Bun Thang has maintained its popularity among the city's dwellers. Authentic, tasteful Bun Thang can be found in several establishments throughout Hanoi, such as Hang Hom, Cau Go, and Giang Vo.
Tools
Large pot: Essential for preparing the broth and bringing together the final dish.
Food processor: Used to finely process some of the ingredients, like the dried shrimp.
Ladle: Crucial for serving the dish and ensuring even distribution of broth and ingredients.
Knife: Used for preparing and cutting all the ingredients into the desired sizes.
Cutting board: Necessary for cutting the ingredients safely and keeping your kitchen clean.
Other handy tools: Pan, tongs, wooden spoon, disposable gloves. These tools might be needed for specific parts of the preparation and cooking process. They are designed to make your cooking experience easier and more efficient.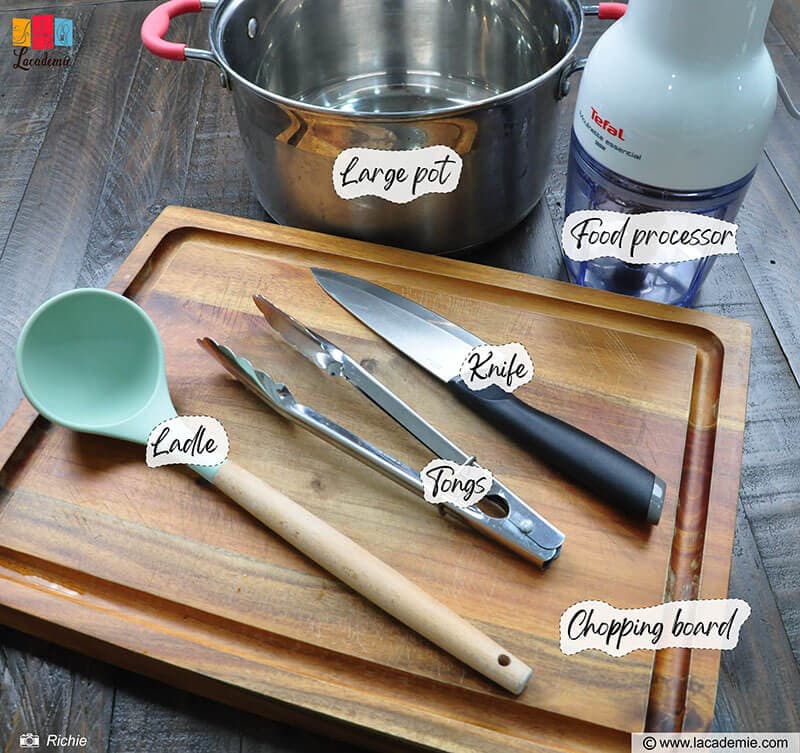 Ingredients
Chicken quarter: The main protein source that brings a rich, savory depth to the Bún Thang.
Onion, scallion stalk, shallots, ginger: These ingredients are boiled with the chicken to create a flavorful broth, forming the aromatic base of the dish.
Bone broth: Used to enrich the chicken broth, amplifying its depth and overall taste. You can easily make your own bone broth at home or use packaged products.
Vietnamese pork roll (Gio Lua): Adds a unique texture and dimension to the dish, complementing the chicken and egg components.
Fried eggs: Lend a touch of richness and add visual appeal to the final presentation of the Bún Thang.
Dried radish: This ingredient provides a special, subtle flavor and texture to the dish.
Dried shiitake mushrooms: These are boiled with the broth to infuse an earthy, umami-rich flavor.
Vietnamese coriander (Rau Ram), scallion, cilantro (Rau Mui): Fresh herbs that add a vibrant, aromatic finish to the Bún Thang.
Rice vermicelli: The key carbohydrate base of the dish, soaking up the flavors of the broth and other ingredients.
Seasonings:
Soup powder: Enhances the taste of the broth, adding savory depth.
Salt: Fundamental seasoning, bringing out the flavors of the ingredients.
Rock sugar: Balances the saltiness with a hint of sweetness.
Fish sauce: Adds umami and salty complexity to the dish.
Vinegar: Provides a tangy counterpoint to the richness of the dish.
Sugar: Used in balancing the flavor profile of the dish.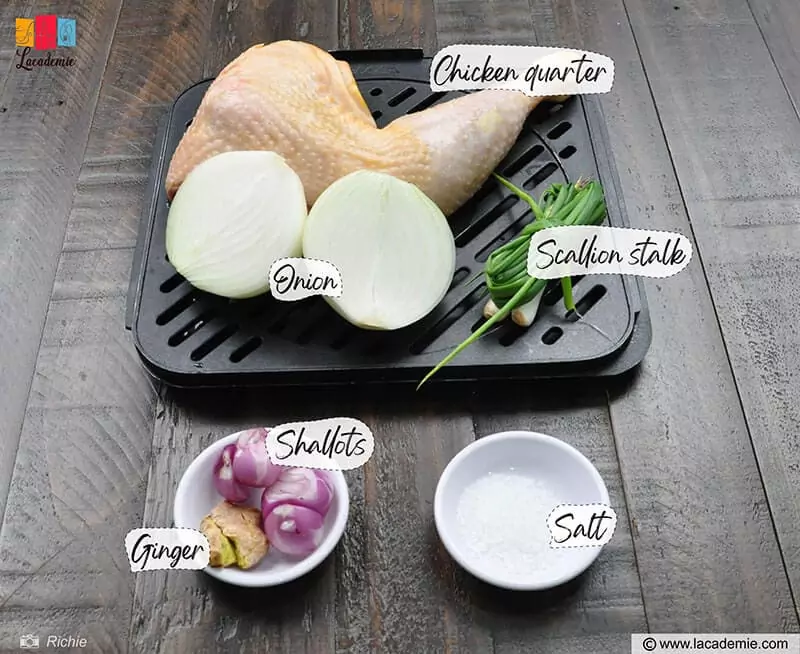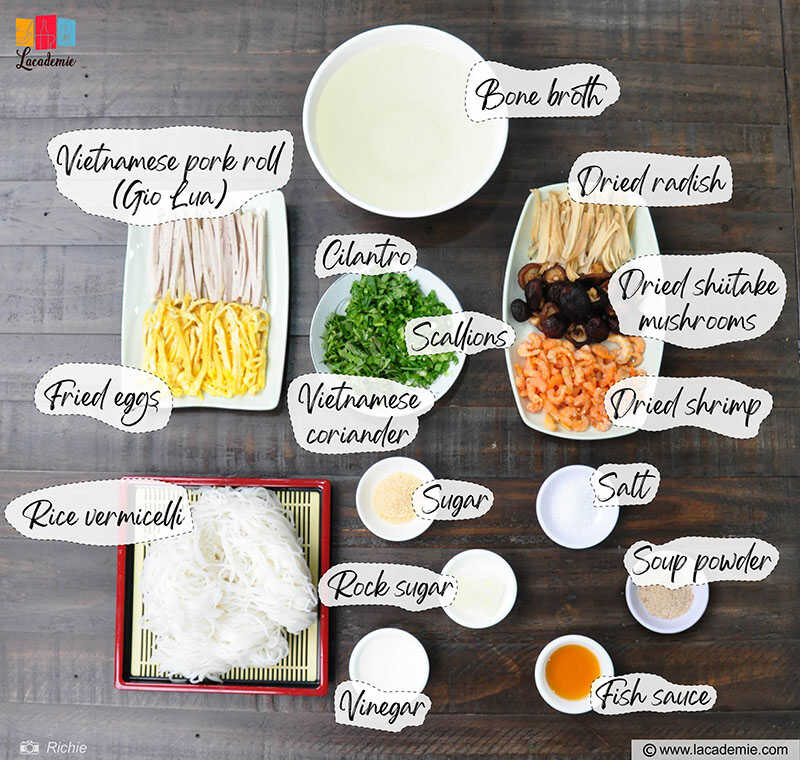 Directions
Step 1: Prepare The Ingredients
Start by thoroughly washing all the vegetables. Allow them to dry naturally.
Take the dried radish and soak it in warm water for about 3 to 4 hours. At the same time, soak the dried shiitake mushrooms and dried shrimp for approximately 30 to 45 minutes. This will help to soften these ingredients.
After soaking, rinse these ingredients several times and leave them to dry.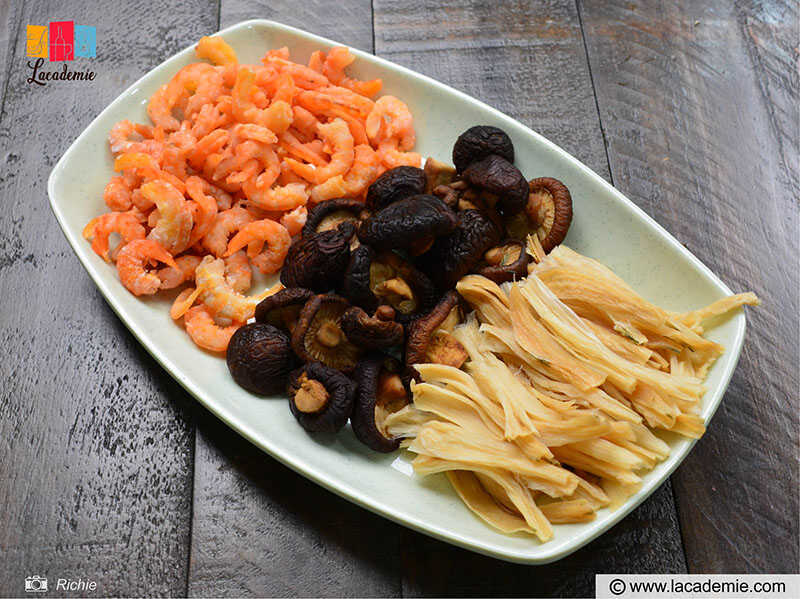 Crack and beat the two eggs. Proceed to fry the eggs until fully cooked, then cut them into strips. Set these aside for later use.
Slice the Vietnamese sausage into strips. Finely chop the Vietnamese coriander, scallions, and cilantro and set them aside. You now have all the ingredients ready to go.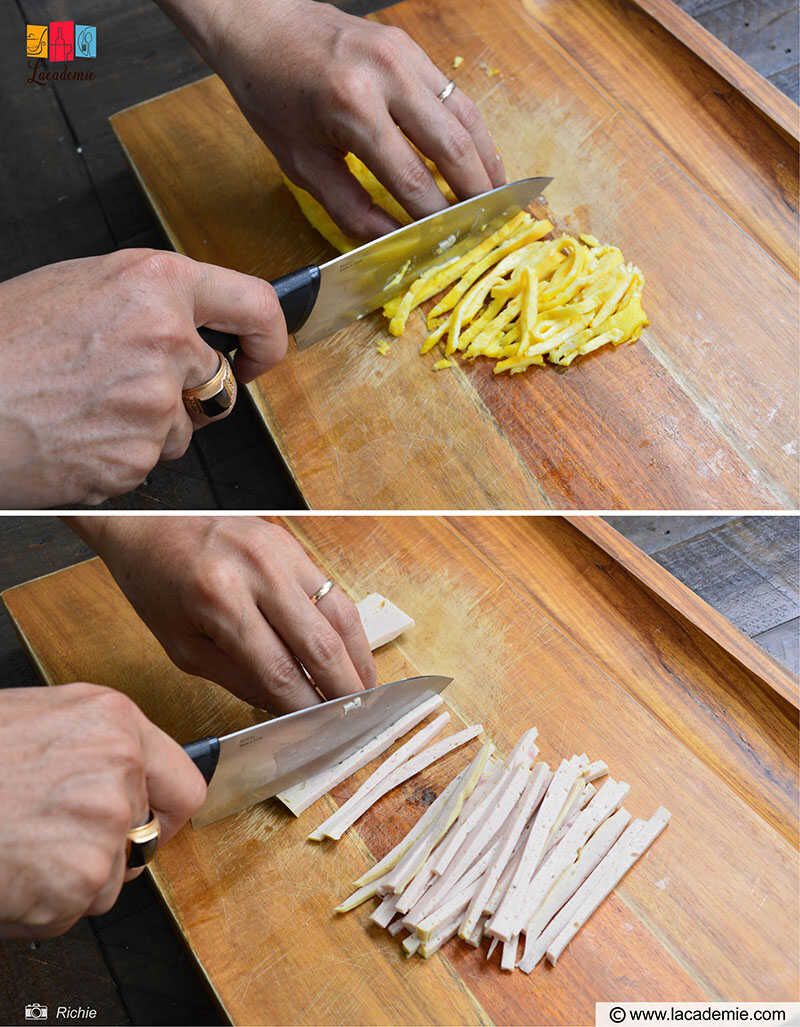 Step 2: Parboil The Chicken
To eliminate impurities and reduce the chicken smell, parboil the chicken in boiling water with a teaspoon of salt for about 1-2 minutes.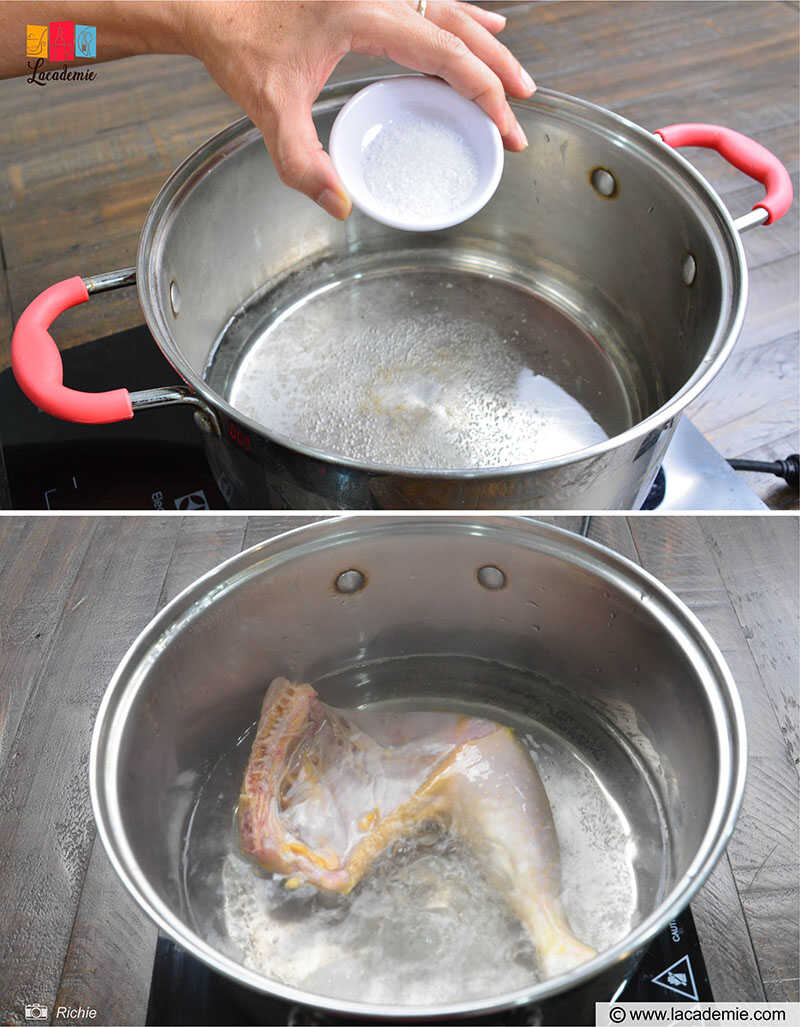 Step 3: Prepare The Broth
Pour 2 quarts of water into a pot. Add the onion, shallots, scallions, and ginger. Then, add the chicken, dried shiitake mushrooms, and a third of the dried shrimp to the pot.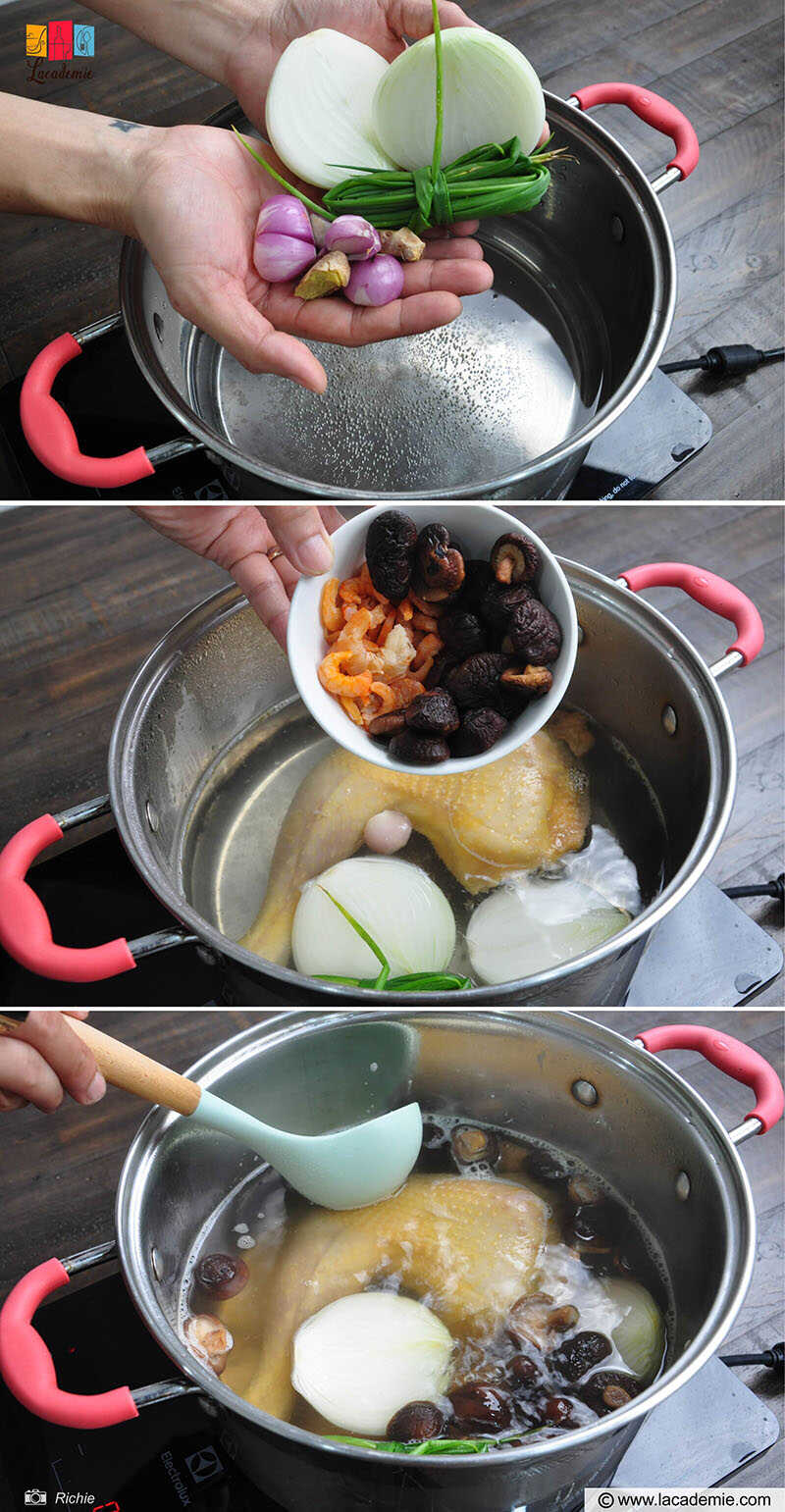 Cook these over medium-low heat for around 30 minutes. Remove the scum that forms on top of the broth to keep it clear.
After the initial cooking, add 2 quarts of bone broth and continue cooking for another 10 minutes on low heat. You can cover the pot to avoid losing too much liquid.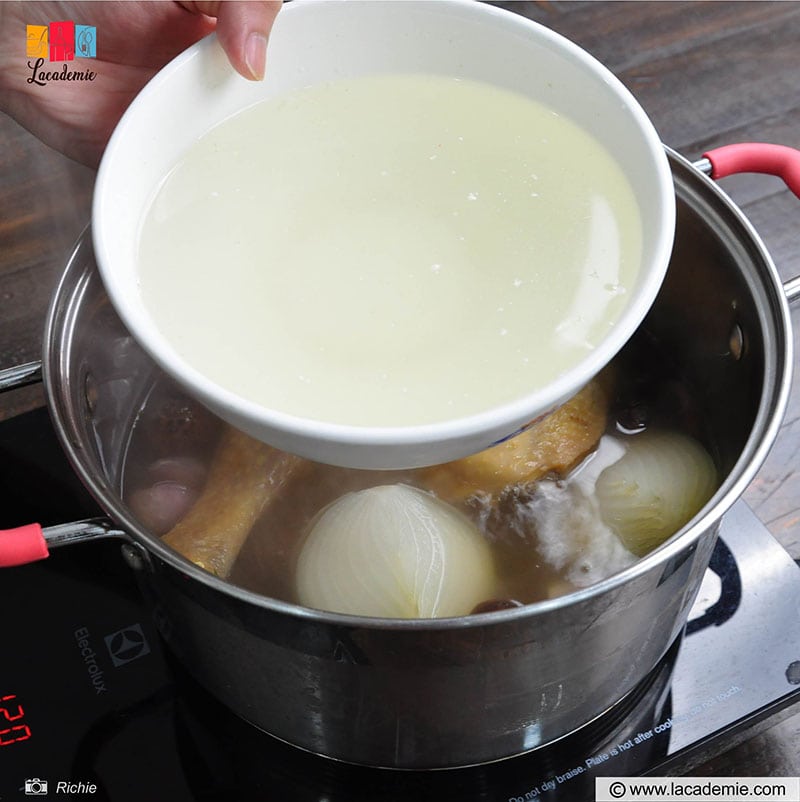 Once the chicken is cooked and soft, remove the chicken and the onion, scallions, and shallots from the pot. Allow the chicken to cool before shredding it into edible strips.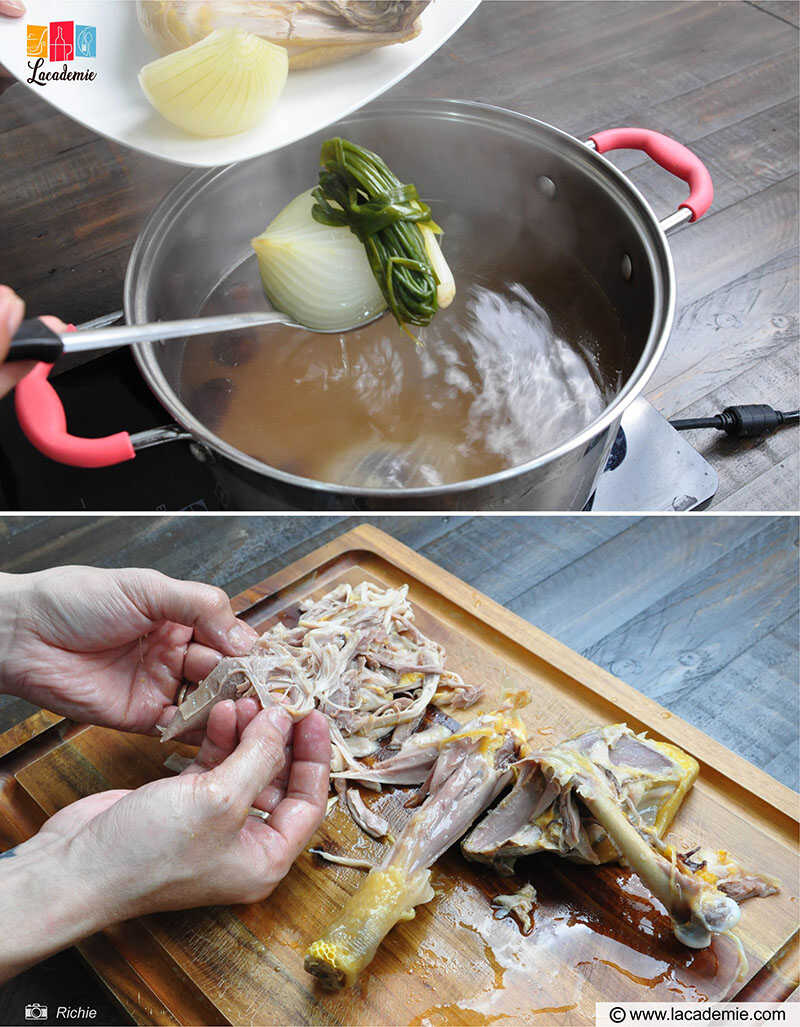 Your soup base is now complete. Season it to taste with rock sugar, salt, and soup powder.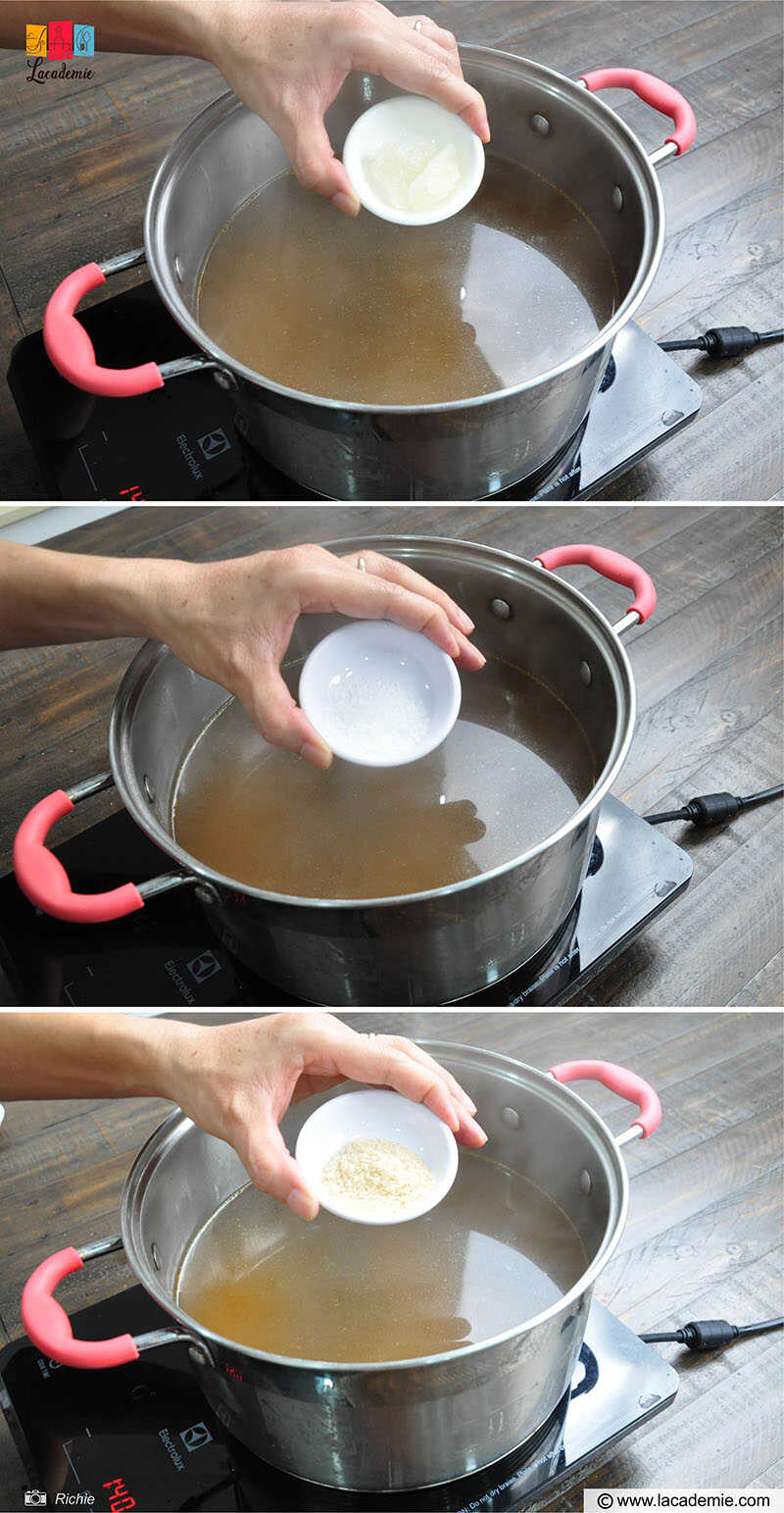 Step 4: Roast The Dried Shrimp
Roast the remaining dried shrimp in a pan for 3-5 minutes on low heat until it's aromatic. Make sure to stir continuously to avoid burning the shrimp. Once roasted, grind the shrimp into a fine powder.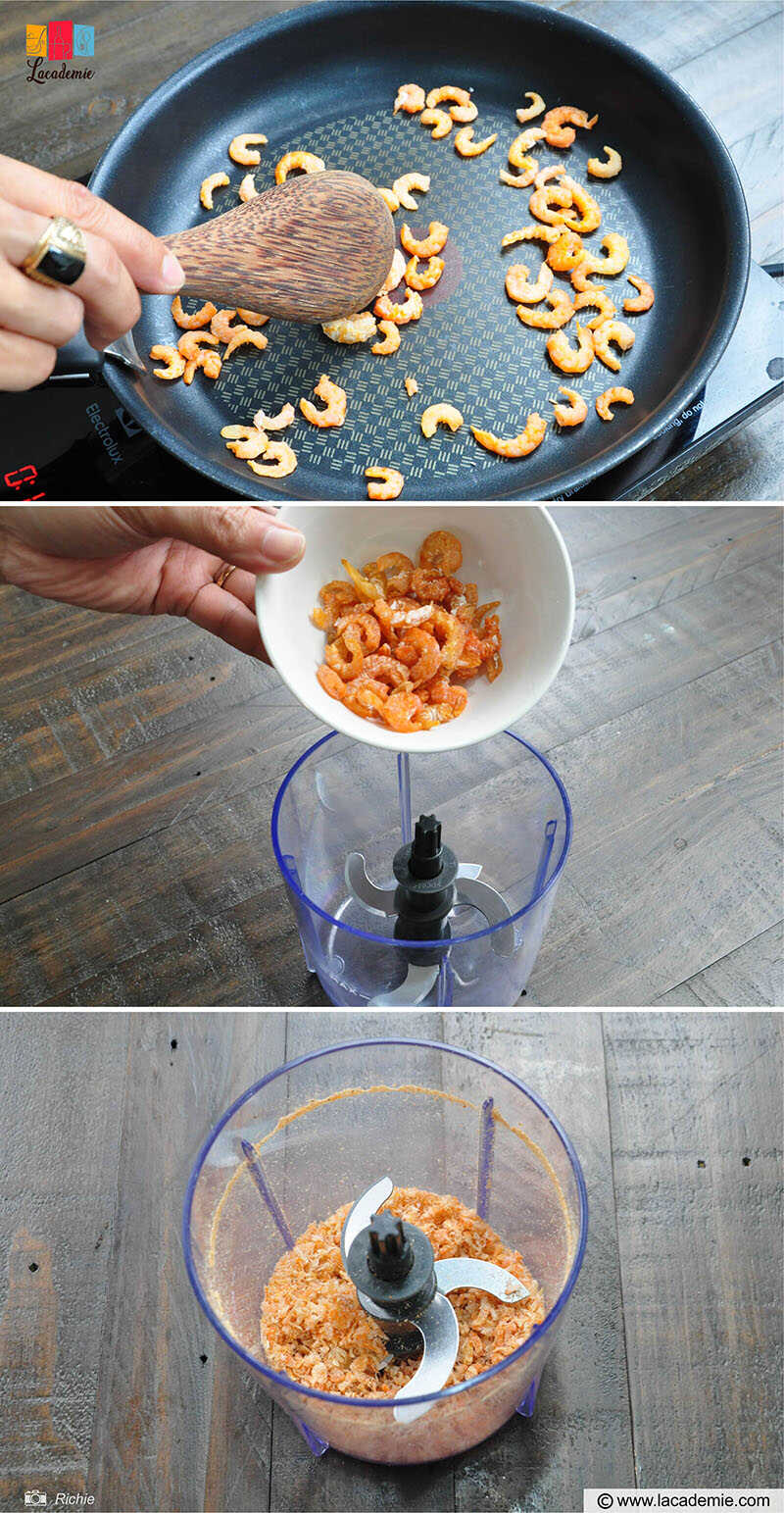 Step 5: Pickle The Radish
Mix the radish evenly with sugar, fish sauce, and vinegar to create a salty and tangy pickled radish.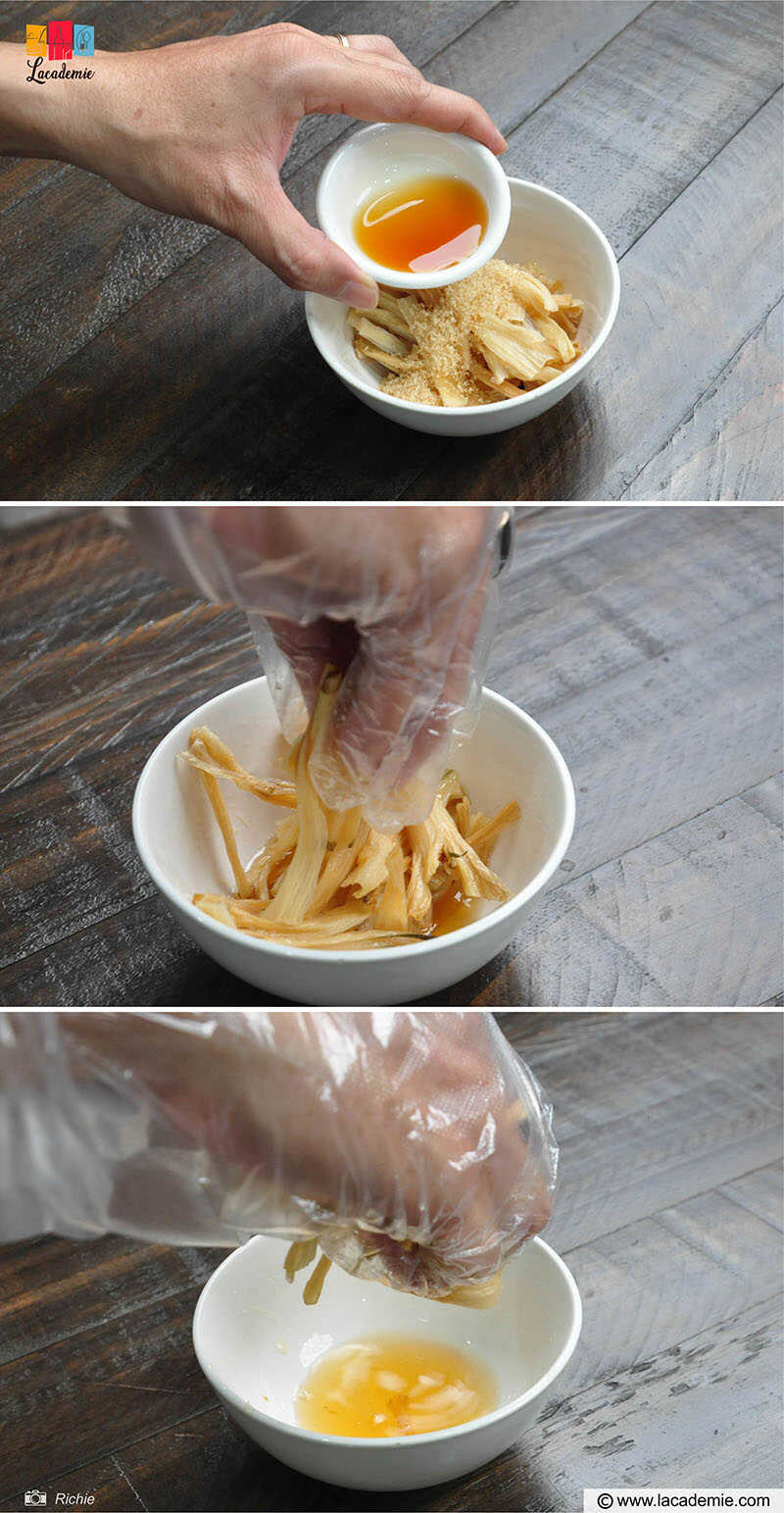 Step 6: Prepare The Noodles
Blanch the rice vermicelli noodles in boiling water for 30-40 seconds, then transfer them into bowls. Your dish is now nearly ready. The final step is to arrange it attractively.
Step 7: Plate The Dish
On top of the noodles in each bowl, arrange an even amount of pickled radish, fried egg strips, shredded chicken, and sliced Vietnamese sausage. Ladle the broth into the bowls, covering the noodles and adding some shiitake mushrooms and dried shrimp.
Sprinkle each bowl with the ground-dried shrimp, chopped scallions, cilantro, Vietnamese coriander, and a bit of crushed pepper. Add a few slices of chili pepper on top for extra heat.
You can serve your Bun Thang with additional condiments such as hot sauce, chili paste, and chili with lime juice. It will add a new dimension of taste and make your meal even more exciting.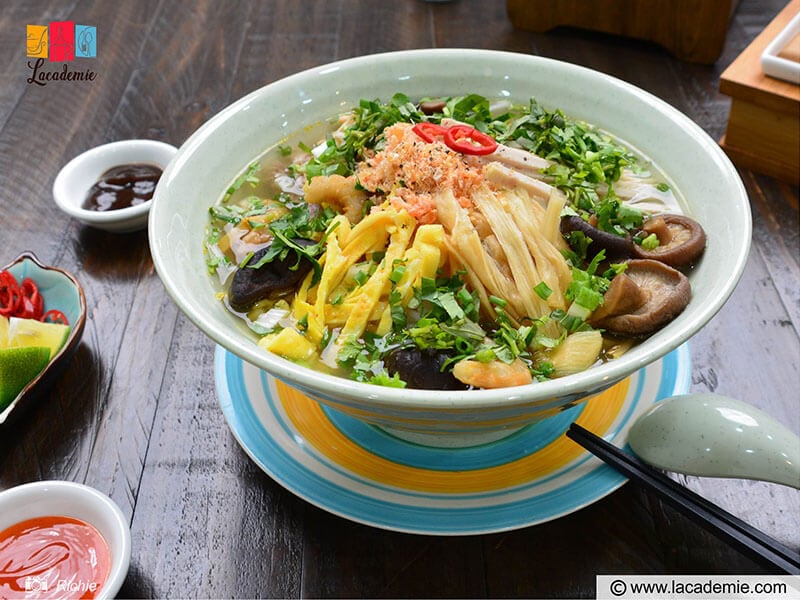 Tips
It's crucial to rinse the dried shiitake mushrooms multiple times. This practice ensures the clarity of your broth, keeping it free from any potential sediment.
Fresh ingredients always make a difference. Try to use fresh chicken, herbs, and vegetables for a more flavorful and aromatic dish. Freshly prepared bone broth also imparts a richer taste compared to store-bought options.
Make sure you adequately rehydrate the dried radish, shiitake mushrooms, and shrimp. This process softens these ingredients, making them easier to cook and eat.
Maintaining a steady, medium-low heat while cooking the broth ensures all flavors are well extracted from the ingredients. It also prevents the broth from becoming cloudy.
Everyone has a unique palate, so feel free to adjust the amount of salt, rock sugar, and soup powder in the broth to suit your preference.
Proper Storage For Vietnamese Bun Thang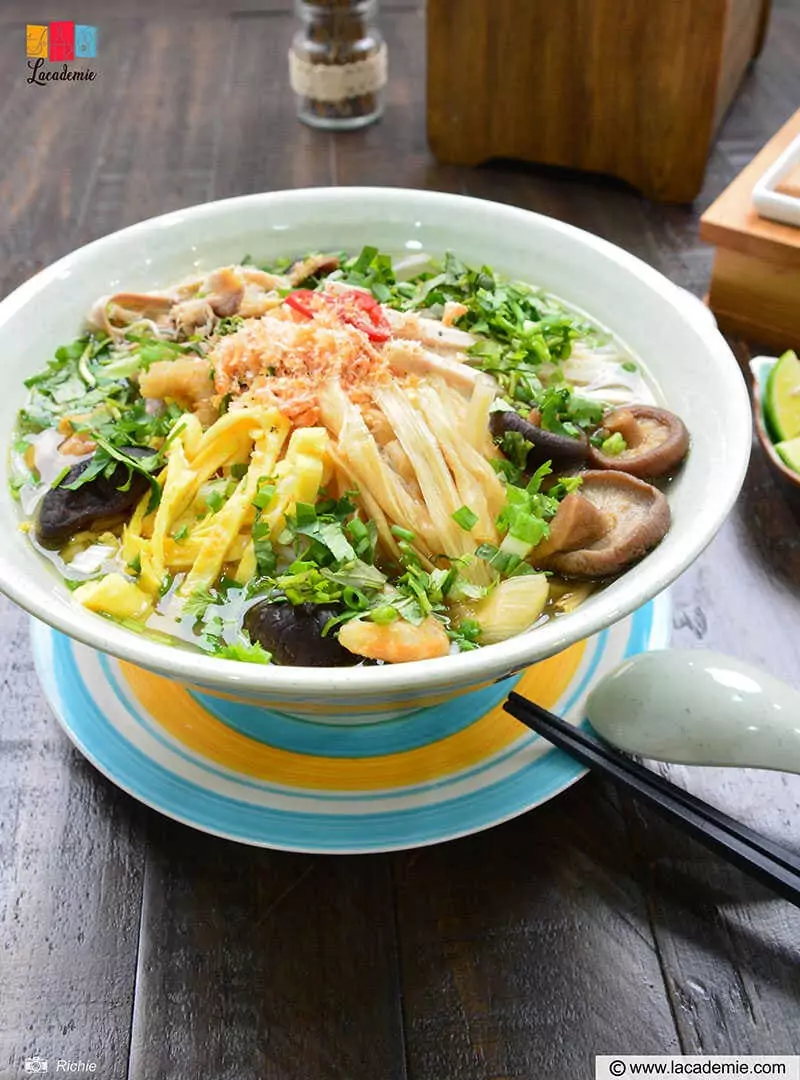 Storing Vietnamese Bun Thang properly involves careful separation of its key components.
When it comes to refrigeration, it's essential to cool the broth before transferring it to an airtight container for storage in the refrigerator. This way, it can remain fresh and tasty for up to 4 days.
Noodles and various toppings, on the other hand, should be stored separately in the fridge. This precaution prevents them from becoming soggy and maintains their texture.
For those who wish to store the dish for an extended period, freezing is an excellent option. The broth, once cooled, can be transferred to a freezer-safe container and kept frozen for 2-3 months without any notable degradation in quality.
Noodles and toppings can either be refrigerated for short-term storage (a few days) or frozen for longer periods. However, fresh herbs, an essential part of Bun Thang, should ideally be used within a few days and stored in the refrigerator.
In any case, it's crucial to always check for signs of spoilage before consuming stored food. This ensures that you enjoy Bun Thang at its best, even after storage.
Beetle Juice – A Special Addition
An intriguing element often added to Bun Thang is Tinh Dau Ca Cuong or beetle juice. This might surprise some, but yes, it's an extract derived from a type of male water beetle. Not something you'd typically expect to add to your meal, right?
Just a tiny drop of this exotic ingredient on the tip of a toothpick can infuse your Bun Thang with a unique aroma. It exudes a distinctive aroma that is often likened to cinnamon. It's harvested from the abdomen of the male water bug, which contributes to its subtly spicy flavor.
It's rather regrettable, however, that authentic Tinh Dau Ca Cuong is increasingly difficult to find these days. The true essence is becoming quite rare, causing many to resort to chemically synthesized alternatives.
While these artificial versions do their best to mimic the unique aroma, there's a noticeable difference in the fragrance. The synthetic version often yields a slightly darker and heavier scent, lacking the lightness and distinct subtlety of the real thing.
Other Famous Vietnamese Noodle Soup Recipes
FAQs
From Hanoi To Your Kitchen!
And that, dear readers, is how you recreate the magic of Vietnamese Bun Thang in your own kitchen. I'd love to hear about your cooking journey! How did your dish turn out? Did you add a twist of your own? Share your thoughts and experiences in the comments below.
If you found this recipe helpful and delicious, don't forget to hit the 'Like' button and share it with your fellow food enthusiasts. Spread the love for this exquisite Vietnamese cuisine, one plate at a time.
Nutrition Facts
4 servings per container
---
Amount Per ServingCalories659
% Daily Value *
Total Fat 8.1g

13

%
Cholesterol 120mg

40

%
Sodium 2727mg

114

%
Potassium 132mg

4

%
Total Carbohydrate 115g

39

%

Dietary Fiber 1.5g

4

%
Sugars 4.9g

Protein 31g

62

%
---
Calcium

56

%
Iron

3

%
Vitamin D

8

%
* The % Daily Value tells you how much a nutrient in a serving of food contributes to a daily diet. 2,000 calories a day is used for general nutrition advice.