Dehydrators and air fryers are modern, useful devices that every professional cook must have in the kitchen. But is there any way to dehydrate foods in your air fryer or vice versa?
This blog shows all information about these two types of equipment that will help you find out their similarities, dissimilarities, benefits, drawbacks, and usage.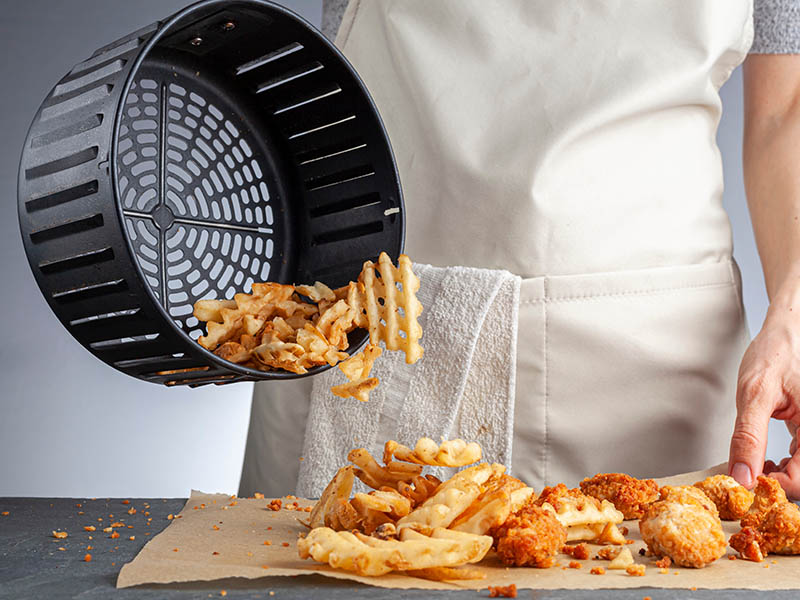 Knowledge To Know About A Dehydrator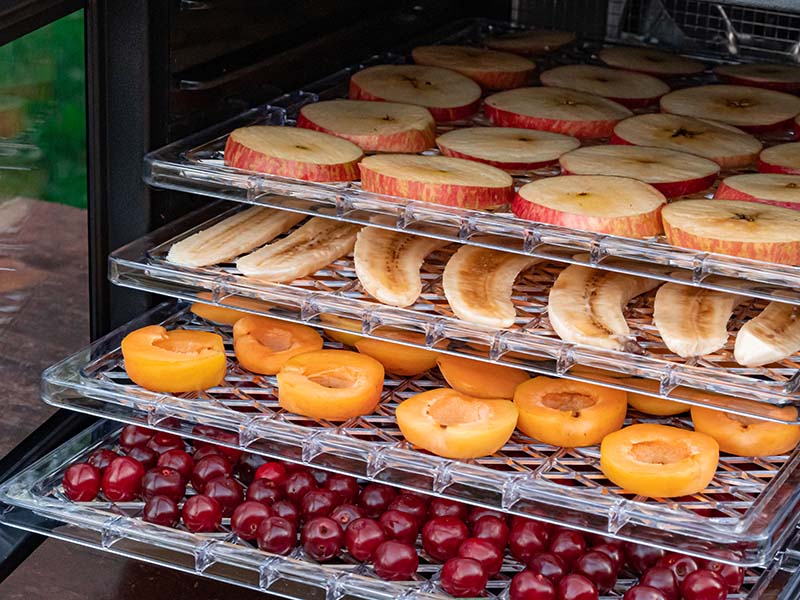 A dehydrator is similar to an oven by using a mild temperature circulating air at a specific cooking time. Yet, the dehydrator does not cook the food by heat. It extracts water out of the food. Mainly, people use it for long-term food preservation.
The machine equipment includes a fan, a heat component, food trays, and air ventilation parts. When the dehydrator begins to warm, water will come out of the food. Then, the fan system will carry the moist air out through the vents. (1)
How To Utilize A Dehydrator?
If you want the best food result from your dehydrator, let's check my useful tips:
Ensure your food is cut in the same size, form, and thickness.
Guarantee to well-sterilize the food.
Avoid overcrowding the food trays.
Place your dehydrator in warm and dry zones.
Let this illustration show you how to use the dehydrator to maintain food.
The Pros And Cons Of Using A Dehydrator
In the below table, I will briefly show you the strong points and limited sides when using a dehydrator you need to take note of.
Advantages
Disadvantages

Less time consumption: The support of a dehydrator fastens your time cooking at home.
Saving money: The machine will solve the problem of food waste when you can't use it up once.
Improving food taste: The dehydrator has the sugar-increase ability, so it can sweeten your fruits.

Lowering nutritional factors: Dehydration may reduce vitamin C and A.
Limited food input: Some models do not work with high-fat foods like beef jerky.
Altered outcome: The dehydrating process will transform the food's weight and appearance.
2 Types Of Common Used Dehydrators
There are two versions of dehydrators commonly used: vertical flow and horizontal flow dehydrators.
A Vertical Flow Dehydrator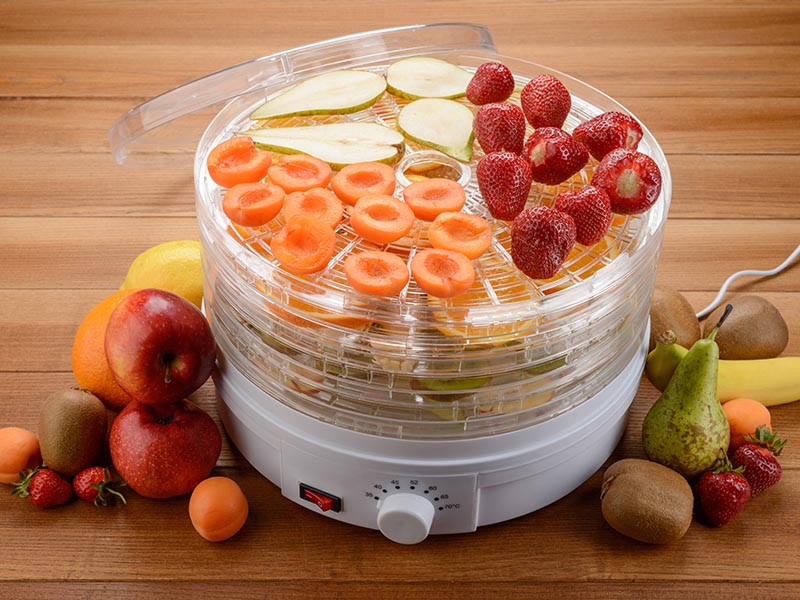 The vertical flow dehydrator is mostly round and barrel-shaped. The dehydrator has a fan and heat system at the bottom or in the top, so it can produce circular airflow. This type is the best for fruit and vegetable dehydration.
A Horizontal Flow Dehydrator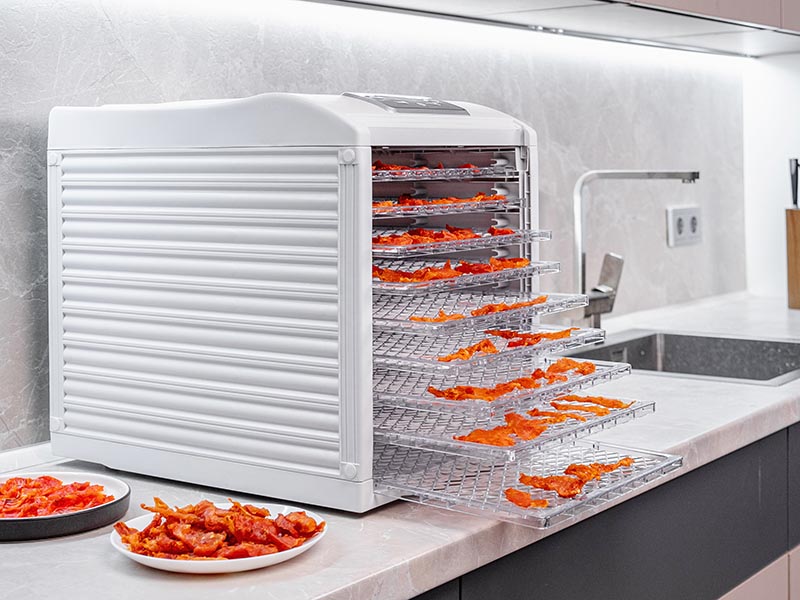 The horizontal flow dehydrator is more expensive and larger than a vertical version. The box design with more fans aims to bring equal heat for the food by the parallel airflow from the back. The horizontal flow dehydrator can deal with thick meats, jerky, and others.
General Things To Clear About An Air Fryer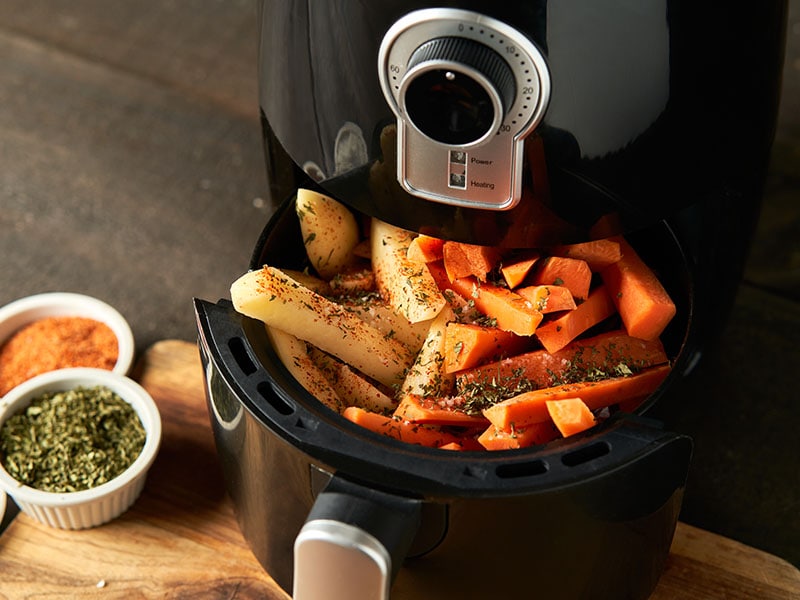 An air fryer was first introduced by Philips. This modern invention is for food frying without using cooking oil, similarly operated as its former convection oven.
The air fryer's usual look is barrel-like. The tool's main features are a drawer, a basket with a handle, a fan and heat element from the top, and an outside control panel.
When cooking, the heating element releases radiant heat, while the fan releases a strong flow, forming extremely hot convection air around the food space. The heat movement makes the food deep-fried without using oil. (2)
Using Air Fryer Effectively
Do you know how to utilize your air fryer effectively? Here are the suggestions you must notice:
If the chamber is full, the food will not be fully fried.
It is useful to preheat the air fryer a few minutes before cooking.
The fryer will get so hot when working, so you must place it in safe zones in your kitchen to avoid unexpected accidents.
The cooking temperature for each food type should be right to avoid food from getting burnt.
Checking and shaking the food chamber periodically will make your small food pieces equally fried.
Cleansing steps after use are important, especially the basket and the drawer.
If you are new to an air fryer, let this instructor guide you.
The Pros And Cons Of Using An Air Fryer
Are there benefits and drawbacks of using an air fryer? Keep your attention on this post to know the answer.
Advantages
Disadvantages

Making healthier meals: It can lessen more than 70% fat from your daily meals.
Saving time: The machine will help unfreeze your food during frying time.
Safe usage: It prevents burn accidents caused by hot oil.
Preventing unpleasant odor: Your house won't get an oily smell because food cooking happens in the closed space of the air fryer.
Saving space: The air fryer's design is compact and suitable for a studio house.
Multiple functions: It is versatile to bake, steam, roast, and grill.
Easy usage: Air fryers don't require a professional cook to use them.

Food taste quality: Despite healthy food production, the flavor is not that delicious to some eaters.
Limited contains: A single air dryer is not efficient for expanded families.
Noisy sound: Due to the high-speed fan working, the fryer won't be quiet when cooking.
Non-stick problem: This issue makes cleaning steps difficult.
High electric consumption: The larger the capacity is, the more electric power is used.
3 Types Of Air Fryers
Recently, there are 3 varieties of air dryers introduced to meet the customers' needs: basket, oven, and paddle-type air fryers. Three models have the same frying function with some unique differences.
A Basket Air Fryer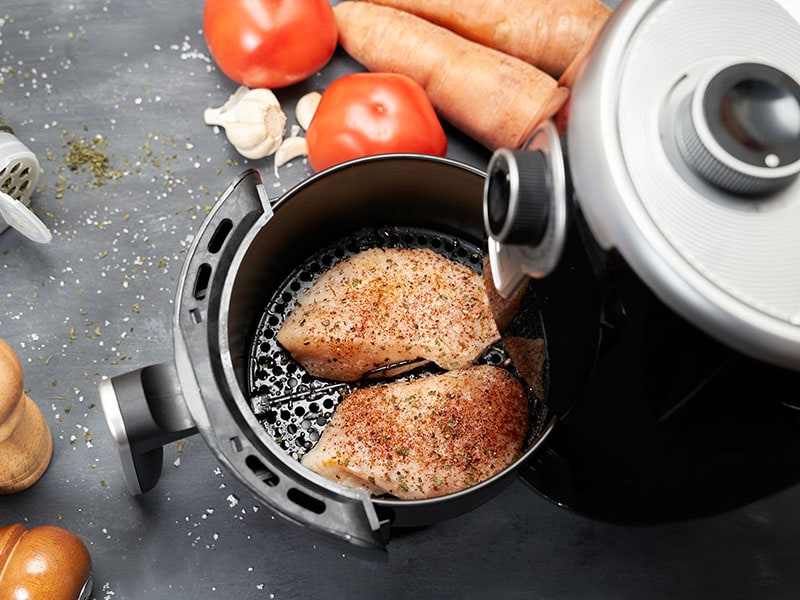 The basket air fryer comes with a removable basket. This version is beneficial for the cleaning process after use. Moreover, the basket is detailed with holes to quickly fry the bottom food.
An Oven Air Fryer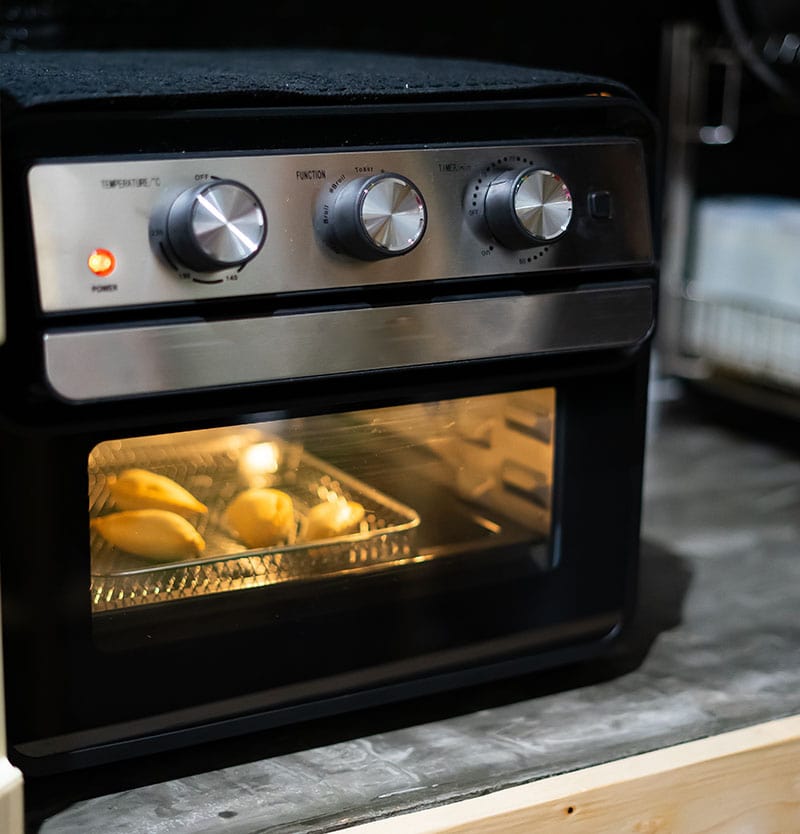 The oven air fryer has added trays and racks for additional functions like toasting, rotisserie, and baking. Due to its oven-like figure, the food capacity is more spacious.
A Paddle-Type Air Fryer
This is the most expensive of the 3 versions with a paddle mechanism. By doing that, the air fryer will be able to deal with meats like chickens because it can automatically cook both sides.
Dehydrator Vs. Air Fryer – The Whole Comparison
Now coming to the main part of this article, I will present the differences and similarities of dehydrators and air fryers in detail. Remember that this section is only for acknowledgment and references.
In the table below, you will have a recap of the comparison:
| Factors | Dehydrator | Air Fryer |
| --- | --- | --- |
| Using Purposes | Drying food | Frying food |
| Design | Always with trays | Usually with a single food chamber |
| Food Input | Limited | Unlimited |
| Cooking Temperature | 140oF (60oC) (3) | Up to 400oF (204oC) |
| Time Consumption | Up to 24 hours (more than that in some cases) | About 30 minutes |
| Capacity | Up to 100 liters | About 6 liters |
| Food Result | Complete dried | Oil-free fried |
The Similarities Of Dehydrators And Air Fryers
Before digging into the contrasts of dehydrators and air fryers, I would like to tell you some key resemblances occurring in both cooking machines.
1. Oil-Free Food Outcome
Dehydrators and air fryers can cook food without submerging it into cooking oil. Therefore, food quality is always healthy.
2. Heat And Fan Systems
Both dehydrators and air fryers have come up with heat and fan features. These features together create hot airflow running around the food space.
3. Timers
Dehydrators and air fryers always have a time adapter. It helps to set up cooking modes and duration suitable for each specific food.
4. Safety And Convenience
These air fryers and dehydrators' designs are compact to avoid difficult-cleaning issues and burning accidents.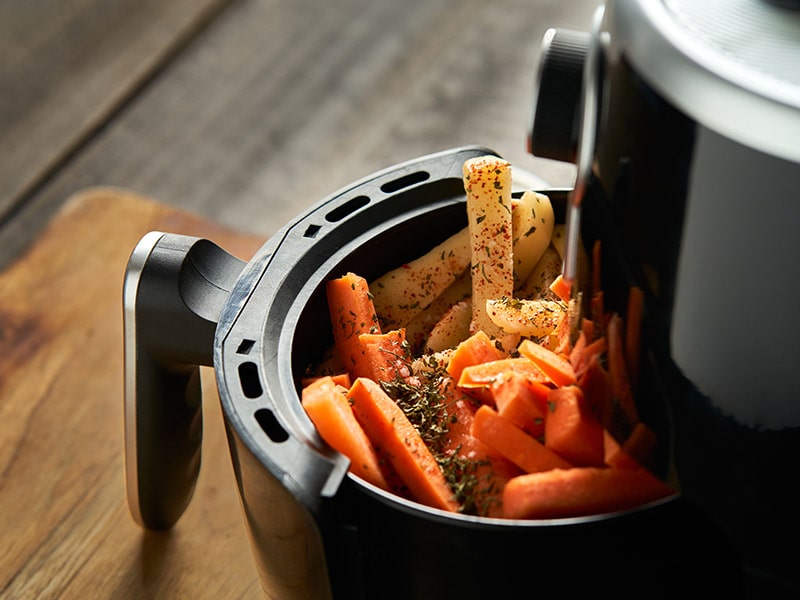 The Dissimilarities Between Dehydrators And Air Fryers
Besides the mentioned commonalities of air fryers and dehydrators, every machine has distinctive sides to differ from the other.
1. Using Purposes And Operation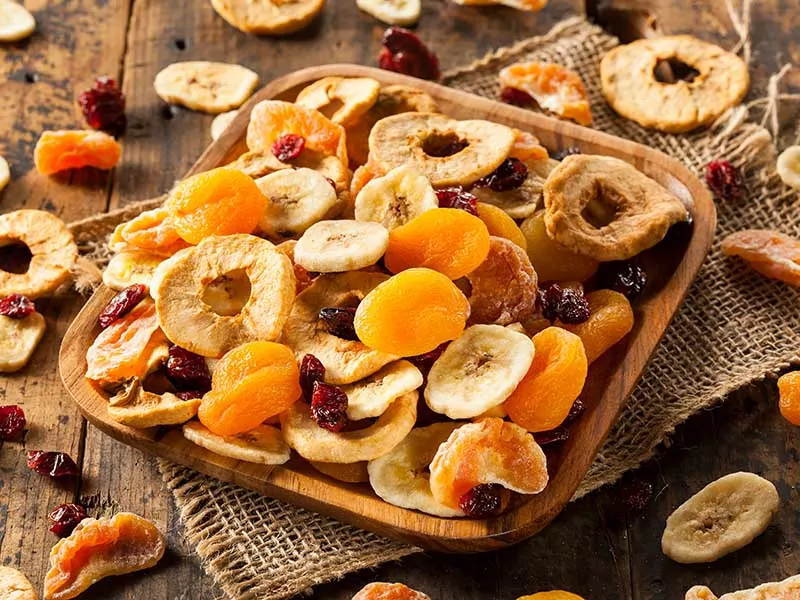 Food dehydrators dry food to extend its expiration date. The fan system will generate low-temperature air flowing into the machine to dehydrate foods.
Pulling the water out of food prevents harmful bacteria from developing and ruining your food. Moreover, eliminating food moisture decreases its weight and, in some cases, quantity, which makes it simpler to reserve.
On the other hand, air fryers aim to make oil-free meals for those who are into healthy food. The main work principle uses the extremely hot air circulating over the food to cook them.
2. Design
Food dehydrators have several trays to place food. So you can store each tray with each kind of food to dry them at the same time.
However, usual air fryers have one single food chamber, which means fewer food types can fry at the same time.
3. Food Input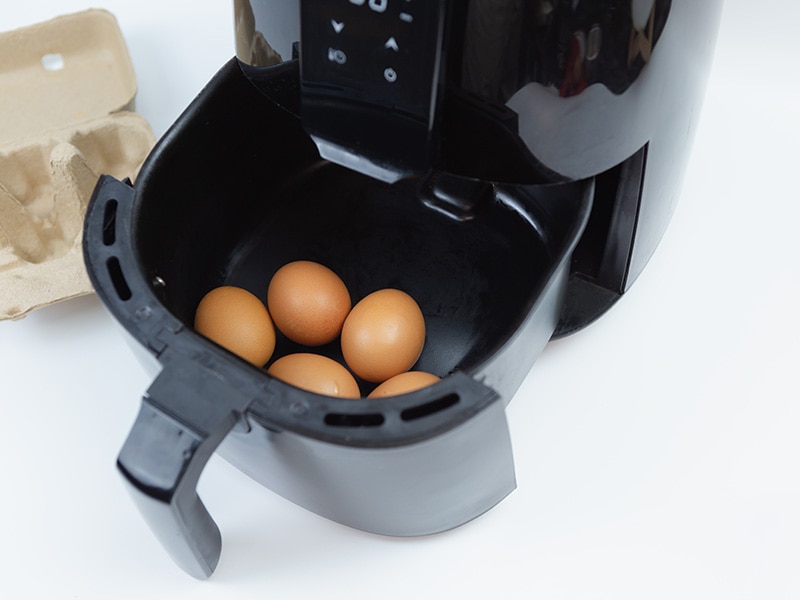 An air fryer accepts all types of food such as potato chips, French fries, chickens, steaks, burgers, and pastries. Especially, oven air fryers have added some supplements to bake pies and make pizza.
Meanwhile, the dehydrators' food category is limited. Most of them work best on fruits, vegetables, and some meats for horizontal flow dehydrators.
4. Cooking Temperature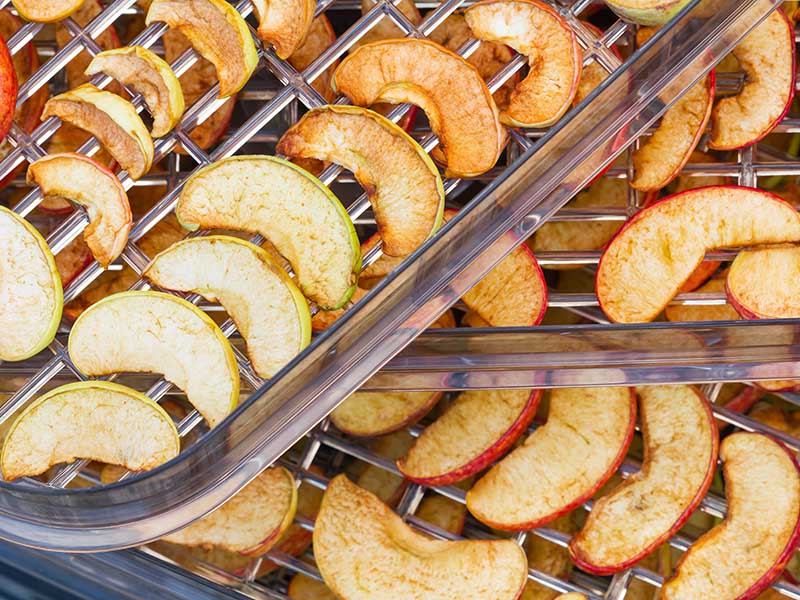 Food dehydrators best perform at 140oF (60oC). Somes updated dehydrators are set to choose the suitable temperature for each food type, while older versions only can reach the best-performing temperature.
The dehydrator's recommended temperature chart for each food category:
| | |
| --- | --- |
| Food Category | Recommended Temperature |
| Fruits | 149oF (65oC) |
| Vegetables | 113oF-122oF (45oC-50oC) |
| Fish & Meat | 158oF (70oC) |
| Herbs | 104oF (40oC) (4) |
In contrast, air fryers can work at a temperature of up to 400oF (204oC) due to the acceptance of numerous food types. Check this example table out to choose the right temperature for each kind of your food:
| Types of Food | Recommended Temperature |
| --- | --- |
| A whole chicken | 350oF (177oC) |
| Lamb legs | 386oF (196oC) |
| Bacon | 350oF (177oC) |
| Salmon | 375oF (190oC) |
| Shrimps | 350oF (177oC) |
| Okra | 350oF (177oC) |
| Carrots | 400oF (204oC) |
| Dumplings | 400oF (204oC) |
| French fries | 400oF (204oC) |
| Tofu | 375oF (190oC) |
| Pizza | 375oF (190oC) (5) |
5. Time Consumption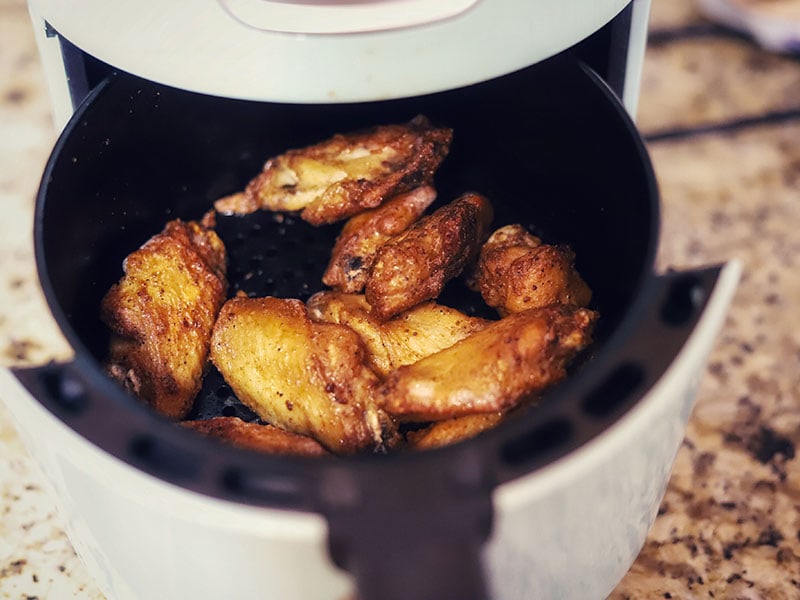 Average drying durations depend on food classification; recent food dehydrators' performance would take under 24 hours. Here is the illustrating chart:
| | |
| --- | --- |
| Food Category | Time Consumption |
| Apples | 22-24 hours |
| Strawberries | 12-15 hours |
| Garlic | 16-18 hours |
| Onions | 13-15 hours |
| Herb | 2-7 hours |
| Meat | More than 24 hours |
| Fish | More than 24 hours (4) |
Nevertheless, air fryers tend to work faster than dehydrators with high cooking temperatures. Thus, the waiting time approximately takes 30 minutes. Again, check the cooking time for specific food types below:
| Types of Food | Time Consumption |
| --- | --- |
| Chicken wings | 16-22 minutes |
| Lamb legs | 17-30 minutes |
| Bacon | 8-12 minutes |
| Salmon | 8-13 minutes |
| Shrimps | 5-8 minutes |
| Okra | 12-14 minutes |
| Carrots | 10-15 minutes |
| Dumplings | 6-10 minutes |
| French fries | 14-17 minutes |
| Tofu | 12-17 minutes |
| Pizza | 7-12 minutes (5) |
6. Capacity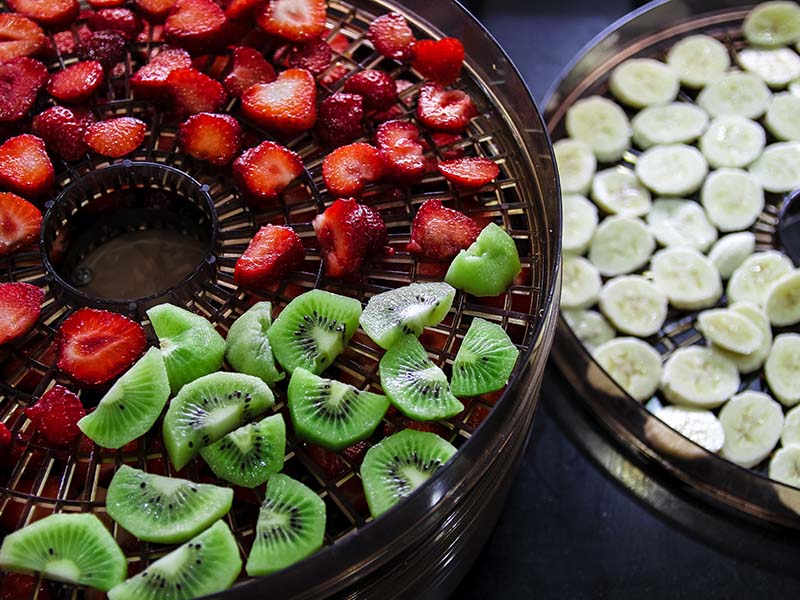 Dehydrators always come up with trays, so inventors can measure their capacity by calculating the space of each tray then total them together. By doing that, a dehydrator can, on average, store food up to 100 liters.
You can use the dehydrator to cook food for big parties or gathering events for its large capacity.
In the meantime, the most popular air fryers' sizes vary about 6 liters (6 quarts). With a small capacity, it takes more time to cook a big food quantity.
7. Food Quality Result
There is a clear difference between using a dehydrator and an air fryer.
An Air Fryer
The food outcome is oil-free cooking and immediately used for the best taste. You must reheat the leftovers for next time, but the food quality will go down.
Most surveys showed that air-fried food is healthier than normal oil-fried food. Since this cooking method lessens more than 70% of fat and calories, it helps prevent eaters from the negative impacts of oil cooking.
A Food Dehydrator
The result comes out as complete-dried food by extracting water content. The dehydrating process will alter food appearance.
You can use it directly after the dehydrating process, and the food has the potential for long-term storage. The lasting time for dehydrating food is 6 months up to years.
The dehydration method helps expand the expiry date of the food. This is a great way to store leftover food ingredients.
Let's check this review to see the differences between an air fryer and a dehydrator in the same brand.
Dehydrator And Air Fryer: Which One Should You Choose?
After reading my complete comparison of dehydrators and air fryers, does your confusion melt away? If still, let my last words once again solidify your decision.
As for the dehydrator, you can:
Store a large quantity of food for a long-term period.
Make snacks for big parties and events.
Improve flavor for your fruits and vegetables.
As for the air fryer, you can:
Make healthy meals daily.
Save a place for your kitchen.
Prevent oily odors in your house.
The Best Dehydrators And Air Fryers On Stock
As for my research, the two following tables will show you some models of two appliances and some factors (model, capacity, price, best for?) which make your final choice.
This NESCO FD-75PR Snackmaster Pro Dehydrator is good for beginners. With big capacity at a medium price, you can practice cooking every day at home.
The Nutrichef Food Dehydrator Machine is best at working quietly. It helps you get away from noisy problems when cooking. Also, the time consumption is less, especially when dehydrating vegetables.
If you are looking for the best of the best, you could think of the Tribest Sedona Express Digital Food Dehydrator. This version will not fail you with its big capacity, compact design, and high digital.
The CoWise USA 7-Quart Electric Air Fryer will solve the small capacity problem but is still at a good price. There are three color versions available: black, mint, and red.
What air fryer is best for a small apartment? The answer is this device. The Dash Compact Air Fryer came out for those who live alone in a studio room. At an inexpensive price, it would be your whole kitchen.
FAQs
There are further questions that many of you still have about dehydrators and air fryers. Keep reading this part to learn more.
Both Dehydrators And Air Fryers Are Great
It is hard for me to consider what is the best between two pieces of modern kitchen equipment. I use them every day on my chicken and don't want to favor a single one.
So what is your favorite? A dehydrator or an air fryer? Just let me know in the comment section. And is there something about these machines I have not known yet, please share your opinion with me. Huge thanks to my dear readers.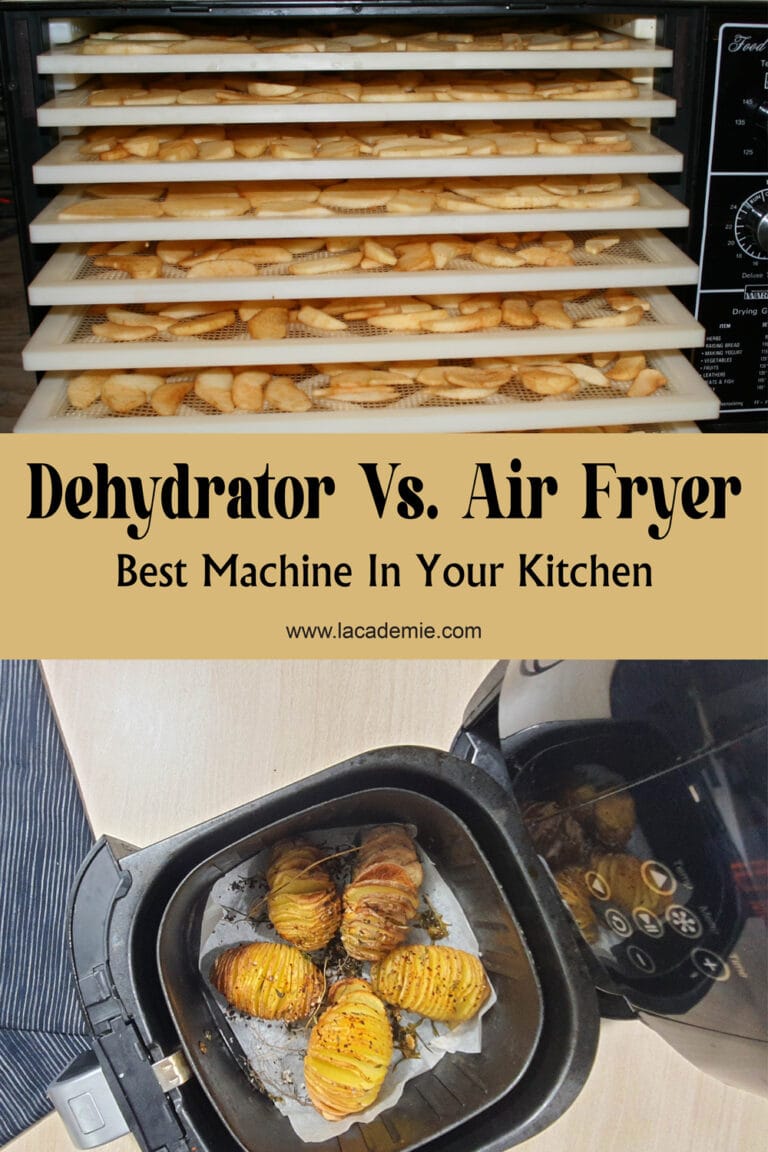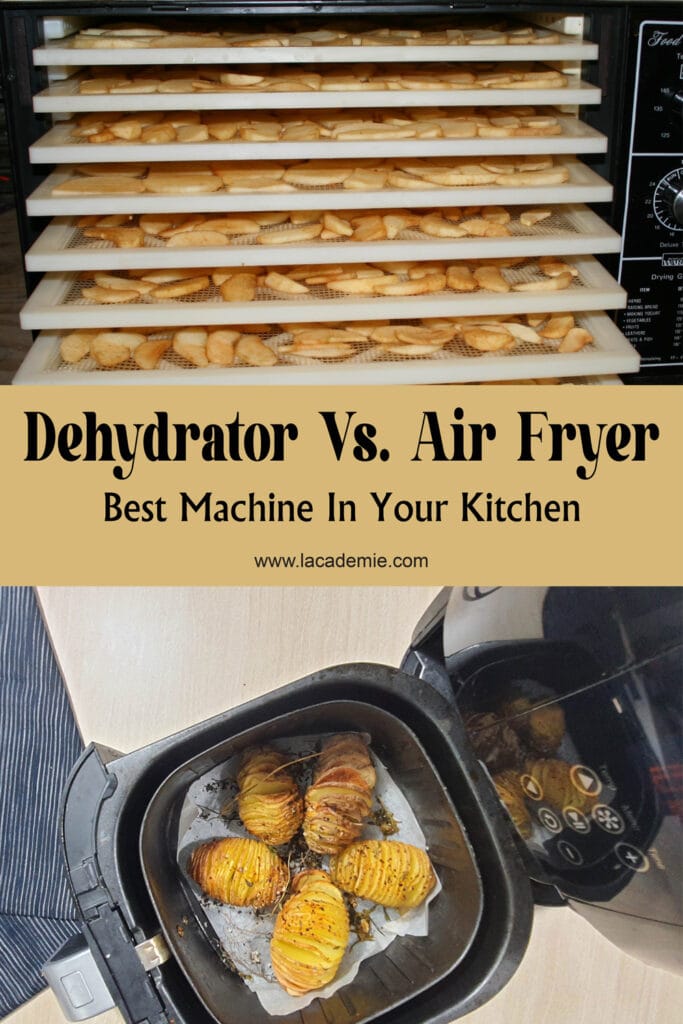 References
en.wikipedia.org. 2022. Food dehydrator.
en.wikipedia.org. 2022. Air fryer.
Schmutz, P. and Hoyle, E., 2022. Drying Foods.
Images.homedepot-static.com. 2022. How To Use Your Food Dehydrator.
Cook Smarts. 2022. Air Fryer Cooking Chart - All You Need to Know About Air Frying!