Pressure cooker vs. Air fryer, it appears to be difficult for you to tell how they vary from one as they are so flexible in the kitchen. In fact, I used to feel the same way as you. But after a fair time using both of them, I have finally come to a resolution about it.
Both the pressure cooker and the air fryer have similarities and distinctions to consider before making a purchase. And with the information that I am about to give you, I hope you will decide which appliance perfectly suits your needs.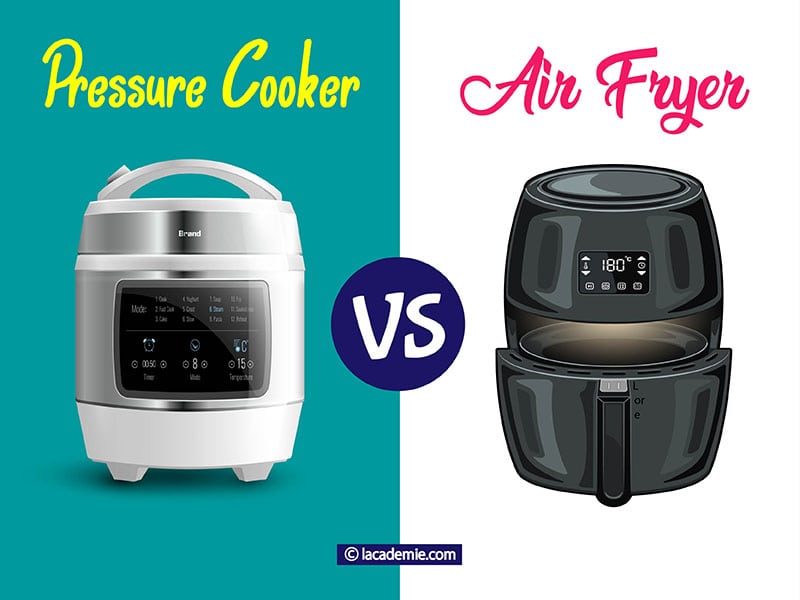 Pressure Cooker Vs. Air Fryer – The Similarities and Differences Should Be Noted
Despite the birth of an awaited air fryer pressure cooker combination, people still wonder about the similarities and differences between these two devices. Basically, they both have parallels and distinctions in terms of mechanism, features, functions, and other elements.
Let's begin with an overview of both of them to find out.
Product Overview For Pressure Cooker And Air Fryer
In this part, you will get a brief overview of two kitchen equipment, Pressure Cooker and Air Fryer, as well as their benefits and drawbacks, before making your purchase decision.
How Does A Pressure Cooker Work?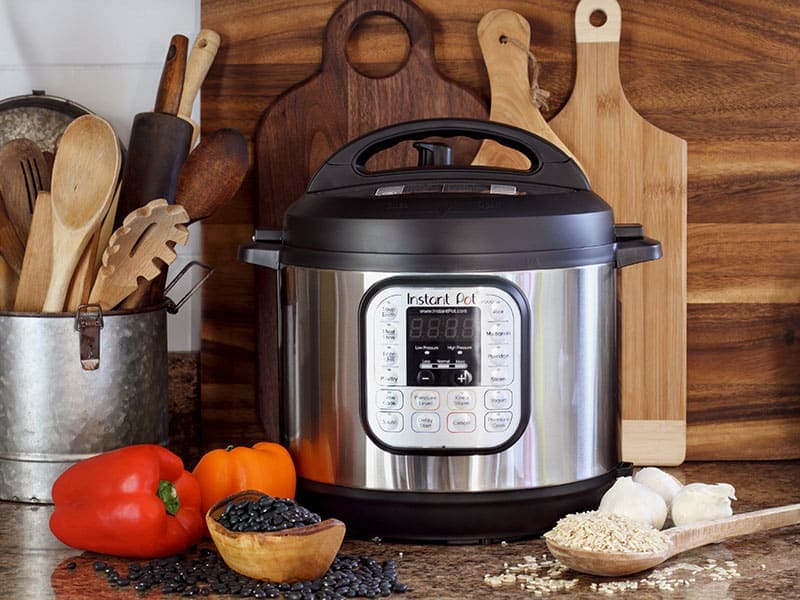 The pressure cooker is a sealed pot that uses high pressure to produce steam heat in order to cook your foods. It uses the liquids (water or broth) inside a pot to produce heat.
The steam heat can reach 250 F degrees (121 C degrees) (1). Therefore it can help you hasten your cooking time by the pressure generated from the hot steam.
Since the steam cannot get out of the airtight pot, the pressure cooker shortens significantly cooking time than the normal cooking methods. When it finishes cooking, the steam will be released so you should open it safely.
In reality, many people are confused about using pressure cookers or instant pots. Technically, instant pots can be seen as an electric pressure cooker so they might have other convenient and versatile features that regular pressure cookers might not have.
The Reason That You Would Love Pressure Cooker
Multi-functions: They are versatile, so you can cook a bigger range of foods.
Huge Capacity: Because they can hold a large amount of food, pressure cookers are ideal for large households.
High Efficiency: Compared to traditional cooking tools such as a pot, they reduce a fair amount of cooking time to prepare meals, as one-third of the time that you have to spend on a regular pot.
Retain Nutrients: All of the nutrients in your food are maintained after they are cooked in a pressure cooker.
Save Energy: As they shorten the cooking time, the usage energy decreases, allowing you to save money on your power bill.
The Reason That You Would Consider It Again
Pricey Cost: They are pretty expensive compared to other kitchenware.
Big Size: If you live in a small house, the pressure cooker's size may be an issue since it takes up too much space in your kitchen.
Hard To Clean: It might take more time and effort to clean them after cooking.
Cannot Check Your Food While They Are Cooking: You cannot check how your foods are cooking and their condition while your pressure cooker is processing. So if you do not follow the instructions, your food might be overcooked.
How Does An Air Fryer Work?
While the pressure cooker has a long history, the air fryer has only recently become popular. Despite that, there are many different air fryer varieties, allowing you to choose one that best suits your needs and preferences.
They are a convection oven which uses hot air to cook foods. Their circular fanning system allows you to fry food without using too much oil yet making it crunchy. Plus, they can reach 392 F degrees (200 C degrees) (2).
They also allow you to set the appropriate temperature and time to cook foods, so you do not have to worry that your meal might be under or overcooked.
Besides, an air fryer comes in a small size so they can reach the expected temperature faster, which results in a shorter cooking time. Isn't it ideal for people who are always busy?
If you still do not know how they work and how to use an air fryer, this lively presentation will help you.
The Advantages of Air Fryer That You Should Know
User-friendly Manual and Structure: They are very easy to use. They are even programmed with automatic time and temperature for some specific foods, like meats, fishes or vegetables. Besides, you can clean them easily.
Offer Healthy Food: Without using too much oil, you do not have to worry about your health when consuming foods.
Time And Cost Efficiency: They prepare your meal in less time and are also less expensive. That's why it is ideal for making meal prep dishes with air fryers. So if you are a busy person, you should buy an air fryer.
Energy Saving: They hasten cooking time, resulting in less energy-consuming.
The Disadvantages of Air Fryer That Should Be Considered
Small Size: Despite the fact that air fryers come in a variety of sizes, the affordable models are generally small and can only cook for a few people.
Not-too-tasty Foods: Because an air fryer does not use oil (or only uses a little quantity), many of you may find your dishes to be less appetizing, and they are more likely to dry out if overcooked.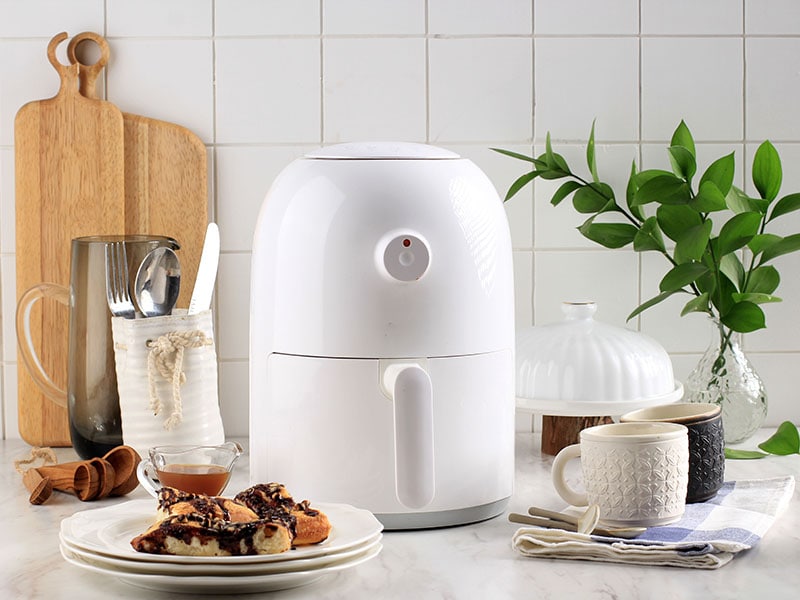 Comparison Of Pressure Cooker And Air Fryer – Which One Is Suitable For You?
In order to have a comprehensive view of both pressure cooker and air fryer, look at the comparison below, which includes 2 key sections of their similarities and differences. This will help you decide what the best choice for you is.
The Similarities Between Pressure Cooker And Air Fryer
Here are some parallels in terms of shape and characteristics that both a pressure cooker and an air fryer have.
1. Liquid Requirement
They both require liquids in order to cook food. With a pressure cooker, you have to add at least one cup of water or broth along with other ingredients you intend to cook. With an air fryer, a spoon of oil is fine.
2. Both Can Make Your Food Crunchy
Food cooked in an air fryer is extremely crispy. However, if you're using a pressure cooker, be sure it includes frying features because most pressure cookers are not designed to boil oil.
It is known as the Saute function in the pressure cooker. You can use a little oil for cooking your meal in the pressure cooker, but remember to remove the pot cover to avoid your food becoming too juicy from the steam.
However, deep frying in the pressure cooker is a big no. They will not be able to do it.
3. Offer Healthy Dishes
Both pressure cookers and air fryers provide you with delicious and nutritious dishes. But it will be beneficial in different ways. It will be explained in detail in the next part.
In short, you may steam or stew your dishes in a pressure cooker, and the nutrients will be preserved. And with an air fryer, you do not have to worry about increasing cholesterol as they require no or less oil to cook.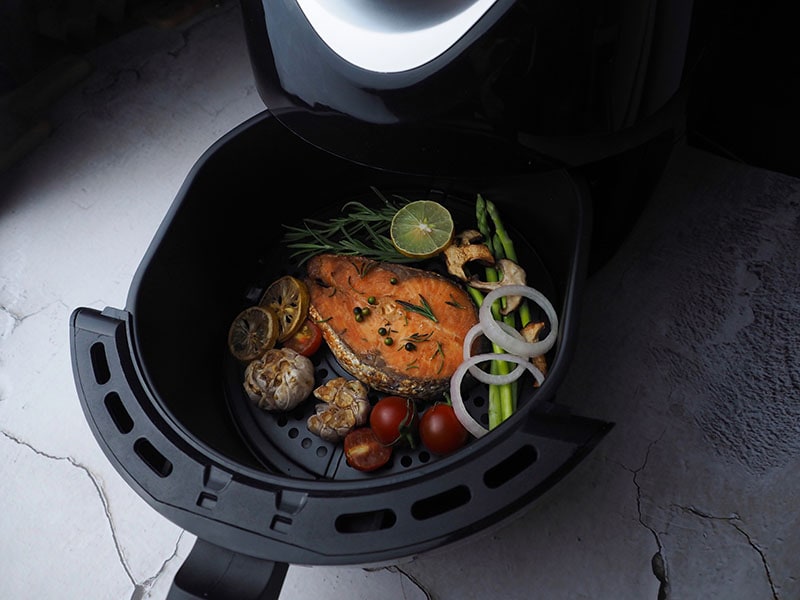 How About Their Differences?
There are several significant distinctions between a pressure cooker and an air fryer that you should consider before choosing the perfect cookware for you. Let's take a quick look at the comparison chart between a pressure cooker and an air fryer as below.
| Features | Pressure Cooker | Air Fryer |
| --- | --- | --- |
| Food | Can cook different types of foods | Can cook different types of foods |
| Function | Suitable for tender, moist and succulent foods (soups, oatmeal, rice, meats) | Suitable for crispy foods (fries, fried meats) |
| Price | Quite expensive | Affordable |
| Size and Capacity | Larger size, up to 35 to 40 quarts | Smaller size. Common size is from 3 to 5 quarts |
| Performance | Cook faster than original methods | Seem to be faster at cooking |
| Electricity Consumption | Consume less power | Consume more power than a pressure cooker |
| Healthier Food | Can maintain nutrients, resulting in increased fat and cholesterol | Use no (or little oil), resulting in less cholesterol consumption |
| Safety | Overall safety to use | Overall safety to use |
| Cleaning and Maintenance | More difficult compared to an air fryer | Easy |
1. Types of Foods
Now, you can learn what types of food the pressure cooker and air fryer cook best.
| Types | Pressure Cooker | Air Fryer |
| --- | --- | --- |
| Chicken (the whole one) | Yes | No |
| Fried chicken | No | Yes |
| Fries/chips | No | Yes |
| Eggs | Yes | No |
| Vegetables | Yes | Yes |
| Rice | Yes | No |
| Oatmeal | Yes | No |
| Soup | Yes | No |
| Stew | Yes | No |
| Meats | Yes | Yes |
| Fish | Yes | Yes |
2. Cooking Functionalities
Because pressure cookers employ the steaming feature to prepare meals, therefore, they are excellent for soups, oatmeal, rice, grains, vegetables, meat, fish, and other liquid-based dishes. You may combine your items at the same time, such as meat and rice, in one pressure cooker.
On the other hand, air fryers cook your food by using hot air in a circular fanning system, resulting in a crispy and crunchy surface texture. This tool also provides a quick solution for your air fryer breakfast ideas with healthy and delicious dishes, especially fried or baked foods.
Because of the influence of the steaming heat, foods cooked in a pressure cooker are more tender, moist, and juicy, but those cooked in an air fryer are drier, crispier, and have a golden brown color.
3. Are They Expensive?
Actually, the price also varies depending on the model and brand of pressure cookers and air fryers. Some models may be more expensive than others because they might offer additional features.
For the best-experienced pressure cooker, the Breville brand could be a great choice for you. But if you want a friend-budget pressure cooker, go with the Presto brand.
However, pressure cookers have higher prices than air fryers, in general. Air fryers are more affordable with many good brands for you to choose such as Phillips, Cosori, Ninja…
If your cookware is a Ninja product, you do not want to miss these delicious treats with your ninja air fryer. Whatever ingredients you choose, this appliance will cook and offer the tastiest dishes that are beyond your expectation.
4. Which Has The Greater Size and Capacity?
Both the pressure cooker and the air fryer come in a variety of sizes and capacities.
However, pressure cookers have a higher capacity. Some models have a capacity of 35 to 40 quarts; whereas an air fryer has a capacity of 6 to 8 quarts, some bigger sizes are up to 12 quarts.
Besides, you cannot cook a small amount of food in a high capacity pressure cooker since the cookware's efficiency and meal quality will be decreased.
The standard pressure cooker size is around 6 quarts, which is ideal for a household of 4 to 6 people. For a family of 4, the most common air fryer size is from 3 to 5 quarts. So if you have larger families, a 6 to 8 quart air fryer is a better choice.
Because the air fryer has a smaller size, you can easily carry them anywhere, to a park for your picnic, or to go camping. Conversely, coming in with a big size, a pressure cooker is difficult to transport.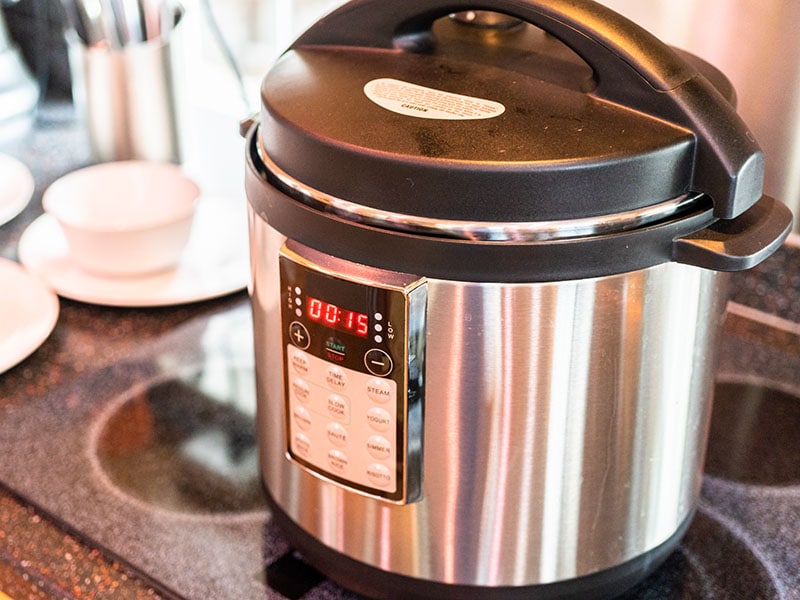 5. Cooking Performance
Both the pressure cooker and the air fryer are faster than traditional cooking techniques in general.
Cooking times vary depending on the kind and quantity of food; meat, for example, takes longer to cook than vegetables. However, because the air fryer only has one airing cycle, it appears that it cooks faster than the pressure cooker, which must first create pressure from the heat.
6. How Much Electricity Do They Use?
The cost of electricity for both of them is varied because it is also based on the cooking time. However, a pressure cooker uses less energy than an air fryer. Therefore, it is more efficient in power consumption.
So if you are a fan of fried foods that are cooked by an air fryer, you might expect the high electricity bills.
7. They Both Make Healthy Food, But Which One Is Better?
If you're on a strict diet, the air fryer is your best deal. Foods fried in an air fryer have less cholesterol and are healthier for your health since they require little to no oil (or none at all).
You can use an air fryer to make keto dishes as well. I guarantee you will be surprised with the final result. Plus, they can lower the fat and calorie content of your dishes without affecting their tasty flavor.
A pressure cooker, however, maintains all of the nutrients in your meal after cooking, allowing you to absorb fat and cholesterol which are contained in your foods. Furthermore, because they reduce cooking time, heat-sensitive nutrients can be preserved.
So a pressure cooker is an ideal kitchenware if you are not attempting to lose weight or even wish to gain weight.
8. Are They Safety To Use?
When it comes to a pressure cooker, I bet there are a lot of you who think they might explode one day as the steam releases after it finishes cooking. But it is not what you should be concerned about.
You should pay more attention to some parts of a pressure cooker, particularly sealing gaskets, because it is important to your safety. Leaking, damaged sealing gaskets result in the lid being unable to close properly, thereby causing a nasty burn due to the released steam.
Similarly, using an air fryer may expose you to burns. While an air fryer is processing your food, the exterior layer is extremely hot.
Therefore, you have to be careful when utilizing both devices to protect your safety.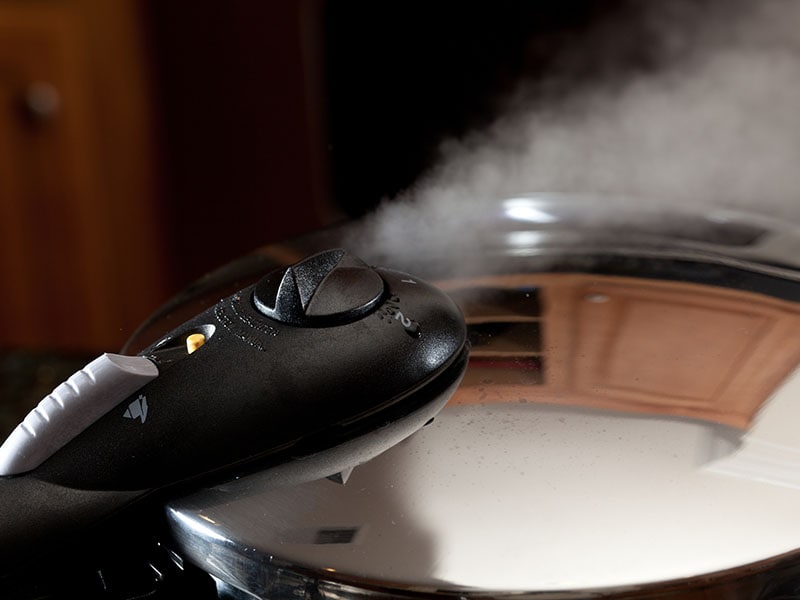 9.What You Should Know About Their Cleaning And Maintenance
The user-friendly design and compact size of an air fryer help you clean it easily. Therefore, it requires less maintenance than a pressure cooker.
With an air fryer, all you have to do is simply remove the air fryer's pot and clean it with water or wet tissues.
However, cleaning a pressure cooker needs additional steps, as you must remove the top, clean it, and then clean the inside of the pot to ensure everything is in working order for the next usage.
Cleaning and maintenance instructions for your pressure cooker. Watch this video to know more:
So, What Do You Think About Pressure Cooker and Air Fryer?
Have you made your purchasing decision yet? Which one would you choose? Actually, the pressure cooker and the air fryer both have pros and cons. Therefore, it all depends on what and how you want to cook your food.
Choose an air fryer if you want healthy fried meals. However, a pressure cooker is a must-have item if you wish your meals nutritious. You may also combine two of them since they both provide efficient ways to cook in a short amount of time.
Finally, please share your experience with either pressure cooker or air fryer in the comment section. And if you like this post, click share to spread this information so everyone can have the best decision in purchasing cookware.
References
Exploratorium.edu. Pressure Cooking [Online]. Available at: <https://www.exploratorium.edu/food/pressure-cooking>.
En.wikipedia.org. 2021. Air Fryer – wikipedia. [Online]. Available at: <https://en.wikipedia.org/wiki/Air_fryer>.