Instant pot Vs. pressure cooker differences still tackles many of us who want to save time on cooking but don't compromise the taste. If you have been wondering about the two most hyped kitchen appliances around the world, let me break things down about their differences, uses, similarities, benefits, and drawbacks.
While instant pot is rapidly taking over, many home-cooks remain loyal to old-school pressure cookers. With life happening so fast, it is no surprise that society utilized the skills and knowledge to reduce the cooking time and come up with multi-functional cooking devices.
So we have two similar devices – but no answer to which one is better and why?
I use both of them, so I am here to help you understand the difference between instant pot and pressure cooker. Hopefully, my article will help you decide which one is a better match for your needs.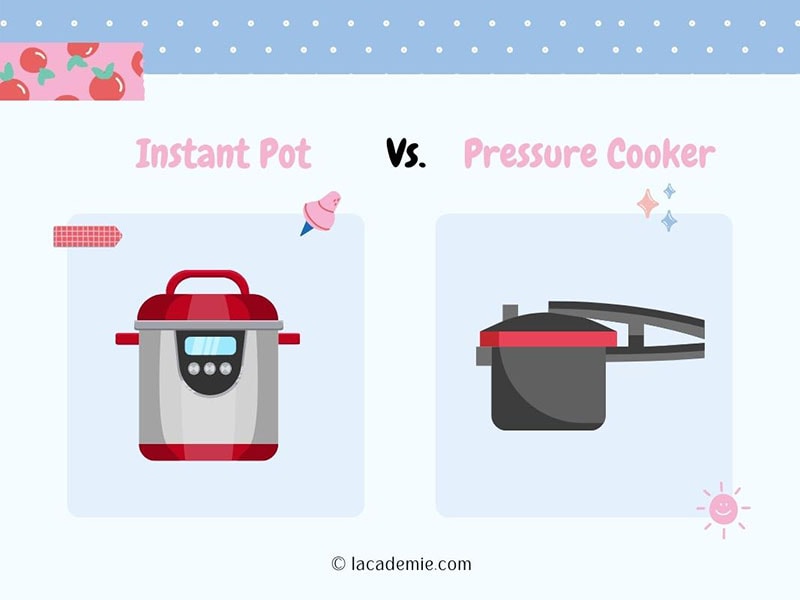 What Is Older: Instant Pot Or Pressure Cooker?
In my highly simplified understanding of kitchen appliances – instant pot is an upgraded version of the pressure cooker and crock pot. The pressure cooker was patented in 1679 by Denis Papin, but it wasn't used for over two centuries. (1)
The plain version of this kitchen appliance gained popularity somewhere around New York World's Fair in 1939, but it was released for home use six years later. (2) It worked by maintaining hot water and vapor in a tightly closed space.
Therefore, it kept the internal temperature and accelerated the time for cooking food that took hours to cook conventionally. The old pressure cooker had a safety valve to prevent explosions.
Technology has developed significantly from that time, but the basic principles remain the same.
On the other hand, the instant pot is a modern product, available from the end of the first decade of the 21st century. However, some historians argue that a patent of instant pot was filed in 1991.
The instant pot was released for home use in 2010 and triggered a cooking revolution – made revenue of more than $400 million and adjusted so many recipes.
Modern home cooks started to use it every day and very soon, it became an irreplaceable utensil in many American kitchens.
Watch this video to know more:
Instant Pot Vs. Pressure Cooker: Break The Confusion
Instant pot is actually a brand that sells electric pressure cookers, but most people nowadays use the term instant pot to describe electric pressure cookers. Are you noticing the first clue about how these two devices are different?
Hear me out on this.
A pressure cooker cooks food on the stovetop, while an electric pressure cooker/instant pot has its own heating elements. It allows you to use an electric pressure cooker on its own, without a kitchen stove.
So for the sake of this article, I will use the terms instant pot and electric pressure cooker interchangeably.
Now, when we have broken down the most common confusion related to instant pots and pressure cookers, we can continue.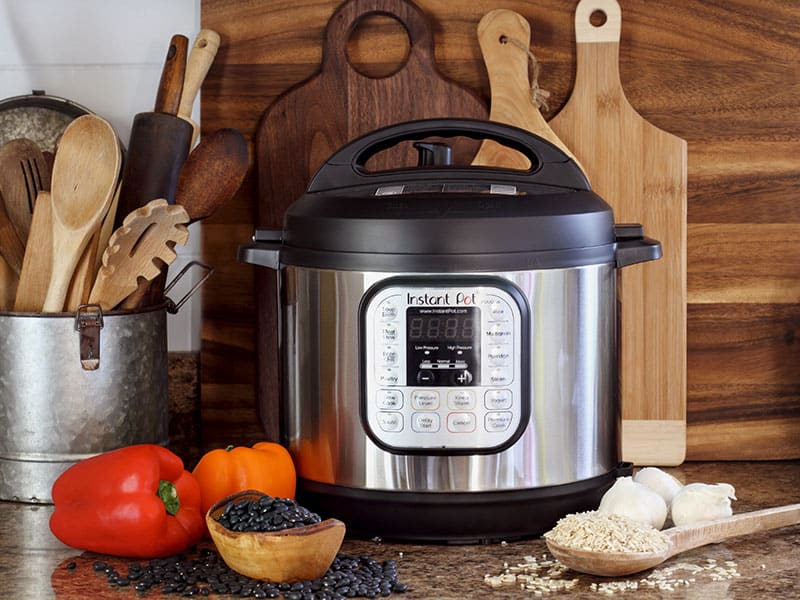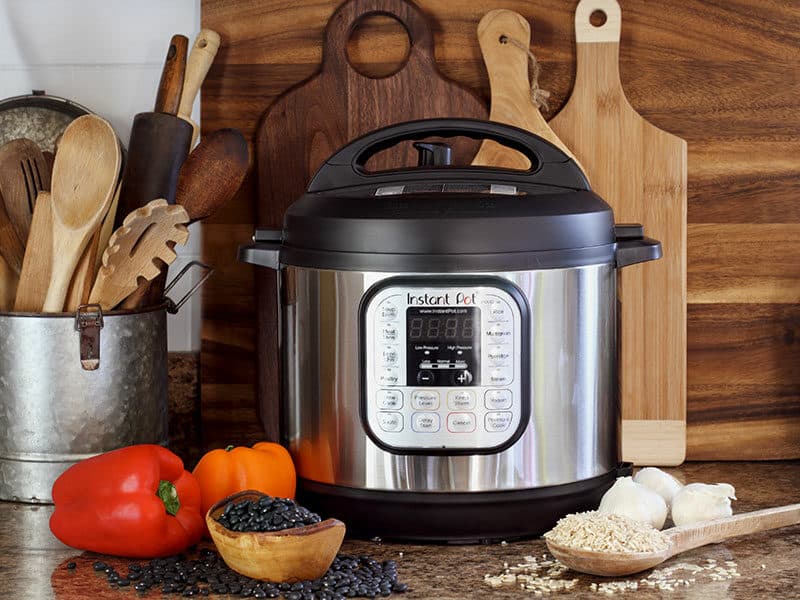 Four Generations Of Instant Pot
So far, there have been four generations of instant pots. As you can tell, the developing process is fast, and instant pot improved to keep track of modern cooking.
Bellow, I summarize all generations.
1st Generation: Mechanical Timer
Instant pots that came first to the market had mechanical timers. The safety features were basic, such as lid locking and excess pressure protection.
Instant pots of the first-gen had sensors to regulate internal temperature and pressure. Their limitation was mechanical control.
The estimated time for cooking wasn't precise, and the device didn't take care of overheating.
2nd Generation: Digital Controls
The next series of instant pots improved the safety mechanism and introduced a digital controller. These pots had sensors that tracked how well the lid is closed and worked separately to ensure perfect lid placement. For example, if the lid wasn't sealed correctly, an instant pot of second-generation wouldn't heat.
With a digital controller, preheating and cooking countdown timer were introduced. Therefore, owners were allowed with delayed cooking.
These are still available in many shops across the country.
I owned one of them. The ability to schedule the cooking process, so the food waits freshly cooked for me after work, was a real game-changer.
3rd Generation: Smart Programming
Now we are talking about advanced technology. Third instant pot generation introduced sophisticated controls that haven't been seen on kitchen devices so far.
Everything was precise from pressure to temperature, and the whole process became more user-friendly and food started to taste the same every time.
Consistent results were part of the introduction of microprocessors that allow for smart programming.
These instant pots mix several cooking processes based on the sensor reading. For example, it can soak and pressure-cook the food on its own.
These have optimized safety mechanisms.
4th Generation: Wi-Fi Capabilities, Advanced Connection
Users can control the last available generation of instant pots via a smartphone app.
They allow you more customization and recipe saving. The fourth generation of instant pot pressure cookers is only available for a couple of years. These are still expensive and have not conquered their predecessors in terms of home use.
Instant Pot Generations Comparison Table
Here is a simple presentation of all the important properties of different instant pot generation. I hope you find it useful if you decide to get an instant pot!
| Generation | Safety Mechanism | Controls | Connectivity | Scheduling Allowed |
| --- | --- | --- | --- | --- |
| 1st Gen | Basic - lid locking, pressure valve | Mechanical | No | No |
| 2nd Gen | Advanced lid protection, spring loaded valve | Digital | No | Yes |
| 3rd Gen | Digital temperature control, safety lock, overheat protection | Smart programming | No | Yes |
| 4th Gen | Electrical fuse, thermal fuse, automatic temperature control | Smart control, via app | Wi-Fi, Bluetooth | Yes |
Instant Pot Vs. Pressure Cooker – Differences
Let's talk in detail about the differences between instant pot and pressure cooker.
Use
Both instant pot and electric pressure cooker are versatile and practical. The pressure cooker is used to speed up the cooking time of the food, by maintaining high temperature and even pressure. It can reduce cooking time by half or more, and retain some beneficial food nutrients.
They also save energy, because your stovetop is turned on for a shorter period than if you used a standard pot.
On the other hand, an electric pressure cooker can also cut the cooking time. But, you can use an instant pot for more than quick meal prep. You can set the time for slow cooking, make yogurt, cook rice, and use it for a variety of recipes, complex or simple dishes that pair well with roasted vegetables.
As my friend likes to explain – an instant pot is an all-in-one replacement for a busy home cook. Therefore, it is perfect for making a quick breakfast with an instant pot when you do not have too much time to prepare. Generally, they are truly multi-cooker devices.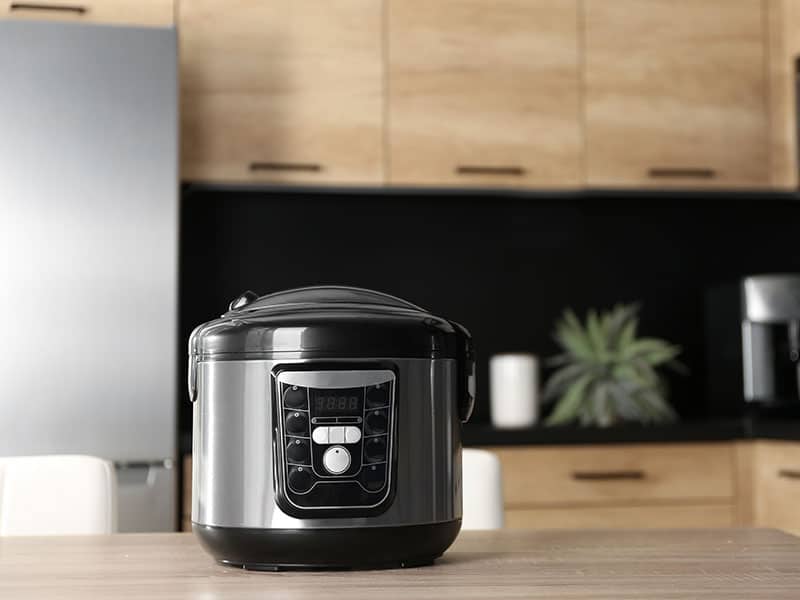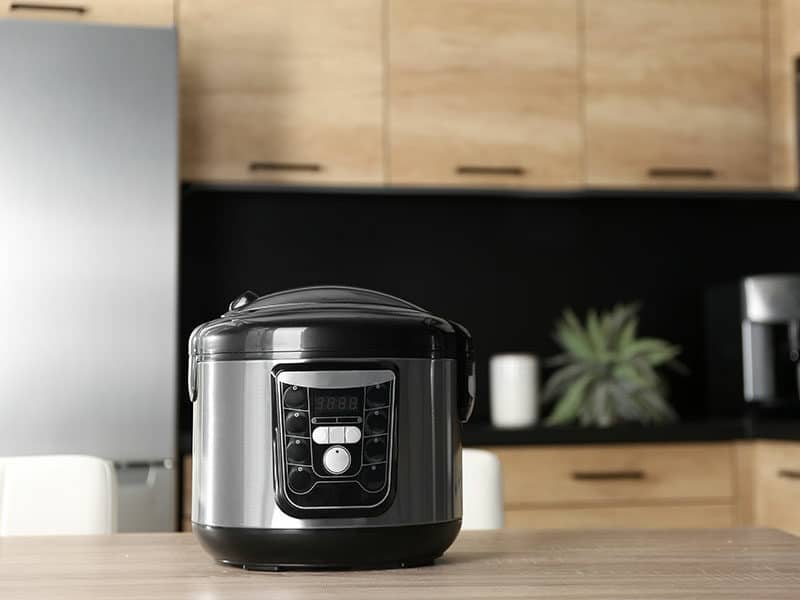 Technology
The pressure cooker working mechanism is easy to understand, even for people that are terrible at physics. The pressure cooker contains one chamber and one lid that seal the space inside the pot (chamber).
As you fill the pot with ingredients and liquids, seal it with a lid, and the chamber maintains the steam, preventing it from evaporating. That way, the pressure inside the chamber rises. As the pressure rises, it passes the water boiling point and maintains a high but even temperature. Because nothing can leave the food chamber, all flavors are preserved.
Instant pot has advanced settings, as it can cook food via different methods. The control panel on the device allows you to choose the cooking mode – slow cooking, pressure cooking, steaming, etc. And guess what, you can even make any dessert in your instant pot as well.
The pressure cooking operates the same as I described above, so let's talk about slow-cooking mode instead. The settings allow you to set how much time you want the food to cook and the device automatically adjusts the temperature and pressure inside the chamber.
The same applies to other functions. Most instant pots are easy to use because every cooking process is clearly labeled on the control panel, all you have to do is fill the pot, plug it in, choose the cooking method, and set the timer.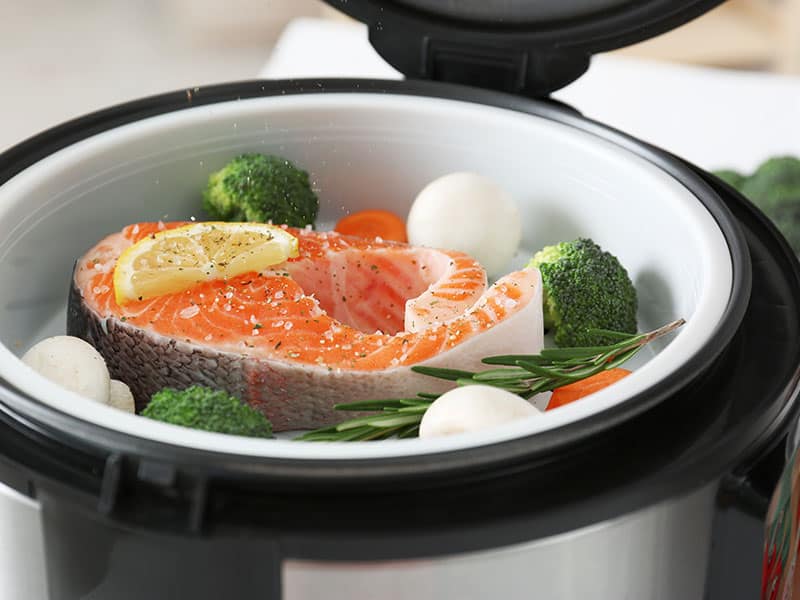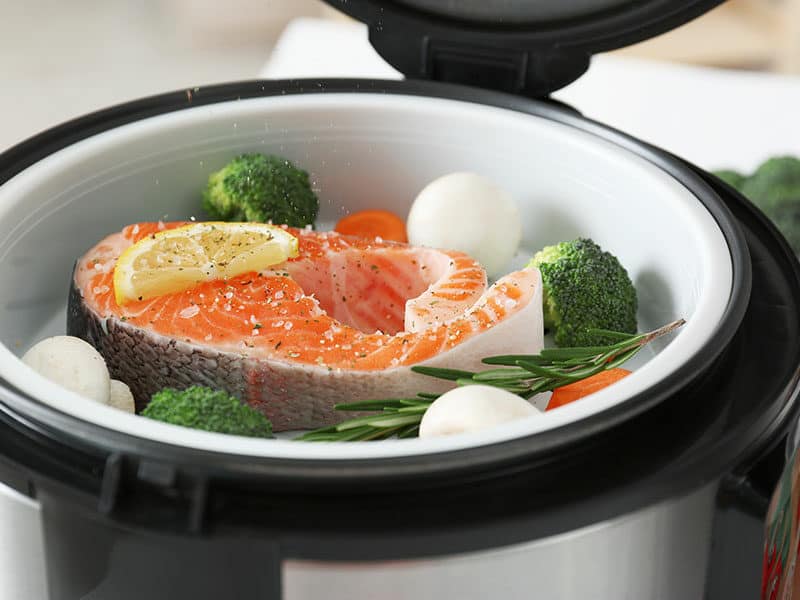 Watch this video to know more:
Safety
Safety depends on the model and device you are using. Modern instant pots and pressure cookers have an extra safety mechanism that prevents them from exploding or causing burns.
However, instant pots are modern versions of pressure cookers, so these have advanced safety systems. Still, it doesn't mean that a pressure cooker is unsafe.
There is a pressure valve method for the steam releasing on pressure cookers that works as a safety mechanism. (3)
The level of safety also depends on the maintenance. Pressure cookers are easier to clean as they have less wiring and don't have individual heating elements, like instant pots.
Therefore, you are less likely to damage the pressure cooker and compromise safety the next time you use it.
Watch this video to know more:
Price
There are cheap and expensive models in both categories. However, the most expensive instant pots are the IV generation models that improve the user experience and offer an impressive amount of control. It is something you cannot get from a high-end pressure cooker.
Instant pots are more versatile, so paying more money for them makes sense. Also, expensive instant pots nowadays include the option for air frying!
For comparison, one of the most expensive instant pots of 6 quarts capacity costs around $300. It has Wi-Fi capabilities, additional features, and extra safety mechanisms. High-end pressure cookers of the same capacity cost $50 to $70 less, depending on the brand.
But, if you are looking for something with a moderate price tag, the selection between stove pressure cookers and instant pots is pretty tied.
Capacity
The capacity is actually one of the similarities between a stovetop pressure cooker and an instant pot pressure cooker. Both devices are available in different capacities, similar to the standard pot size.
The smallest instant pot has the capacity of three quarts. But you can find pressure cookers with less volume. For example, one manufacturer makes tiny pressure cookers with a capacity of two quarts.
Some people might want to use such a small pressure cooker for rice. In fact, instant pot and rice cooker share some features so people can decide which one to use.
You need standard devices with a capacity of four to six quarts for meals.
On the other end, the large, commercial pressure cookers are 50 quarts in capacity. Speaking about home use, you can find pressure cookers and instant pots with volumes from ten to 14 quarts.
Food To Cook
Let's talk now about the food you can cook in a stovetop pressure cooker and instant pot. There are so many things you can cook fast in your pressure cooker.
Some of them are:
Stews
Soups
Vegetables
Beans
Meat – beef, pork, poultry
Squash
Lentils
Artichokes
On the other hand, you should avoid cooking the following food:
Sauces
Burgers
Pies
Delicate meat cuts
Fried food
Cookies
The instant pot has more options, so it gives you more freedom to choose food to cook. For example, you can cook some delicate meat cuts in the instant pot, prepare sauces, or cook whole chunks of meat, such as roasted chicken, turkey, or desserts.
Also, you can use an instant pot to make yogurt. They can be a good replacement for any high-quality Greek yogurt maker which still ensures healthy and creamy results.
Another thing to note about these 2 appliances is that you should not use them to cook fried food. These foods would be better in an air fryer, making the big distinction between pressure cookers and air fryers. But overall, pressure cookers and air fryers can provide healthy meals.
Cooking Process
Instant pot wins in the cooking methods category because you can use it for:
Pressure cooking
Rice cooking
Sautéing
Warming food
Steaming
Slow cooking
There are various differences between air fryers and instant pots in general. But with the development of technology, many modern generations of instant pots can also fry food by using warm air.
On the other hand, a pressure cooker doesn't have that many cooking options, but the device is perfect for pressure cooking and browning.
Watch this video to know more:
Cooking Time
Stovetop pressure cookers are actually much faster than electric models.
The pressure cooker will cook your food three times faster than the conventional way.
An instant pot will cook it twice as fast.
It has something to do with the heating elements of the stovetop and instant pot. I noticed my instant pot needs more time to reach the desired pressure, than a stovetop model.
The faster the pressure is reached, the lower the cooking time will be.
Also, instant pots can be set to cook food for hours, to perform the slow cooking method.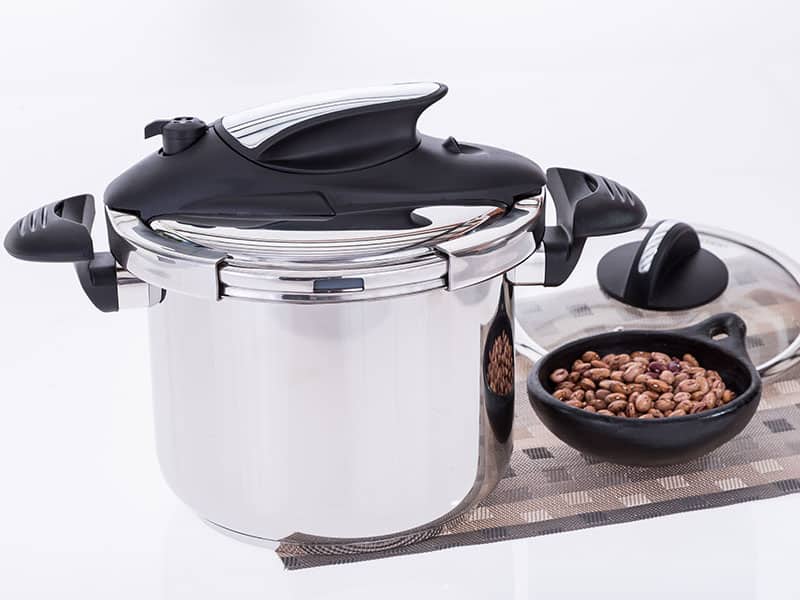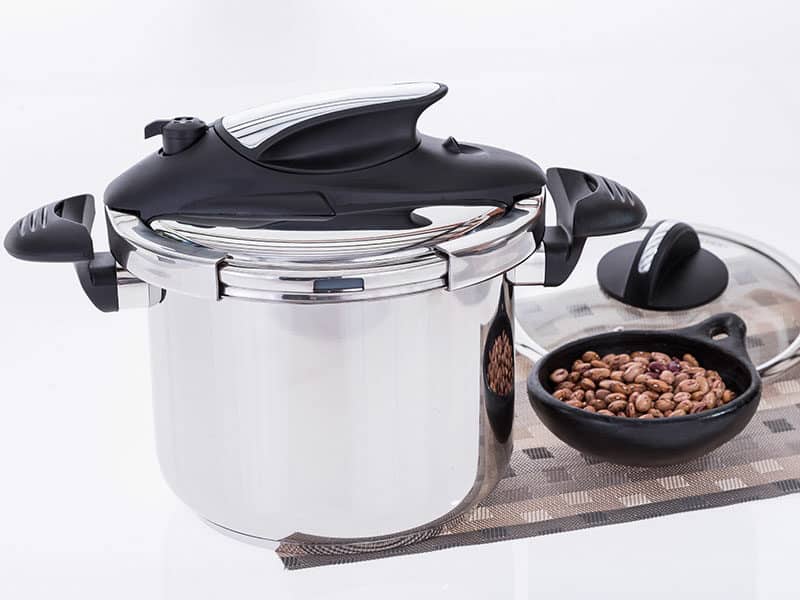 Watch this video to know more:
Convenience
When it comes to user convenience, I must agree with millions of instant pot users. Instant pot is easier to use, has more user-friendly options, is more versatile, allows you to schedule cooking, warm the food, and use the device for numerous recipes. Also, the instant pot is fool-proof and easy to use even by complete beginners in the kitchen.
You can leave an instant pot to do its magic and cook on its own. You don't have to be anywhere near it. With the modern Wi-Fi-supported instant pots, you can even control your instant pot from the phone. Modern home cooks and professional chefs appreciate the new connection options.
However, I must mention that a pressure cooker is easier to clean because most of the parts are dishwasher safe.
Parts of the instant ports require special manual care because wiring can get damaged when it comes in contact with water.
The inner pot is often dishwasher-safe, but the housing requires hand maintenance.
Also, instant pots take space on the countertop.
Watch this video to know more:
Stovetop Pressure Cooker Vs. Instant Pot Pressure Cooker Comparison Table
Let's sum up essential similarities and differences between stovetop pressure cookers and instant pot. As you can see, they might operate on similar principles, but the devices serve different cooking needs. Stovetop pressure cooker is faster but limited in use, while instant pot allows for more cooking processes, hence, different foods.
Check the table for more differentiating factors and keep reading for the table on differences between cooking times.
| | Instant Pot | Stovetop Pressure Cooker |
| --- | --- | --- |
| Purpose | Multi-purpose cooking device | Reducing cooking time |
| Safety | Advanced safety mechanisms | Some models are subject to explosion |
| Cooking time | Short to Medium | Short |
| Maintenance | Hand Washing | Dishwasher-safe |
| Capacity | Available in different sizes | Available in different sizes |
| Cooking method | Pressure cooking, rice cooking sautéing, warming food, steaming, slow cooking, air frying (only newer models) | Pressure cooking |
| Delayed cooking | Yes | No |
Average Cooking Time For Different Foods In Instant Pot And Pressure Cooker
How long to cook ribs in a pressure cooker? What about cooking vegetables in an instant pot? Check the table to find out all about the cooking times of different ingredients in instant pot and pressure cooker.
| Meat | Cooking Time: Instant Pot | Cooking Time: Pressure Cooker |
| --- | --- | --- |
| Beef, short ribs | 25 min | 15 min |
| Chicken breasts (with bones), 2 lb. | 10 - 15  min | 8 min |
| Frozen whole chicken | 8 min per pound | Not advisable |
| Pork ribs, 2 lb. | 25 min | 15 min |
| Roast pork | 15 min per pound | 45 min |
| Lamb leg | 15 min | 35 min |
| Turkey drumsticks | 15 - 20 min | 12 min |
| Vegetables | Cooking Time: Instant Pot | Cooking Time: Pressure Cooker |
| --- | --- | --- |
| Artichoke, whole | 9 - 11 min | 10 min |
| Red beet | 20 min | 4 min |
| Red cabbage | 1 min | 3 - 4 min |
| Carrots | 3 - 5 min | 4 min |
| Corn cob | 1 min | 3 min |
| Eggplant | 4 min | 3 min |
| Pumpkin | 8 - 10 min | 3-4 min |
| Potatoes, whole | 5 - 8 min | 10 min |
| Sweet potato | 5 - 8 min | 7 min |
| Beans, Rice, Lentils | Cooking Time: Instant Pot | Cooking Time: Pressure Cooker |
| --- | --- | --- |
| Black beans (unsoaked) | 25 min | 8-25 min |
| Soy beans (unsoaked) | 35 - 45 min | 30 min |
| Red lentils | 1 - 2 min | 5 min |
| White rice | 4 min | 5-7 min |
| Brown rice | 20 - 22 min | 12-15 min |
| Seafood | Cooking Time: Instant Pot | Cooking Time: Pressure Cooker |
| --- | --- | --- |
| Crab, whole | 2 - 3 min | 2 - 3 min |
| Lobster | 3 min | 2 -3 min |
| Scrimp | 1 - 3 min | 2 min |
Best Assistant In The Kitchen…
In the pressure cooker VS instant pot duel, I give my vote to the latter one. I find it more useful in the kitchen and an excellent space-saving option. Instead of keeping a crock pot, pressure cooker, air-fryer, rice cooker, I only need to get one device to replace them all.
Cooking food for half an hour (or an entire hour) longer in an instant pot, compared to a pressure cooker doesn't bother me.
If short cooking time and simple maintenance are your top priorities, you might be better off with a pressure cooker. Whichever one you chose, you will save time and improve your cooking skills.
Which one do you prefer – electric or stovetop pressure cooker?
If you've found your answers, please consider sharing the article to spread the word and start a discussion! Don't forget to like the article if you enjoyed it.
References:
Pressure cooker. (2021). Retrieved 28 April 2021.
Google Patents. (2021). Retrieved 28 April 2021.
Barton, J., Monk, N., & Blanchard, R. (2021). A comparison of functions and safety features on electric pressure cookers. Retrieved 28 April 2021.