Air fryer vs instant pot, they're both smart kitchen tools that make cooking easier, faster, and less hectic. These two godsends can make your favorite meals healthier.
However, do you need both? How do they differ? Which one is better? In today's article, I will answer all your questions and teach you all you need to know about air fryers and instant pots.
After reading this article, maybe you'll even know what makes air fryers different from pressure cookers. It's really not that hard, once you know the fundamental mechanisms behind both devices.
The key difference is the way they cook. That being said, let's dissect these two and find out more about their purpose, advantages, disadvantages, and 10 differences.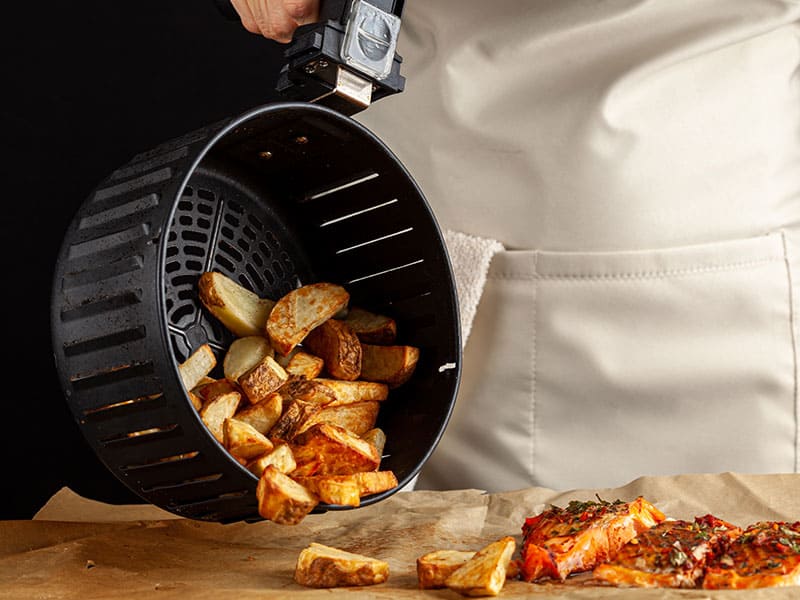 What Is An Air Fryer?
The air fryer is a modern innovation that replaces deep frying. I have one at home that I use for making healthy french fries. Air fryers are available in different varieties, they're super-efficient, convenient, and can save money.
You don't need to use a lot of oil. Only a few drops will get the job done. Air fryers use heat energy. The best part? There's no mess and cleaning this kitchen appliance is a walk in the park.
However, air fryers are a bit different compared to toaster ovens or other multi cookers as they can do only one thing. And that's making foods crispy.
There's a basket to place the food in that goes under a fan and a heating element that makes sure the hot air goes all the way through the basket, thus cooking the food. You will get healthier results. Using the oven will provide dryer food.
What Can You Cook With An Air Fryer?
Aside from their advertised frying capability, air fryers can be used to prepare various different foods. You can make thousands of dishes with just one machine: grilled veggies, baked potatoes, cakes, hard-boiled eggs, fried chicken, chips, muffins, omelets, delicious frozen burgers, casseroles, etc.
The list is endless. However, everything that can be cooked in an air fryer can also be cooked and fried in the oven. Additionally, most air fryers have cool accessories that extend your cooking options.
For example, a grill pan can be used to make veggies just as you would on a stove-top. Or with the sauté technique of the instant pot. You can also utilize a baking pan to make casseroles and cakes.
Pros And Cons Of Air Fryer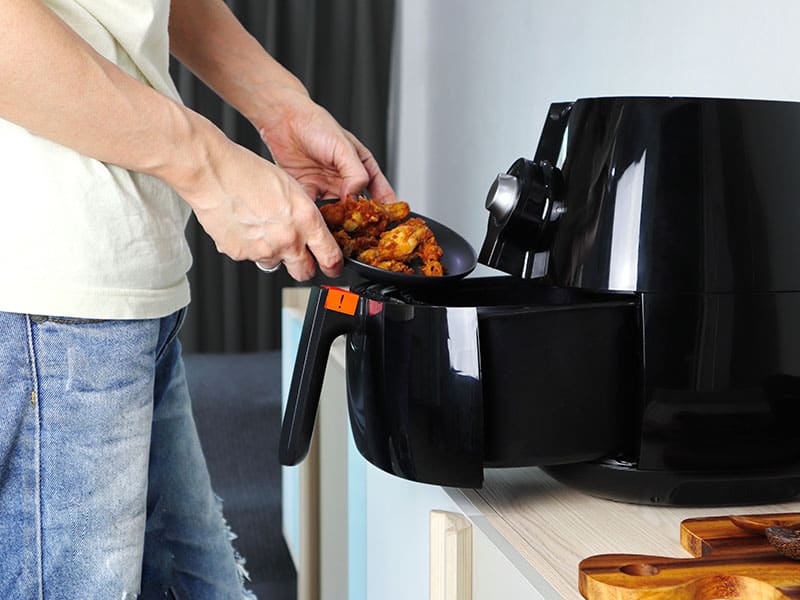 Although air fryers are useful gadgets that make cooking easier, they also have their disadvantages. Let's take a closer look at some of the key pros and cons of air fryers.
Pros:
Easy to use
Pre-programmes settings
Makes fried foods healthier
Energy-efficient and fast results
Versatile and budget-friendly
Small and compact design
Easy to clean
Cons:
Not as versatile as instant pots
You can't utilize them for bulk cooking
Some models are bulky and take up a lot of space
Foods can dry out if not used properly
The basket shape can be weird
Let's see this video to collect more understandings:
What Is An Instant Pot?
Instant pots are another modern and super-versatile innovation. They're made by the Instant brand (IP) that has multiple series of different multi-use equipment.
They all pack unique features to meet different needs. Overall, an instant pot is a multicooker with many cooking options that can replace over 7 kitchen appliances.
For example, some of the standard models can do the job of saute pans, pressure cookers, rice cookers, slow cookers, yogurt makers, air fryers, and more.
What Can You Cook With An Instant Pot?
Instant pots utilize water or broth to provide steam and build up pressure within the cooking pot. Then, the hot steam is forced into the foods to cook at high speeds while preserving the nutrients.
Usually, newbies begin with some simple recipes like rice, eggs, meat, and vegetables. But instant pot can do much more than that. Do you know you can make desserts in your instant pot? If not, roll up your sleeves and try them now! You'll love them for sure.
Depending on the type of instant pot you own, there are additional features for making sous vide, boiled eggs, and more. The saute function of instant pots can help you to stir fry foods with less oil.
Pros And Cons Of Instant Pot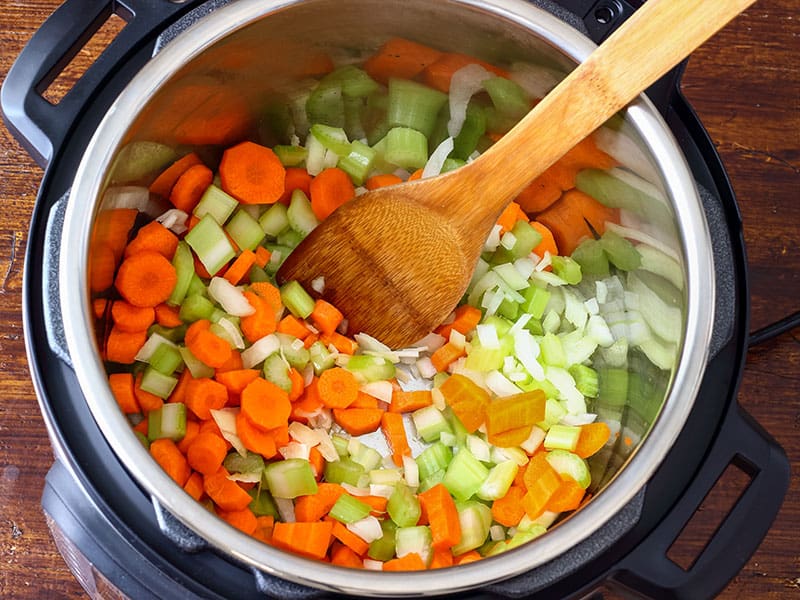 Just like air fryers, instant pots have their benefits and downsides. Let's take look at both and determine what type of appliance meets your cooking needs better.
Pros:
They're more versatile than air fryers
You can forget about thawing and cook frozen meatballs
Convenient for feeding a large family or making big batches
Automatically keeps food warm after it's done cooking
Instant pots save headspace and time
Cons:
There's a learning curve
Cleaning can be pretty hard
You can overcook your food if you don't follow the instructions
Bulky and take a lot of space
Some models cost a lot
Let's see this video to collect more understandings:
Air Fryer Vs. Instant Pot: 10 Key Differences You Need To Know
After learning everything about both units, it's time to compare their key differences. The following part can help you make the right decision and determine which one suits your needs better.
Portability
Usually, air fryers are more compact and portable than instant pots. Therefore, they're easier to carry on your travel vacations. However, this doesn't mean instant pots aren't portable. They're often bulkier but can be carried around unless they're heavy. In that case, it can be harder but not impossible.
Versatility
You know that instant pot gets compared with rice cooker and tons of other cooking appliances since it has more capabilities and features than air fryers. Thus, the list of the ingredients that can be cooked in instant pots is a bit longer than the one with air fryers.
Cooking Times
Air fryers usually take 15-25 minutes to prepare most of the foods. However, some foods require up to 1 hour or more. Instant pots, on the other hand, prepare the food quickly because the content of the food is usually different than the food cooked in air fryers.
For instance, tough food like cereals can be done in 25-30 minutes depending on the unit. The air fryer is faster only when you're preparing some lighter meals.
Price
They're both quite affordable. You can find good air fryers and instant pots for less than $100. However, since instant pots have extra advantages, I would say that they're more cost-effective. Getting an instant pot with the capability to prepare hundreds of recipes at under $100 is a wise decision.
Size
Air fryers are smaller than instant pots. However, different models of both units have different sizes, so opt for something that meets your needs but won't take too much space in your kitchen.
Food Choices
Both kitchen appliances are versatile. Each can prepare different foods without any problem. However, instant pots can make rice and yogurt, something that air fryers can't.
It depends on the type of food you eat daily. If good old frozen lasagna is part of your weekly menu, opt for an air fryer. It's the ultimate kitchen tool for cooking frozen foods.
Safety
Safety should be on top of your priority list when buying kitchen appliances using air and hot pressure. If you're looking for something with safety mechanisms, look no further than an instant pot.
It's safer preparing food with an instant pot due to the safety features. Air fryers are also safe. However, there have been some complaints about air fryers smoking, overheating, and smelling plastic.
Ease Of Use
Air fryers are great for beginners. They're easy to use, unlike instant pots that have a learning curve due to the wide array of cooking functions. Air fryers have fewer buttons but also fewer options.
Durability
Instant pots are more durable because they're made with quality technology and material, so they don't break down easily. However, air fryers do. They're less long-lasting. However, their durability will change with time since they're newer on the market than instant pots. And they're constantly improving.
Recipes
Instant pots beat air fryers when it comes to cooking recipes. There's a wide selection of cooking recipes available for instant pots.
Nowadays, some air fryer models also include a mobile app for different recipes. For example, you can find which dishes to cook with your Ninja Foodi but maybe not as many as with instant pot. Hopefully, that will change as air fryers gain more popularity.
Which Is Better: Air Fryer Or Instant Pot?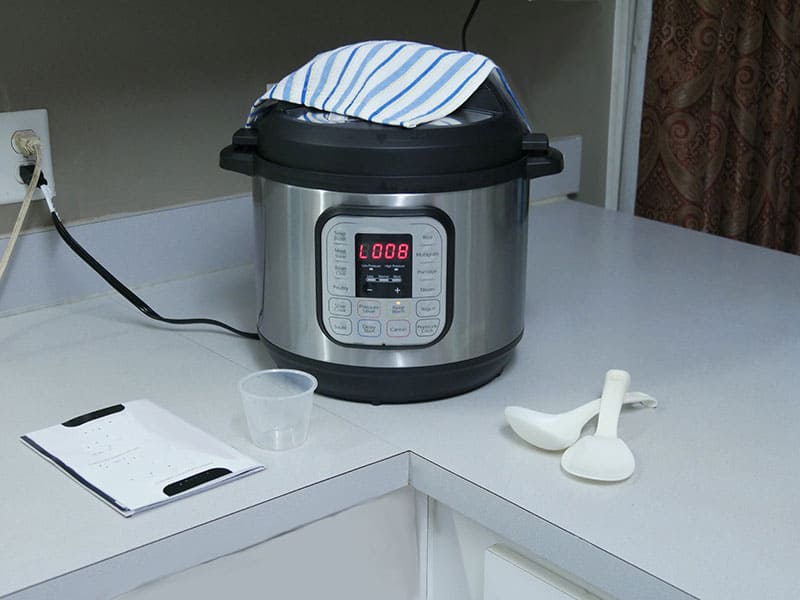 It all depends on your preferences and the foods you want to cook in the future. Let's say that you want to prepare a cheesy bacon casserole, chickpeas, or chicken.
The air fryer is the perfect choice for these challenges. However, if you want to make a veggie soup, you will need an instant pot since the air fryer isn't capable of cooking soups.
The final choice also depends on your budget. They're both cheap. Still, the price depends on the type of features and accessories. There's also a difference in power consumption.
How often do you plan on utilizing each of these tools? I believe that most people will utilize the instant pot more often than they will utilize the air fryer which can lead to more power being consumed by this tool. Either way, both help you decrease the cooking time.
Which One Is Faster?
It depends on the type of ingredients you want to cook but since the air fryer features only one cycle, it's faster than the instant pot.
The instant pot needs to build up pressure before the cooking can begin. Additionally, an air fryer can be utilized as an instant pot and not the other way around.
The instant pot represents a multicooker. Meaning, it's more versatile. The air fryer is less versatile since it can only make fried food.
Let's Get Cooking
Air fryer vs instant pot, they're both great kitchen appliances. However, if you have to pick one, I would say, go with the instant pot. It's a smart investment that will pay off in the long run.
As I already mentioned, instant pots have more cooking options. Thus, they can cover the most common foods. If you love potatoes in every possible form like me, grab yourself a good air fryer.
It's perfect for making crispy foods like french fries, chicken wings, chips, etc. You can even stem veggies in the air fryer. The instant pot can also help you make these foods but it's harder to wash.
Also, consider your family. If you need to feed a lot of people, opt for the instant pot. Otherwise, choose the air fryer. In the end, it all depends on your needs, budget, and personal preferences.
Have you used these kitchen appliances before? Have you made a decision yet? If not, was this short but concise comparison helpful? Share your thoughts and questions in the comments below.
Let's chat about cooking, air fryers, instant pots, and perhaps, exchange a few recipes. Also, don't forget to share this article with your social media friends and help them make a wise pick.