If you are confused about choosing one kitchen appliance between air fryer vs. toaster oven, keep reading this post to find out the right criteria for your needs. You can easily cook with these modern supporting types of equipment.
Both these devices have relatively similar uses and are very convenient for kitchen work. There is much controversy about which appliance is more efficient in cooking. But the answer will depend on each person's needs.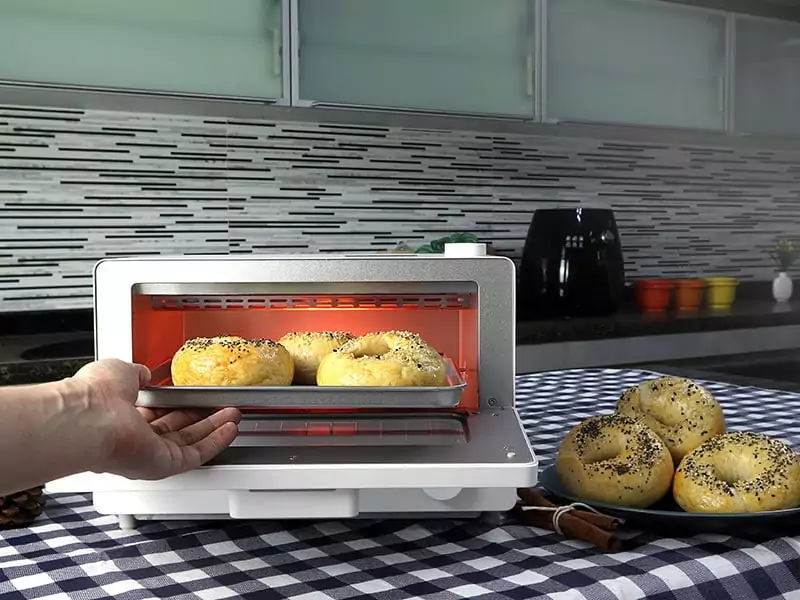 The Core Differences Between Air Fryer And Toaster Oven
Both air fryer and toaster ovens are modern kitchen appliances and are very effective in cooking. However, many people do not clearly distinguish the difference between these two devices. Unsurprisingly, many can't tell air fryers apart from pressure cookers as well.
Although they have many similarities, the manufacturers that make two types of devices with two different names have their reasons. These two devices differ in many factors, which can be important factors for you to make a choice that is right for you.
I will point out the biggest differences between the two devices: cooking space, heat source, temperature, hot circulation, cooking time, cooking method, types of food, insulation, power, price, digital, and maintenance. Keep reading for more details.
Learn All About Air Fryer
Basically, an air fryer can be defined as a compact-sized convection oven. It was created to replace the deep fryer if you want to eat delicious fried foods but don't want a lot of fat.
Although air fryers are available in different types, they all have the same operation mechanism: using convection air currents with high hot air to cook food. These hot air flows are continuously circulated by fans placed inside the machine at high speed to cook food quickly.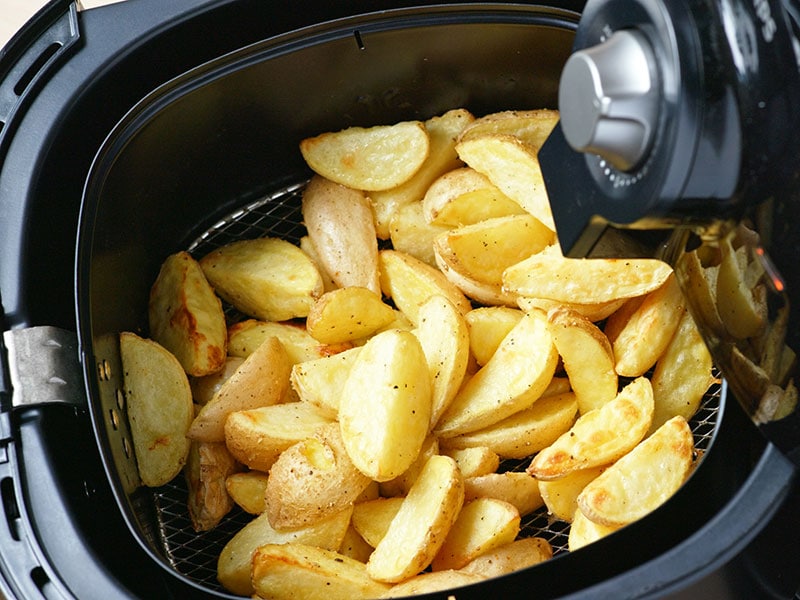 Pros And Cons Of An Air Fryer
No device is perfect. It will still have its advantages and disadvantages. Consider those factors of an air fryer to decide if this is the appliance you want to buy.
Pros
Compact Design: An air fryer is designed with compact size, can be easily used when needed and stored away when finished. It doesn't take up much space in your kitchen.
Fast Speed Cooking: With the continuous heat flow mechanism thanks to the small fans inside the device, it is possible to ensure that the food is cooked evenly and quickly.
Healthier Dishes: When using an air fryer, you absolutely do not need oil, which helps you to have delicious and safe food for your health.
And if you are on a keto diet, you do not want to miss many keto-friendly air fryer ideas and make your meal even healthier. Sounds so promising, doesn't it?
Variety Of Dishes: The air fryer is a very versatile kitchen appliance that can cook a variety of dishes. Not only fried foods, but you can also completely use this device to prepare other types of foods.
Easy To Use: As a modern electronic device with specific instructions, almost anyone can use the air fryer with a few very simple steps.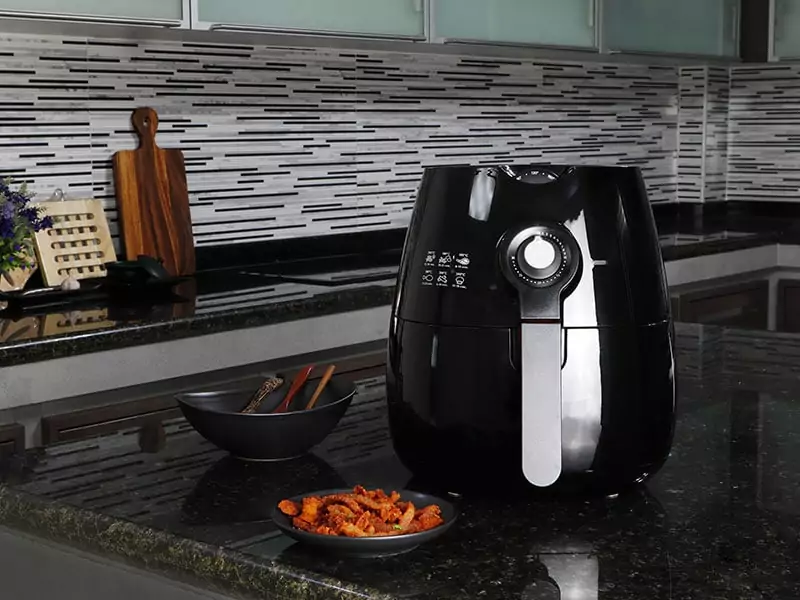 You can see this video to know more:
Cons:
Small Food Capacity: Because of the compact design, the food capacity of the air fryer is not much. If you have a large family, this device may not be able to cook enough meals for everyone all the time. This resulted in multiple cooking times. Thus, it lost its own time advantage.
Hard To Check Inside: Not only small food capacity, but the air fryer also has a sealed design. You cannot observe the food inside during the cooking process. This can also lead to the risk of food drying out or burning without you even knowing it.
Make Noise: Just like most other appliances, the air fryer makes annoying noises when operating. But I think compared to the benefits it brings, it is still acceptable.
All You Should Know About A Toaster Oven
You might be more familiar with a toaster, but there are dissimilarities between toasters and toaster ovens. In fact, a toaster oven can be considered a miniature version of a regular oven.
Except for the size, the toaster oven has many advantages over the oven. It can be used as an oven but with a faster time and cooks a wide variety of dishes.
The uses of this kind of oven are much more varied than the name suggests. In addition to baking bread, it can also be used to reheat and defrost certain foods as needed.
A toaster oven has some adjustment modes corresponding to the buttons outside. It is designed with metal walls and other heat-generating parts inside. When turned on, heat is released from the heating element surrounding the food and cooking it.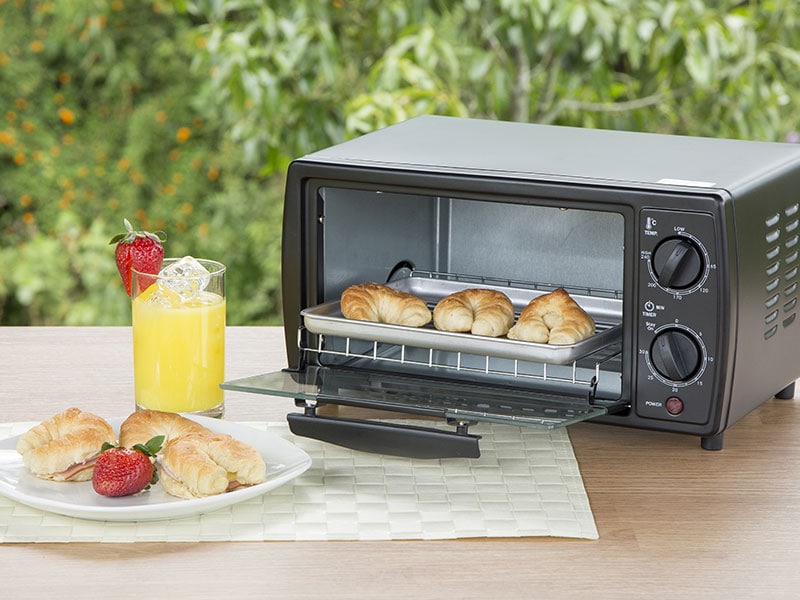 Pros And Cons Of A Toaster Oven
Similar to an air fryer, a toaster oven also has its own advantages and disadvantages. Go through this table for a rough look.
Pros:
Large Food Capacity: The first advantage of the toaster oven is its large cooking capacity, which can serve food for many people at the same time. So, if you want to cook for many people simultaneously, this appliance will be an appropriate choice.
Various Cooking Methods: Not only can you bake bread with it, but a toaster oven can have various uses, even more than you think. For example, other options are defrosting, baking, or roasting different dishes.
Set Time And Temperature: Another strong point is that you can completely set a specific temperature and time for each different dish. So you won't have to worry about your food burning.
New Modern Models: This device is also constantly being developed and improved by manufacturers to reduce limitations in older models.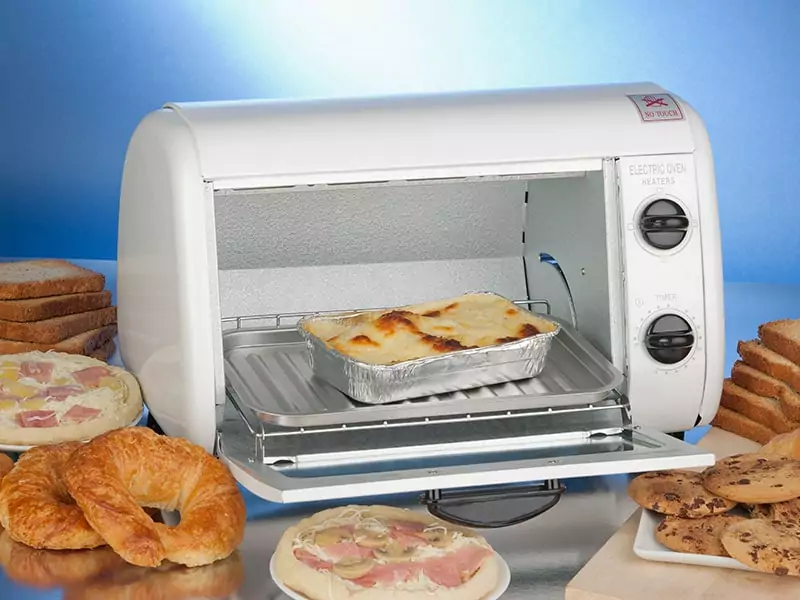 Have you ever thought that T-bone steak can be cooked with a toaster oven? You can see this video to know more:
Cons:
Takes Up A Lot Of Space: Because of its large size, the toaster oven will take up a lot of space in your kitchen. What's more, the old models also have a non-separable design, which is very inconvenient for moving it to another location.
Long Cooking Time: The heat flow in this appliance is not continuously circulated, so the heating level is also slow, resulting in a longer cooking time. It may take a while for your dish to be fully cooked.
Not Good At Insulation: You must also be careful when using or cleaning this device, as its design does not insulate well. This leads to the risk of burns or burning objects around if you do not pay attention.
The Key Part! Complete Comparison Between Air Fryer And Toaster Oven
Just like many people can't tell air fryers and microwaves apart, the same can happen with air fryers and toaster ovens. Both are very modern kitchen appliances. Maybe you are still wondering which device to choose for your family. So let's see how they are different.
| Features | Air Fryer | Toaster Oven |
| --- | --- | --- |
| Cooking Space | Small (range from 3 to 5 quarts) | Large (Fit for 12" pizza) |
| Heat source | Heating element on the top with a big fan under it | Heating elements at the top and bottom |
| Temperature | Can reach a higher temperature | Automatic temperature setting |
| Hot air circulation | A fan continuously circulates the heat flow; A basket at the bottom distributes hot air around foods | The fan located at the back circulating hot air (In modern design) |
| Time of cooking | Faster | Slower |
| Cooking methods | Bake, Roast, Grill, Air Fry, Dehydrate | Roast, Bake, Grill, Defrost |
| Type of foods | Various food except for pizza and bread | All kinds of food except for fried |
| Maintenance | Easier due to separated parts | A little more complicated |
| Insulation | Good insulation | Not so good |
| Power Usage | 1550W-1600W | 1400W |
| Energy Efficiency | It's more energy-efficient (1) as compared to toaster ovens | Low power but longer cooking time => power consumption of toaster oven is still higher |
| Digital | More modern with digital display | Using conventional rotary dials |
| Price | Cheapest: $40-50 range. Usual: $100-120 range | Cheapest: $20-30 range. Usual: 50-60$ range |
Cooking Space
With a compact overall size, air fryers often have a smaller food capacity than traditional toaster models. Specifically, the food capacity of the air fryer averages about 3-5 quarts. Meanwhile, the oven toaster can hold a 12″ pizza.
So the amount of food that can be fried with an air fryer is not much. You may have to divide it into several times to get the best effect.
However, now on the market, there are many new models of air fryers that are designed with a larger capacity and can be the size of a conventional toaster. But certainly, its price will be quite high compared to the old style.
Heat Source
Of course, both appliances cooked food with heat from heat-conductive components. However, the difference is in the way the heat source transfers.
In the air fryer, as mentioned, this appliance uses the heat waves emitted by the standard heating element (2) to heat the food with a coil form. And this heating element is located on the top with a big fan under it to circulate hot air.
For toaster ovens, the heating element is designed at the top and bottom, along with the metal wall, to create heat around the food.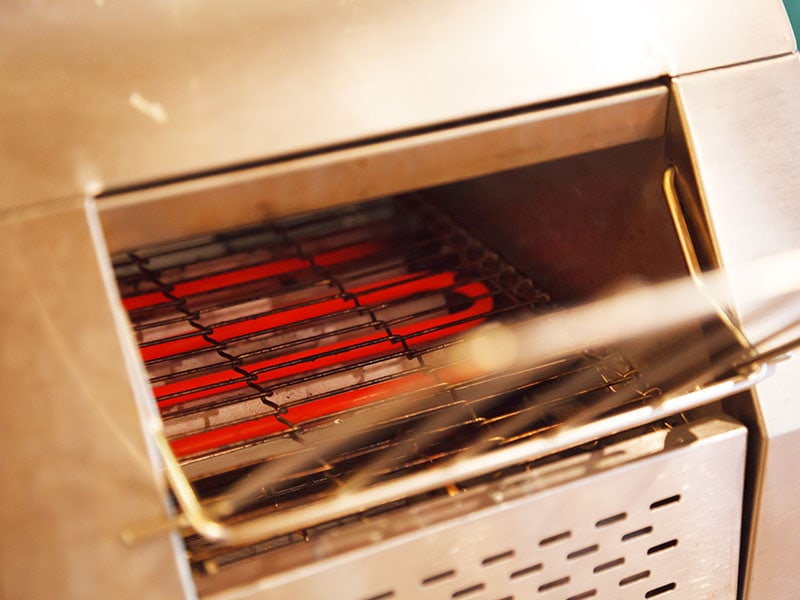 Temperature
With its compact size and powerful heat distribution and generating components, the air fryer can easily reach high temperatures and cook food quickly.
As for the toaster oven, it is designed with automatic temperature control. You can rest assured when cooking for a variety of foods.
Hot Air Circulation
The thing that makes an air fryer special is that heat streams are circulated thanks to the small fans inside the device. This allows the air fryer to cook food quickly.
In addition, the air fryer has a food basket design at the bottom so that it can distribute heat evenly around the food. Some people also wonder whether to place aluminum foil in air fryers. Well, the answer is yes, but requires some techniques for the optimal heat distribution.
This is not the case in a toaster oven. Hot air is emitted from the heating elements above and below the baking pan. There is no rotation, which is why the cooking speed of the toaster oven is slower than that of the air fryer.
Today, there are toaster oven models that have a convection function like an air fryer, which helps food cook faster than old models. However, it will not produce the same foods as when cooked in an air fryer.
Time Of Cooking
As mentioned above, the air fryer has a convection mechanism thanks to the small fans inside, so the heat is circulated quickly and strongly. Thanks to that, the cooking speed of food in the air fryer is also faster.
Meanwhile, a toaster oven can only heat food at a rate equal to that of a regular oven, which means it takes twice as long as an air fryer. One thing that the toaster oven can heat the fastest is bread, as the device's name suggests.
Cooking Method
There may be many dissimilarities between a deep fryer and an air fryer. But when it comes to crunchy food, you can hardly tell them apart. Since air fryers cook foods without oil, you absolutely get delicious dishes while still ensuring health.
Moreover, the air fryer is also a very versatile kitchen appliance when it can cook a variety of dishes with built-in features such as baked, baked, fried, frozen foods, ect. You can easily use it according to the instructions on the device.
A toaster oven is a bit more limited. Its main function is to roast, grill and bake. However, this does not mean that the toaster oven cannot be used to cook other dishes. It all depends on your kitchen skills.
However, if you intend to cook other dishes with a toaster oven, be sure to use oil or substitute for creating moisture for the dish. Otherwise, your dish will be very dry, which is not good at all.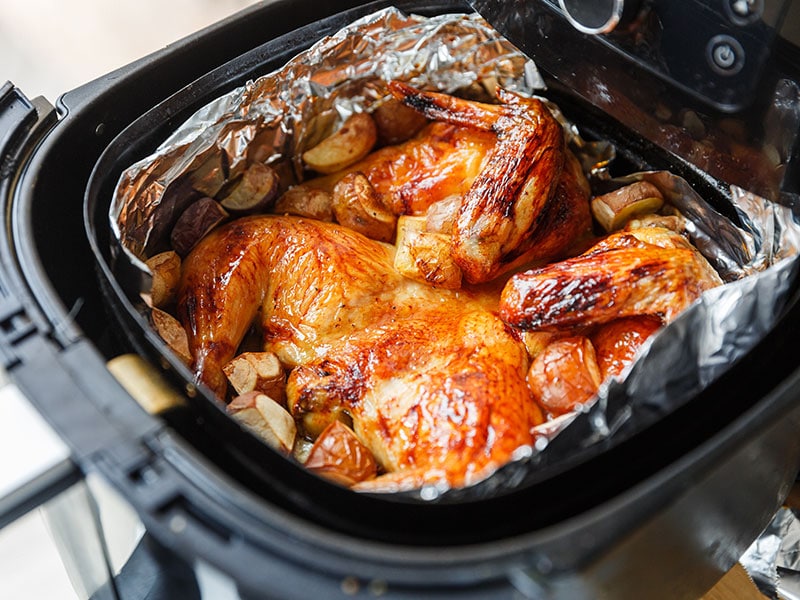 Types Of Food
Between air fryer and toaster oven, each has its own advantages and disadvantages. However, what foods will taste best when cooked with what equipment? Take a look at the chart below.
| Types | Air fryer | Toaster oven |
| --- | --- | --- |
| Chicken | Yes | Yes |
| Meat | Yes | Yes |
| Vegetables | Yes | Yes |
| Fish | Yes | Yes |
| Pizza | No | Yes |
| Bread | Not recommended | Yes |
| Fries | Yes | No |
| Cake | Yes | Yes |
What is the specific difference between these two devices for types of food? See a few examples below.
Toast and Bagels: Of course, toast and bagels should always be baked in a toaster oven. That is the reason for the appearance of this device. It is not good at all when you intentionally bake the toast and bagels with the air fryer.
Pizza: Pizza has a fairly large surface, so the toaster oven is still an appropriate choice for cooking this dish. Instead of having to cut the pizza into pieces to heat in the air fryer, I believe you'll want it to have a perfect look before you eat it.
Another good thing about air fryers is you can use it to warm your pizza too! But you need to know the correct methods to reheat pizzas in your air fryer to revive your leftovers without overcooking them.
Frozen Food: Before cooking frozen foods, it's better to check your air fryer's detailed instructions. This function is especially described for this appliance to help you prepare frozen food quickly and easily.
Fried Food: An air fryer is always the best device to prepare crispy golden fried foods without greasy foods like french fries, fried sweet potatoes, and fried chicken wings. It makes food taste better and healthier.
Cakes: You can use both devices for cakes, both of which will result in delicious cakes. However, if you want to make large quantities or make big cakes, the toaster oven is still the preferred choice.
On the other hand, you can find many air fryer dessert recipes that come in smaller shapes, like cookies, muffins, pies, etc. So just based on your preference to choose a suitable appliance.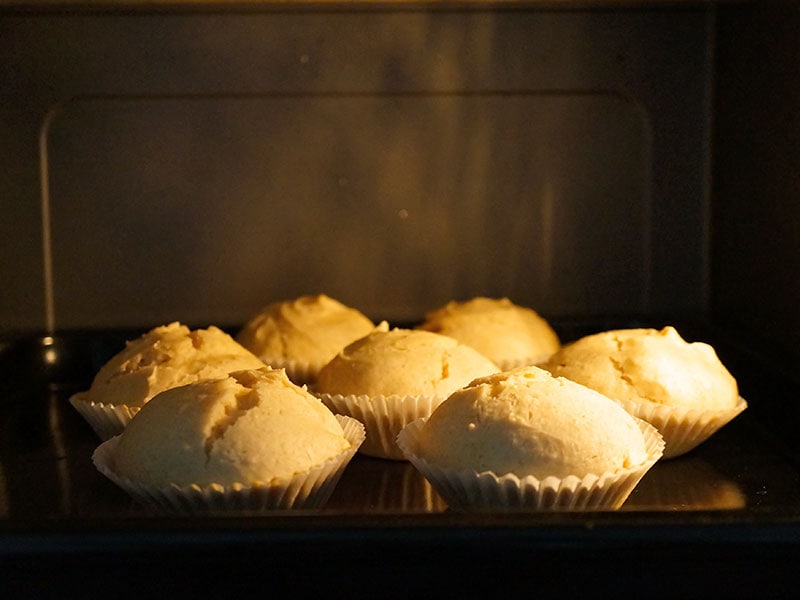 Let's see the result of cooking garlic knots between the air fryer and toaster oven. You should see the video below:
Similar to other dishes, you can rely on the pros and cons of each device to decide which one is right for your dish to create the best possible taste.
Maintenance
These kitchen appliances not only help you in cooking but also help you reduce the burden of cleaning. Especially with the air fryer, you absolutely do not need to use oil when cooking in this appliance, so cleaning is also effortless.
Cleaning can be a bit more difficult for the toaster oven because of the oil when cooking. There are various ways to keep your toaster oven clean, but the most common is using a sponge. Be careful not to affect the heating elements.
Insulation
In terms of insulation, the air fryer is far superior to the toaster oven. An air fryer is designed with a separate food bucket with insulation inside. At the same time, the air fryer itself also has a special insulation design.
Therefore, you can rest assured when using and cleaning this device without worrying about burns. At the same time, you can also put them away immediately after use.
In contrast, toaster ovens often have little insulation, maybe just a very thin piece of metal. So if you turn on the toaster oven and use it, it's best not to leave anything flammable around it.
The toaster oven has improved this feature in more modern designs but is certainly still not as efficient as an air fryer. You still have to wait until this device cools down before you can clean and store it, or you don't want to get burned.
Power Usage
Current air fryer brands usually have a capacity of 1550W to 1600W. In comparison, the toaster oven is generally at 1400W. This also speaks volumes about the cooking speed of these two devices.
Energy Efficiency
Although the power consumption of an air fryer is usually higher than that of a toaster oven, to calculate the performance in terms of usage time compared to power usage, the air fryer is still more energy efficient than the toaster oven.
Digital
Currently, there are many air fryer models that are modernly designed and integrated with many smart features with digital screens, very convenient for users.
In contrast, most toaster oven models retain the manual knob design.
Price
Both these devices are manufactured and sold by many brands in the market. Prices also vary widely depending on the brand. But in general, the price of an air fryer is still higher than a toaster oven.
Specifically, you can buy the cheapest toaster oven for about $20-30, but to buy the cheapest air fryer, you need to prepare about $40-50. This is only the price range for cheap products.
But most of the time, to ensure quality, people often choose to buy devices that cost a little more. Specifically, for $50-60, you can buy a pretty good toaster oven. However, an air fryer is considered good when it is in the price range of $100-120.
FAQs
Perhaps the above information has provided almost all the differences and similarities between an air fryer and a toaster oven. If something is still unclear, you can check out more frequently asked questions below. Maybe there's something you want to know more about.
Make Decisions Based On Your Needs
If possible, you can absolutely choose to buy both an air fryer and a toaster oven to make kitchen work easier without considering between the two devices.
However, you do not need to waste money too much because both can cook many similar dishes. It is important that you have culinary skills to create delicious dishes in your own way.
If you have to choose between the two, you should carefully consider your needs before deciding. The biggest advantage of the air fryer is its speed and convenience. As for the toaster oven, it's the amount of food and the variety in cooking.
I hope that the information that I have provided has been able to help you make the right decision that is best for you. If you find this information useful, do not hesitate to share it with your friends. Thank you!
References
Electric Power and Energy [Online]. Available at: https://courses.lumenlearning.com/boundless-physics/chapter/electric-power-and-energy/
Heating elements. [Online] Available at: https://www.iqsdirectory.com/articles/heating-element.html