I'm sure that at some point or another, you have found cold pizza in your fridge and just want to dump everything in the oven without having to wrap it in aluminum foil or similar stuff, but can you put a pizza box in the oven? It happens to every pizza fan.
This is a legitimate question. The fact that you asked means you care enough to find ways to save yourself from having to eat cold pizza (something I'm also sure many people are guilty of doing).
And here's the straightforward answer: You can, but you have to be extra careful while doing it. Wonder why? Wonder how? Read on to find out.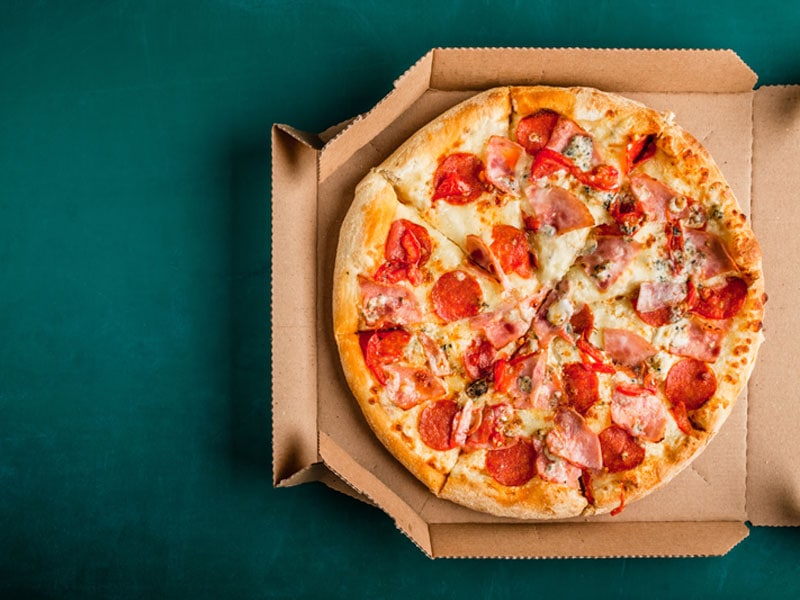 What Is A Pizza Box Made Of?
I can already tell some of you are gonna scoff at this title. Pizza boxes are made of cardboard and glue, of course, you would say. Who doesn't know that?
It doesn't take a genius to spot that fact. But I bet you didn't know that a single pizza box consists of three layers of cardboard stacked and stuck together by glue.
The corrugated cardboard makes for better insulation, which essentially means that the pizza can stay warmer longer. (1)
The cardboard used to make pizza boxes may contain chemicals, especially PFAS (Per- and polyfluoroalkyl substances). This chemical can cause diseases and is even linked to cancer. (2) Luckily, not all pizza boxes come with it.
These days some companies make laminated metalized cardboard, which is a pretty new thing. The insides of the box are lined with aluminum foil to trap the temperature inside and prevent sogginess.
One important element of a normal pizza box is the anti-grease layer, which is usually a flammable parchment paper liner. It is strategically placed under the pizza to absorb all the excess grease.
And lastly, the commercial aspects come in. You may not have thought of this before, but what pizza box doesn't have the company's logo on it? A pizza box's surface can be littered with anything, such as dye, inks, decals, and stickers.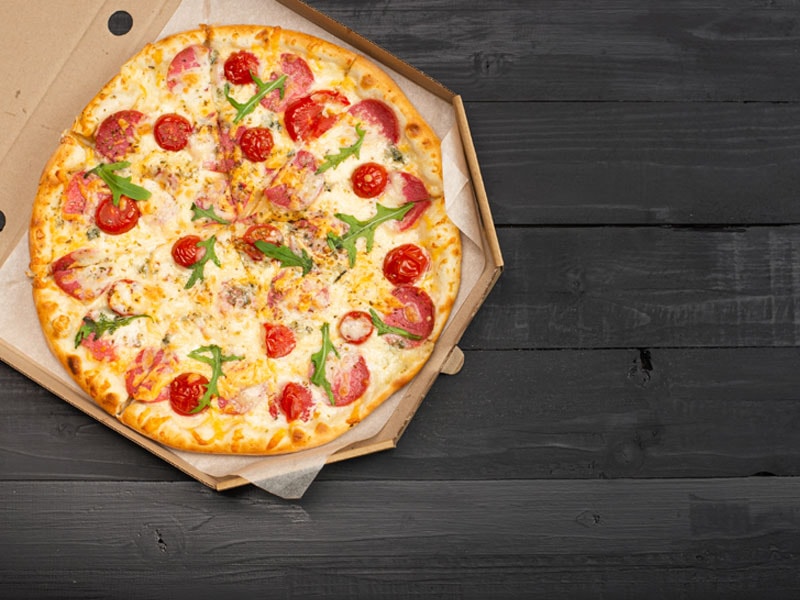 Why Would I Want To Put Pizza Boxes In The Oven?
Well, it's hard to blame you if the idea of sending a whole pizza (box included) into the oven is the first thing that appears in your mind. After all, pizza boxes are made for pizza, and it just kind of makes sense, doesn't it?
There are many reasons why people would want to put pizza boxes in the oven:
They don't want to transfer the pizza to a different tool/ container and have to wash another kitchen appliance later. Everyone has been there and done that.
They want to stabilize their pizza while reheating it. Pizza boxes are a perfect fit for pizza, so their contents don't slide around or spill over the toppings (which is just the worst). Preserving the structure of the pizza is a priority too!
They try to avoid grease on their oven, a legitimate concern if I have ever seen one. After all, no one likes greasy ovens.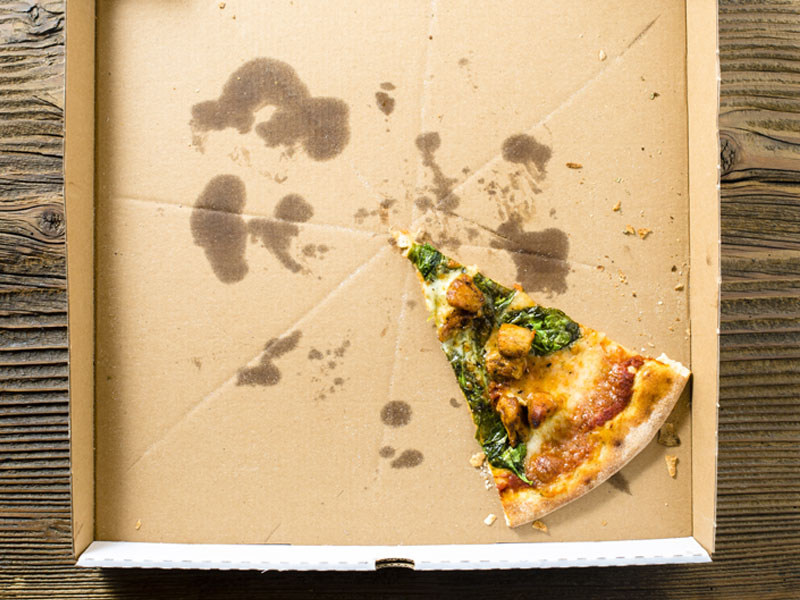 What Happens When You Put Pizza A Box In The Oven?
The outcome depends on how you go about doing it. Putting a box of pizza in the oven can end up in either a very warm, crispy reheated pizza or a badly burnt pizza-shaped lump of coal and a kitchen hazard. So what makes the difference?
Remember when I said a pizza box is made of cardboard and littered with stickers, inks, decals, and whatnots? You see, those are all flammable. So it's not that difficult for them to catch fire, burn your oven, and by extension, your kitchen.
But there's a safe way to reheat pizza inside their boxes. The trick here is to pay attention to the temperatures.
There have been debates over what is the exact temperature at which cardboard burns, but so far, 400°F (204°C) is a reliable number. So you need to be careful and keep the temperatures below 400°F, and the cardboard should be safe from fire.
However, this doesn't mean the inks, stickers, or anti-grease layer on the box won't burn, too. For safety reasons, try to take off anything you can. You should also research carefully about the materials and their burning point to make sure.
Even if they don't catch fire, too high temperatures will make them melt. Also, the cardboard will char against your pizza. You can tell that this is not good for the pizza, both in terms of nutrition and flavor.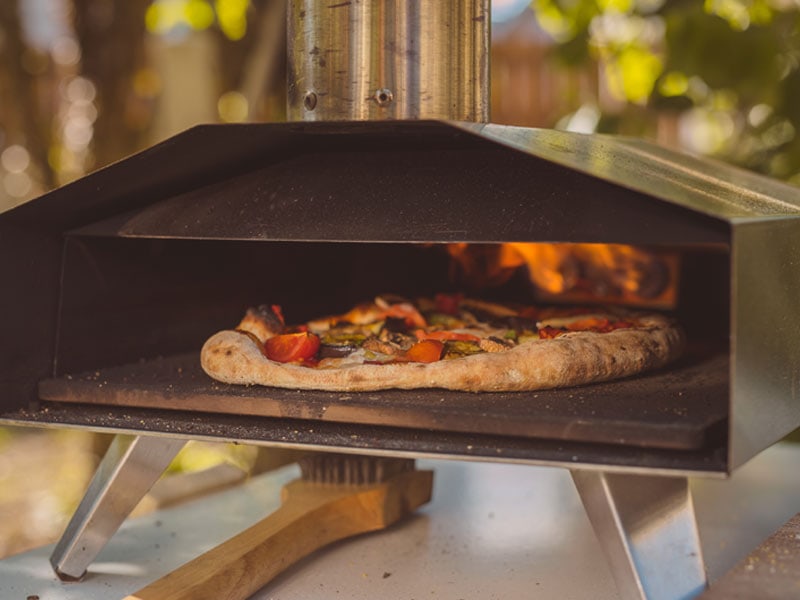 Can Pizza Boxes Ignite In The Oven?
Yes, it can. In case you are wondering, the cardboard itself doesn't combust, even if they are exposed to high temperatures. Burning is the worst thing it can do.
But, it can combust if coming into contact with things like cooking oil, soybean oil, and margarine. So, when the cardboard comes into contact with the oil in the pizza, you can see why it might cause a problem.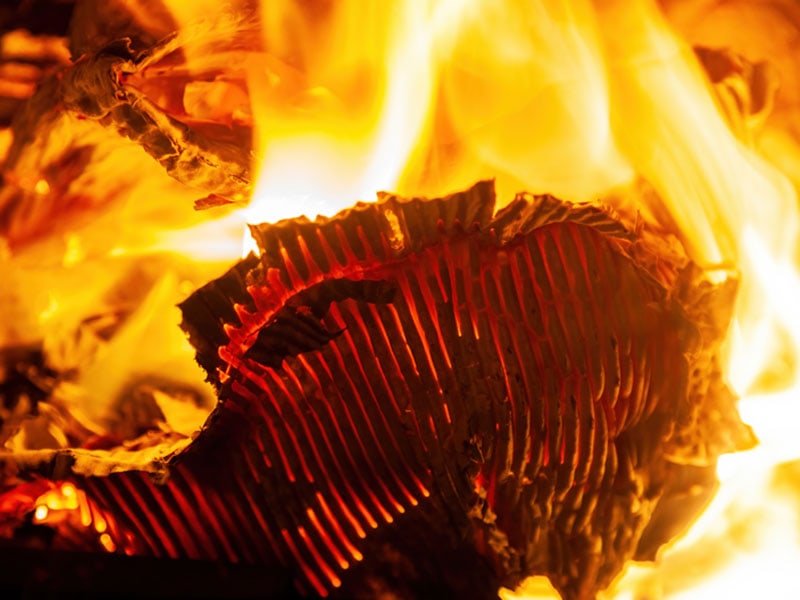 How To Reheat Pizza By Putting The Pizza Box In The Oven
Do you still want to reheat pizza boxes using an oven? How can you go about doing this? Well, you've got me here to help. Here are the steps:
Step 1: Preparation
Preheat the oven to 275°F (135°C) for about 10 minutes. It's always important to preheat the oven. Otherwise, the cardboard will surely char the pizza.
Step 2: Start Reheating The Pizza
Reduce the temperature to 170°F (77°C) – 200°F (94°C). Put the pizza box in the center of the oven (heightwise). Let the box heat up for about 10 – 15 minutes.
While that sounds much lower than the 400°F threshold, it ensures that the other parts of the box won't melt and contaminate your pizza with chemicals.
Pay close attention and check every few minutes to see if it's heating up properly. If the cheese turns bubbly, it means you are doing it right. Take note of the color of the edges. In case they turn brown, it's time to take the pizza out.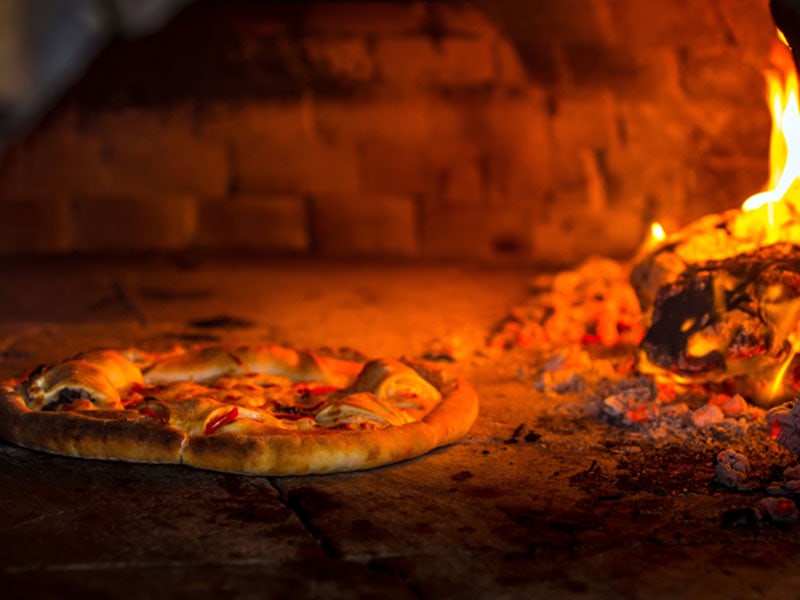 Other (Better) Alternatives To Reheat Pizza
In general, I strongly recommend using other methods to reheat pizza. Using a pizza box contains so many risks that I don't want you to take. So here are the alternatives you can pick to bring your pizza back to life.
Using Baking Sheet/ Tin Foil
As you can already tell, baking sheets and tin foil are much more oven-safe than cardboard. Naturally, they are much safer options for pizza reheating. You just need to follow these simple steps:
Step 1: Preparation
Preheat the oven to 350°F (177°C). If you decide to use a baking sheet, place the baking sheet inside the oven before preheating.
Step 2: Reheat The Pizza
Put pizza slices on the heated baking sheet. If you use tinfoil, now is the moment for you to place pizza slices on tin foil and slide them on the oven rack. Let them cook for about 5 – 7 minutes.
One thing you need to note about using tin foil, though, is that it traps the air beneath the pizza, so the crust below can't be as crispy as you would want it to be.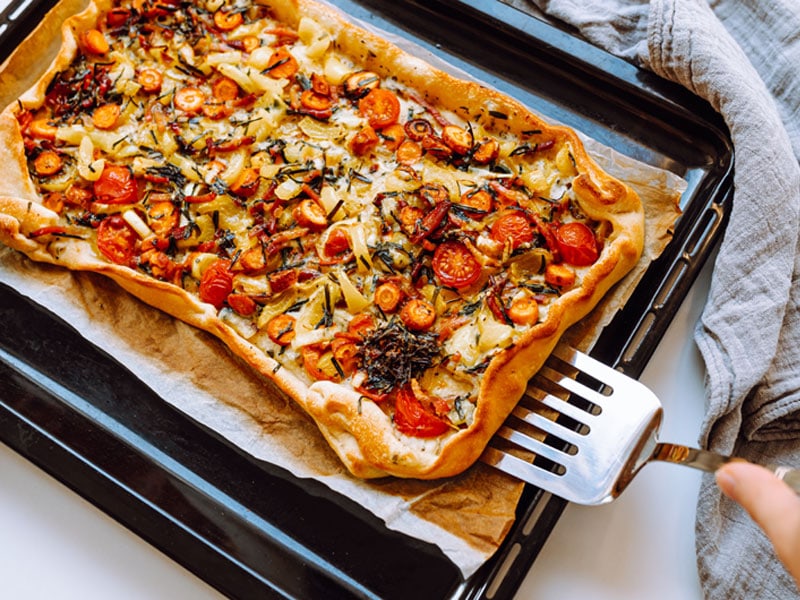 Using The Microwave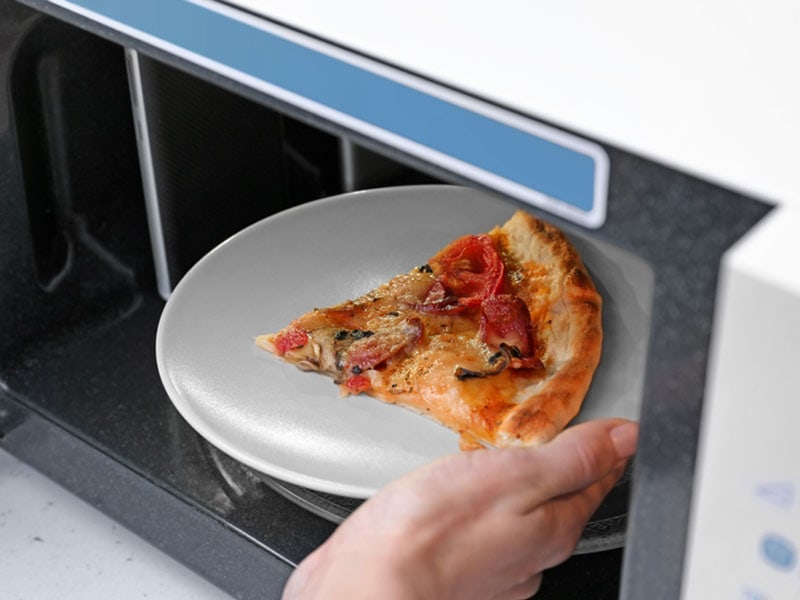 If you are running short on time, using a microwave might be a good idea. Instead of waiting for many minutes, this amazing invention can get it done within less than one minute.
However, it does come with a price. If you are not careful, microwave-heated pizzas can be unevenly heated and come out with a soggy texture.
Microwaves work by interacting with the water molecules inside the food. Therefore, foods that are high in water content are heated more quickly and vice versa. Unfortunately, pizzas aren't among them.
But don't worry, because these problems have a solution. Just follow these instructions closely:
Step 1: Preparation
Find a microwave-safe mug/ plate/ container of your choice. Fill it with about ½ cup of water (about 120 ml). Place your pizza slices on a microwave-safe plate.
Place both the water and the pizza in the microwave. You can either place the water beside or beneath the pizza; it works fine both ways. Alternatively, you can use a wet paper towel, which doesn't need water. Place it between the pizza and the plate.
Step 2: Reheat
Heat the microwave on high. The amount of time you should microwave depends on the number of slices you are microwaving. Here's the math: Heat for 30 seconds for the first slice, and with each additional slice, add another 15 seconds.
Pay close attention. If the cheese has fully melted, take the pizza out. If you wonder what role the water mug and/ or paper towel plays in this, they absorb moisture and prevent sogginess.
As microwaves work by moving water molecules, adding the water mug/ wet paper towel helps soak up some of the moisture, and thus the pizza can be warmed up more evenly and less likely to become soggy.
The paper towel also absorbs the excess grease in the pizza, so it's an additional perk.
Microwaving is the quickest way to save yourself from cold, pitiful leftover pizza.
On A Stove Top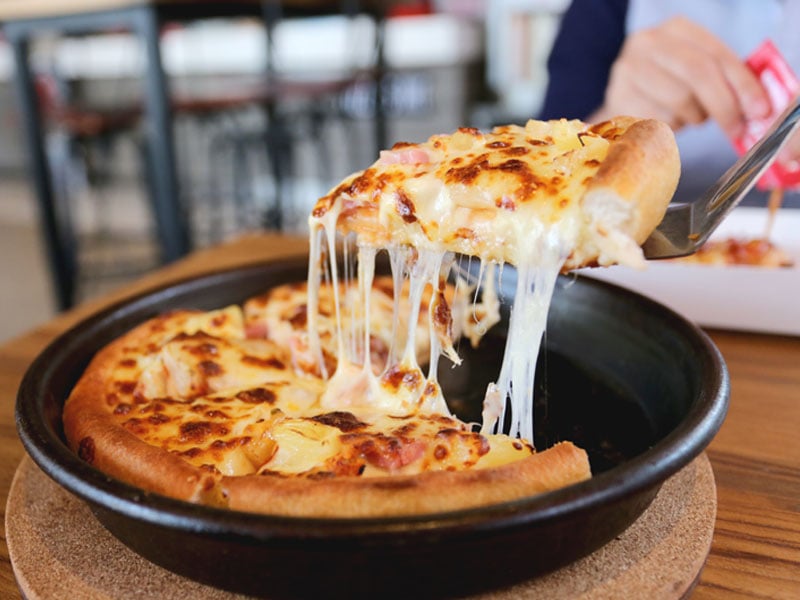 If you prefer the stove, then it's fine too. To reheat pizza on a stove, the first thing you're going to need is a skillet. While any frying pan works fine, a cast-iron skillet with a lid is preferable. You will also need water: a teaspoon would be enough.
Step 1: Preparation
Turn on the stove at medium heat. Place the pan on the burner until warm.
Step 2: Reheat
Place your pizza on the pan and cook for about 2 minutes. The lid doesn't go in yet, so you cook the pizza uncovered in this step. After 2 minutes, move the pizza to the side a little bit and drop a teaspoon of water on the pan. Don't let the water fall on the pizza.
If you want to add something a little bit extra, grate some parmesan cheese into the slices.
Step 3: Cook With The Lid On
Cover the pan with the lid or aluminum foil. Cook for another 1 – 2 minutes. Remember to open the lid to check on the pizza every few minutes. Once the cheese has melted and bubbled, and you feel like the slices have heated properly, remove it from the pan.
Using a stove to cook pizza is easy, and this guide will make it seem even more straightforward!
Using Oven Rack
Sometimes you want to toss the pizza, uncovered, into the oven, and see how it goes. And nothing says that you can't. Tossing naked pizza slices in is the best way to make them crispy, as the moisture is not trapped by any sort of container. So how do you do it? Here are the steps:
Step 1: Preparation
Preheat the oven to 350°F. Once the oven is heated, place the pizza directly on the rack. Avoid the highest position in the oven, as it has the highest temperature and might burn the pizza.
Step 2: Preheat
If you want your oven to be relatively clean after the ordeal, place a tray or a plate on the rack underneath the pizza. This is for catching grease, crumbs, and toppings that might spill in the oven. Let cook for about 10 minutes until the cheese bubbles.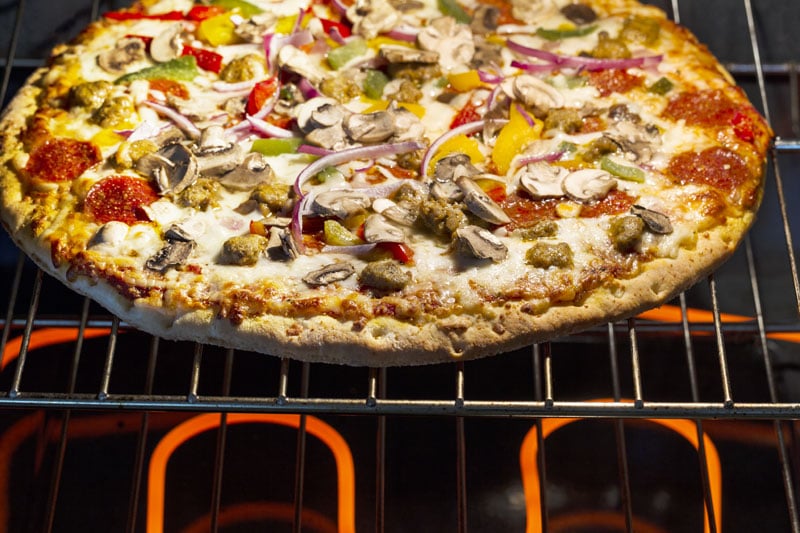 Using Toaster Oven
Using a toaster oven is pretty similar to using a normal oven. The only difference is that you would be able to cook less pizza at once. Follow these steps if you want to use a toaster oven to reheat pizza:
Step 1: Preparation
Preheat the toaster oven to medium heat. Wrap the pizza slices in aluminum foil. Poke holes in the foil for better air circulation.
Step 2: Reheat
Cook for about 10 minutes.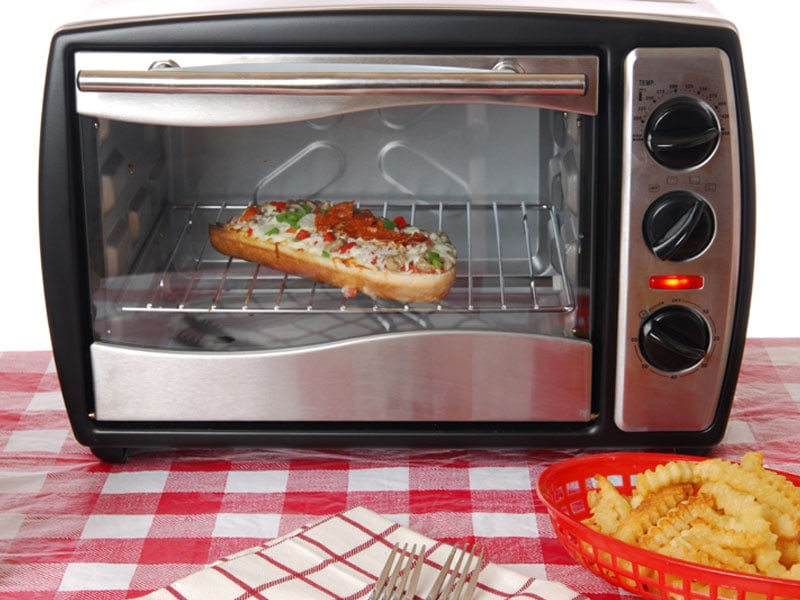 Using A Grill
Now, this might seem like a wild idea, but it works! I mean, setting up a grill is a huge piece of work, but if you already have a working grill, then using it to reheat pizza is quite convenient. This is how you warm up your pizza with a grill:
Step 1: Preparation
Preheat the grill to medium temperature.
Step 2: Reheat
Put pizza on the grill for 6 – 8 minutes. The perks of using the grill are that the pizza will end up super crispy, and you will be able to cook a large amount of pizza at once. It also adds the additional aesthetics of nice char marks at the bottom of the pizza.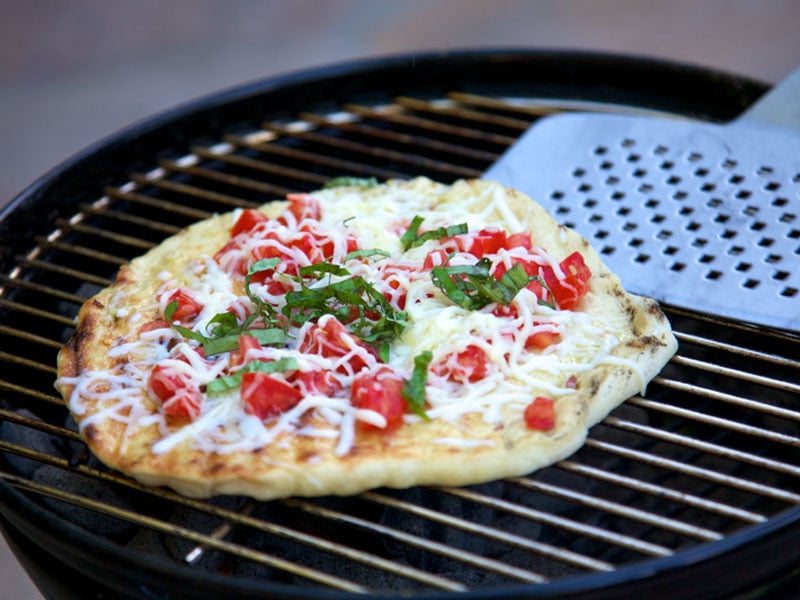 Using An Air Fryer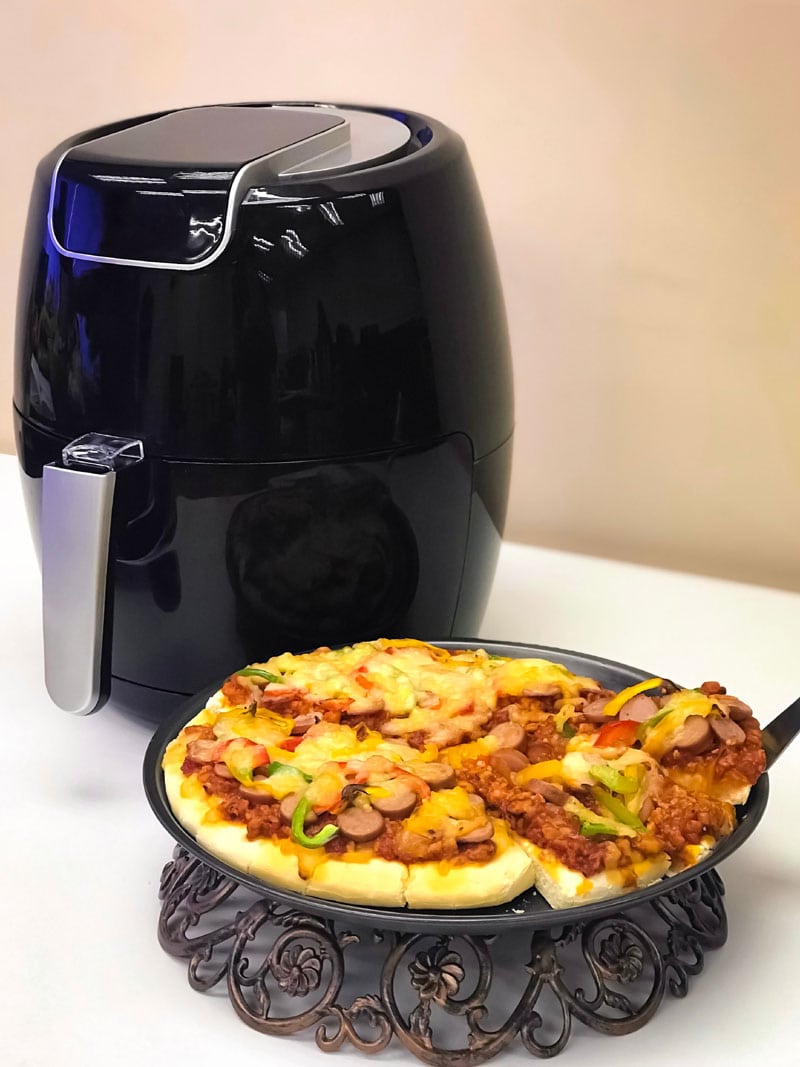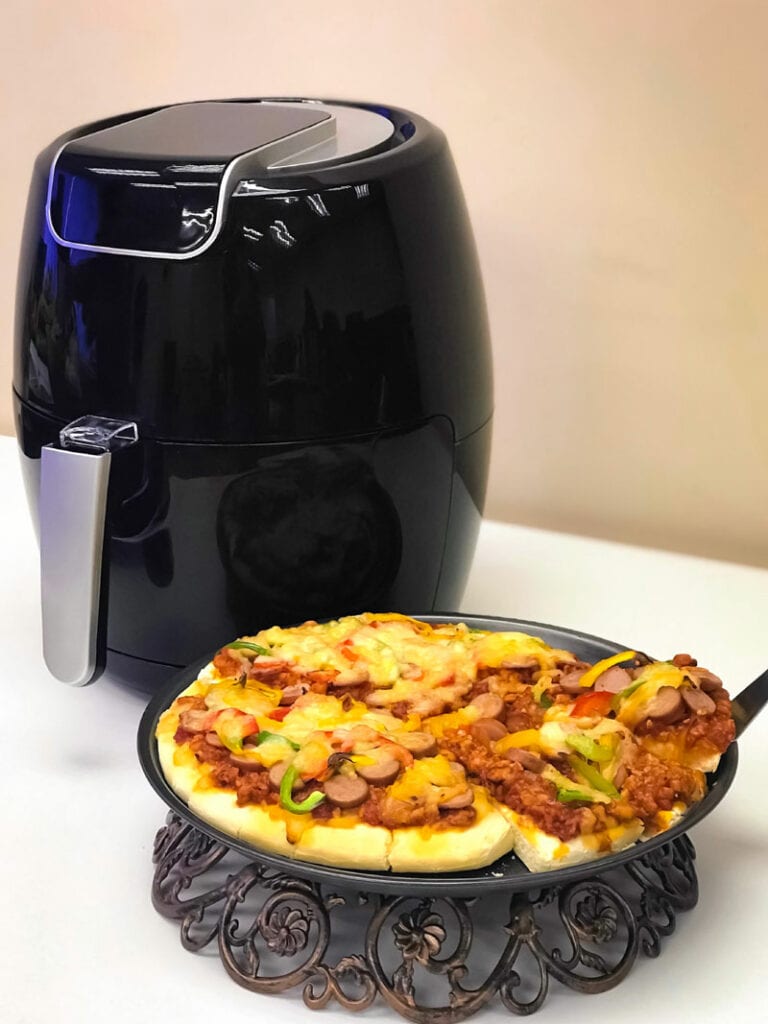 Let's try the air-fryer, the celebrity of the modern kitchen. It can not cook too much pizza at once, but I would say its compact size and time-saving features make up for it. To reheat pizza using an air fryer, follow these steps:
Step 1: Preparation
Heat the air fryer to 325°F (163°C) – 350°F (177°C). Thicker slices require higher temperatures. Add the pizza slices to the basket. Remember, you should add more than two slices at a time. Be careful not to let the slices overlap each other.
Step 2: Reheat
Cook for 3 – 4 minutes. Check if the slices have been fully cooked. If not, continue for another 1 – 2 minutes.
This useful guide will show you the easiest way to reheat pizza in an air fryer.
FAQs
Here comes the ask-and-answer section. In this part, I will provide the answer to some of the most commonly asked questions. See if they can help with your concerns.
Ready To Bring Your Pizza Back To Life?
And that is everything you need to know about what to do (and not to do) when you try to reheat pizza. In short, you can put a pizza box in the oven. It just requires a lot of calculations and risk-taking. But there are many better ways to keep pizzas warm and crispy you can try.
If you still have any questions left or have some additional tips to share with the class, don't hesitate to comment in the comment section down below. Share this post with your friends, especially pizza fans who want to eat their favorite food in a healthier way.
References
Corrugated fiberboard (2022) Wikipedia. Wikimedia Foundation.
Marusic, K. (2020) Pfas with your pizza? People who eat more takeout have higher levels of harmful chemicals in their bodies, EHN.