Knowing how to preheat a toaster oven is a must for all oven users. This seemingly simple action is important in baking or using an oven. It can decide the outcome of your baked products, so please pay close attention!
This small version of the oven can be a great tool in your kitchen; it is also relatively easy to use. By reading the instructions carefully, you get to know your toaster oven and what it requires to work properly.
With this article, I will show you all the necessary information for you to prepare your toaster oven. Use a pen and paper to jot down if you must because there is a lot to unpack.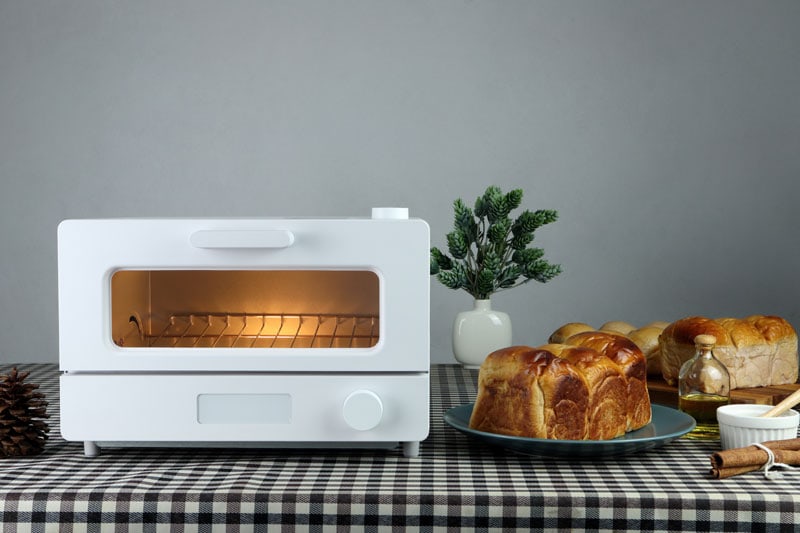 Why You Need To Preheat A Toaster Oven
Depending on the recipes you are pursuing, preheating the oven may or may not be necessary. You can skip this part for simple cooking, but it is generally agreed that preheating is a must-perform step for more complicated recipes.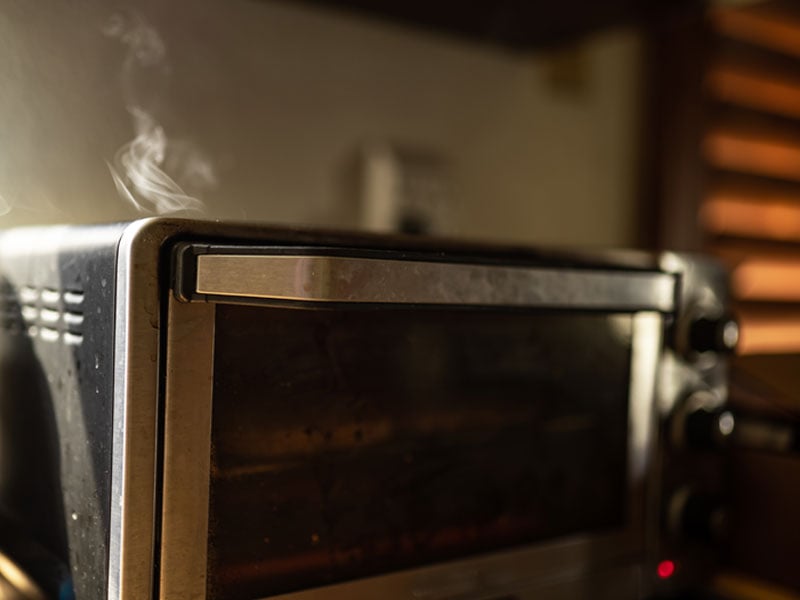 Heating a toaster oven ensures that it reaches the correct temperature, guaranteeing that your food will be perfectly cooked. Without preheating, your products might be unevenly baked, undercooked, or overcooked.
If you are making bread, the crust might come out too hard while the crumb is too soft. In the case of meat and fish, the lack of prior heating will affect the tenderness and the time it takes to brown the meat.
Preheating also saves you some precious time. You can let the toaster oven heat up while preparing the raw ingredients. The toaster oven will also be ready when you are done with them.
For beginners, learning how to maintain the temperature inside the oven will help you greatly in the long run. It ensures that all your culinary endeavors will be perfect each time.
Find out more reasons to preheat your oven.
How Long Does It Take To Preheat A Toaster Oven?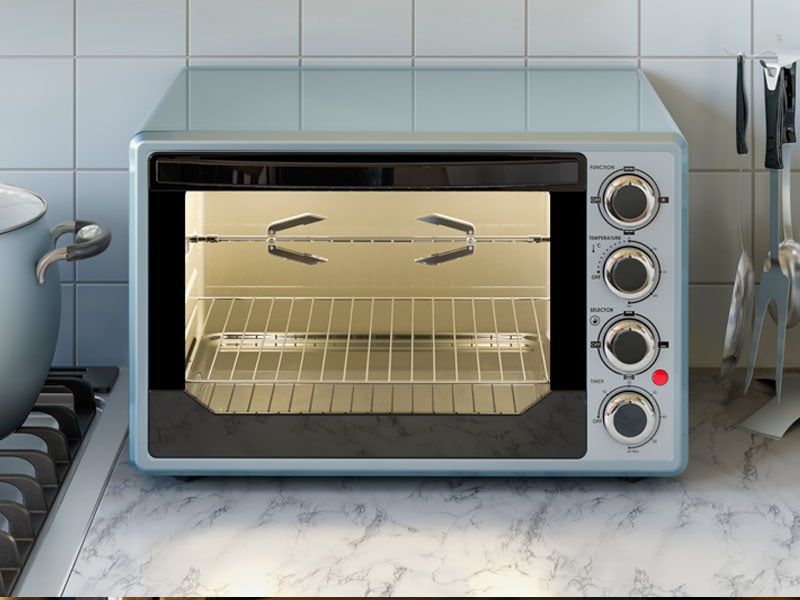 As mentioned above, preheating a toaster oven will save you time in the cooking process. The time it takes to preheat ranges from 5 to 6 minutes for your average toaster oven. This time varies depending on the model of the toaster oven you use.
For smaller toaster ovens, you can expect less preheating time and vice versa; larger toaster ovens will take more time to reach the desired temperature.
The table below will give you some reference about the amount of time to reach a certain degree. Gas ovens will take less time than electric ones to heat up.
| Temperature (Degrees Fahrenheit) | Time (Minutes) | Useful For |
| --- | --- | --- |
| 180 | Under 5 | Good for reheating food |
| 375 | 5 - 10 | For recipes such as whole chicken and sweet potatoes. |
| 400 | 5 - 15 | For broiling vegetables or baking pastries |
| 450 | 5 - 15 | Recommended for preheating ovens |
| 500 | 5 - 20 | For making large batches of cookies or scones |
A Guide To Preheat Toaster Ovens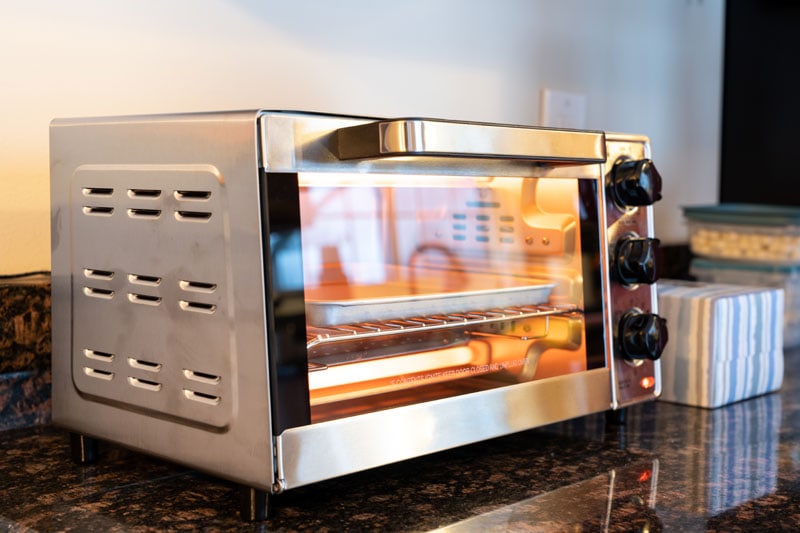 Though this might be the most important step in baking, preheating is not that hard, even for newcomers. You need to pay close attention to this part of the article to avoid any mistake that could result in undesirable outcomes.
Most toaster ovens are smaller versions of normal ovens; some have preheating indicators that tell you when the heating is in motion and when it will be ready. There may be a preset heating option for you to choose from.
It might take a little bit more effort for the ovens with only knobs that require manual turning. Before going into the step-by-step guide, ensure your toaster oven is plugged in.
Step 1: Examine carefully if the oven door is closed and sealed; you do not want any hot air to leak out of the oven. Some ovens will not work if the door is not properly sealed, so keep that in mind.
Step 2: Turn the temperature knob (or click the button, depending on the oven) to the desired temperature. It is recommended that you set it to 350 to 400 degrees Fahrenheit (176 – 204 degrees Celsius), which will take some time, depending on the oven.
Step 3: Wait. If your oven has an indicator light or sound, wait for the signal to go off, and you will have a heat-up toaster oven. However, if your oven does not feature, you should use a thermometer to check the temperature.
Now, you can freely exercise your culinary practices with your toaster oven, knowing that your food will come out perfectly cooked.
Learn how to preheat a toaster oven with this short video.
Things To Consider
If this is your first time using a toaster oven and you still have some doubts about the preheating process, there are a few things in this section to help you ease your mind.
Calibrating A Preheated Toaster Oven
If you are using an old toaster oven, the time it takes to preheat may increase due to natural wear and tear. In this case, you should check the toaster oven's accuracy before proceeding.
To do that, you will need an oven thermometer. Place it on the oven rack and turn it on before closing the toaster oven. Then, set the temperature to 350 degrees Fahrenheit and wait for 6 – 8 minutes.
After that time, when the oven gives the "done" signal, take out your thermometer and read the number on it. If the number says "350F", then your oven is well-calibrated. You can repeat this many times to find an average number.
However, if the temperature fluctuates more than 5 degrees, you will need to make some adjustments. You can have someone fix it or simply adapt to this error by adding some more degrees to the temperature dial.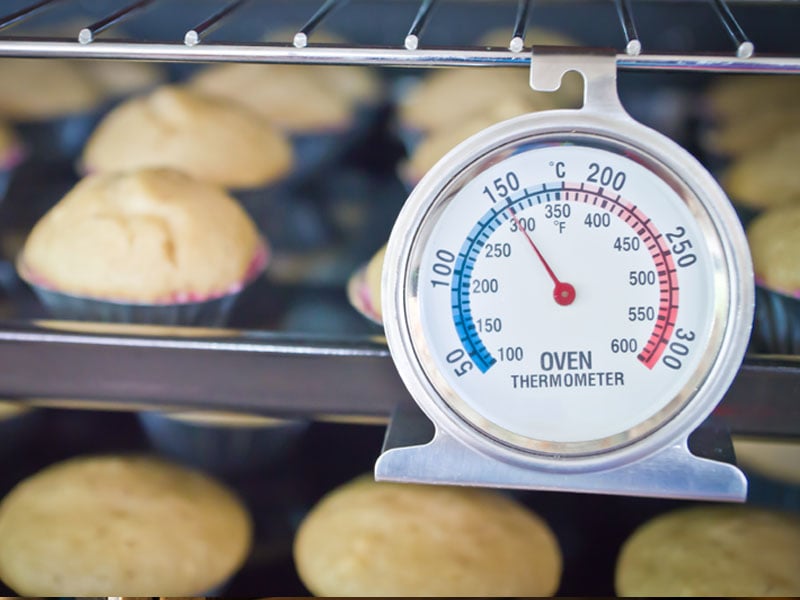 Make Sure The Toaster Oven Is Perfectly Preheated
For new ovens, you can trust the temperature display and rely on it to tell if your toaster oven is at the desired temperature. However, you may have to check the heat inside for ovens past their prime.
There are some ways to do that, such as using a handy oven thermometer or some sugar, which will be covered in this article section.
Using An Oven Thermometer
This method is fairly simple; you only need an oven thermometer and a working toaster oven to put it in. Ensure that the thermometer does not directly touch the inside of the oven. I suggest hanging it between the slit of the middle rack to achieve that.
Turn on your oven and wait; after it is done heating, read the number on the thermometer and see if it is similar to the number on the temperature indicator. If the two numbers match, your toaster oven is good to go.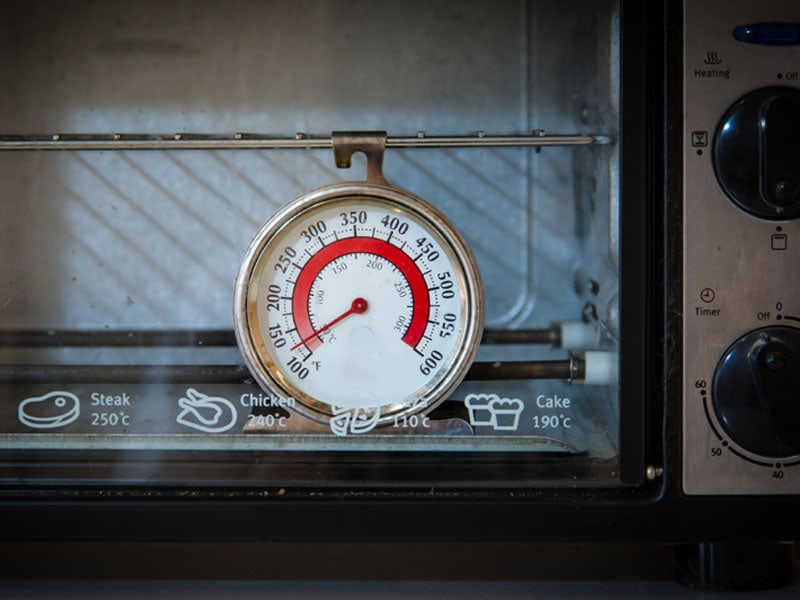 Melting Some Granulated Sugar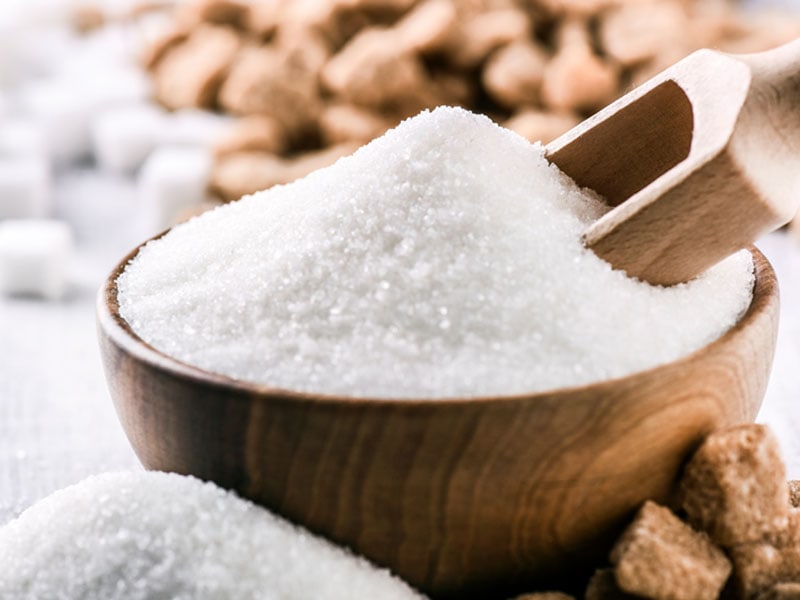 If you don't have an oven thermometer (then please get one), you can use some granulated sugar as a tester.
Get a plate that is oven-safe and pours in your granulated sugar. Place the plate in the oven and set it to 320 degrees Fahrenheit (160 degrees Celsius). After 10 to 15 minutes, take out the plate and check the status of the sugar.
If the sugar is evenly melted after that time, then your oven is well-calibrated since the melting temperature of sugar is about 320° F (Or 160° C). Otherwise, if it is only partially melted or not melted at all, then you might have to spare more time for the preheating process with that oven.
Apply this method of temperature testing to your toaster oven if you don't have an oven thermometer.
Small Details That Can Have A Huge Impact
When working with a toaster oven, one small mistake in the heating process can make your food inedible. To avoid that, you need to pay attention to these two details.
The Location Of The Toaster Oven
A toaster oven is more compact than a standard oven. Though it can fit in a small spot, you shouldn't put it in a too cramped space. This might affect air circulation and heat venting. This will cause your toaster oven to overheat.
Therefore, choose an ideal location for your toaster oven, having enough space and air to ensure your oven gets the conditions it deserves.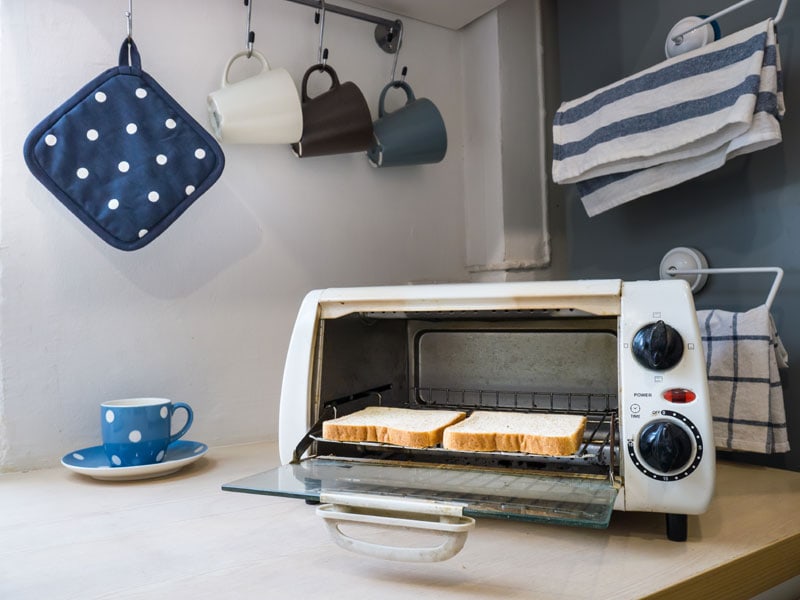 The Usefulness Of An Oven Thermometer
As mentioned above, a thermometer is useful in determining if an oven is still heating up accurately. It is incredibly helpful when the oven's temperature display is unreliable or a simple tool to double-check the heat level.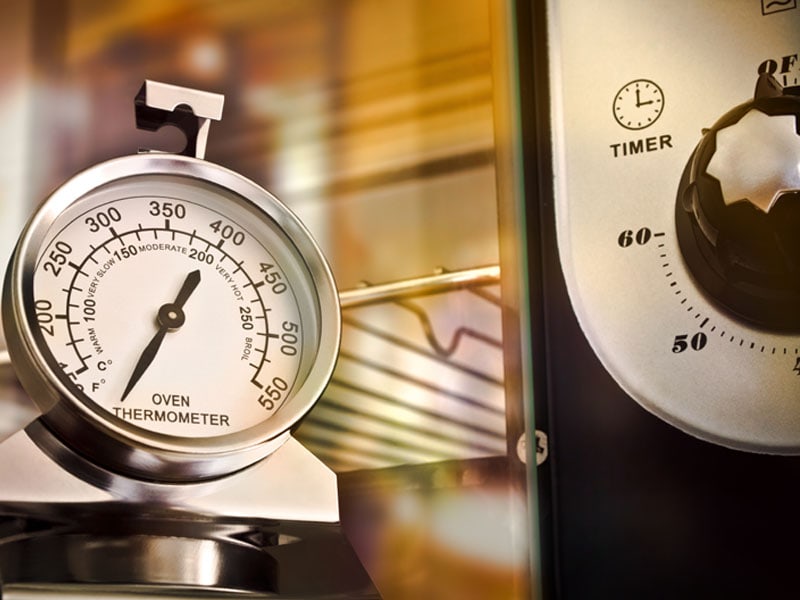 Can You Put Food In The Toaster During The Preheating Process?
If you feel impatient and want to maximize your time by putting food in the toaster oven during the preheating process, you may want to reconsider that decision or at least proceed with precaution.
You can put the raw materials in the oven during the preheating process; the oven will continue to heat up. However, technically speaking, it would not be considered preheating if you put food in during the process.
Moreover, placing your food there can potentially affect its texture, browning, doneness, and the dough's rise if you are baking.
What Happens If You Put Food In The Toaster Oven During Preheating?
Sometimes, the worst thing that can happen is that it takes longer to cook your food. But if the recipe requires preheating before loading in raw items, the outcome of your dish might be less than desirable.
Depending on what kind of cooking you use the oven for, the lack of preheating may affect the final product differently.
Baking
To reach the rise typically seen in many baked products, it requires leavening agents such as yeast, baking powder, and baking soda. These ingredients require a specific temperature to perform effectively.
Therefore, the lack of preheating could cause your dough or batter not to be able to rise to the desired level. This is the reason for many failed batches of baked products.
Roasting And Broiling
Roasting and broiling meat, fish, or vegetables require a very high temperature. If you skip the preheating and put the raw ingredients in, and let the heat rise slowly, it can cause the moisture within those ingredients to evaporate.
With the moisture gone, your final products will come out overcooked and dried out.
Toaster Ovens Vs. Convection Ovens
A toaster oven is a smaller version of the convection oven, which is only one difference between the two types of oven. This section of the article will compare the two variations to show you which one you should stick to.
Toaster Oven – A Summary
Toaster ovens are mini ovens that can cook food fast and take up less space. You can put a toaster oven on a countertop, which is not the case for convection ovens.
This type of oven works on radiant heat, similar to a toaster. This is achieved by converting electrical energy into heat energy using wires and chromium/nickel metal alloys. When used, the heat will radiate from the coil and go throughout the inside of the oven. (1)
Toaster ovens often cook at a lower temperature compared to standard ovens. Therefore, it is better suited for smaller dishes or to reheat food.
Convection Oven – An Overview
A convection oven is simply an oven with fans and an exhaust system to help speed up the baking process and spread the heat more evenly. It is larger than a toaster oven, so you can load it with heavier tasks and expect it to do it faster. (2)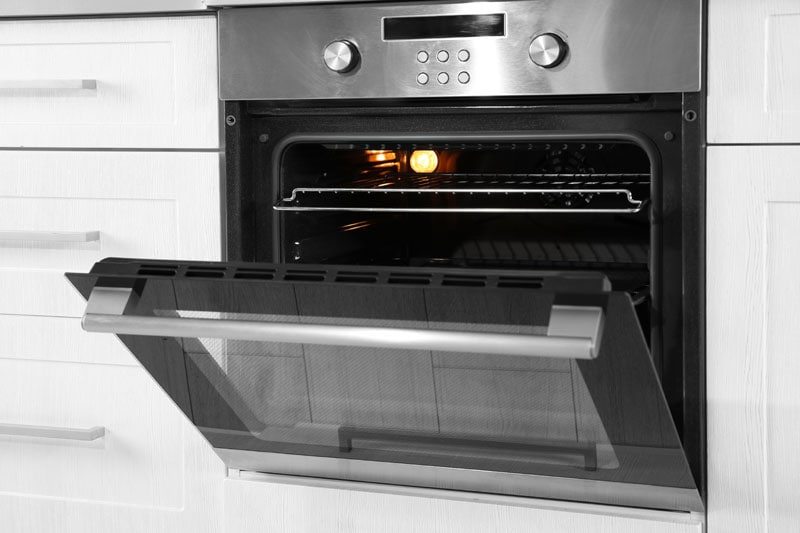 A convection oven will also consume less energy than a standard oven because of the faster cooking time, which means more efficiency.
This type of oven is good for roasting meats and vegetables, baking pies and pastries, or baking small treats in large quantities.
Discover how convection ovens work and what they do to your food.
Toaster Ovens Vs. Convection Ovens – A Showdown
After going through the two ovens, let's put them together on a table and pitch them together.
| Features | Toaster Oven | Convection Oven |
| --- | --- | --- |
| Size | Smaller in size, can be put on a countertop | Standard oven size, takes up more space in the kitchen |
| Price | Less expensive, ranging from $25 - $1000 | More expensive, ranging from $930 - $2,050 |
| Temperature | Can cook at a lower temperature than a standard oven | Can cook food at low and high-temperature |
| Recommended Preheating Temperature | 350 - 400 degrees Fahrenheit (176 - 204 degrees Celsius) | 320 - 356 degrees Fahrenheit (160 - 180 degrees Celsius); |
| Preheating Time | Ranging from 5 - 15 minutes | Ranging from 8 - 10 minutes |
| Versatility | Use for heating up food, toasting, baking, and roasting small items | Use for baking, roasting, toasting, and broiling |
| Heat Distribution | Less evenly distributed | More evenly distributed thanks to the fans and exhaust system |
| Heat Source | Heat comes from the coils on the top and bottom of the oven | Heat comes from the coils and blown directly onto the ingredients by inside fans |
| Capacity | Lower capacity due to the smaller size | Higher capacity due to the larger size |
| Power Usage | Use approximately 50% of standard-size oven | Use 20% less energy compared to standard oven |
| Easy Of Cleaning | Tend to get dirty quicker, harder to clean | Easier to clean with the fans, help to prevent food from sticking |
Recommended Toaster Ovens For Upgrading
If you are looking to buy your first toaster oven or seeking a worthy upgrade to your old oven at home, take a quick look at this section for some recommended options. They can be purchased online or at your local appliance stores.
This Panasonic oven is excellent for making toast, cookies, and small treats. It is reasonably priced and compact enough for a crowded countertop, yet it can fit up to four pieces of bread.
The FlashXpress cooks food evenly. Therefore, it is good for making consistently heated toast. It is a perfect choice for those who wish to use their oven for small tasks making treats.
The Breville Smart Oven is slightly bigger than the previous toaster; it comes with a convection setting that can air-fry food. The user interface of this oven is more intuitive than that of the Panasonic oven, but you have to pay more for the added features.
This affordable option is good for kitchens with limited space and users with a limited budget. For the low price, it lacks many quality-of-life features such as digital controls and preset heating options.
Hamilton Beach 4-Slice can heat food evenly, which many toaster ovens can't do properly. You need to note that it runs cooler than the other ovens, and you need to increase 25 degrees or so when using it.
Cuisinart Chef's Convection toaster oven is the biggest contender on this list; it is packed with many features and capabilities, almost rivaling those of a full-size oven. This toaster requires copious space in the kitchen and ample cash to acquire.
This model can heat food fast and evenly; its large size means you can fit in a lot of items, from various small snacks to a whole 13-inch pizza.
FAQs
More questions about the toaster oven can be found here in this frequently asked questions section.
Know Your Oven – The Key To Being A Master In The Kitchen
Now that you have got the hang of the basics of using a toaster oven, feel free to dig deeper into the baking game. This small yet powerful tool can help you in the kitchen, from simple reheating to baking a batch of little sweet treats.
For specific recipes that require preheating, always remember to spend a few minutes for your oven to come to the desired temperature. It is crucial to ensure your baked products will come out perfectly cooked.
Feel free to comment below with any thoughts about this topic. If you find this article useful in your cooking endeavors, please share it with your close ones who would find this information helpful.
Paragraph
Corkidi, S. Q. (n.d.). Toaster Oven Control System Using MC9S08QD2. NXP.
Baguley, R. (2015, March 18). Appliance Science: The circulating physics of the convection oven. CNET.