Can stainless steel go in the oven? You may usually hear other people talk about never putting metal in the microwave. But how about in the oven, especially stainless steel kitchenware?
Today, I will explain to you what you need to know about one of the most popular materials in making kitchen tools.
By reading this article, you will find the answer to the question of whether it is safe in the oven. Then I will discuss the pros and cons of using this material and how to determine oven-safe stainless steel cookware. So let's jump right into this post and learn more!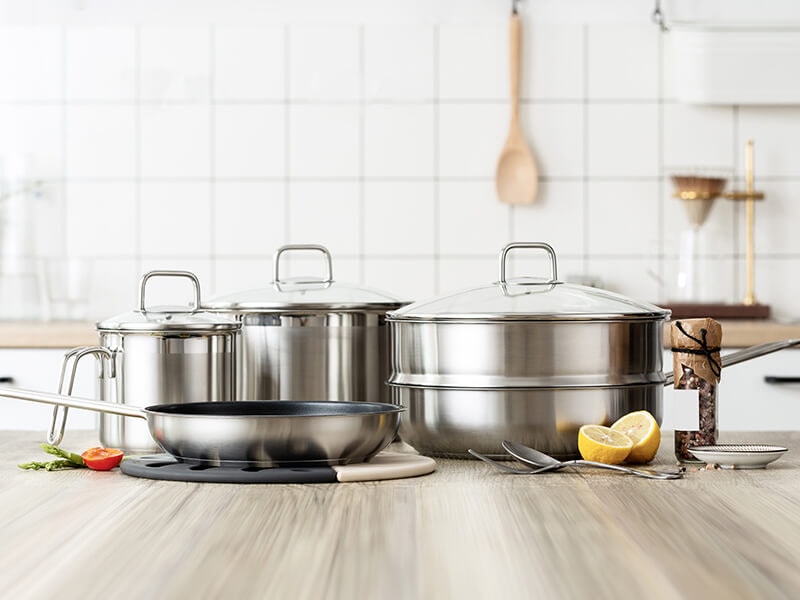 Is Stainless Steel Safe For The Oven?
Contrary to some people's belief, most stainless steel products are oven-safe. However, not all stainless steel has the same quality. You should read this detailed information about stainless steel to know which stainless steel is safe and which is not.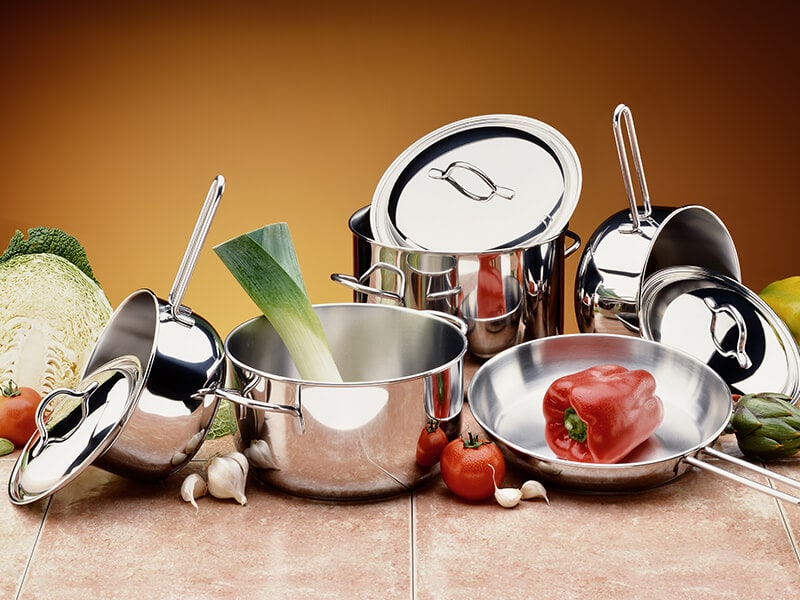 What Is Stainless Steel?
Stainless steel is an alloy that contains at least 11% chromium with different metal and nonmetal elements(1). The corrosion resistance of stainless steel is its distinctive quality.
Because of the chromium protective coating, stainless steel seldom rusts, making it superior to other metals in terms of durability. The manufacturer can adjust the stainless steel composition to get the desired effect, satisfying the clients' demand.
The Amazing Heat Resistance Of Stainless Steel
Since stainless steel has a high melting point, about 2,500°F (1,371℃) or higher, making it a high-heat-resistant material. However, not all stainless steel can tolerate such high temperatures.
The heat resistance of stainless steel goods varies depending on classification and brand. Below are some stainless steel cookware collections that can resist temperatures of 500℉ (260℃) or higher.
| Collection/Brand | Oven-Safe Temperature (Fahrenheit) | Oven-Safe Temperature (Celcius) |
| --- | --- | --- |
| All-Clad D3 (non-stick) | 500 | 260 |
| All-Clad D3 | 600 | 315 |
| All-Clad D5 | 600 | 315 |
| HexClad | 500 | 260 |
| Misen | 500 | 260 |
| Calphalon Signature | 500 | 260 |
| Anolon Nouvelle | 500 | 260 |
| Henckels Clad Impulse | 500 | 260 |
| T-Fal Tri-Ply | 500 | 260 |
| Zwilling Spirit | 500 | 260 |
| Demeyere John Pawson and Demeyere Atlantis | 500 | 260 |
| Hestan ProBond | 600 | 315 |
Most stainless steel cookware is oven-safe and heat-resistant from 400 to 800°F (204 to 426℃). Also, stainless steel is classified into many different grades based on its properties. Generally, the number of stainless steel grades can be up to about 100 types.
When buying stainless steel cookware, you should go for high-quality products because low-quality ones can melt in the oven.
You can choose either grade 400 or 304 stainless steel products since they are well known for their excellent quality. Besides, cookware labeled as 18/10 stainless steel is another wonderful choice you can consider.
You must avoid purchasing aluminum-based kitchenware or cookware with wooden or plastic handles. These products cannot stand the high heat and will likely be damaged or release toxic chemicals.
Do you know what stainless steel is? Here is an A-to-Z overview.
How To Use Stainless Steel In The Oven Properly
There is a lot of stainless steel cookware with countless designs and grades these days. Nearly every kitchen has at least one stainless steel pot or pan.
However, not everyone understands how to handle stainless steel products properly, resulting in many items rapidly degrading or being damaged. Here are some tips for using it right!
Does stainless steel pan cause many difficulties for you? That's because you don't know how to deal with it properly.
Avoid Overheating
For stainless steel, you shouldn't use too high temperatures. Indeed, stainless steel is incredibly durable and can tolerate high temperatures. But everything has a limit. Stainless steel can still be damaged when you overheat it.
You should cook within the usual temperature range of 375 to 400°F (190 to 204℃). When the temperature rises beyond 500℉ (260℃), it will damage your stainless steel cookware. Of course, it will not deform right away. However, you may restrict it to a minimum.
Preheating Before Cooking
Always preheat stainless steel before cooking with it. Some people don't understand why food sticks to stainless steel surfaces. That is because they cook while the cookware surface is not hot enough.
When stainless steel is cold, it is porosity, resulting in more gaps between the molecules. As a result, food will adhere to the surface of your pan or pot. You can avoid this problem by preheating the surface of a stainless steel pan before cooking.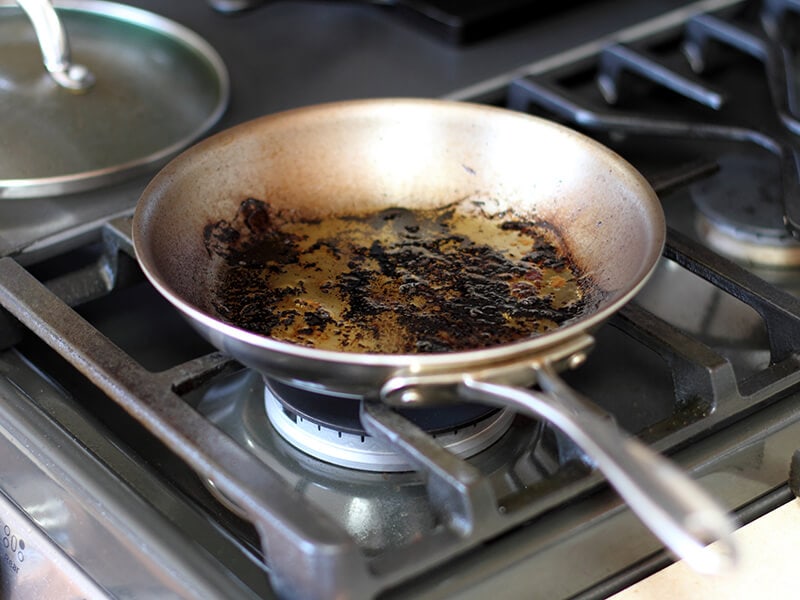 Don't Leave The Cookware Empty For Too Long While Cooking
Although it is necessary to preheat the surface before cooking, you should not keep the empty cookware on high heat for too long when using stainless steel. The appliance surface will discolor into brown, blue, yellow, or even rainbow colors.
It may sound funny, but the color lines will not become an excellent picture, it will instead leave your pan appearing patchy. Therefore, it is not a wise choice to put stainless steel cookware on the stove for a while.
Cleaning After Cooked
Although stainless steel cookware can resist high temperatures, you should never soak a hot pot in cold water. It can result in thermal stress, which will damage or distort your stainless steel cookware. You may let it cool to room temperature before cleaning.
You should avoid using strong chemical cleansers to clean stainless steel. Don't use steel wool to clean it as it will scratch the cooking surface. Instead, soak stainless steel cookware in baking soda for a few minutes to make cleaning easier.
Cleaning stainless steel utensils will be easy when you know these tips!
Check The Handle Before Put It In The Oven
Before putting stainless steel cookware in the oven, you should examine the handle. It is preferable to use cookware with heat-resistant handles, such as silicone handles can withstand temperatures up to 428℉ (220℃).
Wooden or plastic handles will melt in the oven. It will ruin your cookware and your dishes. Toxic chemicals in the handles might dissolve and leach into your food, causing health problems.
If you opt for stainless steel cookware with a plastic handle, you should control your oven temperature below 350°F (176℃).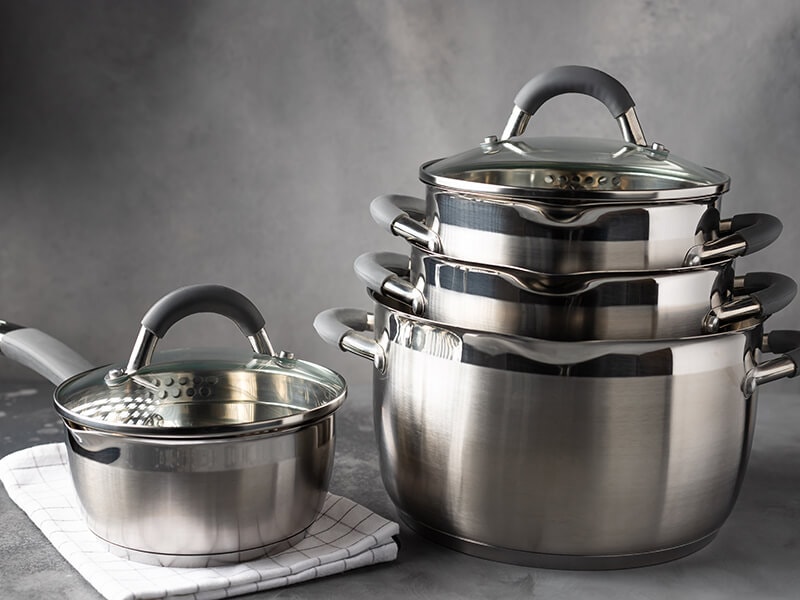 Use Oven Mitts
Never remove stainless steel cookware from the oven with your bare hands. It's preferable to take it from the oven while wearing oven mitts. If you don't have oven mitts, a towel is a good option..
Wrap a cloth over the stainless steel cookware's handle and carefully remove it from the oven. It will assist in reducing your chances of being burned as much as possible.
Pro Tips For Using Stainless Steel In The Oven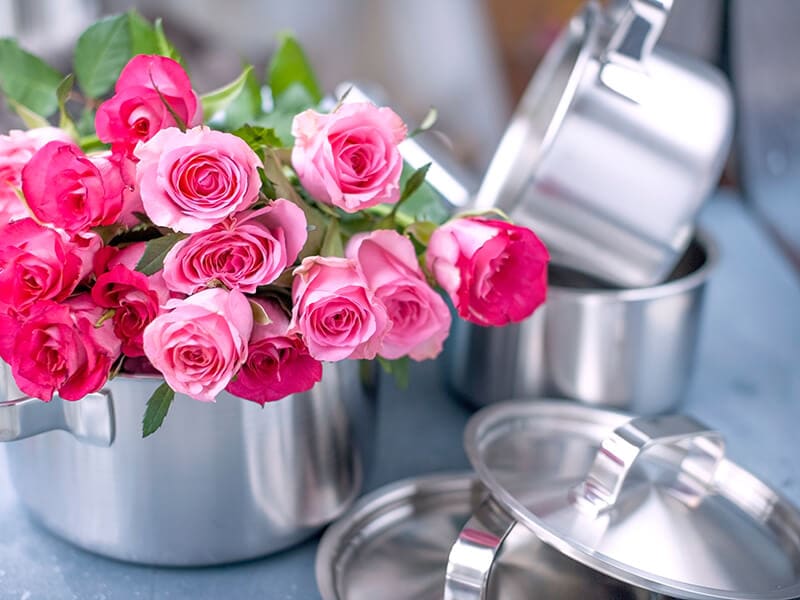 Besides the instructions for using stainless steel in the oven, other tips about how to deal with stainless steel appliances are also helpful. You need to save these tips to use your cookware safely.
You may use cookware with blunt ends when cooking with stainless steel utensils. As using tools with sharp edges, you might cause some scratches on the surface.
If you want to keep your stainless steel cookware bright, apply an aluminum cleaner to polish it. It will make the product nonstick and maintain its shine.
Remember to clean your utensils both before and after usage. You can use hot water and mild soap to wash it. After thoroughly cleaning, wipe dry.
The surface may become moldy if you don't clean the stainless steel cookware often. Whether you use it or not, you should clean it regularly.
Pouring cold water over a heated stainless steel surface, or vice versa is a big no. It reduces the possibility of thermal stress, protects your equipment from damage, and even protects you from an explosion.
As for cooking with stainless steel, you may use a little oil, butter or cooking spray. That will level out the frying surface and keep food from sticking to it.
Always check the oven temperature before putting the stainless steel cookware inside. The extremely high heat can deform your stainless steel.
The Benefits Of Using Stainless Steel
Stainless steel is an ideal material for household appliances. It is popular among many customers because of its convenient characteristics.
People recently prefer to use stainless steel cooking utensils over other materials. But what are the unique features of stainless steel? And what are their benefits? Check the below information.
Long Lasting
Most traditional cookware wears out quickly due to the impacts of food and heat. However, stainless steel has much higher durability. Good quality stainless steel cookware may last decades if you use it properly.
Chromium is critical to the long-term viability of stainless steel. Chromium generates an oxide coating on the surface of stainless steel, which enhances its resistance to oxygen corrosion.
As a result, stainless steel can outlast other metals. The shelf life of stainless steel products varies depending on their quality.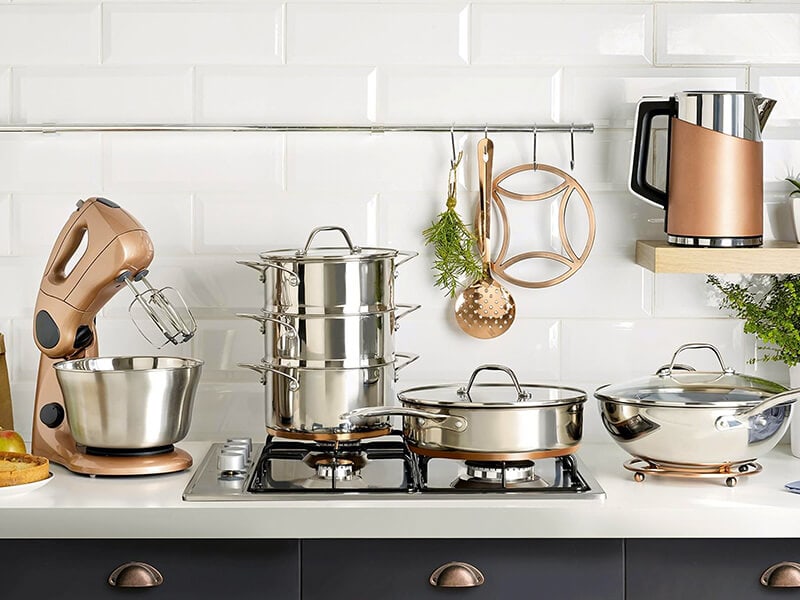 Even Cooking
Many metals are effective at transferring heat but stainless steel performs much better. Stainless steel can equally distribute and absorb heat. Aluminum is the reason behind this incredible usage of stainless steel.
The aluminum core combines with stainless steel layers, making the product more durable and stable. This design helps spread the temperature from the bottom to the surface consistently.
So when you use stainless steel cookware, the product's surface provides even heat. Therefore, you can cook the food uniformly. It will reduce the risk of scorching or burning the food, which is better than other cookware.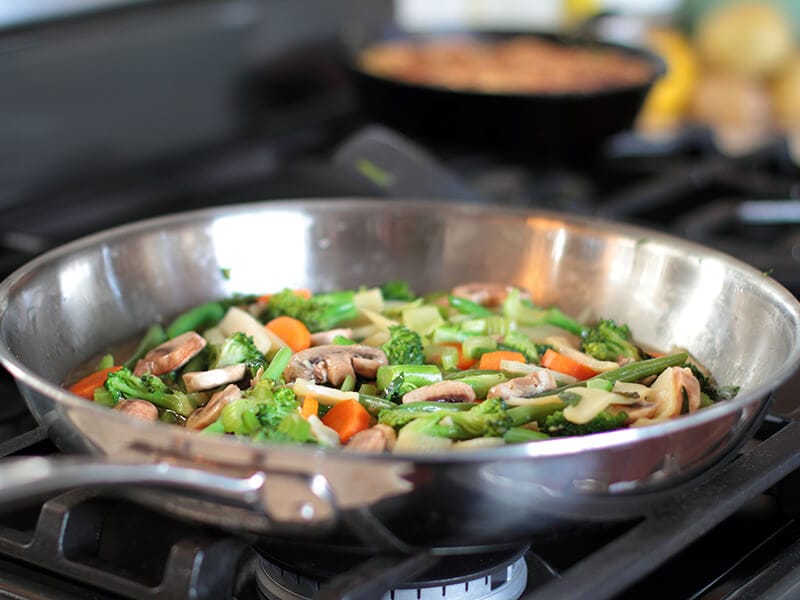 No Reaction To Food
Many people are afraid that metal cooking products, such as Teflon, copper, aluminum cores, or cast iron, would react with food when heated. When these chemicals contaminate food, they pose serious health risks.
However, when you cook with stainless steel, you won't have to worry about these concerns. Stainless steel is an alloy of many metals, including nickel and chromium.
These two compounds make a powerful bond, preventing toxic substances from entering food while you are cooking.
Furthermore, stainless steel is incredibly sturdy and corrosion-resistant, so it will not react with food. As a result, harmful chemicals can't seep into your food, and your dinner will not have an unpleasant metallic taste.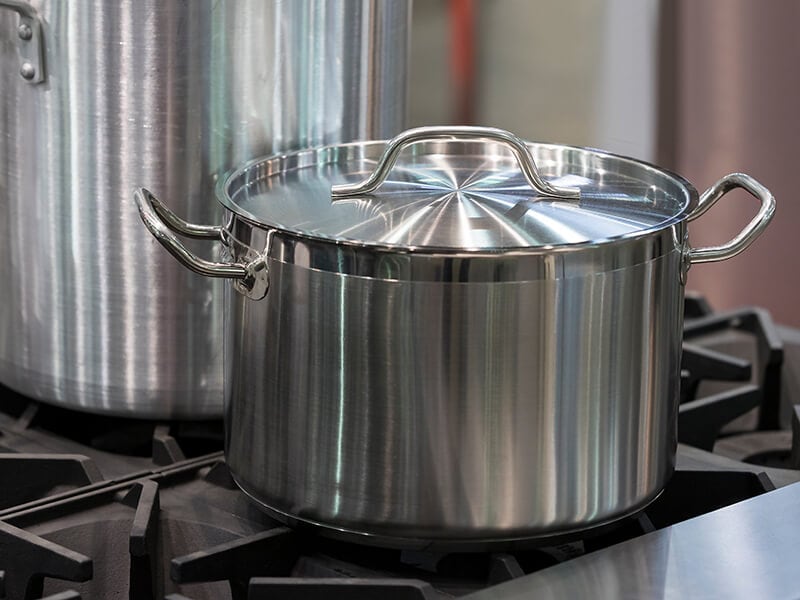 Low Maintenance
Another significant benefit of stainless steel is its cleaning and maintenance. If you have burn marks on the bottom of the pan, just soak it in the sink and clean it with detergent.
Generally mild dishwashing liquid is sufficient, but when you have tough stains, you can use specialist detergent because stainless steel is corrosion-resistant. Most cleaners will not harm its internal structures. You can use them without fear of consequences.
Weight
When compared to cast iron cookware, stainless steel has a superior advantage since it is much more lightweight than cast iron.
Once you use stainless steel utensils, you will want to replace all of the cast iron cookware in your kitchen. If you are looking for a metal kitchenware that is not too heavy, then stainless steel is your golden ticket.
Aesthetic Look
One reason why most people prefer stainless steel cookware over other materials is its appearance. Stainless steel provides a shining, clean, bright silver look that no one can resist. It brings out the modern, elegant vibe that not any cookware can do.
Stainless steel also has numerous designs from many brands that can satisfy your requirements. If you are someone who loves minimalist style, you cannot pass the stainless steel cookware.
The Disadvantages Of Putting Stainless Steel
Stainless steel is the ideal option for the oven. Although stainless steel has superior corrosion resistance, it is not 100% perfect.
Heavy Metals Leaching
Stainless steel does not react with any chemicals except acid. Acids can corrode and make stainless steel release heavy metals, such as nickel, chromium, and iron.
Nickel, in particular, is a hazardous metal. If you take it into your body, you might get heavy metal poisoning. It can cause moderate symptoms like abdominal pain, diarrhea, and nausea to significant consequences like insomnia, dementia, or neurological diseases (2).
However, this does not mean that stainless steel cookware is dangerous. Heavy metal leakage only occurs when you cook acidic foods for a long time. To be safe, you may avoid cooking these foods, such as tomatoes, in stainless steel.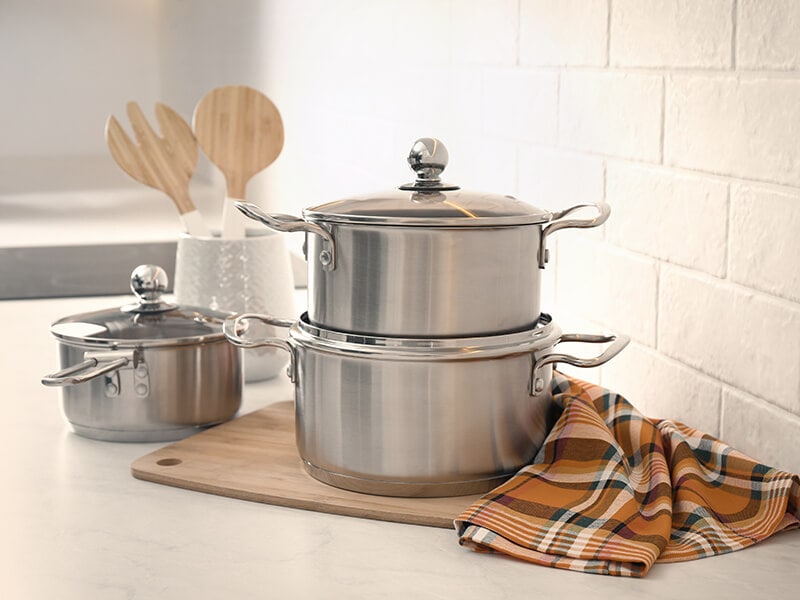 Don't Have Non-Stick Coating
One downside of using stainless steel is food adhesion. Certain foods, such as eggs, can stick to the surface of stainless steel cookware, making cleaning up more difficult. Stainless steel isn't your best choice if you don't want to deal with food marks on your pan.
You can find pans or pots with a non-stick coating. This non-stick coating helps separate the food from the pan surface easily, reducing your work while cleaning dishes.
High-Cost
Stainless steel is unsuitable for you as you don't want to waste money on cookware. It is significantly more costly than other appliances on the market.
Although that implies stainless steel will last longer than other cookware, I cannot deny the fact that it is pretty expensive.
If your budget cannot afford stainless steel cookware at the moment, you might go for other materials, such as cast-iron or carbon cookware.
It Will Discolor
Many people believe that stainless steel is durable and able to retain shape excellently. That isn't entirely correct. While stainless steel is highly resilient, it will change color when exposed to high temperatures and acidic meals frequently.
Of course, you can still clean it with mild detergent. Furthermore, salt water can cause pitting to the surface of stainless steel cookware when they interact for an extended period. You should limit the contact of stainless steel with salt water, if not necessary.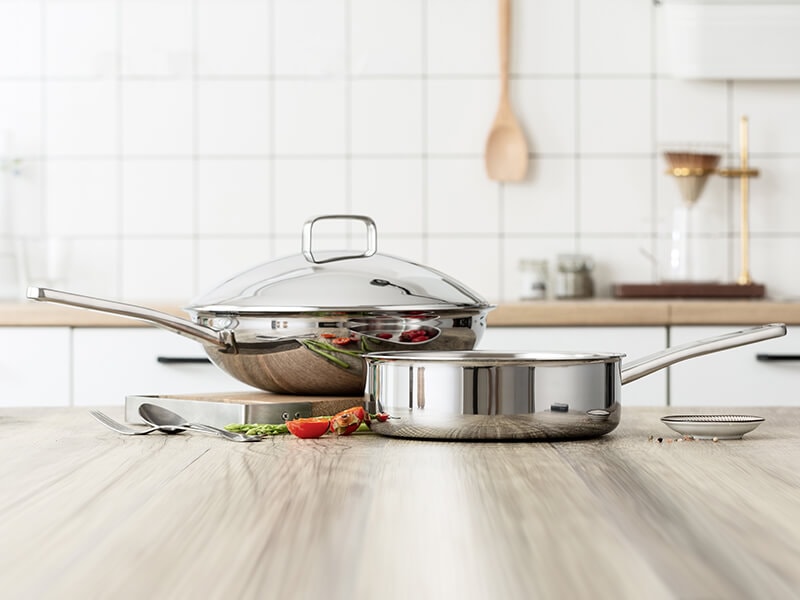 How To Know What Stainless Steel Cookware Is Oven-Safe?
The majority of stainless steel cookware is oven-safe. However, not all stainless steel products are created equal.
There are many types of stainless steel cookware, and deciding which is best can cause difficulty. When buying these products, there are a few crucial factors to consider.
The Chemicals In Products
The percentage of metal in the stainless steel alloy, particularly the ratio of nickel and chromium, is a critical determinant in the quality of stainless steel products. The quantity of chromium in stainless steel impacts significantly on its durability.
The higher the proportion of chromium in the alloy, the better the stainless steel's corrosion resistance. The chromium content should be at least 10.5% or 11%.
If the alloy's chromium concentration is low, stainless steel cookware will corrode during cleaning and cooking.
The nickel ratio should be between 8 and 10% according to the NSF limit. Because nickel is a hazardous chemical, a high nickel concentration in stainless steel will result in heavy metal leakage and metal poisoning.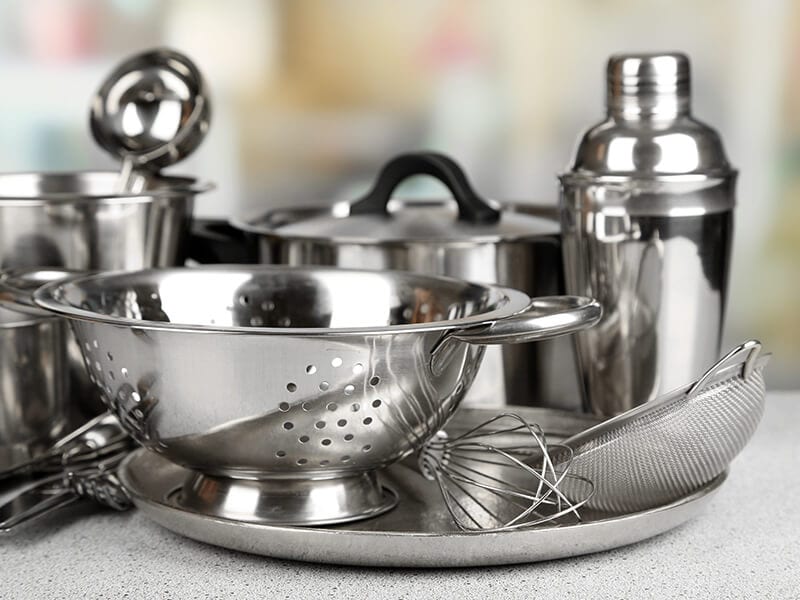 Temperature Range
When purchasing stainless steel cookware, keep the melting point in mind. Generally, do not use stainless steel cookware above 500℉. You will harm your utensils at this temperature. To be safe, maintain the temperature at 400℉ or lower.
You can check the table below to know the melting point of the popular stainless steel grades. However, you should know that melting point is not everything to consider when choosing stainless steel products. You also need to check the nickel and chromium levels.
| Stainless Steel Grade | Melting Point (Fahrenheit) | Melting Point (Celcius) |
| --- | --- | --- |
| 430 | 2597 - 2750 | 1425 - 1510 |
| 321 | 2552 - 2588 | 1420 - 1425 |
| 316 | 2507 - 2588 | 1375 - 1400 |
| 310 | 2552 - 2642 | 1400 - 1450 |
| 304 | 2552 - 2642 | 1400 - 1450 |
| 303 | 2552 - 2588 | 1400 - 1450 |
| 301 | 2552 - 2588 | 1400 - 1420 |
| 202 | 2550 - 2650 | 1400 - 1450 |
| 201 | 2550 - 2650 | 1400 - 1450 |
Quality Ranks
Stainless steel is usually graded in many series based on quality and composition. A low grade of stainless steel does not imply a low quality product and vice versa. If you want to buy stainless steel cookware, go for the 300 and 400 series.
You can pick between 304 and 316 for the 300 series. Also, the type 430 will be an excellent choice for the series 400. You should not buy cheap stainless steel cookware. When you use low-quality appliances, they leave fingerprints and quickly discolor.
Alternatives Of Stainless Steel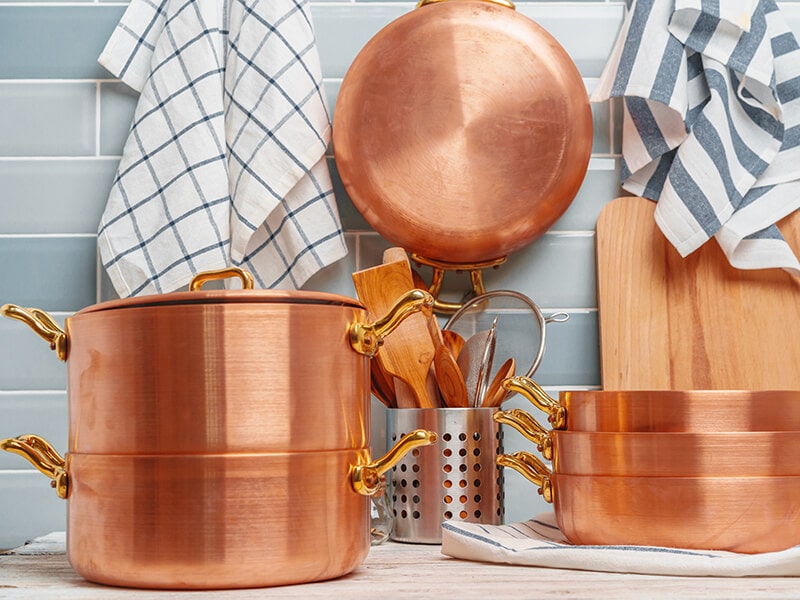 Not everyone needs stainless steel cookware. In many circumstances, as you believe stainless steel is not the best option, you might examine the alternatives listed below.
Aluminium
Aluminum, which has good heat conductivity, is also a viable option. Even though not as good as cast-iron or stainless steel, aluminum can also uniformly distribute heat from the stove to the pan. When getting aluminum cookware, though, you must exercise caution.
Aluminum is a heavy metal that frequently reacts with acidic foods. Cooking foods with a high acid content for an extended period may cause aluminum to dissolve in your meal. It will potentially poison you with heavy metals and cause your dishes to lose flavor.
Cast Iron
Cast-iron is an excellent alternative to stainless steel. Because of the enamel covering, you can even clean it in the dishwasher. You can cook vegetables, fish, meat, or eggs without worrying about sticking to the pan.
Cast-iron kitchenware is affordable, much cheaper than stainless steel and copper. Additionally, the lid is usually affixed to cast-iron cookware. You can cover the pan while cooking without concern about scorching your food or getting burned with steam.
Copper
Copper, like aluminum and stainless steel, has good heat conductivity. Unfortunately, copper is pretty reactive.
As a result, you should avoid using a dishwasher or harsh chemical cleaners to wash it. They will degrade the product's quality. If you don't want it to tarnish, you should polish it regularly.
What are the differences between copper and stainless steel? You will know right now.
Non-Stick
A non-stick pan is the last option for you on this list. You can easily clean them without having excess detergent. Nevertheless, non-stick cookware has a significant drawback. You should not use it in the oven. The main ingredient that makes non-stick coatings is Teflon.
When this substances are exposed to temperatures above 500℉ (260℃), it generates poisonous gasses that are detrimental to your health. You may use non-stick cookware unless you have sufficient temperature control.
FAQs
After all, the stainless steel is oven-safe. You can use stainless steel cookware for your oven without worrying about the potential risks now.
Nevertheless, except the main information, I recommend you to read the questions people also ask below to know better about stainless steel.
Is Stainless Steel Compatible To Your Oven?
Stainless steel cookware has many advantages. It also has several disadvantages. Despite the downsides of stainless steel, many people still prefer it to other materials. Stainless steel can be helpful for you as you handle it properly.
What do you think about stainless steel cookware? Do you want to buy one? After all, it's up to you. As if you find this post provides valuable information, please like and share it. Also, it would be best for me if you leave your opinions in the comment section.
Paragraph
Stainless Steel (2022) Wikipedia. Wikimedia Foundation.
PowerofPositivity (2018) 10 signs you have heavy metal toxicity (and how to detox), Power of Positivity: Positive Thinking & Attitude.