Understanding how long to cook, particularly pork ribs in the oven at 350 degrees, is a must for your safe consumption.
Pork ribs are a rich protein and mineral source for your diet (1). And it is even better if you know how to properly prepare them so that all of the nutrients are preserved while still providing a pleasant experience in eating them.
This post's primary goals are to teach you everything about baking pork ribs so you do not wind up with undercooked or overcooked ribs. So let's discover what they are.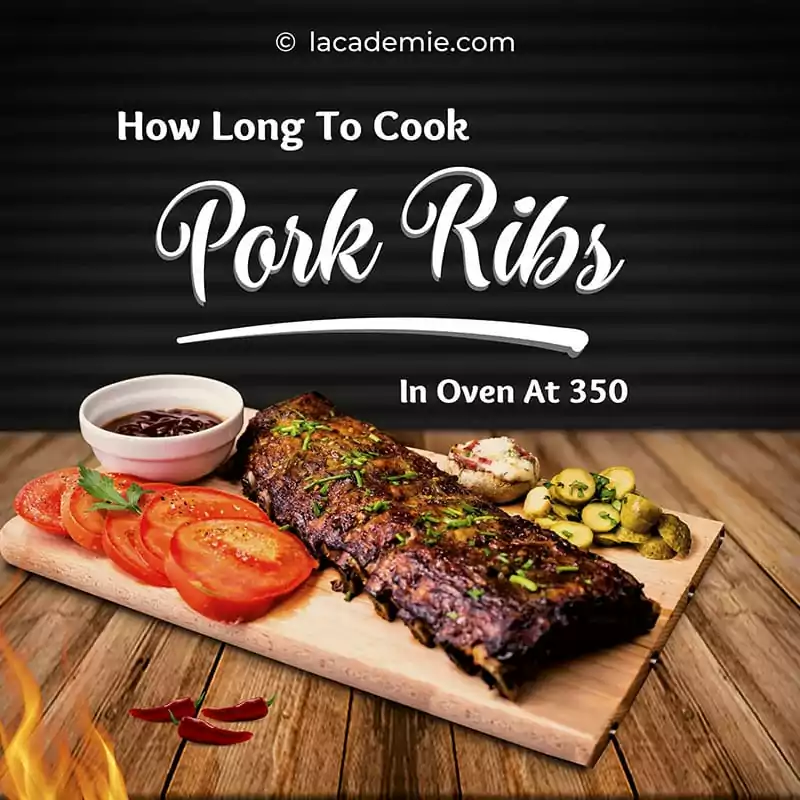 How Long Should Pork Ribs Be Cooked In The Oven At 350 Degrees?
The regular cooking time for pork ribs in the oven at 350 degrees is around 2 hours for baby ribs, 2.5 hours for spare ribs, and 20 to 30 minutes for bone-in country-style ribs until they are tender.
In short, the time will vary based on the type of ribs and their size. Plus, the greater the oven temperature, the less time it takes to cook, and vice versa.
Now, I will start this helpful post by telling you about the varieties of pork ribs and their features and texture so that you can pick the suitable ones for you and your family.
What Are Pork Ribs And How Many Types Of Pork Ribs?
Pork ribs are the cut of pork from a pig's spine to its belly that includes both meat and bone. Normally, there will be 14 to 16 ribs on 2 sides of the pig. Pork ribs are ideally grilled, roasted, and smoked on the BBQ.
Here are 5 types of pork ribs that can be found at almost any butcher or supermarket. They all have distinct appearances and characteristics, so let's see how they differ.
1. Baby Back Ribs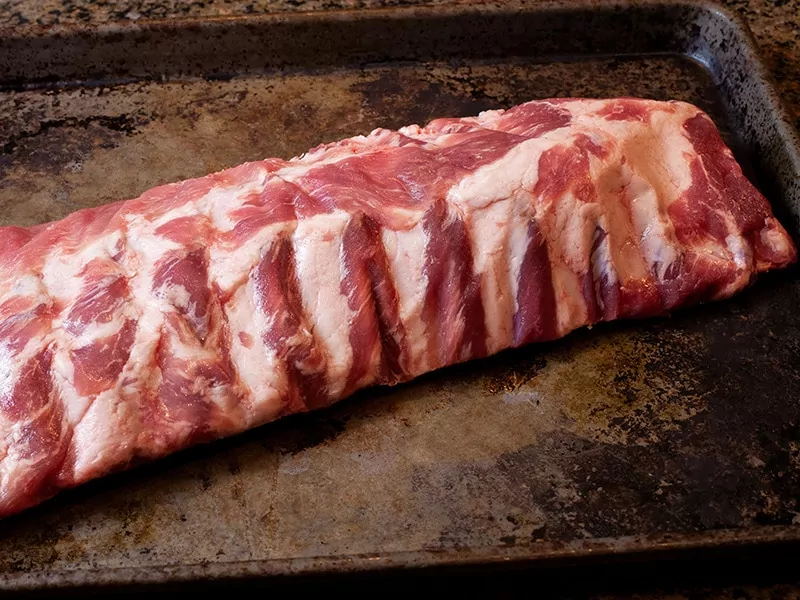 Do not be fooled into thinking that baby back ribs come from a baby pig. These baby back ribs come from the loin flesh on the upper spine to the rib cage.
Therefore, they are smaller in size yet have more meat than spare ribs. Baby back ribs also cook faster in the oven because they are tender and thinner.
2. Spare Ribs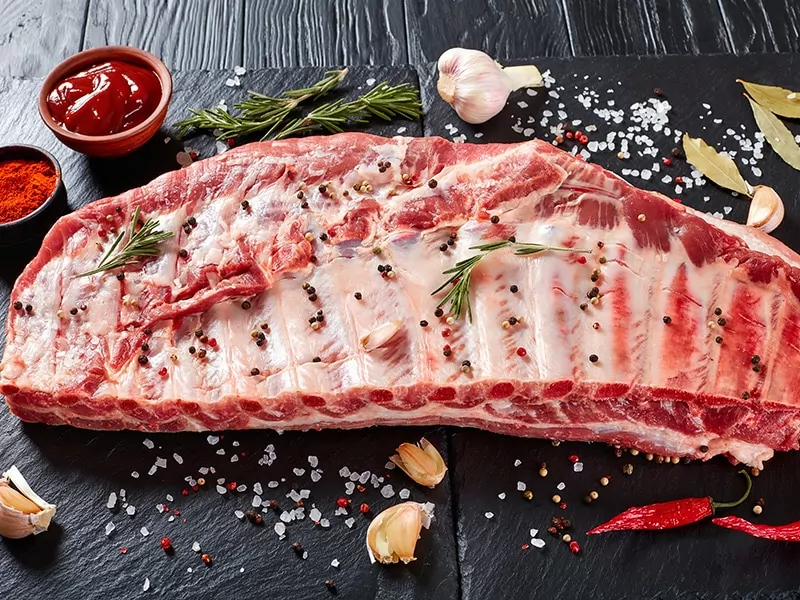 The spare ribs are located adjacent to the baby's back ribs, down the belly area along the rib bone. Also, spare ribs are longer and bigger than baby back ribs. In the spare rib part, you can see that there is more meat between the bones.
If you are still confused about recognizing baby back ribs and spare ribs, here is your answer.
3. St. Louis-Style Ribs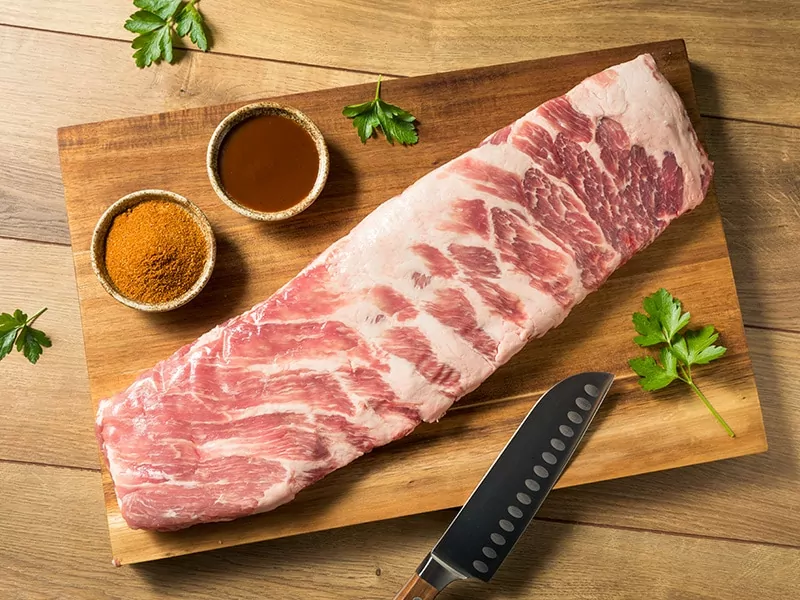 St. Louis-style rib name originated from the meat-packing places in St. Louis in the 20th century. In fact, St Louis-style ribs are in the spare rib portion, but they are cut down to the cartilage and hard sternum bone. Therefore, many people prefer St Louis-style ribs.
4. Country-Style Ribs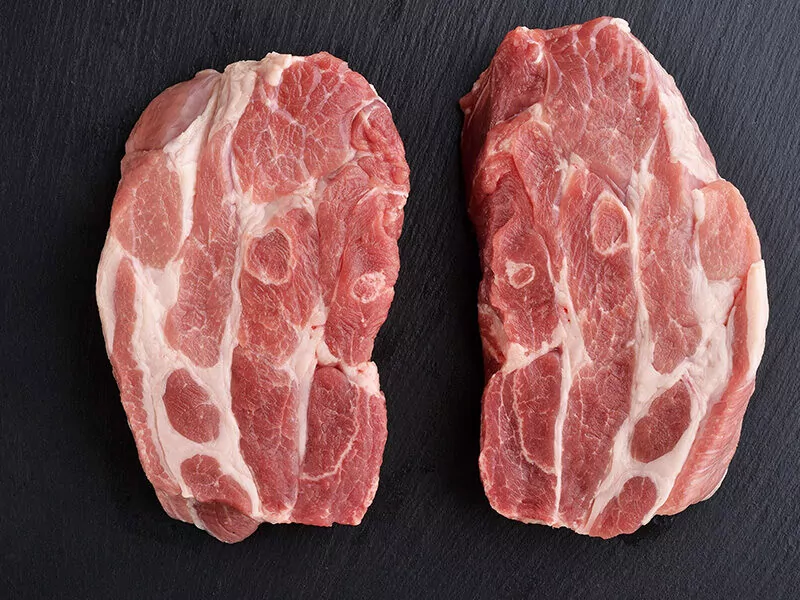 The cut from the shoulder to the loin meat is known as country-style ribs. If you're looking for the meatiest and boneless ribs, this is the one for you.
You can eat the first two varieties of ribs with your hands, but a knife and fork are best for country-style ribs as they have more meat than 2 above ribs.
5. Rib Tips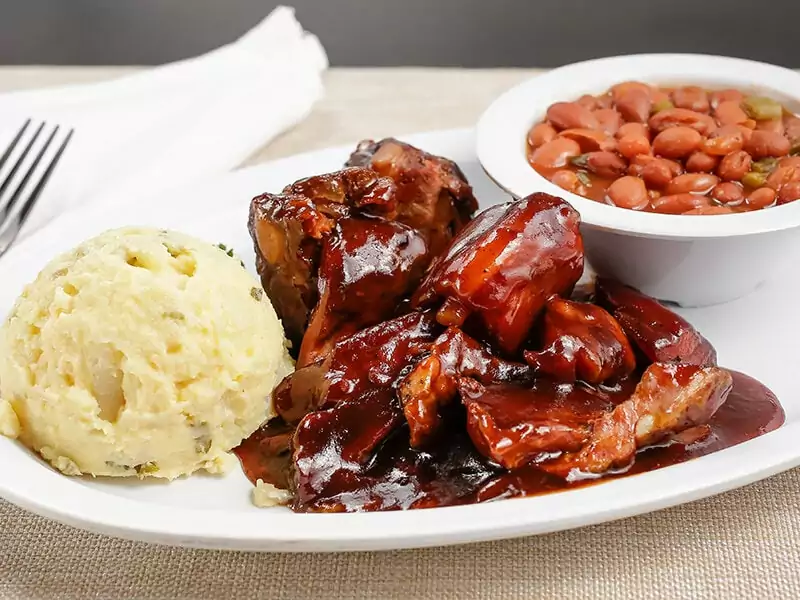 The section of the breast bone that attaches to the front ribs is known as the rib tip. Rib tips contain more cartilage, resulting in ribs that are harder and chewier than others. That's why they are frequently cut into small chunks for easier serving.
Cooking Time For Pork Ribs In The Oven At 350 Degrees
In this section, you will learn how long you should cook pork ribs in the oven, specifically for 3 different varieties of ribs at 350 degrees. Also, to avoid the tough and dried pork ribs, let's find out the ideal temperature to cook them in the oven.
| Oven Temperature | Baby Back Ribs | Spare Ribs | Country-Style Ribs (for the 1-inch thickness of bone-in cut) |
| --- | --- | --- | --- |
| 225 F Degrees | 5 hours | 6 hours | 3 to 4 hours |
| 250 F Degrees | 4 hours | 5 hours | 2 to 3 hours |
| 300 F Degrees | 2 hours 30 minutes | 3 hours 30 minutes | 40 minutes to 1 hour |
| 350 F Degrees | 2 hours | 2 hours 30 minutes | 20 to 30 minutes |
| 400 F Degrees | 1 hour | 1 hour 30 minutes | 15 to 20 minutes |
| 450 F Degrees | 45 minutes | 1 hour | 12 to 15 minutes |
As you can see from the table, the approximate time for cooking ribs at 350 F degrees is from 2 to 2.5 hours for baby back ribs and spare ribs. However, if they are boneless or with a few bones (like country-style ribs), it only takes 20 to 30 minutes to cook until they soften.
But be noted that the cooking time will also depend on how big the pork ribs are and the temperature you set for the oven.
You can generally cook them based on these approximate times or add an extra 10 to 15 minutes if you find they are not cooked yet (I will explain how to check the pork ribs' doneness in the below part).
When cooking pork ribs, it's suggested that you use a highly accurate kitchen timer to avoid overcooking or undercooking the meat. It might seem redundant at first, but trust me, a kitchen timer will prove its worth when you need to cook delicate and complex ingredients like pork ribs.
The Ideal Temperature To Cook Pork Ribs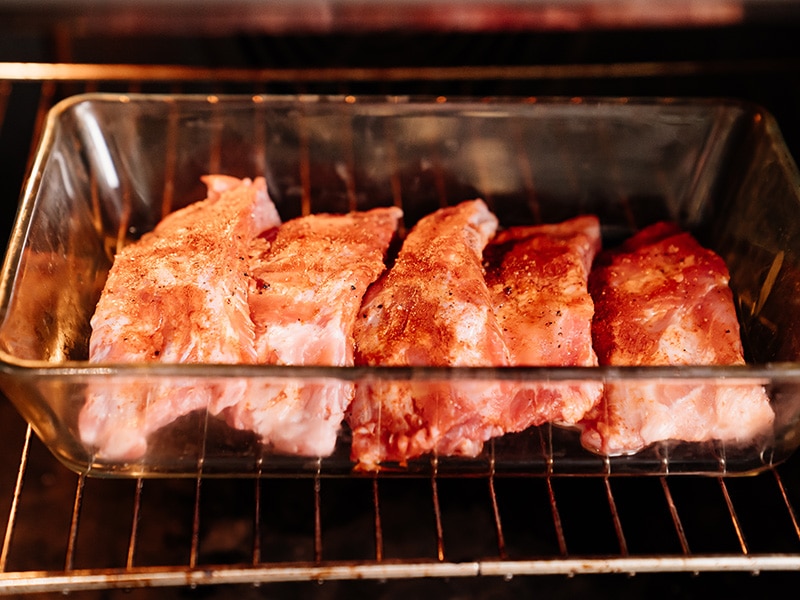 In fact, there is no definitive answer as to what temperature is perfect for cooking pork ribs in the oven.
However, to keep the pork ribs succulent and soft, setting a low temperature and cooking them for a longer period is preferable to cooking them quickly at a high temperature.
So, the range from 300 to 350 F degrees with 2 hours to 3.5 hours cooking for baby back ribs and spare ribs is ideal. And shorter time with 20 minutes to 1 hour for bone-in country-style ribs.
Tips To Turn Your Ribs To A Perfect Meal
Cooking ribs is as easy as pie. Just follow these steps, and you will have no problems baking them in the oven. The resulted ribs will taste so mind-blowing that you can save some for other dishes starring uneaten ribs if you want a quick yet tasty meal later on.
Stage 1: Clean The Pork Ribs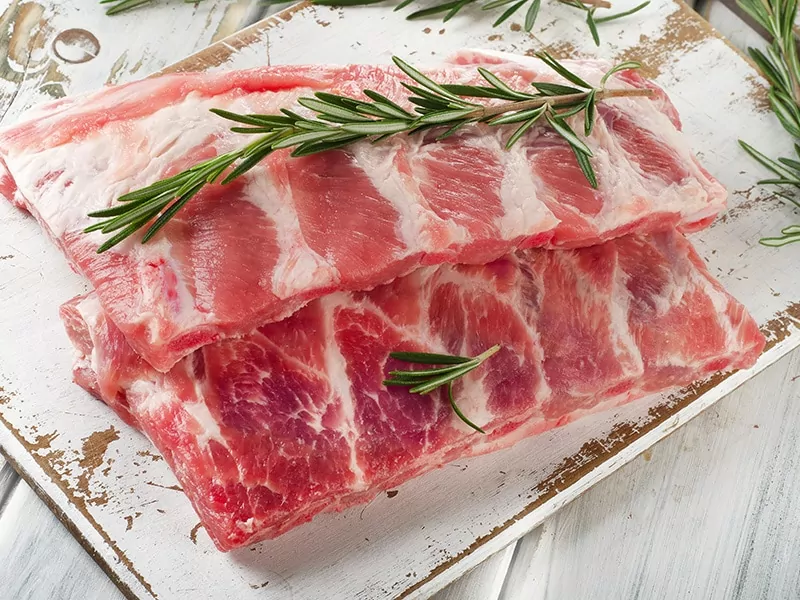 First, make sure that there's no sign of spoilage on your pork. Then, wash the pork ribs with cold water and remove the membrane from the ribs. What is the membrane, by the way? It is a white and tough layer that spreads over the top of bones. But do not panic; I will show you how to remove the membrane in the 3 below steps.
Step 1: Use a knife tip and slide the tip under the membrane to loosen it from the ribs.
Step 2: Once you can loosen it a little, now you can easily pull the membrane away with one hand, and the other hand will keep the ribs.
If the membrane is slippery, you can use a paper towel to grasp and remove it easily.
Step 3: Throw away the membrane.
Stage 2: Brine The Pork Ribs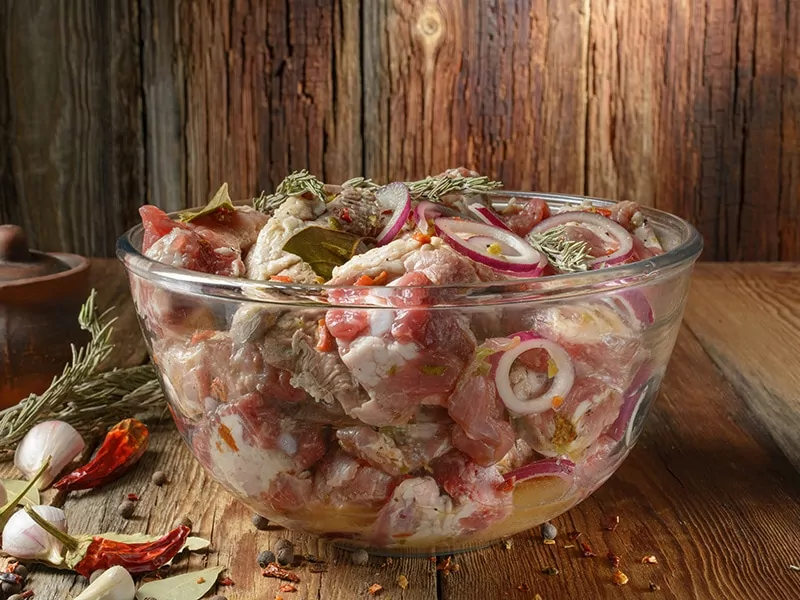 Since cooking in the oven can result in dry meat; therefore, brining them priorly is ideal. You can effectively brine the pork ribs by placing the ribs with cold water, salt, sugar, and, if desired, herbs in a large container. Make sure this container can fit in your fridge.
Remember to cover the container with a lid or plastic wrapper, then put it in the fridge for 2 hours.
Stage 3: Season The Pork Ribs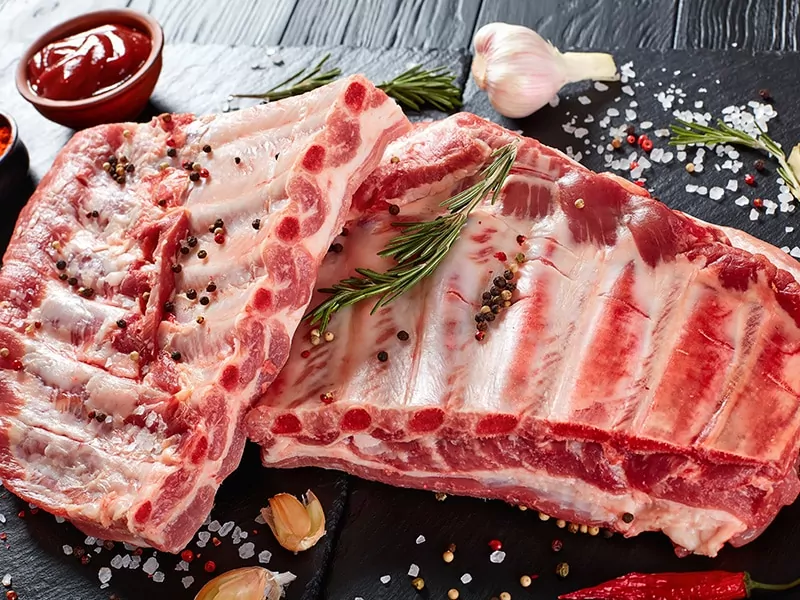 After taking the ribs out from the fridge, do not forget to dry them with a paper towel. Then, you can season your ribs with your favorite spices. It could be salt, sugar, pepper, or even a dry rub.
The dry rub is the mixture of sugar, spices, and herbs to robust the flavor for the meat. So to have flavorful pork ribs, you should season them well by rubbing all the sides of the ribs with a dry rub.
Store the ribs again in an airtight container or wrap them in foil. Remember to let the ribs absorb the flavoring for at least 30 minutes or overnight in the fridge before cooking them in the oven. You can make a dry rub by yourself at home or buy it in the supermarket.
Stage 4: Pre-Cooking The Pork Ribs
In this stage, you need to prepare some braising liquid to ensure your ribs will not be dried out. First, preheat the oven at 275 F degrees and boil the braising liquid on the stove.
After that, put the ribs on the baking tray. I recommend you wrap your ribs in foil to keep the moisture. So if your ribs are still in foil, just leave them like that on a tray. Then, pour the braising liquid into the ribs and seal the foil so the liquid cannot run out.
Stage 5: Cooking The Pork Ribs
As explained above, the pork ribs would be better if you cook them at a low temperature and for a slow period. For example, bake them at 300 F degrees for 2.5 to 3.5 hours until tender, as it also depends on what types of ribs.
Do not forget to coat the ribs with BBQ sauce 30 minutes before they are done cooking. It will assist you in achieving the caramelized color ribs that appear so delicious. You can skip this coating part if you only like the rub spices.
Stage 6: Remove The Pork Ribs From The Oven
When the ribs are done, remove them from the oven and set them aside to rest for 10 minutes. Before serving, use a sharp knife to cut between the bones for separated ribs.
However, at this point, you must check the ribs for doneness to ensure they are safe to consume. Therefore, keep scrolling down the page for further information on knowing whether your pork ribs are ready to eat.
This step-by-step pork ribs cooking tutorial will help you make delicious baked ribs to celebrate the weekend.
Are Your Pork Ribs Ready To Serve?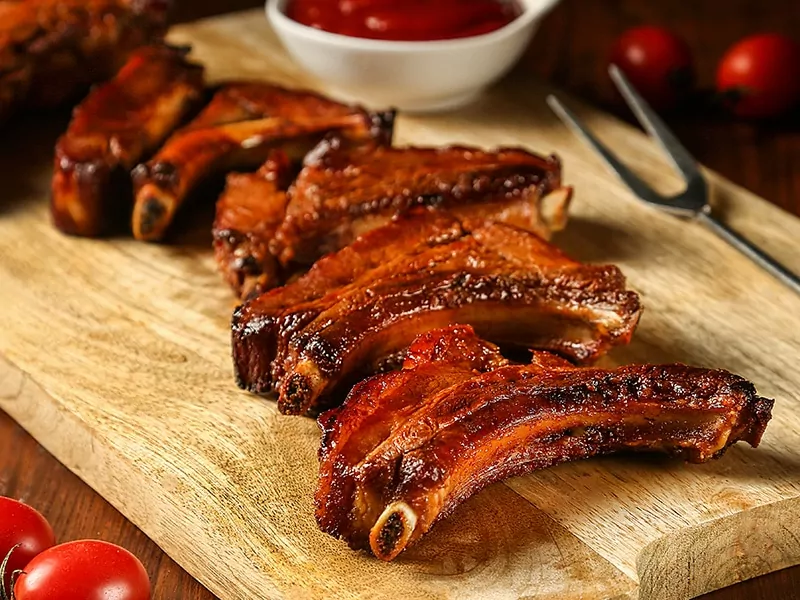 The most important part of cooking is to make sure that your meats are fully cooked. However, "is medium rare pork safe to eat?" is also a very common question. What I want to explain here is the real definition of "Ribs are done" and "Ribs are ready" as they are pretty different.
"Done" is when your ribs have reached the minimum internal temperature, while "Ready" means the actual internal temperature that the ribs should reach to have the best-enjoyed ribs. So the way to see if ribs are done is actually very different from how to tell if ribs are ready.
According to USDA (2) , technically, ribs must be cooked to a minimum internal temperature of 145 F degrees to be safe to eat. The ribs, however, are still tough at this temperature.
In reality, 3 different types of ribs have different internal temperatures. Baby back ribs and square ribs should reach 185 to 200 F degrees to help the collagen convert into gelatin, making them more soft and juicy.
It can be safe to eat country-style ribs – boneless ribs if they reach 145 to 165 F degrees. And the internal temperature is also based on your preference of doneness; for example, if you want well-done country-style ribs, they should be ready from 160 to 165 F degrees.
When you plan to leave some uneaten pork to cook new dishes, it's best that you make sure it's well-done to prevent any unwanted food hazards. In this case, it means you should let the pork rib reach 160 to 165 F degrees.
4 Effective Methods To Know Whether Your Ribs Are Safe To Eat
There are 4 methods to check the doneness of your ribs to ensure that you can safely eat them. So please do not skip this part as it is crucial for your health to consume foods, particularly pork ribs.
Method 1: Use Food Thermometer To Read The Internal Temperature
A specialized wireless thermometer for meat is the most popular and accurate method to check pork ribs or any meat/fish doneness. Keep in mind that you must insert the thermometer into the thickest part of the rib, and it should not touch the bone part.
Method 2: Check Rib's Doneness By Bending Or Twisting Them
To hold the pork rib in place, use tongs to bend it gently. The flesh on the surface of your ribs can fracture if they are good to go. If you detect a tiny crack, though, your ribs are undercooked.
Besides, to verify the doneness by twisting ribs, just grasp one point of a bone close to the center and twist it. When the meat separates from the bone, it signifies the collagen has turned to gelatin, and your ribs are ready to eat.
Method 3: Cut The Ribs To Check
Use a knife to cut a small piece in the ribs and check the center of the meat. The ribs are ready to serve if the meat is white without any pinky (or bloody) juices.
Method 4: Use A Toothpick To Determine
Insert a toothpick between the rib bones in the meat. If there is no resistance or very little, the ribs are fully cooked, and vice versa. You can check in the other parts of the ribs as well.
FAQs
Here are some frequently asked questions regarding cooking pork ribs in the oven. And I hope that by reading these questions and answers, you will be able to have a thorough understanding of how to cook ribs to treat everyone.
It Cannot Get Any Easier To Cook Pork Ribs In The Oven
With the in-depth and detailed information regarding cooking ribs in the oven here, you can bake perfect pork ribs without worrying. Keep in mind the cooking time based on the oven temperature and what types of ribs you are using.
And last but not least, if you find my post helpful for your next party with the oven-baked pork ribs, please click like or rate it in the below part. And please feel free to share your thoughts in the comment section. I appreciate your contribution to this cooking matter so that I can learn and improve my future post. Thank you.
Nutrition Facts
4 servings per container
---
Amount Per ServingCalories977
% Daily Value *
Total Fat 64.3g

99

%
Cholesterol 182mg

61

%
Sodium 1755mg

74

%
Potassium 205mg

6

%
Total Carbohydrate 16.6g

6

%

Dietary Fiber 1.5g

6

%
Sugars 12.7g

Protein 82g

164

%
---
* The % Daily Value tells you how much a nutrient in a serving of food contributes to a daily diet. 2,000 calories a day is used for general nutrition advice.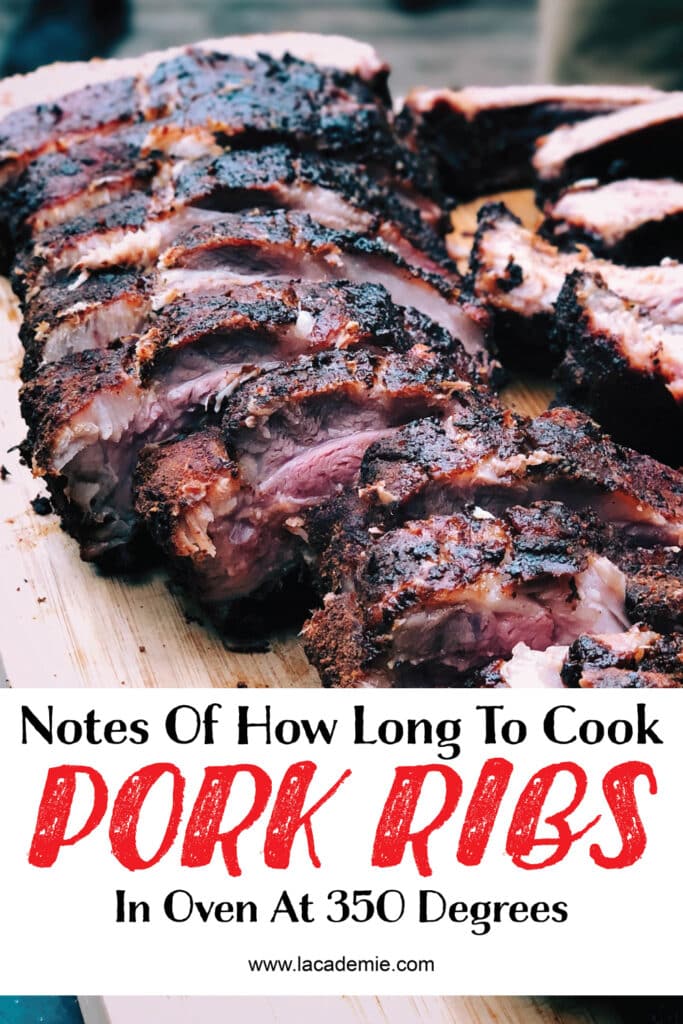 Reference List
Carbmanager.com 2021. Carbs in Pork Ribs, Spare, Fresh.
Fda.gov. 2021. Meat, Poultry & Seafood from Food Safety for Moms to Be.