Dried char siu noodle is a classic dish from Chinese cuisine that everyone should try at least once in their life. The good news is not only is this noodle dish delicious, but it's also quite easy to recreate at home.
The flavorful, tender pork makes the perfect companion for Chinese egg noodles. Serve them along with fresh green vegetables, and you will have an exquisite meal for your next dinner. Follow the steps in this post to make the best dried char siu noodle right in your kitchen.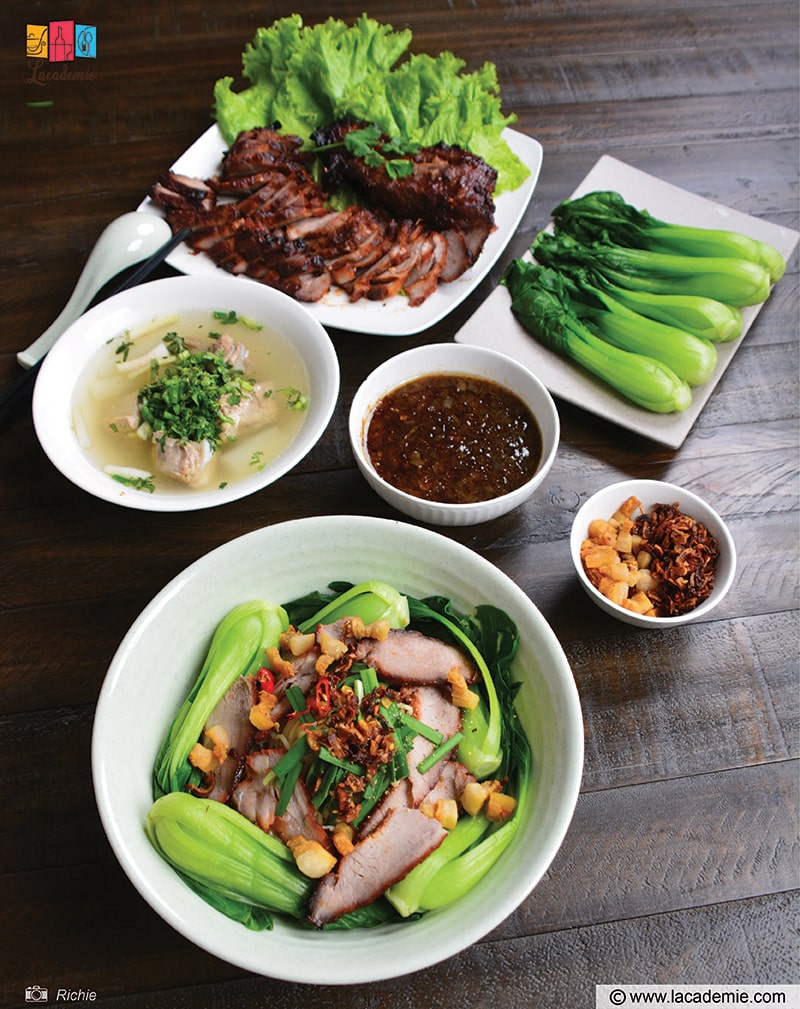 A Thing Or Two About Dried Char Siu Noodles
Char siu is a traditional barbecued dish from Cantonese cuisine. It is famous for its unique reddish color and sweet-savory flavors that comes from a mixture of five-spice powder, honey, an array of spices, and other sweeteners.
People often serve char siu with rice and noodles or use it in stir-fried recipes. Outside China, the dish is also incredibly famous in South East Asian countries, such as Malaysia, Singapore, Vietnam, etc.
I think that's about enough side information. Let's jump right into today's recipe!
Tools
This recipe asks for fairly basic kitchen tools. Among the required tools, an oven is the most important as you need it to roast the meat.
Multifunction oven: This handy kitchen appliance allows you to roast pork to perfection with ease.
Needle meat tenderizer: A must-have for many pork recipes as it can effectively soften the meat.
Knife: Make sure that your knife is sharp and well-maintained.
Chopping board: For chopping the pork.
Marinade container: Marinating is an important part of this recipe, and a good marinade container makes sure that your meat is fully infused with flavor.
Basting brush: For brushing the marinade on the meat.
Tongs: Use this tool to handle the meat.
Ladle: You'll need a ladle to skim the broth.
Slotted spoon: A useful cookware to help you take the noodles out.
Cooking pot: Use it to cook the pork ribs and broth.
Strainer: To drain the noodles.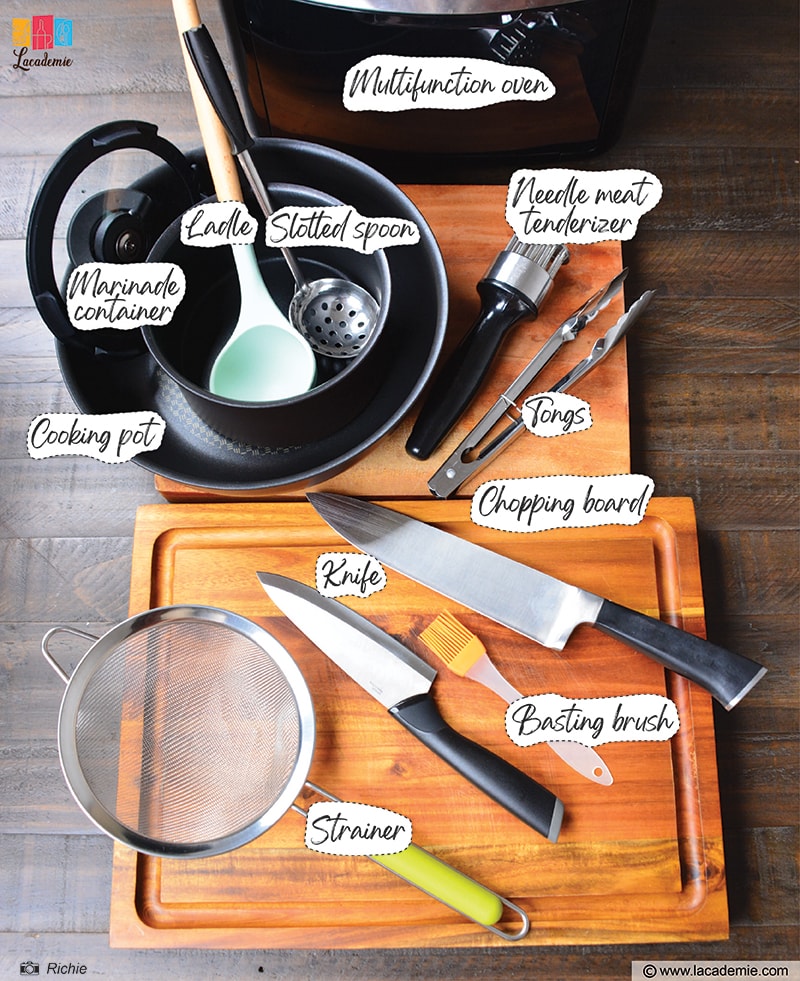 Ingredients
I chose pork collar for this recipe as this cut has a balanced portion of fat and lean meat. You'll also need an array of spices and condiments for the marinade.
Pork collar: You can also use pork belly or pork loin for this dish, but pork collar is the best choice.
Pork ribs: Pork bones are also a great choice if you want to cut down on cooking time.
Pork fat: Pork cracklings are the cherry on top that makes the dish more memorable.
Bok choy: This is a common vegetable choice for lots of Chinese noodle dishes.
Shallot and garlic: Help your dish to be more fragrant.
Onion, radish, jicama: Your broth won't be complete without them.
Green onions, coriander, chives, chili: For garnishing the dish.
Spices and sauce: Five-spice powder, red pepper powder, hoisin sauce, oyster sauce, etc. They are essential ingredients for the marinade.
Chinese egg noodles: For serving with the char siu.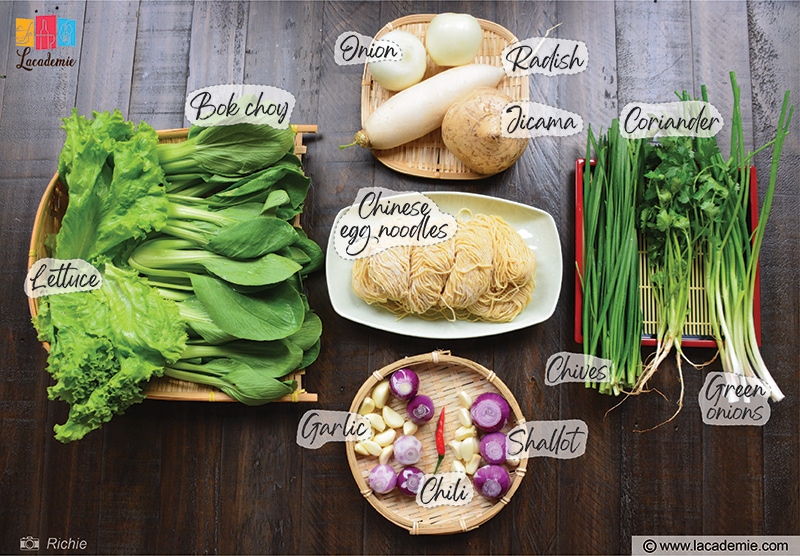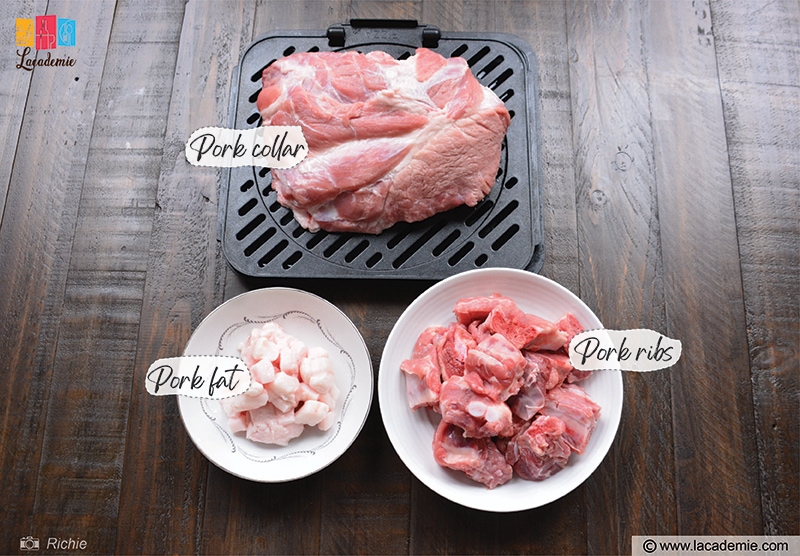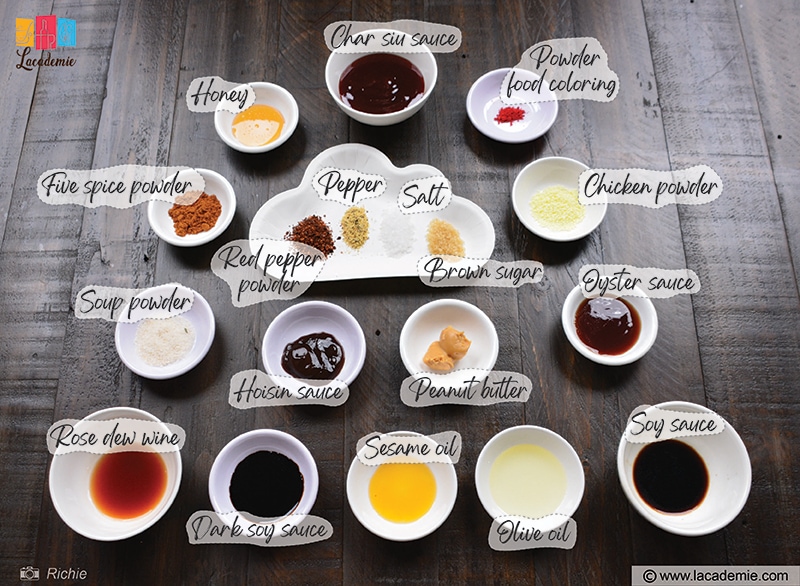 Instructions
No more waiting! Let's roll up your sleeve and make some delicious dried char siu noodles!
Step 1: Prepare The Ingredients
Wash your vegetables and let them dry. Wash the pork (and pork bones), then let dry or pat dry with paper towels.
Cut the pork into large strips and pound them with the needle meat tenderizer to soften them. Doing this also helps the meat marinade better.
Next, mince 50 grams of shallot and 25 grams of garlic.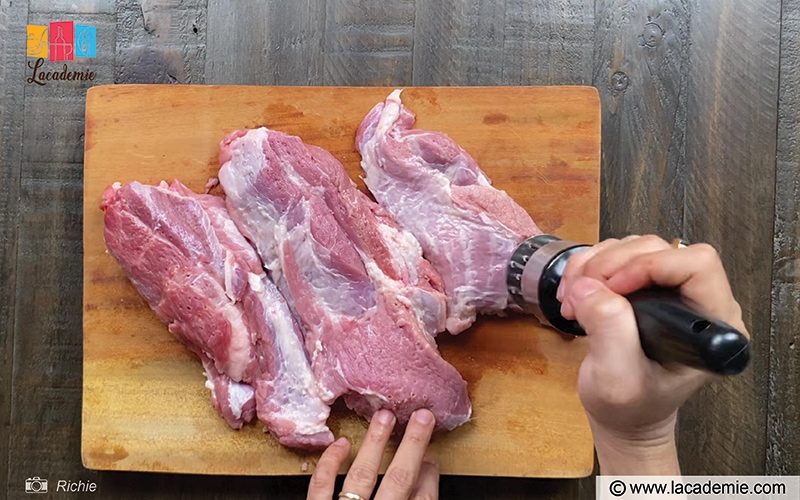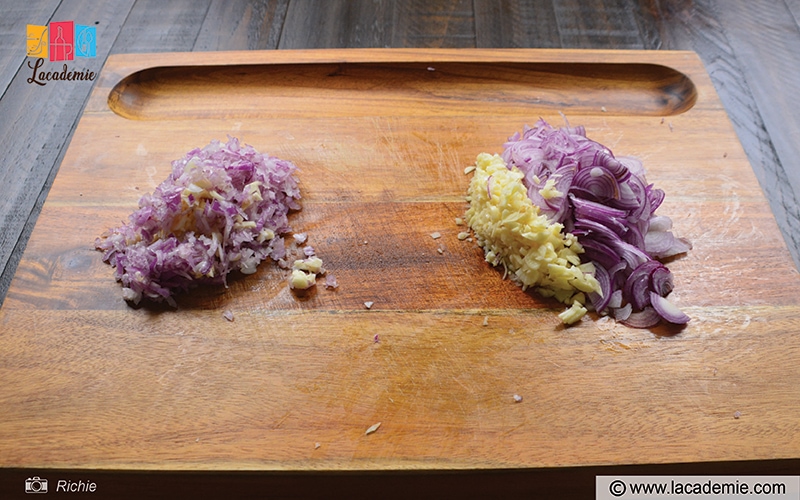 Marinate the pork with a mixture of powder food coloring, pepper, chicken powder, five-spice powder, olive oil, peanut butter, honey, salt, brown sugar, soup powder, hoisin sauce, oyster sauce, sesame oil, soy sauce, rose dew wine, dark soy sauce, char siu sauce, minced shallot, and garlic.
Use your hand (remember to wear food prep gloves) to thoroughly mix all the ingredients. Marinate for at least 30 minutes so the condiments can infuse the meat with their exquisite flavors.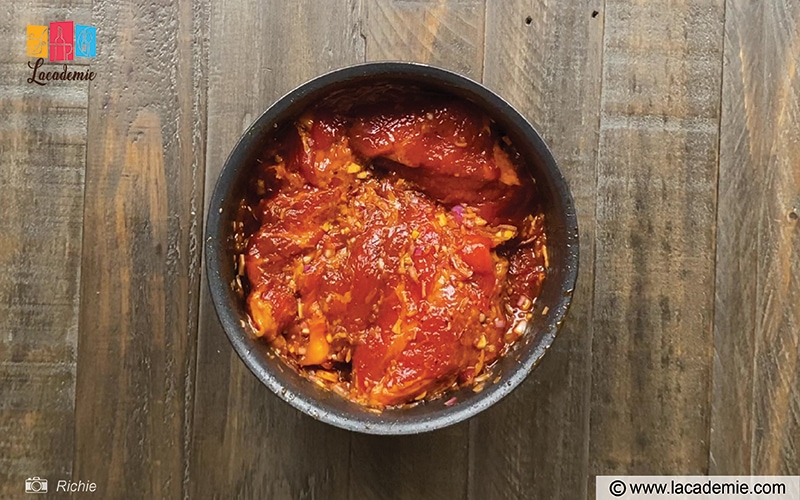 Finely chop the green onions and coriander (including the bulb and root). Cut the chives into pieces. Chop the fresh chili finely and cut the radish into bite-sized pieces. As for the jicama, cut it into cubes and rinse them with water to prevent cloudy broth.
Cut one onion in half and mince the other one. Next, slice 100 grams of shallot thinly and mince 25 grams of garlic.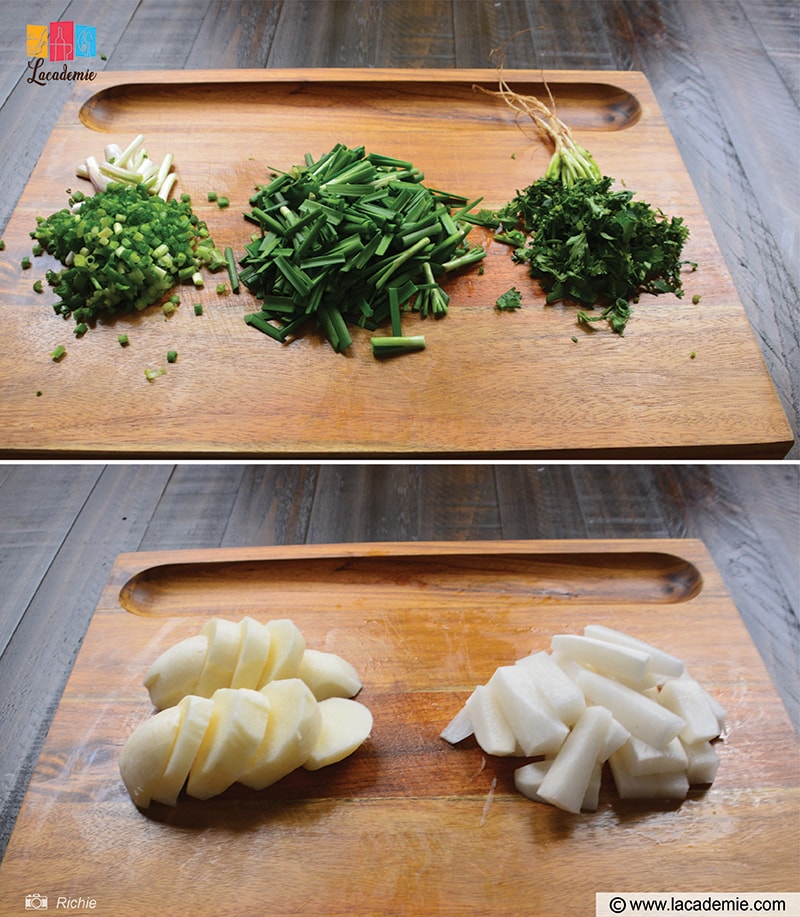 Step 2: Cook Your Char Siu Noodle
Add the pork ribs, green onions, and a little water into a pot and blanch for 2 to 3 minutes. Then, transfer them to a bowl of cold water to prevent the ribs from turning brown.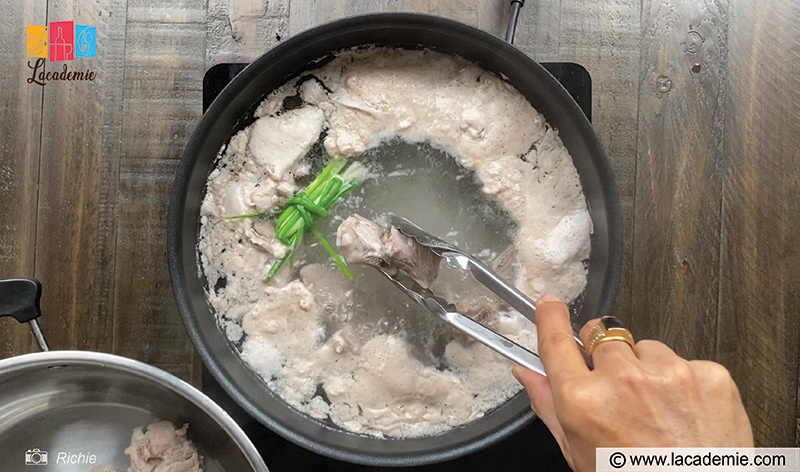 Once you've finished marinating the meat, preheat your oven for a few minutes to provide a stabilized temperature for roasting. Brush a layer of oil on the grill plate. Arrange the marinated pork evenly on the plate and roast for 20 minutes at 350 degrees F.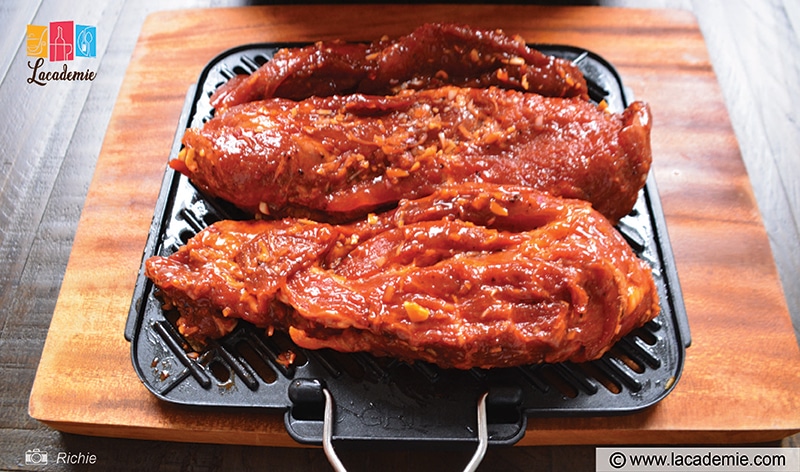 Pour 2 liters (about 8.5 cups) of water into a pot. Stew the pork ribs along with the jicama, coriander roots, scallions, and onions. Cook for 1 hour to 1 hour and 30 minutes over medium heat. Remember to skim the foam occasionally for a clearer broth.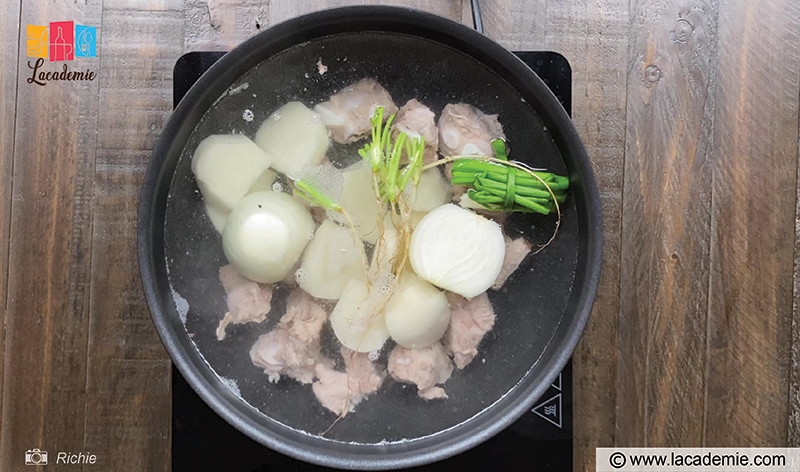 After 15 minutes of roasting, take the meat out and brush one side with the marinade, then continue roasting for 5 minutes. Next, flip and roast for another 20 minutes.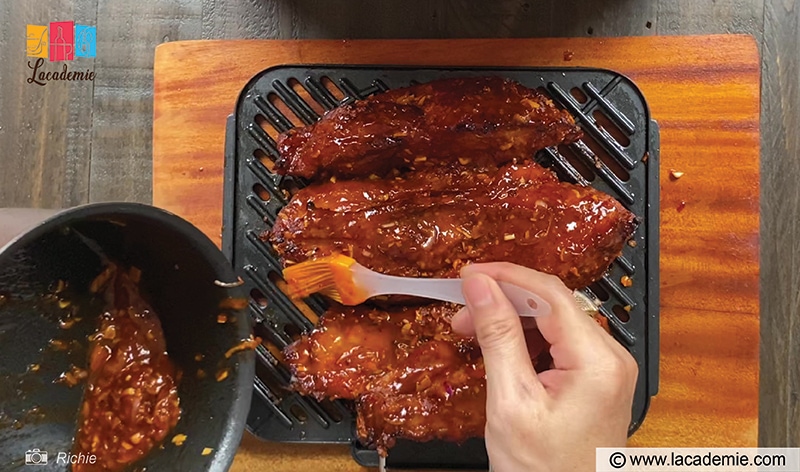 After the 15-minute mark, brush the rest of the marinade on the remaining side. Then, roast for another 5 minutes to ensure that the meat is not dry and cooked to perfection.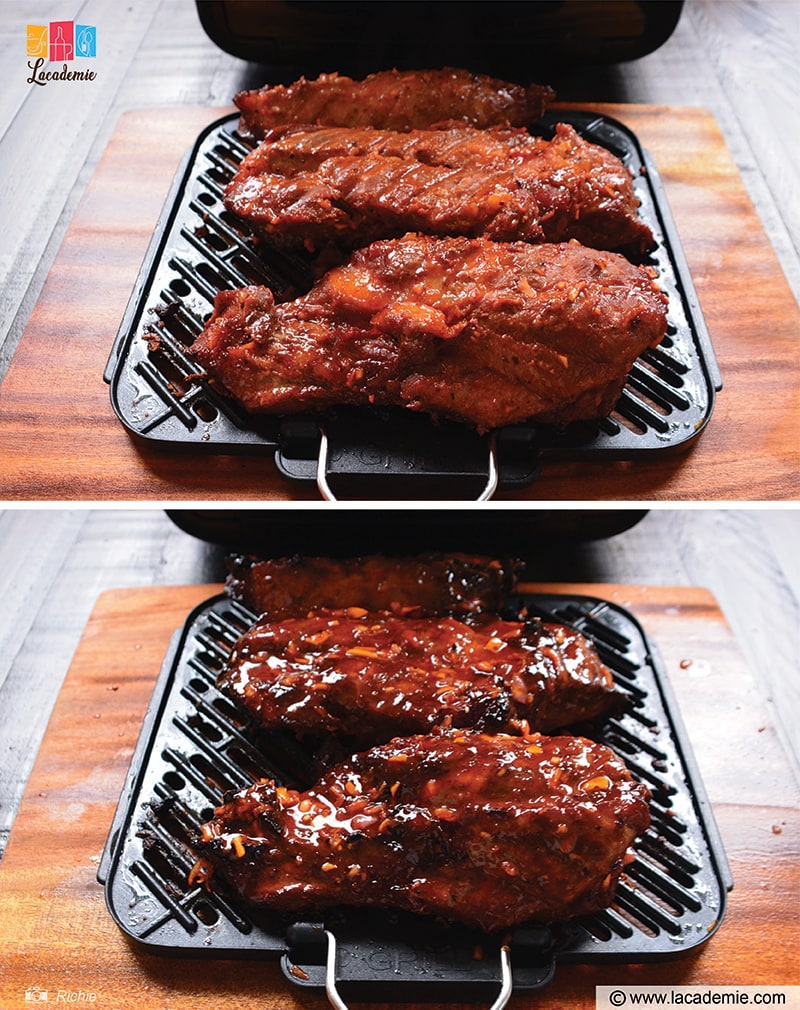 The next part is to make pork cracklings. Add the sliced pork fat to a pan and stir until it shrinks and turns yellow. Remove them from the pan.
Add the sliced shallots and minced garlic to the same pan and stir until they are fragrant and golden. Remove them from the pan.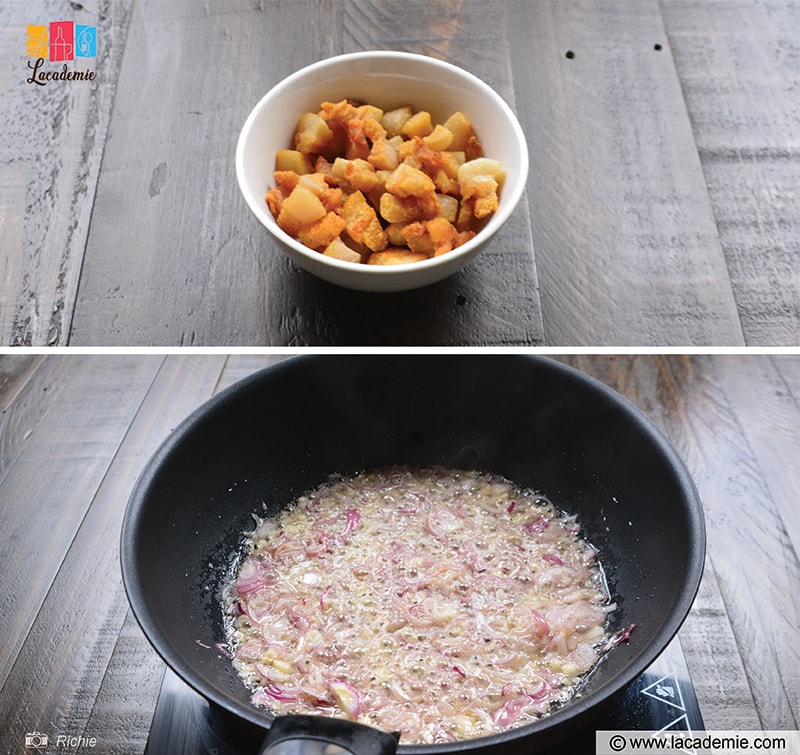 Remove the coriander roots, scallions, and onions from the broth pot. Add in the radish and cook for another 20 to 30 minutes over low heat.
Ladle out a bowl of broth (you'll use it to make the sauce later). Season the rest of the broth with 2 teaspoons of salt, brown sugar, and soup powder or up to taste.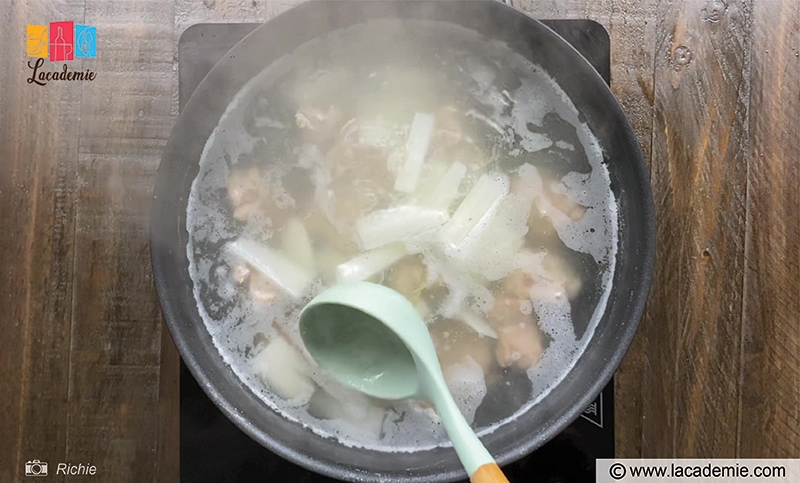 Step 3: Finish The Dish
To make the sauce, add minced onion, pork broth, hoisin sauce, oyster sauce, sesame oil, rose dew wine, dark soy sauce, brown sugar, and soup powder to the pan you just used for making pork cracklings. Cook over medium heat and stir to combine.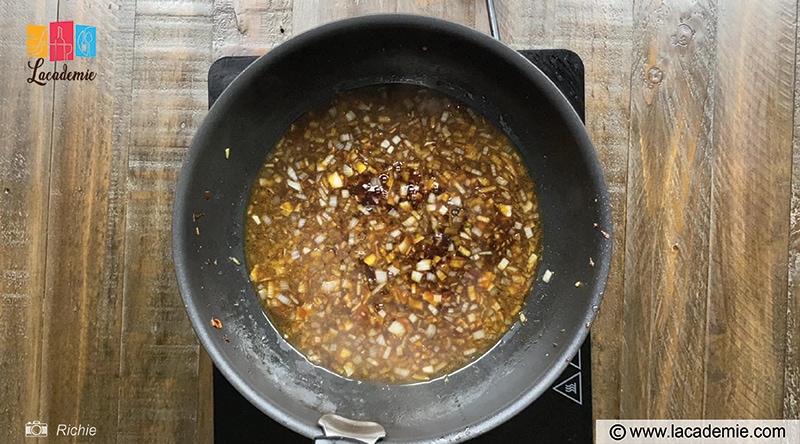 Blanch the bok choy in boiling water for 2 to 3 minutes, then transfer them to a bowl of cold water to give them an appealing color and crispiness.
Next, blanch the egg noodles until softened, then put them into cold water. Stir to avoid lumping, then drain.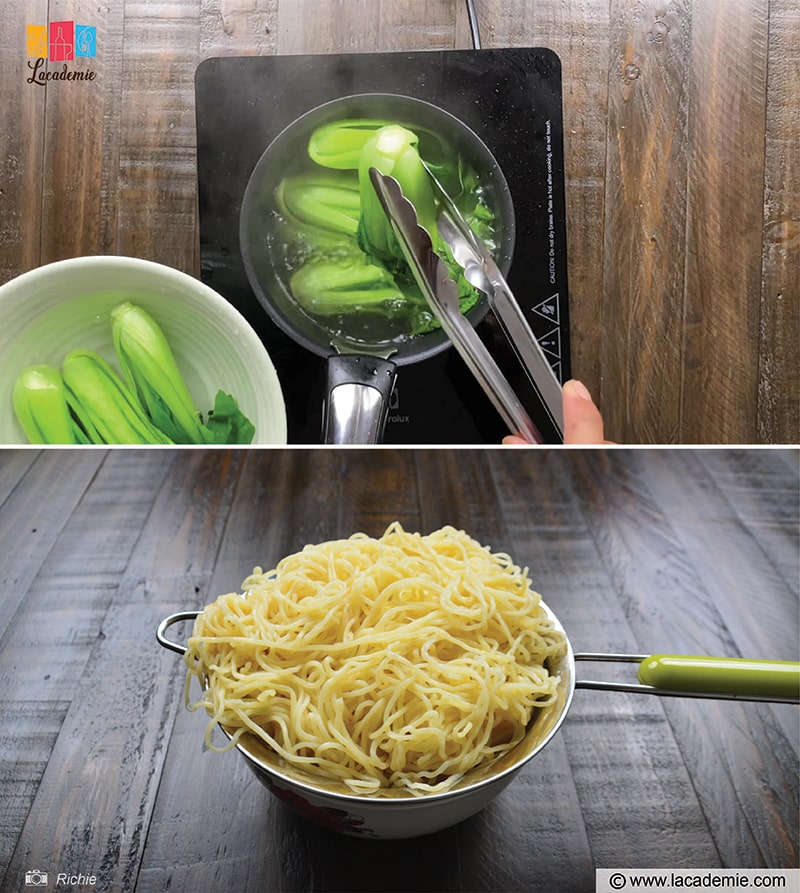 The char siu pork should be perfectly cooked by now, so take it out of the oven and slice it into your preferred size. Arrange the slices on a plate decorated with lettuce.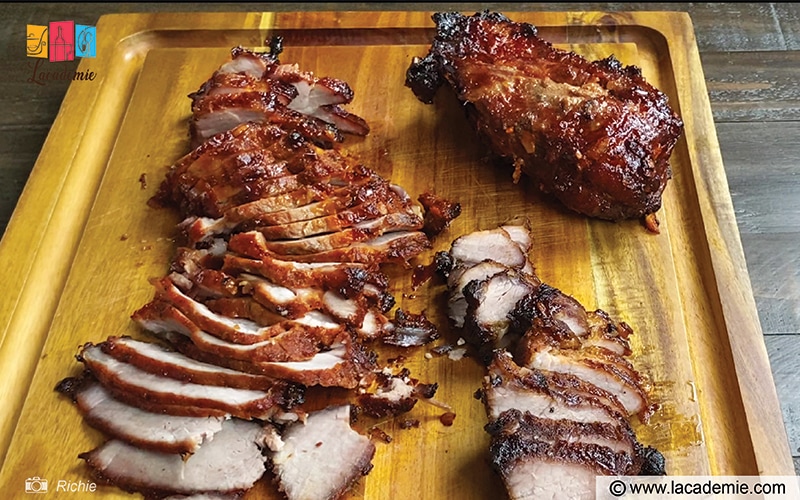 Step 4: Serve Your Char Siu Noodle
Ladle out the broth with pork ribs and radishes into a small bow. Sprinkle some minced scallions and coriander on top.
Put the noodles in another bowl and drizzle a little sauce over it. Arrange the bok choy around the noodles and place the char siu meat in the center. Finish with some pork cracklings along with fried shallots and garlic. You can sprinkle a little ground pepper on top as well!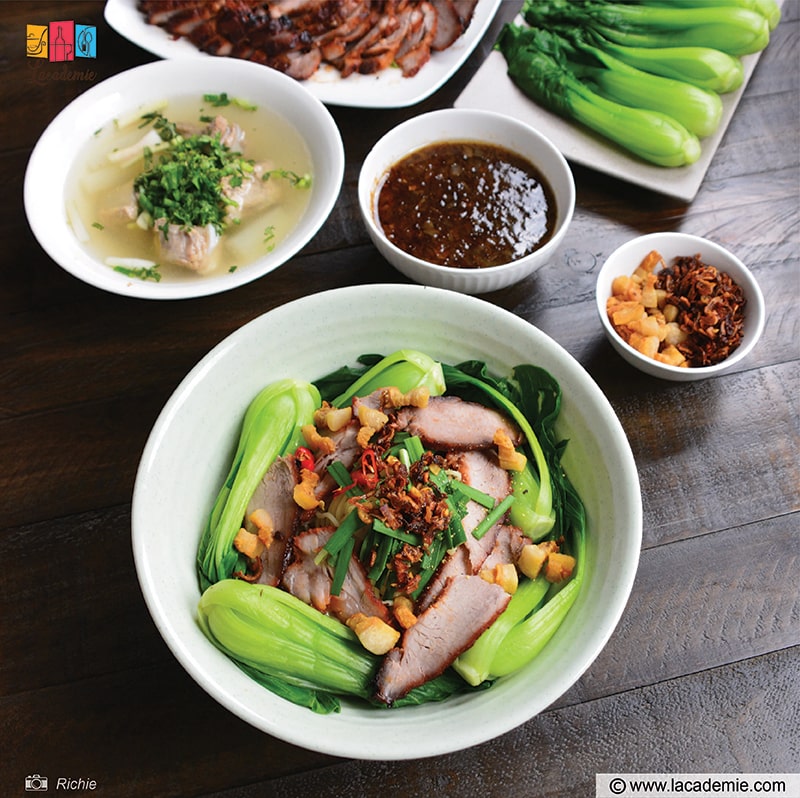 Storage
Char siu pork, noodles, and broth should be put inside separate airtight containers and refrigerated. Make sure that you consume any leftovers within 3 days.
Upgrade Your Meal With Dried Char Siu Noodles!
Dried char siu noodle is a delightful dish that's simple enough to make regularly. More importantly, I'm certain that every member of your family will thoroughly enjoy this recipe. Let's try making it to bring your meal to the next level.
If you have any questions regarding the recipe, don't hesitate to leave a comment. Don't forget to like and share this post so more people can enjoy this tasty dish. Thank you for reading. Until next time!
Nutrition Facts
10 servings per container
---
Amount Per ServingCalories587
% Daily Value *
Total Fat 19.6g

30

%
Cholesterol 76mg

26

%
Sodium 2831mg

118

%
Potassium 668mg

20

%
Total Carbohydrate 59.7g

20

%

Dietary Fiber 5.9g

20

%
Sugars 15.8g

Protein 41.3g

82

%
---
* The % Daily Value tells you how much a nutrient in a serving of food contributes to a daily diet. 2,000 calories a day is used for general nutrition advice.