At first, I had little expectation about Pakistani desserts since Pakistan is not a well-known destination for sweet treats. However, when I tried those delights for the first time, I was amazed by how tasty they were.
If you have never tried these culinary masterpieces before, it's time to give your taste buds an education. You don't have to come to Pakistan to taste the dessert: let me help them come to you!
An Overview Of Pakistani Desserts
Before diving into the flavorful world of Pakistani desserts, you should know a few essential facts about them.
General Information
Just like other foods, desserts in Pakistan derive their diversity from the unique tastes of Punjab, Sindh, and Balochistan. They hold a special place in Pakistani culture, often taking center stage at celebrations, religious festivities, and family gatherings.
A popular term you will frequently run into is "Mithai" ("sweets"), an Urdu word for desserts and confectionery of the Indian subcontinent. Another one is Halvah (a sweet confection of Persian or Arabic origin).
The best time to enjoy sweet treats in Pakistan is probably the Eid-ul-Fitr (a religious holiday marking the end of Ramadan). Countless tasty Pakistani sweet treats are widely available during this festive occasion.
One hallmark of Pakistani desserts is their generous use of dairy products like milk, cream, and cheese. They also employ an abundance of sugar and aromatic spices such as cardamom, saffron, and rosewater.
Pakistani Desserts Vs. Indian Desserts
Indian and Pakistani desserts share many similarities. In fact, many dishes in this post either originated in India or became popular in the country before they came to Pakistan. Still, there are a few key distinctions between the two South Asian countries' sweet treats.
Regional influences: India is huge and consists of many regions, each with its own deserts. For example, Bengali sweets from West India are different from South Indian desserts. By contrast, Pakistani desserts are more homogenous.
Religious influences: Since Pakistan has an overwhelming Muslim majority, desserts in this country must meet the Islamic food standard. Meanwhile, India is primarily Hindu, but other religious minorities are also present and contribute their signature desserts.
Dairy usage: While Pakistani desserts use a liberal amount of dairy ingredients, they favor butter and cream more than others. On the other hand, their Indian counterparts are rich in ghee (clarified butter).
Sweetener: Jaggery (non-centrifugal cane sugar) is used extensively to sweeten many Indian desserts, but not many Pakistani ones contain it.
Amazing Deep-Fried Desserts
Many people love crispy deep-fried desserts, especially kids. It often has a crispy texture which is very yummy. Let's see what Pakistani cuisine has for this category.
Balushahi is a simple Pakistani dessert of Indian origin. More specifically, it comes from the state of Rajasthan in Northern India, where locals call it Makhan Bada. Another name for it is Balo Shahi.
This treat looks like a glazed donut – a slightly flattened disc-like shape with a hole in the center. While it is also made of all-purpose flour like donuts, its preparation is different.
Balushahi is deep-fried in clarified butter and dipped in sugar syrup (which can also include spices like saffron and cardamom). The last step is to garnish it with crushed almonds, resulting in a sweet treat with a crispy exterior.
While Gulab Jamun is immensely popular throughout the Indian subcontinent, Pakistani people love it so much that the Pakistani government declared it the country's national sweet after a 2019 Twitter poll.
Gulab Jamun means "rose water berry" or "rose berry", and this spongy ball-shaped treat boasts an eye-catching copper-red color to fit that title, not to mention the use of rose water for flavoring.
Its main ingredient is khoya (milk solids made by evaporating whole milk) or dried milk and maida flour (finely milled white flour used in Indian cooking).
Locals fry Gulab Jamun balls until their sugar content gets caramelized and creates the iconic hue. Then, they soak the balls in aromatic syrup (consisting of rosewater, saffron, and green cardamom).
You can serve them both warm and cold, but I suggest the former. For more flavors and textures, sprinkle some almonds or pistachios.
Ladoo (with laddu and laddoo as its alternative names) is a well-known category of sweet and ball-shaped treats in South Asia, and Besan Ladoo (or Besan Ke Laddu) is an exciting way to experience its deliciousness.
Those balls are crispy on the outside and soft on the inside. They have besan (gram flour or chickpea flour) as the main ingredient, hence the name. Their golden-brown color comes from being cooked in ghee.
To adjust the sweetness of Besan Ke Ladoo, you can change the amount of sugar and milk (an optional ingredient) in them. Almonds and pistachios are the perfect garnishes for an extra nutty flavor.
How can a snack be both crispy and juicy at the same time? Actually, Jalebi can. This is a famous Pakistani street food delight often served at festivals and special occasions. Children usually fall for it, and so do countless adults.
This treat also enjoys a huge fan base outside Pakistan in various Asian and African countries. It goes by many names, like Zelepi, Z'labiaIn, Jilebi, or Mushabak. Many people suspect that it has Middle Eastern or Western Asian roots.
Jalebi has a spiral shape that resembles a very twisted pretzel. It also has some textural similarities with Nimko, a famous savory chickpea flour-based snack. In addition, Jalebi is also made of a chickpea flour batter and fried until crunchy.
Do you think it is difficult to create Jalebi's complex texture? The secret to making this delicacy is to dip the fried dough in the syrup, then serve it hot immediately to maintain the crispiness.
Perfect Pakistani Puddings
How do traditional Pakistani pudding recipes differ from your puddings at home? Discover the answer with the delights below.
Shahi Tukray (or Shahi Tukra and Shahi Tukda) can be translated roughly to "royal dish." While it is a fancy Pakistani sweet treat, its possible birth of place was the Southern Indian city of Hyderabad. This city has a similar bread dessert called Double Ka Meetha.
In Mughal times, chefs allegedly prepared the soft and richly sweet treat for royal courts, which gave Shahi Tukda the luxurious name it carries until now.
Traditionally, it is served at Eid al-Fitr, which signals the end of the holy month of Ramadan and is a time for families and friends to get together and exchange decadent treats with one another.
This dessert comes in triangular bread smothered in a thick, milky sauce flavored with cardamom and saffron. These two spices are among the most expensive spices, underlining the treat's royal status. Nut toppings are optional.
There are so many versions of rice pudding in the world. But perhaps the Pakistani variety is more special than all.
Besides the same ingredients as other versions (like aromatic rice, milk, and sugar), Pakistani Kheer also incorporates saffron or cardamom pods. They offer a subtly sweet and citrusy taste that takes the pudding to the next level.
You should also try Firni (or Phirni). It is basically a creamier version of Kheer, in which the rice grains are smoothly ground and cooked until soft and sticky. This full-flavored treat should be chilled before serving, preferably in a clay container.
You can make Kheer like a Pakistani chef with this tutorial.
Pakistani people love to turn the sweet and nutty taste of semolina into mouth-watering treats, such as Suji Ka Halwa. This variety of halvah doubles as a dessert and a breakfast recipe.
Suji Ka Halwa, or Sooji Halwa, features ghee-roasted semolina grains cooked in a mixture of water, honey, and spices (milk can be added for more creaminess).
Coconut shavings, fresh fruits, raisins, and nuts are suitable toppings to bring out this Pakistani dessert's sweet goodness with caramel hints.
Also known as Gajar Ka Halwa, Gajreela is an amazing winter dessert that every Pakistani person loves. Locals often make Gajreela at least once a year in winter from milk and grated carrots. Flavoring options include cardamom and nuts.
The combination of dairy and carrots results in a sweet, creamy mixture with a beautiful orange hue. Cardamom adds a pleasant aroma, while nuts complement the dessert with an extra crunchy texture.
Let's learn how to make a warm bowl of Gajreela to keep you cozy on winter nights!
In Pakistan, there is no Eid al-Fitr without Seviyan (or Sewaiyan), a delicious pudding made from vermicelli noodles, milk, and a medley of aromatic spices (like cardamom and saffron).
Locals prepare the delicacy by frying cardamom pods and vermicelli in canola oil or ghee before adding milk and stirring until the mixture becomes semi-thick creamy. The recipe varies across households. Every family seems to have its way of preparing Seviyan.
Knowing how to cook Seviyan will teach you more about Pakistani culture, so check out this helpful walkthrough now!
What do you think about the combination of blanched almonds and rice? As for me, I love it. When the starchy sweetness meets the nutty sweetness, they create a super delicious flavor that will captivate everyone.
You can get that lovely flavor profile with Badam Kheer (also known as Badam Payasam). This creamy dessert is prevalent not only in Pakistan but also in Bangladesh and India.
Unbeatable Pakistani Confections
There are a lot of delicious confections in Pakistan that you may not know. They make a wonderful conclusion to a meal with perfect Pakistani dishes. Why not discover them and find an easy recipe to make today?
This delightful sweet treat has been entertaining people in the Indian subcontinent since the 16th century. You can see it at weddings and religious festivals. Derived from the word "snow," its name reflects the traditional milky color.
However, its original makers probably didn't know that their creation is now available in a wide range of colors: brown, orange, pink, etc. Its diversity is evident in a large number of shapes, too: you can buy square, round, or diamond-shaped Barfi anywhere in Pakistan.
Consisting of rich ingredients like khoya (milk solids), condensed milk (optional) clarified butter, and sugar, Barfi (known as Burfi by some) has a sweet flavor and a fudge-like texture. It is further improved by many choices of flavorings and toppings.
Chocolate, nuts (such as cashews), or fresh fruits (like guavas and mangoes) are popular options for preparing a killer batch of Barfi. Exquisite spices like saffron also help.
Regardless of the ingredients, Barfi can be enjoyed both hot and cold and can last pretty long in the fridge. It is truly the crown jewel of Pakistani Mithai.
Kalakand is the Pakistani equivalent of cheesecakes. It is ideal for those with a big sweet tooth since this treat requires a generous amount of condensed milk (or full-fat milk), sugar, cottage cheese, and cardamom powder.
Finally, people add crunchy nut toppings (like almonds and pistachios) to complement the semi-hard texture. Though Kalakand is relatively young compared to other treats (it debuted in the 1950s), many people in Pakistan can't live without it.
Besan Ki Barfi, or Besan Barfi, is one of the most-loved Barfi varieties. It probably originated in North India and has gram flour as the main ingredient and nuts as garnishes.
In terms of shapes and flavoring, this rich treat can get very diverse, though cardamom is often the source of its fragrance.
Some people describe it as a lighter and easier-to-make version of Mysore Pak (a South Indian sweet made with gram flour and a generous amount of ghee).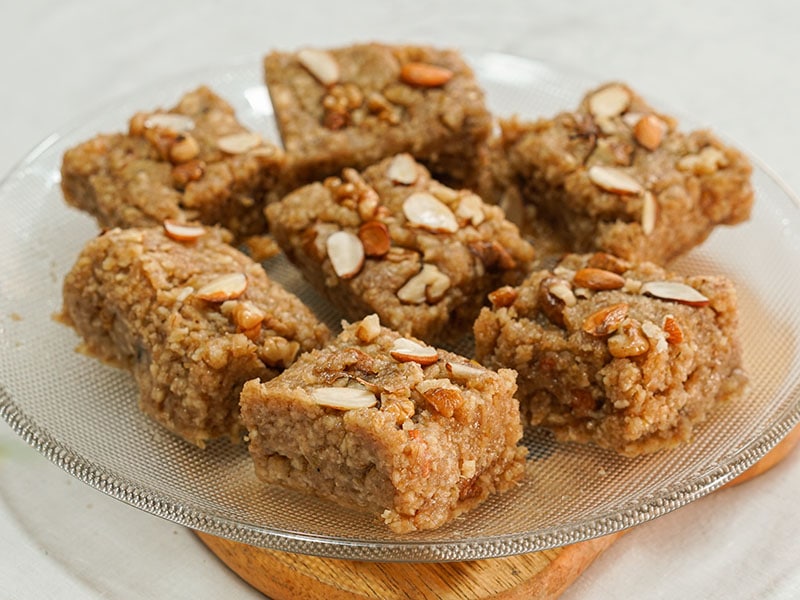 Sohan Halwa (also known as Habshi Halwa) is a delicacy of Multan, a city located in the south of the Punjab province. This type of halwa first appeared in the 18th century and eventually expanded its popularity to present-day Pakistan.
Usually sold as brown square pieces, Sohan Halwa boasts a crunchy texture into which you will love to sink your teeth. The ingredient list is very short, comprising only wheat flour, milk, ghee, and nut toppings, yet the mouthfeel is phenomenal.
This beautiful and delicate Asian dessert is so pretty that you may hesitate to devour it. One bite will reveal a deep sweetness from its combo of milky chhena cheese or paneer, sugar syrup, and crunchy toppings (pistachios or desiccated coconut).
More elaborate variants of Chomchom may also include a sweet khoya-based filling and flavorings like cardamom and rose water. They also boast more colors than just the classic milky-white shade.
While Cham Cham (or Chom Chom, depending on where you travel) is technically a delicacy from Bengal, Pakistani people occasionally have it to sweeten up their days.
Soan Papdi is a flaky, cube-shaped treat with a unique texture resembling delicate strands. Depending on the region, it's also known as Sohan Papdi, Shompapri, or Son Papri. Though some people call it Patisa, the latter appears to be just a similar dessert.
Traditional Soan Papdi consists of gram flour, sugar, ghee, and milk, while modern variations introduce flavors like chocolate, mango, and pistachio. Some recipes also incorporate nuts or desiccated coconut for added crunch and flavor.
This nutritious dessert has enormous appeal in Pakistan as well as the rest of South Asia.
Other Tasty Pakistani Desserts
After a hearty meal with Samosas, Biryani (savory rice dish), chicken Tikka, or Paya (lamb/ goat trotter stew), you enjoy the following light desserts for an authentic Pakistani culinary experience.
Your summer days would be terrible without a refreshing dessert to chase away the heat. In Pakistan, people deal with this problem by making Lab E Shireen – a custard served with fruits, jelly, and vermicelli.
Though it has been around for only a few decades, Lab E Shireen is now the go-to dessert for Eid al-Fitr in the South Asian country.
To make this colorful treat, you just have to put everything together. Make the custard, then throw in jelly cubes, boiled vermicelli, and sliced fruit in it. That's all! You can use any fruit you prefer, such as bananas and apples.
Making Lab E Shireen will be easier with this tutorial.
Created in the 16th century, the iconic ice cream type of Pakistan has the distinctive sweetness and richness of milk. But that flavor is further complemented by the subtle taste of cardamom and the crunchy sensation of almonds.
Another factor separating Kulfi from conventional ice cream is its higher density and slower melting time. Many people also praise Kulfi as healthier due to the lack of eggs and the generous amount of natural flavorings (like rose water and fruit juices).
All you have to do to make this excellent treat is blend all ingredients, pour the mixture into a glass, then freeze for 8 hours. You can cut the final product into slabs or serve it the traditional way: on a stick.
Falooda is a cross between desserts and drinks. More interestingly, it is made from noodles. Have you ever seen anything like that? I was astonished when I discovered it, but its delicious flavor amazed me even harder.
A glass of Falooda comprises noodles (usually the wheat flour variety), milk, sabja seeds (sweet basil seeds), rose water, and crushed ice.
But to create the diverse flavor and vibrant color that characterizes Falooda, you must also add Kulfi, nuts, and fresh fruits (such as mangoes, strawberries, plums, etc.) In fact, many locals see Kulfi and Fadoola as a match made in heaven.
Like many other Pakistani desserts, this cold treat has Persian roots and started gaining massive fame in the Mughal era. Nowadays, you can find many innovative variations with rice noodles, black tea, sago pearls, and so on.
Is there anything better than a chilled smoothie on a hot summer day? I've got an idea: a smoothie with yogurt and spices, like Lassi.
It is a healthy dessert made of yogurt, milk, cardamom, cinnamon, and fruits. As for the last ingredients, mangoes and strawberries are the most popular choices.
Modern versions can be served in a plastic or glass cup, but a Kulhar (a type of clay cup) is the traditional container. The most popular Lassi varieties in Pakistan are Lassi Masalewal (with a lot of spices), Meethi Lassi (sweet Lassi), and Namkeen Lassi (salty Lassi).
Follow this easy guide, and you will get a delicious Lassi drink.
Hailing from the Bengal region, Rabri is a unique Pakistani dessert made by boiling full-fat milk on low heat until thick (like condensed milk) before adding spices, nuts, and sweeteners.
Like other Pakistani sweets, Rabri is flavored with cardamom and saffron, which create a complexity of flavor. Of course, pistachios cannot be absent. Everything combines well together, creating a mouth-watering dessert that will please your sweet tooth.
If you are a fan of rich desserts like me, you should never miss Ras Malai, a famous milk-based dessert flavored with spices and some nuts. Its highlights are cheesy balls smothered in malai (clotted cream) and topped with chopped almonds and pistachios.
Thanks to the high milk content, Ras Malai has a distinguishing richness that few can compare. It also boasts deep sweetness made more irresistible by saffron and cardamom. The chopped nuts add the perfect final touch.
Combined from the two words ras ("juice") and gulla ("ball"), Rasgulla means ball-shaped dumplings that are cooked in sugar syrup until soft and spongy. Its other names are Roshogolla, Rasbari, or Rasagulla.
While this dessert hails from the eastern states of India (with West Bengal and Odisha as the most likely candidates), it is deeply ingrained in the cultural fabric of Pakistan.
Classic Rasgullas are dumplings from chhena cheese and semolina dough, but there are several modern variations. Locals may fry Rasgullas to give them a brownish color, flavor them with spices, or stuff them with sweet fillings.
Many Pakistani desserts are made from rice, and Zarda is among the most popular ones. It features basmati rice, a type of long-grain rice with a nutty taste and floral aroma.
Zarda dates back to the age of the Mughal Empire. While the name means "yellow," this boiled rice treat comes in multiple colors in Pakistan. 
Anyway, the rice is cooked and then flavored with cardamom and sugar, creating a complex flavor of sweetness that is hard to describe in words. But I promise you that it is incredibly delicious. Don't forget to top it with some nuts and raisins.
Gur Wale Chawal, or simply Gur Chawal, is a finger-licking melange of rice (usually basmati rice), jaggery (unrefined cane sugar), ghee, and spices (like cardamom, cinnamon, and cloves). Additional ingredients can include almonds, raisins, or pistachios.
While the use of jaggery makes it seem like an Indian staple, Gur Wale Chawal is also a beloved rice delicacy in Pakistan. It comes from Punjab, an area now split into two provinces of the same name in both India and Pakistan.
Gur Wale Chawal is often enjoyed during the winter months when its sweet richness and irresistible aroma work wonders against the chill in the air.
FAQs
Allow me to deepen your knowledge of traditional sweet treats in Pakistan with more interesting facts.
Pakistani Desserts Are So Rich And Decadent!
As you have seen in this list, you can make most Pakistani desserts with simple baking ingredients, spices, and nuts. I am sure that failure is rare as long as you follow the recipe.
If you like this article, don't hesitate to share it with other people who wish to make delicious Pakistani sweet treats. Also, when you successfully make these desserts, please post some pictures here. I am looking forward to seeing them!
Nutrition Facts
16 servings per container
---
Amount Per ServingCalories96
% Daily Value *
Total Fat 1.9g

3

%
Cholesterol 14mg

5

%
Sodium 47mg

2

%
Potassium 116mg

4

%
Total Carbohydrate 15.2g

6

%

Dietary Fiber 0.6g

3

%
Sugars 12.9g

Protein 5.3g

11

%
---
* The % Daily Value tells you how much a nutrient in a serving of food contributes to a daily diet. 2,000 calories a day is used for general nutrition advice.