At first, I had little expectation about Pakistani desserts since Pakistan is not a well-known destination for sweet treats. However, when I tried them for the first time, I was amazed by how tasty they were.
If you have never tried these culinary masterpieces before, you may also have the same feeling as mine. But things will change after you go over these excellent recipes. You don't have to come to Pakistan to taste the dessert. Instead, recreate the flavors right at your home.
5 Pakistani Deep-Fried Desserts That Will Amaze You
Deep-fried desserts are the favorite dessert type of many people, especially the kids. It often has a crispy texture which is very yummy. Let's see what the best Pakistani deep-fried desserts are.
Baloshahi is a very simple Pakistani dessert that no one can fail. With this recipe, you will get delicious ball-shaped dough topped with crushed almonds. You only need a few typical baking ingredients.
All you need to do is make the dough, create a hole in the center with your thumbs, fry it to perfection, and put some crushed almonds in the hole. The result is soft, sweet, and nutty balls that make your mouth water.
I have never seen any dessert like Gulab Jamun. It has a unique taste provided by the combination of rosewater and milk. All ingredients are mixed, shaped into balls, then fried until a golden-brown hue is achieved.
The balls are then served with a delicious syrup made from rosewater and cardamom. You can serve it both warm and cold, but I suggest you enjoy it while still warm. For more flavors and textures, sprinkle some almonds or pistachios.
Besan Ke Ladoo also comes in the form of fried milk dough. However, no syrup accompanies it. You will get attractive golden-brown balls that are crispy on the outside and soft on the inside.
These balls have the richness of milk and the subtle sweetness of cardamom. They are also topped with some almonds and pistachios, which deliver a typical nutty flavor.
Make sure you enjoy it while it is still hot so that the crispy texture remains. If you cannot finish it in one sitting, you can store it in the fridge and reheat it whenever you want.
How can something be both crispy and juicy at the same time? Actually, Jalebi can. It is a very famous Pakistani street delight often served at events, festivals, and occasions. The children will certainly fall for it, but the adults will be addicted to it as well.
Some people think it would be difficult to create such a complicated texture. But this is not true at all. The secret to making this delicacy is to dip the fried dough in the syrup, then serve it hot immediately so that the crispy texture is maintained.
I haven't introduced any sweet bread so far. But now, it will take the spotlight. Pakistani cuisine has a special kind of bread stuffed with nuts and dry fruits. People love to enjoy it along with tea or serve it as a side dish along with curry.
The bread is yeast-based. Also, it is flavored with yogurt and milk. The delicious filling is made from desiccated coconut and nuts. Feel free to use any kind of nut you like. You can also add some dried fruits, such as raisins, for some deep sweet notes.
6 Pakistani Puddings That Are More Than Satisfactory
There is nothing more comforting than pudding, right? It provides a smoothing effect that everyone loves. Below are the most famous Pakistani pudding recipes.
"Shahi Tukda" can be translated roughly to "royal dish." It is a fancy Pakistani sweet treat that is very celebrated. Traditionally, it is served at Eid al-Fitr, a religious holiday held by Muslim people in Pakistan. Often mistaken for a Pakistani dinner recipe, Shahi Tukda turns out to be a dessert.
This dessert comes in triangular bread smothered in a thick sauce made from cardamom, saffron, and milk. These 2 spices are among the most expensive spices, so this is the reason why it is a royal dessert. The bread is also topped with nuts to add more flavors and texture.
There are so many versions of rice pudding in the world. But perhaps the Pakistani rice pudding is more special than all.
The ingredients are almost the same as other versions except that cardamom pods are used. It offers a subtly sweet and citrusy taste that takes the pudding to the next level.
If you want it to be more luxurious, consider adding some saffron. It pairs very well with cardamom, providing a lot of complexity to the final result.
Kheer is an easy Pakistani dessert anyone can make.
Pakistani people love to make desserts with semolina. It has a subtle sweet and nutty taste that is distinctively light and yummy.
They often make Suji Ka Halwa, a dessert as well as a Pakistani breakfast recipe, which features semolina cooked with milk and topped with various types of nuts.
When semolina is cooked, it turns to a beautiful brown color that will catch your breath. The tip to create consistency in texture is to stir the mixture continuously, even when it becomes thicker and thicker. When you have finished, don't wait for it to cool off. It is best to serve it warm.
Gajreela is an amazing winter dessert that every Pakistani person loves to enjoy. They will make Gajreela at least once a year in winter. It is made from milk and carrots. Other flavorings include cardamom and nuts.
By cooking milk with ground carrot, you will get a creamy mixture with a beautiful orange hue and a rich sweet taste. Cardamom then adds extra sweetness, and nuts finish the dessert with an additional crunchy texture.
A warm bowl of Gajreela will keep you cozy on winter nights.
In Pakistan, there is no Eid without Seviyan. Eid is a Pakistani festival to commemorate the decision of Ibrahim, who sacrificed his son according to God's command.
Seviyan is a delicious pudding made from vermicelli noodles, milk, and cardamom. Notably, the recipe varies across households. Every family seems to have its way of preparing Seviyan.
This delicacy is made by frying cardamom pods and vermicelli in canola oil or ghee, then adding milk and stirring until a semi-thick and creamy texture is reached.
Making Seviyan makes you become a part of Pakistani culture.
What do you think about the combination of almond and rice? I love it. A natural sweet flavor is best complemented by some nutty notes, creating a super delicious flavor that will make everyone addicted to it.
You can get that lovely flavor by making Badam Kheer, a famous Pakistani sweet. This dessert has a very creamy texture that is irresistible. Some cardamoms add a complex sweetness that is typical of Pakistani cuisine.
5 Pakistani Confections You Should Never Miss
There are a lot of delicious confections in Pakistan that you may not know. Why not discover them and find an easy and delicious recipe to make today?
Barfi is also called snow because it has a beautiful white color. When you serve these cubes to your guests, they will be stunned. Not only does it look adorable, but its taste is also incredibly delicious.
This sweet is made mainly from milk, cheese, and bread. Milk and cheese create a creamy texture, while bread helps to solidify it. Kewra adds some fruity notes, and pistachios finish with crunchiness.
Kalakand is among a few Pakistani sweet treats made from condensed milk. It is ideal for those who have a taste for very sweet desserts. It also has cottage cheese, which adds a lot of richness to the flavor.
Cardamom and nuts are must-have ingredients, as always. No Pakistani dessert can be completed without them. The final result has a semi-hard texture that is perfect for a midday snack.
Besan Ki Barfi has gram flour as the main ingredient. It is also called chickpea flour, which has a nutty and earthy taste. This dessert comes in brown squares with some nuts embedded in them. You will get a pure nutty taste with some sweet notes when tasting them.
The sweetness of Besan Ki Barfi is not only attributed to sugar. Ground cardamom also plays an important role. It adds more sophistication to the sweet taste.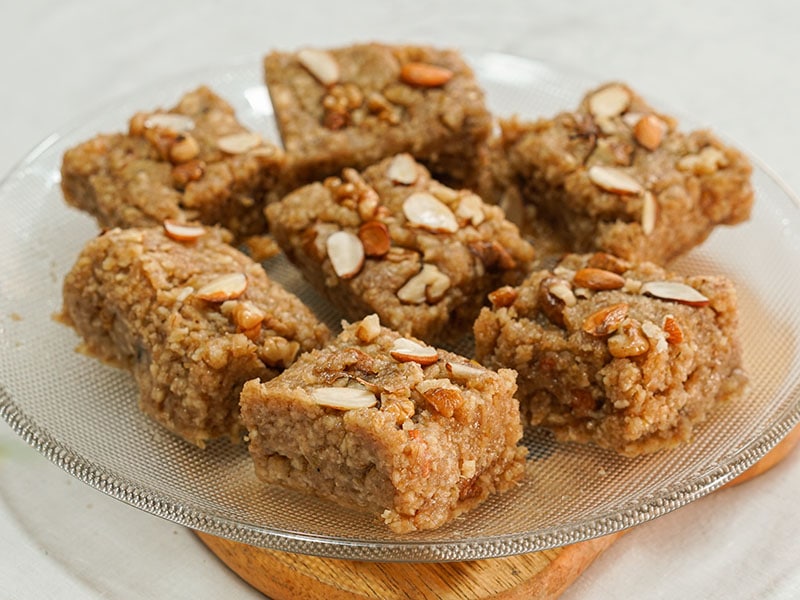 Sohan halwa is a delicacy of the city of Multan, located in the South of the Punjab province. It features mouth-watering brown squares with some nuts. There are plenty of Sohan Halwa recipes, but the featured ones right here are the original version from Multan.
The batter is made from wheat flour and milk and flavored with cardamom and saffron. These 2 are the core ingredients, so make sure that you don't substitute them with anything. After you finish, top it with some pistachios and almonds to add more flavors and textures.
Cham Cham is a beautiful and delicate Asian dessert from Pakistan. It consists of a chenna and a filling and is always served with sugar syrup. The process of making chenna is quite similar to that of common dough. It is made of milk, sugar, and lemon juice.
The filling of Cham Cham is incredibly delicious. It has a subtle sweet taste provided by cardamom. On the outside, you will get plenty of pistachios and a layer of desiccated coconut, which is so flavorsome.
7 Other Pakistani Desserts That Are Also Tasty
Apart from the above types of desserts, Pakistani cuisine has a lot of other delicious sweet treats that are heavenly and tasty. Check them out!
Your summer days would be terrible without a refreshing dessert to wipe away the heat. In Pakistani cuisine, there is such a dessert. That is Lab E Shireen – a custard served with fruits, jelly, and vermicelli.
To make this colorful Pakistani food, you just have to put everything together. Make the custard, then throw in jelly cubes, boiled vermicelli, and sliced fruit in it. And you're done! You can use any fruit you prefer, such as bananas and apples.
Making Lab E Shireen is never easier with this recipe.
The iconic ice cream type of Pakistan has the distinctive sweetness and richness of milk. But that flavor is further complemented by the subtle taste of cardamom. Apart from the creamy texture, you will also get some crunchy notes provided by almonds.
No recipe is easier to make than Kulfi. It is a perfect treat after your Pakistani lunch recipes. Everything you have to do is blend all ingredients, pour the mixture in a glass, then freeze for 8 hours.
Falooda is a cross between desserts and drinks. More interestingly, it is made from noodles. Have you ever seen anything like that? I was stunned when I discovered it, but its delicious flavor hit me even harder.
In a glass of Falooda, there are noodles, ice cream, basil seeds, milk, and nuts. To create the main flavor, you must also add fruit and jam such as jelly or mango.
It is hard to imagine what this unusual combination tastes like, isn't it? Apparently, it is packed with plenty of flavors and textures.
Is there anything better than a chilled cup of smoothie on a hot summer day? With this Lassi recipe, you will get a healthy dessert made of yogurt and milk and flavored with ginger and honey.
No Pakistani dessert can be completed without spices. In this recipe, cardamom and cinnamon add a subtle sweetness and lovely aroma. If you want your Lassi to be more fruity and refreshing, feel free to add some fruit, such as mangoes.
Blending all ingredients, and you will get a delicious Lassi drink.
Rabri is a unique Pakistani dessert made of khoya, a type of dairy common in the subcontinent of India. In addition, it also has kewra, an essential oil that has a fruity taste.
Like other Pakistani sweets, Rabri is flavored with cardamom and saffron, which create a complexity of flavor. And, of course, some pistachios cannot be absent. Everything combines well together, creating a mouth-watering dessert that will please your sweet tooth.
If you are a great fan of rich desserts like me, you should never miss Ras Malai. It is a famous milk-based dessert that is flavored with a collection of spices and some nuts. It features balls smothered in thick milk and topped with chopped almonds and pistachios.
Thanks to the high milk content, Ras Malai has a distinguishing richness that few can compare. It also has some complex sweetness provided by spices. In addition, the chopped nuts add a crunchy texture and nutty taste.
Many Pakistani desserts are made from rice, and Zarda is among the most popular ones. It is made from basmati rice, a type of long-grain rice with a nutty and spicy taste and floral aroma.
The rice is cooked and then flavored with cardamom and sugar, creating an intensely complicated sweet taste that is hard to describe in words. But I promise you that it tastes incredibly delicious. Don't forget to top it with some nuts. They are the best finish.
You Will Be Successful With These Recipes
As you have seen in this list, you can make most Pakistani desserts with simple baking ingredients and some spices and nuts. I am sure that failure is rare as long as you follow the recipe.
If you like this article, don't hesitate to share it with other people who wish to make delicious Pakistani sweet treats. Also, when you successfully make these desserts, please post some pictures here. I am looking forward to seeing them.
Nutrition Facts
16 servings per container
---
Amount Per ServingCalories96
% Daily Value *
Total Fat 1.9g

3

%
Cholesterol 14mg

5

%
Sodium 47mg

2

%
Potassium 116mg

4

%
Total Carbohydrate 15.2g

6

%

Dietary Fiber 0.6g

3

%
Sugars 12.9g

Protein 5.3g

11

%
---
* The % Daily Value tells you how much a nutrient in a serving of food contributes to a daily diet. 2,000 calories a day is used for general nutrition advice.