Polish desserts can be smart choices if you are bored of some out-of-date desserts recipes. Various incredible recipes from Poland promise to bring you a new experience just by mixing up the ingredients inside your kitchen.
It is good news that you no longer need to worry about your family after-meal with these quick and inspiring guidelines. The tea-break times or gatherings with friends are also not colossal trouble anymore.
I have arranged the list from simple to a bit more time-taking, from bread to cakes and waffles. Following 22 recipes in my article below and waiting for admiration from the most demanding gourmet are all you have to do!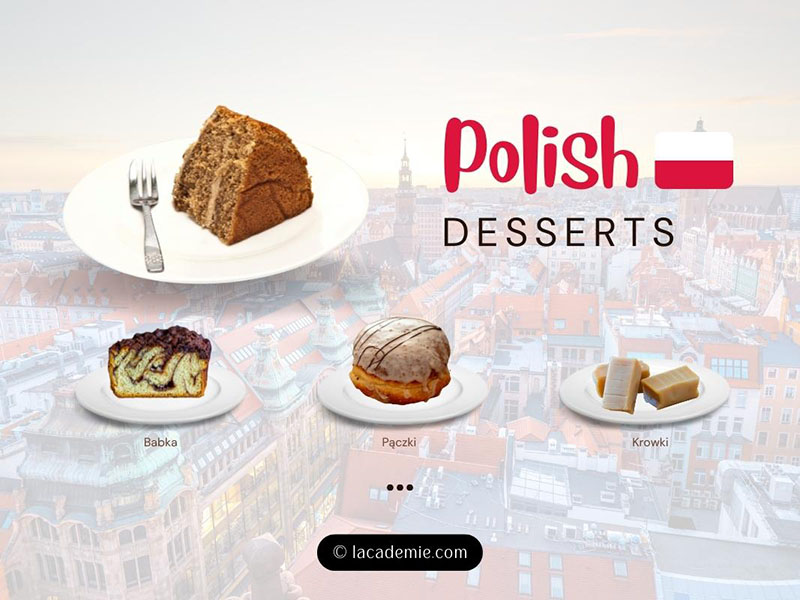 Polish Desserts List
It would be important to have fast access to my list of 22 traditional Polish desserts before delving into the specifics:
Polish Cakes
Sernik – Classic Polish Cheesecakes
Papal – Puffy Vanilla Cream Cakes
Karpatka – Layered Cream Cakes
Placek z Sliwkami – Polish Plum Cakes
Polish Coffee Cake With Almonds
Mazurek Królewski – Polish Flat Cakes
Miodownik – Polish Honey Layer Cakes
Kolaczki – Cream Cheese Cookies With Fruit Flavors
Mazurkas – Polish Fruity Cookies
Pierniczki – Polish Gingerbread Cookies
Chrusciki – Polish Angel Wing Cookies
Rogaiki – Polish Almond Horn Cookies
Amoniaczki – Polish Cookies With Sugar
Polish Bread
Makowiec – Polish Seed Bread Rolls
Babka – Polish Cinnamon Breads
Polish Easter Nut Rolls
Other Polish Desserts
Pączki – Polish Traditional Donuts
Szarlota – Polish Apple Pies
Nalesniki – Polish Fruit Jam Crepes
Kutia Wigilijna – Polish Wheat Puddings
Krowki – Polish Caramel Candies
Polish Fruit Kompots
Polish Cakes
Polish cakes will knock your socks off with how beautiful they are! To recreate these delicious dishes from Poland, all you need to do is follow a few easy steps. Let's see if they are really simple or not!
Are you looking for a Polish dessert for your next family gathering?
Well, you are knocking on the right door! This Polish cheesecake that I am sharing here is one of the best-known and loved Polish desserts you can find out there. Not only suitable for family gatherings, but it is also a perfect choice for any other occasion!
As Poland's national dish, cheesecake is widely popular in every Central and Eastern European cuisine.
It embodies everything I adore about Polish cheesecake, including the smooth crust (dusted with cocoa for additional flavor and color), the flavorful raisins and orange zest, and the exquisite finish with a coating of icing sugar.
You can top it with another layer of pastry (as well as fruit, fruit sauce, fruit jello, meringue, chocolate ganache, almonds, or other toppings).
There are other cake variations throughout Poland, but this is the most straightforward and conventional recipe.
You may think it is complex or frightening, but actually, it is not difficult to prepare. If I can do it, so can even the least experienced home chef.
Learn how to make a gorgeous Sernik just within 7 minutes. You can see this video to know more:
One vital thing you must pay attention to while baking this beautiful custard sweet is to monitor it carefully since the creamy custard may get lumpy very quickly. The texture may be a little lumpy, but it didn't take away the dish's taste in the least.
Some other Papal cake recipes use whipped cream, vanilla custard, meringue filling, or double cream. You can even drizzle a large amount of powdered sugar and frostings on top of the cake.
I genuinely prefer the two-layer version. It is a blend of vanilla cream and whipped cream that has been flavored with a shot of Amaretto (almond liquor).
Although this cake is not difficult for housewives to create, it will impress your family and friends with the delectable sweet dessert served after dinner.
Poles may not get into elaborate recipes much, but it does not imply their desserts are incapable of performing miracles.
Believe me, papal cream cake is truly capable of bringing joy to any child who consumes it.
Give this recipe a try then you can create the best Polish dessert on your own.
You can see this video to know more:
Karpatka is a Polish variant of vanilla slice or millefeuille, but with layers of choux pastry instead of puff pastry. Consider a single large rectangular profiterole stuffed with pastry cream.
You can eat these cake pieces that combine nicely with hot drinks such as traditional English tea or your favorite coffee. Among wines, a semi-sweet or semi-dry sparkling wine is ideal for balancing the cake's richness.
A Karpatka is baked to perfection when you can feel each piece of the cake completely melt in your mouth.
Great ingredients will contribute to an outstandingly delicious cake. At the same time, the right recipe will put an amateur home cook in competition with the mass-produced cakes in a sweets machine.
Karpatka is a vegetarian dish devoid of meat but contains dairy and eggs, which is still acceptable for Lacto-ovo vegetarians.
What will be the next superstar Polish desserts? I pick this dessert full of plums for every reason. It is fast and straightforward to prepare and incorporates fresh fruit. Additionally, bakers are free to refresh recipes by using apples, nectarines, or peaches instead.
Despite the butter I used was a little too soft, everything worked out in the end. More significantly, as the cake was baked in the oven, delicious aromas filled the home.
Children may help at any step of this recipe, and it's an excellent opportunity for them to practice some baking fundamentals. They can weigh ingredients using scales, cups, and even a tiny tumbler and will love to receive a large dish of fruit to spread throughout the batter!
Nothing could be more delightful than making a beautiful and heartfelt dessert with your children over the plum season's weekend, right?
For those who like coffee-flavored desserts, missing this Polish almond-scattered coffee dish would be a shame.
Baked at a reasonable temperature for a spongy and delicate texture, the cake core is dark brown. For an afternoon tea, the tastes of almonds and genuine coffee are the ideal complements.
The procedures for creating this cake are also the processes for producing a basic sponge, which means there is virtually nothing preventing you from whipping up a batch of this wonderfully sweet treat for the whole family any time you want now.
Mazurek got its name from the traditional Polish folk dance and a sparrow that lives in the Mazur area of north-central Poland.
You can make it with yeast or non-yeast doughs and decorate with almond pastes, preserves, dried fruits, almonds, and meringues. Or just eat it plainly. Traditionally, people enjoy this dish for breakfast. Mazurek seldom grows more than an inch in height.
The vivid jams, in my view, are completely responsible for the tart's royal appearance. To be clear, I have no interest in muting the jewel-like tones in any manner. They are going to be spectacular in the future!
I often compare the world of European dessert food to a cosmos filled with millions of dazzling stars. The greatest multi-layered sponge cakes interspersed with sweet and silky cream from Poland – Miodownik honey cake – will leave you breathless and your pulse racing.
Honey, semolina, milk, eggs, and butter are undoubtedly the most essential ingredients. You may wonder whether you should choose Manuka or raw honey for this cake. Well, you're free to choose any honey you want. My suggestion is picking ones with a strong flavor.
All you need to do in the end is cover each slice of cake with a thick and even layer of cream. You will probably need an extra cup of coffee and lots of praise for yourself to enjoy this cake to the fullest!
Who can resist beautiful and freshly baked cookies? No way! So I keep going on my Polish desserts list with six cookie recipes. Here we go!
Kolaczki is one classic sweet treat with cream cheese in Poland. In addition, the vibrant colors and interesting shapes of this cookie will be a special signal in the cookie bag that the Christmas season has arrived in Europe.
The cookie dough is almost pastry-like in appearance and is layered with a variety of toppings, including apple, plum, cherry, almond, and poppy seed.
Regarding the jam, you may just boil the dried fruit in a little amount of water with a squeeze of lemon juice and a pinch of sugar until mushy, then blitz it with an electric mixer. If you're short for time, you may alternatively use canned jam.
Cookies are any kid's favorite snack. That's why you do not only make desserts for the whole family to watch TV together after meals, but your kids can also bring them to school and show off to friends about their parents' skills.
Enjoy colorful and tasty Kolaczki cookies with your kids after only 5 minutes. You can see this video to know more:
The unique taste of Polish cookie recipes astounds the audience despite their extreme simplicity. Continuously, these Mazurkas cookies are a good option for people who don't have a lot of time to bake.
Let's take a glance: flour, dried fruit, nuts, and sugar are readily available in any family's refrigerator. Baking will no longer be a frightening and stressful experience.
Each cookie, which is coated with crunchy dried fruit and gently melts in your tongue, will transport you away from the stresses of a long day, or it will instill in you a little pleasure to begin a new day full of vitality.
Pierniczki are honey and spice cookies that are dusted with icing sugar. They are the Polish counterpart of gingerbread and are typically consumed throughout the Christmas season.
They're simple to prepare using cupboard staples and bake in only 8 minutes. The recipe specifies either even rye flour or all-purpose flour.
For a more exciting experience, you can use some cookie presses with different shaped discs to make your cookies into rounds, St. Nicholas, and other creative forms. You can even create a charming heart shape for a memorable Valentine's Day present!
You can see this video to know more:
These crisp, sugar-dusted Polish cookies are also known as angels' wings or bow ties. They are created with twists of dough that are rapidly fried in hot oil.
As is the case with many other traditional Polish dishes, the pastry is typically cooked in lard. Of course, you may cook with various oils; the taste will be somewhat different.
Apart from its longer and thinner form than traditional butter biscuits, this delicacy is distinguished by its unique flavor. The secret to this delectable flavor is to include a tablespoon of rum wine into the mix. You're feeling weird, aren't you?
Don't worry, this little quantity of alcohol will not cause anybody to get inebriated while eating cookies, but it will become addicting after the first one!
Enjoy your time of making the best crispy and addicted cookies. You can see this video to know more:
Simple cupboard ingredients are used, and the dough does not need to be chilled before baking.
Other nations, such as Ukraine or Russia, also like Rogaliki biscuits. Poland's Jewish food was the inspiration for this dish (rugelach cookies).
Crumbled sour cream pastry, softer sour cream one plus yeast, and even very soft yeast dough can all be used to make these crescent cookies.
These crescent-shaped (or moon-shaped, as the kids say) cookies can last a long time in your refrigerator without fear of staleness or loss of taste.
However, I am unsure if you have any cookies left to put in the fridge as soon as the batch comes out of the toaster oven!
Are you as taken aback as I was by the cookie's name? I had to perform a second take when I saw the name Amoniaczki Cookies. In fact, most bakers discover that baking ammonia produces a lighter, crunchier cooked product than baking powder does.
You can find baking ammonium in the supermarket's baking section, but I've found that continental shops and baking specialist stores are your best option.
In terms of texture, this cookie type is crunchy. Your fingers will not be able to stop picking at each cookie, and your tongue will not be able to quit eating.
Remember to include a cup of hot tea in the cold mornings during your vacation; it will be the ideal match!
Polish Bread
Why not try these indulgent bread recipes instead of cakes and cookies? Take a look at these three Polish loaves of bread you can make at home!
Poppy seeds, a sign of riches and success, are often utilized in Eastern European baking due to their association with a prosperous future. Its yeasted dough is filled with a delicious poppy seed spread and rolled for baking, resulting in a lovely black and white swirl when slicing the pastry.
Although numerous dishes use these small seeds, Polish makowiec remains one of the most well-known and appealing recipes.
Makowiec, particularly this authentic Polish variety, is not very sweet, and American palates may like it with a drizzle of glaze over the top to give a touch of sweetness to each mouthful.
You can use this dessert for many purposes, including as a yummy Polish breakfast replacement or after a hearty dinner. Note that the more evenly you roll, the more beautiful the look of the bread roll will be!
Create your unique seed rolls for the upcoming Christmas season. You can see this video to know more:
Chocolate has long been an inexhaustible source of inspiration for sweets worldwide, even more so for devotees of its enticing sweet and bitter flavor.
What could be nicer for a lazy weekend than a loaf of chocolate-scented bread? If you concur with my opinion, this formula will work for no one else except you!
This chocolate Babka is created with a light and delicate handmade brioche dough with a bar of decadent dark chocolate, butter, cocoa, icing sugar, and cinnamon filling.
With a sprinkling of simple syrup on top, you'll want to eat it somewhat warm for an unforgettable sensory experience.
You can see this video to know more:
Easter is a wonderful gathering occasion you won't want to miss to make a new and warm roll for your family. In case you are still confused among the many options, I would strongly recommend this nut roll recipe. Besides Poland, this treat is well-loved in Slovenia as well.
Imagining the children waiting eagerly in front of the oven and looking forward to the delicious bread loaf with the scent of beans and butter is enough for you to give it a try.
All nut roll doughs are prepared with yeast and allowed to rise, and the filling is made using walnuts.
Do not forget to sprinkle a larger amount of sweetened nut filling over the dough and shape them into cylinders to cook in logs, tubes, or loaf pans. Then, slice them when they are cool. You will see a swirling pattern.
Find more happiness in baking an Easter nut roll for your family members. You can see this video to know more:
Other Polish Desserts
Listed below are six notable Polish dessert recipes. You can make your after-meal blowing just by seeing what these extra recipes are!
If the list of sweets of Polish cuisine is missing the name Pączki, it is definitely a huge mistake. These delightful Polish street delicacies have a golden brown and crispy crust and moist insides.
The donuts are filled with the sweetness of fruit jam which will completely capture the hearts of dessert lovers.
All sweet achievements will need challenges. It is inevitable that you will spend a lot of time making these doughnuts, and it will probably also take a lot of effort in kneading the dough.
The dough needs to be carefully kneaded and cut into medium and even round shapes to prevent the filling from spilling out during baking and losing its inherent beauty.
Another popular suggestion is that you can fry the dough in a pot of boiling oil or fry it in an air fryer and then roll it in a cup of refined sugar. This method does not affect the flavor much and is especially suitable for owners of kitchens that do not have an oven.
Look and note down everything you need for a delicious doughnut.
Apple pie is not unfamiliar to Europeans. However, the Polish apple pie recipe is not identical to the classic British apple pie recipe since the Polish apple pie recipe is said to have been much sweetened.
To preserve the apple filling's flavor and fragrance, Poles avoid using too much sugar in their pie. The pie has the perfect amount of wetness, is soft and gently crispy, and the aroma of apples pervades the room – an ideal setting for family reunions or gatherings of friends, isn't it?
Apple pie really requires the maker's meticulousness. However, you do not need a lot of expertise to create a decent batch of pie; what you do need is a solid recipe.
Crepes are culinary wonders. They may be made as salty or as sweet as desired. Polish people frequently consume thin crepes filled with fruit preserves or sweet cheese. This meal is rich and sweet, yet not oily or dull, owing to the perfectly thin layer.
Although this dish is relatively simple to prepare and saves time, it does require perfect timing. But, you do not need to be concerned. All you need to do is follow the recipe!
Follow the step-by-step guideline to award your children an incredible Nalesniki crepes.
This barley rice pudding, which originated in Eastern Poland and has since spread across the nation, comes in a variety of fascinating variants. Additionally, remember to add sweet-tasting dried fruits and nuts to the cooked barley rice.
In most households, this dessert is perfect for Christmas Eve after a wonderful meal. This dessert is not only delicious, but it is also very nutritious. It has the capacity to rebalance the palate after a heavy meal and allows people to enjoy it thereafter.
Even though you are on a rigorous weight-loss diet, you may still enjoy yourself without being too concerned about your weight.
People typically associate this delicious, buttery, vanilla-flavored candy with their memories of growing up in Poland.
The fact that it is not difficult to make and does not need any costly or secret ingredients is a significant advantage of this sweet. The majority of Polish youngsters regard this to be their favorite childhood treat.
I believe that with only a few tiny candy bars, your little boy will be surprised and delighted for the rest of the day. After that, why don't you simply start turning on the burner and heating the ingredients immediately?
The dessert that will bring my collection of Polish desserts to a close will be the one that does not need the use of any dough or the use of an oven at all.
Kompot is a simple yet delicious Polish drink prepared from fruit that has been soaked in sugar and stored in the refrigerator. So, since we're on the subject, you're surely wondering how to create this dessert drink, right?
There are no restrictions on the kind of fruits that may be used to soak Kompot. You may use whatever fruit you like, but remember to think about whether the combination of fruits will have any negative impact on your health. In all situations, safety is always essential.
Nutrition Facts
12 servings per container
---
Amount Per ServingCalories400
% Daily Value *
Total Fat 26.1g

40

%
Cholesterol 197mg

66

%
Sodium 467mg

20

%
Potassium 89mg

3

%
Total Carbohydrate 19.7g

7

%

Dietary Fiber 0.9g

0

%
Sugars 15.4g

Protein 17.9g

34

%
---
Calcium

40

%
Iron

1

%
Vitamin D

22

%
* The % Daily Value tells you how much a nutrient in a serving of food contributes to a daily diet. 2,000 calories a day is used for general nutrition advice.