Without these yummy German breads, your German-themed dinner won't be complete! From soft rolls to light sweet pastries and crispy Pretzels, this country never disappoints with its never-ending bread options.
Making bread can be pretty daunting since it takes lots of time and effort. But trust me, nothing can be more satisfying than pulling a steaming, freshly-baked loaf of bread from the oven. So if you want to up your cooking game, give this article a read and note down these delicious bread recipes.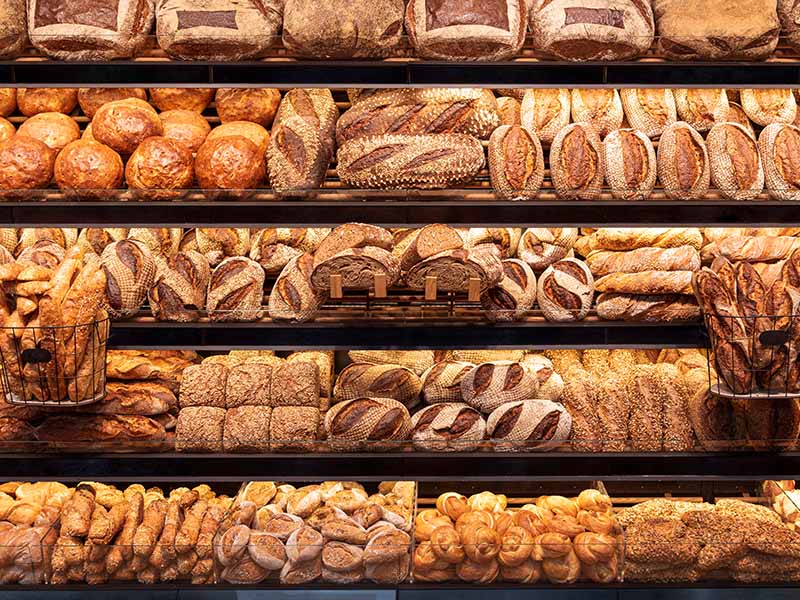 Most Talked-About German Bread That You Must Try Once
In this section, not only will you be able to know the names of the most well-known traditional bread of German cuisine, but you will also learn the recipes for every one of them. It might take a few tries to truly master them, but it will definitely be worth it!
Cooking time: Ready in about 40 minutes.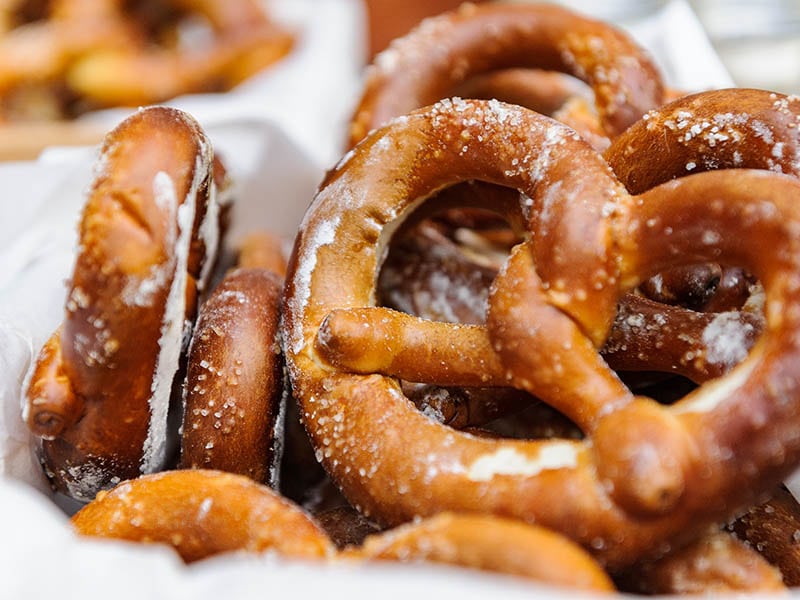 No other bread in this country can compare to the popularity of Pretzel. This symbolic knotted bread is a staple in German cuisine, and it has also won over the rest of the world.
Soft Pretzel is served on almost every important occasion in Germany, from festivals, Christmas, Oktoberfest, and New Year. This all-time favorite German street snack also comes with various toppings.
The Pretzel dough is a simple combination of flour, salt, active dry yeast, and water. After being shaped into knots, the bread is dipped into a water and baking soda solution and baked until perfection.
You can eat your Pretzel plain, but I highly recommend serving it warm with a bit of butter, sausages, and cold beer.
Making these homemade pretzels might be the easiest baking project you have ever undertaken.
Cooking time: Ready in 15 hours and 30 minutes.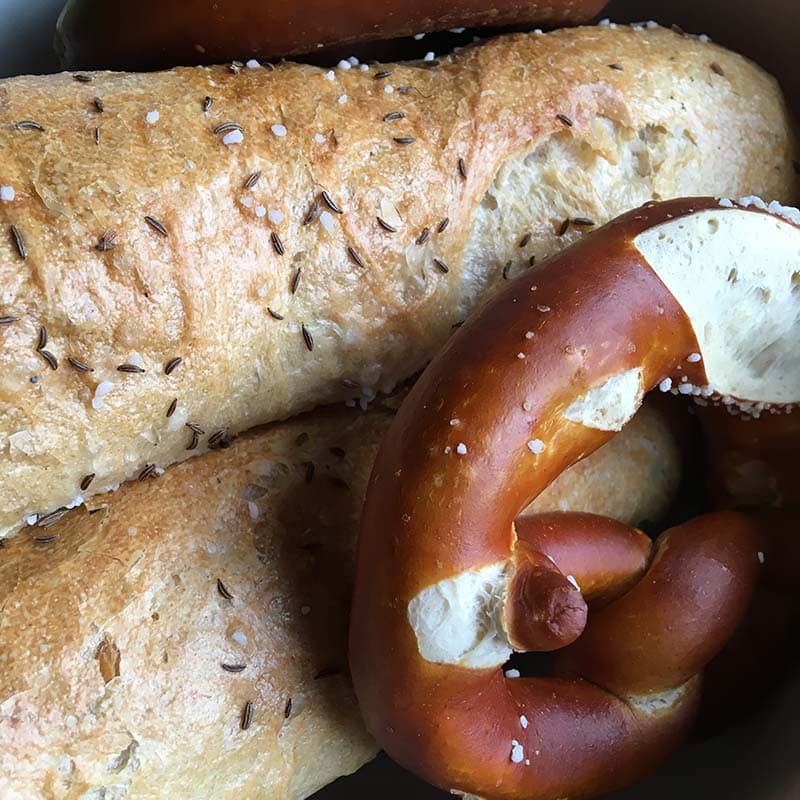 Seele, meaning "soul", is a traditional German bread made from flour, yeast, salt, and water. The name of this bread is believed to come from All Souls' Day, a Christian tradition of giving bread to people in need.
It takes many hours and lots of kneading sessions to get the dough to its desired texture. It is then coated with coarse salt (or seeds) and oven-baked until the crust turns golden brown and crispy while the inside stays moist and fluffy.
Does it take a lot of work? Yes. Is it worth it? Absolutely! Seele bread is crazy expensive and difficult to find. So if you want a taste of this rich and yeasty bread, making it at home is your best option.
Cooking time: Ready in about 3 hours.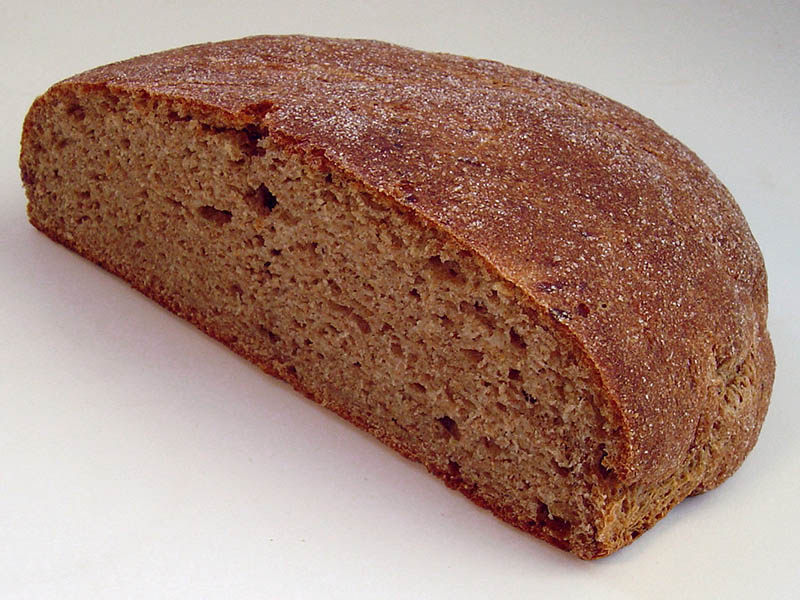 Potatoes have to be the most versatile and commonly-used ingredient in German cuisine. It made its appearance in countless savory recipes: potato pancakes, potato soup, potato dumplings; you name it! So don't be surprised when you see potato bread in a German bakery.
Made with equal parts mashed potatoes and bread flour, Kartoffelbrot is incredibly light, moist, and springy. The starchy veggie provides moisture and heft to the bread, allowing each piece to melt on your tongue.
Kartoffelbrotthat pairs well with savory food items like heavy soups and Bratwurst – one of the most popular sausages in Germany. This German potato bread also tastes great with butter and jam for breakfast.
Let's learn some tips and tricks on making Kartoffelbrot!
Cooking time: Ready in 18 hours.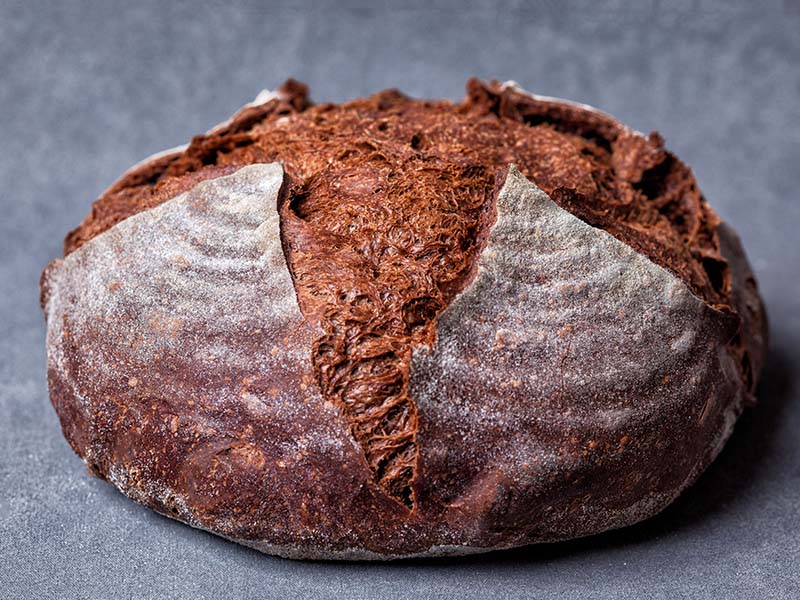 First appeared in the 1400s in Westphalia, Pumpernickel is a traditional German bread made from rye flour, molasses, and instant yeast. It usually takes 16 to 24 hours at low temperatures to thoroughly bake this well-known bread.
The black color, earthy aroma, and bittersweet taste are very distinct, making Pumpernickel one of the most unique bread in Germany. As the bread has a long shelf-life, you can store Pumpernickel for months and enjoy it with ham, liver sausage, caviar, or salmon.
Cooking time: Ready in 4 hours and 15 minutes.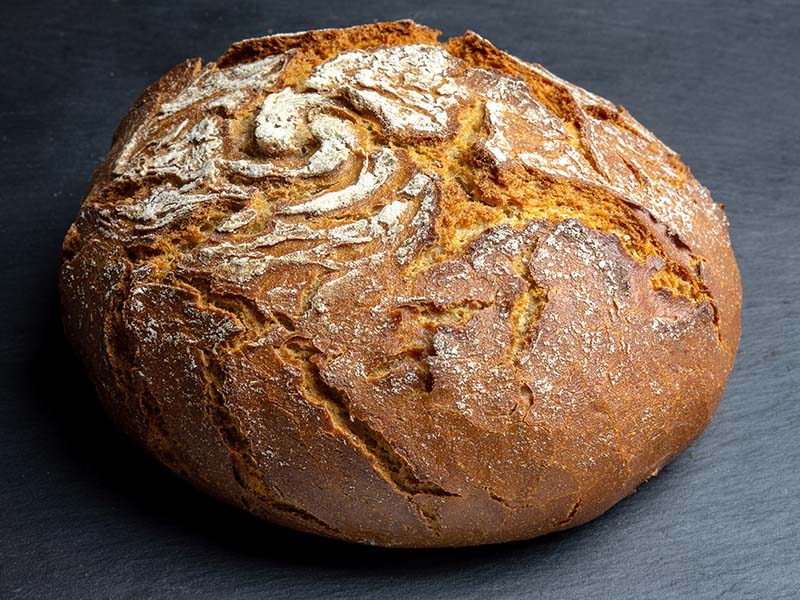 Bauernbrot is another traditional German bread made from rye flour. However, unlike the last recipe, you will only need 4-5 hours to make this at home. People often serve this bread right out of the oven with different types of German cheeses.
Since Bauernbrot is dense, flavorful, and very filling, it is the ideal bread for farmers after a day in the fields. This might be the reason behind its unique name.
The recipe for this hearty dark-colored bread calls for a sourdough starter, which helps the bread rise and gives it a unique tangy flavor.
Here is how to prepare the classic German Bauernbrot at home!
Cooking time: Ready in 14 hours and 40 minutes.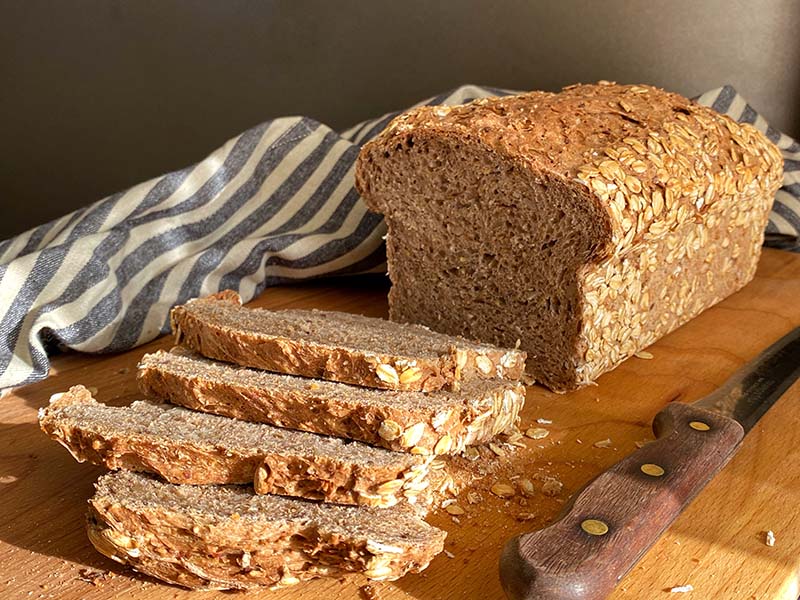 Known as a staple in German home cooking, Vollkornbrot is a famous whole grain bread made from whole rye flour, rye chops, sunflower seeds, and sourdough starter.
The traditional German recipe for this dish calls for mild beer to make it taste maltier. However, you can substitute it for lukewarm water or buttermilk.
This whole-grain German brown bread is dense, chewy, and filled with nutrients and flavor. It tastes fantastic with savory sides like cheese or cold meats and sweet spreads like jam or Nutella.
Cooking time: Ready in 2 hours and 45 minutes.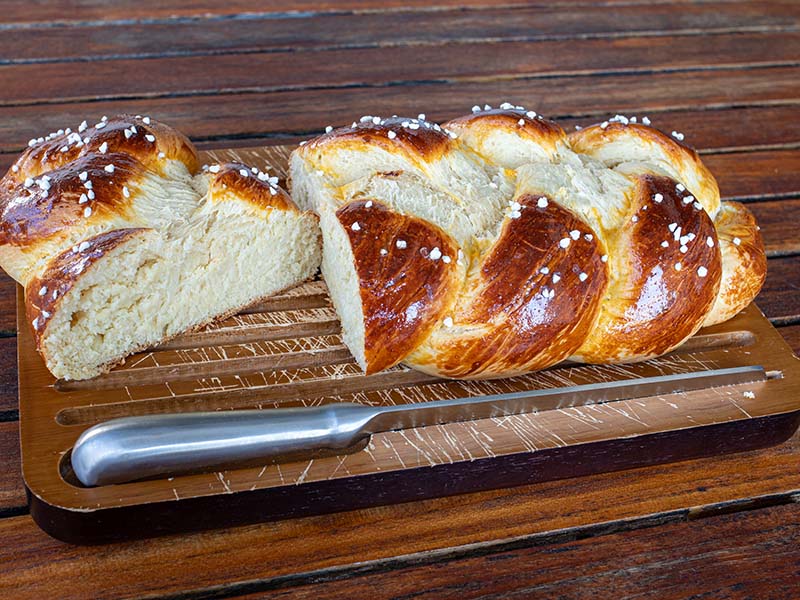 Hefezopf is a very interesting sweetbread that is shaped like a braid. Since it is so light and springy, you can easily pull the braid apart to eat it. People often enjoy this lovely dish during Easter and New Year, but it is available all year round.
The design of Hefezopf is believed to represent the holy trinity. German families also offer this bread on New Year's Day as a good luck present.
Although this braided bread might look challenging to make, it is actually quite fun and straightforward. Even kids can nail this recipe with a bit of practice.
Baking Hefezopf is not that hard; this tutorial will prove it!
Cooking time: Ready in 40 minutes.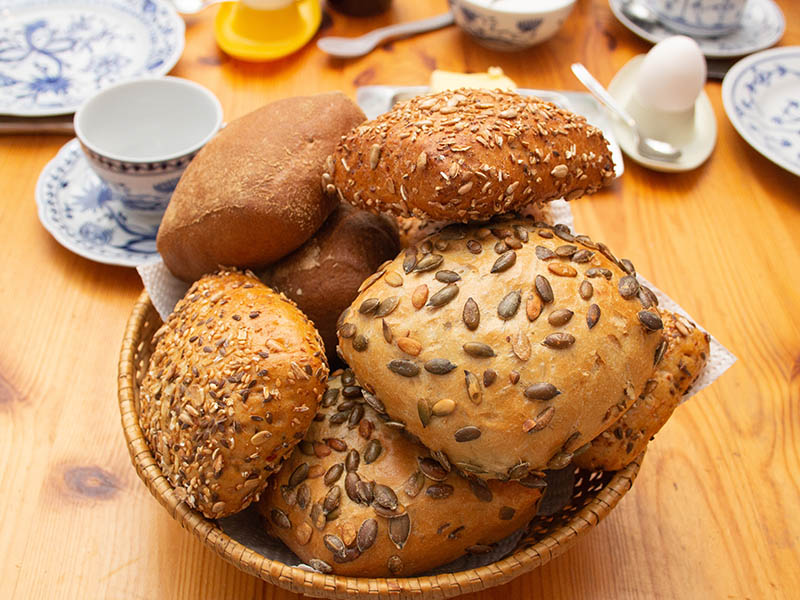 These soft yet crusty white rolls should be your go-to choice if you love to have bread for breakfast. You can buy it at almost any German bakery or make it at home using cheap and accessible ingredients.
This easy German breakfast recipe only calls for flour, lukewarm milk, water, and active dry yeast. You can also use poppy, sesame, or pumpkin seeds as toppings.
This bread roll tastes terrific on its own, but it can also be served as a side dish for rich stews and juicy meat dishes. Its fluffy interior helps soak up the juice nicely, making your eating experience more satisfying.
Cooking time: Ready in 3 hours and 40 minutes.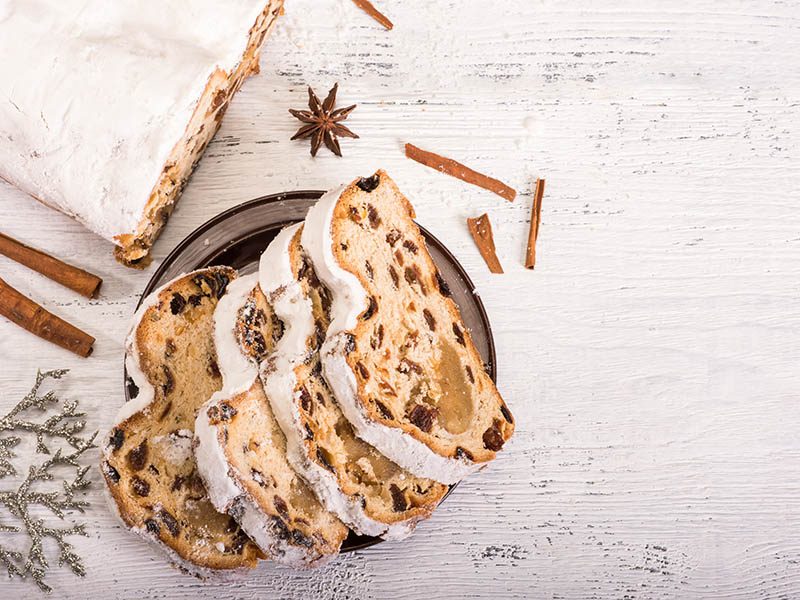 Some Germans call it a beautiful cake others call it strange bread. Either way, this is the ideal sweet treat for the holidays. Christstollen has been around for about 700 years and is regarded as the most renowned and adored Christmas pastries worldwide.
This dish has many variations, but the most common ingredients are dried fruits, candied citrus peel, almonds, and spices. This fruity and nutty treat will look stunning next to your German-inspired Christmas cookies.
Since Christstollen contains dried fruits, you should store it in the fridge for a few days before consuming. You can still eat it right away, but it won't be nearly as flavorful, aromatic, and moist.
If Christmas is around the corner, you need to note down this Christstollen recipe!
Cooking time: Ready in 50 minutes.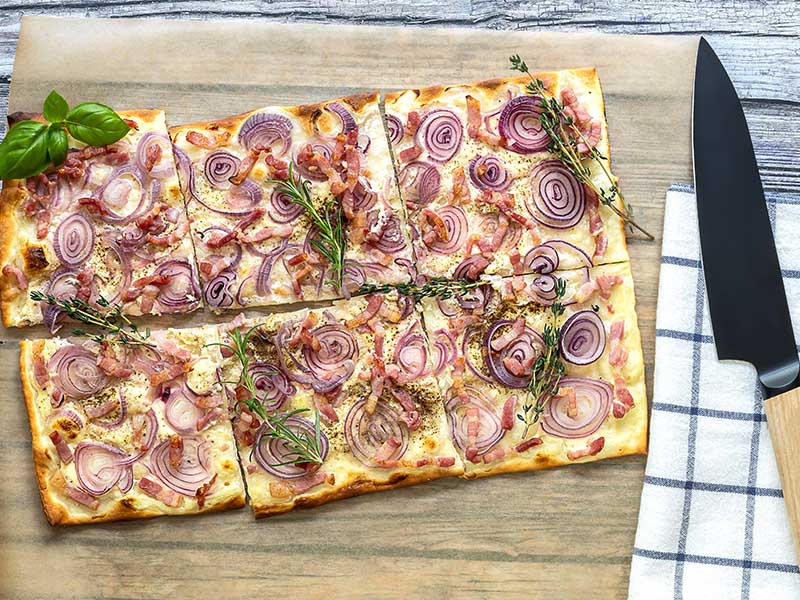 Flammkuchen is basically the German take on the worldwide famous Italian pizza. However, instead of the iconic round bread with cheese and tomato sauce, Flammkuchen comes in the form of a rectangular flatbread with Crème Fraiche, bacon, and onions on top.
This loaded German flatbread is traditionally made in a wood-fired oven. It only takes about 1-2 minutes to make Flammkuchen in this type of oven, but it might take up to 18 minutes to thoroughly bake it in a regular oven.
Similar to pizza, Flammkuchen tastes excellent with any toppings. So let your creativity run free and customize your flatbread with anything you like.
Cooking time: Ready in 1 hour and 15 minutes.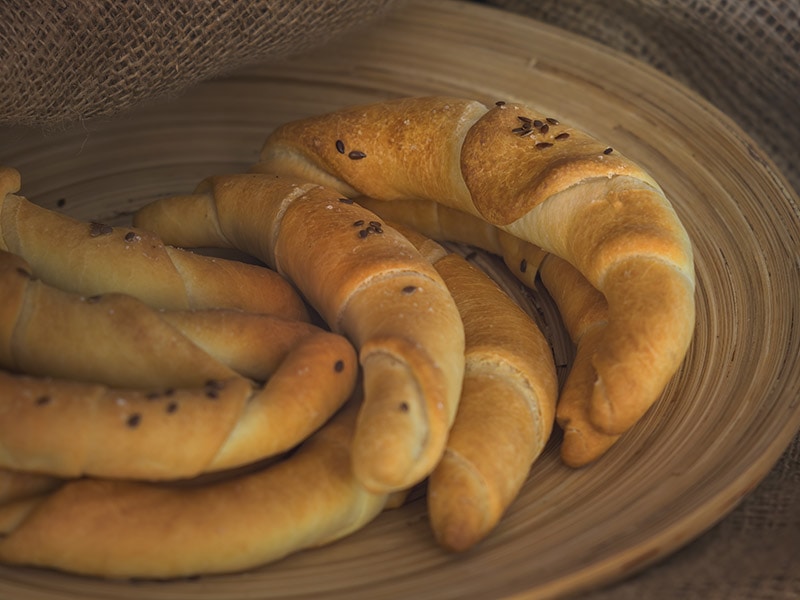 Hörnchen, often known as a croissant in France, is a very popular breakfast and snack bread in this country. The name of this much-loved snack bread means "little horn" in Germany, which refers to its iconic horn shape.
Hörnchens are frequently prepared with chocolate, cream, or butter filling. But to make it more German, you can flavor these delicious rolls with local beer, cheese, or poppy seed. Hörnchen can be eaten as it is, but you can elevate it with a layer of butter, jam, or chocolate spread.
Congrats, You Are Now A German Bread Expert!
And that concludes my article for today. All of these bread recipes are pretty different from each other, but there is one thing they have in common: they are all irresistible!
So if you have some free time to improve your cooking skill, refer to the recipes above and bake some delicious treats for loved ones. I'm sure they will be the perfect pairing to all your savory dishes.
I hope this handy checklist keeps you entertained until the end. If it does, remember to leave a like and share it with everyone you know. Your support means the world to me! Until next time, take it easy and have a great day!
Nutrition Facts
12 servings per container
---
Amount Per ServingCalories166
% Daily Value *
Total Fat 1.4g

2

%
Cholesterol 3mg

1

%
Sodium 203mg

9

%
Potassium 57mg

2

%
Total Carbohydrate 33g

11

%

Dietary Fiber 1.3g

4

%
Sugars 1.1g

Protein 4.5g

8

%
---
Calcium

8

%
Iron

2

%
Vitamin D

1

%
* The % Daily Value tells you how much a nutrient in a serving of food contributes to a daily diet. 2,000 calories a day is used for general nutrition advice.