No one can resist these tempting German cake recipes, even those who don't have a sweet tooth. So if you're looking for the best dessert option for your upcoming party, this article will definitely come in handy!
There are countless types of cakes in Germany, taking advantage of the local fruits, liquors, or cheeses. And, of course, every single one is delicious and unique in its own ways.
Since there are so many options, you might have a hard time choosing which one to make. That is why I have narrowed down these most well-known recipes in this article. Read on and find the ones you like most!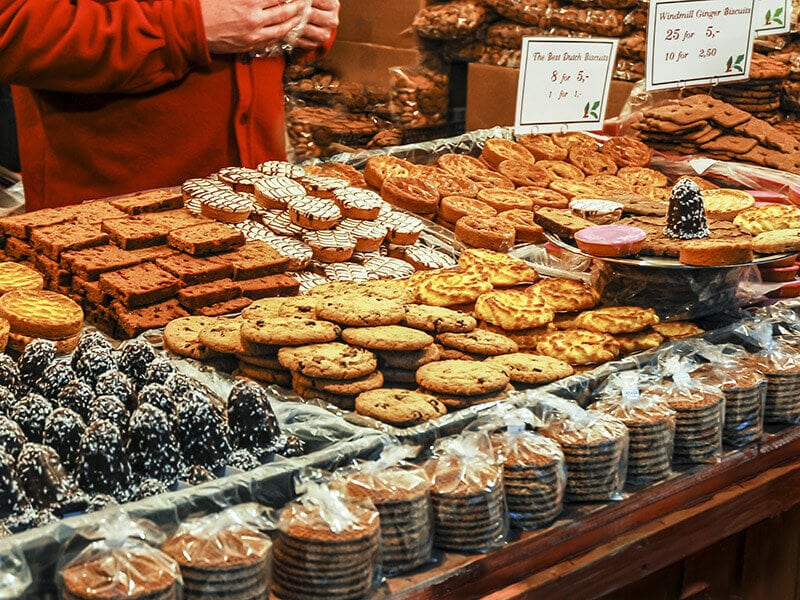 Satisfy Your Sweet Craving With These Yummy German Cake Recipes!
Without further ado, let's bring out the dessert! Here are the most delectable cake varieties in Germany that you must try at least once in your lifetime. Check them out now!
Cooking time: Ready in 1 hour and 30 minutes.
Apfelkuchen is, without a doubt, one of the most well-loved desserts in Germany. This traditional apple cake comes in all shapes and sizes, but its most prevalent version is sunken apple cake, also known as Versunkener Apfelkuchen.
It's unclear whether Versunkener Apfelkuchen is a cake or a pie since the batter only covers the apple slices partially. But despite its confusing American translation, you can know for sure that it's delicious.
The German sunken apple cake contains thin apple slices surrounded by a soft, buttery dough and dusted with powdered sugar. This satisfying treat pairs well with a cup of coffee or afternoon tea.
Here is a detailed recipe for the stunning Versunkener Apfelkuchen!
Cooking time: Ready in 1 hour.
German apple desserts can also come in the form of a sheet cake (Blechkuchen) – a classic baking staple in this country.
Unlike Versunkener Apfelkuchen, this apple cake version contains a light vanilla-flavored sponge cake with cinnamon-soaked apples and streusel on top. You can also dust powdered sugar or drizzle white icing on it to enhance its sweetness.
This recipe can feed about 12-16 people, but it only takes about 1 hour to make! So if you're planning a big German-themed party, this should be your go-to choice.
Cooking time: Ready in about 3 hours.
Similar to apples, plums are abundant in Germany. So don't be surprised when you see many varieties of plum-based desserts in this nation, especially during the plum season in late summer.
Zwetschgenkuchen, also known as German plum cake, is a delectable pastry bar made with fresh plums, yeast dough, and streusel.
People often use either Zwetschge plums or Italian plums for this treat. However, if possible, I recommend using Zwetschge plums since the other type might make the crust soggy.
Cooking time: Ready in 1 hour and 15 minutes.
Mohnkuchen is a German name that refers to a wide range of sweets made from poppy seeds. From sponge or bundt cakes to crumb cakes, this unique ingredient makes its appearance in many authentic German recipes.
This version of Mohnkuchen features a golden crumble on top, a crisp bottom crust, and a creamy poppy seed filling. It is often served as a special occasion dessert or a simple afternoon treat.
Poppy seed desserts are becoming more and more popular in the Americas, so it won't be challenging to find poppy seeds where you live. So if you love nutty and crunchy sweet treats, be sure to check out the recipe above.
Mohnkuchen is easier to make than you think; this tutorial will prove it!
Cooking time: Ready in 2 hours and 30 minutes (at most).
Butterkuchen might look simple at first, but it is actually one of the most important dishes of German cuisine. People often serve this treat during special events like weddings and funerals, which is why it is sometimes called "funeral cake".
Butterkuchen is made using yeasted dough, including flour, sugar, milk, and, of course, butter. The most important step of this recipe is to create dents on the dough before spreading the butter mixture on top; this will make the buttery taste spread through and through.
Butterkuchen makes the perfect afternoon treat. To enjoy this mouthwatering dessert, you can cut it into biscotti-sized pieces and dip them in tea, coffee, or hot chocolate.
Cooking time: Ready in about 2 days.
Japanese culture enthusiasts might recognize Baumkuchen as a popular sweet treat in Japan. However, it actually originated in Germany.
This German split cake or tree cake resembles a tree trunk, created by many layers of tiny crepe-like rings folded into a log. Some recipes suggest adding almonds, honey, and brandy to the base dough for added taste.
To be fair, this dish requires a significant amount of time and effort. But judging from its magnificent appearance and incredible taste, I can guarantee that it will be worth it.
Cooking time: Ready in 2 hours and 25 minutes.
Bienenstich, also known as "bee sting cake", is a famous German cake many locals associate with their youth. People call it this way since it has a honey-based topping that may attract bees.
This classic treat is made of a delicious pastry cream sandwiched between two layers of yeasted dough with a sticky mixture of honey and slivered almonds on top. The honey-almond glaze caramelizes while baking, giving the cake a glossy, crunchy top.
Want to learn how to make Bienenstich at home? Here is the recipe!
Cooking time: Ready in 3 hours and 30 minutes.
Such a pretty name, isn't it? People name this dessert "Snow White" because it features 3 classic colors of the well-loved princess: black, white, and red.
The German Snow White cake contains 2 layers of pound cakes: a white one with vanilla flavor and a black one with chocolate flavor. The red sour cherries will be added on top. While it bakes, the cherries will fall through the batter, creating a wavy pattern in the cross-section.
Donauwelle is by far one of the most aesthetically-looking cakes with a beautiful color combo and appealing pattern. Its taste is also incredible since the sour cherries match very well with the rich and dense cake.
Cooking time: Ready in 1 hour and 25 minutes.
America is not the only country with a famous cheesecake recipe; Germany has also impressed the whole world with its iconic Käsekuchen. This traditional dessert is often enjoyed as an everyday treat with coffee or tea.
The German-style cheesecake consists of a thin layer of shortcrust pastry covered with a creamy mixture of flour, butter, eggs, and Quark cheese – one of the most well-known cheeses in Germany.
The slightly acidic Quark cheese perfectly balances the sweetness of the cheesecake, resulting in a light and delectable delicacy.
If you can't find Quark cheese where you live, you can also use whole-milk ricotta as an alternative. Other recipes might substitute it with Greek yogurt and cream cheese.
Cooking time: Ready in 5 hours and 30 minutes.
Here is another Quark cheese dessert recipe that you will love: Käsesahnetorte. This cheesecake comprises two layers of sponge cake and a creamy Quark cheese filling.
Similar to Käsekuchen, you can substitute 0% Greek yogurt for Quark cheese since it is almost impossible to find Quark outside Germany.
Because the filling takes many hours to set, I recommend making the cake a day before serving. It usually tastes better after being refrigerated overnight anyway.
Cooking time: Ready in 2 hours.
I certainly can't make an article about the most famous German cake recipes without talking about Black Forest cake. This worldwide famous dessert consists of layers of chocolate sponge cakes decorated with whipped cream, shaved chocolate, and maraschino cherry.
The key ingredient of this cake is Kirsch, a clear cherry brandy. You need to soak the chocolate sponge layers in a Kirsch-based sugar syrup to moisten them and give the cake its iconic cherry flavor.
To make it more kid-friendly, you can substitute Kirsch with fruit juice. Black Forest cake usually tastes better if you leave it in the fridge overnight.
If you plan to make this amazing Schwarzwälder Kirschtorte at home, check this out!
Cooking time: Ready in 1 hour.
If you ask locals about the most popular birthday cake in Germany, most of them will bring up the name of Marmorkuchen, also known as German marble cake. It is traditionally made in a Bundt pan for special events, but you can also prepare it in a tube pan or a big loaf pan.
The batter for Marmorkuchen consists of flour, butter, sugar, and baking powder. About one-third to half of this batter has to be darkened with cocoa powder or chocolate to create the iconic marble effect.
Cooking time: Ready in about 1 hour.
If you're a fan of boozy dessert, you should definitely give Eierlikörtorte a try. The key ingredient for this cake is Advocaat, a famous German drink made with egg yolks, brandy, and aromatic spirits.
Although Advocaat is mainly consumed with other cookies specially made for Christmas and Easter, it is still available year-round, so you can make this delicious dessert whenever you want.
This boozy drink doesn't give the cake a strong alcoholic flavor since most of it evaporates while baking. Instead, it will make the cake incredibly moist and fluffy. Eierlikörtorte traditionally comes in a Bundt pan, but feel free to use a tube pan if you don't have it.
Cooking time: Ready in 40-50 minutes.
Roll cakes are incredibly famous in European countries, and Erdbeerrolle or Biskuitroll is the German version of this dessert. This delicate yet straightforward roll cake recipe makes use of strawberry, the most beloved fruit in Germany. You can also try using other types of berries or fruits.
The roll is ensemble by rolling a thin sheet of vanilla sponge cake over whipped cream and chopped strawberry filling. The result is a lovely, light, and airy dessert perfect for summertime, especially in picnics or outdoor barbecue parties.
Cooking time: Ready in 2 hours and 40 minutes.
As you can tell from the sheet cake recipes listed above, streusel is a ubiquitous ingredient in German desserts. One of the best examples of this is Streuselkuchen or German crumb cake,
Streuselkuchen is made of a soft and moist yeast dough base with large, thick, crispy streusel on top, creating a great contrast of flavors and textures. You can enjoy a slice of this crumbly delicacy during brunch or after dinner with a cup of coffee.
Let's learn how to prepare homemade Streuselkuchen!
Cooking time: Ready in 1 hour and 45 minutes.
Zitronenkuchen is a beautiful German cake that tastes just as heavenly as it looks. This tasty dessert is basically a light yellow pound cake soaked in lemon syrup and topped with a thick white sugar glaze. Overall, it is a lovely addition to any afternoon tea set.
Zitronenkuchen is served in slides and topped with a bit of lemon zest. If you want to make it at home, I recommend letting it soak for a day before serving. After just one night, its flavor will be significantly enhanced.
Cooking time: Ready in 2 hours and 45 minutes.
Rhubarb season is widely celebrated in German culture as it is the first local produce season in a year. This popular fruit makes its appearance in many cake or pie recipes, for example, this rhubarb and almond custard cake.
The rhubarb perfectly compliments the delicious almond custard of this rustic and comforting dessert. The texture of this custard cake is quite dense and heavy, but it is undoubtedly immaculate.
Cooking time: Ready in 1 hour and 55 minutes.
This delightful Kaffeekuchen, which is German for "coffee cake", consists of 2 layers of vanilla sponge cake, separated with a layer of cinnamon sugar filling, topped with nutty crumb topping.
Despite its name, this dessert is not flavored with coffee. Instead, it has a wonderful cinnamon and nutty taste that can make people drool.
There is hardly any breakfast in Germany that lacks Kaffeekuchen. And of course, this cake is best enjoyed warm with a nice cup of coffee.
Cooking time: Ready in 3 hours and 40 minutes (at most).
If you're searching for the perfect sweet treat for the holiday season, this is it! This dessert plays a significant role in the Christmas tradition of Germany as the shape of the bread is used to symbolize baby Jesus on Christmas day.
This iconic German Christmas recipe is made of a yeast dough filled with dried fruits, candied citrus peel, nuts, and spices.
Similar to the recipes mentioned above, Christstollen will taste better if you store it in the fridge for a while. This time will allow the juice from the dried fruits to infiltrate the dough deeper, adding flavor and moisture. You can even freeze the Stollen to extend its shelf life.
Check out this detailed Christstollen recipe and elevate your baking skill!
Cooking time: Ready in 1 hour and 10 minutes.
Northern Europeans particularly enjoy a fruit called red currants. These tiny berries are pretty juicy and tart, making them the perfect candidate for pie-making.
Träubleskuchen is a signature German pie that uses red currants as a filling. This bright and tart filling is accompanied by a layer of crusty yeast dough cake and meringue.
The sour currants and the creamy meringue is a match made in heaven. Refreshing and balanced in flavors, Träubleskuchen is genuinely one of the best desserts for summertime.
Cooking time: Ready in 1 hour.
When foreigners talk about local sweets in Germany, German chocolate cake might be the first thing they have in mind. However, this dish is not German at all! German chocolate cake actually got this name from its creator, an English-American baker named Samuel German.
Despite its American origin, this dish should still be on your culinary bucket list. With a gooey coconut and pecan filling sandwiched between delicious and fudgy chocolate cake layers, this exceptional chocolate treat will make your mouth water.
Have You Found The Perfect Recipe?
Of course, this short recipe list can't fully capture the gastronomic cuisine of Germany. But I believe it is detailed and informative enough to help you find the most suitable cake recipe for the next German-themed party.
I hope you have saved at least 5 of the recipes listed above. Which one of them is your favorite? I would love to read about it in the comment section below.
Also, if you find my article today helpful, please share it with your families, friends, or loved ones and help them learn more about these delightful sweet treats. Give this post a like if you can, your support will be a massive motivation for me. Thank you so much, everyone!
Nutrition Facts
12 servings per container
---
Amount Per ServingCalories384
% Daily Value *
Total Fat 19.3g

30

%
Cholesterol 114mg

38

%
Sodium 31mg

2

%
Potassium 50mg

2

%
Total Carbohydrate 48.8g

16

%

Dietary Fiber 0.4g

0

%
Sugars 30.9g

Protein 3.7g

6

%
---
Calcium

17

%
Iron

1

%
Vitamin D

6

%
* The % Daily Value tells you how much a nutrient in a serving of food contributes to a daily diet. 2,000 calories a day is used for general nutrition advice.