German drinks are available everywhere, from supermarkets to theaters, with a beer costing roughly the same as a water bottle.
This is understandable since Germany is known for its drinking culture. Plus, it is one of the few places in the world where you are allowed to drink alcohol in public.
Besides the alcoholic drinks, soda or coffee are also intriguing cultural highlights in this country. So if you're not a fan of morning headaches after one night of drinking, there are still tons of drink options for you!
In the sections below, I will list out the most well-known and well-loved beverages in this country. These drinks will surely inspire you to have a night out with your friends while visiting this country.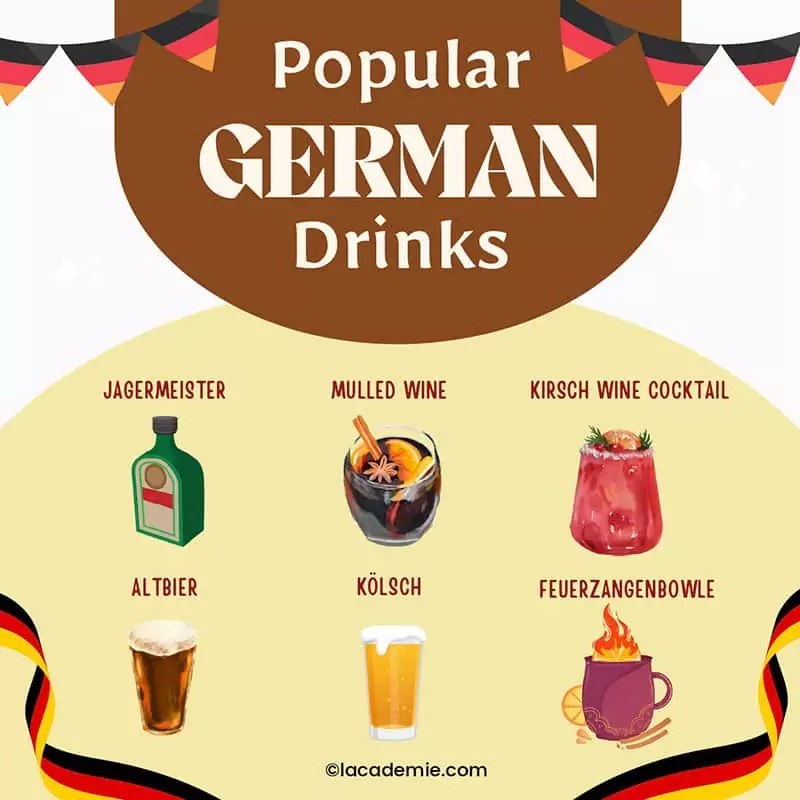 Let's Learn About The German Drinking Age!
Before you start this article, there are a few things you need to know about the German drinking age. In Germany, the legal drinking age is 16, although children must wait until they are 18 to consume spirits and hard alcohol.
Adolescents from 14-16 years old are prohibited from purchasing, consuming, or possessing alcohol in public. However, if a parent or legal guardian accompanies them and gives them permission, they will be able to do so.
German Alcoholic Drinks
Now, let's get crazy with some boozes! Germany is the land of free-flowing beer, but it is also filled with a plethora of fantastic alcoholic drinks like wine or rum for you to enjoy.
1. Jagermeister
Alcoholic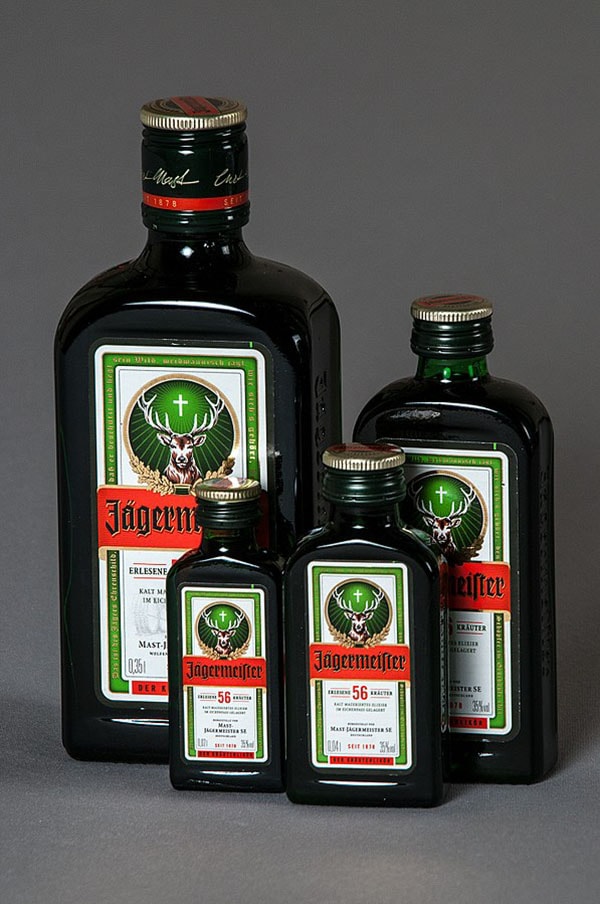 This name might sound familiar to many of you since it has recently bombarded many bars worldwide. With the promotion as a young and free-spirited drink, there is no doubt that it's one of the most sought-after refreshments for party drinkers.
Jagermeister's original recipe was invented in a vinegar factory in 1934 by Wilhem and Curt Mast. And thanks to it, Wolfenbüttel (a small town in Germany) gets tons of traffic to visit the factory and headquarters.
Made with a blend of 56 natural herbs and spices, Jagermeister is thick and nearly black in appearance. This can be pretty intimidating for beginners; however, it is truly a must-try. Trust me on this!
Where to buy: Available in many German markets, liquid stores, bars, or online.
Let's learn how to make a variety of cocktails using Jagermeister!
2. Kölsch
Alcoholic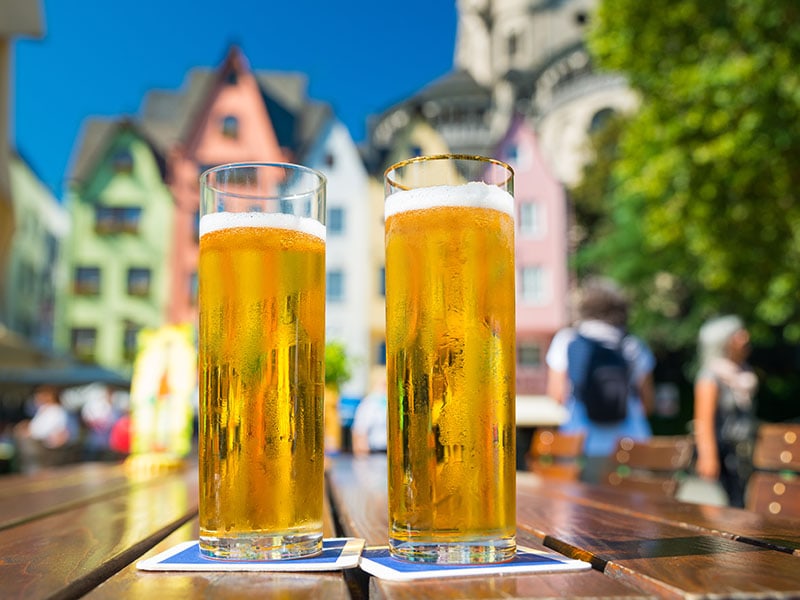 Kolsch is a must-have indulgence during your Germany trip if you're a beer lover. Originating in Cologne, Germany, in the early 17th century, the locals fermented the beer with ale yeast but finished at lager-like cold temperatures.
This drink is traditionally served in a tall and thin Stange glass. If you drink Kölsch in Cologne, local servers will replace your empty glass with a full one right away instead of waiting for you to request a refill. If you don't want another drink, simply set the coaster on top of the Stange.
Kölsch is often light and palatable with a hint of muted fruitiness, but it also has a crisp and clean finish you'd expect from a pale lager. Overall, this is an ideal drink for warm weather regions.
Where to buy: In German bars, liquid stores, or you can buy it online.
3. Mulled Wine
Alcoholic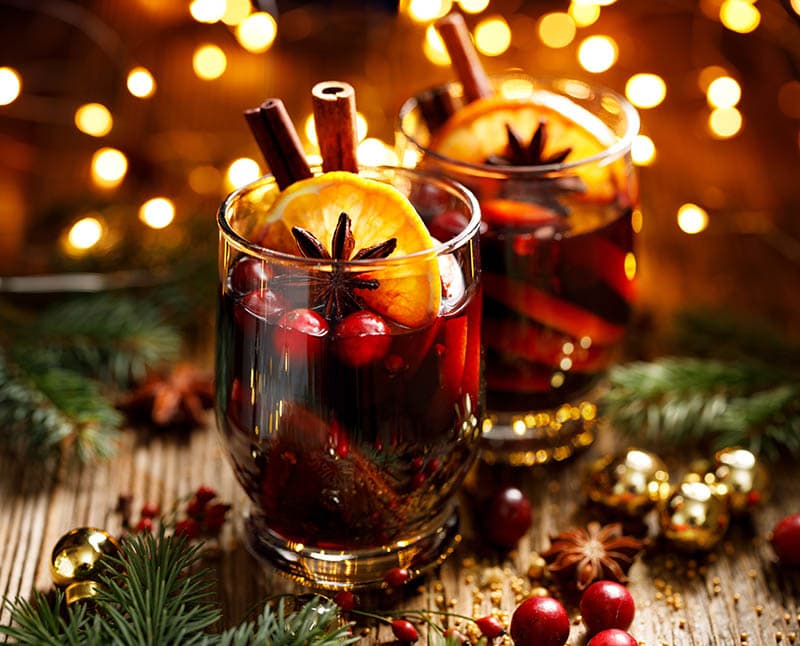 There's no better way to get through the brass monkey weather than with this delicious wine. Mulled wine is an ideal drink option to cozy up your chilly days. Imagine sitting on your couch with this hot wine, light some candles, and embrace the cold; how wonderful is that!
This so-called spiced wine is a hot alcoholic beverage containing mulling spices, red wine, and raisins. With its first appearance in the 2nd century, this hot mixed red wine has become a real deal in many European countries.
This European recipe is very straightforward. You just need to let a bottle of red wine simmer for about 10 minutes with brandy, warm spices, honey, and some orange slices. That's it!
This classic Christmas drink is pleasant to drink during the colder months of the year, but no one says you can't have it all year!
Where to buy: Available in several Christmas markets in Germany, but you can also make it at home.
4. Feuerzangenbowle
Alcoholic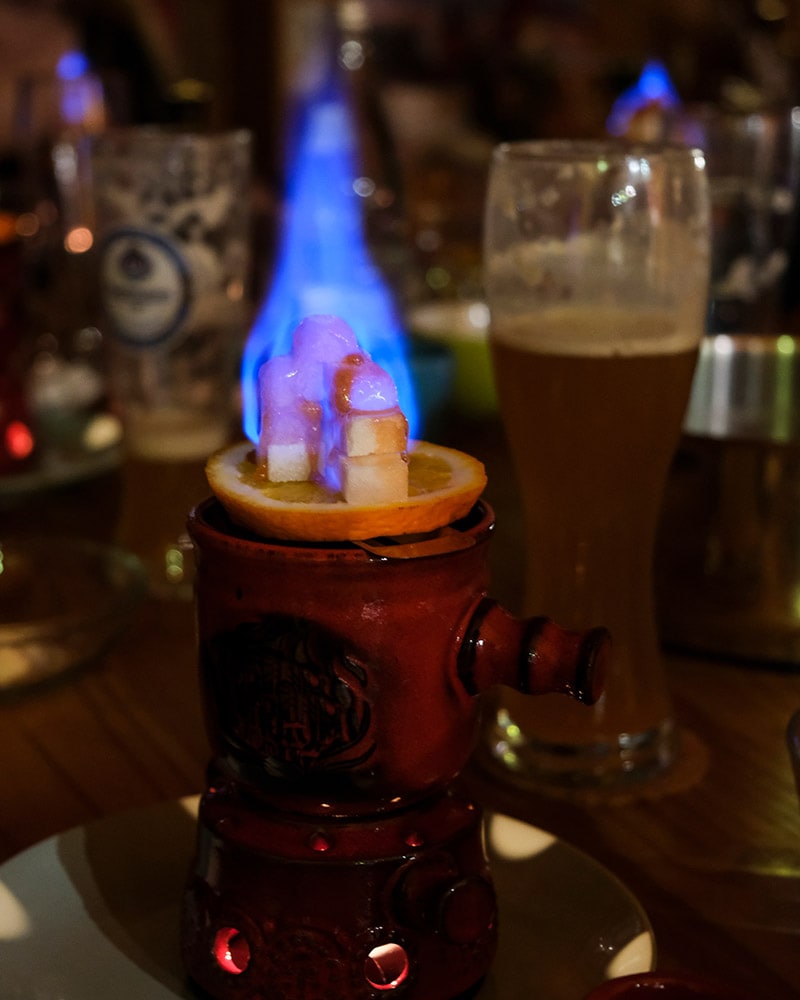 Thanks to the comedy film Die Feuerzangenbowle, the popularity of this festive wine was boosted in 1944. Nowadays, this classic German alcoholic drink is incredibly common, along with other colorful cookies during Christmas or New Year's Eve.
To make Feuerzangenbowle, locals will set a rum-soaked sugarloaf on fire and drip it into mulled wine. It also contains several spices like cinnamon sticks, star anise, cloves, and orange peel.
The burning sugarloaf is a unique feature of this drink. However, you should be careful while drinking it since dealing with alcohol and fire isn't easy. All in all, this "fire-tongs punch" will definitely be a top-notch drink for you during the winter months.
Where to buy: Available in many German bars and markets, especially in Cologne's city center.
5. Kirsch Wine Cocktail
Alcoholic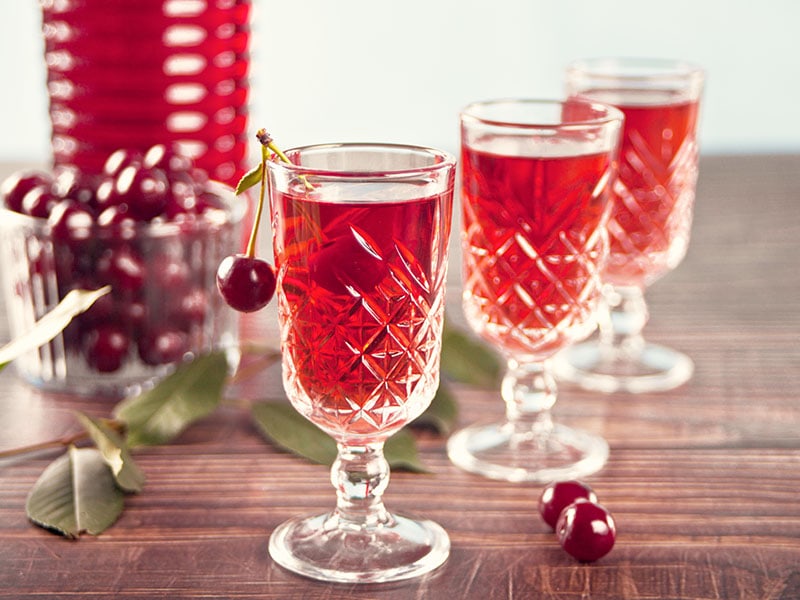 Kirsch is a dry, colorless brandy made in the Black Forest of Germany. This alcohol can be served alone or as a cooking enhancement in many European dishes. Additionally, locals also use it as an ingredient for wine cocktails.
Wine cocktails are common in Germany, albeit they aren't as popular as beer and other strong liquors. Kirsch wine cocktail tastes mildly sweet with tart cherry overtones and a lovely pinkish-red color, making it an exquisite accent to any brunch or celebration.
With only three components, Kirsch wine, grenadine, and dry vermouth, you can make this drink in under five minutes. This refreshing cocktail is an excellent after-dinner digestif.
Where to buy: In many German bars, pubs, restaurants or you can make it yourself at home.
6. Killepitsch – Herbal Liqueur
Alcoholic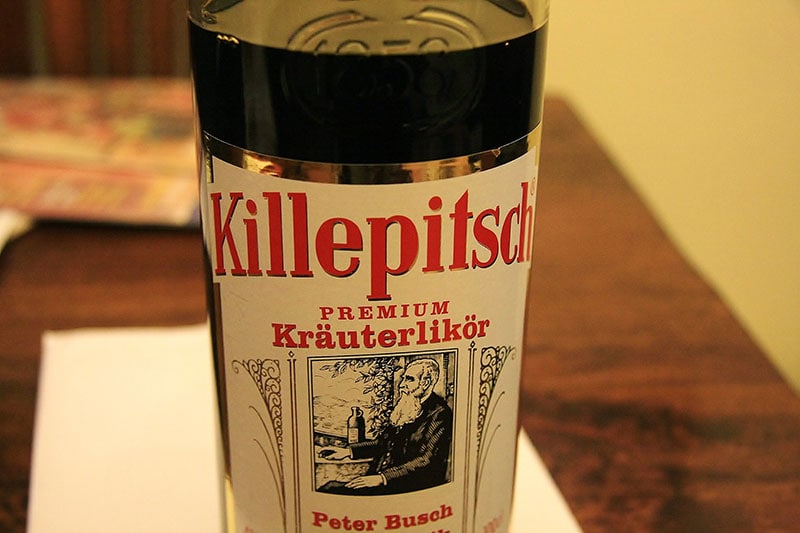 Want to find something similar to Jagermeister but with a more robust and complex flavor? Then, Killepitsch will be the right fit for you! This drink contains a mix of over 98 organic herbs, berries, and fruits that have been aged in old clay pots.
Killepitsch made its first appearance in Düsseldorf, Germany, around 1858. This drink is a cultural revolution for this city and has been voted as one of the "Best Spirits" globally.
This flavorful liqueur tastes excellent as a shot or cocktail additive. I recommend you to serve with a lemon peel for a little surprising twist.
Where to buy: Available in German bars, liquid stores, and online.
7. Altbier
Alcoholic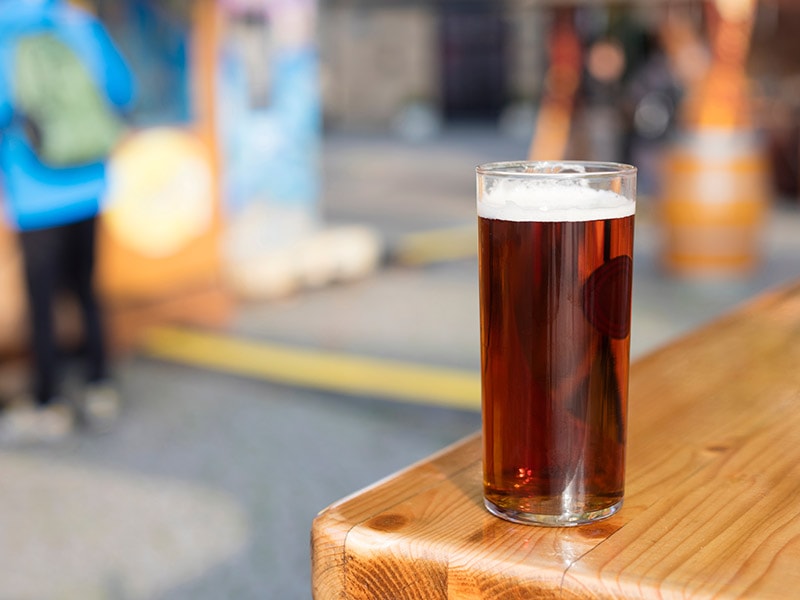 Altbier, a Düsseldorf specialty, is a unique traditional beer. It resembles English Bitter, one of the most popular drinks in the UK. However, it has a higher content than most German beers, ranging from 4.5 to 5.0%.
This tasty copper-colored beer strikes a balance between hop and malt flavors, resulting in a fruity and smooth beer that locals and visitors can't resist. They often pair this drink with German accompaniments like pretzel or cheese.
Diebels and Schlösser are two of the most popular Altbier brands. Smaller independent breweries can be found in Altstadt, an old town in Düsseldorf.
Where to buy: In many German bars and liquid stores, especially in Altstadt. You also can make a homemade craft beer at home.
8. Dunkel
Alcoholic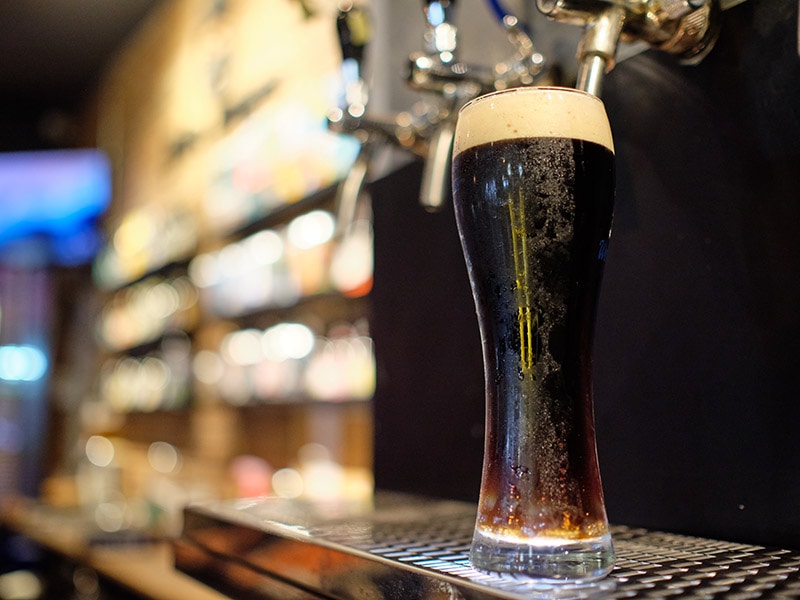 Dunkel, meaning "dark" in German, is a word to describe various types of dark German lager. Dunkel or Dunkles beer will be perceived in colors ranging from amber to dark reddish-brown.
Besides its attractive color, Dunkel is characterized by its smooth malty flavor. This distinctive taste comes from "decoction mashing", a unique brewing technique in German. Dunkel will taste even better when paired with a Bratwurst sausage – a well-known street food in Germany.
This beer is ideal for a fall romp in a beer garden, with an ABV of roughly 5%. Just like any other German beer, it's a stunning meal pairing, especially with grilled meats.
Where to buy: In many German bars, liquid stores, or online.
9. Himbeergeist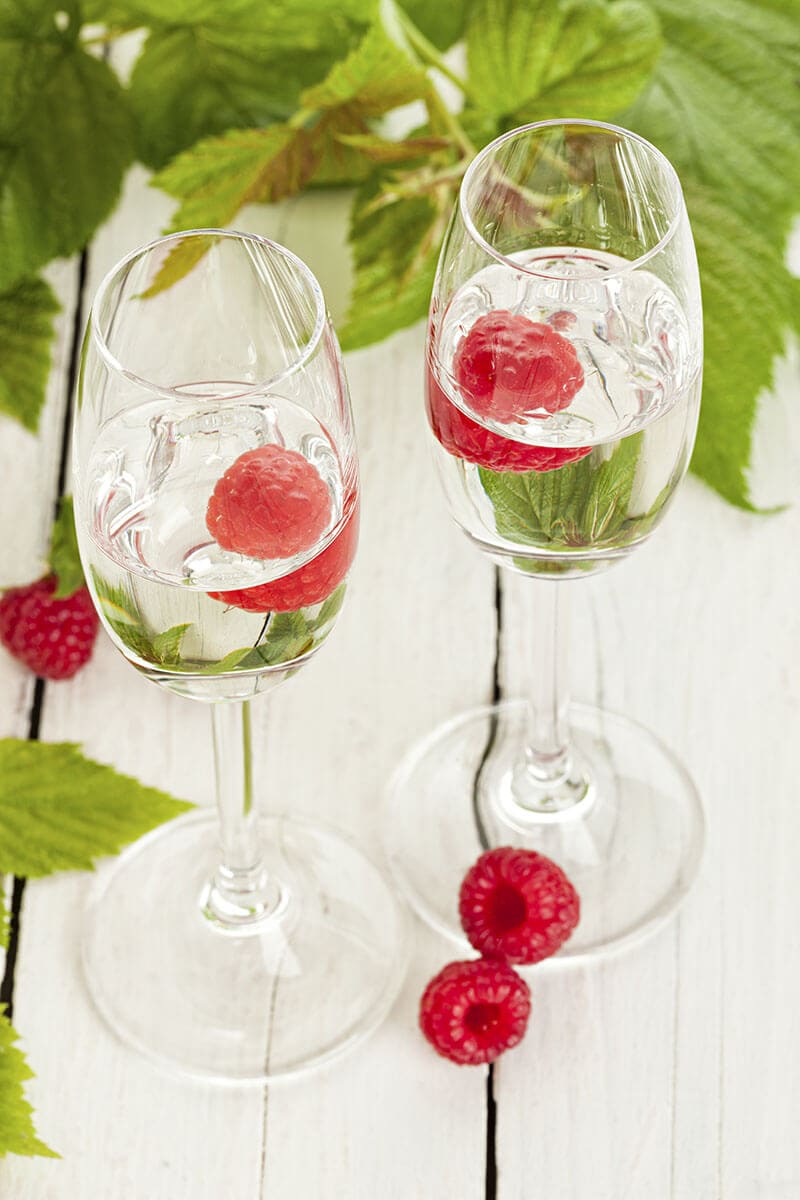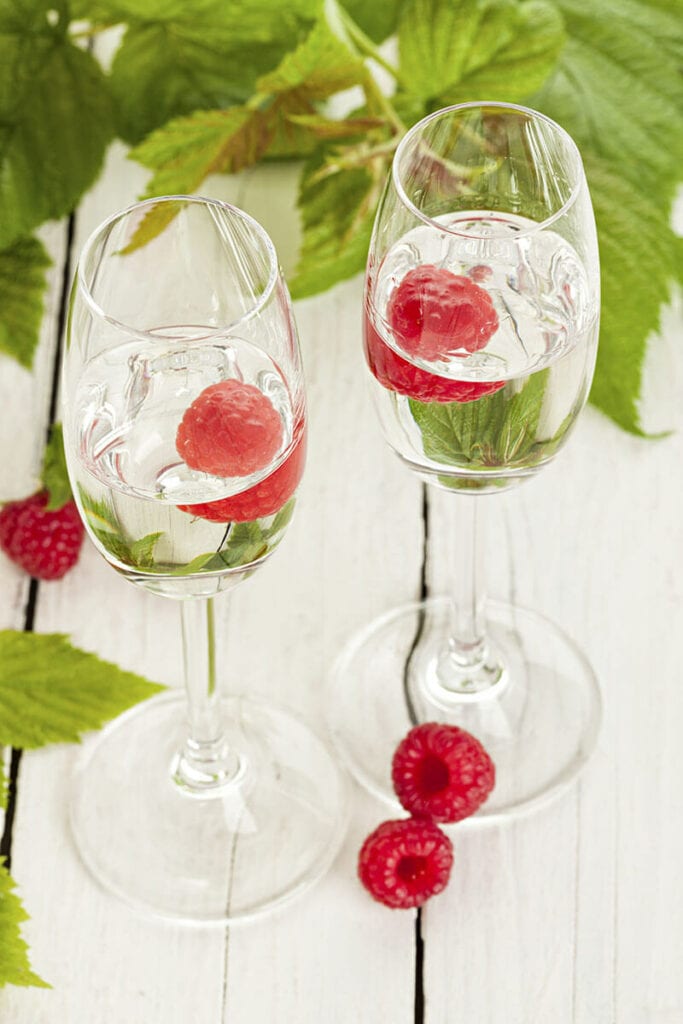 Himbeergeist is a popular raspberry-based spirit from Germany and France's Alsace area. Due to the raspberries' low sugar content, Himbeergeist is made by macerating fresh raspberries in 95.6% pure neutral spirits.
This tasty raspberry brandy has delicate overtones of mint and basil on the palate and is made with perfectly ripe wild kinds of raspberries. Bottled at 40% ABV or higher, this drink will make your tongue tingle and linger with a raspberry aftertaste.
You can turn this beverage into a delicious German dessert by pouring chilled Himbeergeist on top of raspberry sorbet and serving it with a sprig of mint. Locals also love to enjoy this drink neat.
Where to buy: In several German bars, liquid stores, or online.
10. Asbach Uralt – German Brandy
Alcoholic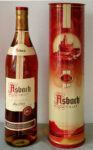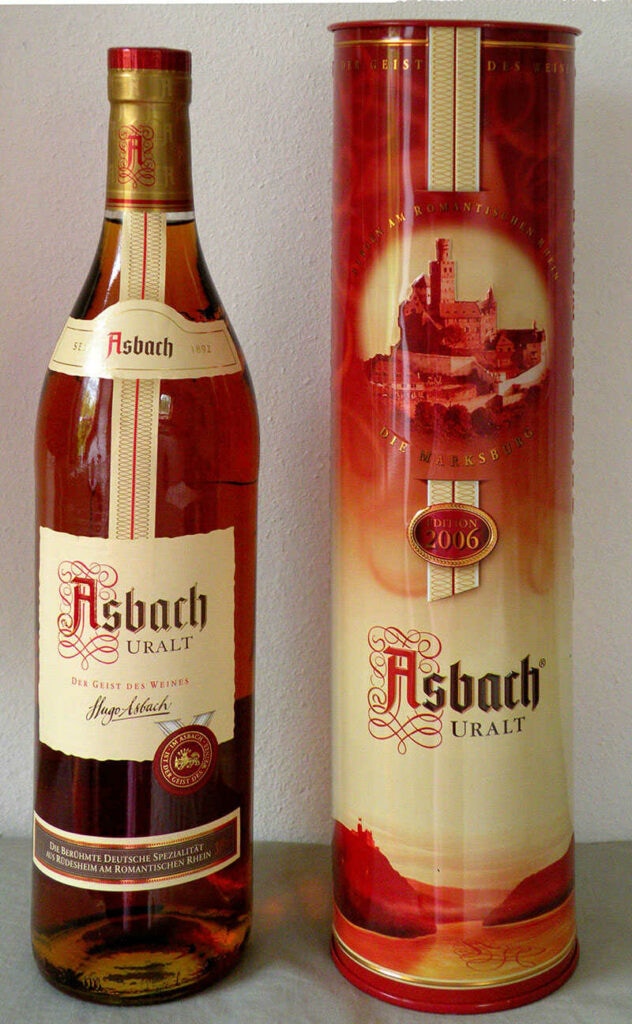 Asbach Uralt is a German brandy created in 1892 by Hugo Asbach, a native of Cologne. Asbach distilled his first brandy batch and established a firm in Rüdesheim am Rhein, using the skills he obtained at several French distilleries.
After World War I, Asbach coined the phrase Weinbrand (wine brandy) and gave his product its current name. Classic Asbach Uralt is an amber-colored brandy with gentle sweetness and peppery overtones, as well as smells and flavors evocative of honey, vanilla, and coffee.
In addition to the original version, Asbach Uralt is available in various specialty variations, including aged flavors. This brandy is usually served neat, but it can also be found in long drinks. It's also a component of Rüdesheimer Kaffee.
Where to buy: In German liquid stores, bars, or you can order it online.
11. Apfelwein – Apple Wine
Alcoholic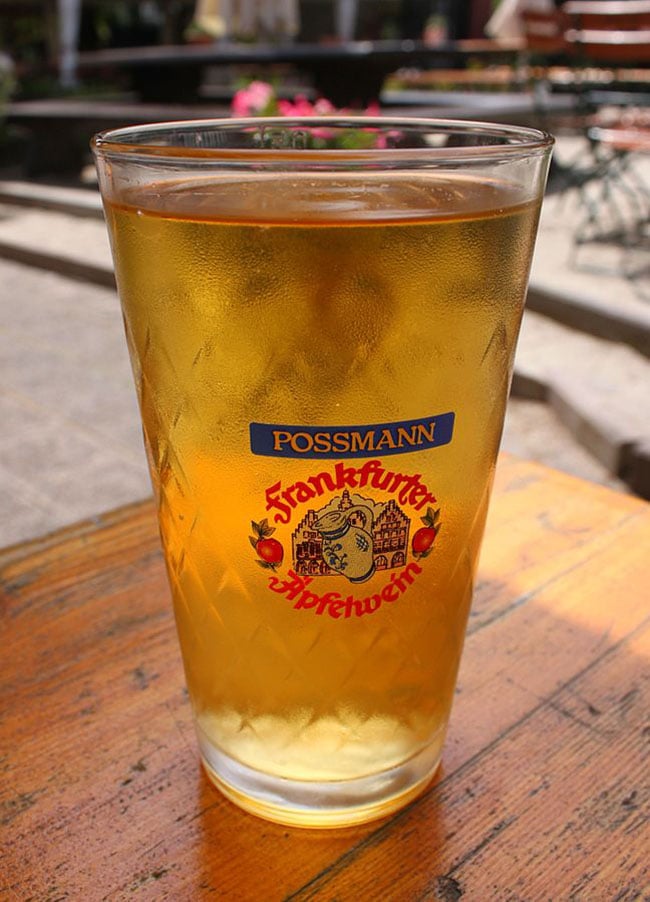 Apfelwein is an alcoholic beverage produced from apples. It's a specialty throughout Hessen, particularly in Frankfurt. A good Apfelwein should have a fruity apple taste with a touch of acidity. Its alcohol content is relatively low, at only 5.5 percent.
Apfelwein was first known as a drink for the ancient Greeks and Romans, but since the 16th century, it has gained immense popularity. Today, 40 million liters of apple wine are produced in Hessen annually.
Unlike grapes, apples can still flourish in cold weather, making them a suitable alternative for winemakers. Locals often drink Apfelwein "pure" as a thirst-quencher, but some people prefer mixing it with sparkling water. If you prefer, opt for Apfelwein as a hot drink on a cool day.
Where to buy: Available in several liquid stores in Germany, especially in Hessen.
12. Weißbier – Wheat Beer
Alcoholic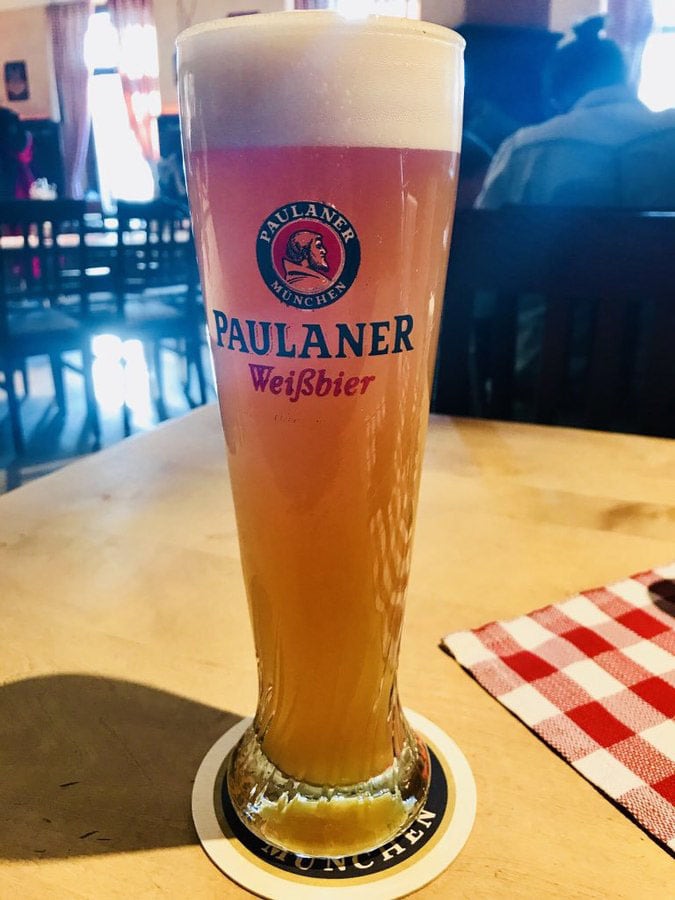 Weißbier, also known as wheat beer or white beer, is a light-colored top-fermented beer made with at least 50% proportion of wheat to barley malt. Franziskaner, Paulaner, Erdinger, and Maisel are Germany's top four Weißbier brands.
Weißbiers produced in Germany are required by law to use "top-fermenting" yeast. This ingredient allows the product to have banana and clove overtones that many people enjoy.
Bavarian Weißbier was traditionally brewed using a considerable proportion of wheat malt or just air-dried pale barley malt.
In addition, wheat beer in German also has many variations; the two most popular ones are a dark wheat beer called Dunkelweizen and a strong wheat beer named Weizenstarkbier.
The dark wheat type is prepared with darker and more heavily kilned malts (both wheat and barley). The other one is much stronger and has a higher alcohol content.
Where to buy: Available in several liquid stores in Germany, especially in the southern parts of Bavaria.
13. Korn
Alcoholic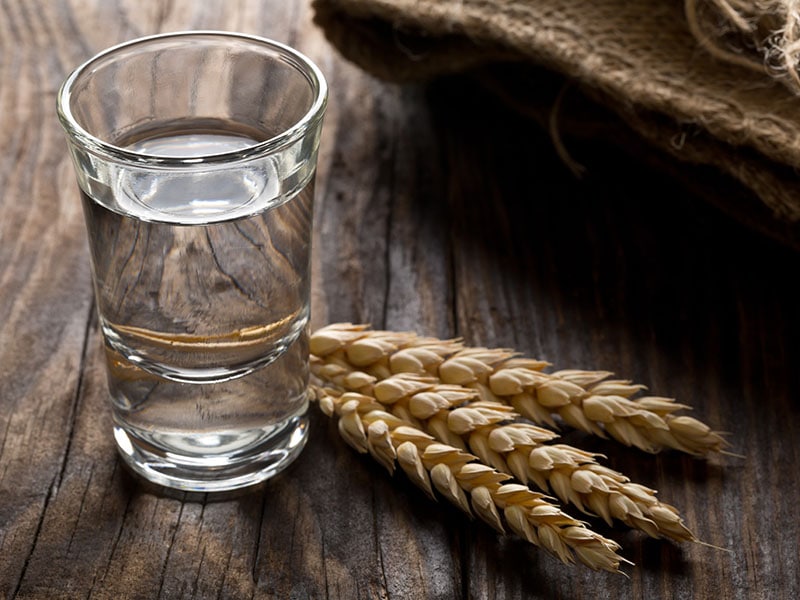 Korn is a traditional colorless distilled beverage made from fermented wheat, barley, rye, or buckwheat.
This grain spirit is very strong, with a minimum alcohol concentration of 32 percent ABV. If it gets even stronger (more than 37.5 percent), it will become Kornbrand.
The majority of the production is based on rye or wheat. Locals mostly use barley to obtain the necessary malt for the brewing process. On the other hand, buckwheat and oats are rarely used.
Korn production is said to have begun in the 15th century. This drink is almost everywhere in Germany; however, it is more widespread in the Northern and Central regions. The Germans usually drink Korn as a shot, but some prefer mixing it with carbonated soft drinks.
Where to buy: Available in several liquid stores in Germany, especially the Northern regions.
German Caffeine Drinks
Several studies have shown that Germans don't just drink beer in large quantities; they are also the world's largest coffee consumers. Here are some German coffee drinks that you should explore.
14. Eiskaffee – Cold Coffee With Ice Cream
Non-alcoholic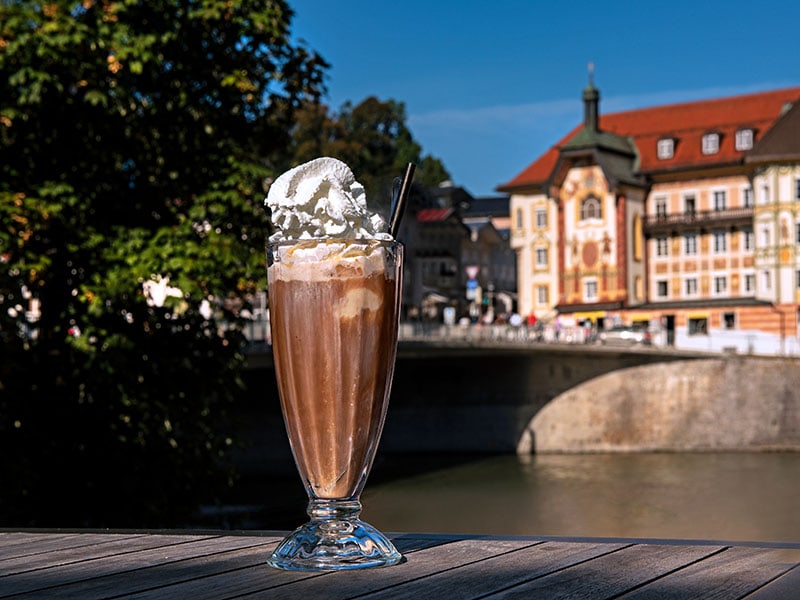 If you're making a list of must-try German foods, don't forget to add the ultimate summertime treat: Eiskaffee! Imagine strolling around the park on a hot summer afternoon; what can be more satisfying than this masterpiece?
The word "Eisakaffee" means "iced coffee", but you might find it different from any regular coffee you've had. By adding a scoop or two of whipped cream and vanilla ice cream, this simple iced coffee is suddenly an irresistible calorie bomb!
Eiskaffee is the perfect pairing with classic sweet treats. Locals often enjoy this caffeine boost while enjoying a delicious, chilled dessert.
Where to buy: In a host of German ice cream shops, cafes, and restaurants.
15. Rüdesheimer Kaffee – Brandy And Whipped Cream Coffee
Alcoholic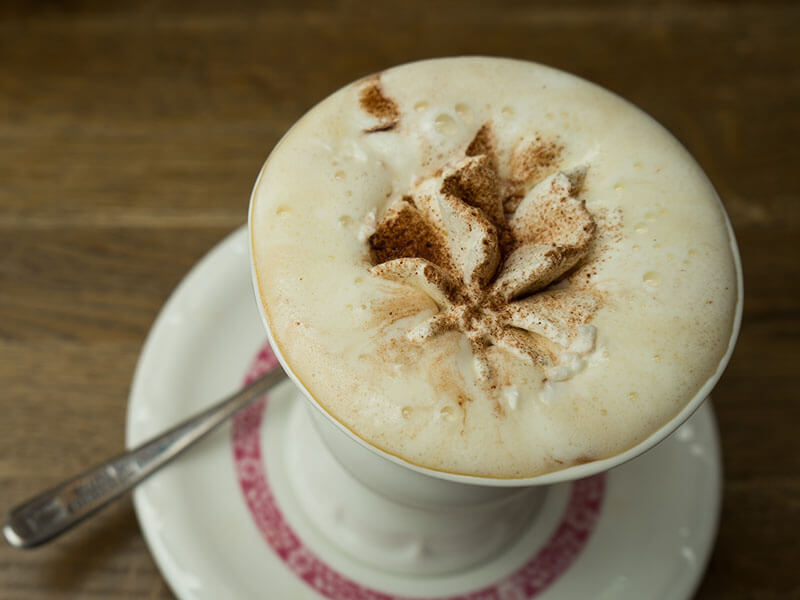 Rüdesheimer Kaffee has a unique alcoholic kick that no other coffee shop in your neighborhood can duplicate. It's a tasty brandy coffee beverage topped with whipped cream and chocolate. No words can describe precisely how stunning this drink is.
To be honest, coffee with whipped cream drinks have been around since the mid-1800s. However, Hans Karl Adam took an already known idea and set it on fire! This boozy drink eventually became a local specialty.
Nowadays, people usually enjoy Rüdesheimer Kaffee in a mug during the winter and holiday seasons. If you want, it's still an ideal drink for the hot summer months.
Where to buy: Available in many German coffee shops, typically in Rüdesheim am Rhein.
16. Pharisäer Kaffee – German Coffee With Rum
Alcoholic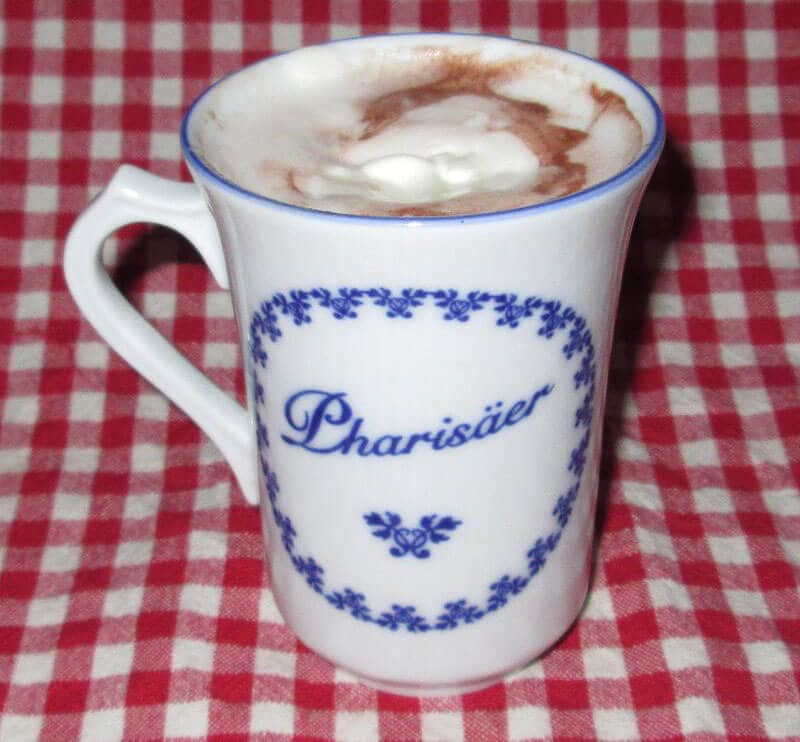 The journey of German coffee-making would be a loss without naming Pharisäer Kaffee – a coffee with a shot of rum and whipped cream. Many people believe this German drink was invented during a christening in the 19th century.
The story begins with pastor Gustav Beyer, an outspoken opponent of alcohol consumption. The locals tried to fool him by mixing rum with coffee and topping it with whipped cream, which kept the rum smell from dissipating.
Although this drink came from a prank, Pharisäer Kaffee is a symbol and a firm favorite with the German citizens. So remember to add this drink to your bucket list if you're a coffee enthusiast.
Where to buy: In a plethora of German coffee shops and restaurants. You can even make it at home.
German Soft Drinks
Are you tired of being hungover? Then take a look at my soft drink list below! These family-friendly drinks are healthy, non-alcoholic alternatives that you can enjoy at every moment of the day. So give these options a read and get ready to indulge yourself.
17. Apfelschorle – Apple Spritzer
Non-alcoholic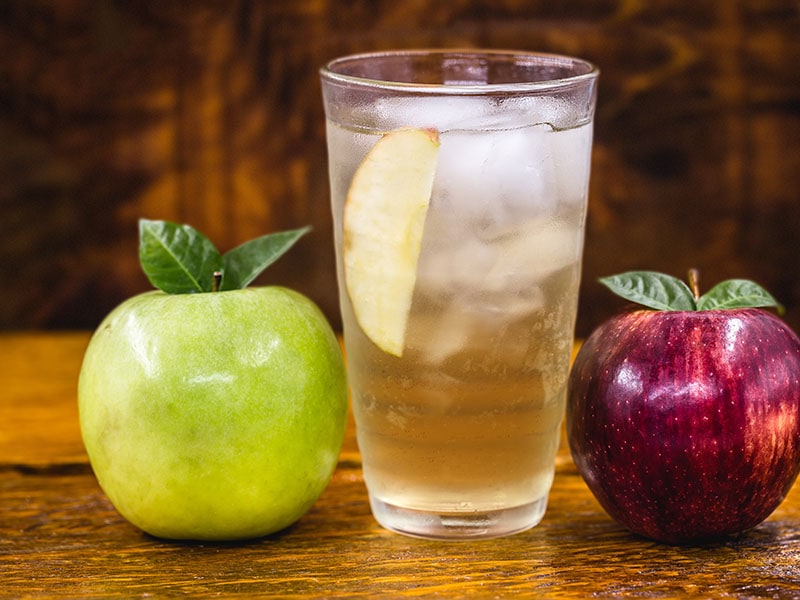 Are you seeking a drink that can beat the sweltering heat but is still suitable for your diet? Let me introduce you to Apfelschorle – an apple juice spritzer to combat the heatwave.
Apfelschorle is a popular soft drink made up of apple juice and carbonated mineral water. There are many German drinks containing fruit juice and carbonated water, but Apfelschorle is by far the most popular.
Since it's not too sweet, this drink will be the best option for those who enjoy counting calories. Plus, it's also really isotonic, making the perfect refreshment after doing physical exercises.
Where to buy: You can find bottled Apfelschorle in many German vendors and markets.
Let's learn how to make Apfelschorle and surprise your guests!
18. Spezi – German Orange Cola
Non-alcoholic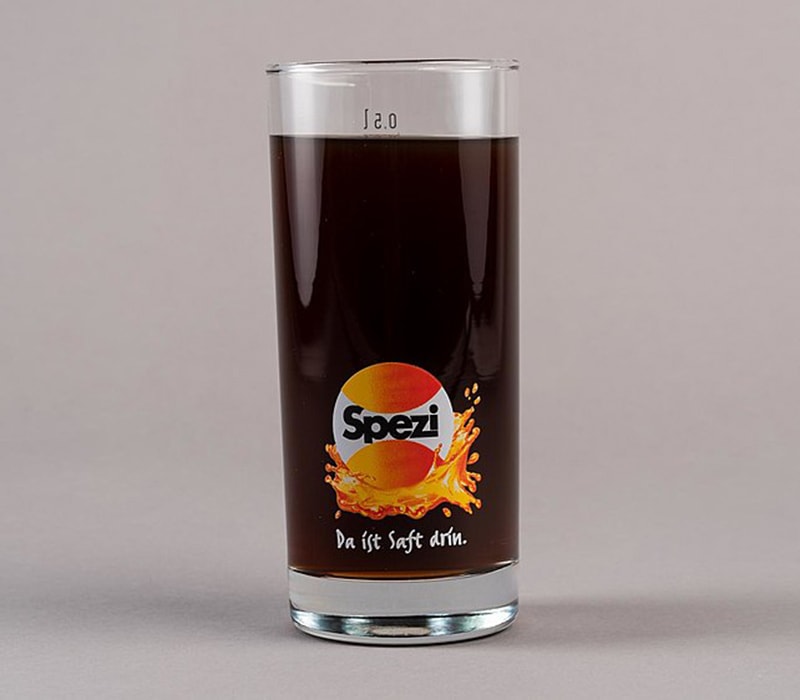 Spezi is actually a popular brand name created by Brauhaus Riegele in Augsburg. At first, Riegele sold beer under the trademark when it was first registered in 1956.
The iconic Spezi Cola Orange appeared in a television commercial in 1989 and quickly became this country's favorite fizzy drink.
The manufacturer uses orange and lemon juice concentrate to make this soft drink. This drink also includes Mandarin oil and orange blossom extract. If you're on a diet, there is also a sugar-free version. You can enjoy with it various German-based dishes.
This drink is super well-loved among teenagers and youngsters. You can get this drink anywhere in Germany, including restaurants, supermarkets, or even on German airlines.
Where to buy: In German restaurants, supermarkets, and convenience stores.
19. Mezzo Mix
Non-alcoholic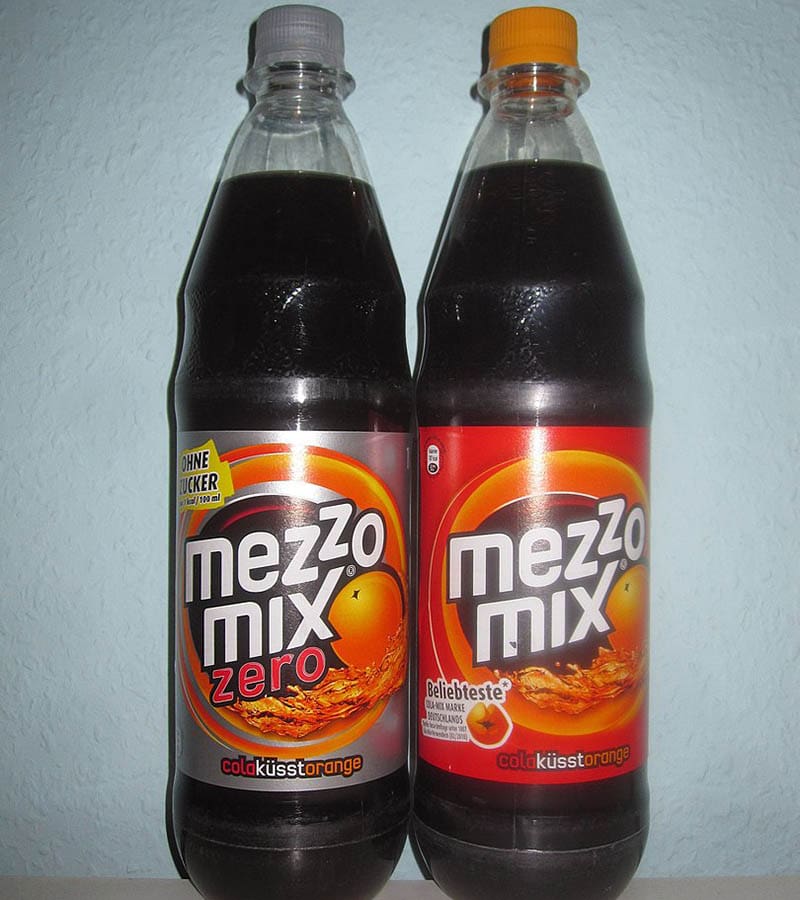 If you like the Cola and orange combo of Spezi, you should definitely give Mezzo Mix a try. This delicious orange soda and cola drink was first introduced in Germany in 1973 and eventually became a well-known beverage here.
There were two types of Mezzo Mix in the 1990s: orange and lemon. However, the latter failed to conquer the citizens and was discontinued until 2003. There was also a raspberry-flavored Mezzo Mix, but it was only available during the month of Valentine's Day in February.
Where to buy: In German restaurants, supermarkets, grocery stores, or online.
20. Fritz-Kola
Non-alcoholic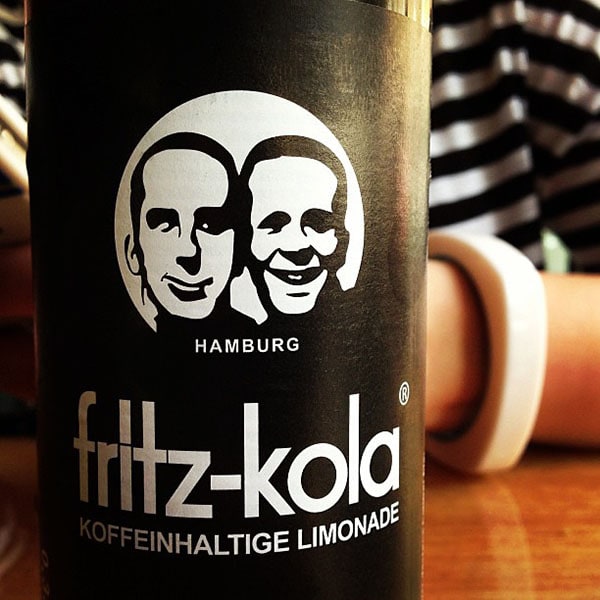 Looking for a drink that can help you burn the midnight oil? Why not give Fritz-Kola a shot? Fritz-Kola is a soft drink produced in northern Germany and exported to numerous European countries.
According to the locals, Fritz-Kola was invented by two students from Hamburg in 2003. While searching for a drink that has more caffeine and less sugar than regular Pepsi or Coke, they came up with this idea and turned it into a hit.
This type of cola is packaged in glass bottles that feature the faces of the two founders as the logo. You may bump into this logo everywhere in this country.
Where to buy: In many German bars, restaurants, supermarkets, and convenience stores.
If you want to know further about the history of Fritz-Kola, check this out!
21. Club-Mate
Non-alcoholic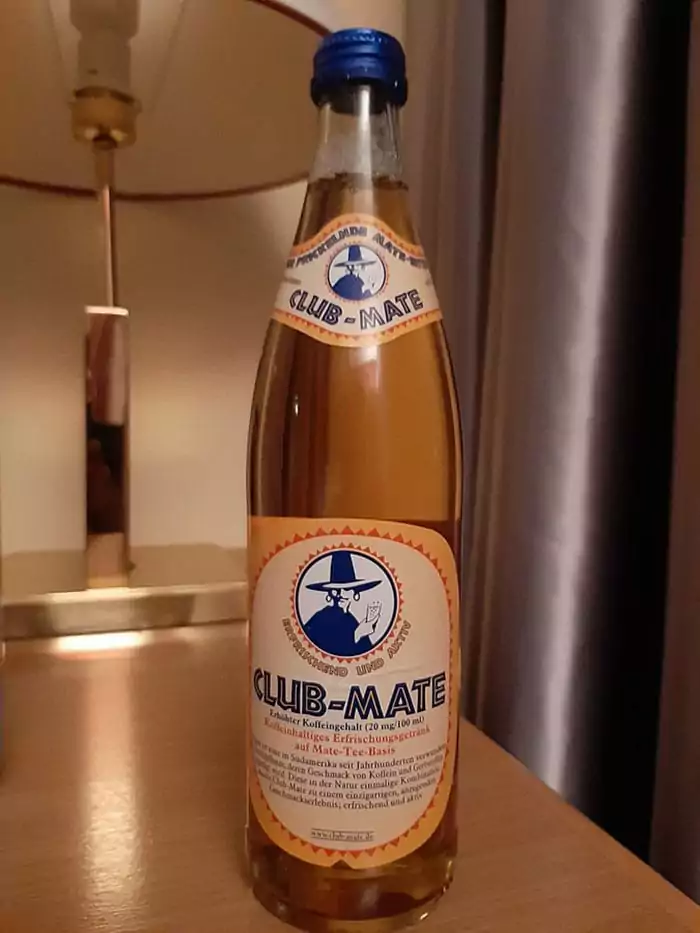 Club-Mate is a "cult drink" among rave culture, electropop, and computer gaming enthusiasts in Europe (mainly Germany).
First produced by the Loscher Brewery in 1924, this refreshing soft drink has half the sugar but double the caffeine of regular coke. As a result, you'll feel energized without the sugar crash.
While many youngsters drink Club-Mate straight as a coffee substitute during the day, some pubs and nightclubs combine it with a shot of Vodka and serve it as a mixed drink.
Where to buy: In many German supermarkets, convenience stores, bars, restaurants, especially in Münchsteinach, Germany.
22. Bionade
Non-alcoholic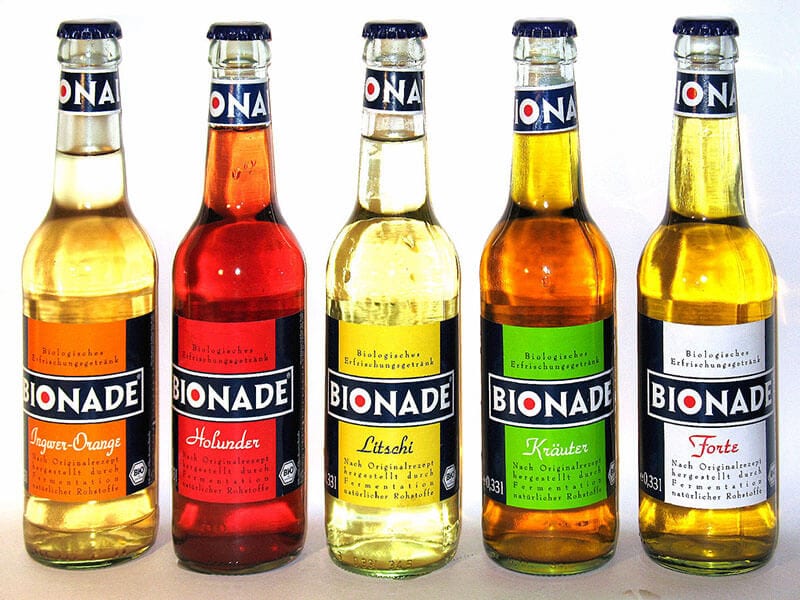 Bionade is one of Germany's most beloved refreshment drinks. Bionade was invented in Bavaria, a federal state in the Southeast of Germany. This non-alcoholic beverage is fermented and carbonated organically, making it unique compared to other soft drinks.
This drink appeared in the sales market in 1995 and has now become a well-known product in almost every European country. Made with simple ingredients like water, sugar, malt, and fruit essences, Bionade tastes like a regular soft drink, but it's a much healthier option.
Where to buy: Available in several supermarkets, grocery stores, cafes, and restaurants.
23. Fassbrause
Alcoholic or non-alcoholic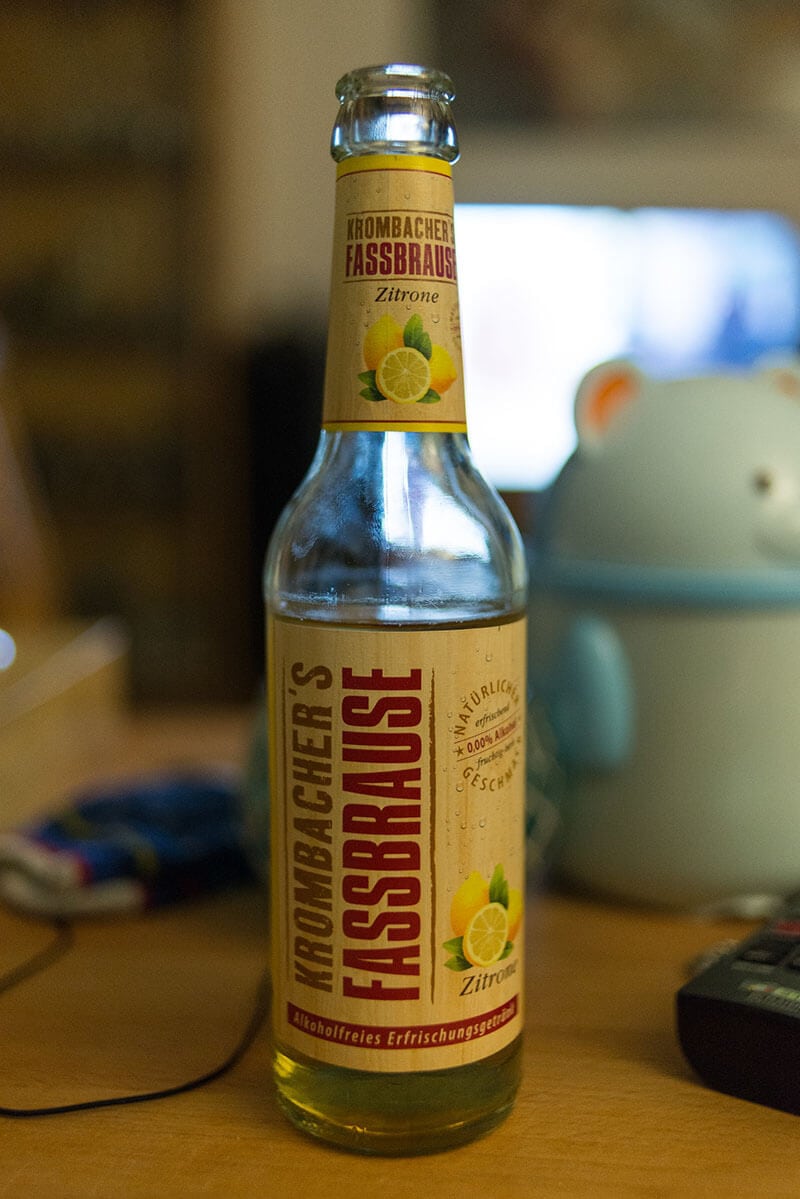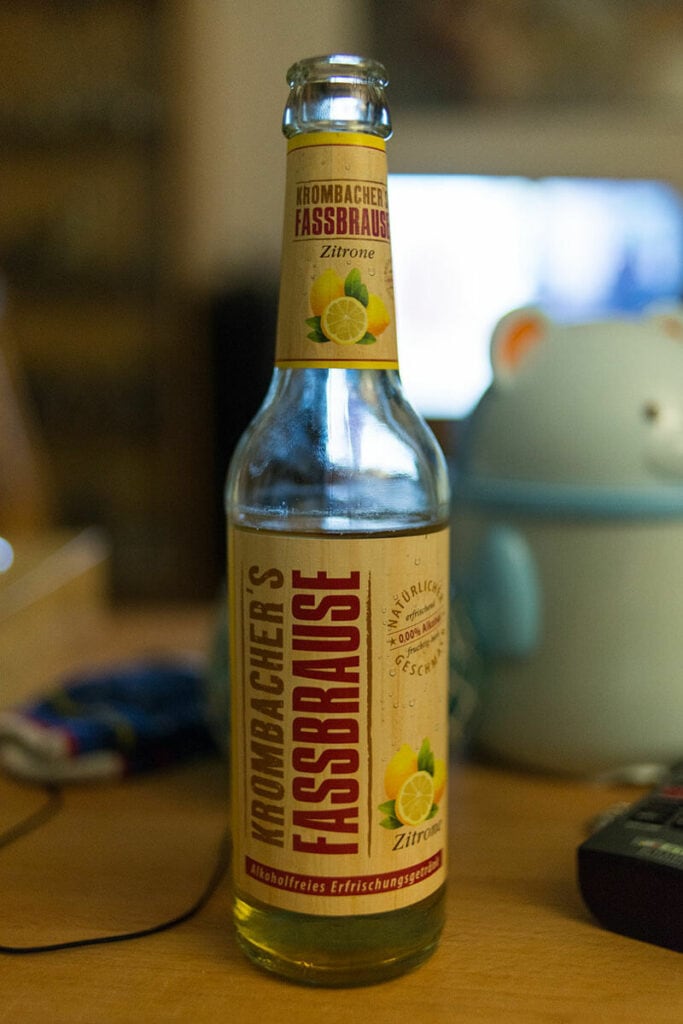 Fassbrause is a German soda-like drink with a distinct flavor. It can be a non-alcoholic or alcoholic drink, depending on the brand. However, the most common version is free of alcohol and contains fruit and malt extract.
Ludwig Scholvin, a German scientist, invented this drink in Berlin in 1908 as a non-alcoholic beer alternative for his son. Nowadays, Fassbrause is available as a specialty drink on every bar tap across Berlin.
Sometimes, local bartenders will mix Fassbrause with beer. This combination is known as Gespritztes in Germany.
Where to buy: In German markets, supermarkets, convenience stores, and bars.
---
Becoming A German Drinking Expert Is Easier Than You Think!
That concludes my list of 23 different German drinks that you must sample during your trip to Germany (or attempt to create at home!) I hope my recommendations today have persuaded you to book a flight here and discover more about this lovely country.
Have you ever tried German drinks before? If not, which one would you like to try first? I can't wait to hear your thoughts in the comment section below. Also, drinking alone is not fun, so remember to forward this link to your friends and loved ones. Be safe and goodbye!