When going to France, it's a must to try French foods. Given how massive French cuisine is, finding the most signature dishes can be time-consuming.
In this article, I will take you through the most delicious French dishes that you must try so that you can have a better plan for your trip. Once you have tried these delicacies, you will come back for the second and third. Are you ready? Let's go straight into it!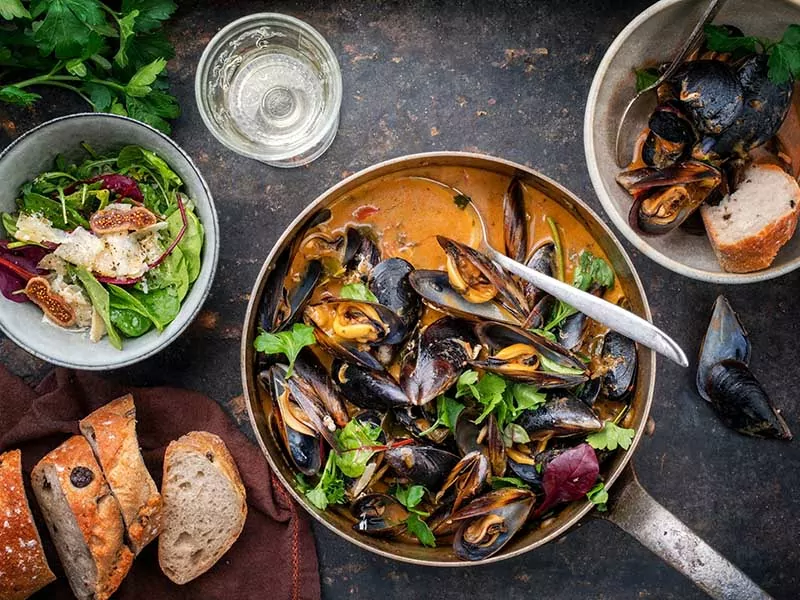 French Savory Dishes
Starting your authentic French meal with scrumptious savory dishes and ending it up with sweet treats is a dream of a foodie addicted to French cuisine. Let's explore the must-try recipes through this list.
First of all, let's discover the best elements of French cuisine, especially when paired with some scrumptious French accompanying foods. I know that's what you are most interested in, so I will go straight into it.
1. Coquilles St. Jacques (Great Scallops)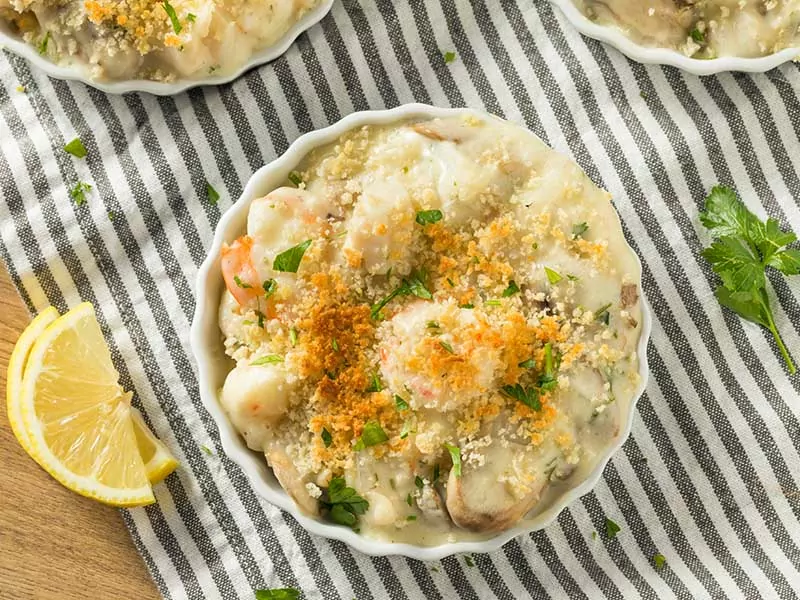 Look at the beautiful scallops smothered in the creamy sauce and topped with a thick layer of cheese! Do you think it is the perfect appetizer to start off your French party? Yes, it does. This rich and mouth-watering dish will soon become the spotlight of the party.
I bet that you probably notice the name "Coquilles St. Jacques". Actually, It was derived from the name of an eminent saint. It has a long story to tell, but the main reason is religion.
After the Saint is dead, some people say that his body was transferred on a ship, but it disappeared. Then, the body was found on the beach. Astonishingly, it was in a scallop shell.
If you want to surround yourself with French religion, then this dish is a great option. It is often an element that makes up the Christmas feast.
2. Flamiche Aux Poireaux (Leek Tart)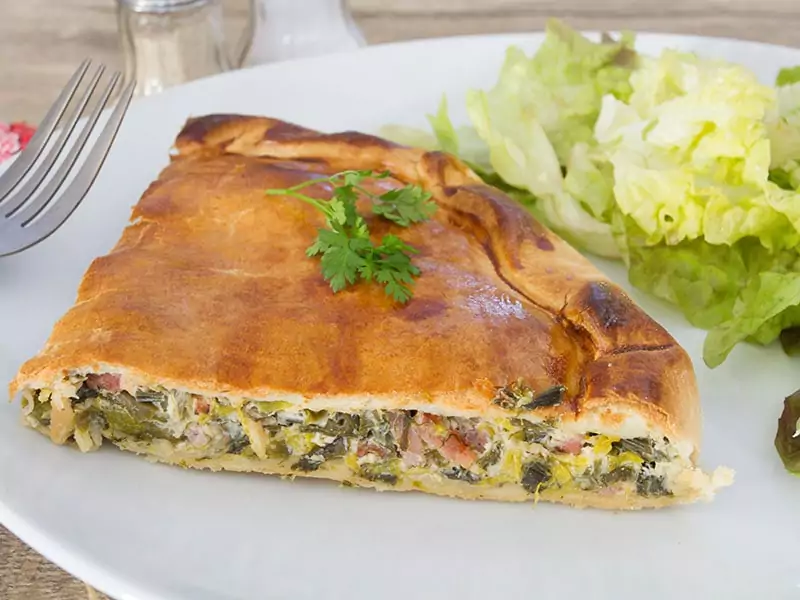 Flamiche came from the beautiful Picardy. People regard it as the Picardy version of the famous quiche Lorraine. It appeared in the late 18th century.
This dish features a puff pastry tart made of leek, cheese, and cream. If you come to Picardy, you may hear people call it "flamique" instead of "flamiche."
Thanks to its mild and fresh flavor from leeks, if your French menu has a heavy meat dish, this one will be a great compliment. Flamiche can also be served as a light and quick meal or a palatable breakfast for a summer day. French leek tarts are unique in its versatility.
3. Steak Au Poivre (French Steak With Pepper Sauce)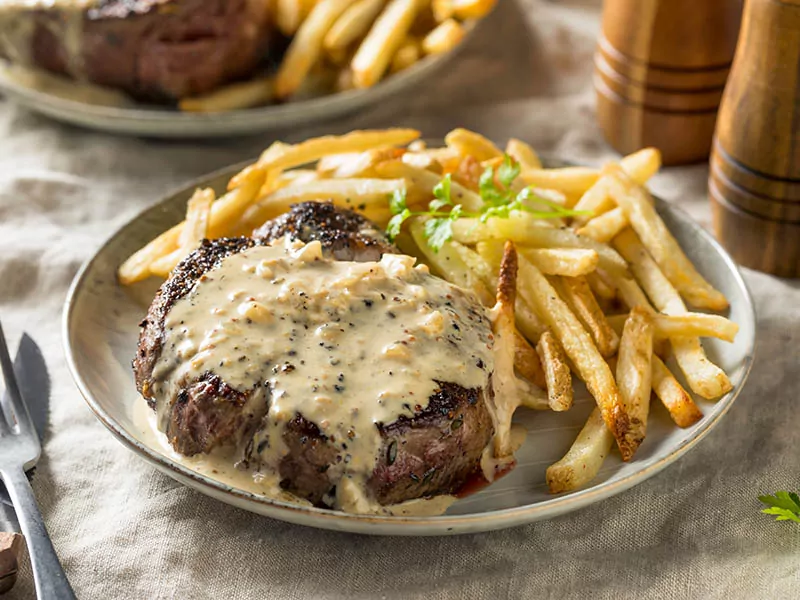 Au Poivre means "with pepper" in French. Steak au Poivre is a dish featuring cuts of fresh steak covered with peppercorns and olive oil. This elegant dish is my top recommendation for French parties. This fascinating dish first appeared in the Normandy bistro in the 19th century.
These beautiful cuts are full of French characteristics. They are fine, fancy, and charming. It is not wrong to say that represents how French cuisine looks like. Never miss this specialty! Or else you will definitely regret it.
4. Baguette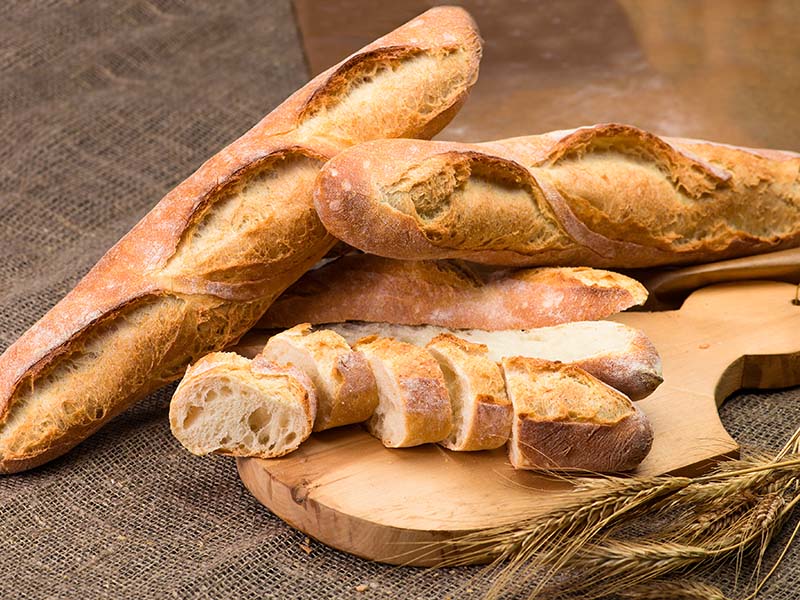 Bread is everywhere. But French bread, which has a fancy name of baguette, stands out. A great side dish to go with beef stew, the baguette distinguishes itself from other kinds of bread by its long shape and crispy crust.
French people started to eat bread in 1800, and the thin variety got its official name as "baguette" in 1920. It came from the Latin word "baculum," which means "stick."
This classic French food is famous for its simple ingredients. It is made from the typical bread components: flour, yeast, water, and salt. What makes it so special is the excellent technique of the bakers.
The subtle procedure to make a baguette in France will fascinate you.
5. Gratin Dauphinois (Potato Gratin)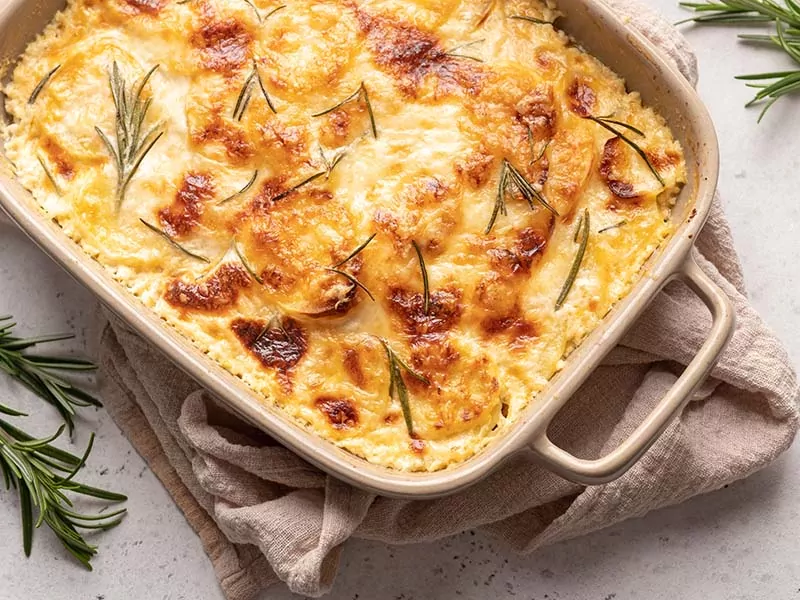 This dish has potatoes and milk as the main ingredients. Its specific history is still a mystery, but it became popular after being served at the dinner of Charles-Henri, the Lieutenant of Dauphinois. That's where the name came from.
The potatoes are sliced and baked with milk, creating a hearty and rich dish that can seduce anyone from the first bite. The gratin technique ensures that it always has a charming yellowish-brown color.
If you ever feel like you're at a loss regarding how to utilize this French dish, I've got you covered. Potato gratin makes a fine side dish for Jambalaya. As potato gratin is on the rich side when it comes to the flavor profile, it's also a great idea to pair it with some light green veggies.
6. Fondue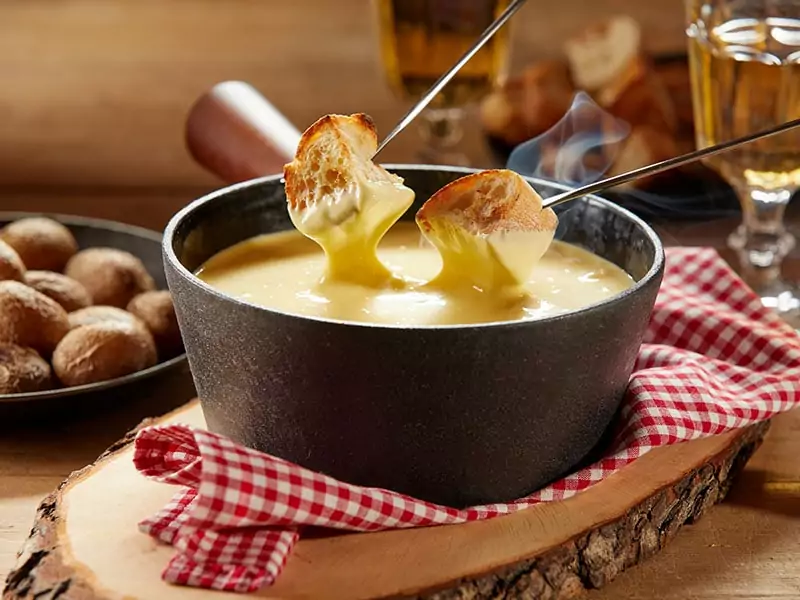 In French, fondue means "to melt." But the surprising thing is that it was not created in France. Instead, Switzerland is where this dish originated from. Traditionally, people made it and stored it to consume during the winter.
This delicacy consists of Swiss cheese, white wine, and garlic. The taste is so special with some rich and tangy notes. People treat it as a dipping sauce. You can dip everything in fondue literally. Isn't that amazing?
Fondue might seem simple, but coming up with the most suitable meat to pair with fondue is no easy task. And it can be an even greater struggle to think of what wine is the best match for fondue. In other words, it's quite a challenge to create a harmonious flavor combination with fondue at the center.
7. Blanquette De Veau (Veal Ragoût)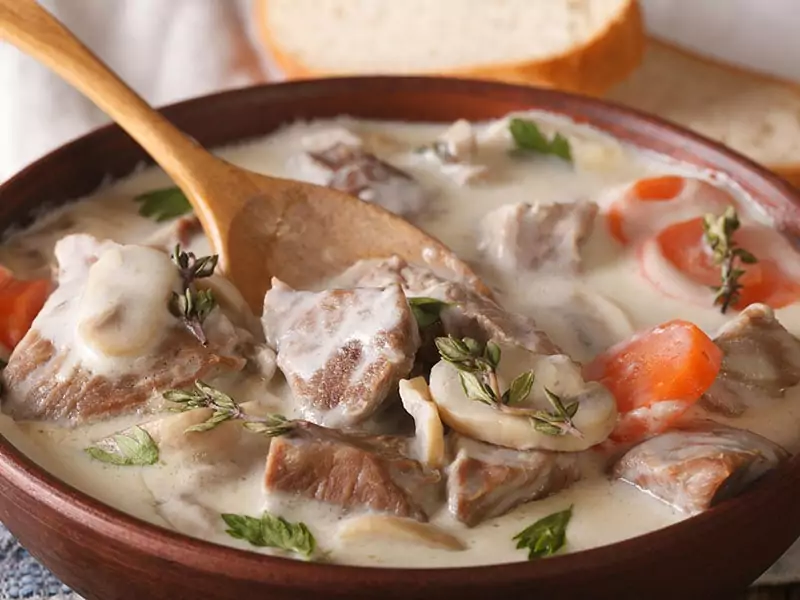 This delicacy has a fascinating history. Thanks to being the favorite food of a fictional character of a novel written by Georges Simenon became well-known. It first appeared in Lyon around the 19th century.
Blanquette de veau is among the most loved French lunch recipes. It is a veal stew with a rich and hearty flavor. Notably, sour cream and plenty of herbs are used to enhance the distinctive taste and aroma.
8. Crêpes (Crepes)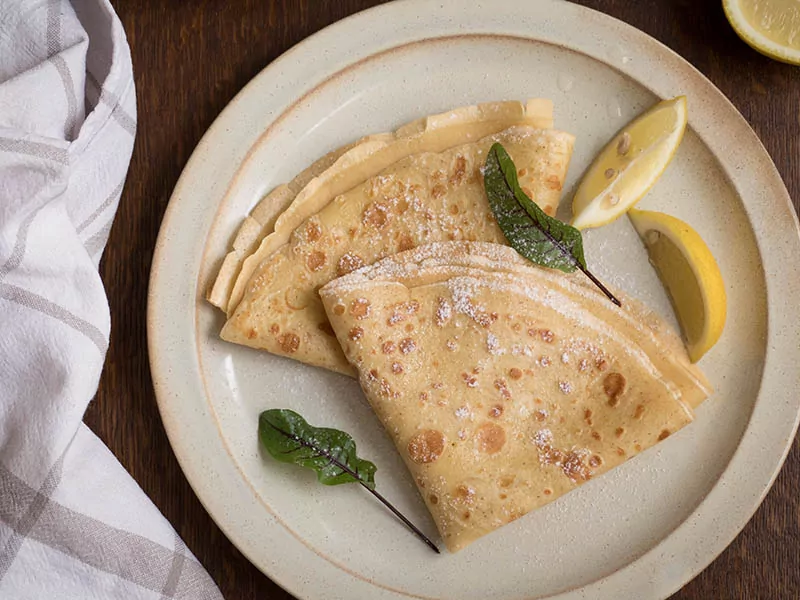 If there is one word to describe crêpes, I think it must be "versatile." Why is that? These are very thin pancakes served as a sweet treat or a savory galette, depending on the filling. Sometimes, there is jam or Nutella inside. But cheese and seafood are also used.
Crêpes originated in Brittany in the 13th century. Its story is very humorous. A woman spilled some porridge on the cooktop then ate it because she didn't want to waste anything. This interesting event gave rise to one of the most loved French desserts.
The best time to enjoy crêpes is at lunch or dinner. They're also an irreplaceable treat on the streets of France. French people always eat them at a religious festival named "La Chandeleur" on the 2nd of February. Do you want to be a part of French culture? If yes, eat crêpes.
9. Bouillabaisse (Seafood Stew)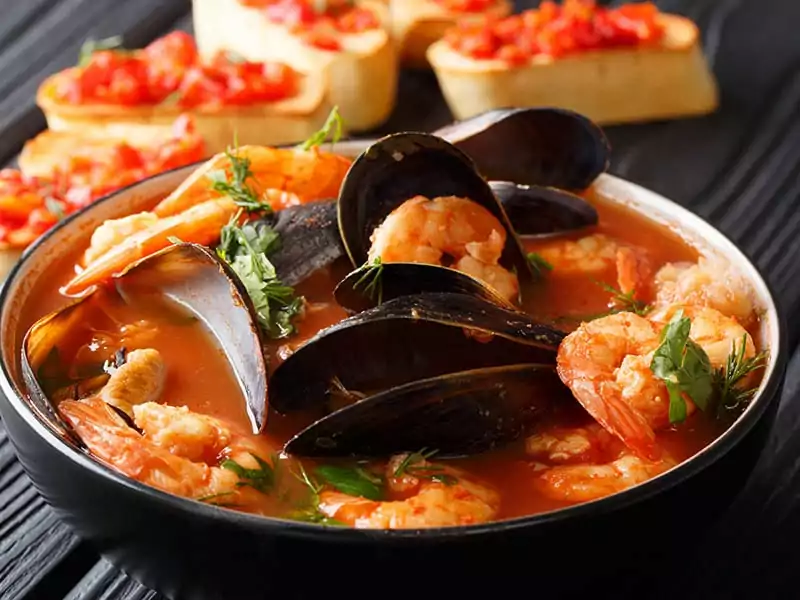 Bouillabaisse takes root in Provençal, a coastal region. I bet that you can guess this is a seafood dish. More specifically, it is a stew made from a few kinds of fish. Each region varies in ingredients, so each bowl of bouillabaisse you taste is unique.
Although it looks like a luxurious dish, the earliest version is totally the opposite. A fisherman first made it. He just used fish scraps because they were the only thing left. But as time flies, it has become an expensive delicacy.
This French specialty tastes rich, sweet, and a little bit zesty. There is nothing better than sitting in a restaurant near the beach at night and enjoying a warm bowl of bouillabaisse. You will come to France again for it, I promise.
10. Confit De Canard (Duck Confit)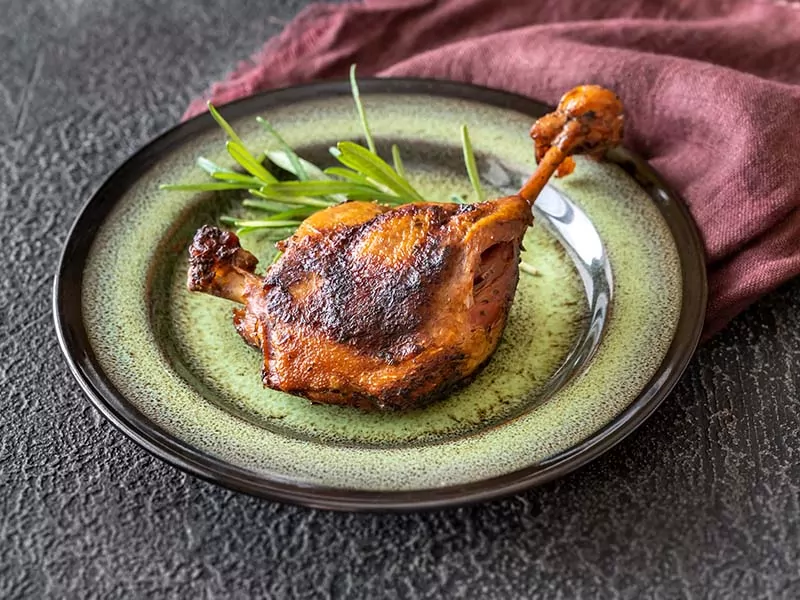 Confit de canard is another classic dish of France which is made of a whole duck. Traditionally, it was made to help people feel warm during the winter months.
The duck goes through a complicated preservation process to provide a rich and delicious flavor as well as an incredibly tender texture. This dish originated from Gascony. You will see it in the form of a fresh dish in restaurants. It also has a canned version, but I suggest you enjoy the fresh one. It is always the best.
11. Coq Au Vin (Stewed Chicken)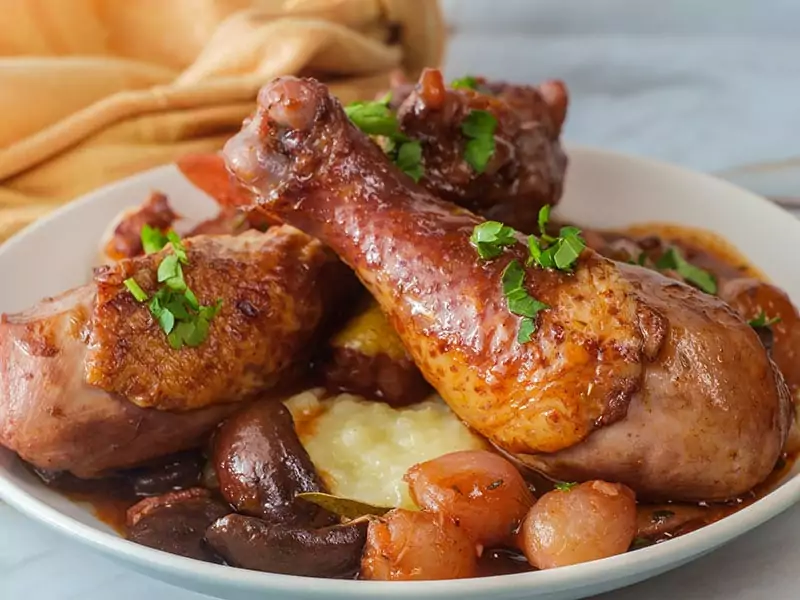 Coq au vin is an incredible entrée for your French party. It is a stewed chicken dish. A stunning feature of coq au vin is that it is braised from wine, specifically Burgundy wine, resulting in a tangy, saucy, and rich flavor that is very seductive.
The history of coq au vin is complicated. Certainly, it came from France, but the specific time is still unknown. It first appeared in a cookbook named Cookery for English Households under "poulet au vin blanc" name.
Later on, in the 20th century, Julia Child created the modern version of this dish. Then it was named "coq au vin" and soon became increasingly popular throughout the country.
In addition to chicken and wine, this dish also has lardons, mushrooms, and herbs, which intensify the beautiful flavor and add a remarkable aroma. You will regret it if you do not try coq au vin at least once in your life.
12. Steak Frites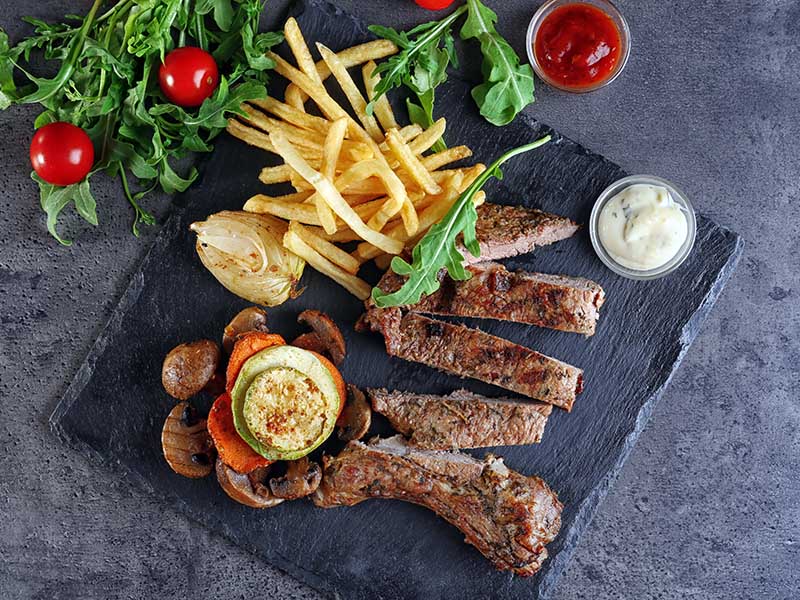 Steak frites stands for steak-and-fries. As the name says, it consists of steak, potato fries, and a dipping sauce. You have probably tried this dish at least once since it is so popular in French-style bistros and brasserie. But give it another try in France to see the difference.
This popular dish was first found in France and Belgium. Now it is an important cultural heritage of both countries.
Need I say more about the flavor? I just want to emphasize that the steak frites you eat in France are way better than any other version you've tried before. I can guarantee you that it is heavenly delicious.
Let's see how the charming flavor of steak frites is created.
13. Quiche Lorraine (Lorraine Cake)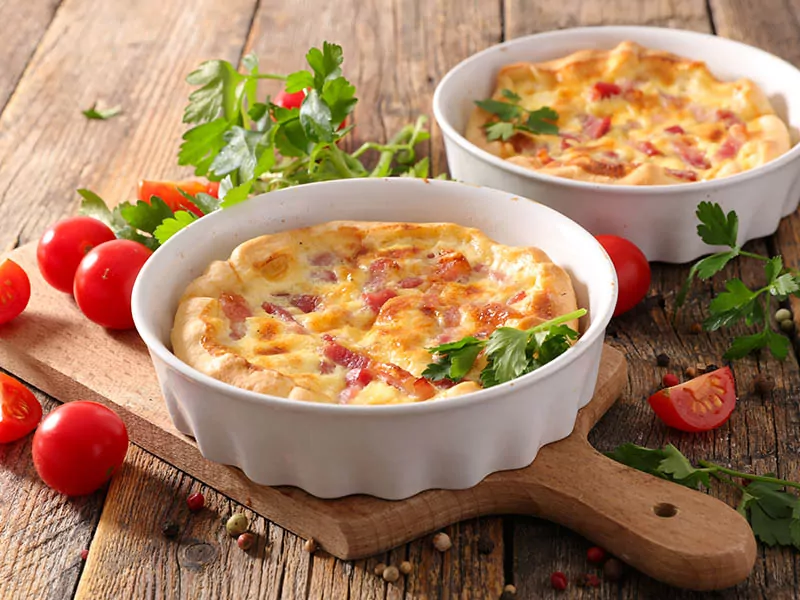 Another classic food of this beautiful country is quiche lorraine. You are not a real French foodie if you do not try this amazing French cake. It is a savory tart with a pastry crust filled with meat, cheese, bacon, and vegetables.
This dish is believed to come from Lorraine. At the time, it was ruled by the Germans, so its name has a German root. The name "quiche" came from the word "kuchen," meaning "cake."
Quiche lorraine is a hearty French breakfast recipe that will kick off your day. French people often serve it along with a salad for a refreshing note. Follow this to get the best taste of quiche lorraine.
14. Chateaubriand (French Steak)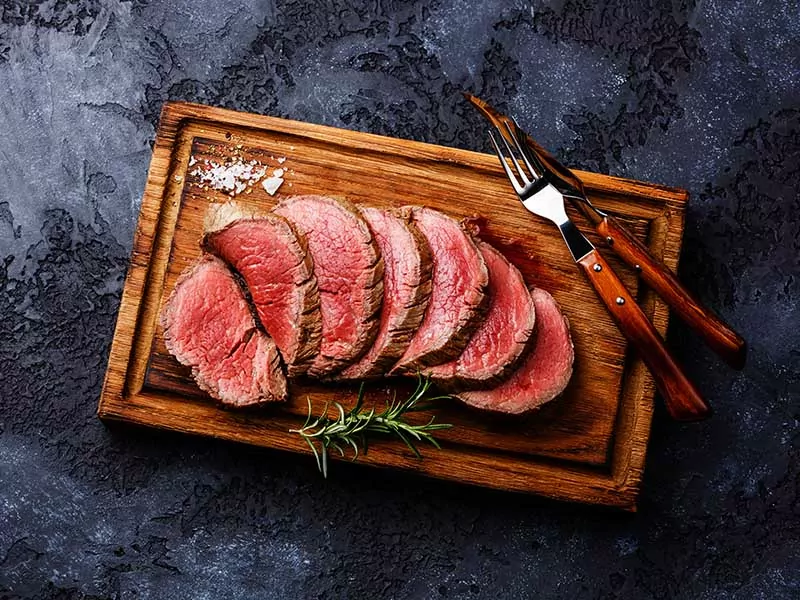 Who can resist a tender and yummy cut of steak? Literally no one. French steak is one of the best steaks in the world. And chateaubriand is the best of the best. It features beautifully cut beef tenderloin with a delicious classic red wine sauce.
Its name stems from its creator – François-René de Chateaubriand. Interestingly, he is not a chef but an eminent writer.
You can find chateaubriand in almost every French restaurant across the country. It is a very expensive dish, but once you eat a piece of it, you can never forget that tasty heavenly flavor for the rest of your life.
The skillful technique of the chef is what makes chateaubriand special.
15. Bœuf Bourguignon (Beef Bourguignon)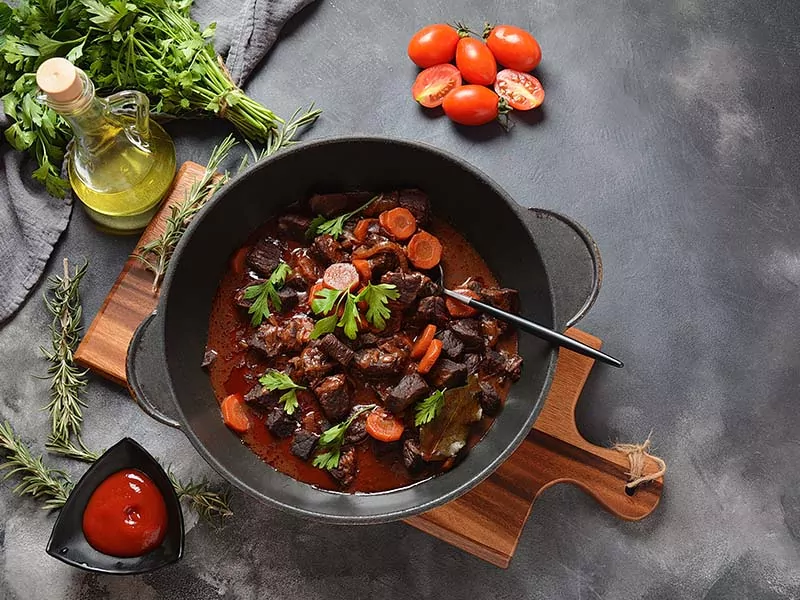 Beef bourguignon is a type of beef stew that promises to make you addicted to it. Its flavor is more remarkable than beef stew, thanks to the presence of red wine. This classic French dish came from Burgundy, where red wine takes root from.
The history of beef bourguignon dated back to the Middle Ages when the peasants tried the slow cooking technique. But it was not until the 20th century that chef Auguste Escoffier officially introduced it.
While eating beef bourguignon, don't forget to have a cup of red wine on the table to enjoy alongside it. I am sure that your French trip will be more delightful with this quintessence of French cuisine.
16. Pot-Au-Feu (Beef Stew)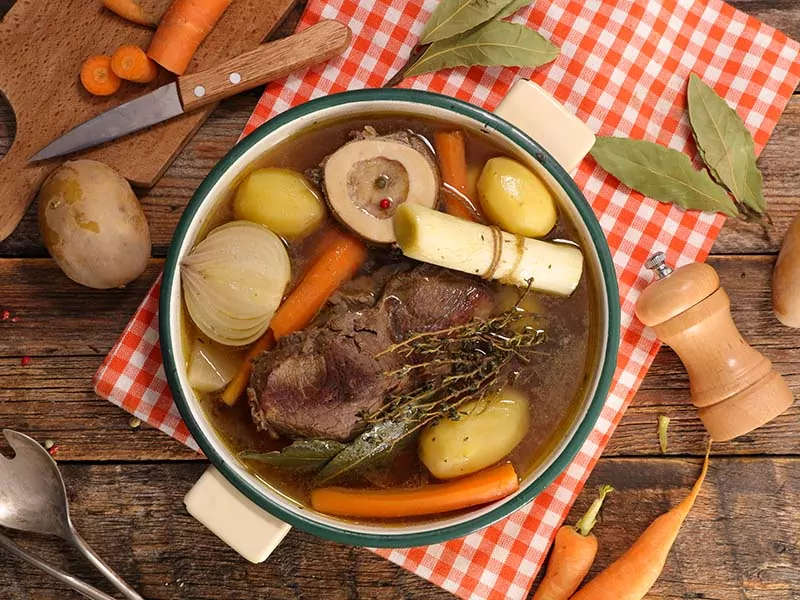 There is no dish that more deserves to be called "the national dish of France" than pot-au-feu. It is a deliciously rich beef stew with potatoes, carrots, and sometimes leek and onion. French people usually cook them on cold winter days. The cozy feel that it brings to you is unforgettable.
Pot-au-feu is derived from pot pourri, a well-known French dish during the 17th and 18th centuries.
What is interesting about pot-au-pew is that it is never considered a dish for the rich or the poor. Everyone in France eats pot-au-feu. And, as a traveler, you should never miss this iconic dish.
17. Salade Niçoise (Nicoise Salad)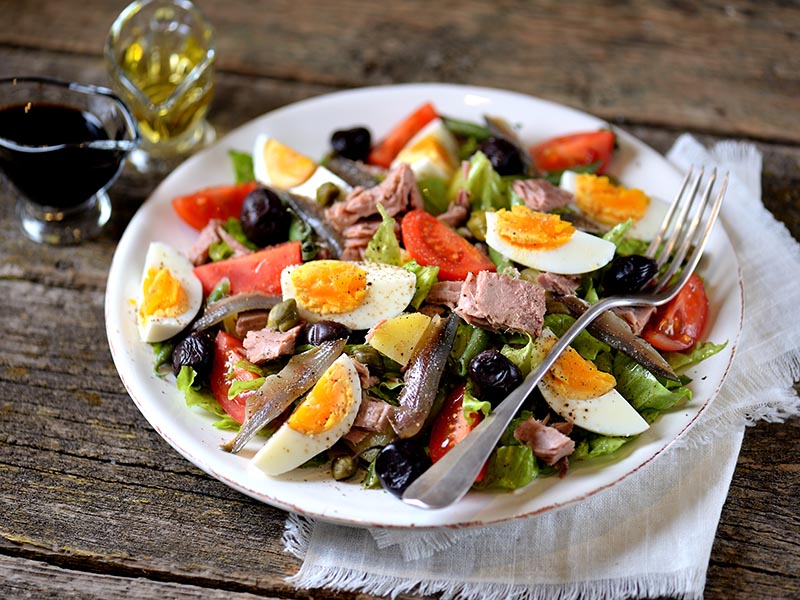 French cuisine is very famous for salads. And Nicoise salad is the most popular of all. It is named after the city of Nice, where it originates from. The person who created this salad is Auguste Escoffier, a French chef.
It is the best appetizer from France that you can ever ask for. The main ingredients are tomatoes, eggs, tuna fish, and beans. Everything is mixed then finished with an olive oil dressing. Its distinctively refreshing taste will steal your heart from the very first bite.
18. Soupe À l'oignon (Onion Soup)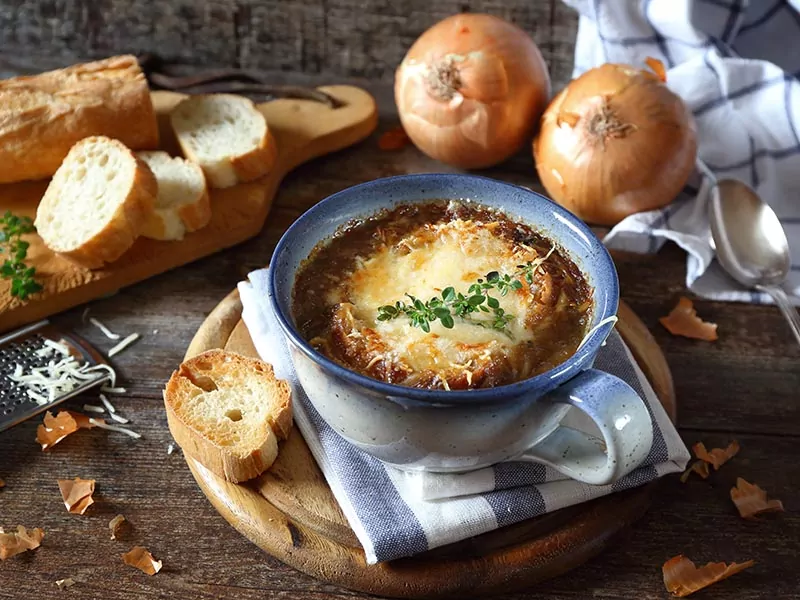 If you are still struggling with finding a classic French dinner recipe, soupe à l'oignon should be your go-to dish. It came from the romantic city of Paris and dated back to more than 300 years ago. It became popular when it appeared in an iconic French cookbook named "Gastronomie Pratique."
Onion is the French's favorite vegetable. And this onion soup will give you its best taste. The yummy French soup is made by cooking onion in beef stock and served with melted cheese and a piece of bread on the top. Its warm, rich, and oniony flavor is so remarkable that it will make you say "Wow!"
If you miss the flavor of soupe à l'oignon when you come back, try making it at home.
19. Ratatouille Niçoise (Ratatouille)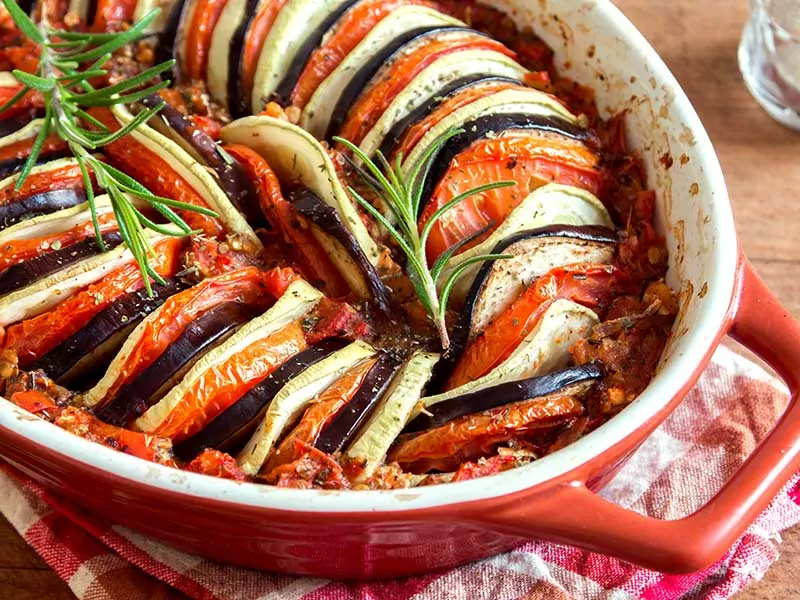 The word "ratatouille" means to stir up. So ratatouille is just a dish where some vegetables, namely tomatoes, eggplant, bell pepper, herbs, and zucchini are stirred together. But it doesn't stop there. While it is such a simple dish, it has a fascinating history.
Ratatouille was invented in the 18th century by poor French farmers. They collected all of the ripe peasants on the field and cooked them. But they could never expect that they had just created a famous stew.
But just put it aside. Let me show you why you should have ratatouille on your French food list. Firstly, it is the perfect entrée for summer. Also, it is beautiful, healthy, and incredibly delicious. Everyone will fall in love with this classic French dish.
20. Cassoulet (Meat And White Bean Stew)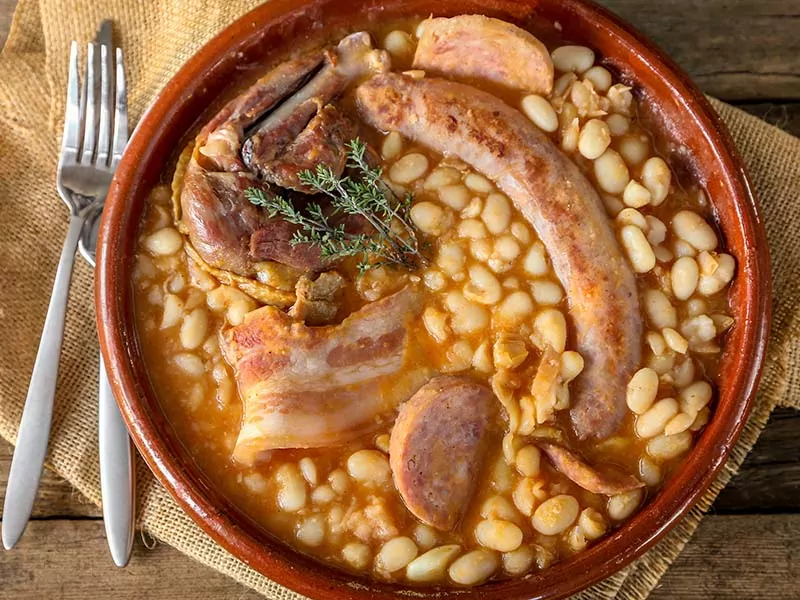 Cassoulet is one of the famous traditional French recipes that originated in Castelnaudary. It is a rich, warm, and hearty dish with pork and white beans as the main ingredient.
What is most interesting about cassoulet is its history. During wartime, the townspeople gather every available ingredient and slow-cook them to provide the most nutritious meals for the soldiers to protect the region against the invaders.
Over time, it became a classic dish of French cuisine and expanded its popularity globally. Give it a try! I am sure that its amazing flavor will stun you.
21. Omelette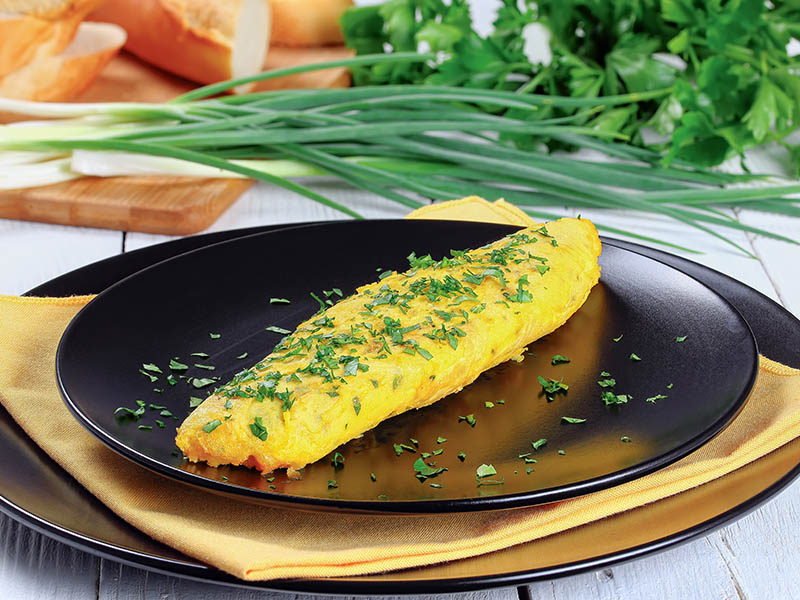 Omelette is among the most common dishes in the world because it is so simple to cook. But why do I mention it here? Omelette is cooked differently across countries, and the French version stands out from the rest. It was first made in the 16th century, with the name derived from 'amelette' in French.
They have a very smooth surface that excellent chefs create. The inside is tender, while the outside is soft. They are rolled up when served.
22. Escargot (Cooked Snails)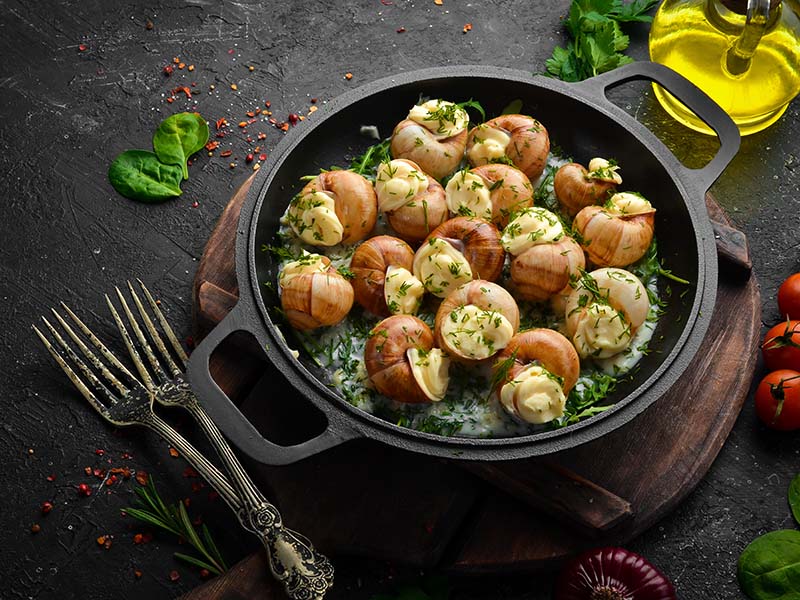 The name "escargot" is derived from the word "snail" in French. So it is simply a cooked snail dish. Escargot is a very common appetizer. The snails are cooked with wine, garlic butter and served with a baguette.
Although this dish is a traditional French dish, it was actually found by the Spanish 10000 years before it was introduced to France.
Escargot has an amazingly distinctive flavor that other food can hardly achieve. It has an earthiness that reminds you of mushrooms and, of course, a buttery and garlicky taste. Its aroma is very calm but remarkable.
23. Cuisses De Grenouille (Fried Frog Legs)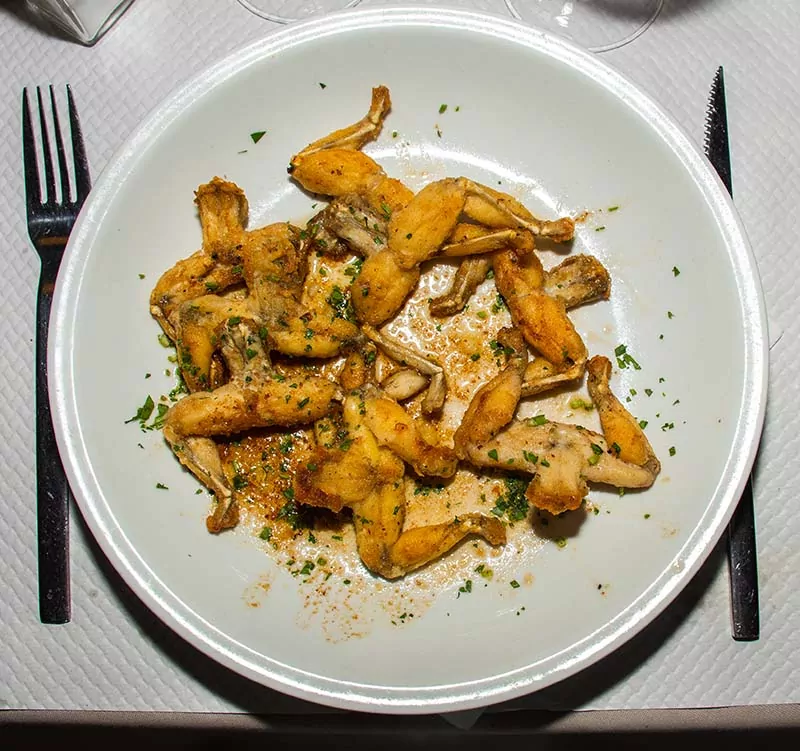 If you have a taste for exotic food, this traditional Cuisses de Grenouille is a must-try. It is a national dish that has been a part of French people's meals for thousands of years. So you should probably try it to immerse yourself in French culture.
On average, 80 million frogs are eaten by the French every year. That clearly showed how popular this food is.
This impressive dish is simply fried frog legs. They are smothered with garlic and butter and then fried. You can just hold the legs with your bare hand and eat them if you want. To enjoy it in a fancy manner, you can use a knife and fork.
24. Steak Tartare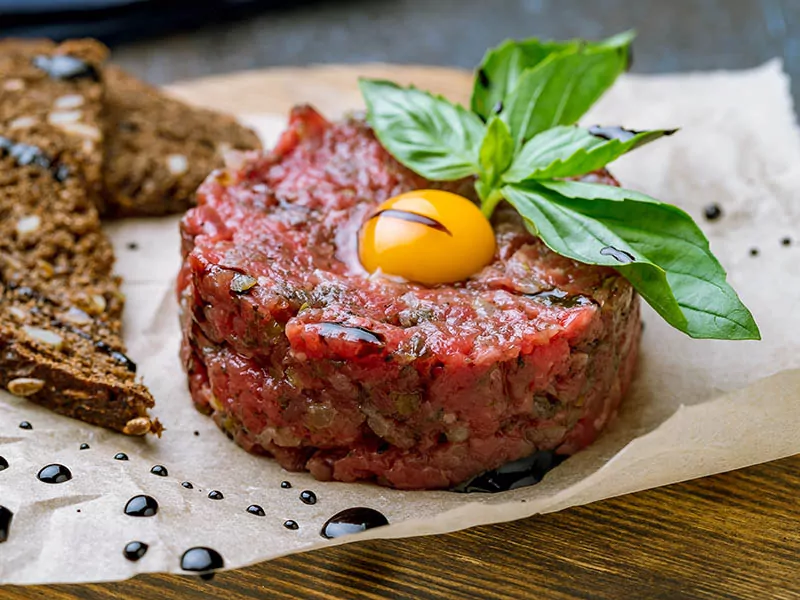 Since you are a real French foodie and have a good stomach, eating steak tartare will be a great culinary experience.
Although steak tartare is closely associated with French cuisine, it actually has a Mongolian origin and was spread to France by the Russian in the 17th century.
Steak tartare is completely made of raw meat and egg, so many people are wondering whether it is safe to eat. The answer is yes but with a condition. That is, it must be prepared carefully. To ensure this, you should go to a luxurious restaurant where the beef and eggs are of high quality.
If you are worried about the safety of steak tartare, learn more about it.
25. Lapin (Rabbit Stew)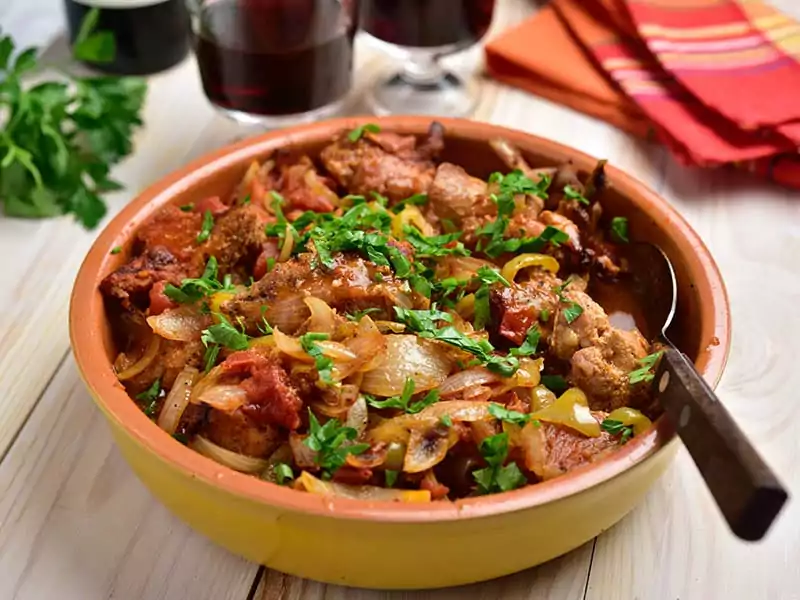 If you are searching for a French specialty that cannot be found in America, then lapin should be your go-to dish, especially if you have never tried rabbit.
Lapin first appeared in the 14th century, but it was not until the 19th century that it was distributed for commercial purposes in France. Before then, it was the traditional dish of the Algonquin people and Malta.
Lapan is inexpensive and very easy to find in France. Local people eat it the way that Americans eat chicken. You can enjoy it at any French restaurant.
French Sweet Desserts
As a fan of sweet treats, I am stunned by the richness and diversity of French desserts. And I want to share the most popular ones, some of which are considered the most beloved Mediterranean sweet treats. So I'm certain you'll have a lovely experience with these.
26. Tarte Tatin (Apple Tart)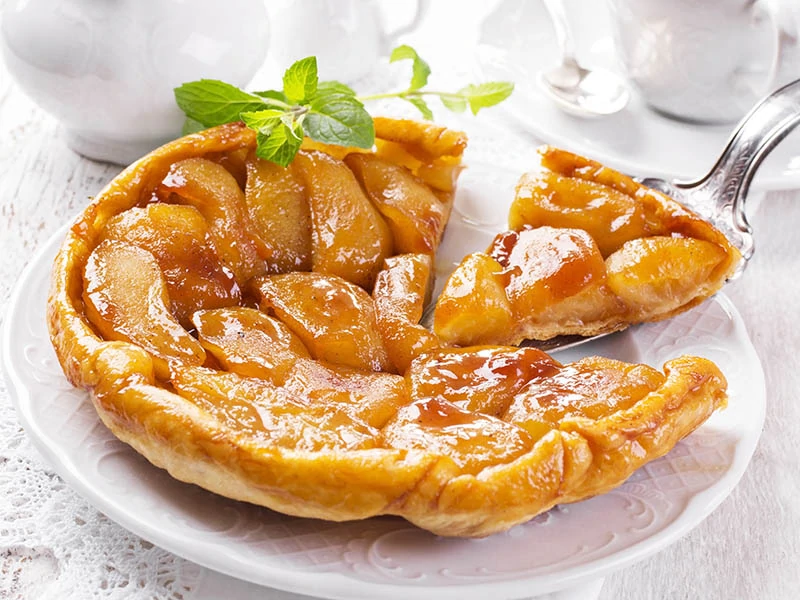 Tarte Tatin is a sweet dessert that will make your French experience better than ever. It is a tart named after the creators, Stéphanie and Caroline Tatin, in the eighteenth century. They first made it to serve in their hotel. But eventually, it became popular in the entire country.
This tart is made of a puff pastry with caramelized apple and brown sugar. Its sweet taste is fantastically charming and irresistible. It is one of the most universally loved and celebrated desserts in France. I have to warn you that its flavor is greatly seductive. You will eat too much of it.
27. Paris-Brest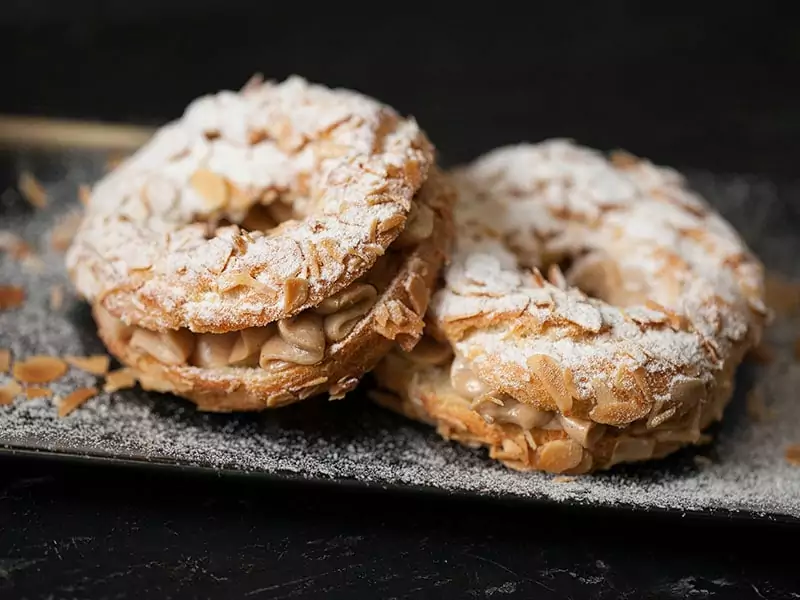 The beautiful and sophisticated look of Paris-Brest is enough for you to give it a try. The praline crème mousseline is covered with two layers of almond-studded pâte à choux. Not only does it look gorgeous, but its flavor is also very scrumptious.
Are you curious about why this pastry is named after the 2 famous cities of France? The story behind this is interesting.This name refers to the bicycle race event from Paris to Brest since it looks like a bicycle wheel.
People make this delectable pastry to celebrate the event, and it has become popular around the world these days.
28. Chocolate Soufflé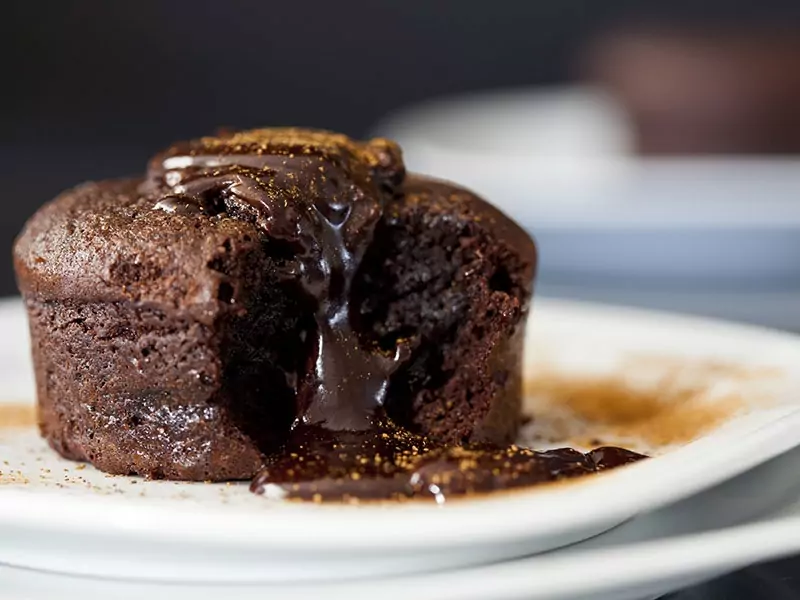 This dessert is native to French. It emerged around the 19th century and has been becoming increasingly popular around the world. The name "soufflé" was taken from the word "souffler", which means "expand".
Chocolate soufflé is a quite difficult dessert to make. And no version can be compared to the classic French original. That is the most convincing reason to try soufflé in France. Its sweetness will brighten up your day.
29. Brioche (Roll Bread)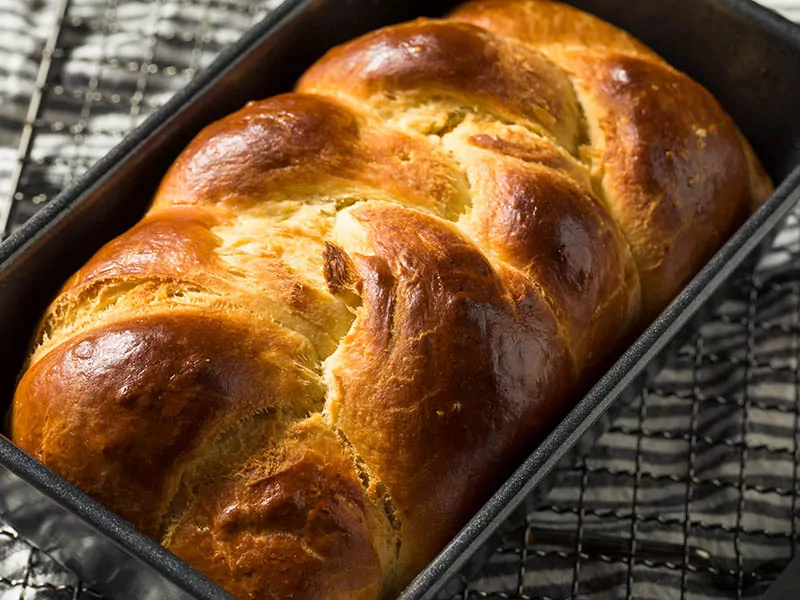 Brioche is a sweet and buttery kind of bread that is very pervasive in France. It is said to be first found in Normandy in the 15th century. Some people also believe that it was introduced to France by Queen Marie-Antoinette from Austria.
This bread does not have a distinguishing appearance. It looks just like common bread with golden brown skin and a puffy and tender texture. It tastes pretty much like bread but much richer, which will bring you a more intensive experience.
30. Beignet
Beignet is the synonym of "fritters" in French. Thanks to the Spanish who settled here in the centuries, it made its way to France. But it was first found long before that during ancient Rome. I bet that this dessert is familiar to you since the French brought it to America in the 18th century.
Traditionally, the beignet is made from pâte à choux, milk, yeast, and sugar. The most outstanding feature is its amazing crispy texture, making it a beloved French snack of both local people and travelers.
Additionally, there are several variations of this dish in Europe and America. For example, banana beignets are a famous dessert in Haiti, while in other variations, yeast dough or chestnut flour is used in place of pâte à choux.
31. Macaron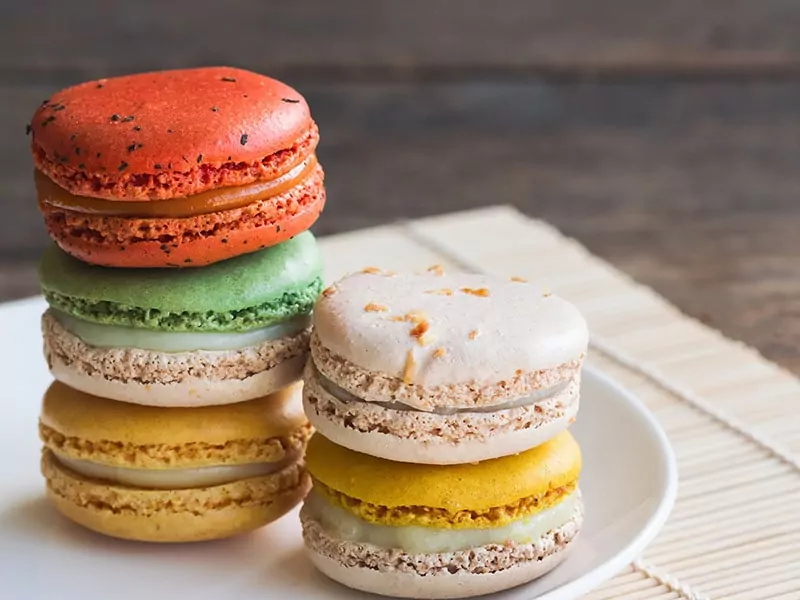 Perhaps the colorful and adorable macarons are very familiar already. The kids particularly love these iconic French cookies. When you taste them in French, your experience will be different because the authentic version is always more remarkable.  
Although it is commonly believed that macarons were created in France, they were from Italy. They were brought to France by Queen Catherine De Medici in the 16th century.
Macarons consist of two meringue-based shells and a sweet, creamy filling in the middle. They are great to enjoy during conversations because of their elegance and awesome sweet taste. No one is able to resist this iconic French dessert. 
---
Explore These Amazing French Foods
I believe that as you go through this list, you've picked for yourself the most impressive dishes to try on your French trip or at a French restaurant. None of them will disappoint you, I promise. Have a great trip!
If you find this article helpful, please give it a heartfelt share so that it can reach more people who are struggling with finding some French dishes to try. If you have other French specialties, share them with me and others in the comment section.