There are many best wines for fondue worldwide. Everyone knows fondue is a hot liquid that could be broth, oil, cheese, or chocolate in which bite-sized pieces of food are dipped into, but what makes them taste even is wine.
However, choosing the appropriate type of wine to go with a specific type of fondue requires some culinary knowledge, similar to when you choose ideal meat to serve with fondue. In this article, I will highlight the importance of selecting the right wine for fondue in cooking and serving.
Plus, I will also share tips for pairing both cheese and chocolate fondue with wines. So, let's roll down the page to explore!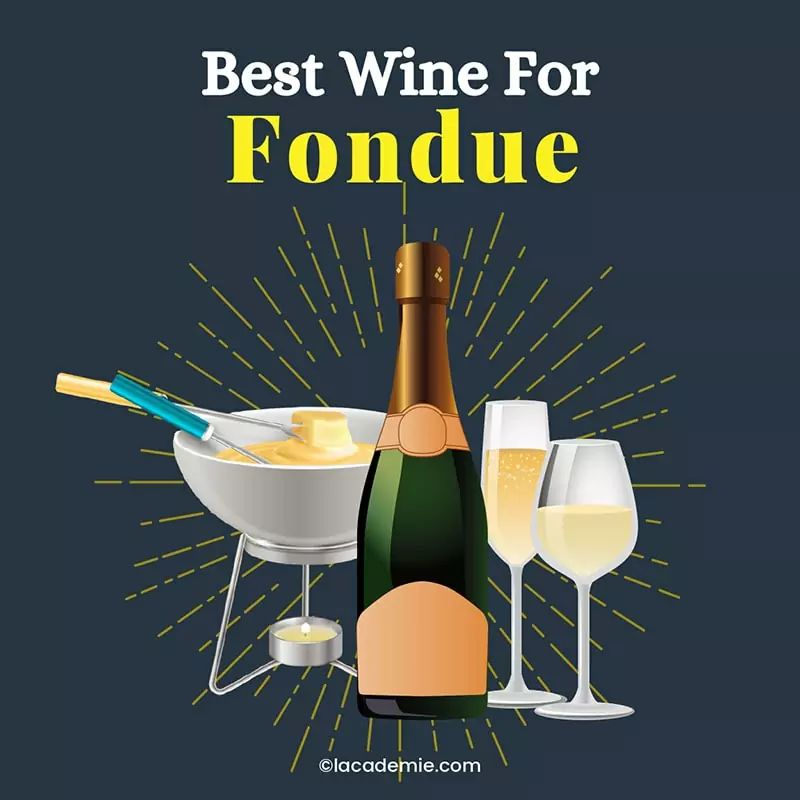 Best Wine For Fondue In Cooking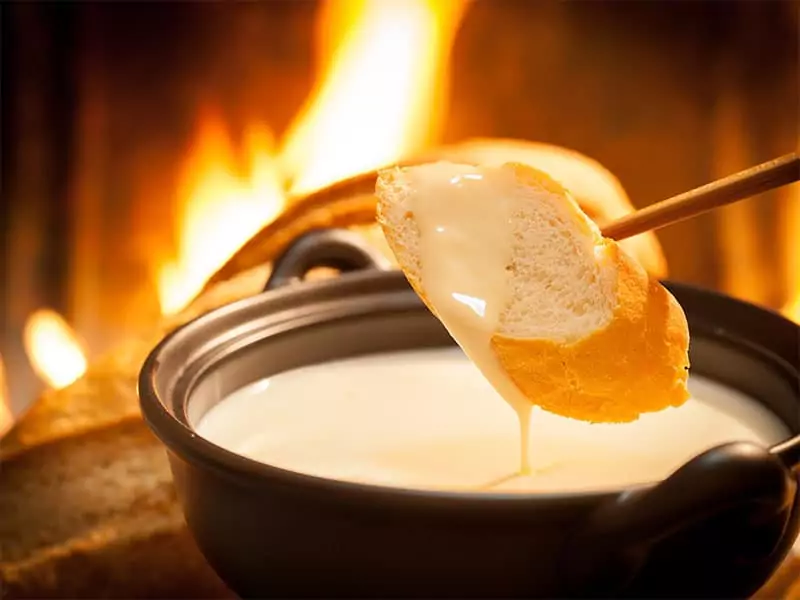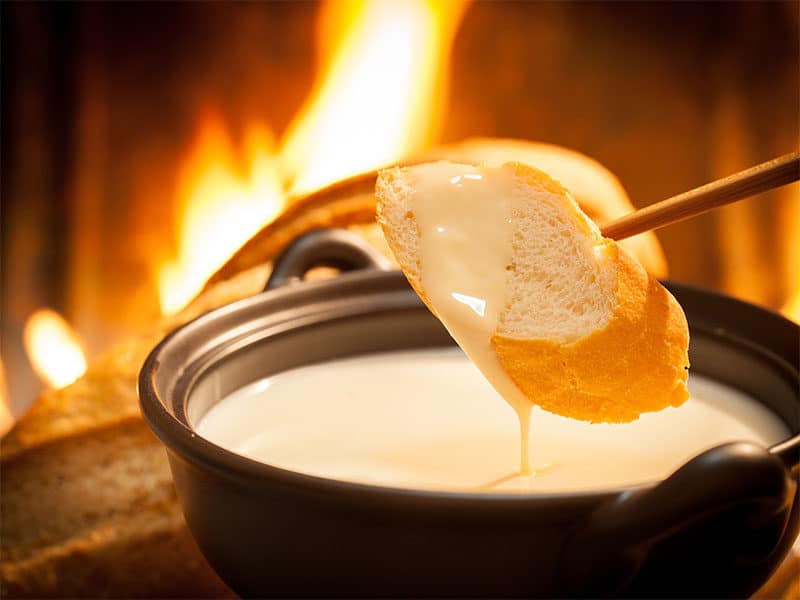 The first thing to consider when choosing wine for fondue is what's the best wine to use for cooking the fondue. The second thing is what's the perfect wine to serve with it?
Wine is applied to the fondue to cancel out the fattiness. The high acidity of wines also keeps the cheese from detaching and controls the mixture. So, it's best to add a crisp and light wine.
This type of wine will help to break down the cheese. Most recipes for fondue recommend a drier, crisp, and white wine. It's suggested that the drier the wine, the more tartaric acid it will have.
Do you know that Cheese fondue is a fantastic treat from Switzerland? However, purchasing Swiss wine isn't always a walk in the park in every part of the world. All their wines also cost more than others.
Thus, if you find one at your local store, you'd be better to consume it than use it in your food. Most dry wines will work with fondue. You can use an Italian Pinot Grigio. Or the same wine with different origins. You can also use Sauvignon Blanc from South Africa, New Zealand, France, the USA, etc.
Whatever you choose, keep in mind that a very dry wine would also slice via the fat of the cheese. Don't stress about the quality of the wine when it comes to cooking fondue. It's not important.
Keep the good one for consumption and add a cheaper one to your fondue. Now, let's throw a glance at some of the best wines for fondue you need to consider in the future.
Pepperwood Grove Pinot Grigio
This company has been making wines for two decades. It uses fruit from the greatest growing places on the planet and releases high-quality and well-accepted wines. The best part? They're cheap.
Meaning, anyone can get their hands on their wine. They're created in the Italian style. What I love most is their mineral-driven flavors of lemon and green tea. They're acidic, so they're perfect for fondue.
Dry, refreshing, and crisp, their wine works well with seafood or cheese. Meaning, you can also consume their wines. However, they're also a great choice for cooking fondue and similar cheese meals.
La Playa Estate Sauvignon Blanc
This pale gold and dry wine is made in Chile in the Colchagua Valley. This wine company has high-quality grapes on 597 acres and delivers a wide selection of wines for everyone's taste.
The Sauvignon Blanc is the perfect wine for this signature food from Swiss cuisine. It's well-balanced with a mineral and clean finish. Its acidity is high and great for stabilizing a fondue and slicing through the cheese.
Chateau De La Ragotiere Muscadet Sur Lie Black Label
This wine company is based in Brittany, France, in the Loire Valley. Their Muscadet is a product of grapes collected from vines that have been present for around six decades.
Their refreshing, crisp wine white hides notes of citrus. But here's the kicker. It's intensely acidic which makes it perfect for cooking cheese fondue. It's also great for drinking.
Watch this video to know more:
Best Wine For Fondue In Serving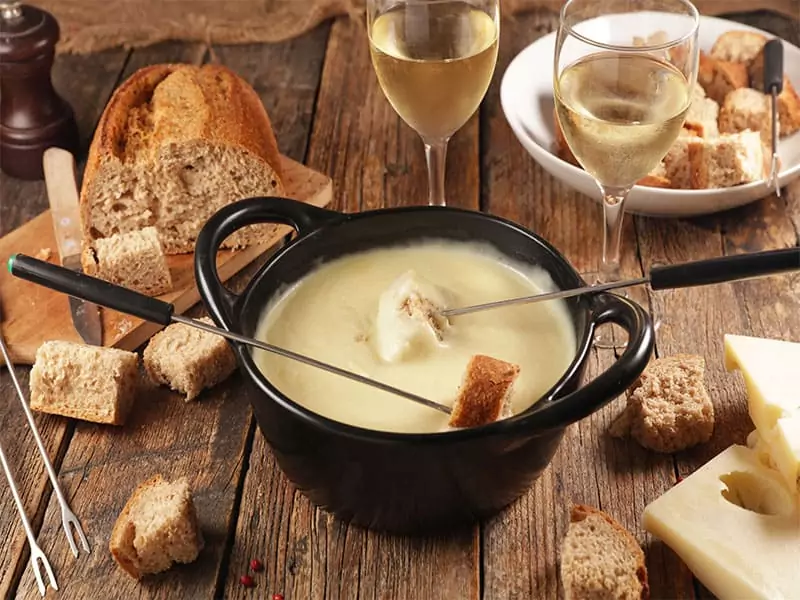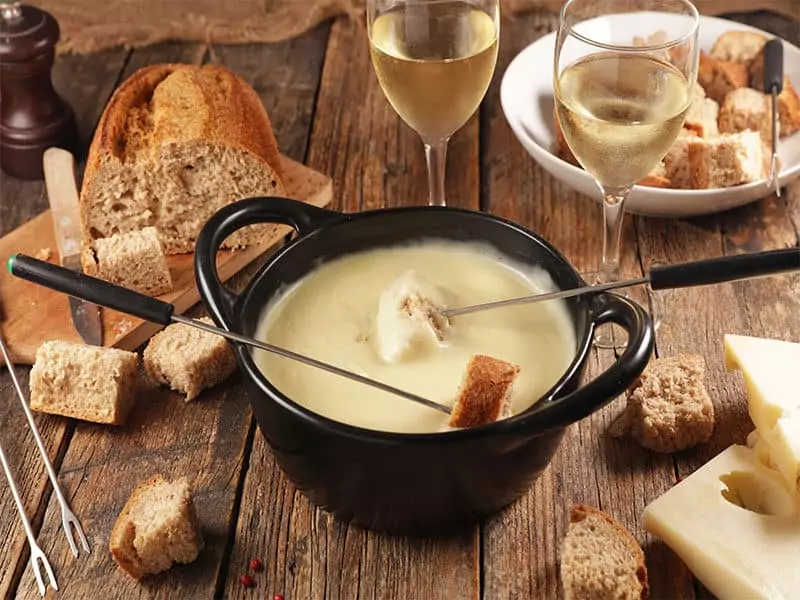 To help break down the cheese, professionals suggest consuming wine, kirsch, or herbal teas like the finest turmeric tea. They all help to make your gut feel lighter.
I've already suggested Swiss wines such as Rosette, Chasselas, and Chignin. They're excellent for cheese fondue. They're also difficult to find. However, don't worry! There's a wide array of substitutes.
You can use any dry, white wine. You can also use Alsace, Muscadet, or Chablis. The Gruner Veltliner or Austrian Riesling will also work well. If you prefer red wine, choose a fresh and light-bodied one.
Try Jura Poulsard or Gamay. Now, let's take a closer look at some great wines to serve your fondue with. They're all budget-friendly, delicious, and high-quality wines.
La Chablisienne Chablis Premier Cru Cote de Lechet
This wine is popular among both general users and wine connoisseurs. It's a superior-grade wine created from grapes grown south of Paris, in the middle of France in the Chablis part. I suggest this wine because it's crisp and dry with notes of ginger and acidic, lemony tones.
Hugel Pinot Blanc Cuvee Les Amours
The Hugel winery is situated in France, in the Alsace region. It's a family company founded in the 1500s. The company has the oldest cask worldwide which still works today.
Known as the Sainte Catherine, it was created at the finish of the rule of Louis XIV in 1715. Their Pinot Blanc is a light and crisp wine with flavors of pear and undertones of fresh lemon.
If you like unoaked Chardonnay or Chablis, you will probably enjoy this wine as well. It's similar in style to these wines. And makes an excellent companion to cheese fondue.
Domaine Jean Foillard Beaujolais-Villages
Coming from the Beaujolais part of France, this wine is made with the Gamay variety of grapes. It's one of the most delicious and classy red wines that provide flavors of bitter raspberry and cherry.
It's a light alternative that can be used chilled. The wine has aromas of red fruit and lavender and makes an excellent choice for individuals who prefer red wine and goes well with most cheese dishes.
Watch this video to know more:
Tips For Pairing Cheese Fondue With Wine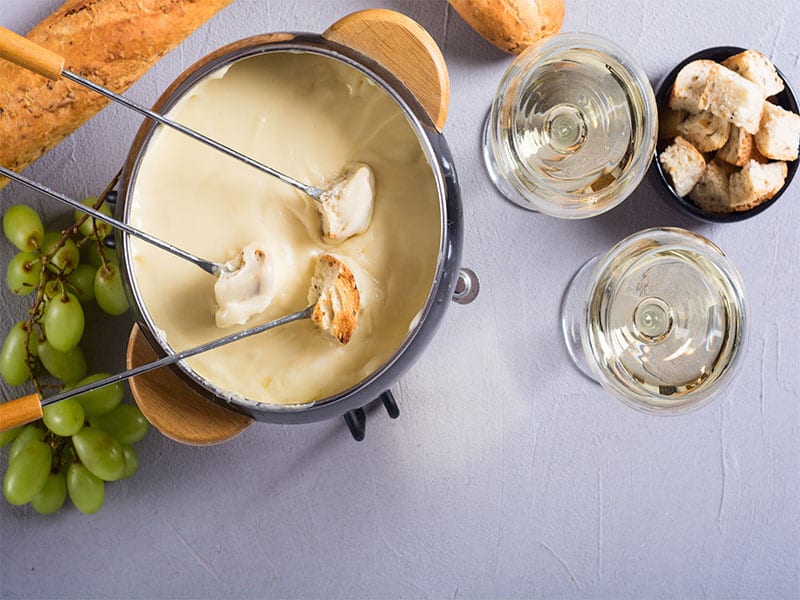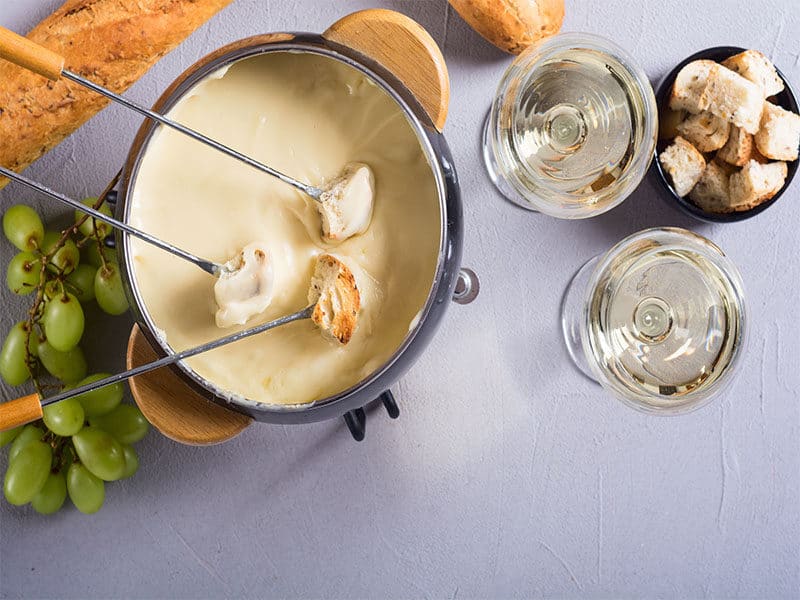 For some people, the term fondue means a pot of melted dark chocolate while others imagine a pot of melted cheese. However, the term originally originates from the cheese fondue.
When cooking a cheese fondue, there's a list of things to consider. First and foremost, you need to know that not all cheese is made the same. Regardless of whether you choose between white or yellow American cheese, a few slices of these in a pot will definitely not do the job.
Traditionally, cheese fondue is made with either semi-hard or hard Swiss cheeses with good grades and high-fat content. Emmental, Raclette, Fontina, and Gruyere aren't the same as well-known American cheddar cheese.
They're classic options you can choose from for your cheese fondue. They're also amazing on their own. However, they do have specific flavor profiles and intensities. Overall, they're great for your fondue.
Emmental, for instance, has a light flavor profile, not offering too much taste alone in a fondue. Another Swiss cheese – Gruyere, on the other hand, is rich and aggressive, so maybe it's too much to have alone in your fondue pots.
This is why a half and half mixture is prepared with half Emmental and half Gruyere. The delicate profile of the Emmental helps cancel out the aggressiveness of the Gruyere to provide a beautiful mixture.
These cheeses are rich and flavorful. Therefore, your fondue should be served with good acidic wine. If you're looking for a dry wine to consume with your cheese fondue, look no further than Muscadet.
Picpoul de Pinet is also worth considering. You can't choose just any wine. Opt for something with high acidity. Some people say that Sauvignon Blanc doesn't pair well with cheese meals because of the herbal properties. Chardonnay isn't a favorite among fondue enthusiasts as well because of the strong taste.
If you prefer red wine, opt for something light. Light red wines will work well with cheese fondue. Bold red wines, on the other hand, don't go well with this cheesy meal or any other cheesy meal.
Tips For Pairing Chocolate Fondue With Wine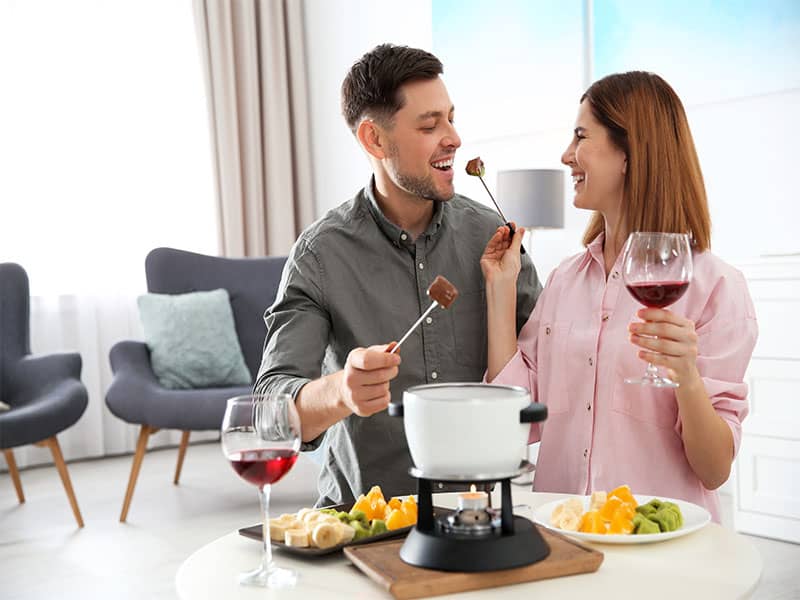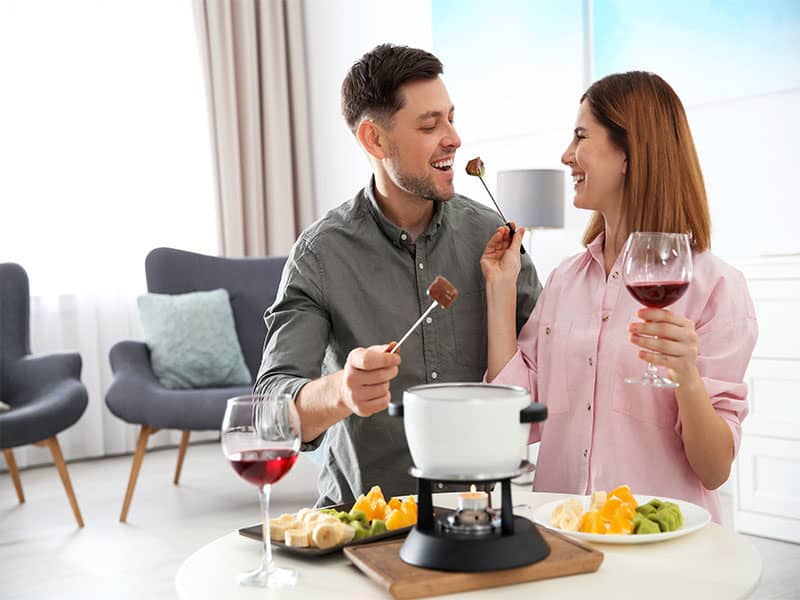 Again, if you prefer red wine only, perhaps a chocolate fondue is what you should pair it with. This type of fondue goes well with a glass of red wine. Trust me, it's a match made in heaven.
However, when choosing the right red wine to serve with chocolate fondue, there's a list of some things you need to consider. For starters, opt for high-quality chocolate and avoid cheap ones.
Also, consider the sweetness of your chocolate when buying red wine. Sweet chocolate goes well with sweet red wine, if not a little sweeter. If the gap between the sweetness of the chocolate and that of the wine is too big, the tastes won't get along. The color of your chocolate is also very important.
If your chocolate fondue is made of white chocolate, opt for something fruity or light. A sweet Resiling, a nice Moscato d'Asti, or a fruity Chardonnay make for a perfect pairing with white chocolate.
If you opt for milk chocolate, choose for something that's slightly dry but not too dry. Dry Riesling pairs well with milk chocolate, as well as Merlot or Pinot Noir. If you're utilizing dark chocolate, select a strong wine to cancel out the bitterness such as Cabernet Sauvignon, Chianti, or Zinafandel's wines.
In case you're utilizing dark chocolate with more than 70% cacao, pair with a full-bodied, bold wine such as Bordeaux or Malbec. If you don't know what chocolate you will find, drink a fortified wine.
Port, for instance, goes well with any of the chocolate options in a special manner. What's your favorite fondue? Do you have any wine suggestions? Share your tips in the comments.
A Match Made In Heaven
Dry white wine is the best wine for fondue. Whether you're drinking it and enjoying pieces of bread with your fondue or using it to slice through the cheese in cooking, it's a match made in heaven.
I have selected some of the best wines for both cheese fondue and chocolate fondue for the chocoholics out there. They're all affordable, high-quality, and pair well with your cheese or chocolate meal.
Your preference could be light red or crisp, dry white. Either way, they will enhance your experience. Do you have any wine suggestions? If so, drop a comment. Also, share this article with your friends.