So, what is so special about Korean drinks? Just like the traditional meals and interesting street snacks, the beverages here are all crazily intriguing and drastically distinct from one another.
Known for its long-standing love affair with alcohol, Korea offers a ton of delicious, flavorful, and aromatic alcoholic drinks. Unlike the fancy grape wines of the French, the Koreans make their wines from rice and local fruits – the signature ingredients of Asian cuisine.
Besides the alcoholic drinks, there are also about 200 different varieties of traditional teas, juices, and grain beverages. So if you're not in the mood for something boozy, this country will still get your back!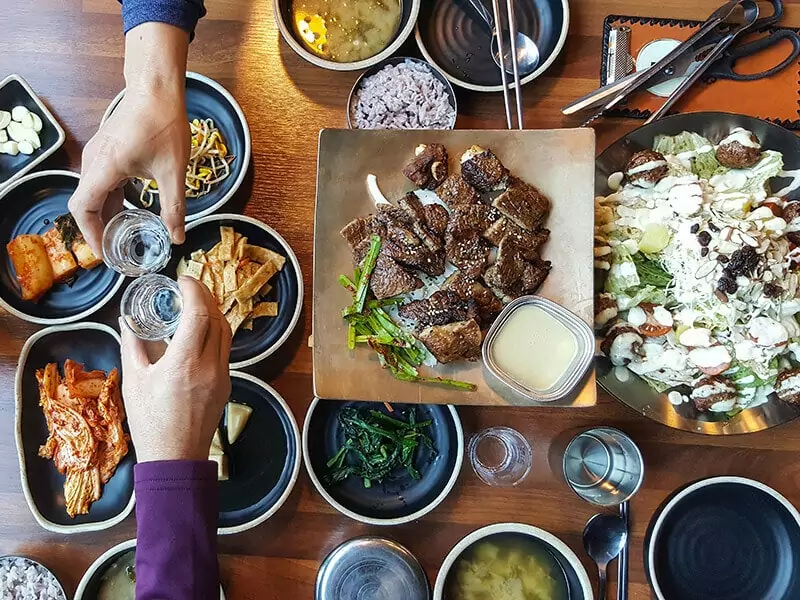 Now, what are you waiting for? Take a look at the drink options I listed below and note down your top choices. Then, once you have the chance to visit Korea, just use this article as a reference, and you're good to go!
Drink Culture in Korea
Drinking culture in Korea boasts a long history, with alcohol often consumed during holidays, New Year celebrations, and various social events.
The tradition of drinking in Korea is deeply connected to the aesthetic passing of seasons and farming activities. Rice wine, known as Takju, is frequently enjoyed along with a light breakfast menu (Saecham) and accompanied by traditional Korean music (Nongak).
During the Korean New Year, locals drink Soju to drive away bad spirits, often opting for Dosoju, a type of herbal Soju. Other important celebrations include Daeboreum and Dano.
Daeboreum, which takes place on the 15th day of the new year on the lunar calendar, is marked by moon-viewing events. People drink Daeboreum, or "ear-quickening wine," in the hopes of hearing good news. Dano, celebrated on the fifth day of the fifth month, involves drinking a concoction mixed with Changpoju, which is believed to promote good health and longevity.
Korean Alcoholic Drinks
Given that Koreans work some of the longest working hours, drinking alcohol is viewed as a way to bond with colleagues and relieve stress. Due to this rising demand, Korea has produced countless tasty alcoholic beverages. Let's check them out now!
1. Soju – Rice Wine
Alcoholic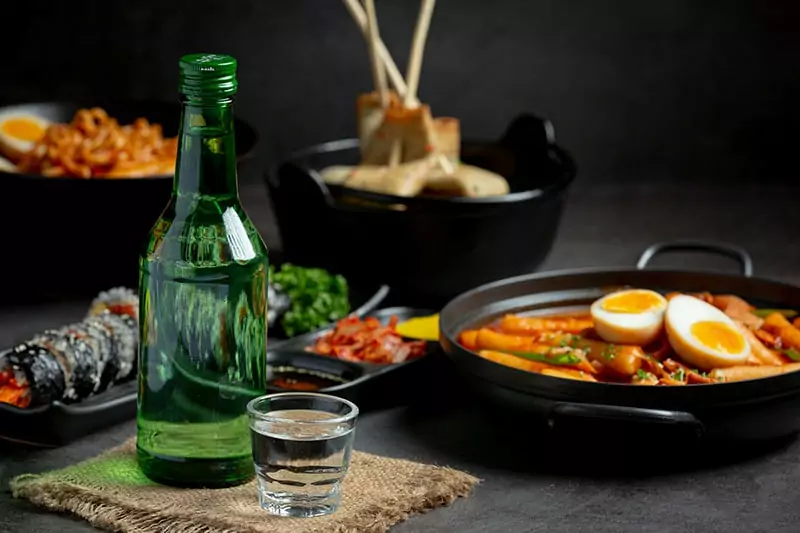 If you ask the Koreans about their country's national liquor, they will definitely talk about Soju. This inexpensive, distilled drink comes in gleaming green bottles, and it is available in nearly every dining and drinking occasion in Korea, even featured in many K-drama shows.
This best-selling spirit is generally low in alcohol and has a mild, slightly sweet flavor similar to watered-down Vodka. This flavor makes it the perfect pairing with delicious traditional Korean dishes. There are also numerous cocktails that include soju.
Soju is made from fermented rice, although it can also be made from wheat, barley, sweet potatoes, or tapioca. It is thought to have first arisen when the Mongols taught the Koreans how to manufacture alcohol in the 13th century.
Chamisul and Chum Churum are the two major soju brands that dominate the Seoul market. There are also many other regional brands outside of Seoul; some offer handcrafted Soju with higher alcohol content.
Find this drink at: Every supermarket, convenience store, bar, pub, or restaurant across Korea.
Want to know more about Korea's #1 selling liquor? Here's some information about Soju!
2. Cheongju – Rice Wine
Alcoholic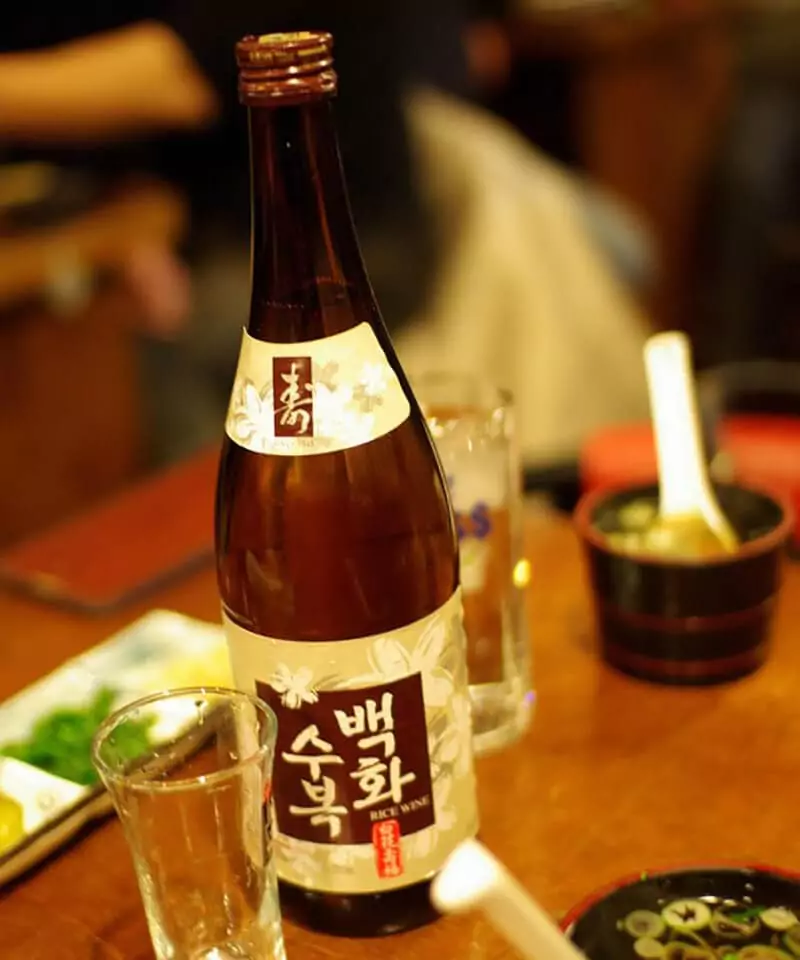 Here is another nationwide famous beverage in South Korea, often translated as "clear wine" – Cheongju or yakju! Compared to Soju, this drink is a bit more expensive. However, many locals say it is worth it since Cheongju is tastier and prettier.
To make Cheongju, the locals ferment polished rice many times and filter it to create a clear, crisp, and mildly sweet liquor. This refined rice wine is an essential ingredient in countless Korean-related dishes, mainly in marinades and sauces.
This traditional liquor used to be served in the royal court. But nowadays, it is available everywhere, especially during ceremonies or other important occasions. Koreans often brew it in the winter between November and March and serve during the season or chill it in the summer.
Find this drink at: Any supermarket, convenience store, bar, pub, or restaurant around Korea.
3. Makgeolli – Rice Wine
Alcoholic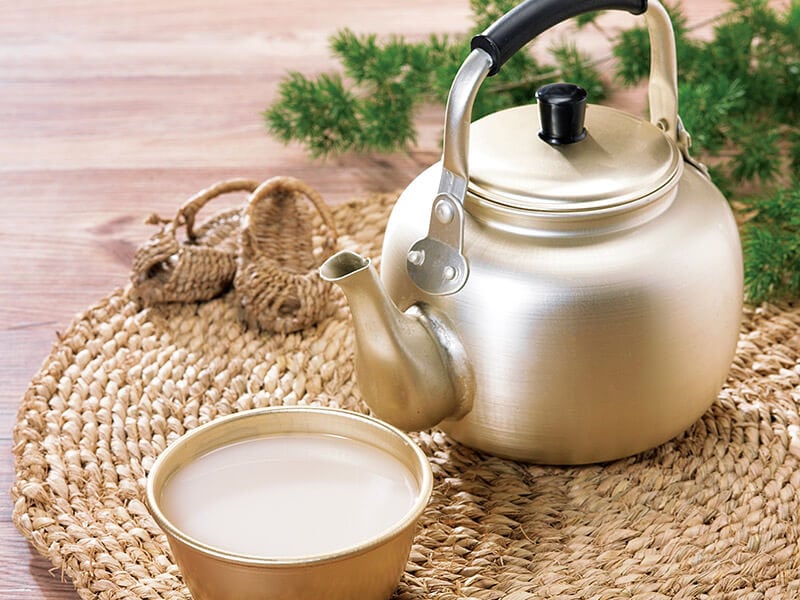 Known as the oldest alcohol in Korea, Makgeolli, or farmer's drinks, is truly a must-try when visiting this country. People often order this alcoholic drink while enjoying a plate of Pajeon – one of the most famous street foods in Korea.
Because this drink goes back to the 10th century, mainly serving the working class, it doesn't have a clear and crisp appearance like Soju and other modern liquors. However, its classic milky white tint and mildly sweet taste are still very appealing to both young adults and the elderly.
Locals make the mixture from rice, fermenting it using nuruk (a Korean fermentation starter) to produce a carbonated mixture. In South Korea, Makgeolli usually comes in a metal kettle for serving and is often consumed in a bowl.
Makgeolli had grown in popularity over the last decade when it made a comeback as a fruit cocktail, a drink prepared with Chilsung Cider (Korea's equivalent of Sprite). This modernized version of Makgeolli is available in many bars and pubs around South Korea.
Find this drink at: Many Korean liquor stores, restaurants, or online. Makgeolli fruit cocktail is available in local bars and pubs.
Let's see how a master fermenter in Korea makes Makgeolli!
4. Bokbunja-Ju – Black Raspberry Wine
Alcoholic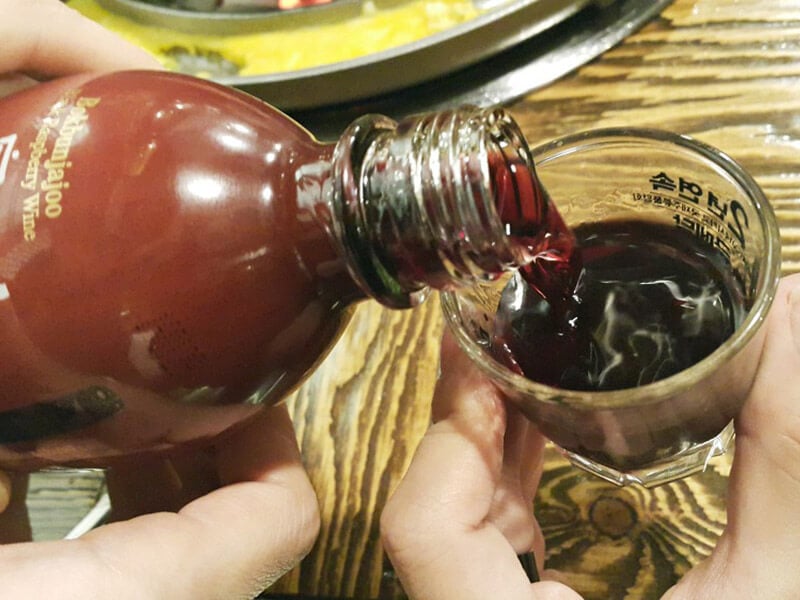 The main ingredient of Bokbunja-Ju is Bokbunja berry (a tasty raspberry variant in Korea) fermented in water. Some variations may come with rice or reishi extract for extra flavors. This native berry gives the wine a signature blood-red color and sweet berry flavor.
Bokbunja berry is already known for its health benefits, so it should come as no surprise that this delicious wine is also incredibly good for your health. Research has shown that this drink is high in vitamin C, vitamin A, and antioxidants, which can aid in heart and liver protection.
A 2008 research in South Korea showed that Bokbunja berry could enhance testosterone levels and sperm counts in mice, confirming that this wine can help with male virility.
This wine is often served chilled and pairs nicely with meat, seafood, and any other traditional Korean dish. With an alcohol content ranging between 15% and 19%, Bokbunja-Ju has a medium alcoholic drink.
Find this drink at: Any restaurant, pub, and bar all over South Korea.
5. Baekse-Ju – Rice Wine
Alcoholic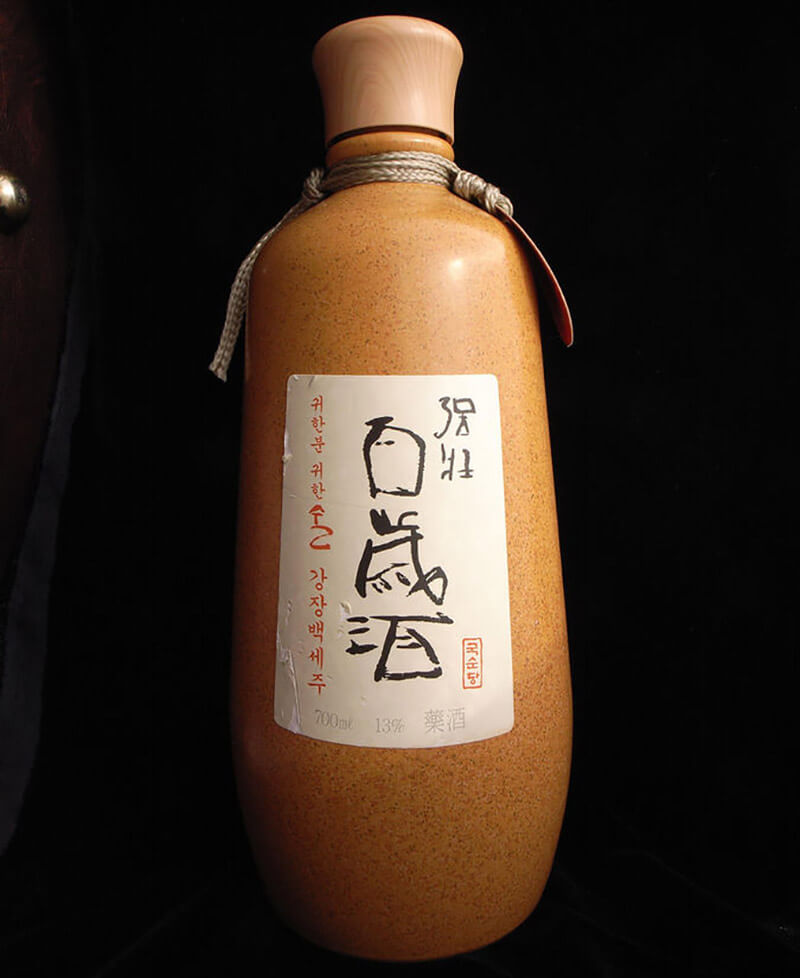 If you consider yourself an old-fashioned wine lover, you have to try Baekse-Ju, a fermented glutinous rice drink. This herbaceous yellow wine is prepared with rice and various roots and herbs; the most notable one is ginseng. Other aromatics, such as wolfberry, ginger, cinnamon, and licorice, will vary depending on the brand.
Baekse-Ju was initially released in 1992 under the name Jibong'yuseol. To maintain its popularity in today's market, the company has made certain changes to the original recipe. This old-fashioned drink pairs amazingly well with grilled meat and spicy dishes.
This fancy rice wine is much pricier than Soju and beer, but this is totally understandable since ginseng is very rare, healthy, and expensive. Some locals even say that drinking Baekse-Ju will help you reach the age of 100 years!
Baekse-Ju usually has a mellow flavor accompanied by a touch of ginseng. Koreans often enjoy it with spicy food for a mix of flavors.
Find this drink at: Some restaurants, supermarkets, and liquor stores in Korea.
6. Maesil-Ju – Plum Wine
Alcoholic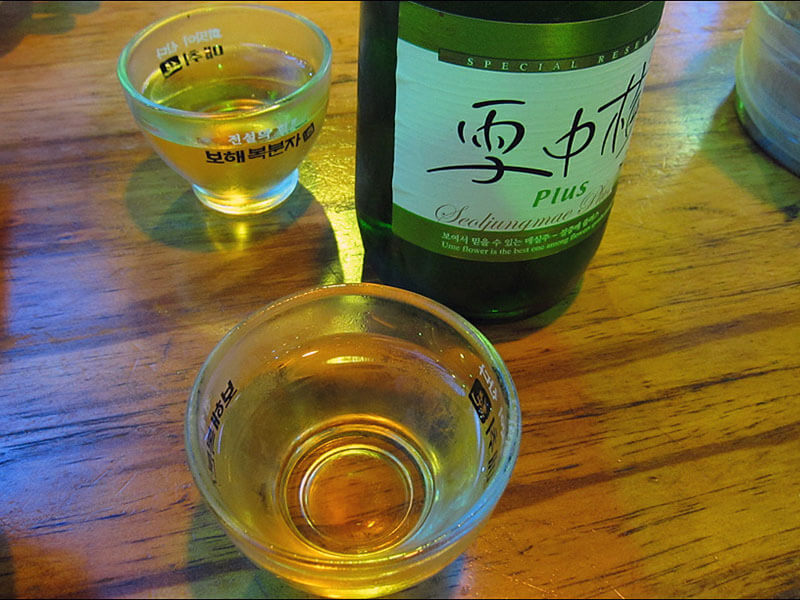 When summer comes around, you will catch sight of large netting bags packed with little green or yellow plums. Even other East Asian countries know about this tasty Korean fruit and it often appears in a variety of local recipes, including Maesil-Ju.
When making this drink, winemakers will use ripe and firm yellow plums (known as hwangmae in Korean). The green ones are usually harder and less aromatic, so they are less common. Interestingly, Maehwasu (plum liquor) is usually the main version of Maesil-Ju.
Locals never use bruised or damaged fruits. This is because plum seeds contain amygdalin, so they can release prussic acid when making direct contact with alcohol. The amygdalin concentration of ripe plums is significantly lower.
Typically, it takes over 100 days of steeping dried plums with soju in a clean container to produce Maesil-ju liquid before introducing it with sugar for extra sweetness. While you may drink it after steeping, it's best to let the flavor develop for an extra three to six months.
Find this drink at: Some restaurants and liquor stores in Korea.
7. Maekju – Beer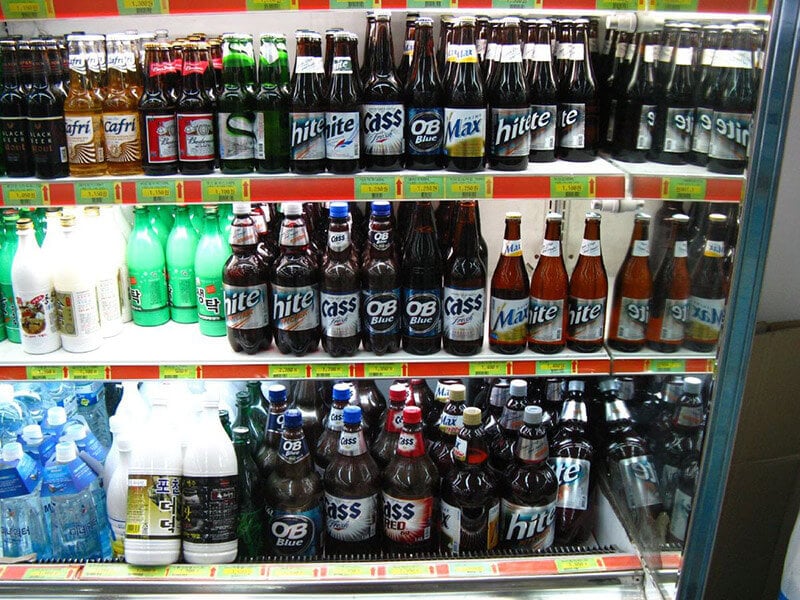 Beer was first brought to Korea by Europeans in the early 20th century, but it is now one of the most well-known beverages throughout the country.
The locals love to combine beer with a shot of Soju to make it more fruity and tasty. This combination is called "Somaek" in Korean.
The beer market in South Korea is now controlled by two leading manufacturers, Hite-Jinro and Oriental Brewery, with various brands available throughout the country. However, more and more microbreweries have recently sprung up throughout the nation.
Homebrewing is becoming increasingly popular in South Korea. There are even many brewing groups to assist beginners with the process of home brewing.
Find this drink at: Any convenience store, supermarket, or restaurant around Korea.
8. Dongdongju – Fermented Rice Liquor
Alcoholic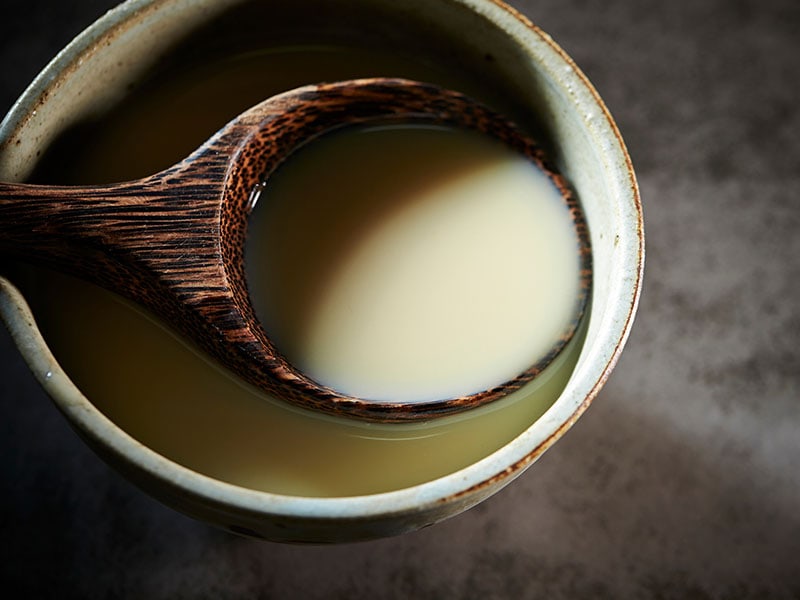 Dongdongju is a cherished traditional liquor hailing from Gyeonggi-do, distinguished by the boiled rice that appears on the drink's surface during the brewing process. There are two primary methods for preparing Dongdongju, each with its unique ingredients and techniques.
The first approach combines non-glutinous rice, water, yeast, and wheat flour to create a distinctive blend. Alternatively, the second method omits wheat flour and employs glutinous rice instead. Both techniques yield a subtly tart and sweet concoction.
The optimal brewing season for Dongdongju falls between September and November when conditions are ideal for crafting this traditional beverage. A typical production ratio involves using 100 kilograms of glutinous rice, 15 kilograms of yeast, and 14 liters of water. This combination can produce approximately 240 liters of Dongdongju over a 15 to 20-day period.
Find this drink at: Liquor stores in Korea or convenience stores.
9. Insam-Ju – Ginseng Liquor
Insamju is also recognized as ginseng liquor or ginseng wine. This distinctive beverage is a cherished specialty in both North and South Korea. Its rich history spans over 1,500 years, tracing back to the Baekje Kingdom in 18 B.C.
The drink is crafted by combining soju, a popular Korean spirit, with ginseng, a valued medicinal herb. Insamju is typically presented in clear bottles, allowing the whole ginseng root within the soju to be visible.
You can savor Insamju either hot or cold, depending on personal preference. Commonly, the ginseng component is believed to provide energy and enhance eyesight. Additionally, Insamju is known for not causing hangovers, making it an attractive option for those who enjoy indulging in alcoholic beverages.
Find this drink at: High-end liquor stores and supermarkets in Korea.
Korean Non-Alcoholic Drinks
As I mentioned earlier, there are roughly 200 distinct types of non-alcoholic beverages in Korea. This vast number might seem overwhelming at first, but fear not, I have made a short and detailed list of the most interesting and worth-exploring ones! Enjoy!
Korean Soft Drinks
Need a quick refreshment while strolling on the streets of Korea? Make your way to the nearest convenience store or vending machine to grab yourself a can of soft drink! While American soft drinks are abundant in Korea, I highly recommend you try out the local options below.
10. Milkis – Yogurt Soda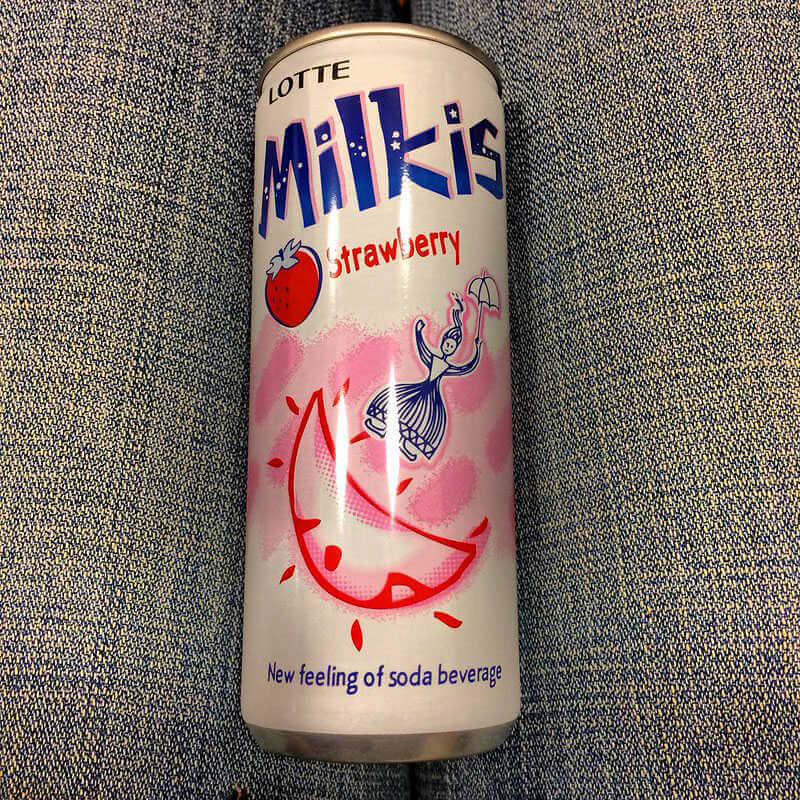 Milkis, also known as milk and yogurt soda, is one of the most well-known and well-loved South Korean non-alcoholic soft drinks. It made its first appearance in 1989, but it managed to maintain its popularity until this very day.
This fizzy soft drink contains carbonated water, milk, and sugar. It also comes in a wide selection of fruity flavors, including melon, mango, peach, banana, orange, apple, and strawberry.
This iconic refreshment is sold at nearly every eclectic grocery store or convenience store worldwide. So if you don't have a chance to travel to Korea, you can still buy and enjoy this drink with ease!
The most iconic manufacturer of Milkis has to be Lotte Chilsung, with products possessing a taste similar to a melting mousse.
Find this drink at: Countless grocery stores or convenience stores worldwide. Nearly every supermarket and convenience store in South Korea has this drink.
11. Chilsung Cider – Lemon-lime Soft Drink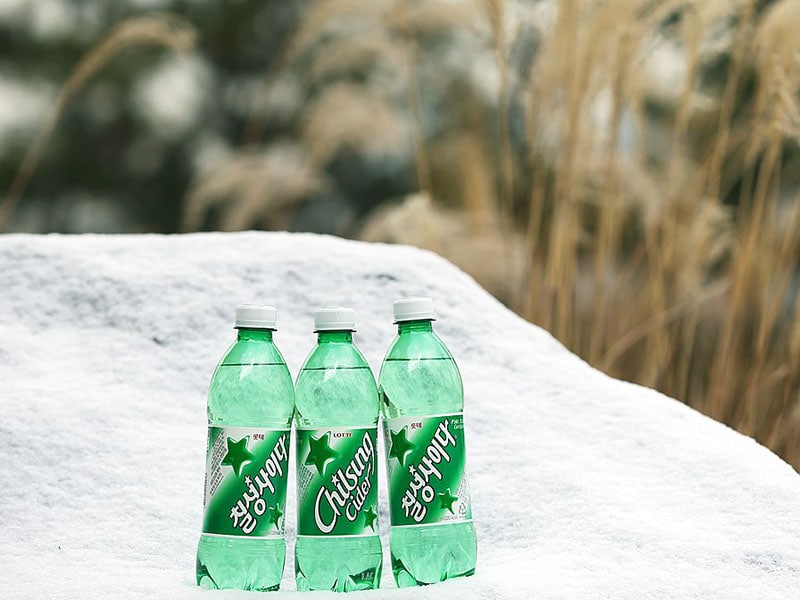 Chilsung Cider has been the national drink of Korea since its introduction in 1950, with over a million bottles sold. So it is safe to say that this lemon-lime drink is Korea's No. 1 original carbonated beverage.
This soft drink isn't your typical apple-based fizzy cider; instead, it's more similar to Sprite or 7-Up. It has a cream-soda texture, free of caffeine, and possesses a subtle lemon-lime taste that many locals love. Nowadays, its manufacturer also produces green tangerine and peach-flavored drinks.
Not only is Chilsung Cider the perfect refreshment during the hot summer days, but it is also a necessary base for many delectable cocktails, alongside Toreta, another popular fruity refreshment.
Find this drink at: Every supermarket, vending machine, or convenience store in Korea.
12. Bacchus – Energy Drink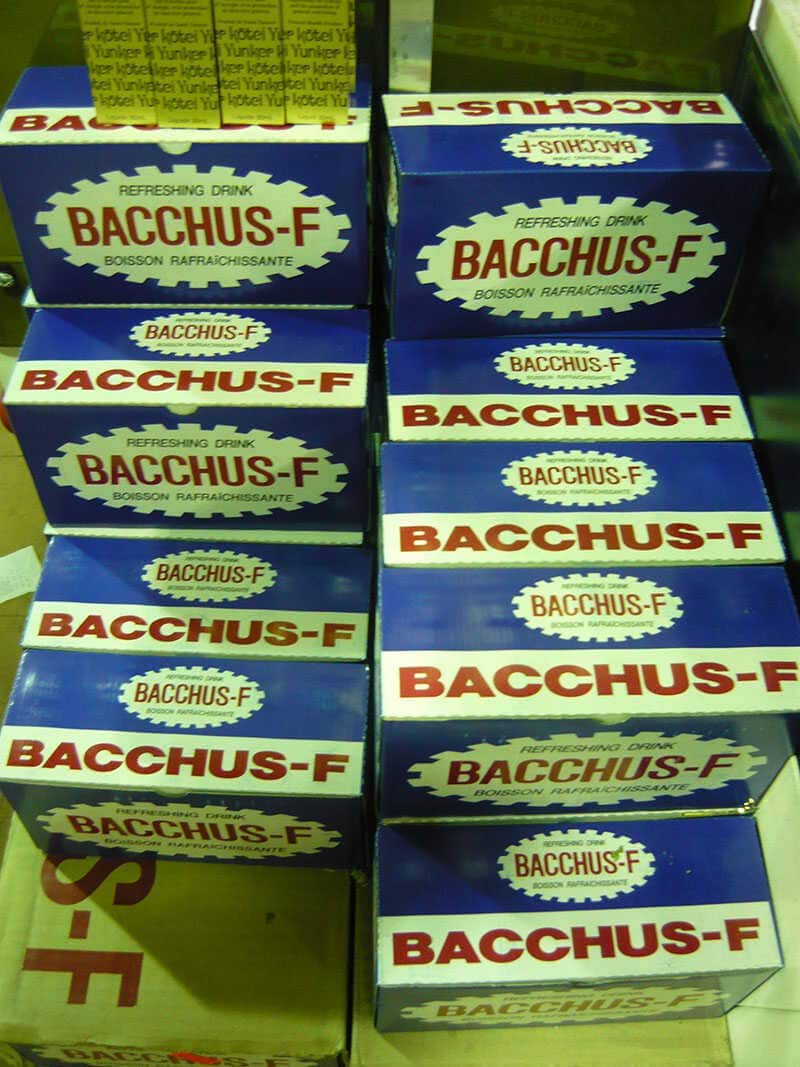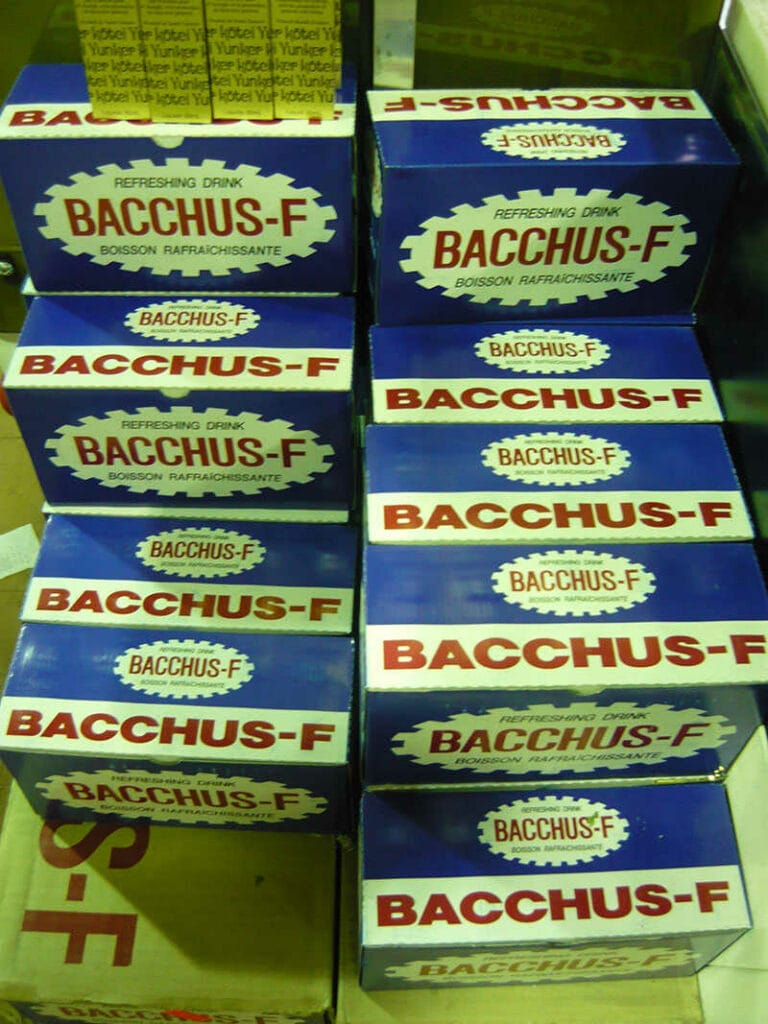 If you're a fan of Red Bull, you will definitely like this drink! Bacchus was first advertised as a hangover cure in 1963 by Dong-A, a pharmaceutical business. However, it is now a well-known energy booster.
Water, corn syrup, and sugar make up the majority of the drink, but the secret ingredient here is taurine (a conditional amino acid that can affect mental and athletic performance).
Lately, this caffeinated energy drink has gained popularity in America alongside other well-known energy drinks. Sometimes, people will turn Bacchus into a party drink by mixing it with a shot glass of Vodka.
Find this drink at: Almost every supermarket, vending machine, or convenience store around the country.
Korean Coffee and Tea
While most people make tea by pouring hot water over tea leaves, the Koreans can brew tea with whatever they have. Flowers, garden roots, fruits, you name it! Besides tea, there are also many coffee options in this country. Check them out now!
13. Dalgona Coffee – Whipped Coffee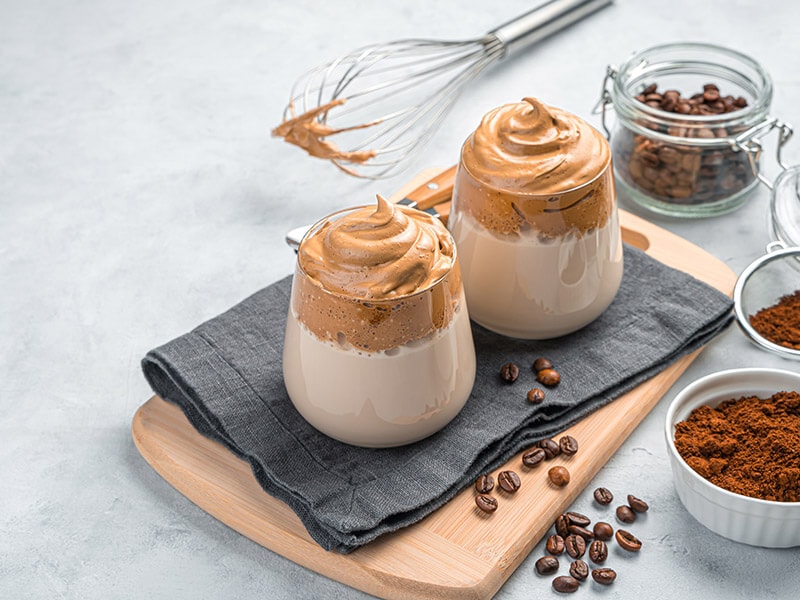 Although many people believe Dalgona coffee has been a mainstay in Korean cuisine for a long time, this is simply not true. It only started to gain worldwide fame around January 2020 on Tiktok and Youtube amid the Coronavirus pandemic.
This drink was first created in Macau in 1997. Then, actor Jung Il-woo popularized it to the world when he ordered it during his appearance on a South Korean TV show.
This Dalgona drink is a frothy whipped coffee served with milk. You can make this coffee yourself by whipping equal parts of instant coffee, sugar, and hot water until it has a caramel-like color and a frothy texture. The drink usually has a taste similar to honeycomb toffee.
The flavor of this coffee drink is identical to Dalgona candy, a popular Korean dessert. When actor Jung Il-woo tried this drink, he also said this flavor reminded him of Dalgona candy, a beloved Korean street food item. That is when people started calling this drink "Dalgona coffee".
Find this drink at: Many restaurants and cafes around Korea. However, you can make this drink at home with ease.
14. Sungnyung – Roasted Rice Tea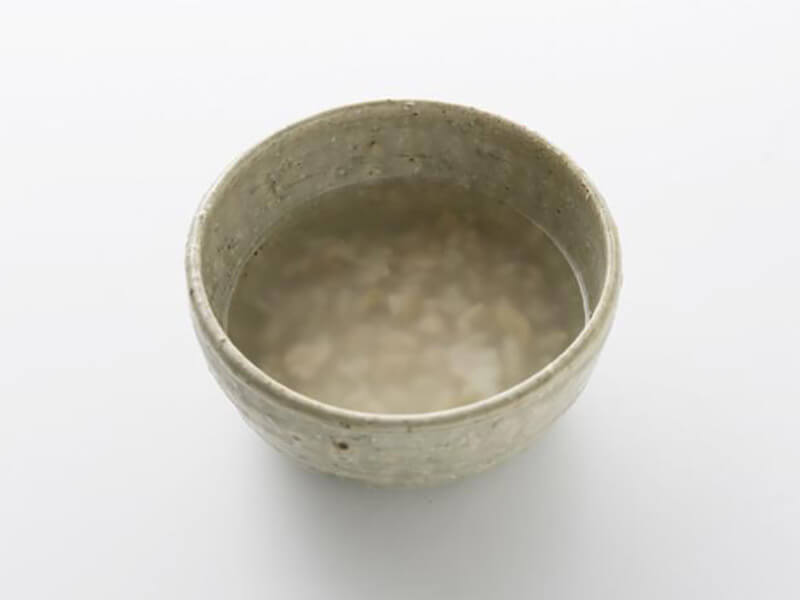 Sungnyung is a traditional beverage with a long history in South Korea. In some ways, it's quite similar to Genmaicha, a Japanese beverage made using brown rice and tea. However, Sungnyung stems from the practice of cooking rice in heavy iron pots, which was the norm at the time.
When you cook rice this way, there will be a layer of roasted rice (or nurungji in Korean) at the bottom of the pot. Locals will use water or barley tea to loosen it, creating a warm and starchy broth to cleanse your palate after a heavy meal.
Sungnyung has a somewhat nutty flavor and a light brown hue. Many people believe this ancient drink is incredibly good for your health.
Find this drink at: Any restaurant that serves rice in an iron pot. You can also make this yourself if you have this kind of pot at home.
15. Bori-Cha – Barley Tea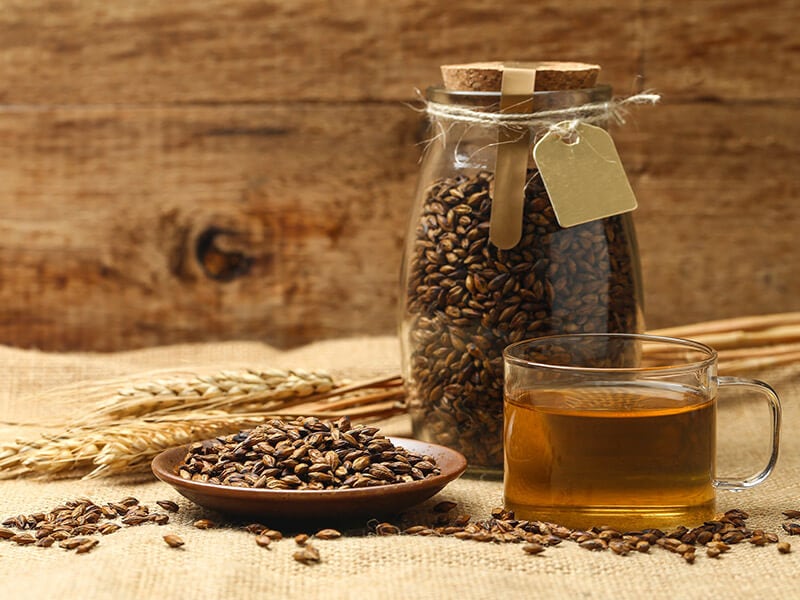 Besides Korea, you can find variations of this caffeine-free pan-Asian drink in China and Japan. This Asian recipe usually only calls for roasted barley seed, but it can also include roasted corn or chicory. You can enjoy this drink in either hot or cold seasons.
There are several brands of barley tea available all around this country, some may come in a tea bag. Bottled barley tea is typically offered in Korean supermarkets, convenience shops, and vending machines. During the winter, hot Bori Cha will be sold in heat-resistant PET bottles.
Find this drink at: Any supermarket, convenience store, and vending machine in Korea. You can also order hot Bori Cha in many cafes.
16. Gukhwa Cha – Chrysanthemum Tea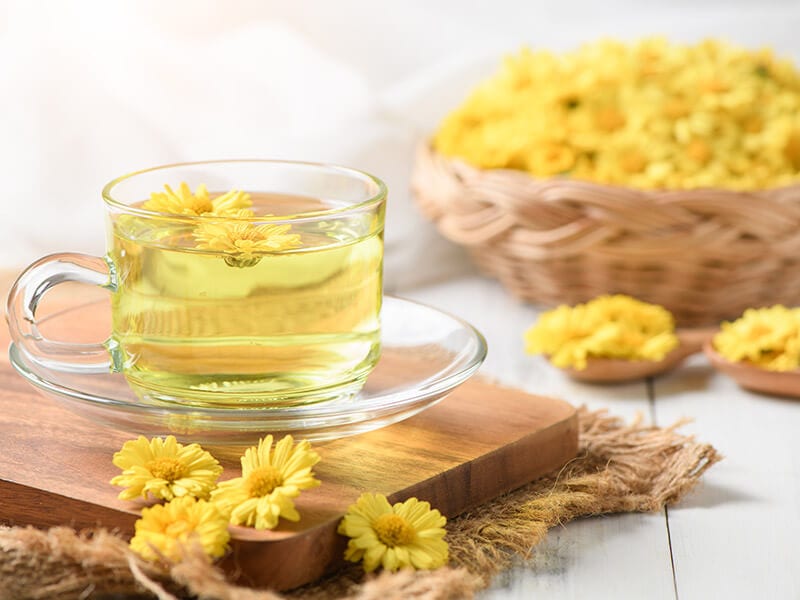 Do you know you can make tea from a flower popular in East and Southeast Asia? Take a look at Gukhwa Cha! To make this drink, locals will dry white and yellow chrysanthemum blooms, steep them in honey for 1 month and brew them as tea. The lovely drink is famous in China and Korea alike. 
In other versions, the flowers will be blanched in bamboo salt water, washed with cold water, and drained well. Then, the locals will wrap them in Korean mulberry paper and leave it to dry in a floor-heated room. To drink it, you just need to put 3 to 4 flowers in hot water and enjoy.
Since chrysanthemum flowers are so beautiful, chrysanthemum tea is also visually stunning. Plus, these blooms give the tea a delicate floral flavor that you can hardly resist. Drinking Gukhwa Cha can help you deal with inflammation, prevent high blood sugar, and aid in weight loss.
Find this drink at: Many cafes and local markets in Korea.
17. Maesil Cha – Green Plum Tea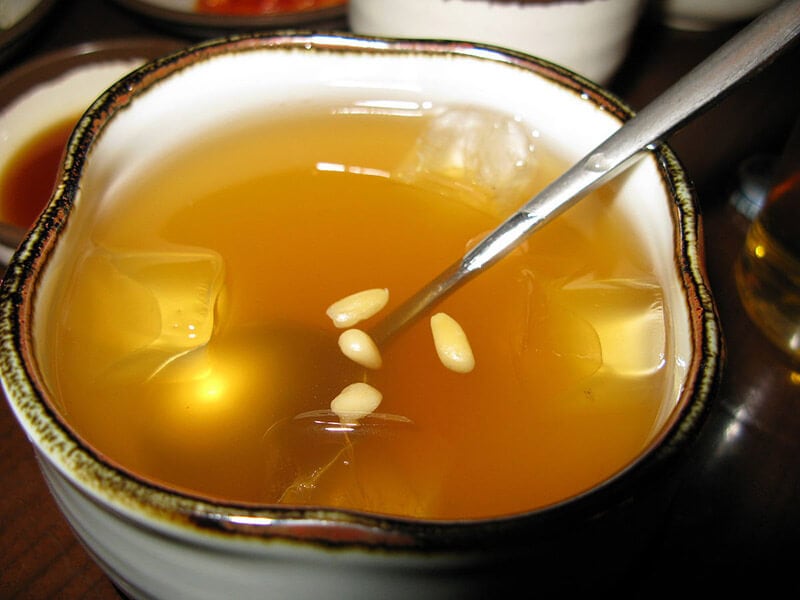 Remember the alcoholic Korean plum wine that I mentioned in the last section? If you enjoy the flavor and aroma of that plum drink, you should also give green plum tea a try.
Each Korean household has a different way to prepare Maesil Cha, but most people will ferment the plums to turn them into a thick syrup. Then, they will mix this maesil syrup with hot water to make a sweet, relaxing tea. Some will combine it with sparkling water to make a refreshing soda.
Maesil will never go bad in its syrup form. But if you ferment the plums for too long, they will eventually become alcoholic, resulting in Maesil-Ju.
Find this drink at: Most locals will make it at home, but some cafes and restaurants also serve it. Bottled Maesil Cha is also available in many supermarkets, vending machines, and convenience stores.
18. Daechu Cha – Dried Jujube Tea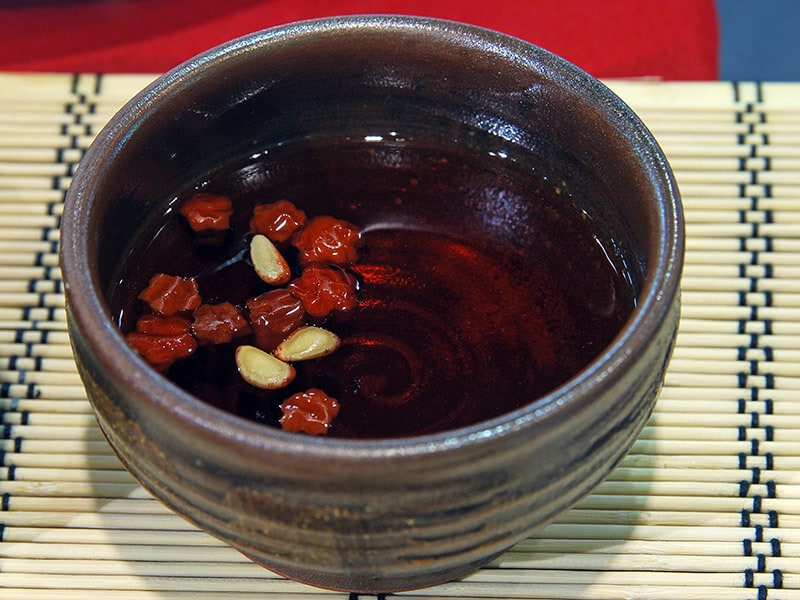 Daechu, or jujubes, is a common ingredient in many Korean recipes. Locals often use it to stuff chicken, put it in stews, and of course, turn it into tea.
Daechu Cha is usually made by diluting preserved jujubes into boiling water or boiling dried jujubes. Nowadays, many grocery stores in Korea sell pre-made sweet jujube syrup, which is more convenient and lasts longer.
This traditional jujube-based tea has a beautiful deep ruby-brown to rich dark maroon color accompanied by a mild sweet touch. Daechu Cha is also rich in iron, potassium, and vitamins B and C, which is suitable for anemia and overall fatigue.
Find this drink at: Many cafes and restaurants across the country. You can also buy pre-made jujube syrup and make it at home.
19. Yuja Cha – Citron Tea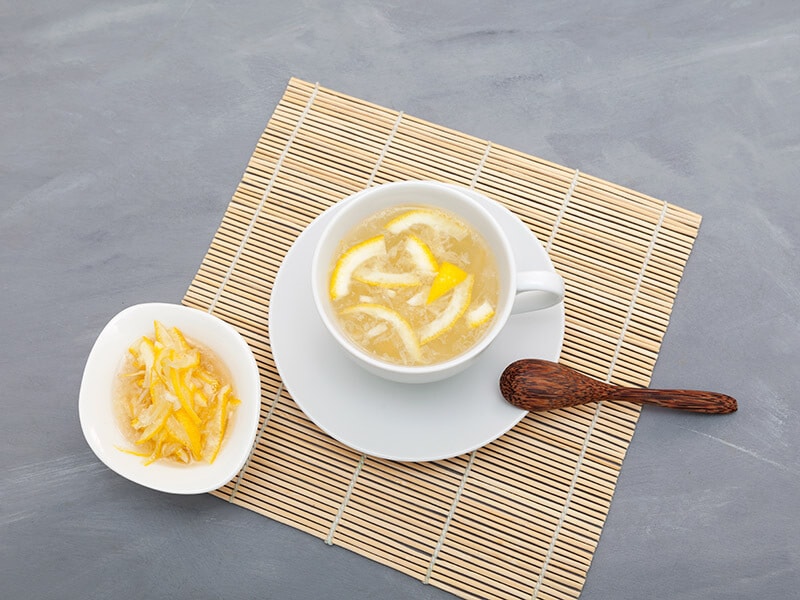 When winter comes, people in South Korea often enjoy a warm and comforting tea called Yuja Cha. The beverage has long been advertised as a cure-all for colds, flu, and sore throats, utilizing cut yuzu fruit soaked in honey.
Despite being called "tea", there isn't any tea leaf in this citron drink. Instead, the locals use yuja, a lemon-like citrus fruit. It was a China-originated fruit and was transported to South Korea during the Tang dynasty.
This tea is super easy to make at home. All you have to do is slice fresh yuja, mix it with sugar and warm water! Just like that, you will have yourself a delicious and healthy drink to fight off the cold.
Find this drink at: Restaurants and cafes in Korea.
20. Omija Cha – Five Flavor Berry Tea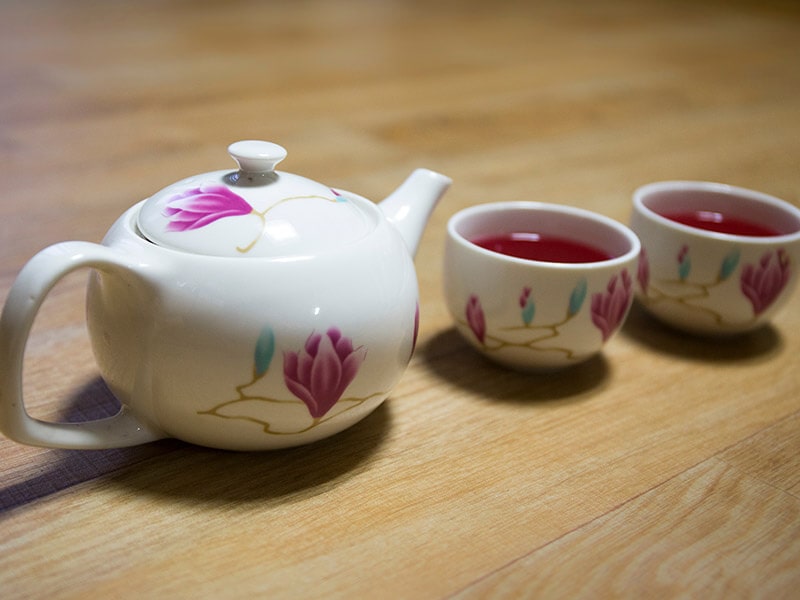 Omija berry or magnolia berry is called "five-flavor berry" in Korean since it is said to have five flavors: sweet, sour, salty, bitter, and spicy. How cool is that! Because Omija Cha contains this unique fruit, it has a vibrant red color and is also diverse in terms of flavor.
The locals love to enjoy this delicious tea with some honey. In some cases, they will flavor it with mung beans or flowers to make a variety of punches.
This tea is ideal for when you start to feel a cold or the flu coming on since it has various therapeutic characteristics that help prevent colds. According to traditional Korean medicine, the fruit itself can even heal the liver over time.
Find this drink at: Many cafes and restaurants around Korea.
21. Nokcha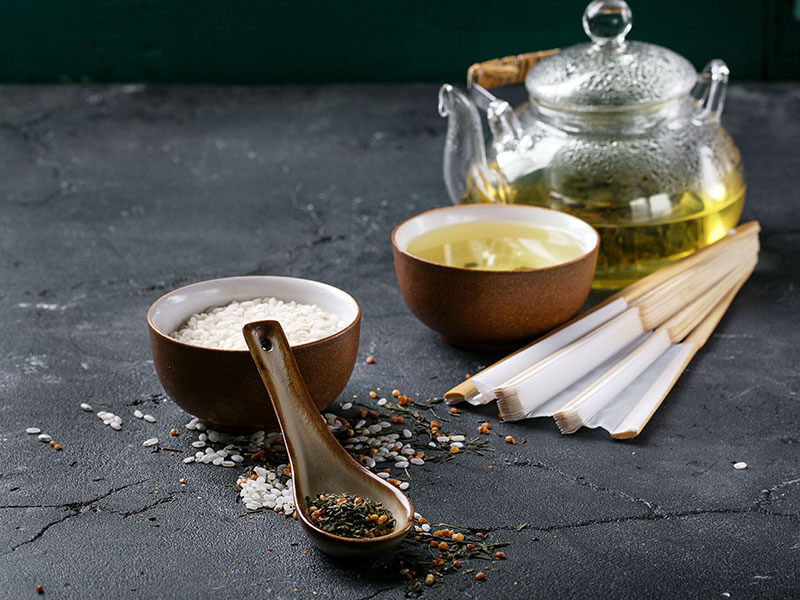 Nokcha, the Korean term for green tea, is a timeless beverage enjoyed throughout the country. Its preparation may vary, sometimes including tea leaves or opting for alternative ingredients such as roots, edible mushrooms, fruits, grains, or seaweed.
Korea boasts a rich history of tea culture, with its origins dating back to the Three Kingdom period spanning from 18 B.C. to A.D. 660. The country has various tea types for different seasons.
In many Korean restaurants, grain teas are commonly served as a substitute for water to enjoy the aromatic tea flavor.
Find this drink at: Many restaurants around Korea.
22. Oksusucha – Corn Tea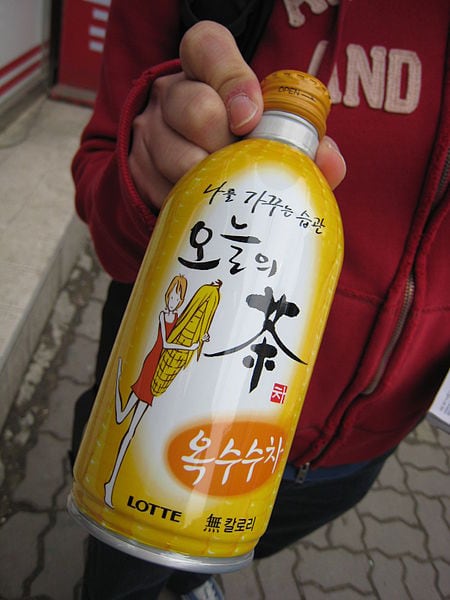 Oksusucha, a corn tea, is made from corn kernels, corn silk, or a combination of both. Typically, locals will roast the grains before infusing the flavor in a heated water pot.
While the regular version may contain caffeine, it is recommended to enjoy a hot, caffeine-free Oksusucha during the winter months. In the summertime, serving it cold is a refreshing option.
This tea not only aids in weight loss but also helps cleanse the body by flushing out toxins. It boasts a sweet, slightly toasty flavor with a subtle bitter aftertaste that many find enjoyable. For those seeking a convenient option, commercially available Oksusucha can be found in yellow plastic bottles.
Find this drink at: Korean households or at convenience stores.
23. Yakult – Yogurt Drink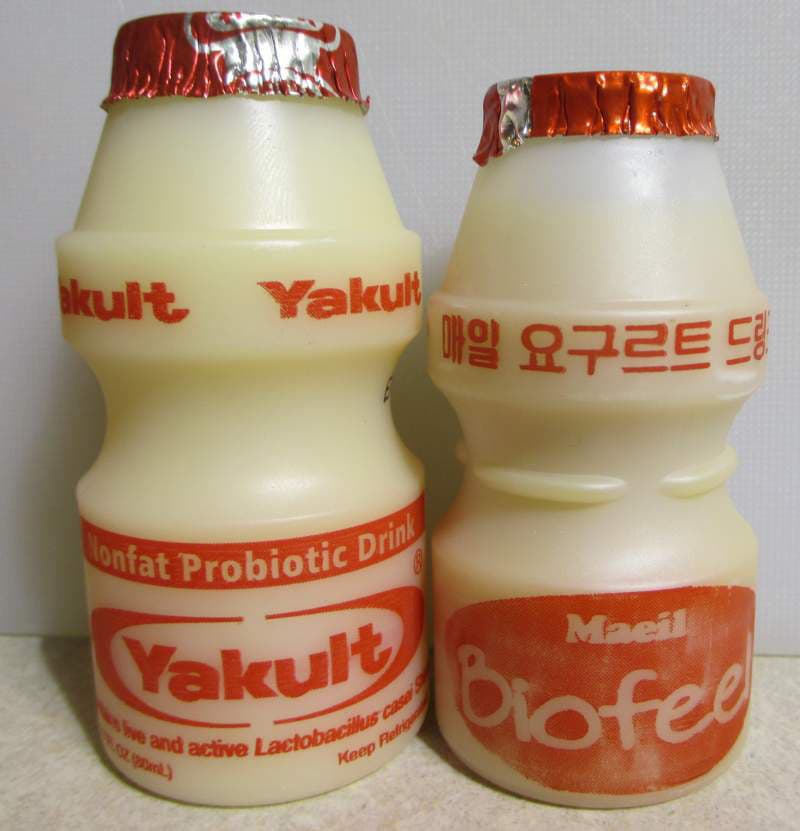 Although the Koreans did not invent Yakult, it is without a doubt an irreplaceable drink for the people here. In fact, Yakult is one of the first brands that the locals think of when talking of the most healthy beverages in Korea.
This 60 mL Yakult container delivers just the right amount of probiotic nutrients for a single person. Research has shown that drinking at least one bottle of Yakult a day can improve your bowel movements, stomach issues, and gut health.
This yogurt drink made its first appearance in South Korea in 1969. Nowadays, locals often pair this drink with Soju to make a delicious yogurt cocktail. The sweetness of Yakult conceals the boozy taste of Soju, making the concoction healthier and easier to drink.
Find this drink at: Any convenience store or supermarket around Korea.
24. Banana Milk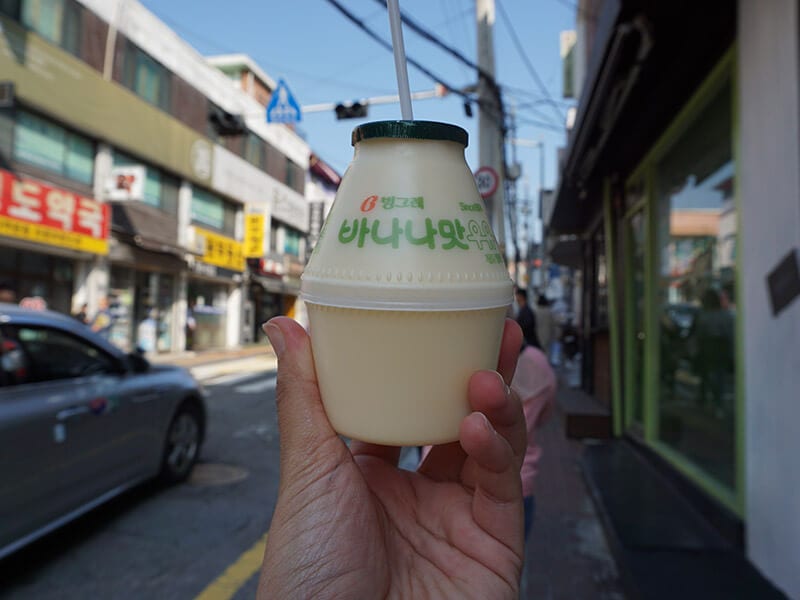 In Korea, every person's childhood is connected with banana milk. This drink has always been a national favorite since its introduction in 1974 when bananas were still considered a luxury item.
Banana milk first gained popularity as a way for the government to encourage South Koreans to drink more milk. Nowadays, approximately one million bottles are sold every day in South Korea, attracting many tourists because of the cute short bottle design.
While it may appear to be simple banana-flavored milk, something about the blend of sweet and salty flavors in this Korean beverage has secured its immediate appeal. Make your way to the nearest convenience store and try one; I recommend trying the Binggrae brand for the experience!
Find this drink at: Any convenience store or supermarket around Korea.
25. Sujeonggwa – Ginger Cinnamon Punch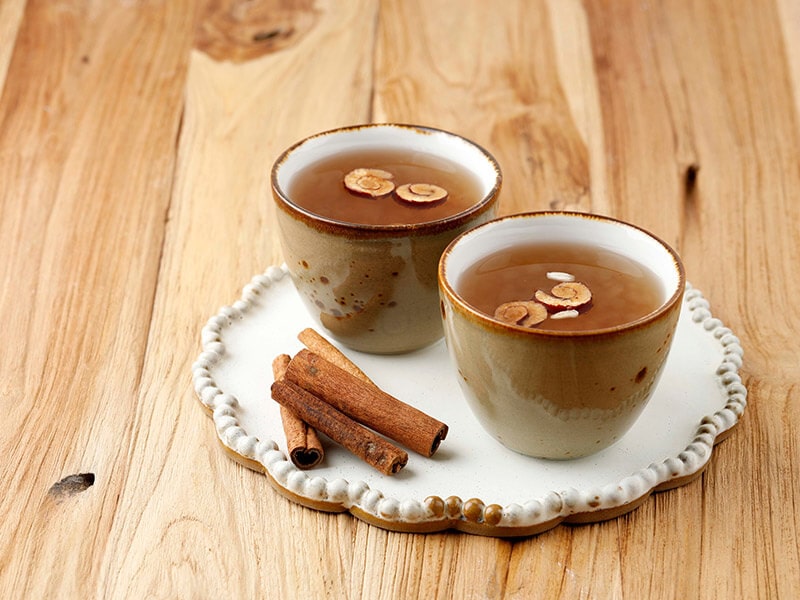 To make this non-alcoholic dessert drink, locals use ginger, peppercorns, and cinnamon as a base. Afterward, they will add dried persimmons along with brown sugar or honey to create a sweet and spicy beverage. The locals usually serve Sujeonggwa cold with pine nuts on top or pair it with Kkultara, a Korean dragon beard candy.
This drink was first mentioned in Dongguksesigi (a book about seasonal traditions) written by Hong Seok Mo, a scholar in the Joseon Dynasty. The drink usually features dried persimmon for added sweetness and fruitiness.
Sujeonggwa is commonly offered after a hearty meal since it can help with indigestion. You may also find this Korean cinnamon punch during the Korean festival season.
Find this drink at: Many restaurants around Korea. You can also buy packaged Sujeonggwa at the supermarkets or make it from scratch at home.
26. Sikhye – Sweet Rice Drink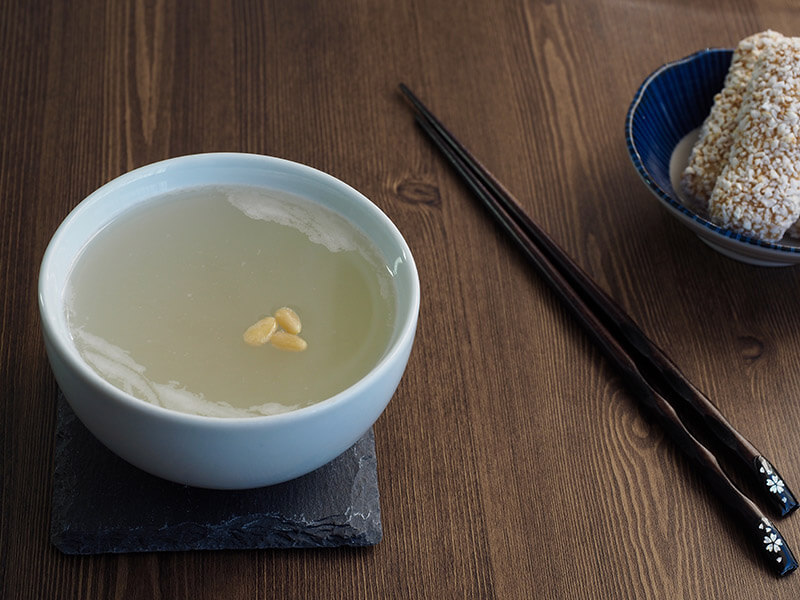 This non-alcoholic sweet rice drink contains rice, barley malt powder, sugar, and pine nuts. Sikhye is not only delicious, but it also includes dietary fiber and antioxidants to aid in digestion. The subtly sweet taste of Sikhye can definitely mesmerize you on the first try.
This dessert drink is usually drunk at Korean festivals, such as New Year's Day (Seollal) and the Korean Harvest Festival. Locals often drink it after a full meal at a restaurant or after hitting the saunas.
Sikhye is usually known by other names like Dansul or Gamju, often sold in ready-made cans, glass jars, or plastic bottles. At the bottom of most canned Sikhye, there is always a remnant of cooked rice.
Find this drink at: Any local restaurant, market, or overseas Korean grocery store. Korean restaurants usually serve homemade Sikhye after a meal.
27. Hwachae – Fruit Punch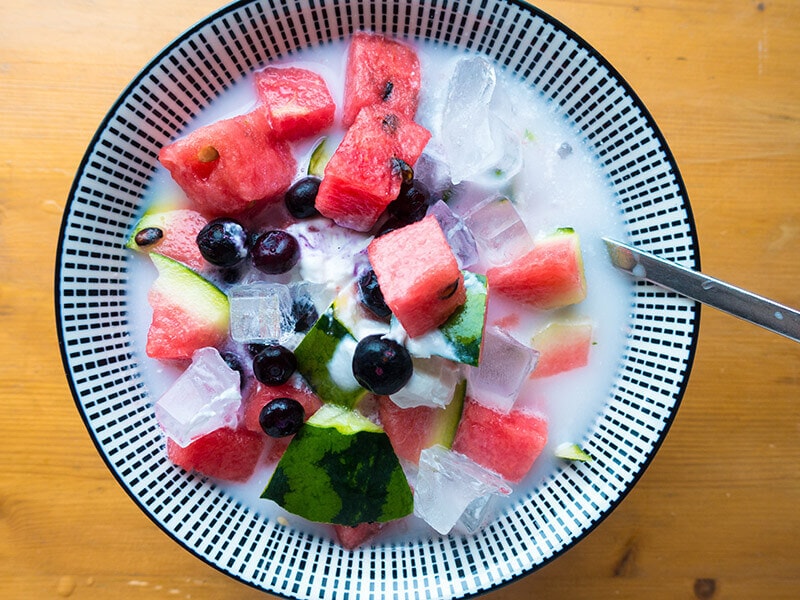 If Yuja Cha is the country's favorite drink in the winter, Hwachae is a must-have during the hot summer months.
Hwachae is a generic name for non-alcoholic fruit punches. There are more than 30 variations of this fruity drink. Still, they all use honeyed water or honeyed magnolia berry juice as a base and various fruits or edible flowers as toppings.
Nowadays, some Hwachae recipes use carbonated drinks and fruit juices. Many restaurants even garnish this dish with pine nuts before serving.
Among them, Subak Hwachae is the most popular version. This fruit punch contains watermelon balls or cubes, berries, ice, and honeyed watermelon juice. You may add lychee for a tropical breeze to your Hwachae.
Find this drink at: Many cafes and street vendors around Korea.
28. Aloe Vera Juice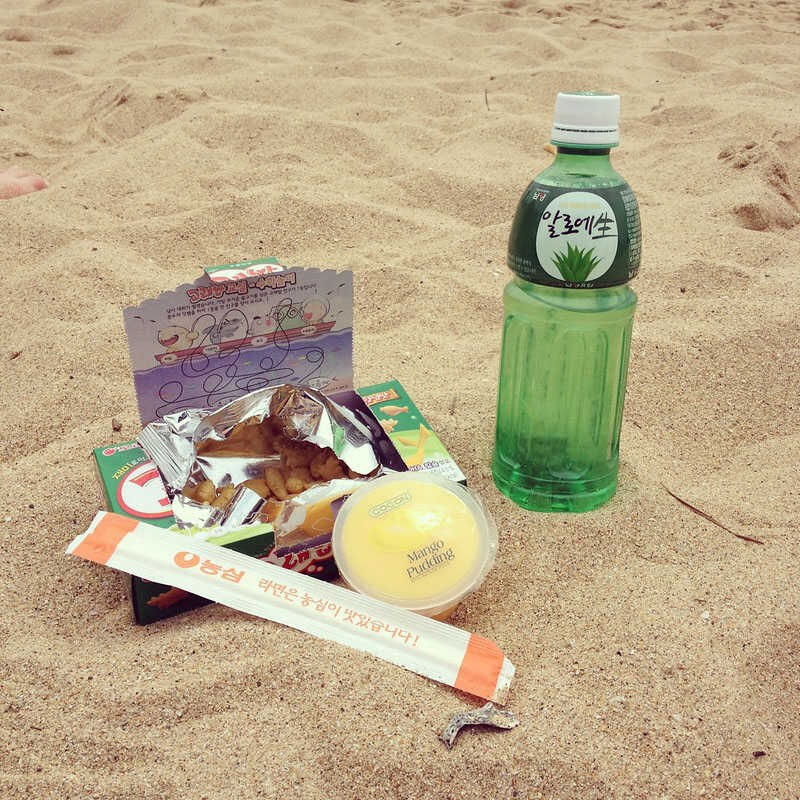 Aloe vera juice is a favored beverage in South Korea, celebrated for its refreshing and hydrating characteristics. Its thick consistency is brimming with essential minerals, vitamins, and amino acids that contribute to its numerous health benefits.
Known for its ability to lower blood sugar, enhance lipid levels, alleviate inflammation, and promote digestion, aloe vera juice has become a popular choice among Koreans. Typically packaged in green plastic bottles, this revitalizing drink is a staple in South Korea for its delightful taste and well-being advantages.
Find this drink at: Convenience stores and supermarkets in Korea.
29. Misugaru – Multi-Grain Powder Drink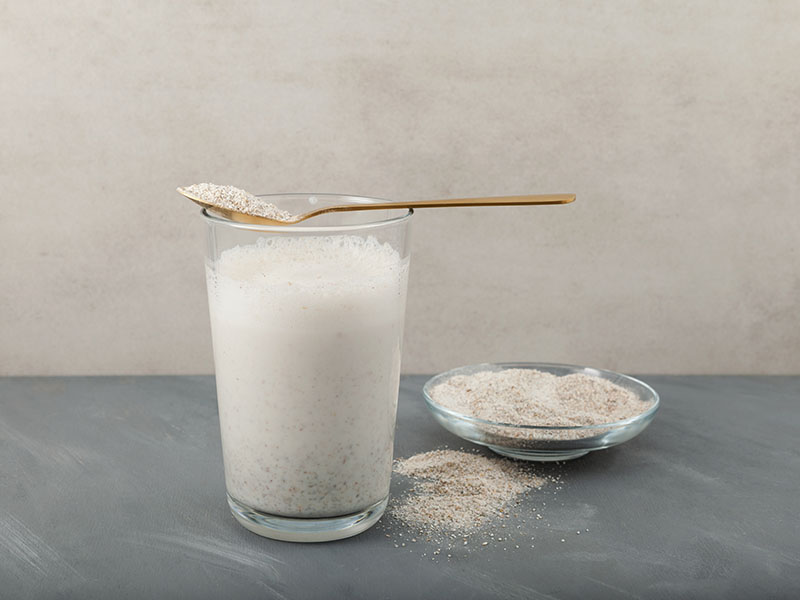 Misugaru, or misu, is a popular multi-grain drink in Korea that blends together 7 to 10 different types of grains. It's an ideal beverage to enjoy hot during the summer months. Commonly, Koreans consume it as a breakfast or snack option.
Misugaru is a term that refers to the powdered form, while Misu denotes the liquid version of the drink. The mixture typically consists of a glutinous rice base combined with various other grains, which can be either roasted or steamed.
To prepare the drink, the powder is mixed with water or milk, and sweeteners such as sugar or condensed milk can be added for extra flavor. The drink is high in vitamins and proteins while remaining low in calories, making it a healthy choice for those seeking a satisfying drink with nutritional benefits.
Find this drink at: Supermarkets in Korea in powdered form.
The Art of Korean Tea
Steeped in history and tradition, the art of Korean tea is a captivating journey into the rich culture of Korea. At its core, the Korean tea tradition is not just about the act of drinking tea, but also a way of connecting with nature, meditating, and finding balance in everyday life.
Korean tea varieties include green, fermented, and herbal teas, each with distinct tastes and characteristics. Popular green teas, such as Sejak, Junjak, and Daejak, are known for their delicate flavors and varying levels of intensity.
Fermented teas like Tteokcha, Hwangcha, and Balhyocha undergo unique processing methods that result in a diverse range of earthy and fruity flavors. Additionally, herbal teas, such as Yulmucha, Saenggangcha, and Gugijacha, offer a delightful assortment of tastes and health benefits.
Mastering the art of Korean tea brewing is a fascinating process that involves the perfect harmony of water quality, tea-to-water ratio, steeping time, and temperature.
FAQs
Here are some questions that you may wonder about Korean beverages. Check out some of the interesting facts that make you more knowledgeable about these fascinating refreshments.
---
Got Everything You Need?
And that's all the time I have today! I hope this short checklist has given you some helpful information about the most popular and well-loved drinks you can enjoy during your trip to this beautiful country.
Now that you have reached the end, please consider giving this post a like and share it with your friends. And if you have any more questions about Korean cuisine culture or Korean refreshments, I'd be more than happy to answer them all.
Thank you so much for your support. Annyeong and I hope to see you again soon!