Vietnamese coconut milk sauce is a sumptuous and creamy delight that plays a crucial role in many delectable desserts in Vietnam. With its mellow sweetness and rich texture, it effortlessly elevates your sweet treats, promising a mouthwatering experience with each bite.
Intrigued? Let this post guide you through the process of making the perfect Vietnamese coconut milk sauce and impress your loved ones with fantastic desserts. Your gastronomic journey into the heart of Vietnam awaits!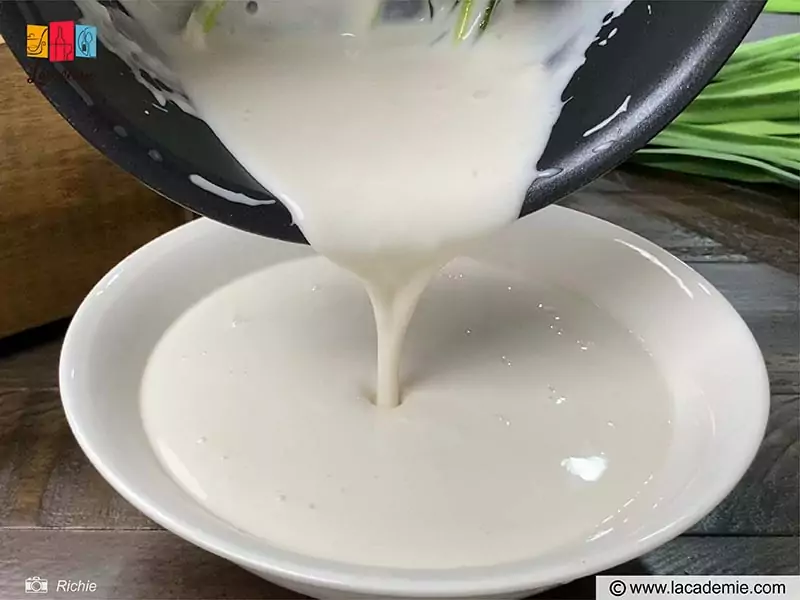 Homemade Vietnamese Coconut Milk Sauce
In this context, it specifically refers to the sweetened, cooked sauce. This condiment is an essential ingredient in various Vietnamese sweet treats, lending a unique, subtle sweetness and satisfying mouthfeel.
This delightful concoction is made from a blend of coconut milk, sweetened condensed milk, pandan leaves for extra aroma, and a little cornstarch. To prepare the Vietnamese coconut milk sauce, simply simmer all the ingredients, allowing the flavors to meld and the sauce to thicken.
Tools
Wooden spoon: This utensil is used for stirring the sauce during cooking, ensuring an even distribution of ingredients and heat while preventing the sauce from sticking to the saucepan.
Saucepan: A saucepan is necessary for heating the ingredients, allowing the flavors to meld and the sauce to thicken as it simmers.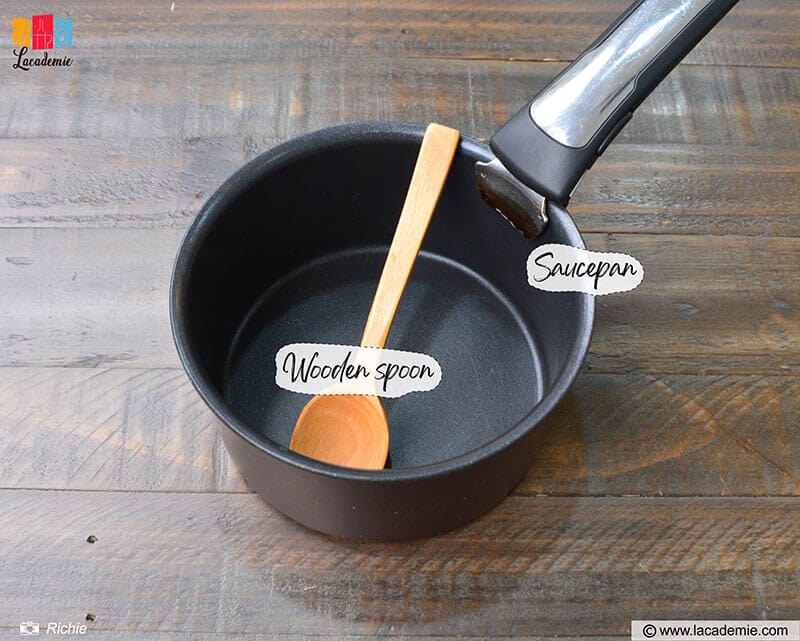 Ingredients
Coconut milk: The primary ingredient, coconut milk, provides a rich, creamy base with a distinct, sweet coconut flavor.
Unsweetened fresh milk: This ingredient adds creaminess and body to the sauce, creating a smoother texture.
Water: Used to adjust the consistency of the sauce, allowing you to make it thinner or thicker according to your preference.
Pandan leaves: These aromatic leaves impart a subtle, fragrant flavor to the sauce, enhancing its overall taste. It's best to tie the leaves into a knot for easy removal.
Salt: A pinch of salt helps to amplify the flavors in the sauce, providing a balance between sweet and savory.
Sweetened condensed milk: This ingredient adds sweetness to the sauce while contributing to its velvety texture.
Cornstarch: As a thickening agent, cornstarch gives the sauce its desired consistency and helps it adhere to the food it is served with.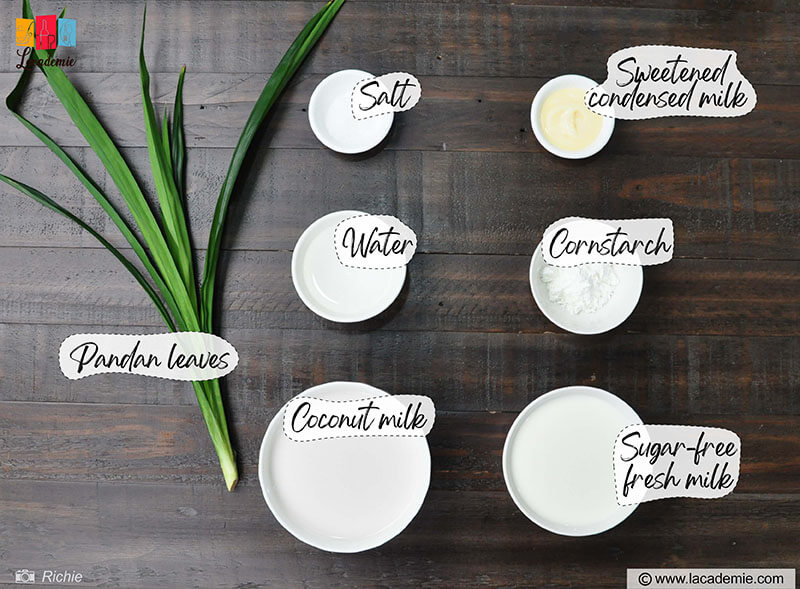 Directions
Step 1: Wash The Pandan Leaves
Wash the pandan leaves thoroughly to remove all the dirt. If you use frozen pandan leaves that have already been cleaned, feel free to skip this step.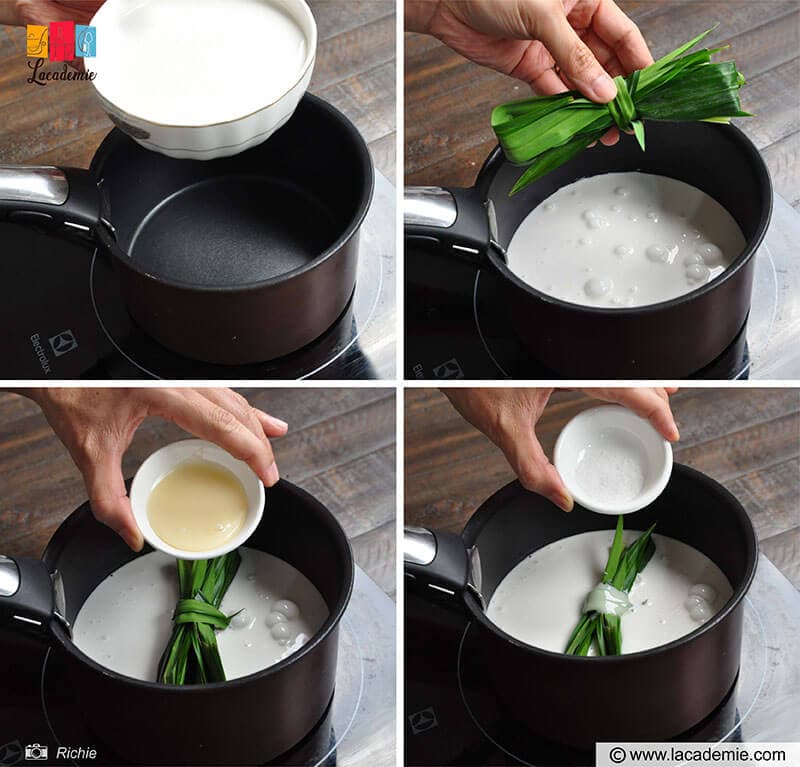 Step 2: Cook The Coconut Milk Sauce
Mix the cornstarch with 5 tablespoons of water to make a slurry.
Put the saucepan on the stove and add the coconut milk. Then, add the fresh milk, pandan leaves, sweetened condensed milk, and 1 teaspoon of salt. Stir well.
Bring the sauce to a boil over low heat and add the cornstarch slurry. Cook the sauce for 3 to 4 minutes over low heat, then turn off the heat.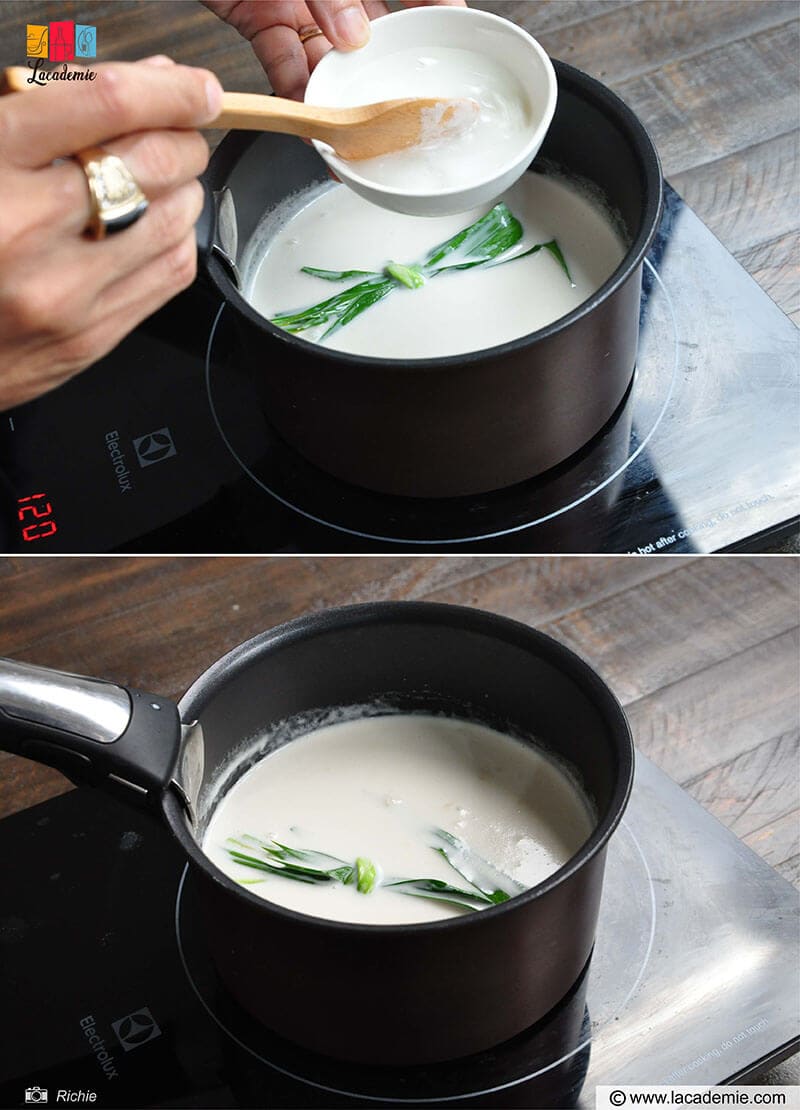 And there you have it, a tasty coconut milk sauce to enjoy with many Vietnamese and Asian desserts!
Tips And Tricks
Avoid cooking the sauce over high heat or for too long. Otherwise, it will turn brown, lose flavor, and the consistency will be too thick.
The ingredients used in this recipe will yield a balanced coconut sauce that's not too sweet. If you prefer a fattier or sweeter sauce, you can add more coconut milk or sweetened condensed milk.
Vietnamese Desserts To Serve With Coconut Milk Sauce
Now that your coconut milk sauce is ready, check out the following desserts that make a perfect pairing with it. Each option offers a unique flavor profile, making for an unforgettable gastronomic experience.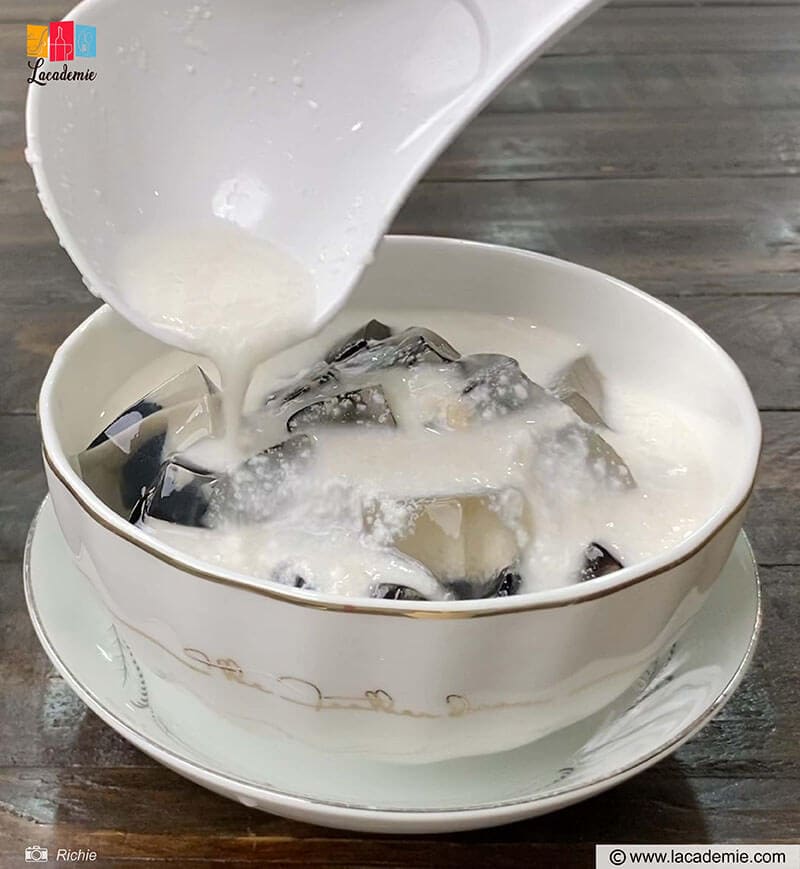 Vietnamese Che Bap (sweet corn pudding): A dessert made from sweet corn kernels, sugar, and coconut milk, Che Bap is the perfect dish to enjoy with a drizzle of coconut milk sauce, enhancing the creamy sweetness of this comforting treat.
Che Chuoi (banana, coconut, and tapioca dessert): This cozy dessert features tender bananas, chewy tapioca pearls, and rich coconut milk, all melding together to create a symphony of flavors. Serve with Vietnamese coconut milk sauce for an extra touch of indulgence.
Che Thai (Vietnamese fruit cocktail): A colorful, refreshing dessert that showcases a medley of fresh fruits, chewy jelly cubes, and silky coconut milk. Adding a splash of coconut milk sauce elevates the dessert's creaminess and adds depth to the overall taste.
Che Banh Lot (cendol sweet soup): A popular Southeast Asian dessert, Che Banh Lot features tender, worm-like rice flour jelly swimming in a fragrant, sweet coconut milk soup.
Che Suong Sao Hot E (grass jelly with basil seeds): The perfect sweet treat for hot summer days. The basil seeds add a unique texture and make this snack/dessert more health-giving.
Fresh fruits: Enhance the natural sweetness and vibrant colors of tropical fruits, like mango, dragon fruits, or jackfruit, by serving them with a generous pour of coconut milk sauce.
Storage Methods For Your Vietnamese Coconut Milk Sauce
To keep the sauce in optimal condition, transfer it to an airtight container, ensuring the lid is tightly sealed to prevent exposure to air or moisture. Next, put the container in the refrigerator, where the cool temperature will help preserve the sauce's flavor and consistency.
Generally, the sauce can be stored for up to 5 days in the refrigerator. When you're about to serve the sauce, give it a gentle stir and enjoy its rich, velvety goodness in your favorite dishes. If you keep the sauce at room temperature, you should consume it within a day.
FAQs
Learn more about coconut milk sauce through these frequently asked questions. Knowledge is power, especially in cooking!
Never A Boring Dessert With Vietnamese Coconut Milk Sauce
That's everything you need to learn about the preparation of the creamy, fragrant, and utterly delightful Vietnamese coconut sauce that's bound to add a delicious touch to many desserts. Now it's your turn to create this sweet magic in your kitchen!
Do share your experiences, tips, or any twists you added to the recipe in the comments below. If you've found this guide helpful, show the recipe some love by liking and sharing this post with your fellow food enthusiasts. Happy cooking!
Nutrition Facts
6 servings per container
---
Amount Per ServingCalories181
% Daily Value *
Total Fat 17g

27

%
Cholesterol 3mg

1

%
Sodium 409mg

18

%
Potassium 214mg

7

%
Total Carbohydrate 7.5g

3

%

Dietary Fiber 1.5g

4

%
Sugars 4.9g

Protein 2.3g

4

%
---
Calcium

40

%
Iron

1

%
Vitamin D

7

%
* The % Daily Value tells you how much a nutrient in a serving of food contributes to a daily diet. 2,000 calories a day is used for general nutrition advice.