Is sushi gluten-free? That is one of the most common questions asked by people on a gluten-free diet.
Yes, sushi is a delicious dish and is enjoyed by many people in the world. However, because sushi can be made of various ingredients, the gluten content in sushi is the primary concern for sushi lovers who are on a gluten-free diet.
So, is there a chance for gluten-free diet followers to enjoy this popular Japanese cuisine and still avoid gluten?
This post will cover all the sushi-related information on this matter, from which types of sushi to eat and avoid to homemade sushi recipes and frequently asked questions about sushi on the gluten-free diet.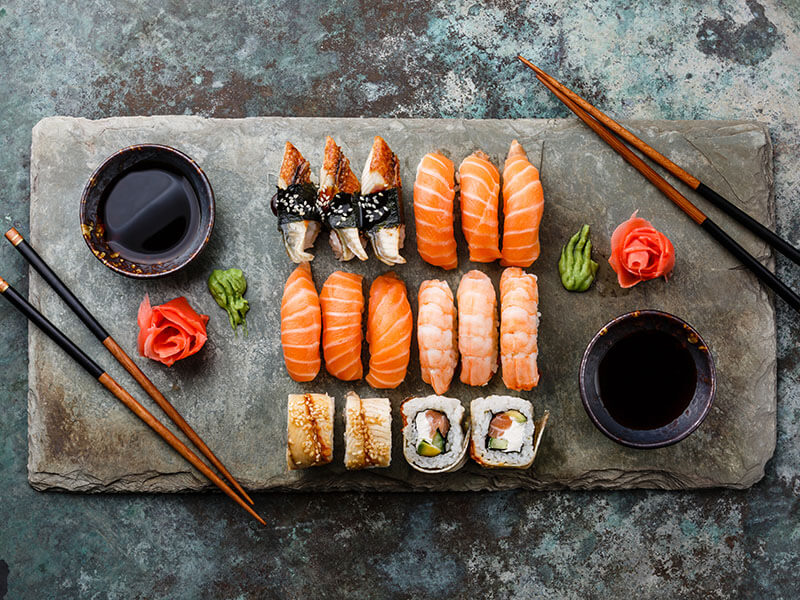 What Is Gluten?
Gluten, on the other hand, is a protein found in wheat plants and certain grains (1), for example, wheat, barley, rye, and triticale. Products like bread, imitation meats, beer, and soy sauce often contain this protein. For some people, exposure to gluten can cause severe food allergies.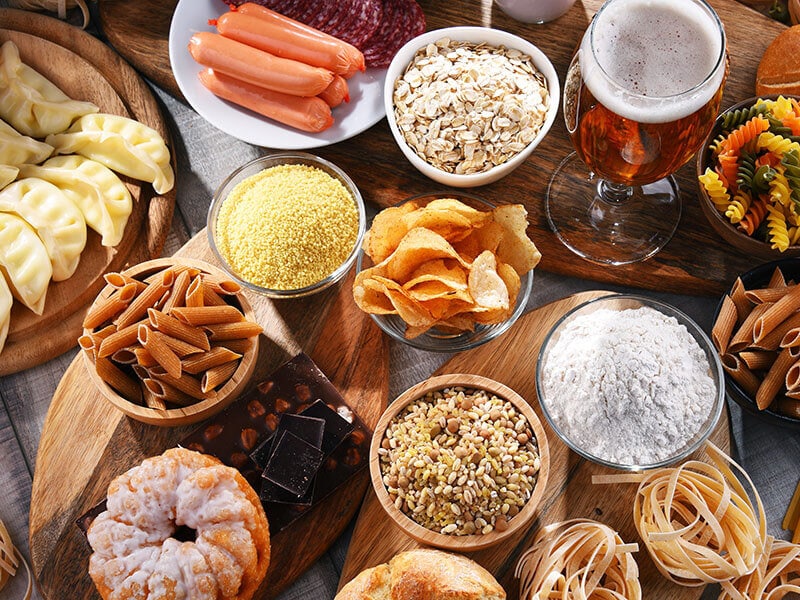 Overview About Sushi
Sushi is a famous traditional Japanese dish of vinegared rice accompanied by different ingredients. The main ingredients seen in sushi are white rice, raw seafood, and vegetables.
Soy sauce, wasabi paste, and pickled ginger are among the most popular accompaniments to sushi. Meanwhile, this traditional dish is often garnished with daikon radish or pickled daikon before serving.
Everything you need to know about eating sushi in 6 minutes.
Is Sushi Gluten-Free?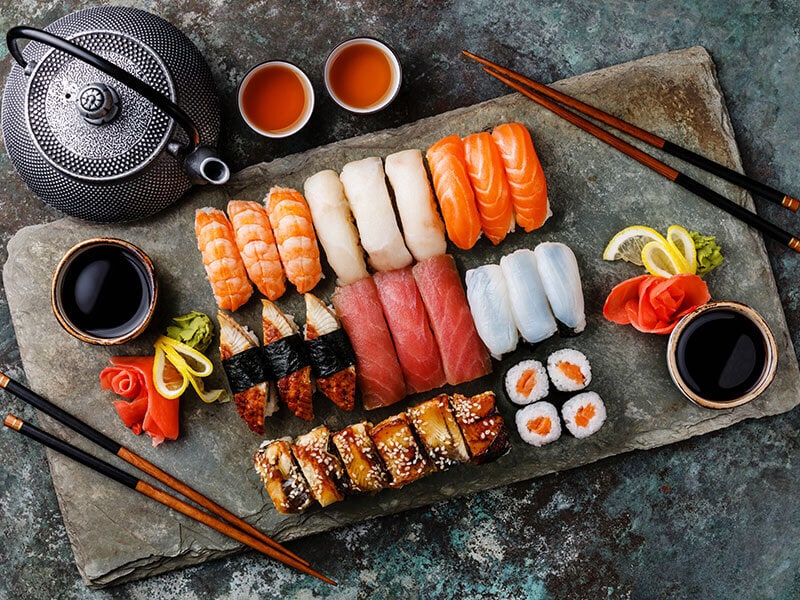 Just looking at the main ingredients in sushi, it is safe to affirm that this popular Asian dish is gluten-free. However, this is not always true because there is a wide variety of sushi, and each can be made of various ingredients.
Thus, it is best to do some homework about sushi beforehand. Here is the only ultimate practical guide to sushi for gluten-free diet followers.
Different Sushi Types: Which Types Are Gluten-Free?
Sushi comes in various kinds, but in general, there are five common types of sushi. The below list gives you detailed information about the names of each type and which one is gluten-free and not.
Types Of Sushi That Are Gluten-Free
Out of five popular sushi types, two styles of sushi are considered gluten-free if served alone with no side dishes and accompaniments. They are nigiri and sashimi.
Nigiri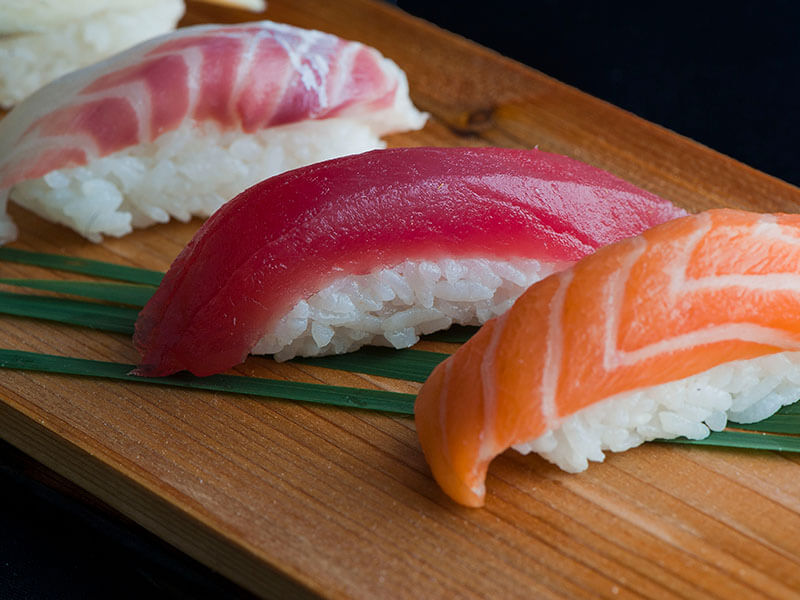 Nigiri is a bite-size mound of vinegary rice with a thin slice of raw fish or seafood on top. And sometimes, there will be wasabi or nori seaweed to help enhance the flavor. People often compare nigiri with maki, sashimi, and other sushis.
The Japanese word nigiri means two fingers, implying the typical portion of rice to grip and shape into a ball. Commonly made of gluten-free rice vinegar, plain nigiri is almost always safe to eat. However, watch out for nigiri used malt or non-distilled white vinegar as alternatives.
Sashimi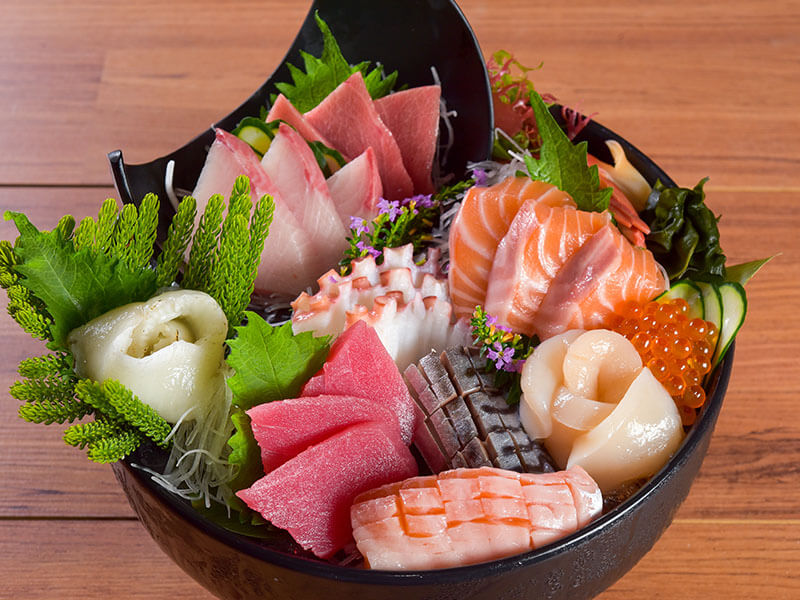 Sashimi is a special type of sushi featuring fresh raw fish or meat sliced into thin, bite-sized pieces. While other sushi dishes are often served with toppings and fillings, sushi lovers enjoy sashimi served plain or with soy sauce and wasabi solely to appreciate the flavor of meats.
In Japanese, the word sashimi literally means pierced fish. Today, it has become an umbrella term referring to any thinly-sliced raw meat. Because it is simply made of raw fish and meat, sashimi, if served alone, is 100% gluten-free.
Sushi Types That May Not Be Gluten-Free
Maki, uramaki, and temaki are the three common types of sushi that can contain gluten, depending on the ingredients included.
Maki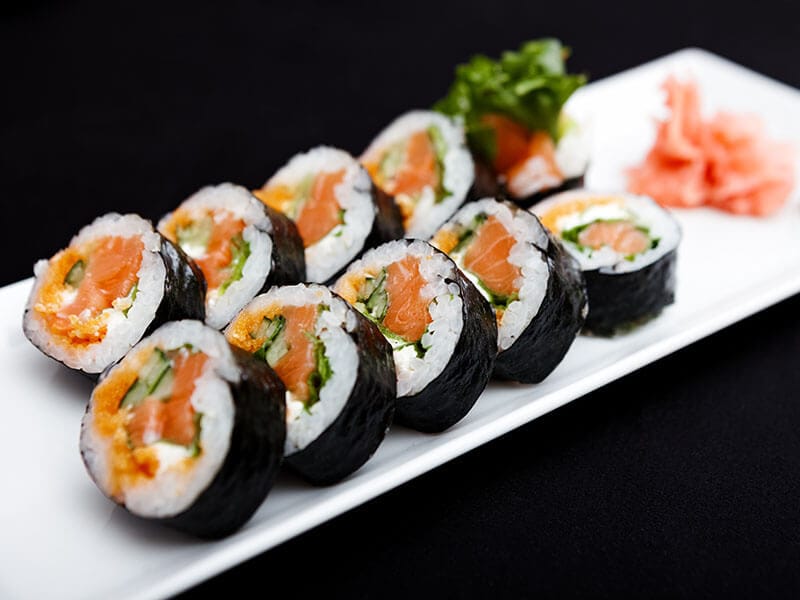 Maki, also known as maki sushi or makizushi, is Japanese rolled sushi filled with plenty of foods, for example, fish and vegetables. Made by wrapping up the fillings with nori seaweed, this type of sushi is also called norimaki.
In Japanese, maki means roll. Since maki is filled with a variety of different foods, the answer to whether maki contains gluten or not depends on the fillings. Thus, in this case, it's best to double-check the ingredients beforehand.
Uramaki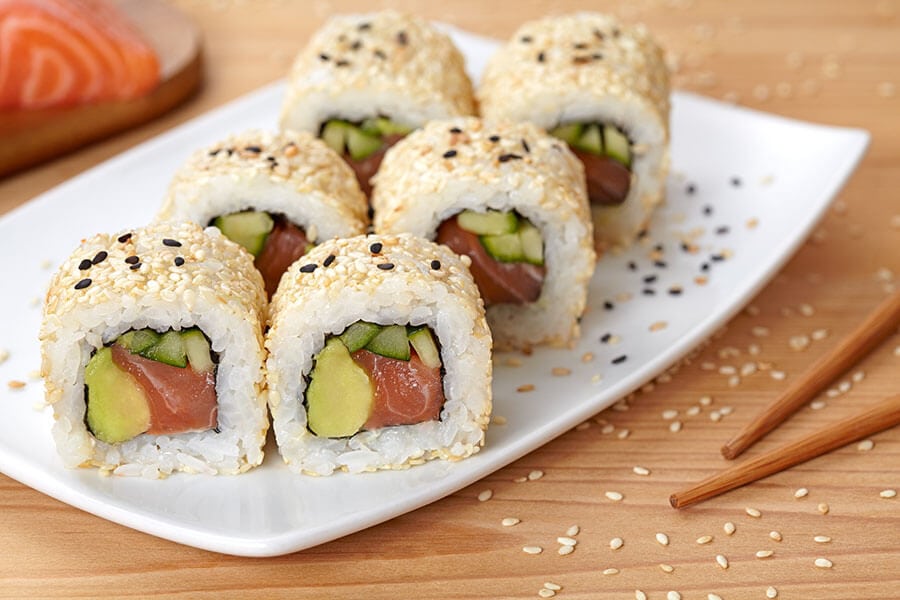 Uramaki is also a type of Japanese rolled sushi. Ingredient-wise, it is similar to maki sushi. The only difference is the seaweed is now on the inside. Meanwhile, the rice is on the outside.
The meaning of the word uramaki in Japanese is literally inside out. Thus, uramaki is also called the inside-out sushi roll. Since this dish is basically maki turned inside out, it can include gluten. Thus, it's better to look at the fillings and toppings.
Temaki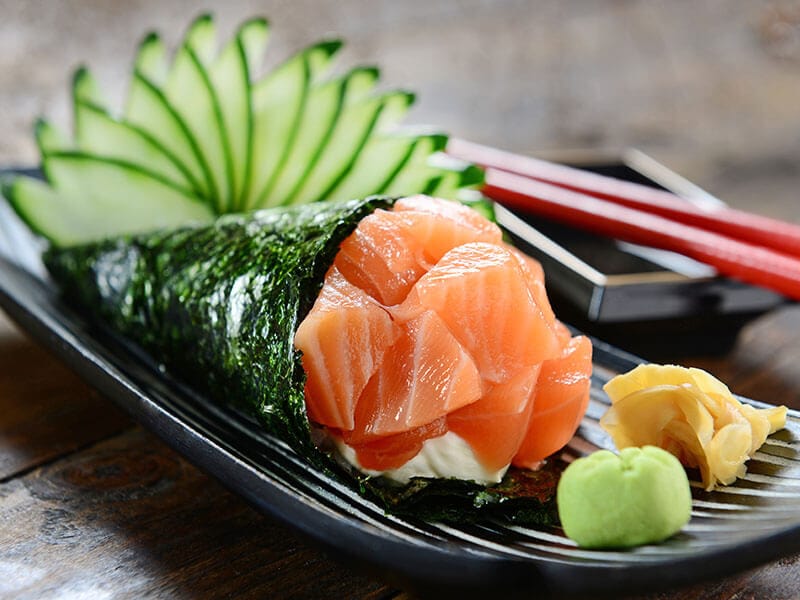 Temaki, or hand roll sushi, is another type of sushi roll. Basically, people make temaki by hand-wrapping the rice and fillings into a rolled, conelike form. Although they're all rolls, hand roll sushi and other sushi rolls have several differences.
Temaki is formed by the word te (meaning hand in English) and maki. Altogether, it translates to hand-roll sushi. Roll sushi can contain gluten due to different types of fillings and toppings. If you react to gluten, you should check the ingredients carefully.
Common Sushi Condiments & Toppings
Not only do condiments enhance the taste of a dish, but they may also help add some textural interest to the food. In Japanese cuisine, condiments play an essential role. All dishes, from sushi to ramen, use seasonings and spices to enrich the flavor.
This goes the same with toppings and fillings. For some specific types of sushi, these delicious ingredients are the main reason people order those dishes. Yet, are they gluten-free? Let's find out.
Gluten-Free Ingredients & Toppings
Out of all varieties, it is certain to say that sashimi is gluten-free because it is just simply fresh, thinly sliced fish. However, it also depends on what goes along with sashimi. Technically, sashimi does not contain gluten. But when eaten with soy sauce, sashimi is no longer gluten-free.
As a result, it's best to look out for and double-check the ingredients when ordering sushi. There are plenty of sushi toppings, fillings, and sauces that do not include gluten. Here's a detailed list.
| | |
| --- | --- |
| 1. Seaweed or nori seaweed | 5. Plain tofu |
| 2. Fish, crab, and seafood | 6. Vegetables |
| 3. Fresh meats and eggs | 7. Wasabi |
| 4. Masago, tobiko and other roe | 8. Pickled ginger |
Nori Seaweed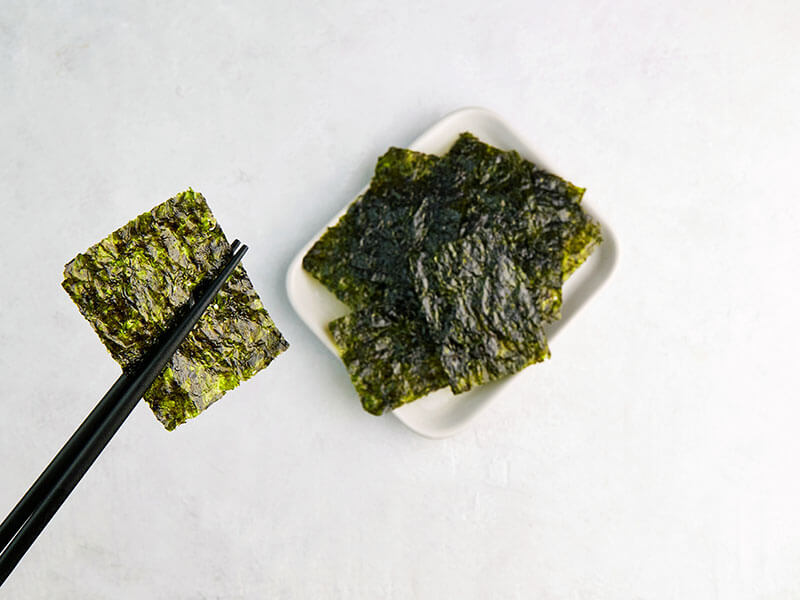 Nori is a type of dried seaweed often used in Japanese cuisine. As seaweed does not include gluten, it is safe to enjoy for people on a gluten-free diet.
Fish, Crab, & Fresh Seafood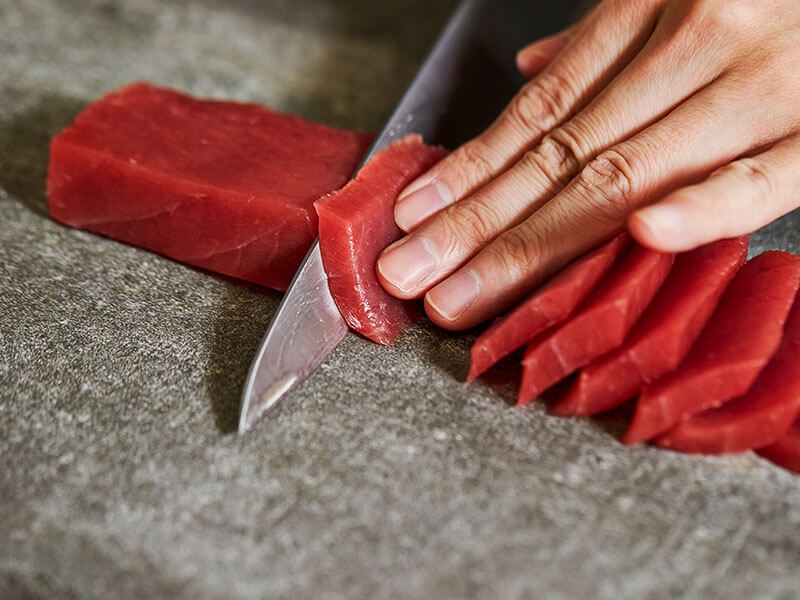 Fresh seafood like fish, crab, tuna, and salmon are naturally gluten-free. Thus, any seafood served fresh is almost safe to eat.
Meats & Eggs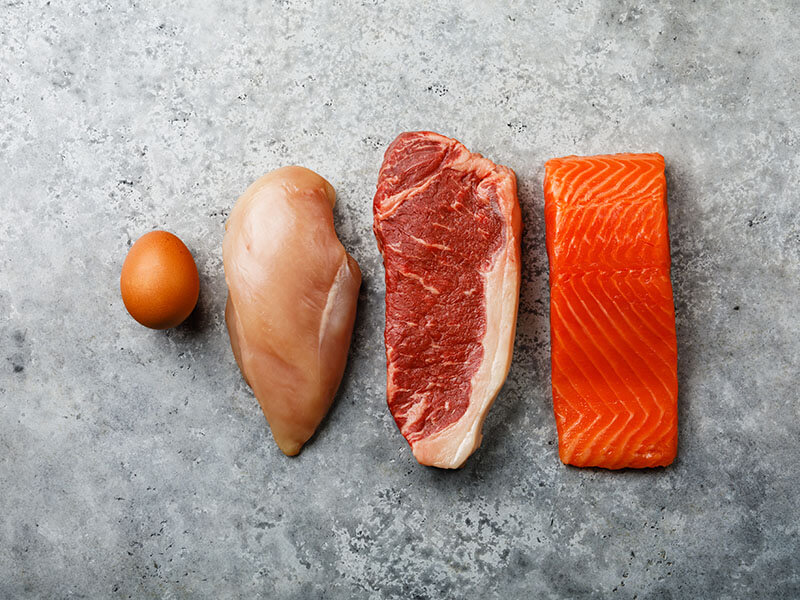 Fresh, plain-cooked meats and eggs are naturally gluten-free and safe to enjoy. However, sometimes eggs and meats are prepared with glutenous sauces and ingredients. Be careful!
Vegetables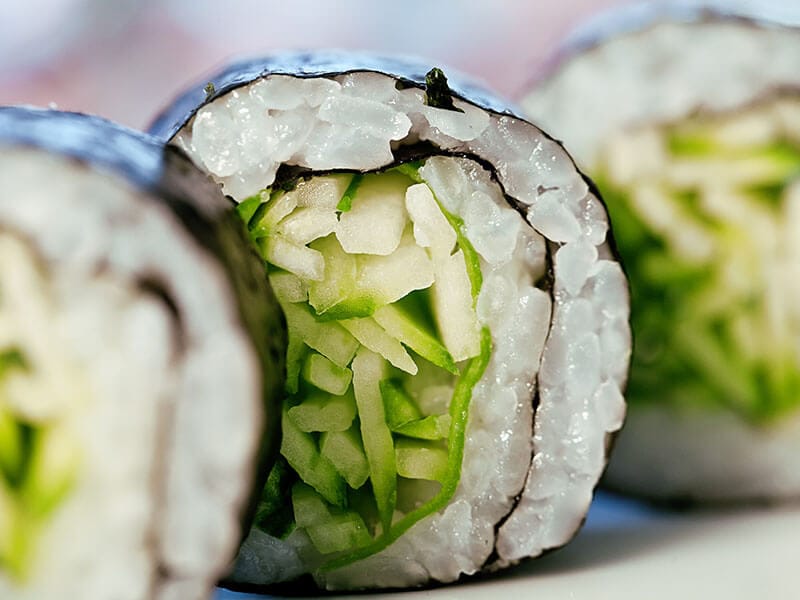 All fresh vegetables without extra ingredients and sauces are gluten-free. They can be used as a safe alternative to gluten-containing ingredients in sushi prep.
Masago, Tobiko & Other Roe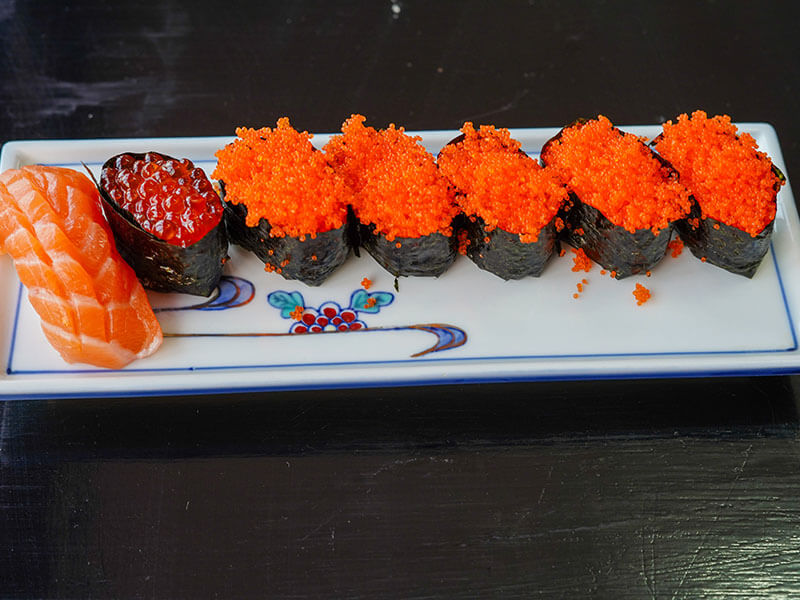 These fish roe are all healthy, gluten-free food that provides many vitamins and minerals. Sushi with these eggs is safe to eat as long as it does not contain other glutenous ingredients.
Tofu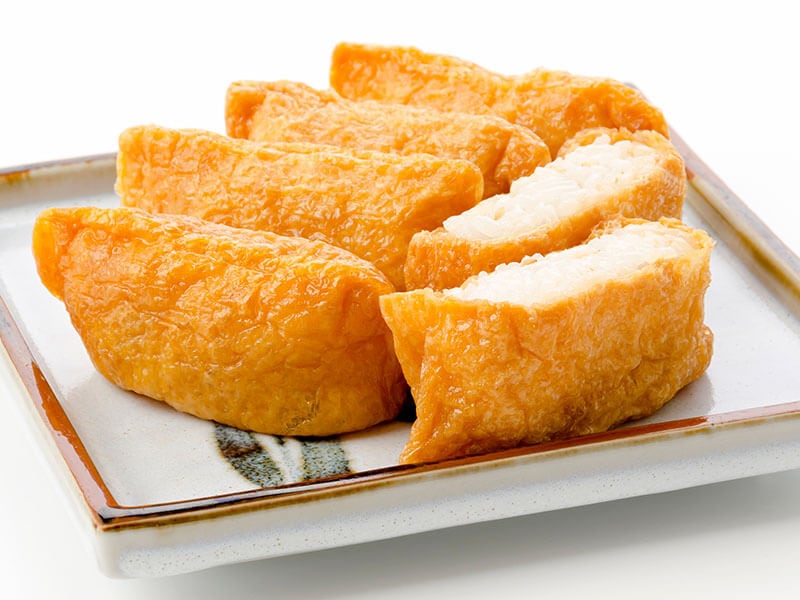 Plain tofu is a high-protein food made of three ingredients, soybeans, water, and coagulant. Thus, it does not contain gluten and is safe to eat. Flavored tofu, on the other hand, may include glutenous ingredients and, thus, should be avoided.
Mayonnaise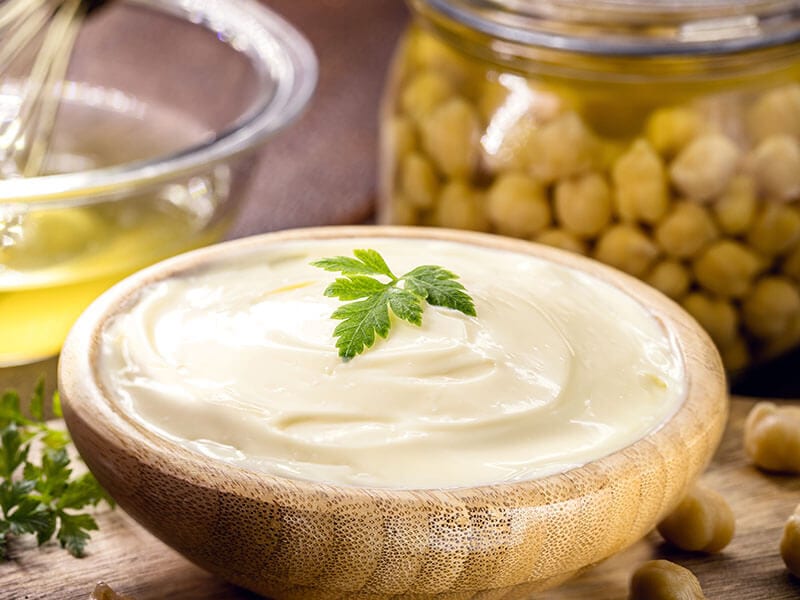 This goes the same with mayonnaise. Traditional mayonnaise is always gluten-free because it is made of eggs, oil, and acids. And none of these ingredients have a trace of gluten. Stick to mayo that contains no additives, and you will be fine!
Wasabi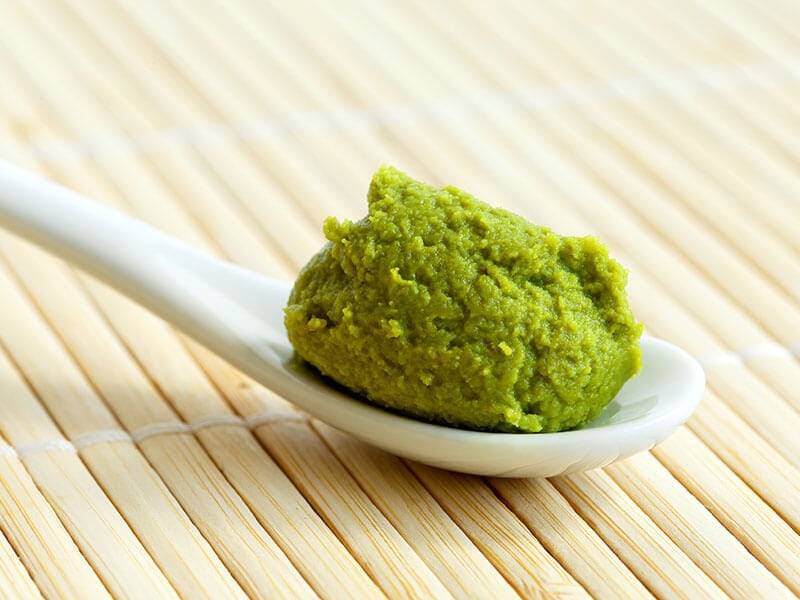 For those wondering what wasabi means, it refers to a spicy green paste in Japanese cuisine. Primarily made of the wasabi plant, real wasabi is naturally-gluten free and a safe condiment to sushi.
Pickled Ginger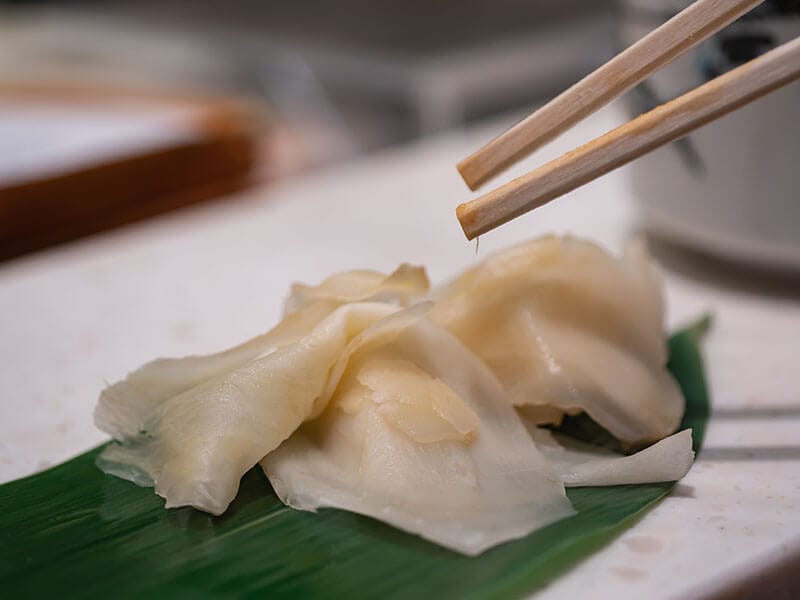 Pickled ginger, or Gari, is a gluten-free, healthy food whose main ingredients include sliced ginger and a solution of rice vinegar, sugar, and salt. Since these ingredients are gluten-free, it is safe to enjoy alongside sushi.
Sushi Ingredients & Toppings To Avoid On Gluten-Free Diet
As mentioned from the beginning, gluten is a protein seen in wheat, rye, barley, and triticale. As a result, any product containing or coming into contact with these grains has this protein. Gluten is found in several sushi ingredients, sauces, and accompanies.
If you are on a gluten-free diet, you should strictly avoid any names listed below.
Soy Sauce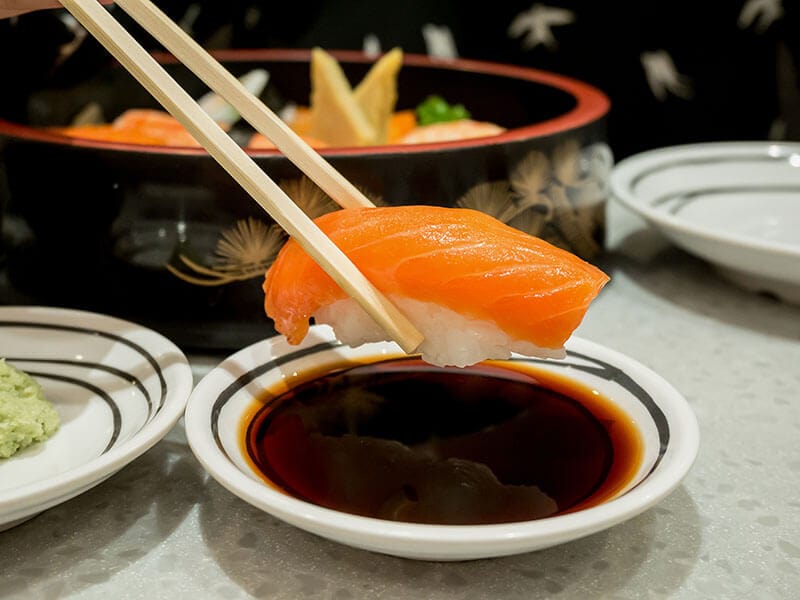 Wheat is one of the main ingredients in regular soy sauce (3). Therefore, it does contain gluten and needs avoiding. If you enjoy some soy sauce to better the flavor of your sushi, bring your own homemade gluten-free soy sauce.
NOTES: Aside from soy sauce, many other sauces out there do contain gluten. They are Teriyaki sauce, Ponzu sauce, barbecue sauce, and eel sauce, to name a few.
Imitation Crab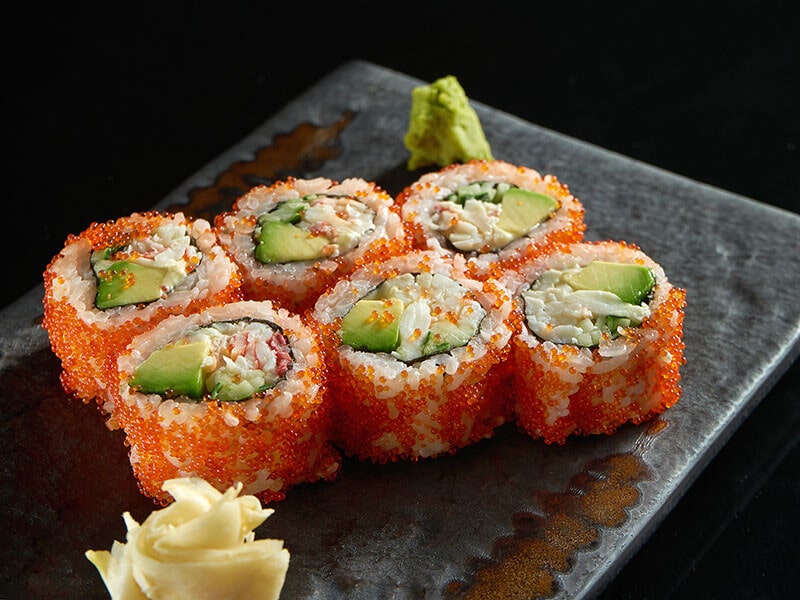 I often receive questions about whether imitation crab is free of gluten ingredients. This ingredient, or surimi, is basically fish paste pressed into shape. But many imitation crab products include starch from wheat. As a result, they contain gluten.
Notes: Keep in mind that not many sushi restaurants know that surimi contains wheat. Double-check the ingredients and swap for gluten-free ones if need to.
Imitation Wasabi
While real wasabi is rare and very expensive, the paste you find in most places is likely an imitation of wasabi. Instead of wasabi, the main ingredients in fake wasabi are often Japanese horseradish, mustard, additives, and starch – which may contain gluten if it's wheat-based.
How to distinguish between real wasabi and fake wasabi.
Malt or Malt Non-distilled White Vinegar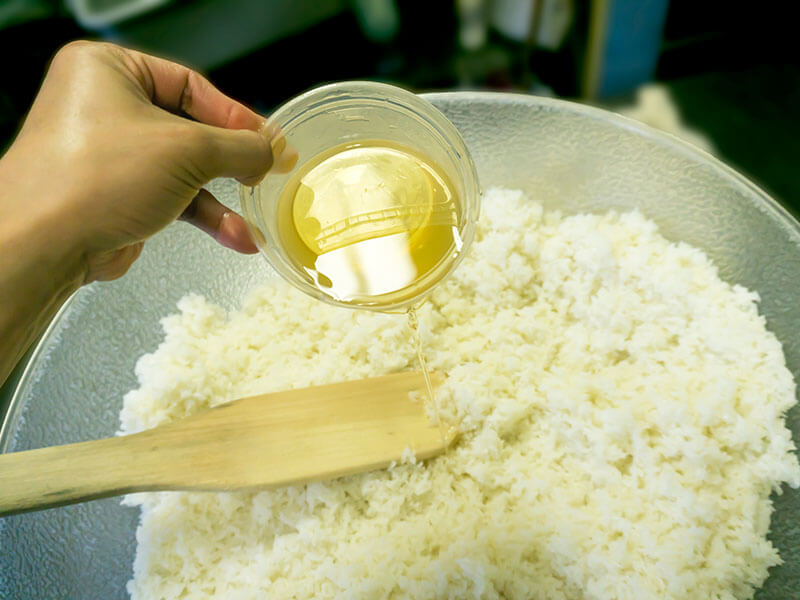 Sushi rice is very often prepared with vinegar. While rice vinegar is gluten-free, certain kinds of vinegar, such as non-distilled or malt vinegar, do not. If you are allergic to gluten grain-derived vinegar, consider asking the chef or the waitperson to make your sushi with plain rice.
NOTES: In some cases, sushi rice is prepared with chicken broth containing gluten. Thus, always ask the waitperson in advance to double-check the ingredients.
Japanese Omelet (Tamagoyaki)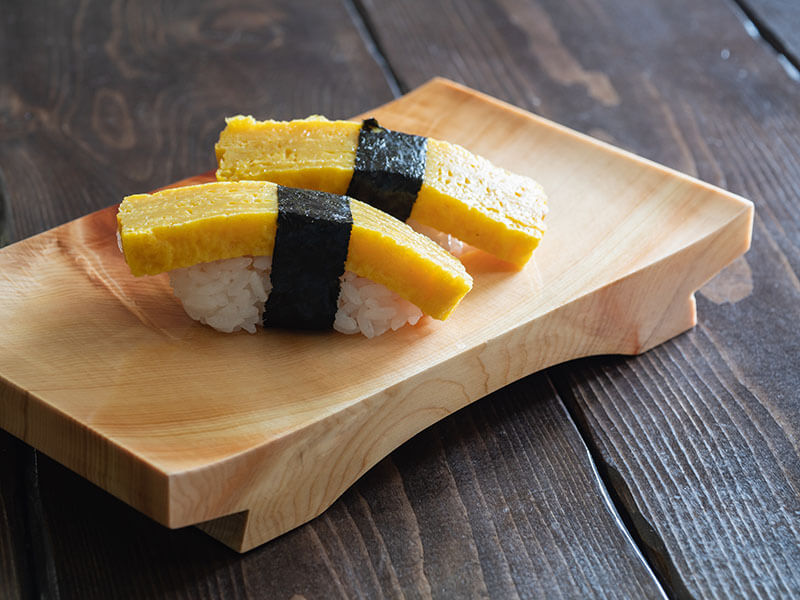 Tamagoyaki is a type of Japanese rolled omelet that is sometimes served as a topping in nigiri sushi. While eggs are a naturally gluten-free food, tamagoyaki is not safe for people on a gluten-free diet because the dish is made of gluten-containing soy sauce.
Sushi Sides: Which Dishes Are Gluten-Free?
While sushi can be eaten plain with some condiments, the waitperson may sometimes recommend you to have some accompanies. And there are plenty of foods that go well with sushi.
The four best side dishes often served with sushi in Japanese restaurants include miso soup, tempura, edamame, and seaweed salad.
Gluten-Free Sushi Side Dishes
Out of the four popular Japanese side dishes for sushi, edamame and seaweed salad (without soy sauce) are the most suitable choices for a gluten-free diet.
Edamame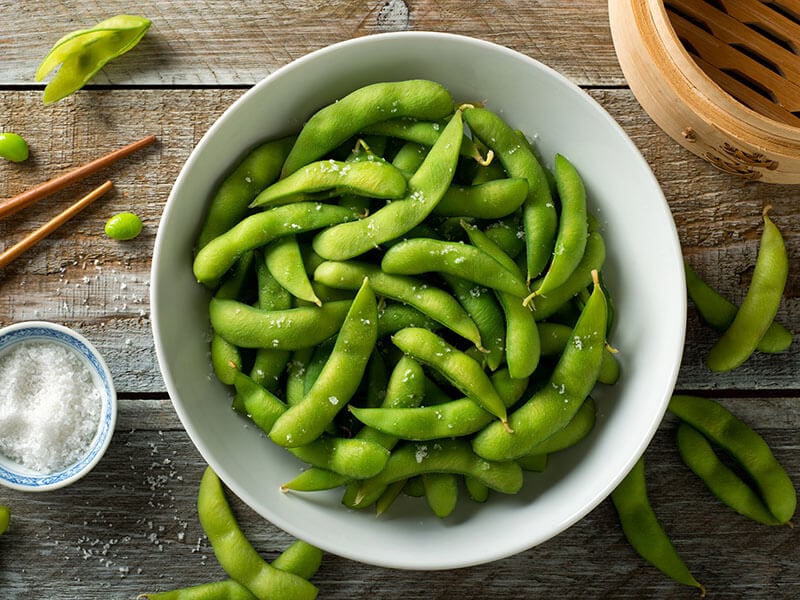 Edamame is a Japanese dish of steamed immature soybeans served in their pod. Naturally, edamame does not contain gluten. Therefore, it is safe to order.
Most people have eaten edamame wrong. Here's the proper way.
Seaweed Salad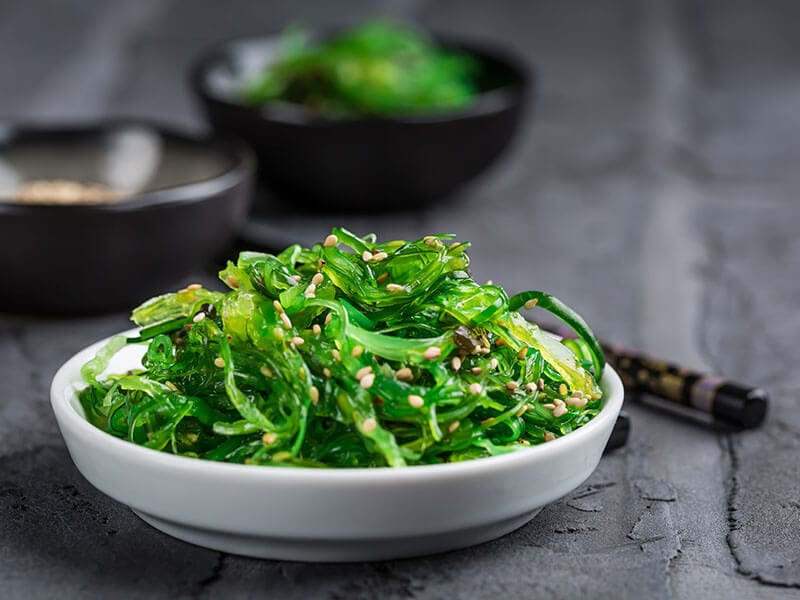 Seaweed salad, or Goma wakame, is a healthy Japanese dish made of wakame seaweed, sesame seeds, and added ingredients like chili. None of these ingredients include gluten, so this accompaniment is a good choice for a gluten-free diet.
Gluten-Containing Sushi Sides
While many other dishes go perfectly well with sushi, you should always be conscious and look for their ingredients. If you react to gluten, below are some gluten-containing accompaniments with sushi that are not worth trying.
Miso soup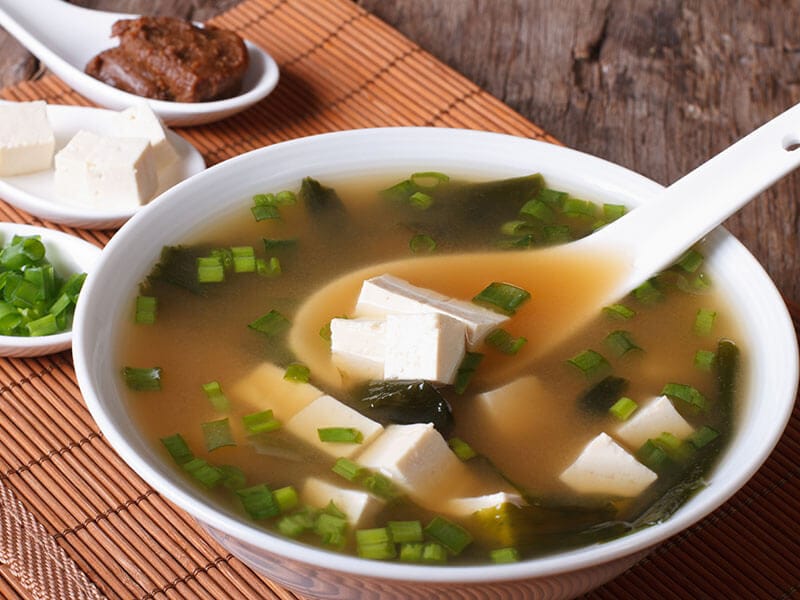 Miso soup is a classic Japanese soup made primarily of miso paste and dashi (broth). Since miso is a fermented paste made of soybeans and gluten-containing grains, it is not safe to eat on a gluten-free diet.
Tempura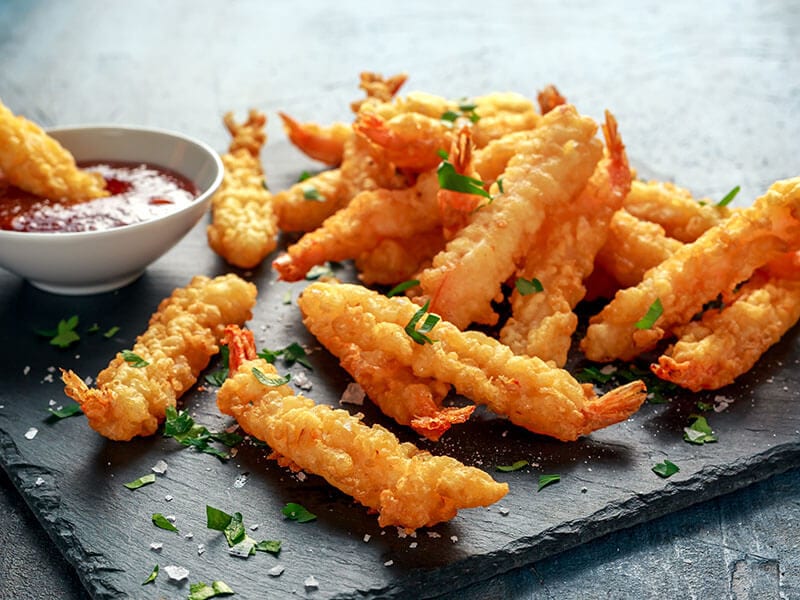 Tempura is a crispy Japanese food made of lightly battered and deep-fried seafood or vegetables. One of the main ingredients in tempura batter is wheat flour, meaning it's not gluten-free. Therefore, avoid this dish at all costs if you react to gluten.
NOTES: While breadcrumbs and wheat flour are not common sushi ingredients, some restaurants may serve breaded or floured foods alongside sushi. Almost all breaded or floured foods are not considered gluten-free.
Gyoza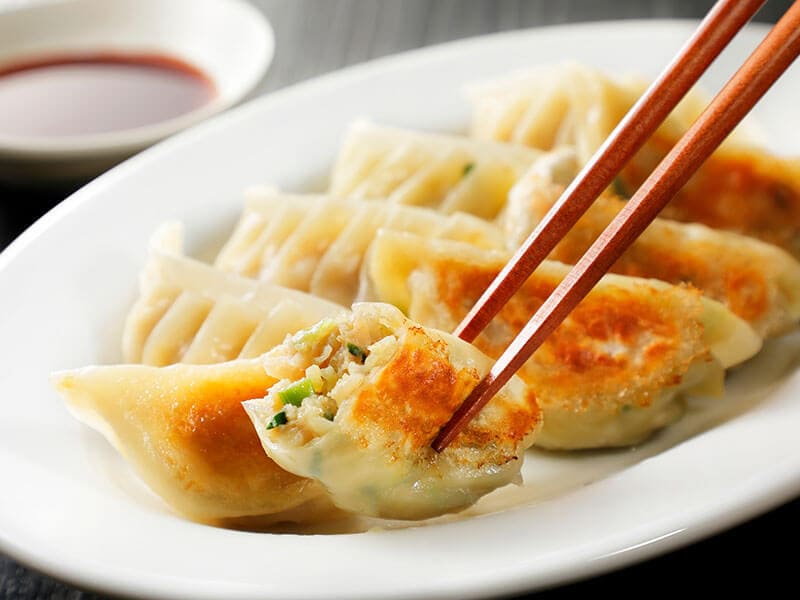 Gyoza, or potstickers, refers to Japanese dumplings filled with minced pork, mushrooms, and cabbages. Wrapped with wheat-based dough, this side dish, therefore, does contain gluten. It's best to steer clear of this specific food if you are on a gluten-free diet.
Here are some simple, beginner-friendly Japanese side dish recipes.
Helpful Guide To Safely Order Gluten-Free Sushi At Restaurants?
Besides the gluten-free concern, I have seen many gluten-free eaters mention and worry about "cross-contamination" when it comes to dining out at sushi bars. So, what is cross-contamination, and how to deal with it? Let's find out together!
Cross-Contamination At Sushi Bars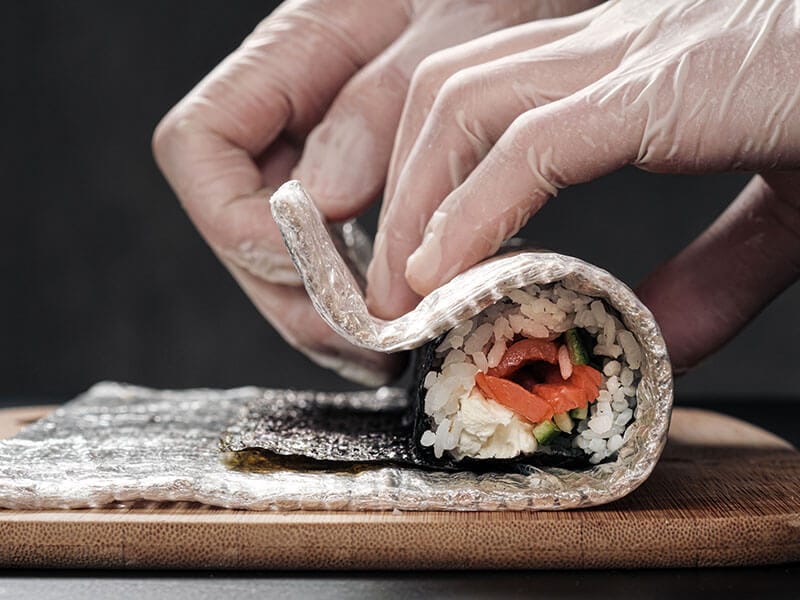 Cross-contamination (2), or cross-contact of food, is when one food comes into contact with another and unintentionally transfers bacteria and/or its chemicals to that food.
For example, in sushi prep, a chef uses a knife that cuts gluten food to prepare fish for sashimi. Those gluten particles from that dish can come into contact with that naturally gluten-free sashimi dish, making it easily cross-contaminated.
The risk of cross-contact can be high when eating at sushi bars. In the process of making sushi, a chef may forget to change the cutting board, knives, and gloves when switching from one dish to another, establishing a chance for cross-contamination to occur.
Tips For Ordering Gluten-Free Sushi Safely At Restaurant
Good sushi restaurants are often occupied, so it may be hard for them to take the needed precautions against this matter if they are not specially informed.
As someone intensely allergic to gluten, here are my seven practical tips to prevent cross-contamination when eating at sushi bars.
Ask the chef to change his gloves.
Ask the chef to use a fresh, clean sushi mat.
Ask the chef to clean the cutting board and knife to cut your sushi.
Ask the chef to check the ingredients in advance and order alternatives to gluten-containing ingredients.
Bring your own gluten-free accompaniments, if possible. I usually keep some small packages of gluten-free sauces in my purse so I can easily take them out when in need.
Call the sushi restaurant in advance to inform them about your needs, so that you don't have to waste time going there if they cannot take the precautions.
Inform the chef about your situation and ask them to make your own gluten-free sushi.
Even though these tips may sound quite demanding, most sushi chefs will happily oblige as long as you inform them about your food allergies and your gluten-free needs.
Famous chef giving advice on how to order gluten-free sushi at any Japanese restaurant.
Gluten-Free Sushi Recipes
For those with awful food allergies, homemade sushi is a great choice. It allows you to use the right ingredients and helps avoid cross-contamination. Moreover, Japanese dishes without gluten are not difficult to make.
Vegan sushi rolls are quick and easy to make. You just need to prepare seaweed sheets and cooked rice, then fill them with whatever gluten-free ingredients you have around the kitchen. The dish is simple and easy to make yet still tastes good in the mouth.
Quick and easy vegan and gluten-free homemade sushi recipes.
This dish refers to a combination of flavor-loaded fried rice and the heavenly smell of smoked salmon. It is healthy, delicacy, and, most importantly, gluten-free.
Salmon cucumber sushi boats are another perfect dish on a gluten-free diet. It only needs four simple, easy-to-find ingredients – cucumber, rice, salmon, and avocado. Altogether, they make up a balanced, gluten-free dish that can satisfy almost any sushi lover.
FAQs
Since I go on a gluten-free diet, I get asked many interesting questions about sushi. Here are some of the most asked ones.
Bonus Tips: Sushi Dining On Gluten-Free Diet
One thing I always do when dining out is to sit right at the sushi bar. Not only can I directly ask the chef questions, but it also makes me feel safe because I can watch him make my meal. For a person on a gluten-free diet, it's the best way to learn about sushi and its ingredients.
Not to mention, making sushi is considered a work of art that requires a lot of skill and training. Therefore, it is also a great honor and an incredibly entertaining experience to have an opportunity to witness the process of making sushi.
Finally, many sushi types are safe for people on a gluten-free diet. Now that you can spot some unsuitable ingredients, there should be no worries about enjoying this traditional Japanese dish.
If you have any comments about eating gluten-free sushi, feel free to drop some in the section below. Thank you, and have a nice day!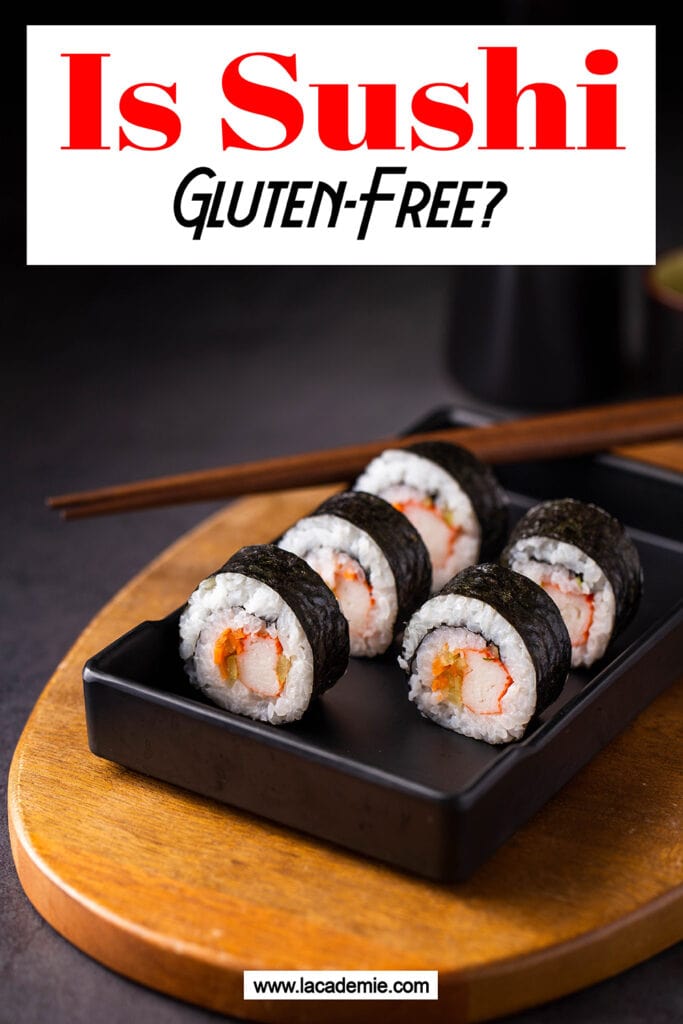 References
Celiac Disease Foundation. 2022. Sources of Gluten | Celiac Disease Foundation.
Celiac Disease Foundation. 2022. Dining and Social Eating | Celiac Disease Foundation.
2018. Using LC-MS to examine the fermented food products vinegar and soy sauce for the presence of gluten.